If you are a creative type who gets the itch to bring autumn magic into your home this time of year, then you will love discovering today's 7 Fall DIY Crafts from Inspiring Bloggers & 5 Pumpkin Recipes to Try Right Now. Let's collect fall decor inspiration! Just days away from the official start of autumn, here are simple, achievable ideas for greeting the season with a hearty HELLO LOVELY!
7 Fall DIY Crafts from Inspiring Bloggers & 5 Pumpkin Recipes to Try Right Now
1. Ticking Stripe Pumpkin
To discover the talents of creative dynamo Emily Traxler, who blogs at Le Cultivateur is to hit the jackpot when handmade and the softer side of fall decor is what sizzles yer bacon.
That's because Emily makes me believe I can truly pull off this fall crafting magic…breaking down the steps and keeping it all simple while setting us up for success.
While at the fall markets over the weekend, I spied ticking stripe pumpkins everywhere, and the trickiest part of making them will be simply stealing away a quiet moment to devote to the DIY.
I'm also quite fond of how Emily styles her simple pieces, showing us they can take center stage or serve as an understated accent.
2. Natural & Delicate Autumnal Garlands
There's just something so enchanting about Emily's delicate autumnal fall garlands she strings with love and assorted fall loveliness…don't you agree?
While we may not see glitter upon acorns in their natural habitat in the woods, a wee sprinkling is reminiscent of the magic of sunlight or raindrops glistening on these blessed baby oak tree seeds.
If this elegant moment from Le Cultivateur does not entice you to enhance your fall mantelscape with the prettier side of autumn's harvest, then I'm not sure what will!
Emily, I'm so grateful to you – you are so just so lovely to remind us of the beauty of aged vintage book pages and how they enhance our decor vignettes in this season of turning leaves (and turning pages!).
3. Simple & Spare Fall Metallic Wreath
Any blogger who shows me how to recycle my Diet Coke can into something so golden and elegant deserves a gold medal!
It's yours, Le Cultivateur…you have inspired all souls with an aluminum can within reach!
4. Petite & Precious Fall Acorn Wreath
Little acorns, gathered and given importance in such a simple lovely way have tugged at my lil' heartstrings and caused my heart to glow.
5. Inexpensive & Quick Neutral Fall Wreath
Thank you, Emily, for ushering us into the season with such gentle, thoughtful, handmade, everlasting creations to enjoy this year and in years to come.
What a gift to inspire an internet of homebody types to get creating for fall!
6. Gratitude Leafy Family Tree
It's always the simple things that seem to be the most timeless and sacred, and a child-friendly gratitude tree like this one from First Day of Home falls within that category of fall crafts.
The sheer activity of quietly cutting leaf shapes from paper may be just what your spirit and mind need to ease into the season as you count your many blessings.
This coffee table fall vignette also inspires with its wondrous balance of cool blue and cheerful pumpkin hue.
7. Frayed Ribbon Pumpkins
Don't you love it when you glimpse a fall DIY or autumn craft and think: HOLY COW, I have all of those supplies on hand this very moment!?!
Since I just rounded up dozens of corks from parties past and know JUST where they are (which is a small miracle considering I have yet to address the re-organization my art closets…um…yes, that would be plural!!!).
What a wonderfully clever, tone-on-tone whimsical pumpkin moment, Beverly and Gloria!
Recipes With Pumpkin to Inspire
1. Pumpkin Granola
Guys. Let's make this if for no other reason than so our homes can smell like a candle store as Pinch of Yum suggests!
2. Pumpkin Spice Weight Watchers Muffins
I plan to give this recipe from Drugstore Divas a try tomorrow because (a) any weight watchers friendly recipe is a friend of mine since a lower fat/high fiber diet is still my jam and (b) like moi, the creator of the recipe is not a fan of pumpkin and reassures these will still please.
The tip to bake them as mini muffins so we eat less is a smart reminder!
3. Pumpkin Smoothie
Are you the type who would rather drink your pumpkin pie? What if said pie was low calorie and relatively healthy? Then this may have your name on it, pumpkin.
4. Pumpkin Spiced French Toast
This is so naughty, and I'm avoiding gluten so I doubt it'll show up on my breakfast plate anytime soon (G-free bread costs like 20 bucks a slice here, and I'd rather toast a corn tortilla). But if you eat bread…YUM! My blogging friend Marilyn knows her way around French Toast, and in this recipe she is pushing the envelope…pumpkin spice AND amaretto. Good heavens, it's a sweet tooth boozy fall breakfast of champions.
5. Pumpkin Crumb Cake
How do I like my eggs? You already know. In a cake, mama! And I never met a crumbcake I didn't adore so here's a recipe for us to take for a whirl from DelightfuleMade.
If all of these pumpkin recipes find their way to your kitchen, maybe you'll be interested in something I'm considering…a 20 minute full body pilates/yoga workout:
BONUS! Fall Tablescape & Centerpiece Inspiration
I have yet to use a pumpkin as a charming vase for fresh flowers, and I love how this beautiful blogger created a lovely moment.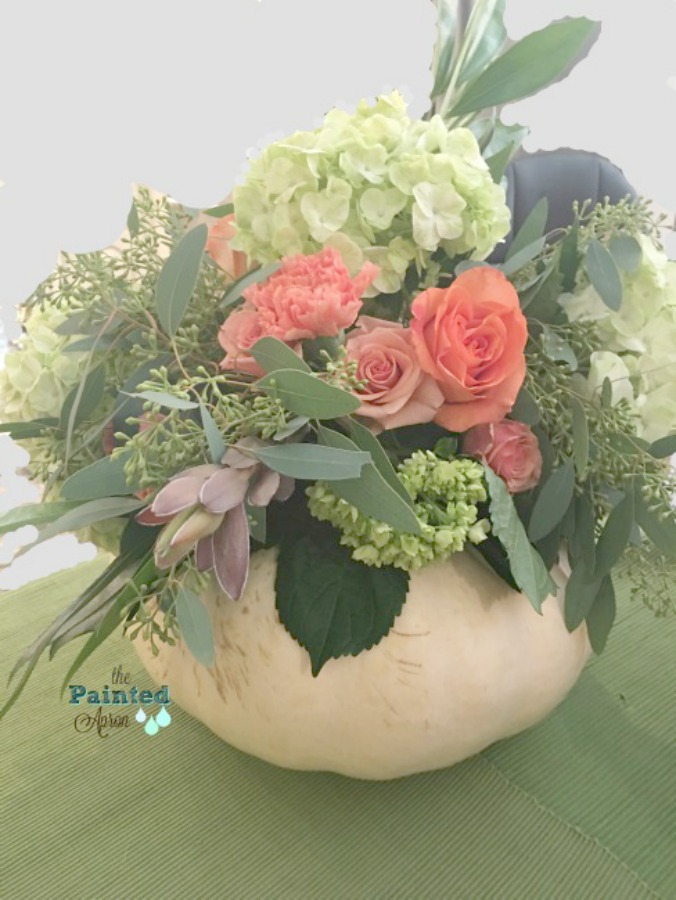 For more fall inspiration, do visit my Pinterest board and see this and this.
Peace to you right where you are.
-michele
Shopping for items you already intended to buy on Amazon RIGHT HERE (not just items mentioned in posts) keeps decor inspiration flowing on Hello Lovely!
Hello Lovely is a participant in the Amazon Services LLC Associates Program, an affiliate advertising program designed to provide a means for sites to earn fees by linking to Amazon.com and affiliated sites.
Click HERE to also discover lovely cost conscious furniture and home decor!