If just thinking about Romantic White Bedroom Decor Ideas for French Nordic Design Style calms your senses, eases you into thoughts of purity and maybe even whisks you away to an atmosphere with billowy clouds, you're in the right place, friend.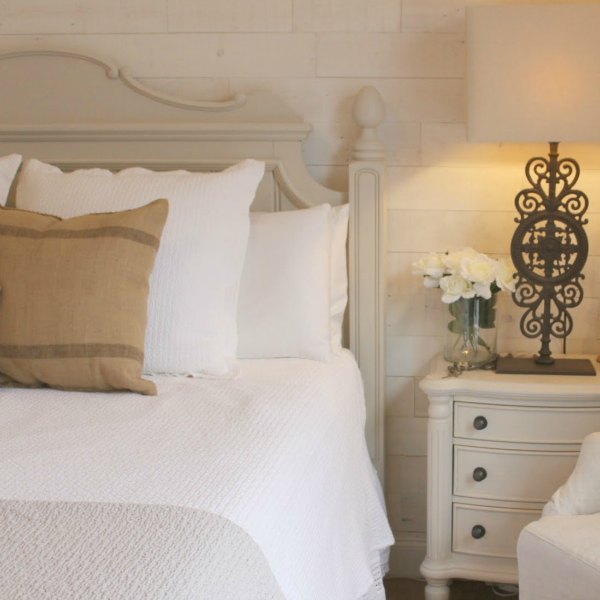 Romantic White Bedroom Decor Ideas for French Nordic Design Style
Because I think I could contemplate decorating with white all day, and *ahem* sometimes, I do. This isn't a passing trend for me. Indeed, I have had a love affair with white since feathering my first nest.
Just Paint it White
I have gone shopping for vintage and cast-offs my entire life, and when I discovered the power of white paint for my treasures in the early '90s, it was all over.
A paintbrush in my hand dripping with white paint is the GOAT! If I go a period of time without transforming some forlorn treasure, oh the joy that returns to me when the dry paintbrush spell ends!
Someday I will devote an entire post to things around my house I painted white. It won't be quite as dramatic now since we parted with more than half of our furniture and decor with our last move, and most of it was vintage and white.
Onward with white bedroom decor ideas. Then I'm sharing a health update.
I independently selected products in this post—if you buy from one of my links, I may earn a commission.
Lovely New White Sheets
First things first. I just bought beautiful new sheets this week, and I cannot believe how inexpensive yet luxurious feeling they are. If you need sheets for any bed in the house, order these soft (and destined to get softer) linen blend sheets (55% linen, 45% cotton) from Chip and Joanna's line at Target immediately.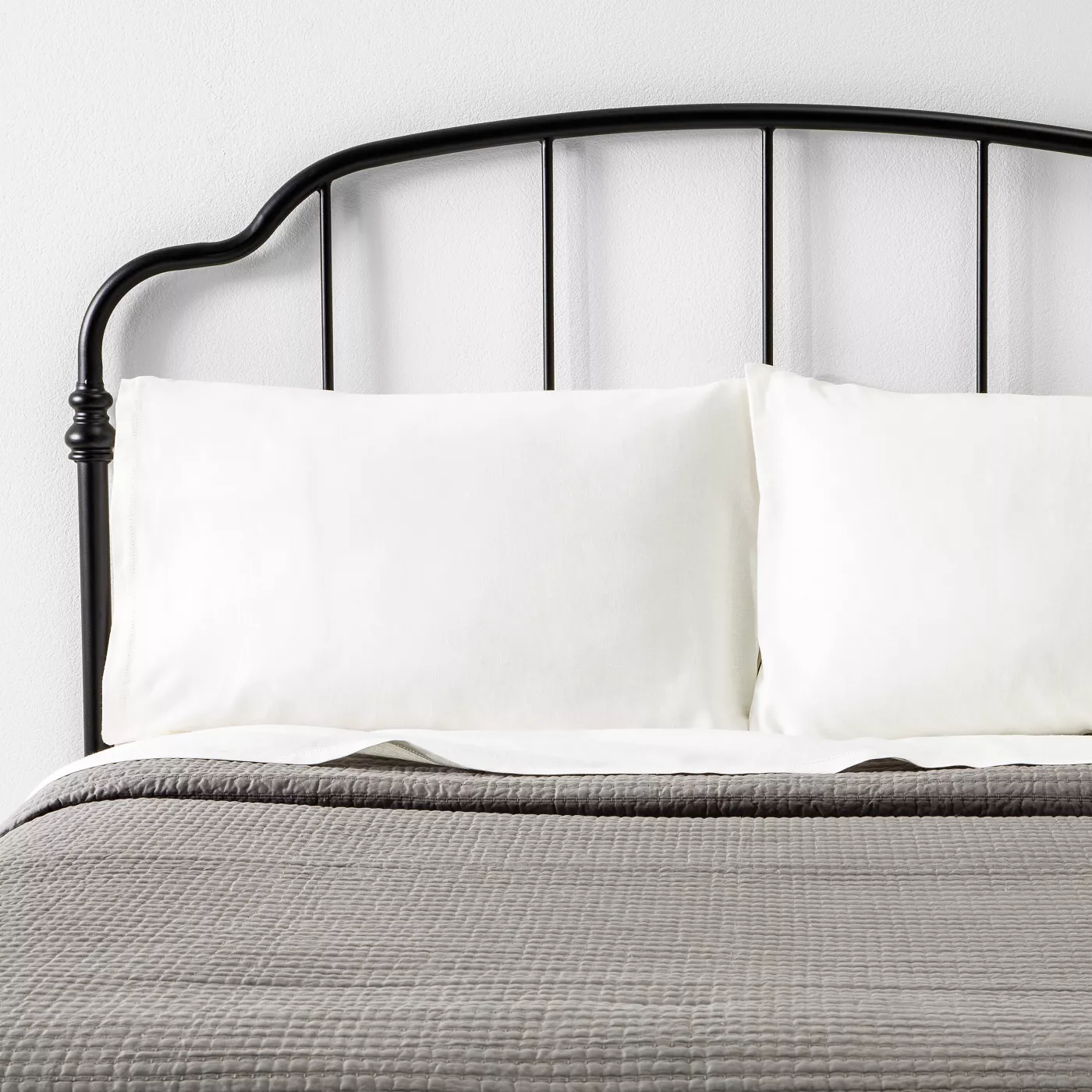 I mean, have you priced linen sheets? Apparently the thread count on these is 100…does that deter you? Because I stopped looking at those thread count numbers and started trusting hand feel.
Vintage Stripe Sheets
While browsing Target (where I spied at least 5 moms hiding in the Magnolia aisle with coffee, devouring social media and not even shopping! Ha!), this ticking stripe sheet set by Hearth and Hand was also calling my name and is beautiful in person.
I'm not sure why "sour cream/pebble" was chosen as the unfortunate color description…sour and rock hard are not descriptive terms I would pair with snuggly soft linen bedding.
If you're listening, Magnolia, yer word girl is available (and would call this Cloud/Fawn).
Beautiful Pine Cone Hill Bedding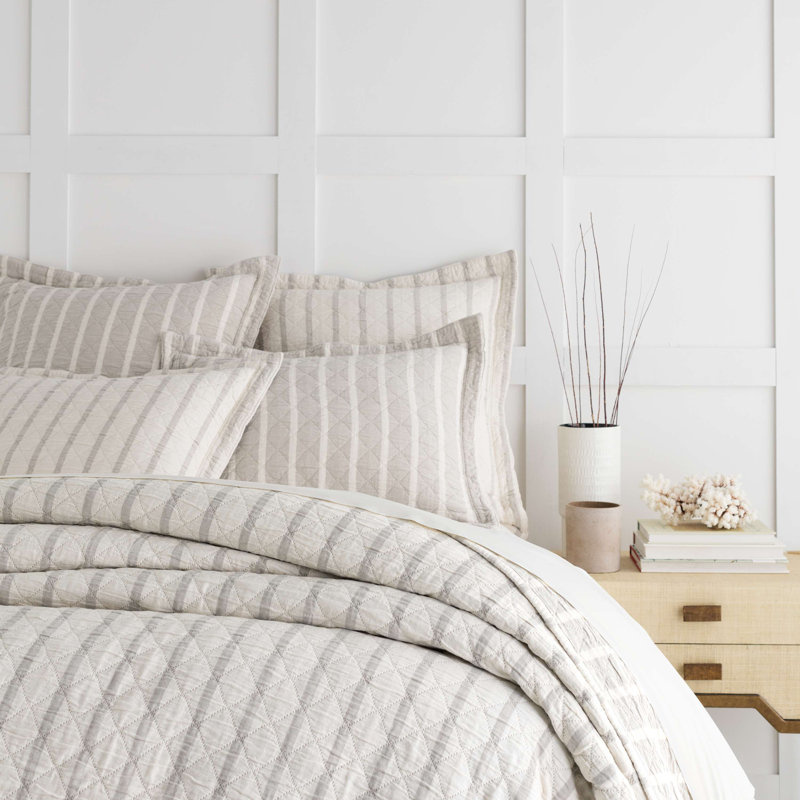 You'll Love This Treasure Trove of Decor!
I have organized some cost conscious, romantic, French inspired bedroom decor ideas RIGHT HERE in my little shop on Amazon!
Even when you decide on a romantic white bedroom decor scheme, there are still so many directions to go, and one size never fits all.
There's white and unfussy, rustic and white, feminine and white, vintage style white, shabby chic white, modern French white, and the list goes on!
Romantic Feminine Ruffle Coverlet
I have a little crush on this bedspread and may throw it in my cart for a guest room – the price for the 3 piece set will rock yer sox, foxy!!!!
Another Neutral Bedding Option
Ooooh, the grey could work…
Grey Quilted Coverlet
I have a light grey quilted coverlet like this (couldn't find the exact one online) at the end of our bed, and the hue works so well with white and a maybe the warmth of a quietly gold pillow.
Bedroom Bench Idea
French Inspired Affordable Headboard
Pretty Lamps for a White Bedroom
White Lantern Pendant
Is it just me with the growling stomach, or does this remind you as well of scrumptious vanilla ice cream???
Rustic Accessories for a White Bedroom
White Whimsical Pillow
Side Tables for a White Bedroom
Wildcard for a White Bedroom
I have this rustic industrial basket in our bedroom and use it for a variety of purposes. Sometimes laundry will get thrown in it, and sometimes I will fill it with fairy lights and white tissue poufs to transform a mood. There is just nothing like WHITE for elevating the everyday, and white can often benefit from airy contrast. How much airier can you get?
Beyond White Bedroom Decor
I need to give you a wee update on my health because I know you care, and I remain ever grateful for your prayers. (If you're new to the blog, I'm in the throes of a Crohn's disease flareup…it's an inflammatory GI condition I have lived with for 35 years.)
I'm having good days and bad days and being gentle with myself.
Healing takes time, and it will soon be a year since I had surgery.
Hallelujah, my hair stopped falling out!!! Daily clumps of hair in the shower is a side effect that happens for me after anesthesia, and last time, it continued every day for 2 years (hence, the "weave years" of 2013-2016).
Losing hair is not that huge a deal except it is a daily reminder things are not yet back to normal.
Signs of Healing
I have slowly been adding more grams of fat to my daily diet and practicing relaxation techniques while eating since tension is not your friend when you can't seem to break down fat and absorb nutrients.
Before I had GB surgery, I could tolerate almost no fat at all, and I am now consuming 20-25 grams daily, with manageable discomfort and pain.
Discipline is Essential
A typical low-fat diet for most adults involves 50 grams daily, and I'm a little person so I think that progress is worth noting. I'll tell you right now if you have weight to lose, my current food choices would be the way to do it.
If I want to eat avacado (my favorite food ever), I can only have 1/4 of a small one over the course of a day even though it is good fat. (Nibbling a quarter of an avacado over the course of a day? My life is not as pathetic as it sounds since I eat other things and am proooooobably past the constant obsessing stage.)
So now, I throw an avacado in the Vitamix with a can of Northern beans and the juice of one lime. I can eat 1/4 of that delicious dip (which is a minty green guacamole poser) and feel grateful!
Thank goodness carbs cause weight gain, because I rely on bread, pasta and other white foods most of you are trying to avoid right now!
Appetites
Crohn's disease is challenging, yet I am fortunate to be blessed with healthy appetites for food and life. If I didn't have this longstanding love affair with food, I can imagine developing an unhealthy relationship with it, resenting it for the daily pain, struggle, and sacrifices.
I consider such appetites to be divine gifts–hidden gifts others may overlook or even wish away.
Surely there are such under the radar gifts sustaining you in mysterious ways as well.
Seeing
Seeing is still everything for me right now on my spiritual and health journeys.
It's not rose-colored glasses for which I reach…those spectacles get scuffed up and misplaced all the time. It's not even silver linings imagining either.
The seeing comes from quiet consent offered in solitude when I open to Presence. It's there I meet the radiant gaze of mercy.
I didn't always have this desire to see.
The thing is, seeing happens when I stay awake and daily put on a new mind instead of all that armor I'd prefer to wear.
What I am seeing lately is that more often than not, my journey involves a relentless returning, returning, returning, returning to the Source with a heart cracked open.
Longing
Would you say our culture is preoccupied with GETTING THERE? Like the ultimate goal is to proclaim "look at me…all this forward motion, and I have ARRIVED."
There's this longing to move toward a treasure or a measure of perfection on the horizon.
Longing belongs.
Returning
Yet just now, I'm leaning into the beauty of all the wondrous RETURNS like the prodigal or the tide. 10,000 missteps, 10,000 returns, 10,000 opportunities to gain a bit more humility, a bit more compassion.
The thing about those encounters when we humbly return after failure?
They are holy.
They change us.
What sort of rich mystery and infinite Grace would welcome 10,000 returns from a child prone to wander, prone to fall asleep, and prone to perpetually settle for less than the real thing?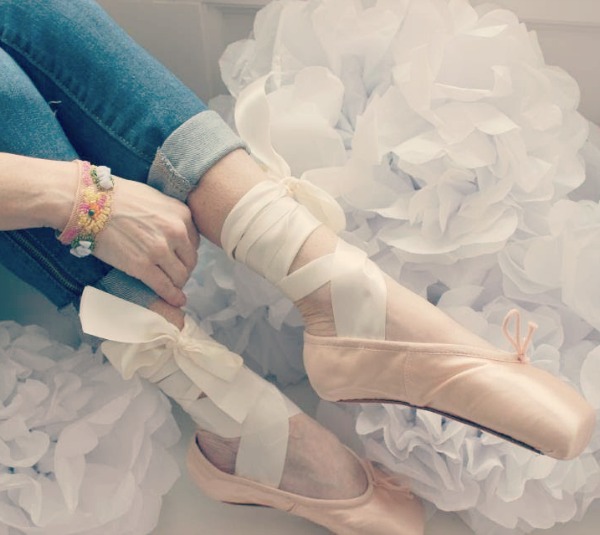 I'm only just beginning to see how profoundly radiant this Mystery glimmers.
Find the nomination of Hello Lovely for Best Written Blog RIGHT HERE!
Peace to you right where you are.
-michele
Shopping for items you already intended to buy on Amazon RIGHT HERE (not just items mentioned in posts) keeps decor inspiration flowing on Hello Lovely!
Hello Lovely is a participant in the Amazon Services LLC Associates Program, an affiliate advertising program designed to provide a means for sites to earn fees by linking to Amazon.com and affiliated sites.
Click HERE to also discover lovely cost conscious furniture and home decor!