Sometimes works of art–works emerging from a pure place in an awakened heart–meet you right where you are with comforting beams of hope and peace, softening life's harsher edges. It happened for me the other day via my inbox where an email from Claire Elizabeth Gallery awaited. Blossoming New Orleans Artist Rebekah May Paints the Natural With the Dreamlike, and It's Lovely may awaken something in you as well.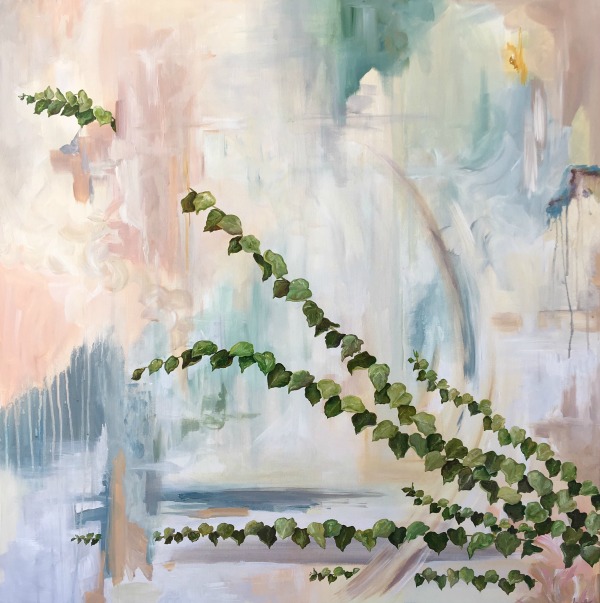 Paintings by Rebekah May in mostly quiet tones explore the relationship between nature and abstraction. They mysteriously transported me all at once to an atmosphere where the air felt freshened, to a place which felt like home to my soul (a soul so very prone to wander).
I felt compelled to know more.
Blossoming New Orleans Artist Rebekah May Paints the Natural With the Dreamlike, and It's Lovely
Photography: Images copyright Rebekah May, 2019. All rights reserved.
(Image of artist and child below courtesy of Jen Menard Photography, copyright, 2019. All rights reserved.)
Artist Overview
Rebekah May received a B.A. in Creative Writing and a Minor in Painting from the University of New Orleans. She has explored various creative fields over the years before returning to painting.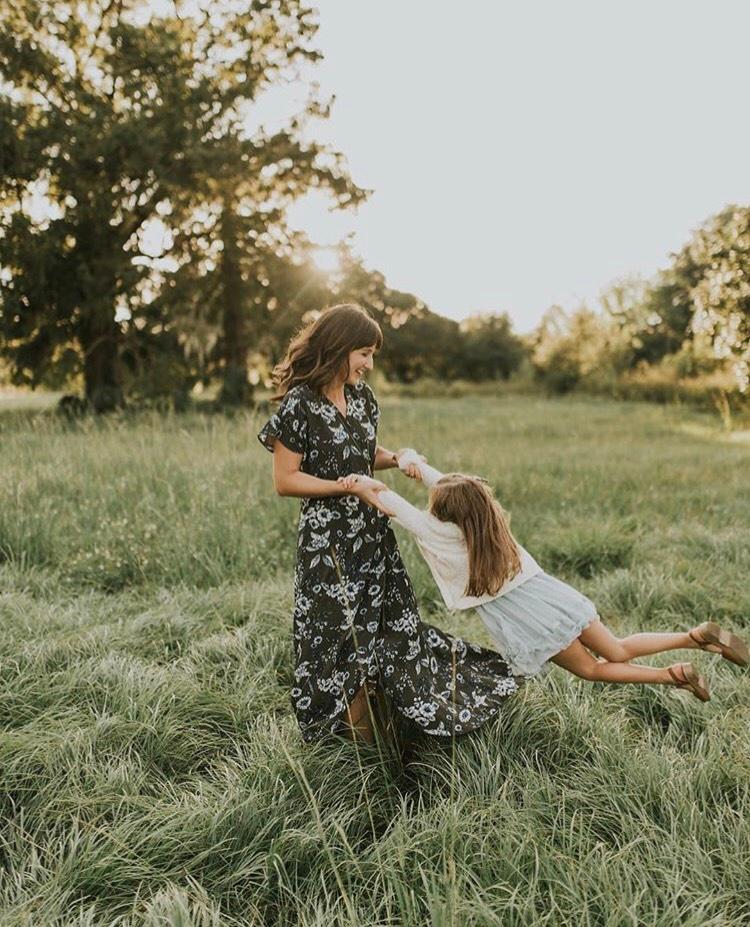 Conversation With Rebekah May
It's one of my favorite words so I love that you use the term FLOW when discussing the essence of this body of work.
"The paintings you see now are the outflowing of a long journey of self-discovery and healing for me. In many ways, my work is as much about the process as it is about the finished product."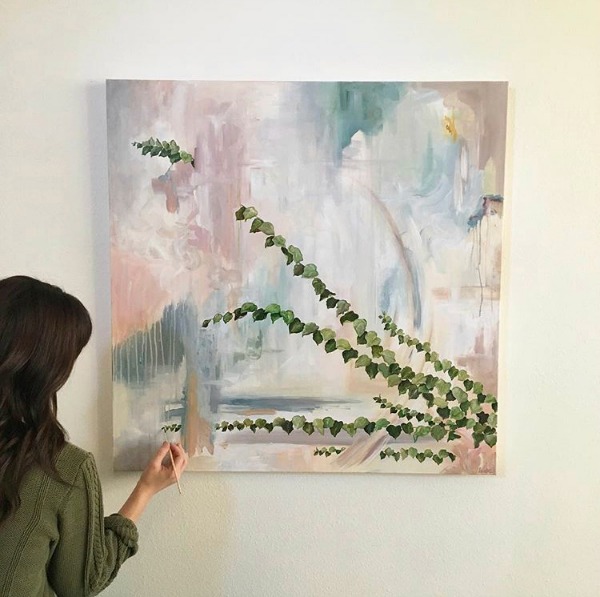 How did you come to be a painter?
"I have intentionally cut out many busy things in my life that I thought I 'had' to do in order to pursue painting–which is truly what I feel I was meant to do. This has made all the difference for me."
Growth, Longing & Discovery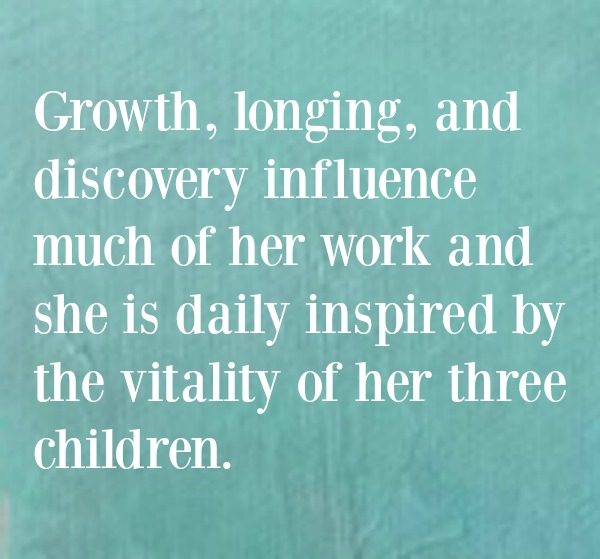 Have you had other careers?
"For several years I believed the lie that my creativity was pointless unless it was useful. So I ran a busy Etsy shop designing wedding stationery and signage. When this became too busy to maintain after my third child, I transitioned to macramé, which was a calming process but also seemed more 'useful' than painting because I could teach workshops and sell easily at markets."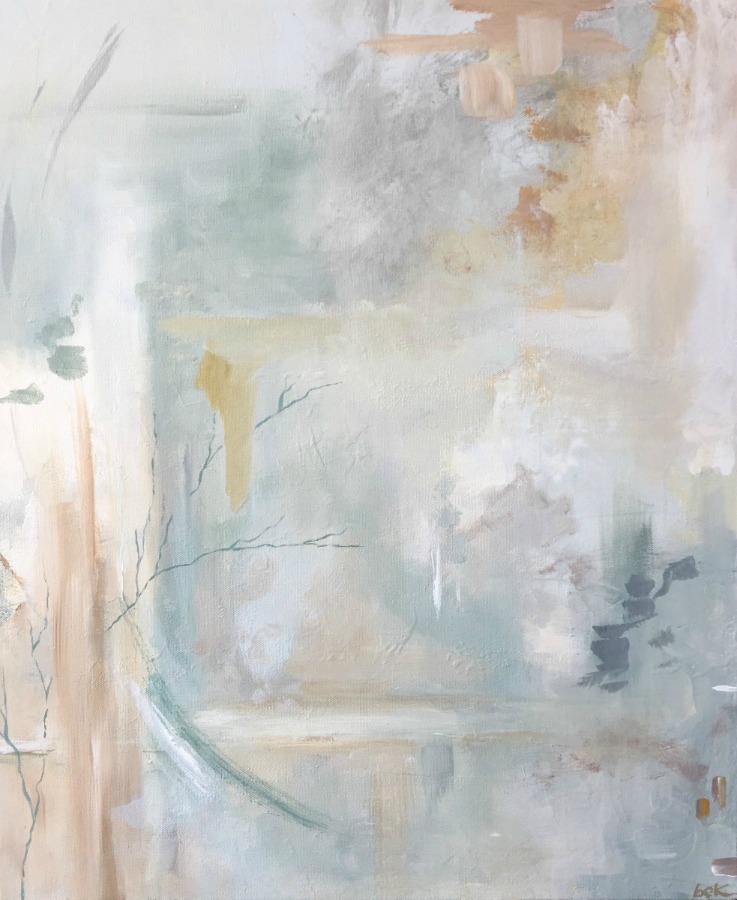 How did you shift from 'hustling artsy entrepreneur' to fine artist?
"Last summer I started making time to paint again as I once loved to do. Then I realized that so much of what I painted subconsciously reflected themes of growth, rest, patience, hope, and gratitude. These themes were slowly healing parts of me."
What is Seen and Unseen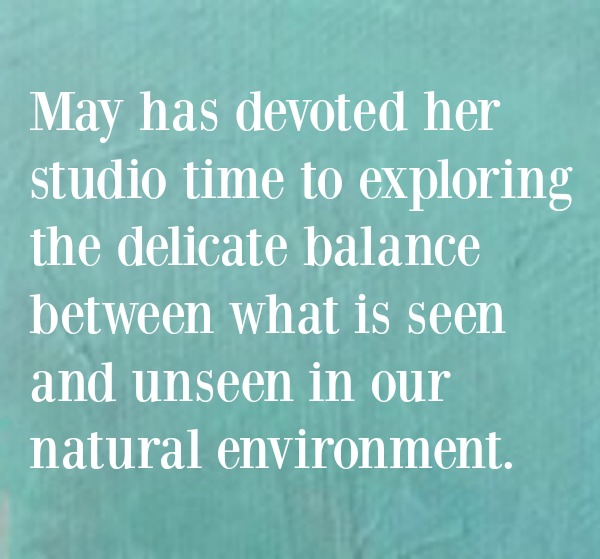 How has painting been therapeutic on a personal level?
"In the midst of the busiest season of my business—in 2016—I experienced a deep personal loss. Even though I thought I had moved past this, it wasn't until I began painting that I started to truly cope with it."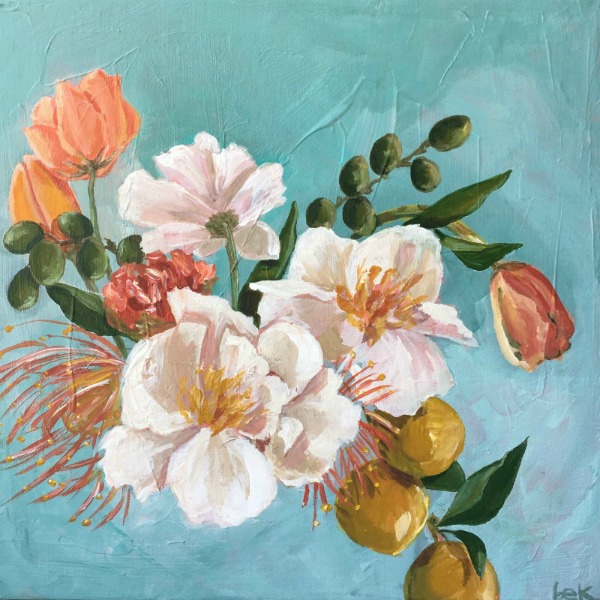 Tell us about the significance of painting the abstract.
"Sometimes life is so abstract and confusing—with layers we see and layers we can't see—and yet 'Even Here' (the title to one of my paintings) we are growing. So any time I paint abstractly, I feel it is to reflect the mystery of life and the hidden ways we are blossoming through it all. My faith is also a very important part of my life and work, but my desire is to create pieces that connect to all people regardless of their religion."
When Nature & Abstraction Converge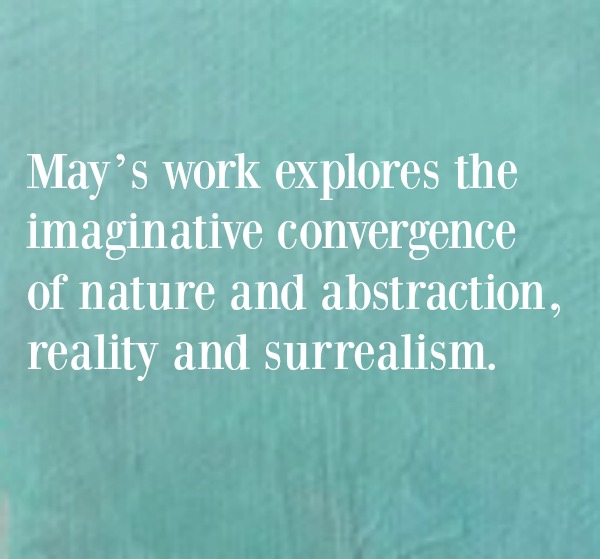 Walk us through your creative process.
"My process changes depending on the painting. But generally I spend a lot of time on the background, painting layers and washes of acrylic, then sanding down and wiping away and building up again until there is a layered effect to it. I love using oils to paint vines, branches, flowers, and the figure. There is such a fluid movement to oils that lends itself so well to representing nature."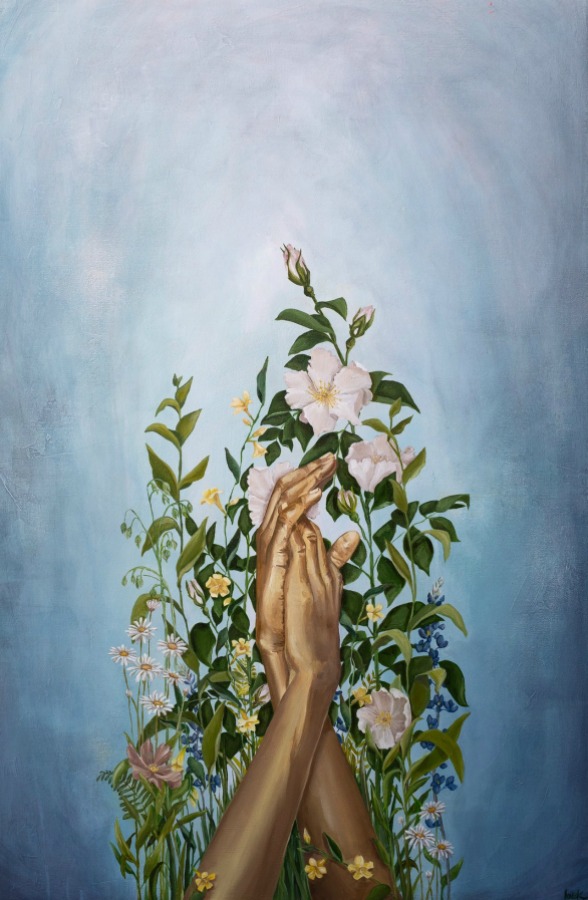 How does your vocation as an artist enrich you?
"I have seen such a rest come into my life since I intentionally started painting. My children love to come in and out of my studio and always have something sweet to say! My family is so supportive, and even though I only get an hour or two to paint a day because of my care for them, I wouldn't change anything about this season of life right now."
What's next for you?
"The next paintings I have in mind will further explore the human figure in nature through a series of smaller works of oil on panel."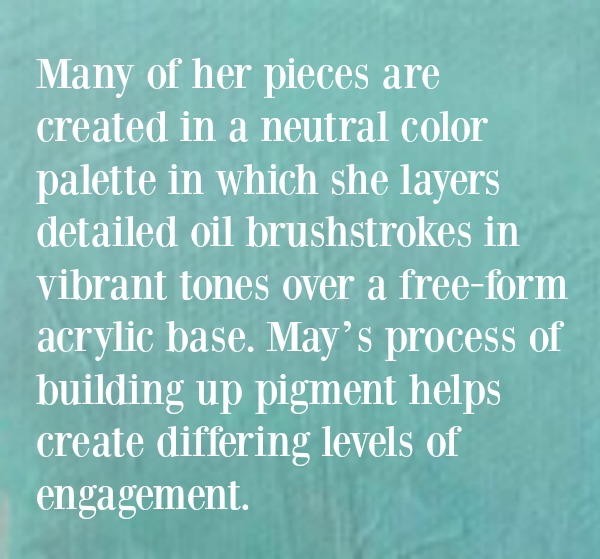 Soulful Reflections on the Work
My daily life as a writer is ever saturated with the structure of language, which can distract me from the longings of my spirit for rest and for beauty beyond words. Even when I step away from work to play or meditate, I seem naturally wired to cushion myself with the safety, structure, and cozy cave of words (writing lyrics at the piano, returning to a sacred word for centering prayer sits, reading the Word).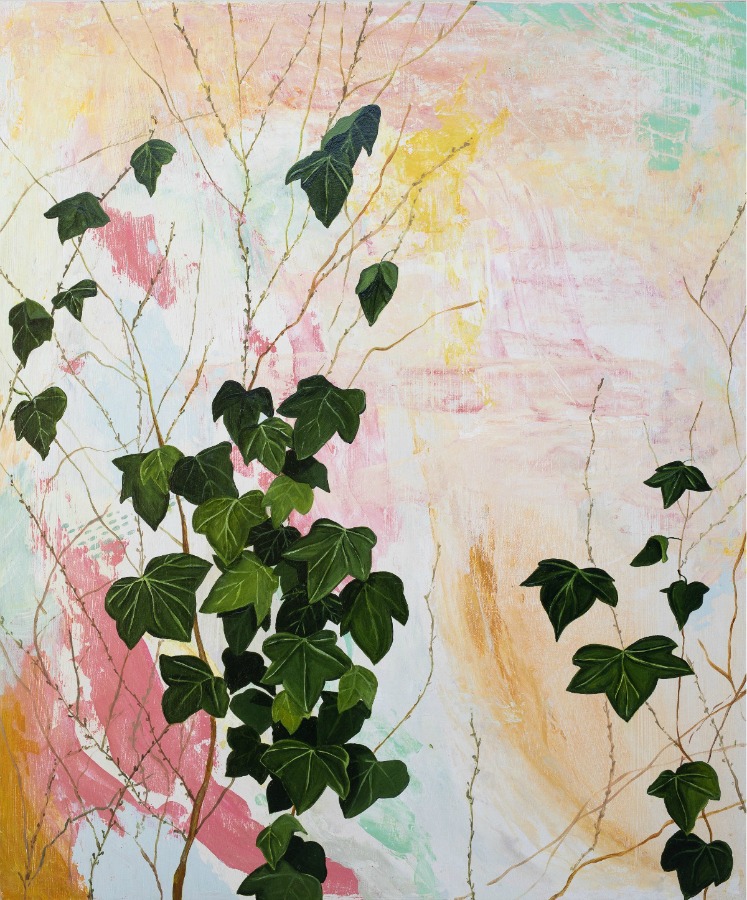 What a gift when an artist like May gently takes us by the hand and leads us into: wider open cosmic traces, subsconscious places, and universally understood white spaces between dark scratches upon the page.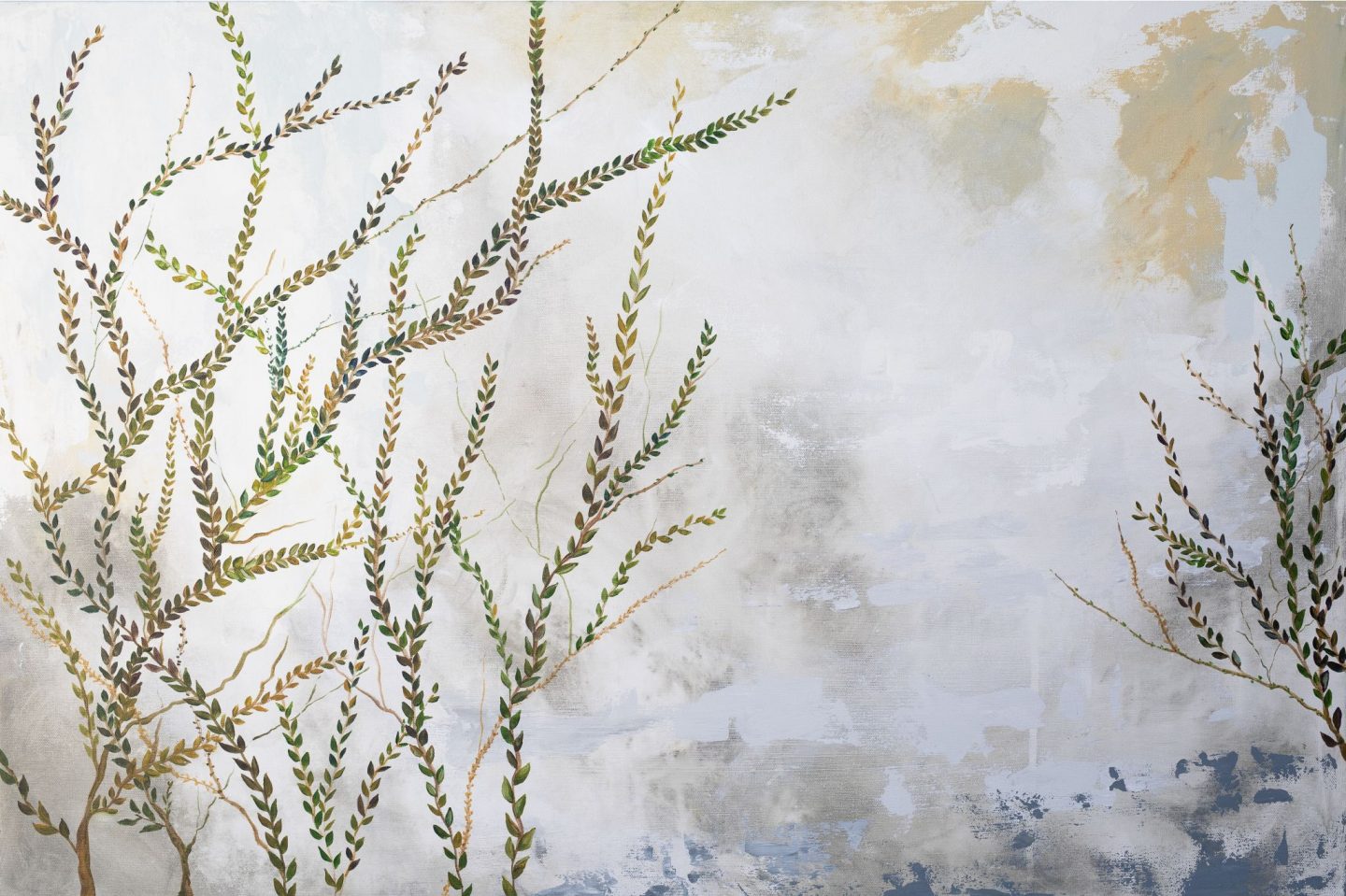 Realms Within Realms
Those poetic realms hidden within realms beyond language, reason, and time are no less real. We so desperately need the artist to invite us into such realms where the beauty of the Great Paradox glimmers. For me, the Great Paradox is the truth that both the light AND the darkness belong. That suffering is as much a part of the deal as joy, yet we can still dance.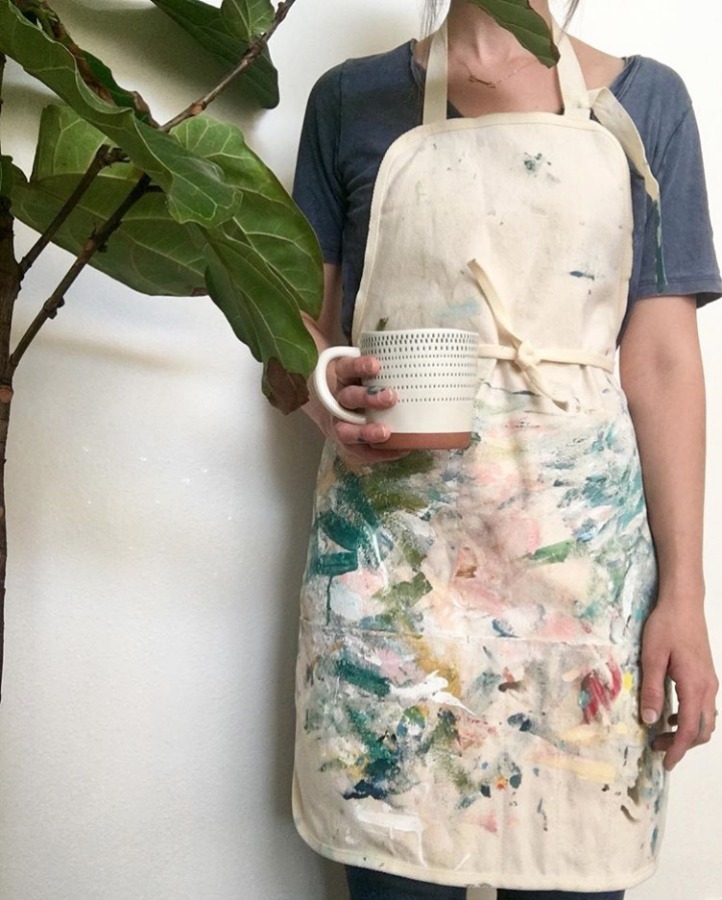 Here's the thing.
Without the imagination and vulnerability of the artist, the vast wilderness–of the quantum, of the transrational–is often simply too lonely and frightening to enter.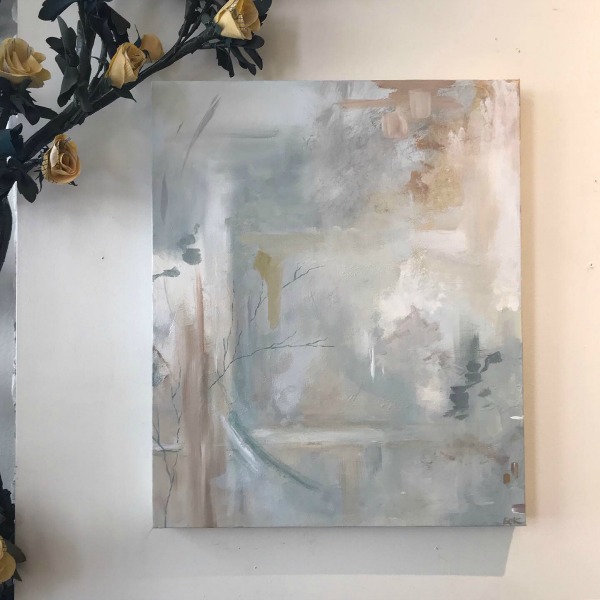 Thoughts on Holding Paradox
So I'm grateful for this blooming loveliness from Rebekah May because the work is having its way with my soul's growing capacity to hold paradox. Surely there are healing energies borne from listening to whispers from the conversation between the ethereal and the tangible, between the unseen and the seen.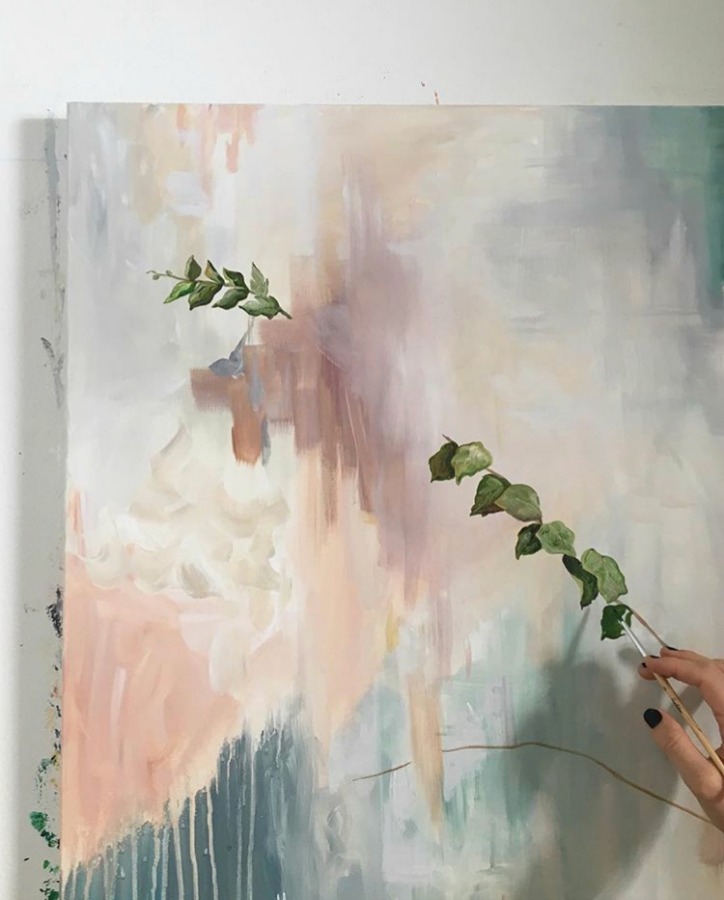 How might I begin to quiet my small self to notice faint murmurings and hidden sources of wholeness flowing between the sacred real and the sacred surreal?
Oh, friends. A collection of work like this is a good start.
See the work in person and discover more artists: Claire Elizabeth Gallery, 131 Decatur St., New Orleans, LA 70130
I independently selected products in this post—if you buy from one of my links, I may earn a commission.
Peace to you right where you are.
-michele
Shop for items you already intended to buy on Amazon RIGHT HERE, and also find home decor here to keep decor inspiration flowing on Hello Lovely!
Hello Lovely is a participant in the Amazon Services LLC Associates Program, an affiliate advertising program designed to provide a means for sites to earn fees by linking to Amazon.com and affiliated sites.