Ready for a thoughtfully designed traditional style home tour of a beautiful cottage in Habersham filled with bold color and modern amenities as well as contemporary decor? Modern Coastal Cottage Design Inspiration: 2018 Coastal Living Idea House shares inspiring decorating ideas along and also a colorful palette.
As a result, find smart ideas you can apply to your own design plans.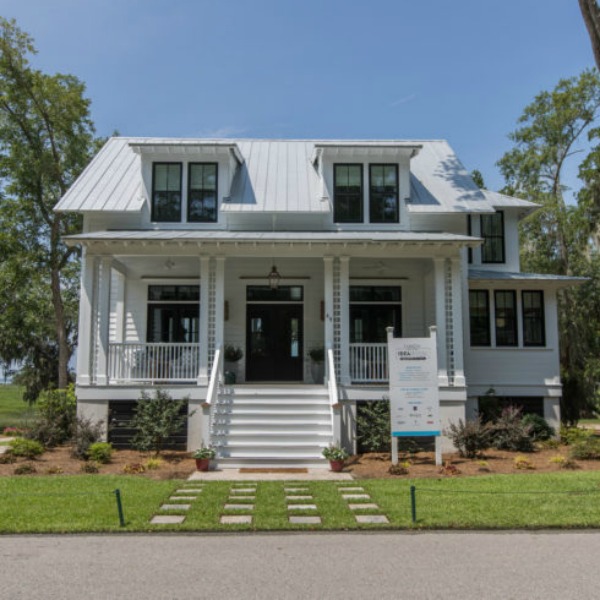 Architect: Eric Moser | Builder: Allen Patterson |Interior Design: Jenny Keenan |Photography: J. Savage Gibson|Styling: Liz Strong
Modern Coastal Cottage Interior Design Inspiration: 2018 Coastal Living Idea House
Step Inside This Cottage Idea House!
We learn straight away in the video tour above that in last year's 2018 Coastal Living Idea House, art work by Sally King Benedict inspired the whole palette for the interior design by Jenny Keenan.
Have you picked up the Summer 2019 Coastal Living issue…certainly lovely indeed!
Modern Coastal Cottage Design: The Designer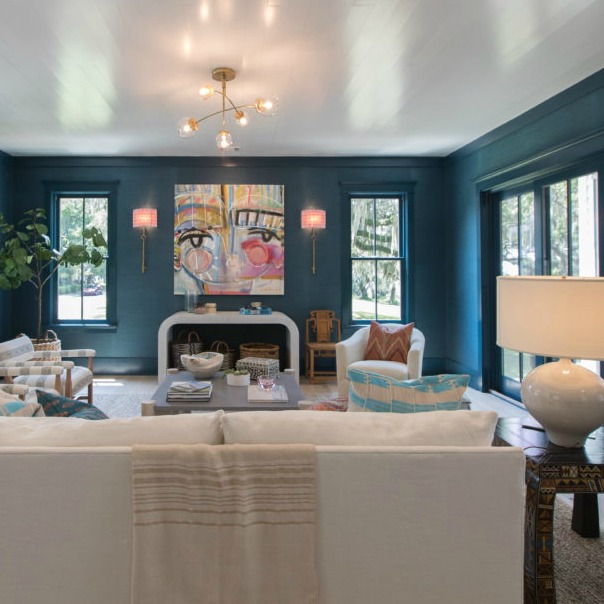 Jenny Keenan creates a character-filled, unique, and fresh look with a keen eye for beauty. The designer is particularly inspired by creative lighting, one of a kind found objects, and original art which she incorporates to create a collected look. Her lovely work has been published in Better Homes and Gardens, Southern Living, and Charleston.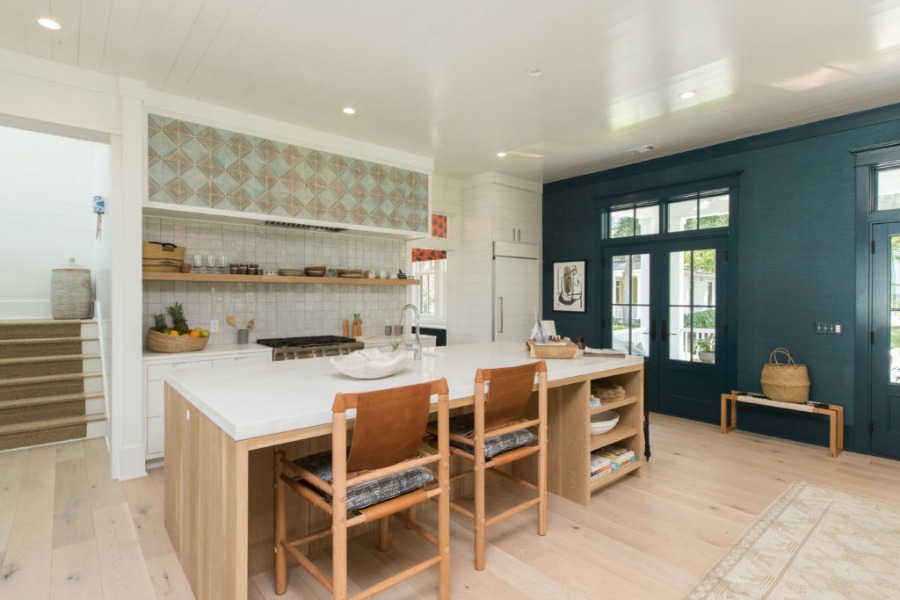 Habersham Coastal Cottage: Architect
Eric Moser designed several Idea Homes for Cottage Living and Southern Living as well as Coastal Living. Additionally, he serves as Town Urbanist at Habersham and other neighborhoods. Moser consults in the design and planning of new and old towns across the USA also the Caribbean.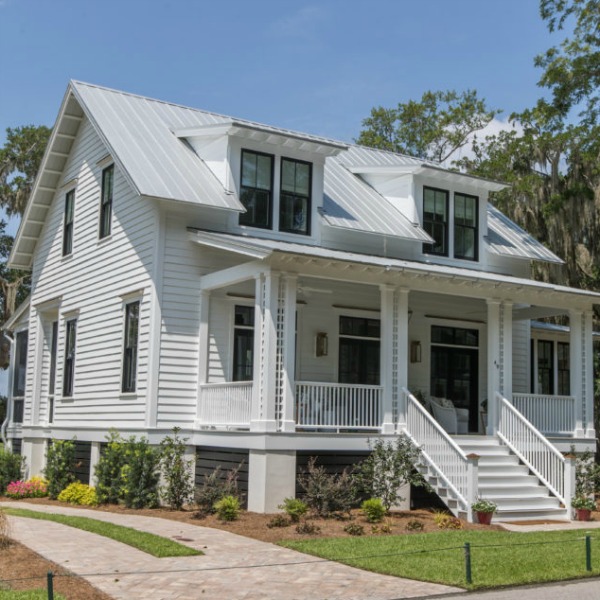 Build This 2018 Coastal Living House Plan…certainly lovely!
Contemporary Coastal Cottage House Tour: Kitchen
If you viewed the video, then you learned that this uniquely designed cottage has a 'back kitchen' as well as a main kitchen. Cheerful color, storage, and wonderful function certainly help the space sing.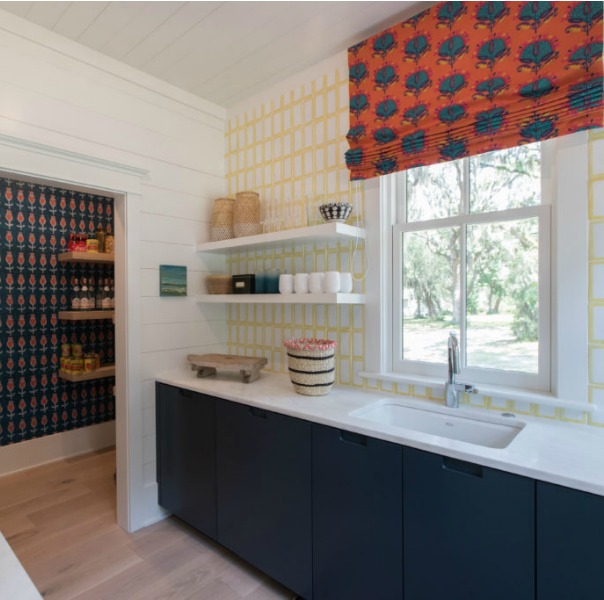 You can see the main kitchen (below) which is located near the front door!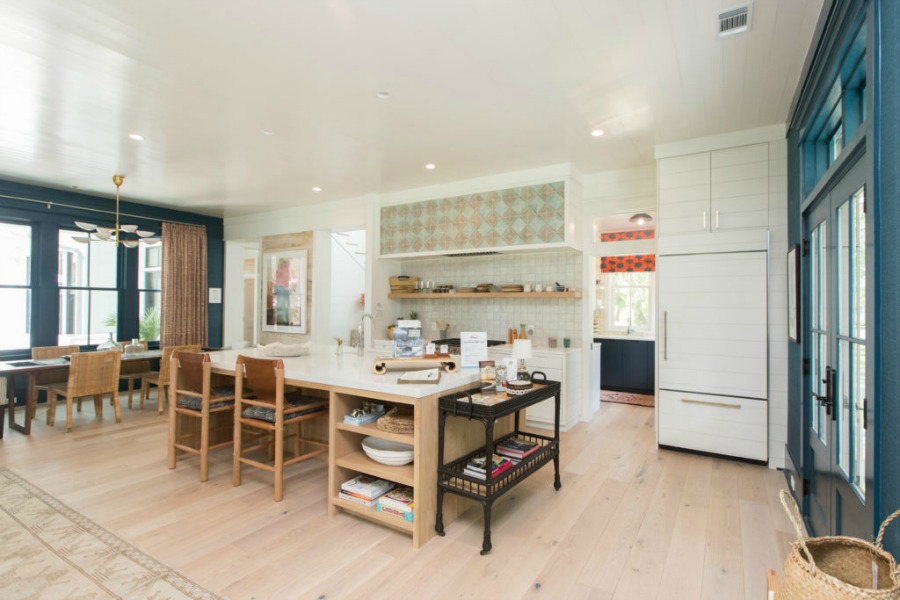 Modern Coastal Cottage Screen Porch…Certainly Lovely Indeed!
While the screen porch (located brilliantly right off of the living room) has a traditional blue painted ceiling, it also boasts a cement tiled fireplace and a tranquil palette of blues.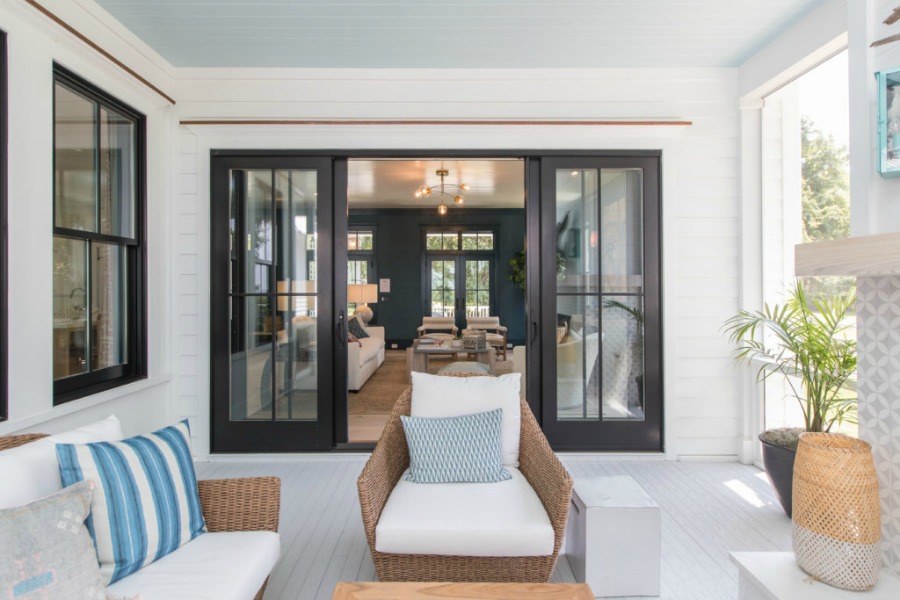 Traditional Coastal Cottage Design Elements: Stairway & Hall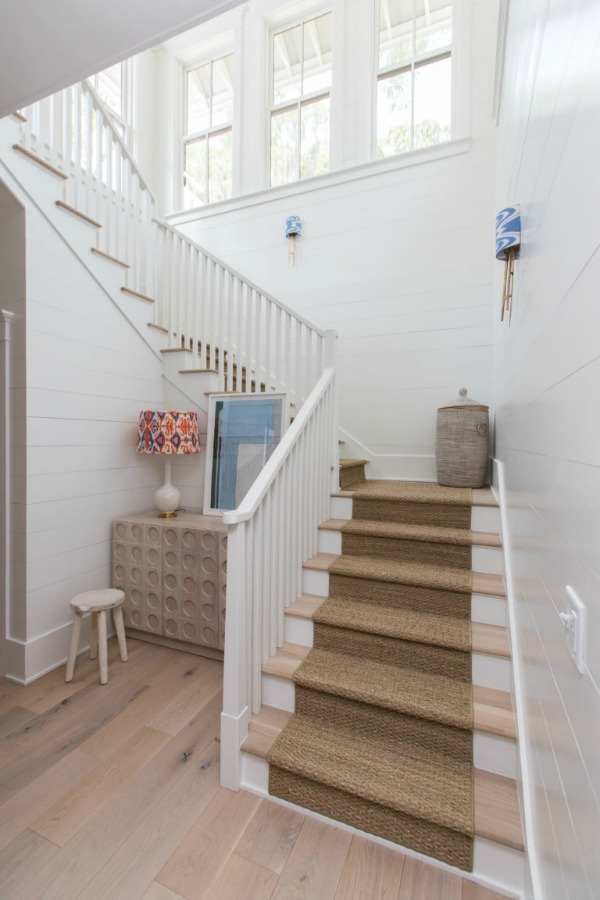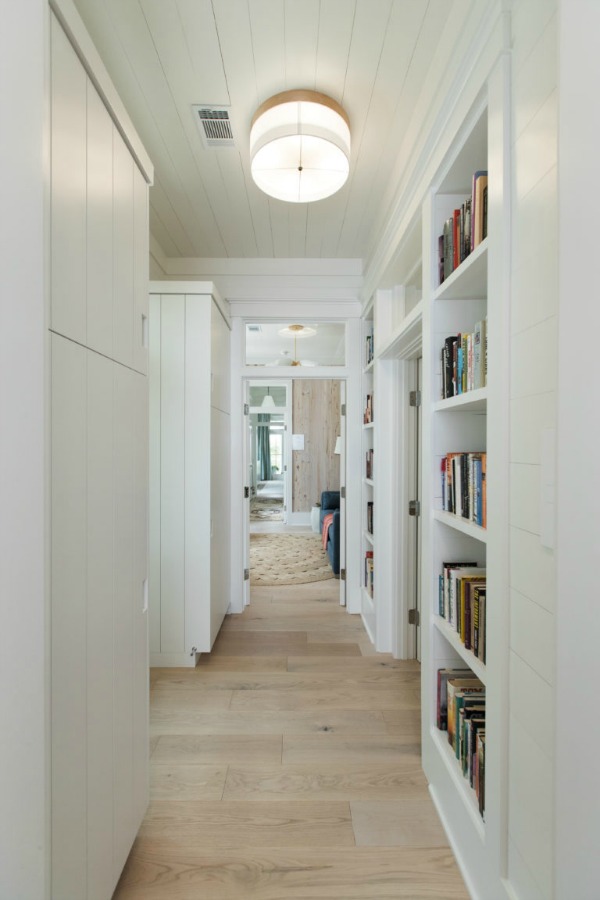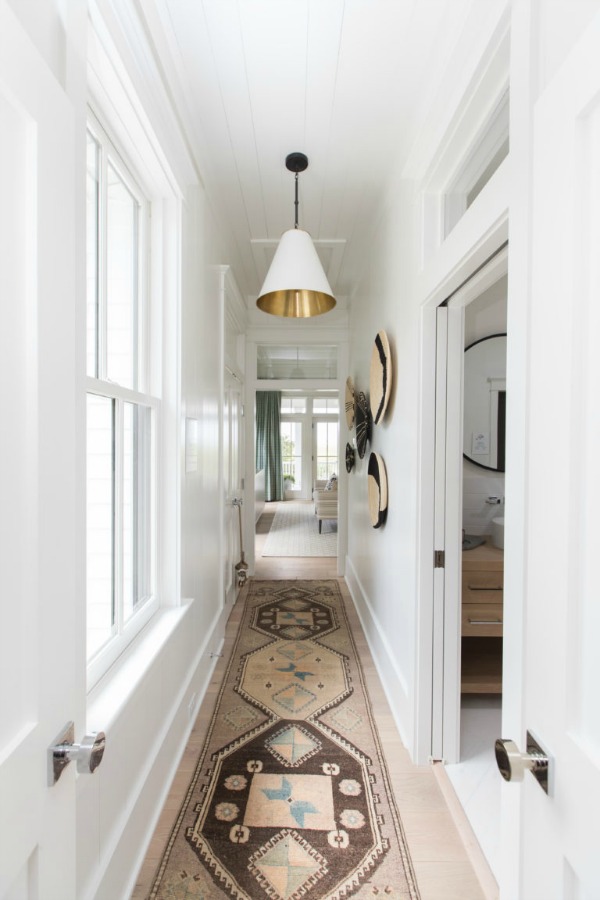 Freshened Traditional Style in a Coastal Cottage Bathroom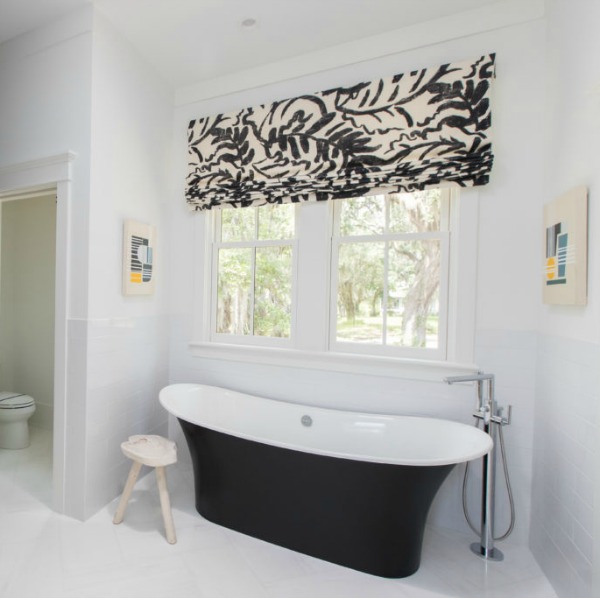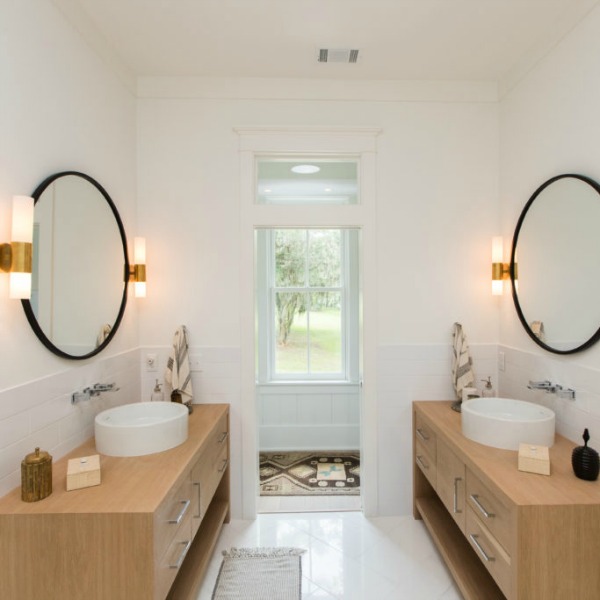 Vibrant Gallery Wall in a Traditional Cottage Sitting Room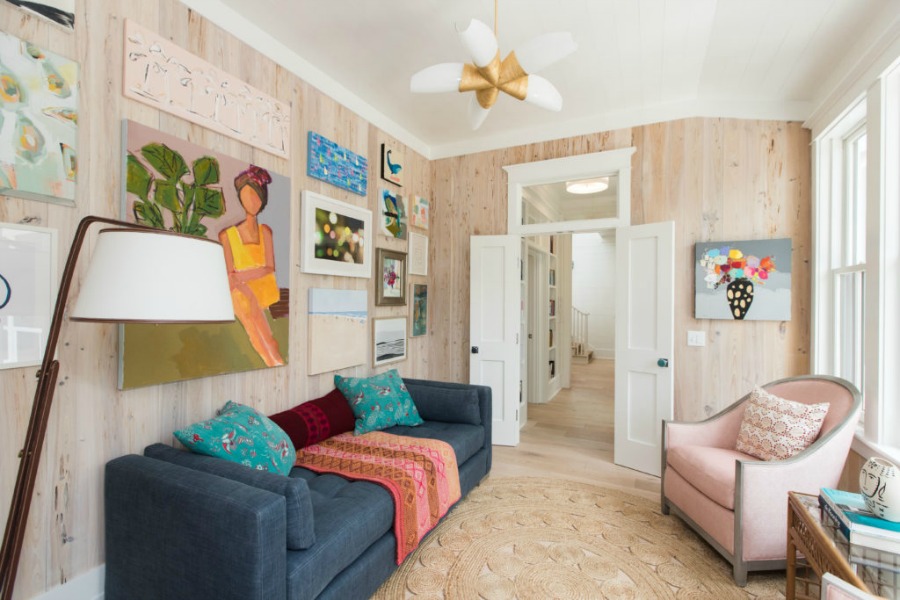 Modern Decor in a Beautiful Cottage Bedroom With Green Accents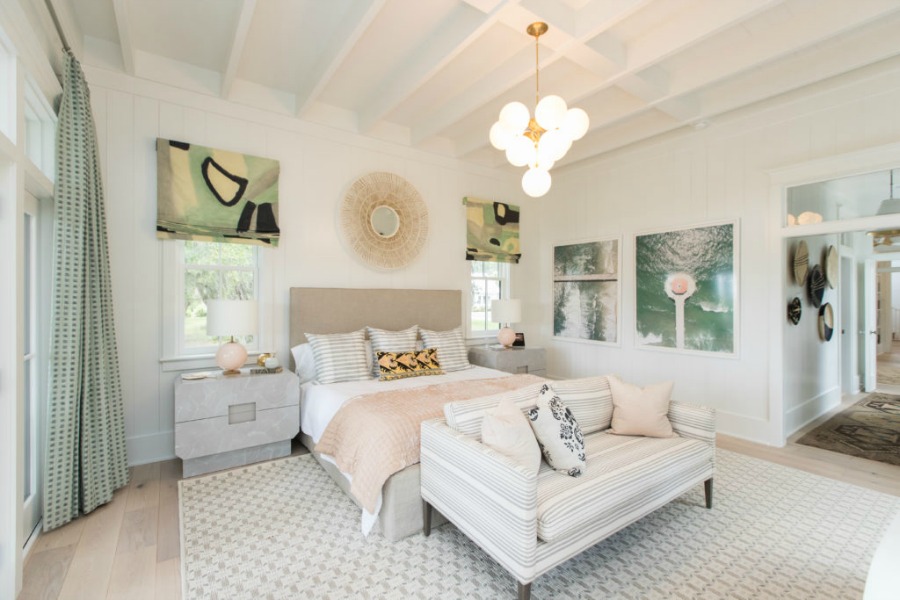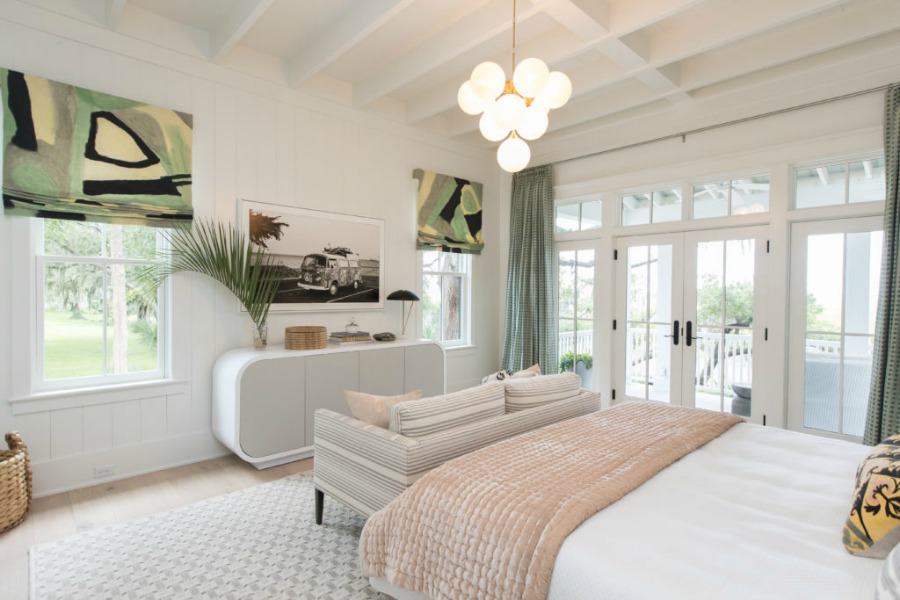 Covered Porch Off a Contemporary Coastal Cottage Bedroom…certainly lovely!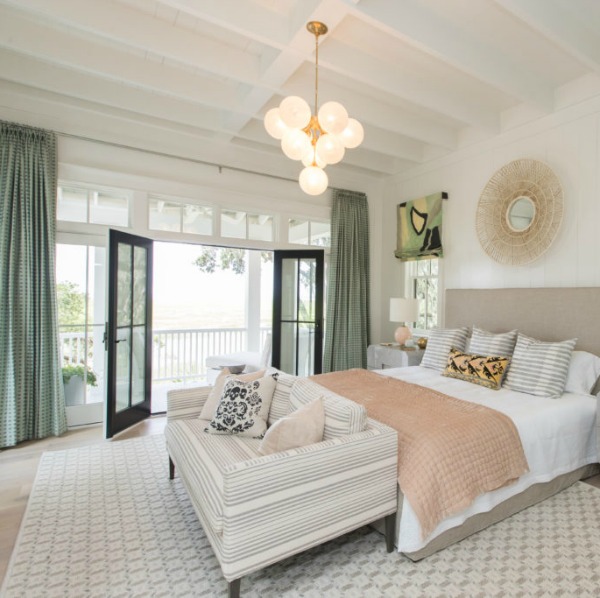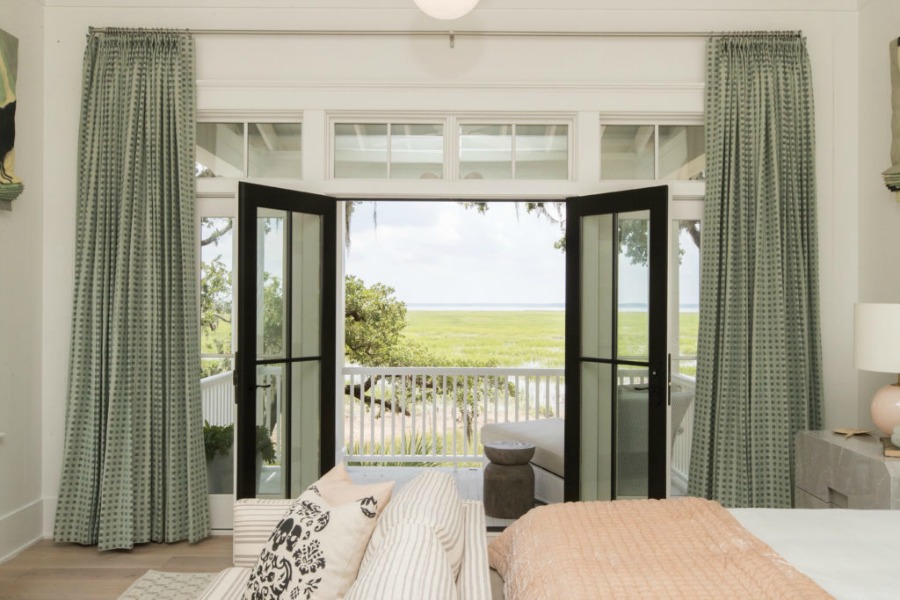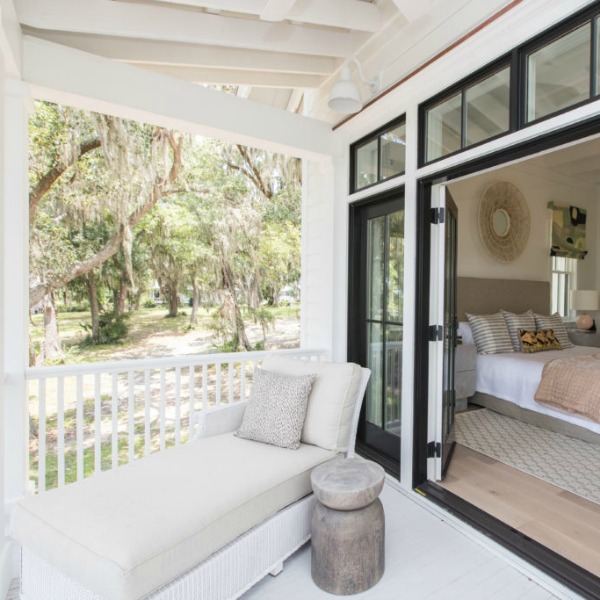 Bold Modern Art Against Gallery White Walls in a Cottage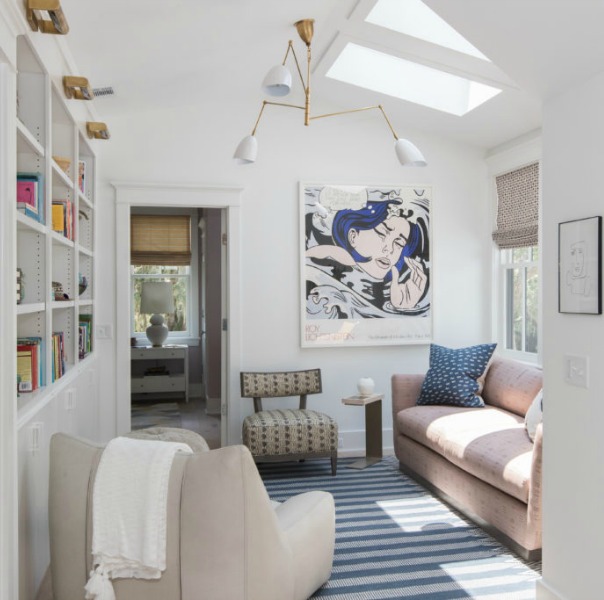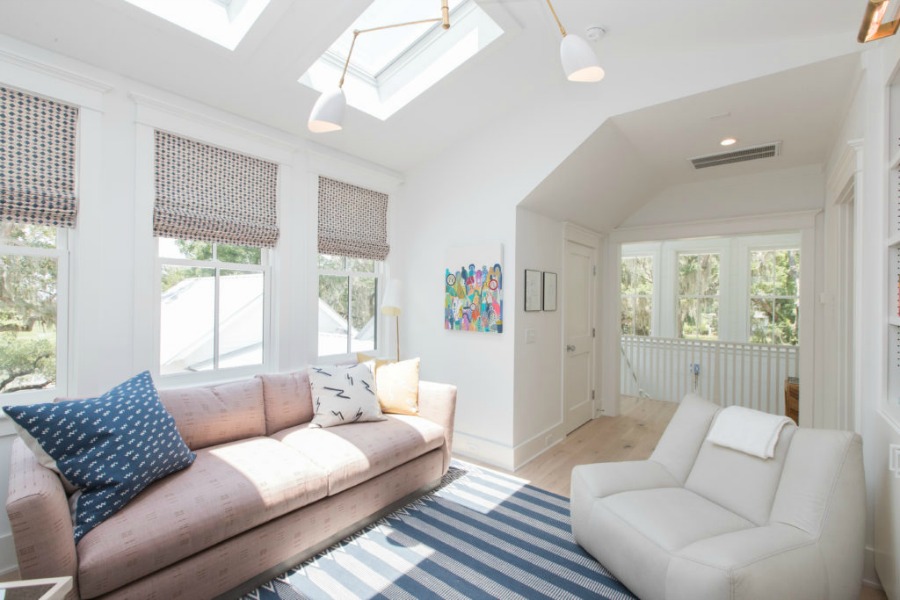 Elevated Foundation for a South Carolina Cottage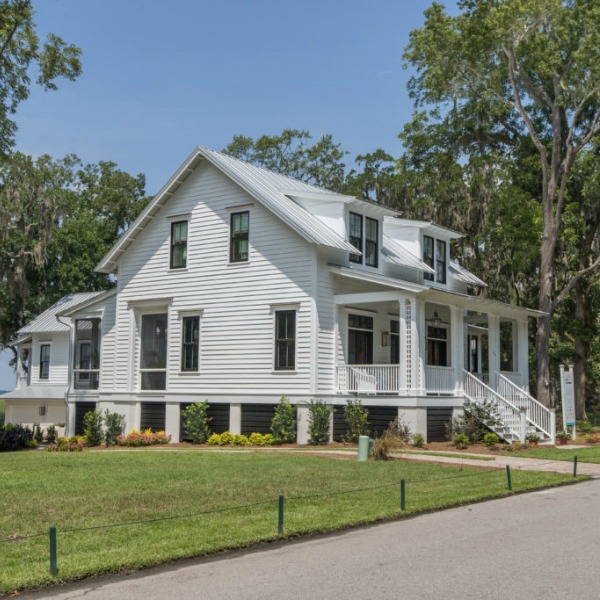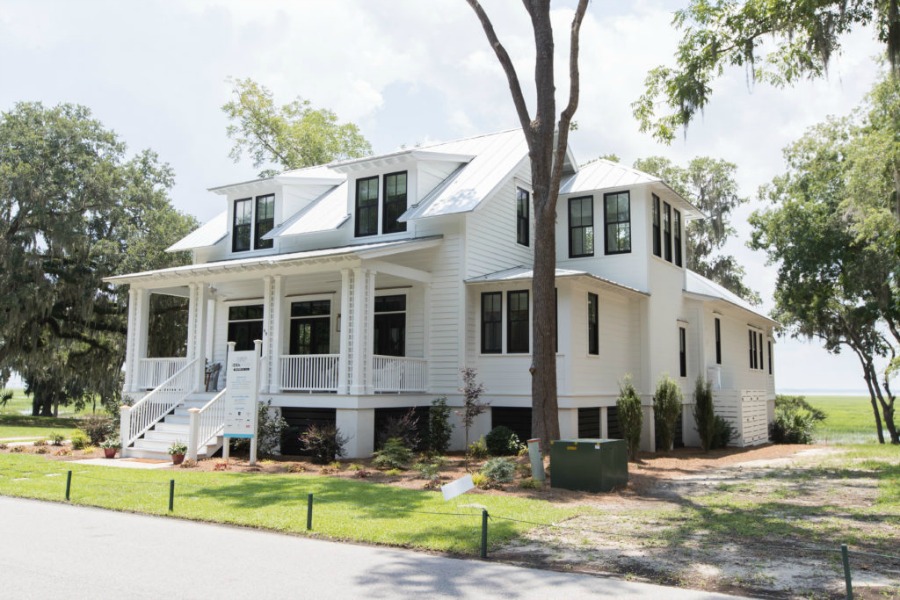 Unexpected Pastels in a Beachy Cottage Bedroom With Lavender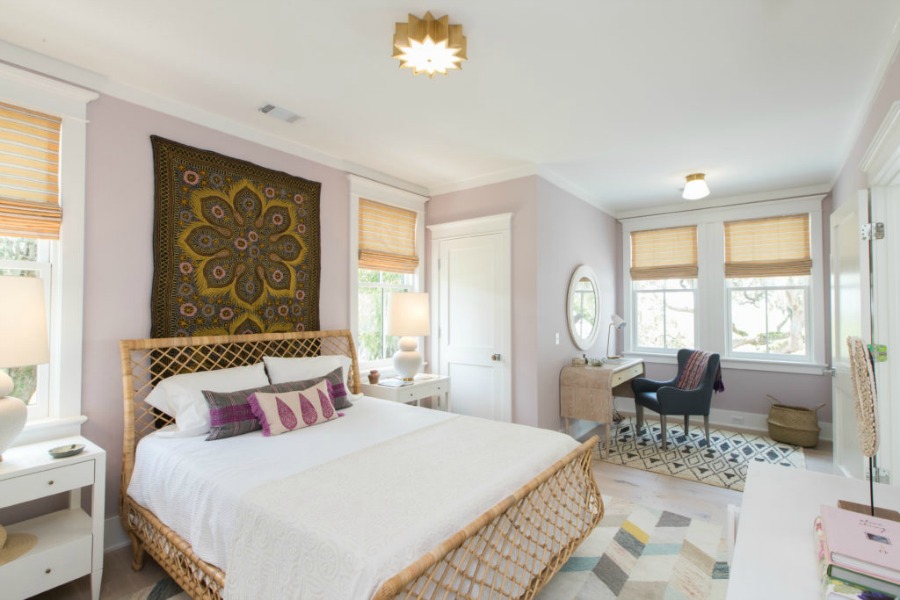 Modern Coastal Cottage Design: Front Porch Splendor With Black & White…certainly lovely!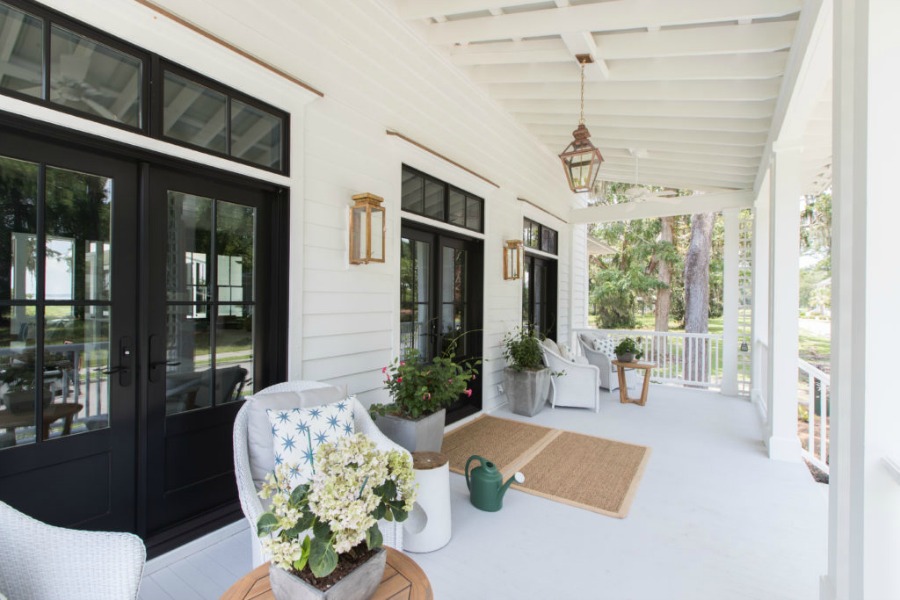 Also find design inspiration for a modern coastal cotttage look right here as well as cottage bedroom decor inspiration here!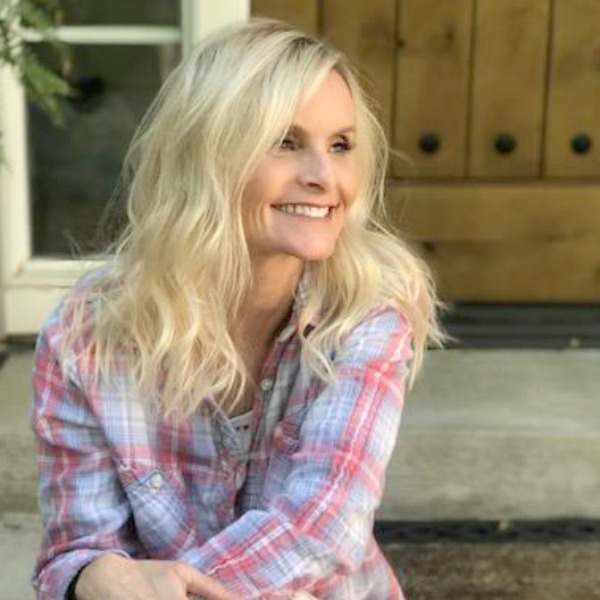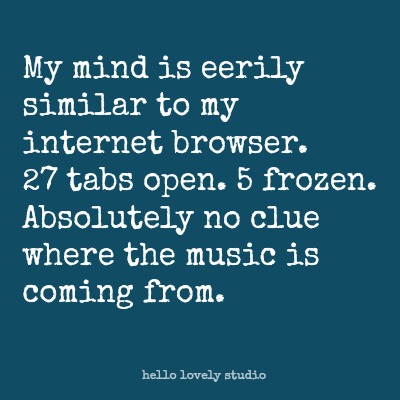 Peace to you right where you are.
-michele
Shopping for items you already intended to buy on Amazon RIGHT HERE (not just items mentioned in posts) keeps decor inspiration flowing on Hello Lovely!
Hello Lovely is a participant in the Amazon Services LLC Associates Program, an affiliate advertising program designed to provide a means for sites to earn fees by linking to Amazon.com and affiliated sites. Hence, some links on the blog are affiliate links that won't cost you a penny more yet earn Hello Lovely a commission.
Click HERE to also discover lovely cost conscious furniture and home decor!