Susan Harter's Timeless & Tranquil Wallpaper Murals is bound to be a meditative fantasy for design lovers with sophisticated taste who come alive in the presence of interior quietude loveliness. While these artful muralpapers have appeared on the pages of Architectural Digest, House Beautiful and beyond, the fantasy remains accessible. If ever you dreamed of adding timeless charm, enchanting interest, and custom home decoration with a lovely painted mural – the dream is within reach. Say "hello, lovely" to hand-painted mural papers from Susan Harter.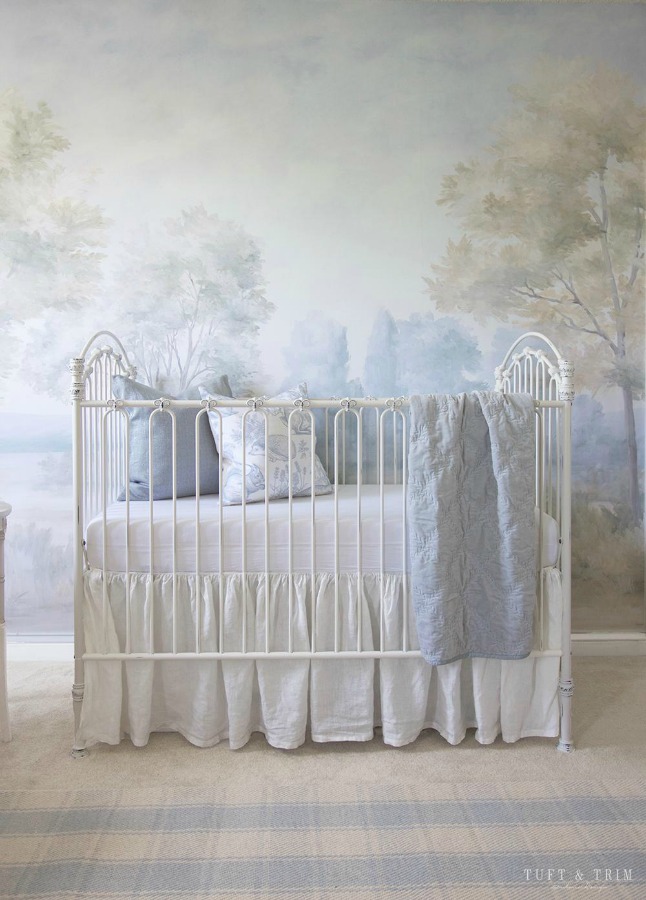 Susan Harter's Timeless & Tranquil Wallpaper Murals!
I first glimpsed Susan Harter's work on the IG feed of interior designer The French Nest Co. Interior Design (merci beaucoup, lovely Jennifer!) and fell in love. The murals are so peaceful and soul soothing, and the customization possible is genius.
I was elated when Susan Harter and a handful of interior designers who admire the artist's work kindly provided images to share with you of these beautiful installations. Oh, how they leave me breathless!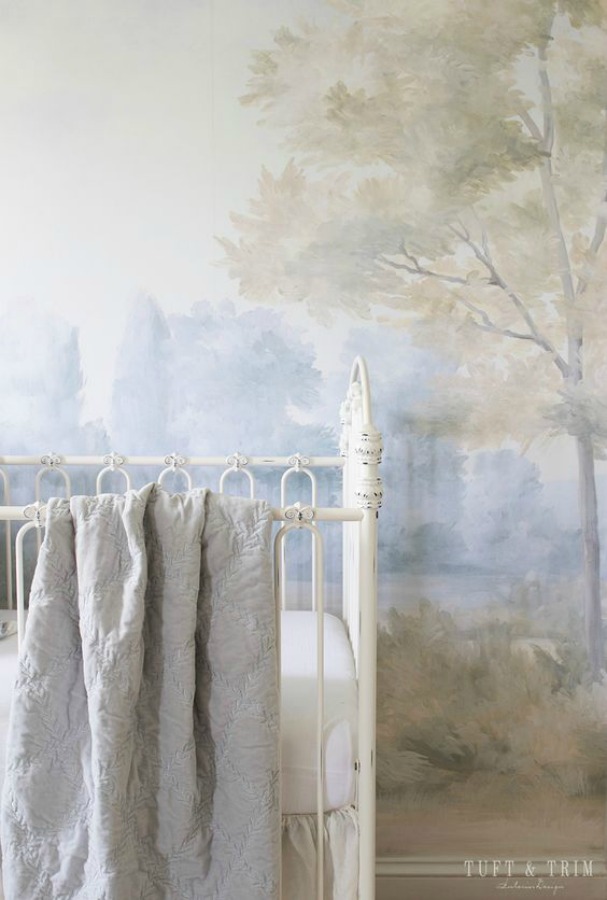 Interior Designers LOVE the Murals
My sincere thanks to Lauren Haskett, Tuft & Trim, Morrissey Saypol Interiors, Alexander Butler, Kelley Flynn, and of course, Susan Harter, for your willingness to join this mural paper love fest, showcasing exceptionally timeless and tranquil design!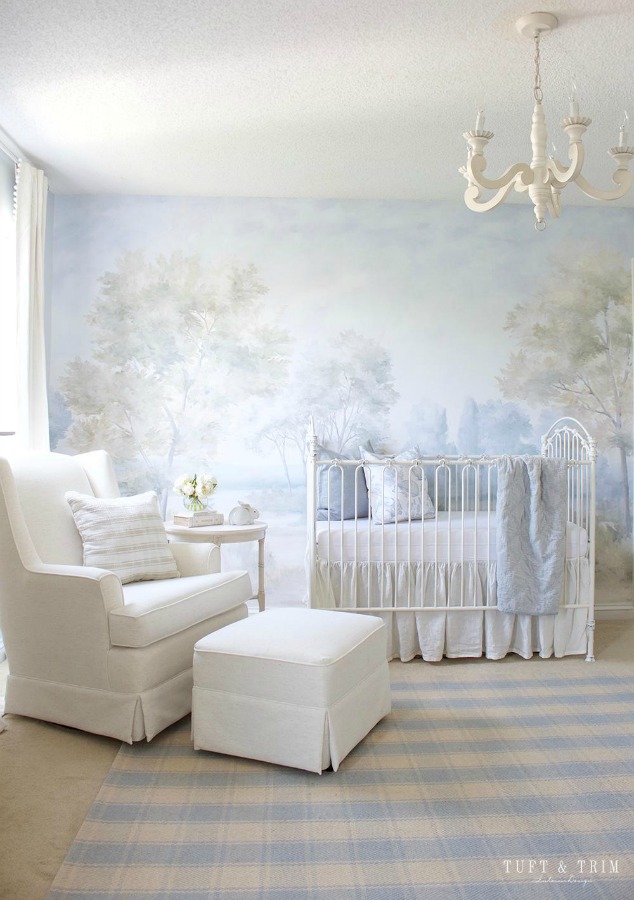 About Susan Harter's Peaceful Murals
The mural-papers are custom tailored to your room's measurements so no two are alike! Printed with archival inks and canvas in Susan Harter's own studio, rolls are carefully numbered and arrive with installation instructions for your paperhanger. Best of all, you can order free samples to try at home in order to choose your favorite mural!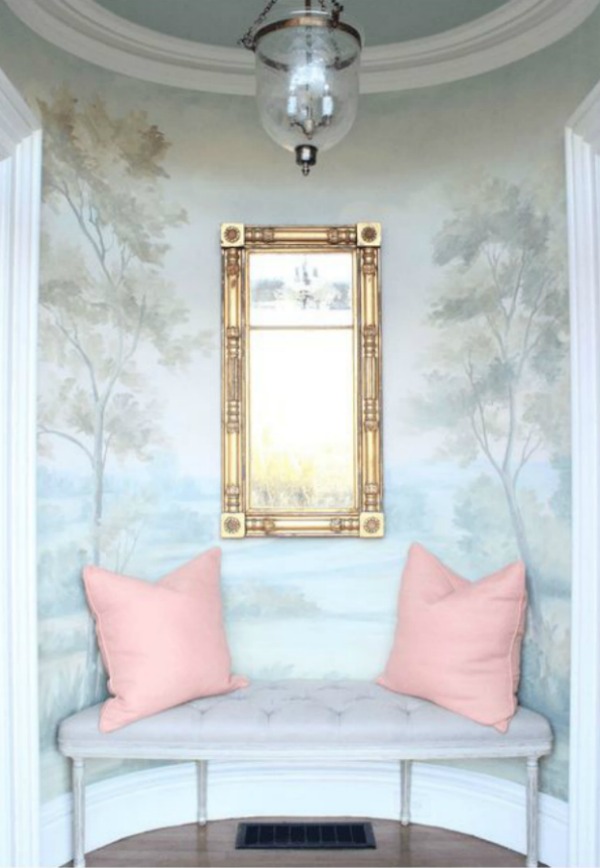 Choosing a Mural and Colors
The first step in the process of securing a beautiful mural paper from Susan Harter may be working with an interior designer or independently choosing a style and color. The process is eased with these color cards with paint color, fabric, and accent colors.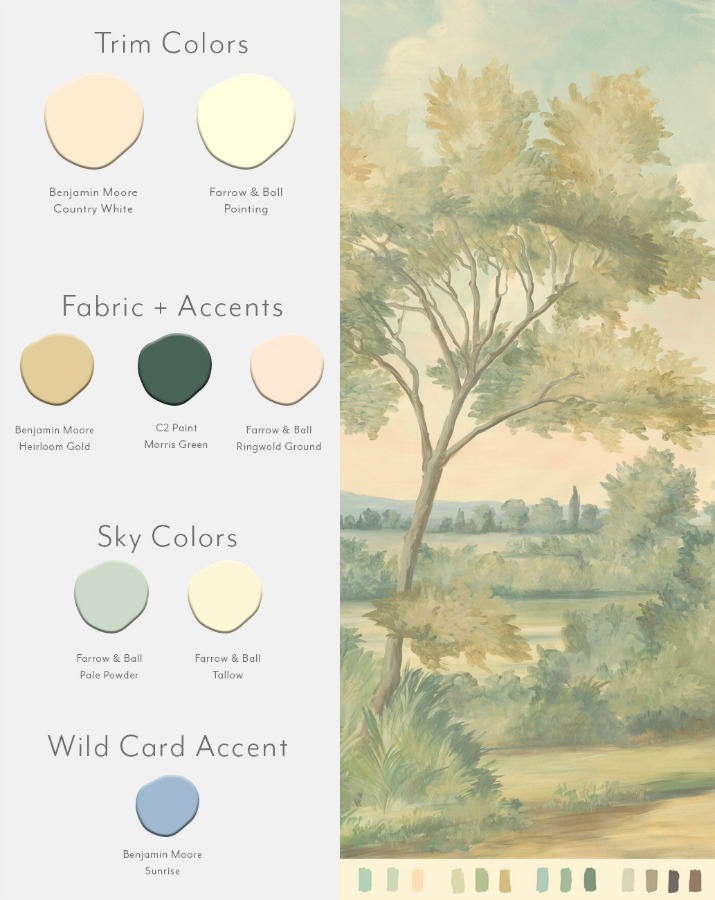 After submitting your wall's measurements, you will receive an estimate for the square footage and cost. If the estimate is within your budget, you'll next be provided with a sketch, illustrating how your mural will look in the room. Then, within 8-10 weeks, your mural will arrive with detailed instructions for a skilled paper hanger to install it!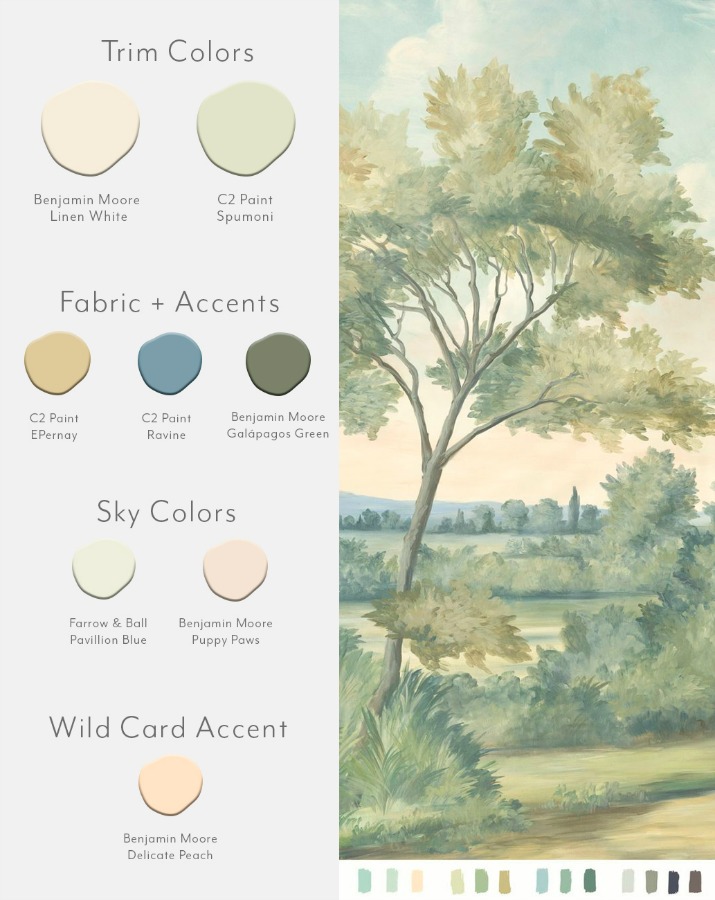 As you can see, mural styles come in various colorways and can be customized. Note how Aldsworth Warm and Aldsworth Natural (above) vary in beautifully subtle ways–you can make the best choice for your wall by referring to the paint colors listed on the left side of the cards…so helpful!
Murals Aren't Just for Dining Rooms!
New York based Alexander Butler snapped these photos of an inspiring and classic bathroom with a Susan Harter mural just for us! The Calmsden mural adds so much timeless beauty to this beautifully designed interior!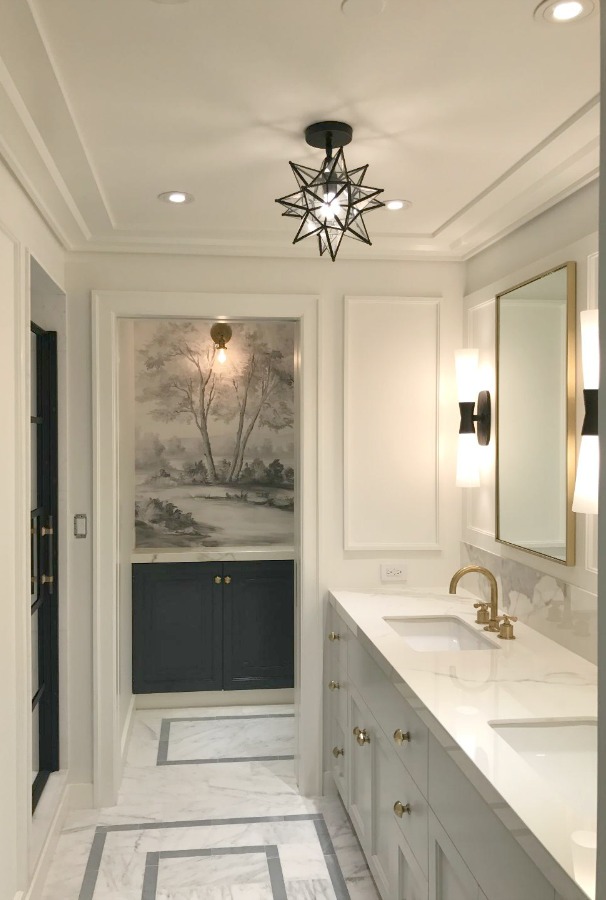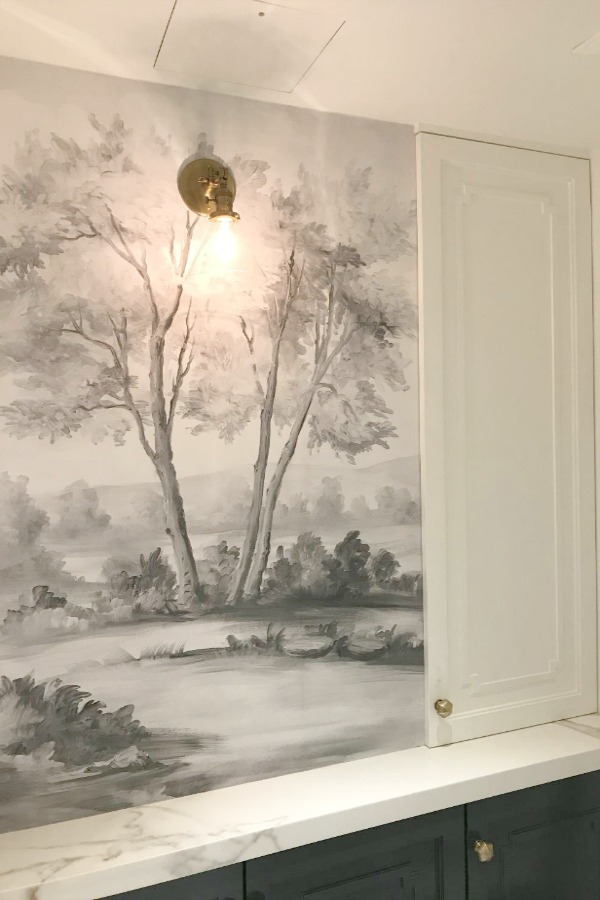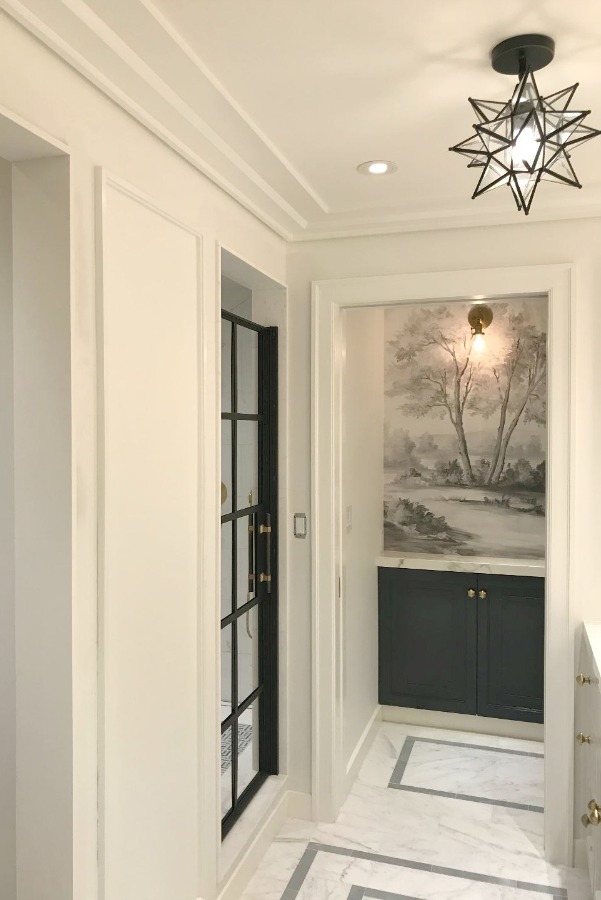 Calmsden Warm Mural by Susan Harter
What a contrast Calmsden Warm makes in the space below (below) compared to the customized Calmsden in the above bath!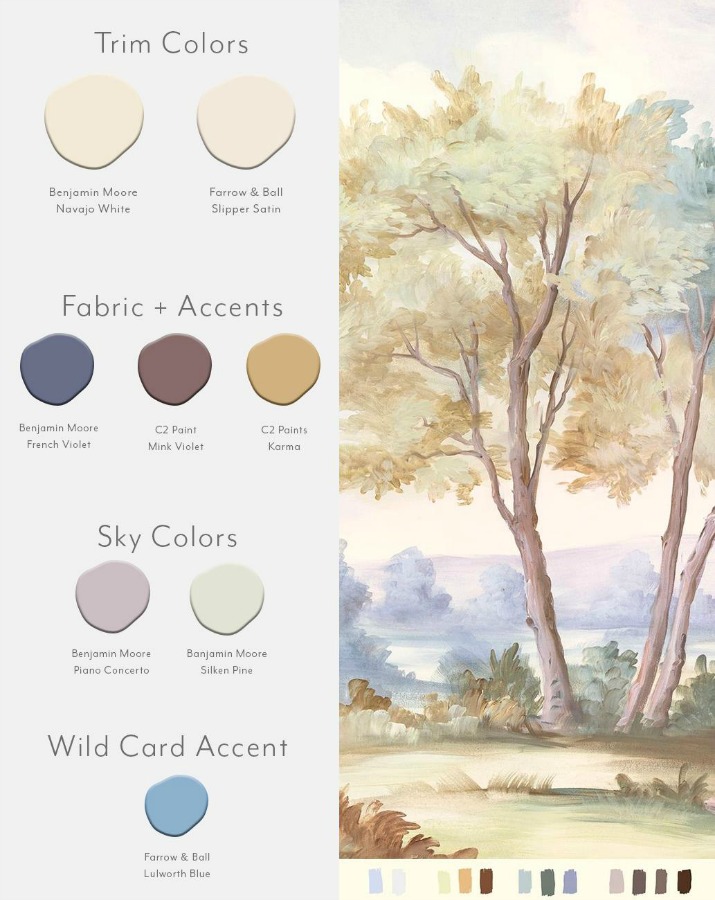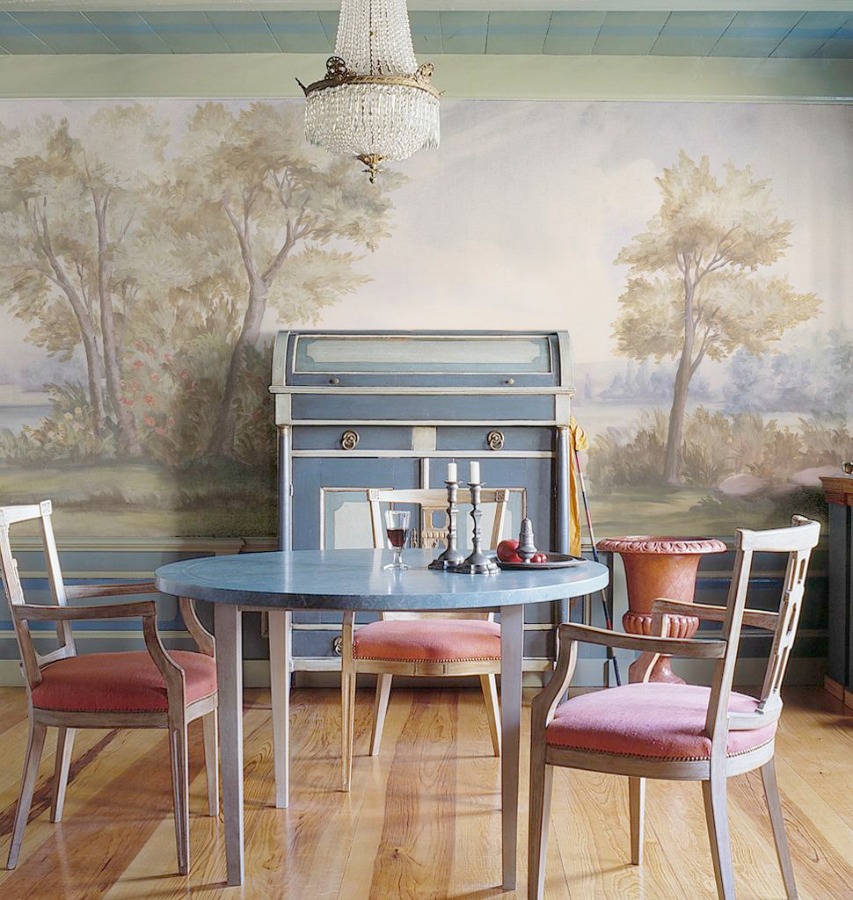 Barringtons Rich Wallpaper Mural
Lucky for us, we don't have to simply imagine how a wee sample will appear in our own space–if Barringtons Rich happens to be your favorite mural style, here are some lovely inspirations!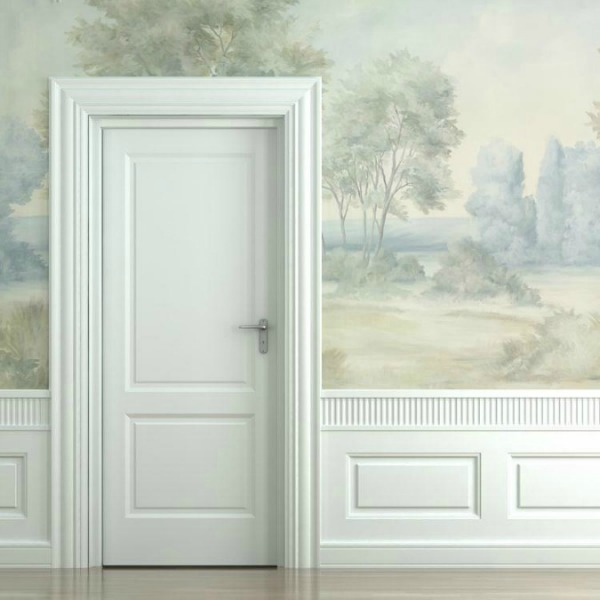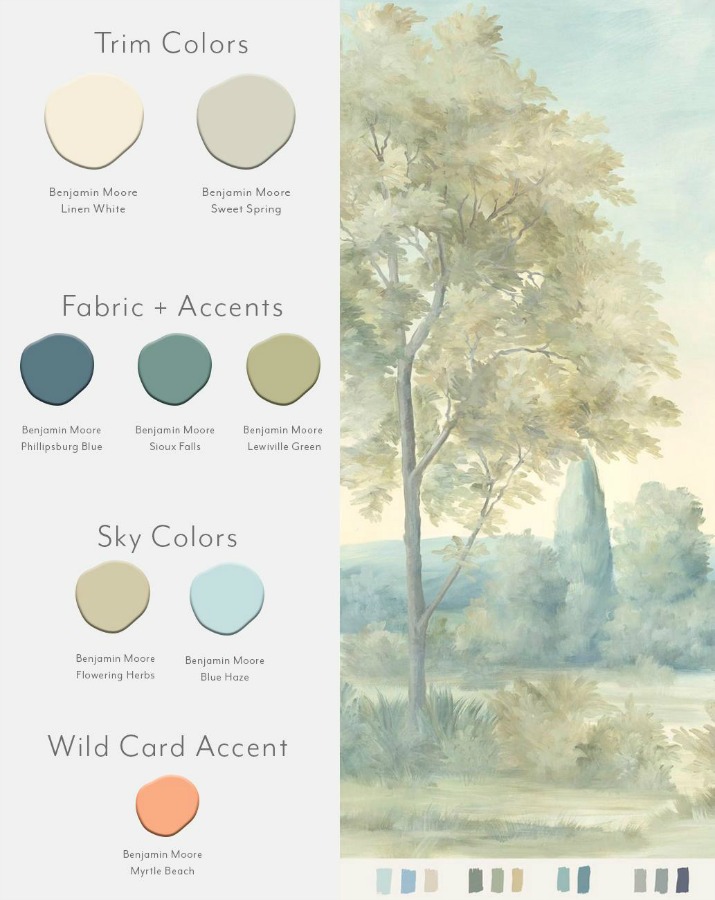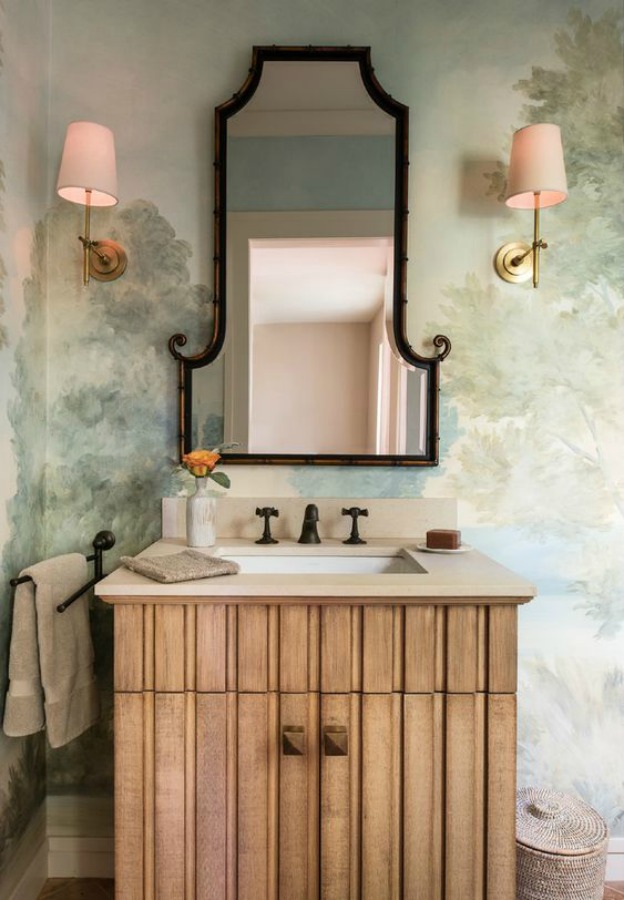 Isn't this Kelley Flynn designed powder room a traditional style triumph!?!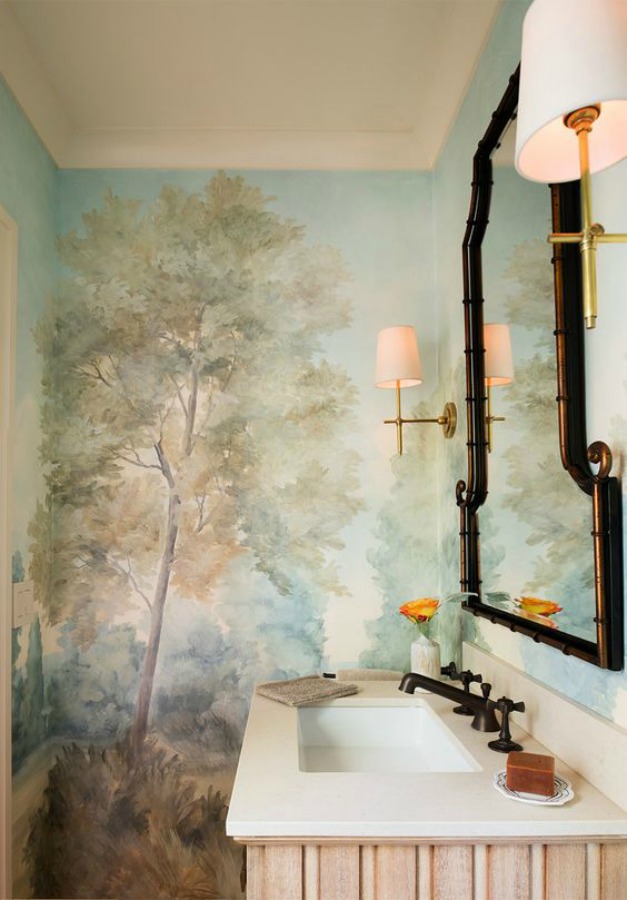 Nursery With Barringtons Cool Wallpaper Mural by Susan Harter
This Tuft & Trim designed nursery is truly unforgettable thanks to Barringtons Cool and a heavenly blue scheme to soothe any parent and child.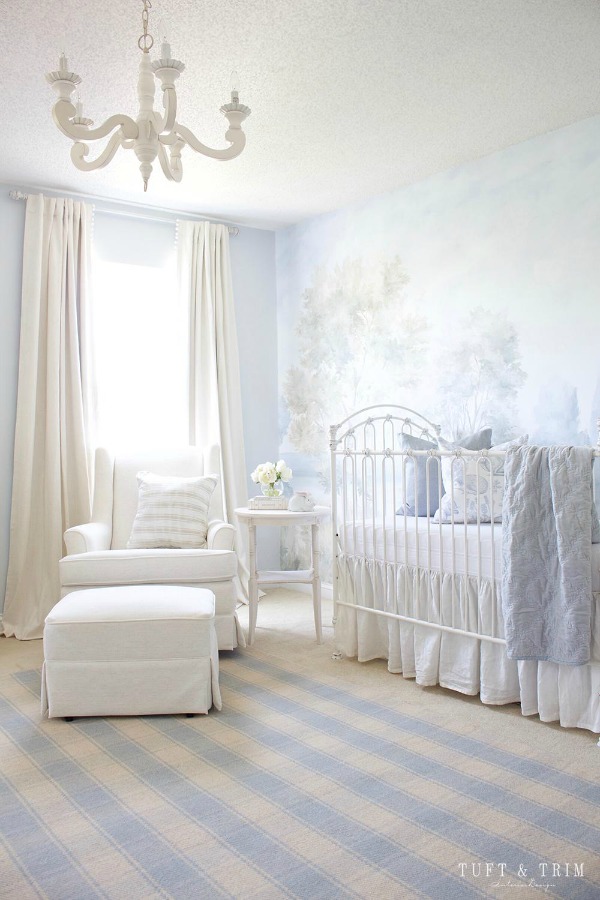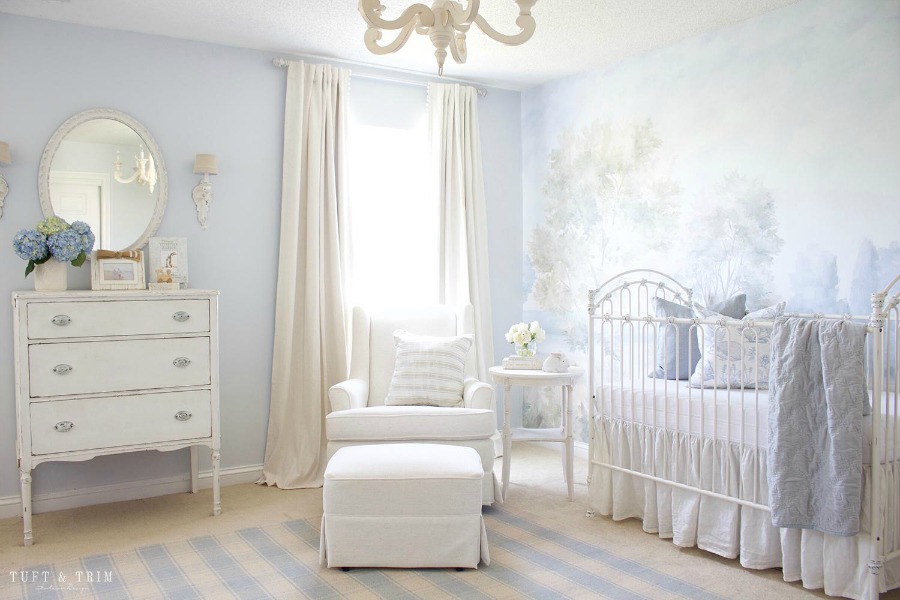 Rowlandson Blue Mural Paper by Susan Harter
Some of Susan Harter's murals work especially well with modern decor, and Rowlandson Blue is one such example. Inspired by an 18th century watercolor, it's easy to see how this mural's style could work magic in any number of spaces, pulling in the fabric and accent colors on the color card below.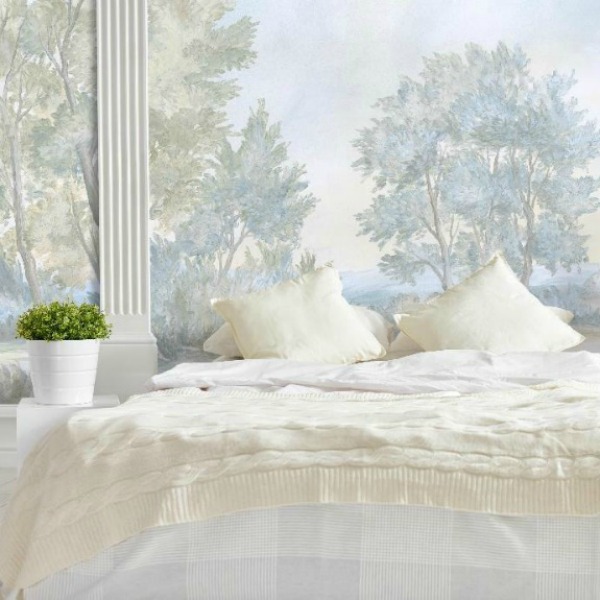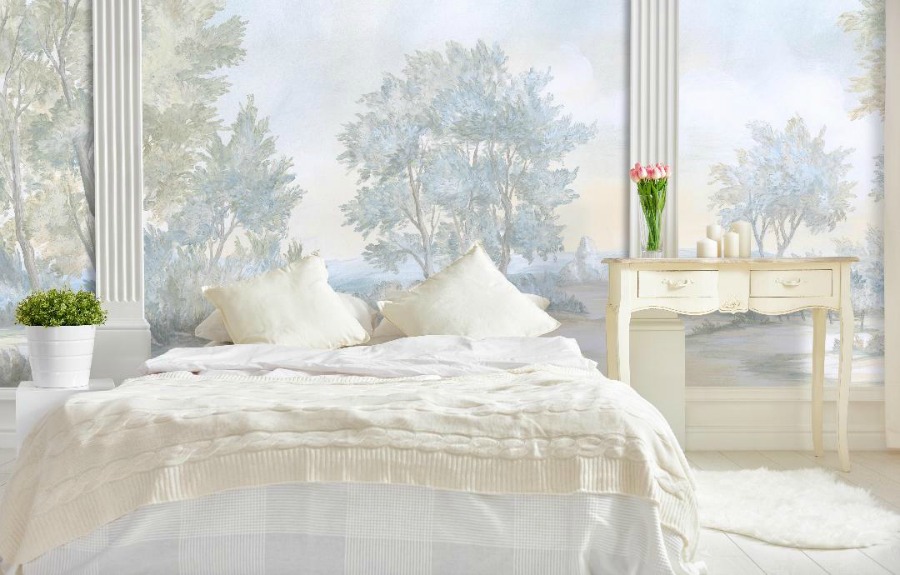 Susan Harter Mural Papers: Pastoral Spring
If a beautiful countryside where sheep or cattle graze calms and nourishes your soul, then one of Susan Harter's Pastoral colors may tug at your heartstrings.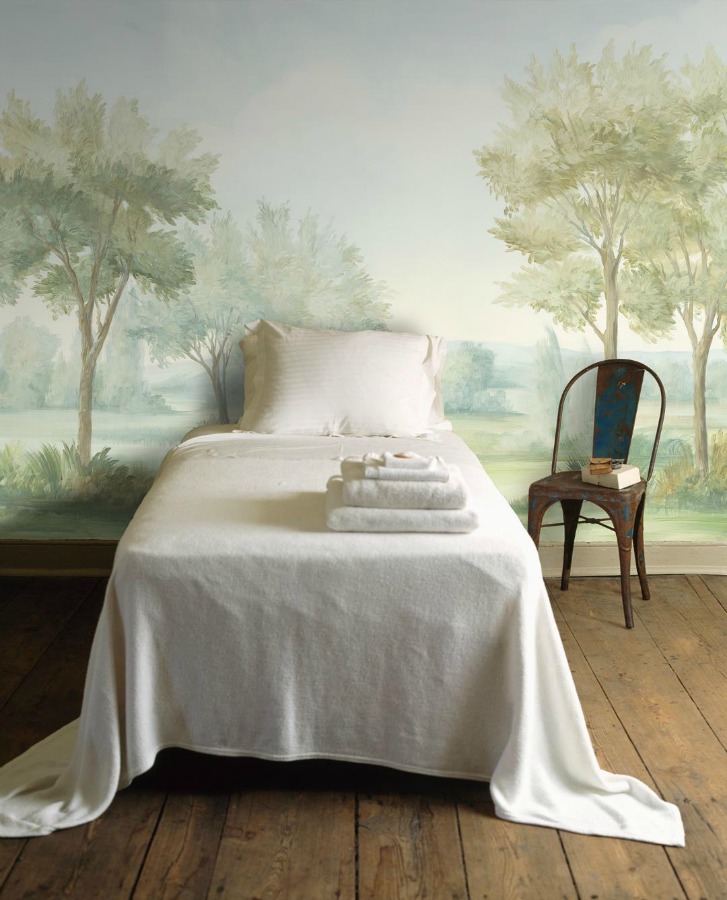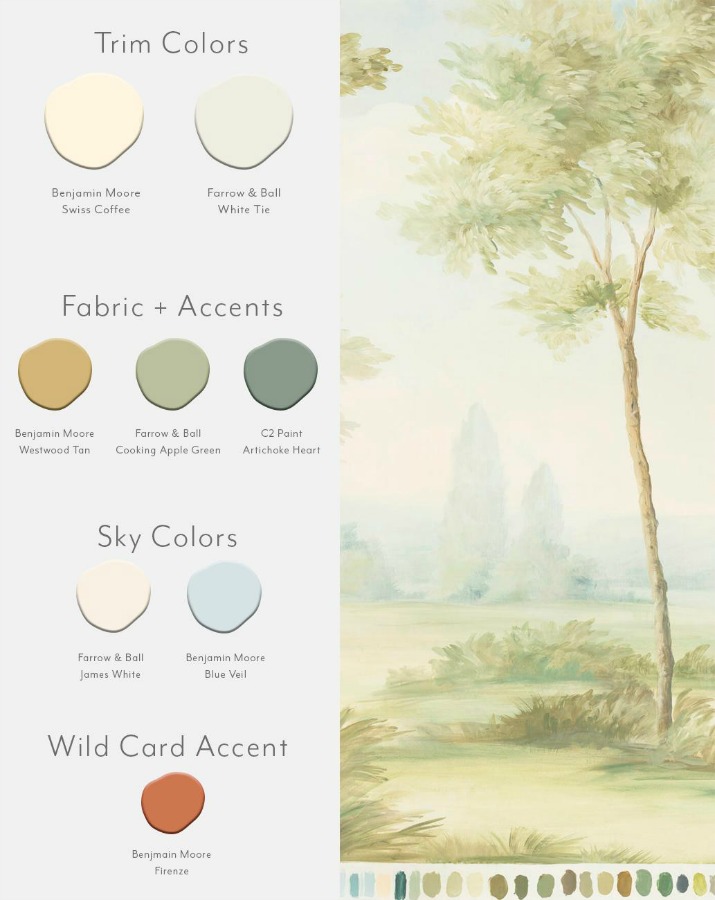 Interior designer Lauren Haskett has absolutely awed me with this unforgettable bath where a Pastoral Warm mural sets a tone.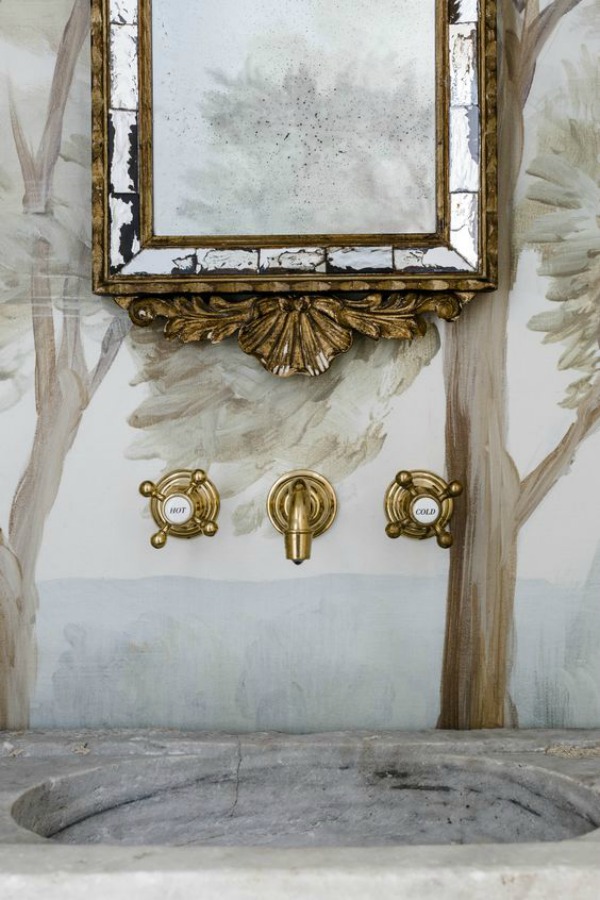 Notice how thoughtfully the mural was placed in relation to the wall mounted bathroom faucet. If ever you needed a nudge to hire an interior designer rather than tackle a design yourself, LET THIS BE IT!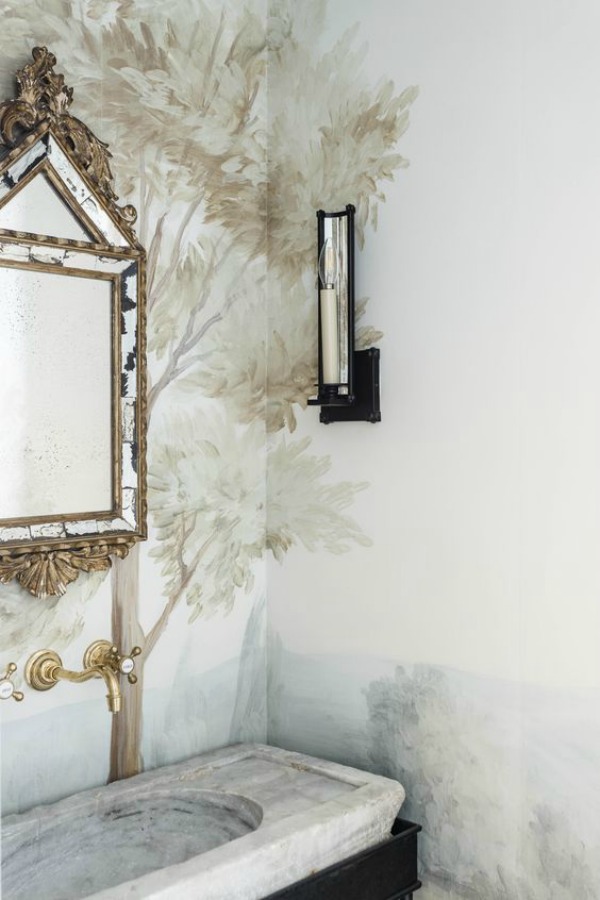 I, for one, could never tire of such a magnificent hand-painted glory of a pastoral scene.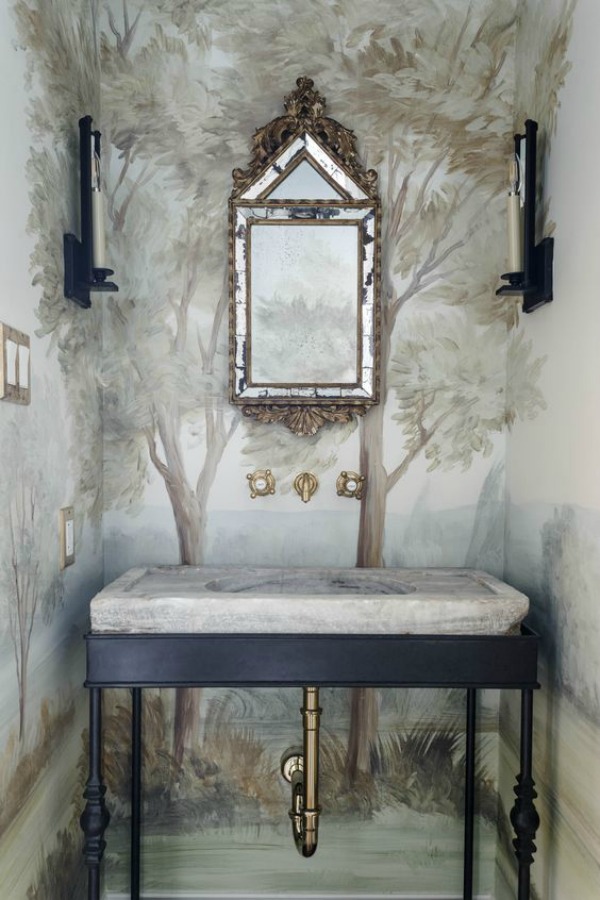 Susan Harter Murals: Pastoral Ash
When a mural with a limited palette or Grisaille (pronounced griz-EYE and explained HERE) is desired, Susan Harter's quieter strokes sing no less sweetly.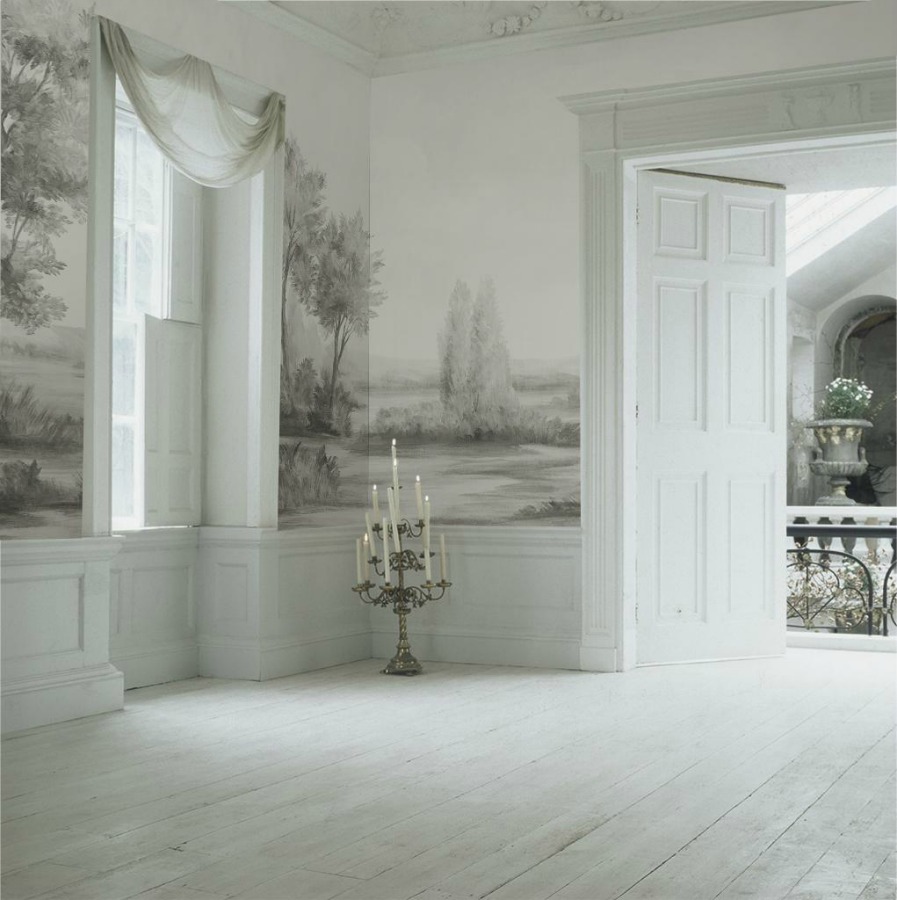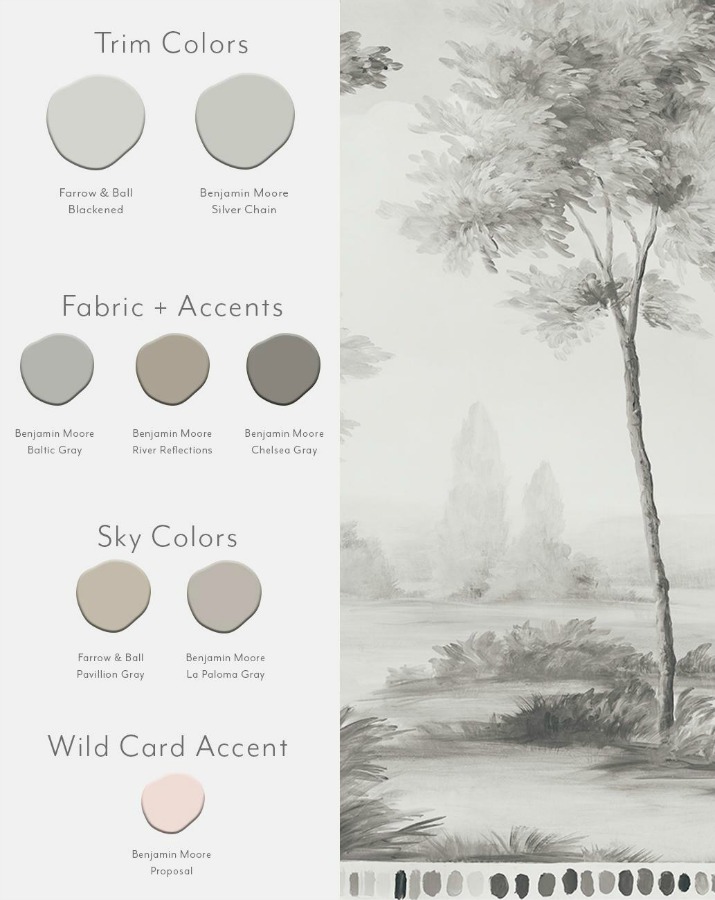 Delft Jade Murals by Susan Harter
Bold statements can be timelessly lovely and bring energizing interest to a space with an option such as Delft Jade!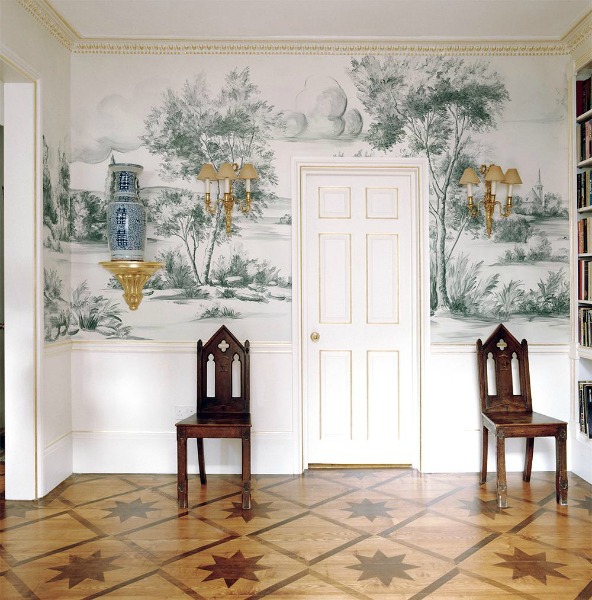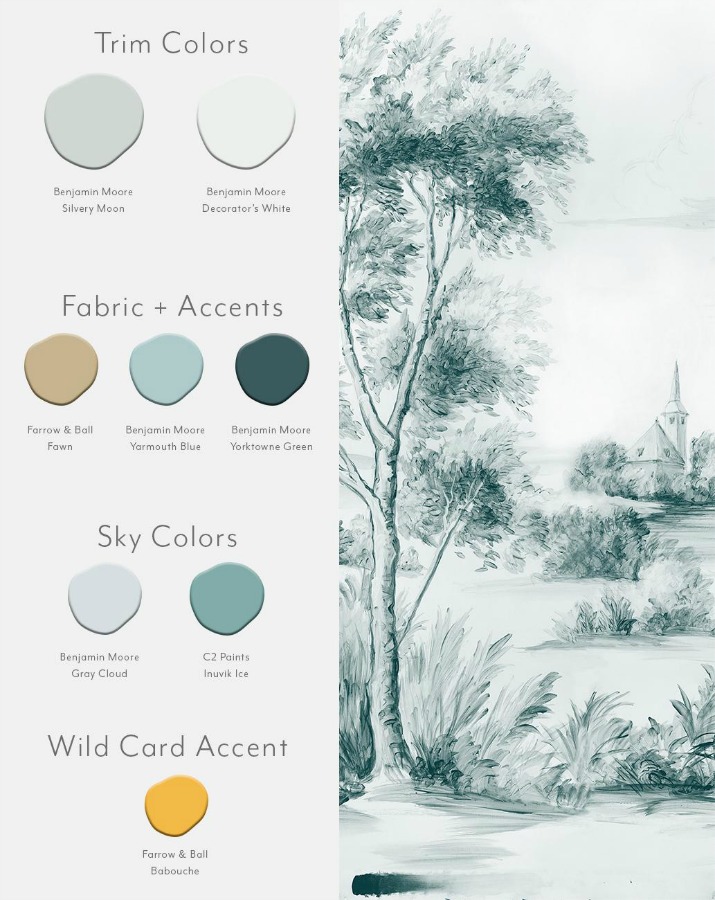 Aldsworth Faded Mural by Susan Harter
If you are having a difficult time choosing a favorite mural style and color, I am about to make the task more challenging. Aldsworth Faded is a magnificent mural featuring a country road, a peaceful stream, and an airy mood of ethereal bliss.
Let's explore a couple of different installations of the mural to appreciate its beauty and versatility.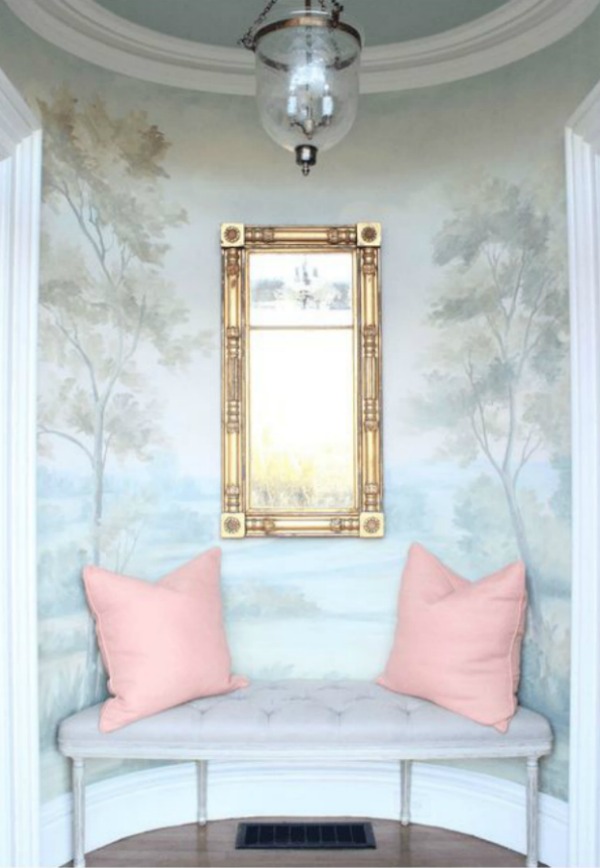 Morrissey-Saypol Interiors ingeniously placed Aldsworth Faded on a curving wall, and, oh my soul, I cannot imagine a more heavenly perch.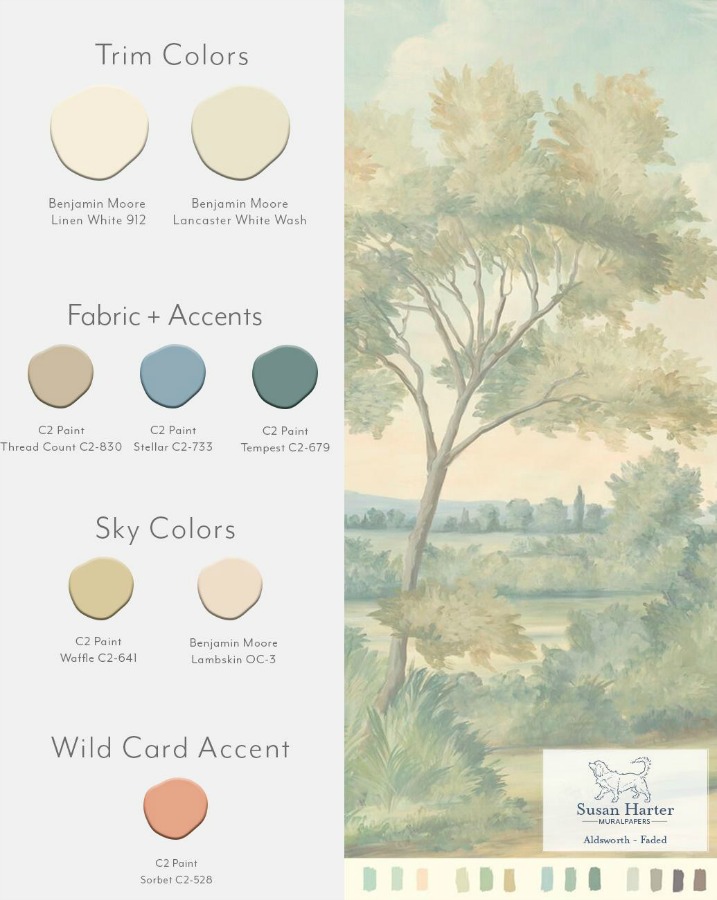 Divided into panels (below), Aldsworth Faded provides all of the art, understated color, and sophisticated charm one could hope for in a traditional space with modern furnishings.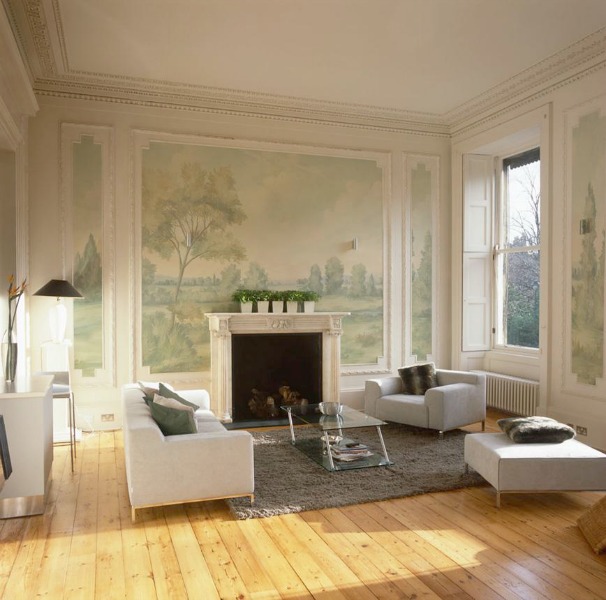 Gratitude for Artists Like Susan Harter
It's such an honor to spotlight artist Susan Harter's creations here, and I'm so thankful the design world includes her work. I'm moved by her talent for painting and also her impeccable sense of restful colors inspired by nature's beauty. For admirers of peaceful, understated interiors, what a blessing to find within the work a poetic interior quietude and soothing color palettes to offset life's frenzied pace.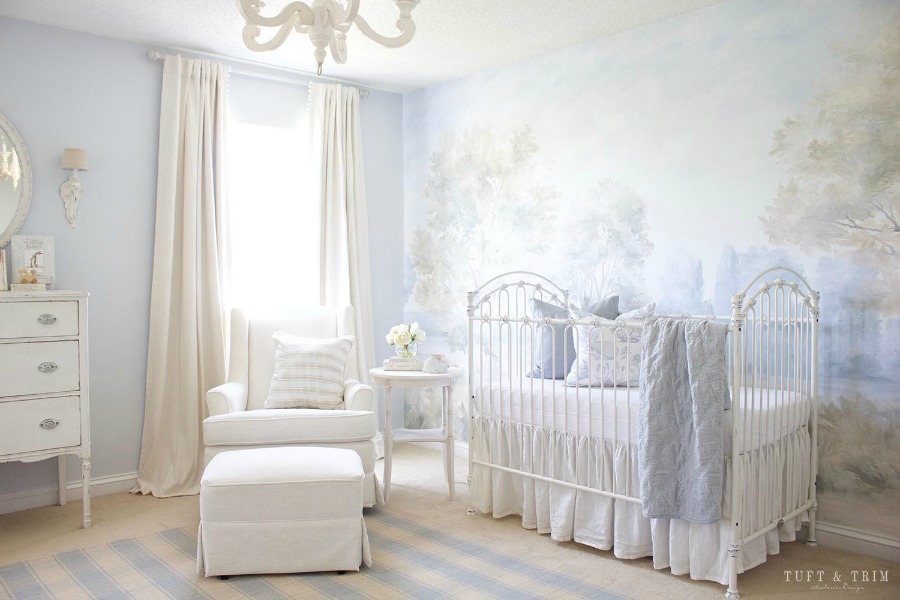 More Inspiring Pastoral Magic
HAVE YOU SETTLED UPON A FAVORITE MURAL STYLE OR COLOR ABOVE? DO TELL!
I independently selected products in this post—if you buy from one of my links, I may earn a commission.
Peace to you right where you are.
-michele
Shop for items you already intended to buy on Amazon RIGHT HERE, and also find home decor here to keep decor inspiration flowing on Hello Lovely!
Hello Lovely is a participant in the Amazon Services LLC Associates Program, an affiliate advertising program designed to provide a means for sites to earn fees by linking to Amazon.com and affiliated sites.