Are you humming "Santa Claus is Comin to Town" with a batch of Christmas cookies in the oven? I HONOR YOU. You are adorable and such a hard worker.
Is your heart kind of a mess as you realize you'll be glad when the holidays are over? I HONOR YOU. Yours is such a beautiful soul.
Are you struggling with overeating, addiction, or treating yourself unkindly? I HONOR YOU. You're not alone and were created so perfectly to be loved.
I'm just like you. Struggling too. And muddling through.
I must confess the holidays are a challenging time for me to feel peaceful. Moments ago, I stood in a long line at TJ Maxx with too much time to grow discouraged. Even though I fully celebrate the birth of Jesus with a heart wide open, grateful for his presence, teachings, and wisdom, December overwhelms me as an overly sensitive soul who too easily despairs in the middle of TJ Maxx.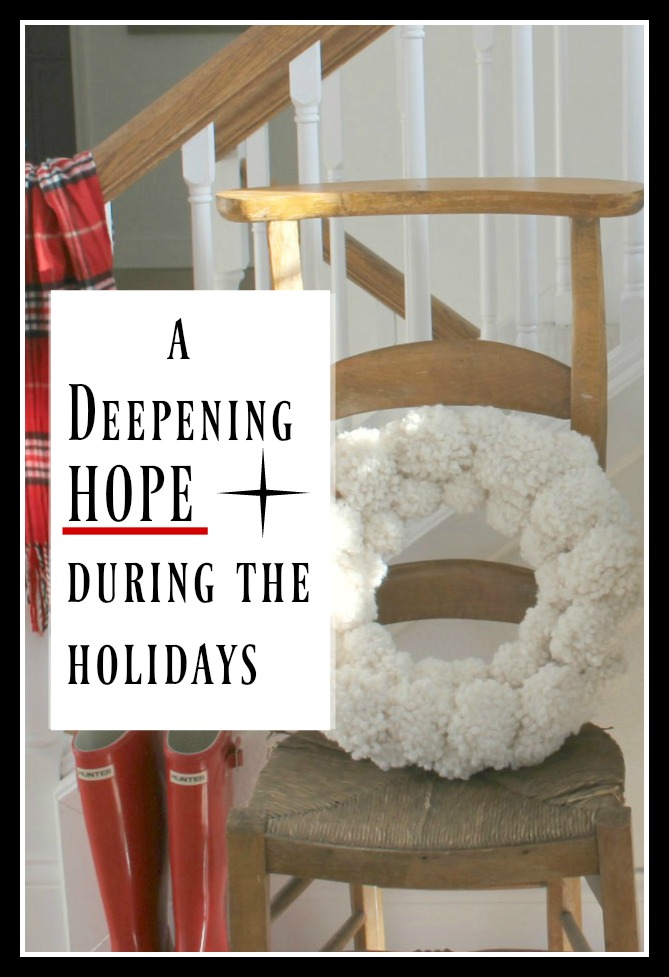 (What follows visually are before/afters of our home – a story of transformation.)
My pity party goes like this: The days are too grey. There are too many calories. Too much weeping from children in the store aisles. Too many commercials, too many shopping lists, too many crowds, and too much pressure to please and make Christmas memorable.
I tire easily. I feel drained and wonder how the joyful ones have strength to deck their halls as my heart grows weary. My inner cynic sighs, "Christmas belongs to children."
Except it doesn't.
Thankfully, the Christmas story and my story are about transformation.
As I age and grow wiser, I am discovering a deeper sense of Christmas hope and peace.
Peace is meeting me right where I am in the dark lowly stable of my depravity. In the silent night, my spirit finds comfort as I reflect upon how the light of the world sees me during this holy season.
I consider THE RADIANT GLANCE OF MERCY.
It's always there, and when my life's circumstances distract me from the radiance, I must seek the grace to find it again.
Unlike DIY whole house renovation, the mechanics of interior transformation are beyond me. I only know I sense a trustworthy energy, glowing from a lighter realm and holding everything together. If I'm honest, most days the eyes of my heart are not open, and I do not see in the way I was created to see. Yet each day is a new day to awaken. When I slow down and become still enough to surrender thoughts, judgment, and mental chatter, something happens. Purity of heart and new sight become possible. I express this not with certainty, but in wonder: a heart can become Bethlehem where something new may be born.
Heartfulness is a word I learned along the wisdom path from teachers Cynthia Bourgeault and Matthew Wright.
Cultivating heartfulness is one of the most meaningful pursuits I know and involves aligning with qualities like sweetness and gentleness. It blossoms with faith, trust, and practices such as silence and solitude.
There's a gesture in my own daily life which has helped me cultivate heartfulness for decades, and it's as simple as…
Sweep the floor prayerfully. It can be your floor or someone else's floor, but be alone in the room with the broom. Allow the rhythm and tender sway of dust and crumb to have its way. The idea is to "work in stillness" and to keep breathing. You may notice you are no longer simply sweeping but are preparing room in your heart for heaven and nature to sing. Should tears come, continue sweeping and know you are richly blessed. Let them cleanse what requires cleansing.
I share this vulnerable territory with a tender heart
prone to sadness during the holidays,
prone to shame, and prone to wander.
But heart pain can be transformed!
Rather than repress or transmit it,
I long to surrender it.
I long to place it near the manger,
alongside Frankincense and Myrrh,
under the Christmas blessing of faith and truth.
I long to meet and reflect
the radiant glance of mercy
shining like a Star in the East,
awakening my soul to beauty, and
reminding me of who I am (love) and to whom I belong (L.O.V.E.).
It's as if I keep relearning the depth and intimacy within these two simple words:
HELLO, LOVELY.
**********
Sending hope and…
Peace to you right where you are.
-michele
This post contains affiliate links which I hope you will use since they won't cost you a penny extra yet may earn this blog a small commission.
Support Hello Lovely by shopping Amazon RIGHT HERE for anything (not just products mentioned here) to keep the inspiration flowing!
I'm a participant in the Amazon Services LLC Associates Program, an affiliate advertising program designed to provide a means for me to earn fees by linking to Amazon.com and affiliated sites.
Click HERE to find cost conscious furniture and decor for your home too!