Atlanta Homes & Lifestyles is one of my favorite shelter magazines, and each year they unveil an inspiring showhouse decorated for the holidays to raise funds for Children's Healthcare of Atlanta. This year's 2017 Home for the Holidays Designer Showhouse and Marketplace is now open for tours until December 10th, but today we'll glance back at the 2016 Home for the Holidays house for the best Christmas decor ideas from this charming and professionally designed house.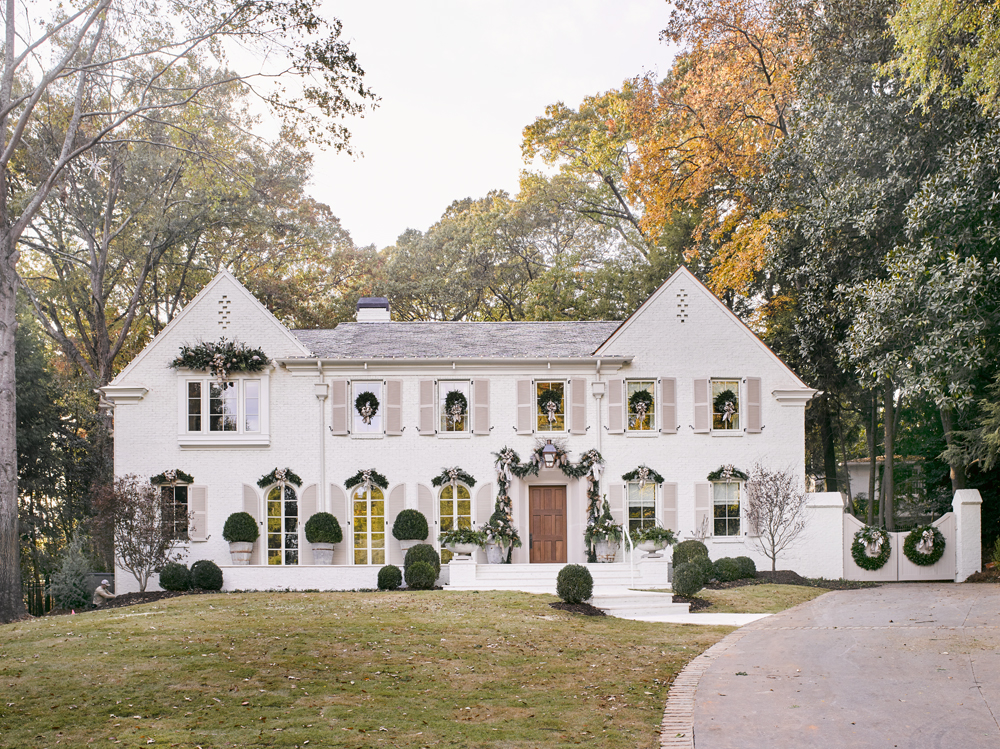 Let's start with this magnificent white brick home and its grand porch! The gorgeous containers? The design is from Atlanta designers Randy Korando and Dan Belman (Boxwoods Gardens and Gifts), who incorporated magnolia leaves, evergreens, and reindeer moss.
Photography: Dan Christensen, Southern Hospitality, Atlanta Homes & Lifestyles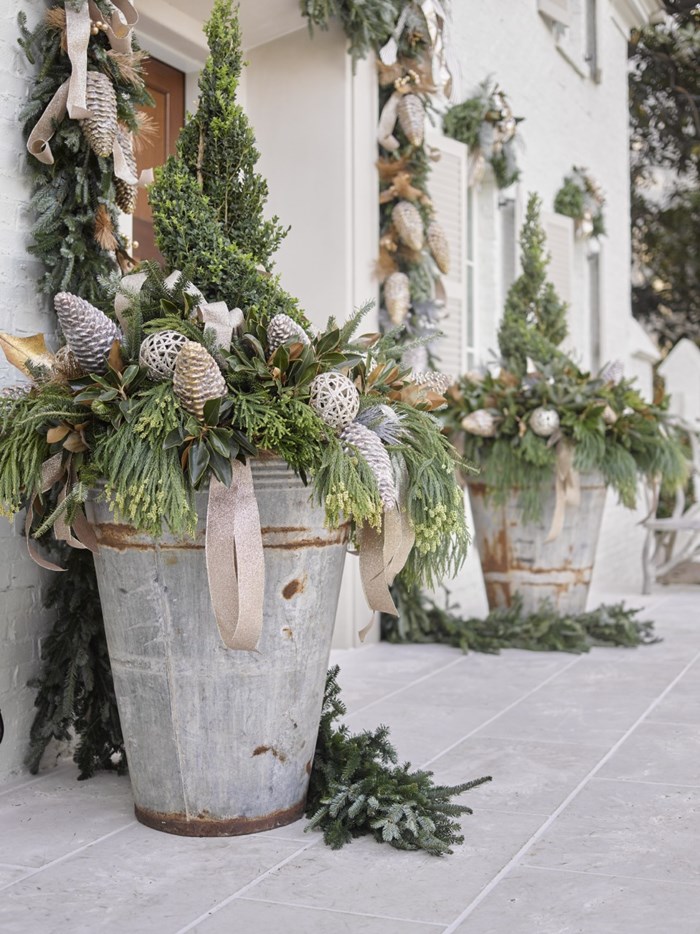 1. Combine the Rustic with the Elegant.
On the porch, enormous rustic Mediterranean olive containers (are they zinc?) overflow with fresh evergreens, neutral toned ribbon, and quiet pinecones and grapevine spheres.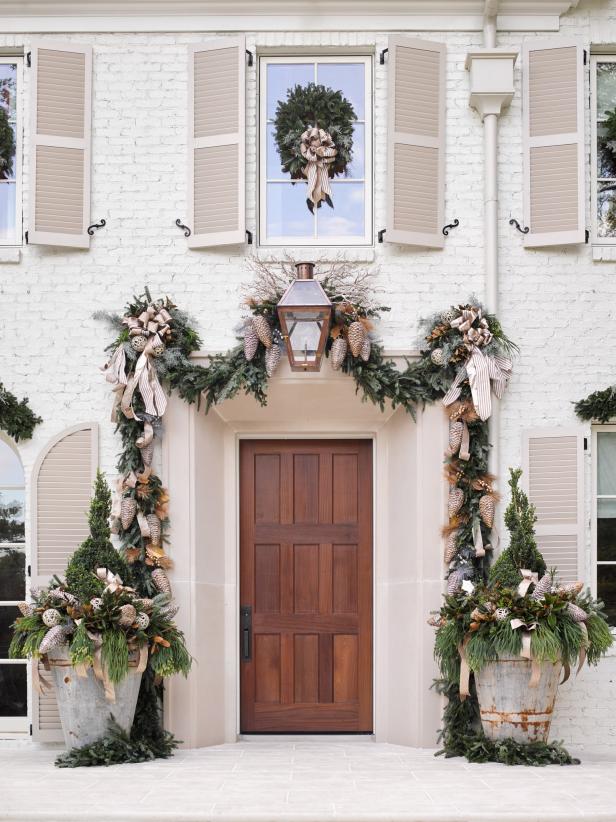 2. Let Evergreen Garlands Pool to the Ground.
Notice how the length of the fresh garland around the front doorway does not simply end at the base of the door? It hugs the big zinc pots and softens the whole vignette.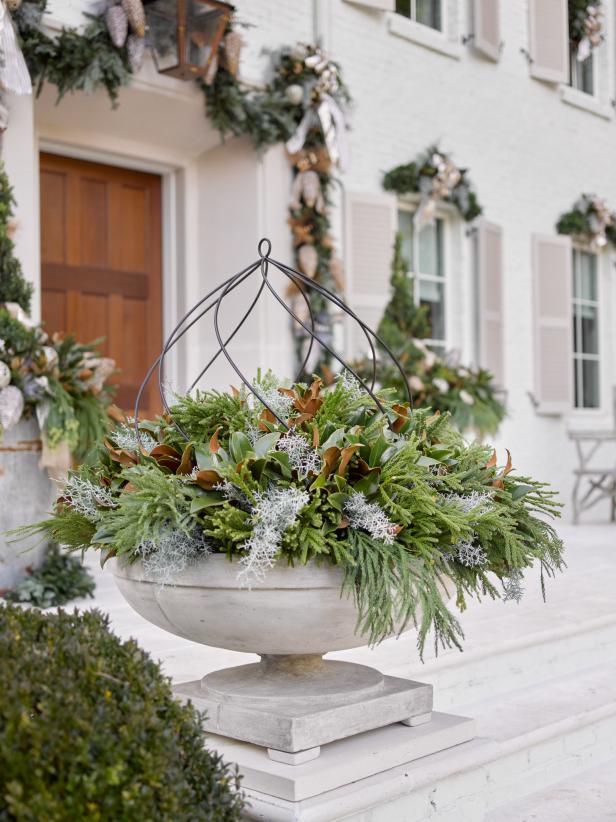 Loving the addition of that trellis!
3. Prevent Greenery from Drying Out.
In an article on DIY Network, Boxwood Gardens and Gifts recommend a product called Wilt Pruf to keep natural elements fresh and prevent them from drying out in harsh winter weather.
4. Sometimes Two Wreaths Trump One.
Isn't the symmetry created with these oversized magnolia wreaths hung on the beautiful driveway gates beyond charming? You just KNOW there is magic on the other side!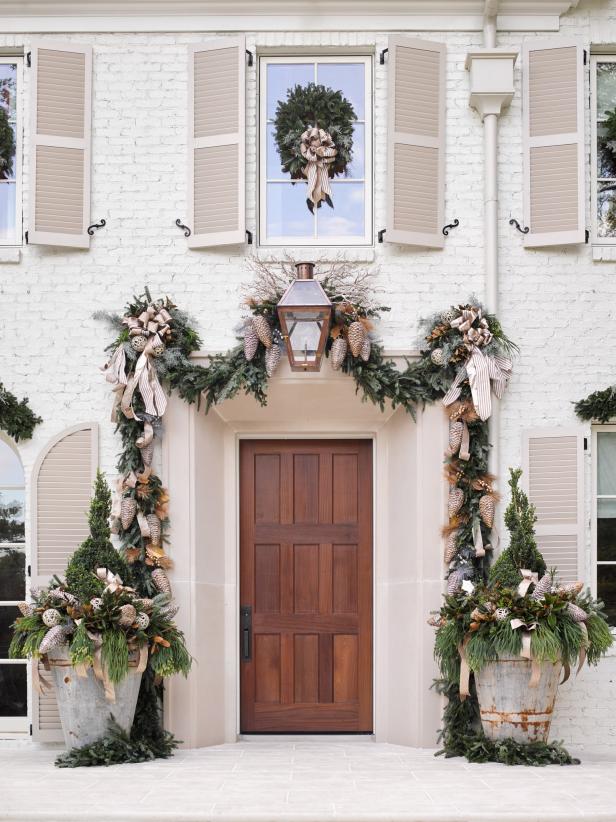 5. Skip the Red in Favor of Neutral Ribbon.
What makes this whole exterior holiday decor scheme so elegant and pleasing to my eye is the absence of bold colors. Everything is toned down to allow the greenery and the home to be the stars. The pinecones are quiet, the ribbon is neutral, and there are no typical swaths of red. This is the subtle palette that makes my heart swell because it leaves so much breathing room and creates an understated, divine moment of awe.
6. Keep it Natural.
You can't go wrong with your exterior Christmas decorating when you stick to naturally occurring elements such as greenery, pinecones, wood, and stone.
7. Limit the Number of Different Decor Elements.
Even though this exterior holiday decor scheme feels rich and festive, it's still a pared-down formula of boxwood, magnolia, and fresh greenery. You'll note from the landscape, that it is almost limited strictly to boxwood, and this is an elegant look that enhances the beautiful white brick home rather and doesn't compete. The same philosophy has been applied to the exterior Christmas decorations.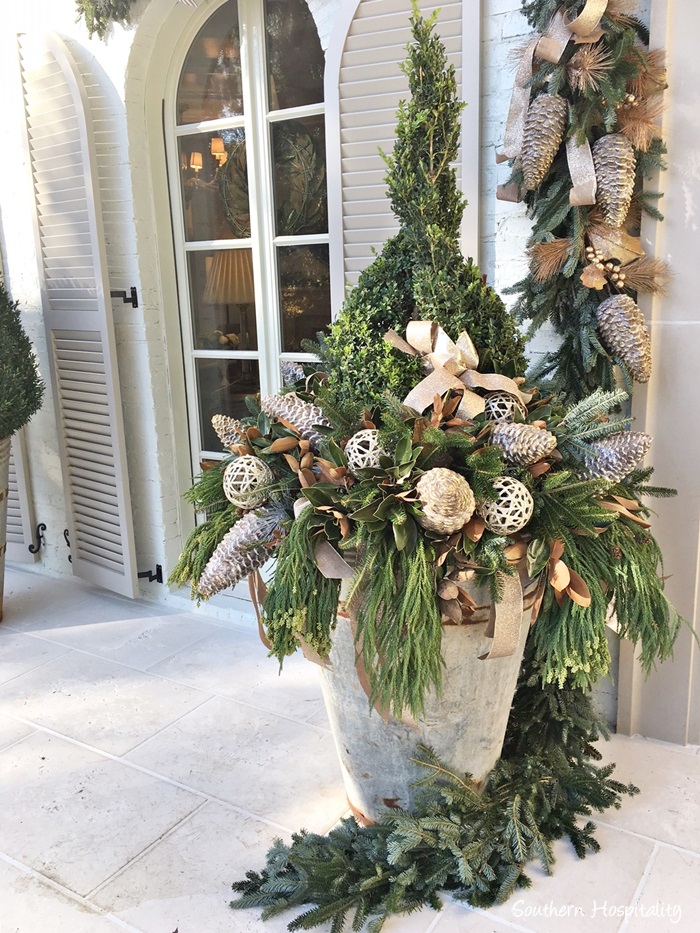 8. Scale Matters.
This gorgeous exterior holiday decor design gloriously celebrates scale and each design element is proportional to the grand size of the porch and home. For your own home, you can also be mindful of scale and in many cases beef up greenery or pots so they pack more of a punch from the street. It may help to take a photo early on in the decorating and then analyze it to troubleshoot and nail down the proper scale.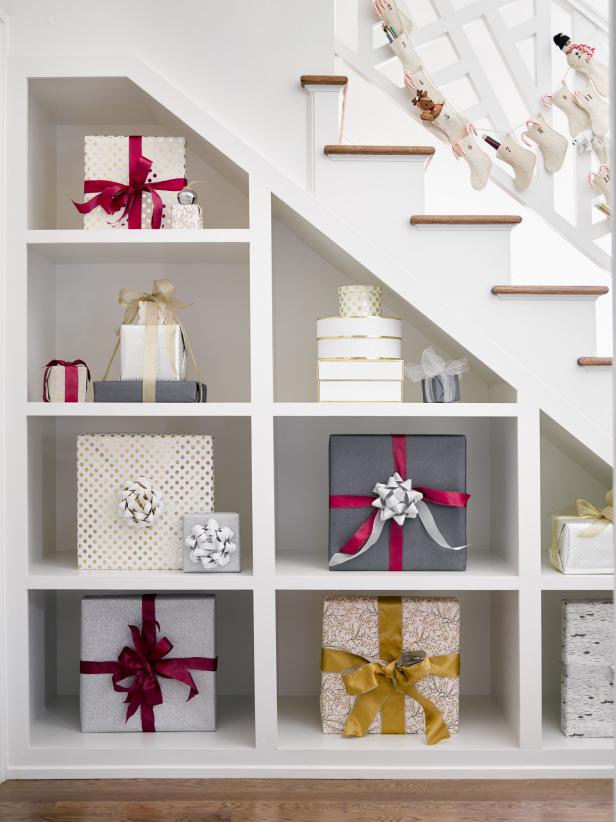 9. Elegantly Wrapped Gifts as Decor.
Jessica Bradley Interiors came up with the wrapped gifts design for these built-in shelves under the stairs, and it's so simple and straightforward! It reads as elegant because of the understated beauty of the giftwrap chosen. You'll just not get the same effect if you reach for the Santa and Elves wrapping paper!
10. Christmas Bells & Greenery.
The marriage of festive gold-toned Christmas bells with evergreen garlands and wreaths (and maybe nothing else!) is a happy one that could be left in place beyond December!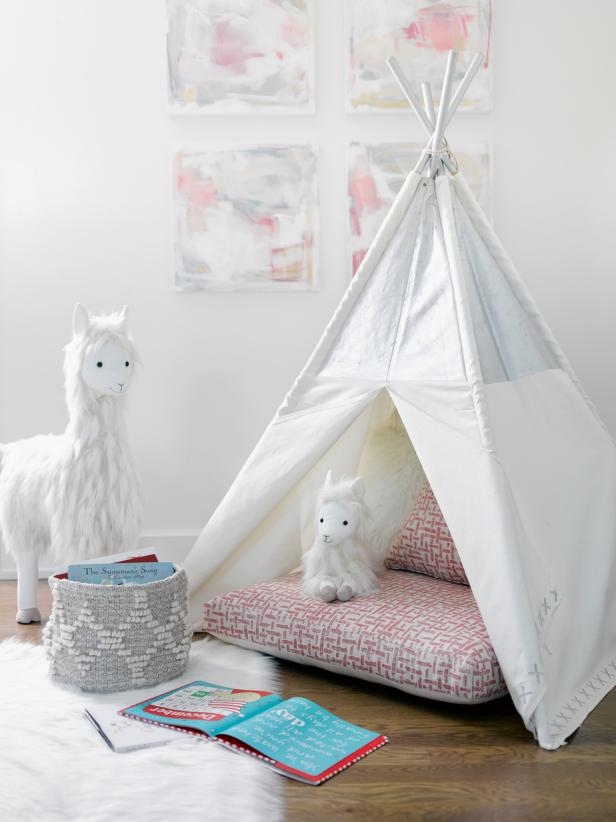 11. Cozy Quiet Corners.
Jessica Bradley created a charming tranquil teepee getaway for children that feels like a dreamy sanctuary for dreaming of sugarplums. While there may not be time to construct a DIY teepee, consider pulling out that little child's table and chairs you may have stored away. The addition of a simple candle, some books, and a cozy throw may be all it needs to welcome wonder during the holidays.
This pretty dining room is so gorgeous on its own with its spare beauty, and yet…
12. Adorn the Table.
The dining room comes to life when you set the table simply and add a touch of color. Alison Womack Jowers and Cheryl Womack designed this tablescape, and all of us can follow suit: candles, a beautiful bowl of glass ornaments, accent pillows, and elegantly wrapped gifts with neutral ribbon.
13. Softer Shades of Red.
Isn't this a happy chic and lovely combination of softened pinky red and white in the spaces above and below?
Again, in this lovely room with the wood beams below, we see a quieter shade of that pinky red repeated in accessories, a books, a throw, and fresh flowers.
14. Tone on Tone.
Festive holiday decor does not always have to shout to the heavens; for corners of the home where relaxing will occur, think whispers of shimmering champagne and hushed tone on tone.
15. Simple White and Gold on the Tree.
Isn't the interest and movement on this simply decorated Christmas tree enchanting? The black wrap on the gifts feels unexpected and modern.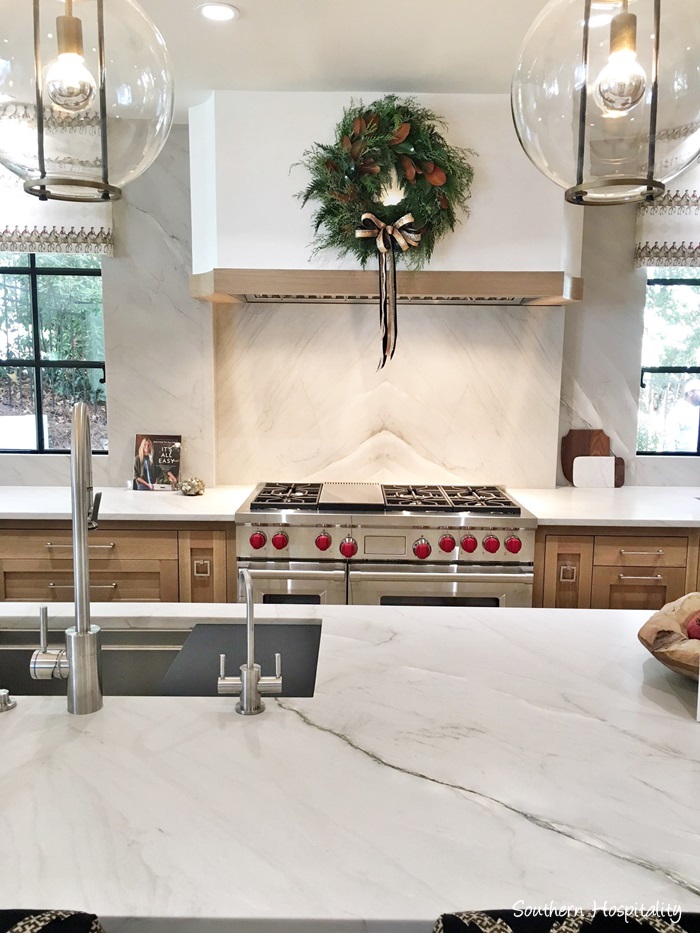 16. Wreath & Dramatic Bowl of Pomegranates.
When you wish to stay on the subtle side of Christmas decorating at home, why not make it easy on yourself and simply opt for two or three festive moments in the kitchen? Bowls of apples or limes work equally well.
17. Black & White Photos in Gold Frames.
It's tricky to display family photos in an elegant fashion, and even more challenging to successfully hang them on the wall without getting too granny or busy. By limiting the color to black and white and keeping the frame color consistent, this grouping in a powder room below feels festive, nostalgic, personal, and wondrous all at once.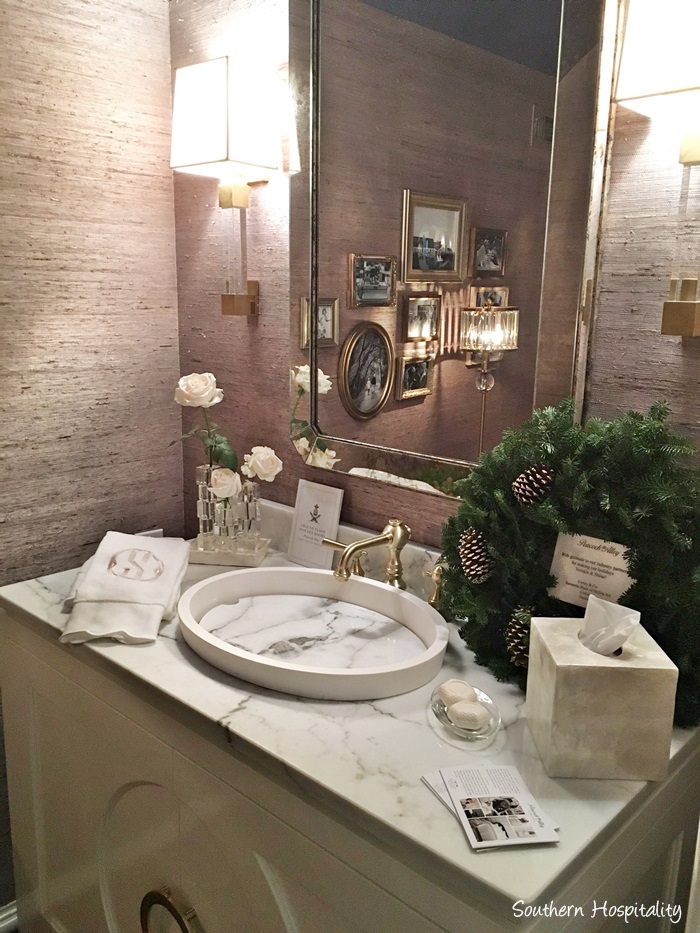 18. Venture Beyond Tomato Red & Lime Green.
There, I said it. What colors will read sophisticated and designer-inspired? Atlanta Homes & Lifestyles has us covered in this MUST PIN:
Isn't this a breathtaking home? Wouldn't you love to see what the designers have in store and visit the 2017 Atlanta Home for the Holidays?
I independently selected products in this post—if you buy from one of my links, I may earn a commission.
Peace to you right where you are.
-michele
Shop for items you already intended to buy on Amazon RIGHT HERE, and also find home decor here to keep decor inspiration flowing on Hello Lovely!
Hello Lovely is a participant in the Amazon Services LLC Associates Program, an affiliate advertising program designed to provide a means for sites to earn fees by linking to Amazon.com and affiliated sites.