While the rich, earthy colors of autumn are what I have grown accustomed to every fall for Thanksgiving (if not, sleet and snow!), this year I'm in the summer-like Southwest in flipflops for the holiday, where hot pink bougainvillea just outside my bedroom window has me feeling tropical! A warm 86 degree breeze feels pretty dang schweeet to this fairy. Here's the thing. Sun or snow, it's the softer, quieter autumn lovely which appeals to my senses and feels most like home to my soul.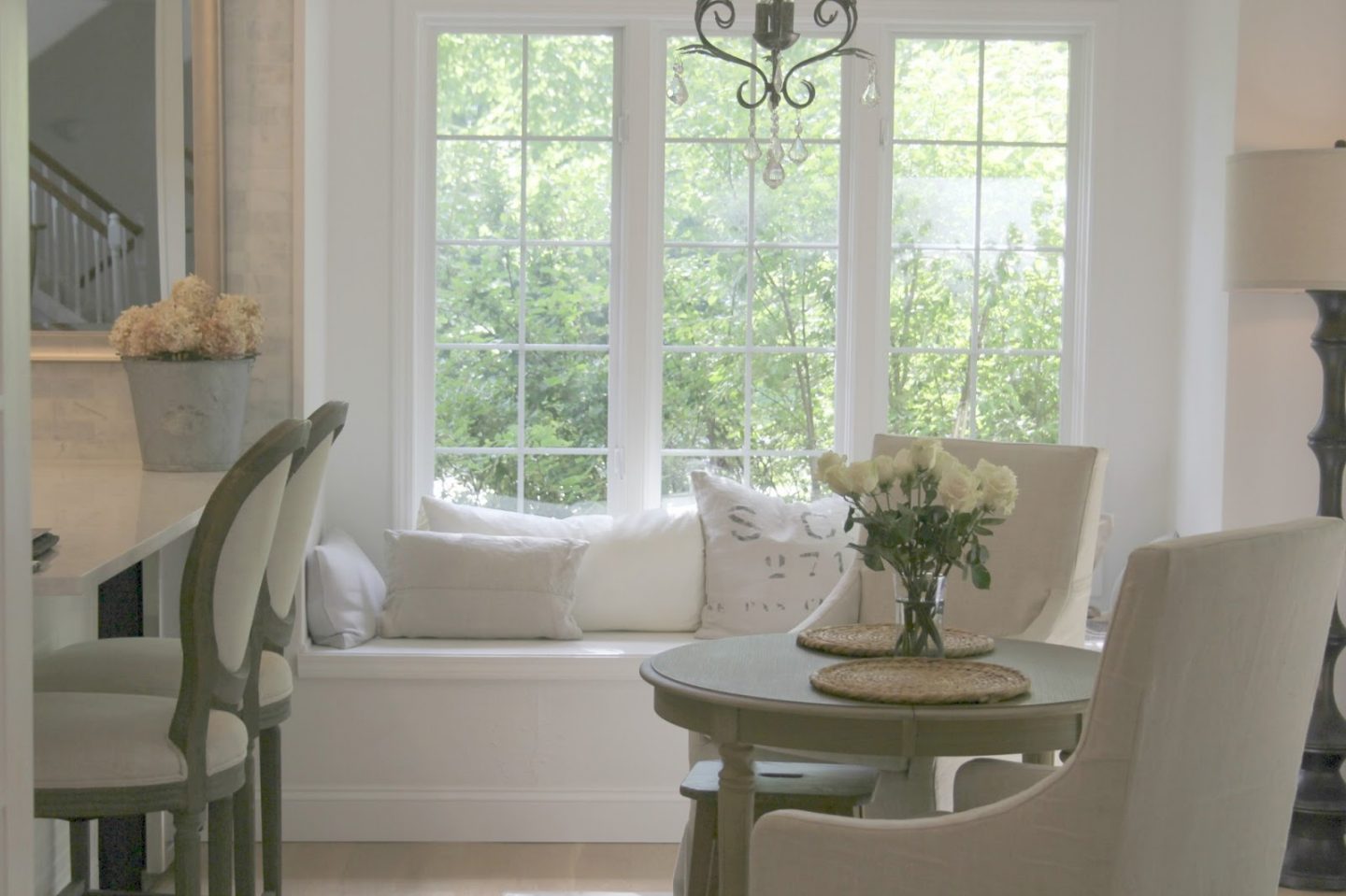 Happy Thanksgiving, friends!
Last year, I embraced the palette I love and let my Thanksgiving and Christmas tablescapes whisper in white, green, and pale pink.
*affiliate links when used will not cost you extra; yet I'll earn a few pennies*
7 QUIET and LOVELY THANKSGIVING FALL IDEAS
1. Quiet Tablescapes glow: candlelight and humble ingredients converge upon a hushed farm table.
Last year, our Thanksgiving table was hushed, serene, whisper-y light and inspired by Scandinavian restraint. It's not as if we walk around our house tip toeing, we're actually a lively bunch with big personalities, but when you want to encourage peaceful loving exchanges, one way to nurture the mood is with soft decor elements.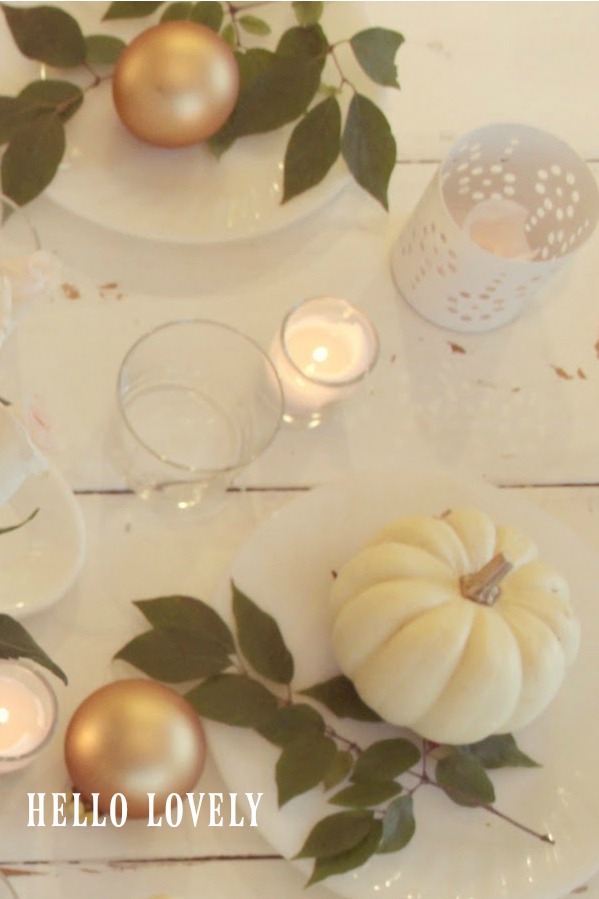 2. Simple place cards bring smiles: a paint pen + fallen leaves = Hello, Lovely!
Are you expecting a crowd this Thanksgiving? Lucky you! I love this sweet and simple place card idea for adding a natural touch to the dining table. If your handwriting skills are lacking, do delegate!
3. Gratitude and Wonder Are Always Available.
This sweet girl swathed in tulle I photographed is at an age when pilgrims landing at Plymouth, petite pumpkins, and pretty leaves dancing in the air is still magical…such childhood wonder can always be awakened in your heart and mine.
Here is a prayer I wrote last November, and it remains on my heart.
4. Simple warm white blooms are timeless and seasonless: a pumpkin as a vase is even better!
Today at the grocery store, I visited with a florist creating gorgeous centerpieces for a customer's Thanksgiving table, using pumpkins for the vases. Blush or warm white roses are hardly evocative of fall harvests and bountiful displays of colorful vegetation, yet they work to elevate the mood and elegance factor when the autumn light is dappled and soft.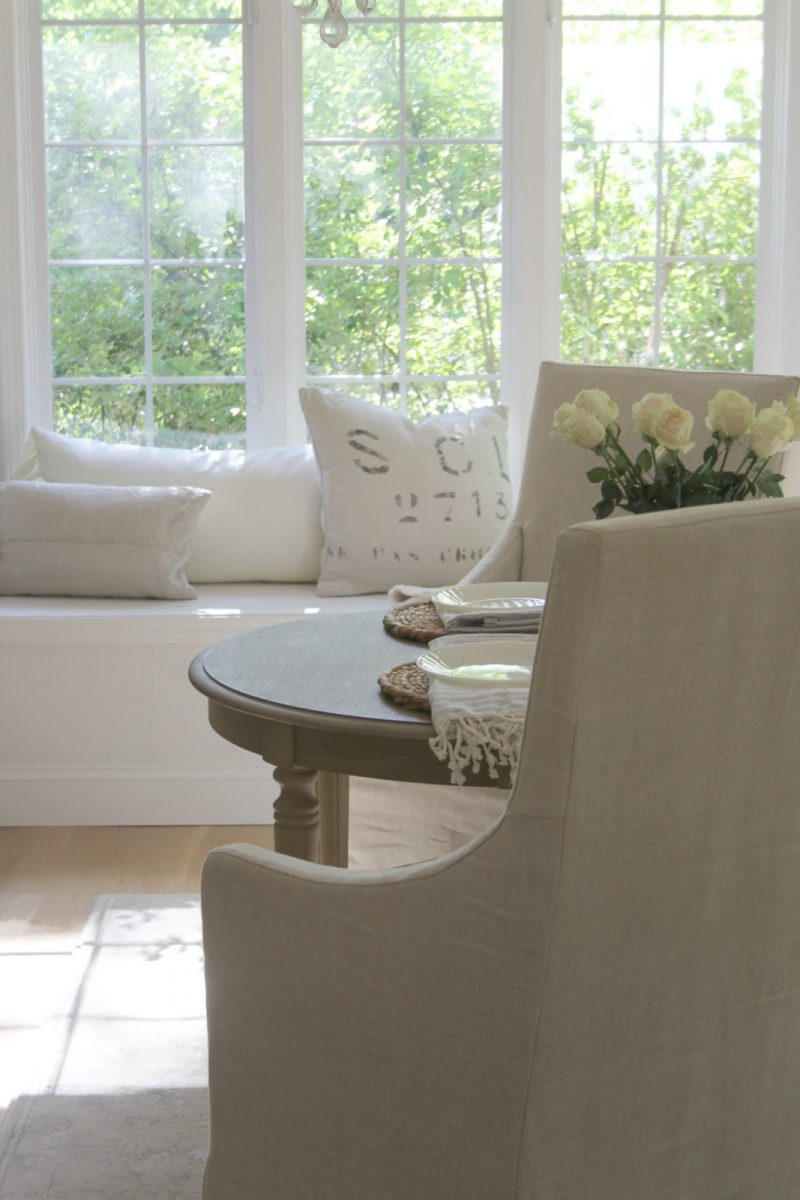 5. Branches live large inside.
They impart a gorgeous, natural silhouette, and since moving to a property with an abundance of mature trees, I have grown even more fond of bringing branches inside. They look beautiful for an extended period of time and always look at home no matter where I place them.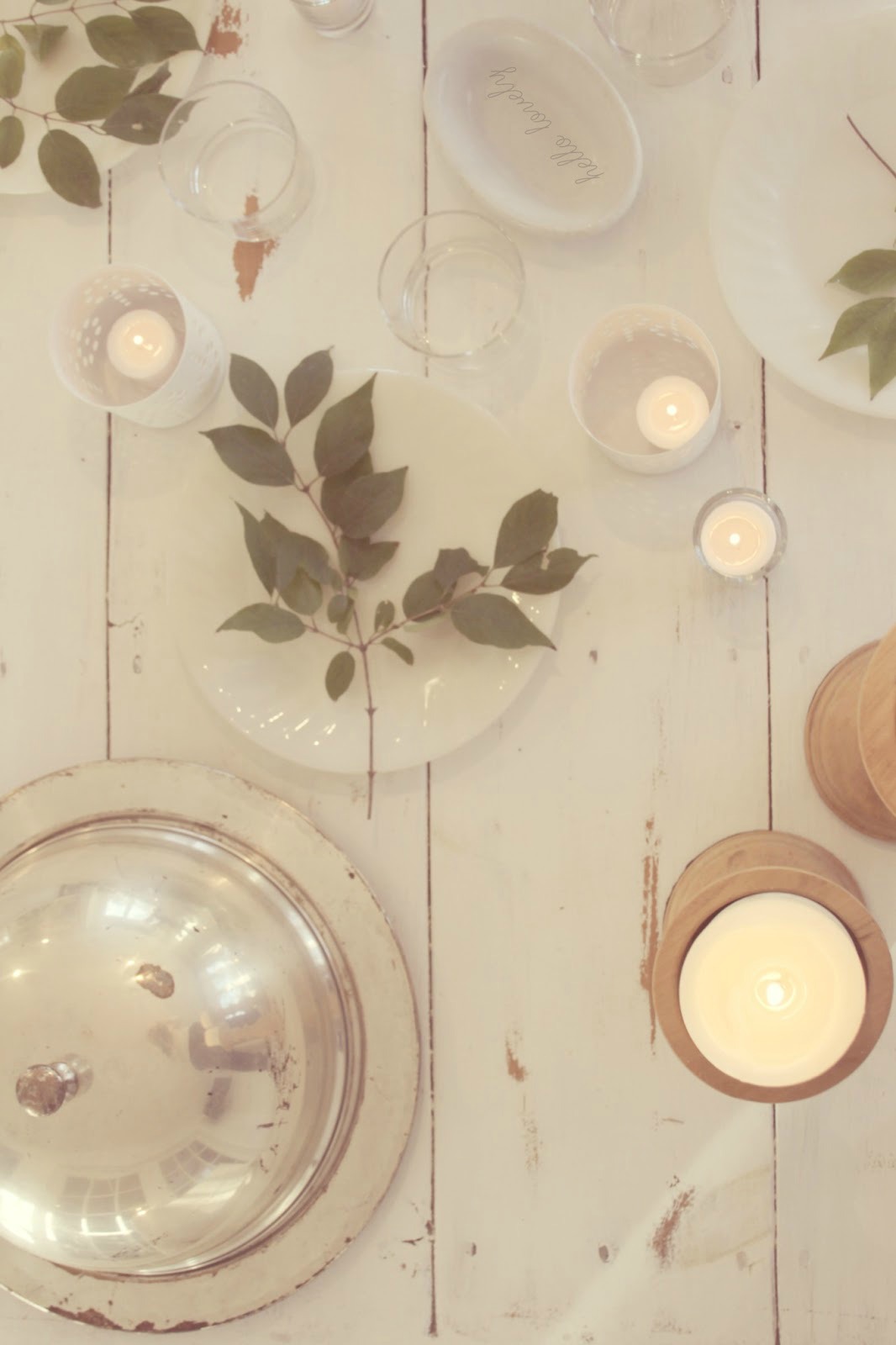 7. Thanks and Giving. I'm so thankful for another year of connecting with all of you via Hello Lovely. It's such a pleasure sharing decor inspiration, interior design projects, and personal reflections here with friends who favor the timeless and tranquil side of living beautifully at home.
Peace to you right where you are.
-michele
This post contains affiliate links which I hope you will use since they won't cost you a penny extra yet may earn this blog a small commission.
Support Hello Lovely by shopping Amazon RIGHT HERE for anything (not just products mentioned here) to keep the inspiration flowing!
I'm a participant in the Amazon Services LLC Associates Program, an affiliate advertising program designed to provide a means for me to earn fees by linking to Amazon.com and affiliated sites.
Click HERE to find cost conscious furniture and decor for your home too!