The weather here has been anything but tranquil so I'm looking forward to calm, less blustery days to come. These quiet and tranquil bedroom retreat ideas are inspired by a few country French, modern French, and European country inspired designs. Since my health is ever shaky, I need all of the help I can get that feels like relief from overwhelm. A couple of Brit Jones Design interiors set the mood just right! We'll collect ideas for paint colors and decorating our own timeless homes with a gentle palette, a mix of vintage and new, fabrics that only improve with age. Then I'll share where my heart is this very moment, just days from Easter.
I hope you'll use affiliate links in this post: when you click them for purchases, it won't cost you a penny more yet may earn this blog a small commission…yay!
Quiet & Tranquil Bedroom Retreat Ideas
If you love a creamy backdrop with blue-grey accents, plenty of natural materials, and sumptuous bedding, these will appeal!
I have been wanting to add that laurel wreath mirror to our bedroom or bath, and I'll let you know if I spring for it!
1. Soft Blue, Green, Aqua or Pale Turquoise Accents
My first choice for our current bedroom?
Pale creamy walls combined with aqua or blue gray accents.
However, for now the walls are going to remain a warm greige since my husband likes them, and we have other projects to address.
Will this house ever be finished? Doubt it!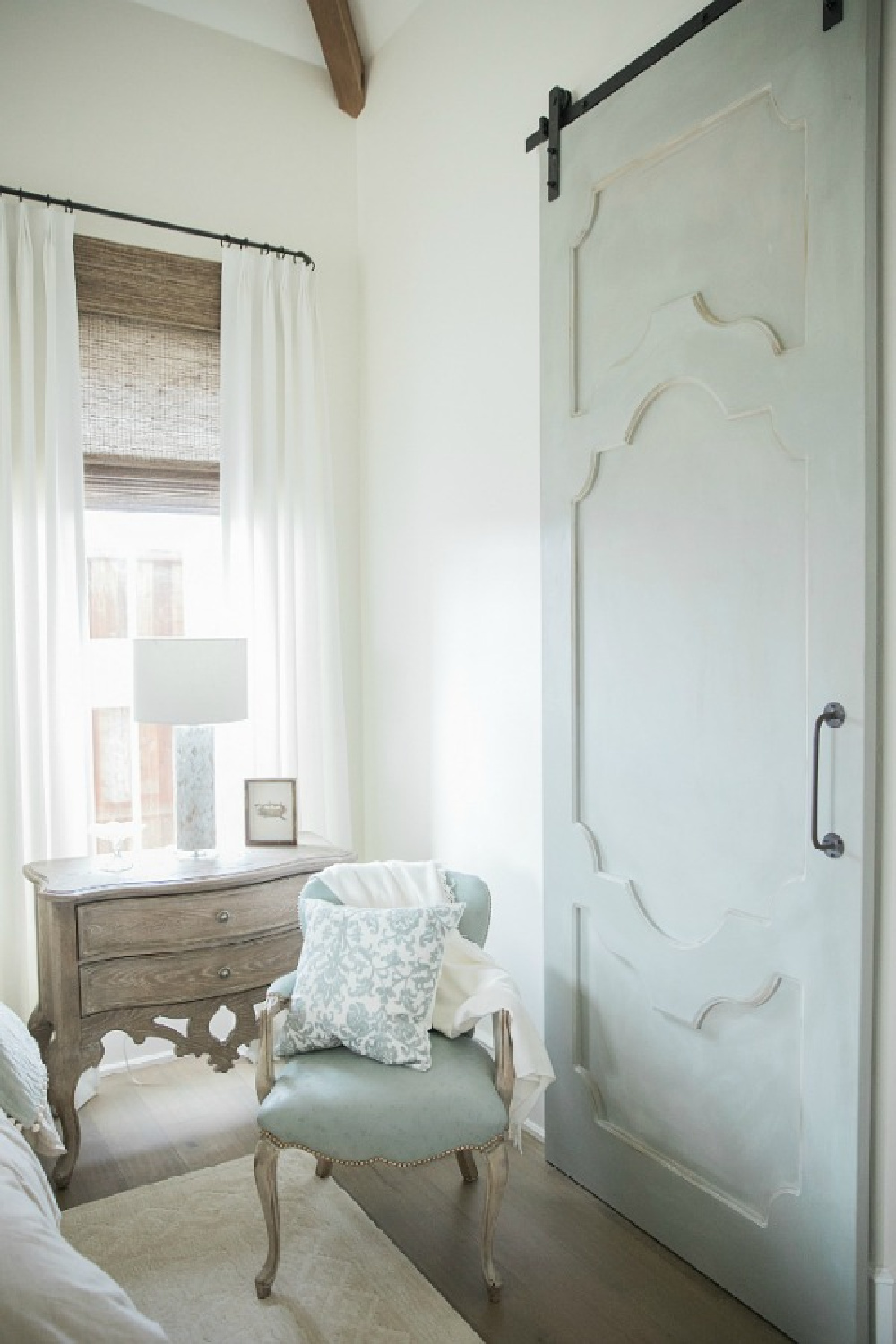 Repainting just one room is not such a big deal, but we would also then need to address an adjacent sitting room, bath, water closet, and walk-in closet which are all wearing their greige.
So I'll take a bit more time to think about 2.0.
Blue Bedding Ideas
I have this Pick-Stitch quilt from PB in white…don't you love it in Porcelain Blue?
It's also hard to beat Belgian Flax linen in this dreamy blue called Mineral Blue…
Classic White Marble Column Lamp Idea
This seems like the perfect bedroom bedside table lamp if you ask me. Since we have vintage aged brass chandeliers in the bedroom, they would be perfect.
I may try swapping my vintage marble lamps currently in the kitchen for the modern concrete ones currently in our bedroom. Don't forget to shop your house!
2. Space Saving Sliding Door
Sliding barn doors don't have to make you feel like you live in a barn.
We added one to separate our master bedroom and bathroom in our Arizona second home and loved the architectural interest it added. It was relatively inexpensive, and the track was modern, minimal, and stainless. A super easy DIY!
Should you own a vintage door with the proper proportions, you could simply buy hardware/track. Here's the exact set we bought for our the Arizona bedroom…wouldn't it be lovely painted a pale turquoise or aqua?
Paint Color Ideas for Door
To get the look of a tranquil blue-green or blue-gray in bedroom, check out BM Boothbay Gray, Quietude, or Quiet Moments:
3. Statement Lighting
If you have the ceiling height, this would be incredible!
Don't forget FB Marketplace as a source for chandeliers. I have been surprised by the inventory of French country chandeliers. Does that mean country French is OUT as a trend? Who cares? Not me. (Well, I care inasmuch as I like that prices come down!)
An upholstered bench like this is never going to look dated because it starts off looking old right off the bat!
What say ye about all of the layers on a sumptuous bed? Are you into it?
Because when you move as we did, you have the opportunity to reimagine your belongings and accessories in a fresh way. I'm sort of leaning toward less layers for a lightened up, less fussy look that won't require hours to make up the bed!
But I am not going to draw lines in the sand when it comes to the number of pillows or ruffles.
If the sight of a mountain of pillows piled high on a bed soothes you, pile on. If ruffles feel calm and breezy, bring it.
4. Bedside Bench Beauty
At the moment, I don't have a bench at the end of the bed. This is a big change after so many years with one. But I have to be more careful these days about falling, and those trips in and out in the dark can be hazardous.
But if you have plenty of room to get by and stronger bones than mine, isn't this a showstopper?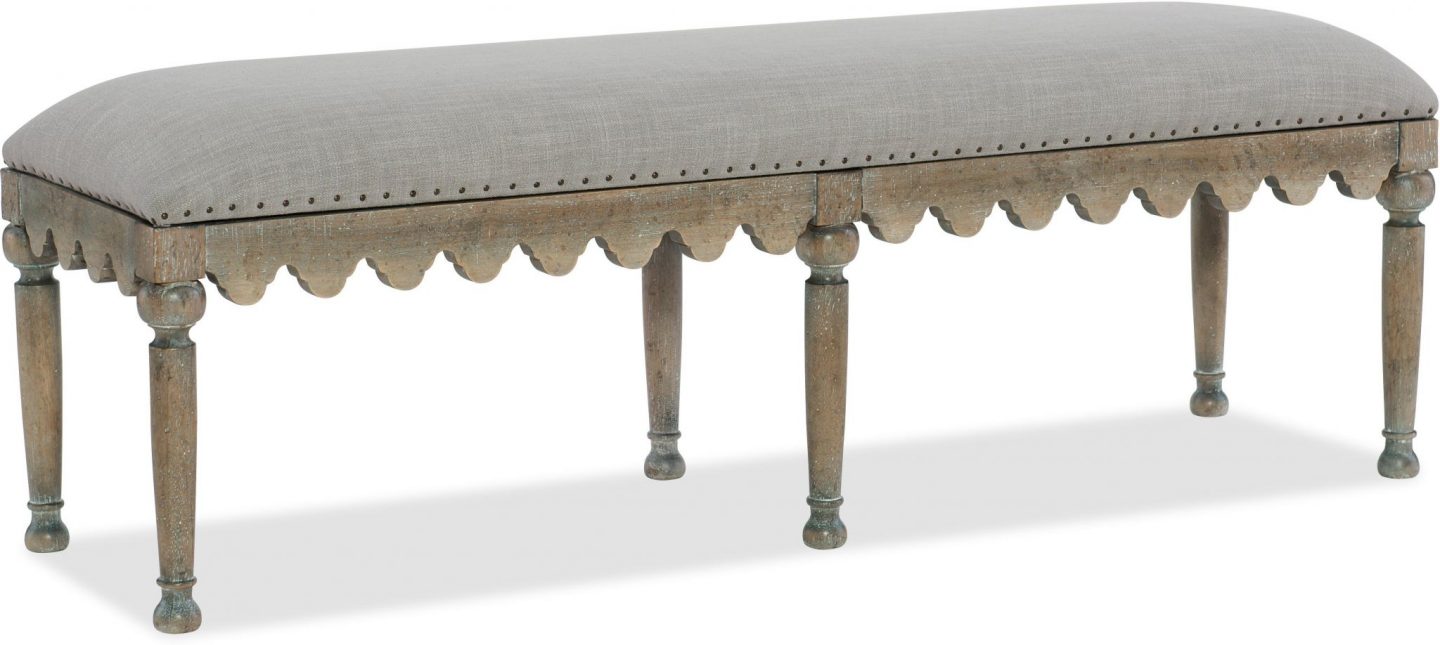 I love the fine details with the nailhead trim and curves.
Something about this laurel wreath mirror and the painted trim feel French inspired to me in this Bria Hammel designed bedroom:
Isn't it simple and classic yet special?
More European Country Inspired Bench Ideas
5. Elegant French Accent Chair
I love the surprise of a fancy chair in a bedroom or bath…even an over the top design can be at home.
When it joins a mix of rustic pieces and less fussy furniture, it has a way of bringing balance.
And sometimes in a minimal room with few curves, it helps to introduce another shape or curves.
6. Dusty Rose Accents
Whether it's a throw pillow or pale pink roses, a little pink in a tranquil bedroom retreat can feel right at home.
I can imagine how a small rosy velvet pillow would be amazing on a chair like this:
And pretty pink embroidery or stripes or toile might be special on this handsome, rugged, deconstructed design:
Please TAP HERE to save this post for future reference!
7. Tranquil Bedroom Retreat Palette
Even if it's not in the cards to revamp your bedroom or shop for furniture, starting with a tranquil color story could be the beginning of your freshened room.
For this Brit Jones bedroom (and all of the interiors in her former Texas home), here are some resources:
Wall Paint Color
Muted Blue Accent Chalk Paint Colors
8. Patina, Aged Finishes & Vintage
If you love a French country look, you are probably drawn to aged, weathered, tumbledown finishes and pieces with history.
I'm one of those souls who knows immediately whether a finish on something new "is working for me" or falls short. And I'm not afraid to go directly to my paint supplies and tweak a finish until it does work.
So don't feel as though you have to be shy or live with disappointment when something you order online arrives and doesn't quite work with the rest of the decor or in your lighting at home.
Try to assess what is not quite right (too warm, too cold, too much brown, too muddy?). If the piece is right in other respects (height, shape, style, price), it may be worth it to customize it.
If a finish is too dark or bright, dabbing on diluted white paint as a wash can do wonders.
Antiqued Gold & Brass Mirror Idea
9. Romantic Lighting
See more of this lovely home RIGHT HERE.
Happy Easter, Friends
No idea where this tranquil decor inspiration will find you today, but I'm sending peace to your heart with a reminder that we are never alone on the journey.
I am (I think!) coming off of a very rough autoimmune flare, and it never gets easier to navigate these storms. New challenges and more opportunities arrive to let go or let be. My personal resources become exhausted, and needs for rest and recovery arise. But that is but one limited view of my vast beautiful life.
For there are wondrous, precious things in this soul that can never be harmed, never be taken from me. Even as I let go of much, much more remains.
Learning to Walk in the Dark While Upside Down
I am learning to find equilibrium in an upside down kingdom. And it's not just upside down for me as a chronically ill, extra-sensitive lover of art and beauty in suburban America. It's upside down for all of us. The way up always involves a descent into Mystery and through the dark.
This morning I was thinking about how the most important thing we can maybe do as parents is teach our children to learn to walk in the dark. I wish I had known this earlier. It seems a daunting challenge because the impulse to preserve their innocence at every turn is mighty.
As parents, we reinforce all of these messages that in some way reassure children: you'll always be safe or if you work hard, all will work out in the end or I'll always be near. But the truth is, we live and breathe and find our being in a very vulnerable posture, in a divine mystery that is mostly hidden.
Developing sight to see in the dark takes time, experience, and courage. So this Easter, I wish you more courage. Courage to feel with fingers of faith and courage to allow reality in all its imperfection to show you everything you need to see. Courage to trust in the dark.
Peace Seeking Transcending Perfection & Comfort
When I write about peace NOW right where we are and not later at a time we're healthier or more evolved or committed, I truly mean now. For me, it means peace with mouth ulcers, infected toes, assorted moods, and inflamed organs. A tropical beach with sea turtles and without pain or inflammation sounds heavenly, but I long for true peace beyond climate and remission…I long for a peace accessible to every living thing. I long for peace. The peace a radical Rabbi shared as he taught a way of wisdom with surrender, forgiveness, and descent through death and darkness.
I don't know much of anything at all. In my late 50s I have been humbled by so much. I am only now beginning to learn to not be afraid of the dark. Only now beginning to understand a little more clearly the story of Job or the Prodigal. And I cannot claim to have found the truth…but the Truth found me, and its light is breathtaking.
I independently selected products in this post—if you buy from one of my links, I may earn a commission.
Peace to you right where you are.
-michele
Shop for items you already intended to buy on Amazon RIGHT HERE, and also find home decor here to keep decor inspiration flowing on Hello Lovely!
Hello Lovely is a participant in the Amazon Services LLC Associates Program, an affiliate advertising program designed to provide a means for sites to earn fees by linking to Amazon.com and affiliated sites.