Not the full reveal with styled pretty pics, but a peek at progress since we've come a long way! (You may have seen a peek at the bath in my post HERE, and part 2 is HERE.) We knew tackling our bedroom would be time consuming and challenging design-wise, but I underestimated what it would take out of us! Let's peek.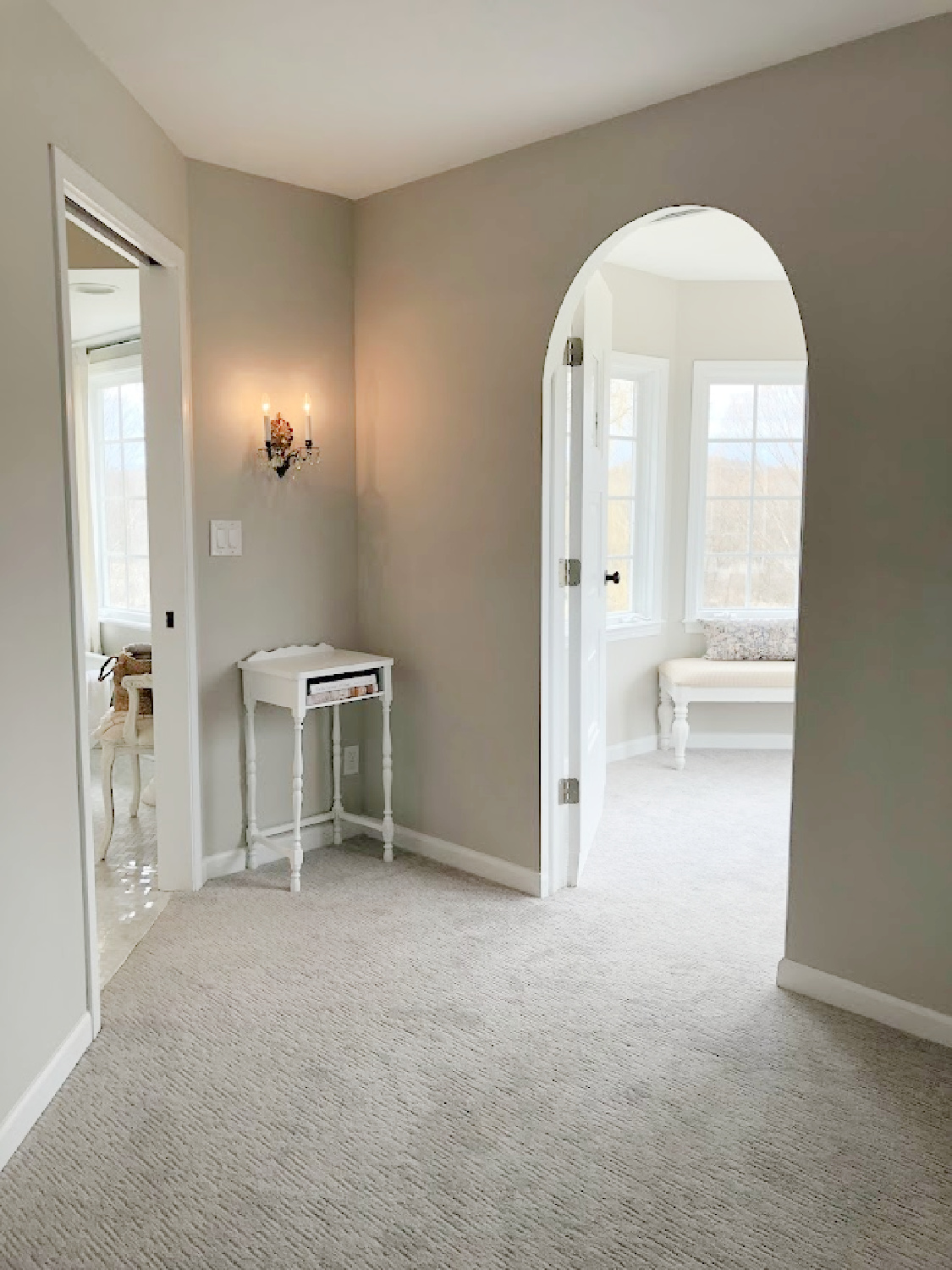 I independently selected products in this post—if you buy from one of my links, I may earn a commission.
Hello Lovely's Renovated Bed & Bath – Part I
This primary bedroom and bath space at the Georgian is actually a fair amount of square footage with multiple areas we're addressing. It consists of a spacious bedroom, turret sitting room, bath, and walk-in closet.
Unfortunately, there were issues to address beyond simply swapping out finishes and fixtures that aren't our style. Even so, we muddled through. Instead of working round the clock feverishly for weeks, we chipped away at smaller chunks for months. We're not ready for the final reveal because…life and its stress. 🙂 But we're getting closer.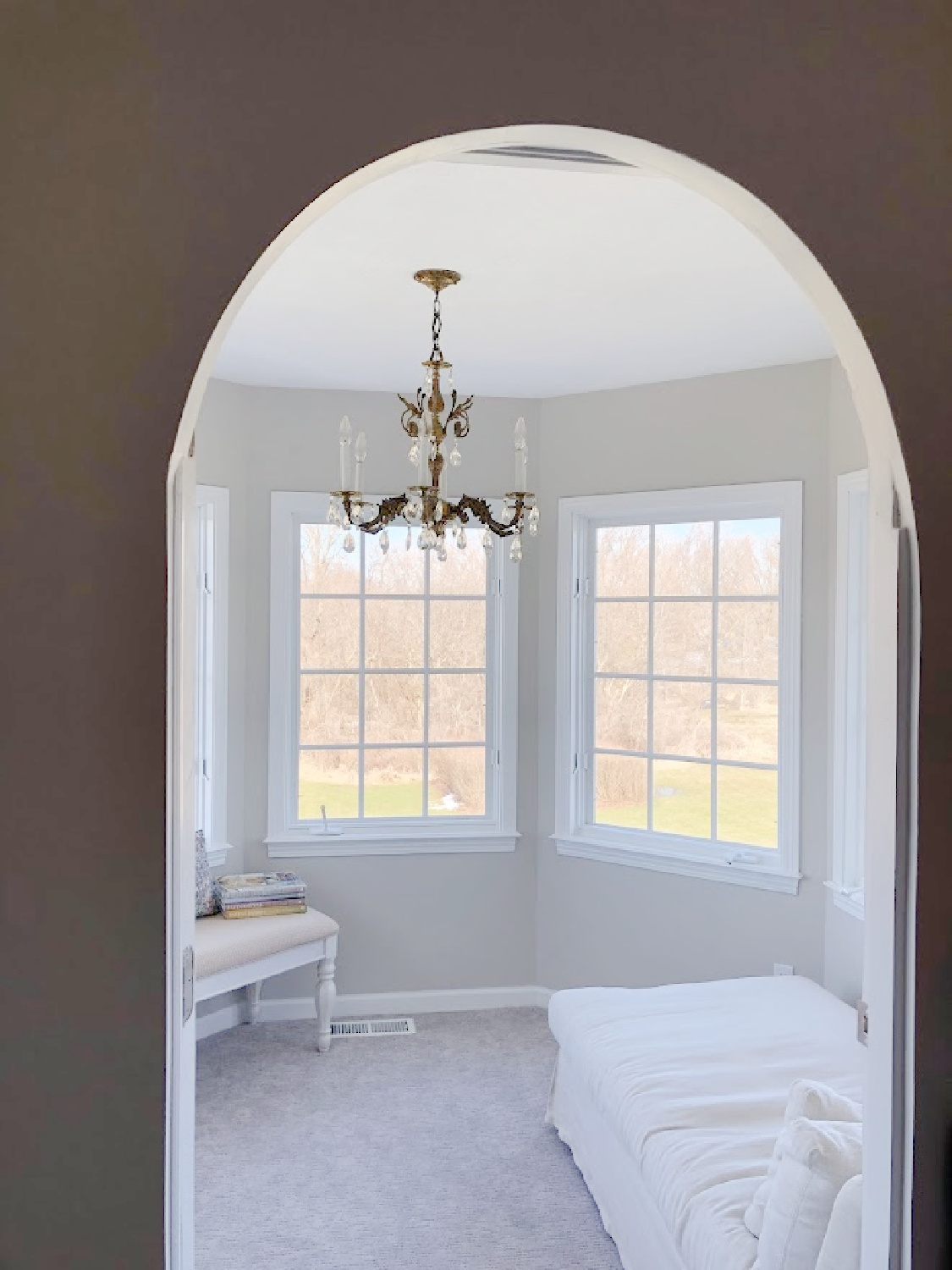 It took my husband some time to get on board with my idea of adding a wall in the bedroom. I wanted it to not simply define the sitting room, but remedy the heating and cooling issue.
With the turret design, five exterior walls and seven windows in this space meant that the whole room became too cold in winter and too hot in summer. While window treatments helped (I tested it), it remained a problem.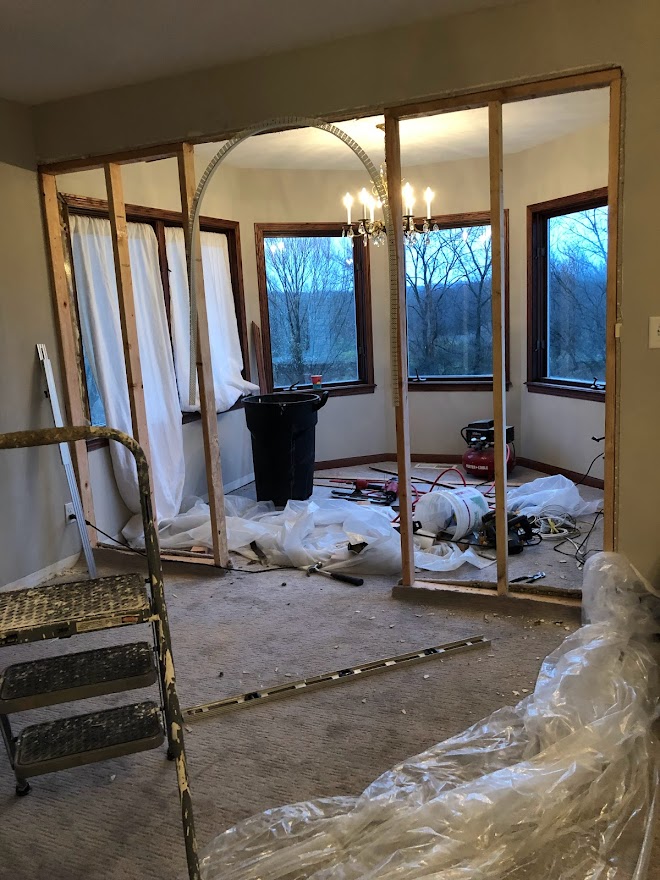 My plan included the addition of an exterior door: to block the weather, treat the room more like a porch, and allow a little light to come through its window when shut. The arched doorway softens the wall, and I knew it would look old and original when the door was fully open.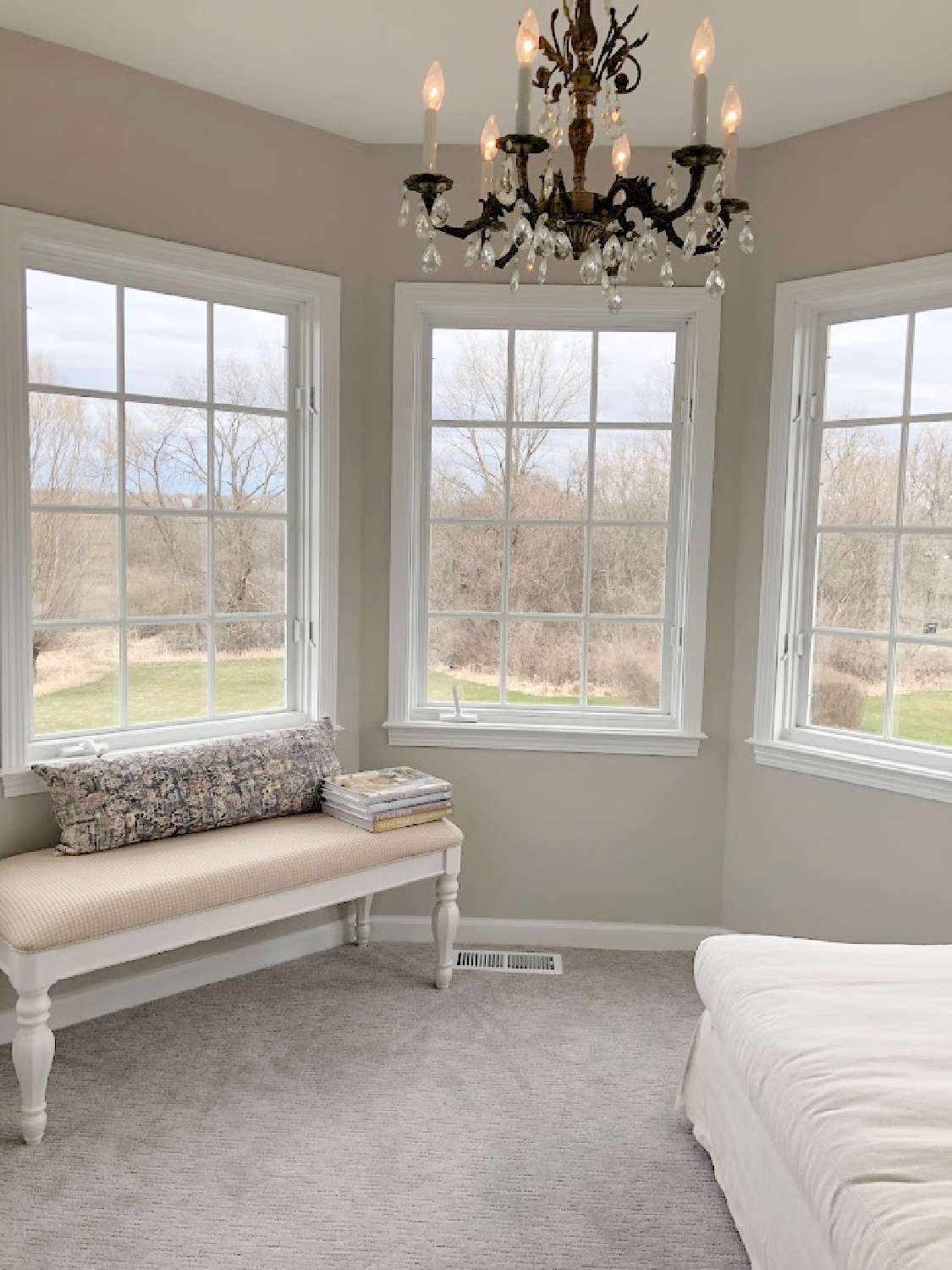 So we extended the existing wall which is parallel to our bed, and in so doing, brought balance to the bedroom space which was busy, clunky, and full of angles. While I obviously couldn't change that angular turret design, the windows are no longer a focal point in the bedroom. While the view is stunning, it didn't feel like a sacrifice since we have more windows near the bed. There are still two large windows in the bedroom in addition to those seven! I hung drapes we already owned at those two windows and haven't decided whether we need coverings in the sitting area.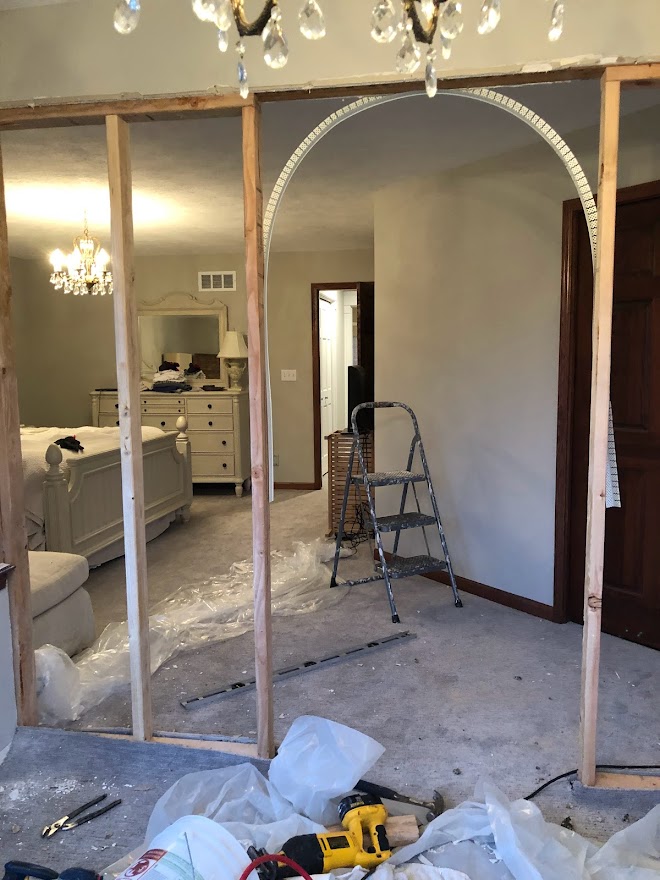 As you can see below, the wall my husband built is seamless with the existing window wall! He is amazing. We haven't added custom trim around the arch because I'm not sure it is needed. When the door is shut, it appears to be an arched door. (It's actually a 1940s vintage solid wood door we bought many years ago for a future project. It was a little short so we added more length and painted it to match the rest of the trim.)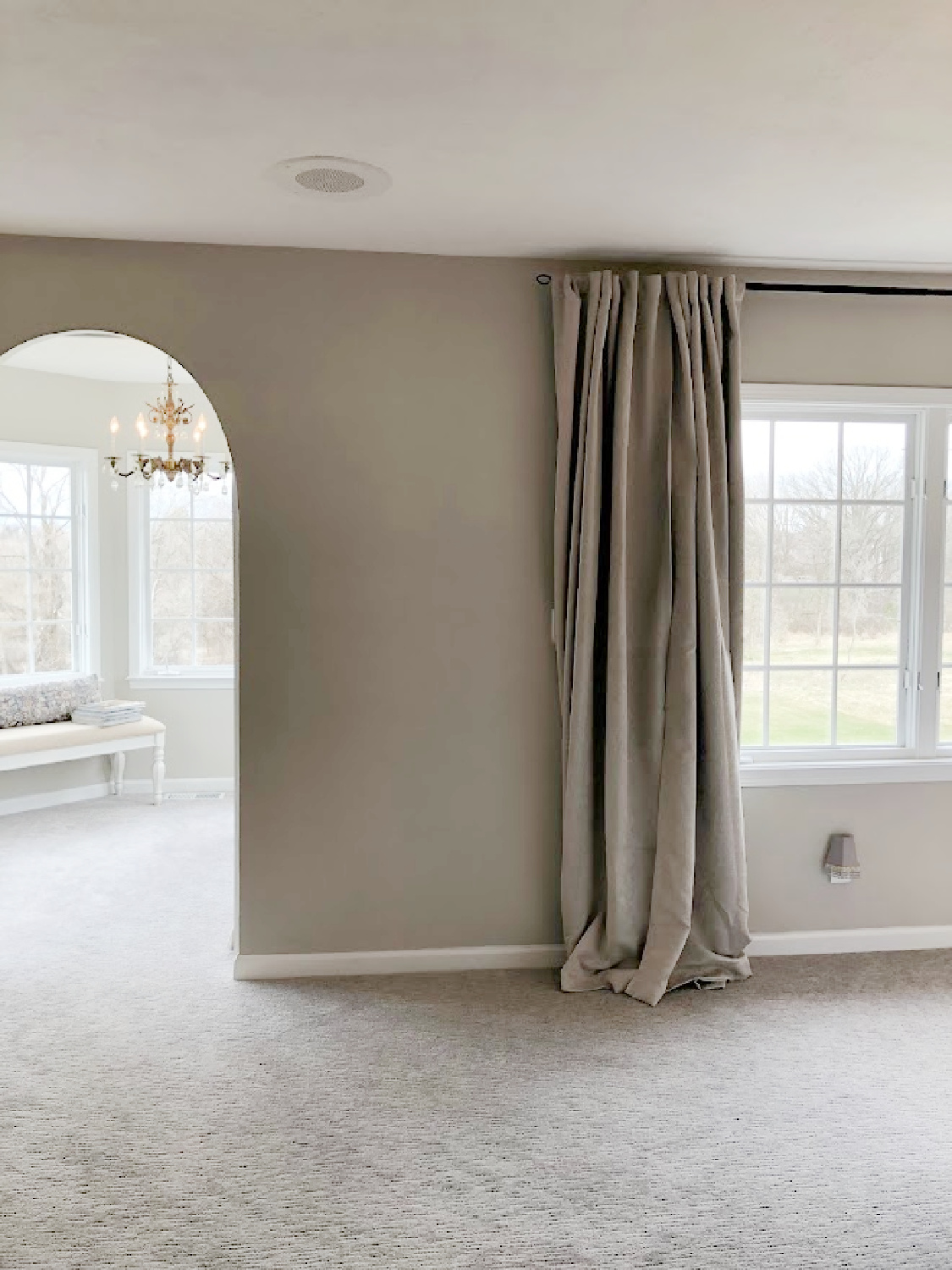 Oh, the trim! I painted all of the dark baseboard and window trim. Four coats of primer and two coats of enamel in satin. For the nine wood window grid inserts, I painted them with six coats of primer! Tedious, time consuming work and the least I can do (along with being cleanup crew and chef) since my husband has endless lists of construction. Our furniture which I painted BM Revere Pewter years ago, looks too close to the existing wall color so I put a light whitewash finish over it to brighten it and contrast with the walls. Here's a peek: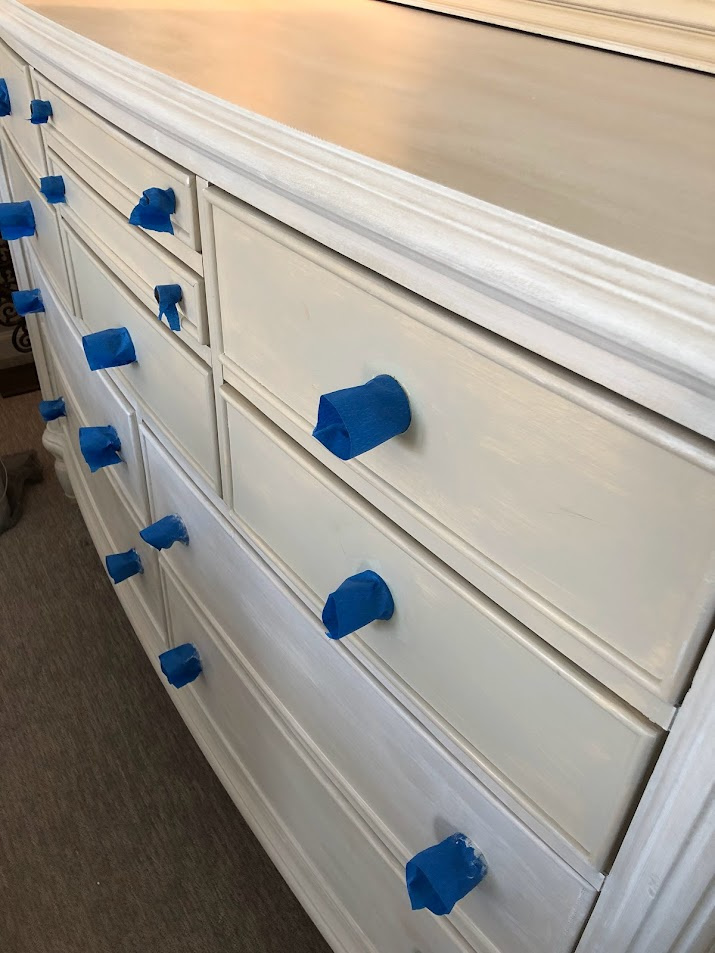 Not sure if I love the whitewashed top coat enough to leave it alone. It may need to be tweaked with a little more warmth from an antiquing wax. I also painted this beautiful, yet too darkly stained, pocket door. If the stain had been more natural, I would have left it, but since it leads to the bath, white is what feels most clean and fresh to me.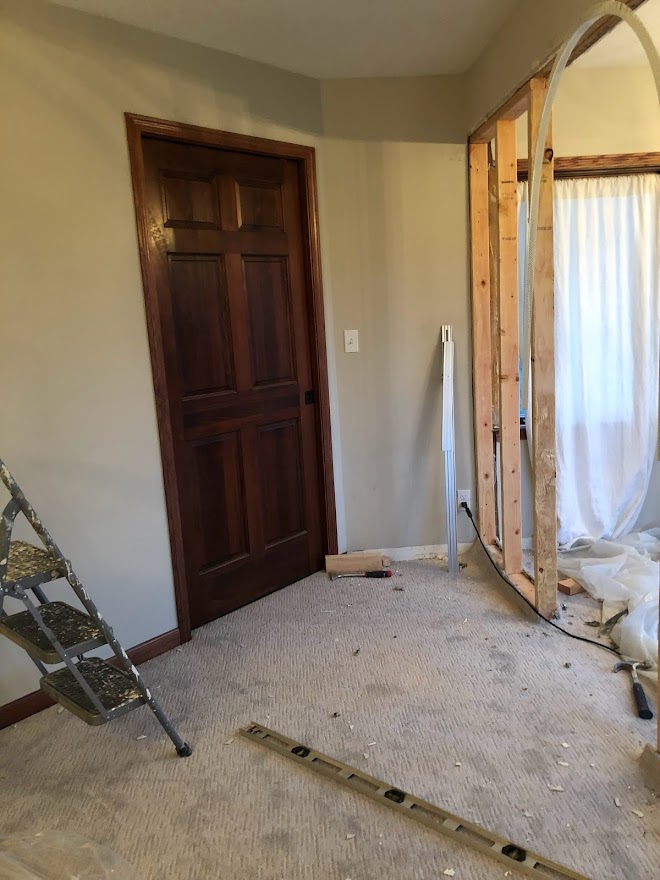 When I snapped these the other day, I didn't even have the energy to make the bed so you won't see that area yet. We added vintage antique brass crystal chandeliers to the bedroom, sitting room, and walk-in closet. I would love one in the bath too, but my husband's preference was to leave an existing ceiling speaker in the place it should go.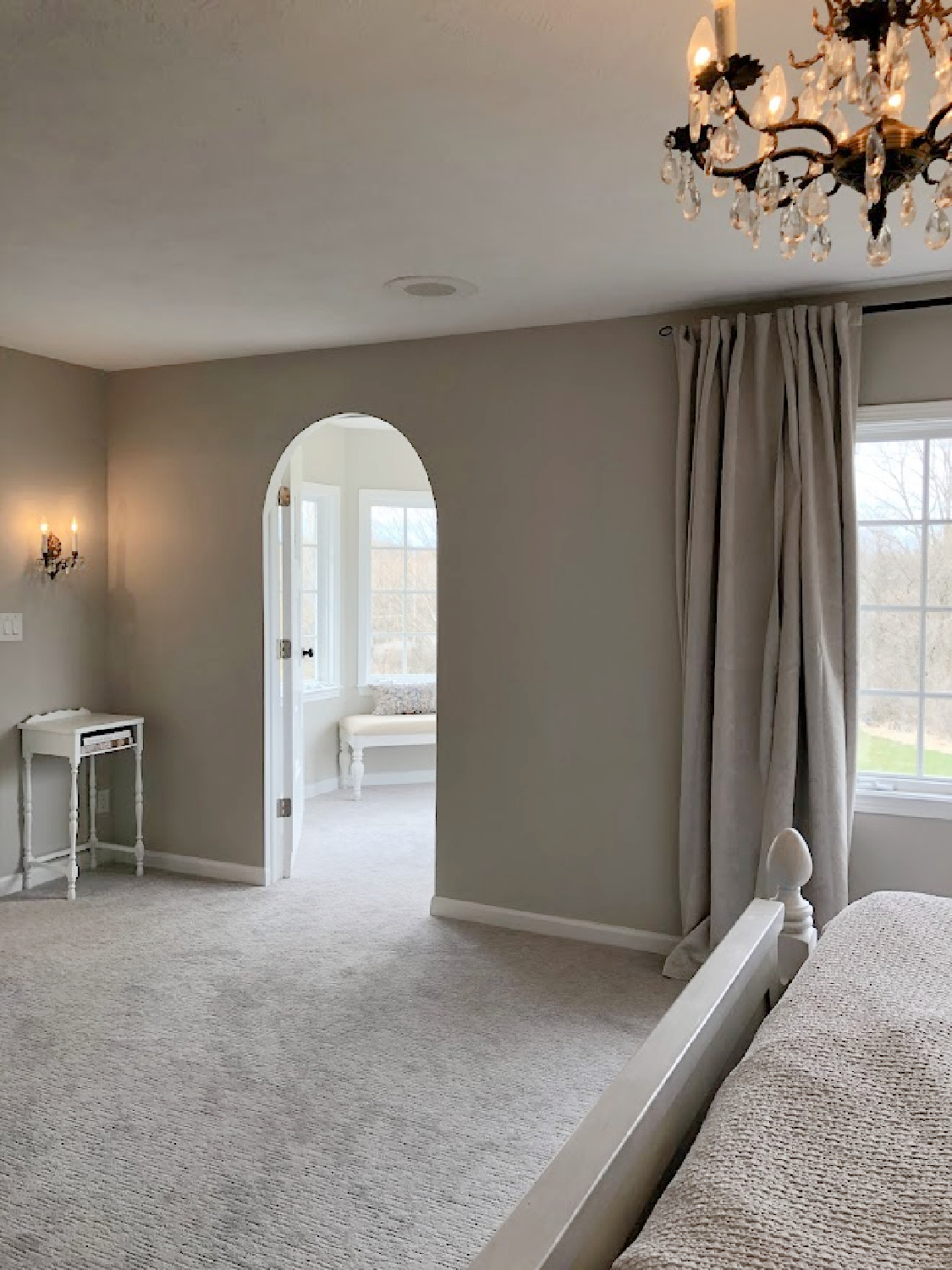 We left the wall color alone – it's Sherwin-Williams Agreeable Gray. The paint color is darker and warmer in this space for my own personal taste, but my husband appreciates its moodiness so I agreed to roll with it.
The carpet is a cooler silvery medium grey, and maybe someday we'll try a grey paint color more like the flooring. We collected the vintage antiqued brass wall sconce (above) many years ago and are thrilled it found a home here after adding electrical to this small wall outside the bathroom. I can't tell you how much cozier and Old World it feels with that small change.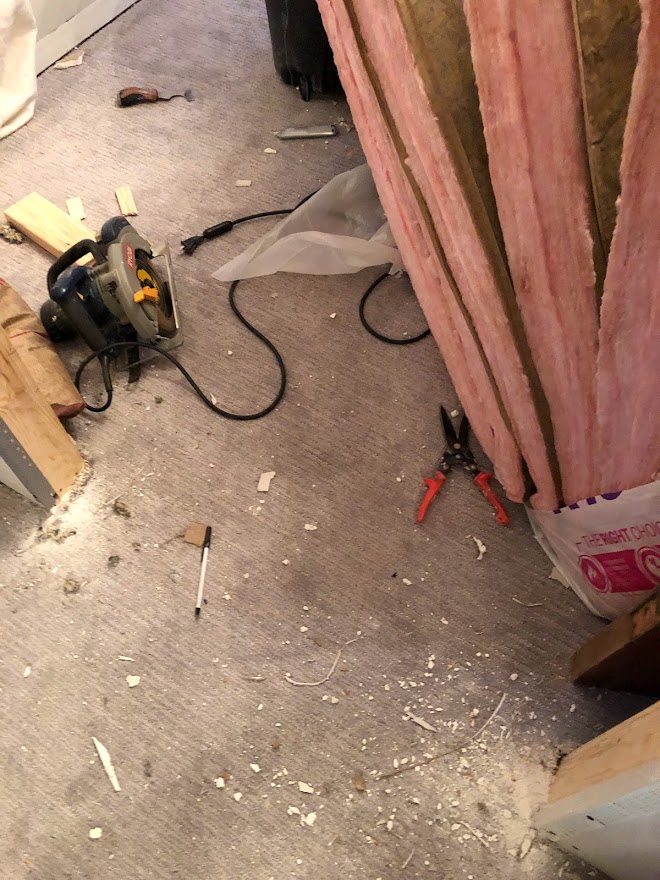 I found the vintage telephone table below the sconce on FB Marketplace, and initially I thought it would go in the bath for towels or a small makeup vanity area. As the bath renovation progressed, the piece felt too busy yet just right for this 30″ expanse. Now it can be a perch for towels, books, or beverages.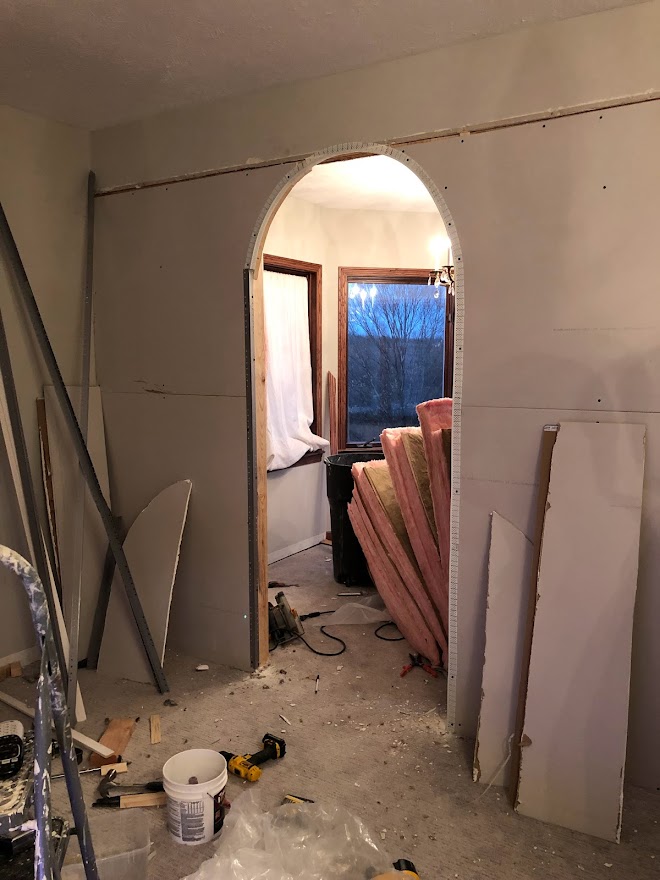 I posted a few of these before pics previously, and I wonder if some of you worried I had lost my mind adding yet another wall to this home! Who can blame you? The "before" looks sooooo uninviting at that stage with dark brown windows, no grids, and pieces of drywall attached to the header (above).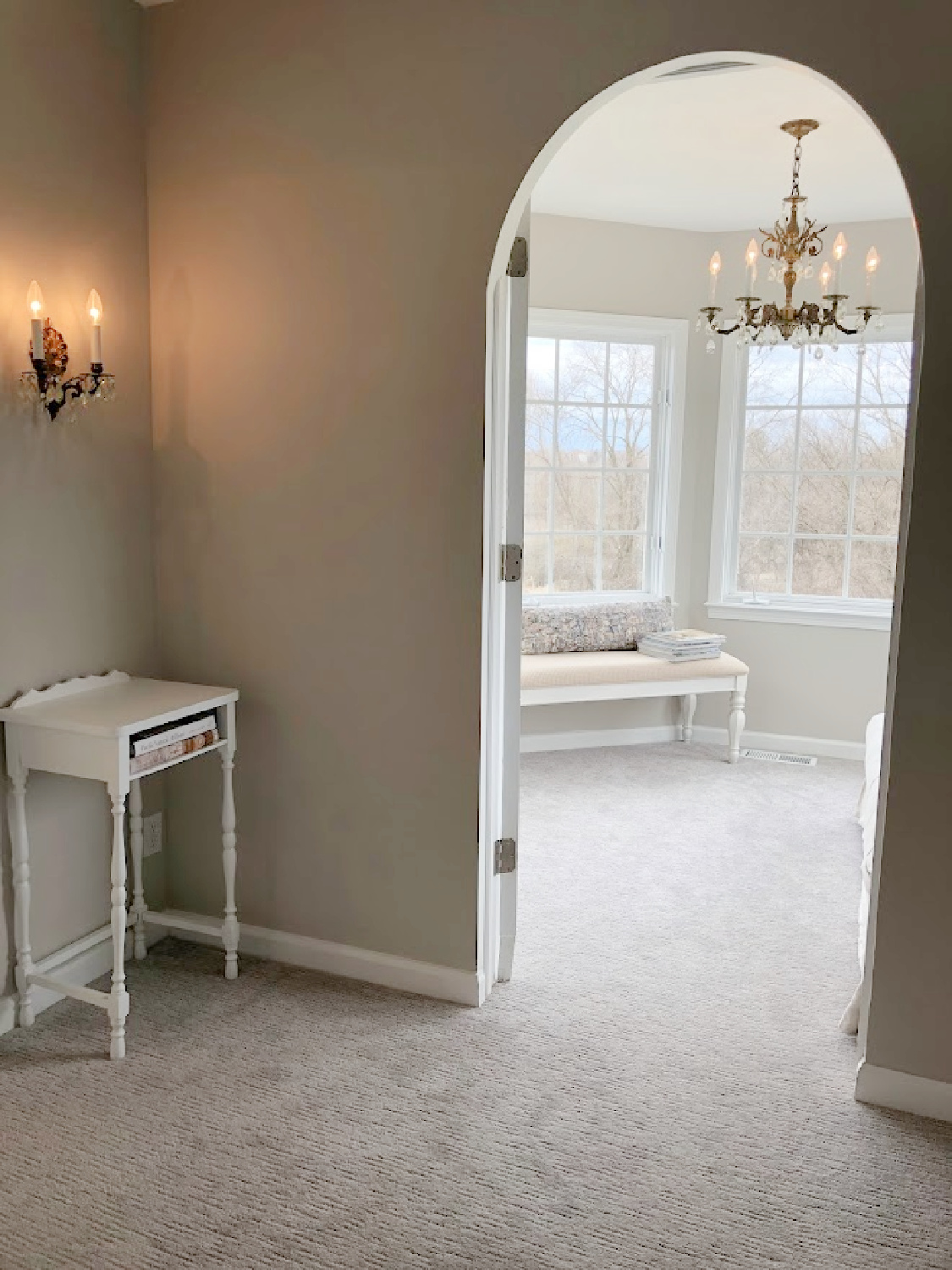 But I could always picture it in its AFTER glory where the sitting area would bloom into an elegant space to meditate, read, sip, view wildlife (so much here on the preserve!), get a massage, work from the laptop, or even do yoga.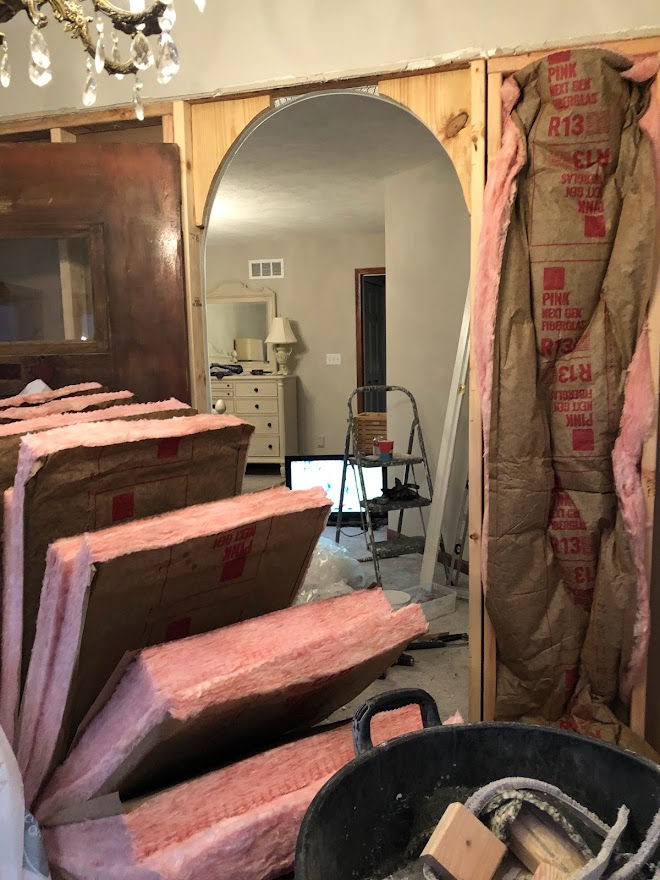 Sometimes adding architecture adds "fuss," and sometimes it erases it.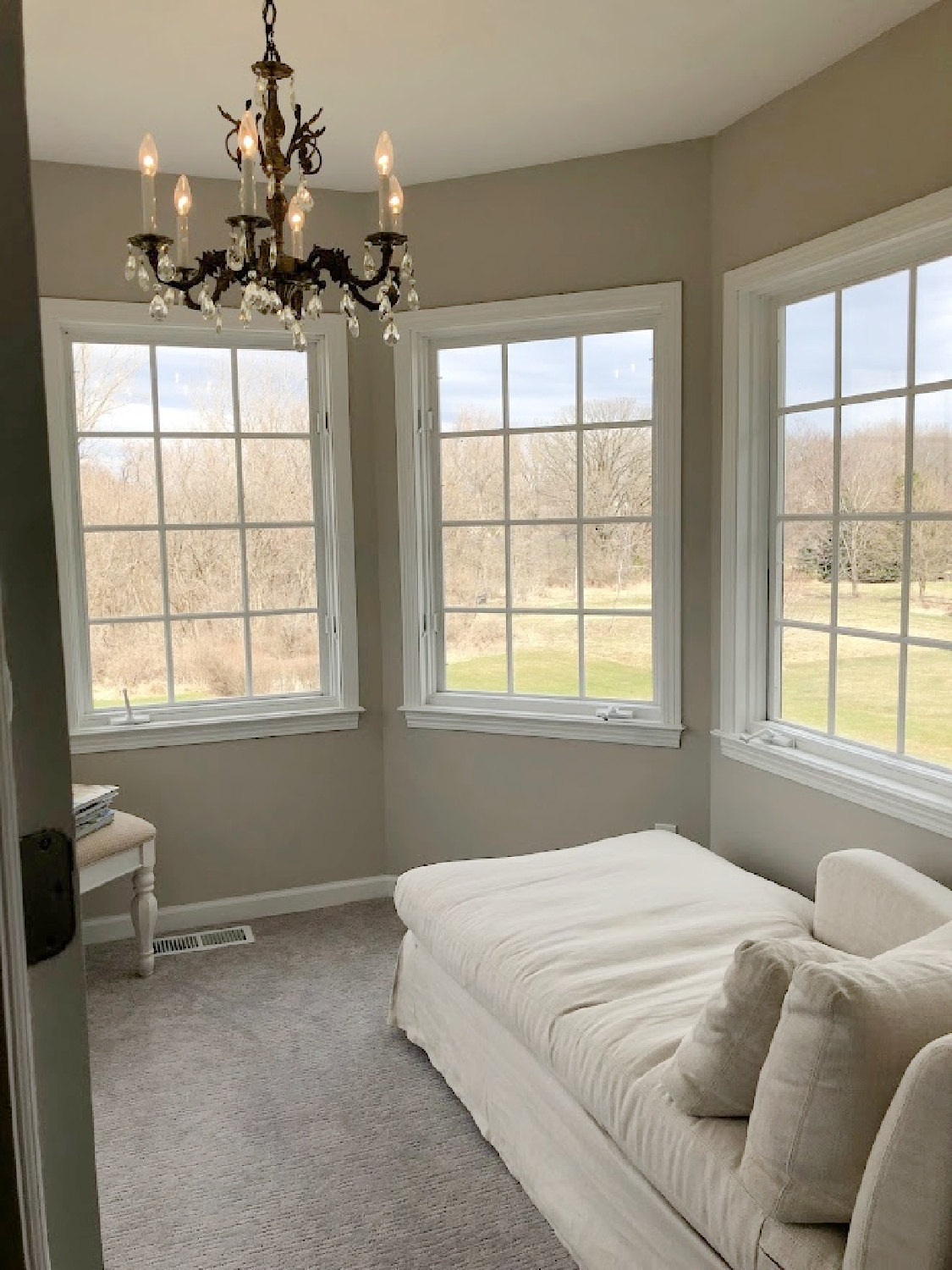 Similarly, the bedroom has been transformed. (I'll share more pics soon.) It now functions better in terms of temperature and light, extra important for us as we age and need all the benefits of restorative, healthy sleep we can get.
Not sure it can be captured in photos, but the wall extension created more of a cocoonlike coziness, both for the bedroom and the sitting room.
I don't know if the furniture I plopped down in here will stay (Belgian linen large scale plushy down chaise and upholstered bench that I imagined a grand-kitty or grand-pup could take residence and watch the deer and birds).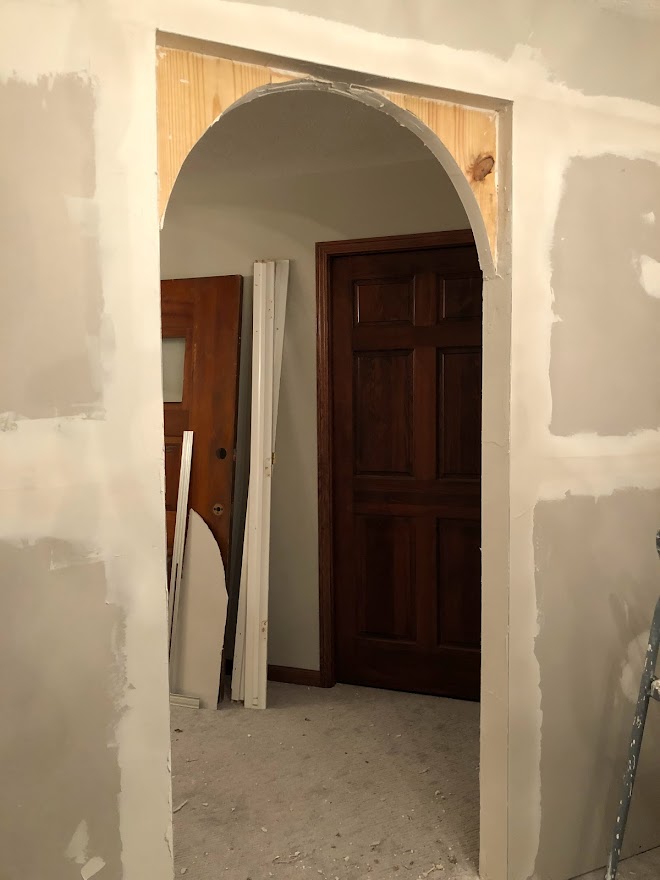 But you already know I like to take my sweet time with finishing touches, furniture, art, and objects. If it's all done, will I even want to stay put? Hahahaha.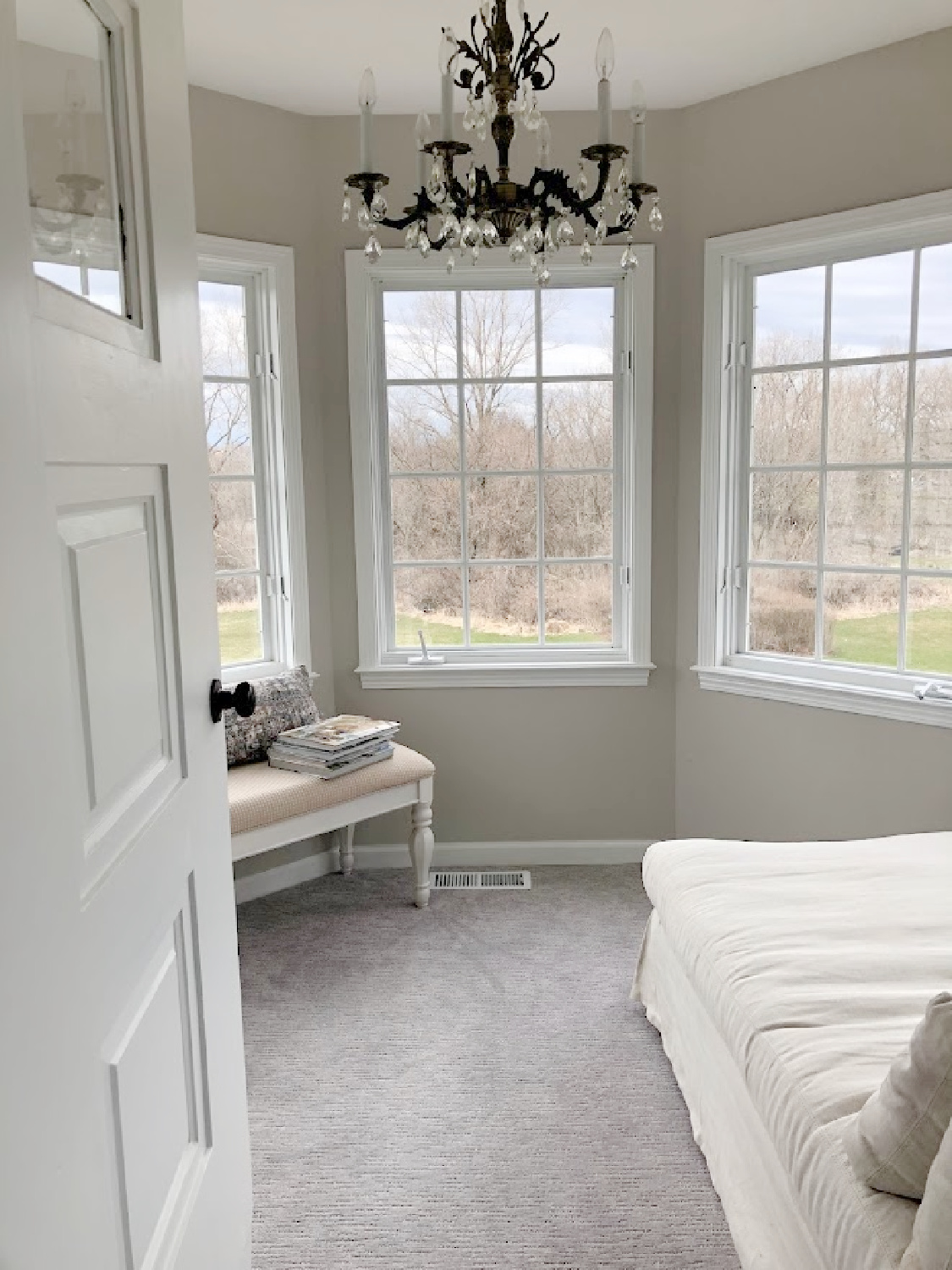 Here's a great "during construction" shot where it was time to grab my paintbrush!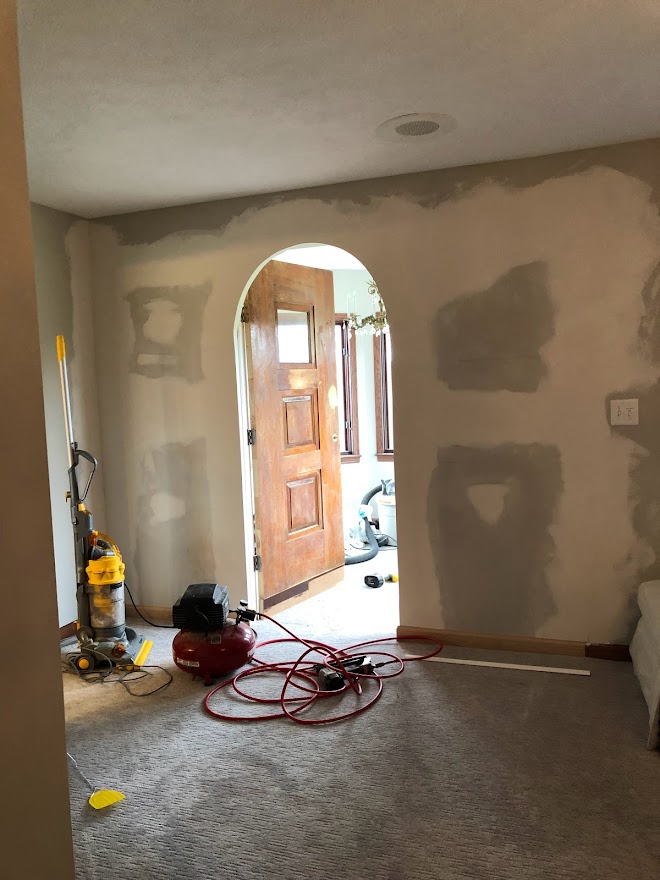 And here's a peek into the beautiful new bath with herringbone marble floor: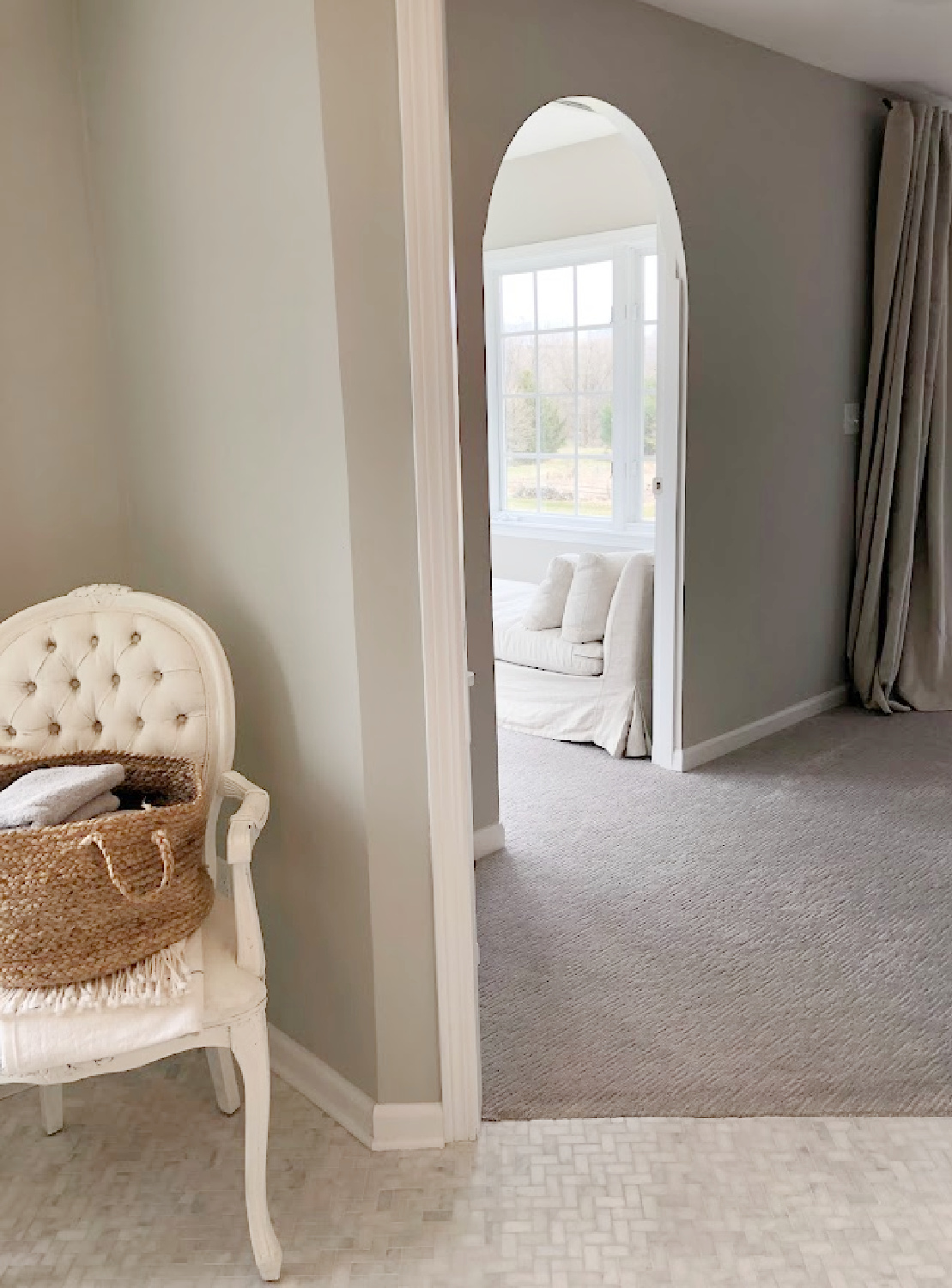 I shared peeks at the bath (which simply needs a few finishing touches) in part 2.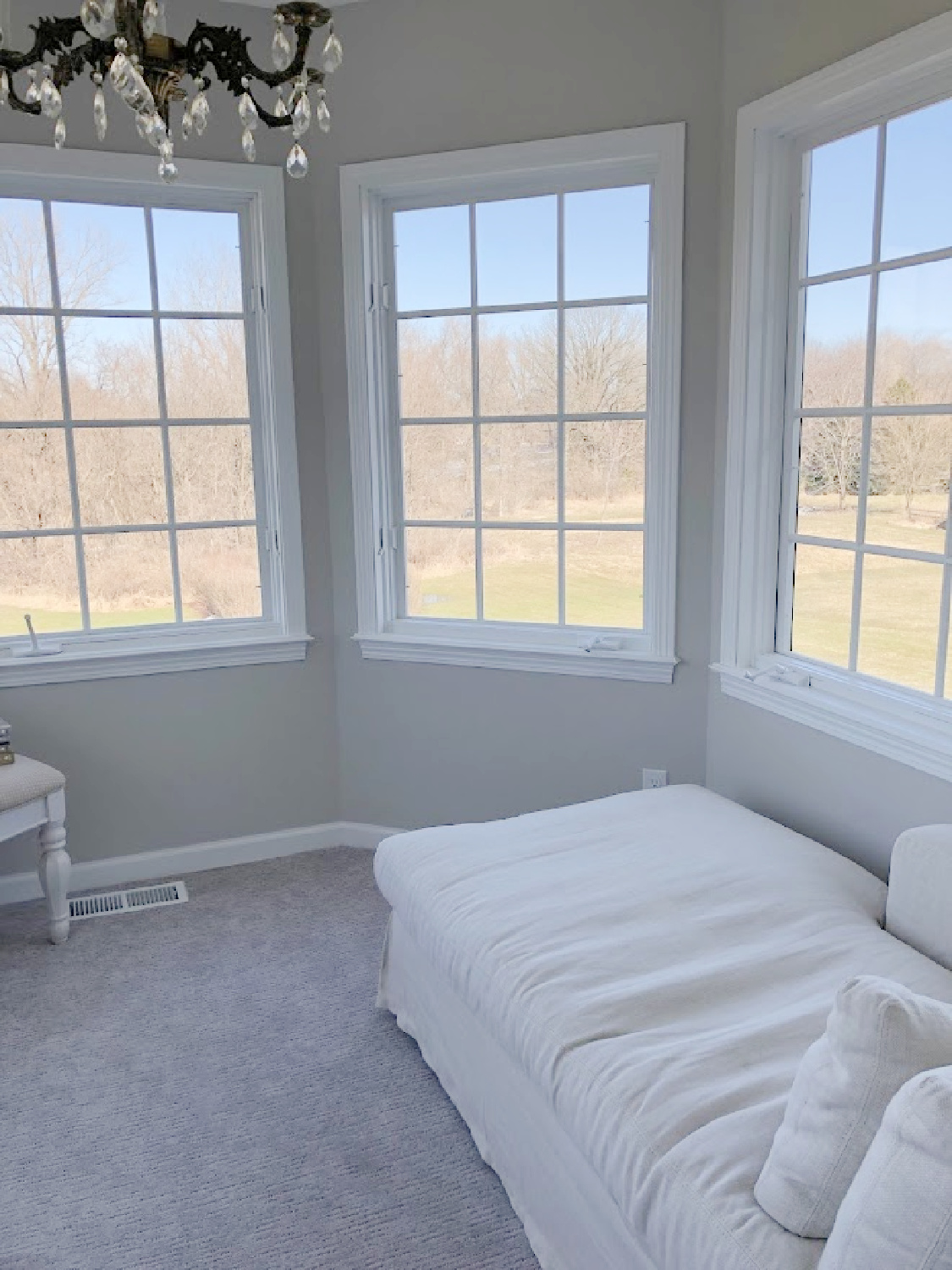 So if you're keeping track, we're nearly finished with the project and just need to update the walk-in closet. I'll keep you posted!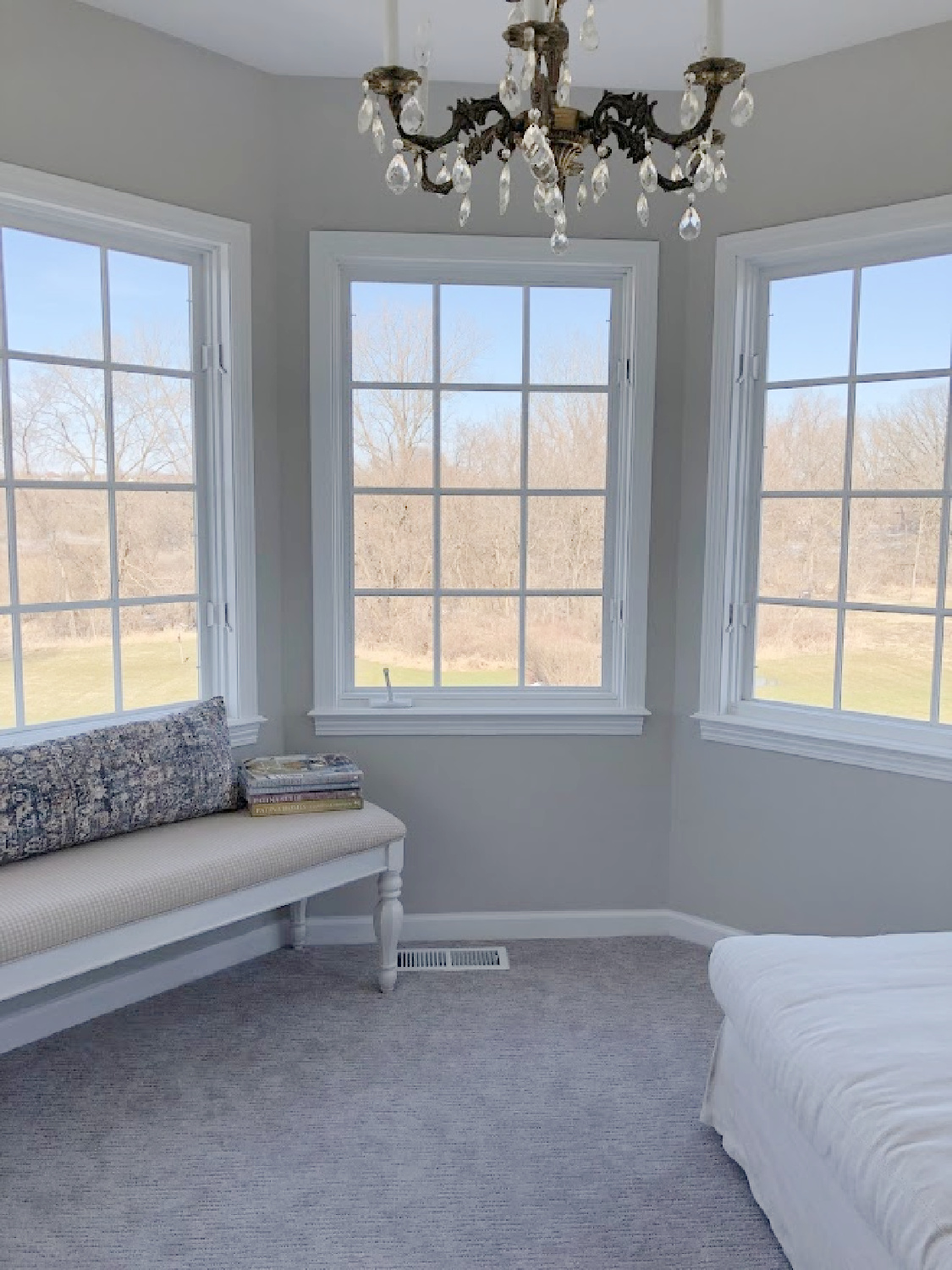 Thanks so much for following along, and do take a peek at our bath progress in part 2 HERE.
Peace to you right where you are.
-michele
Shop for items you already intended to buy on Amazon RIGHT HERE, and also find home decor here to keep decor inspiration flowing on Hello Lovely!
Hello Lovely is a participant in the Amazon Services LLC Associates Program, an affiliate advertising program designed to provide a means for sites to earn fees by linking to Amazon.com and affiliated sites.