We'll explore how my favorite tree wallpaper (Trees White from Photowall) looks equally serene in an entry, dining room, and bedroom. While the subject matter and grisaille colorway are classic, the large scale gives it a modern twist. I'll also share décor sources for these spaces in case you care to shop the look. Maybe the most important fact to note about this simple DIY? The installation doesn't take long because the product is so well designed! Think they just don't make things like they used to? Here's an example of innovation and ease that simply wasn't available years ago.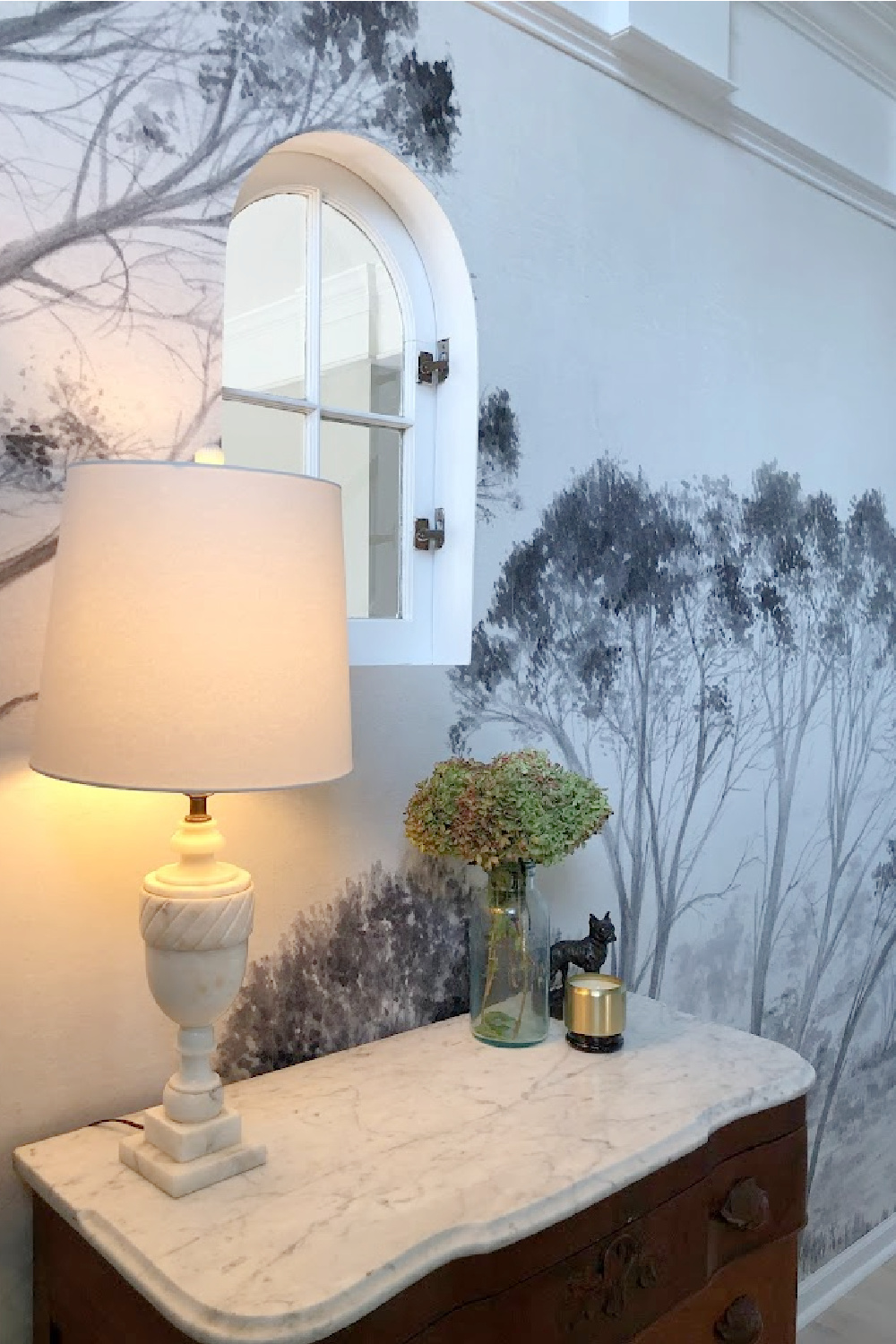 PHOTOWALL Tree Wallpaper in Three Settings
Here's the exact wallpaper you'll see throughout this post: Trees White from Photowall.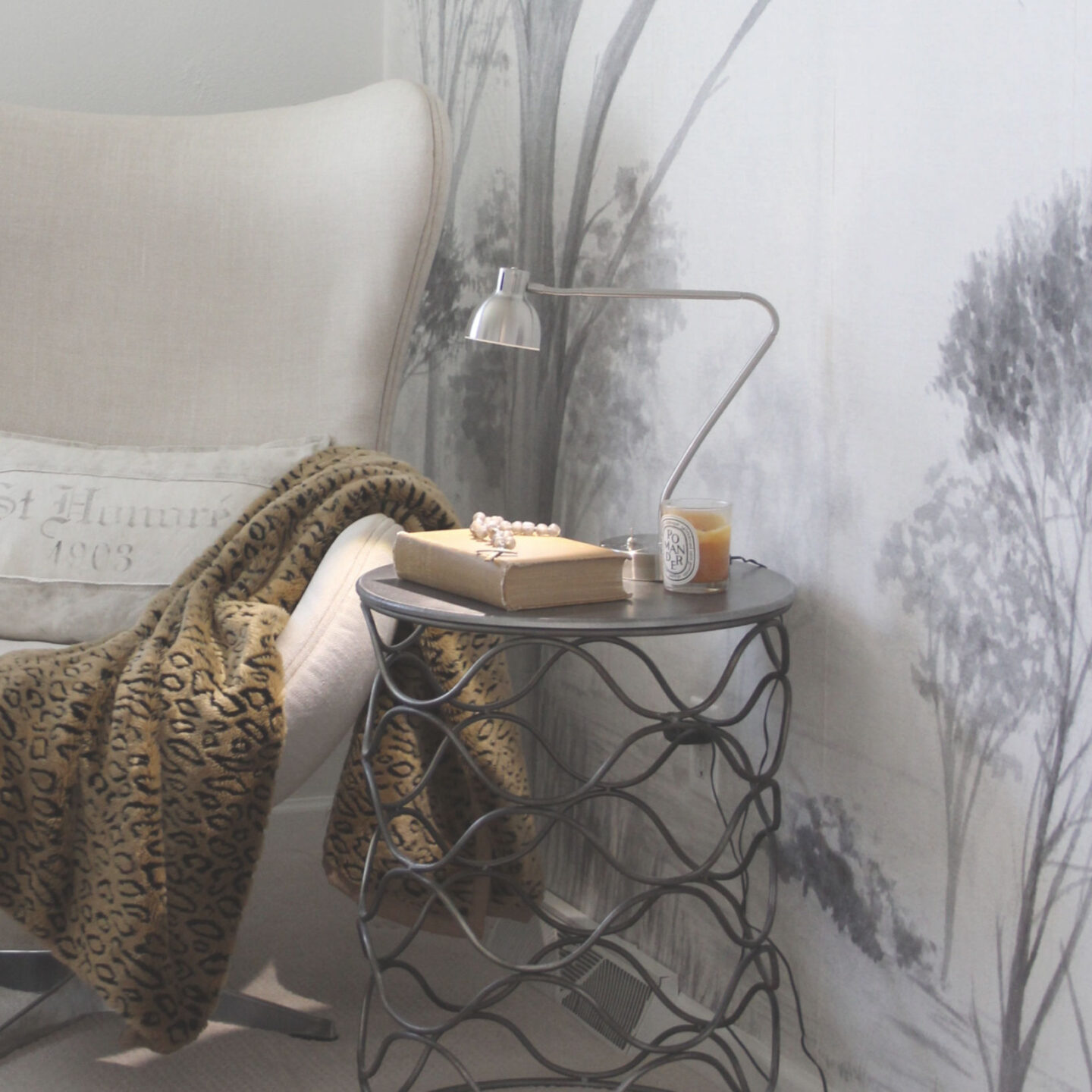 Tree Mural Accent Wall in a Bedroom
A second floor spare bedroom in our former home that I often used as an office needed love…big time.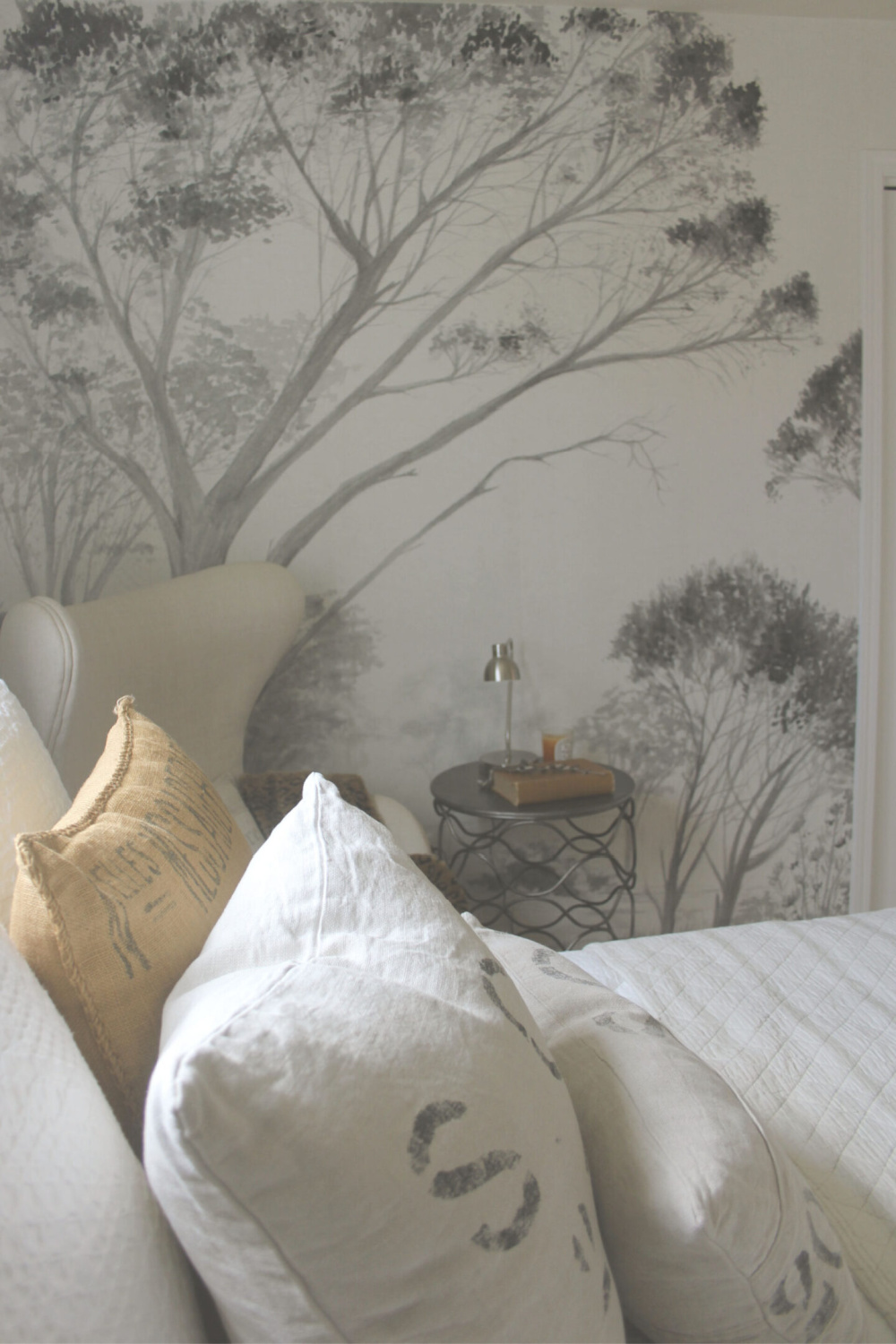 I loved the view of peaceful trees outside the window, but the blank white wall opposite my work table? Totally uninspiring.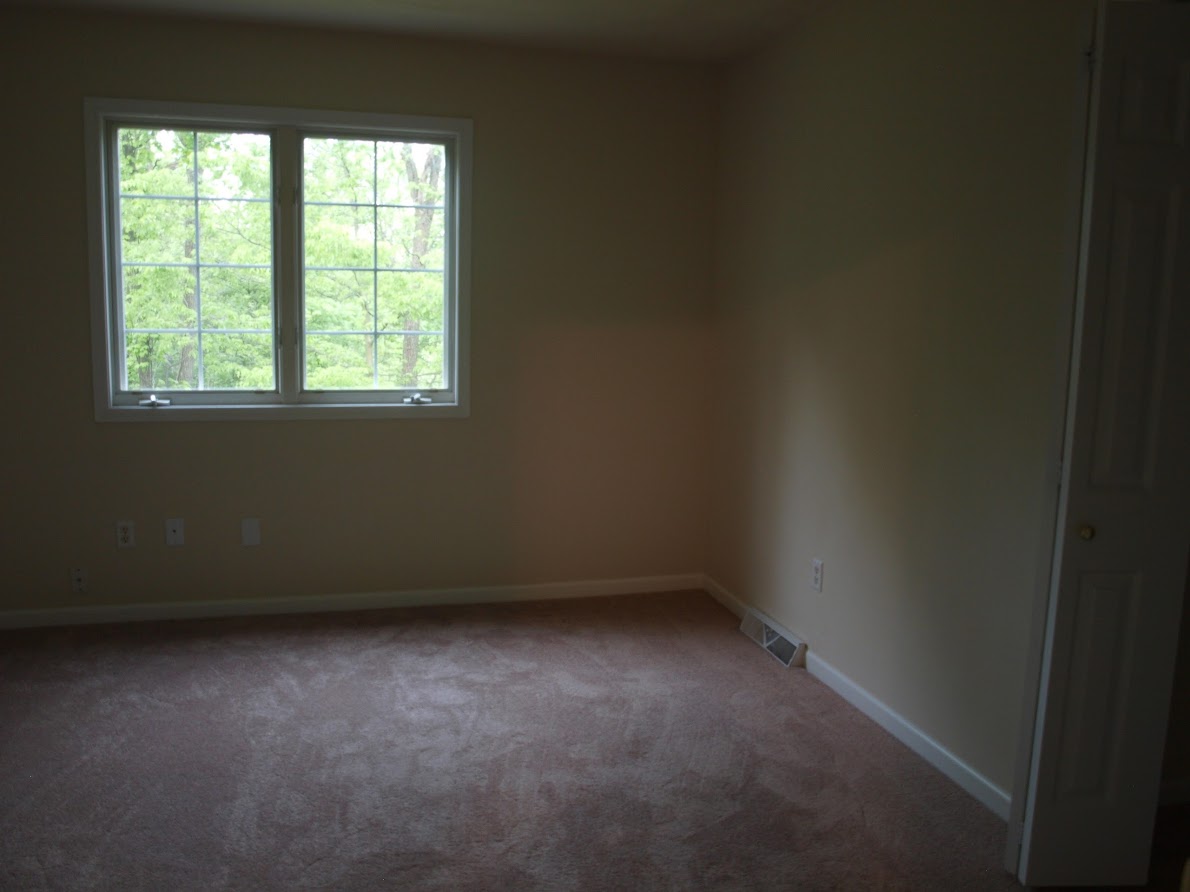 It truly needed some love (including new carpet, new paint, curtains and an accent wall!).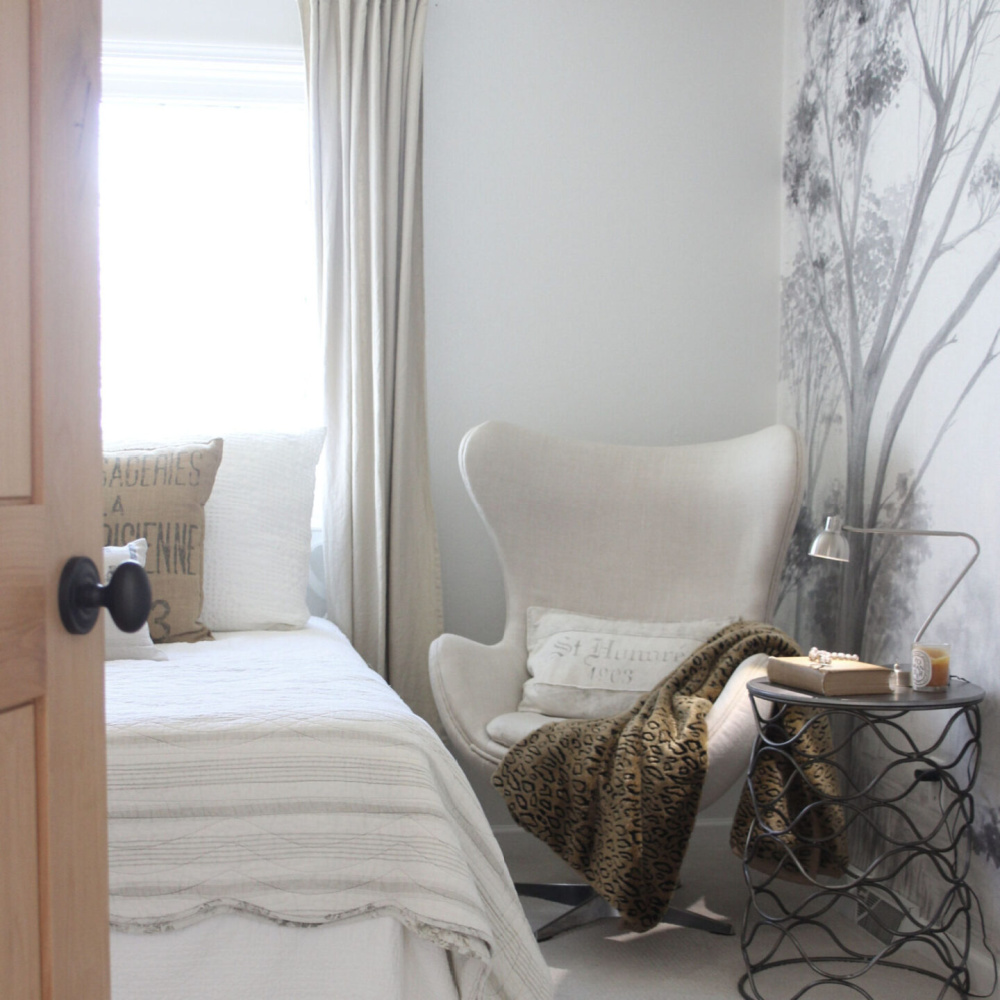 I have always admired tonal landscapes that feel serene yet modern (and a little less Renaissance).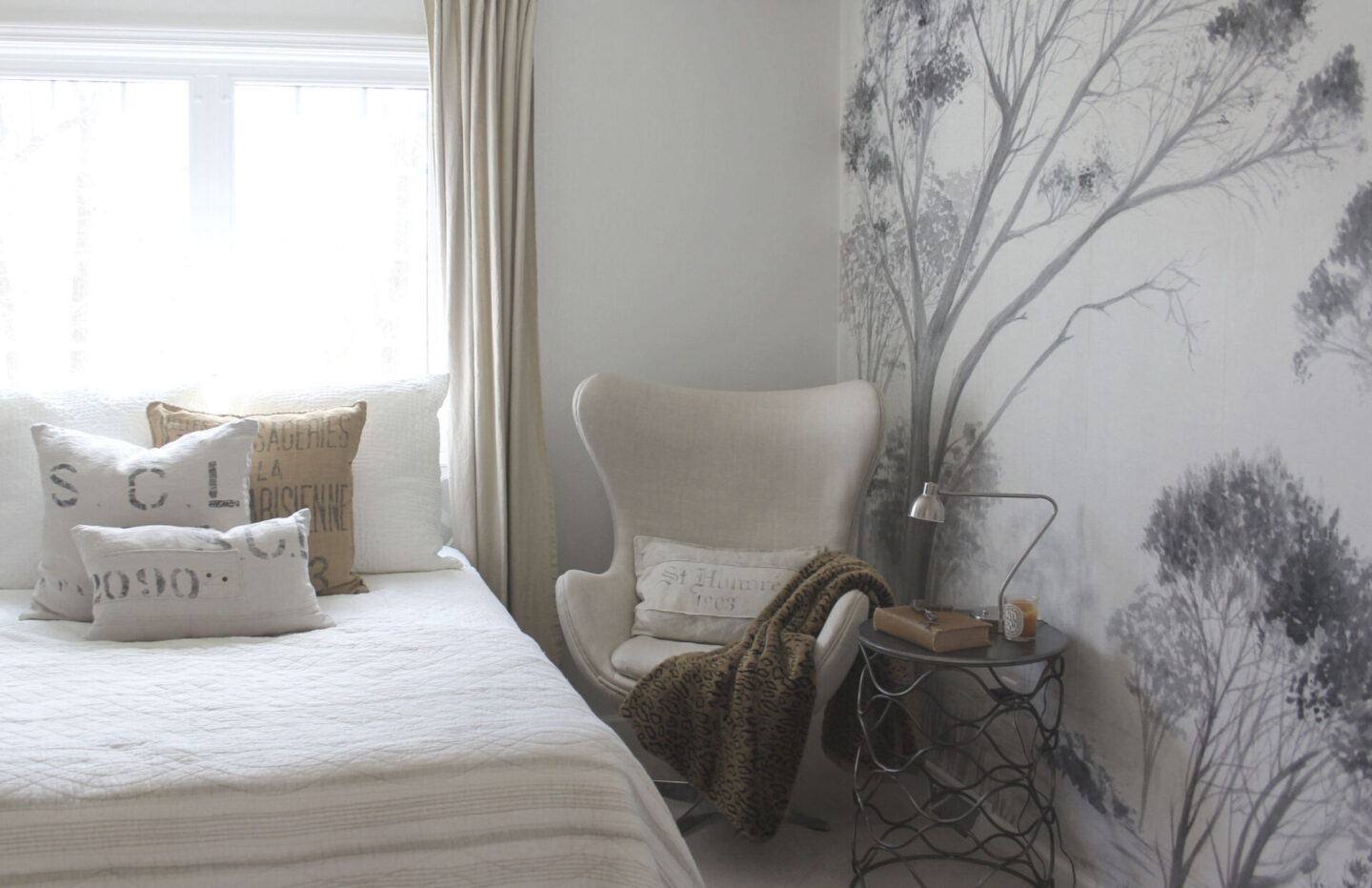 This Fornasetti wallpaper for instance is still a favorite. (I even spied that wallpaper in an ultra luxurious space in Summer Thornton's book WONDERLAND!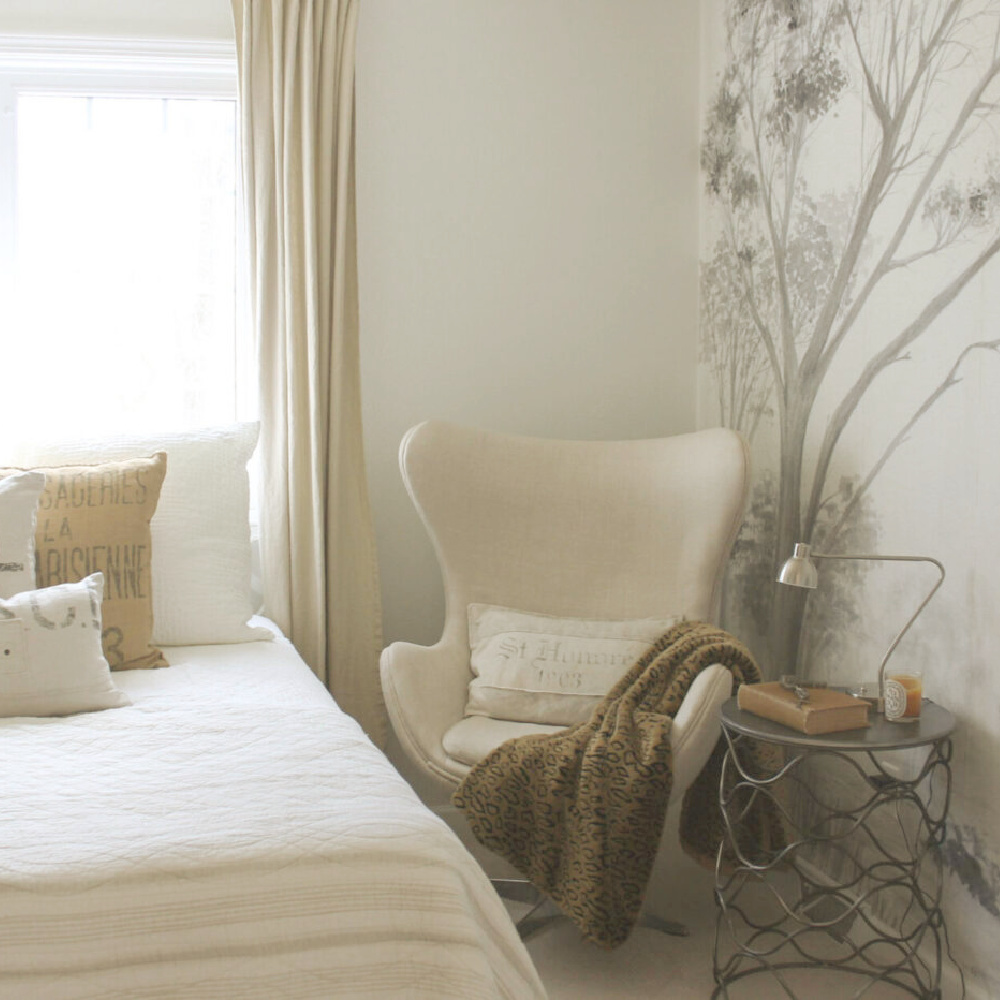 ACCENTS IN THE ROOM: Find a modern task lamp HERE, silver toned accent tables HERE, and you'll notice this animal print throw received excellent reviews! Similar curtains from PB are HERE, bedding is PB and also Piu Belle, and quilt is similar to this lovely one. Pottery Barn's Clayton Quilt is similar, and I like it even more than mine. (The MCM swivelicious Copenhagen chair is vintage RH.)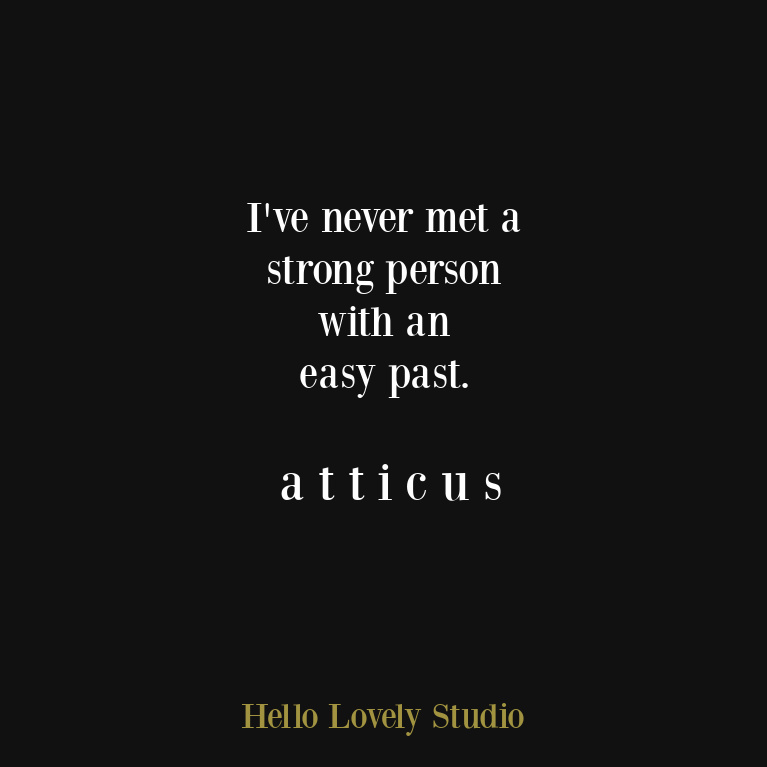 Wallpaper Accent in a Dining Room
This fireplace in our dining room is not original though it certainly feels like it! We added it after removing a built-in china cabinet and wanted to make it a focal point in the room.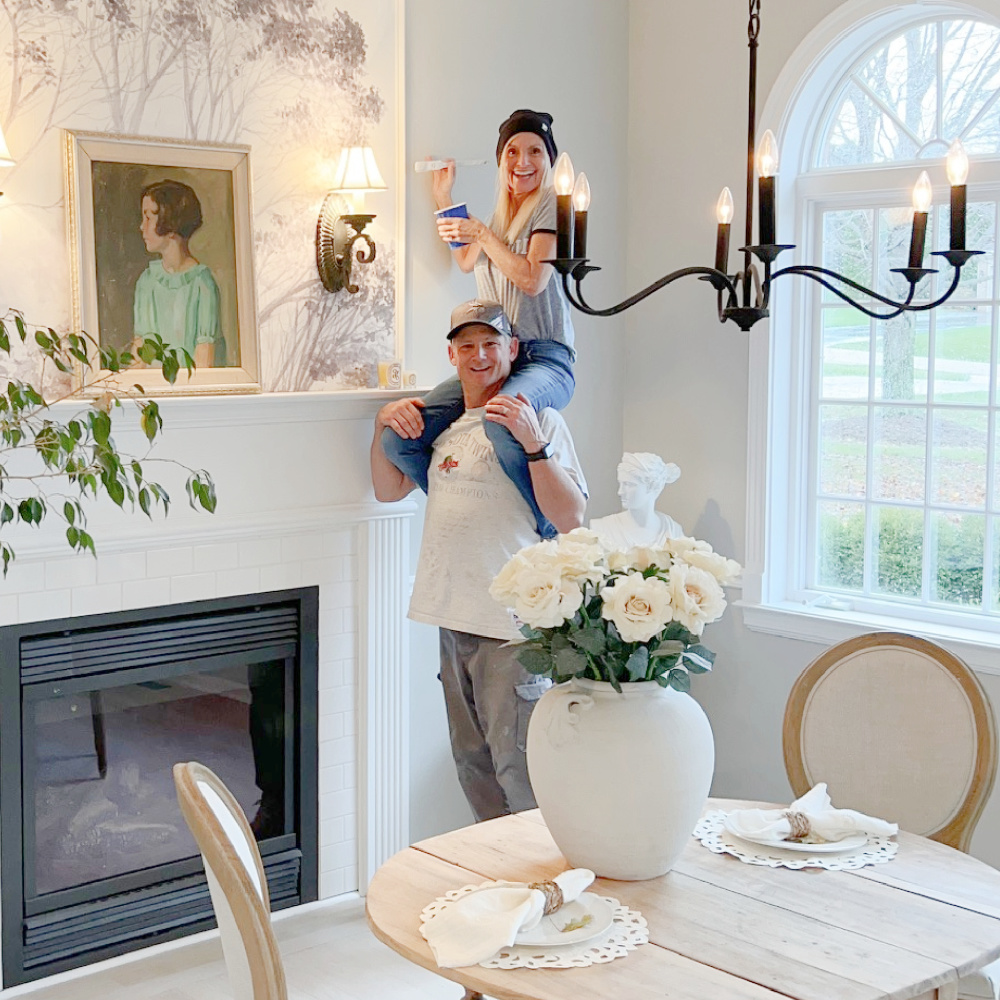 The built-in china cabinet was a beautiful custom piece that we actually repurposed in the kitchen. But since we knew we wouldn't use a formal dining room for dining, we liked the idea of making it a music room where the piano gets played every single day.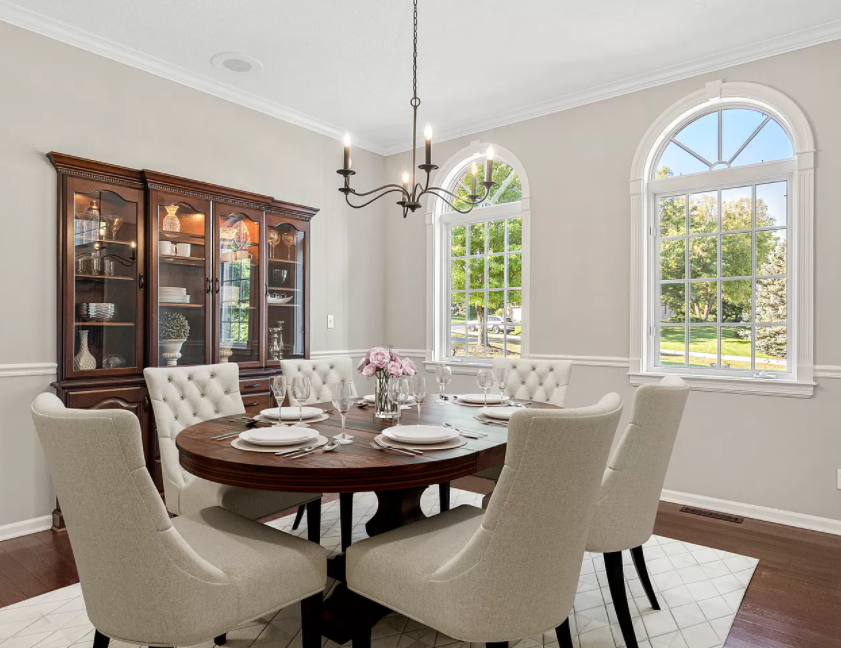 Even though I had never seen wallpaper used above a fireplace in this way elsewhere, I felt the muted, neutral colors in the pattern would make a beautiful backdrop.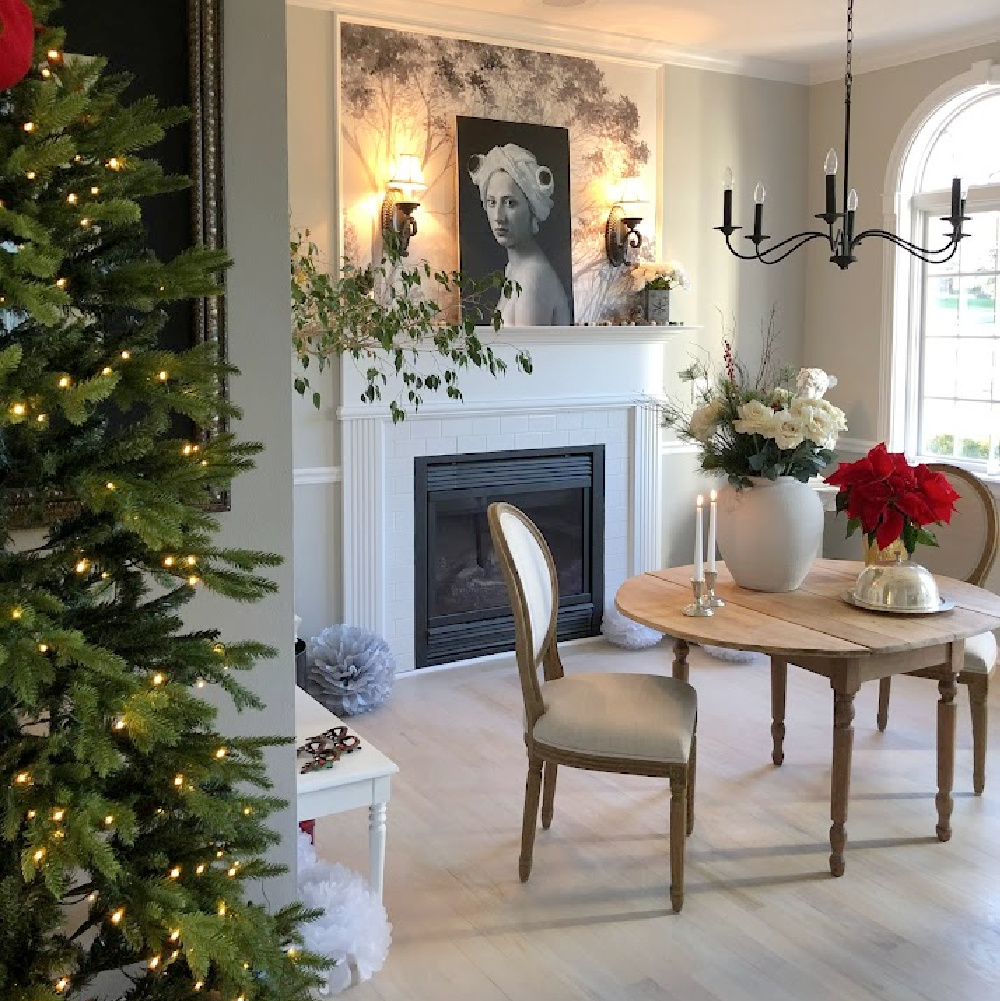 While it is bold, I used it as an accent almost like a large landscape print or painting.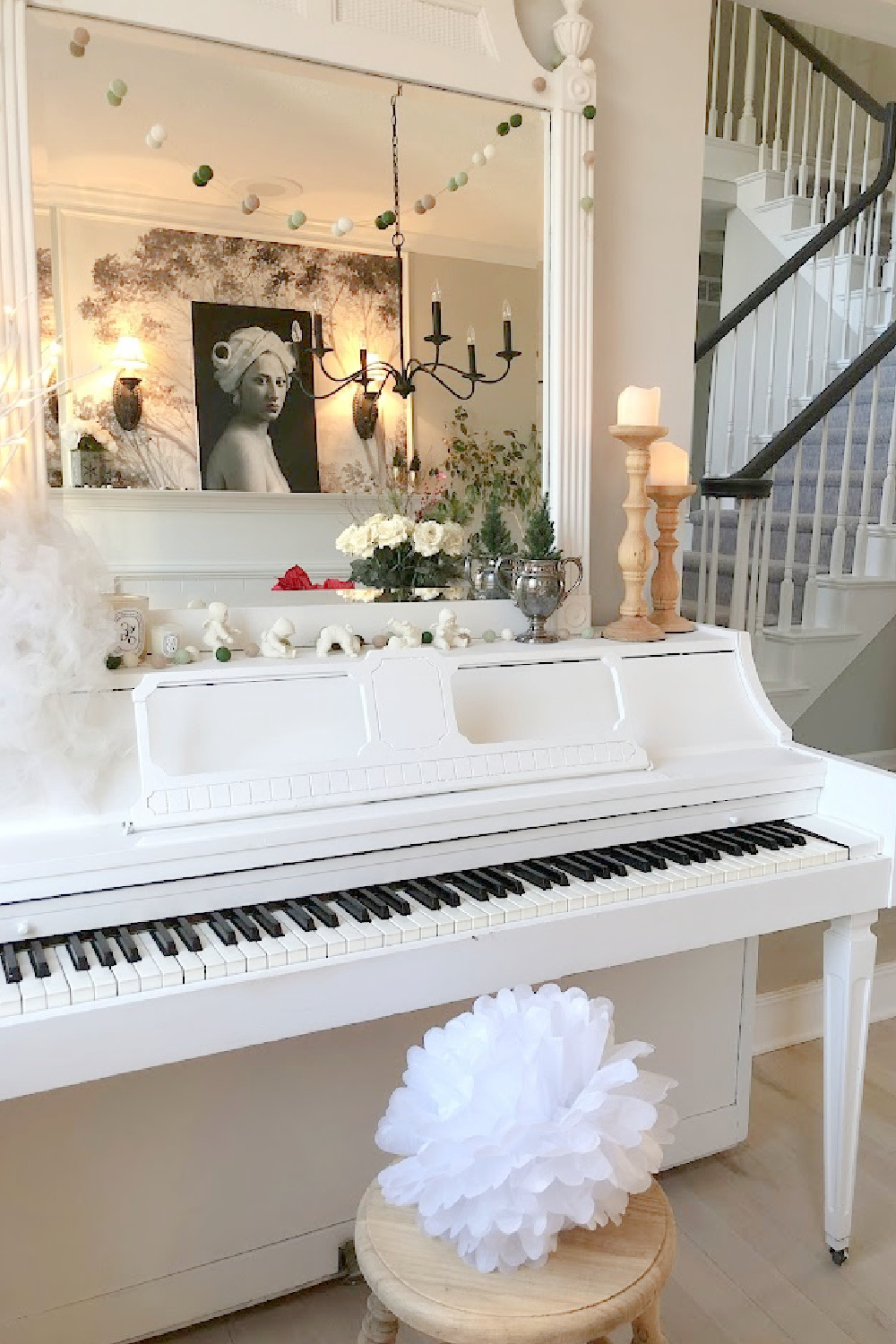 In a similar way, I used Photowall's Trees White wallpaper on two walls of the entry, where it is crowned with heavy classical molding.
Dramatic Entry With Tree Mural
Soon I will create a video tour of the house (we have to finish the family room first to complete the two floors!), and the floorplan will be easier to understand. Because I know when I tell you we only wallpapered two walls in the entry, specifically, two walls we built from scratch, it's a bit hard to imagine.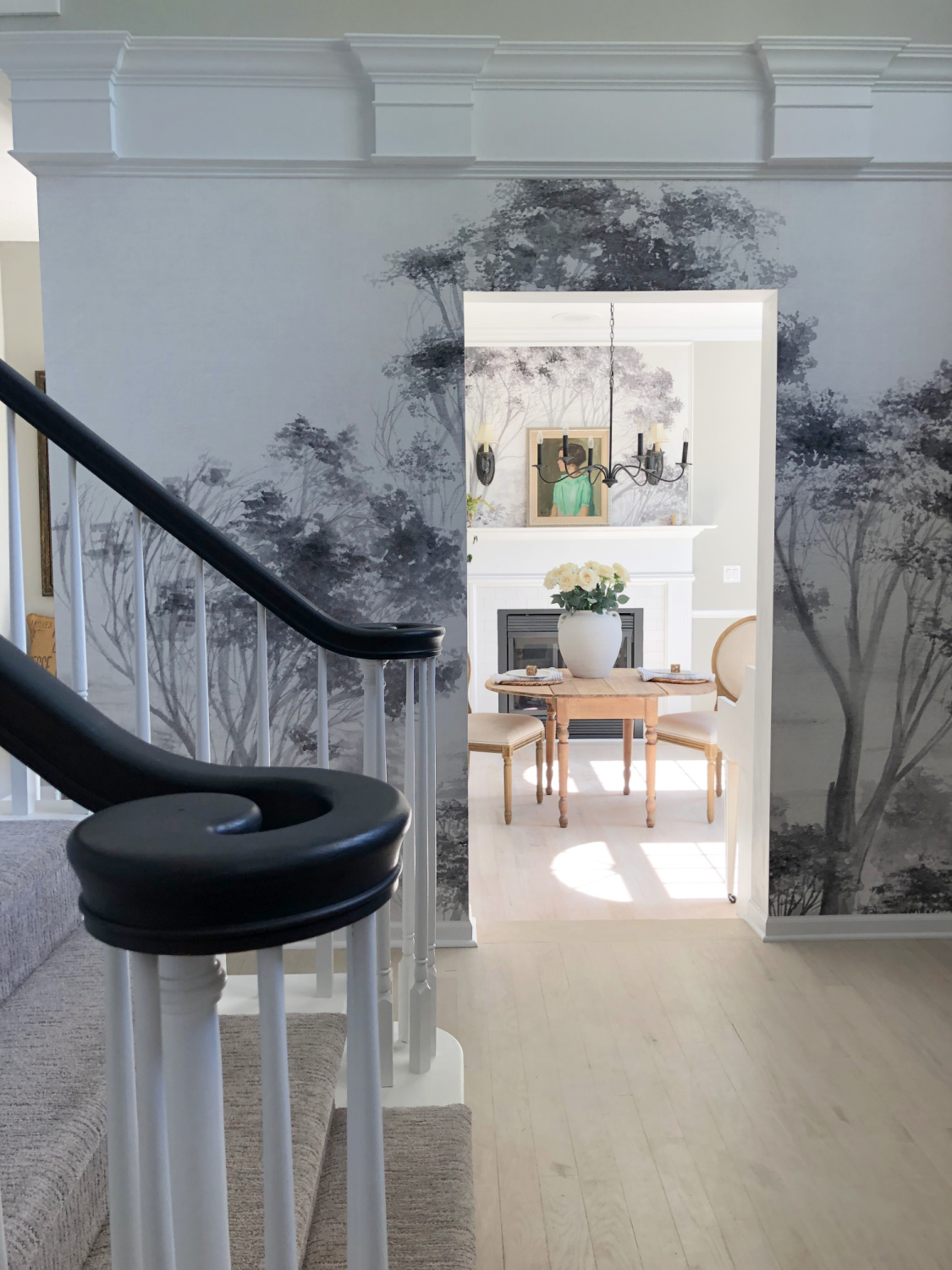 In our two story entry, I wanted to design something that would feel more intimate and welcoming. I knew that walls would help the dining and living rooms to function better since furniture placement is tricky in sunken rooms missing that fourth wall!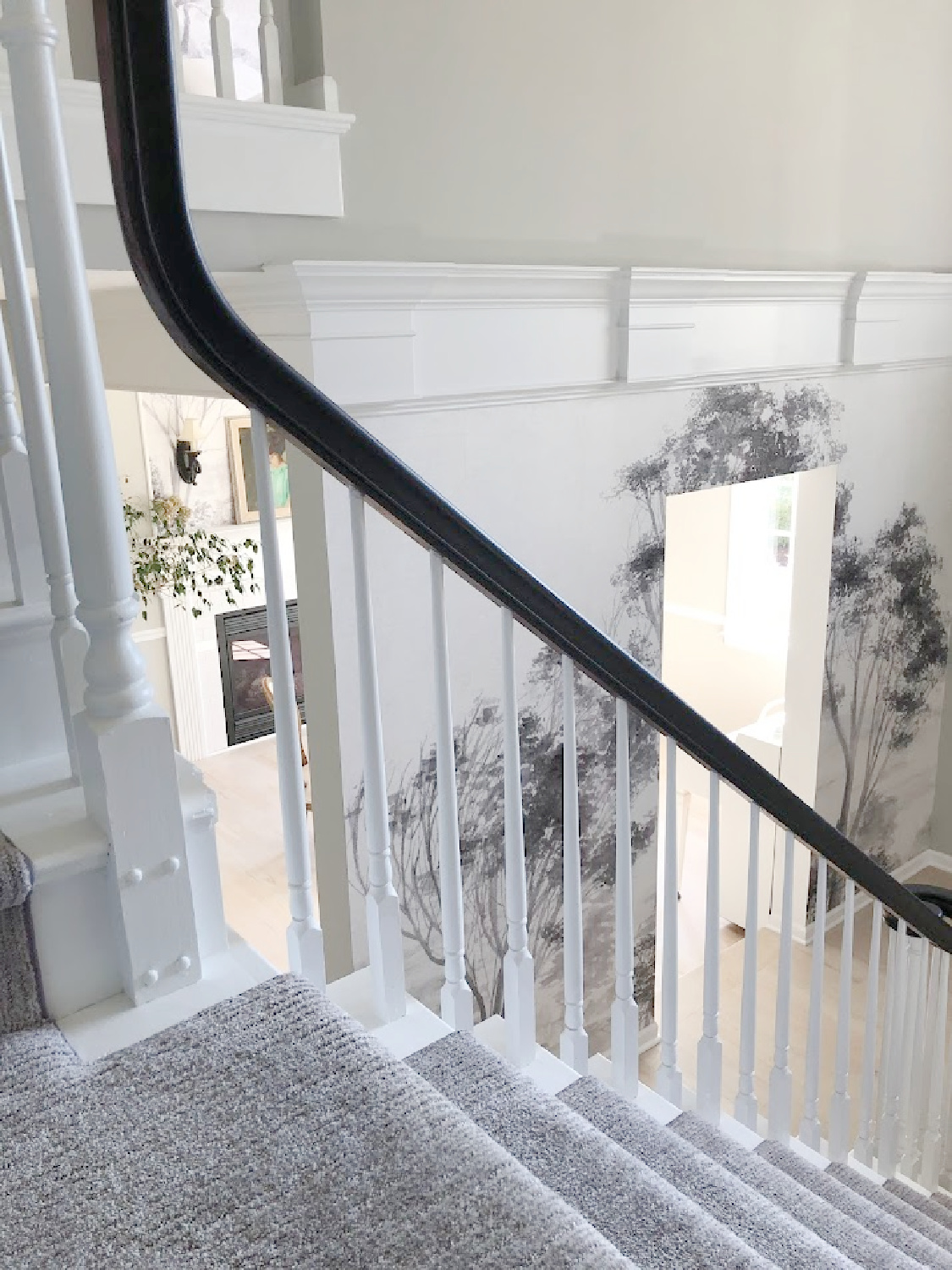 I actually like classic columns in homes where their scale and presence feel natural. But in this particular Georgian, there was a lot going on straight away inside the front door. Your eye just didn't know where to land, and with such an imposing, open dramatic staircase, I craved balance.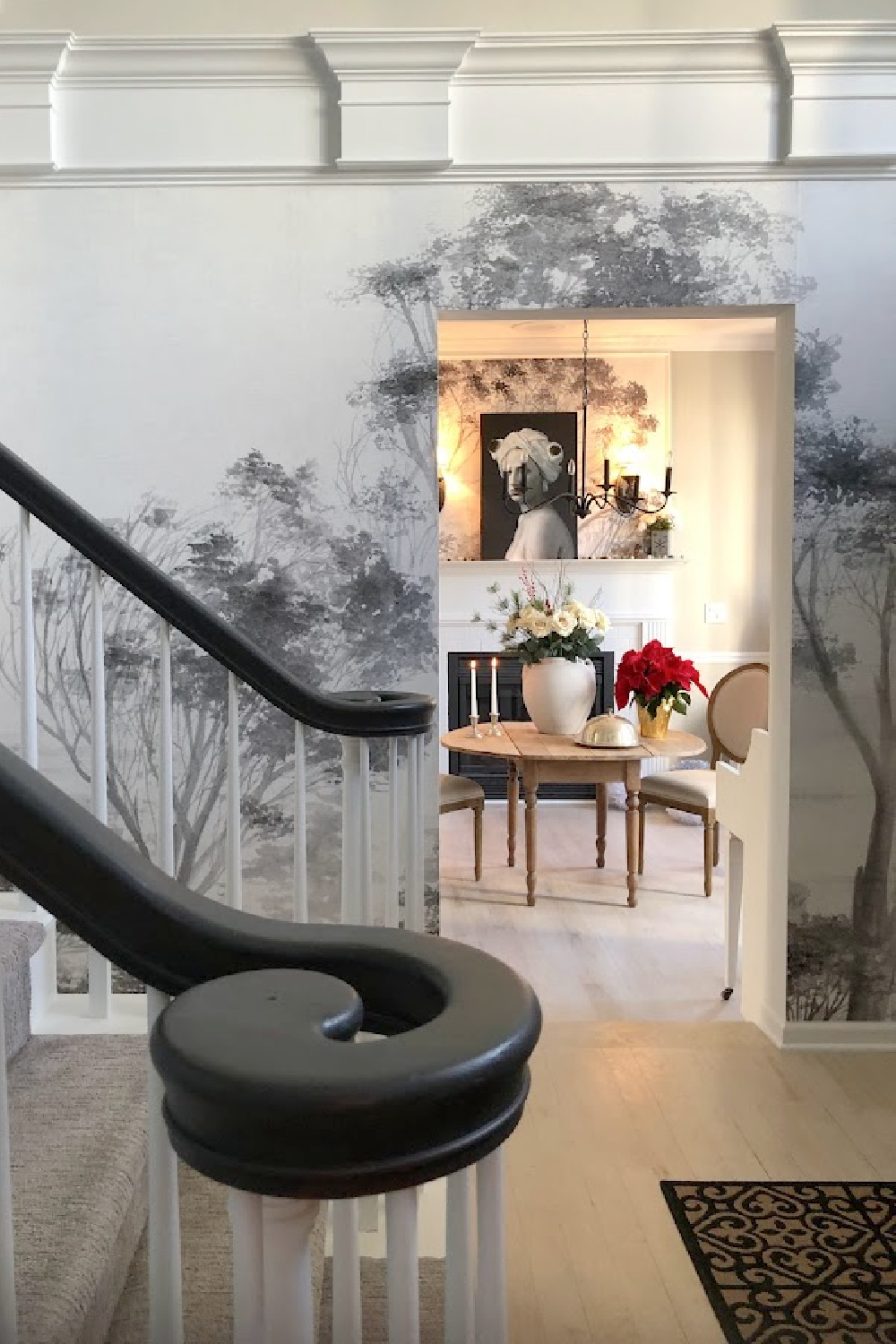 So my instinct felt "sophisticated whimsy" was the right direction to celebrate our favorite architectural details and customize the floorplan so it would work for our modern way of living.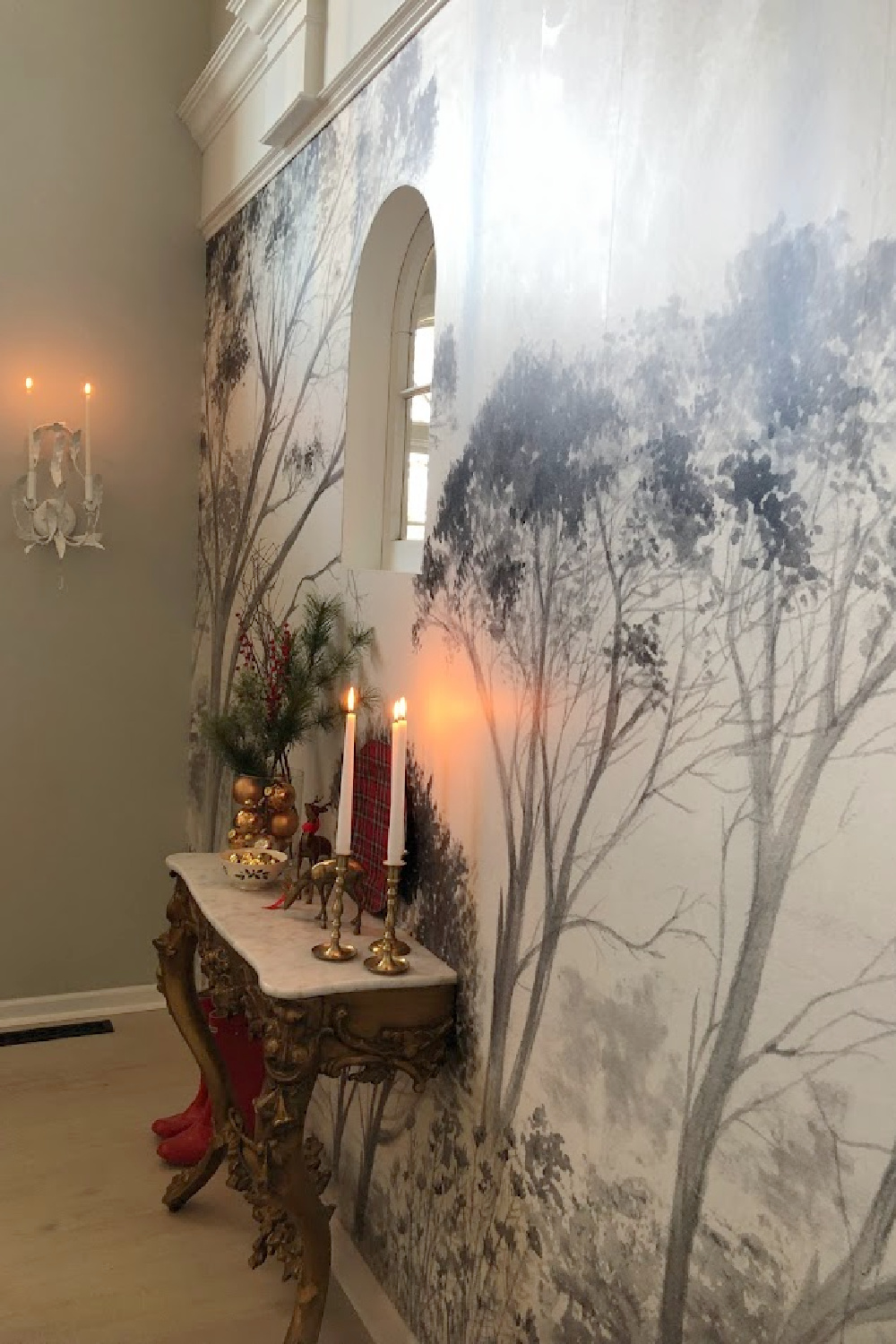 Here's a shot of the living room side of the entry before we sandwiched those columns within walls. As you can see, that door to the right of the sunken living room made the powder bath visible from the front door.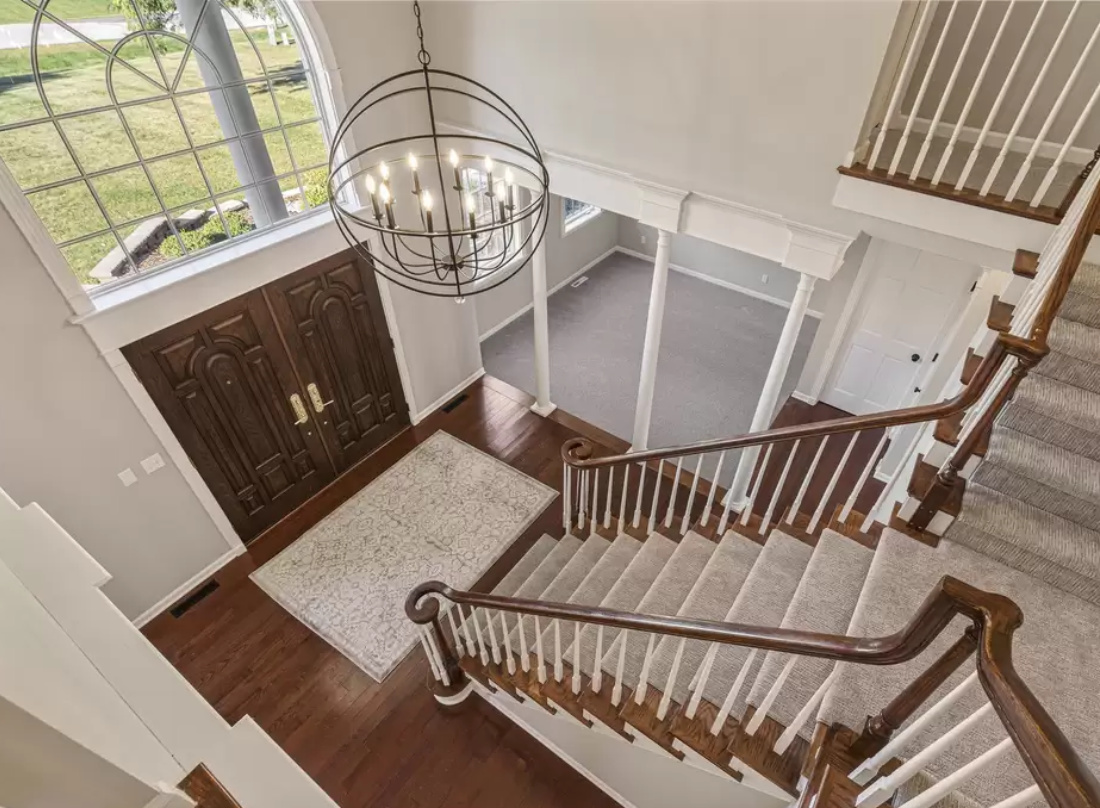 Open plans can be great, but I personally don't like seeing a toilet from the front door! Filling in that space with a wall obscured it so the door can be open!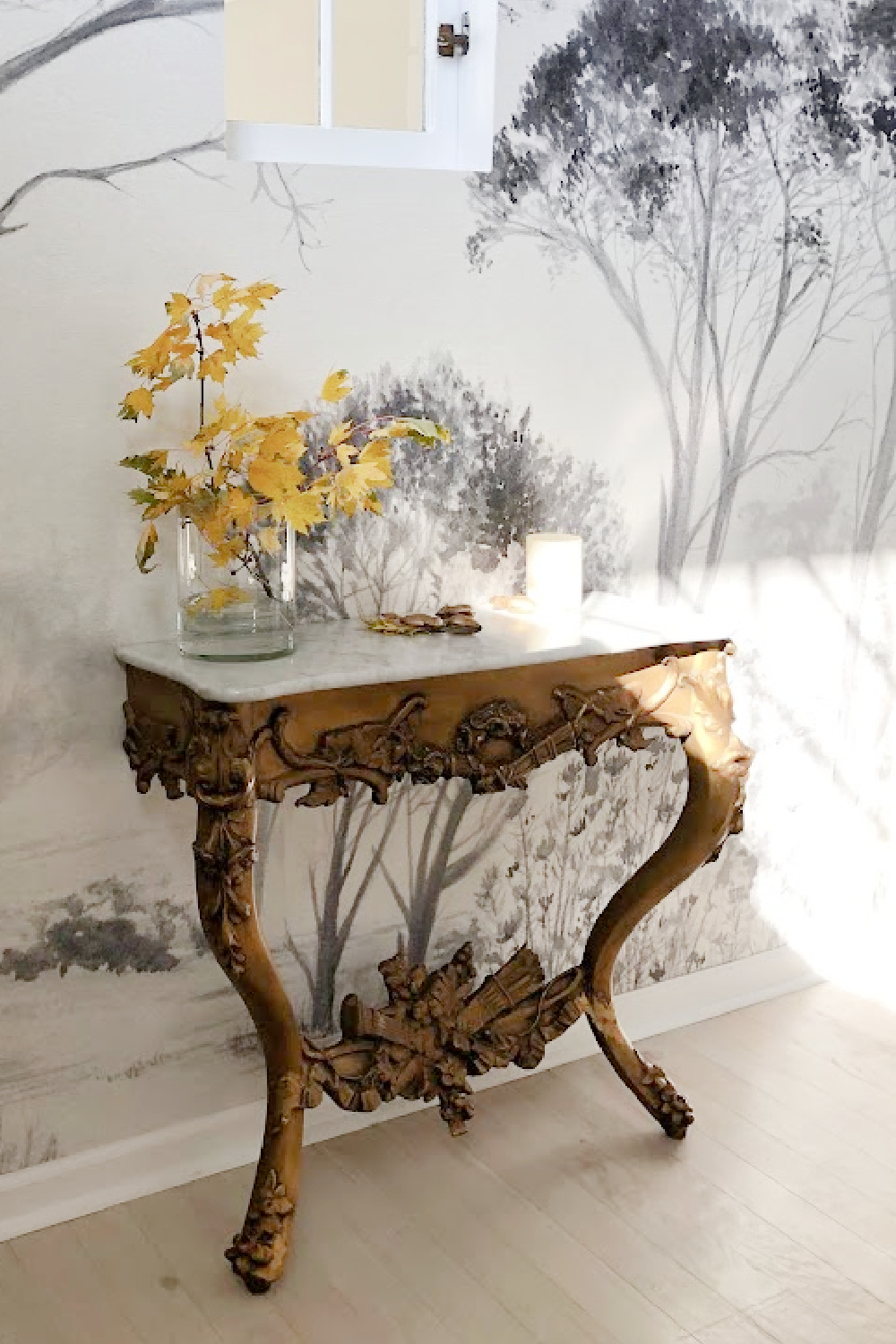 We also added the antique window to the wall between entry and living room. I wanted to break up the expansive wall, allow some natural light to stream, and share a peek of the adjacent room.
About This Photowall Wallpaper Mural
This Swedish company uses only the highest quality materials and printing for their wallpaper. We have been wallpapering our homes since the '80s, and we think the quality of this one is top notch.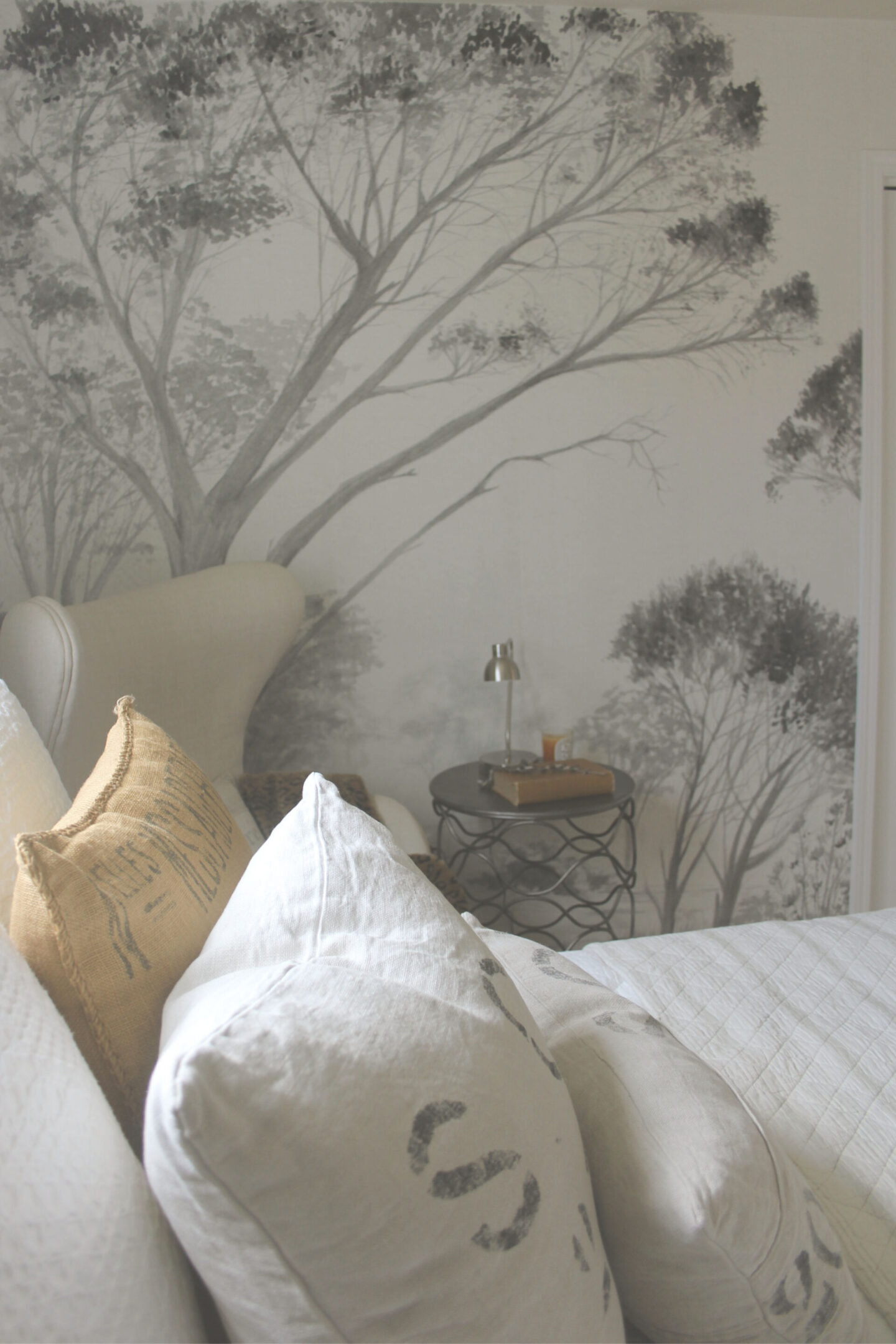 If you can, opt for the premium quality (you're given two choices with Photowall) with its luxe matte finish.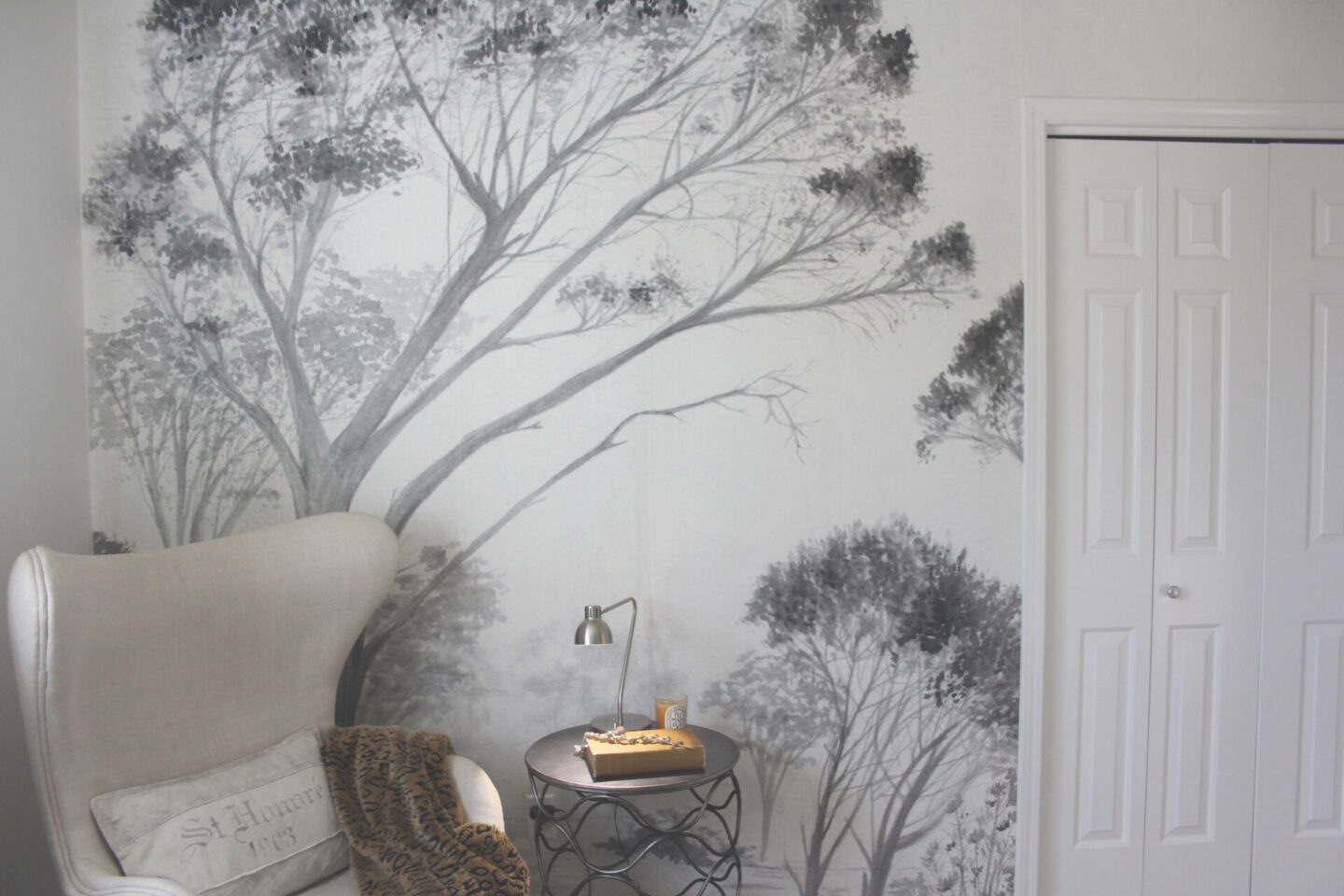 You don't have to worry about surprises when ordering since you'll be prompted to supply your wall's dimensions and see exactly how the landscape with trees will look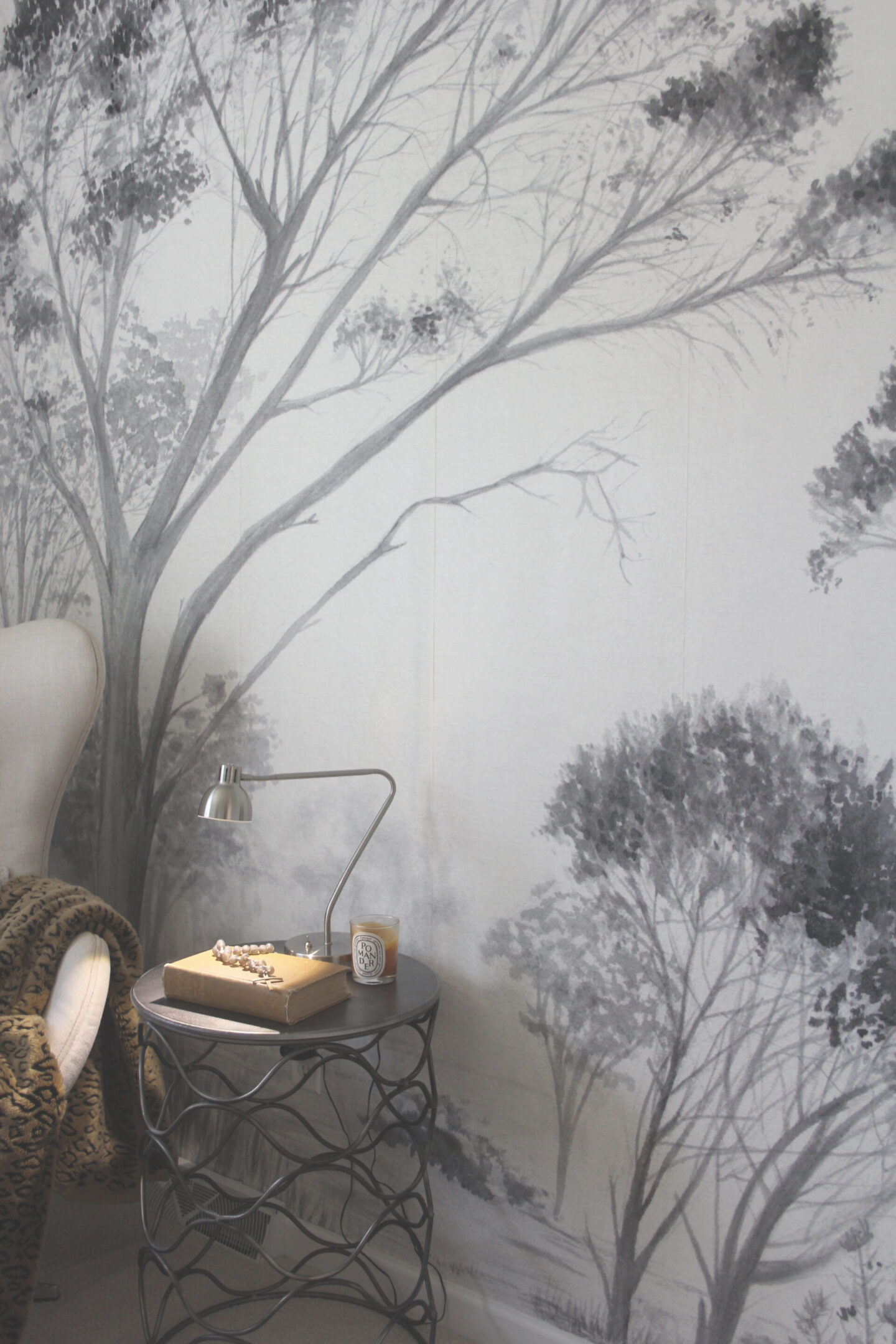 While quality wallpaper murals can be pricey, even a 12′ expanse of Trees White (that's the size I ordered for the bedroom and each wall in the entry for reference) is surprisingly affordable. This would be beautiful above a chair rail too (and half the price…boom).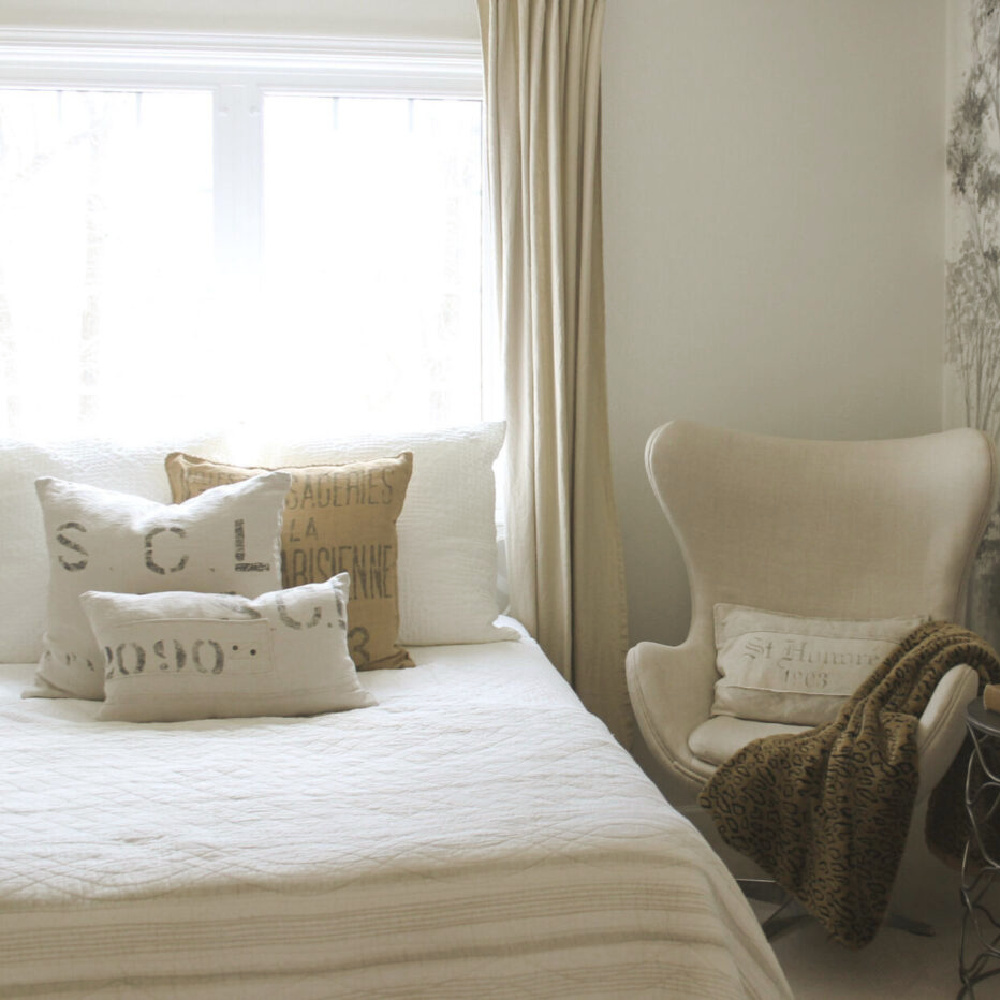 After placing an order with Photowall, your paper will arrive in only a couple of days! So definitely don't fret about the fact it is made in Sweden and must travel a distance!
More Tonal & Serene Options for Wallpaper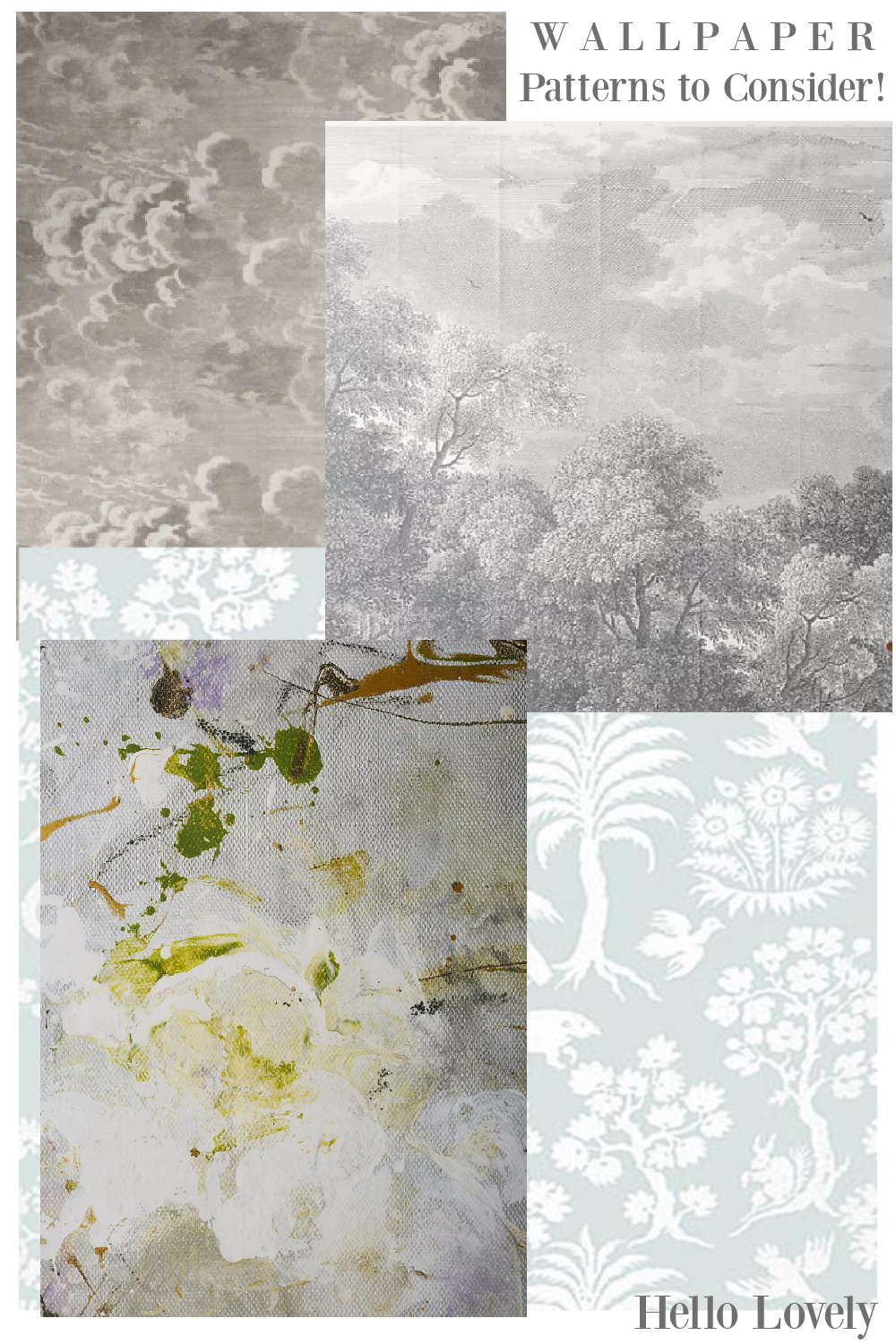 Grisaille Info
I probably learned about grisaille back in art history classes in college.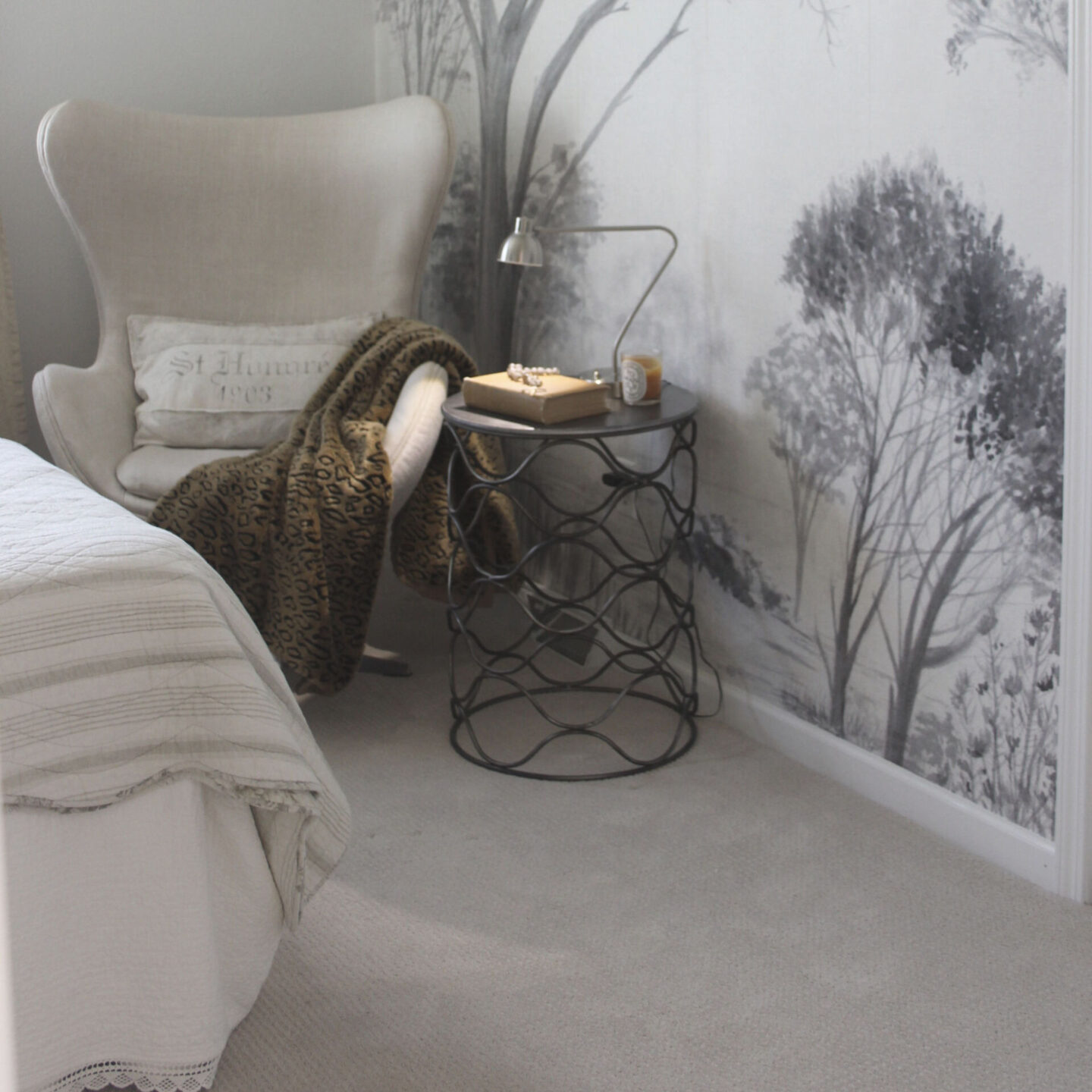 This Trees White wallpaper pattern is reminiscent of grisaille painting.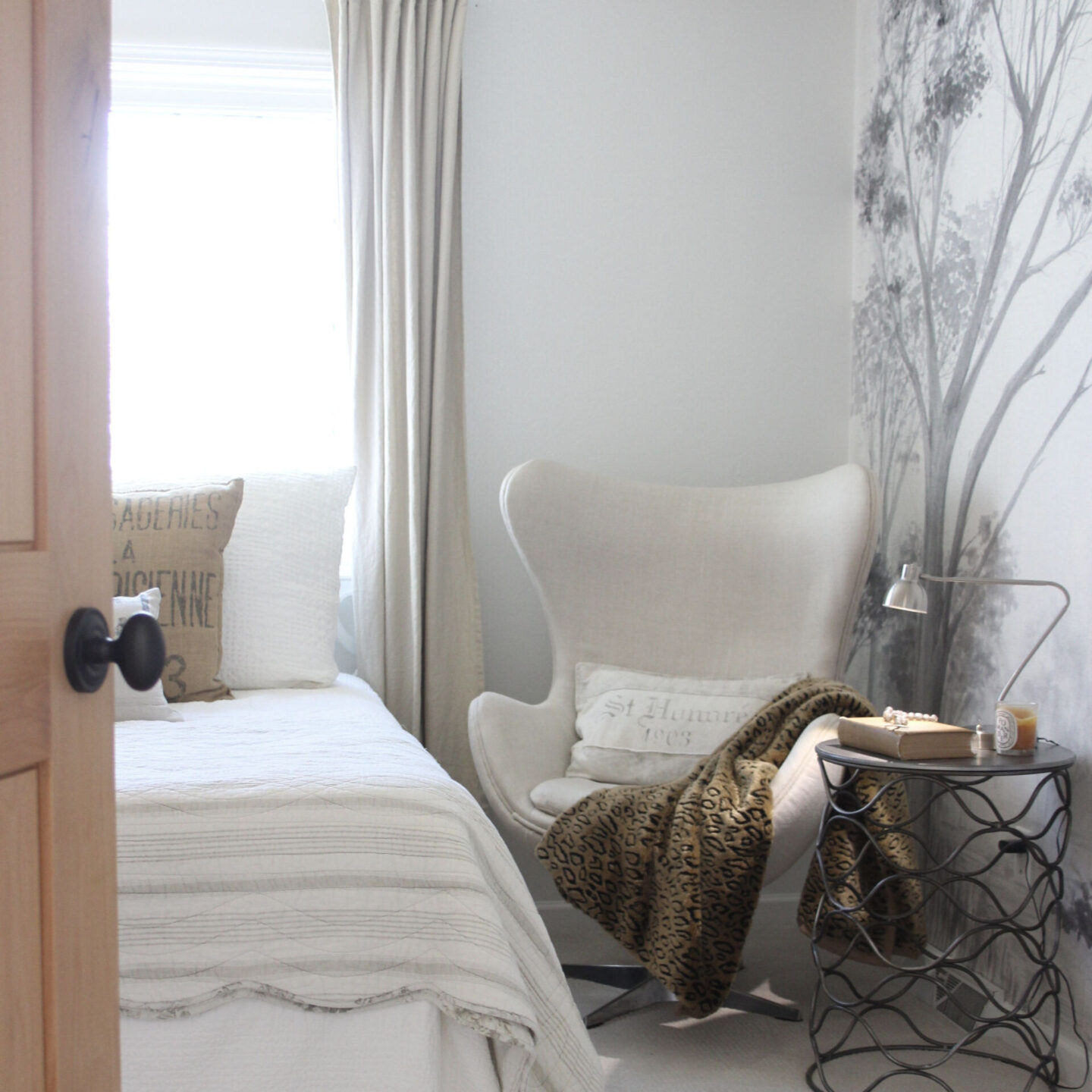 Pronounced griz-EYE, grisaille is French for "grey" and refers to an artist's use of a limited palette.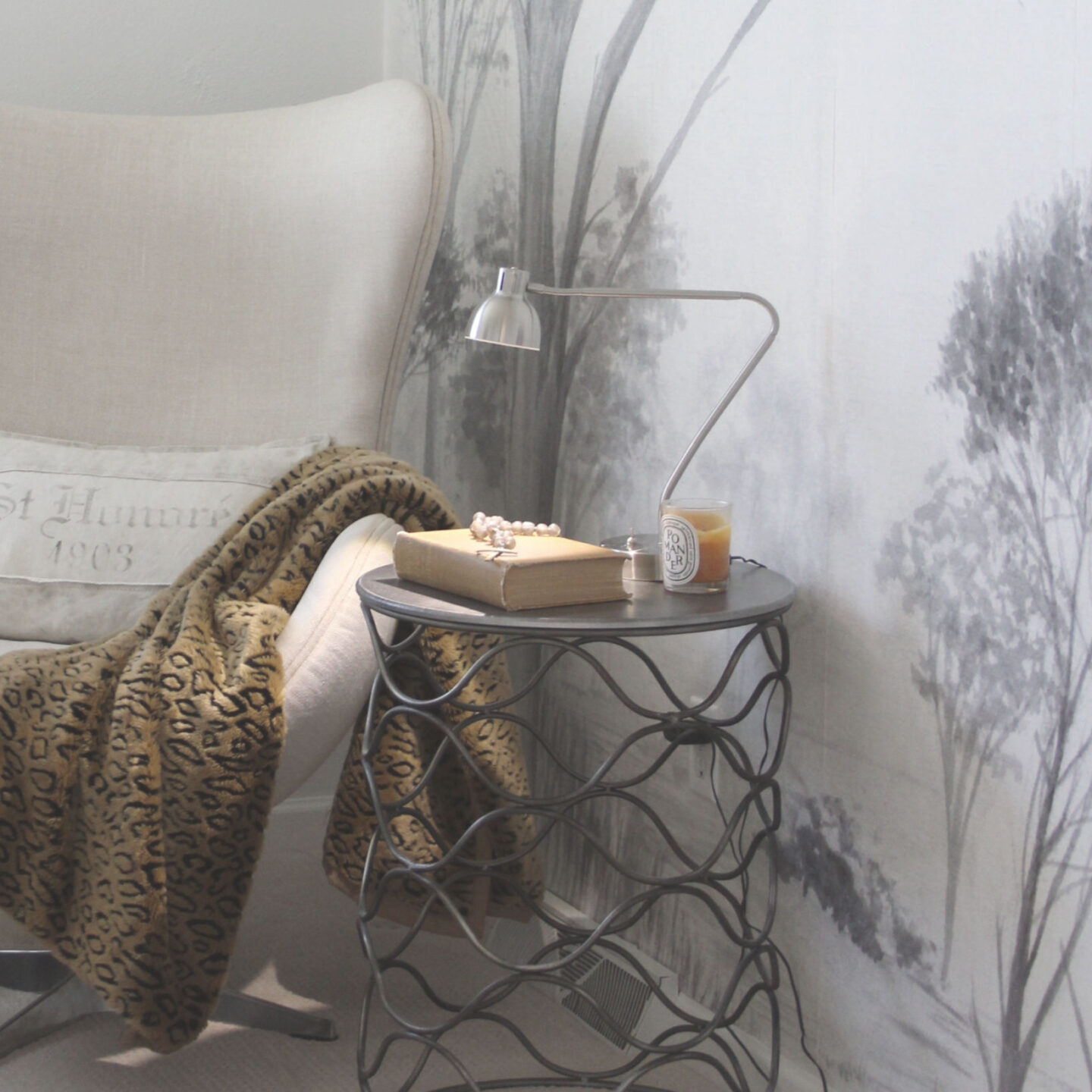 It's this restrained tonal palette that strikes a chord for me. Even though I tend to like minimal patterns going on, this one feels natural and neutral.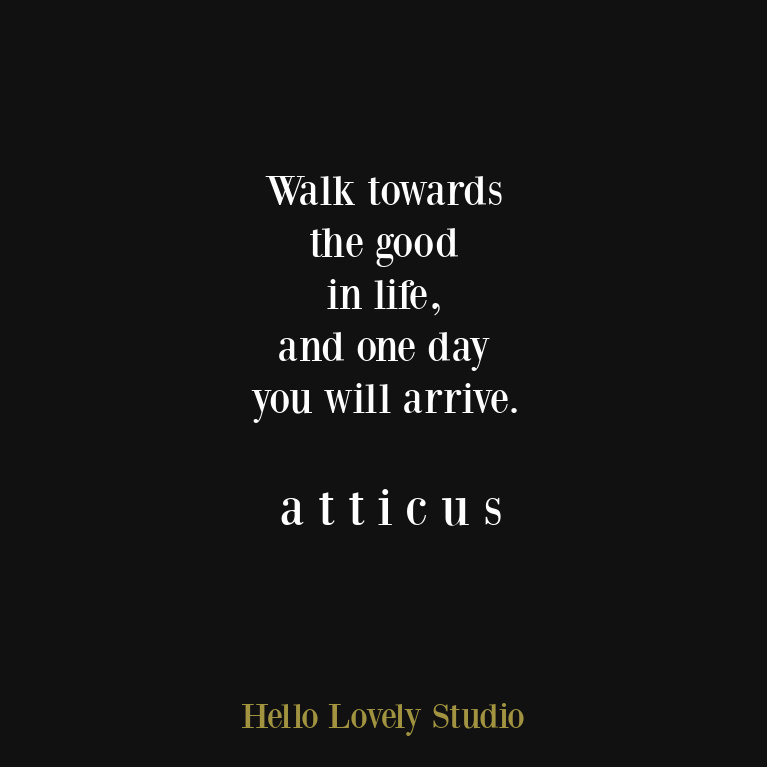 And I have always loved how cool greys work with warm, golden, or ochre tones.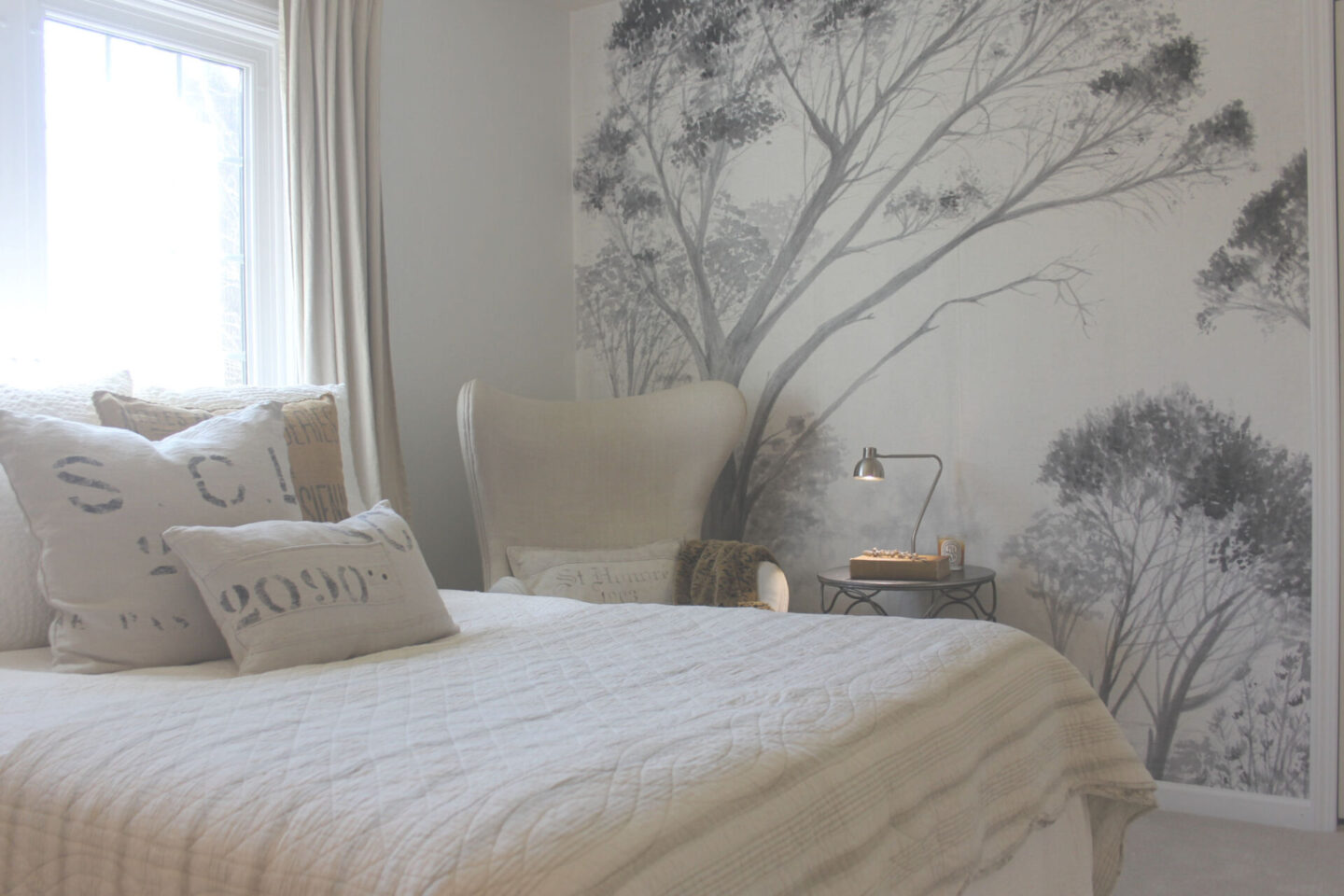 Back to grisaille…the first layer of a painting (underpainting) is often created with grey.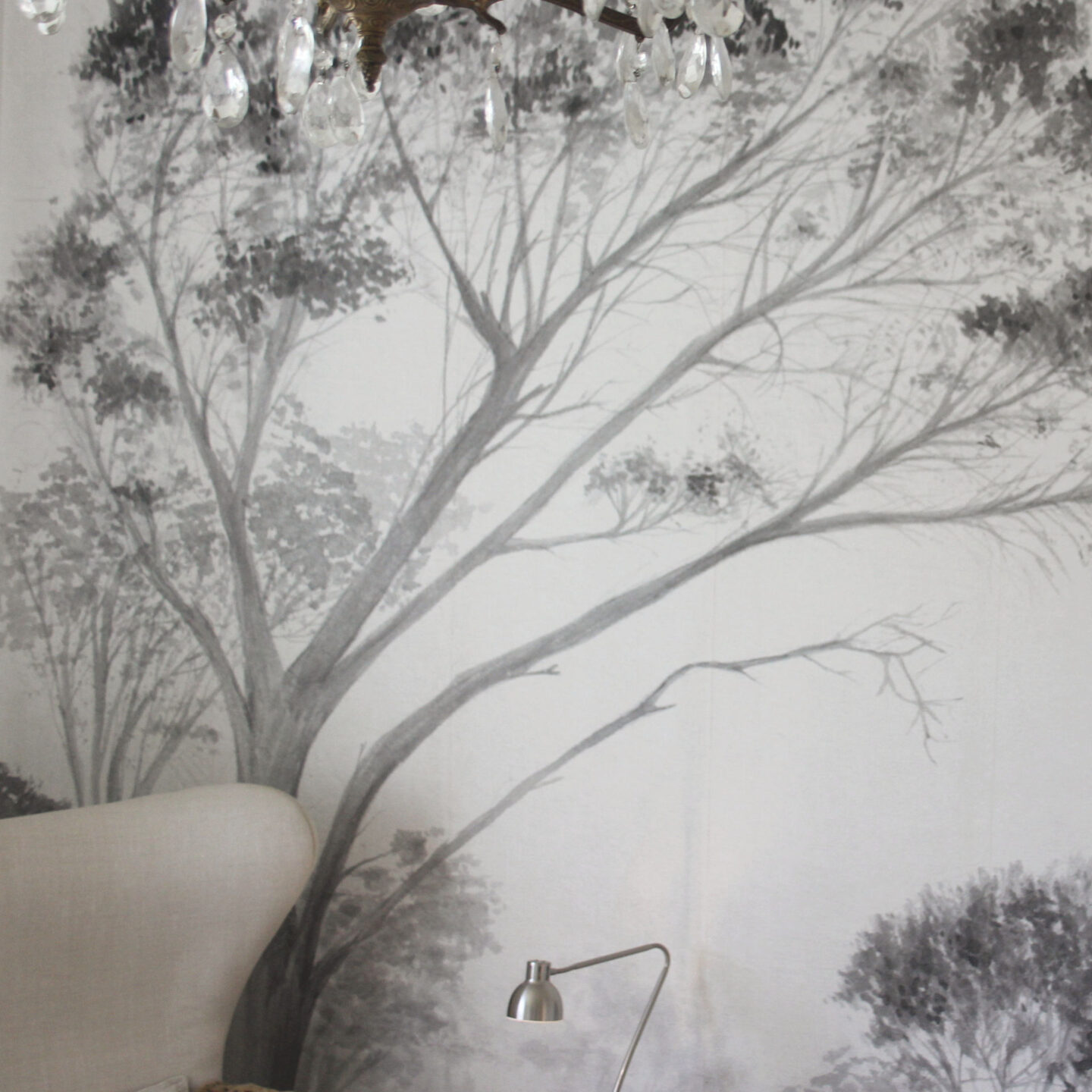 I admire grisaille for its hushed and understated beauty.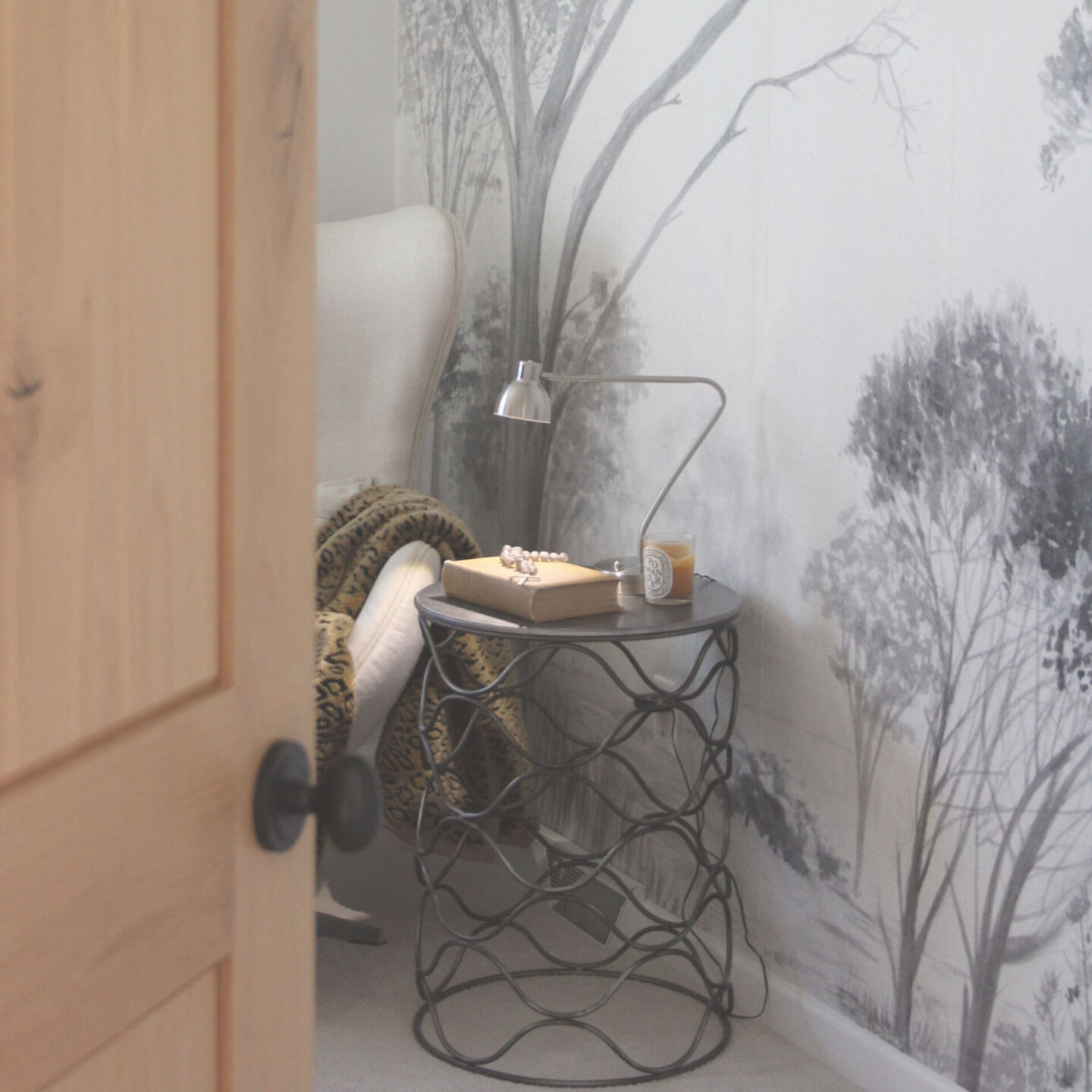 It adds a restful, contemplative quality to a bedroom (or any room!).
How to Install the Wallpaper Mural
The video below demystified installing the mural's clearly numbered vertical strips.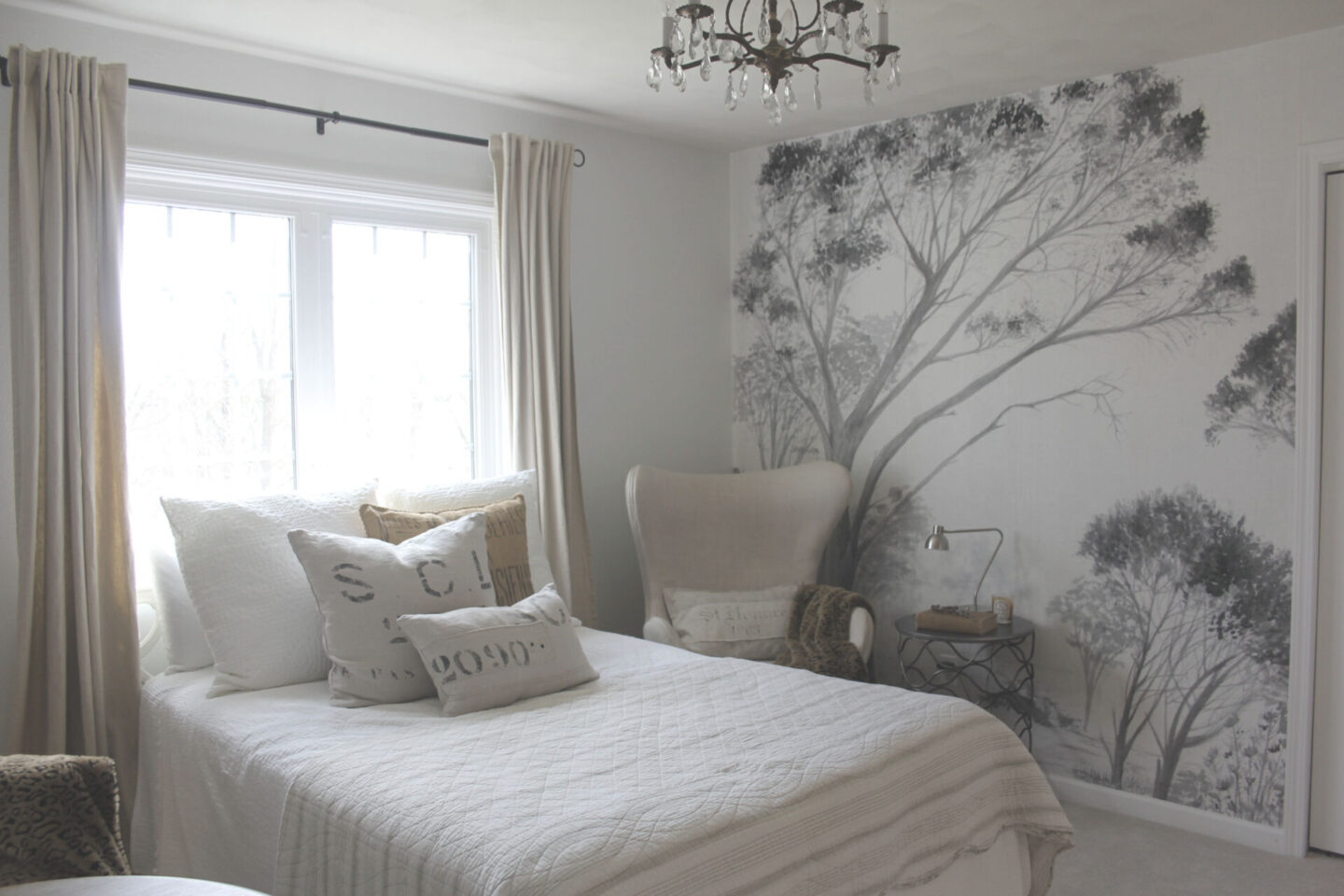 7 Tips for a Successful DIY Accent Wall
Take time to consider whether to wallpaper the entire wall or above a chair rail. If there will be furniture against the wall, it may make sense to accent the upper wall.
If your budget allows for the higher grade paper, go for it. I love the matte finish which is not reflective. Additionally, I can attest it is scrub-able and extra strong.
Order installation supplies when you order the paper…easy peasy.
Make sure to add the paste to the gallon of water to mix the two.
Be patient about getting the first panel pasted to the wall. The rest of the panels will line up with it.
Brush each section of the wall with a generous amount of paste. If the paper isn't sticking, brushing paste on the paper may help too.
One of my seams didn't appear perfect 24 hours after installation. I was still able to easily tweak it with more paste and the seam roller.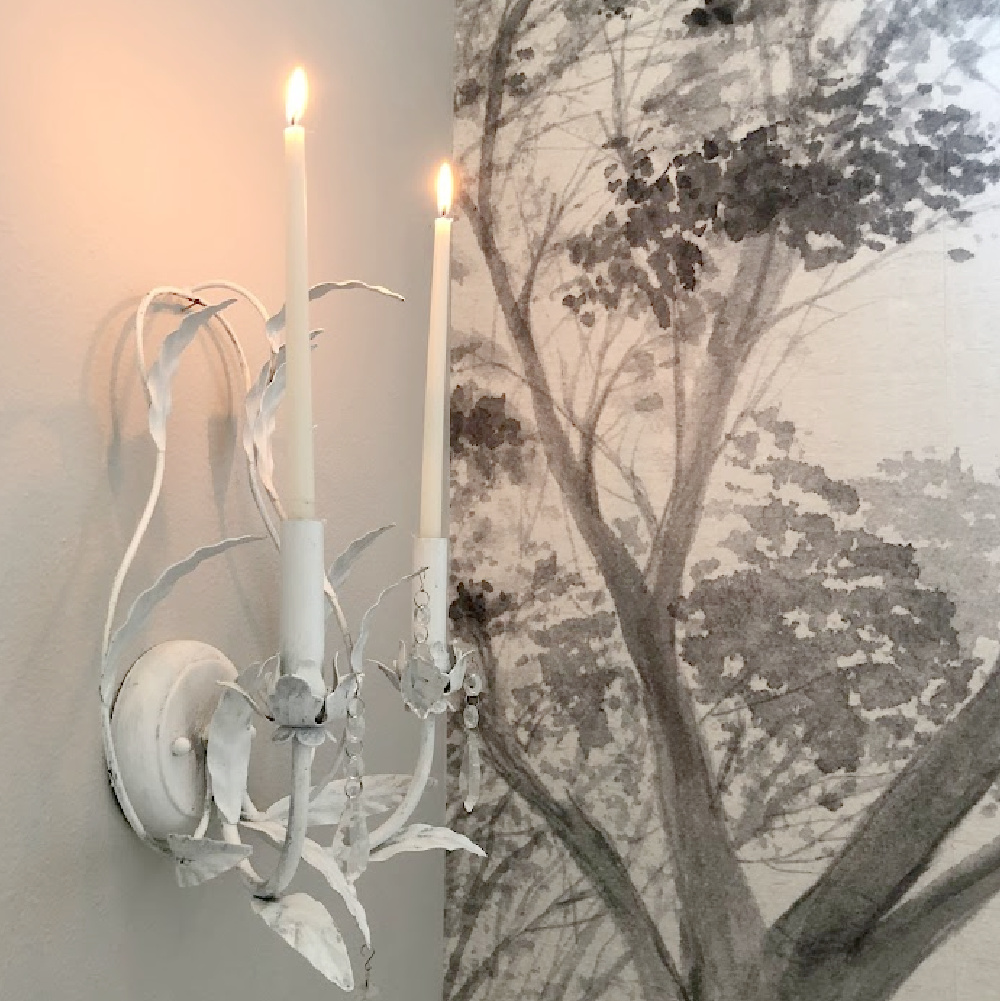 Wallpaper Installation Kit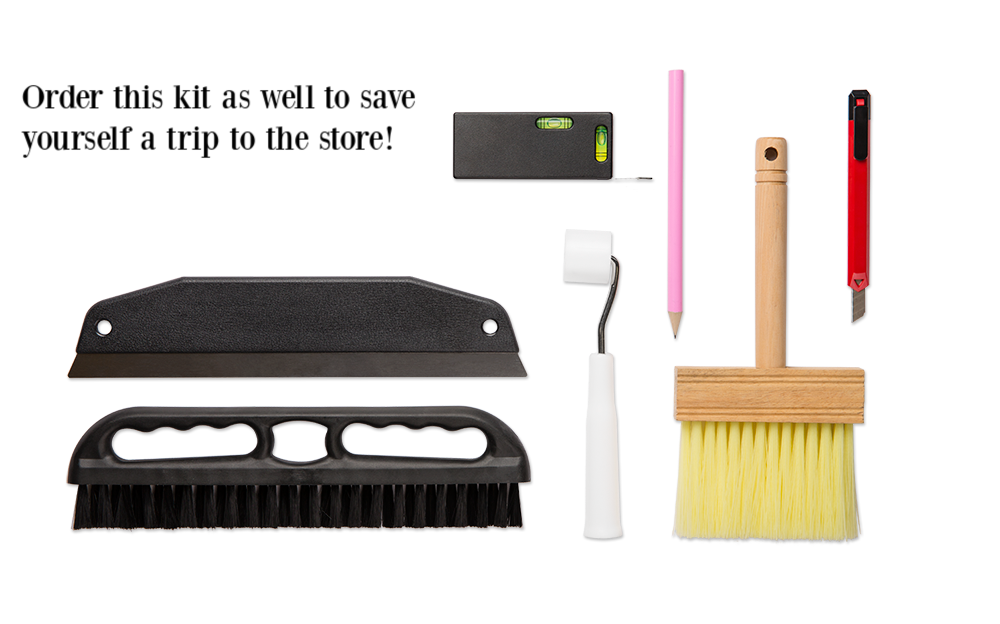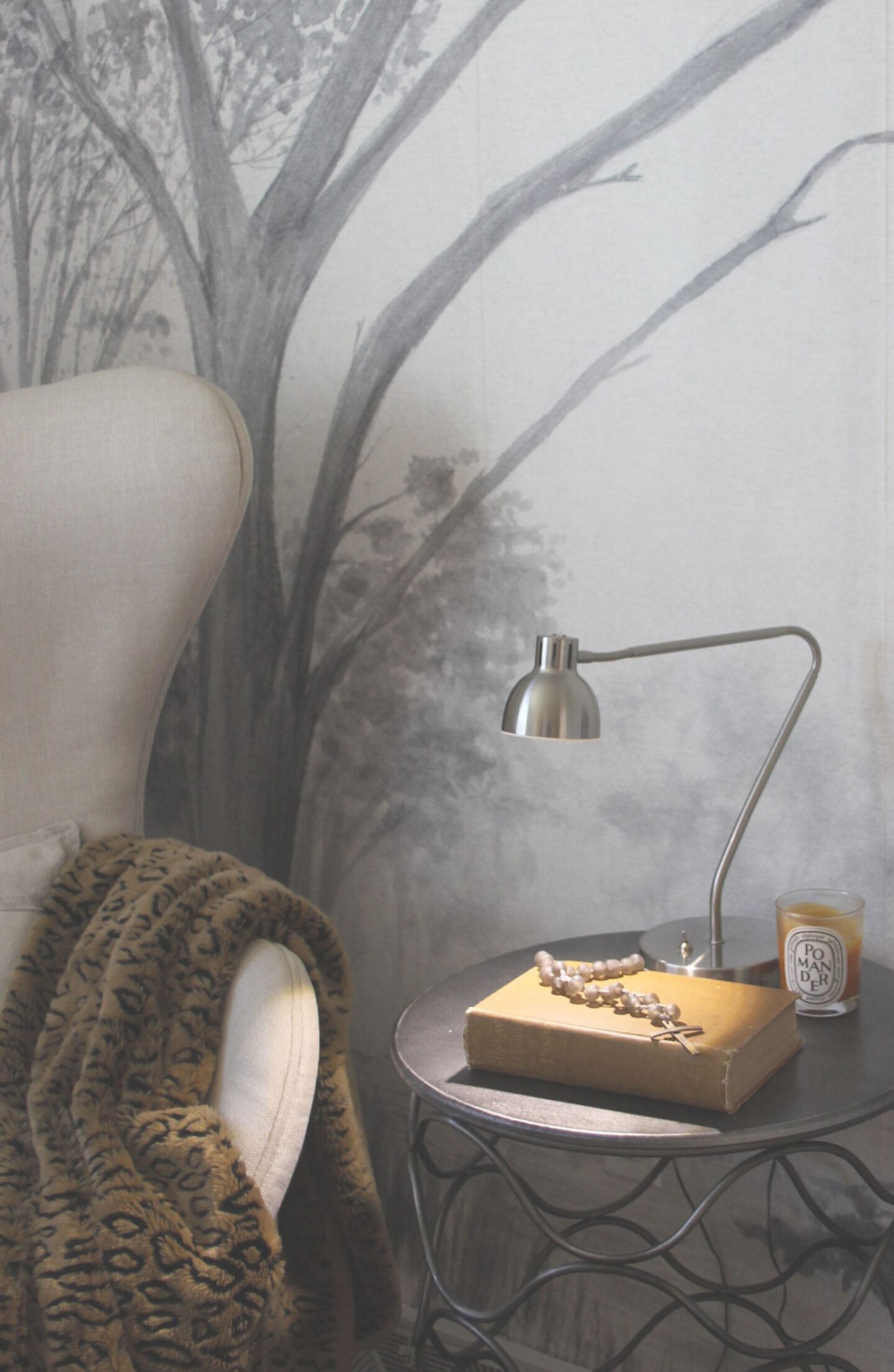 More Peeks at the Bedroom
I shopped my house to create a tranquil bedroom and workspace.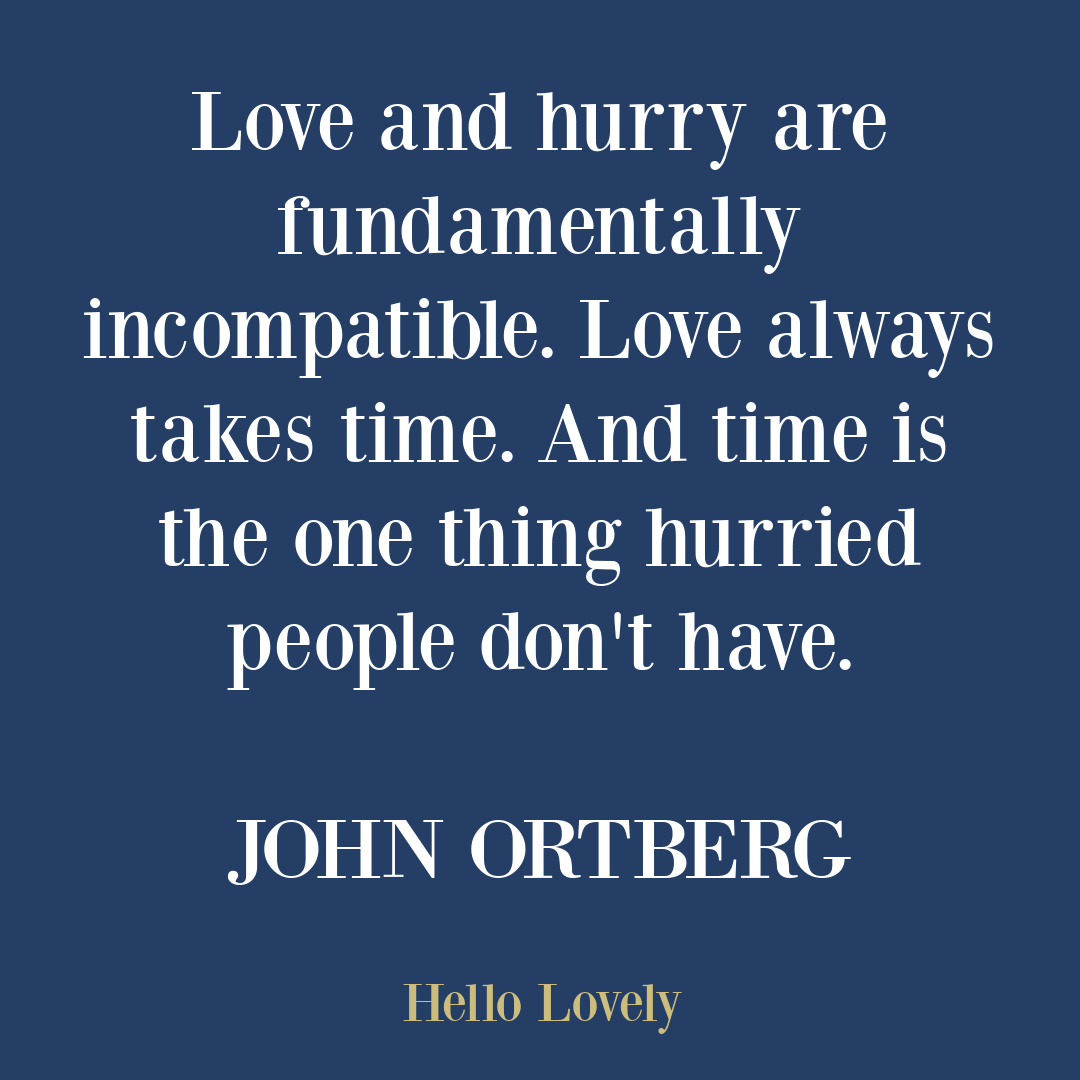 The abstract art is a piece I painted in 2010. While I mostly paint seascapes, it reflects a moody atmospheric desert moment.
The bed is a MCM estate sale find, but you can't even see the low headboard! Color me pillow happy with a few favorites collected from RH!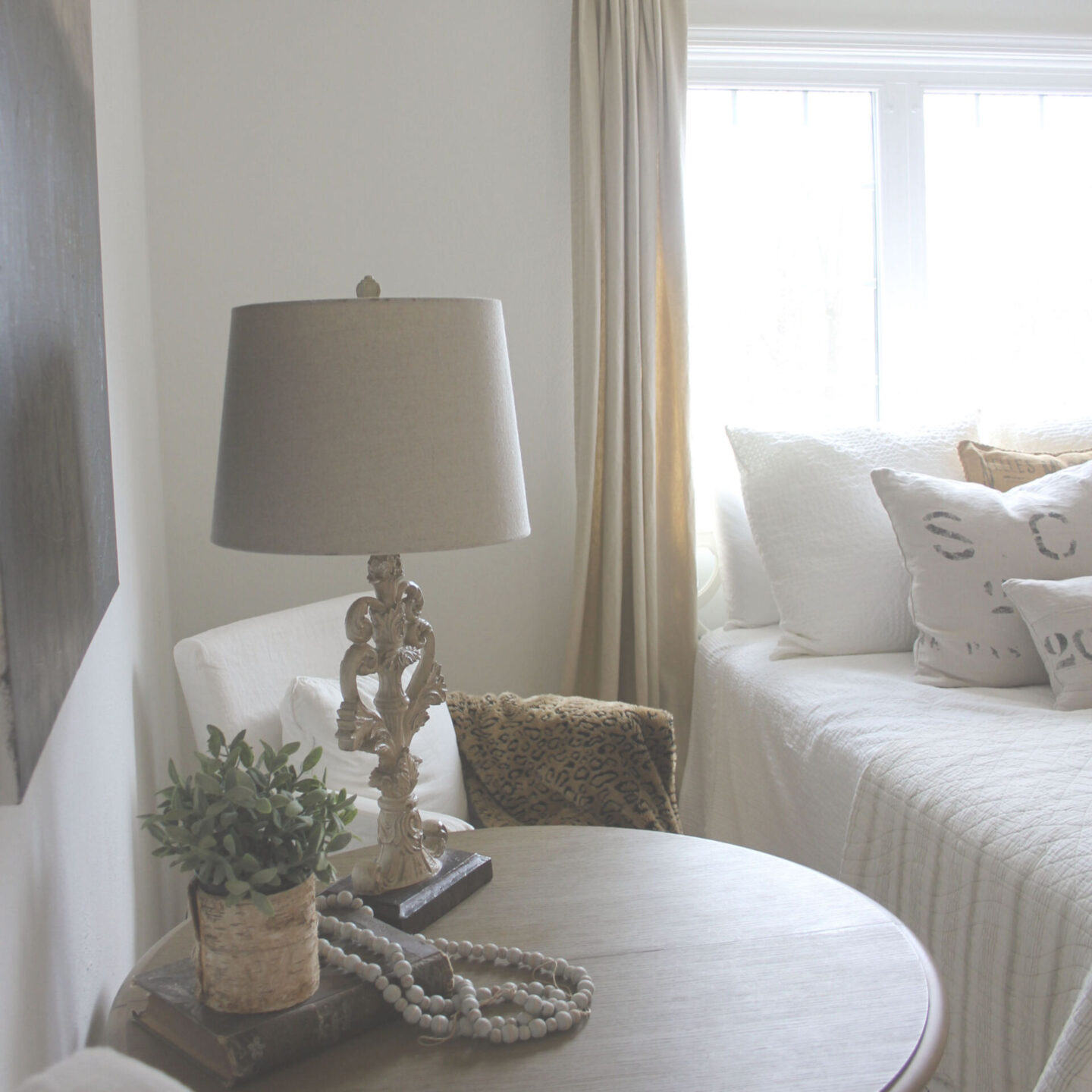 Our rustic knotty alder interior doors replaced paper-y cheap white ones that were existing in that fixer upper.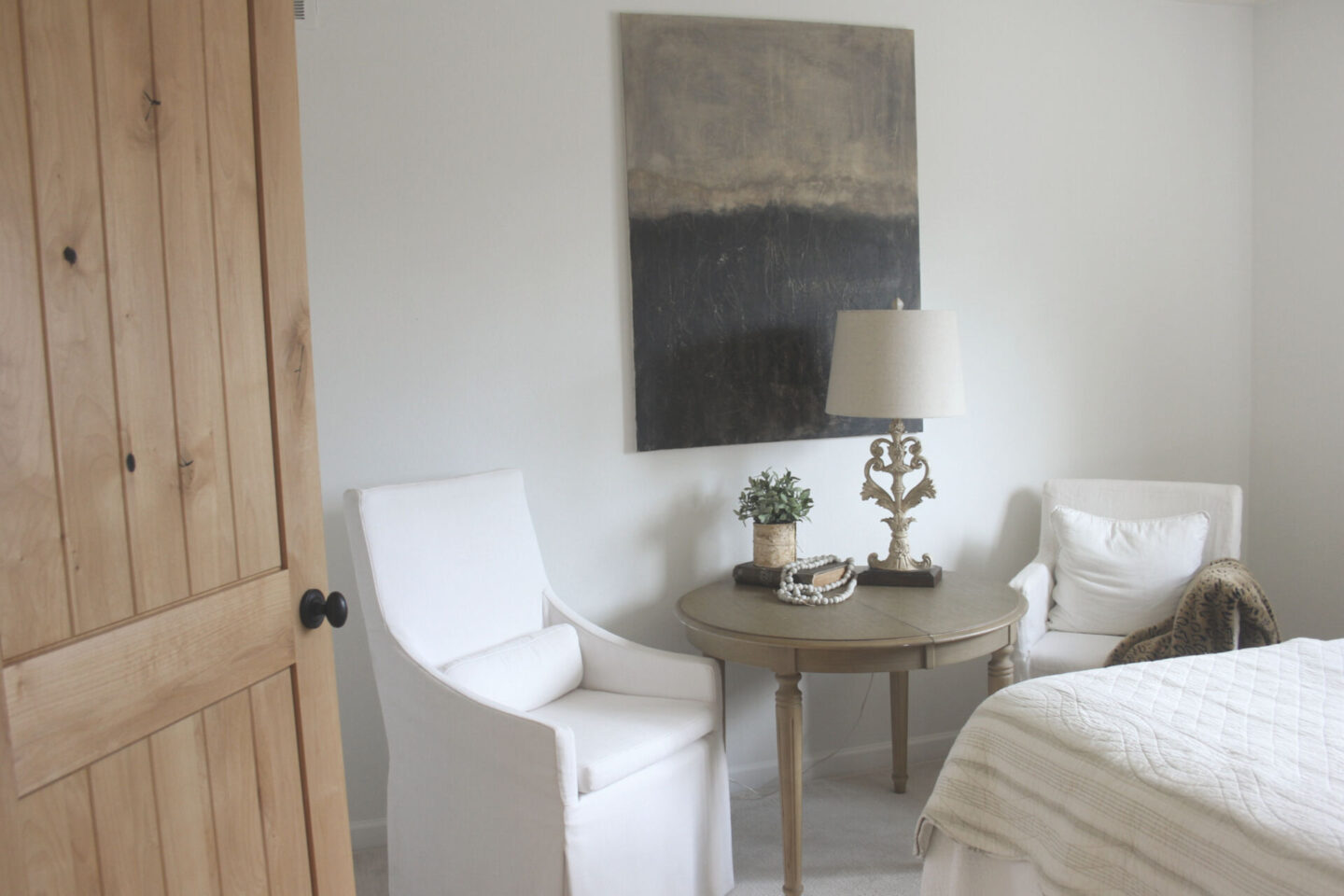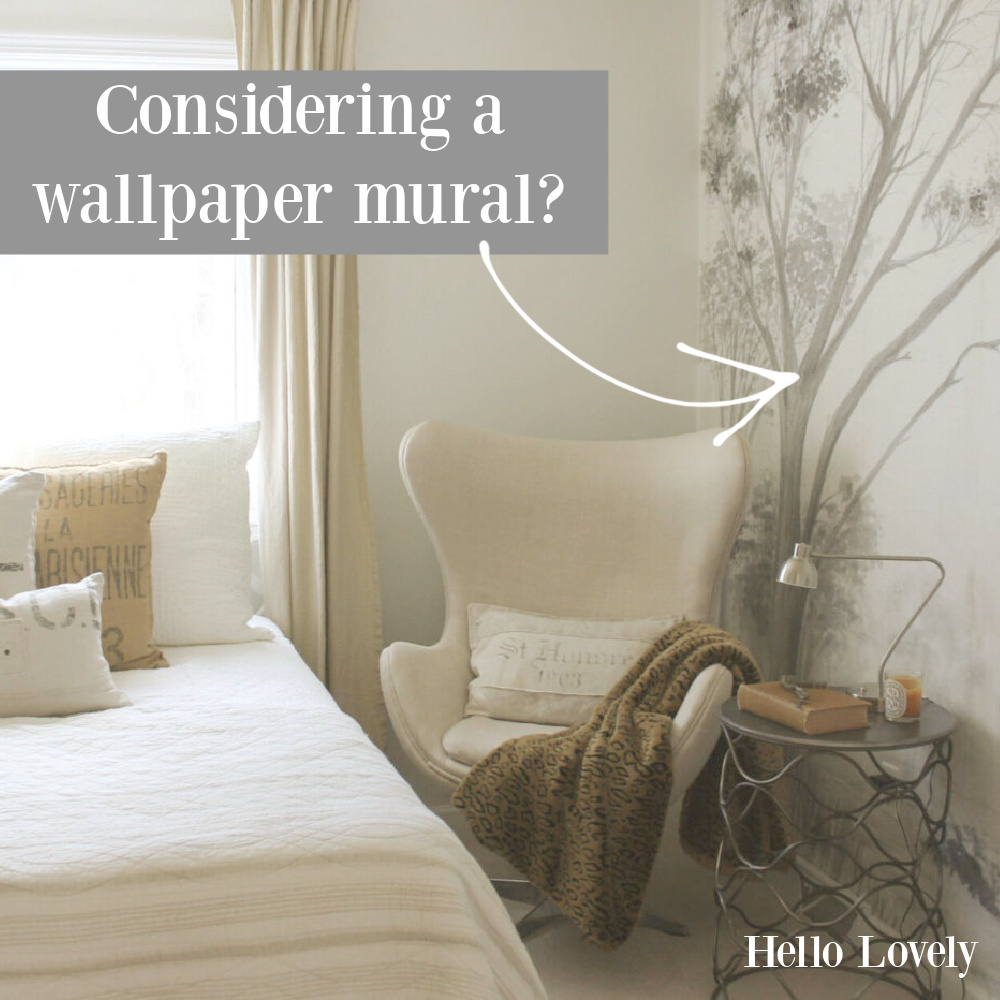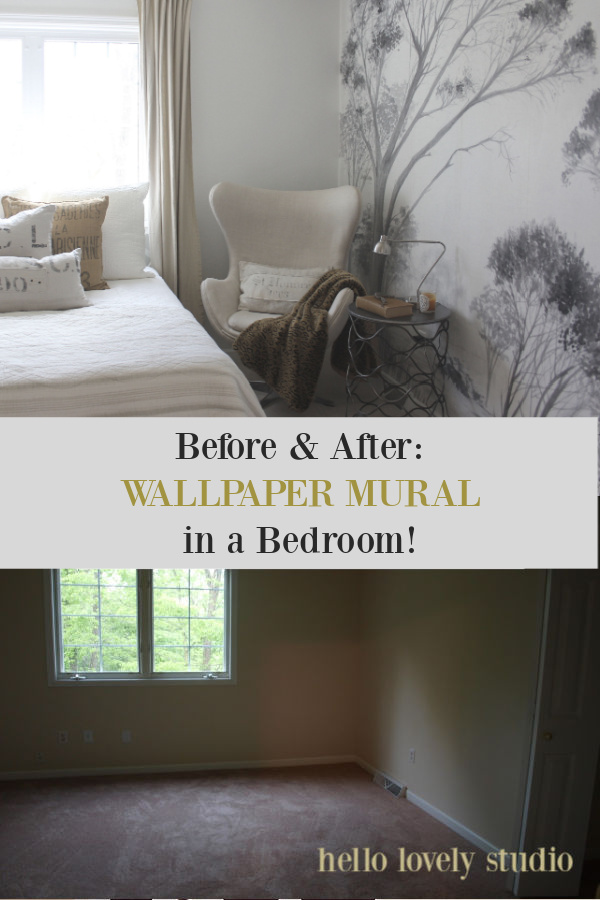 How lovely when a bedroom, a dining room, an entry, or even a workspace can become a sweet "tree house" like.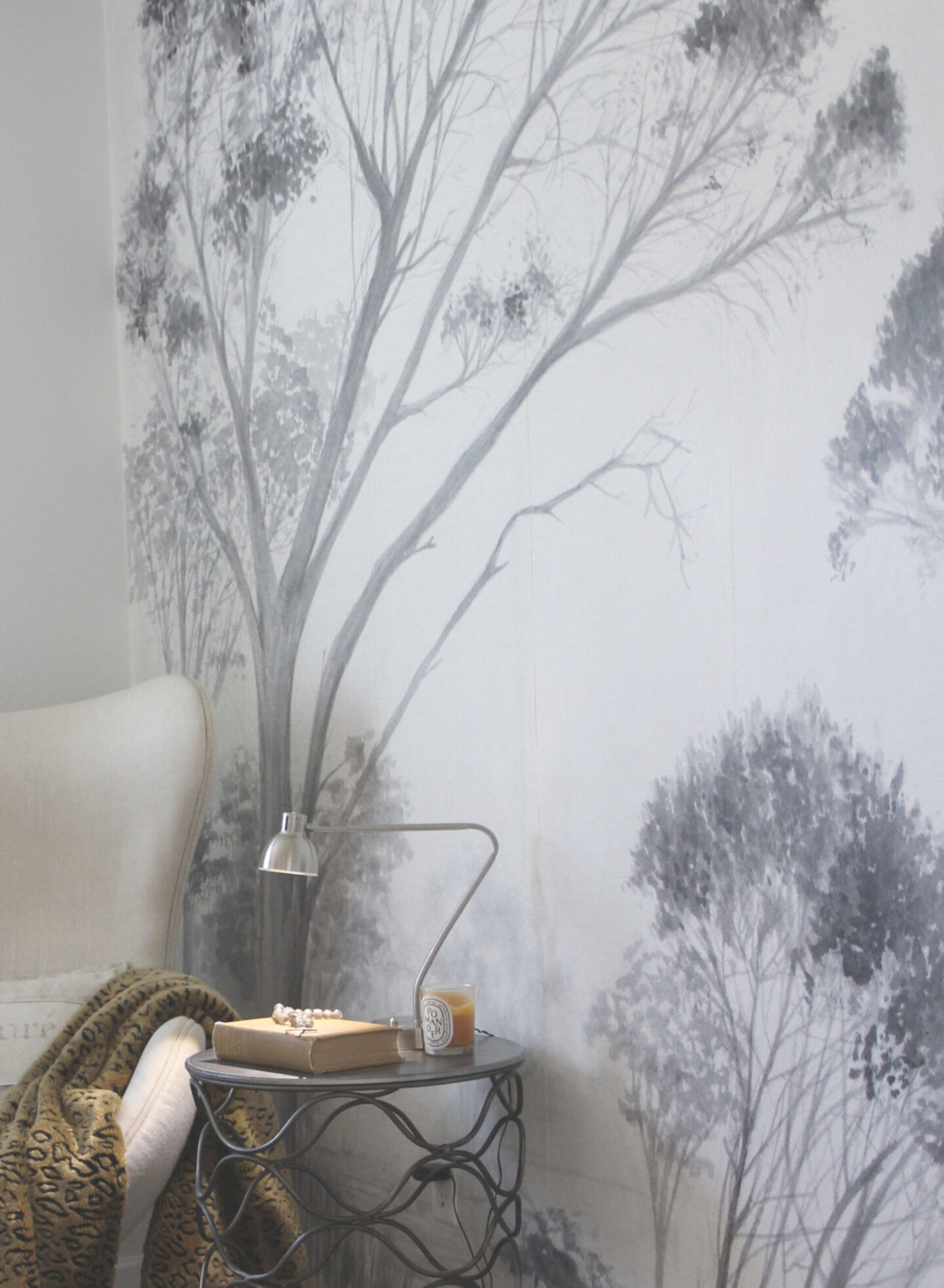 If you are seeking inspiration for a room in your own home, I'm confident you'll find something to fancy from PHOTOWALL. You can even have a mural made from a photo!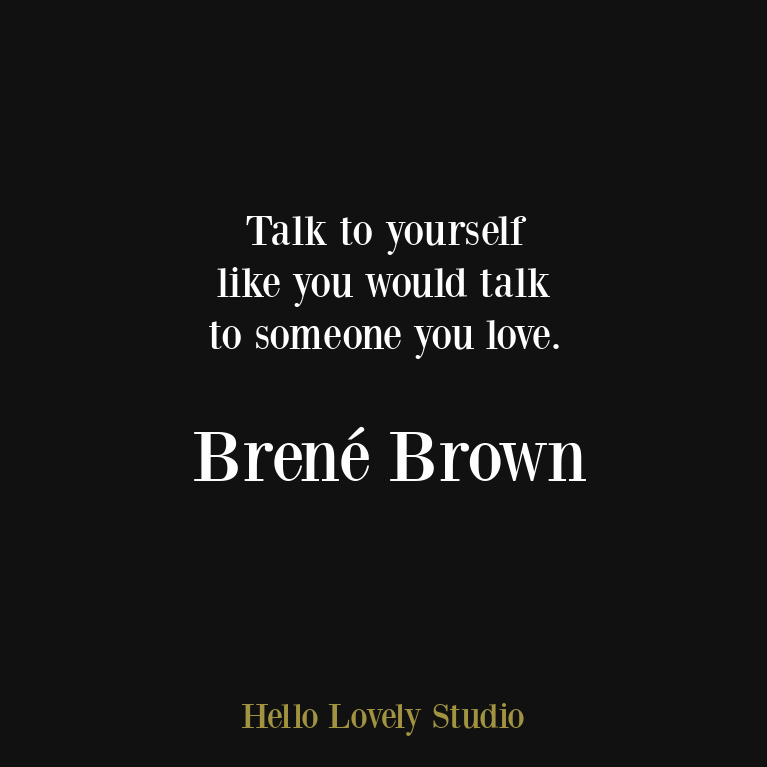 Grisaille Palette of Paint Colors to Consider
House Beautiful always offers the most lovely paint color suggestions, and here's an excerpt with grisaille suggestions including: GLIDDEN White Sage, GLIDDEN Elegant Lace, VALSPAR Gray Silt, VALSPAR Turkish Coffee, and VALSPAR Faint Maple.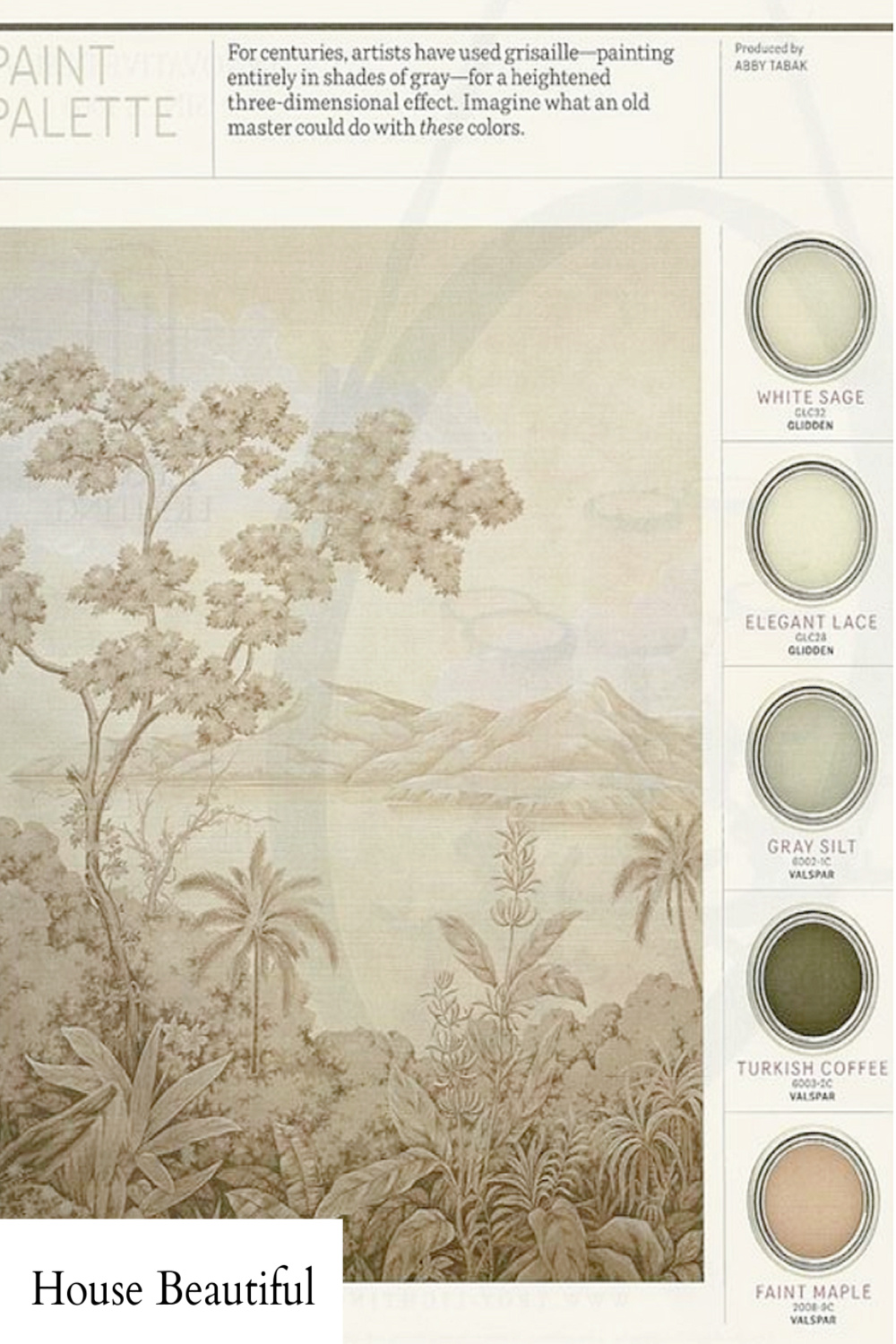 Need more ideas for paint colors? Oodles of inspiration RIGHT HERE!
Peace to you right where you are.
-michele
I independently selected products in this post—if you buy from one of my links, I may earn a commission.
Shop for items you already intended to buy on Amazon RIGHT HERE, and also find home decor here to keep decor inspiration flowing on Hello Lovely!
Hello Lovely is a participant in the Amazon Services LLC Associates Program, an affiliate advertising program designed to provide a means for sites to earn fees by linking to Amazon.com and affiliated sites.