Best White Exterior Paint Ideas & Inspiration helps you think through different options for whites (they vary widely!) and consider an image gallery before you sample a few. In some cases where we don't know the exact shade of white, I'll offer educated suggestions based on years of experience and consulting. At the very least, sample three different whites before choosing the best white. And don't beat yourself up if you're still stumped. Sometimes when a task feels daunting, we simply need an encouraging friend (that's me) who understands the journey.
White Exterior Paint Ideas & Photo Gallery of Examples
Will the white paints identified in this post look the same on your house? Nope.
The time of day, region of the country, and exposure all interact and influence what your eye sees.
But they provide a good start. After studying images online and in real life, you'll begin to be able to recognize when a particular white is warmer or cooler or greyed or creamy.
BM Simply White OC-117
Benjamin Moore says "The slightest hint of warmth makes this clean, crisp white a favorite to use anywhere in the home."
This white will reflect a ton of light with its LRV of 89.52.
Benjamin Moore Balboa Mist OC-27
Bear in mind there are excellent choices which don't have "white" in the paint color name. Also remember that if the swatch color doesn't appear white, it may still be the best white for your project.
It's always a blessing when a designer shares the name of a paint color, and designer Sherry Hart is masterful with color so we can trust her picks for the best exterior colors!
This is a perfect example of a seemingly gray swatch reading very light and off white in natural light.
And what is that sophisticated warm gray trim and accent color?
Sherwin-Williams Amazing Gray.
Notice how the appearance of the color changes with changing light…Here's what Benjamin Moore says about it:
A goes-with-anything shade of pale gray with a slightly warm cast.
Balboa Mist has a light reflectance value (LRV) of 65.53 so it's on the lighter end of the spectrum.
Accent Colors to Coordinate With Balboa Mist
I love how natural and modern Intellectual Gray looks with Balboa Mist.
If you're looking for a neutral accent color that is cooler and bluer, take a peek at Rock Gray or Flint.
These combinations strike me as sophisticated and flexible enough to work with any number of architectural styles.
So don't sweat it if your home is not a beautiful brick historical Tudor.
Benjamin Moore White Dove
Ready for a tried and true designer favorite that is perfect for traditional exteriors?
It's wildly popular for a good reason. With just the right amount of creamy warmth (yet won't read yellow-y!) so it feels clean and pristine yet not sterile, it's a winning white if ever there was one.
White Dove is not as bright as Chantilly Lace, and I love it on older homes.
What's the exact color on those beautiful shutters above? SW Tricorn Black. But let's see the same home with the shutters painted White Dove:
Sherwin-Williams Eider White
Here's a gorgeous (and mysterious!) wildcard of a white that is newer to me. Eider White is actually the white we chose for our kitchen walls, and it may strike you as alight grey.
Since I have been living with this as an interior color for about a year, I can tell you some qualities it has.
It has some pink or purple undertones which keep it from being a one-note, everyday white or very light grey.
Unlike a white such as White Dove, Eider White does seem to change throughout the day as the light changes. I like it in different lighting conditions, but make sure you sample it and check it throughout the day just in case it turns pink on you with your unique light and you're not a fan of pink.
Easiest way to see if a color is right? Order samples to be delivered to your door with Samplize (a peel and stick sheet of "paint" to stick on your wall and easily move around to other walls!).
Benjamin Moore White OC-151
For this board and batten white cottage below, the exact color is BM White OC-151 (minimal undertones and a bright cool white).
BTW. The designer also carried the exterior white throughout the interiors – talk about easy to remember!
This turned out to be the perfect white for all the interiors of our former home since I needed something to cut through all the strong yellow sunlight.
Here's a similar white in the Sherwin-Williams line:
SW Extra White
You'll love SW Extra White if you're after a brilliant, modern, gallery like white.
What do I look for when choosing the right white? Is it tasteful and timeless? Does it have staying power? Does it enhance and work with the light?
Ultra bright cool whites like SW Extra White have been popular for exteriors in the last decade.
Need a Custom Warm White Paint Idea?
Our former home's color was a 50/50 mix of Farrow & Ball Cornforth White and Hardwick White.
If you look at the paint card or swatches online, they may not strike you as whites at all!
That's the tricky part about finding the best white for your project…
the perfect choice just may be grey!
Educated Guesses Even Though We Don't Know Exact White
If you fall in love with an exterior color from a photo of a house, study it to discern what is drawing you to it.
It may also help to look at images online on a larger screen or to expand the image to notice the details.
The white paint color you choose for an exterior should harmonize with its surrounding nature. Imagine how out of place the whites on the homes above and below (with their lush greenery and foliage) might appear on a desert home in the mountains.
Try SW 6258 Tricorn Black for a similar trim color as the above home.
More Ideas for Getting the Look (Best Guesses!)
Benjamin Moore Seapearl
White Trim Paint Ideas
Try plenty of samples before deciding.
Paint Color Idea for Front Door With White Exterior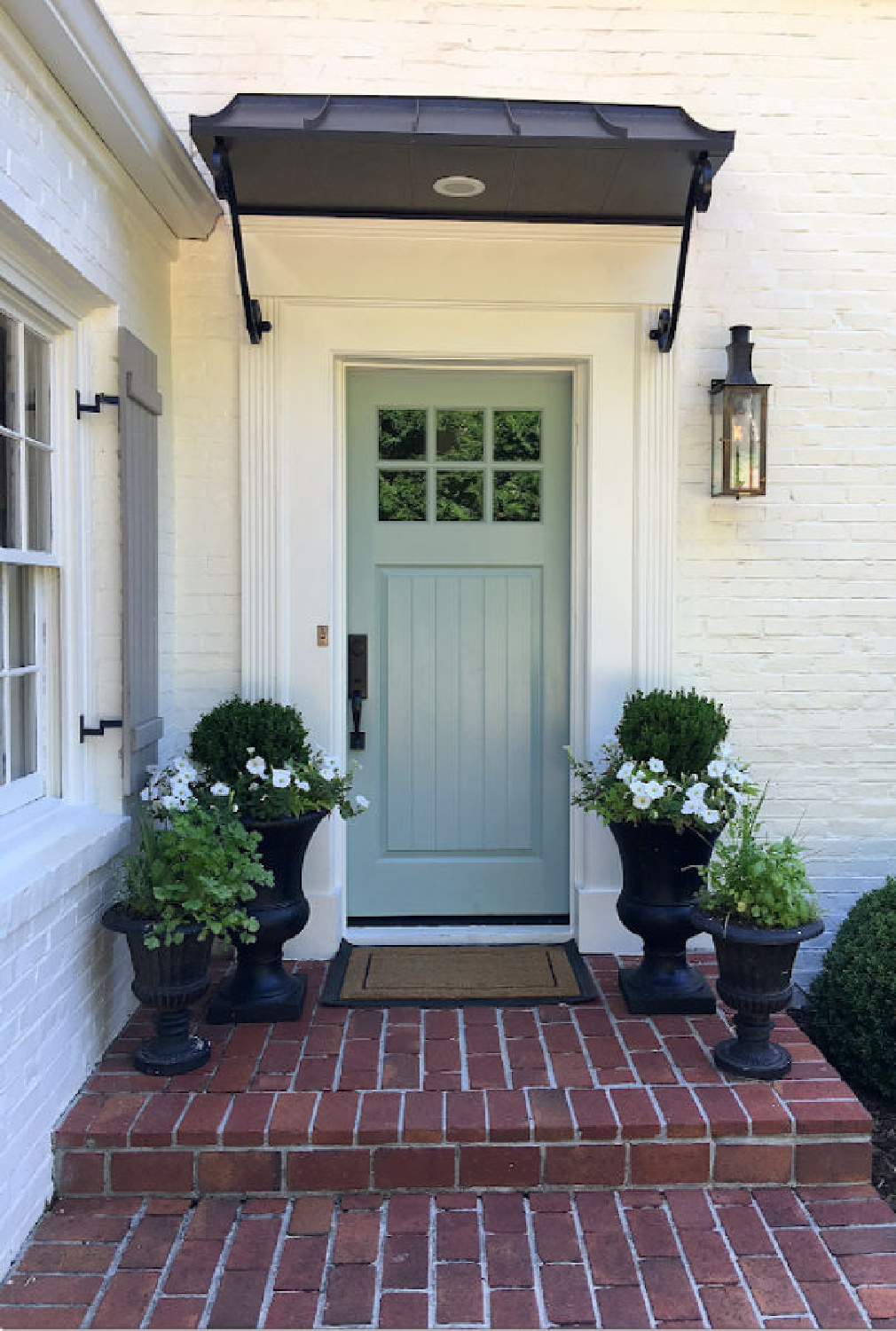 A little music therapy to calm your nerves if you're feeling at all overwhelmed by the prospect of selecting the best white for your project.
Thanks so much for visiting – let me know if you have any questions.
I independently selected products in this post—if you buy from one of my links, I may earn a commission.
Peace to you right where you are.
-michele
Shop for items you already intended to buy on Amazon RIGHT HERE, and also find home decor here to keep decor inspiration flowing on Hello Lovely!
Hello Lovely is a participant in the Amazon Services LLC Associates Program, an affiliate advertising program designed to provide a means for sites to earn fees by linking to Amazon.com and affiliated sites.