We're revisiting these modern French interiors imagined by Jenny Martin Design because they offer inspirational moments and actionable ideas for our own homes. (Oh, this modern French kitchen!) A Canadian home with exquisite architecture and Old World style has been interpreted in fresh, modern terms. Bet you'll fall for the charming facade as well as classic interiors with a restrained palette.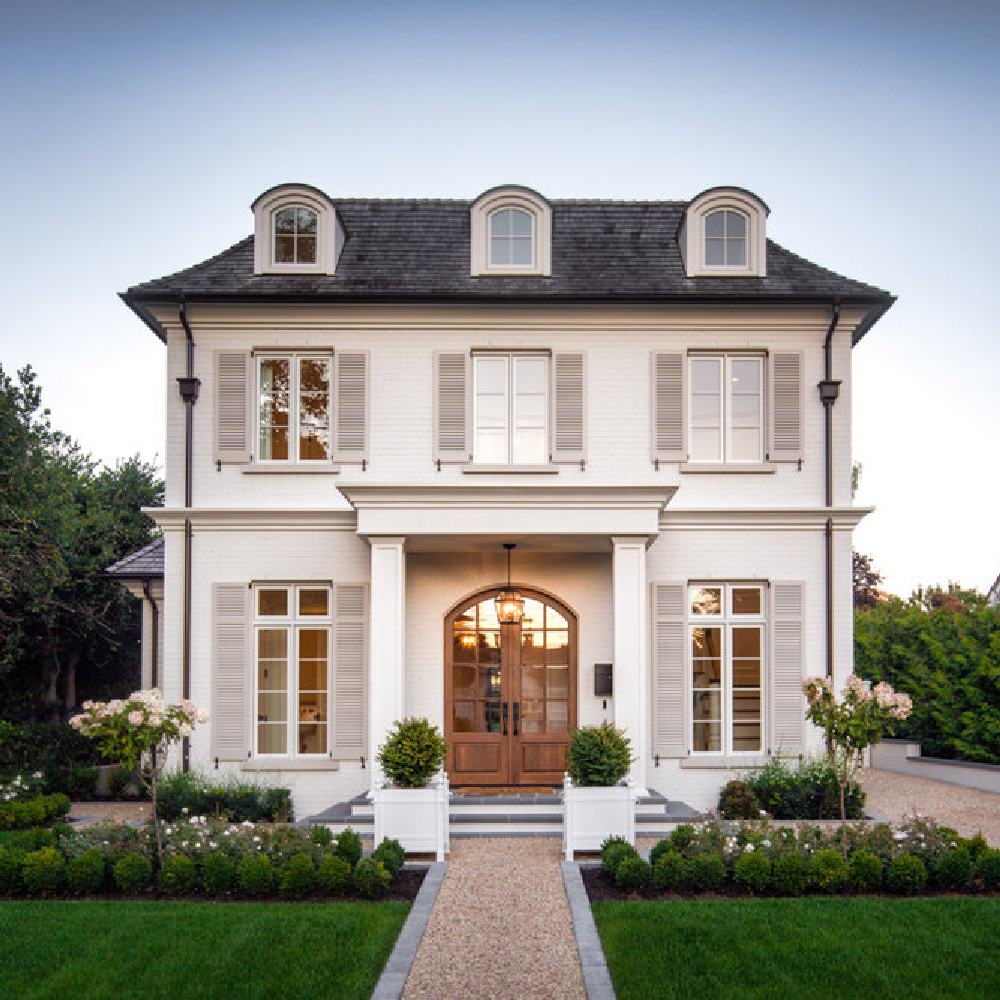 Project: Maison de Lee (in Victoria's South Oak Bay neighborhood); Builder: M. Knight Construction; Home Design: Zebra Group; Interiors: Jenny Martin Design
Modern French Inspiring Interiors & Design Details
1. White Brick Exterior
While plenty of people believe brick should never be painted, there are a good number ready to paint it.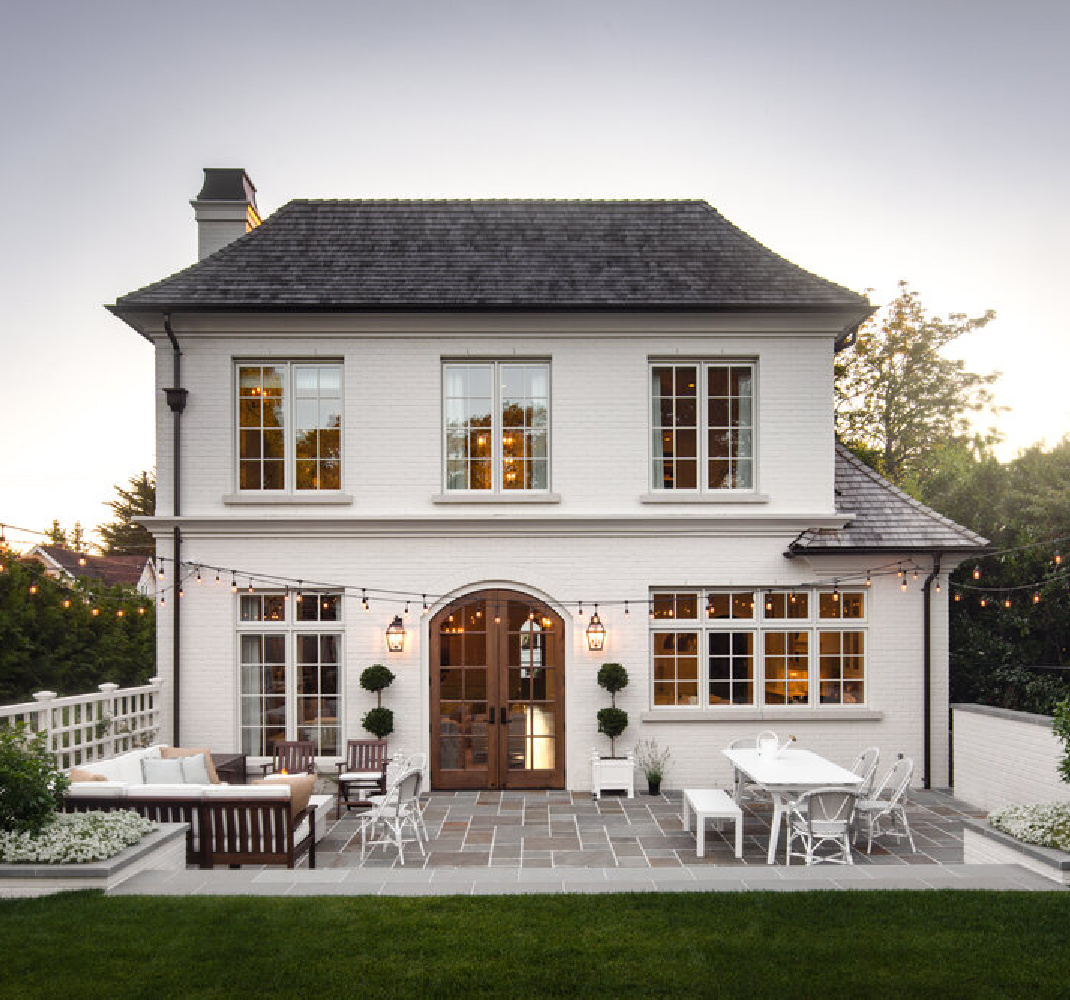 And who can blame them when you see the potential results!?!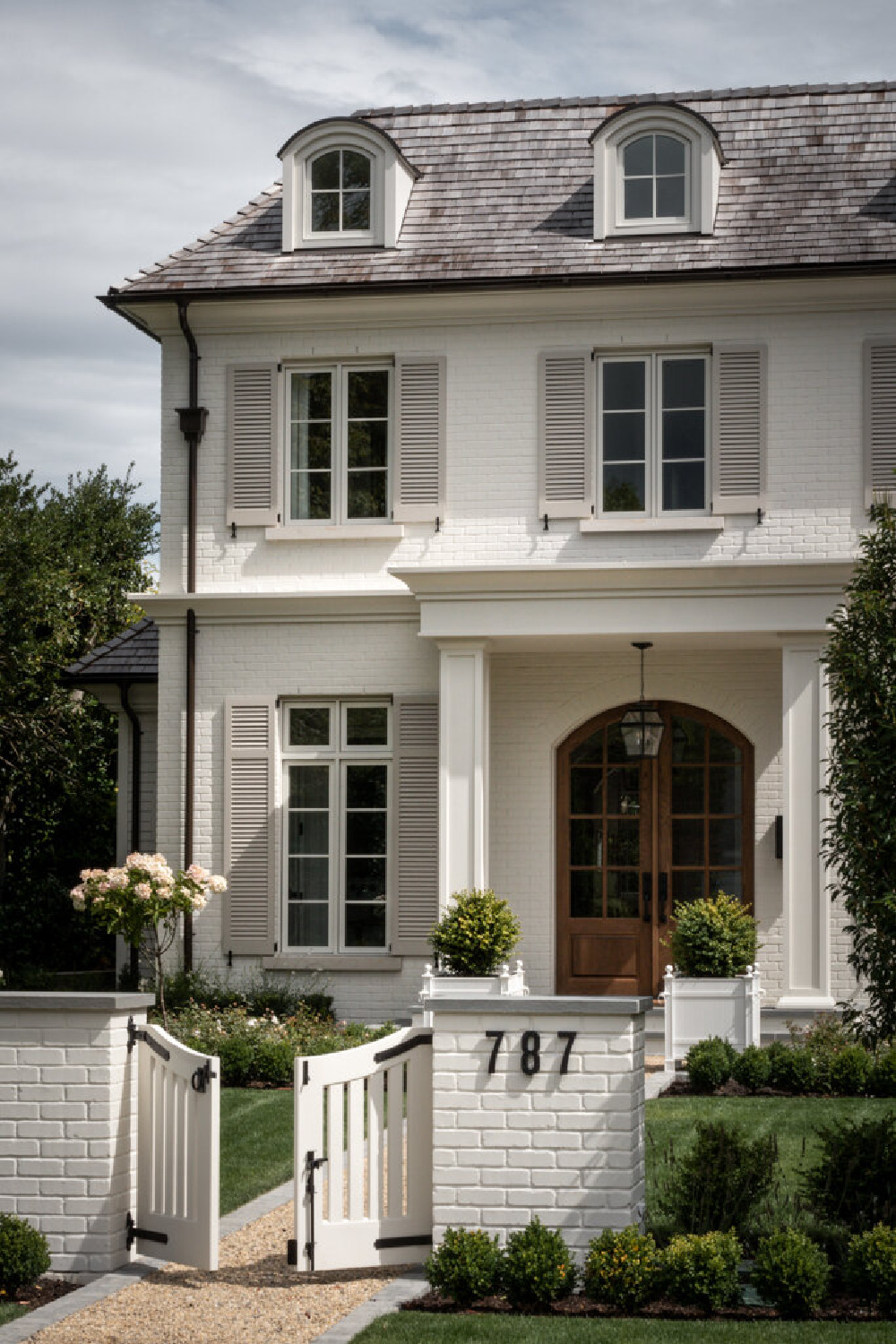 Look at those sweet gates!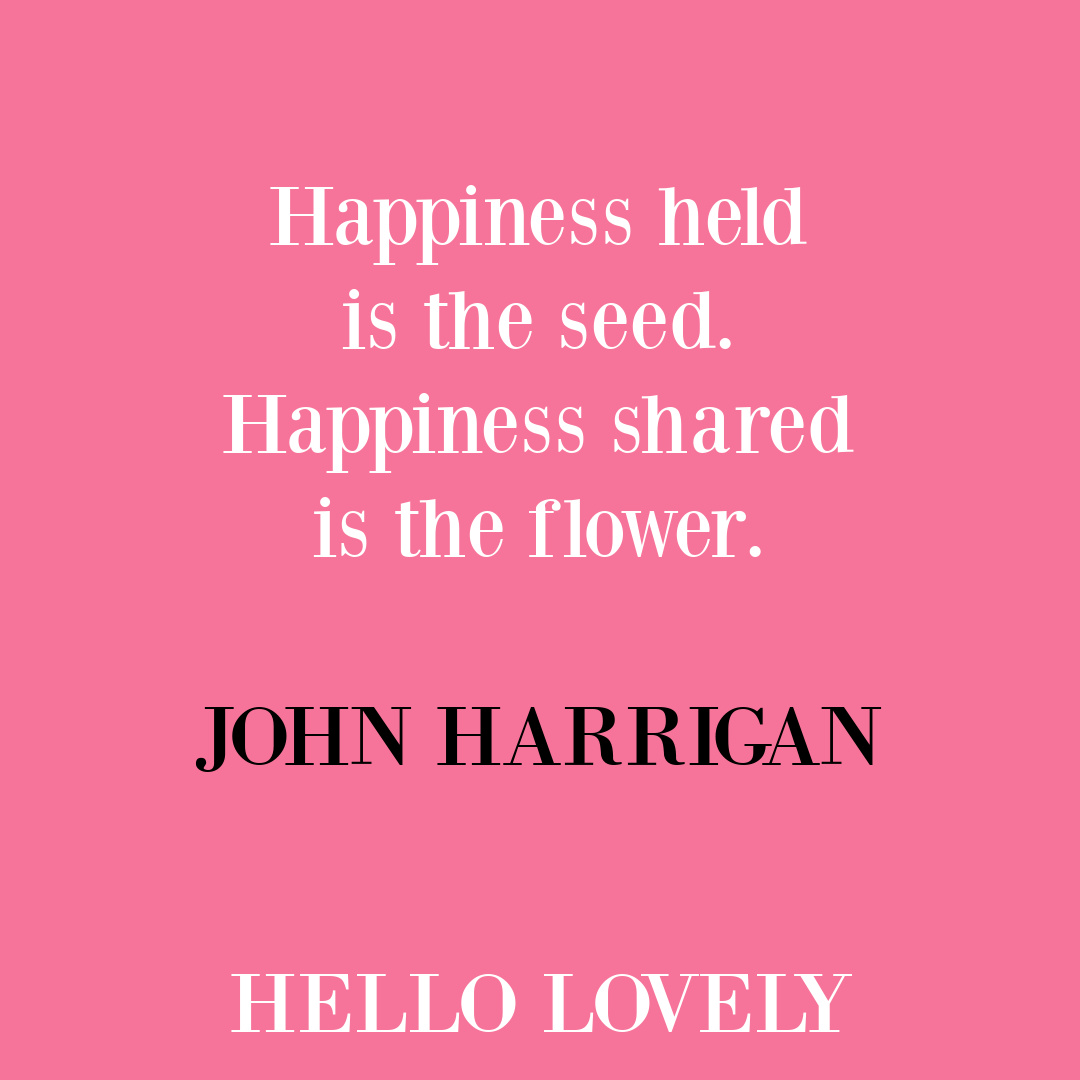 "Aiming to incorporate traditional elements with an aged vintage quality, this project integrates detailed mouldings, rustic white-oak beams and soft arches, pairing them with unlacquered brass and natural marble specifically selected to age gracefully over time. The aesthetic was elevated with a restrained palette of natural tones." – Jenny Martin
Wondering about paint colors for the exterior? The combination reminds me of this renovated home where Sherry Hart chose BM Balboa Mist and SW Amazing Gray: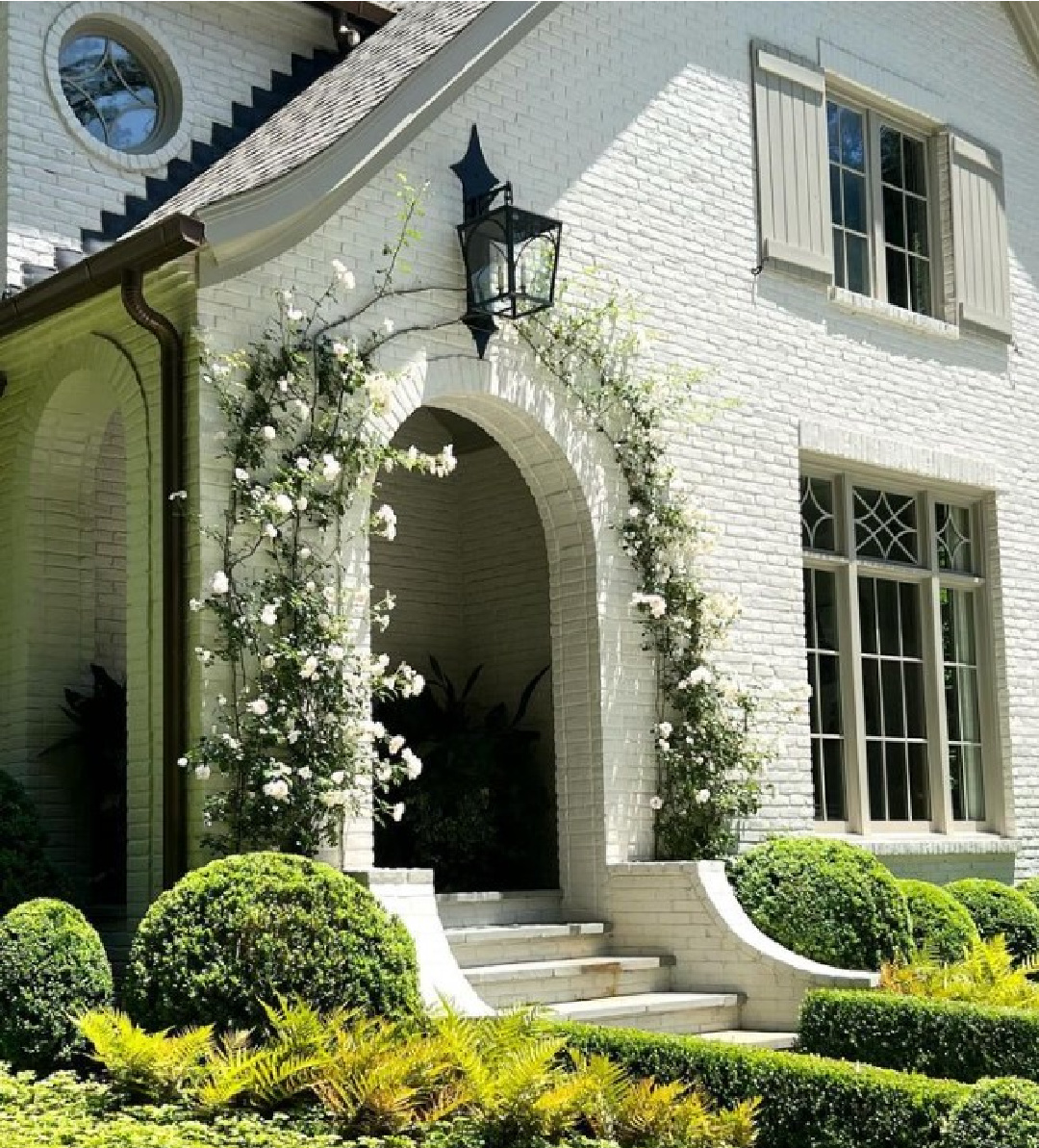 I offer more paint color suggestions (I'd call them educated guesses) in THIS.
2. Understated White Modern French Country Kitchen
I could move right into this kitchen! It's elevated, luxurious, and elegant but not too frou frou or fussy.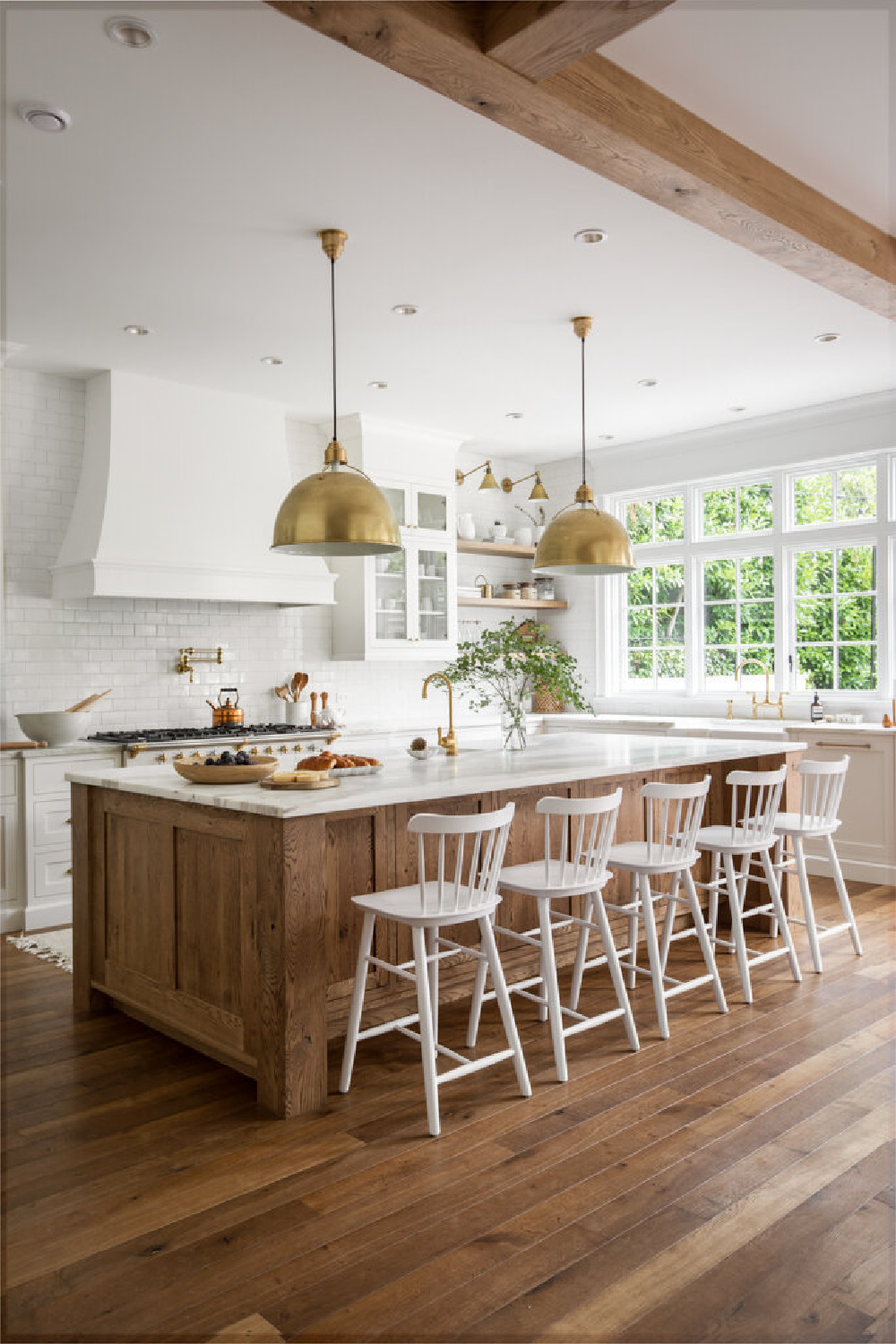 I love the warmth of the wood island, and notice how it is stained to exquisitely harmonize with the beauty of the wood flooring.
3. Deep Shelves That Actually Function
You know by now that I'm a slowwwww decorator. So it may not surprise you that I still don't have custom shelves in our kitchen that I will probably add. I'm taking my time because I want to live here and know what I need and don't need.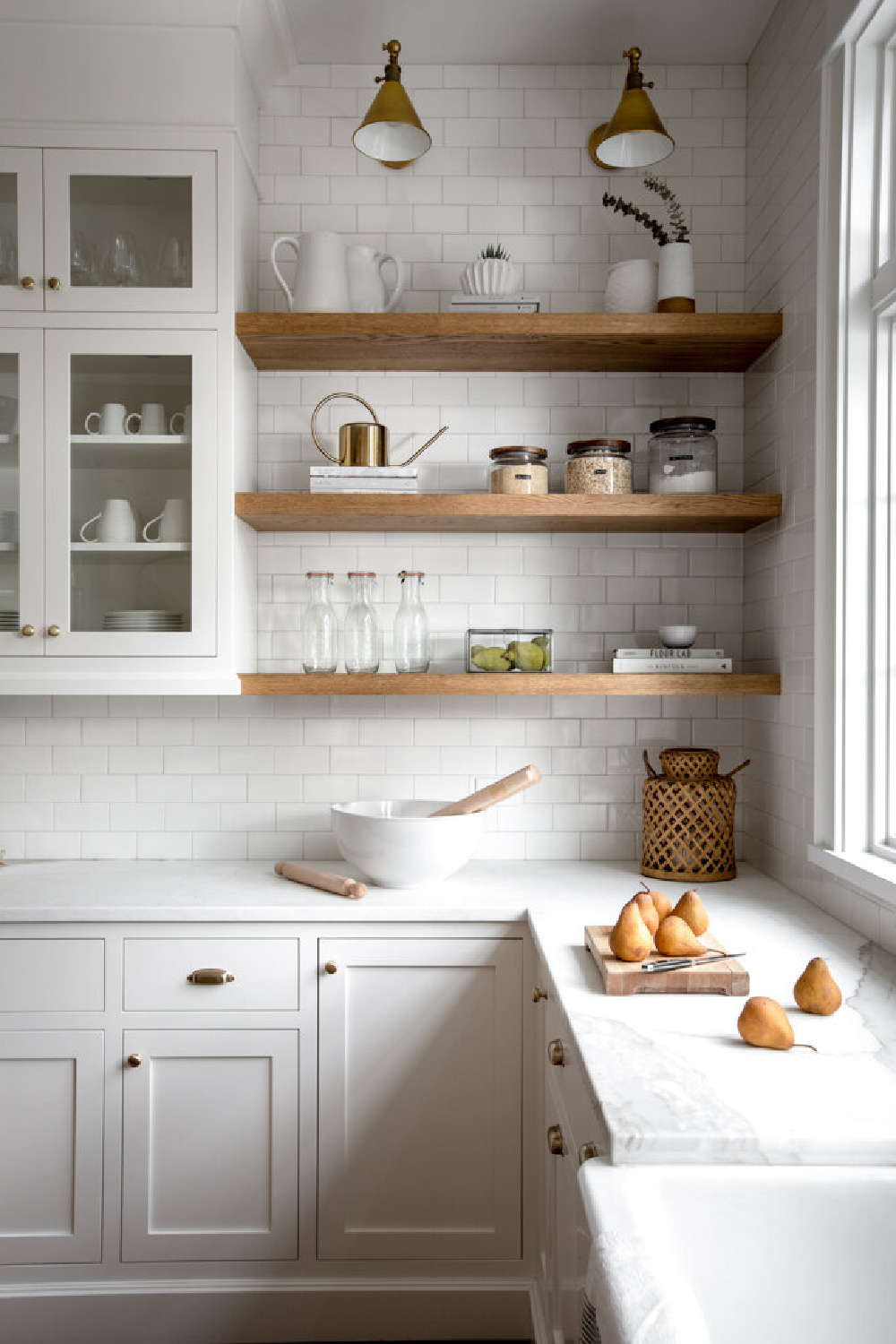 What I love about these particular shelves is how they are substantial but so properly scaled and usable. But I'm not sure they would work in my own kitchen where I'm considering a shallower shelf for art display on either side of the range hood.
4. Bespoke & Thoughtful Millwork
Since our own kitchen renovation was so recent, I am aware of the dozens of little design details to address. The finishing details are so important!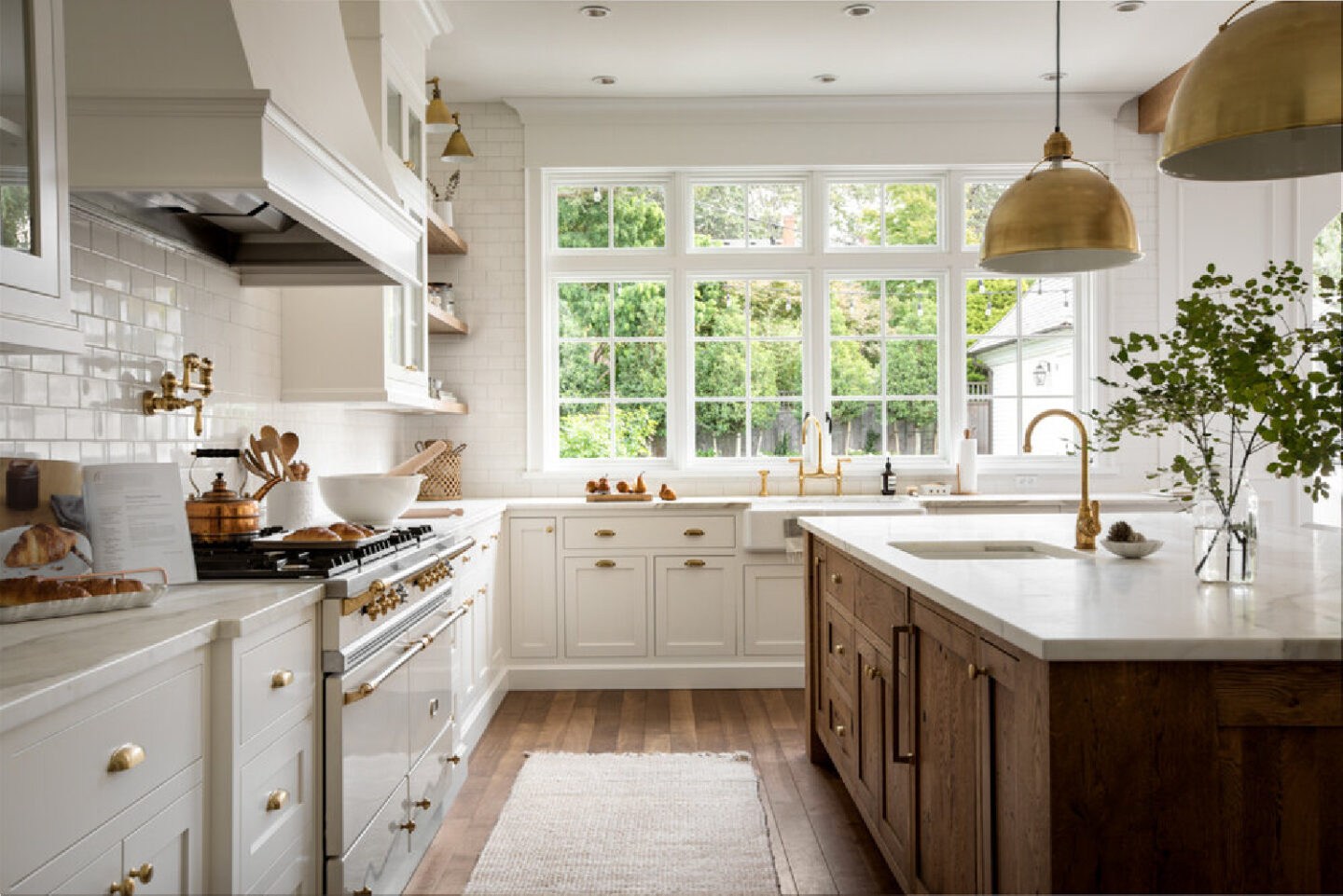 If you notice the base molding, you'll see how it enhances the furniture look of base cabinets. We were too worn out to address our own base cabinets, but maybe in 2.0!
5. Pantry or Scullery to Hide Appliances
It's such a bonus when you have an area away from the main working area for bulky items, appliances, and the stuff of everyday life you'd prefer to not take center stage.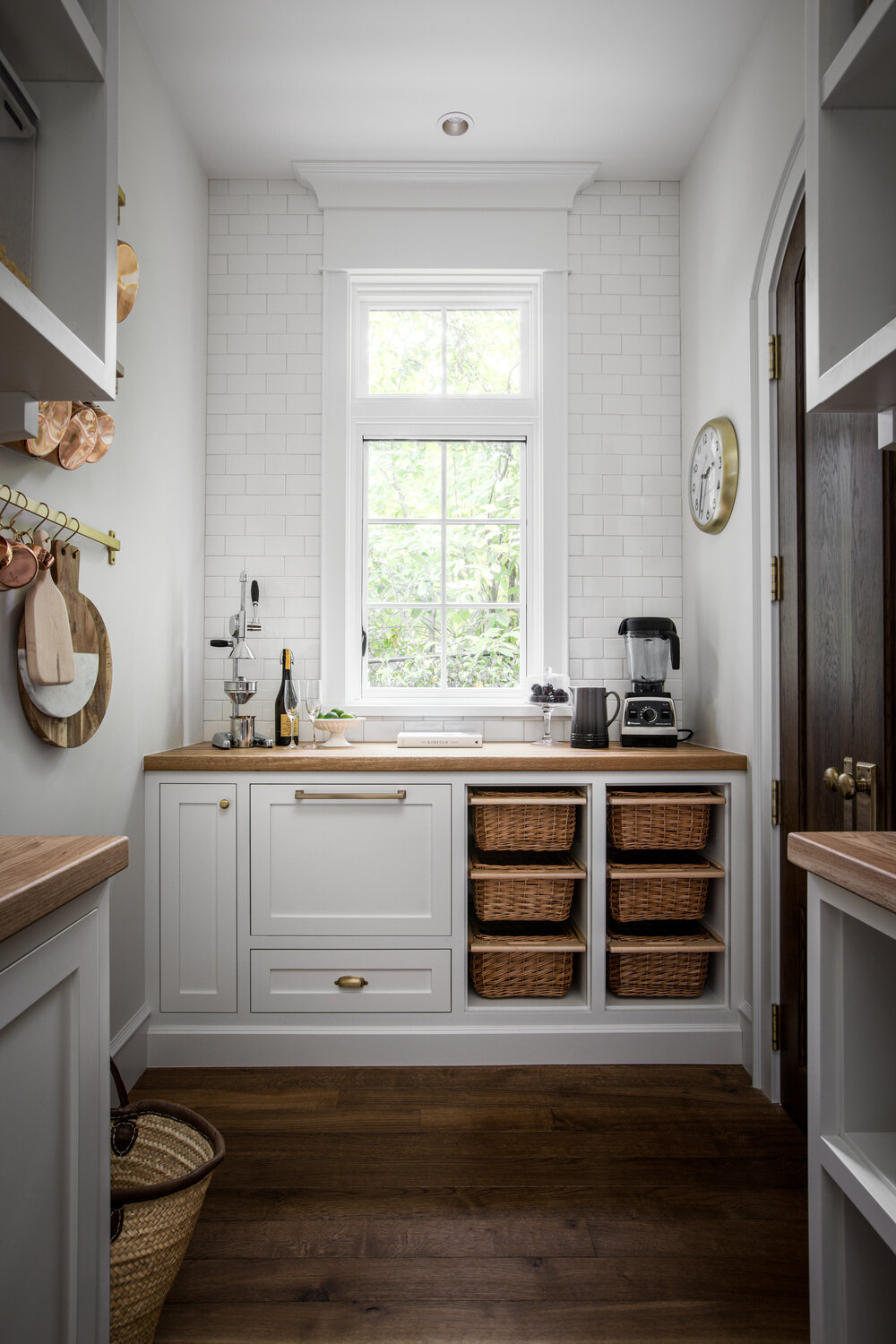 When I gathered my thoughts last year about my own kitchen's reimagining, I knew I wanted to create a mood that felt peaceful and livable. A living room, if you will. For us, that meant softening all the edges, hiding the utilitarian stuff that isn't pretty (like the microwave), and losing all the clunky factor (too many doors and staggered upper cabinets!). I even removed the door to the pantry and made it a pretty moment!
6. Brass & Gold in a Modern French Kitchen
Have you noticed how much Frenchy charm and warmth the gold tones add to this kitchen?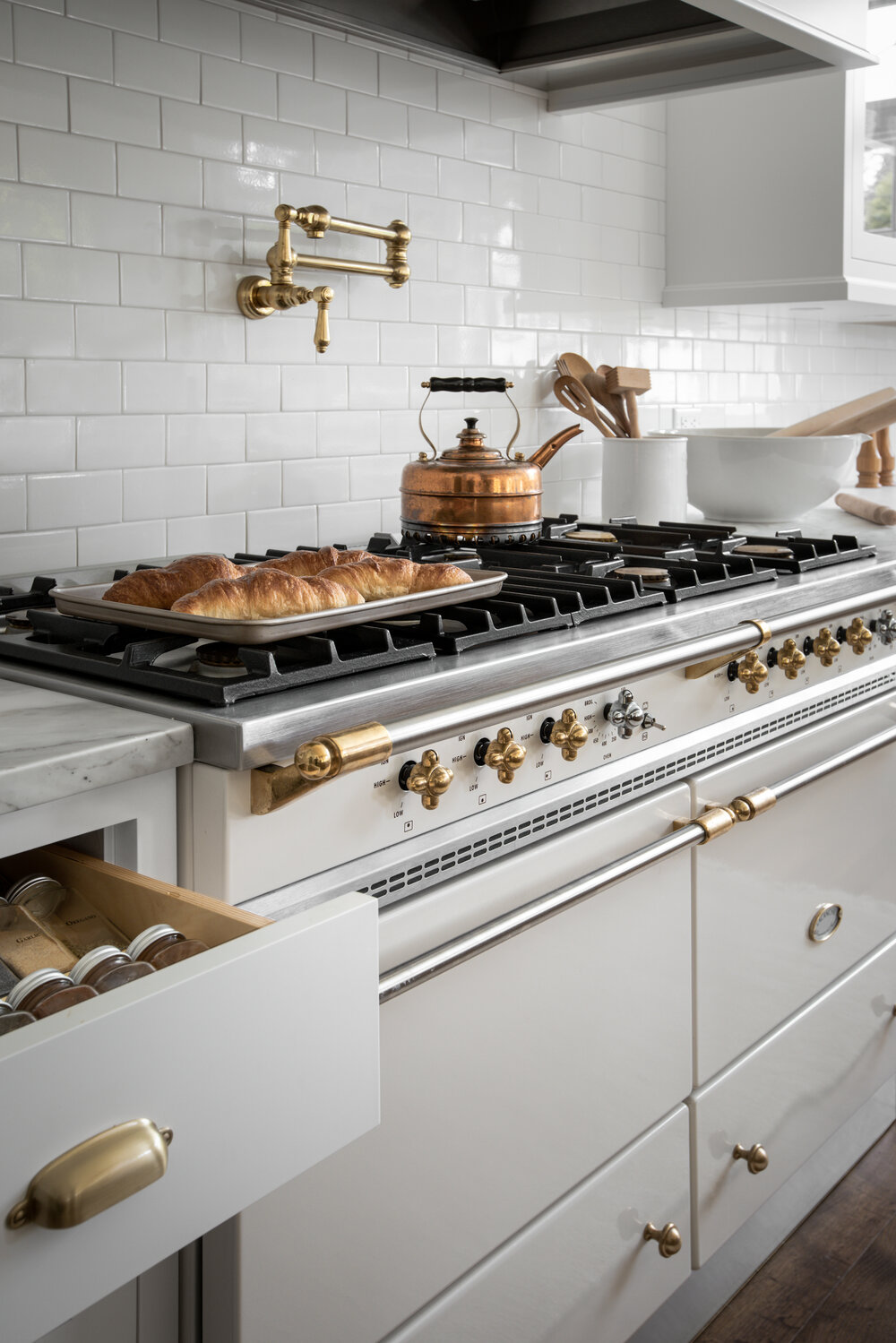 7. Rugged & Rustic Built-ins
What a beautiful and highly useful wall of cabinets and shelving in this breakfast area!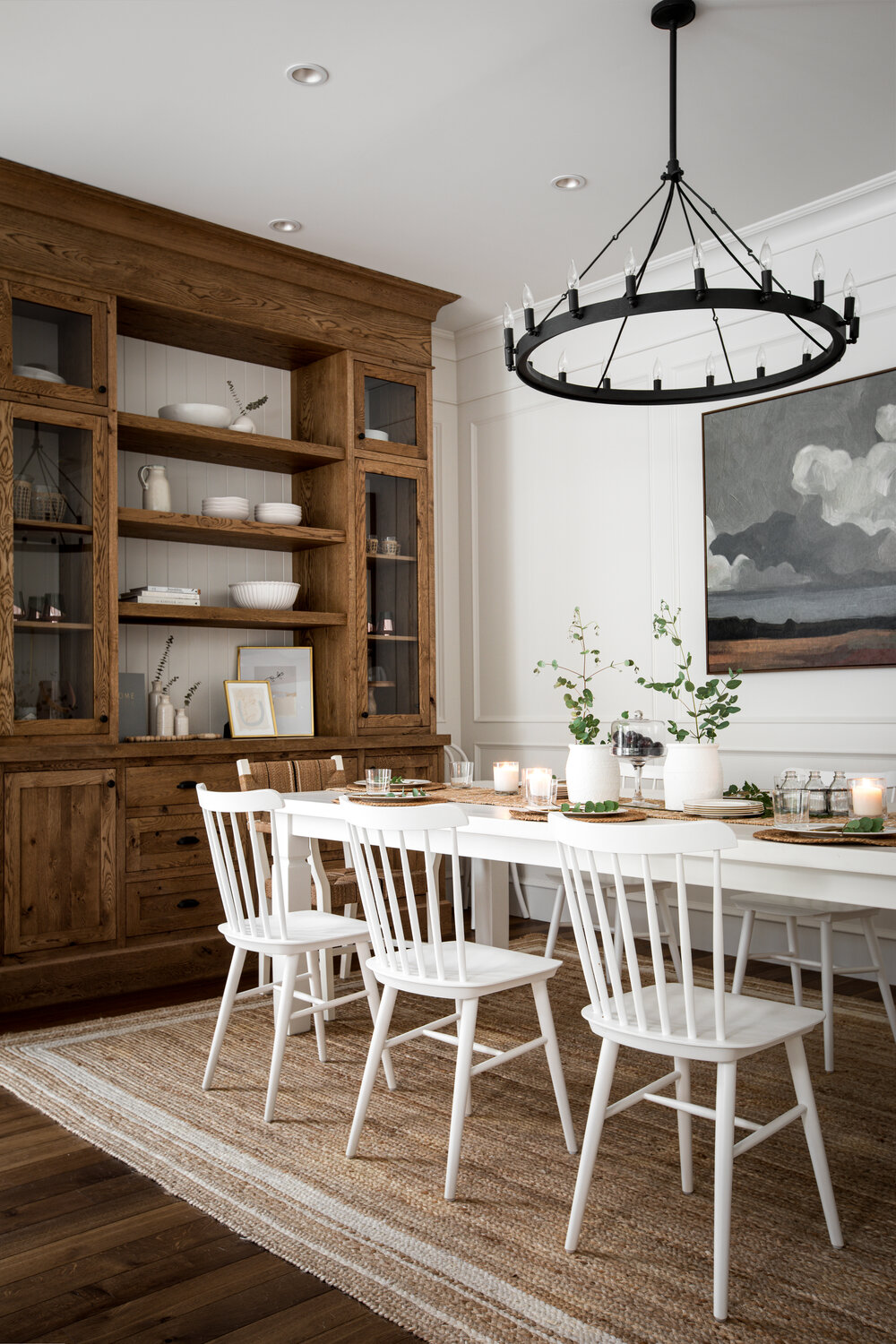 8. Narrow Arched French Doors
What do you think of these narrow sets of doors? There's just something very dramatic and elegant when you add such a romantic architectural gesture.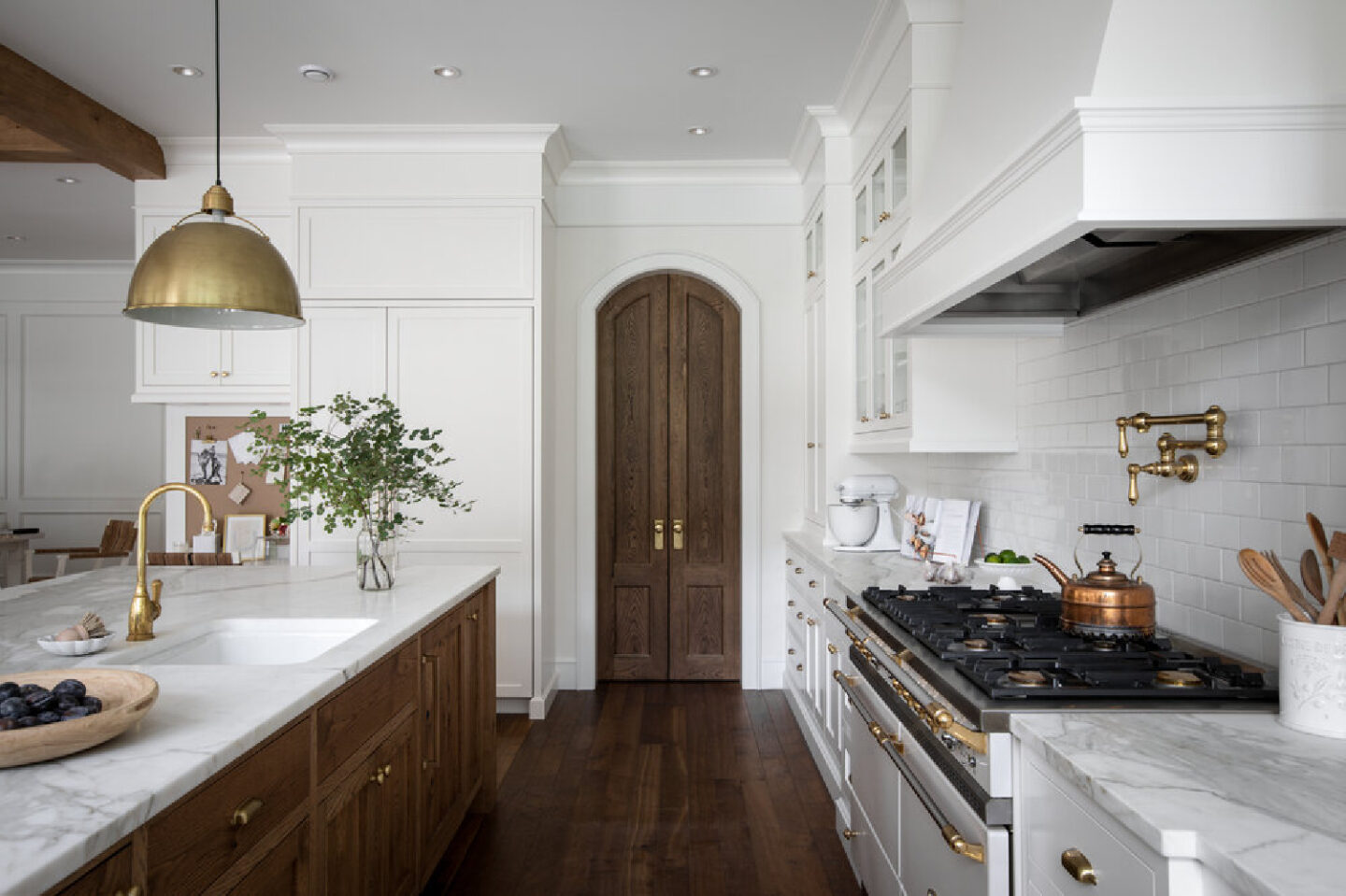 "Awarded 7 care awards, including the coveted title of Project of the Year, project Maison de Lee resulted in a stunning marriage of styles, creating a traditional home that sets the stage for stories to be written within its walls." – Jenny Martin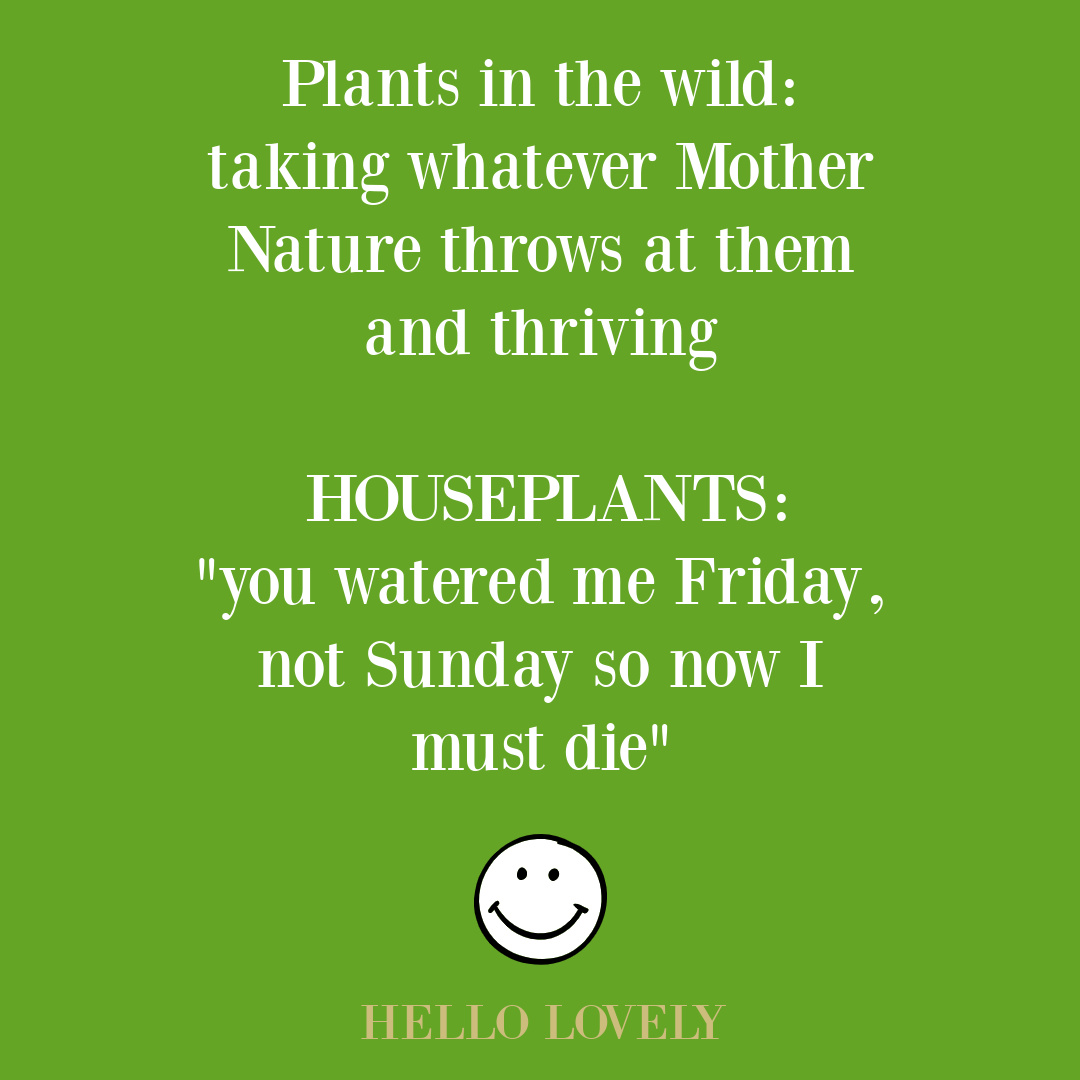 10. Harmony of Bright White & Oak
While you might imagine a black and white kitchen in a modern French home, all of the natural tones here feel established and timeless. Do you miss the black?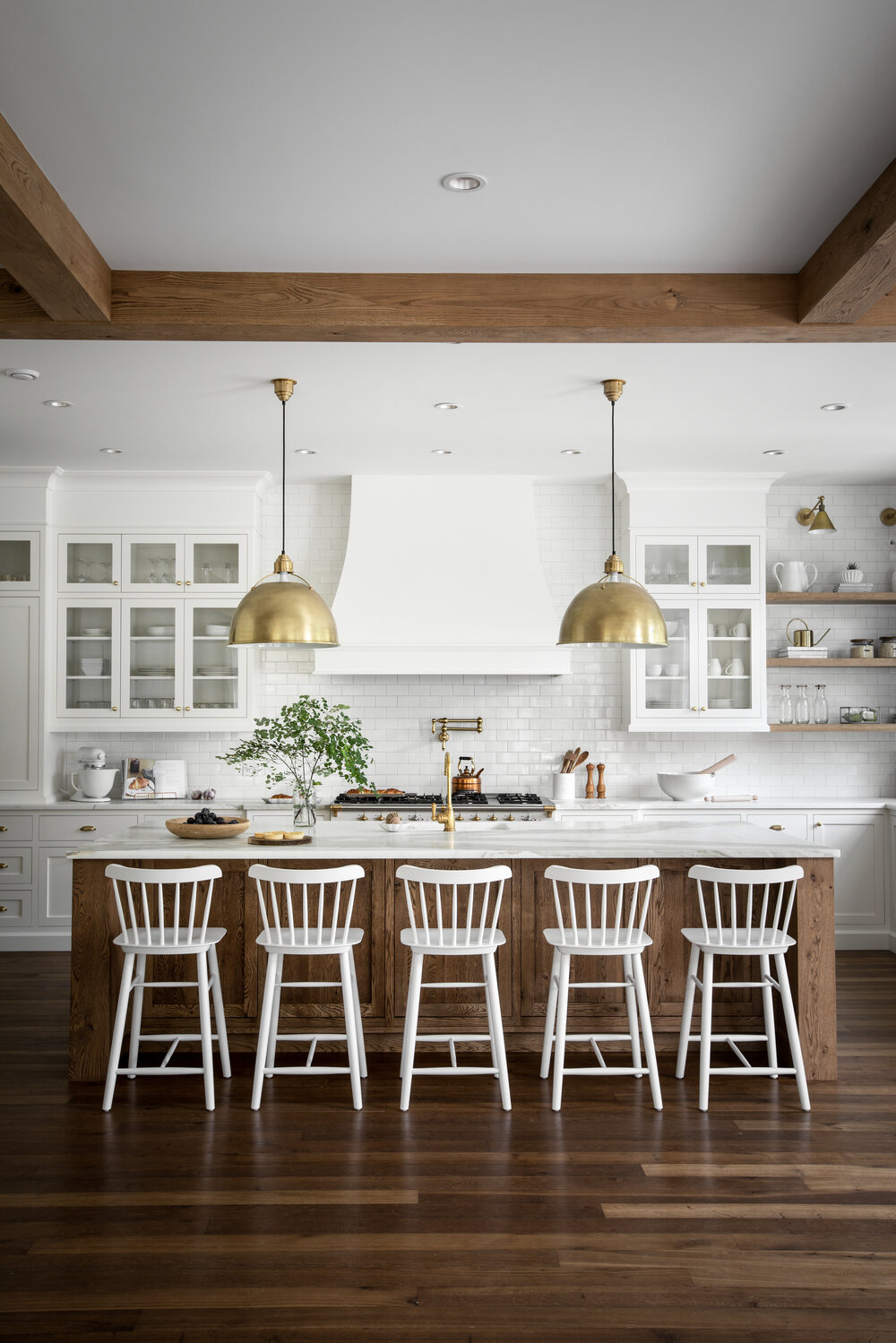 Black does show up in this home. Notice the door in this stunning mud room with built-ins.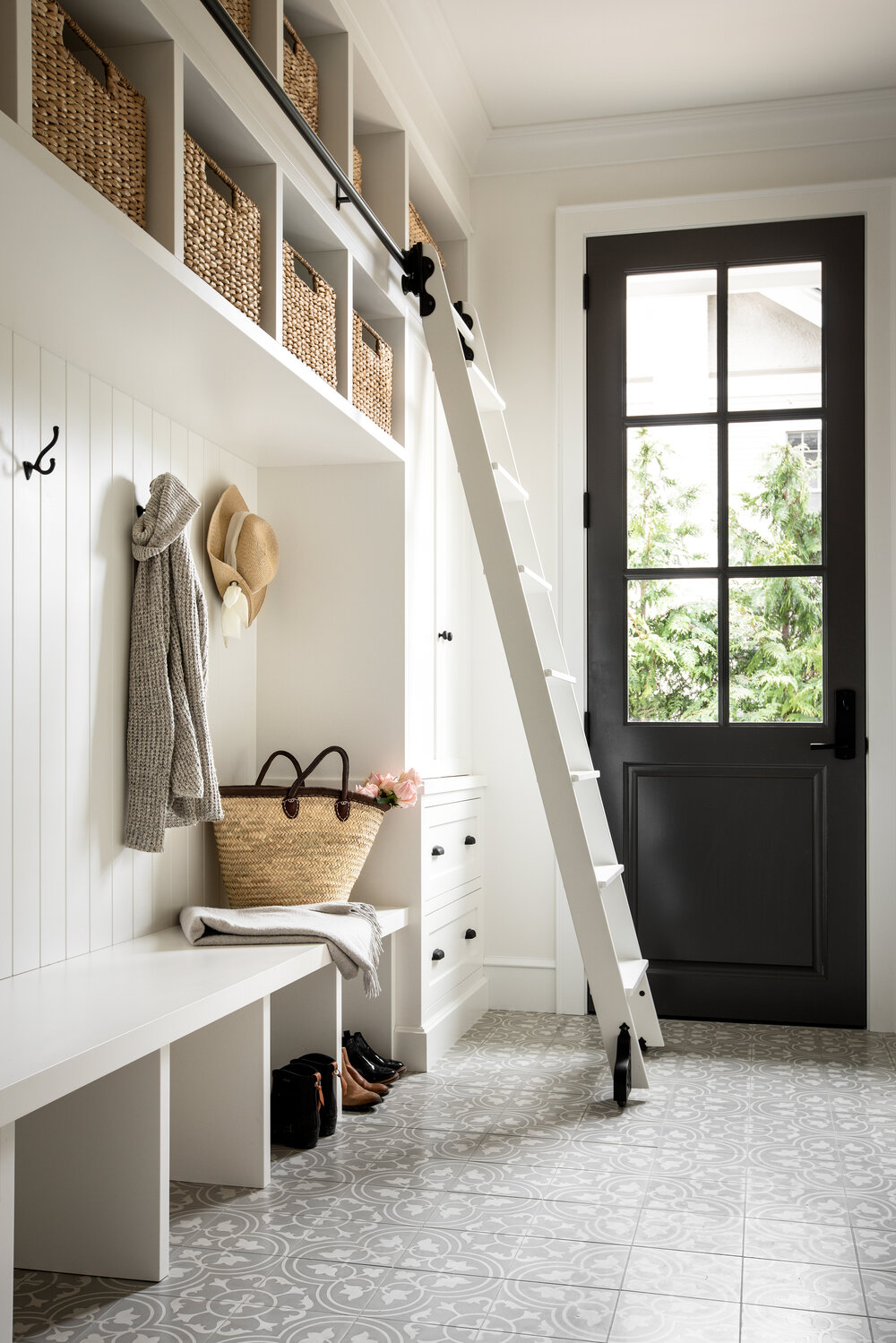 11. A Mix of Modern in a Music Room
While the architecture of this space feels traditional, the decor is rather Midcentury Modern with nods to Industrial style. Isn't it unexpected?
12. Not So Form Entry
Like the music room above, the entry is surprisingly casual and relaxed with its natural woven textures, absence of color, and understated mood.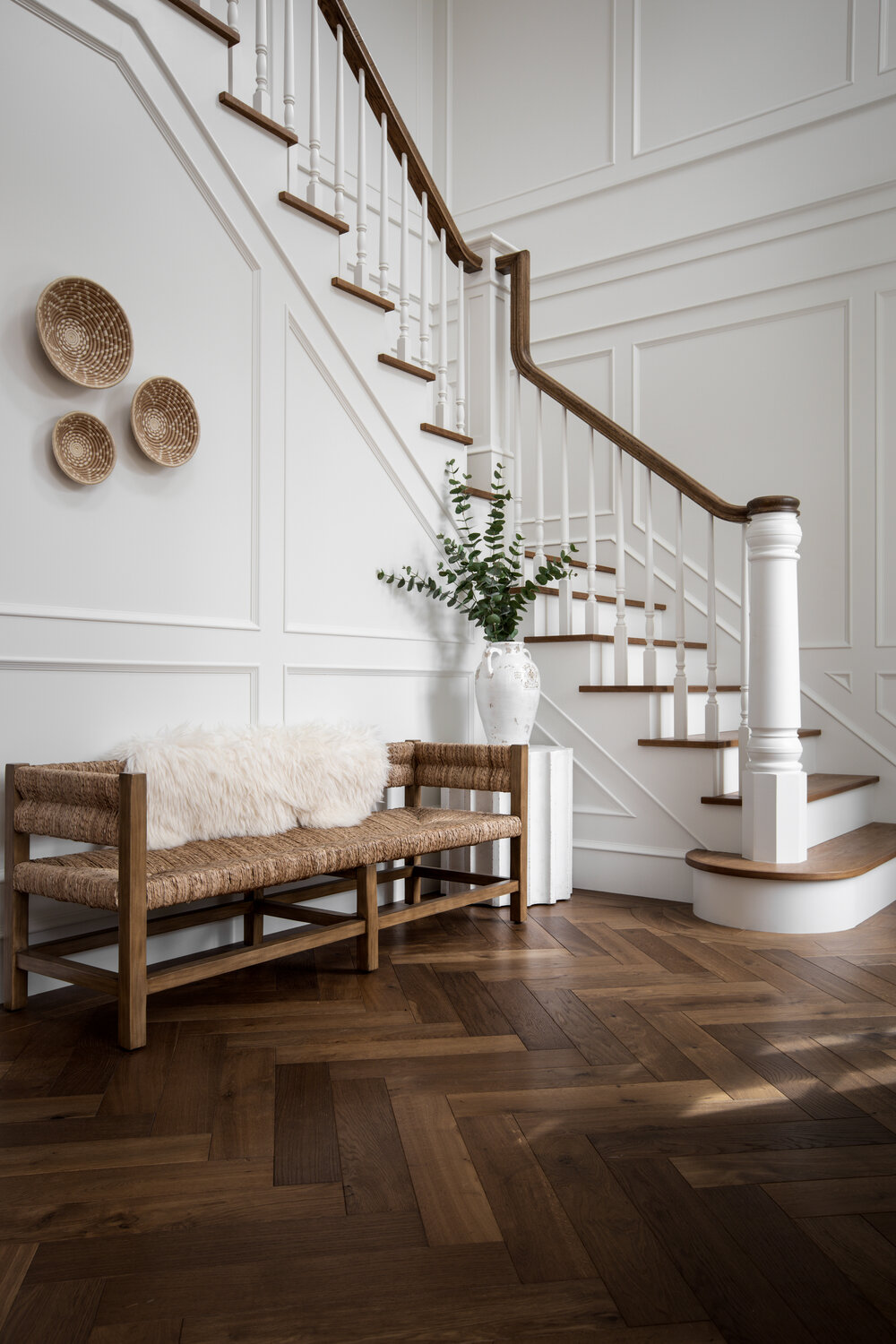 13. Shaker Style Custom Closet With Stunning Ceiling
I am crazy about this closet design and in awe since I'm just gearing up to reimagine the one in our primary bedroom. Can a closet can sell a house? I say oui.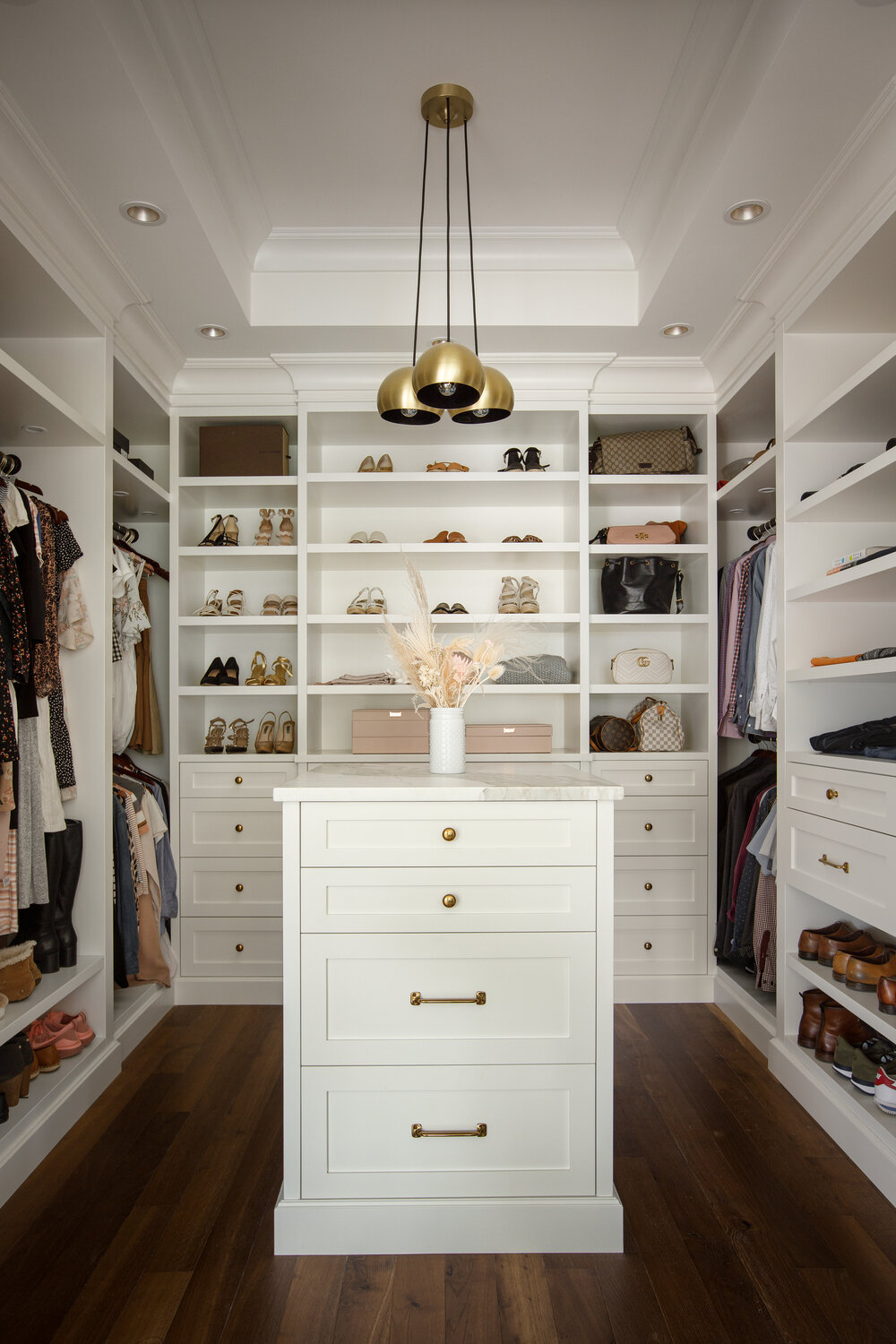 14. Modern French Bathroom Design Elements
This bath inspired my own plans for our bath reno here at the Georgian.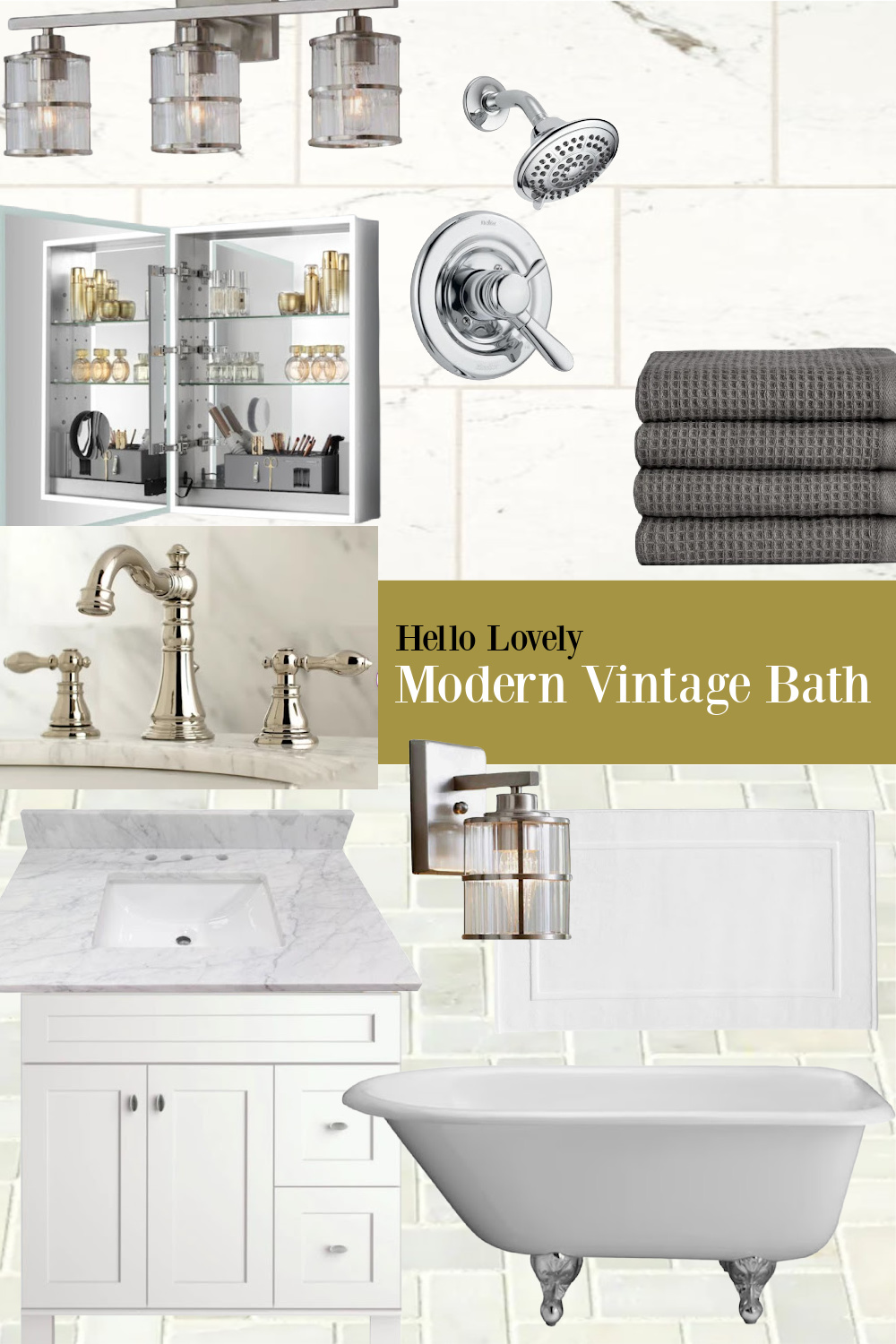 I love a clawfoot tub, and the herringbone marble is so classic. The ceiling height is something I can't add, and it's so glorious here: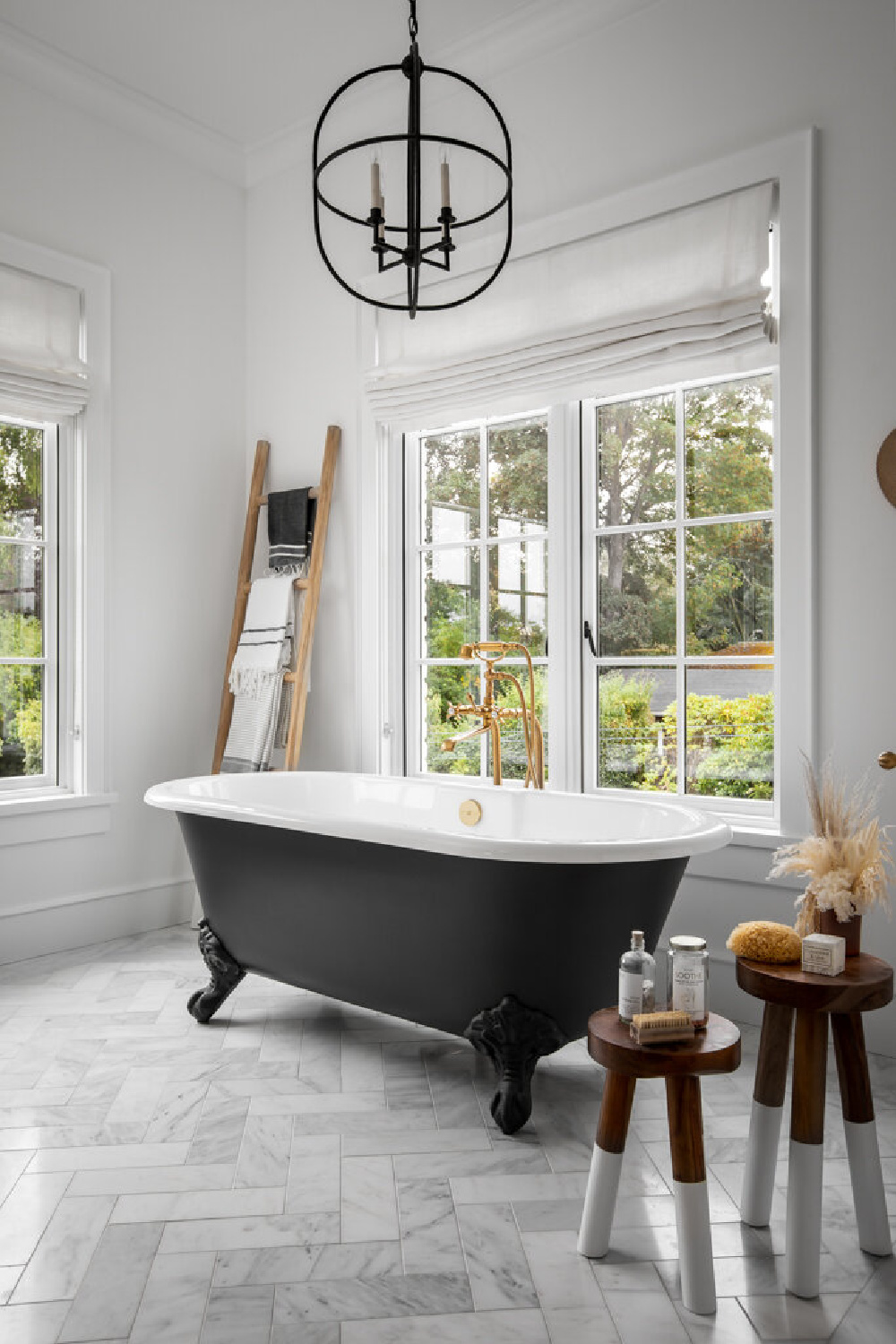 Choosing tile for a bath? Make sure to select a timeless, neutral, high quality one since you won't need to update it (ahem) any time soon.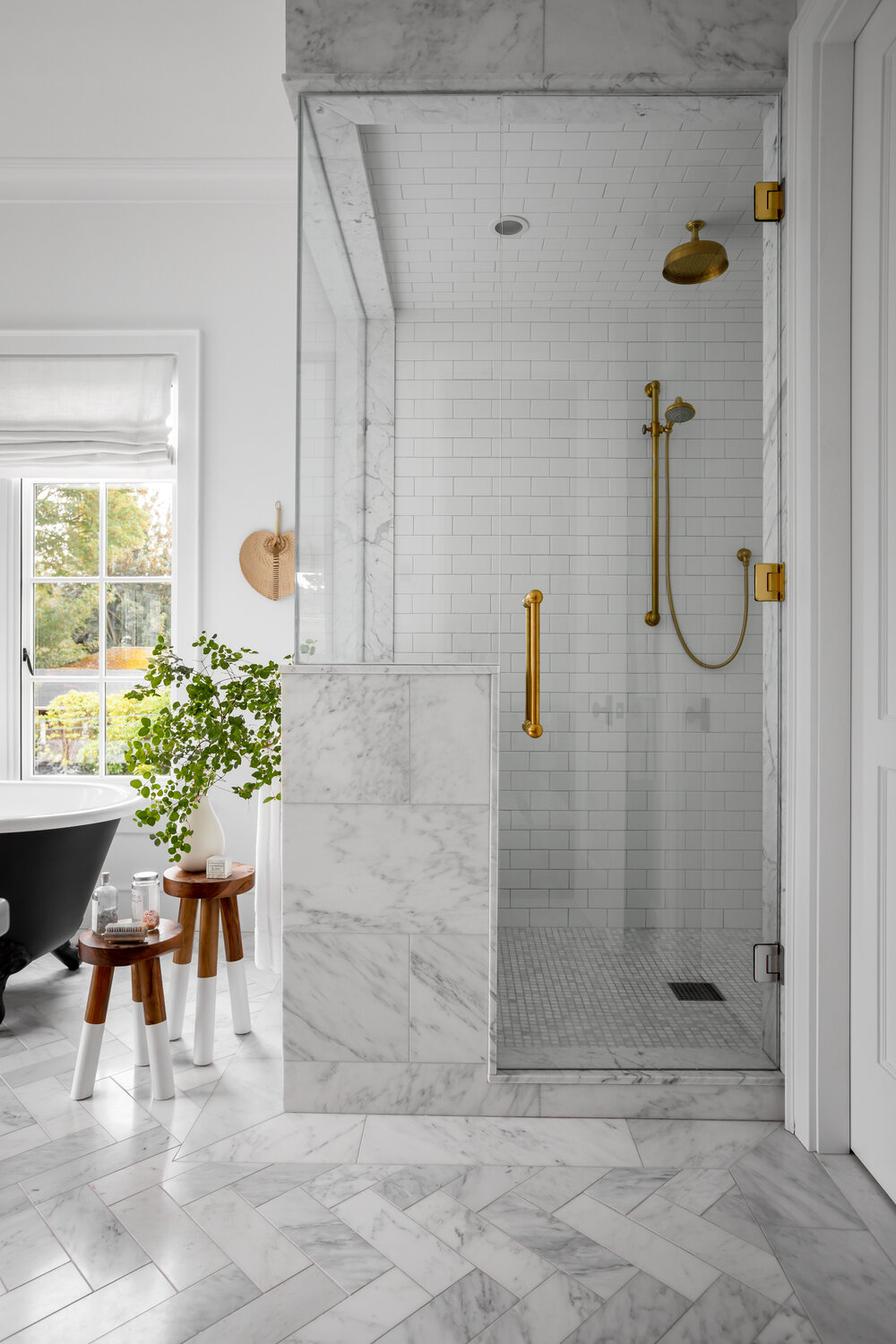 The baths in this beautiful home!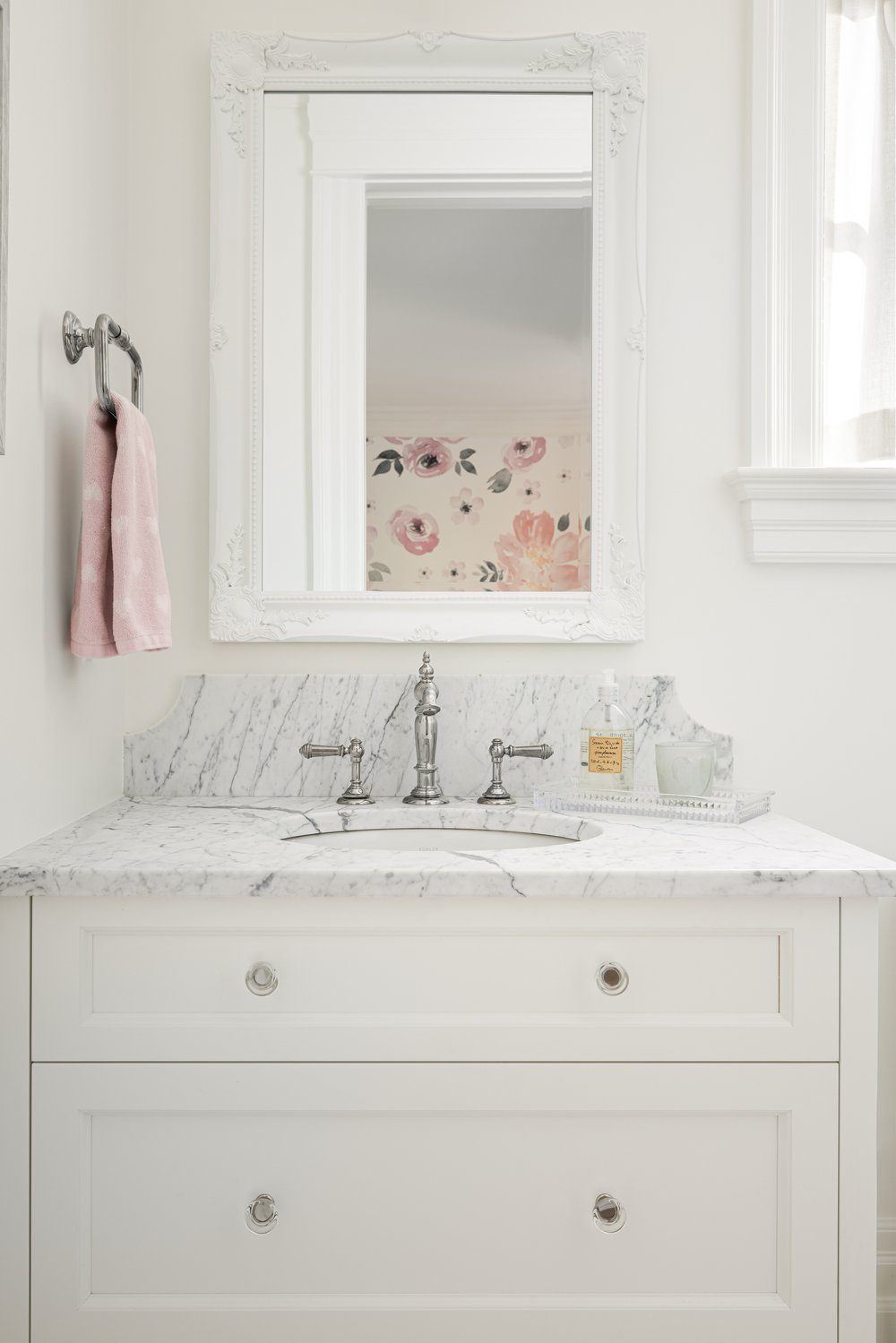 Sweet cozy Moses, I would never tire of looking at these vanities!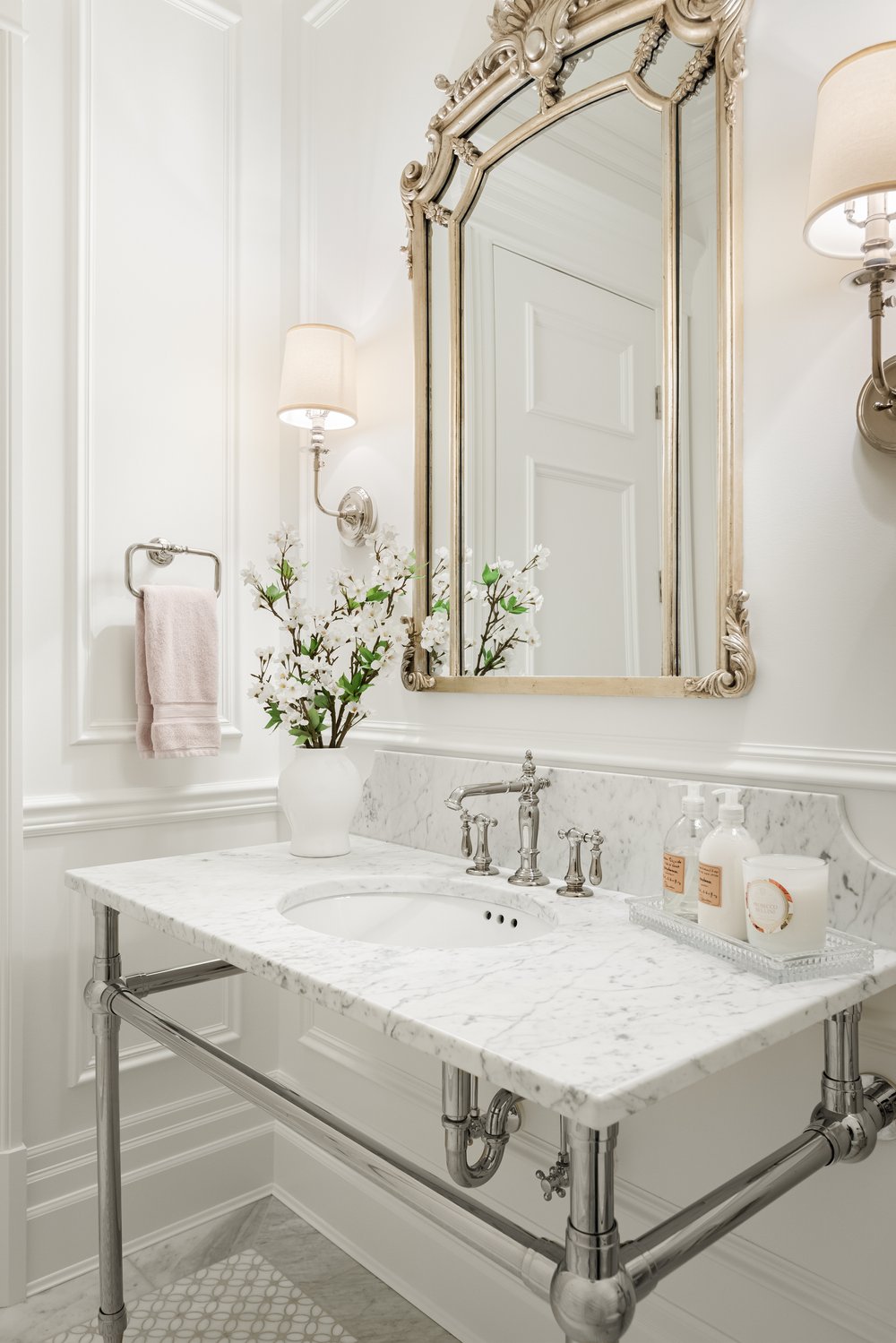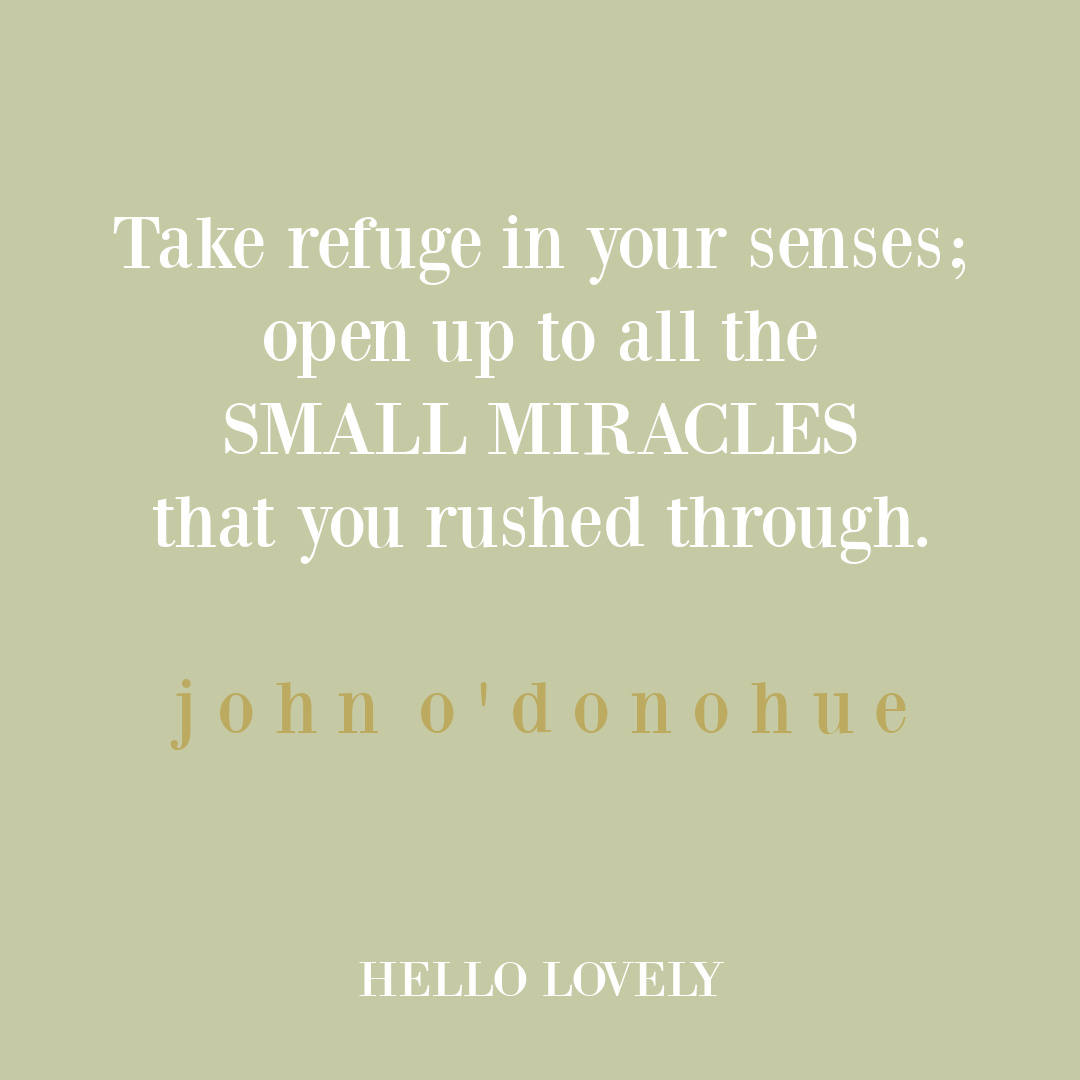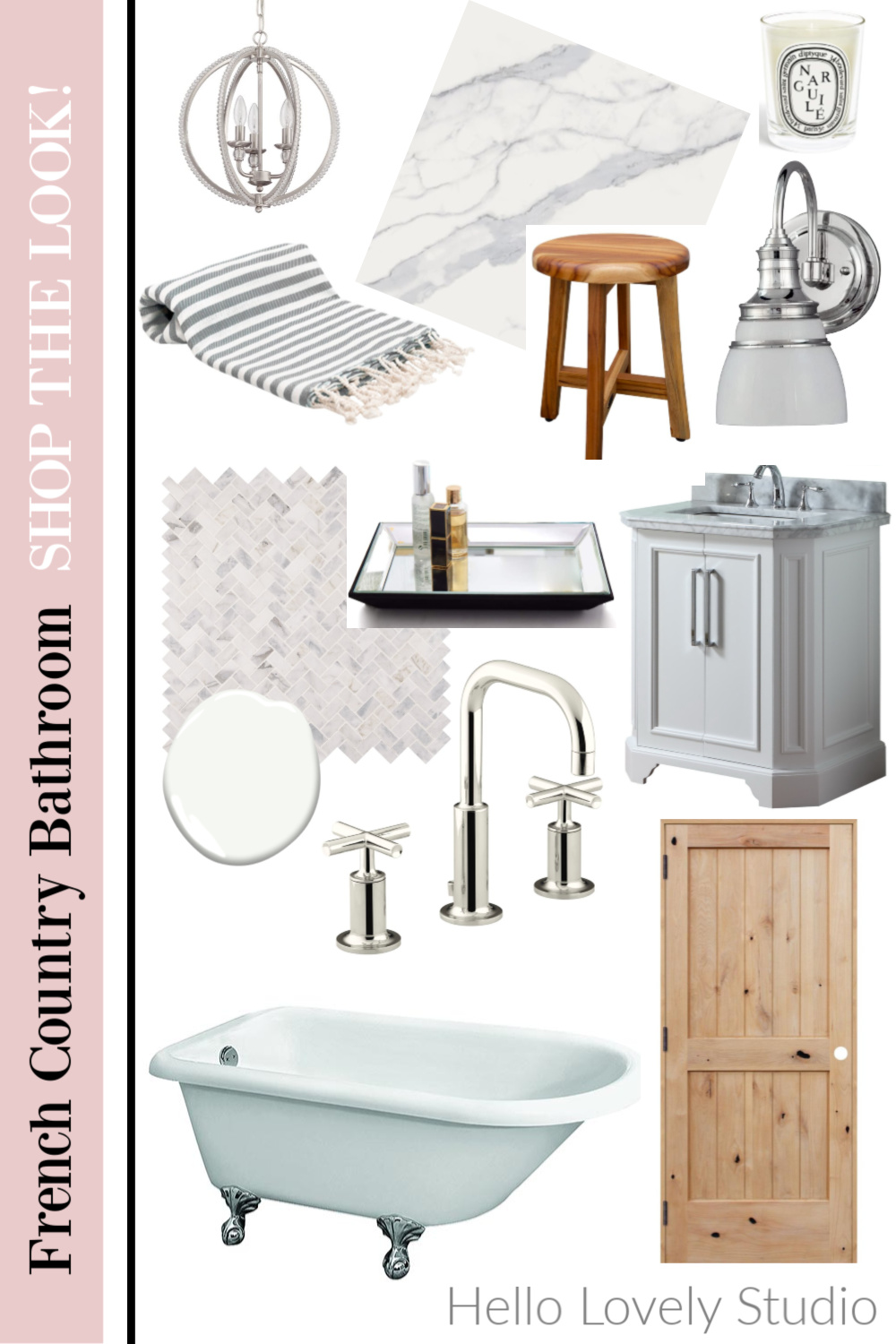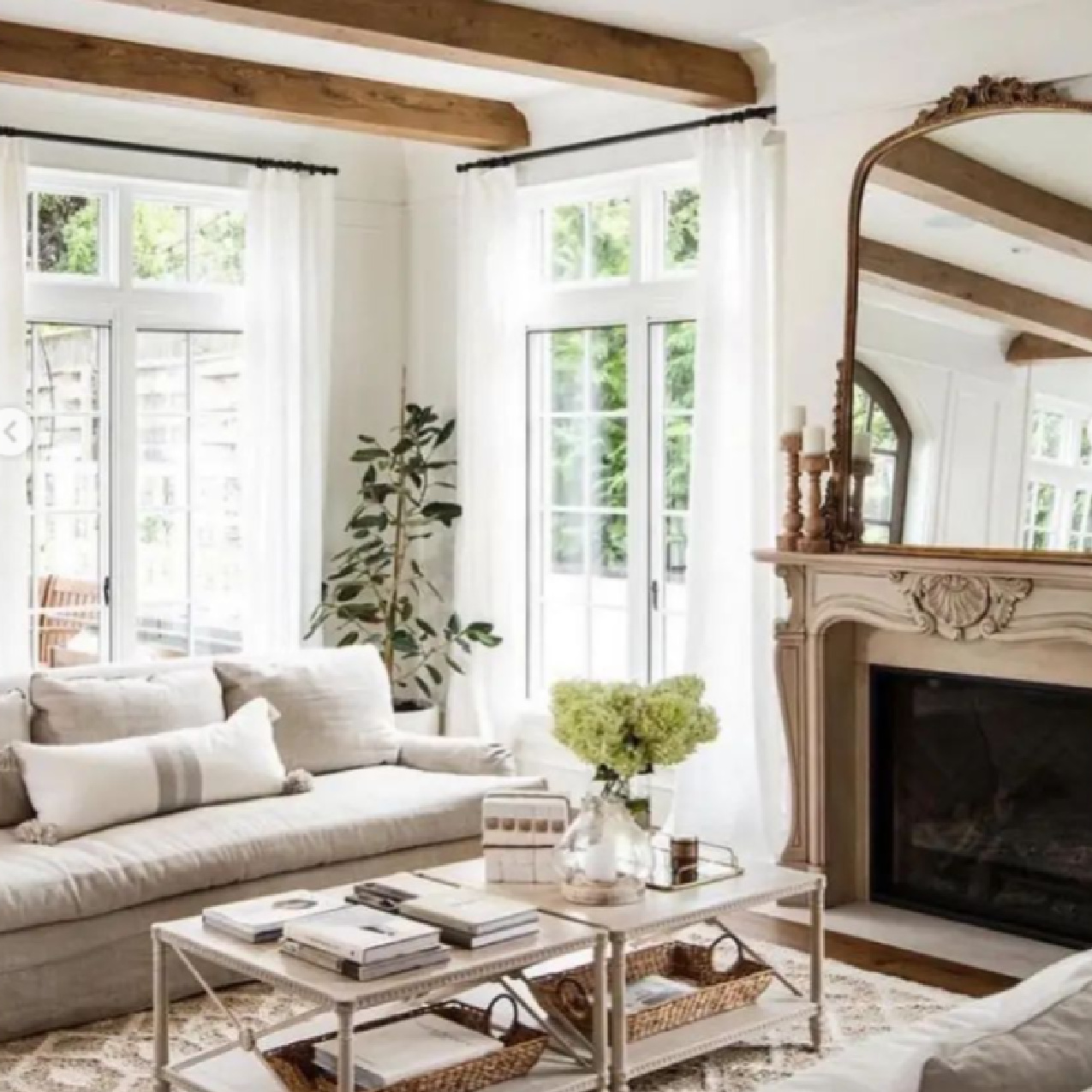 To see this home decorated for the holidays, GO HERE.
Have a favorite feature from today's inspirational house tour? Let me know! I love it when you leave comments or questions or random, and believe it or not, a lot of bloggers do not share such enthusiasm.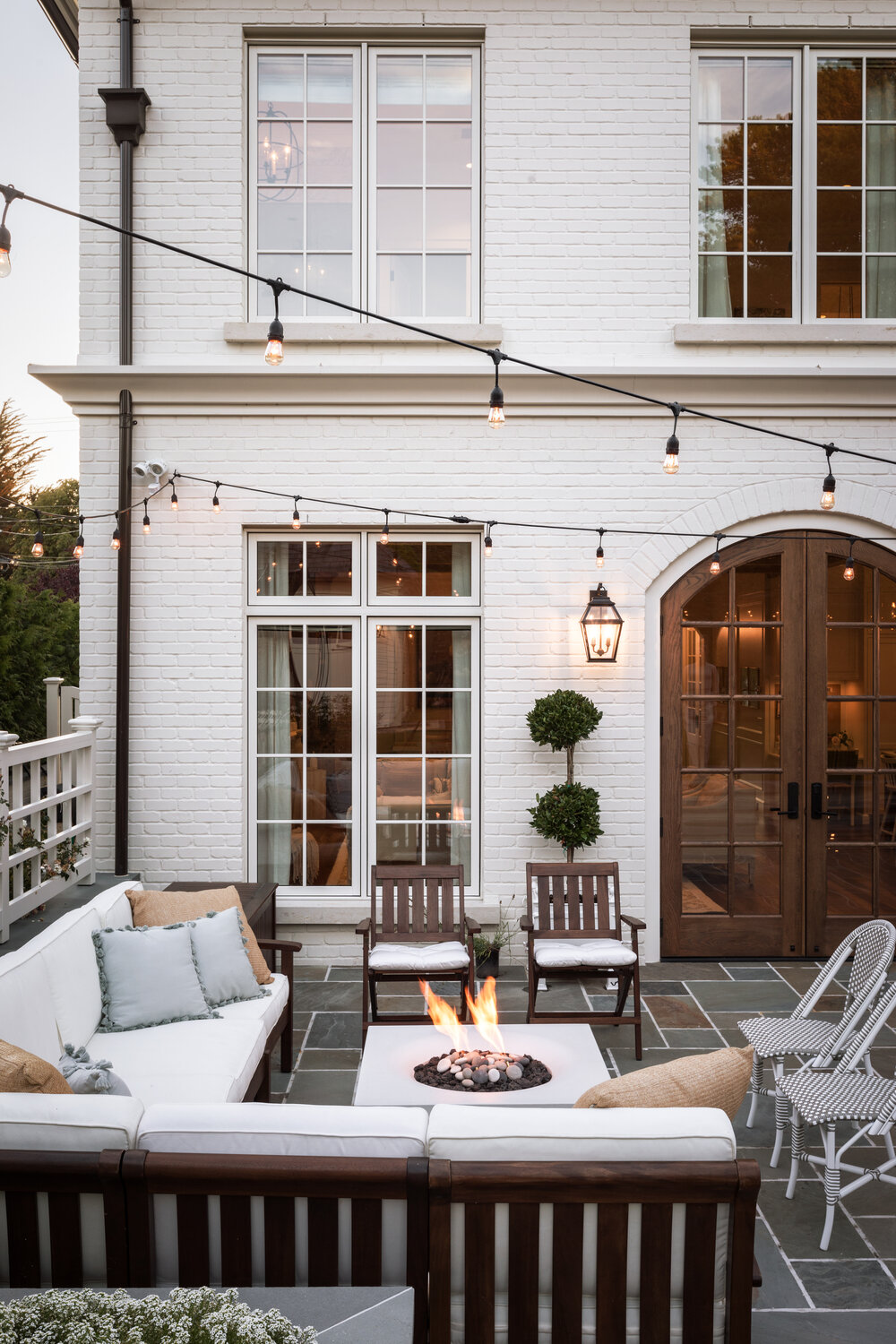 Blogging has become such big business that simple questions like "what paint color did you use on…" are a bother to many bloggers weighted down with other concerns.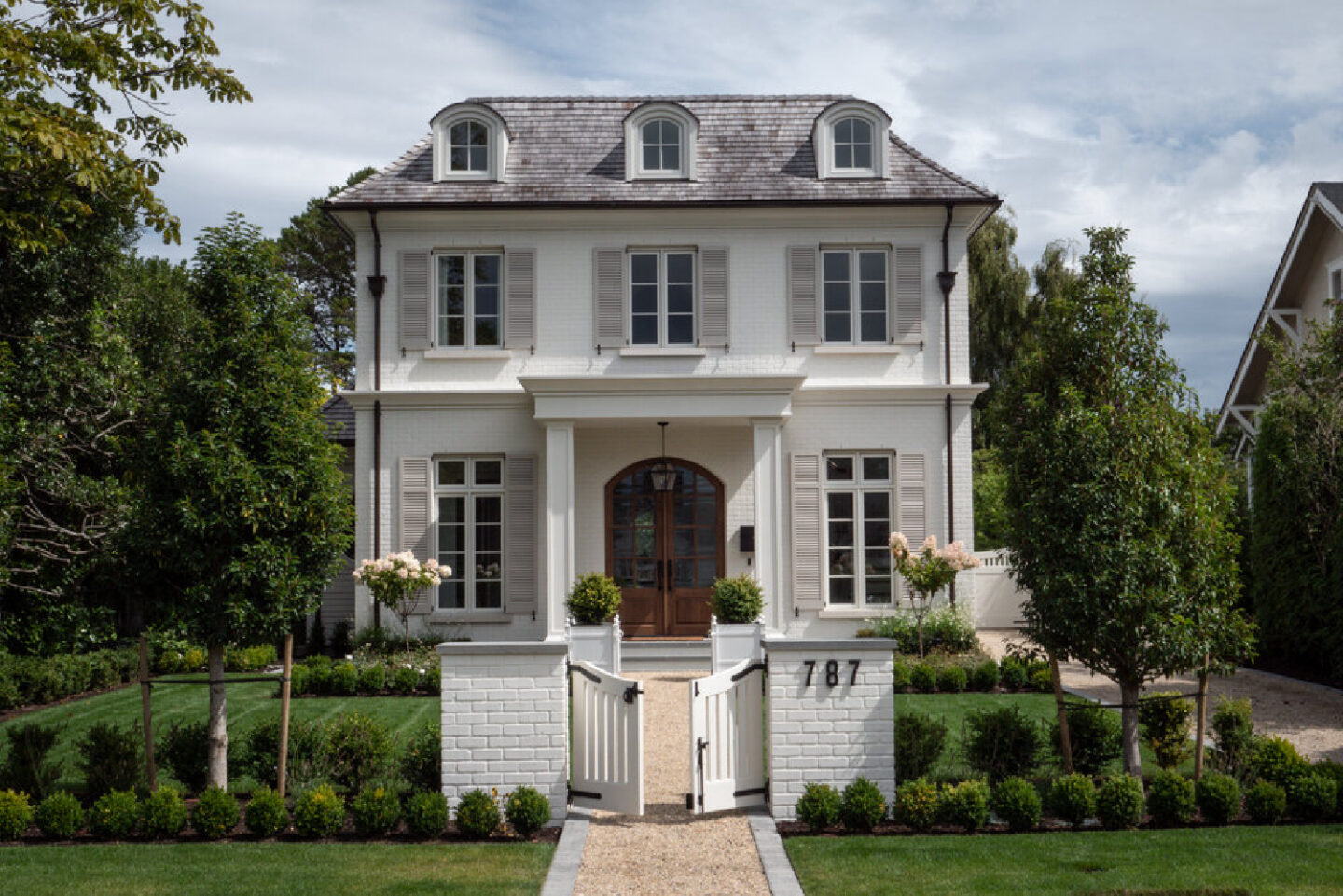 But I'm old school and love the continuing conversation percolating since January of 2010! I actually started blogging in 2008 (I deleted that other blog when Hello Lovely debuted) and am so tickled that some of you still visit daily!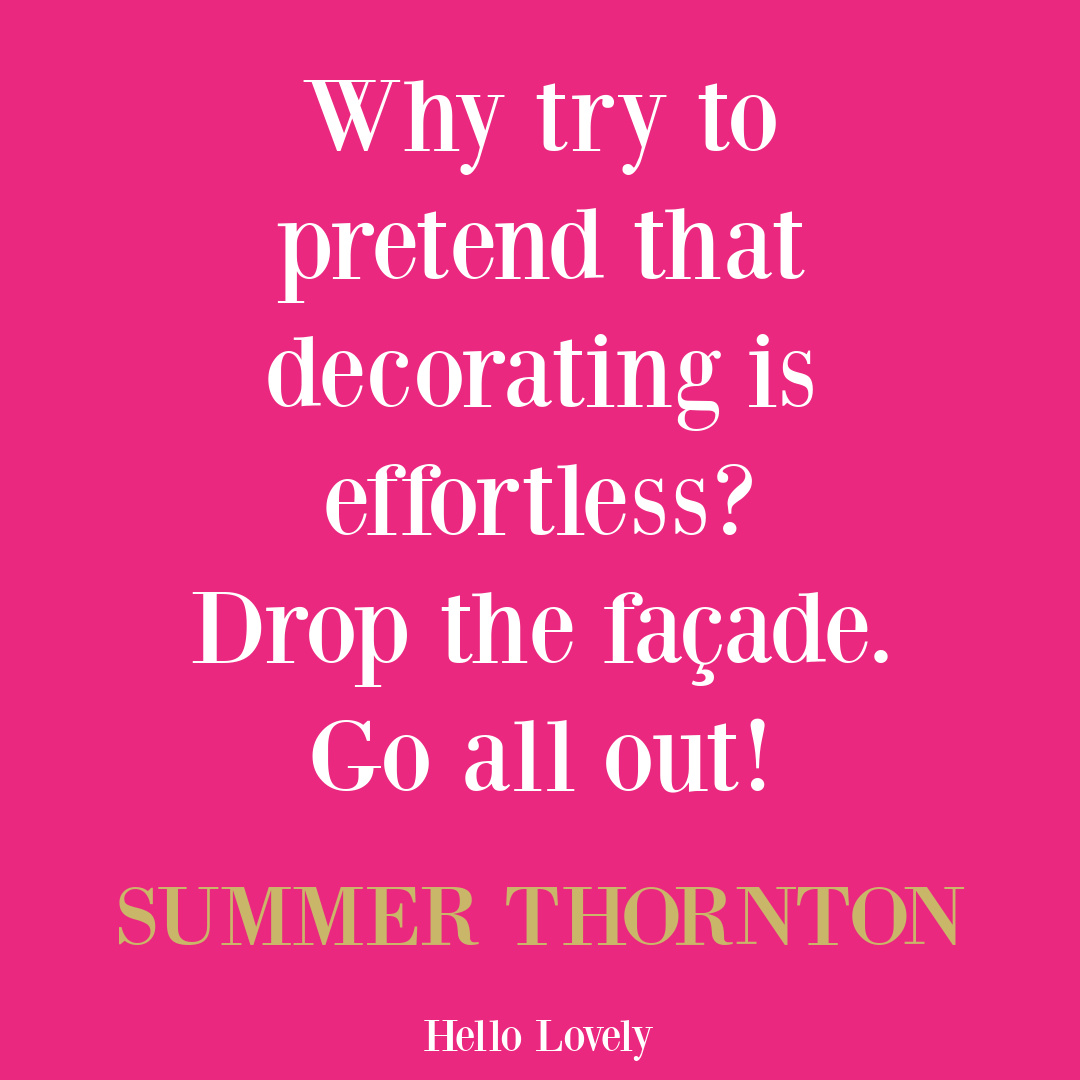 Big weekend of painting trim in our bedroom's sitting room. I will share updates one of these days, but it's more important to get the work done and THEN share the highs and lows to help others!
I independently selected products in this post—if you buy from one of my links, I may earn a commission.
Peace to you right where you are.
-michele
Shop for items you already intended to buy on Amazon RIGHT HERE, and also find home decor here to keep decor inspiration flowing on Hello Lovely!
Hello Lovely is a participant in the Amazon Services LLC Associates Program, an affiliate advertising program designed to provide a means for sites to earn fees by linking to Amazon.com and affiliated sites.