Relaxed Country Style that Refuses to Take Itself Overly Serious celebrates pale palettes, pleasing rustic design elements, and whimsy. Whimsical touches can truly be what separate spaces devoid of personality and those that spring to life. But whimsy does something else too. It keeps an interior from veering into territory where it feels unapproachable, too serious, and possibly even sterile. Also see brilliant inspiration from Leanne Ford to understand neutrals, modernity, warmth, and cool factor.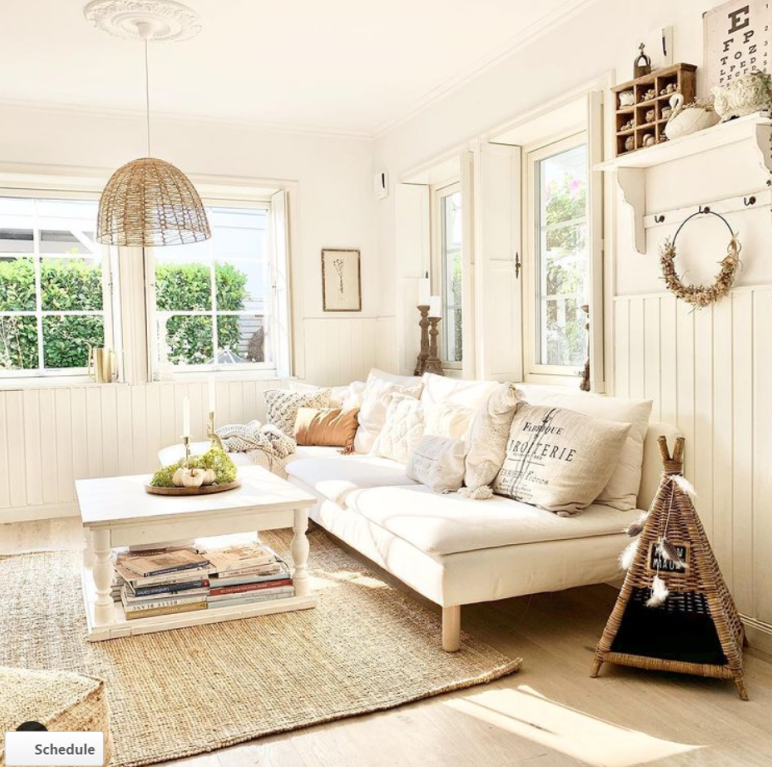 Relaxed Country Style that Refuses to Take Itself Overly Serious
1. China Displayed as an Art Installation
Don't you love when a traditional decorating gesture like treasured china patterns or decorative plates hung on the wall is pushed to the extreme?
It's whimsical fun, and there's no wrong way to do it since it's all about art, intuition, and a relaxed mood.
2. Big Branches on a Small Table or Desk
We see this combination everywhere on IG and in styled shoots for magazines, but is it really something that works on an everyday basis in an average home? I say yes. The branches can be everlasting ones if you don't have access to a steady supply of them.
It works because it becomes a bold moment for nature to shine, but it's a humble kind of spotlight rather than a showoffy one.
3. Add Texture to an Accent Wall
Maybe you're over shiplap. It doesn't have to be strictly shiplap. I never tire of beadboard. Or it could be a tonal wallpaper. But don't feel obligated to cover every wall with it. Sometimes you just want a concentrated moment that draws you to it rather than a more diffused moment that wraps you in the texture.
If you're shy about patterns and textures on walls, it's also a great way to experiment with something new for you. If you can't tolerate it after awhile, it's much easier to change out one wall or part of a wall than all four.
4. Combine Rustic Wood With Luxurious White Marble
This next kitchen is a reminder that kitchens should feel warm and user-friendly rather than fancy and too pristine. Just look at what the wood shelves do in this elegant space! And the walnut butcher block against the white!
Adding stacks of cookbooks is another great way to warm a space and help it become a place you actually live in and love.
What do you hide away in a kitchen, and what do you display? It's a subjective matter, but if your kitchen feels as though it is buttoned up too tight or taking itself too seriously, maybe it's time to bring a rustic or whimsical element out of hiding.
5. Go Doorless
Not every kitchen lends itself to this idea, but if you have a vintage space where the door fronts are not doing the space any favors, maybe they can disappear.
As far as dusting the contents of the cupboards? See how it goes. I can also imagine a linen curtain casually hiding clutter while adding softness.
Another idea for corralling things on shelves and inside open cabinets? Woven baskets.
6. Place Florals and Plants in Simple, Un-fancy Containers
Whether it is pretty garden roses or common houseplants, choosing a more rustic urn or vase is a decorating move that can keep the mood less fussy.
If you ask me, Tracie of My Petite Maison is a master of (1) using rustic containers as vases and
(2)creating elegant vignettes and interiors that feel humble and quietly rustic.
Nothing is too perfect or precious or zhushed according to a contrived IG reel or TikTok 1-2-3.
Similarly, Le Cultivateur has fun mixing and massing her treasures and beautiful things. I could stare and admire these marble lamps, each with a unique patina from the years, as if they are fine art.
7. Board & Batten With Subway Tile
It is becoming more common to take a kitchen backsplash to the ceiling, and the look can be stunning. However, sometimes the look can seem a bit too institutional or commercial. Look at what happens when a simple board and batten joins a little subway tile:
To me, it says "we aint all that fancy round here and are wayyy into cozy factor."
8. Soften an Industrial Look With Bold White
Wait. White to warm up an interior? Oui. In a cottage like this one, we can easily imagine how the mood changes when wood is left natural with various shades of brown. There's a busy-ness that happens with lots of different brown stains and textures.
When it all becomes a snowy white, a soft ethereality emerges.
And don't you love that rustic wood pantry next to the Smeg? So unfitted and perfect even though it's completely a departure from the Shaker style white cabinets.
9. Mix & Layer Whites
It may not be obvious at first, but the painted floor below is a light grey and not a white matching the walls.
Ever see a reveal on HGTV where the homeowner exclaims, "it all just matches!" What they truly mean is that there is a cohesiveness to the materials and objects that feels natural and calm.
Matching whites is not the goal when you're putting together a tonal room. You're not massing one shade of white as much as artfully layering warm, cool, greyed, and tan hues.
10. Introduce Contrast for Drama
It's an easy trick. If you love white, adore rustic, and are after a sophisticated country modern look, use a light hand as far as accessories, and introduce a contrasting neutral color.
Outlining anything in black is going to draw the eye through it, and in the case below, the black strengthens the industrial feel and modern look of the door.
Some neutral rustic country rooms just call for black, and others feel natural without it. There's an intuitive element to so much of home decorating, and sometimes you can just sense when the added strength of an outline, border, or frame is needed.
I certainly don't need pops of black in this room:
And I find the addition of this salvaged wood as a bath tray is genius with the more elegant Venetian mirror below:
All I know is, it makes sense to test a sample of the floor material…scratch it, see how it reacts to water, etc.
11. Embrace a Vintage Modern Vibe
To minimize the risk of an all white room looking too sterile, too fancy, or too great-great-granny-in-a-bad-way, blur the eras.
A Fun Before & After!
I independently selected products in this post—if you buy from one of my links, I may earn a commission.
Gorgeous White Things & Whimsical Finds
It can be nearly impossible to find a piece with simple, clean lines so it works with a variety of design styles. Here's an exception:
Modern simplicity!
If you're lucky enough to find vintage examples at the flea market, lucky you!
In the mean time, find a placeholder to add warmth with all the white.
While it isn't rustic, a slope armed Belgian style accent or dining chair looks right at home with a rustic farm table.
Chunky knit throws have a modern whimsical look and are so functional.
Whimsical Decor & Touches
Whimsy can greet you at the door in the form of an entry table that sets a tone.
On the right country porch, these galvanized planters can add casual charm.
Anything angel wing themed seems to fly off the shelves (still!) so if you find lovely examples, scoop them up.
Click here to PIN THIS POST to save it for future reference…you know you are going to be searching for it!
Distressed Finishes & Patina Style
When you need something inexpensive for a rustic white room…
Pretty White Accent
Decor & Furniture to Bring Personality
I independently selected products in this post—if you buy from one of my links, I may earn a commission.
Peace to you right where you are.
-michele
Shop for items you already intended to buy on Amazon RIGHT HERE, and also find home decor here to keep decor inspiration flowing on Hello Lovely!
Hello Lovely is a participant in the Amazon Services LLC Associates Program, an affiliate advertising program designed to provide a means for sites to earn fees by linking to Amazon.com and affiliated sites.