Not one, but TWO stunning pale blue paints to consider if this hue makes sense for your project. Benjamin Moore Boothbay Gray and Quiet Moments from Benjamin Moore are such beautiful contenders often used by interior designers still ignites my imagination. You already know how important it is to me to help you discover the prettiest paint colors for your interiors, and here's a keeper! Where could you use it!?!
These Gorgeous Pale Blue Paints are Adored by Designers
BM Boothbay Gray HC-165
A fresh, steely gray with hints of blue.
Here's my favorite space EVER with the color continued on the ceiling and crown molding:
The LRV (light reflectance value) for this Benjamin Moore color is 43.26 which kind of surprised me.
A number that low would seem to be darker than I imagined. However, I used for the exterior trim and porch at our tiny house property so it makes sense that I perceive the color as being much lighter.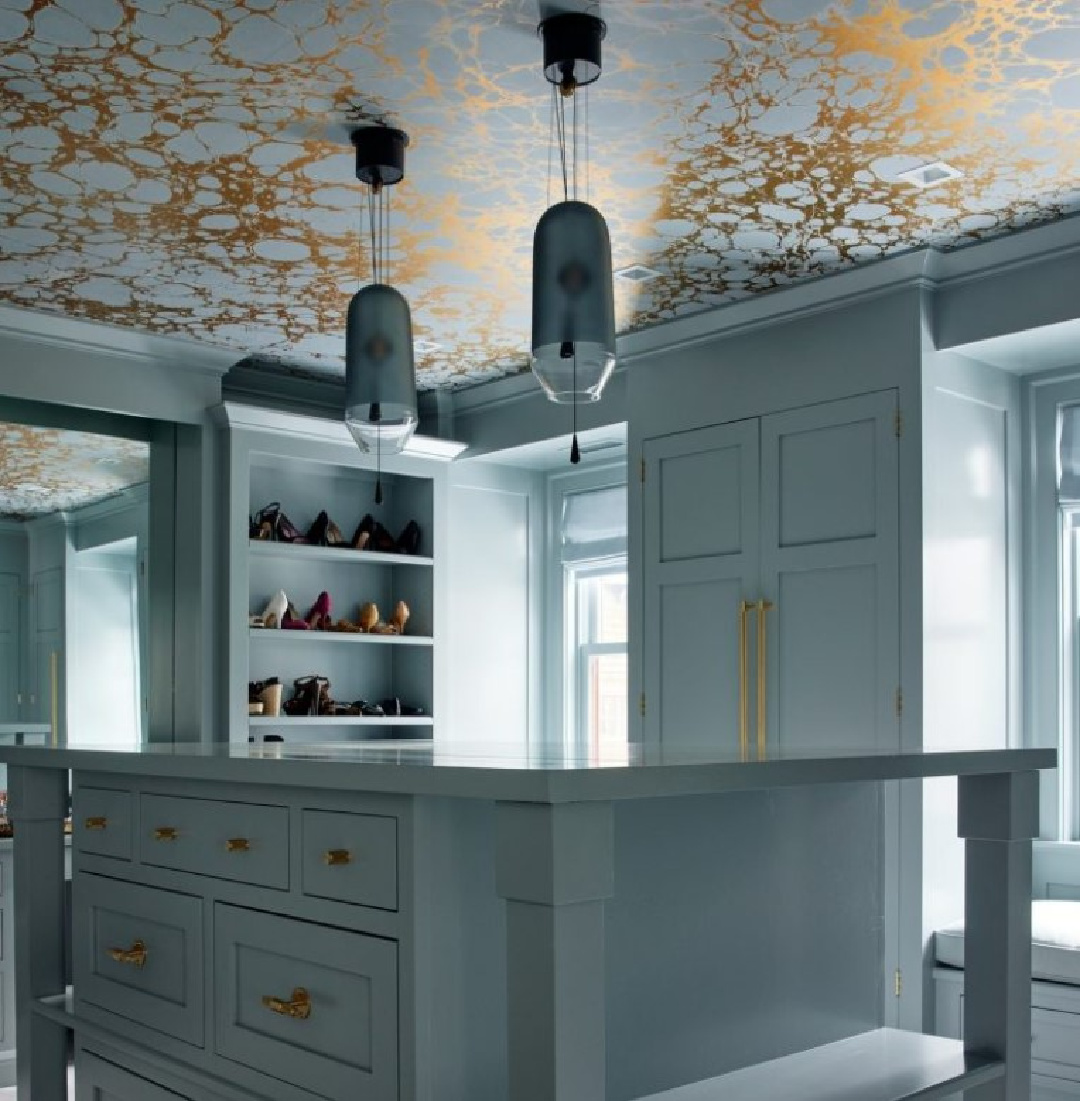 Both Benjamin Moore White Wisp and Chantilly Lace are nice matching whites for Boothbay Gray, but as you can see (above), it's pretty fabulous paired with gold tones without white!
Isn't it perfect for laundry rooms and mud rooms. I love how the warmth of the woven baskets above work with its coolness.
What Colors are Similar to Boothbay Gray?
Fancy a light blue-grey a bit lighter? Try BM Silver Lake 1598.
If you prefer more gray undertones than blue undertones, turn your attention toward BM Puritan Gray HC-164.
It's perfect for front doors if you're after a light blue look that doesn't scream "nursery baby blue." The sunlight will warm it to a beautiful blue-green-gray.
And don't be afraid to try it on interior doors as well. Plain old doors can suddenly become architectural focal points when they contrast with white trim.
Quiet Moments Paint Color
But what if you a pale blue with a little more green, a little more aqua, and a little more brightness? The name says it all.
A gentle mix of blue, green and gray results in a color that exudes tranquility and inspires quiet meditation.
The LRV is higher at 60.73 on Quiet Moments than Boothhbay Gray.
So easy to imagine loving Quiet Moments in a tranquil bedroom retreat or luxurious bath.
What Colors Work Well With Quiet Moments?
Also known as CC-700, Quiet Moments has both green and blue and is muddied with grey. It looks great with a light gray such as Cloud Cover OC-25.
If you're considering pairing it with a dark grey (such as dark grey doors with light blue walls), take a peek at Mysterious AF-565.
Isn't it soothing?
Have a Cabinet or Vanity to Paint Quiet Moments?
If you have an existing wood vanity that needs an update, how about brushing on Quiet Moments?
It's one of those hues that is beautiful with gold toned hardware too.
I find it helpful to see a paint color in a variety of contexts with various lighting conditions to better understand its undertones and qualities.
For example, Quiet Moments can certainly look grey.
Yet it can look like a sweet pastel too.
Atmospheric Color for a Mud Room
With the sunlight streaming in, the color feels soothing as a tranquil backdrop.
With that light reflectance of 60, it seems to be in the sweet spot between warm and cool shades.
Notice how green undertones in this paint color come forward depending on the lighting.
How Gorgeous are Light Blue Ceilings?
Isn't this a lovely color for a ceiling?
Easiest way to see if a paint color will work? Order samples with Samplize and have them delivered straight to your door.
Quiet Moments With White
This blue-green plays so nice with white, yes? For low contrast with an off white, you could try White Heron OC-57.
And if you're less jazzed about the green in Quiet Moments that make it sort of a duck egg light blue, you could try Mount Saint Anne 1565 which has more blue or Beach Glass 1564 which has more grey in it.
It's so much more common to see beadboard painted white so I love seeing it blue here:
Wondering how it appears with warm wood floors?
Do Light Blues Calm the Mood?
When they are not cloying or too bright, they certainly can quiet the energy in a room.
That's why they are a good choice for bathrooms and bedrooms.
And don't be misled into thinking blues are out of fashion since they were everywhere in 2021 and 2022, and the "experts" think bolder hues are where it's at in 2023.
These sophisticated, timeless, soothing light blue paints are a beautiful choice regardless of trending paint colors.
Quiet truly does seem to belong in the color's name, yet this shade is also playful isn't going to take itself overly seriously.
A color like this has always been one of my favorites to wear and reminds me of nature and the sea.
What's the Easiest Way to Sample Quiet Moments & Boothbay Gray?
Did I already mention the easiest way to see if this color will work? Order a sample with Samplize to get it delivered straight to your door.
White of these pale blues speaks more to you?
I'm anxious to give Quiet Moments a try since I have already worked with Boothbay Gray and love it.
I'll try to snap some pics of the tiny house exterior in spring so you can see the contrast of Boothbay Gray on trim, window box, and porch with the pure white we painted the house's siding.
I independently selected products in this post—if you buy from one of my links, I may earn a commission.
Peace to you right where you are.
-michele
Shop for items you already intended to buy on Amazon RIGHT HERE, and also find home decor here to keep decor inspiration flowing on Hello Lovely!
Hello Lovely is a participant in the Amazon Services LLC Associates Program, an affiliate advertising program designed to provide a means for sites to earn fees by linking to Amazon.com and affiliated sites.