How am I going to get geared up to paint more brown trim and doors white? I believe the prescription is just a bit more serene, soft, white hygge interior inspiration. The thing is, it takes effort and thought to choose the proper tones, subtract the harsh, add softness, and practice restraint. If you can hire a designer, by all means, it will be worth the investment. If you're looking for inspiration to get started with a designer or DIY, this collection may help. We also explored neutral modernistic aesthetic spaces HERE.
Serene, Soft, White Hygge Interior Inspiration
White Walls Requiring No Paint
For years I have wanted to try this idea inspired by the Giannettis at Patina Farm. A thin coat of plaster (Kal-kote) applied to drywall has the appearance of Old World style plaster walls.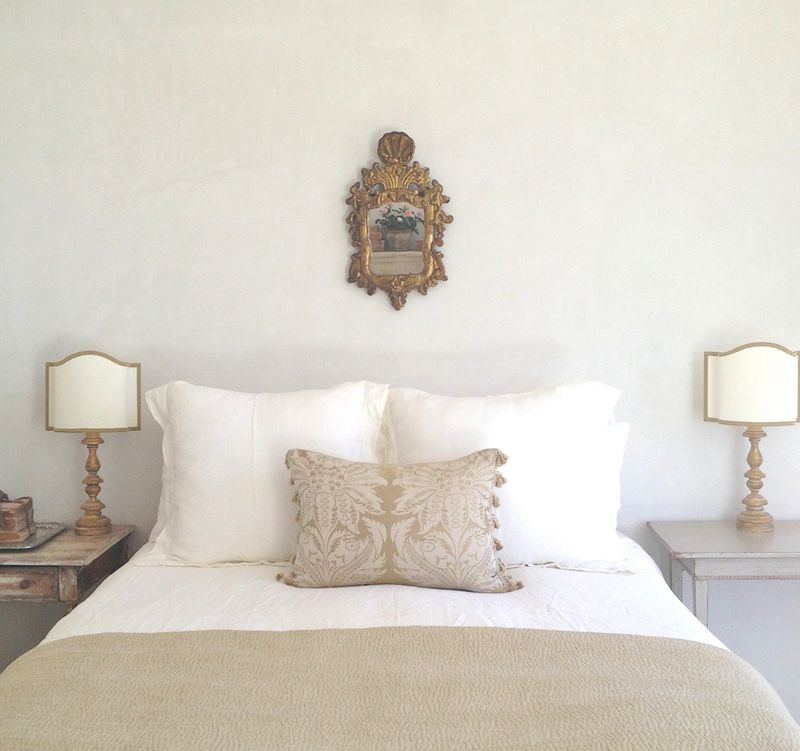 Sunny Warm Whites & Chalky Textures
What a room! Ruth Gay's home is graced with the most exquisite reclaimed materials sourced in Europe and available through Chateau Domingue.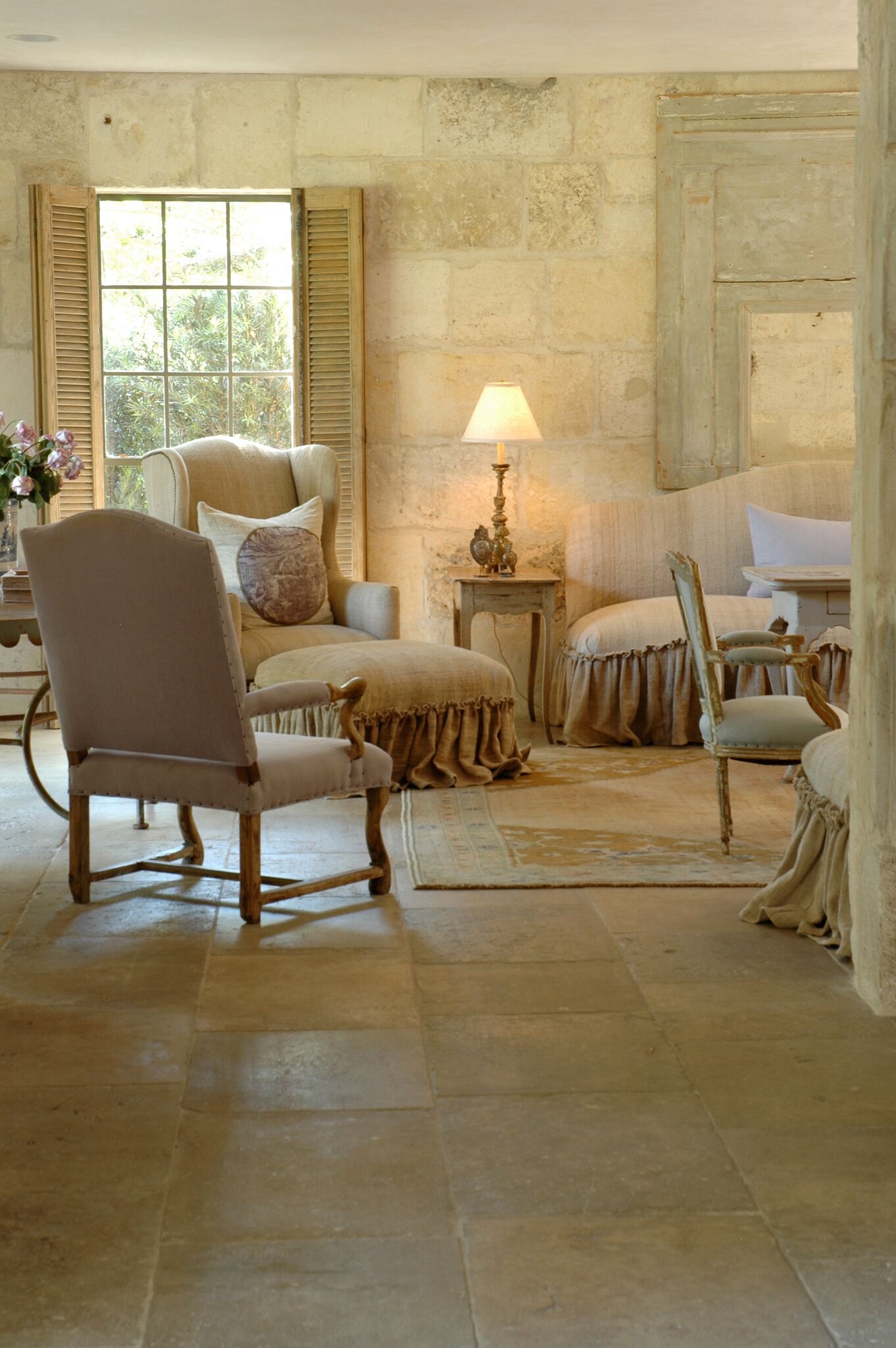 I independently selected products in this post—if you buy from one of my links, I may earn a commission.
White Painted Nordic French Antiques & Vintage
I'm a huge admirer of how Tracie of My Petite Maison mixes whites with a light touch.
She decorates effortlessly and with restraint, and I think one of her secrets is rotating the decor. Because she has a shop, there is always this freedom to create fresh looks!
Old World Style Can Feel Airy
When you aren't a fan of a room full of dusty old antiques and understand how to juxtapose new with the old, a serene mood is possible.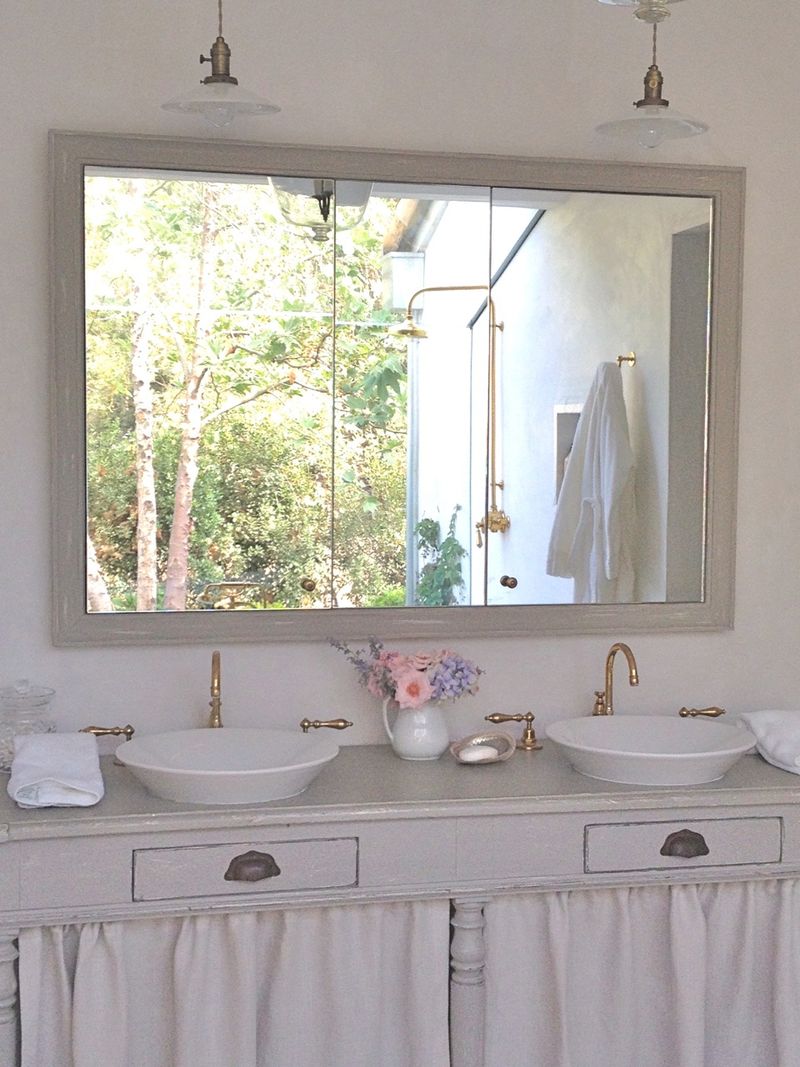 Lots of potential clutter can hide in Brooke's former mirrored medicine cabinets which blended seamlessly with the rest of the timeless bath design.
Chippy White Cupboards
Not sure I have ever met a chippy distressed white painted cabinet I didn't love! They are functional, and you don't have to tiptoe around them since they already look beat up.
Serenely Timeless Decor Moments in European Inspired Interiors
For a mini lesson in mixing whites without much fuss or overthinking, study the next image. You'll surely discover that when you're after a laid back look where whites don't match, a lot more personality and interest is possible.
What is more serene and simple than white flowers and boxwood sprigs from the garden?
When White Strikes a Luxuriously Elegant Chord
I could stare at this next bath forever, and it's not just because of the high end marble finishes. Just look at how the light grey skinny French doors make a statement in the sea of white!
White on White Kitchens Can Work
Watch any HGTV design show and at some point you're going to hear a discussion of what you MUST do if you choose white kitchen cabinets or white countertops.
We inevitably will hear some argument made for the need for contrast or a design element getting "lost." But not all of us are after high drama. I'm a fan of gentle quietude. There are truly no rules so you should never be afraid to follow your gut and be daring with white if it's your fav.
Soft & Humble Side of White
Anyone else dreaming of a white Smeg frig? Because I think I would have a ball styling the top of it day after day!
When Bedroom Walls Match the Ceiling
Isn't it restful and inspiring to see this bedroom's walls flow into the ceiling? While most of us can't boast the architectural wonder in this bedroom at Patina Farm, keeping the paint color consistent may help. (See this post if you're looking for white paint colors.)
White Decor Can Warm a Room
You may have heard whispers that white kitchens are five minutes ago and all wrong for resale, but don't fall for such hype. Plenty of folks love the neutrality and livability of white when it's done right.
It's easy to decorate seasonally, accenting with any color at all. In my own kitchen, I don't decorate with pops of color since I favor tone on tone and prefer to create tranquil vignettes.
Shades of stone, natural linen and light grey-ed whites work wonderfully with brighter cool whites.
White black framed botanicals would stand out in this serene laundry room by Brooke Giannetti, the serene art whispers instead. (I have been crushing on a country style sink like this for so many years!
Anyone else remember seeing Annie Brahler's Illinois kitchen many years ago in a magazine and never getting over it?)
Collected Religious Vintage Pieces Create a Serene Mood
They are affordable and still easy to find at the thrift store, on eBay, or at the flea market. Plus, even if they didn't start life being white, a little paint will do the trick.
French Country and Gustavian Interior Design Inspiration
Say what you will about the trouble the internet causes in modern life, but don't you appreciate the access to fine design? The fact that we can study expertly designed rooms (the one below is Pamela Pierce for Ruth Gay) and glimpse impressive antiques is a modern marvel.
While Swedish painted antiques like the one below (repurposed as a vanity) are astronomically expensive, don't you adore the idea of actually enjoying it and using it everyday?
Unfussy European Country Decor and Lifestyle Sensibilities
For years I have been in love with Charlotte Reiss' French farmhouse kitchen. She doesn't fuss so the look is authentic and relaxed but not messy. A mix of natural materials, aged objects, and simple touches keep everything calm.
It's also easy to see that My Petite Maison owner Tracie understands a laid back luxe lifestyle, interpreted with white. When objects are collected for their color, there is no worry about how things will harmonize!
White Nordic French Whites Meet Belgian Linen
For years and years, I have lived with an abundance of Belgian linen everything, yet it doesn't get boring to me. How and why is this possible?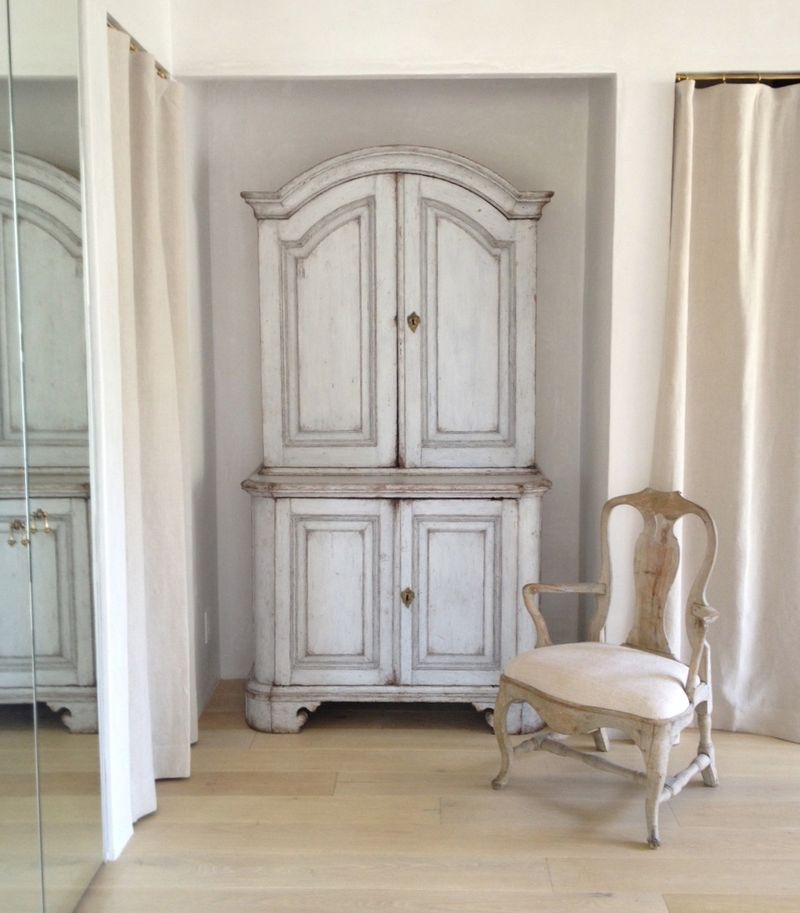 Belgian linen (such as what you see used as panels for closets above) has character, texture, weight, and movement. So for admirers like moi, it is a "for keeps" sort of love affair.
Authentic & Thoughtfully Designed French Interiors
When you're after a serene mood, it's helpful to think about transitions from room to room. Notice how the color palette continues and flows between these two spaces below.
And isn't it a relief to see the rustic stone and antique doors without wood trim which might date the home?
Here's another example of plaster walls and an absence of trim around windows.
Vintage Style and Nordic French Whites in a Swedish Immigrant's Cottage
A serene look in a bedroom can feel like a retreat, and even if the rest of your house is full of color, it's a great place to experiment with the look.
What keeps an all white look from feeling cold?
Taking the time to understand that there are a myriad of white paints and variations on white.
Whites paint can be cool with blue undertones, muddy with green undertones, and even soft and delicate with a touch of pink.
Divinely Crafted Spaces in a New Build in Houston With Reclaimed Materials
If you're preferred style is Old World, then this next image from Chateau Domingue's Ruth Gay's home may take your breath away. How can a space with so much stone feel so ethereal and soft?
I have similar linen slipcovered chairs in my own kitchen, and a question I am often asked is "how on earth do you live with white linen?"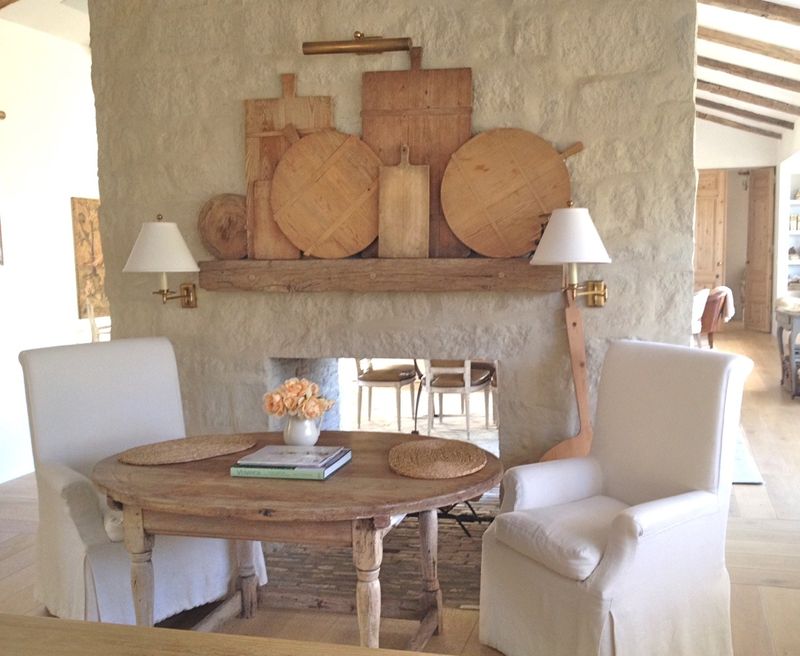 And the truth is, I simply spot clean the linen as soon as I see a spot. We're not extra careful or nervous about using our things at all! Meatballs and pizza sauce happen all the time. You see it right away and can address it.
Limestone Hued Paint for Cabinets
I'm still intrigued by this look for painted cabinets because it is so suggestive of French limestone. While many of us would welcome limestone into our kitchen, it's just not that accessible or common. So why not emulate the color of the stone with paint?
And if you need proof that you can achieve a French farmhouse look outside of France, make sure to dig into the archives of Velvet and Linen and buy all of the Giannettis' books!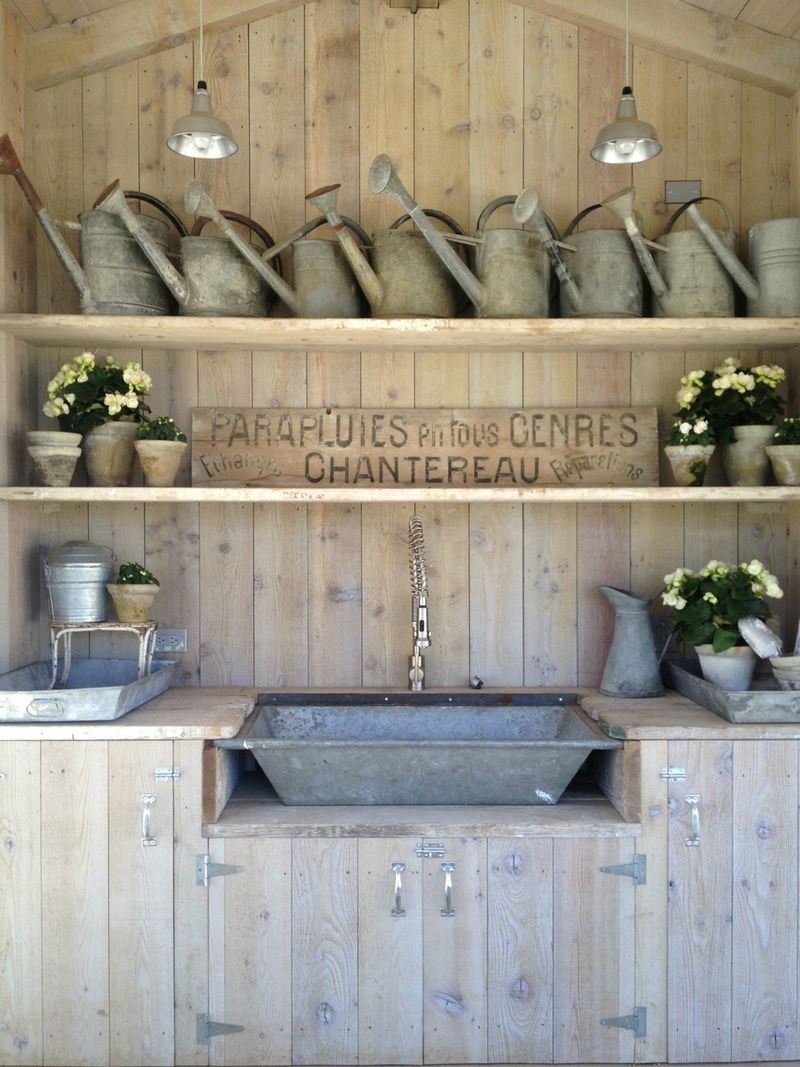 Vintage White Objects & Furniture
Collecting pieces for their color can be a great way to build on a tonal look.
Timeless Tranquil Porch With White Beadboard
To age a room (even a brand new room), look no further than simple beaded board panels you can paint with chalk paint. This lovely porch looks timeless and is obviously animal friendly.
White Walls + Rustic Elements, Wood Ceilings & Beams
There are so many ways to use white that are both chic and rustic. Wood on the ceiling adds instant age and character.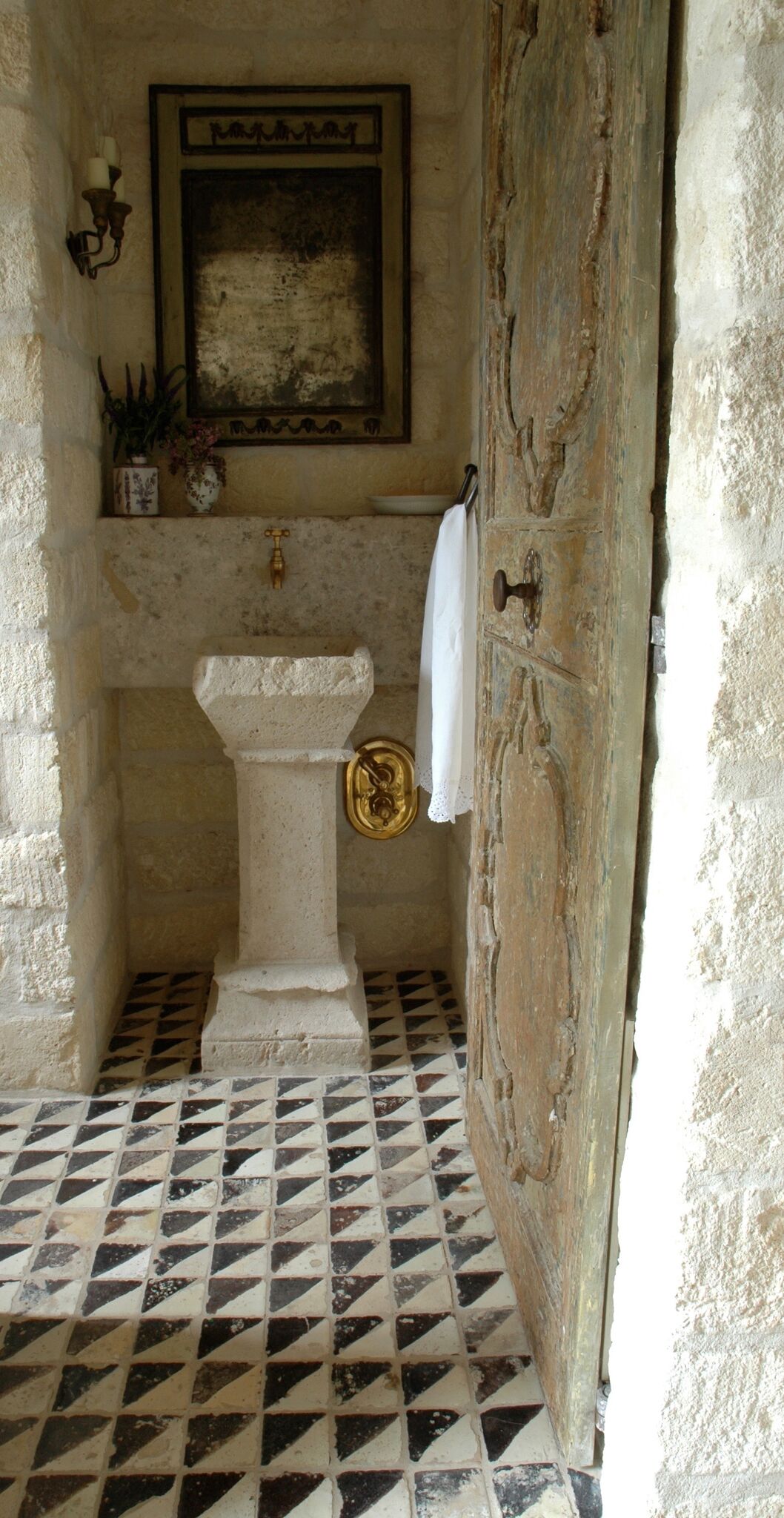 Spare and Soft, French and European Country Influences Whisper
Mood is everything, and if you're after a whispery one for your interiors, turn to a mix of soft creamy whites and natural linen.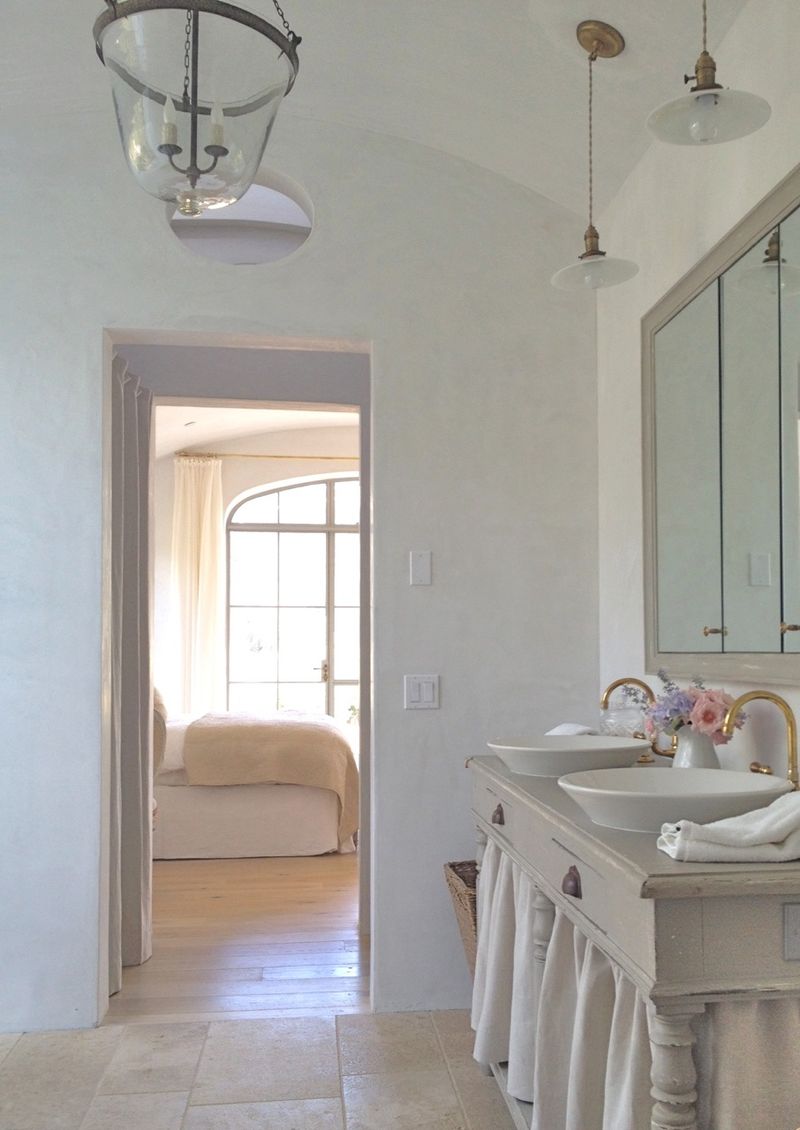 To Add Black or Not Add Black to the Design?
If you are looking for an answer to this question here, I am ill-equipped to respond! I am still trying to discern what it is about adding black contrast that perplexes me. Sometimes I feel fine about black framed photos or black art on the wall, and other times I find it much too austere. I'd love to hear your thoughts.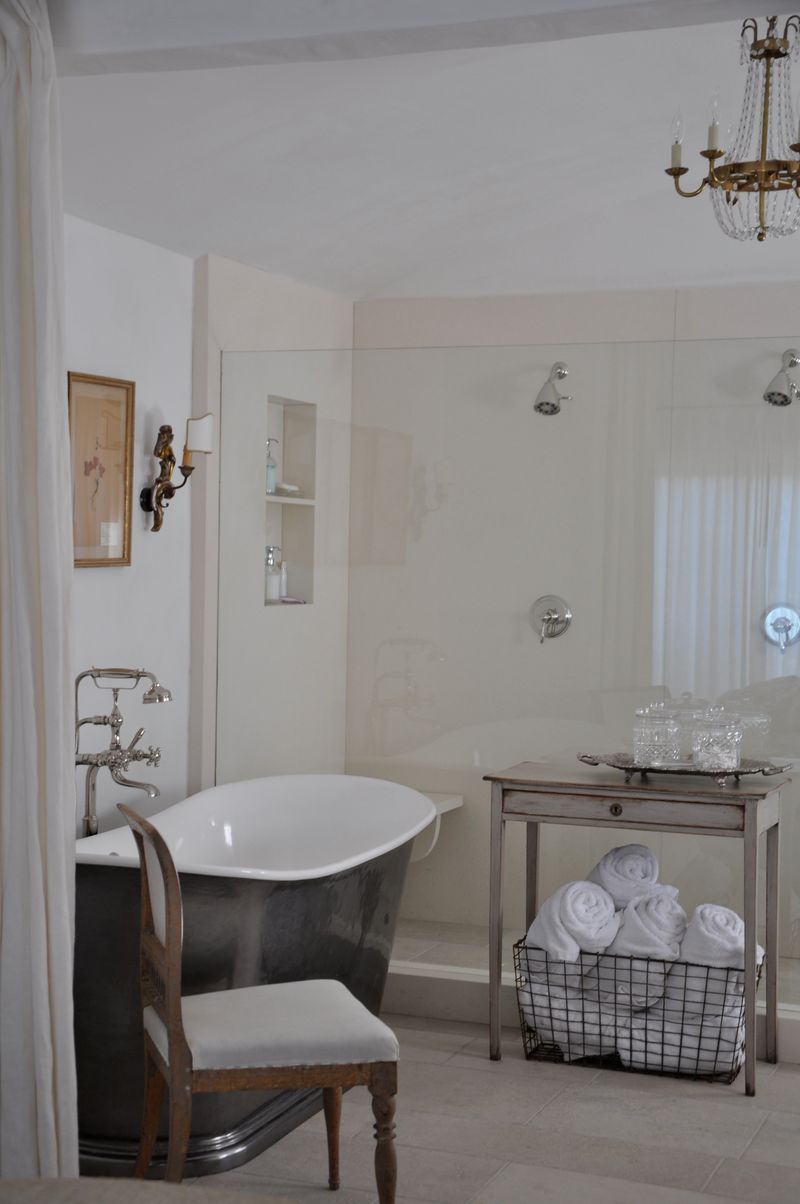 These bath images also remind me of a bias I have held about towel and sheets. I tend not to buy colors, but light grey is growing on me!
Touches of Pink in White Rooms
They just belong, don't they?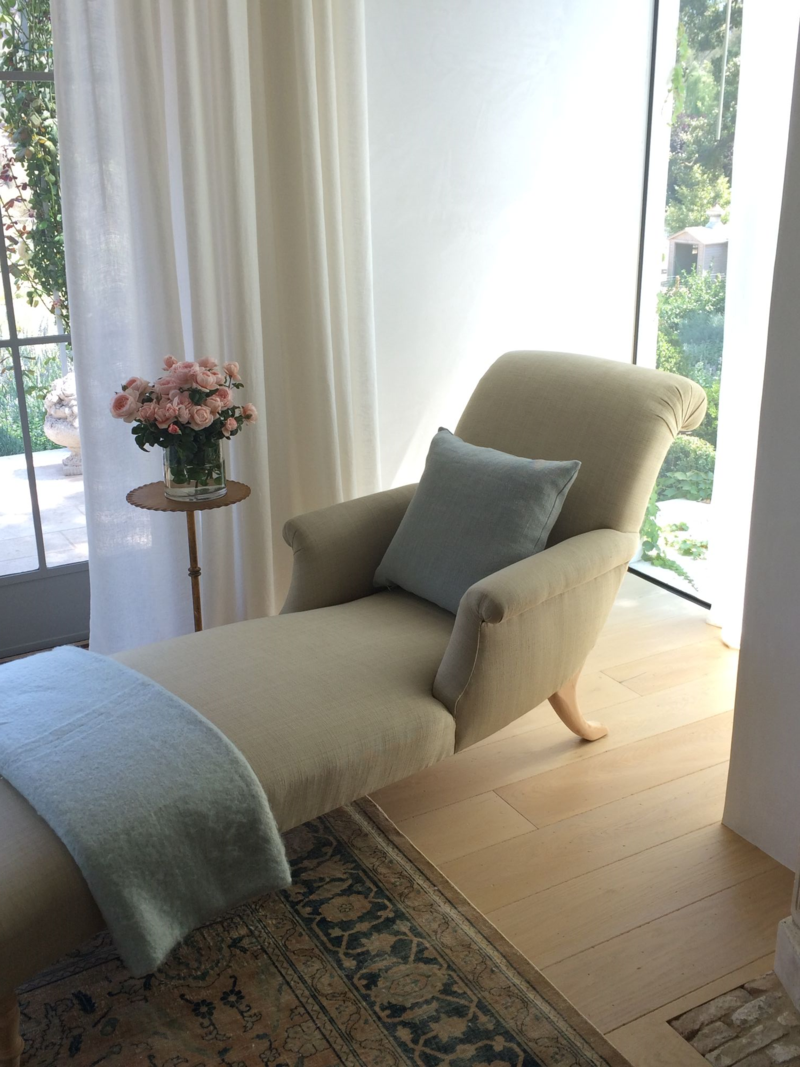 Elegant, Timeworn, and Character Rich Interior Design
It would seem that even when the texture of construction materials is rugged and tough, when the palette is quiet, the mood becomes serene.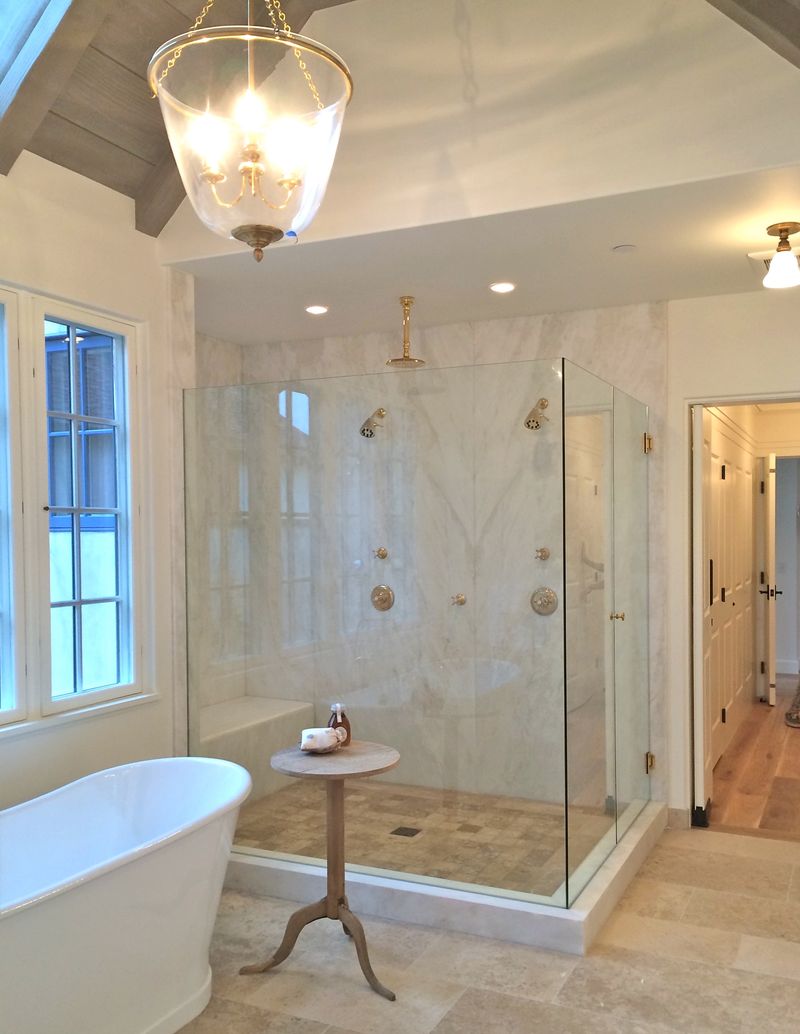 White Roses in French Country Spaces
I always think of Pamela Pierce (and myself) when I see white roses in a French inspired interior. They have always been my lifelong favorite, and add such an understated elegance to a quiet space.
Beautiful Interiors With Sophistication, White Decor and a Light Touch
By this point in the post (are you still with me?), you can clearly see the diversity of design even when you decided on a serene white plan.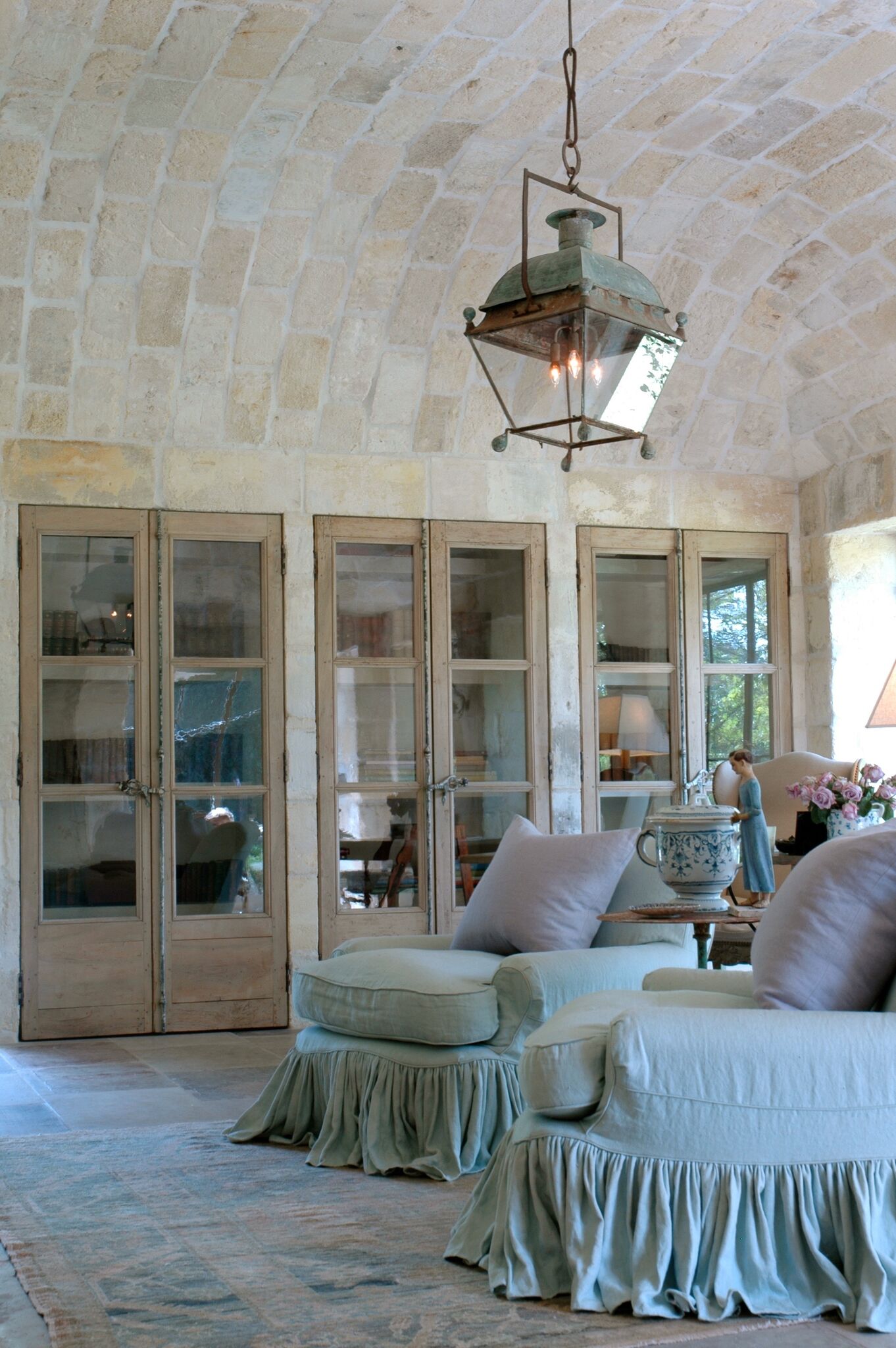 Discover a treasure trove of French farmhouse as well as European country lovely decor finds RIGHT HERE.
I independently selected products in this post—if you buy from one of my links, I may earn a commission.
Peace to you right where you are.
-michele
Thanks for shopping RIGHT HERE to keep decor inspiration flowing on Hello Lovely!
Hello Lovely is a participant in the Amazon Services LLC Associates Program, an affiliate advertising program designed to provide a means for sites to earn fees by linking to Amazon.com and affiliated sites.