Peek at these Best Funny Christmas Gifs only if you're in the mood to giggle and love Will Ferrell's portrayal as Buddy in ELF.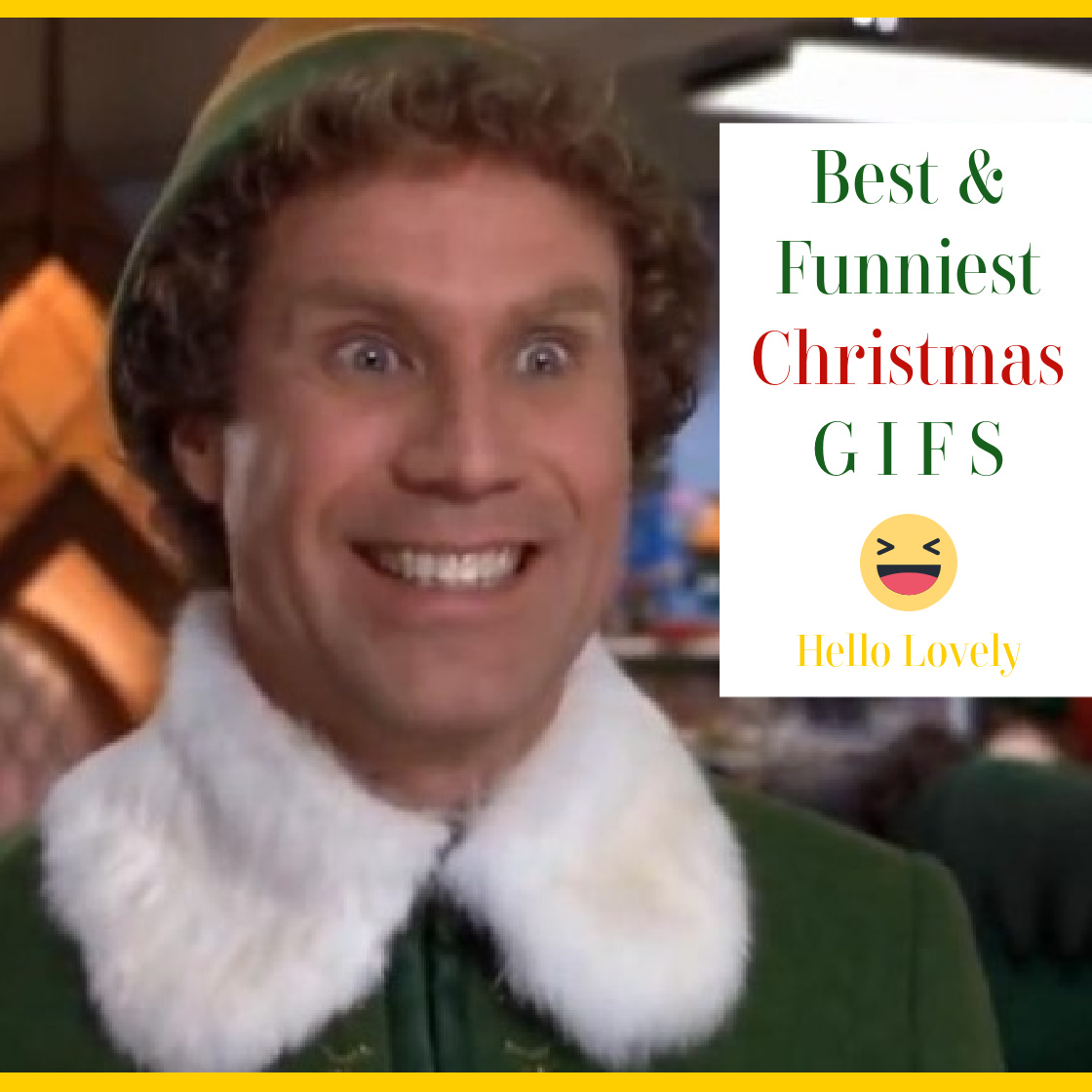 Best Funny Christmas Gifs
Listen, I don't know if this random assortment
of Christmas gifs are the best or funniest gifs
to you, but they tickled me enough to share
them as silly gif gifts and wishes just for you.
(I hope you'll pin these or share them to your social media
channels to spread the love.)
Remember this cute SNL crew above? Hahahaha.
I wish you merry music making with your friends
(if that's your thing)…and what the heck, let's make it a double:
Oh that we could all have the Christmas spirit
evidenced by Jason Sudeikis' slick moves.
I wish you comfy stretchpants to get your groove on.
and I wish you the stamina and keen interpersonal
skills of a beloved Ter-get cashier.
Because that retail employee also knows
how to parteeeeeeeeeey.
Ridiculous Holiday Gifs to Lighten Your Mood
And although this next one is not technically a Christmas gif,
all of the SNL silliness reminds me of good advice
for the New Year on its way:
I wish you the good sense of mind when
you are caught in a major doomsday snafu
in public to…
DO A HOEDOWN.
Oh, I wish you awkward yet not too awkward
annual holiday parties that if nothing
else, become silly memories that keep you laughing.
I wish you passion,
sincerity,
and courage to speak the truth.
Because those are gifts that keep giving…
not that presents aren't nice.
"That's the true spirit of Christmas; people being helped by people other than me." — Jerry Seinfeld
I wish you comfort and joy where you work.
And a sense of fun.
I wish you tolerance for the kind
souls surrounding you.
I wish you smokin hot dance party moves
as you celebrate Hanukkah, Kwanzaa, your blessings,
or the birth of Christ.
Silly Christmas Humor & Moments to Laugh
"Christmas is a baby shower that went totally overboard." — Andy Borowitz
I wish you four like Glen Coco...
(The talent show above may be less than silly, but it is
necessary to set up the next funny gif)
I wish you cool mom swagger.
Not at all really.
But.
We owe Amy Poehler, y'all.
I wish you harmony with your friends.
"A lovely thing about Christmas is that it's compulsory, like a thunderstorm, and we all go through it together." — Garrison Keillor
I wish you strong mental health
and hormonal balance.
"Nothing says holiday like a cheese log." — Ellen DeGeneres
I wish you gorgeous encounters
with souls who amuse you.
"I hate the radio this time of year because they play "All I Want For Christmas Is You" like, every other song. And that's just not enough." — Bridger Winegar
and I wish:
I independently selected products in this post—if you buy from one of my links, I may earn a commission.
Peace to you right where you are.
-michele
Thanks for shopping RIGHT HERE to keep decor inspiration flowing on Hello Lovely!
Hello Lovely is a participant in the Amazon Services LLC Associates Program, an affiliate advertising program designed to provide a means for sites to earn fees by linking to Amazon.com and affiliated sites.