Maybe the holidaze are to blame, and I am outta my mind (is it even unwise to live from the heart in the 2020s?)…MAIS OUI, I think there's something to learn from the look of a luxurious Atlanta dream home of a modern French chateau now on the market. From the real estate listing, we learn: "French Provincial style is reflected in the soft lines, the texture-rich interior filled with wood, iron and stone accents, plaster walls and the serene colors that reflect the surrounding landscape." And here's the thing. We can create soft lines. Yes, we can! Add texture with wood, iron, stone, and plaster? Also within the realm of possibility. Serene natural color palette? Now we're talkin'.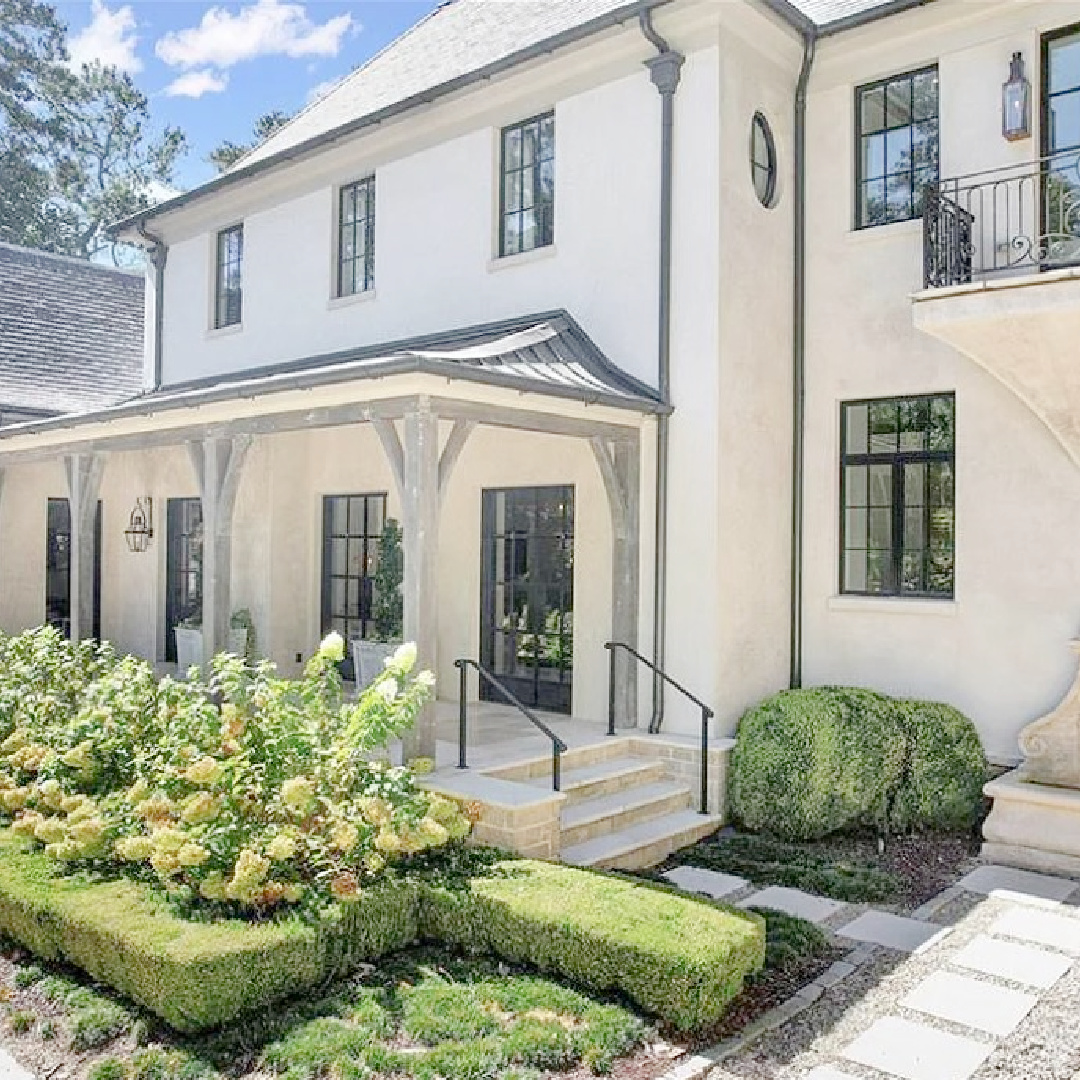 Actionable Ideas from a Luxurious Atlanta Dream Home for Sale
Oh my goodness, this timeless home in Atlanta's Buckhead neighborhood must have been a labor of love to create!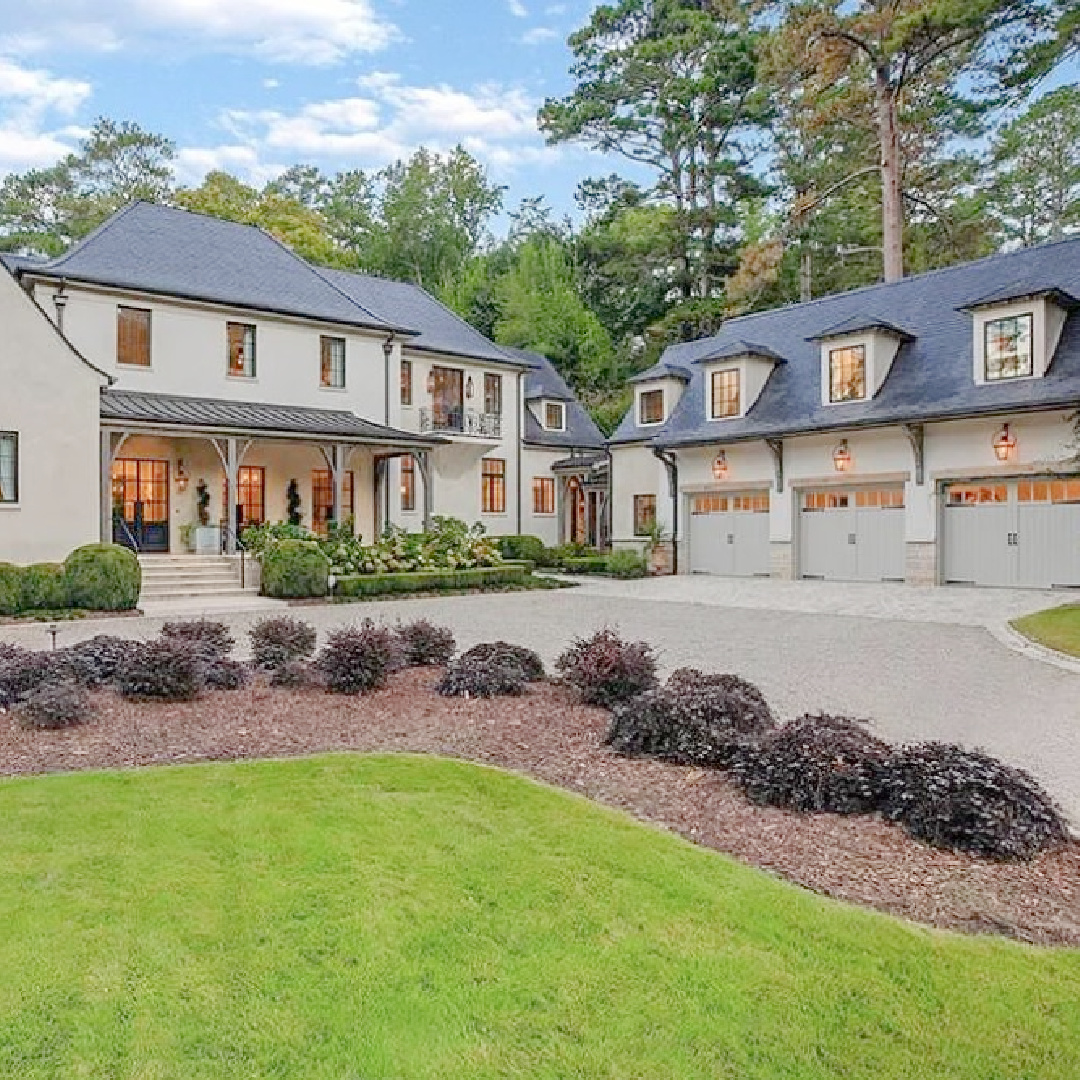 Beautiful French Provincial Charming Interiors
So much thought, labor, and dollars were poured into it. We could simply ooh and ah and wonder about line of work of the homeowners…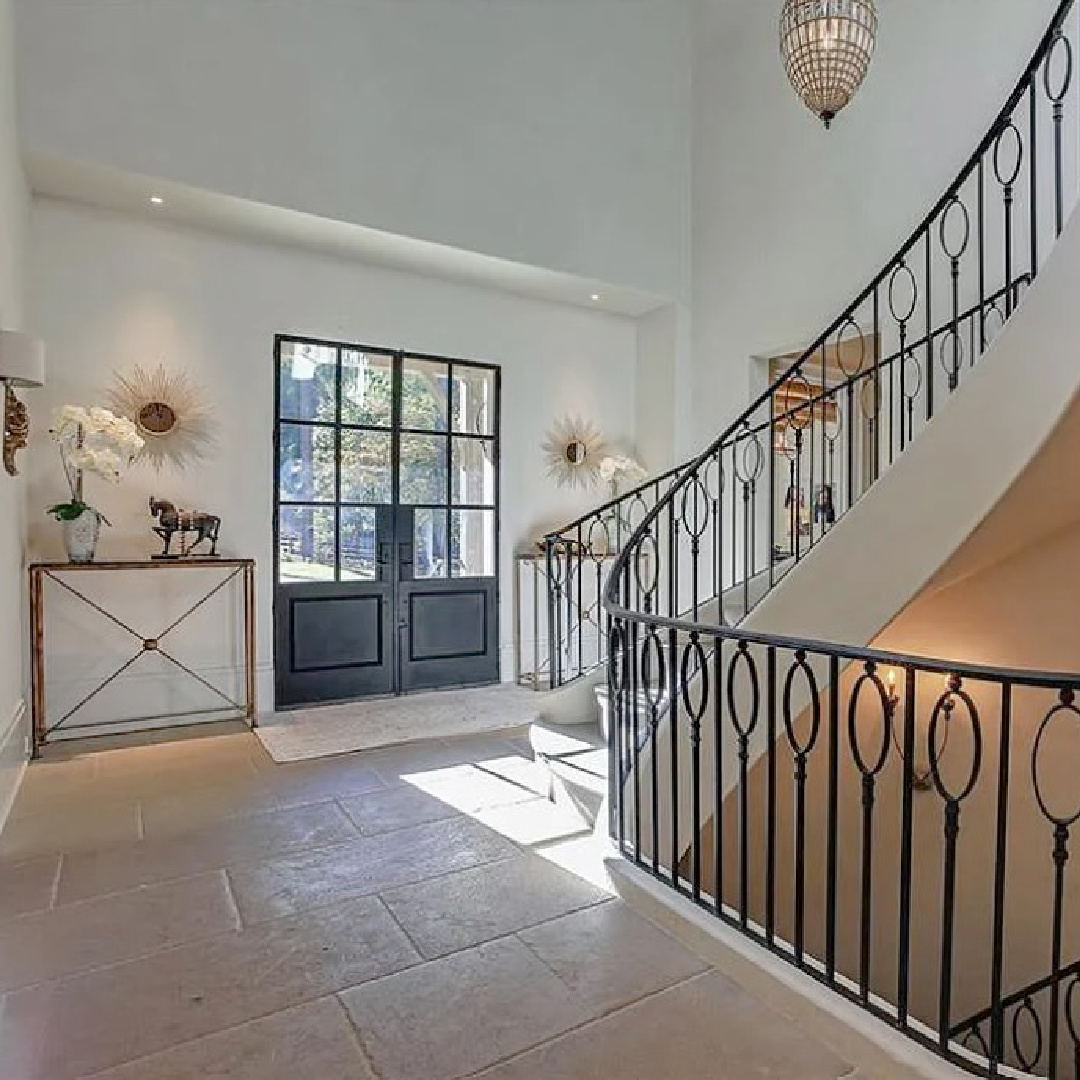 …or we could gaze with a discerning eye and wonder if there are real life takeaways for our *ahem* down to earth selves.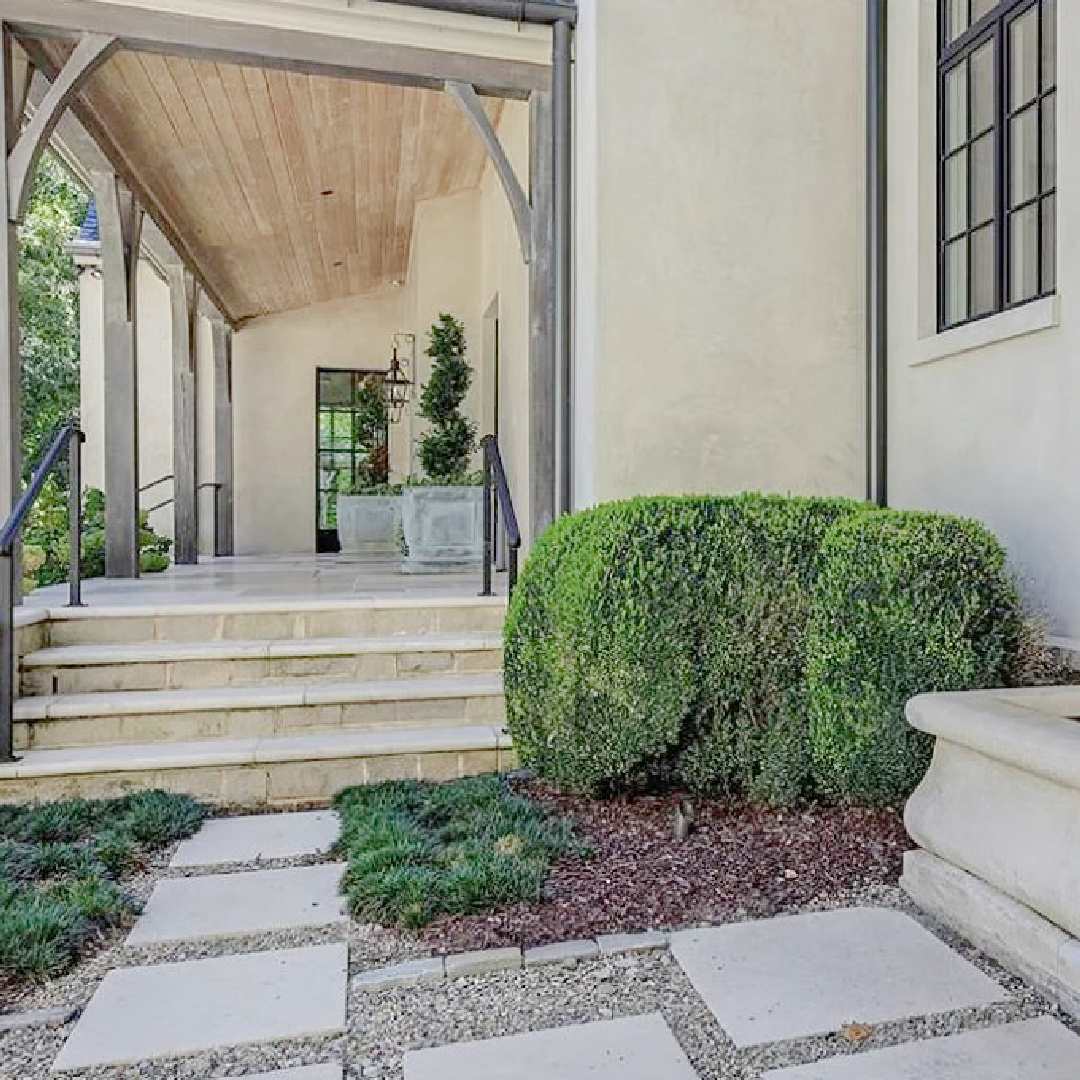 Let's face it. I'm willing to bet you don't have 13, 359 square feet to play with. In fact, this estate's 7 bedrooms and 9 baths makes the case that the rest of us are livin' tiny! Hahahaha.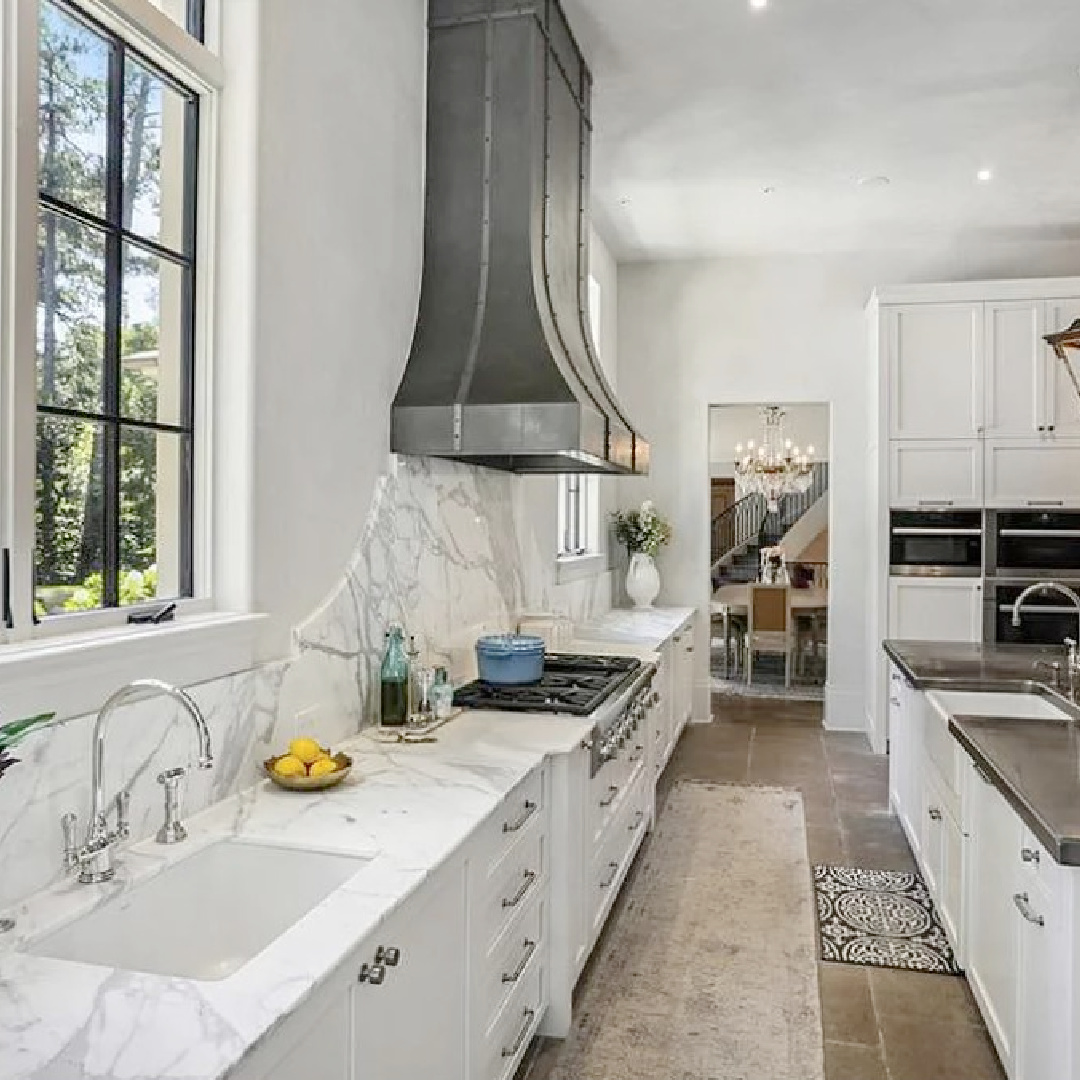 Actionable Modern French Tip No. 1: CREATE SOFT LINES
I know a little somethin' about this tip from redesigning multiple homes that were missing soft lines. Adding softness and curves is critical to capturing a French inspired look. Look for furnishings with: fine or feminine detailing, tapered, delicate and curvy legs, and a gentle appearance.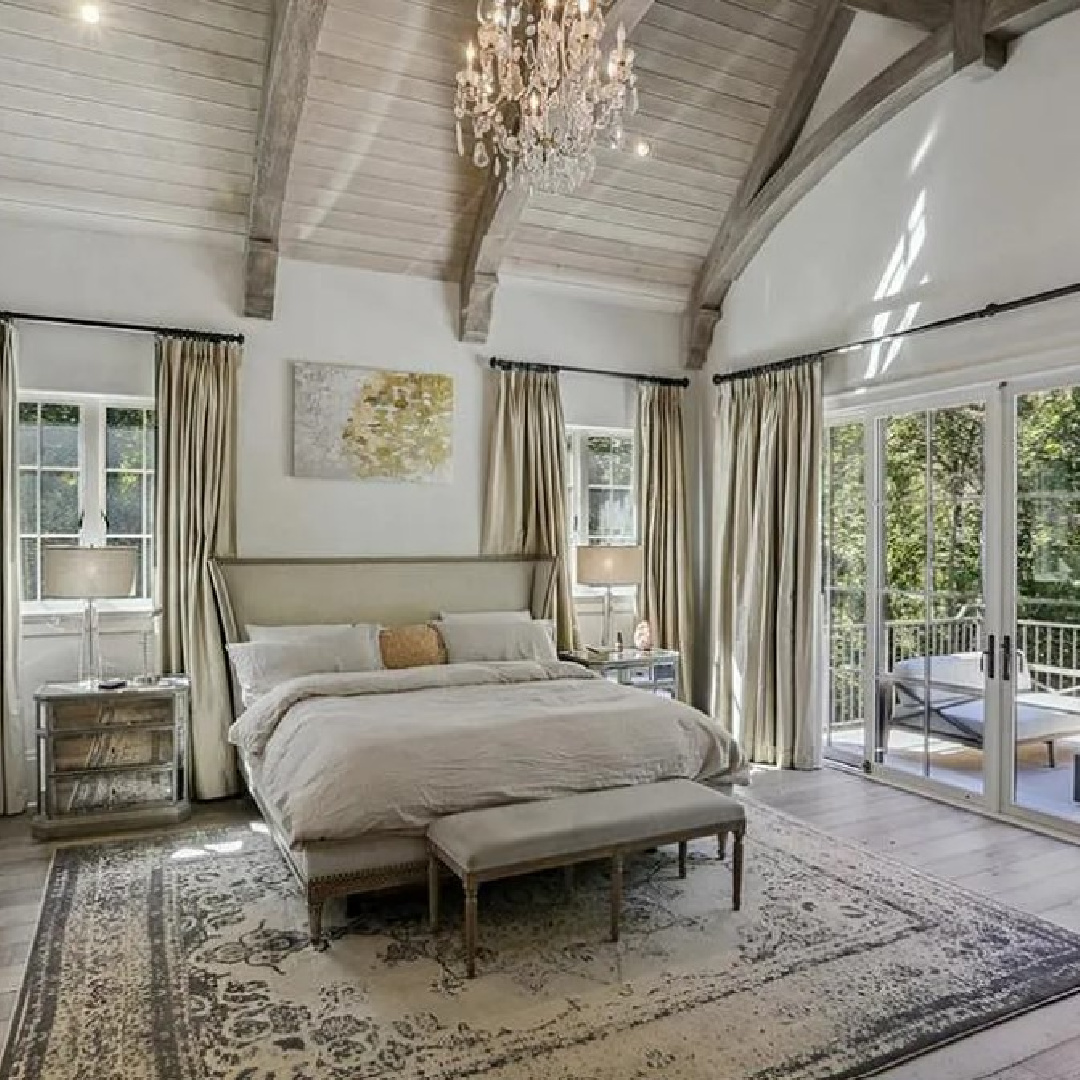 Chunky, bulky, rugged, modular, oversized, and overstuffed are probably to be avoided. In terms of creating softer lines with architecture in a boxy room, think about shapes to introduce simplistically. A round ottoman? An arched mirror? A barrel-style armchair? While the shape of a window or doorway may not be easily modified, could a rounded, scalloped, or decorative piece of trim be added to existing trim?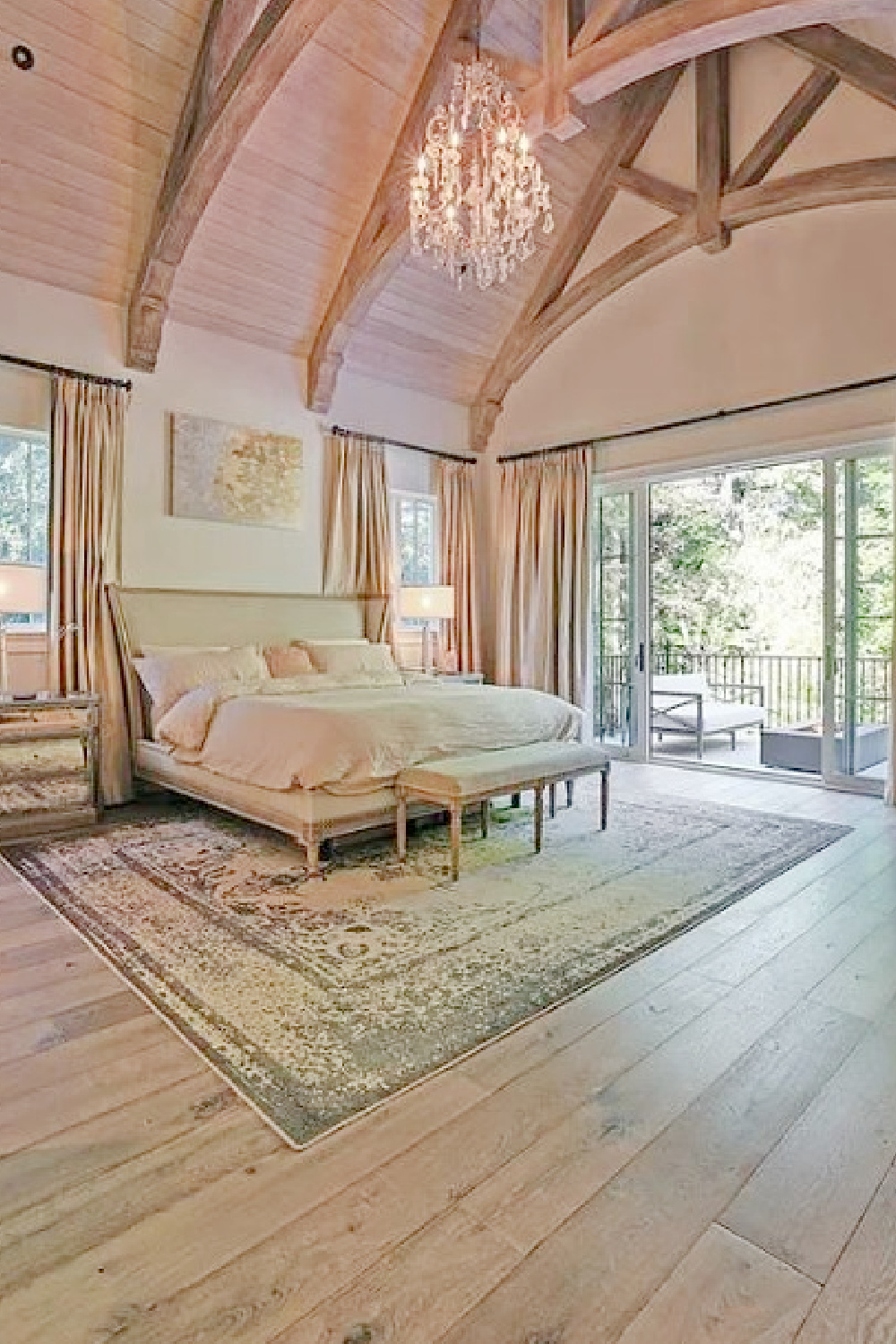 Actionable Modern French Tip No. 2: ADD TEXTURE
Oh that texture was as simple as a woven basket or two. A trusty strategy to identify ideas for texture is to study images of designs where the look feels balanced and beautiful. Deep dive into the archives on this blog and expand images to study what exists in the space you admire.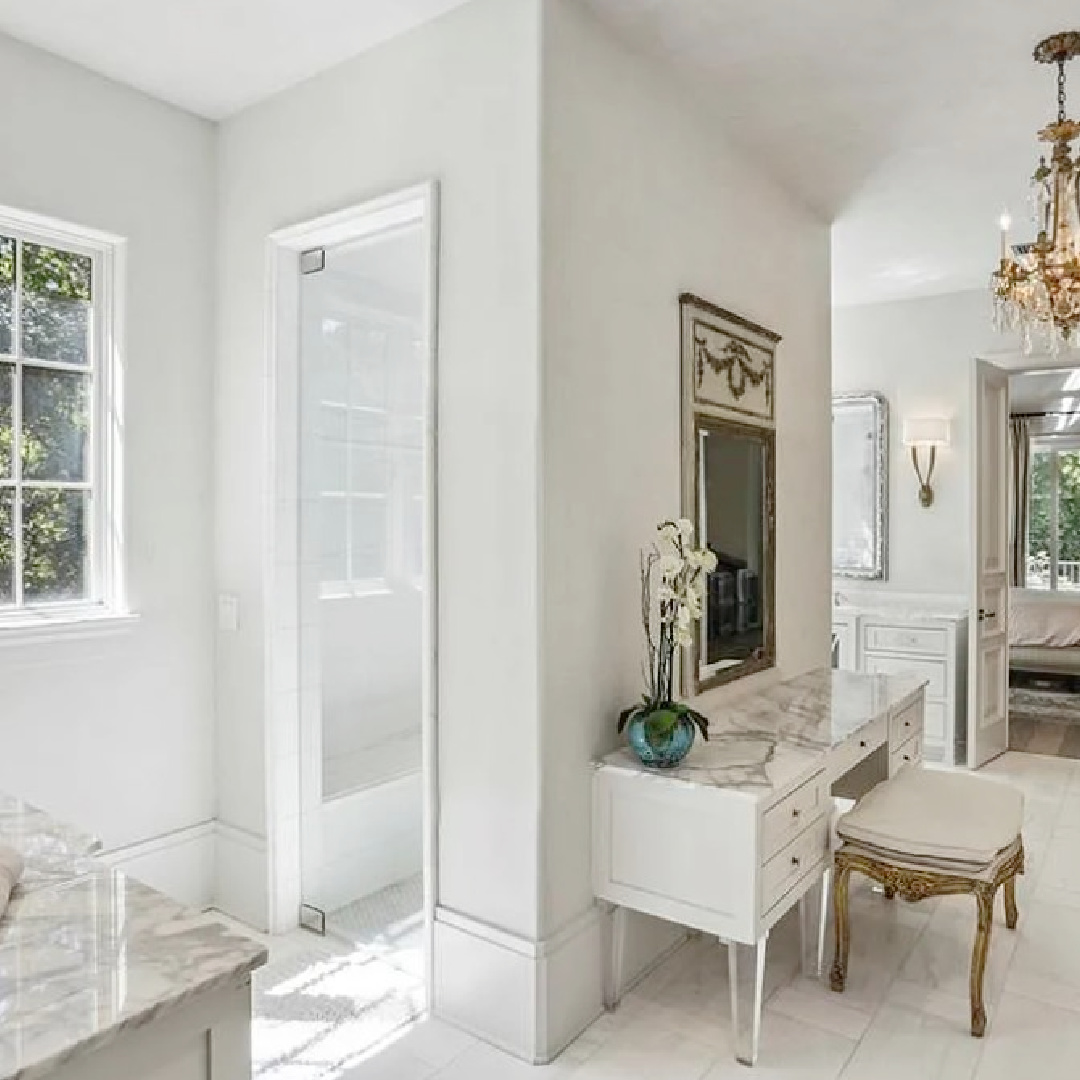 One of the ways to distinguish between shabby chic vintage style (I guess I'm imagining the way Americans interpret shabby chic style) and modern French is that while both tend to rely on a pale color story, shabby chic rooms often lack texture and as a result, feel too precious.
Authentic European country homes are likely to boast old wood floors, plaster walls, and limestone fireplaces. The flooring, for example, may vary from room to room. This suggests the home has evolved, reflects age (a good thing with French country style!) and naturally introduces a variety of textures. In our current house, I chose to allow this flooring variation to remain rather than go to the expense of neutralizing everything with one material. These type of decisions impact character and are often influenced by a homeowner's tolerance for imperfection.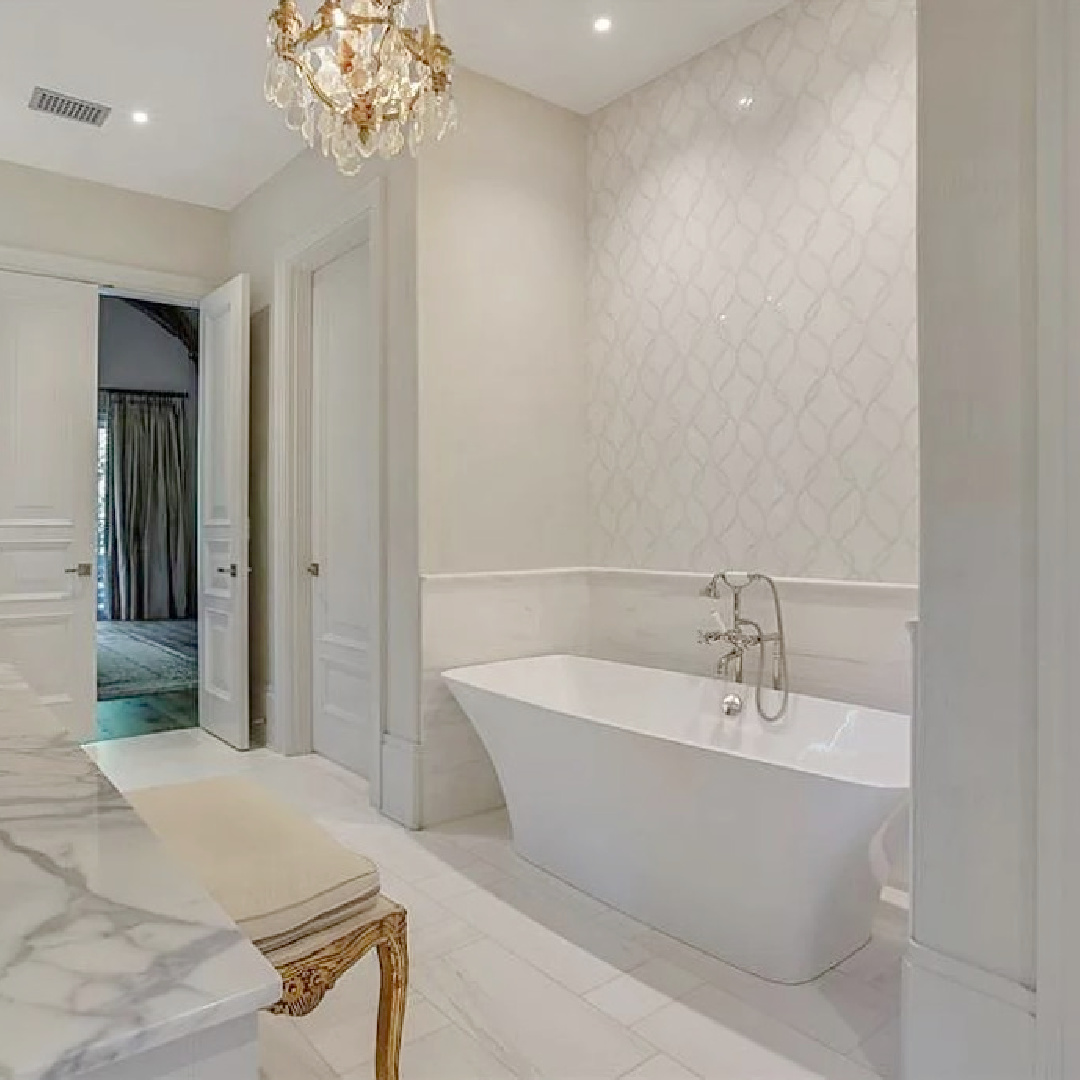 I say make imperfection work for you! Hahahaha. Exploit the imperfection. What I love about modern French is the freedom to play with modern patterns and art. While you aren't likely to find grasscloth wallpaper in an authentic French farmhouse bath, maybe it's what your boring powder room needs to elevate it. Texture becomes especially important when you're working within a neutral color scheme.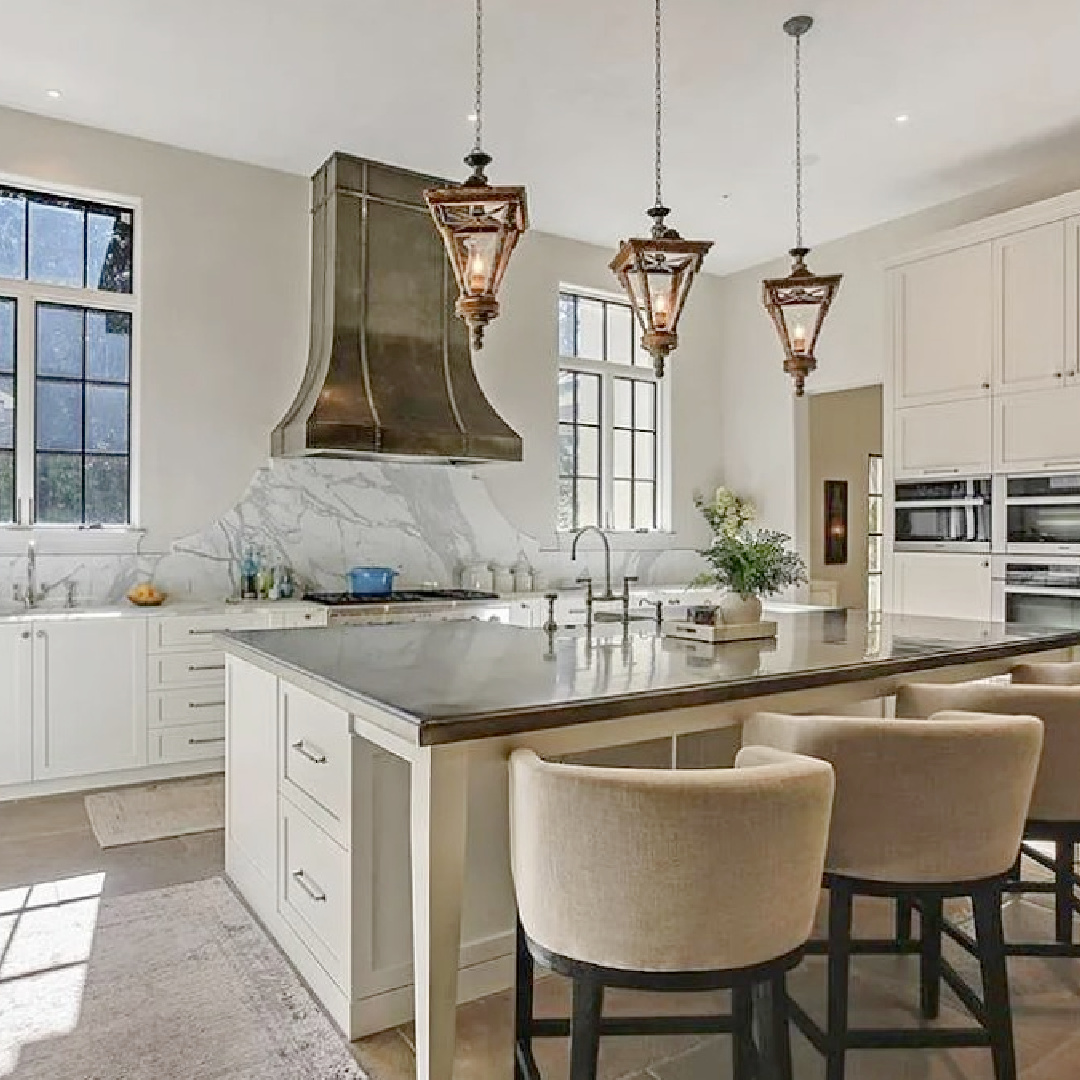 Actionable Modern French Tip No. 3: SERENE & NATURAL COLORS
The name of the game is calm, faded, timeworn, soft, atmospheric, light-drenched color. How to keep the look from veering into too-precious Paris pastel pastry shop territory? The colors should be muddied and preferably formulated by European firms who understand color best. Farrow & Ball, for example, can be trusted and offer valuable advice for how their colors work together.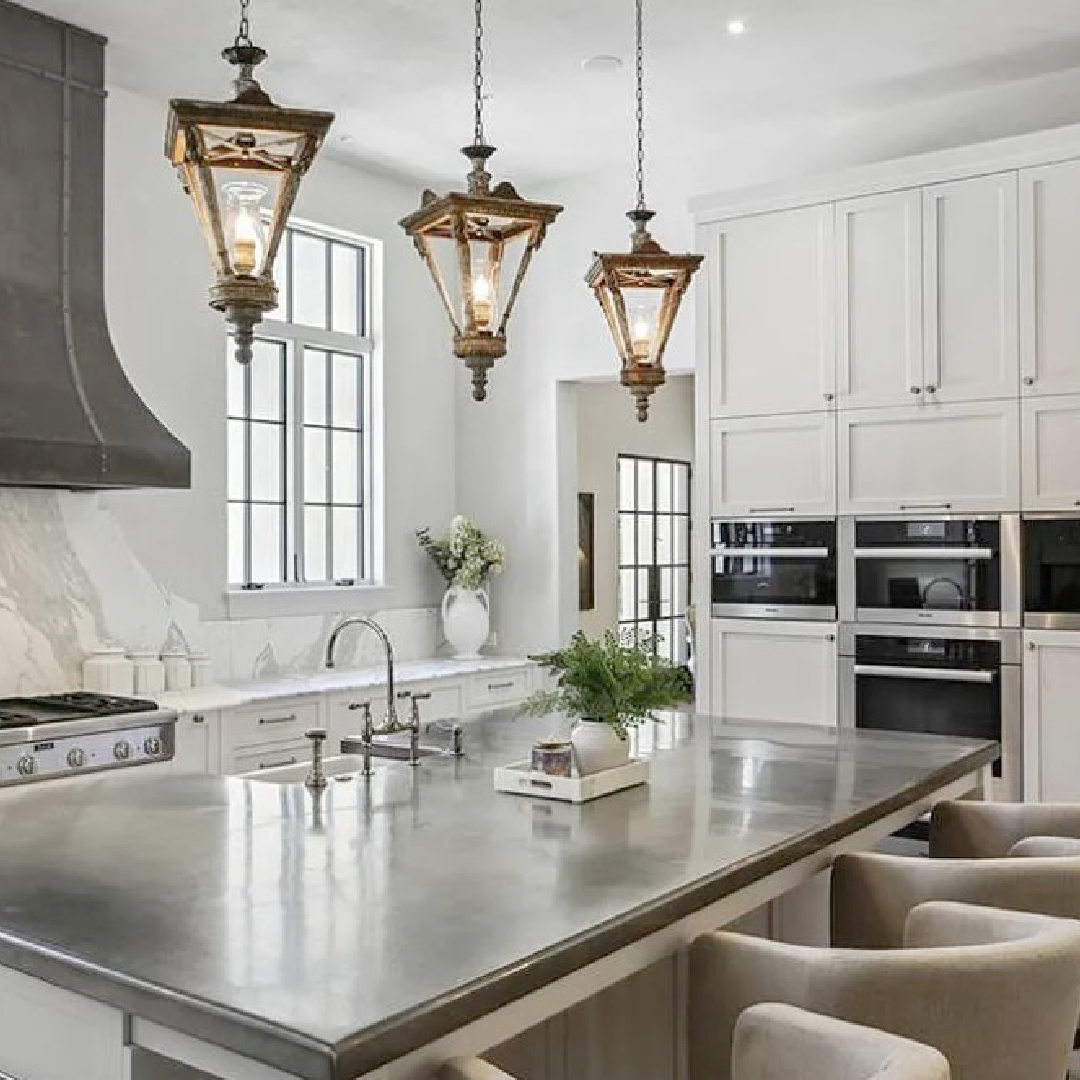 My favorite colors tend to be the subtle ones you cannot quite describe in typical color language. They evoke an emotion or feel meditative before any color names pop into your head. As an example, I'm working this very moment in a room painted a soft gray-green.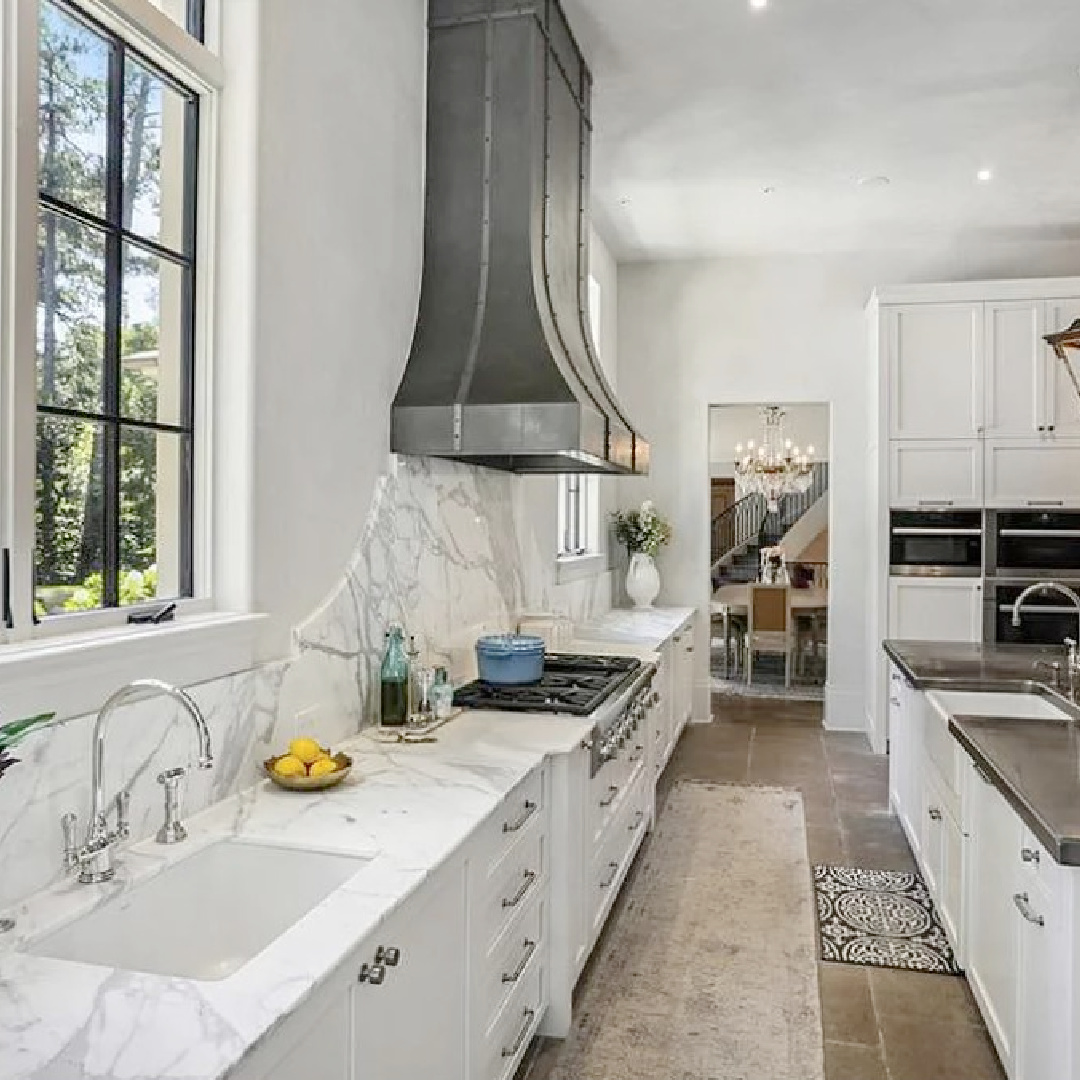 Depending on the time of day, this color can appear beige (as the sun warms and washes it out). Yet it can also appear green at times, and I'm not a big fan of green undertones with this particular exposure. Additionally, the painted furniture in the room cause the wall color to appear more green. So I am pondering what to change: the paint color on walls or furniture?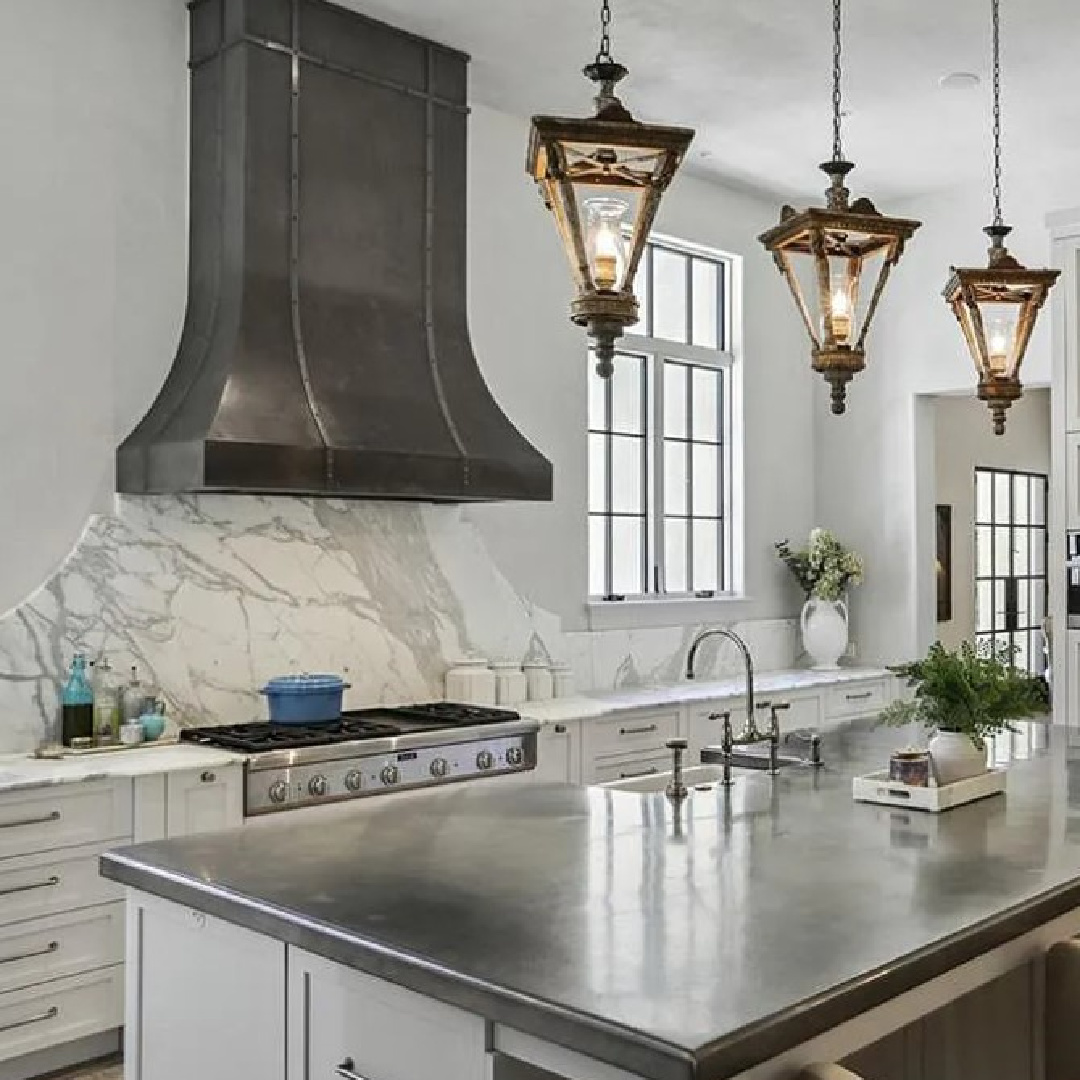 I'll keep you posted, but my point is these muddy colors suggestive of history, European charm and nature are perfect for creating a modern French or European country backdrop.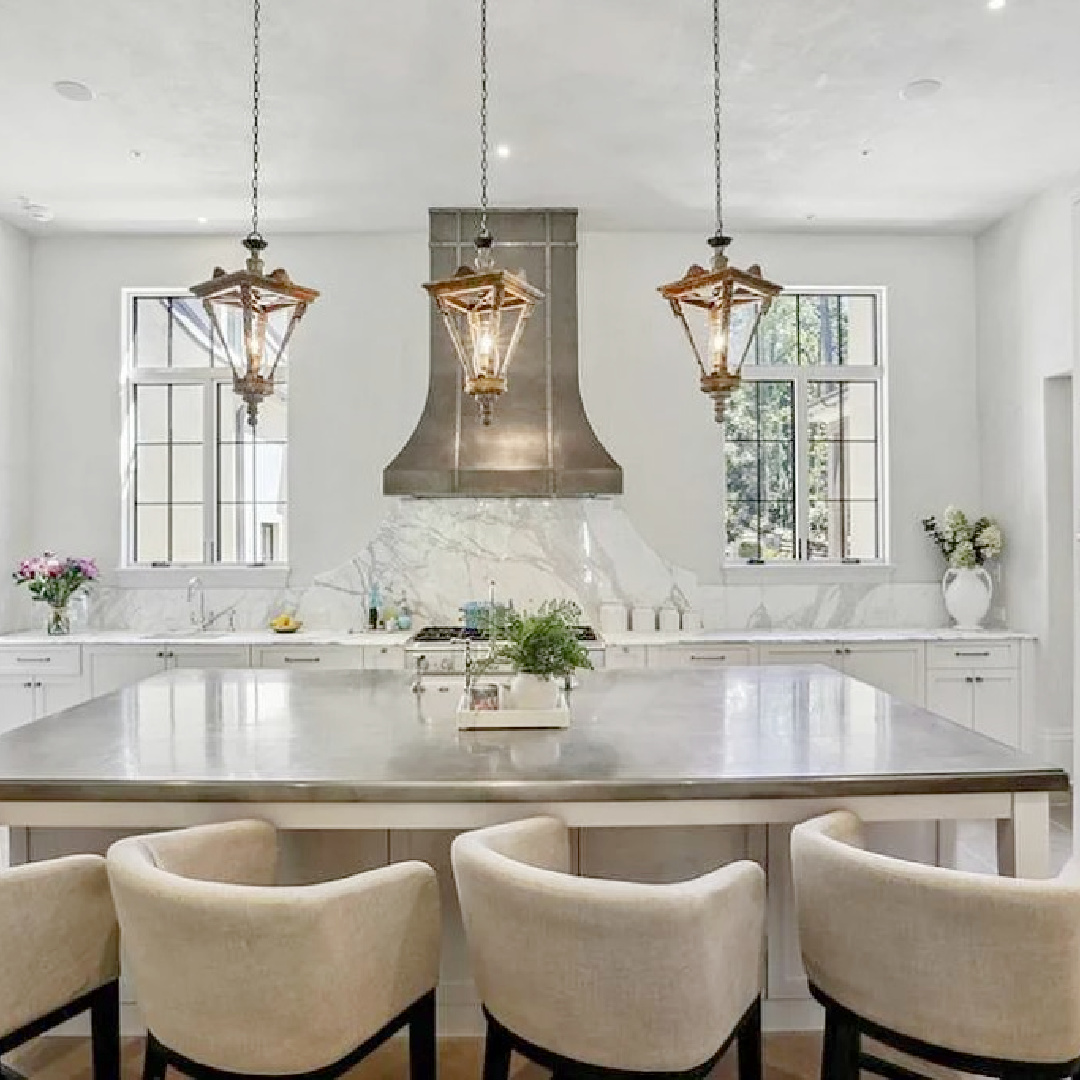 Lush Gardens That Feel Straight Out of France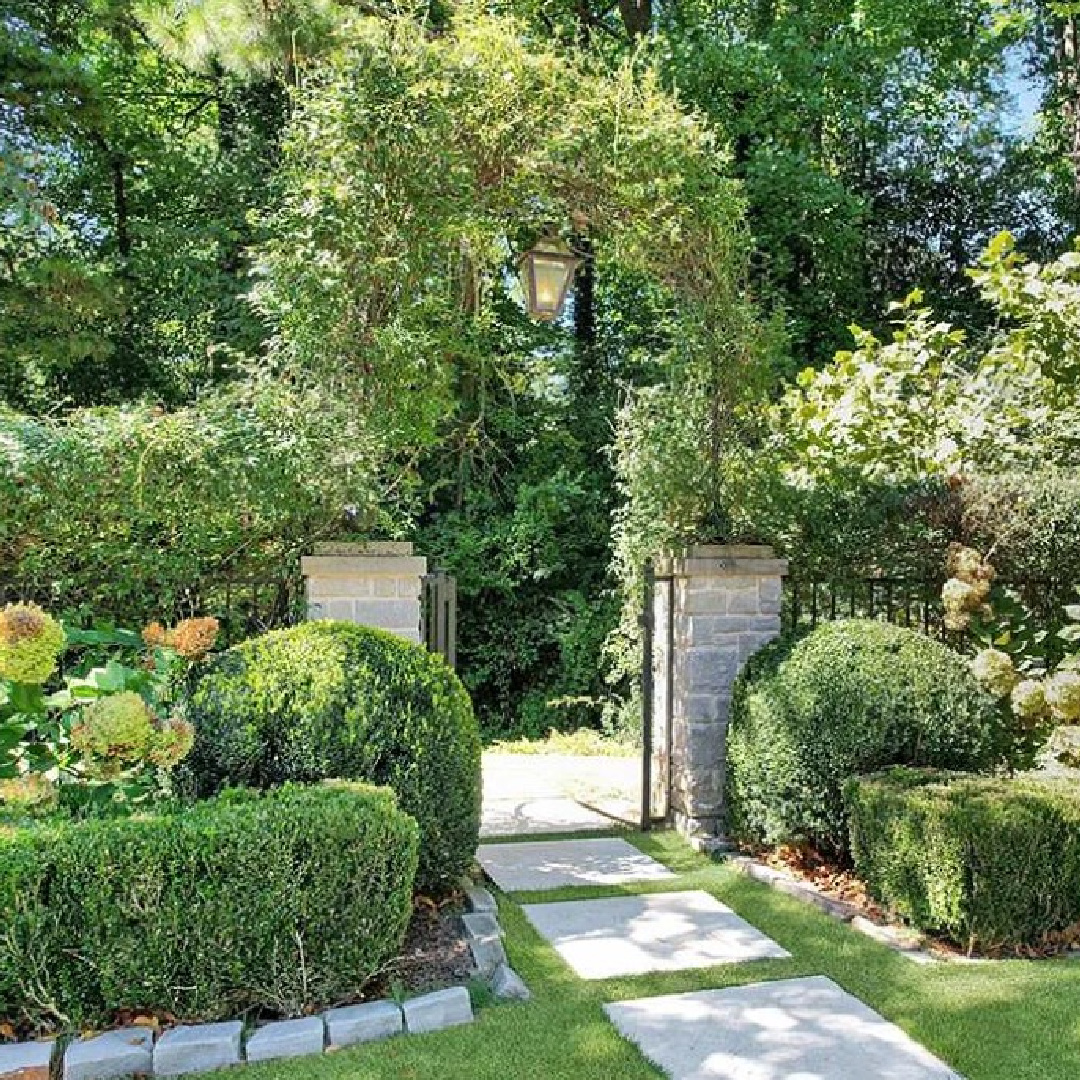 The home also features a carriage house with a separate entrance.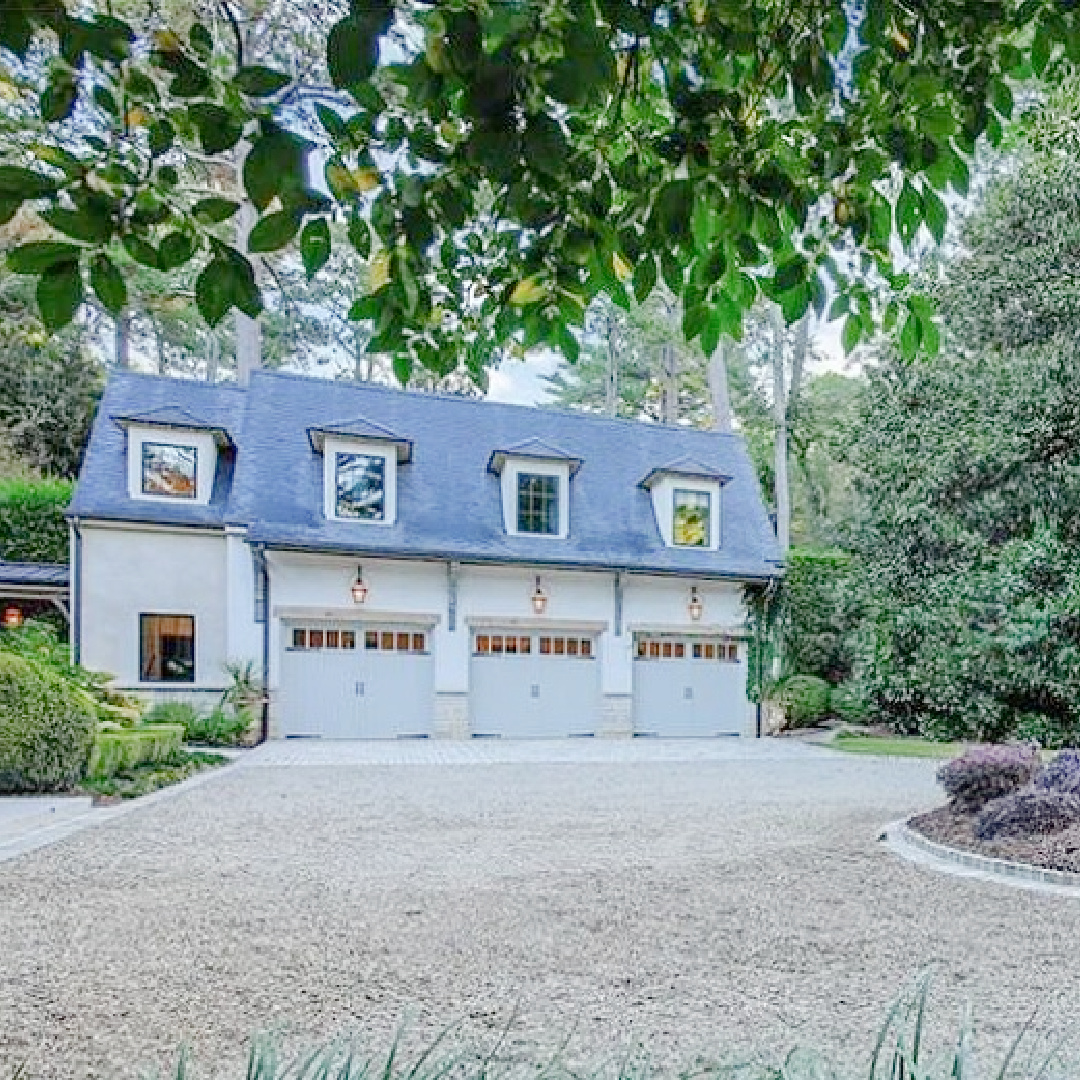 While our own homes may not ever have a terraced garden or poolside oasis, there are plenty of details to note for the future so do pin for future reference.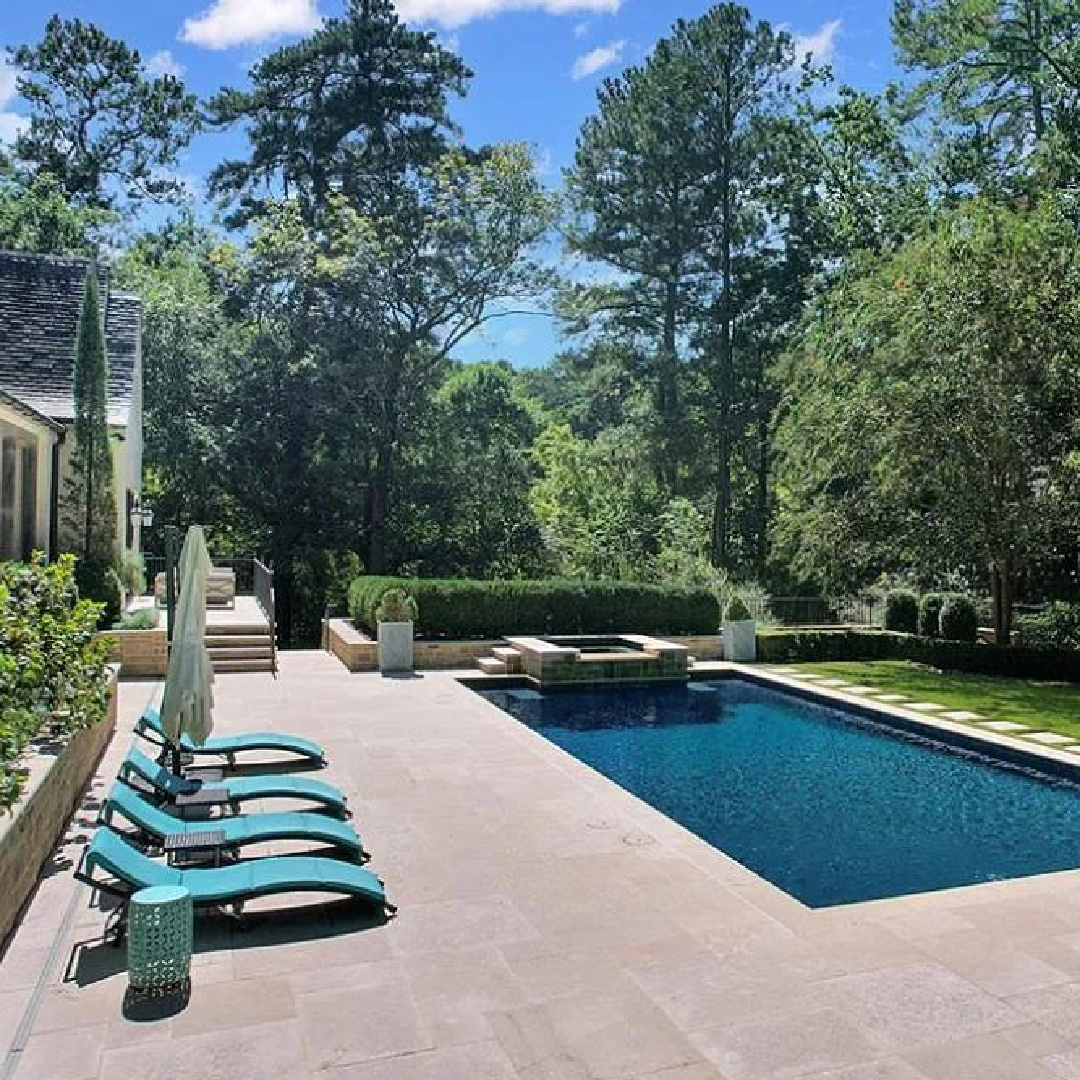 Authentic Reclaimed Construction Materials from Europe
The interiors do not just appear authentic, but the construction materials and finishes actually ARE. Since no expense was spared, find 200-year-old beams from a Belgian lock and rare European lighting fixtures. Notice the hand-chiseled French limestone floors, François & Co. mantelpieces, and Bevolo gas lanterns.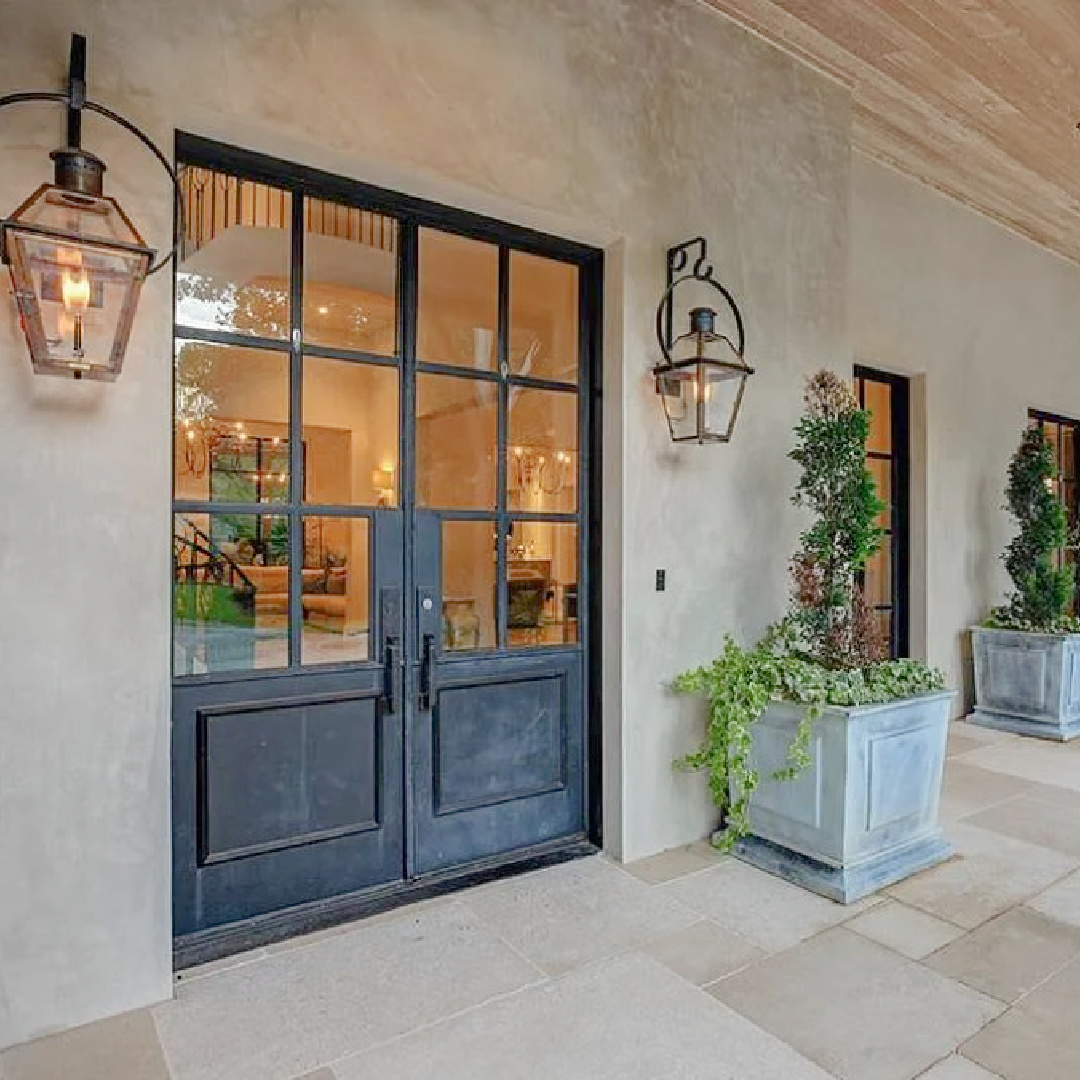 If French oak floors sizzle your bacon, this home will inspire.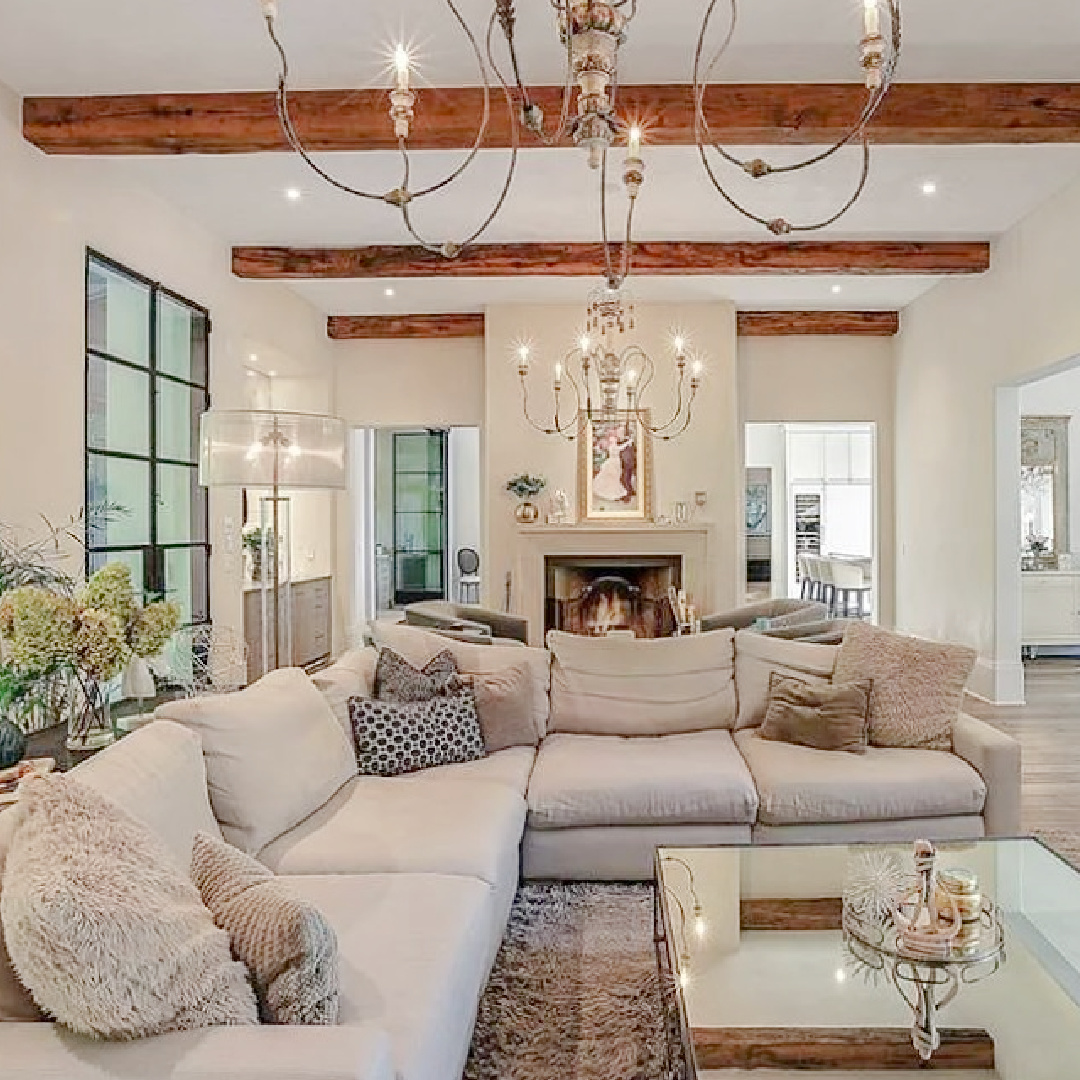 Custom iron windows and doors add timeless elegance and are built for lifetimes.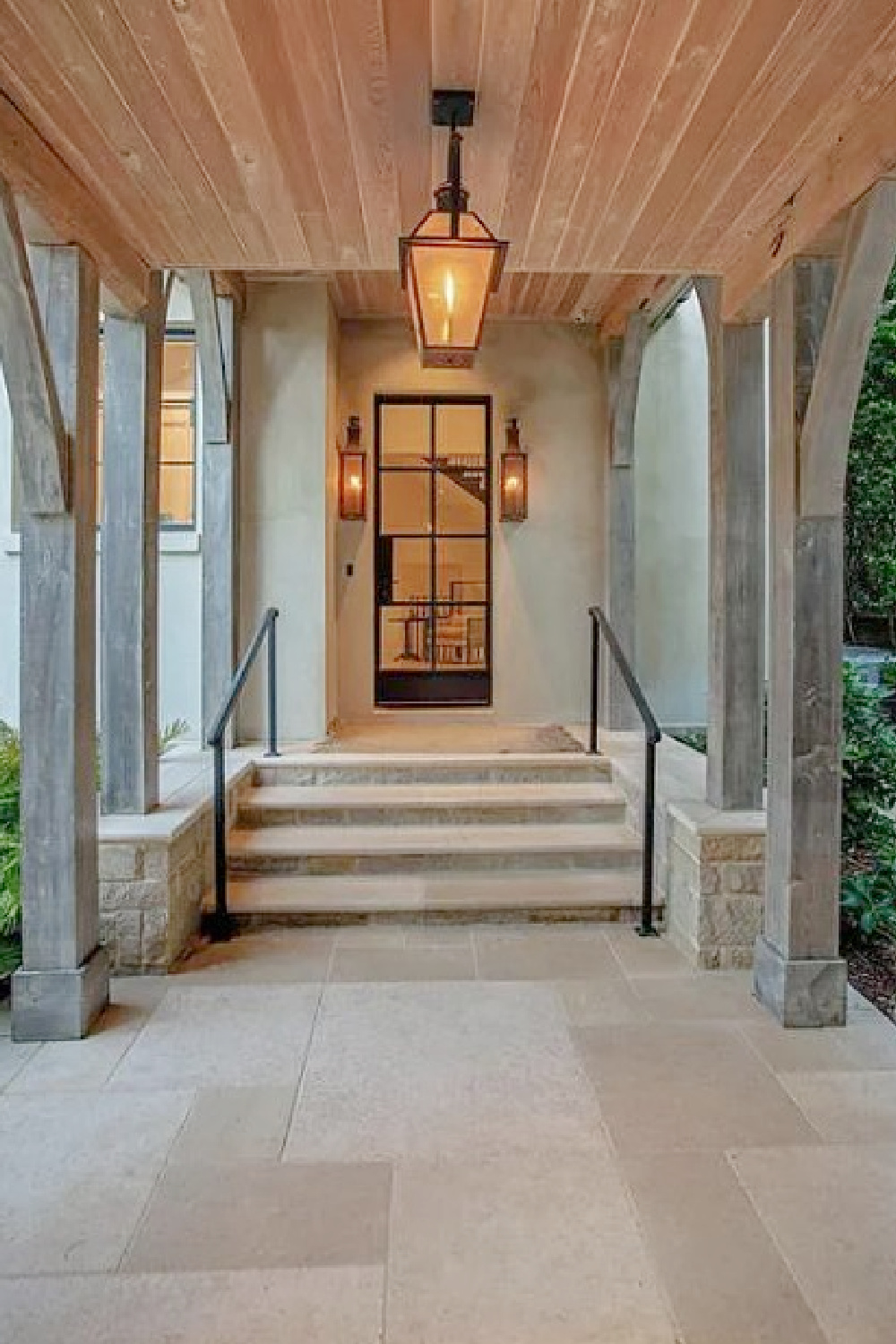 Is it just me? When I see a breathtaking French fountain like this, I think: "Oh my, what a fabulous job a local stoneworker did with this custom piece."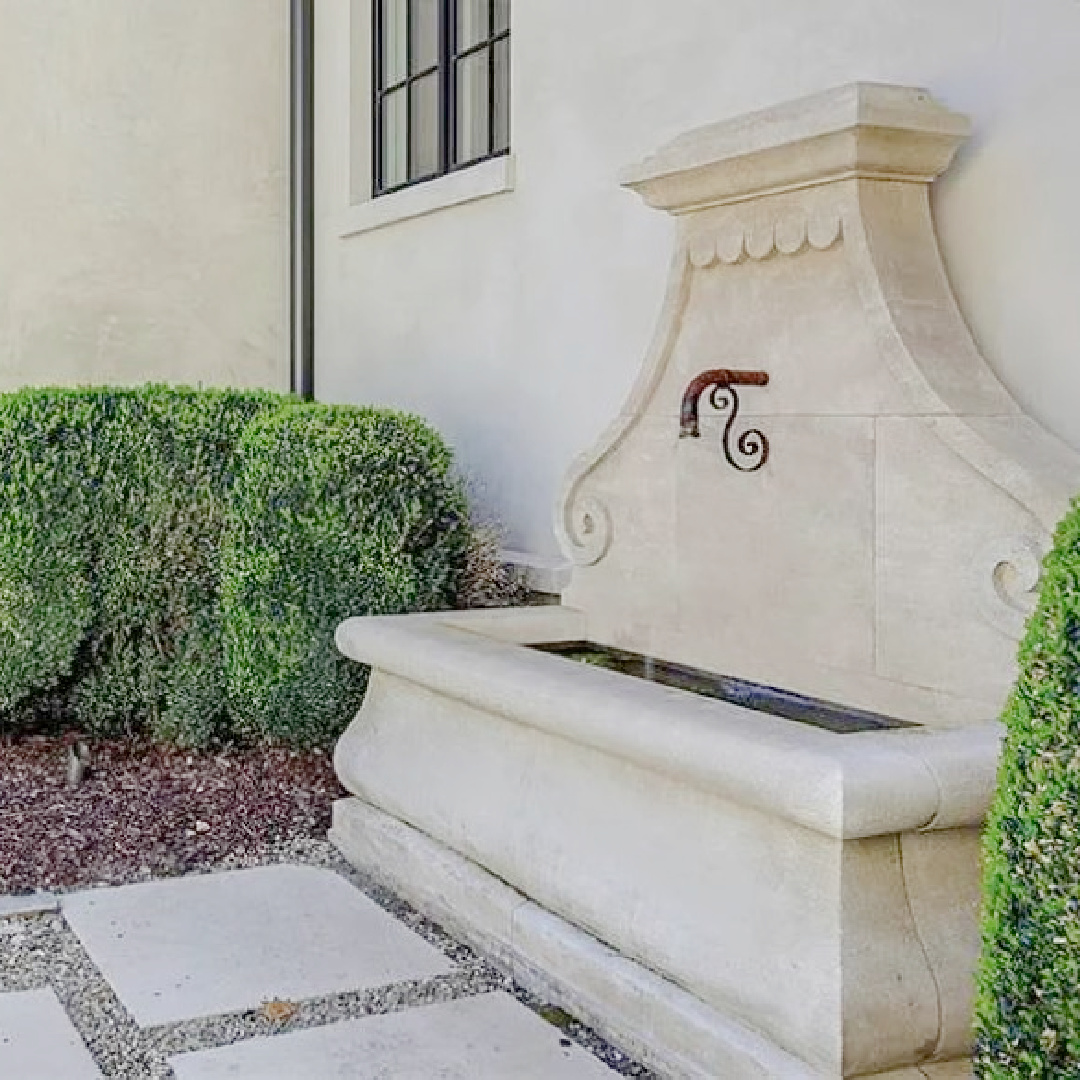 In my naivete, it doesn't even register that…NOPE. It is well done because it is indeed an antique fountain brought here from Europe! What a beauty!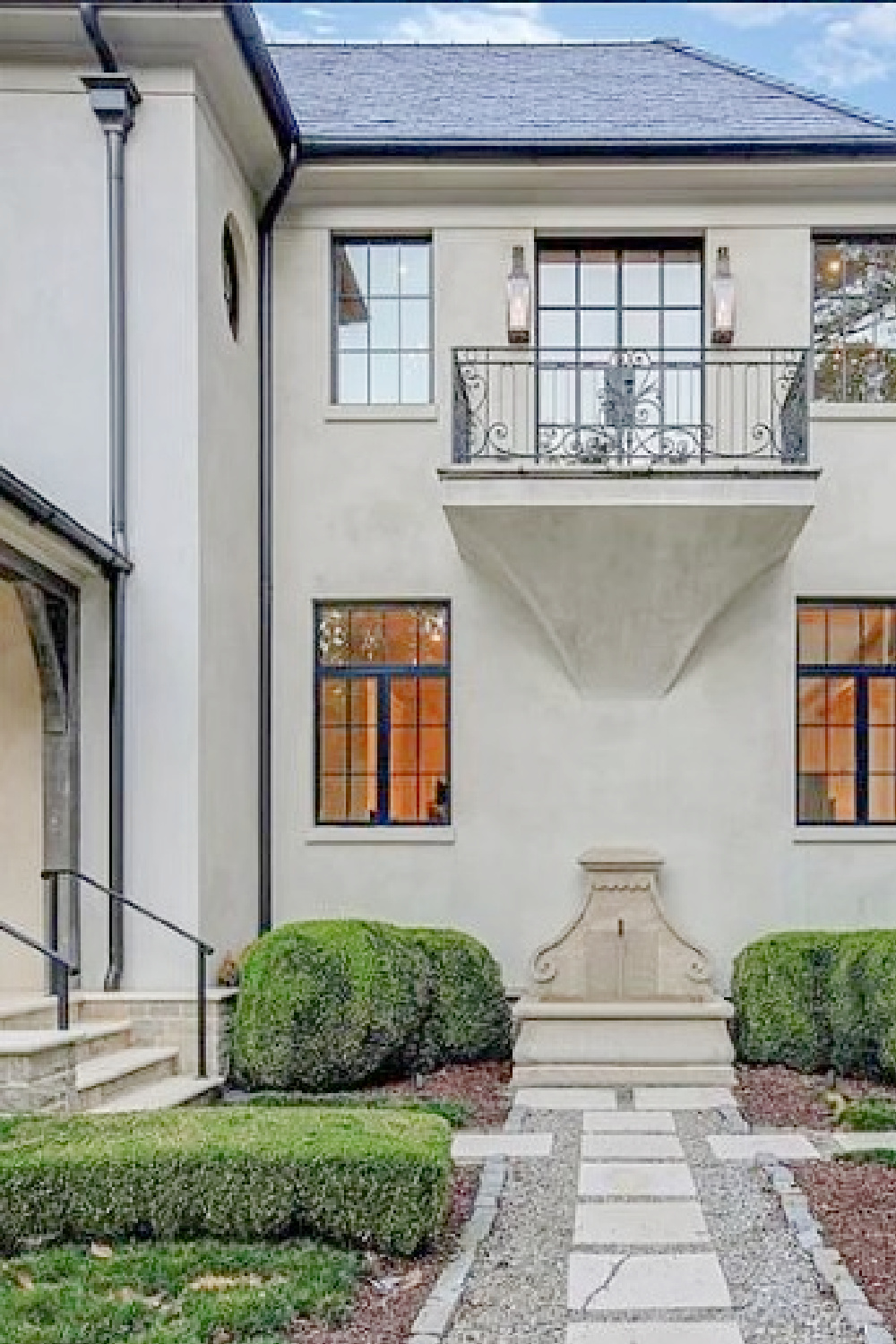 A series of custom iron French doors unite the indoors to the outdoors.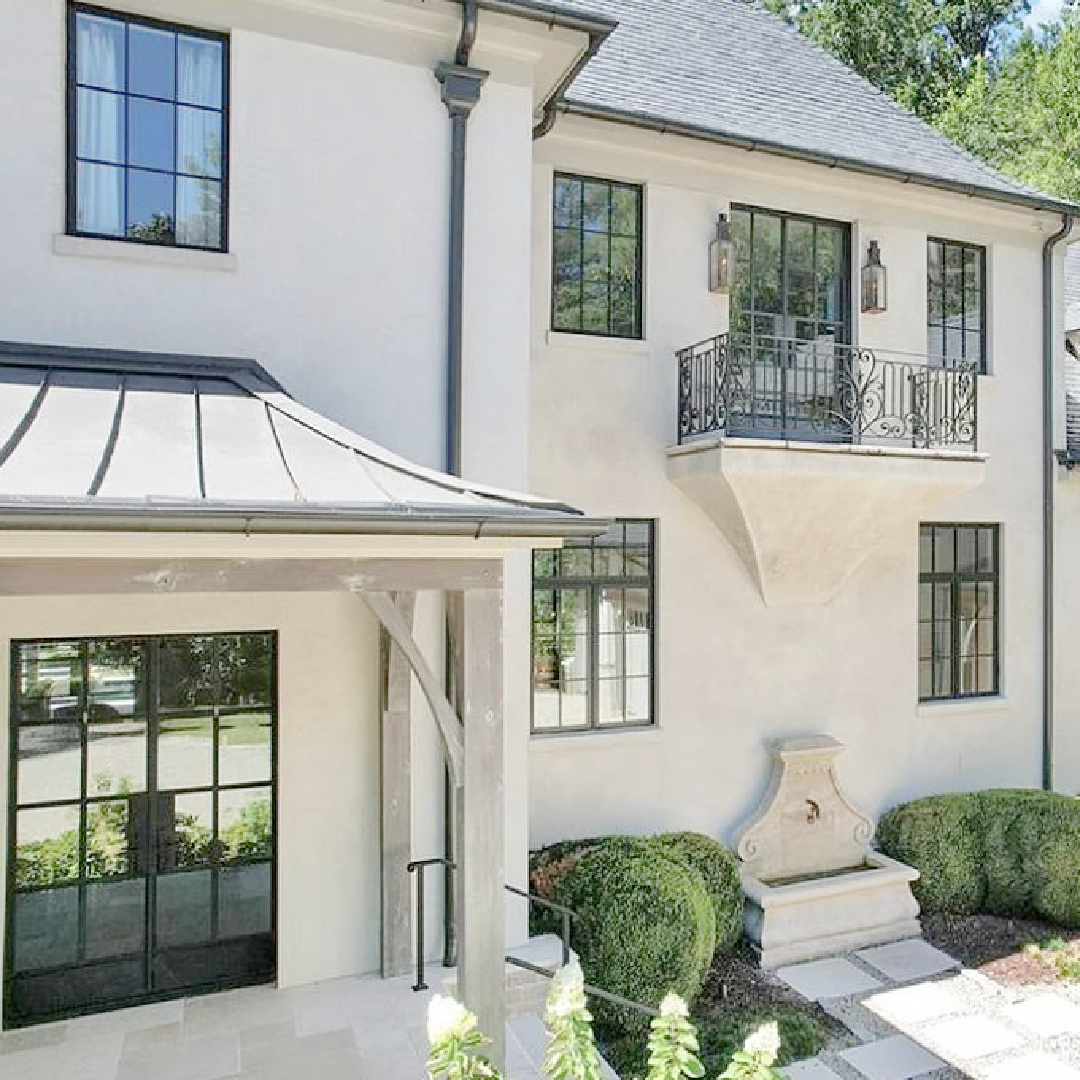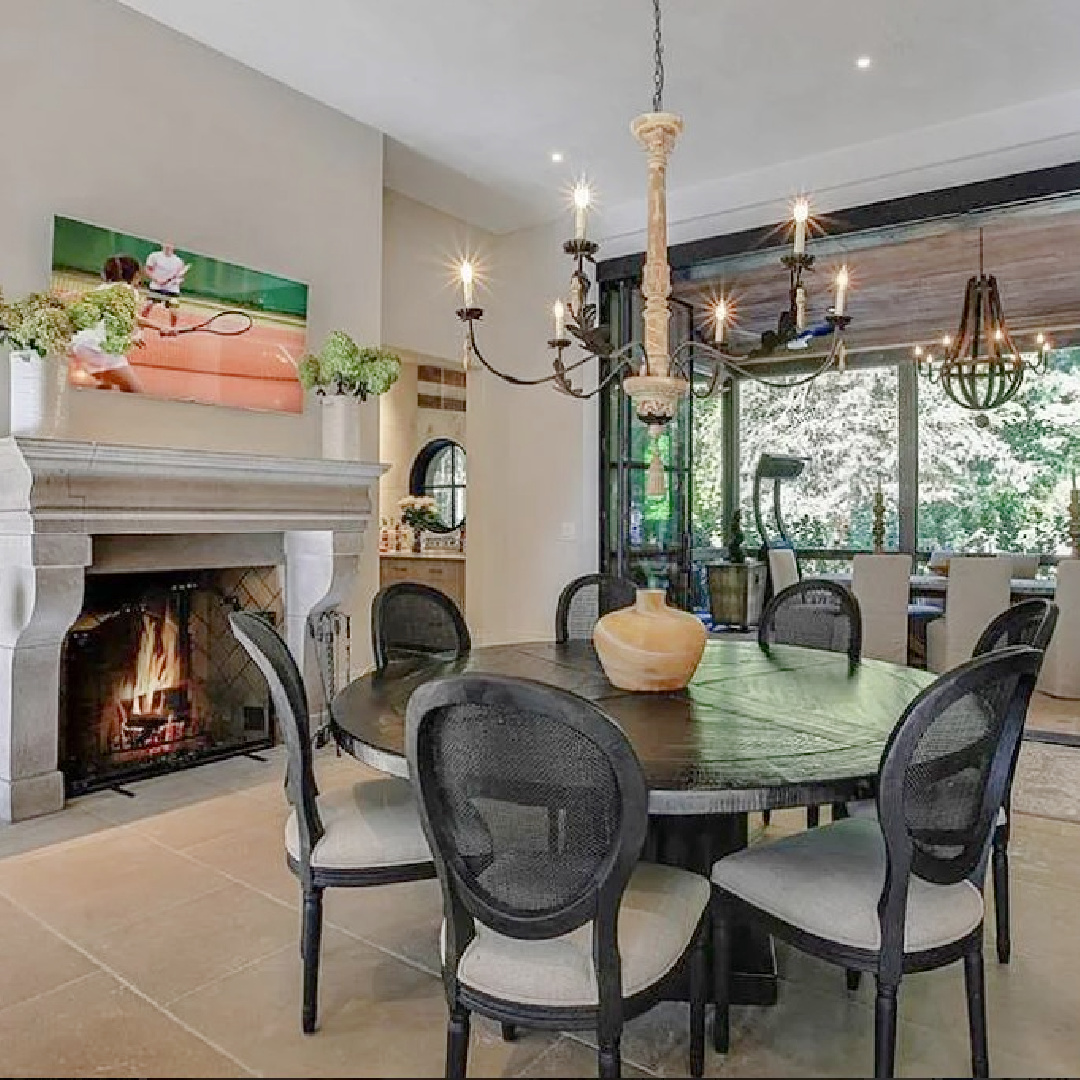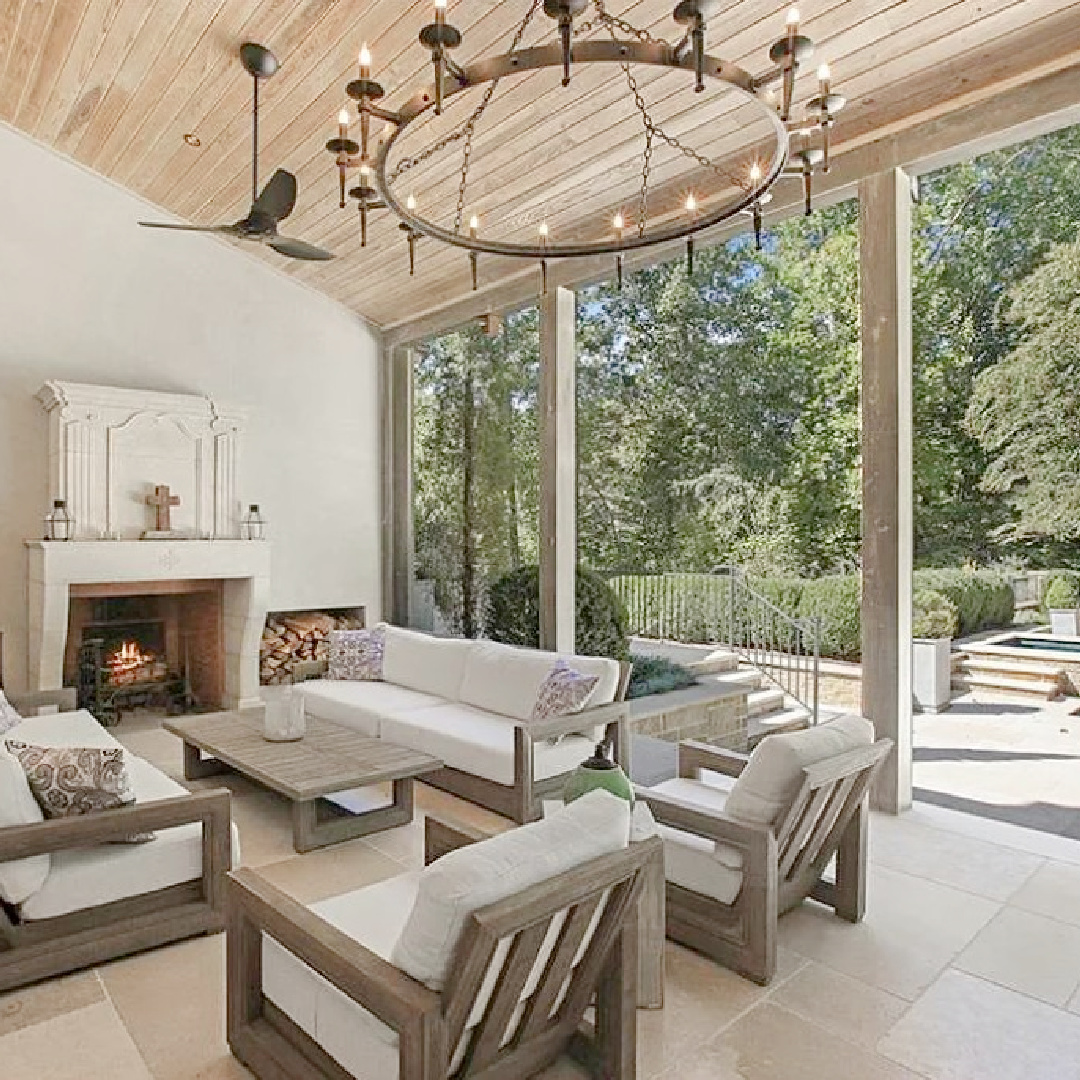 Refined Grand Staircase
In the two-story foyer, the staircase with its custom iron railing and balustrades, dramatically spirals.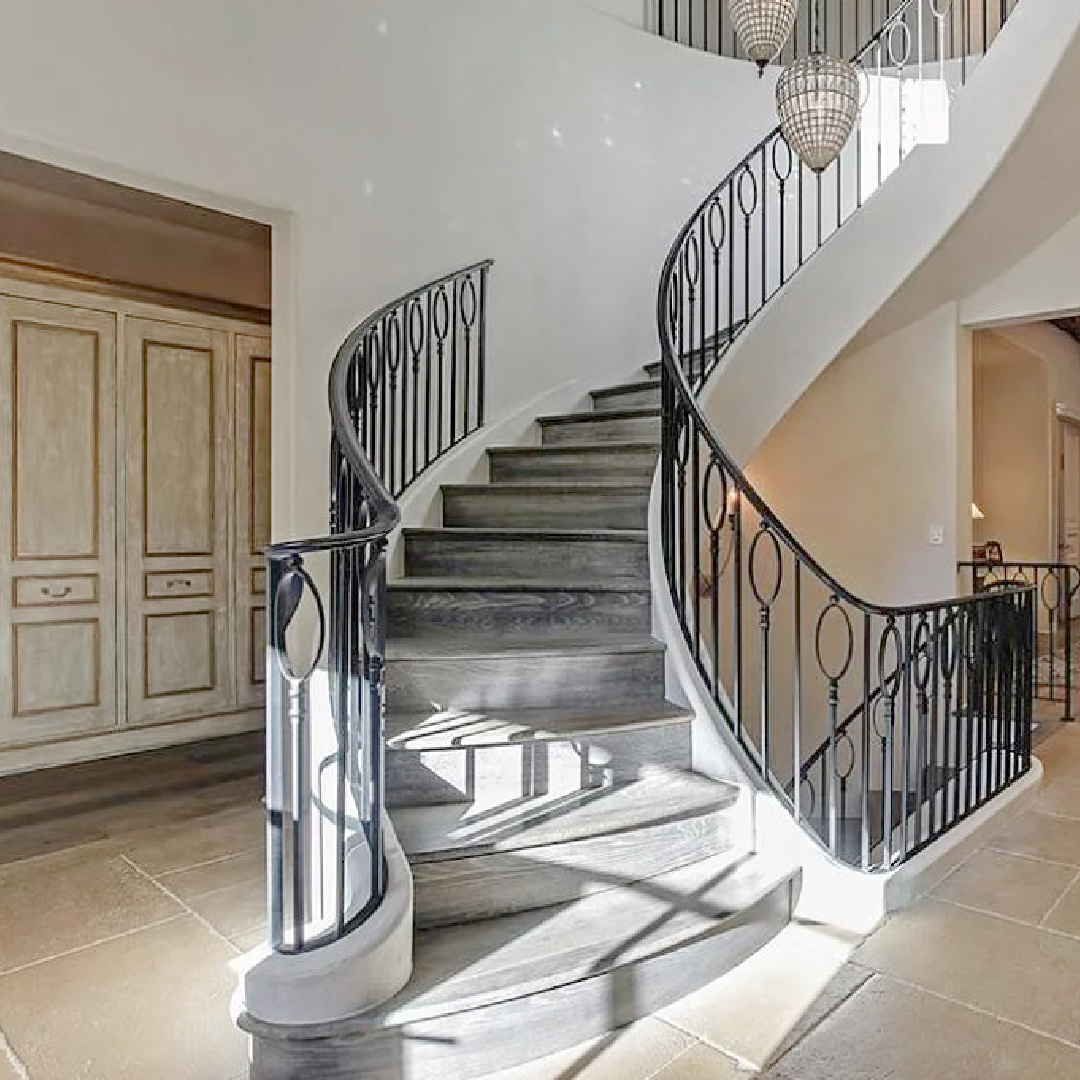 Hand-chiseled French limestone floors are a work of art.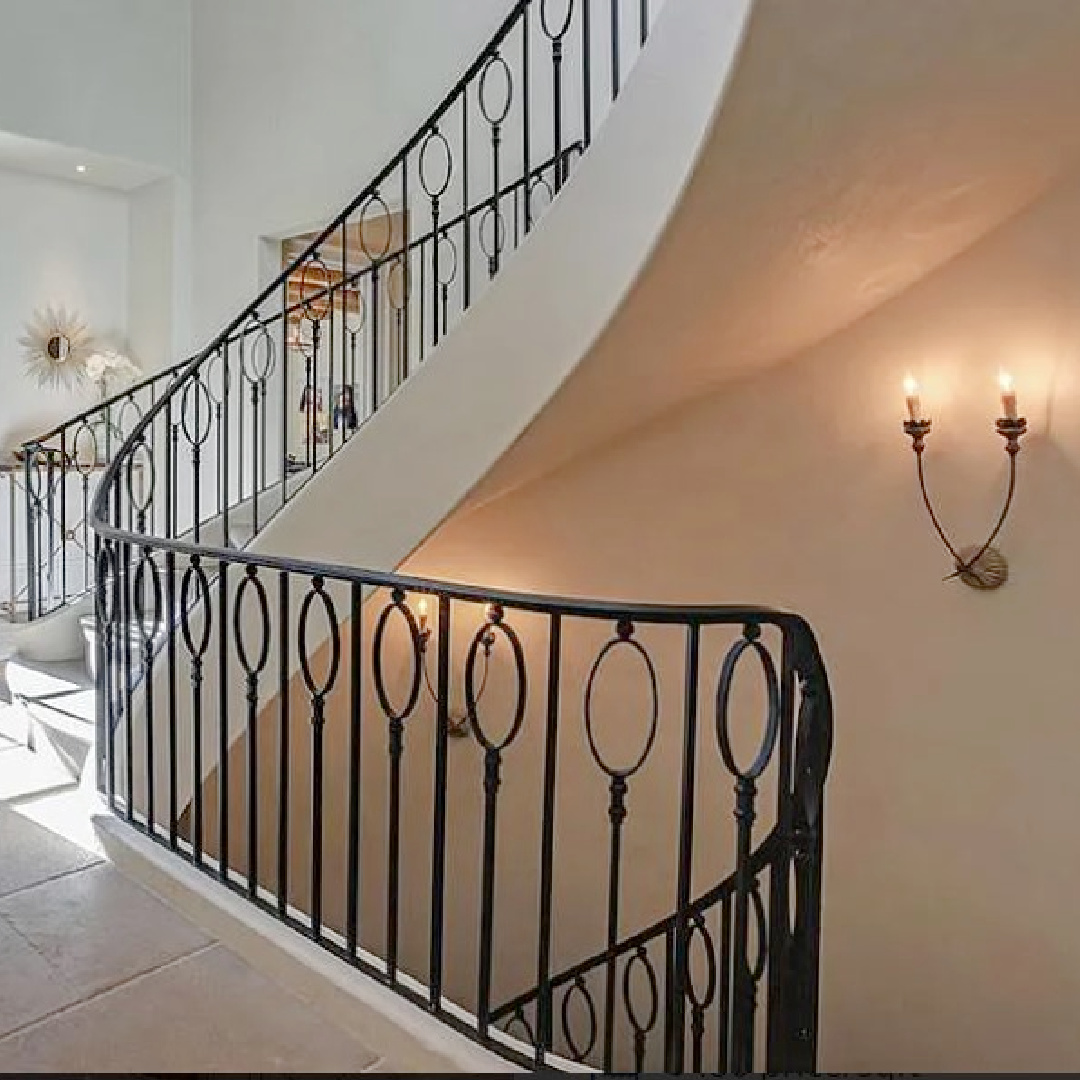 This home office with exposed beams overlooks a courtyard and boasts a balcony.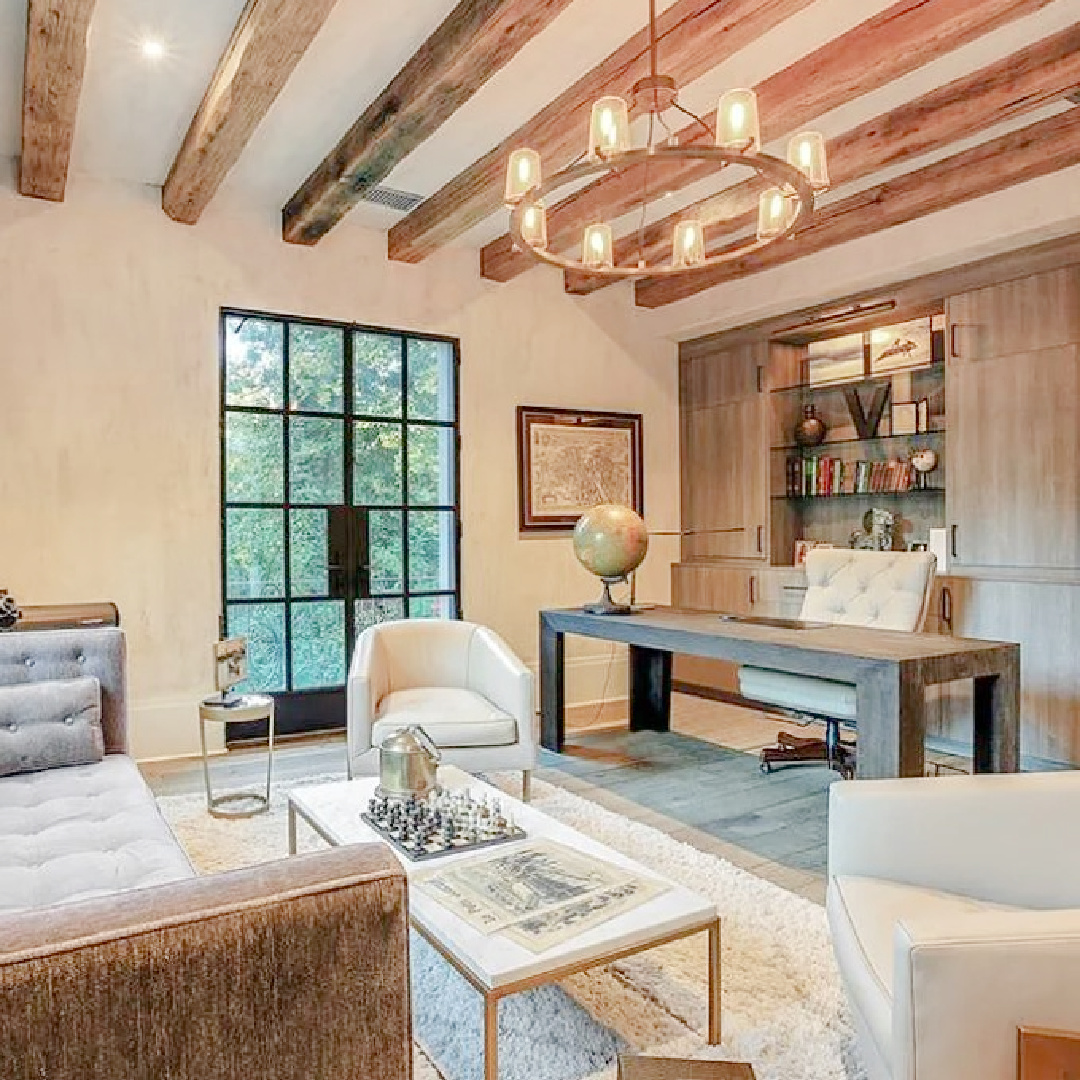 French oak floors and 18th-century chandeliers in the dining room.
The dining room connects to a fireside great room as well as the kitchen.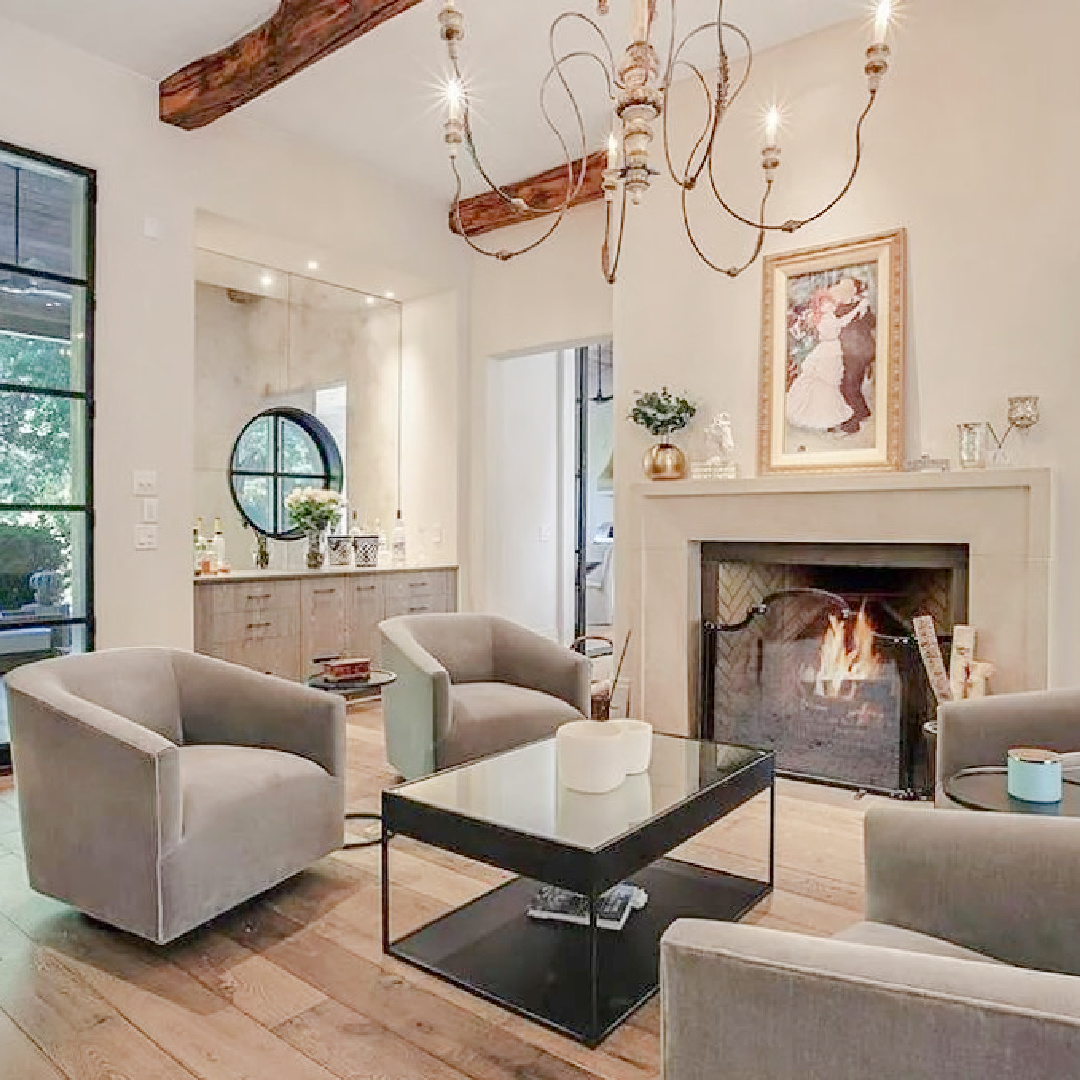 There are two seating areas in the more casual great room with its mirrored wet bar and adjacent screened porch.
Bonus Actionable Tip!
One last actionable tip to consider since I have a little experience with it. Pea gravel and stone or concrete pavers are a wonderful way to add Old World European charm to your gardens and courtyards. I used these materials in our former courtyard thinking they would be temporary fixes (each concrete paver was less than a dollar from Lowe's). However, the combination stayed looking beautiful for 7 years so I felt no need to upgrade!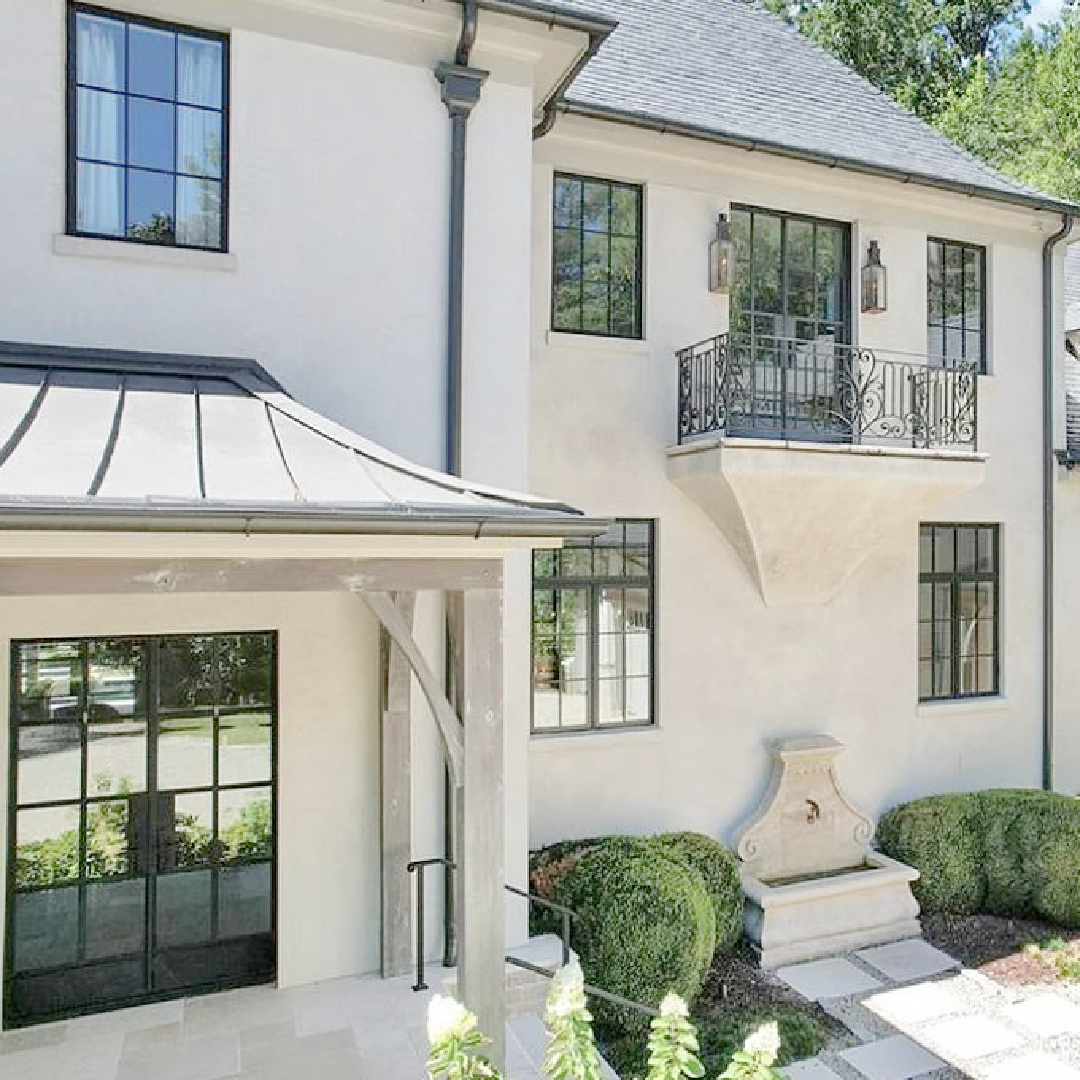 Find more info for this beautiful home HERE.
I independently selected products in this post—if you buy from one of my links, I may earn a commission.
Peace to you right where you are.
-michele
Shop for items you already intended to buy on Amazon RIGHT HERE, and also find home decor here to keep decor inspiration flowing on Hello Lovely!
Hello Lovely is a participant in the Amazon Services LLC Associates Program, an affiliate advertising program designed to provide a means for sites to earn fees by linking to Amazon.com and affiliated sites.