Personalized Etsy Gifts & Handmade Wonder will get your wheels turning as you consider special somethings for a special someone on your list. Etsy features work from some of the most amazing artists and creators around, and I have learned to snap things up quickly if I fall in love with an item. Why? Because these are real makers with real lives, so since life happens, vacation happens, and change happens, what is available just now may never come again.
I independently selected products in this post—if you buy from one of my links, I may earn a commission.
Unique Personalized Etsy Gifts & Handmade Wonder
I think you'll love these four charming handmade gift ideas that feel so personal and are one size fits all!
Imagine what those necklaces designed from real kids' art will mean to the recipient and the artist decades from now! And what child's eyes would not light up at the sight of their name in bold colors, ready to color? The trail signs? Get creative with the naming. Lots of folks name their home or cabin, and lots of us have a favorite home away from home or dream location. Mine is Oahu's North Shore.
Unique Handmade Décor for Artistic Types
Here are more possibilities that will appeal especially to folks with artistic leanings.
Because knitted sausages are going to delight a certain crowd!
And I am definitely a member of that linky loving crowd!
Oh the sweetness of the charcuterie. Because charcuterie should have a playful moment away from the cocktail parties, oui?
If your holiday gift shopping is done, please do pin these ideas for all of the other cats browsing Pinterest for sweet ideas!
This very cool MCM style geometric art (above) won the GRANDPRIZE for this year's Etsy Design Awards.
The pieces are such an interesting mix of art deco, MCM, and timeless chic.
Handmade Gift Ideas from Etsy Shops
SURREY WOODSMITHS (Jonathan Hitchcock) of the United Kingdom won the People's Pick award, their handmade oak candle holder is beyond unforgettable!
I love it even without the candle as it is such an interesting sculpture.
Before you ask yourself where you or anyone would place this cactus cuckoo clock, think about it as an art piece more than a time keeping piece.
This lovely marbled blue glazed Ceramic Footed Bowl would look amazing in any number of kitchens or on a floating shelf or window sill.
If rain boots float your boat, you're in luck!
Is there a special kittycat in your life who might appreciate a housing upgrade to this condo?
Or maybe it's a petal-perfect perch that will make your cat's day?
Also find charming pet gift ideas RIGHT HERE IN THIS STORY.
In case you have a moment to giggle…
I wasn't surprised that this year winner for the KIDS category was one of my all time favorite makers on Etsy…COLETTE BREAM!
Pin this to save this post for future reference:
Wildly Lovely Gift Idea
Oh, this artist!!!
Think beyond these silk scarves as merely fashion. I am imagining Rabbits & Pomegranates framed as fine art or sewed into a dreamy pillow. Perhaps the irresistibly chic color scheme could inspire an a room's color story!
Earth-Friendly Handmade Wonders
Guys! You're going to fall in love with the work of Pepita! Bunnies in muslin dresses all snug in their knitted scarves!
These gorgeously handmade creations are sure to become future heirlooms.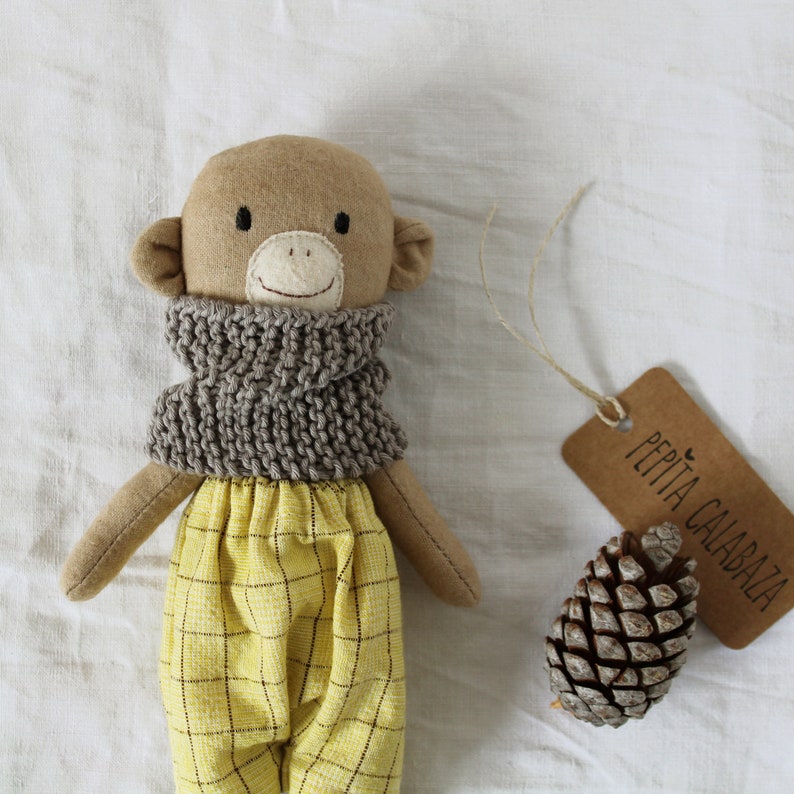 Handmade Dolls: a DIY
I know so many of you are makers, and if you happen to be inspired to craft a rag doll or were ever curious about the process, you'll love this:
You can also find the tutorial RIGHT HERE.
Personalized Messages Inside
Unique and also a treasured keepsake, these handmade clutches printed with a message inside that you create make a heartwarming gift for Christmas, a birthday, or a bride.
Etsy Award finalist Fontem creates these beauties from fine Italian leather.
Inventive Decor Creators Shine
How charming and whimsical are these wee clay handpainted houses from Maisie Parks Designs?
Imagine a collection from Maisie Parkes Design on a window sill or in a child's room.
We Pause for This DIY: Christmas Ornaments
Charming & French
Handmade pouches for your makeup, meds, and mini bits, anyone?
These pretty pouch cuties from Madame Gustave Couture caught my eye!
Apparently, even beginners can learn to sew a lined zipper pouch!
Stylish Bags & Personalized Clutches on Etsy
Past Etsy awards finalist illo Leather creates well-made bags, clutches, and accessories that may be customized in a color to your liking.
So sophisticated, simple, and chic.
Handcrafted Leather Clutch & Ballet Flats
This clutch is so versatile and could be used as a makeup bag or any number of things:
Handmade leather ballet flats from The White Ribbon may be designed for brides to be, but blogging fairies and followers can be smitten by The White Ribbon too!
Ya know?
Oh, what dreams may come on an occasion in these!
Did I mention metallic?
Personalized French Macarons Gift Pack
Ready for some decadent bliss with a French accent?
In the spirit of handmade and homemade, have you ever wanted to learn to make macarons? I have made them a handful of times, and while they aren't easy, they are scrumptious, and you will be able to brag about your accomplishment for the rest of your life!
Romantic Offerings from Etsy Seller Foe and Dear
There's also romance blooming in lovely handmade creations to wear and give from Foe and Dear…Hello, Lovely!
Herbarium Flower Press
One glance at this herbarium lovely flower press from Studio Karamelo, and you'll recognize the beauty blossoming.
I independently selected products in this post—if you buy from one of my links, I may earn a commission.
Peace to you right where you are.
-michele
Thanks for shopping RIGHT HERE to keep decor inspiration flowing on Hello Lovely!
Hello Lovely is a participant in the Amazon Services LLC Associates Program, an affiliate advertising program designed to provide a means for sites to earn fees by linking to Amazon.com and affiliated sites.