Now that the kitchen is fully functioning and renovated, I have been baking up a storm. One of my favorites always on rotation is homemade granola for yogurt parfaits and breakfast acai bowls. Get your appetite ready for double deliciousness today, because I'll share an easy delicious recipe for an acai bowl and my granola recipe. When we last vacationed in Hawaii (days before earth shut down in 2020!), we indulged in acai bowls every single day. If acai is new to you, read on! You can always skip the granola baking and use your favorite store-bought variety. Or skip the bowl and make the granola to snack on. Hello YUM. Acai Bowl With Granola Recipe is my favorite way to say Hello Lovely to breakfast.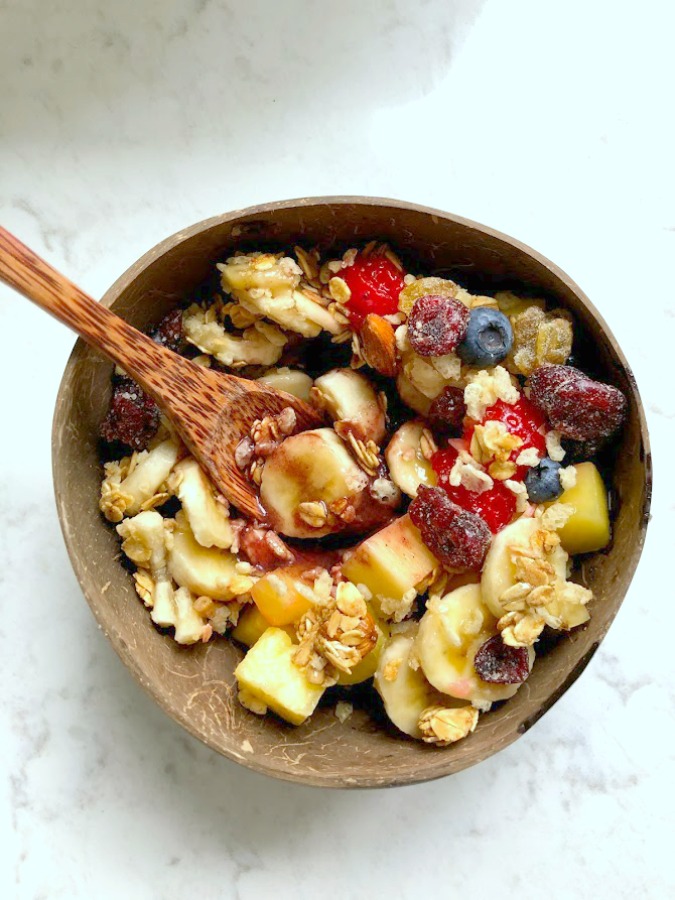 I independently selected products in this post—if you buy from one of my links, I may earn a commission.
Homemade Granola Acai Bowl: Hello Lovely Breakfast!
What if you're too strapped for time to think about preparing homemade granola and assembling all the ingredients I share below? I've got you. Here's a healthy, delicious alternative at a competitive price:
These superfood bowls can be purchased in packs of 12, are stored in the freezer, and are especially perfect if you have little time for breakfast on workdays. Grab and go!
Make My Homemade Acai Bowl!
This is my favorite breakfast/brunch/lunch any day of the week, and the most important ingredient (acai sorbet) is now easier to find in stores. You can even order Açaí Berry Sorbet on Amazon.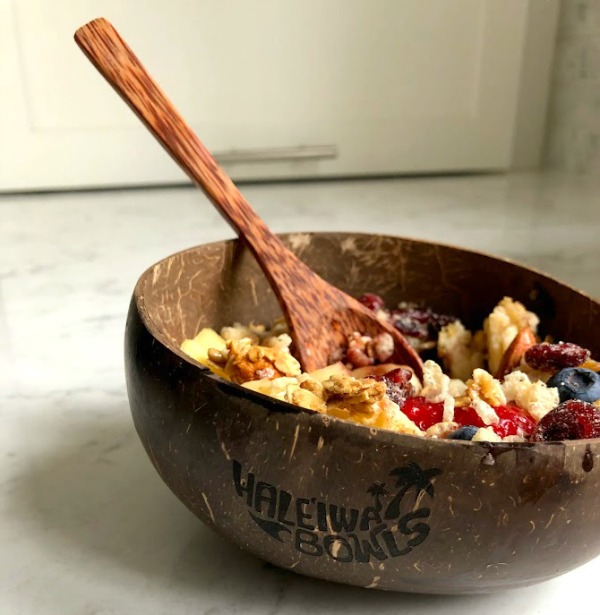 Açaí is a powerhouse fruit only grown in the Amazon Rainforest. It's whole food nutrition (packed with powerful antioxidants and healthy omegas) and has a unique rich flavor reminiscent of a blackberry crossed with bittersweet chocolate.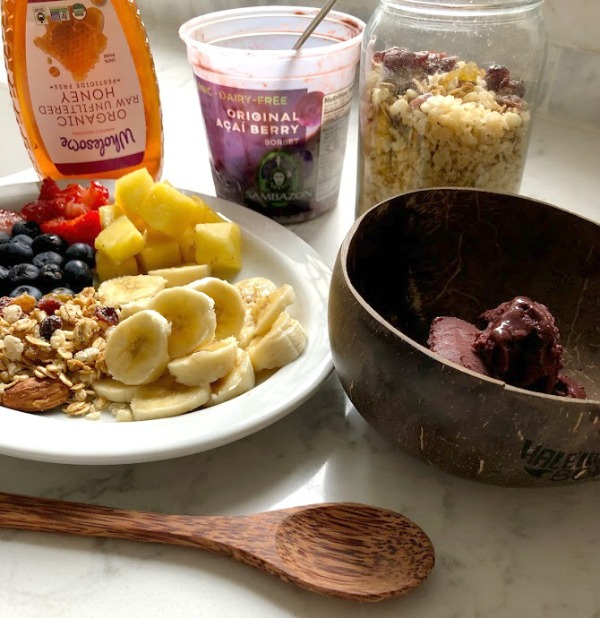 I not only enjoy the taste of not-sweet acai berries (almost no sugar!), but I love that they actually contain good fat and are high in fiber. Does that even sound like a fruit?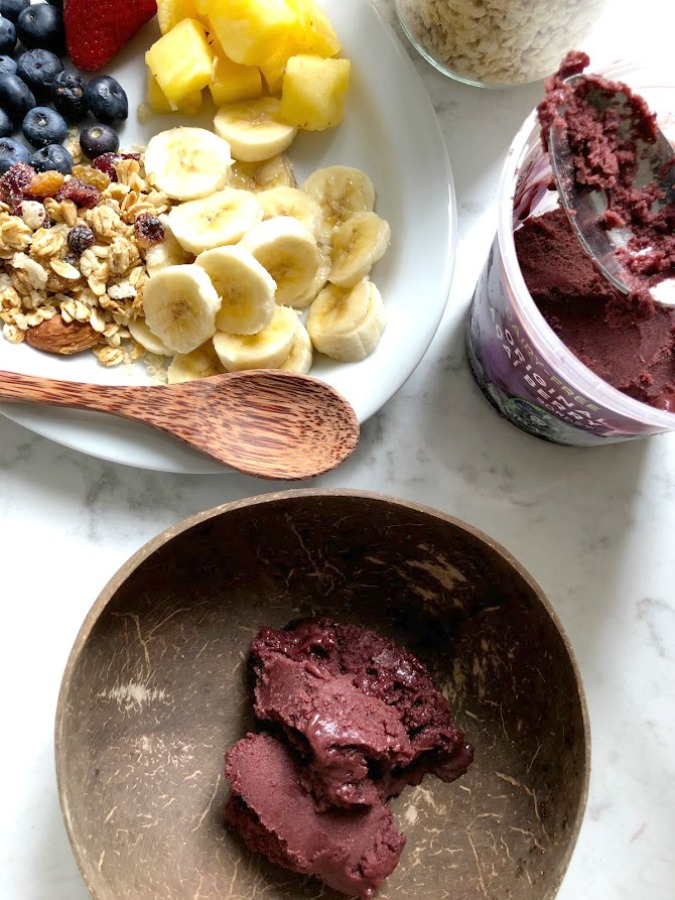 Acai Berry Sorbet
The frozen sorbet is dreamy because the consistency is so much richer and superior to messy Freezepop-like packets which used to be the only alternative. If the cost for 8 containers raises your eyebrows…I hear you.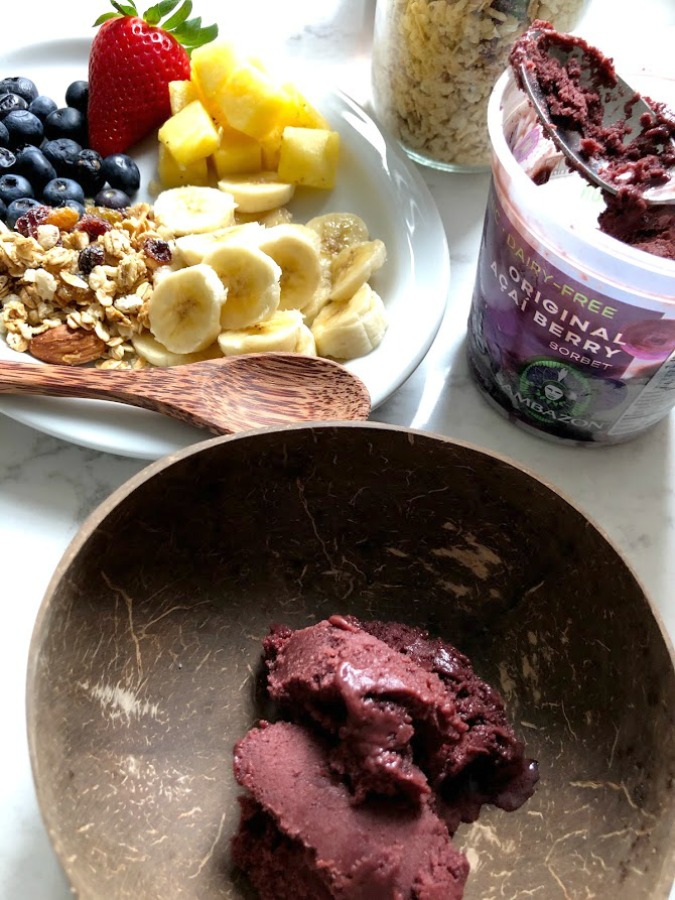 But consider that an acai bowl at a stand or restaurant costs $10-12, and I find 8 pints enough for around 40 bowls made at home. I'm a bargain shopper yet okay with the premium involved for a superfood like this which only grows in South America.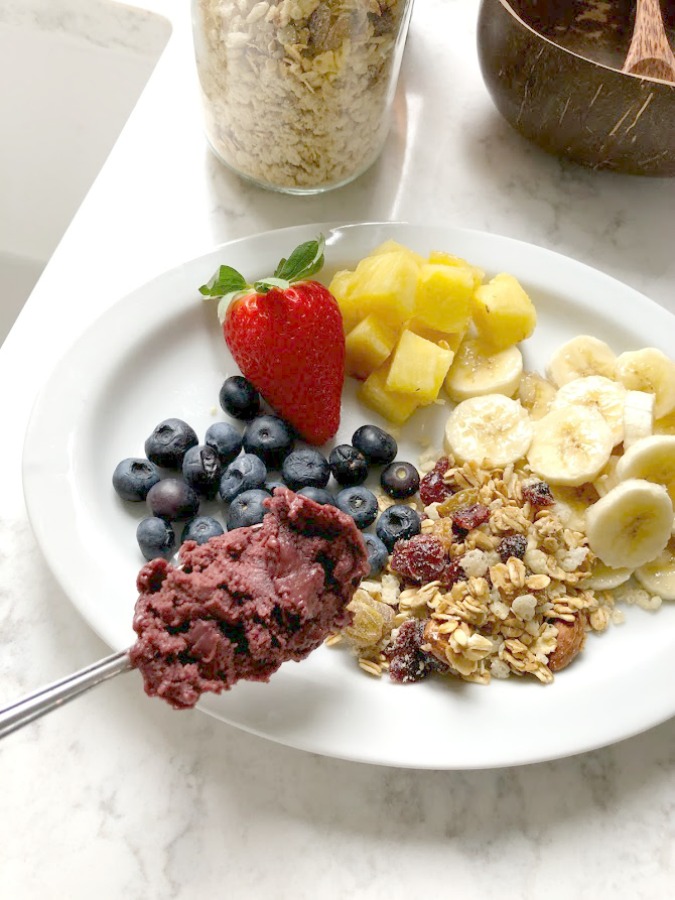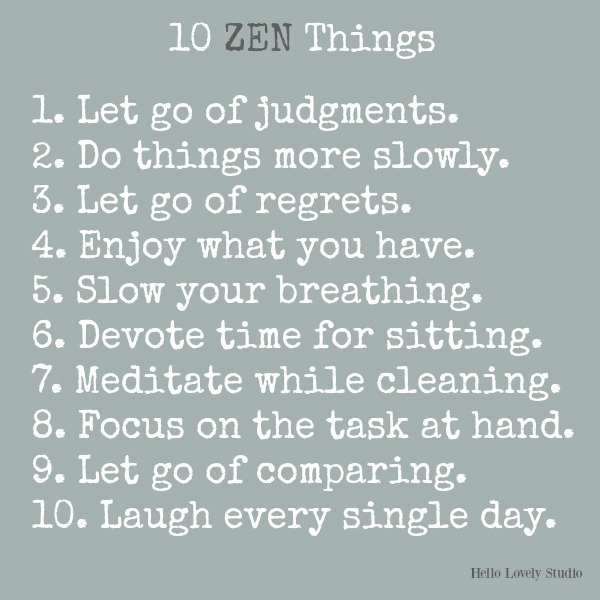 Acai Bowl Ingredients
Assorted Fresh Fruit, Sliced
Granola, recipe follows for my homemade variety
Drizzle of Honey (Try THIS premium supercharged Manuka Honey or Raw Organic Honey*
*unless you're making this for babies/little ones…no raw honey!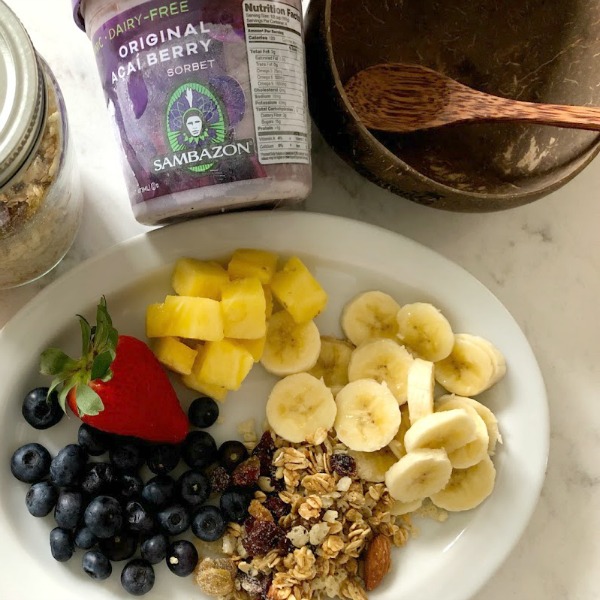 1. Scoop sorbet in bowl, add fruit and granola, then drizzle with honey. Enjoy this lovely treat for breakfast, lunch, or dessert.
Here's the high quality Manuka I recently added to my daily health journey:
These yummy bowls are gluten-free, dairy-free, and can be vegan by eliminating the honey.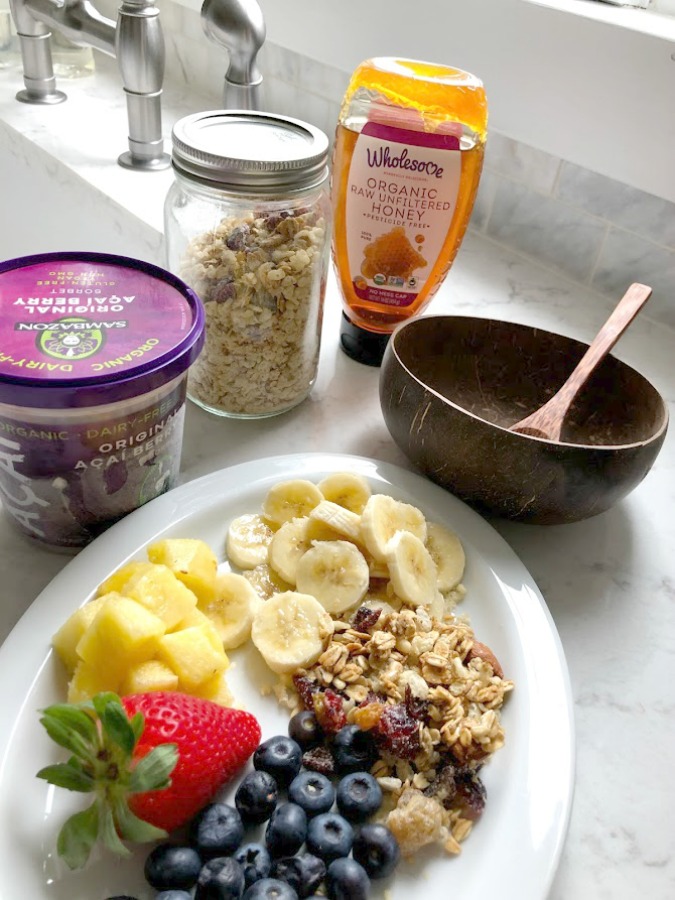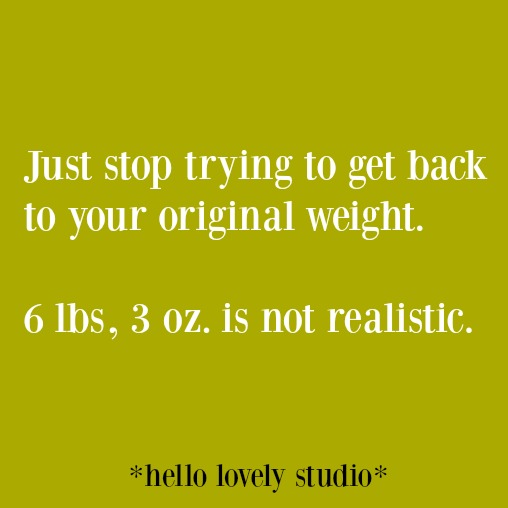 Tropical Bowl & Spoon
Ready to get your TROPICAL on even in the dead of winter? These coconut bowls and spoons are so perfect!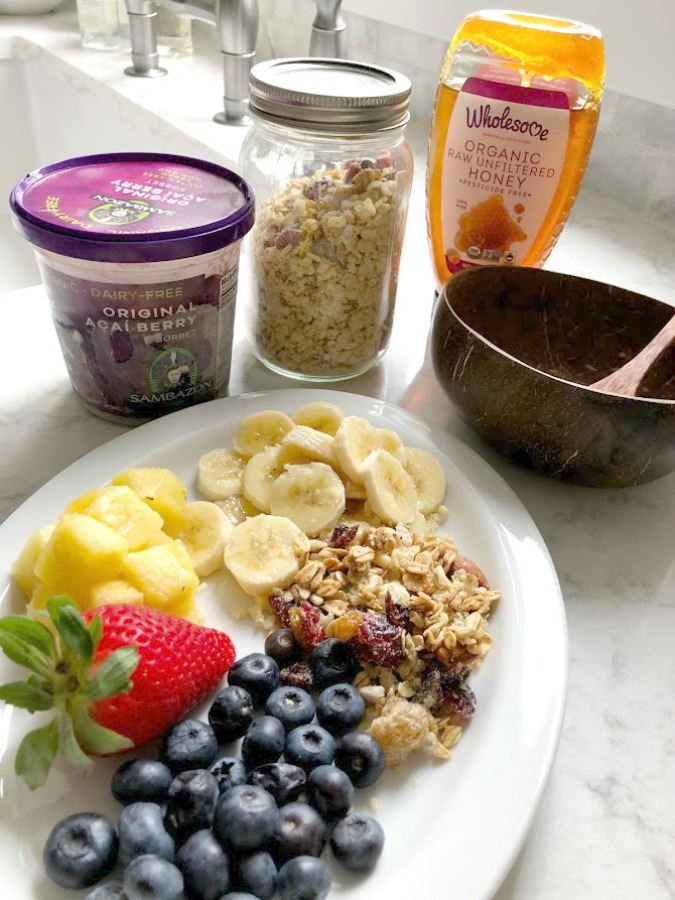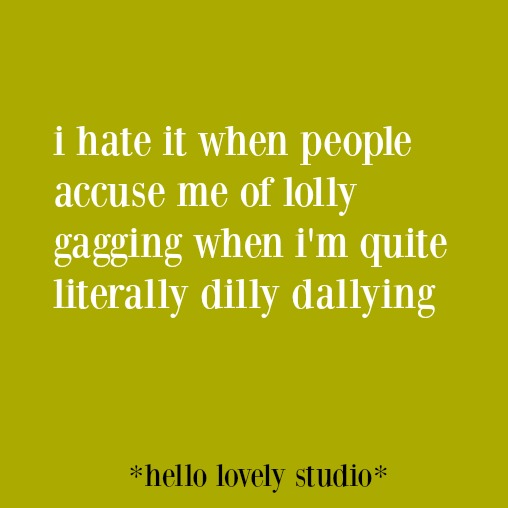 In Hawaii, I usually order the 'surfer style' bowl which is acai, coconut, granola, fresh sliced bananas, and a drizzle of honey.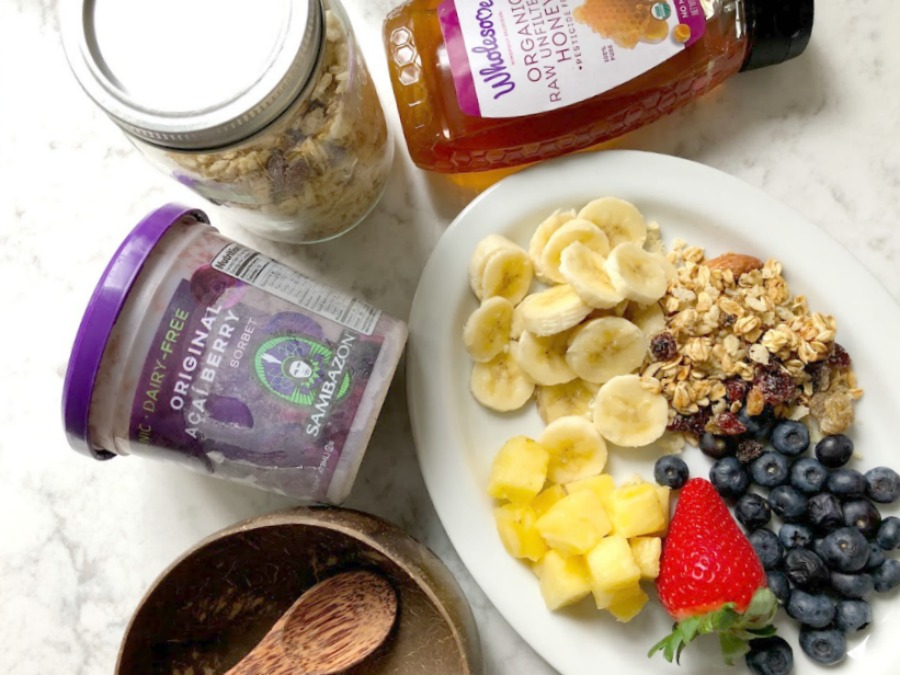 At home, my current favorite combo is seen here: fresh diced pineapple, blueberries, strawberries, granola (with nuts, seeds, and dried cranberries/cherries/golden raisins), and honey.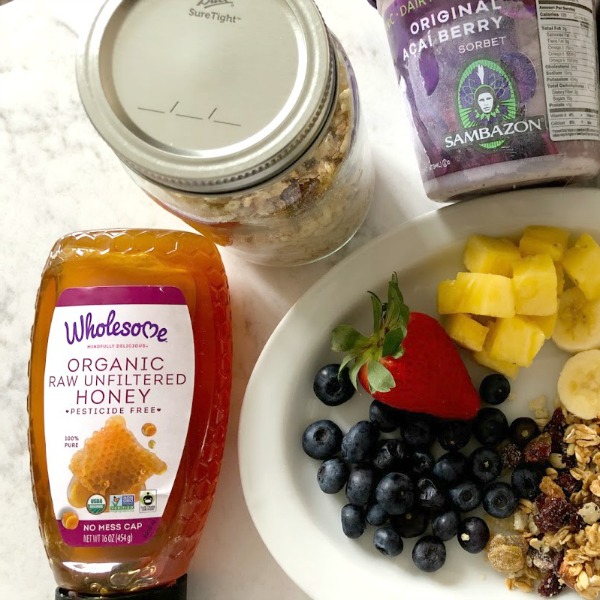 Assembling the bowls can be a work of art, and I'll have some pretty ones to share in the future, but I was short on time this particular morning!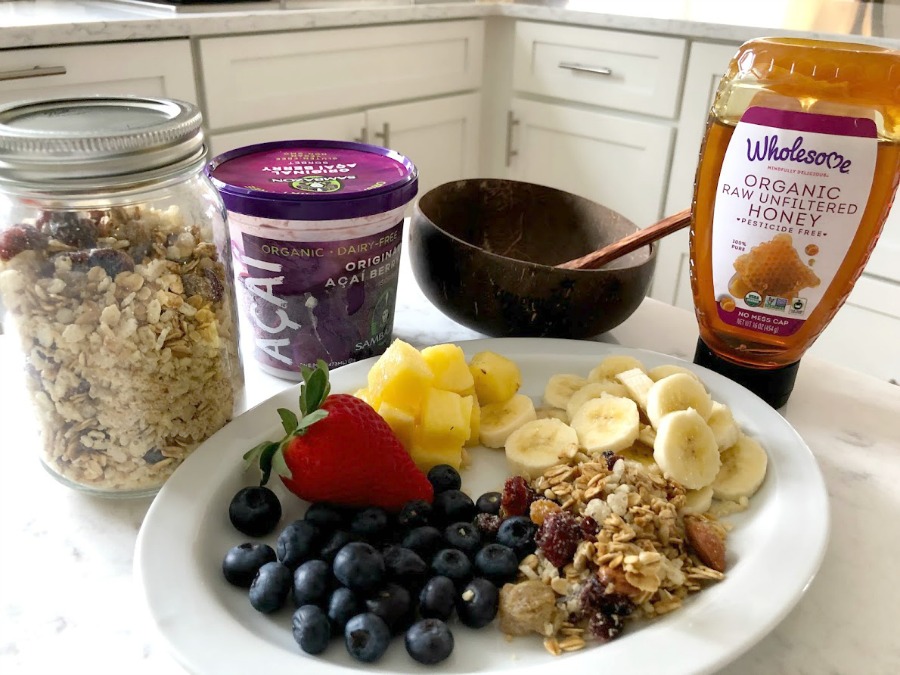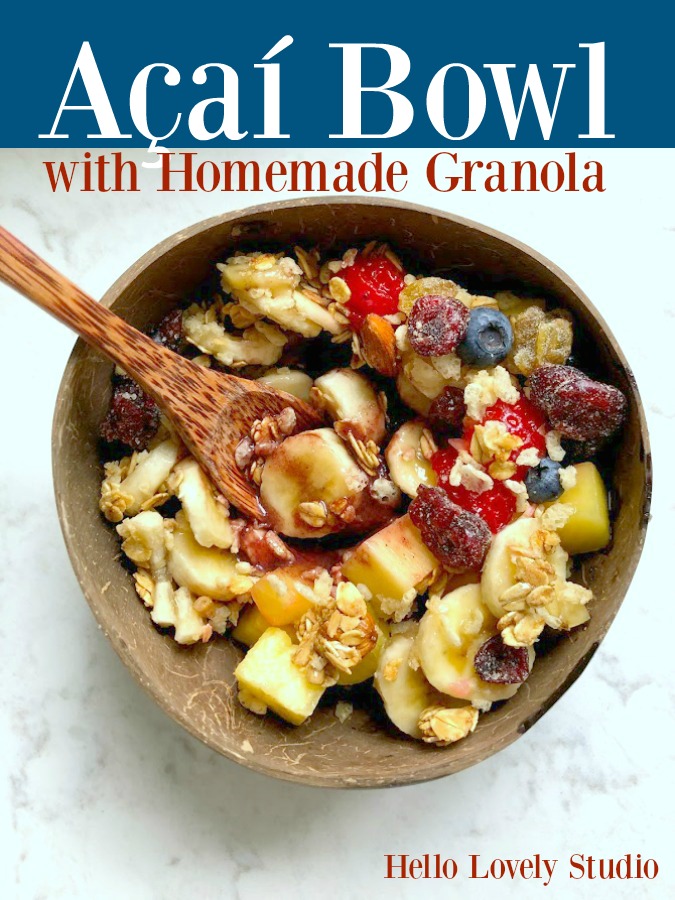 Make the Granola or BUY IT HERE!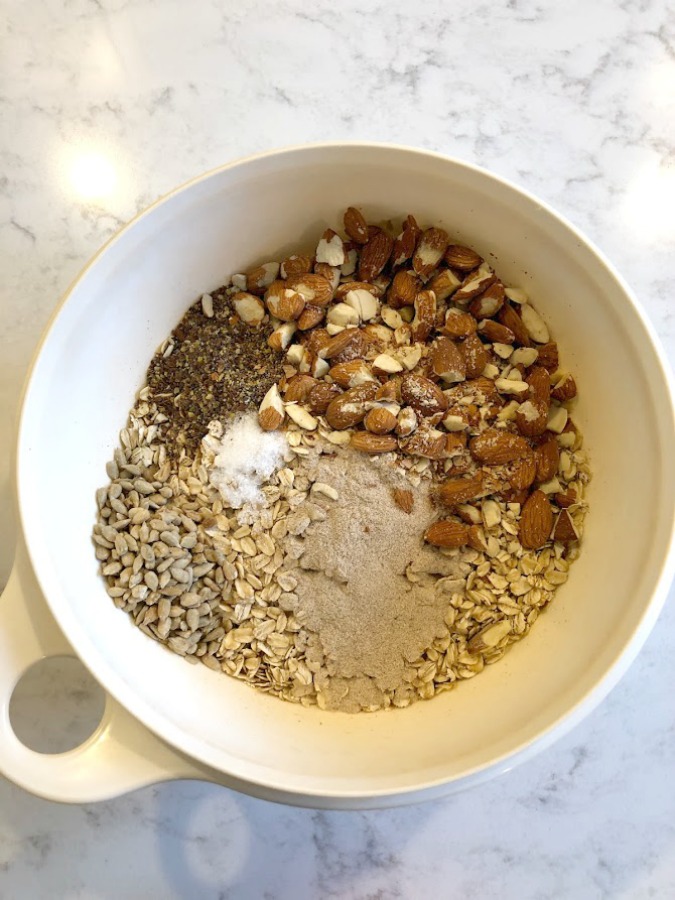 Homemade Granola Recipe
Preheat oven to 275 degrees.
4 cups Old Fashioned Oats
1 cup Whole Almonds, slightly crushed
3/4 cup Flax & Chia Blend
3/4 cup Sunflower Seeds
2 Tbsp. Psyllium Husk Powder, optional for added fiber
1/2 tsp. Sea Salt
In a mixing bowl, combine above ingredients oats, almonds, seeds, Psyllium (optional), and salt. In a separate bowl, combine wet ingredients below then pour over dry ingredients in bowl, gently folding to incorporate.
2/3 cup Maple Syrup
2/3 cup Raw Organic Honey*
2 Tbsp. Coconut Oil, melted (optional, for richness)
1 tsp. Pure Vanilla Extract (you won't believe how inexpensive this Mexican vanilla is!)
*unless you're making this for baby/little ones…use brown sugar instead.
Gently place this mixture on a parchment-lined sheet pan or cookie sheet. Bake for 30 minutes. Remove from oven, gently stir and return to oven. Bake for 30 minutes more, remove from oven and let cool completely on the sheet. While granola cools, combine in large mixing bowl:
2 cups Rice Krispie Cereal, slightly crushed
2/3 cup Trail Mix or Dried Berries/Cherries/Raisins
When granola is cool, add to cereal/berries and gently combine. Store in glass jars or airtight containers. Can be frozen or refrigerated to prolong freshness.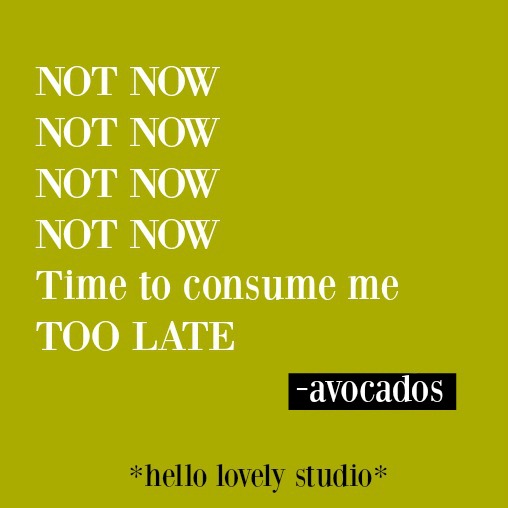 Steps to Make Granola
Photos of the process follow in case you need them: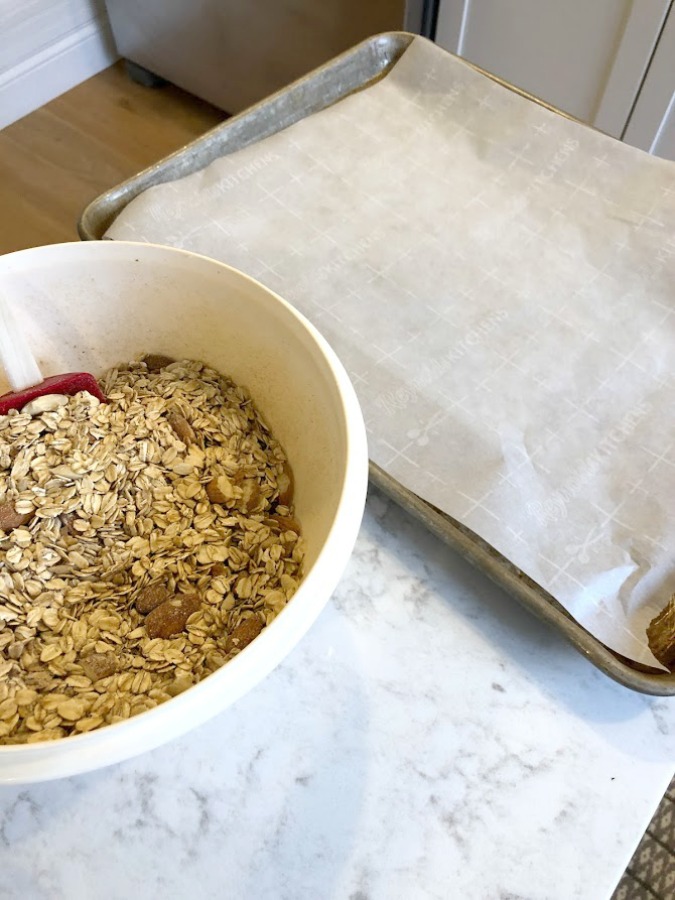 Pour wet ingredients over dry ingredients in bowl then combine.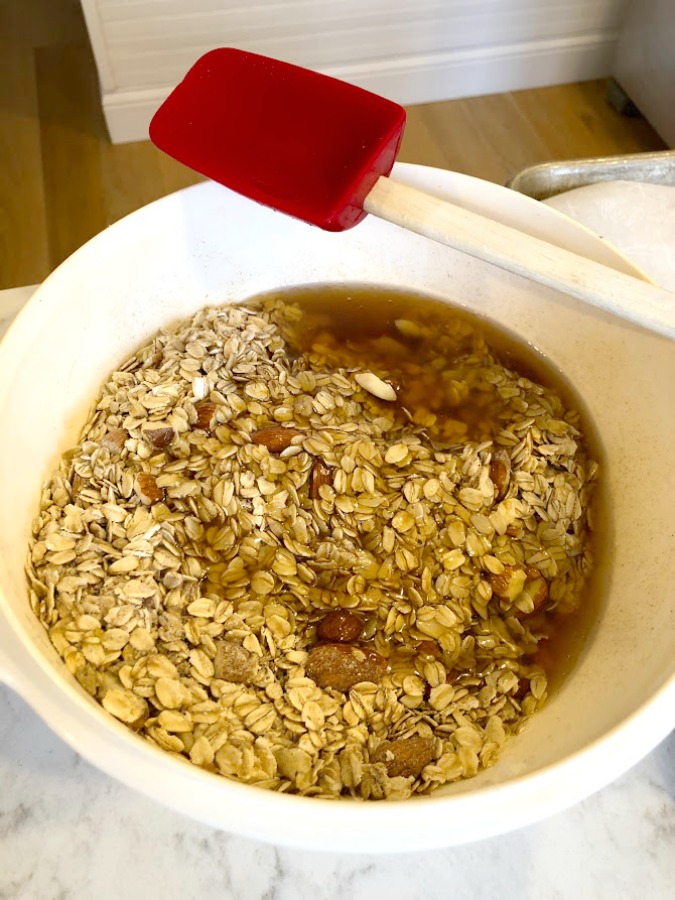 Spread on parchment lined sheet pan and bake as instructed above.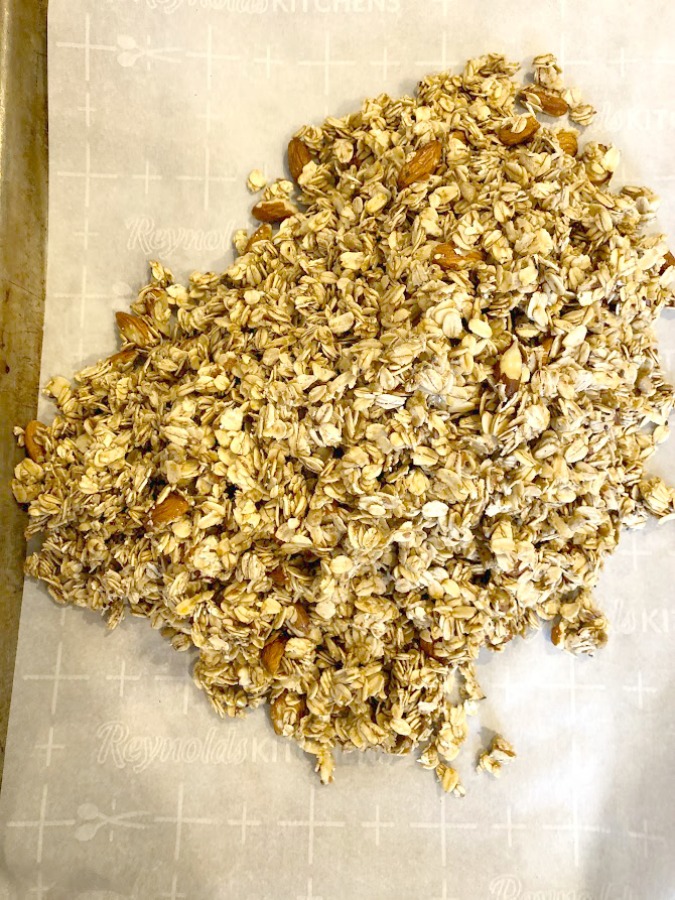 Let cool completely in pan.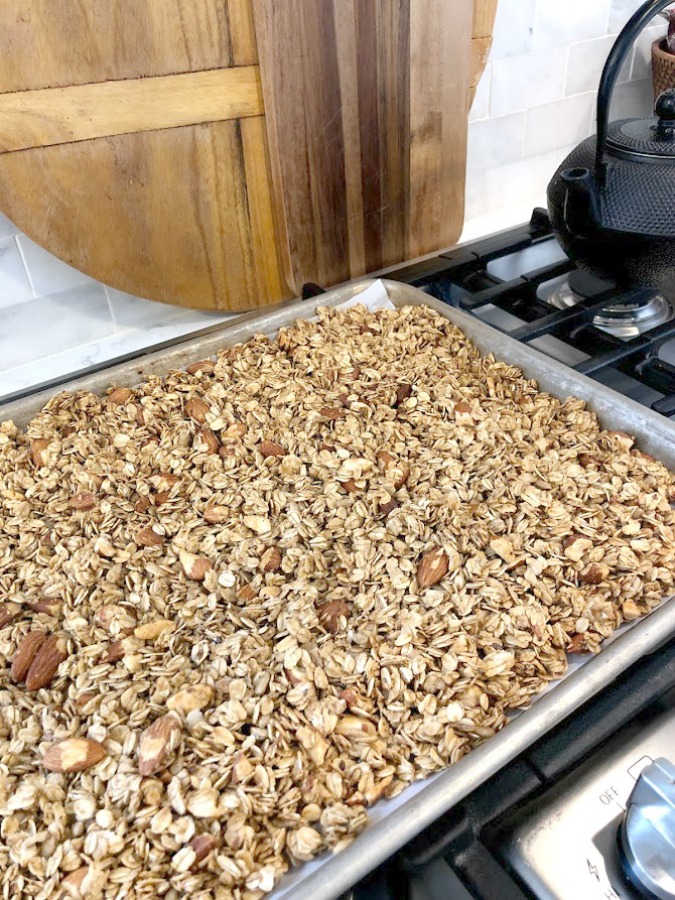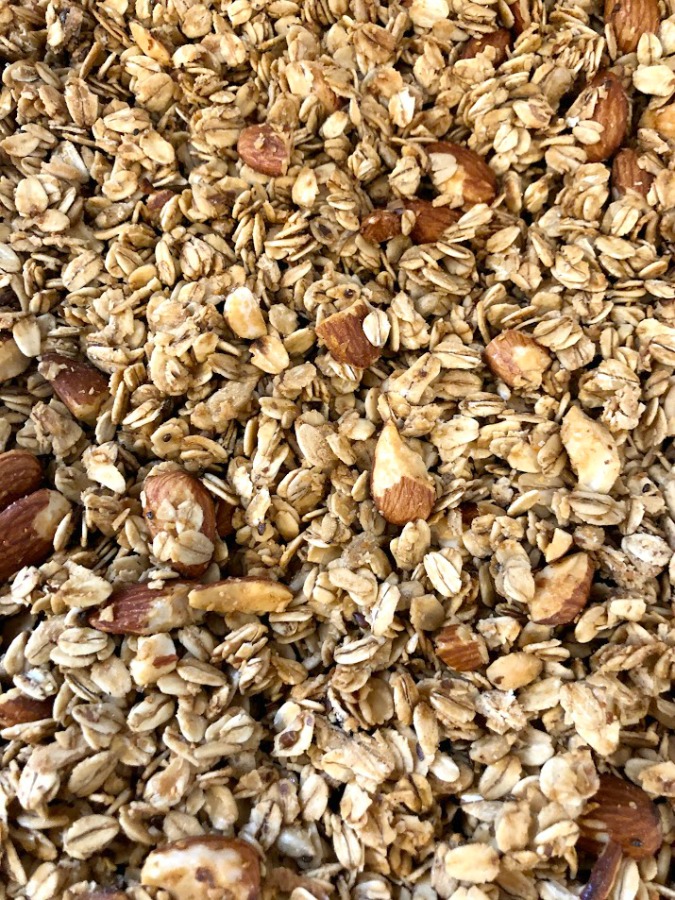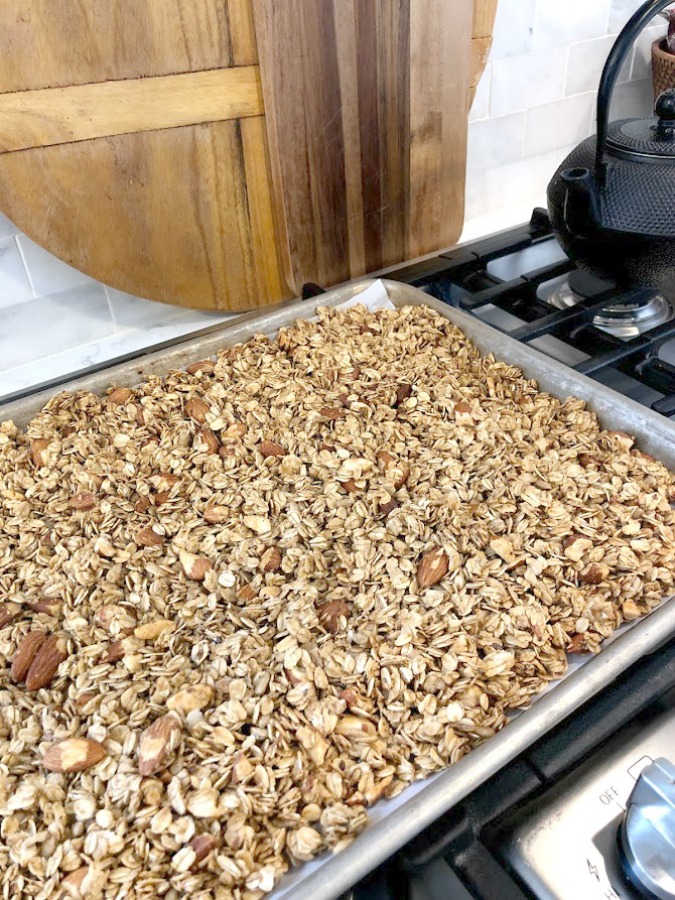 Mix slightly crushed Rice Krispies and dried fruit before adding cooled granola.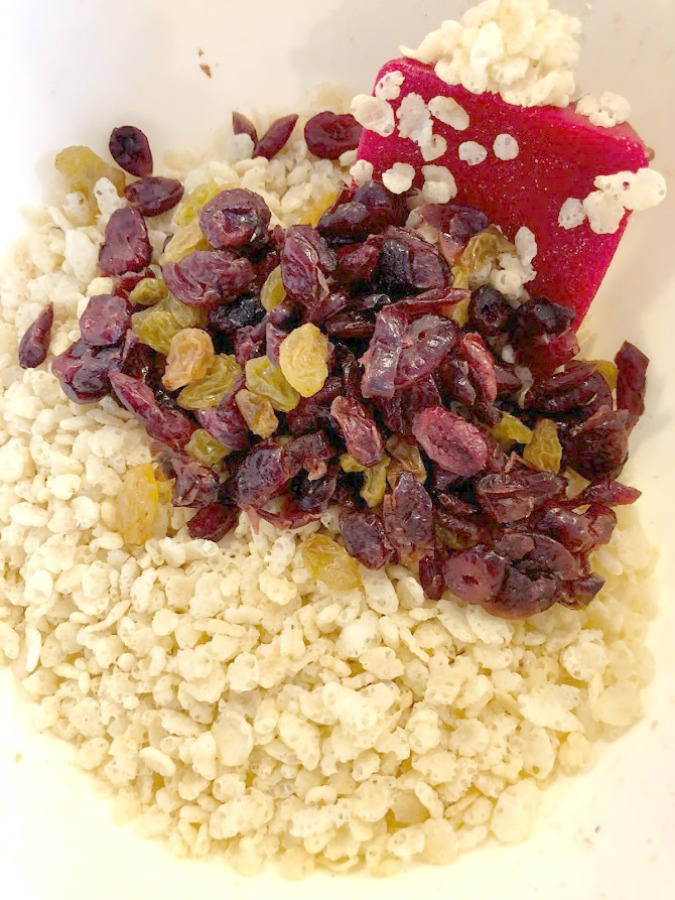 Gently combine granola, cereal, and dried fruit.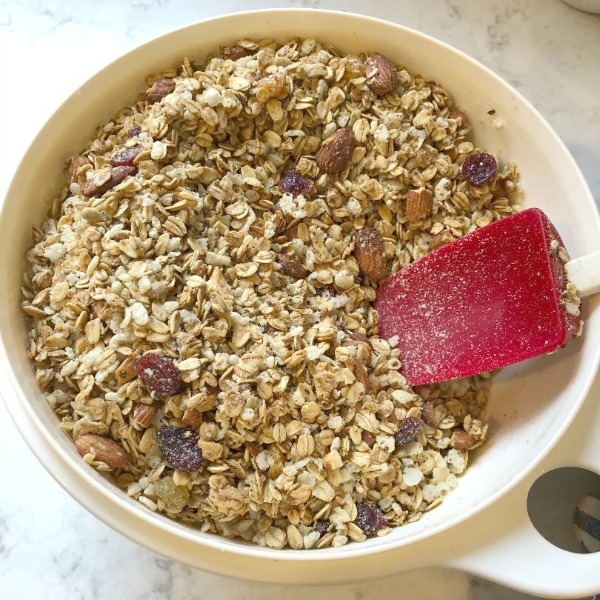 Store in jars and enjoy!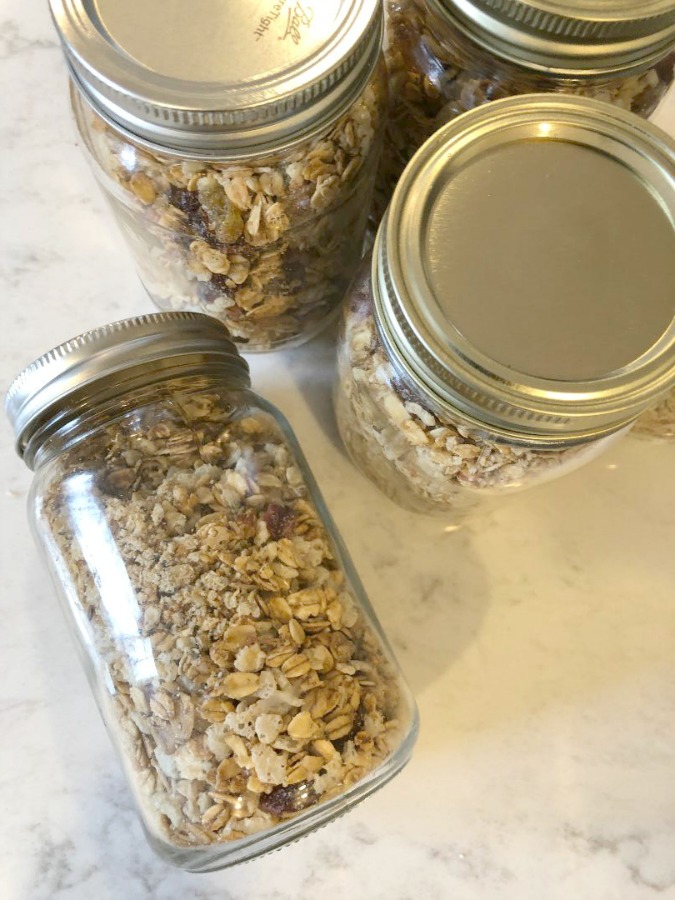 There are so many optional add-ins and possibilities to make this recipe your own (peanut butter? pistachios? pepitas? hemp seed?).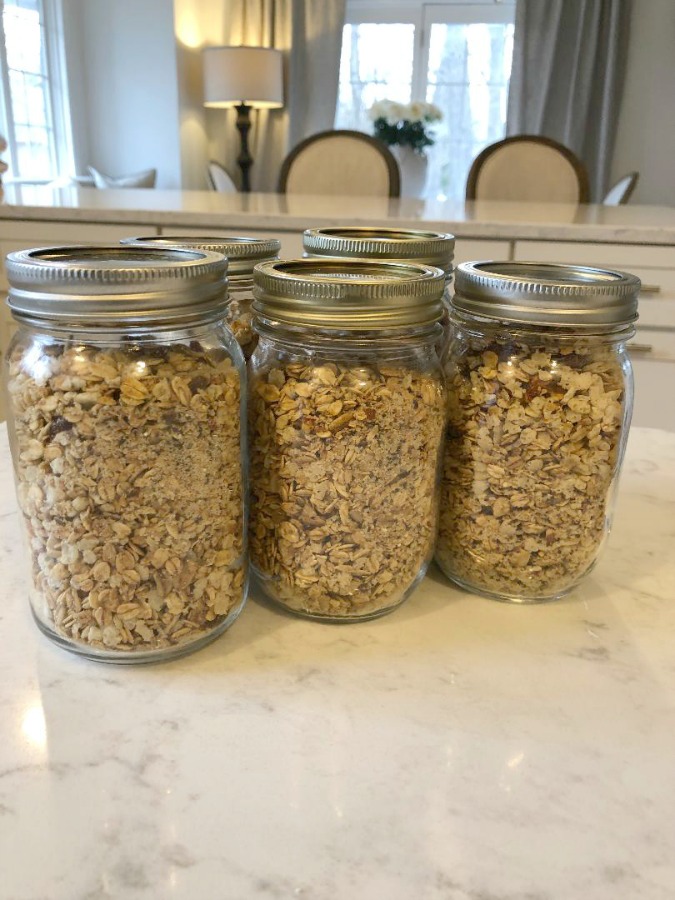 Have you made my HEALTHY gluten-free, no-knead, no-flour BREAD yet?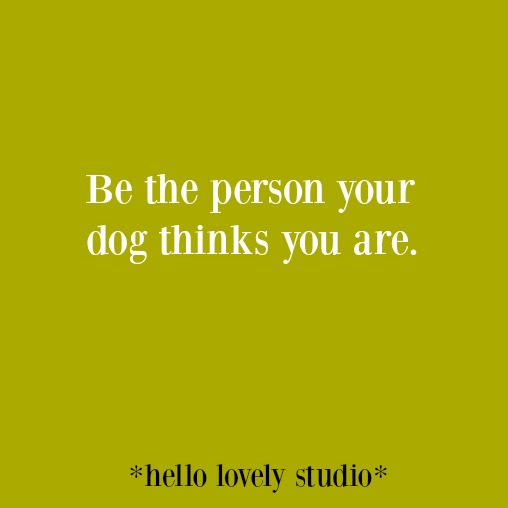 Behind the Blog: A Song Written for Mom
I'll be visiting my breast surgeon in a few days for a fresh concern. Because of my genetic mutation, I must be ever vigilant about catching abnormalities early. A few years back, I wrote this simple song (essentially a prayer of longing) when my mom was battling BC. (You may recognize the old studio in our former French country home with the swing and canvases proclaiming BE A LIGHT.) The lyrics are about surrender and healing, and I hope if you long for peace just now, my song will bring a little.
I independently selected products in this post—if you buy from one of my links, I may earn a commission.
Peace to you right where you are.
-michele
Shop for items you already intended to buy on Amazon RIGHT HERE, and also find home decor here to keep decor inspiration flowing on Hello Lovely!
Hello Lovely is a participant in the Amazon Services LLC Associates Program, an affiliate advertising program designed to provide a means for sites to earn fees by linking to Amazon.com and affiliated sites.