Inspiring Holiday Porch Decorations: Learn from the Look spotlights gorgeous Christmas curb appeal and stunning front doors. While we may not all have room for mega scale professionally created holiday topiaries and larger than life fresh wreaths, there is always something to learn! Let's explore the color combinations, garlands, and design elements from beautiful projects that evoke unforgettable romance.
Inspiring Holiday Porch Decorations: Learn from the Look!
Balance, Symmetry, and Repetition on a Christmas Porch
Sometimes it's all about striking the right balance. First of all, notice how this wreath is hung lower than one might expect. Isn't that charming?
Here's another example of the wreath below the window rather than on it:
Second, while there is a bold pattern of Buffalo check (above), it's the only pattern and is repeated. This keeps the look feeling cohesive and orderly. Third, two of everything also brings order. The symmetry is pleasing to the eye.
Here's another charming facade where a single plaid pattern shaped into bows looks stunning with evergreen garlands. How happy is the shade of red on the planter!?!
Vintage Fishing Basket With Greenery in Lieu of Wreath
For a change of pace, hang a simple basket on your holiday front door. Tuck in a few picks of greenery or some fresh evergreen branches like mine: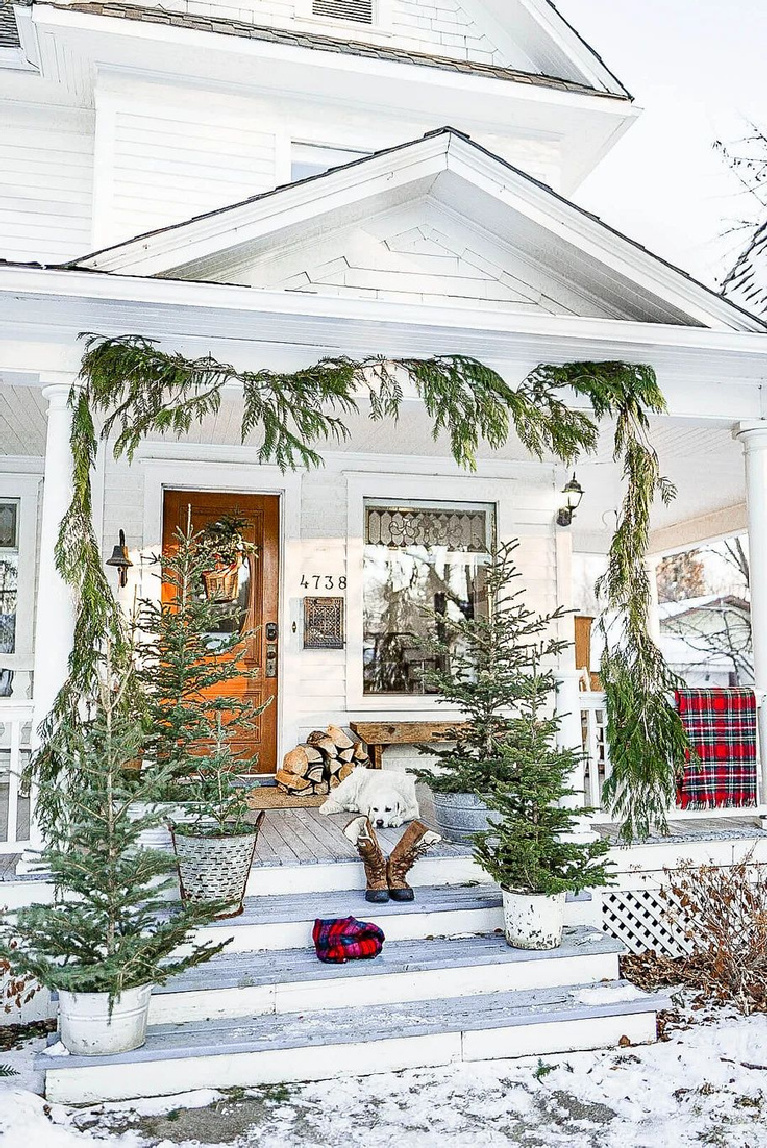 LEARN FROM THE LOOK: For a decidedly casual farmhouse Christmas display, use a mix of pots and planters.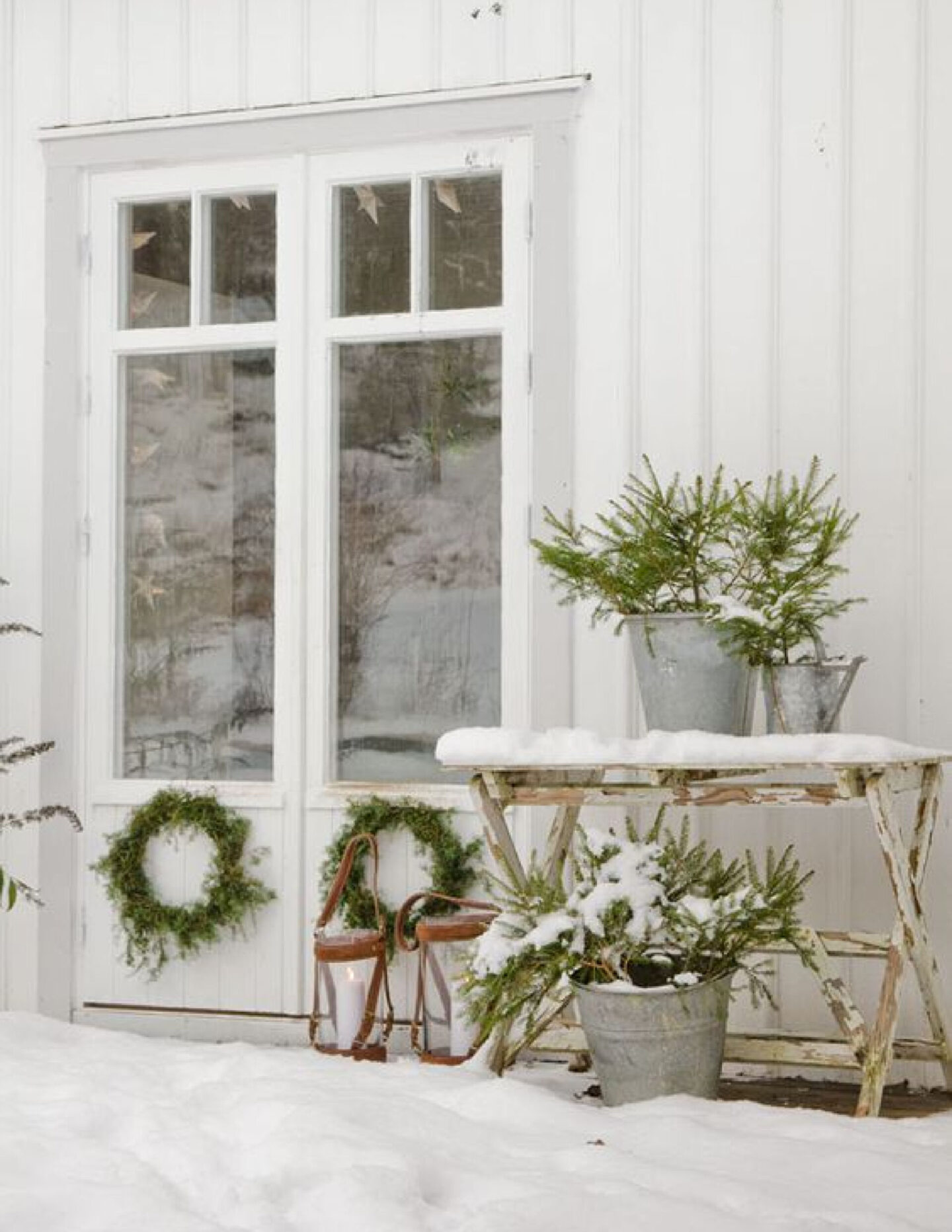 We Pause for This French Apple Cake Recipe
What does a plant-based French apple cake have to do with decorating a porch for Christmas? Maybe it'll be your reward after your laboring to make your entrance more welcoming!
Swap the Christmas Reds for Christmas Pinks
What a soft look for a white Christmas, yes?
Just a thought, but if you're after a super-soft pastel, cotton candy look, you could dip pinecones in a pale blush pink paint then leave as is or sprinkle on silvery glitter.
For a Southern Christmas Look: Magnolia Leaves
What's wonderful is how the back of the leaves are gorgeously brown – so natural and far more interesting than just the green.
LEARN FROM THE LOOK: Want to score the exact paint color palette for this South Carolina home? Benjamin Moore Simply White and Benjamin Moore Blue Porcelain! Magnolia garlands and topiaries in blue porcelain pots are also Southern nods to consider.
Minimal Unfussy Porch Decor
For an effortless look, go for a wild, underbaked approach:
LEARN FROM THE LOOK: Colorful accents, ribbons, bows, and planters are optional if you're after an unfussy modern yet natural look.
Hang a Christmas Bell from an Exterior Pendant
It's a simple detail, but I love the idea of suspending decor from lights as was done on this gingerbread-gorgeous trimmed cottage:
LEARN FROM THE LOOK: Another takeaway from this Nordic charmer? Old milk cans serve as planters for the lit Christmas trees! Also, flameless candles in lanterns look magical.
Black Accents With Greenery
A little less traditional, but certainly not too modern, the simplicity of a black door and black urns looks beautiful in the white snow!
LEARN FROM THE LOOK: For interest and variety, add birch branches for height in planters.
DIY Christmas Garland Lesson
LEARN FROM THE LOOK: Something magical happens when gold tones or brass join the green and white combo.
Add Texture on the Porch With Woven Baskets
If your climate is not extreme, what a gorgeous look!
A single lantern will always look and feel welcoming, and if you're so inclined, add eight:
Add a Festive Doormat to the Porch
There are so many wonderful choices! Layering is a very popular option:
LEARN FROM THE LOOK: Fall for easy breezy laid back classic holiday decorations from McGee, where you'll find options that will work for many Christmases to come.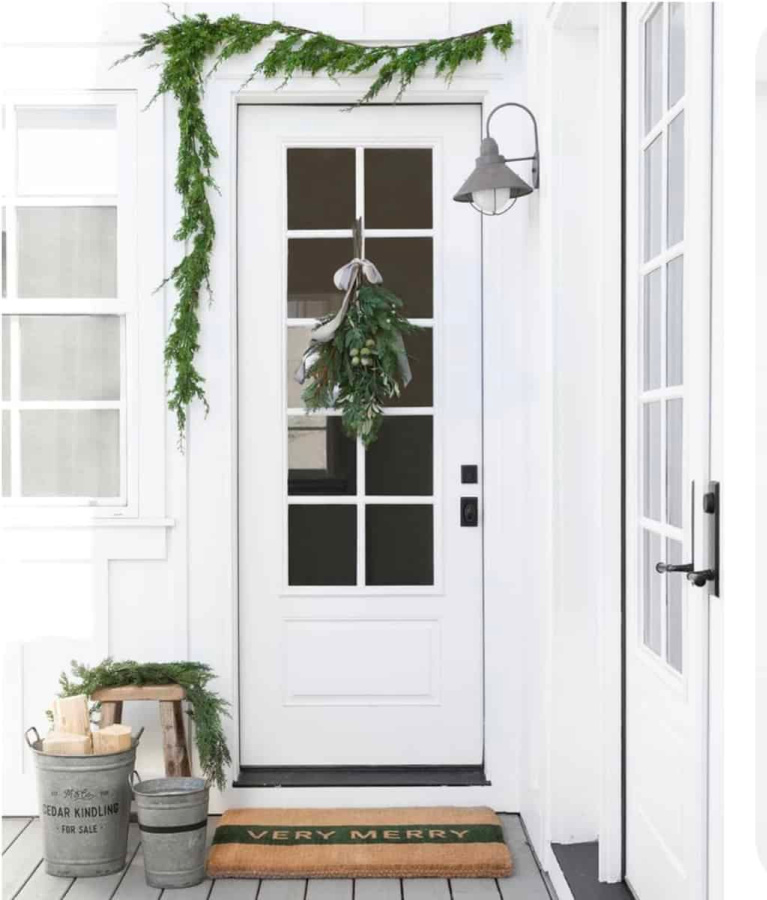 Wreaths on Windows Will Never Fall from Favor
It's such a traditional look, and they need not be lit.
Simple Touches for the Exterior That Aren't Showing Off
Olive branches, bells, and ivory ribbon? Yes, please.
A few lights and two wreaths?
Simple touches are often the secret to an elegant look.
LEARN FROM THE LOOK: Live evergreens tied up with silk ribbon always look lovely.
Oversized Pinecones and Embellishments
We are not all minimalists (thank goodness!) so more is often more!
GET THE LOOK: Mix a variety of greenery and celebrate a look of abundance.
Tour the Atlanta Home for the Holidays Showhouse 2019
I independently selected products in this post—if you buy from one of my links, I may earn a commission.
Ideas for Furry Friends Who Make Every Porch Prettier?
So much lovely CHRISTMAS DECOR INSPIRATION to greet HELLO in POSTS HERE and boards HERE.
I independently selected products in this post—if you buy from one of my links, I may earn a commission.
Peace to you right where you are.
-michele
Shop for items you already intended to buy on Amazon RIGHT HERE, and also find home decor here to keep decor inspiration flowing on Hello Lovely!
Hello Lovely is a participant in the Amazon Services LLC Associates Program, an affiliate advertising program designed to provide a means for sites to earn fees by linking to Amazon.com and affiliated sites.