Lofts, sleeping alcoves, nooks, daybeds, trundles, basic and custom bunks–ooh la la! Ready for an amazingly diverse collection of lovely designs? Thinking of creating your own cozy nook? We simply must consult Laura Fenton's book to become enlightened about all things beautifully bunked. If your only experience with bunks was those uncomfortable metal ones at summer camp, the custom bunk bed designs in THE BUNK BED BOOK will inspire!
Unforgettable Custom BUNK BED Designs & Cozy Nook Ideas
What is it About Bunks & Nostalgia?
Do you have childhood, college or summer camp memories associated with bunk beds? So many of us do! My own experience includes summer camp (oh my lord, those awful thin mattresses!) and my college dorm at Northwestern (so many lovely late night chats with my roomate). There's just something about the intimacy and nostalgia of bunks that taps into thoughts of relaxation, vacation, reading, and childhood.
The magic of bunks, lofts, and cozy nooks has been captured in THE BUNK BED BOOK by Laura Fenton: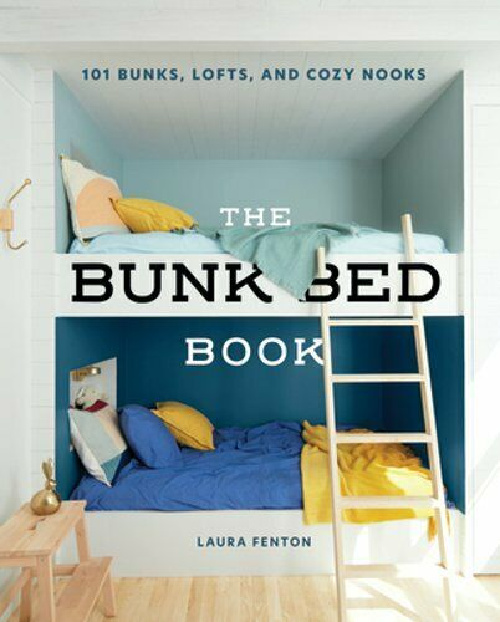 Need Ideas for Custom Bunk Beds?
You'll be knocked out by the breadth of innovative designs. Frequently bunk beds are an answer to a space shortage in a bedroom's design, but after seeing these creative examples, I think you'll agree they add architectural interest and whimsy to rooms of all sizes and shapes.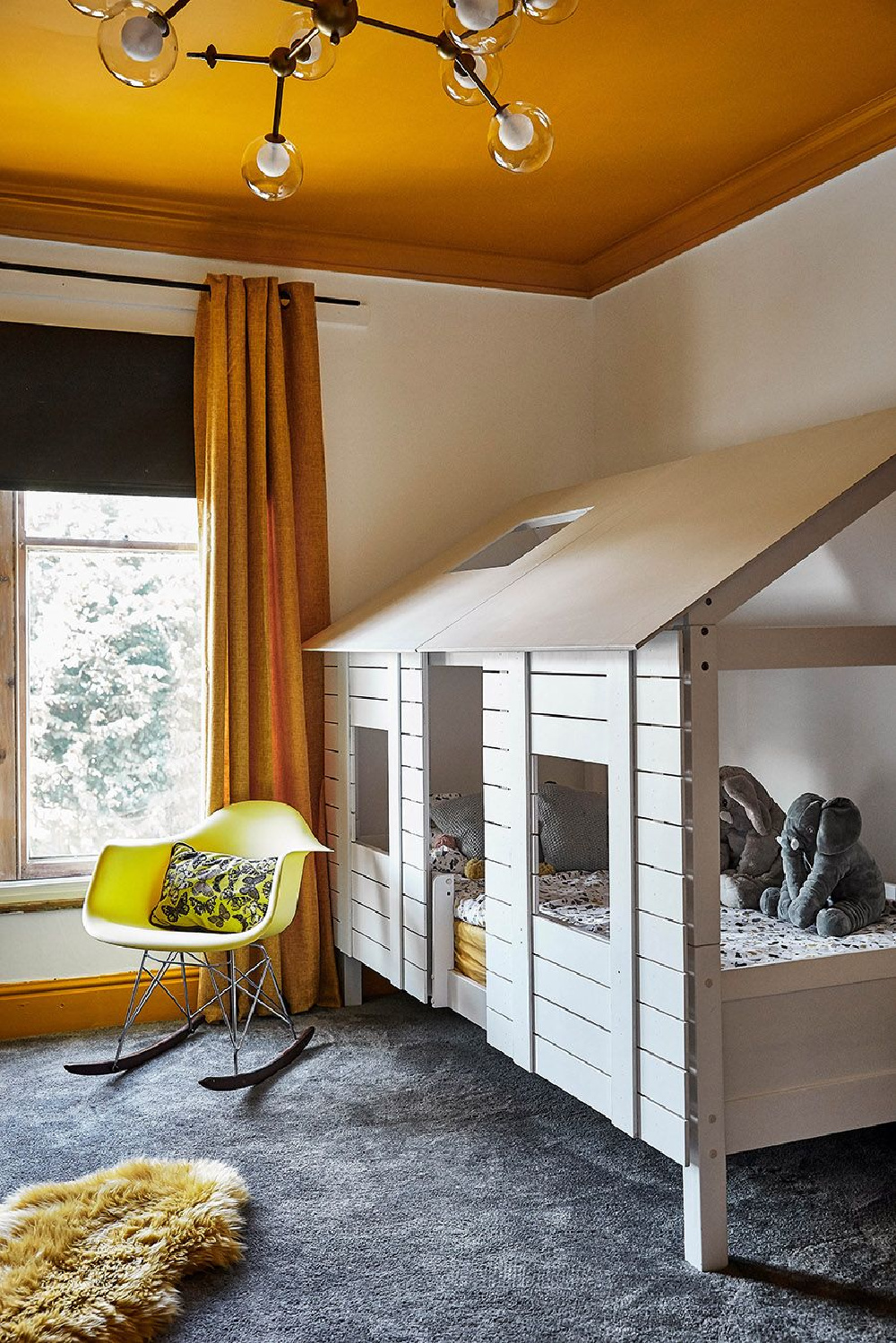 "Space" is certainly not a "problem" or in short supply here! I want to be six years old again and have my very own spaceship and itty bitty Panton chair!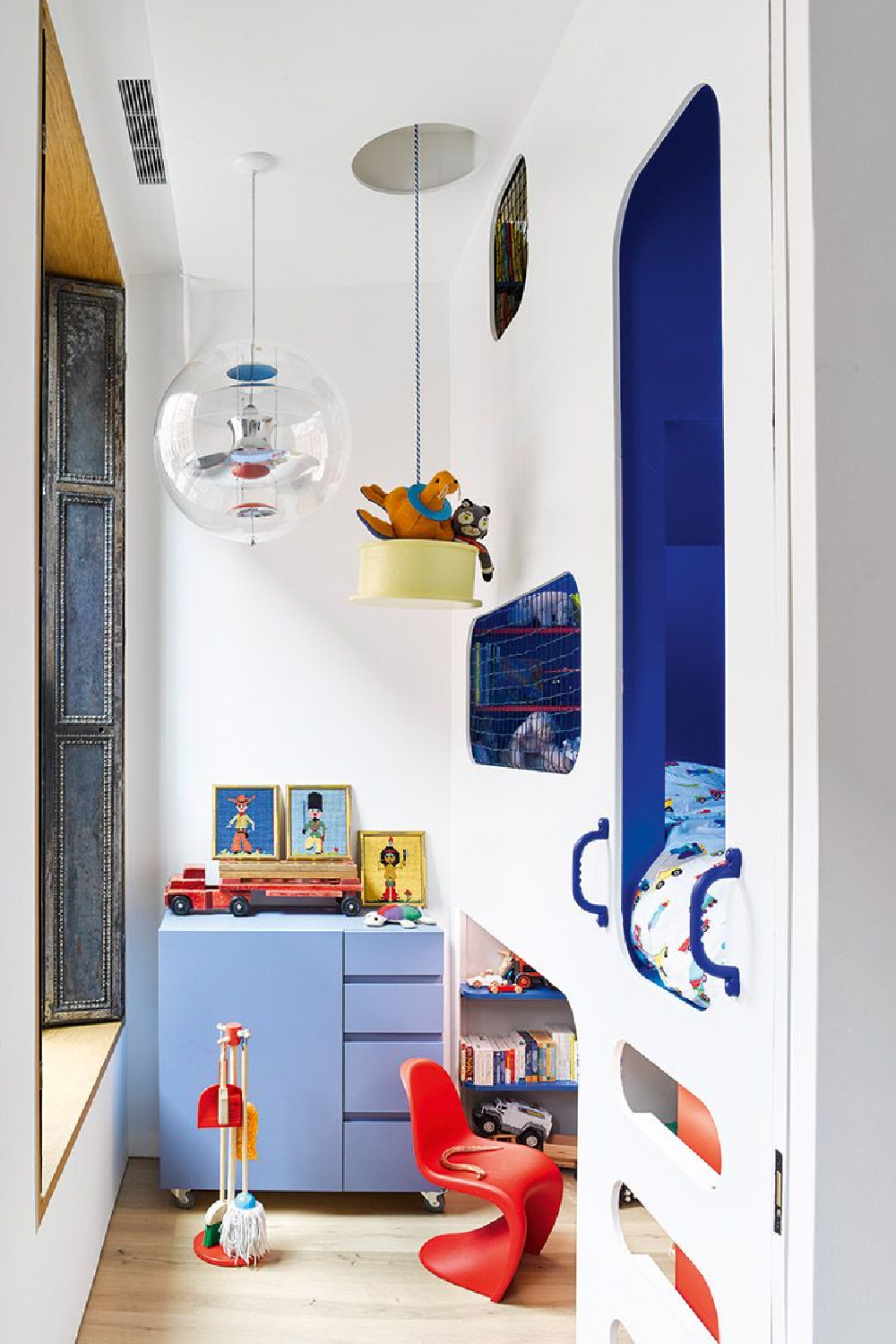 These next bunks with their bold blue were one of my favorite examples in the book. Suzanne Kasler designed these beauties! Don't you love those shaded sconces for reading? I can imagine this design having true longevity since it is not too childish and could easily transition into a guest room.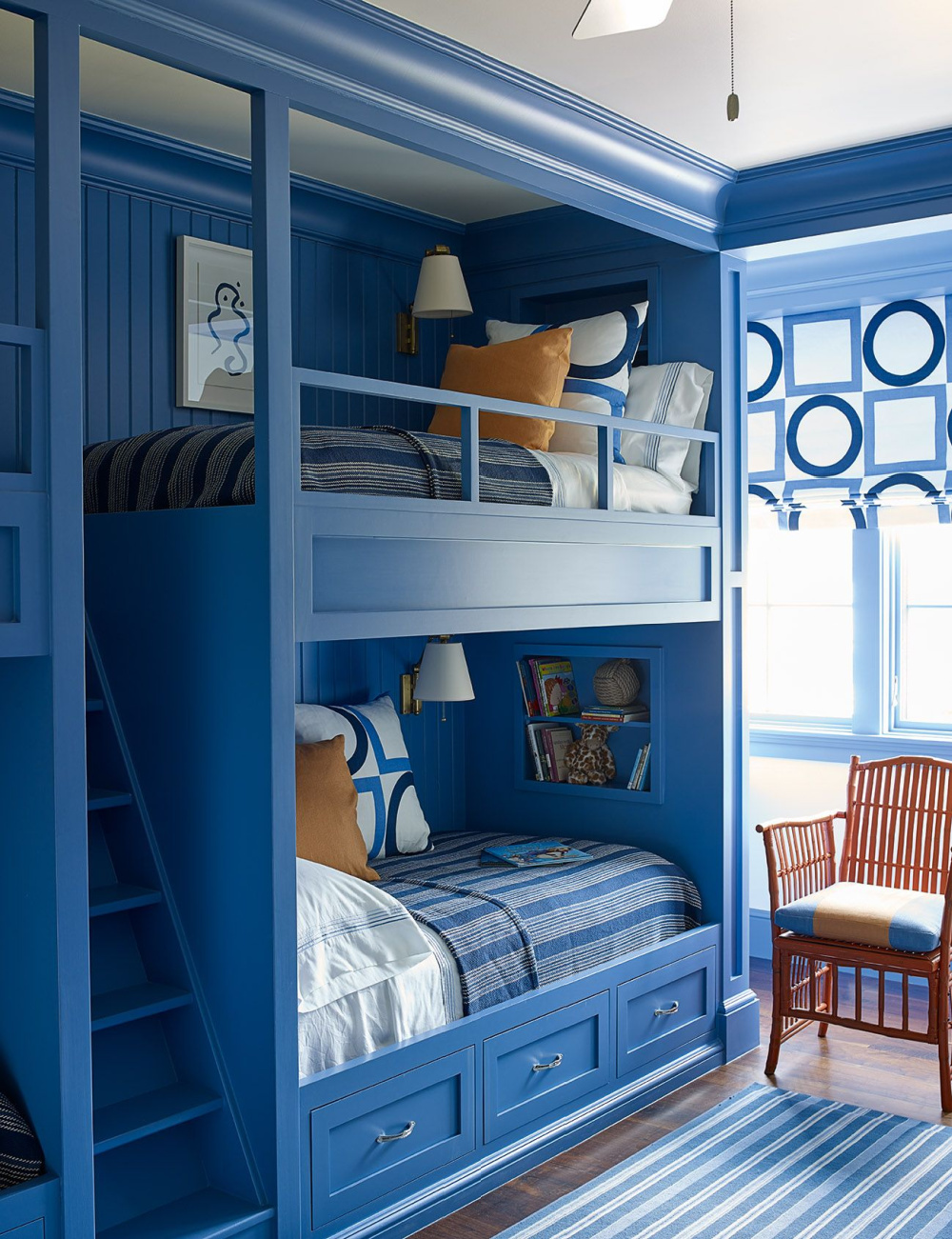 Need Help Imagining Possibilities for a Small Bedroom?
We tend to automatically think of top bunks being near the ceiling, but low, L-shaped bunks may be a lovely and safer alternative. Let's face it. Ceilings are not always lofty in small spaces, and some young children are not keen on heights.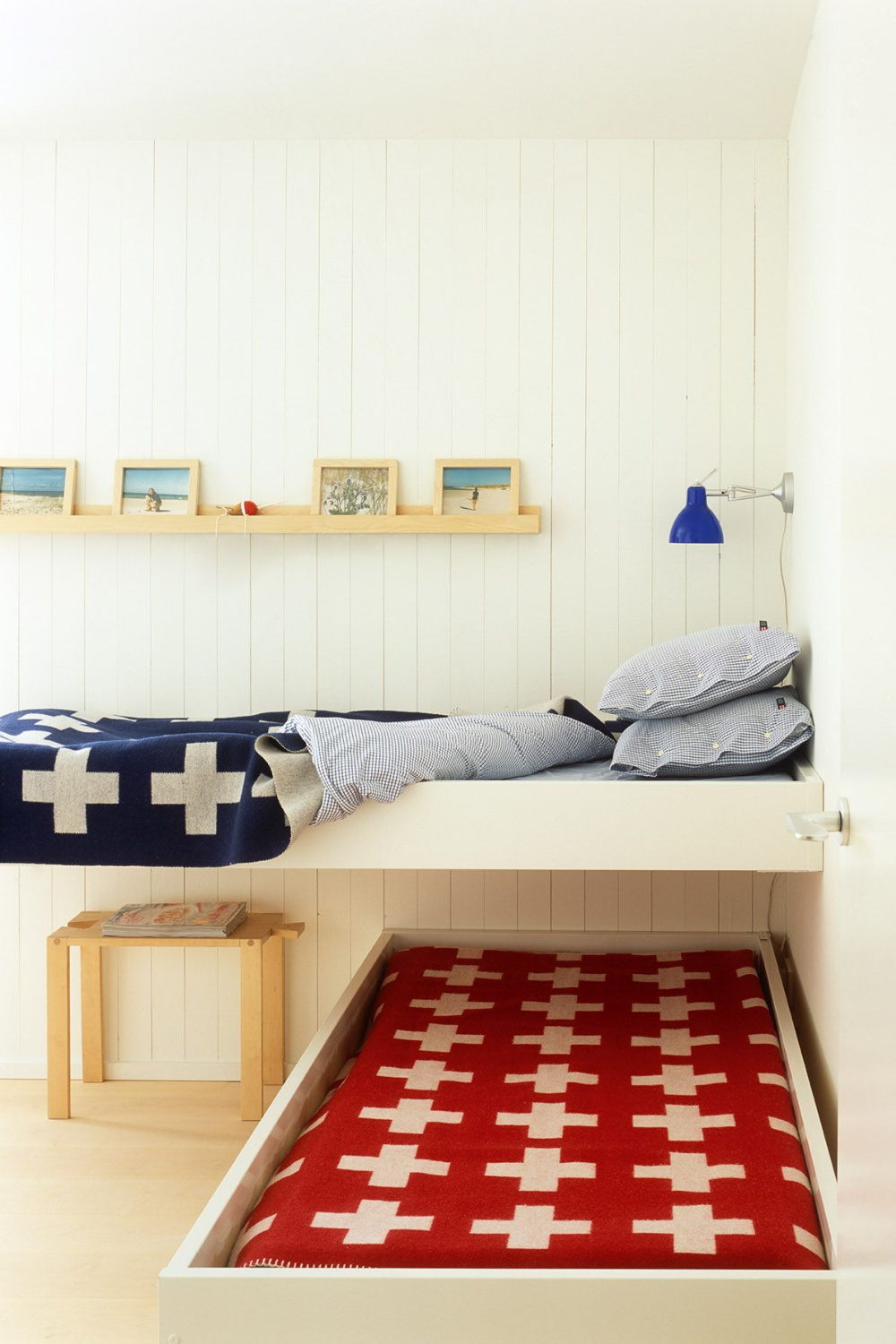 Another design element I love about the minimal bunk room above? The wood paneling adds so much texture and character to the otherwise simply appointed bedroom.
Are Bunk Beds the Answer to Narrow Bedrooms?
Are these designs causing you to rethink your attitude about smaller, narrow bedrooms? Because this book will help you conceptualize vertical space in a fresh manner. Can you even fathom the genius of using those steps as drawer storage and creating a cozy retreat with fabric like this:
Oh, the memories to be made in a bunk room as beautifully designed as that!
I independently selected products in this post—if you buy from one of my links, I may earn a commission.
Need Ideas for Creating a Cozy Nook?
As I let myself imagine a cozy nook that could be created with minimal fuss and in any number of homes, I thought about cozy factor. Things that invite relaxation and unplugged wonder. Places where we aren't required to be productive or efficient.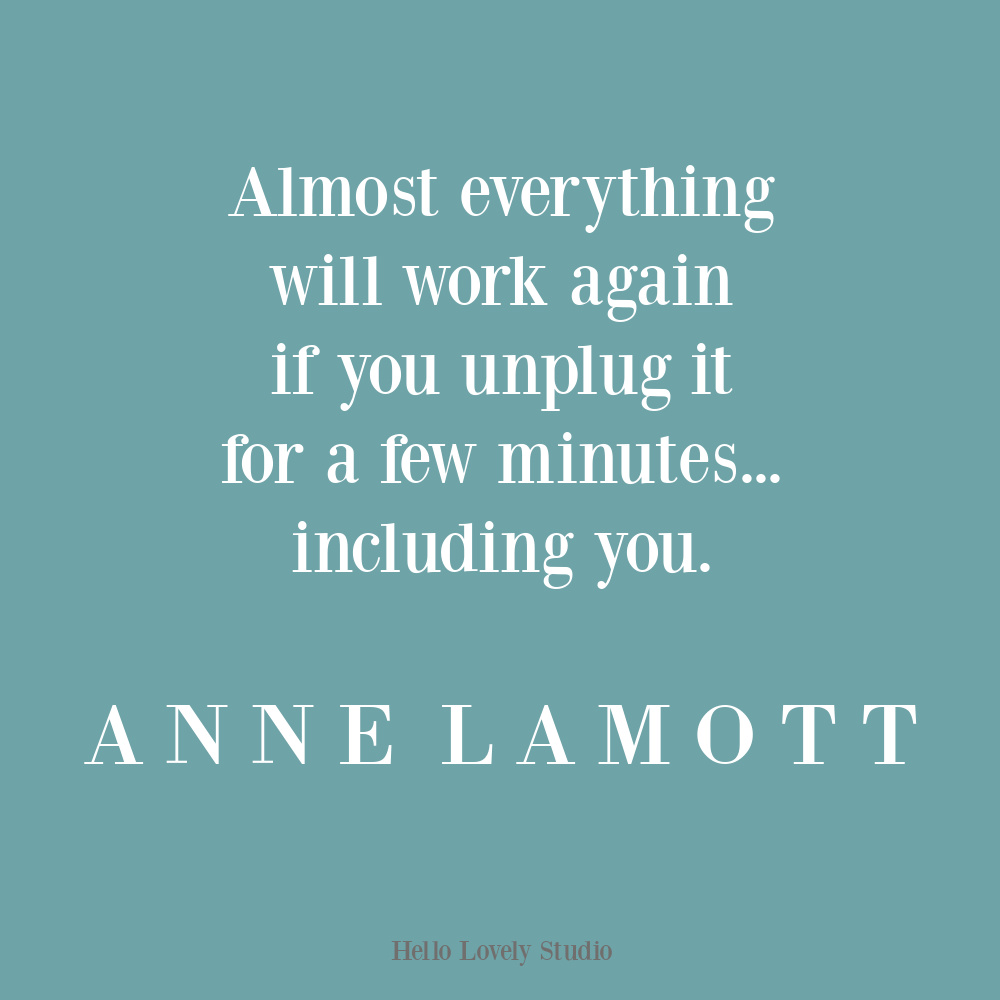 A fabric canopy hung from the ceiling has romantic appeal. Who didn't love to erect blanket forts and fall asleep in them? Even a simple mosquito net canopy strung with delicate white lights could create a vibe.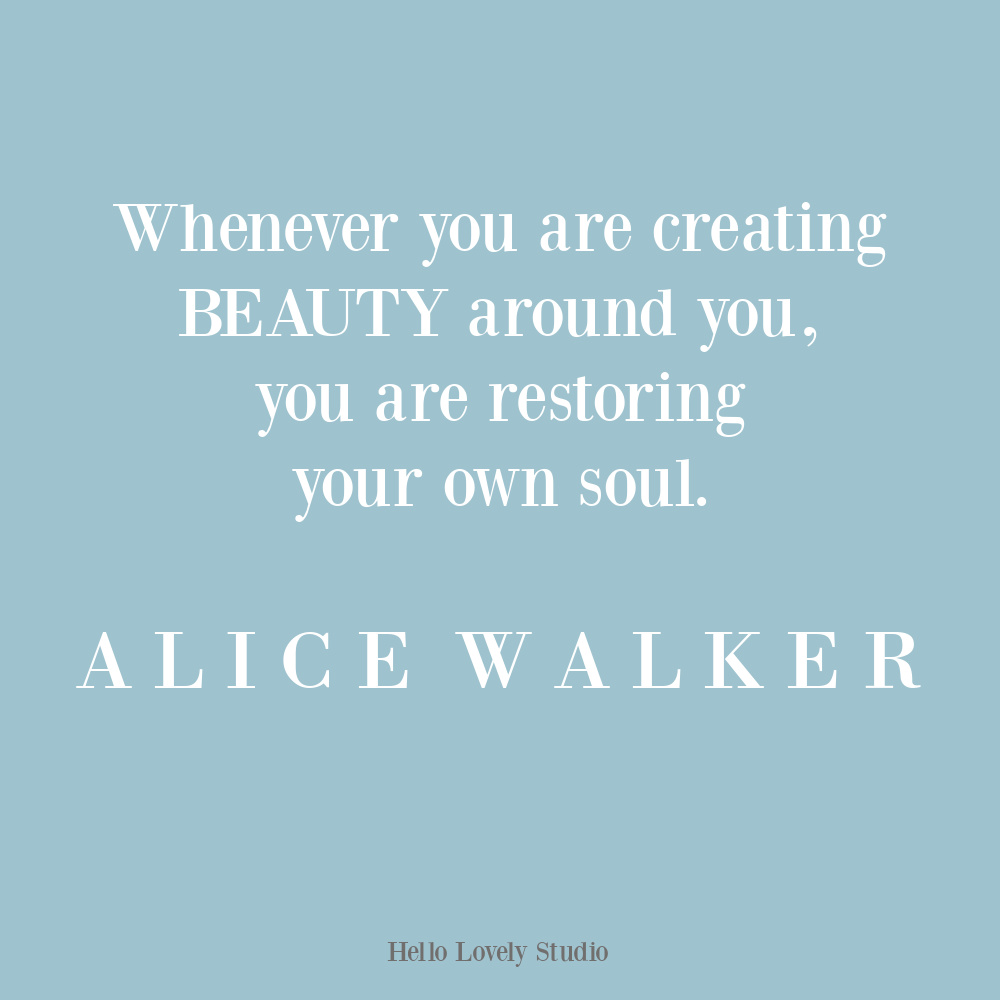 Swings and hammocks and hanging chairs are not just for coastal homes or porches. They feel both nostalgic and cozy for kids of all ages so don't overlook them. A wallpaper mural is a smart place to begin when you need a starting point for a cozy nook. I love the one on the mood board below from Photowall Sweden called "Cradled in Clouds." Lovely!
And poufs!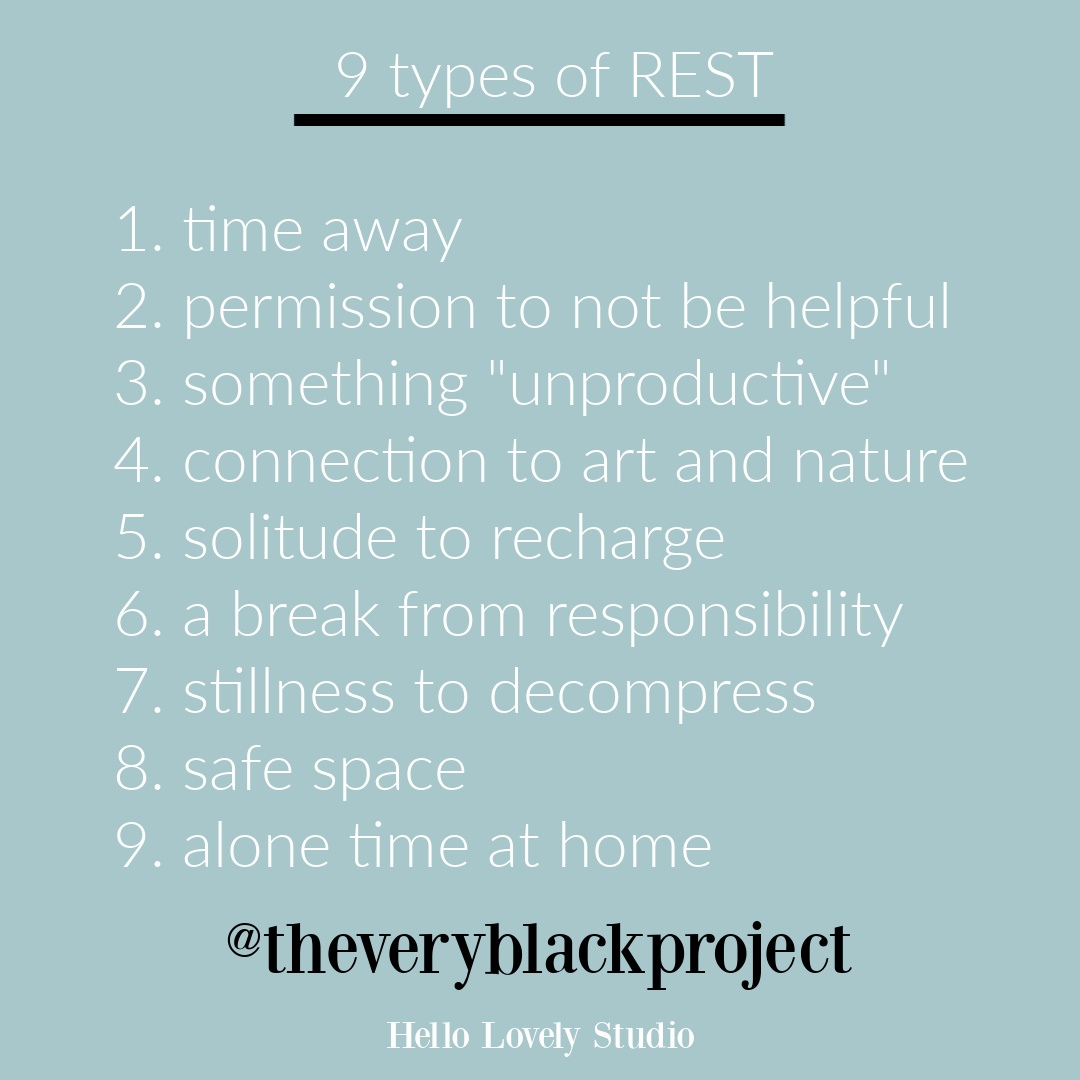 The particular pouf on the mood board below is in my cart. I recently helped my sister create a cozy corner in her living room with large shelves floating above three of these poufs. They can be pulled into service as extra seating, kids love them, and they add great texture.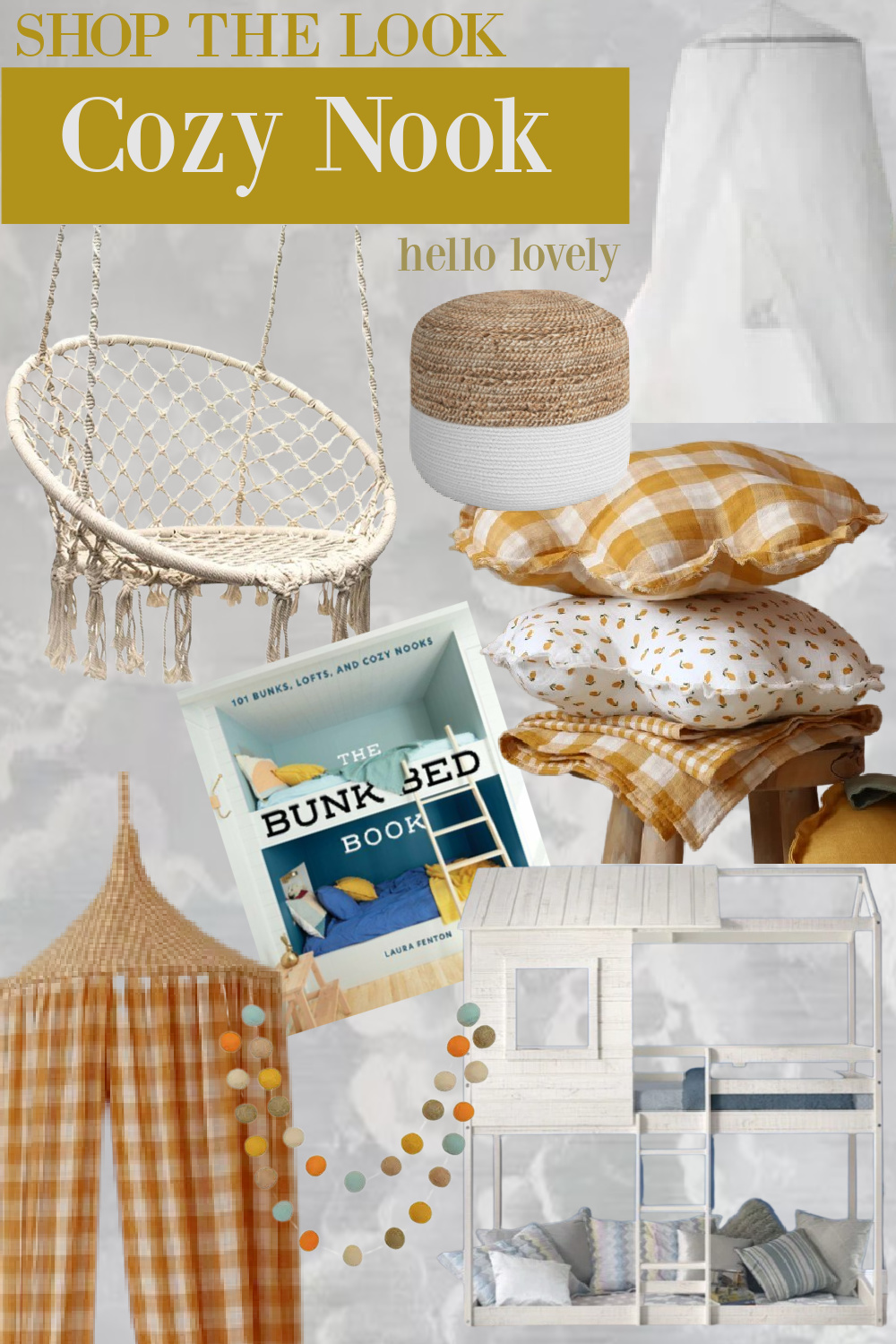 Psssst. If this mood board above strikes you as kids room or nursery-exclusive, do remember adults love cozy spaces too, and it's more than okay for a guest bedroom to feel youthful!
One More Inspiration for Creating Cozy
The Bunk Bed Book provides plenty of inspiration for custom bunks, but here's a glimpse of a cozy minimal custom home where every detail was considered. It's so different! I share this not because it could be duplicated but because it is a study of thoughtfully utilizing vertical space.
Peace to you right where you are.
-michele
Shop for items you already intended to buy on Amazon RIGHT HERE, and also find home decor here to keep decor inspiration flowing on Hello Lovely!
Hello Lovely is a participant in the Amazon Services LLC Associates Program, an affiliate advertising program designed to provide a means for sites to earn fees by linking to Amazon.com and affiliated sites.