I didn't always live with a predominantly white color palette at home. In our first home (condo in a Chicago highrise), I was crazy for all things French country and colorful. Teal floral wallpaper in the bedroom, blue stripes in the bath, mauve floral in the kitchen, bold border in the dining room. As a young mother to sons, I enjoyed bold periwinkles, yellows, reds, and Restoration Hardware minty green. I didn't fall for white until my taste evolved around the time the boys hit adolescence. (Was there a relationship there between the crazy era of teen parenting and craving the calm of white?) What's It Like Living With a Mostly White Color Palette? Let's discuss.
This post contains affiliate links which if used for purchases may earn me a small commission and won't cost you extra.
What's It Like Living With a Mostly White Color Palette?
I would likely be more popular as a blogger if I decorated with bold color and pattern, refreshing rooms a few times a year as savvy marketers do. However, my choices at home are to suit me and my family and not to increase social media traffic. I like pared down rooms that feel serene and quiet.
White is perfect for creating such a mood!
But which white? I field questions like this every single day! Pssst. If you SUBSCRIBE, you can score free decor and paint color advice since I always respond. Simply hit "reply" to the email!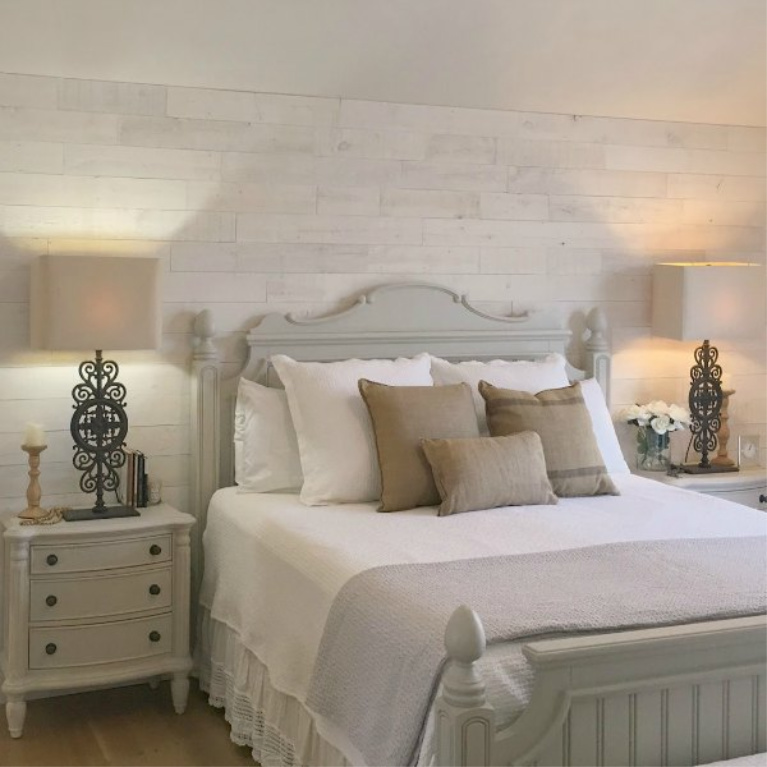 Choosing White Paint Colors
It's a topic I write about fairly often, and most folks don't think it is challenging to pick a white paint until they bring home a can, and it's all wrong.
Too bright of a white can feel cold or institutional. A white with too much warmth can feel dingy, dated, or uninviting.
Whites are affected by the light entering a room and even the area of the country where you live. Choosing the right white paint starts with sampling a few different colors. And the white that is best for your room may not even have "white" in the paint color name!
For example, a greyed-white like Benjamin Moore Classic Gray may be the perfect cool but not cold color for your space.
Read this for help choosing white paint colors.
Layering Whites in Your Decor
Living with mostly white at home certainly involves more than slapping white paint on the walls. It typically means layering neutrals, mixing pale tones, and bringing in various textures. To keep things in a room feeling calm, I generally aim for low contrast which is different than a mindset where you add pops of color for interest.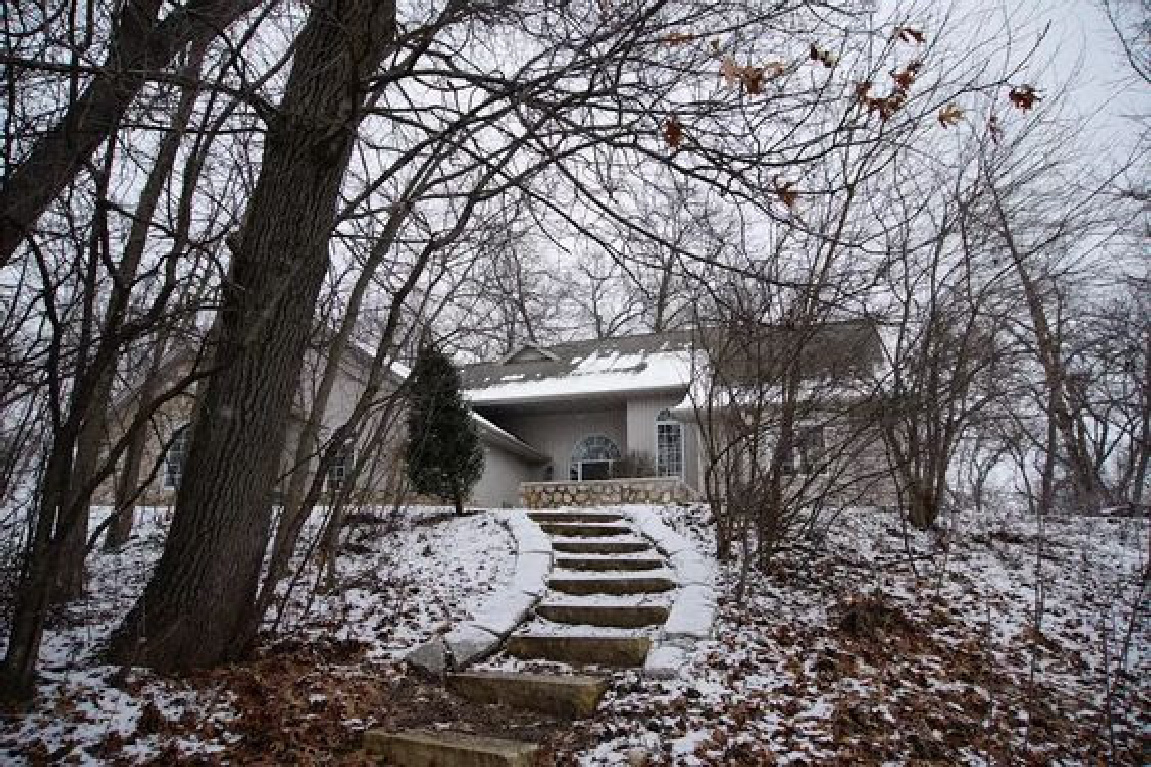 In our former home, even the exterior was a mix of neutrals like putty, stone, limestone, and beige.
(If you like the siding color above, mix 50% of Cornforth White No. 228 with 50% of Hardwick White No. 5 for a custom Hello Lovely stone color!)
Texture Ideas With an All White Palette
In our former bedroom, we used Stikwood (Hamptons White) for texture in our white bedroom. It's a great choice when you're after warmth but don't want to feel like you're in a barn.
As you can see, there are a variety of "whites" in the bedroom. I painted the furniture BM Revere Pewter, the chair is Belgian linen (color is sand), and the coverlets are bright white and light grey. The puckered waffle-like bedding is another way to add texture.
Nubby linens and vintage grainsacks can help out a mostly white look when you're after an unfussy look and don't want a look that is too precious.
They work great outdoors too!
Outdoor Living With White Decor
Something magic happens when you keep it very simple outside with green and white.
In this courtyard we created, greyed-white furniture mingles with neutral toned pea gravel and concrete pavers.
Ivory white cushions and mist grey linen pillows on patio chairs carries the look from inside right on out.
Living with calm colors inside and out means home feels like a refuge. Isn't that the whole point of thoughtfully assembling a home? It truly begins with knowing yourself and then choosing finishes and features that support that knowing. What colors make you feel relaxed?
This tour of our former home reveals plenty of: white walls, Belgian linen, and pale unfussy European inspired style. I was totally inspired by this design book before we got started:
Our living room (above) is an example of living with white and still enjoying warmth.
Lots of White Feels Like Sanctuary
Living beautifully at home and retreating to a sanctuary is more profound than ever. Maybe you feel it too. Our homes have to work harder for us now in post-pandemic times.
Here are a few resources when you like a tonal look:
Gentle colors and soothing finishes contribute to a sanctuary feel for sure. But history places a part too. Living with antiques and vintage objects brings soul to your interiors.
This long farm bench above is one we commissioned 23 years ago for our kitchen farm table. It is made from barn wood taken from a local 1800s barn.
A Victorian dresser in my closet is another way to bring function and beauty to the everyday. A brand new dresser or built-in would be functional, but antiques offer character and quality.
White roses are a simple way to enjoy white at home and look good everywhere.
Shop my Home!
In Praise of White Bathrooms
Is there anyone who doesn't love a white bathroom? They feel clean, pristine, and bright. I am learning just how important white bathrooms are for me this very moment. At the new house, the primary bathroom is tiled with dark brown and chocolaty granite. Even the vanity is brown.
I'm looking forward to erasing it all so the color story is more like our former bath above. A stool like this is such a great perch in a bath near the tub, as extra seating in a kitchen, or even as a small bedside table.
These white marble trays can organize any number of things in a bath or beyond.
I'm planning on adding another vintage clawfoot tub to the new house – they are so perfect for long soothing bubble baths.
A Mix of Whites in the Dining Room
With the dining room this close to the kitchen, I wanted everything to flow.
In fact, the kitchen chairs needed to work with the dining room table since they were often pulled in there for dinners.
White Trim With Natural Wood Tones
When I decided to use natural wood doors with white trim back in 2015, there weren't a lot of homeowners or designers embracing the look. But I knew we would!
As these images reveal, my personal style embraces what I have always termed the timeless and the tranquil. No matter what colors are trending for Pantone or Sherwin-Williams, white works for me!
Is It Hard to Live With White?
I'm not sure I have ever been in a position to be more objective about this topic. Almost a year ago, we bought a home filled with dark brown finishes: brown granite, brown tile, brown doors, brown cabinets. Is it day to day living easier with such dark colors?
Good gracious, no! You see dust on brown finishes. Fingerprints and smudges show up easy on reflective brown granite. And when dark colors depress your mood…that is not easy living in my book.
White quartz is one of those materials that is almost indestructible and so easy to live with. Don't count it out when you're looking for ease.
If you have a minute to share your own thoughts about living with mostly white at home, please do add to the beauty…
Video of Me Living With White at our Former Home
Shop my Home!
Wishes for You
My heart is often tender and overflowing, and I occasionally get brave enough to allow the wonder and wishes to overflow a little bit right here.
I wish you the blessing of beautiful living in the shelter you call home.
I wish you sweetness, this very moment, to counter any bitterness within your being.
I wish you heartfulness to soften the beautiful edges of your soul.
I wish you loving kindness, lavishly overflowing from hidden wholeness within and…
Peace to you right where you are.
-michele
Shop for items you already intended to buy on Amazon RIGHT HERE, and also find home decor here to keep decor inspiration flowing on Hello Lovely!
Hello Lovely is a participant in the Amazon Services LLC Associates Program, an affiliate advertising program designed to provide a means for sites to earn fees by linking to Amazon.com and affiliated sites.