Summery DIY Crafts, Pretty Dresses & Soothing Encouragement is likely to be random city, but since that's exactly what my own life with its mixed bag of adventures feels, let's keep things authentic, yeah?
I independently selected products in this post—if you buy from one of my links, I may earn a commission.
Summery DIY Crafts, Pretty Dresses & Soothing Encouragement
Any cares distracting or tormenting you right where you are? Mary Oliver has a prescription:
Is it Time to Get Crafting?
This summer has been busy with renovation projects at the new place, and my hands have been busy painting walls and trim.
I take a little time each day at the piano, but I have the itch to create art and get crafty too! Last summer, I experimented with a few natural dye projects including avocado pits:
I started with t-shirts, but blush pink cotton napkins would be sweet…
tie dyed tank tops…
and maybe some cozy PJs:
Lovely Dresses to Consider
Enjoying the Little Things
Are you seeking beauty in the little things?
And are they little things, or are they EVERYTHING? Here's a delicious little thing I need to start making again:
Ideas for Summer Meals
Does your cooking change quite a bit in summer? Ours sure does. My favorite dinner these days is a quick and easy one. I like doctoring prewashed, pre-assembled salad kits and find I can get creative with ease.
I'll quickly grill a thin chicken breast or stir fry steak and add to a Southwest Style or Broccoli Slaw type salad mix along with a liberal amount of baby spinach leaves and a sprinkle of garbanzo beans, nuts, and dried berries.
If you happen to be frequenting pool parties or BBQs and need ideas for a salad to bring:
When my kitchen is a working one again and I have more time? I am never not in the mood for shrimp scampi. While I don't get to be liberal with butter in my recipes (low-fat is about survival for this hungry fairy, doncha know), I love all of Alison Roman's dishes:
Virtual Globetrotting
Lots of folks are traveling this summer, but plenty cannot for a myriad of reasons. That's where the internet can offer a bit of comfort. Say you feel like strolling in Paris and dropping by a cute shop or fresh market? You can almost smell the smells through the screen so go right ahead:
Get Inspired by Modern French Decor
Why not just begin with the best there is?
Study designs from Pam Pierce and issues of Milieu to train your eye for simplicity and pleasing juxtaposition.
Summery Craft Idea: Paper Flowers
Whether you add fresh or paper flowers, branches, or nothing at all to a white pot like this (below), its pleasing silhouette is bound to charm you this summer.
Make a Humble Bird House
I commissioned my husband to make this humble bird house, inspired by a dear friend's passing. She was a nature lover, and when last we were together, the tumor in her brain had stolen most of her vision and hearing.
Still, she remained mobile and energetic as she fed birds and chubby squirrels gathered on the temple of her wood deck. The beauty of my longtime friend, stripped of her senses, hair, and time will remain with me always (and I don't mean, bless her heart, what a pitiful sight, I mean Pure Beauty with a capital infinitely lovely B).
As she tossed handfuls of seed-like colorful confetti through the sky, I kept thinking about that conversation with Peter and Christ. "Do you love me?" Yes, Lord. "Feed my sheep."
It wasn't just the birds and squirrels fed that day. What a blessing to pray, reminisce, laugh, and hold hands.
We planned our next 'party' (there would be foot massages and wearing of a spectacular new wig made from a daughter's tresses), but my pal flew home before we could gather again.
I don't know what you and yours will face in the coming months and years, but since we just don't know, may I be bold?
Say the loving things now.
Don't wait for a moment to materialize where it feels more appropriate or less awkward.
If only you knew the number of awkward moments I have created singlehandedly! I'm a messy fumbling mess with my people. It's a gift!
Feed each other love. Let your voice shake and quiver. It's okay to be vulnerable. Let tenderness flow with tears from your eyes.
Back to bird house making. We used reclaimed wood from a vintage dresser I salvaged so it feels even more special.
Here are the instructions:
DIY Plaster Dipped Flower Art
Here's a super easy craft I have done for years.
You may be familiar with the beautiful blog So Much Better With Age, and here is Jamie's awesome tutorial for an adaptation of those dipped flowers.
Discover even more easy elegant French DIY projects in Jamie's book:
Summer Exercise Idea
Need a nudge to get moving?
This is the cruiser I have in silver:
For those of you who have little doggies and one of these with the back wheel rack…
Oh my!
Summer Learning Idea: The Science of Happiness
No, you are not too ancient for summer school. Did you know you can take a course at YALE on happiness for FREE? Yep. Here's a great book I own on the subject:
My clinical research on the subject often leads me here:
My fat-restricted diet allows me to indulge in a serving of 8 of these happy pills once in a while.
For a healthier dose of happy, these chewies (below) hit the spot (I could eat the whole bag since each serving is 1.5g of fat!):
Bake Someone Happy
How timeless and gorgeous is this pale pink beauty? Whether you have a Ph.D. in fondant or have no clue what fondant is, maybe this is a sweet time to learn a new skill like cake decorating.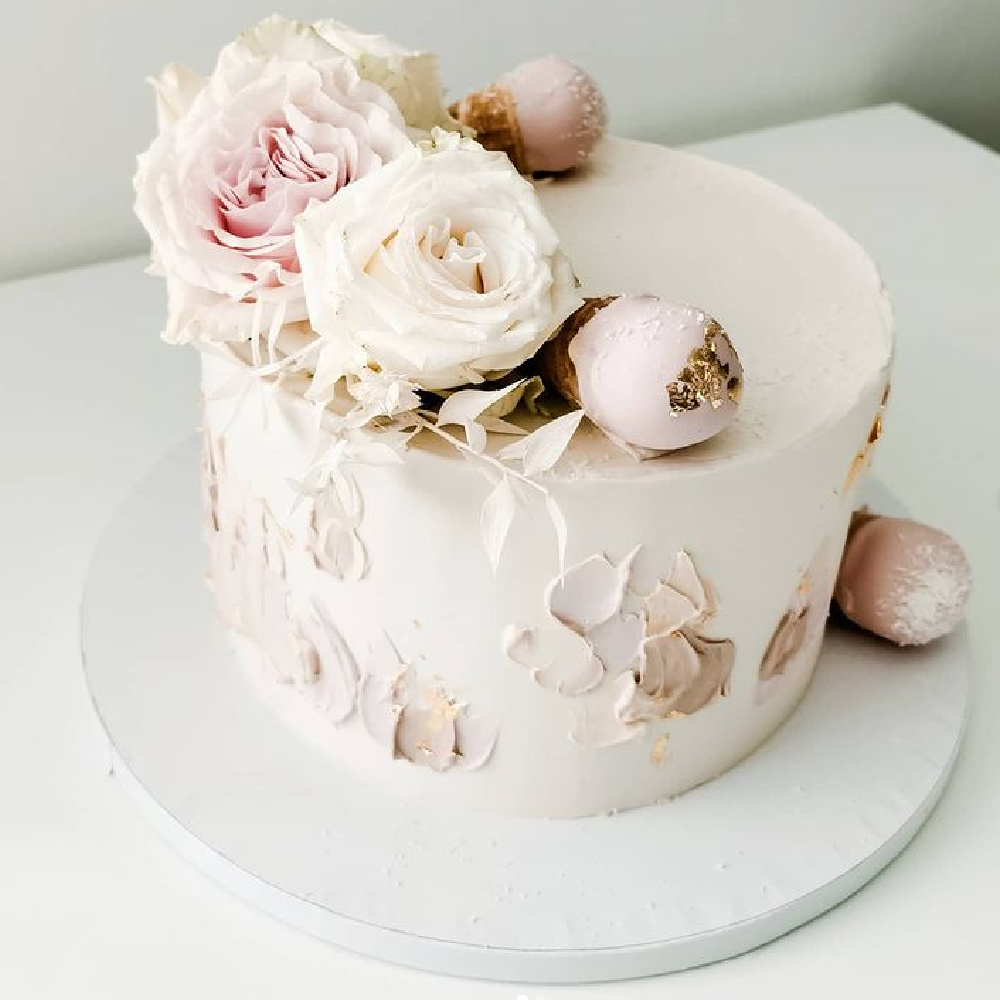 Greet a Groovy Green Accessory
Lovely Summer Wreath DIY
I'm so impressed by folks who make these handmade wreaths, and I'm even more impressed with folks who take the time to teach us! It is so much work creating even the simplest DIY video so my hat is off to creatives who teach! (Who cares if it says spring!?! Works for summer!)
Instant Wreath Beauty
I also found these readymade beauties:
Spruce Up a Summery or Beachy Vignette With Glass Beads
Add Gentleness to Summer Road Trips
Relaxing music and flowers are always a winning combo.
Summer Shifts for Self-Care
Did you visit my collection of lovely quotes HERE?
It has been a summer of radical self-care for this girl. That treatment includes skin care, and if you haven't already taken me up on trying Oak Essentials from Jenni Kayne…let this be your reminder. Try the travel size full routine to discover what you like most! You will fall in love as I have!
Here's an oil I use regularly that works on body, scalp, split ends, cuticles, etc. No messy dropper or pump, just hold it upside down for a little drop to instantly drop.
We began with words from Mary Oliver…let's part with them too in this poetry excerpt which paints a portrait of how I aspire to somehow draw strength from the "velvet darkness" which sometimes appears:
Thinking of each of you, thankful for your presence here.
I independently selected products in this post—if you buy from one of my links, I may earn a commission.
Peace to you right where you are.
-michele
Shop for items you already intended to buy on Amazon RIGHT HERE, and also find home decor here to keep decor inspiration flowing on Hello Lovely!
Hello Lovely is a participant in the Amazon Services LLC Associates Program, an affiliate advertising program designed to provide a means for sites to earn fees by linking to Amazon.com and affiliated sites.