Have a room or patio at home that desperately needs TLC but has you stumped as to where to start even with millions of inspiring ideas on Pinterest (pretty please follow my boards!)? Learn More About Cement Tiles, Stencils & Where to Use Them Now explores both options for a tile look.
Learn More About Cement Tiles or Cement Tile Stencils Now!
The kitchen at our new house is going to get its share of tile, but what kind of tile do you suppose?
After all, I AM partial to white marble. Even a little bit of tile can work wonders!
My humble little laundry room (a pass through between the garage and center hall) was an utter embarrassment until we tiled the wall with marble subway tile and added color and bead board to the walls.
An option I considered (after spying projects using tile stencils) was stenciling the walls. After all, if you still want to tile after seeing the stenciled effect, it's easy enough to tackle that more labor intensive project later.
But first…
I think cement tiles began appearing on my radar with the dawn of a popular home improvement show: Fixer Upper.
Did you see this episode where Joanna chose a plaid cement tile for the laundry room floor?
This post contains affiliate links which I hope you will use since they won't cost you a penny extra yet may earn this blog a small commission.
Cement Tiles (Also Called Encaustic Tiles)
Encaustic or cement tiles are popular for mud rooms, bathrooms, kitchen backsplashes, and more.
What makes them a popular choice in a variety of custom design projects?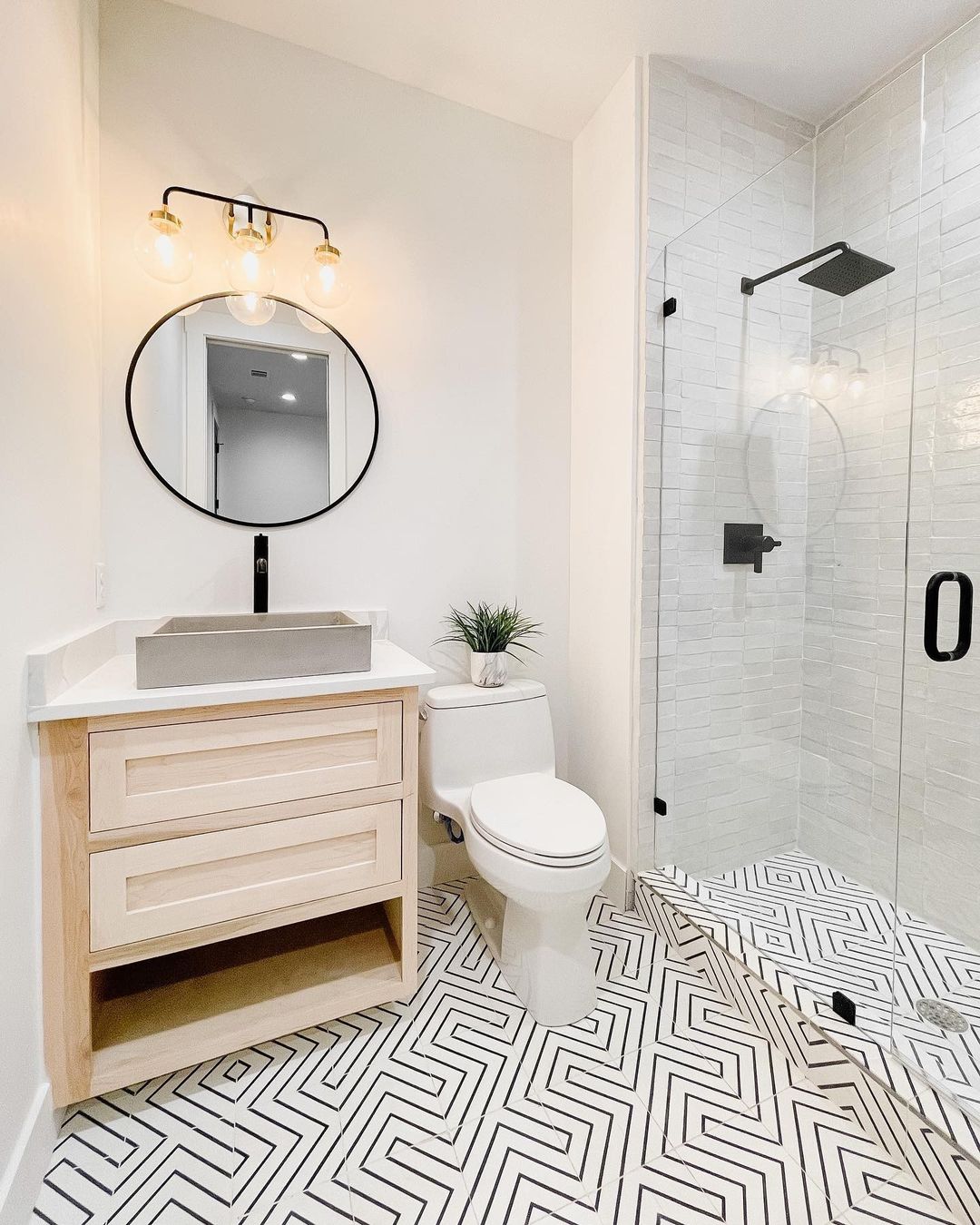 The tiles are handmade and hard wearing.
Cement tiles are easy to care for and live with.
There are definitely critical issues to consider though so if you're contemplating using this material, read this article from HGTV.
An All Time Favorite Cement Tile
There are such gorgeous examples, and the one below is still my favorite!
What a beautiful light grey tile!
They Cost More & When You Learn How They Are Made, You'll Get It
Kitchen With Cement Tile Backsplash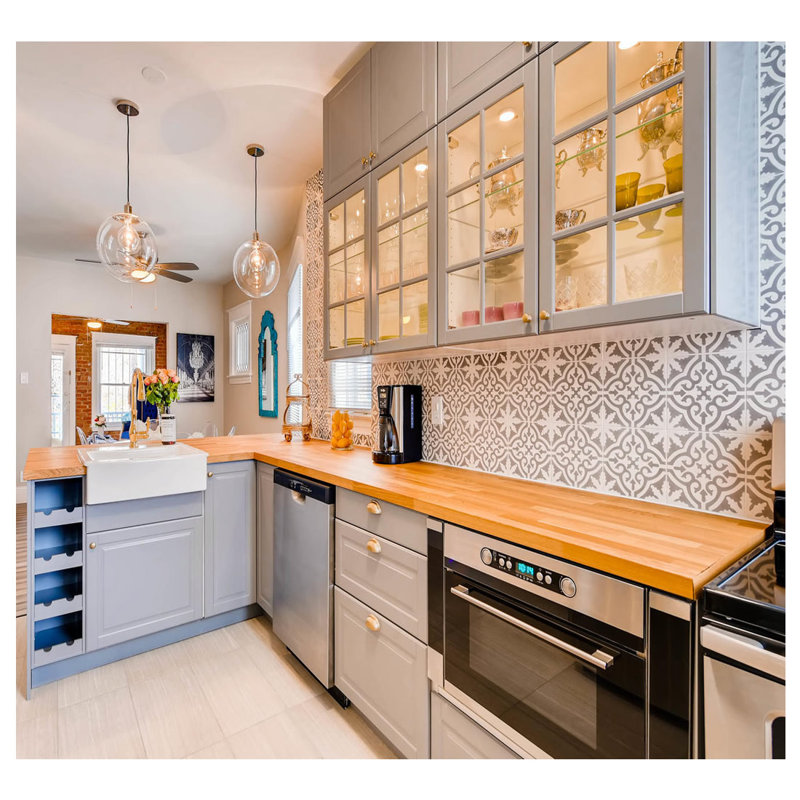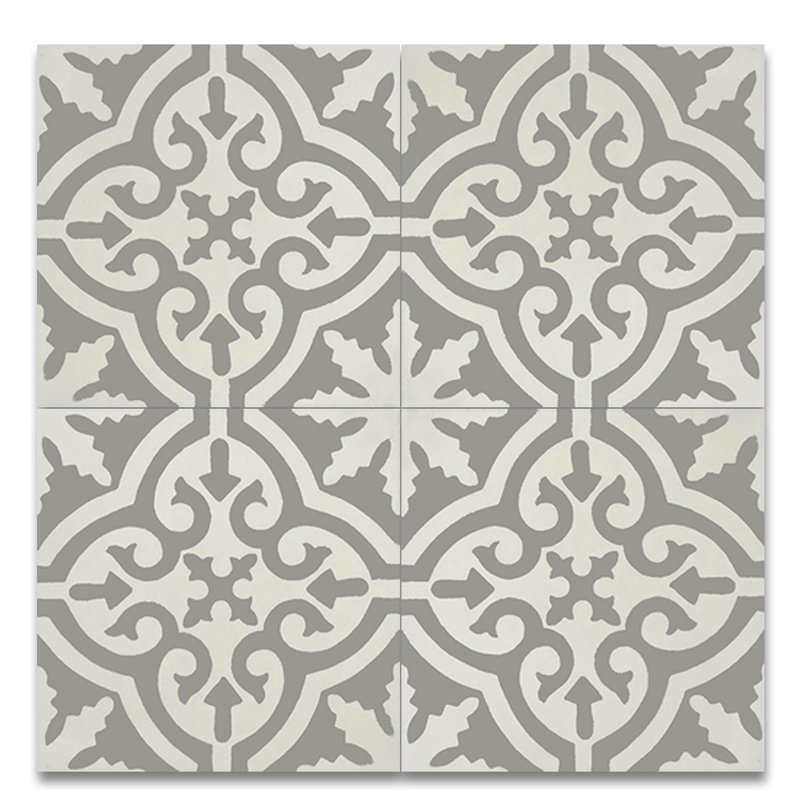 Breathtaking Mud Room to Inspire
Field Tiles That Resemble Cement Tiles
If you love the look of cement tiles but don't yet have the budget, check out these poser possibilities…they may not be handmade, but the price is right and the installation is standard.
Faux Cement Stenciled Tiles
How fun is it that you can try out the effect of cement tiles without any mess or much expense at all! Just a few hours and a quality stencil may help you achieve the look!
What is especially smart about going this route is that even though encaustic tiles have been around since the 1850's, they continue to trend. If the look falls from favor, it is as easy as painting right over the stenciled wall, floor, or patio.
Here is my favorite stencil which mimics the look of real cement tiles.
Charcoal grey paint to get this effect: RIGHT HERE.
Faux Cement Tile Stencil Tutorial
They don't just make it look easy – it truly is as easy as rolling over a stencil with a little bit of paint – matching up registration marks – securing with painters tape – and repeating.
Isn't it a good looking wall which cost next to nothing!?!
More Stencils To Get a Cement Tile Look!
My Stenciling Projects
Need a Louis Ghost Chair or 6? I love them for desk chairs, extra seating, and outdoor entertaining. A cool beans bonus? They stack. Find them HERE.
Script Stencils I'm Crushing On!
I have been working with stencils for various creative wall treatments since the early 90's, and stencils have come a long way!
Script style stencils remain a favorite of mine, and this example below is one I used in a bedroom.
I have seen all sorts of stenciled pillow covers online, and the effect is especially successful on vintage canvas fabric. (You can always add fabric sizing medium to paint on fabric).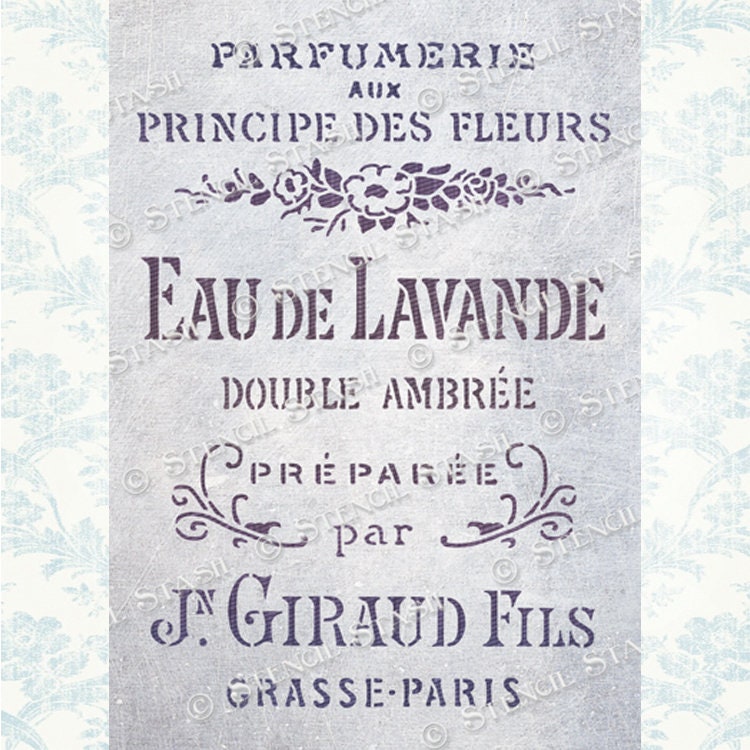 This Parisian inspired stencil can be used for a variety of projects – imagine a rustic wood box, a pillow case, a door, and of course, a decorative sign for the wall.
If you have shopped for antique grain sacks from Europe then you know how pricey they are. Here's a low cost alternative to creating something suggestive of an antique. The lettering is so Old World and authentic!
YOUR TURN: Have you used a stencil to transform a wall? Have you used cement tiles in any of your spaces?
p.s. Find more inspiration for laundry rooms and mud rooms RIGHT HERE.
I independently selected products in this post—if you buy from one of my links, I may earn a commission.
Peace to you right where you are.
-michele
Shop for items you already intended to buy on Amazon RIGHT HERE, and also find home decor here to keep decor inspiration flowing on Hello Lovely!
Hello Lovely is a participant in the Amazon Services LLC Associates Program, an affiliate advertising program designed to provide a means for sites to earn fees by linking to Amazon.com and affiliated sites.