I feel like we need a palate cleanser with lots of lovely photos after all those messy "before" photos I shared of our house under renovation! A dear friend of this blog (Merci, Michele!) pointed me to this beautiful French home in Texas by Morningstar Builders, with design by Ayca Stiffel of By Design Interiors and you will especially admire it if you love Modern French style. Let's tour this Modern French Country Old World style home in Texas!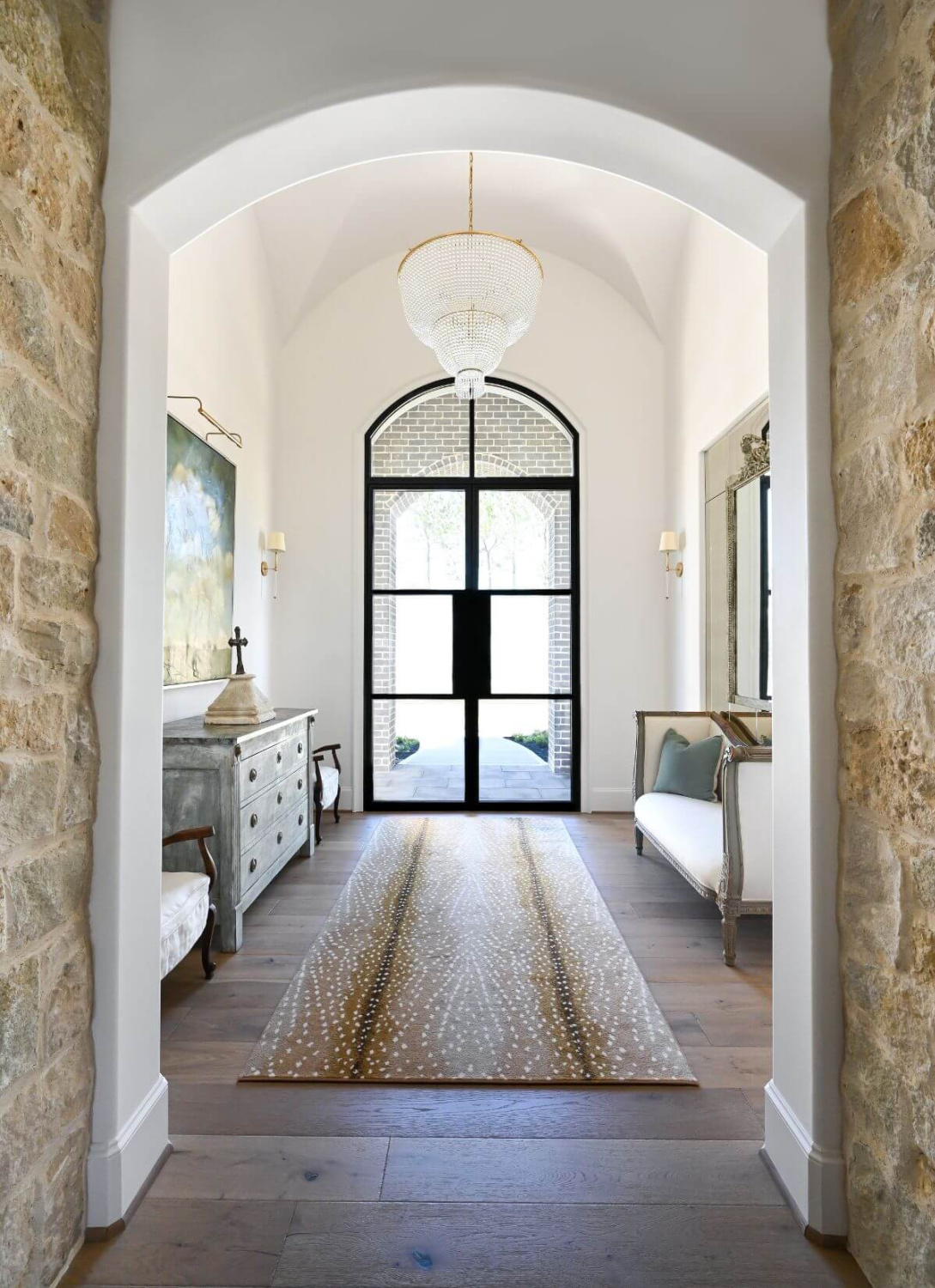 Photography: French Blue Photography
Modern French Country Old World Interiors in a New Build!
Even though this 4-Bedrooom, 7,200 square foot new home is way too big for my needs, I'm ready to sashay my fairy self through those French steel doors (ever seen an arched steel transom like this?) and move in!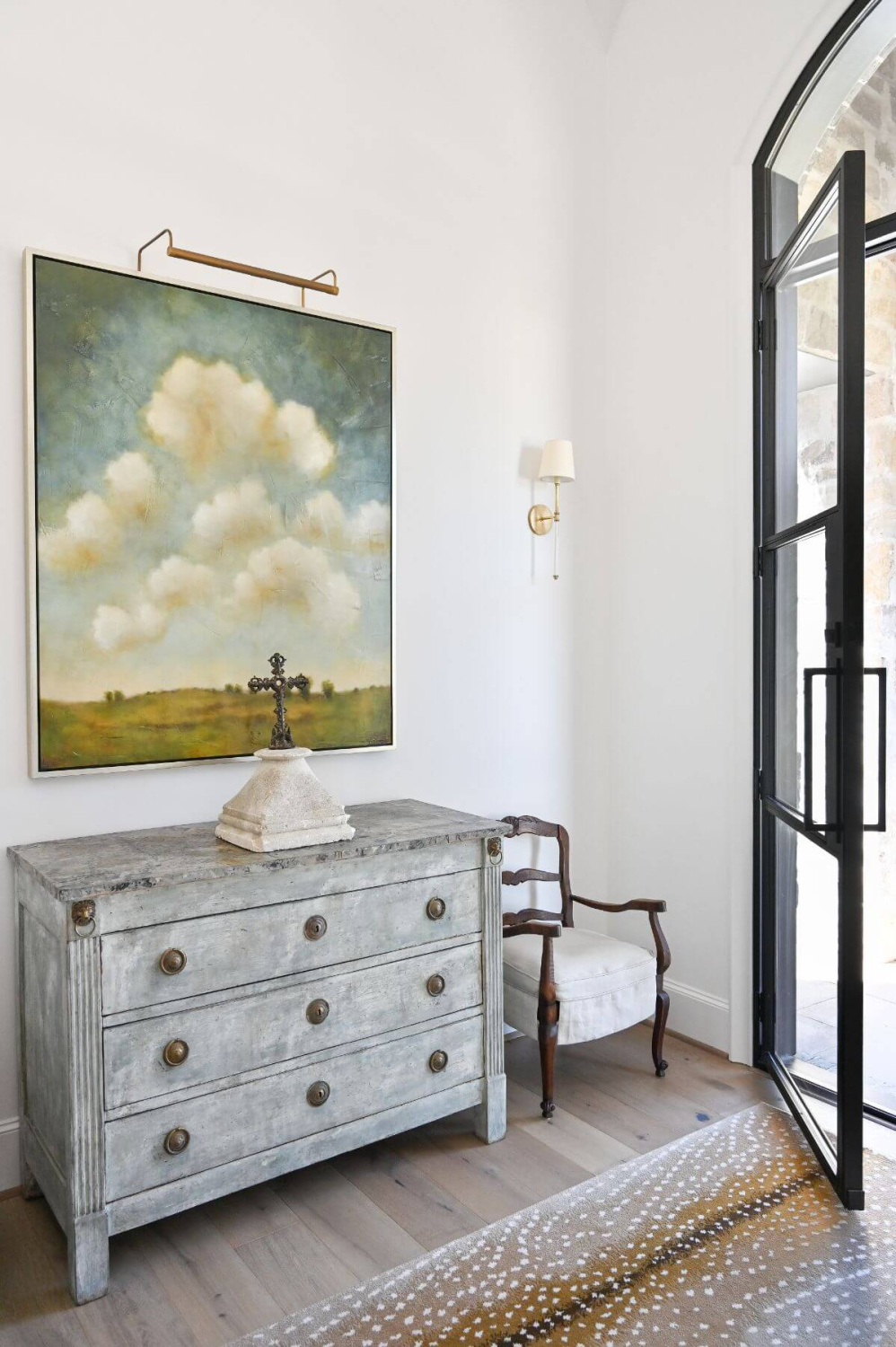 Modern French Entry
The gallery white walls, wide knotty plank floors, and golden-toned sconces create a neutral and elegant French inspired backdrop for a variety of design styles.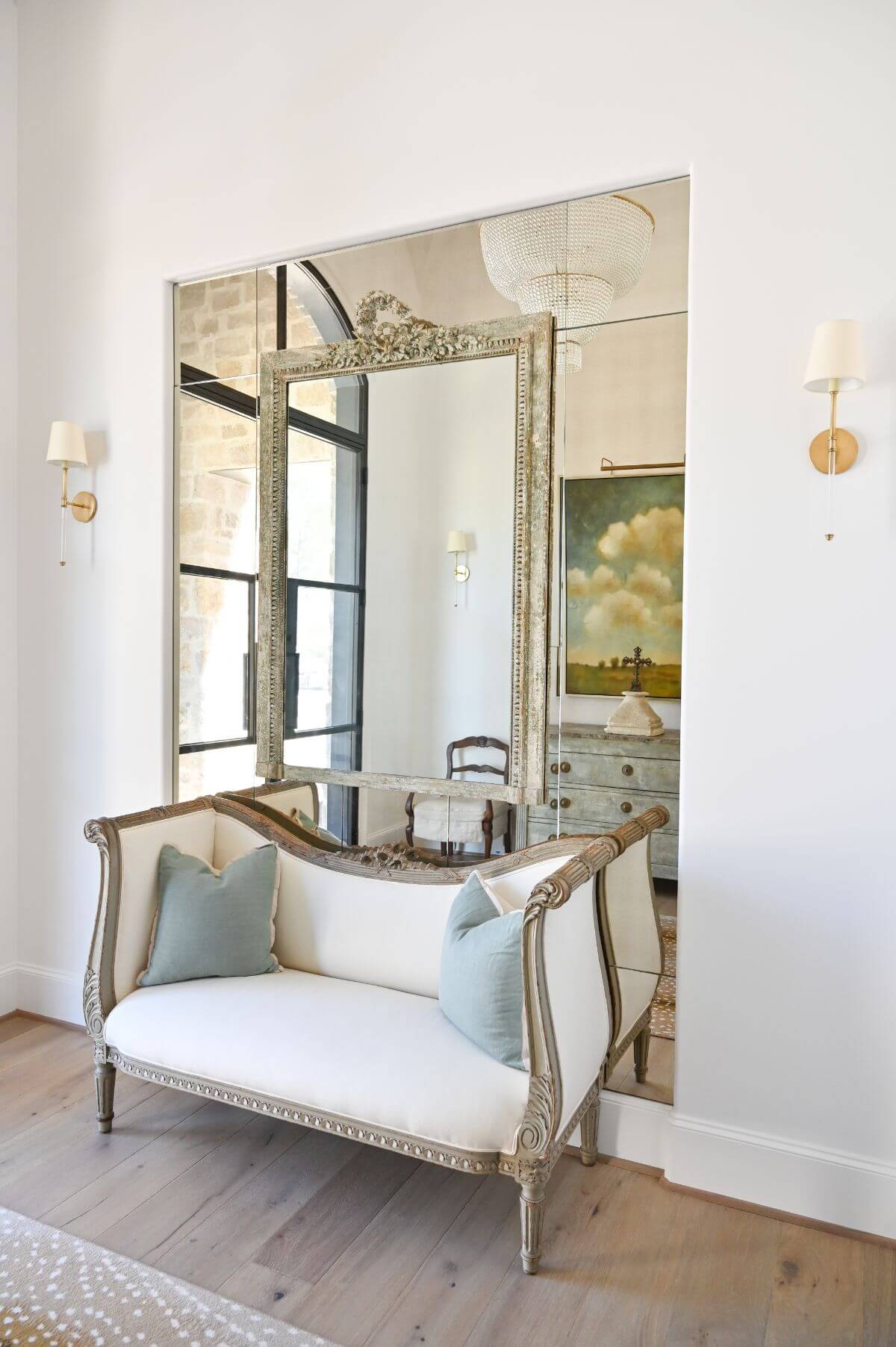 While the interiors strike me as modern French, the exterior feel very Old World and traditional: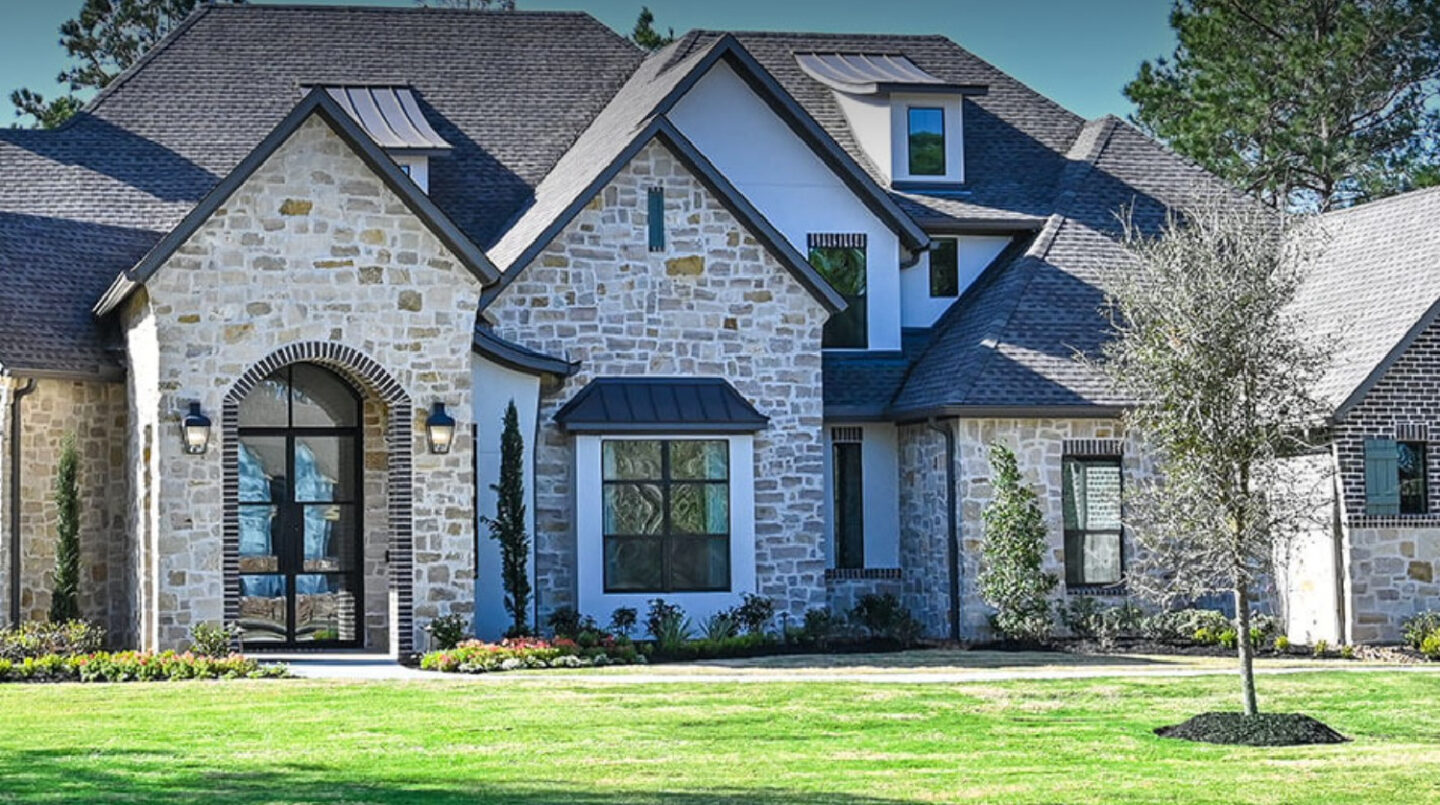 The wall sconces in the entry are rather slim and minimal, and are a beautiful choice when you're leaning toward a more classic or modern French look as opposed to a vintage or traditional look.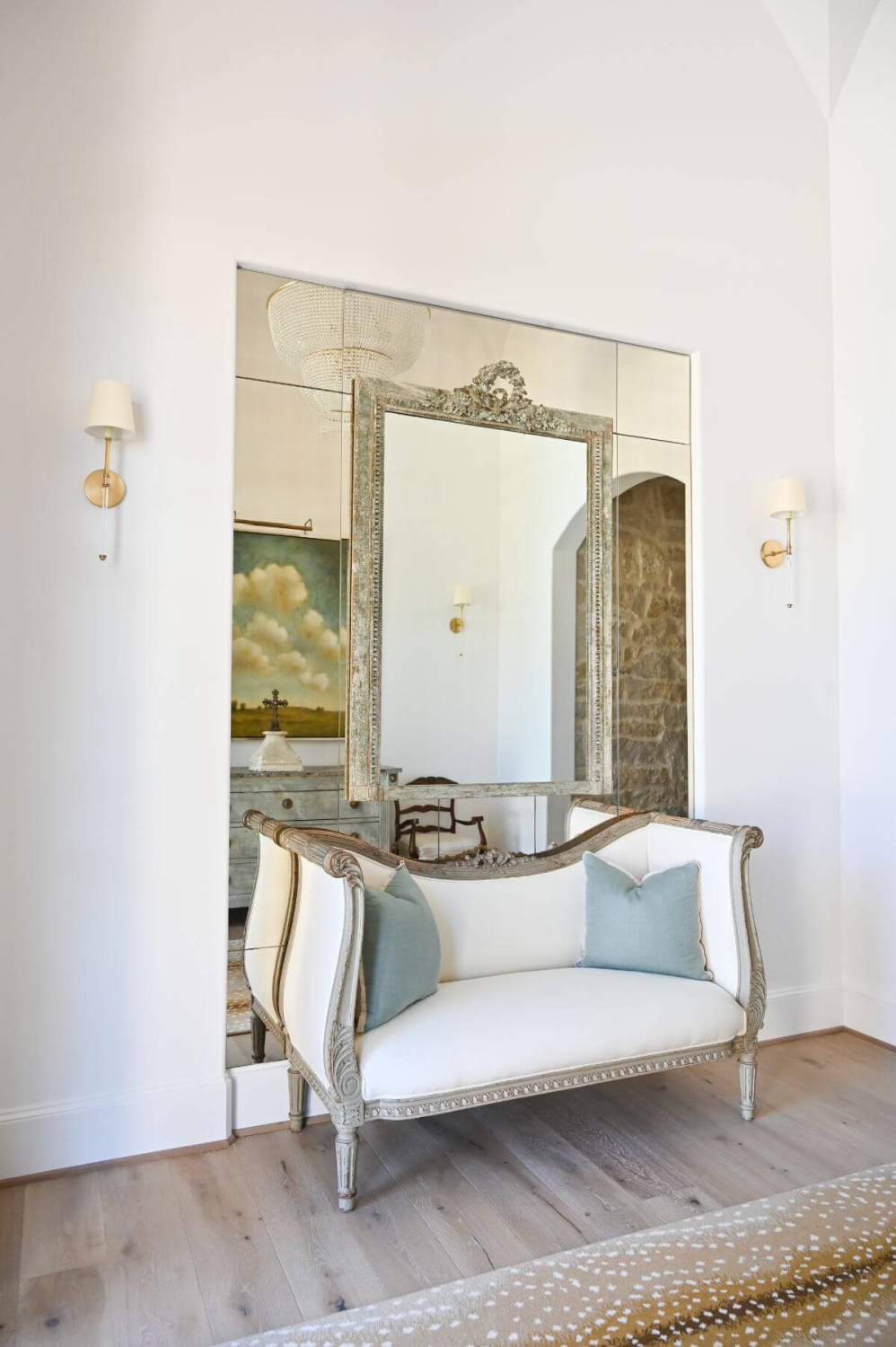 I independently selected products in this post—if you buy from one of my links, I may earn a commission.
Modern French Country Lighting Ideas
Here are a few options I have shared before on the blog, and the first one seems like a dead ringer:
By the way, as I am shopping for light fixtures for our new home, I must remind you of two things: you really do get what you pay for…
and sometimes you must "buy once, cry once" to be fully satisfied with a choice that you'll live with for a very long time. This last option involves less tears:
The warm brass with the gorgeous von gorgeous stone ceiling! Can you even?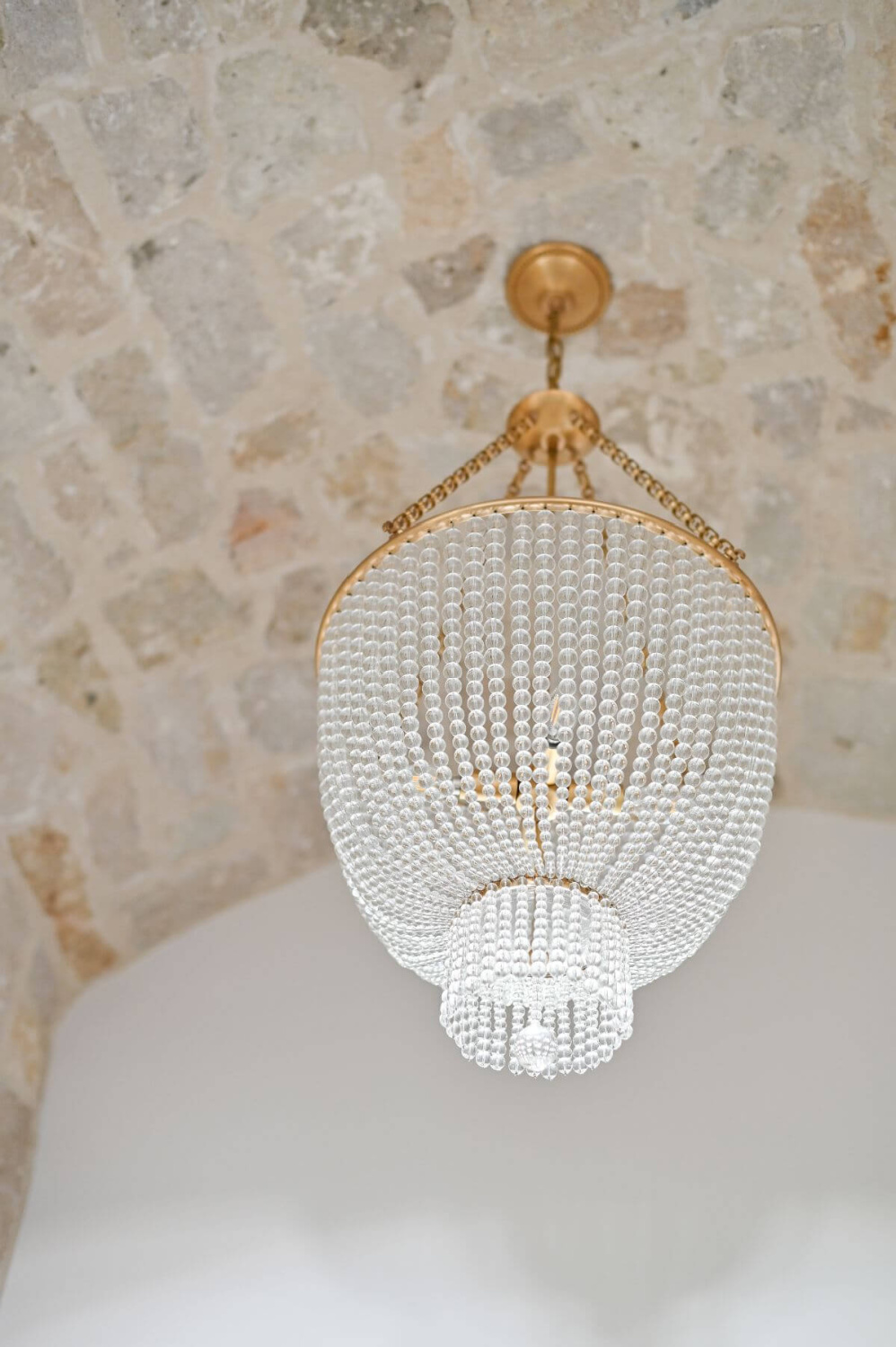 Since I'm also shopping for chandeliers, I recognized this Jacqueline Chandelier (Aerin) straight away:
Wall Art Idea Inspired by a French Country Home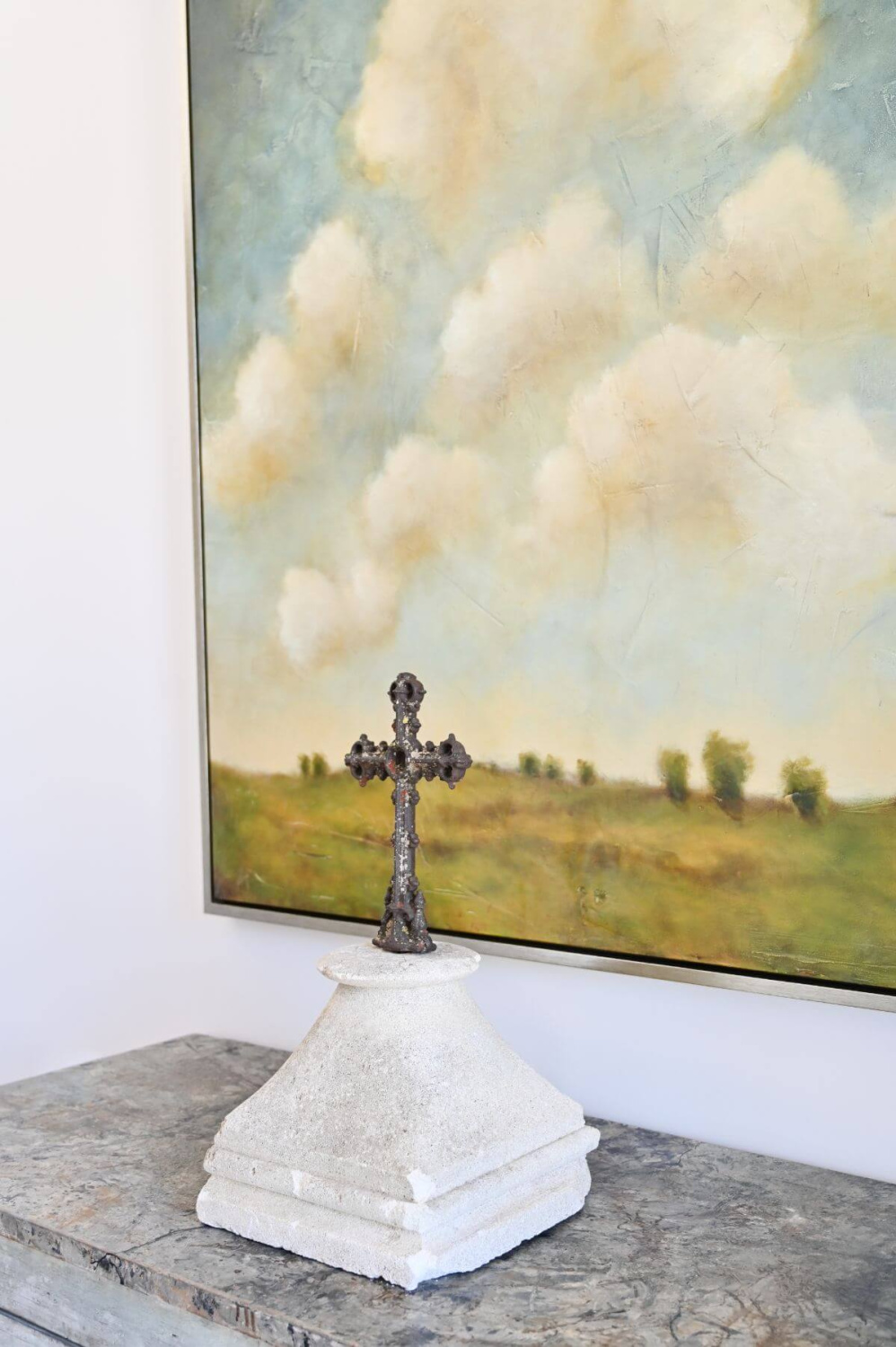 Need an idea for framed wall art or a fine art print you could frame? Here's a gorgeous example that would suit any number of spaces, Modern French or otherwise: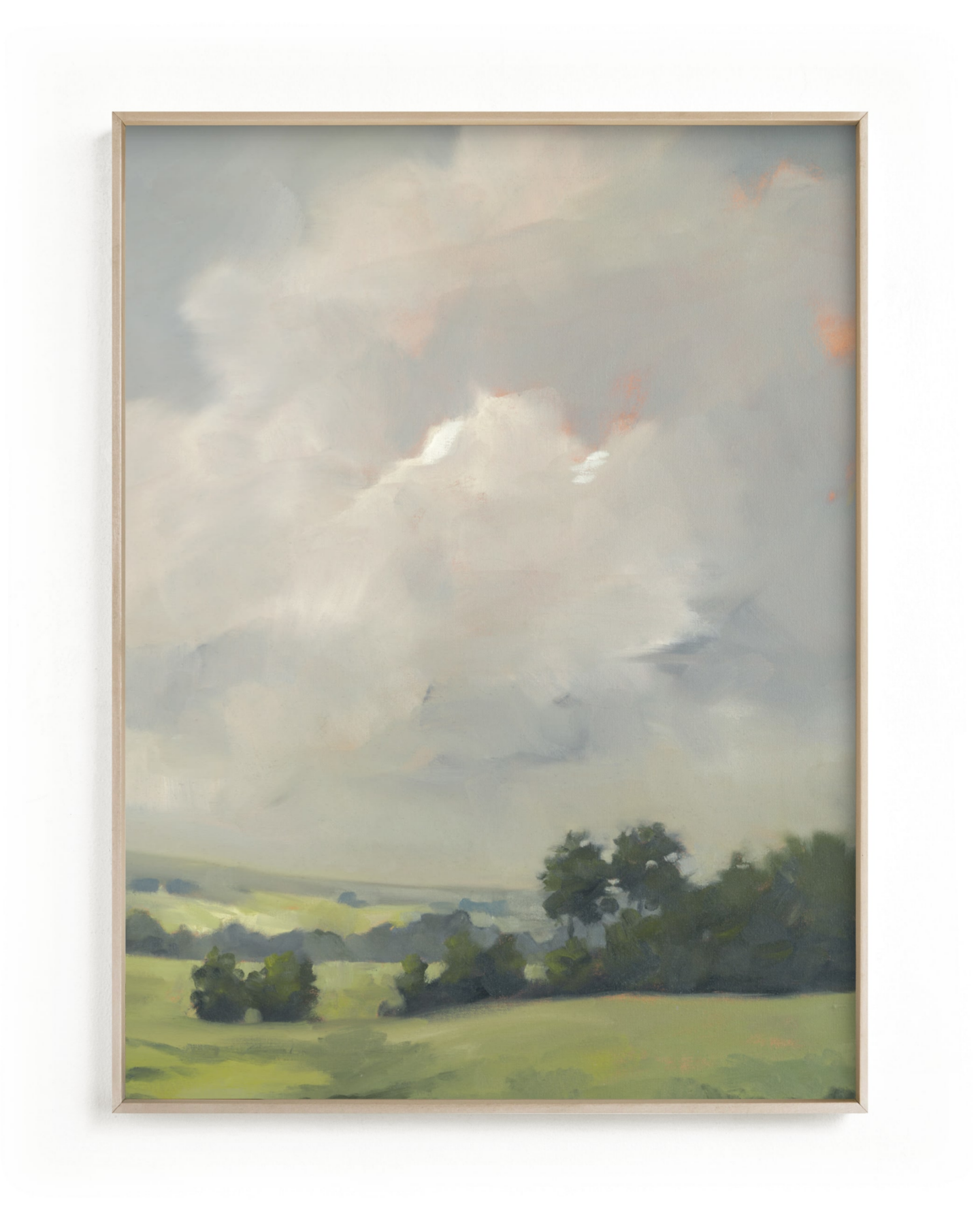 I have collected three fine art prints from Minted over the years and am sold on the quality of the archival paper and curation of work from fine artists.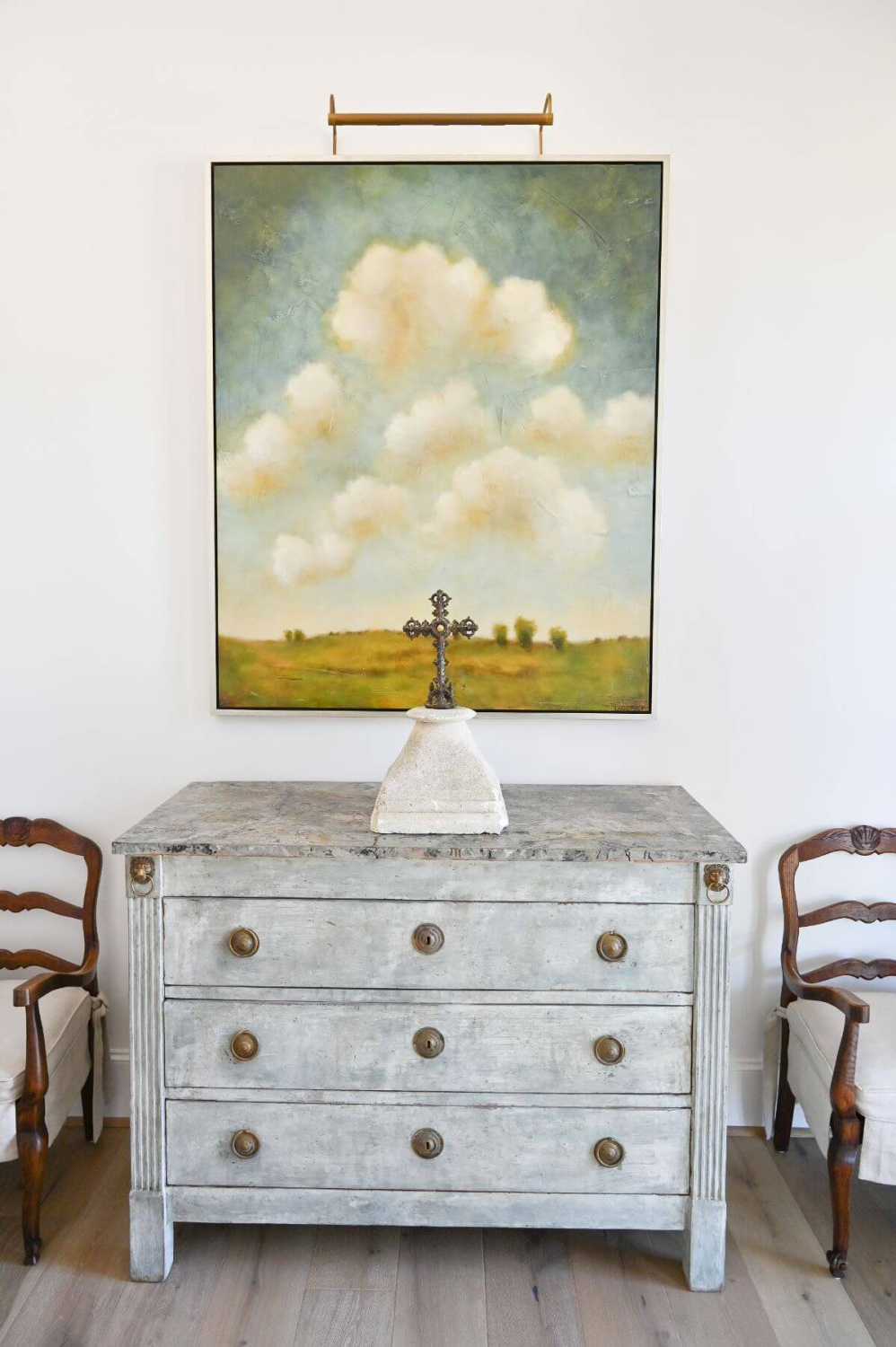 That chest with the stone top! I recently bought a marble topped antique dresser for our foyer, and I am toying with the idea of playing with the dark brown finish. I do not plan on rushing it though since there's no turning back!
Have a favorite design element from the exterior?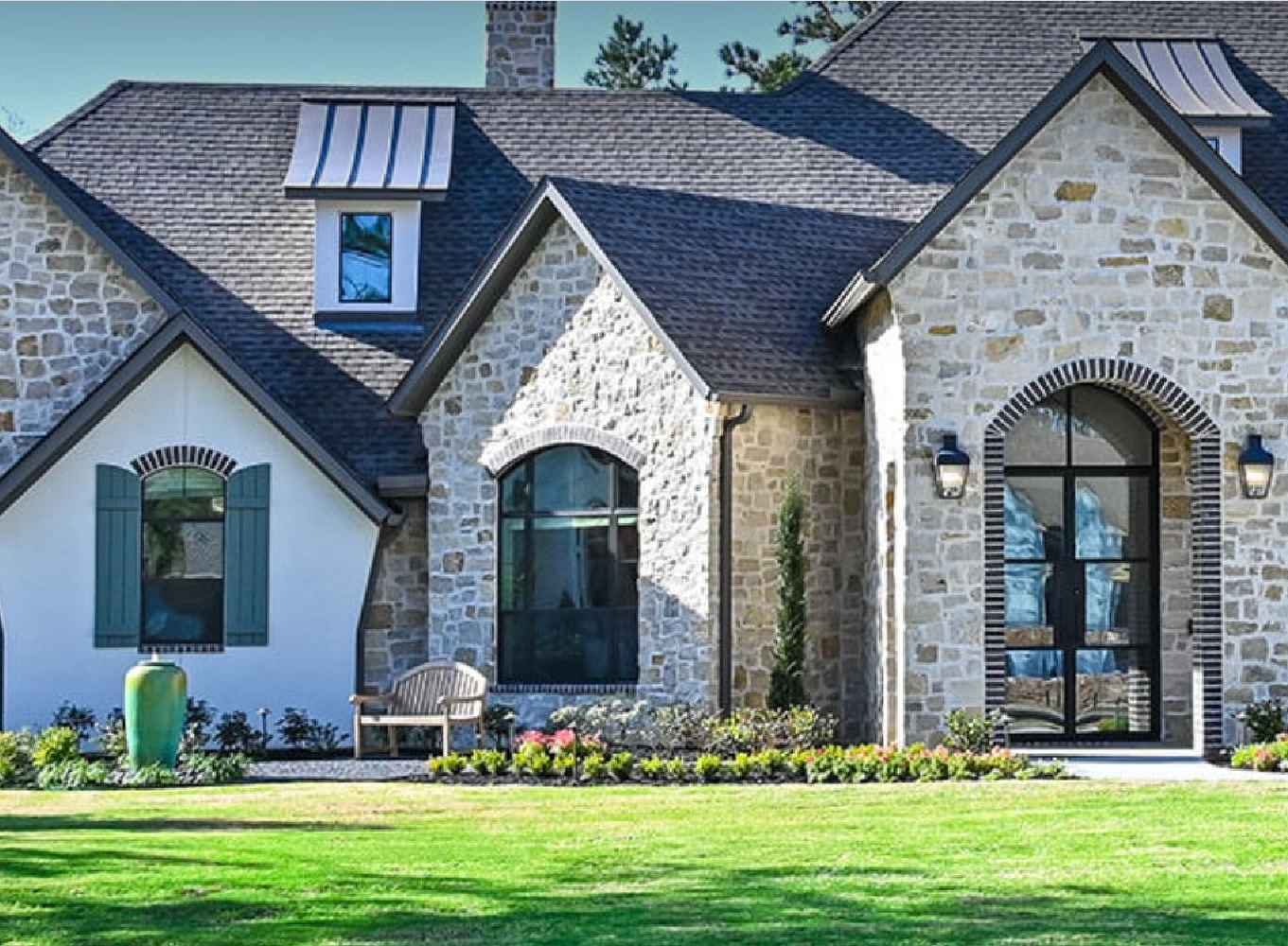 Because mine has to be the charming section on left with white stucco, blue shutters, and brick over arched window!
French Country Great Room Design Inspiration
Let's continue to tour and peek at the great room or what the builder calls the "transitional room":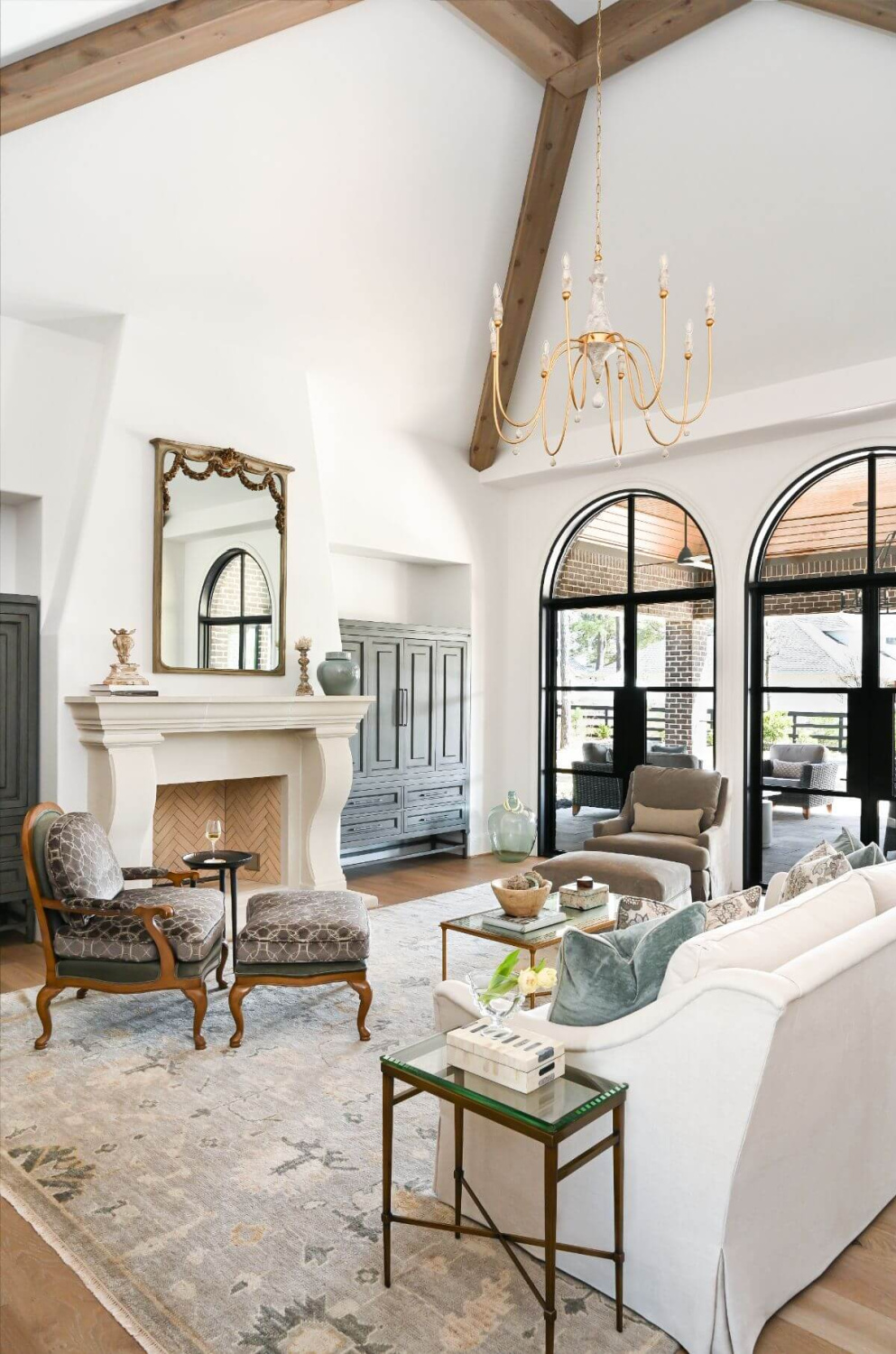 Oversized windows usher sunlight into this spacious, yet cozy living space with soaring ceilings and beams.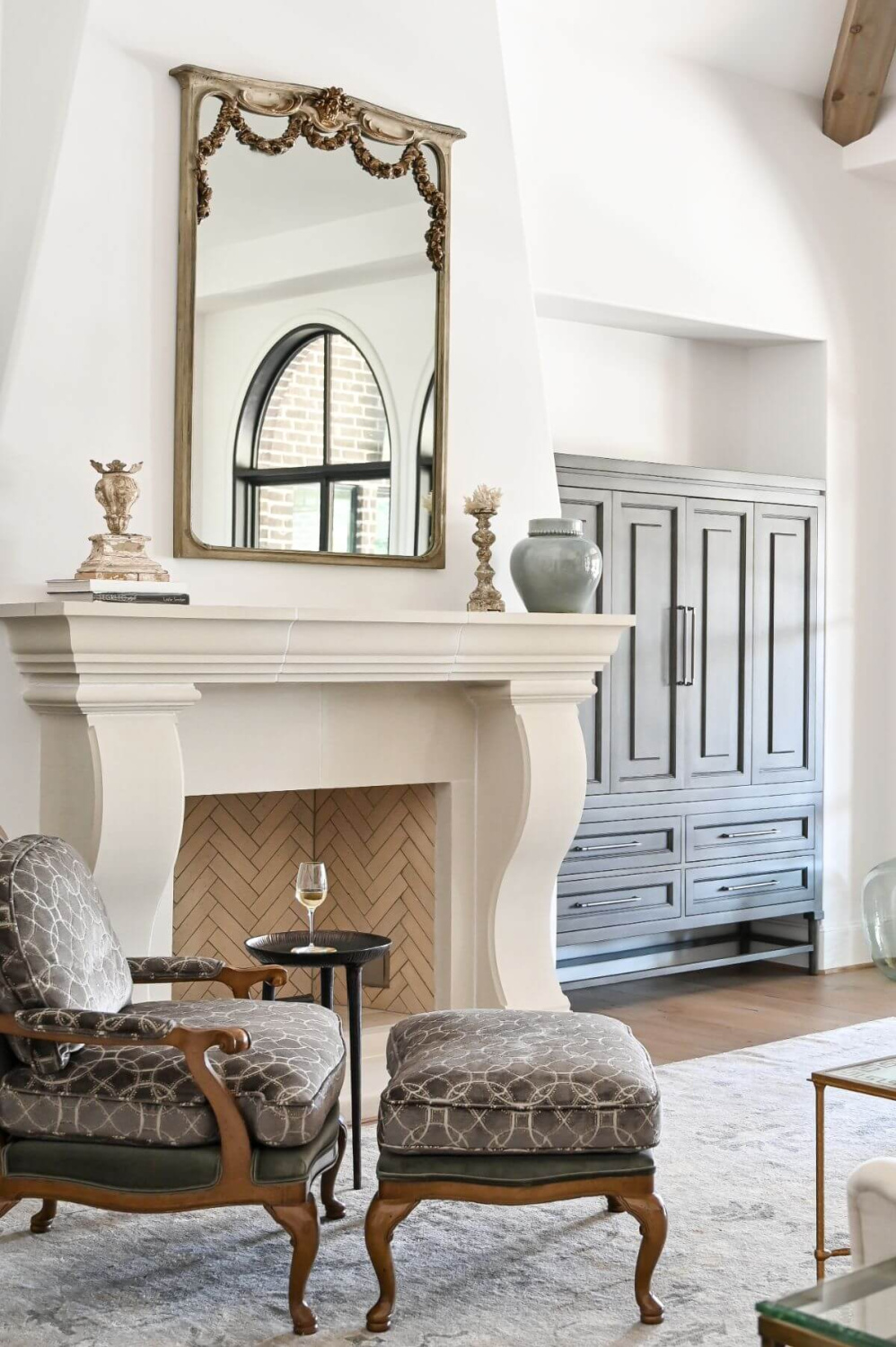 The custom built-ins add a dash of flair as well as a ton of storage. I do think they need antique French baskets on top to fill in all of that vertical space.
Modern French Country Kitchen Inspiration
The teal green color of the kitchen islands was the first thing that caught my eye.
That pop of color on double islands adds a layer of lightheartedness.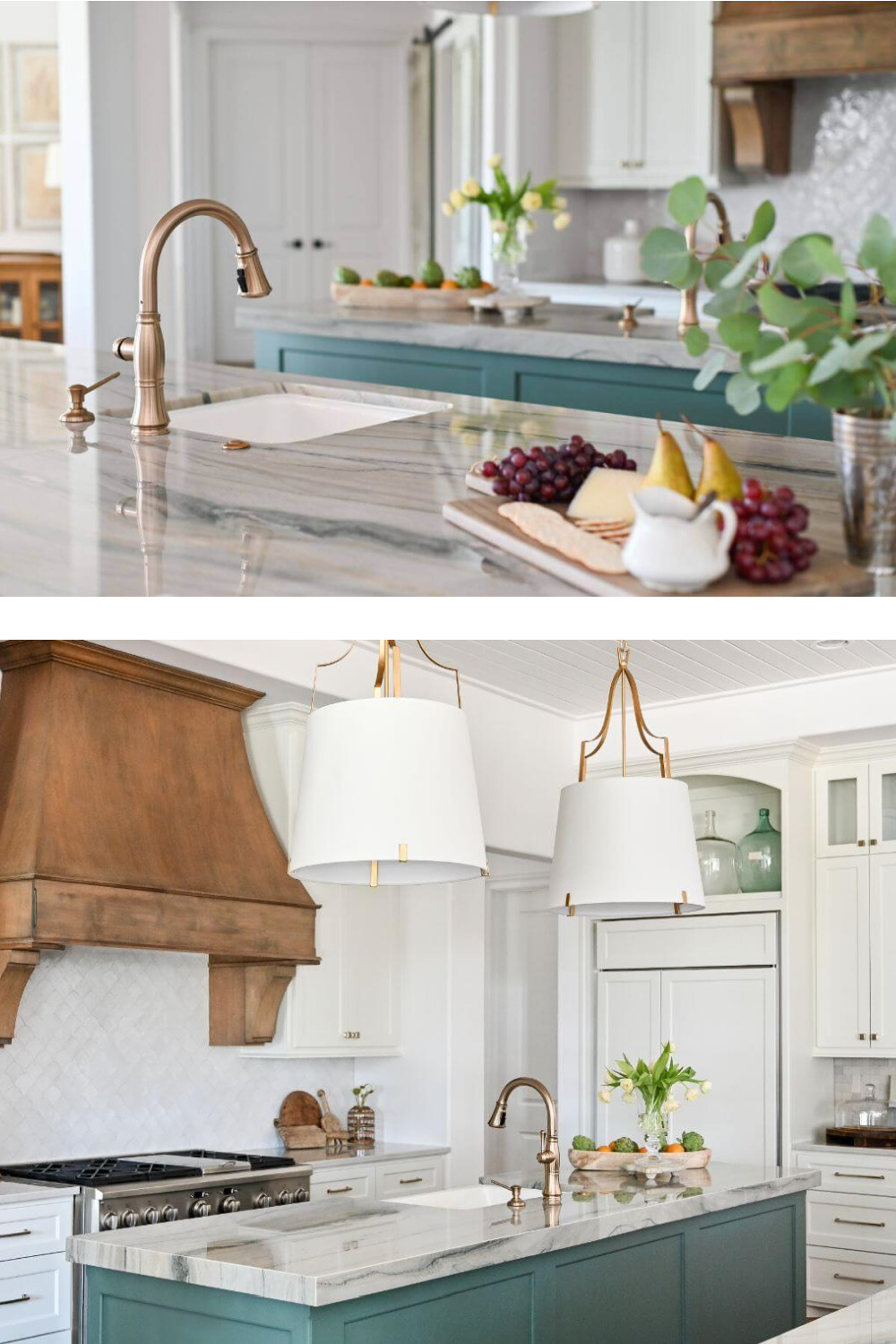 More design details in here include: a shiplapped ceiling, custom paneled refrigerator, and custom barn doors into a pantry/scullery/dirty kitchen/secondary kitchen space:
Oh those antiqued sliding doors to a mini kitchen! We're seeing so many family homes with these secondary kitchens where the mess can live so the main kitchen stays tidier.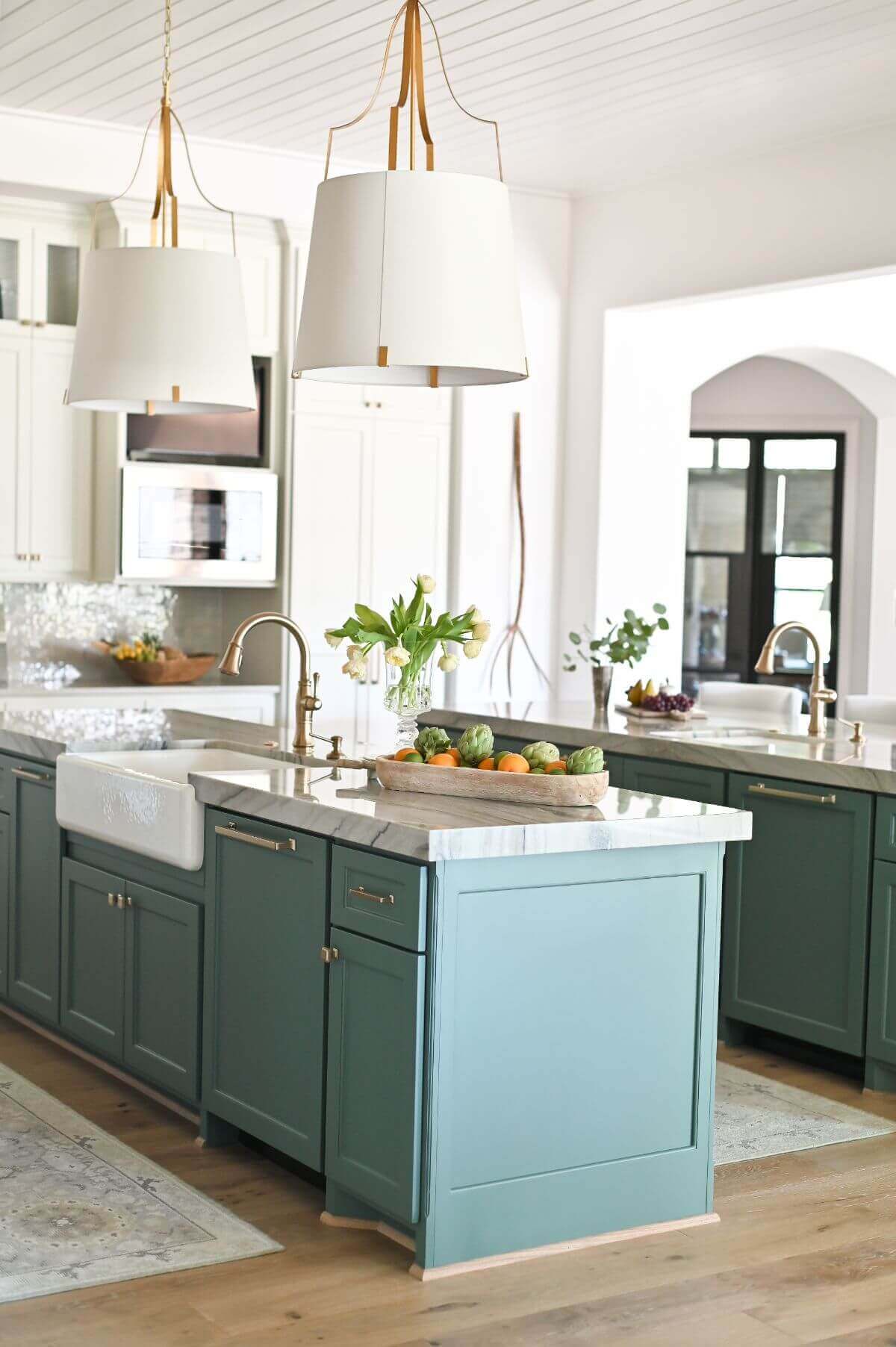 And I suppose this trend was bound to emerge given that kitchens are often the most popular living space in a home, high end or not.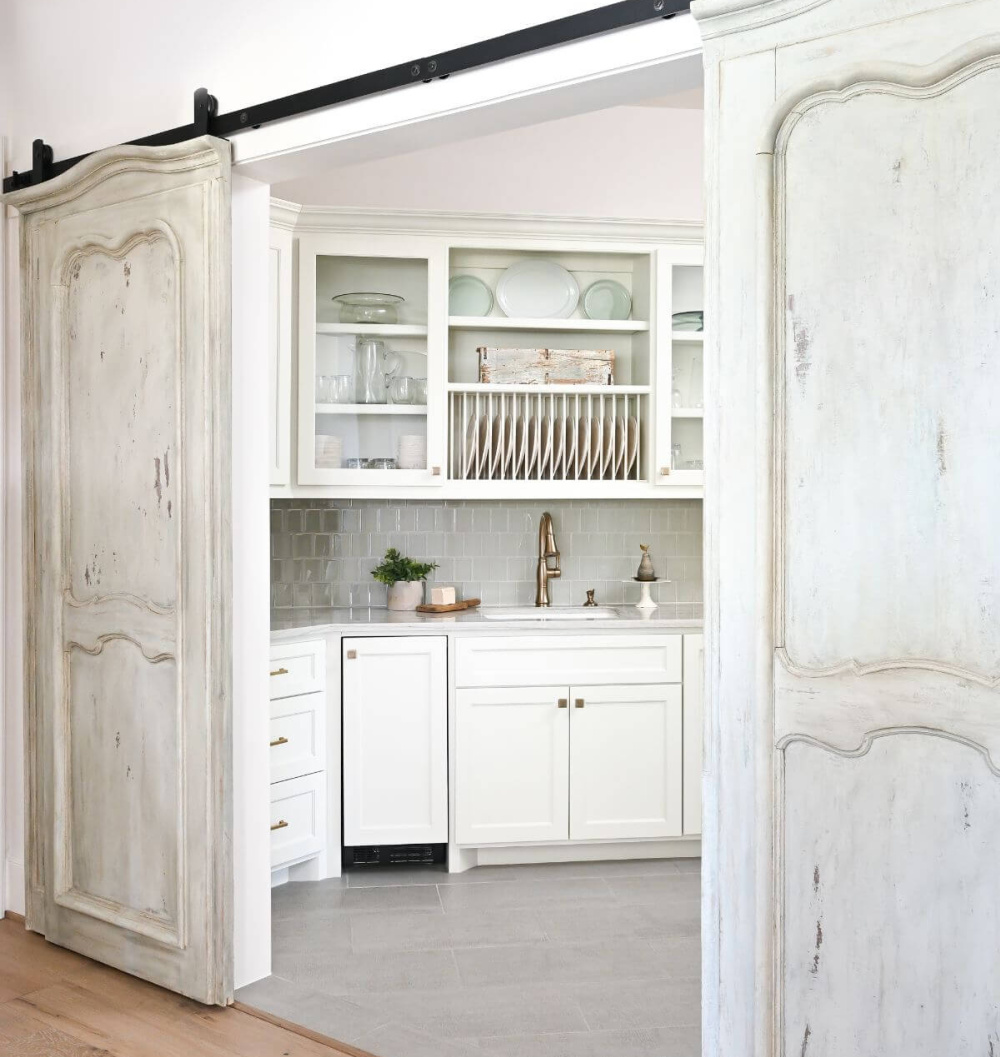 I mean, there are butler pantries, and then there are VA VA VOOM butler-pantry-with-benefits PANTRIES.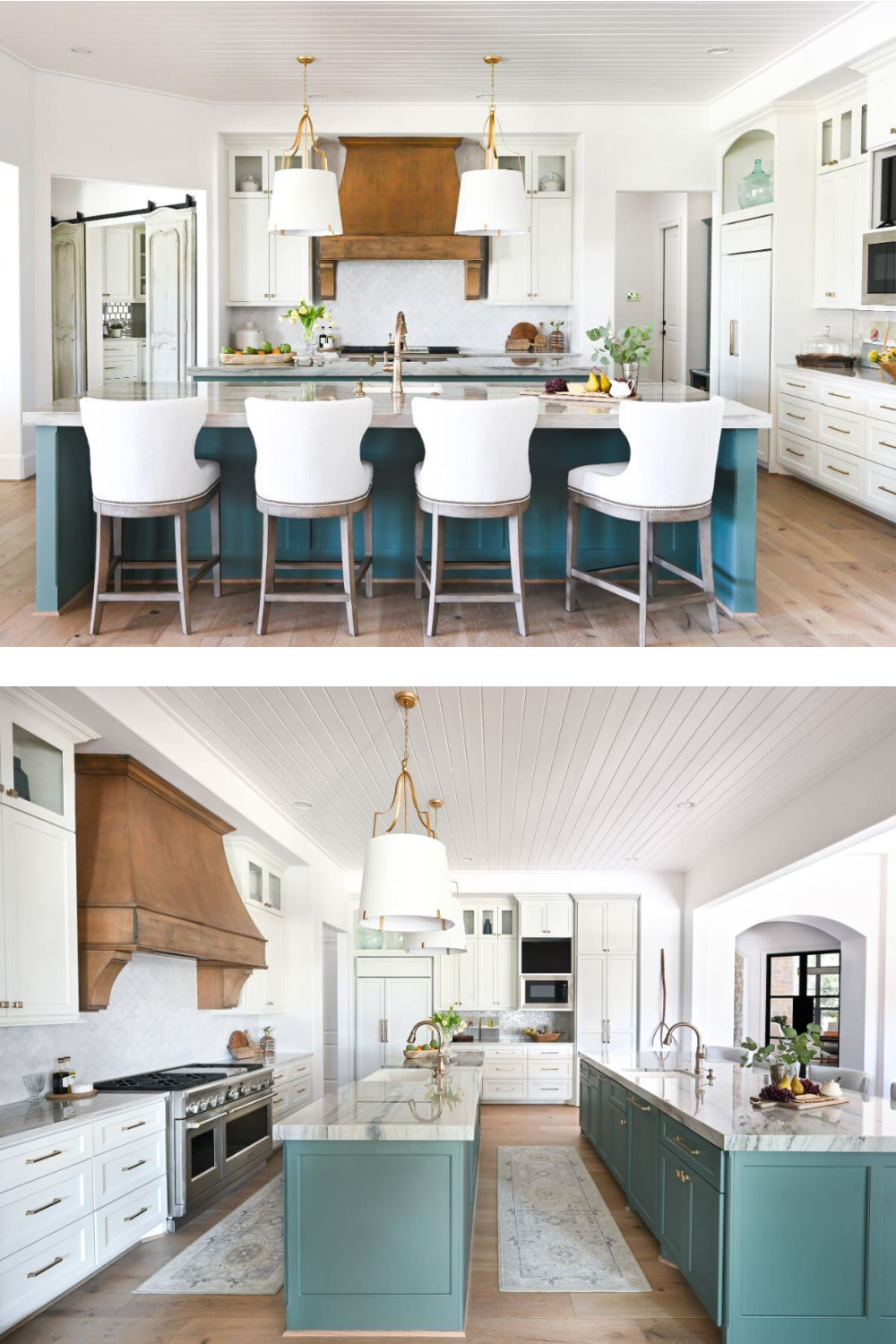 Here's a blue-green that came to mind if you're seeking a similar look:
While this VACAY blue-green may be more of a blue teal than a green, you never really know because of photography and post-editing with images.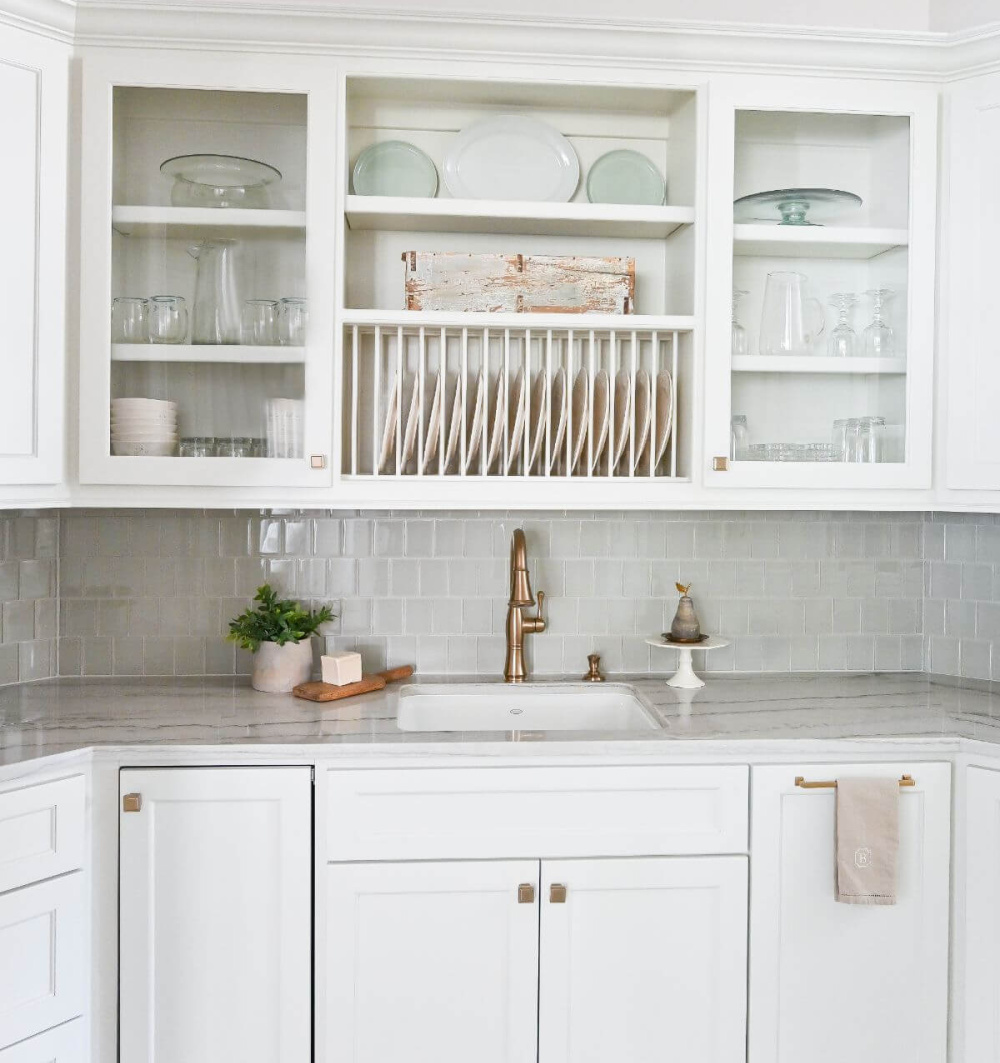 What say ye about the rustic wood French country range hood?
I know myself and could probably live with it for two days before my paint brush would get dipped in one of these: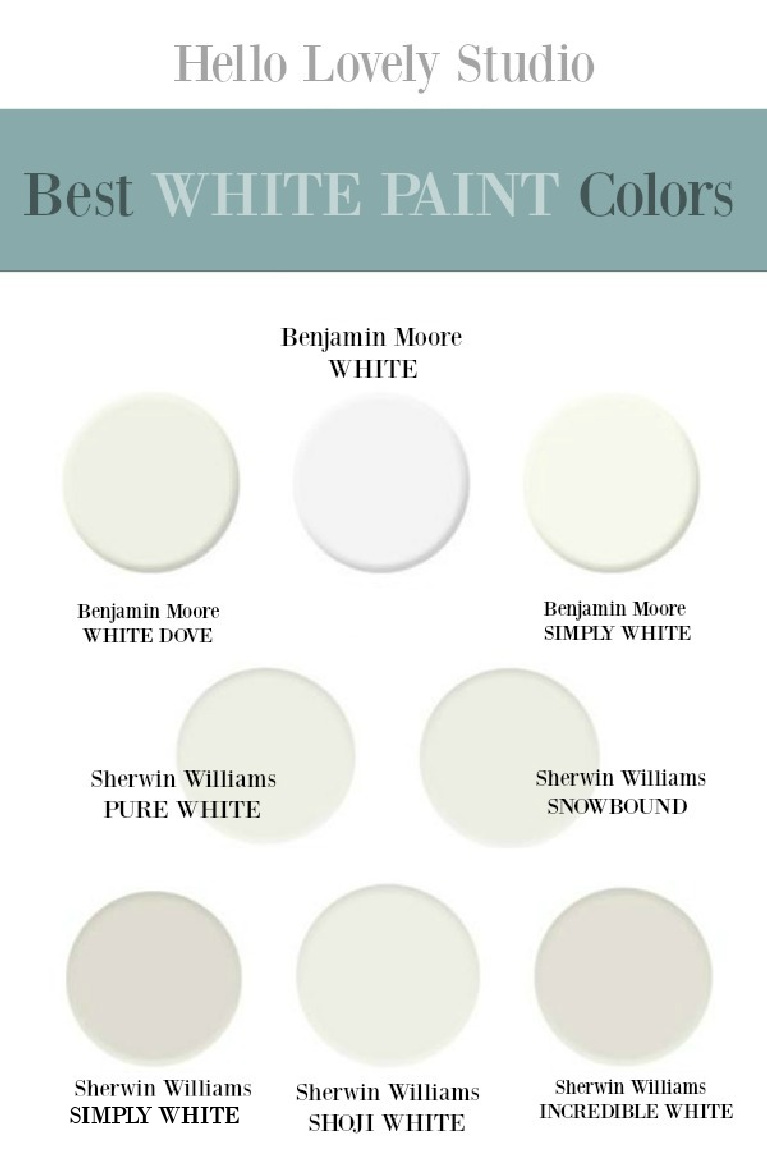 As far as the white paint color on the cabinets, I'm seeing a white with some grey undertones that works nicely with the grey of the stone countertop.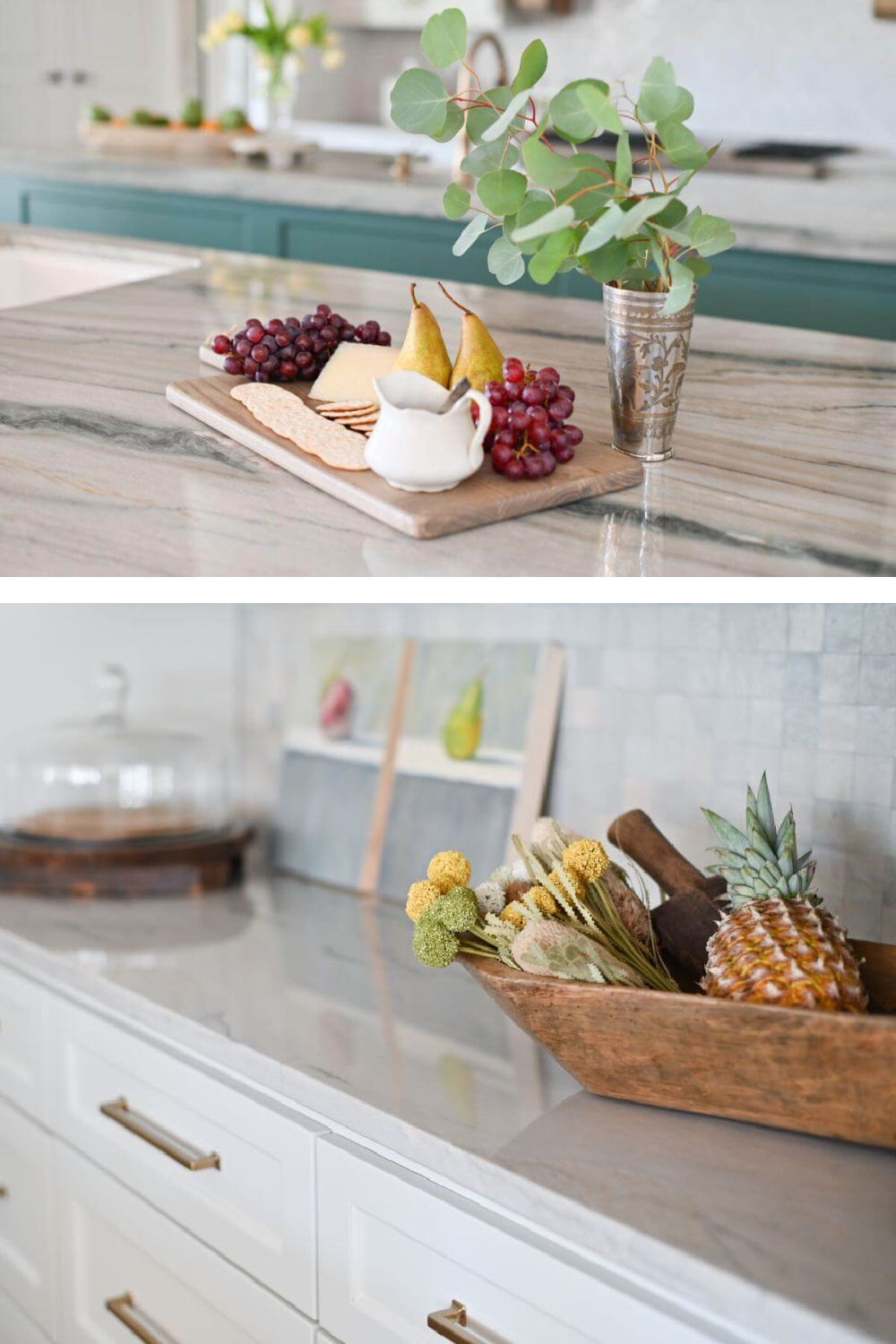 It can be nerve wracking to select a backsplash after your countertops are installed – it's happening at my house this very moment. I like how in this secondary kitchen or scullery, the designer chose a low contrast pairing with Zellige tile.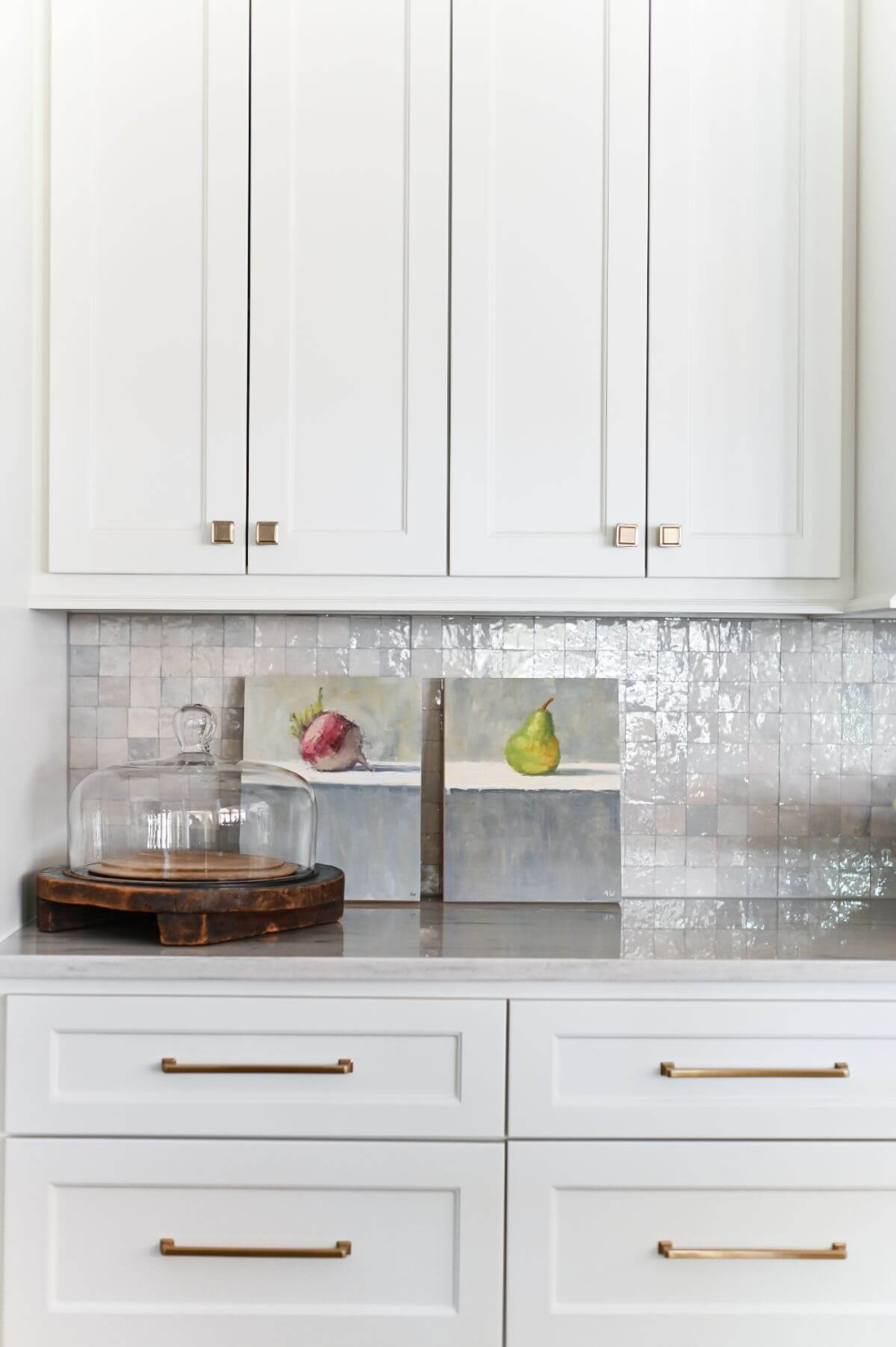 Aren't the gold-toned drawer pulls lovely too?
French Inspired Dining Room Inspiration
The neutral dining room feels as though it could easily change with the seasons.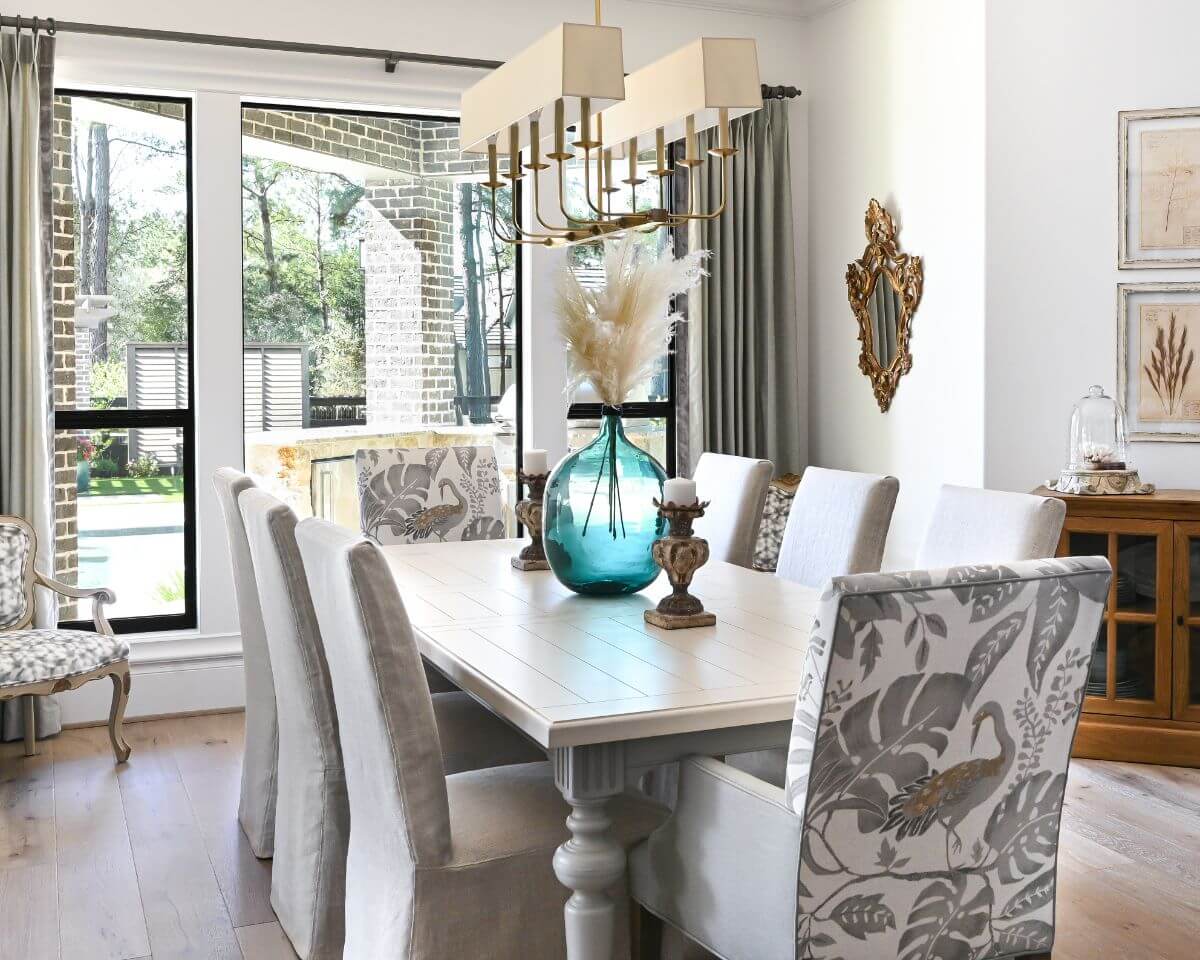 The open concept with floor-to-ceiling, iron windows overlooks a beautiful backyard.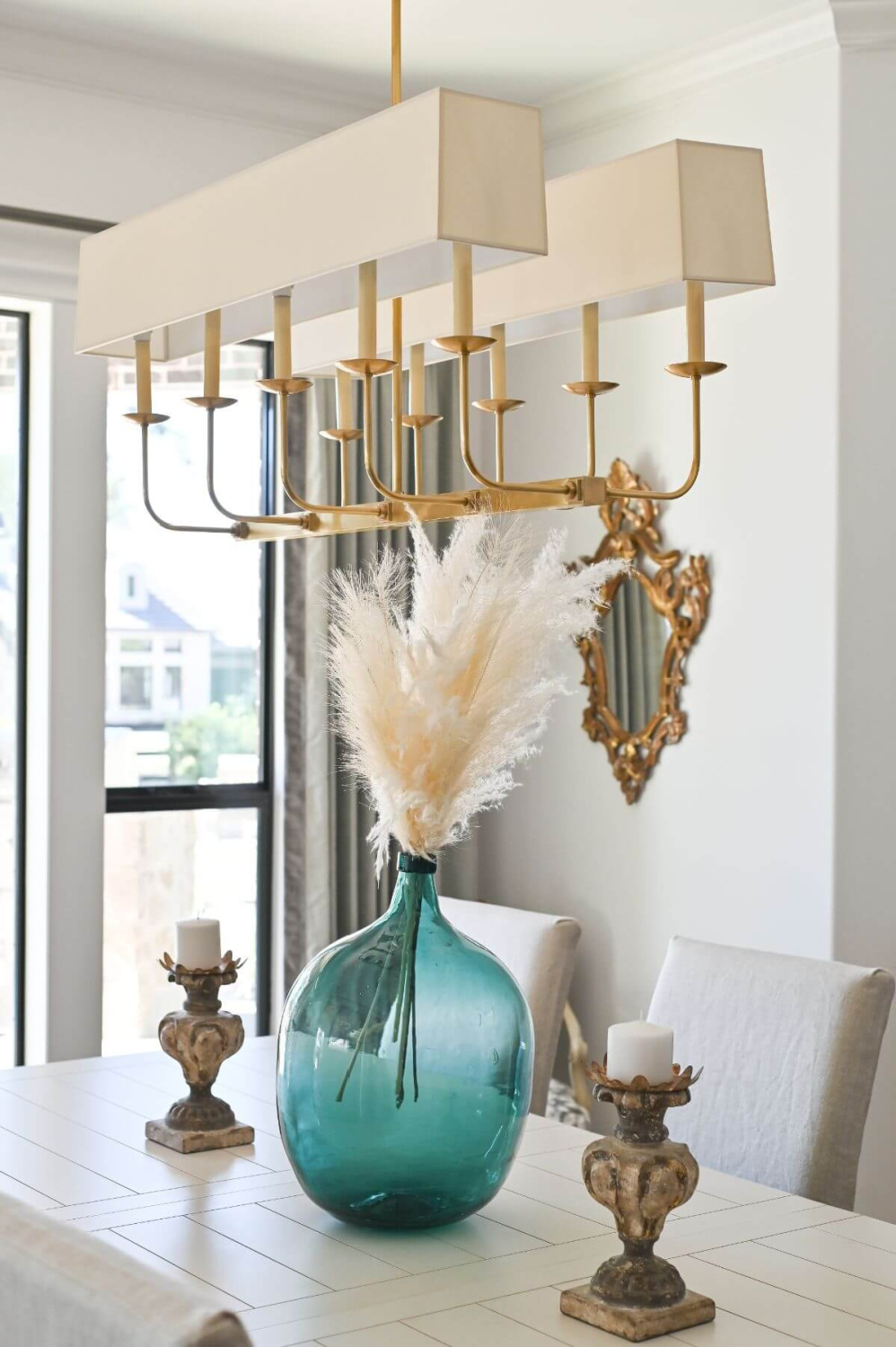 More warm gold fixtures harmonize with all of the cool greys and white.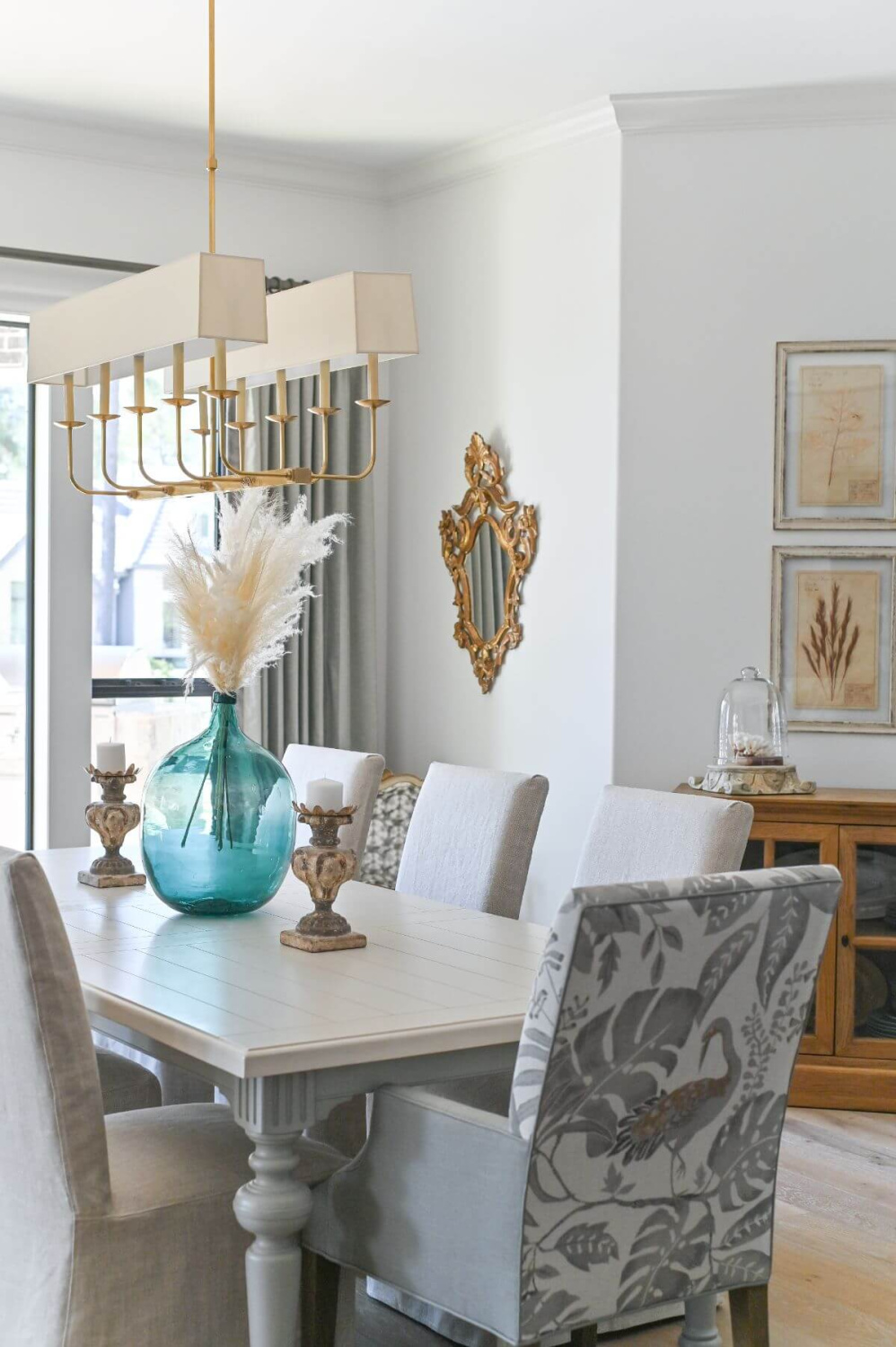 I'm fond of the framed botanicals which add a very casual and even rustic element.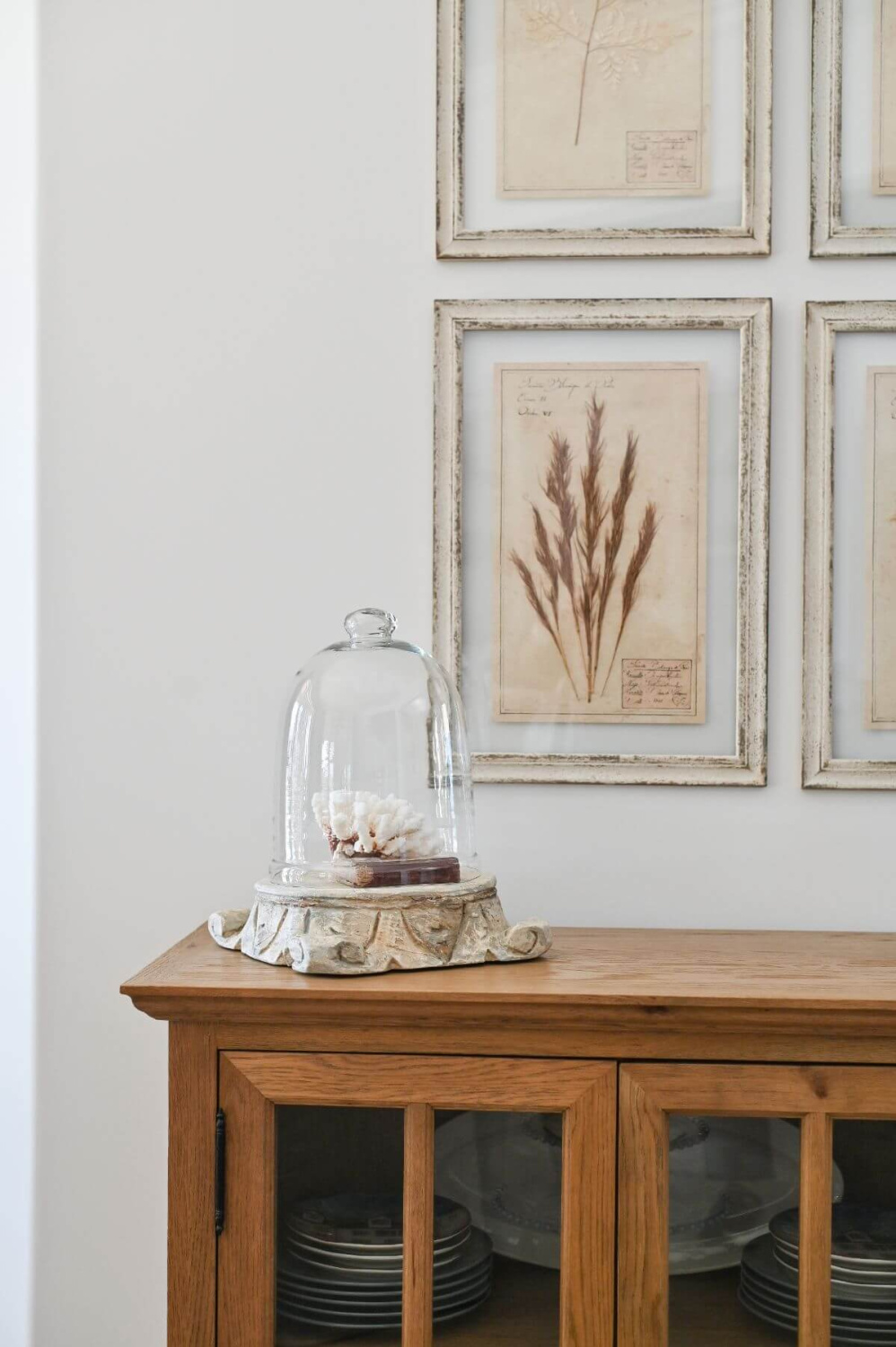 Who says you have to choose just one fabric for dining chairs?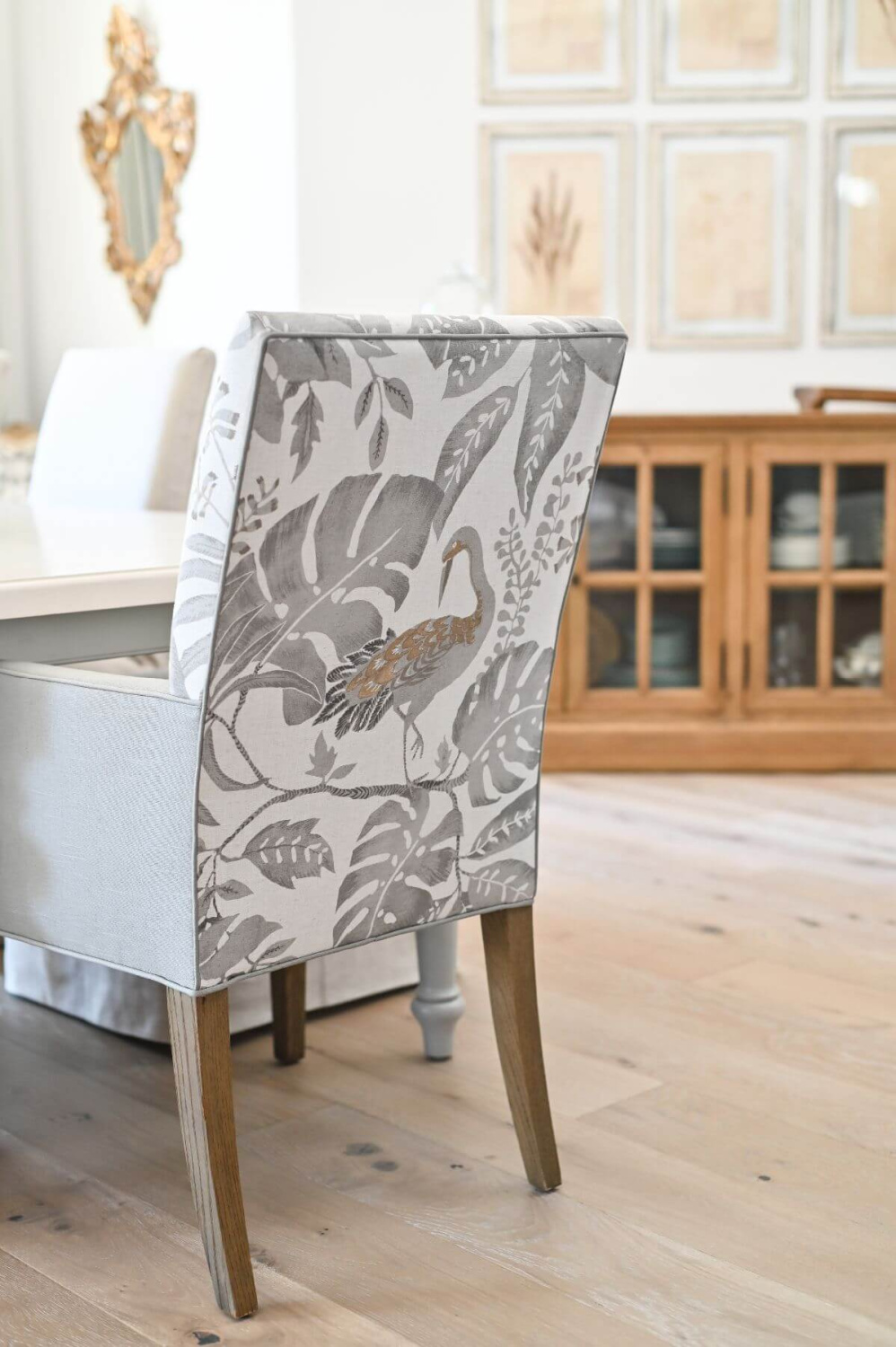 Romantic & Tranquil French Country Bedroom
If you love burnt orange, I bet you'll find something to love here: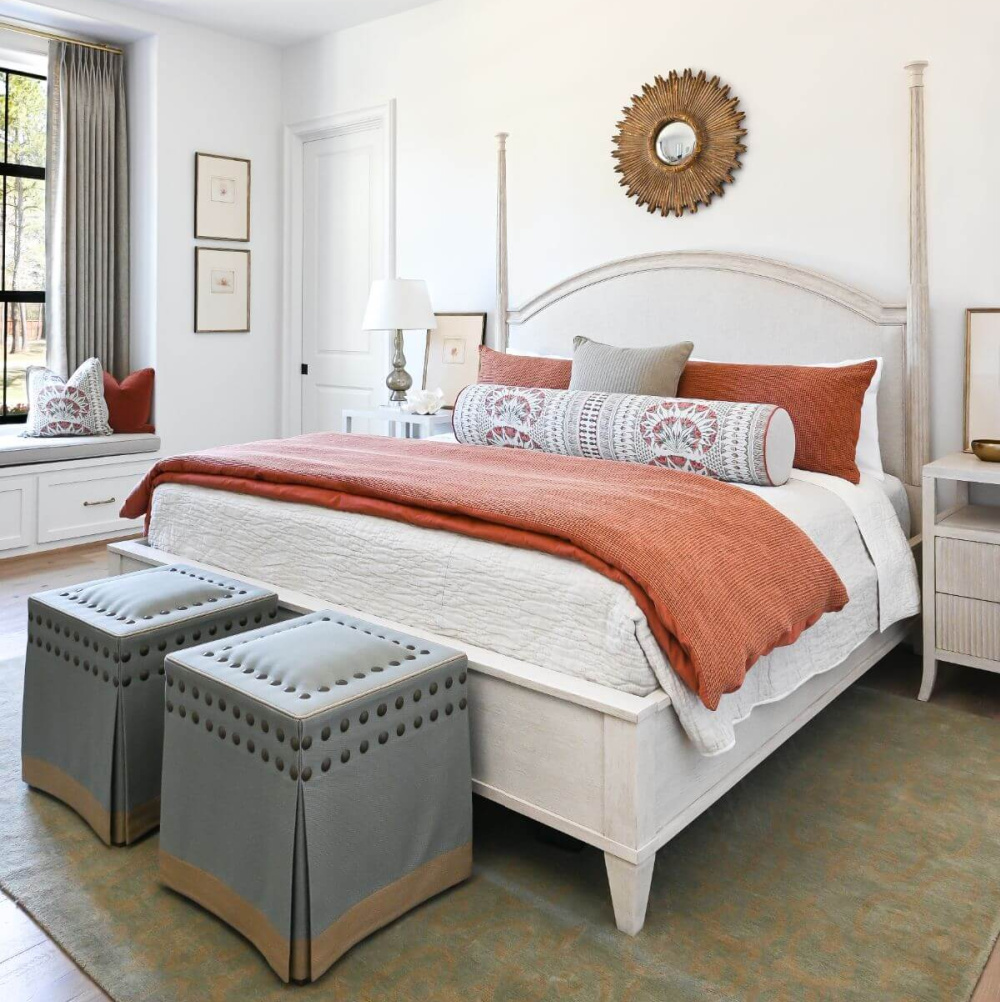 The poster bed is pretty close to perfect with its more delicate lines and pale color.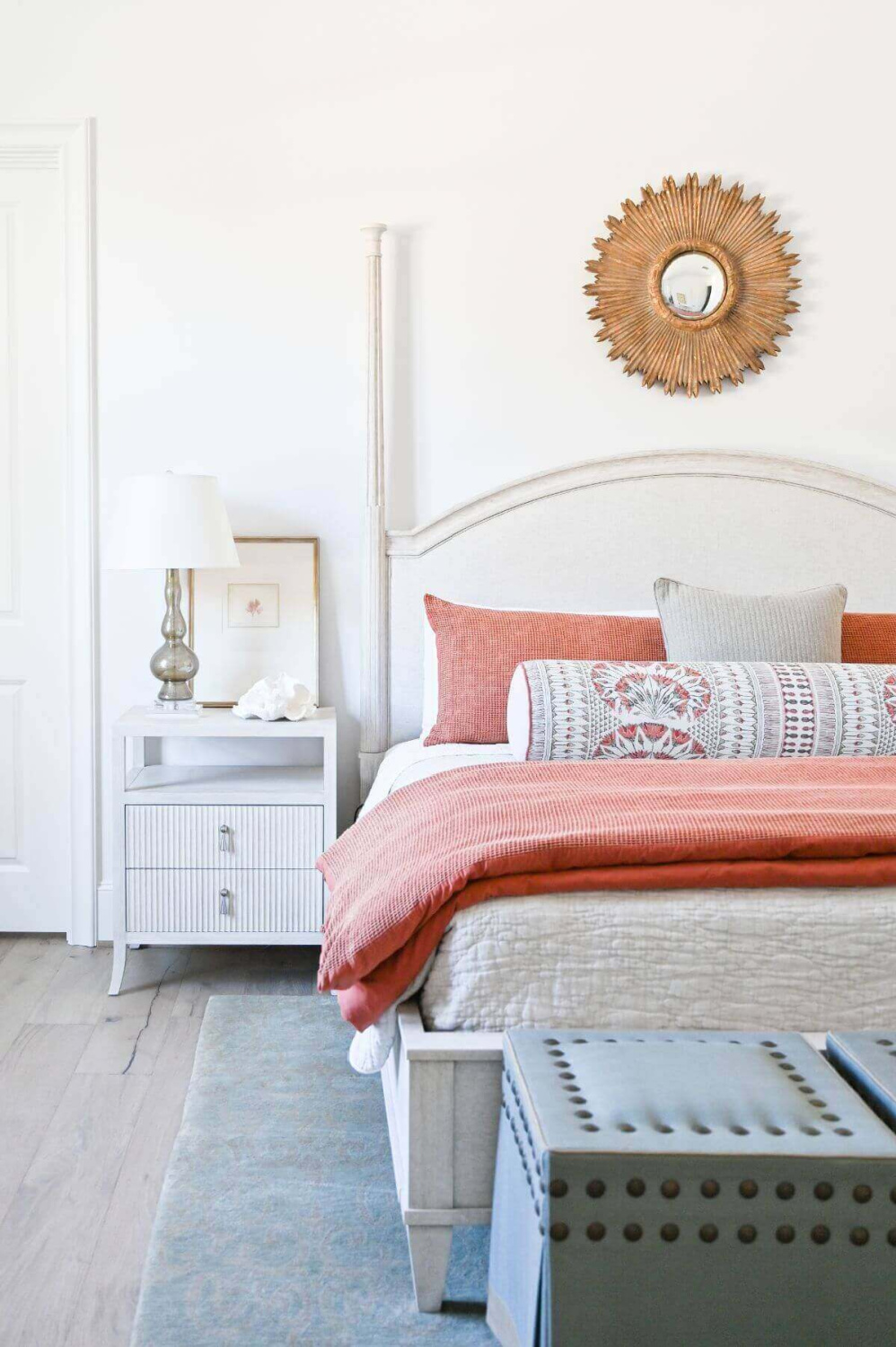 While we might expect to see an accent color behind such a pale bed, the absence of color means there's a restful mood.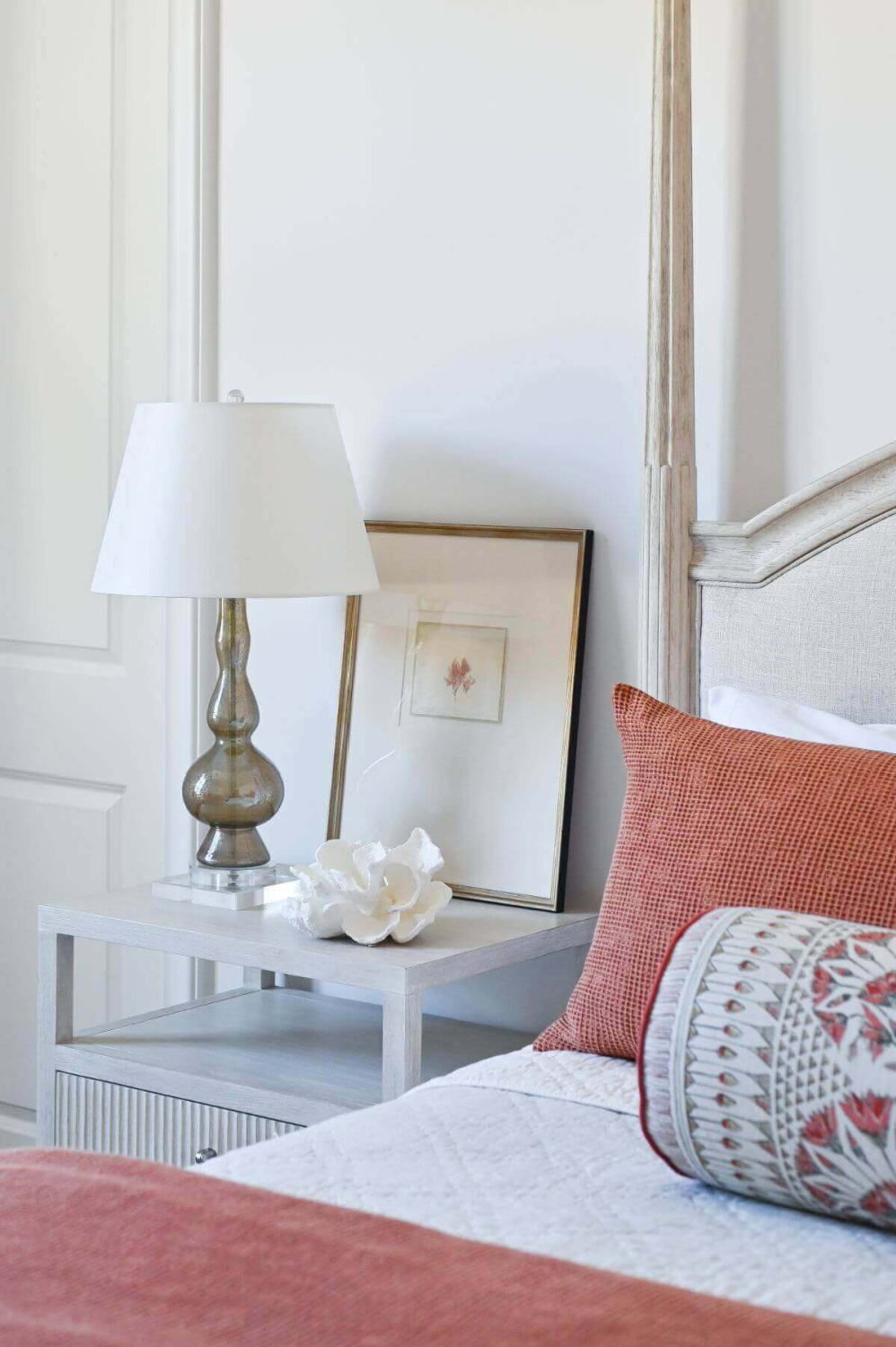 Touches of warm gold in the sunburst and framed art bedside seem to float.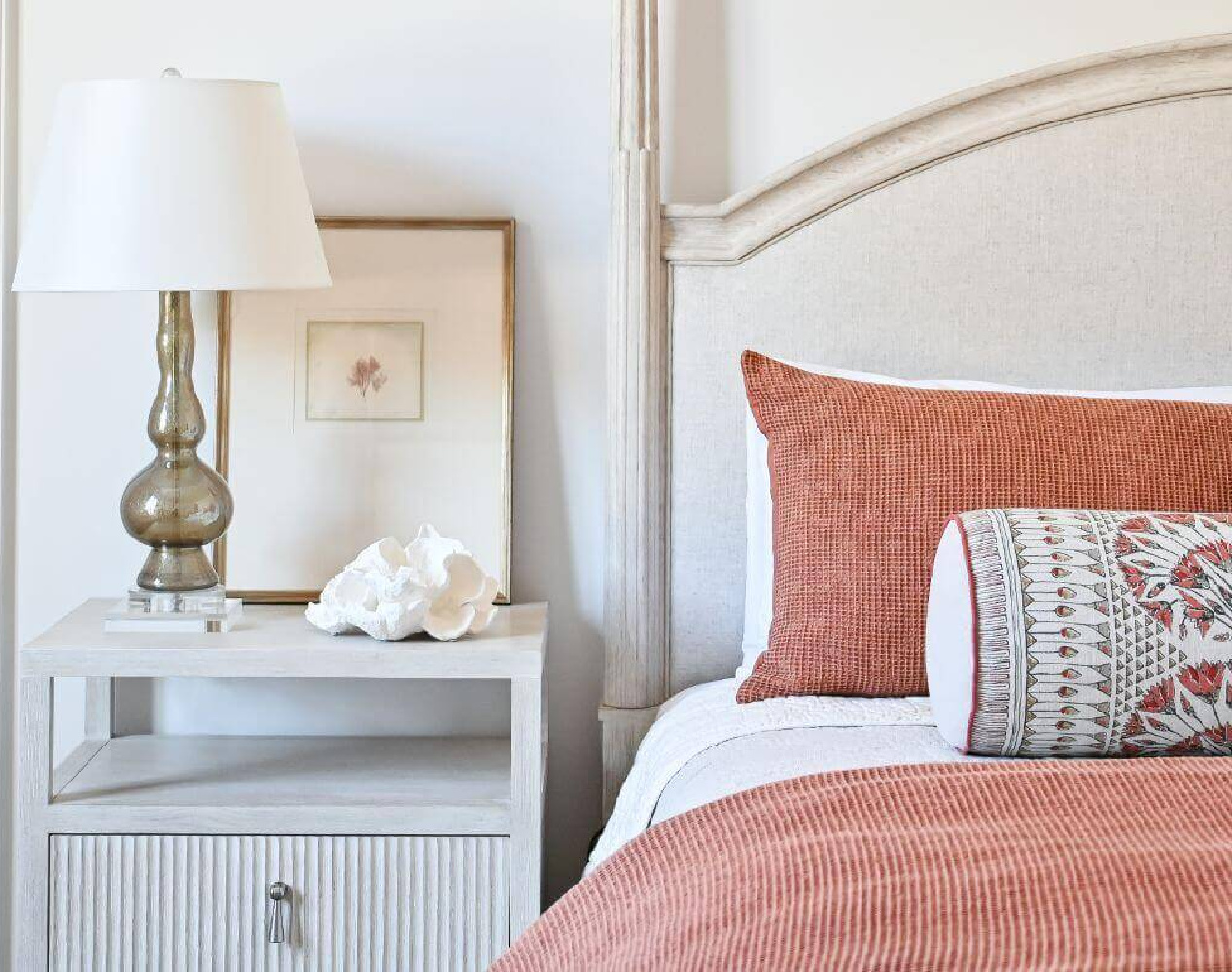 Isn't the fluted detail on the table magic?
White, Grey & Gold in a Bathroom
Oh so pretty!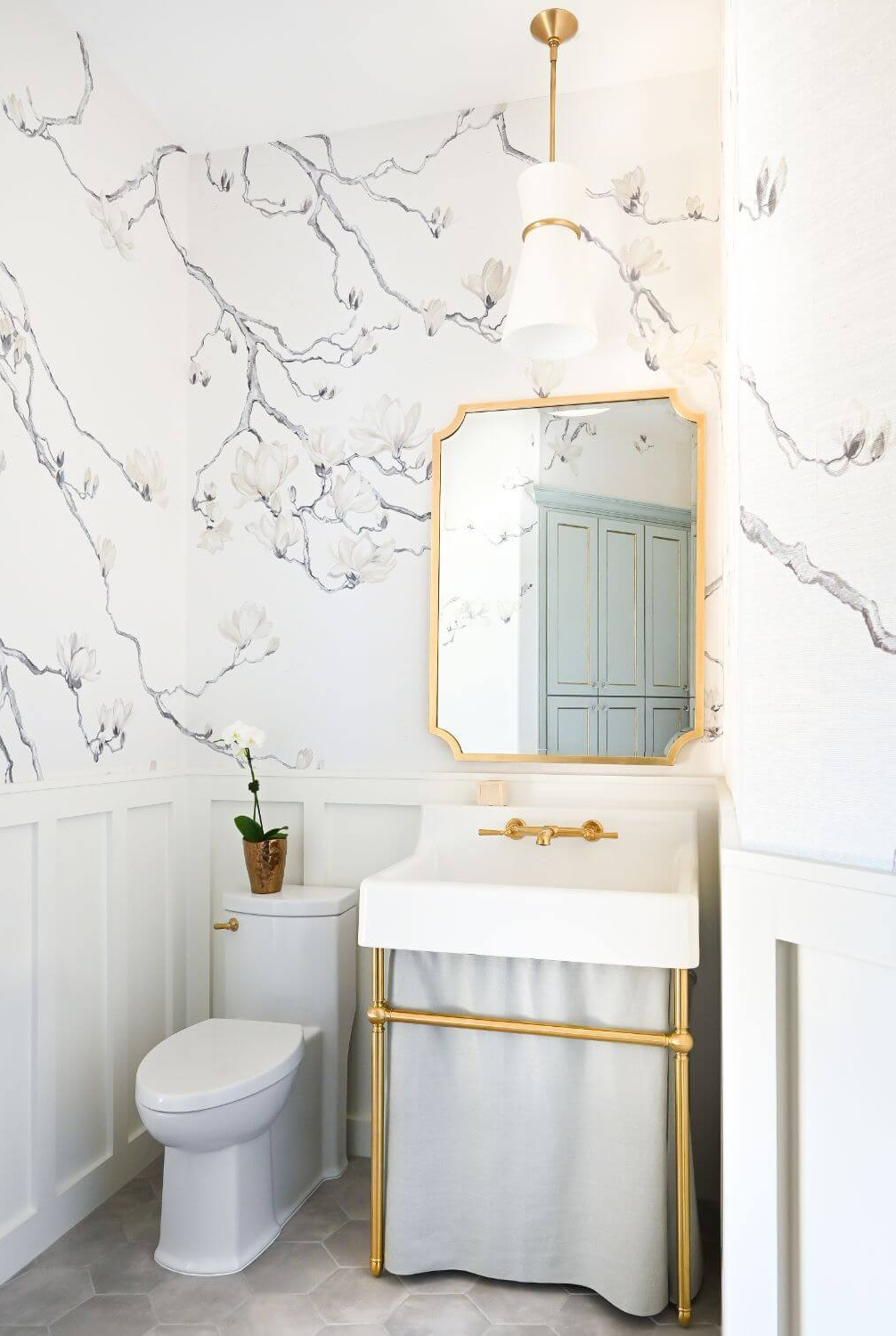 I love me a skirted sink, and I don't often see a console sink dressed this way.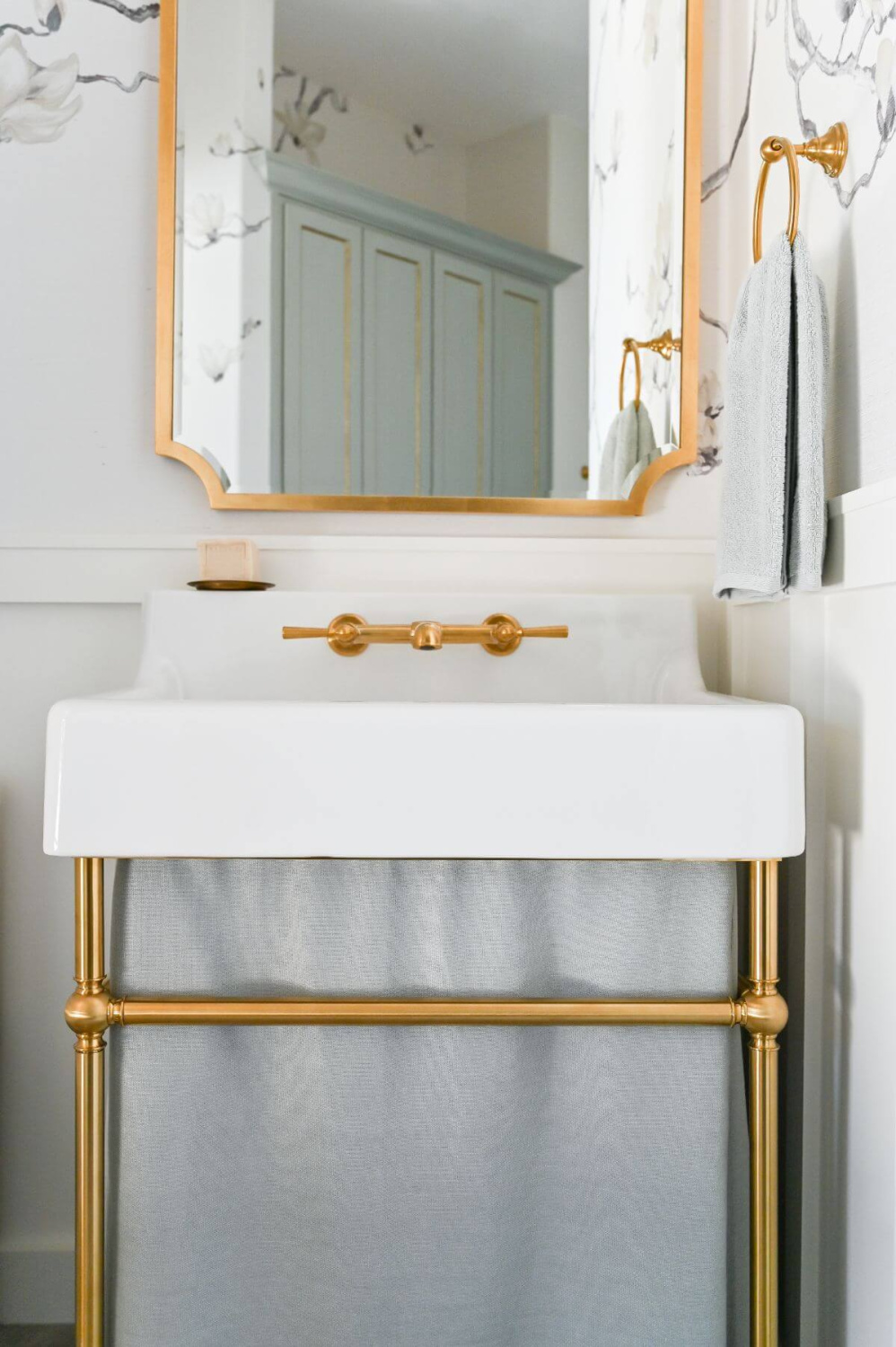 Even a simple block of French soap can Frenchify a bath!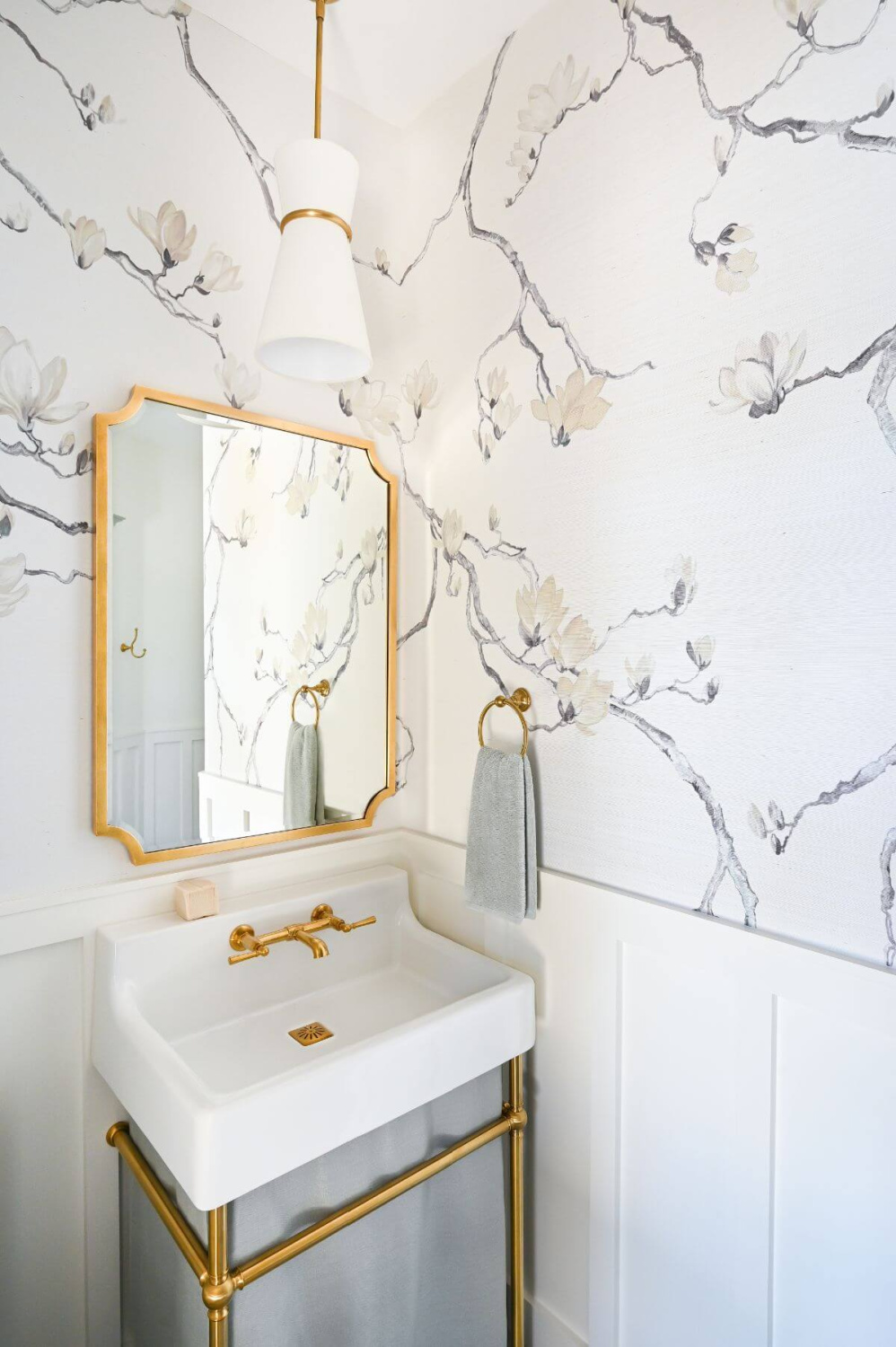 Details like wainscot and paneling in a bath are best planned at the design stage or beginning of renovation plans.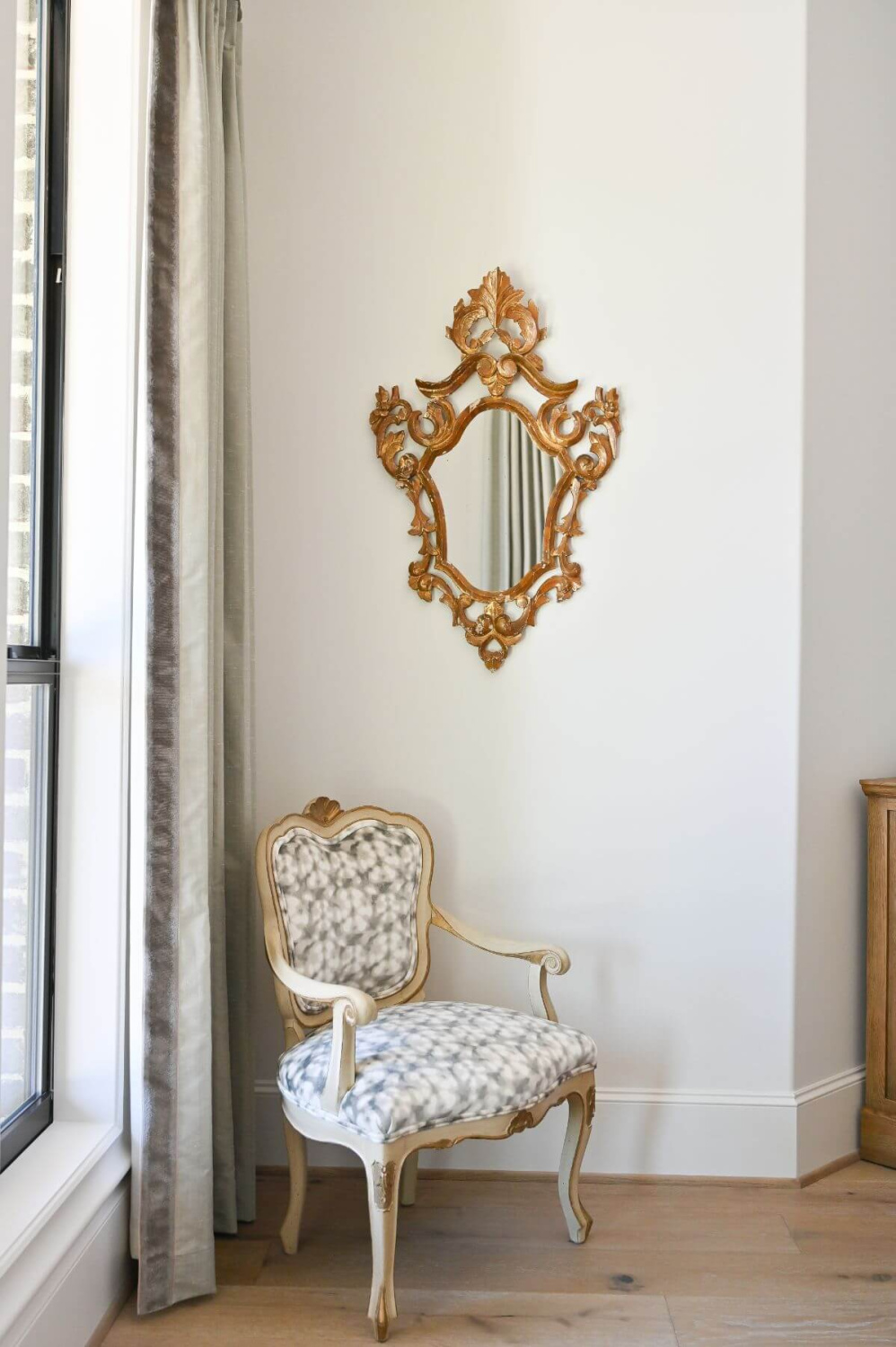 Because take it from me–you don't want to be pulling out plumbing fixtures to add the pretty things after!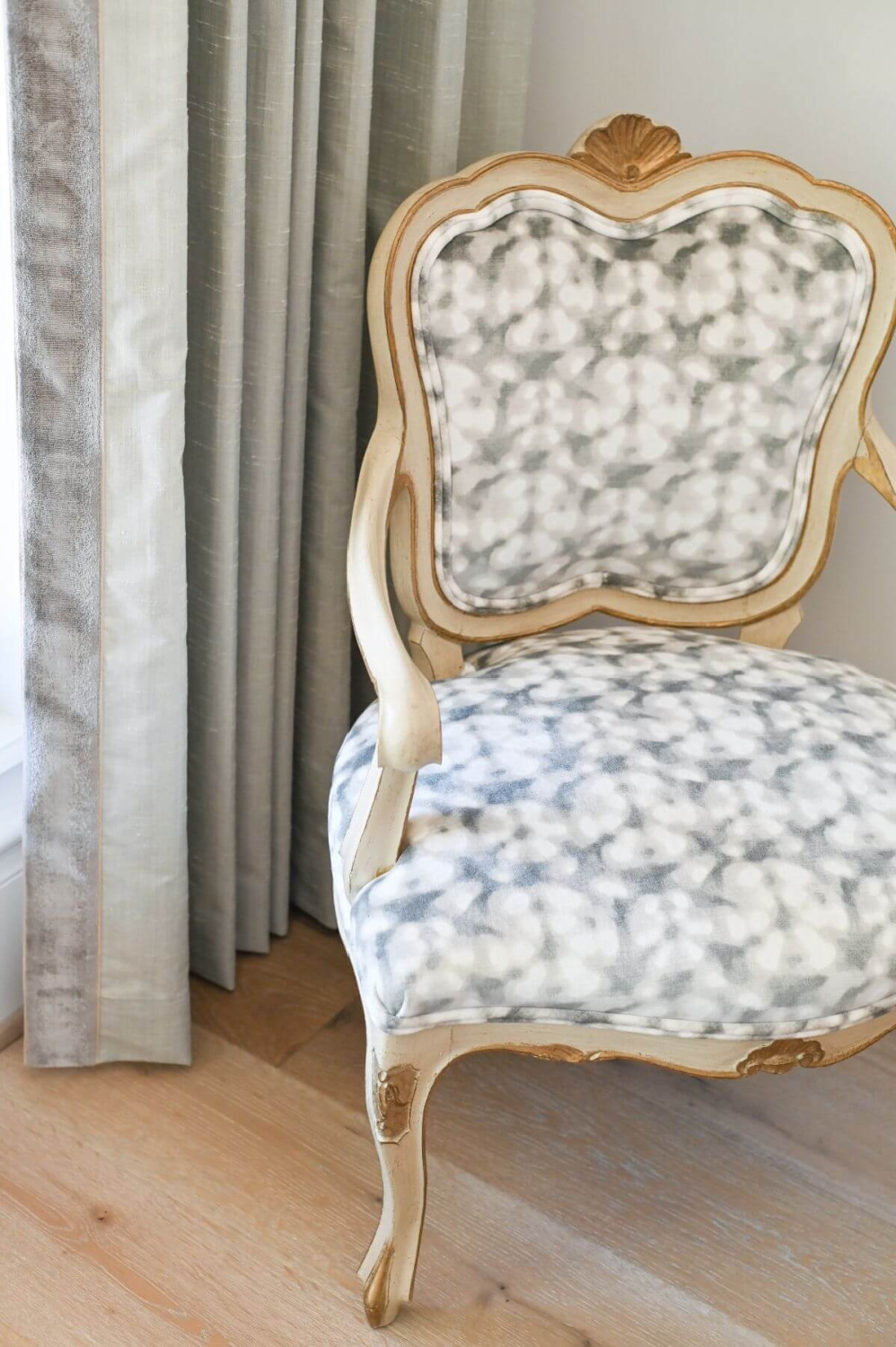 It's fun to see a fresh fabric like this (is it a Batik style?) on an Old World style French chair (above).
Hope you found lots of inspiration and ideas to tuck away. If you love this home tour, you'll also love the story HERE.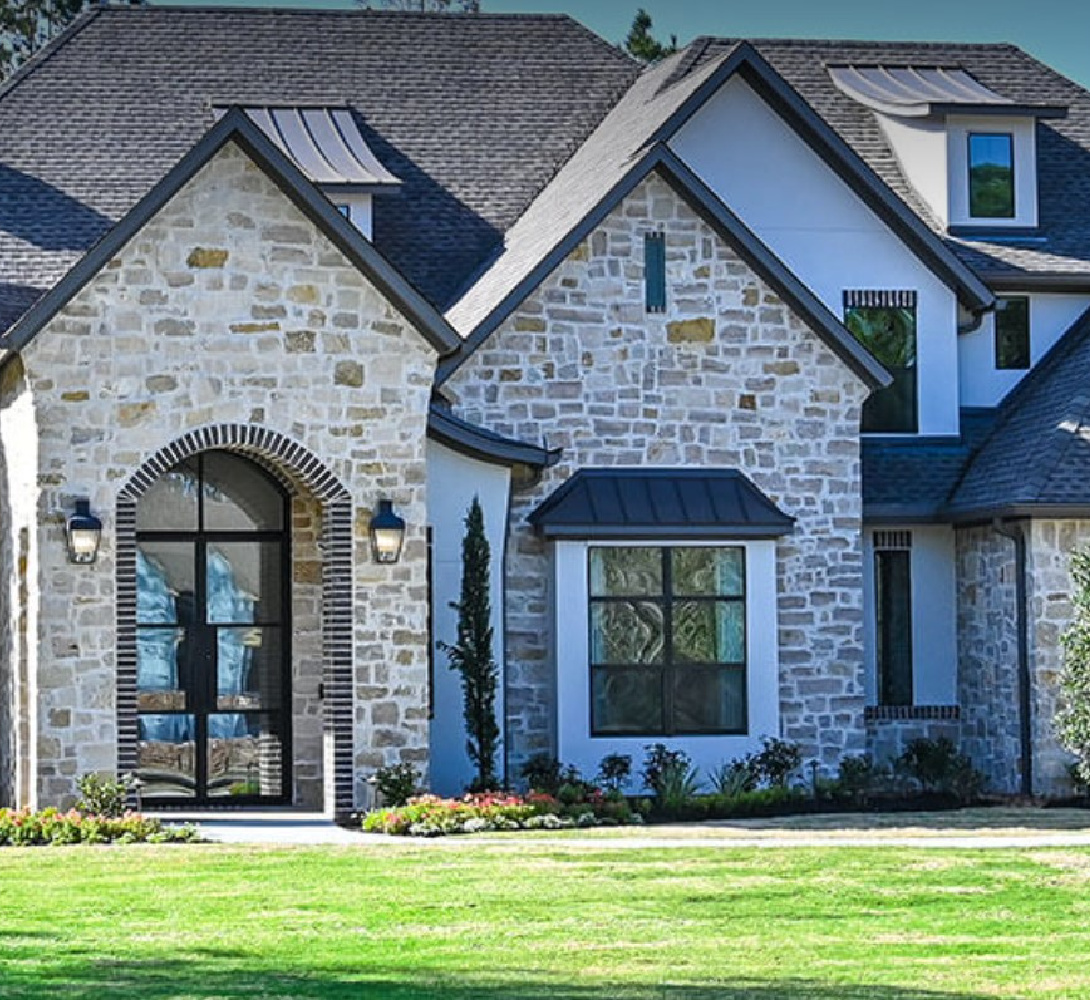 And I hope this finds you calmly collecting decorating inspiration as opposed to feverishly trouble-shooting design dilemmas as I am today.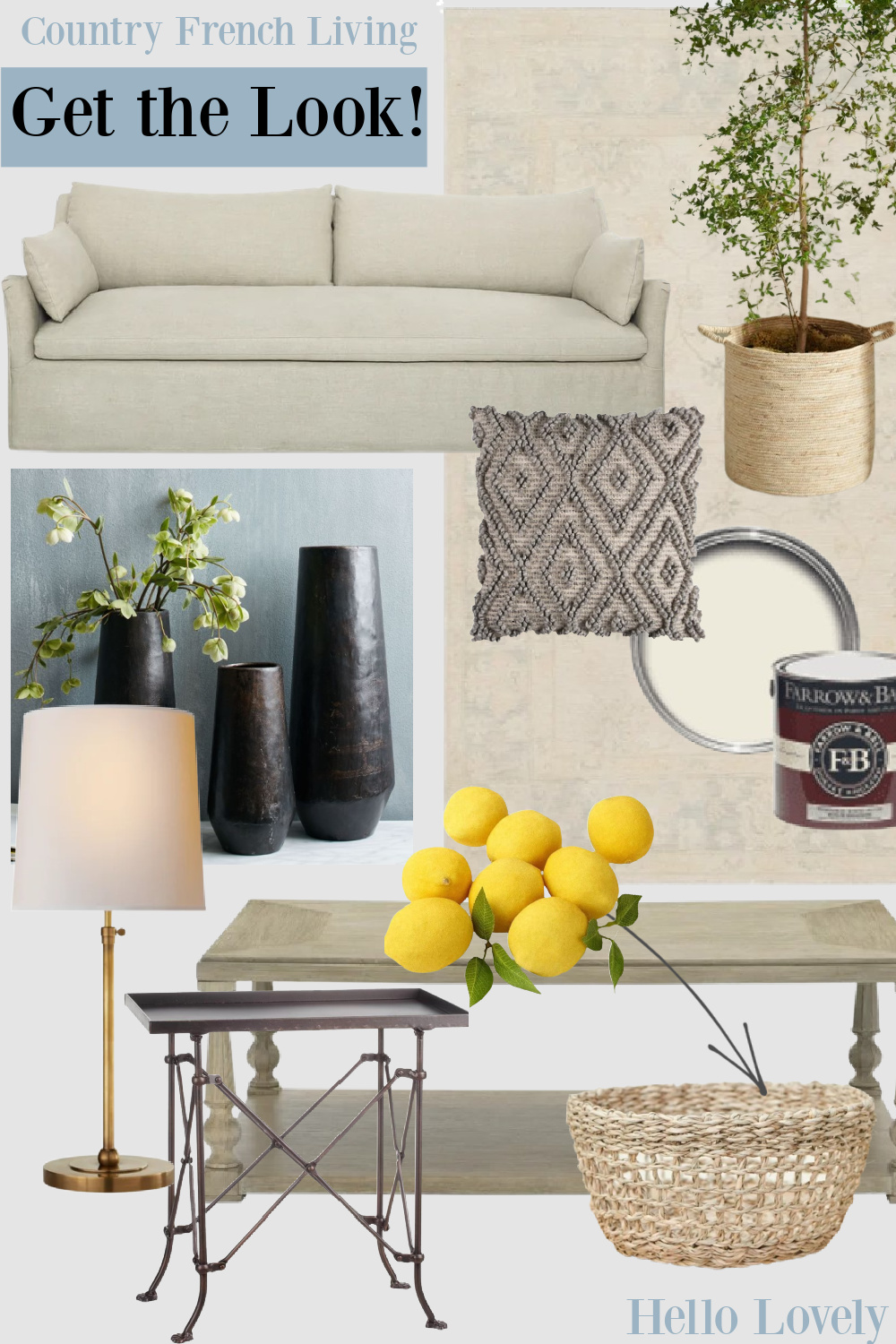 Touring beautiful homes and chatting with you online has become a sweet refuge and escape from the real life work here at the new place.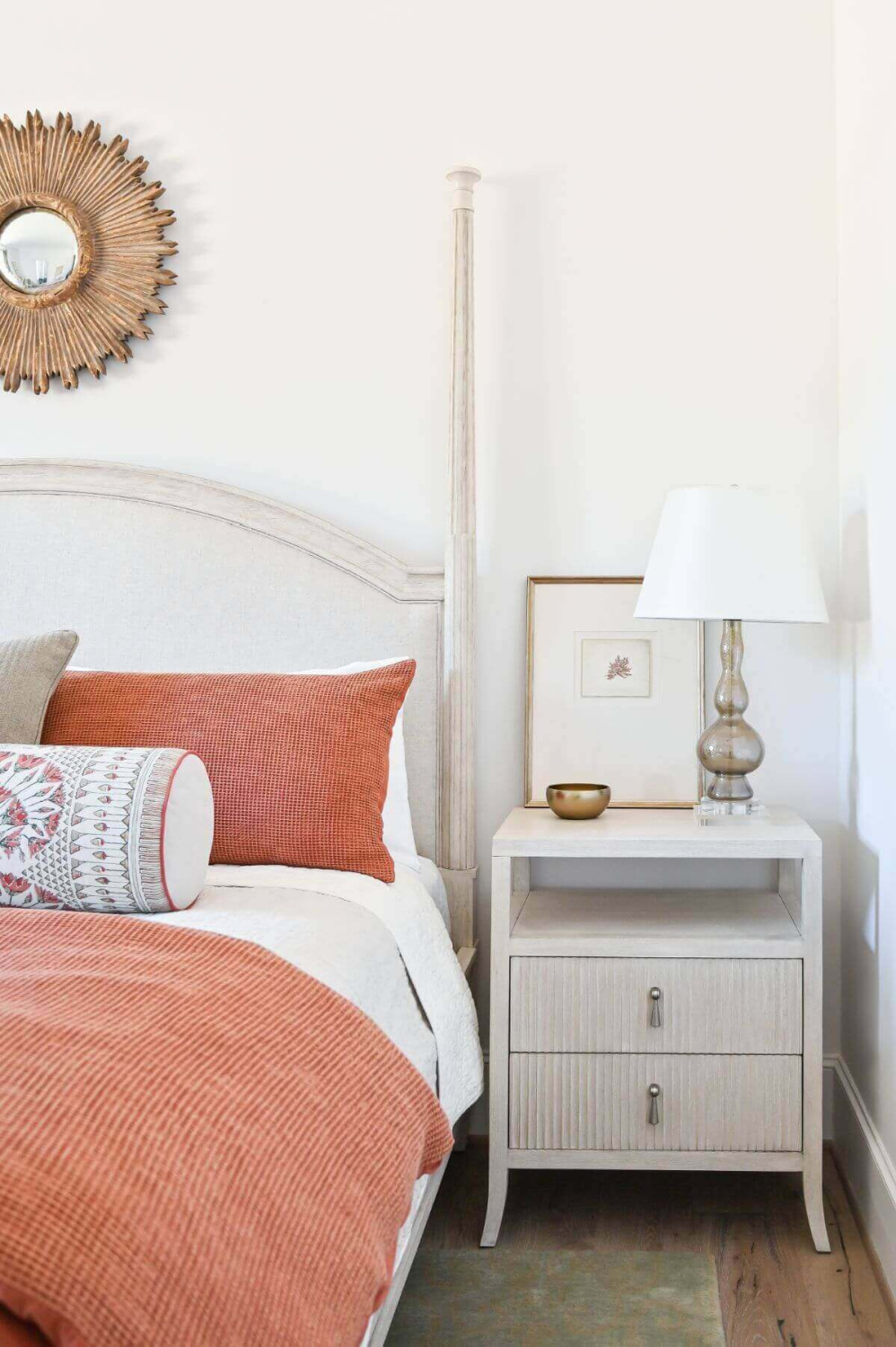 Thank you so much for keeping me company on the journey. I know all things will be well and that someday the disorder here will subside.
Oh, and this quote has been resonating with a lot of folks on Hello Lovely's FB page: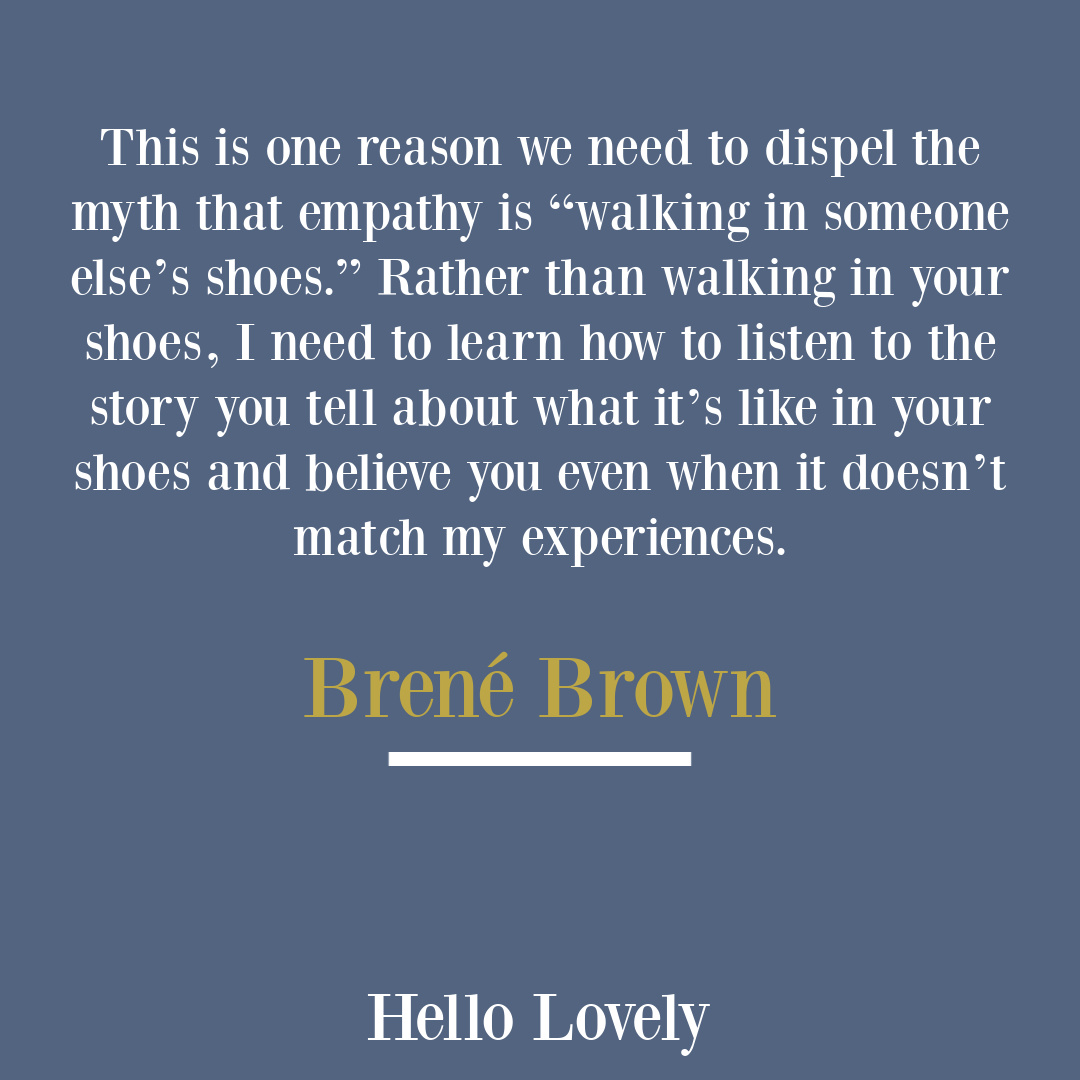 Pinning it to Pinterest may just get someone thinking about the true meaning of empathy at just the right moment. Who knows the ripples that may ripple?
Peace to you right where you are.
-michele
Shop for items you already intended to buy on Amazon RIGHT HERE, and also find home decor here to keep decor inspiration flowing on Hello Lovely!
Hello Lovely is a participant in the Amazon Services LLC Associates Program, an affiliate advertising program designed to provide a means for sites to earn fees by linking to Amazon.com and affiliated sites.