Let's both catch up and relax as we stroll through inspiring fantasy French design photos and Southern France gardens. While my own gardens are not at all on the same plane as these Timeless French Château Interiors & Gardens, it feels like such a privilege to help them grow. And my interiors? They are coming along, but oh, it's slowwwwww! Also find encouraging quotes weaved throughout what I hope will be a meditative gallery with whispers from a friend. We'll tour Old World interiors within this Provence vacation rental (from Haven In) and virtually inhale the sweetness of French country air.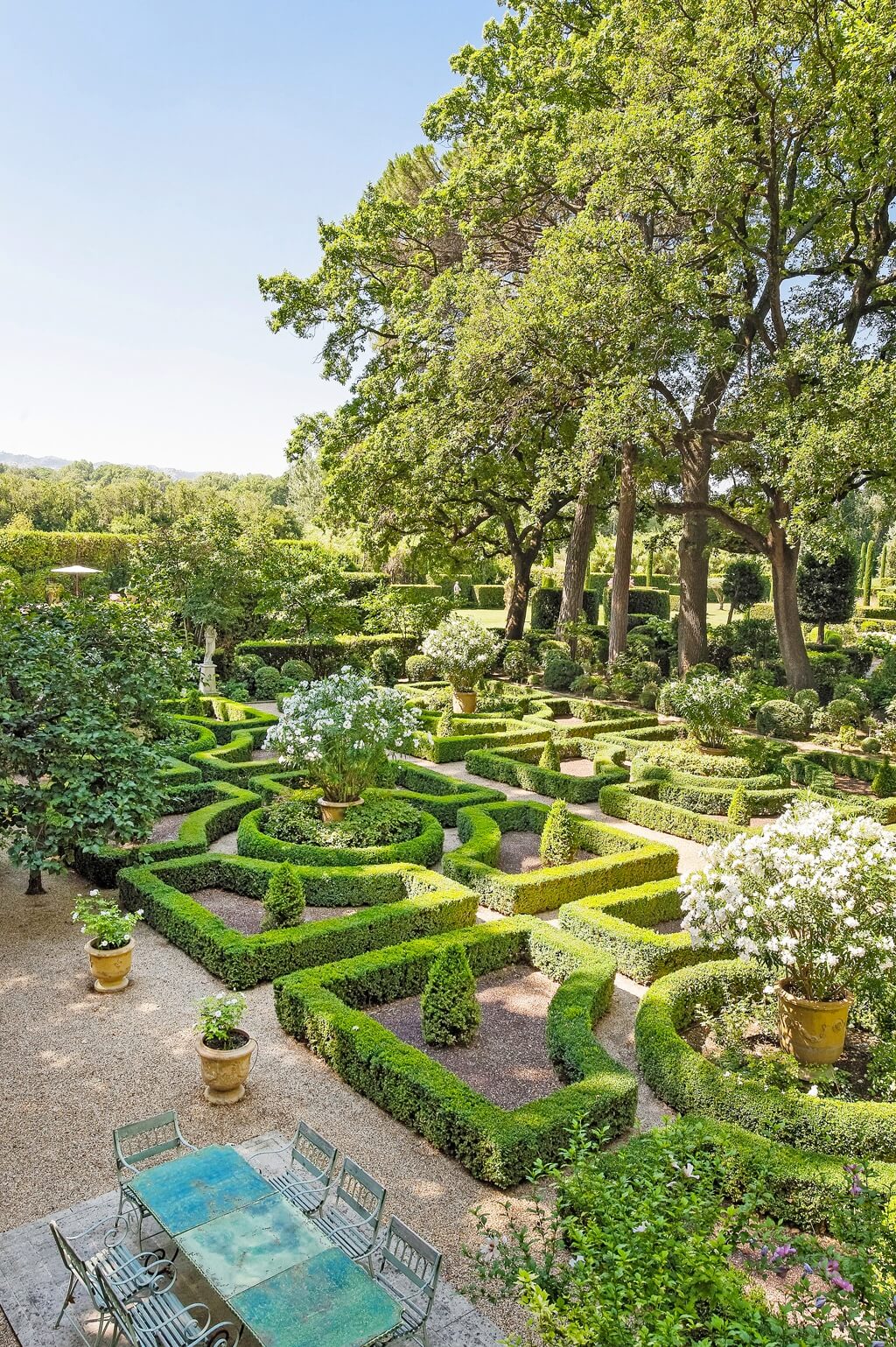 Timeless French Château Interiors & Gardens
The grand 18th-century Provence manor, Château Mireille is a breathtaking and luxurious vacation rental available through Haven In.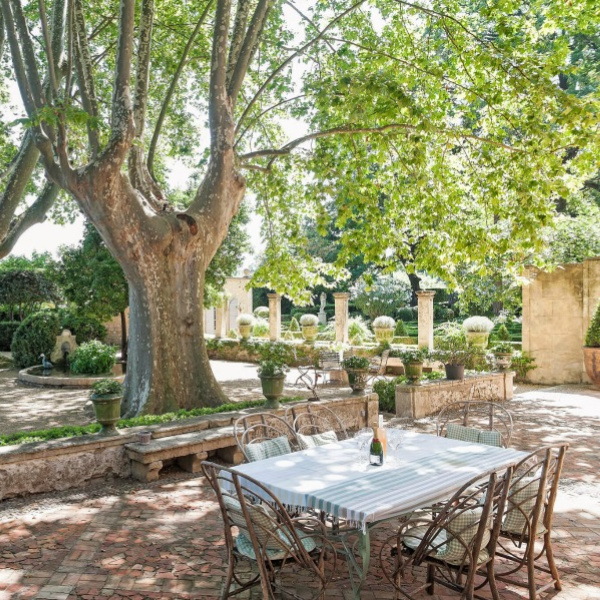 Does travel to the South of France or a luxurious villa seem the stuff of silly dreams in the 2020s? It does to me!
Both my husband and I are in a most busy chapter of our careers and have little time to get away.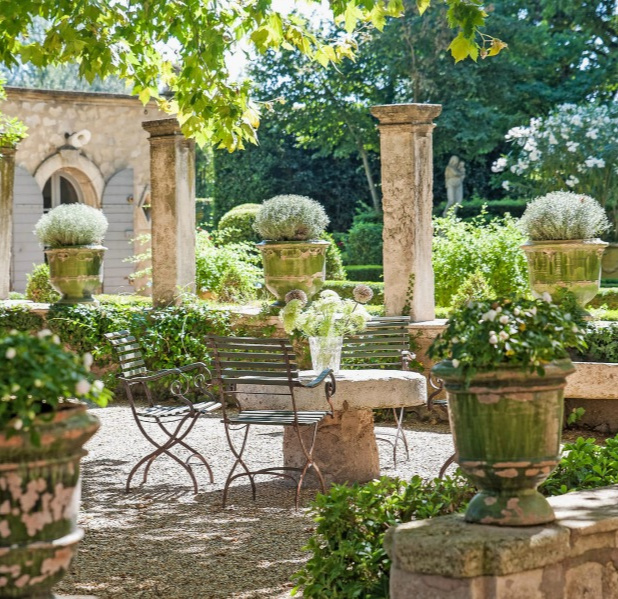 I know air travel has been a nightmare for folks lately (at least domestically), and with inflation and rising prices, travel is a great luxury indeed. Surely we will all experience a newfound gratitude for the privilege of travel after so much global upheaval and economic challenge.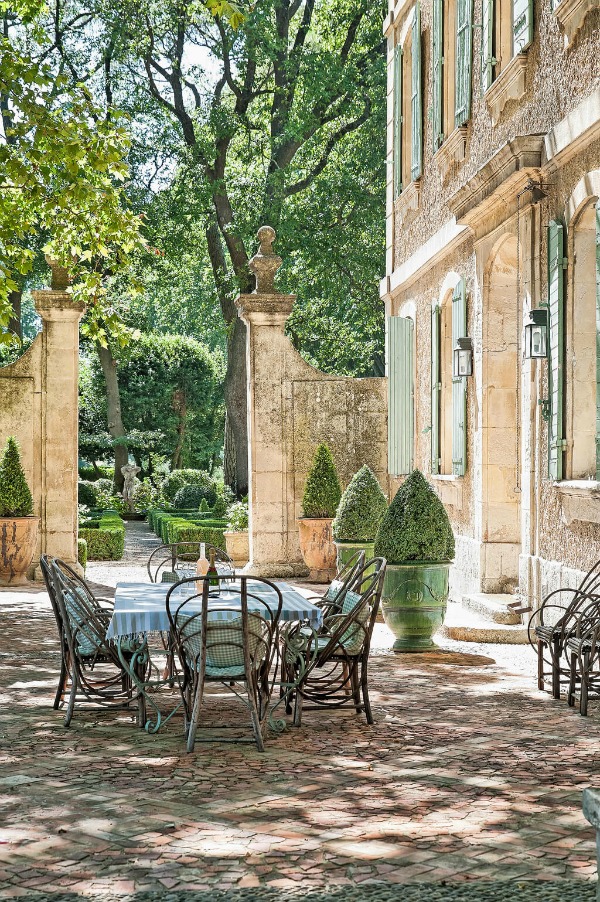 Where is This Stunning Property?
Located 10 minutes from St-Rémy-de-Provence, a stay at this historical French home would certainly be the thrill of a lifetime for admirers of South of France timeless tranquility!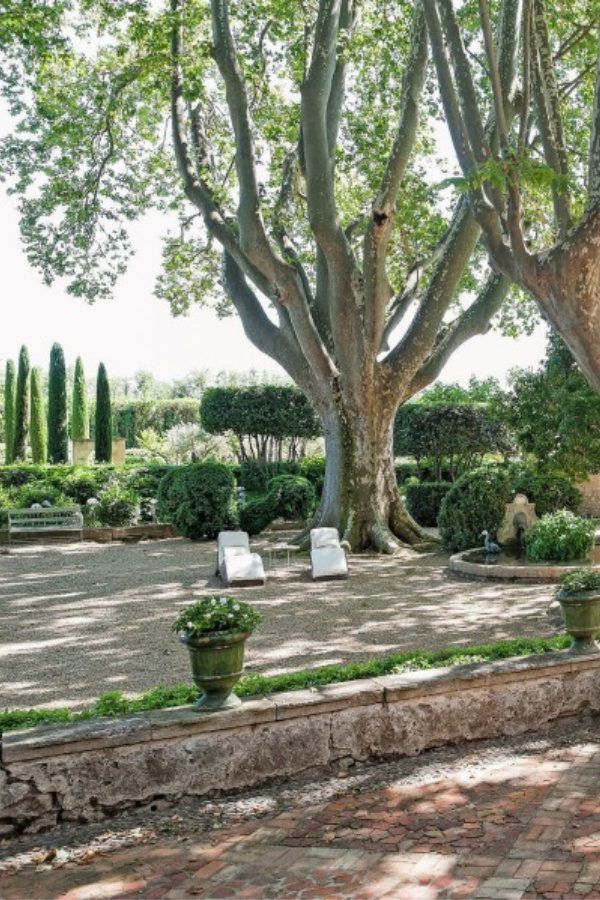 The traditional style French country interiors include seven bedrooms on three floors, but who could stay inside very long!?!
I think my preference would be to visit shops and places beyond the chateau and then relax in the gardens all afternoon.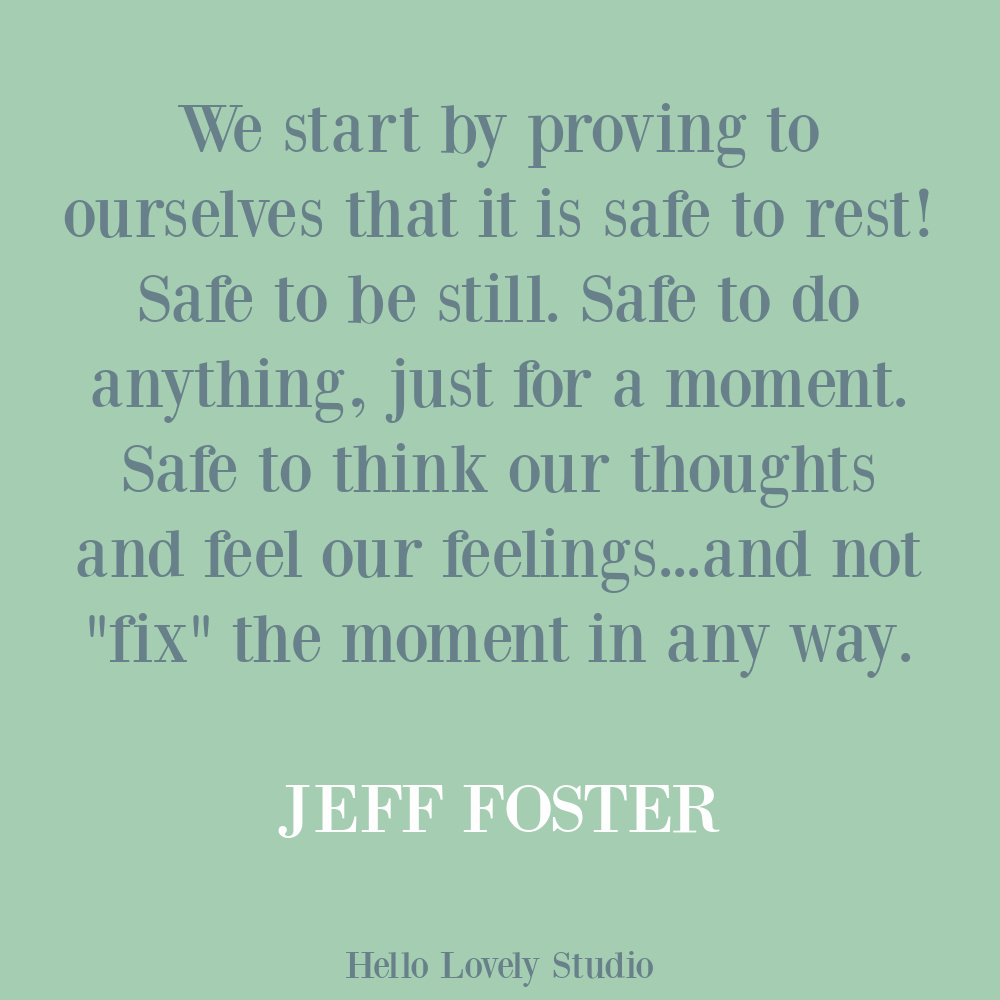 Relax? I have been trying to live the truth of the quote from Jeff Foster above this week. The truth is, like a lot of folks who become obsessed with productivity, it is not easy to feel safe at rest.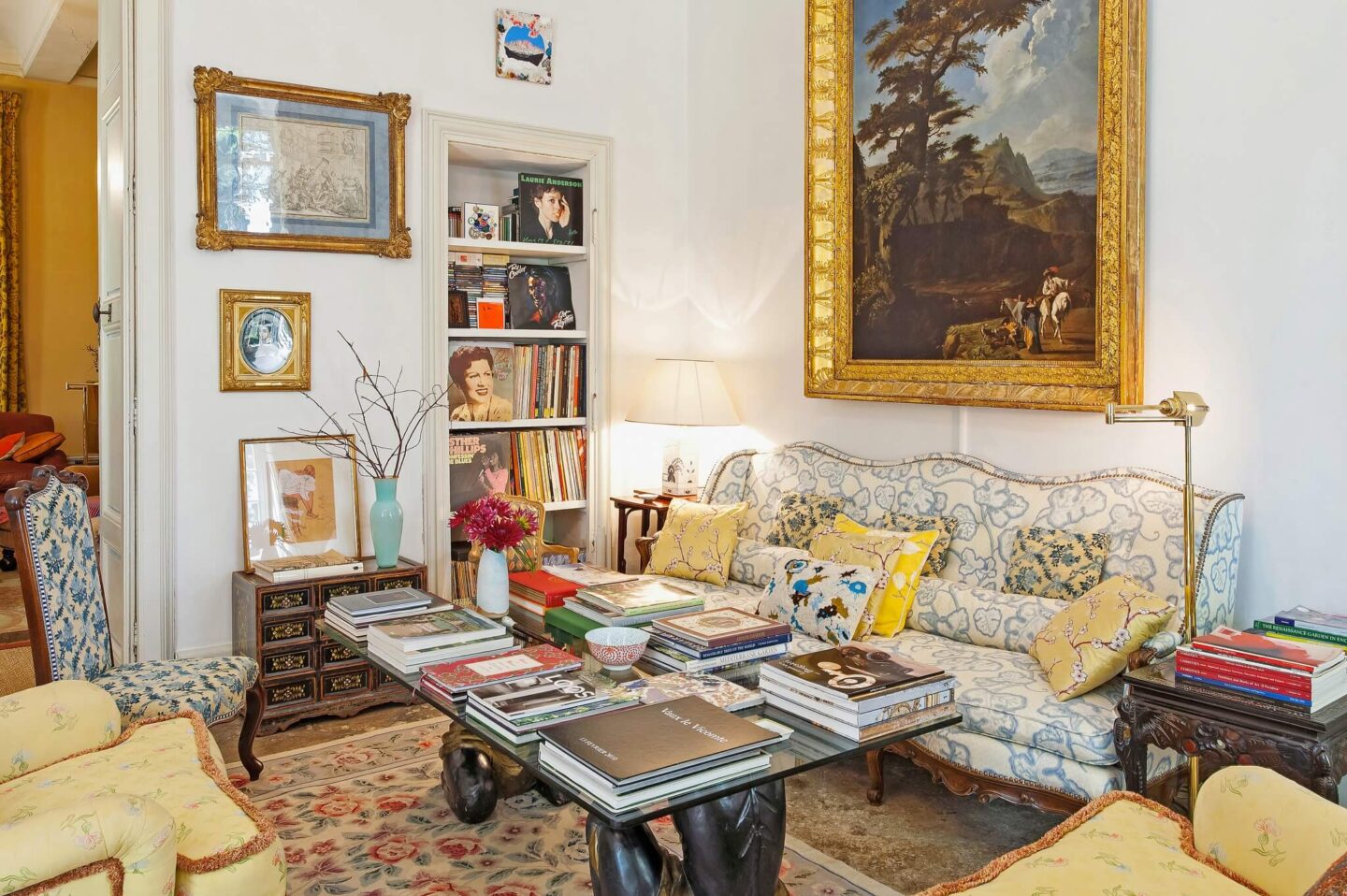 I have never been able to nap…true!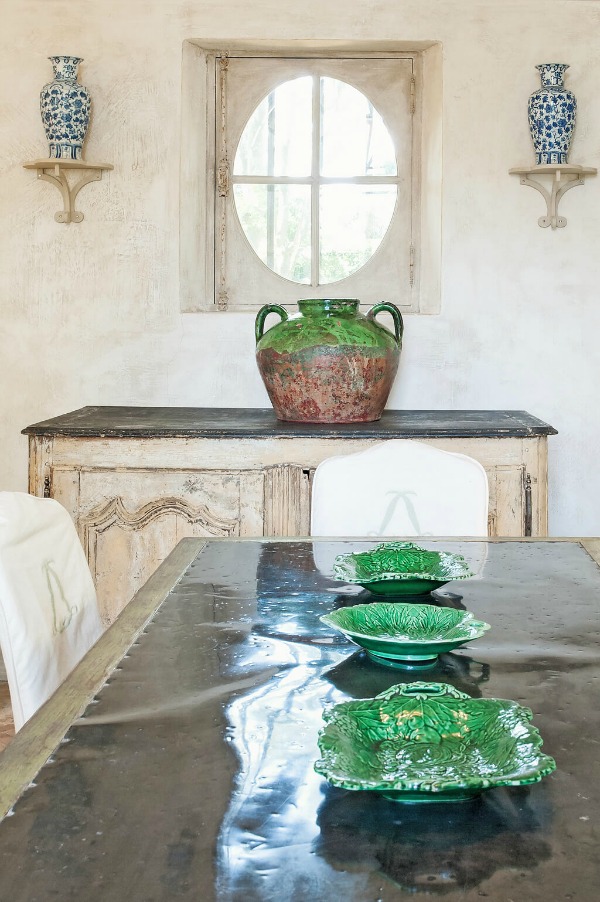 So when you enjoy wise quotes about rest and self-kindness on this blog, do realize they are meant to be reminders to all of us, myself included, because our culture rarely reinforces being unproductive.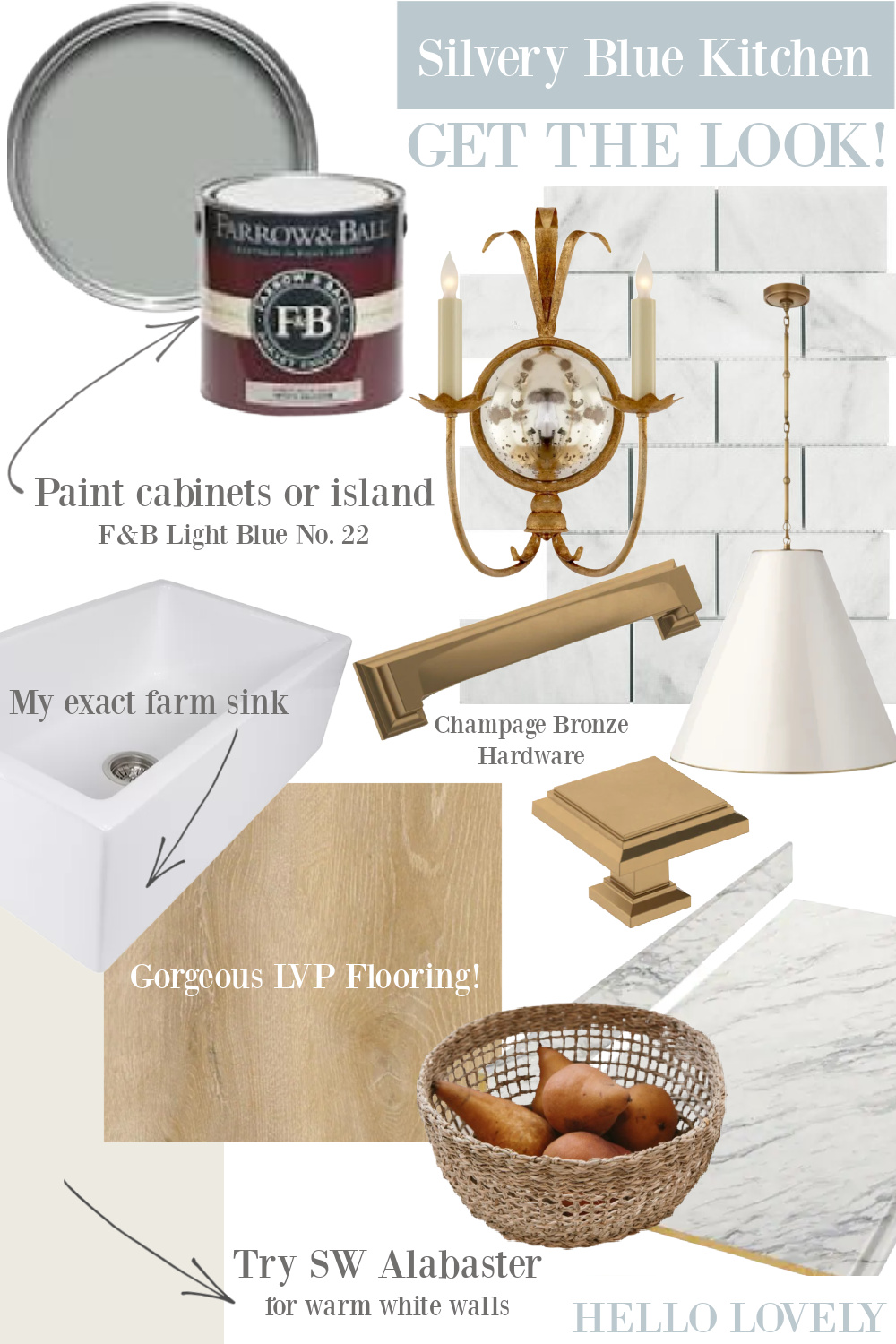 Beautiful French Country Bastide: St-Rémy-de-Provence
Château Mireille boasts all the Old World Provençal French countryside charm one dreams of.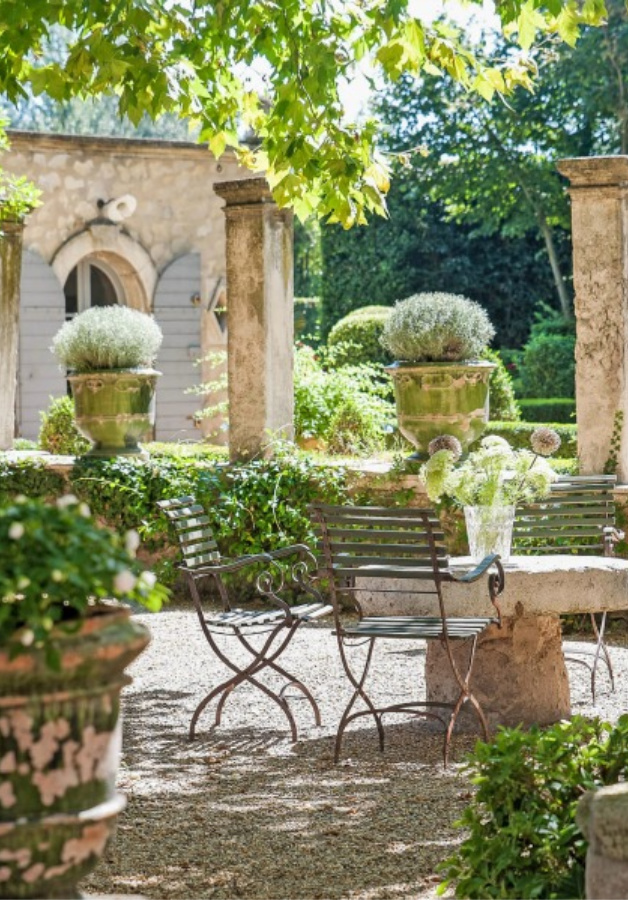 Haven In's beautiful Provençal vacation home at the foot of the Massif des Alpilles, is ideally situated within easy access to St-Rémy-de-Provence in the heart of Provence.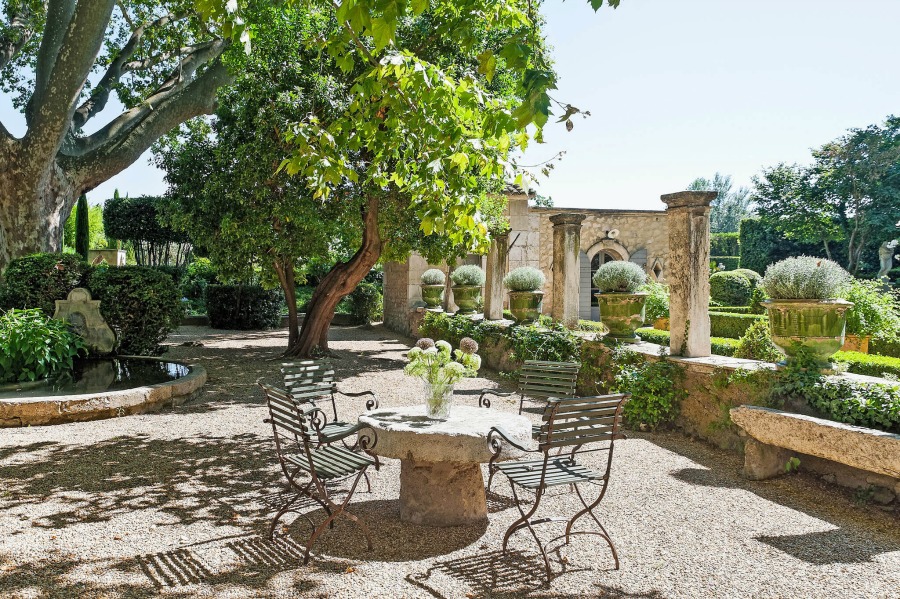 What to expect from the village? Fall in love, be charmed by friendly locals and also daily markets. Enjoy festivals and celebrations too.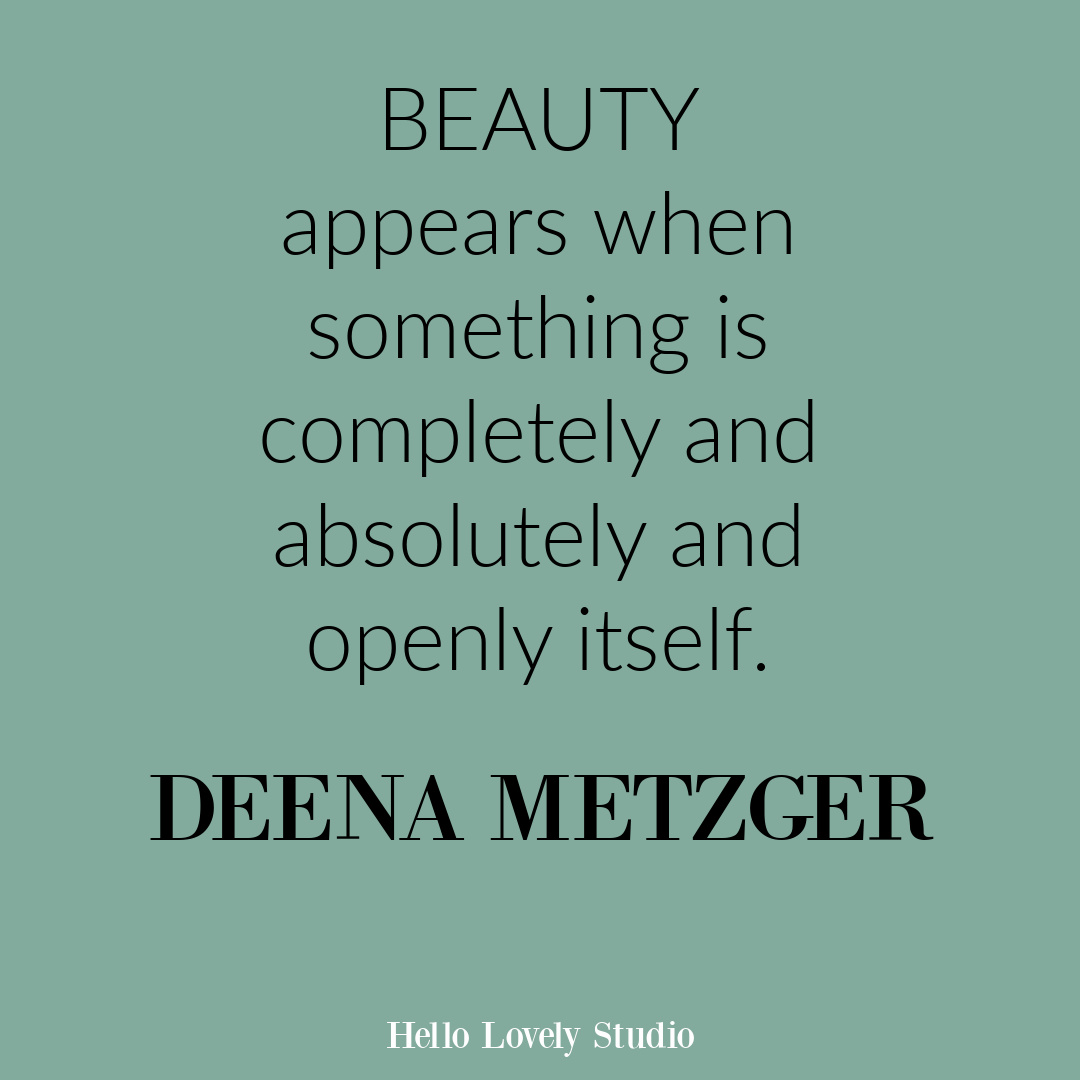 Even if you are far from Provence, I hope you are finding lots of local opportunities to gather and celebrate occasions. If you must still self-isolate for health reasons, I hope you are being extra gentle with yourself. My chronic health issues mean that I must be intentional about my exposure to stressors and rest more than even feels necessary.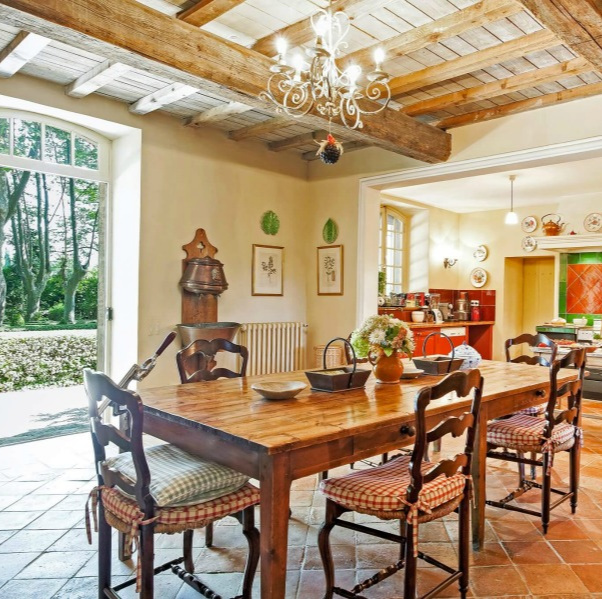 What to do near this beautiful vacation rental?
A blogging pal who resides in Southern France and authors the beautifully written Taste of France told us:
"Saint-Rémy-de-Provence is such a sweet town. If you go, be sure to check out the table d'hôte (so not quite a restaurant–there's no menu to choose from; you take what's served) at a house built into a cave in a former Roman quarry. Just past the asylum where Van Gogh stayed." Read about it RIGHT HERE.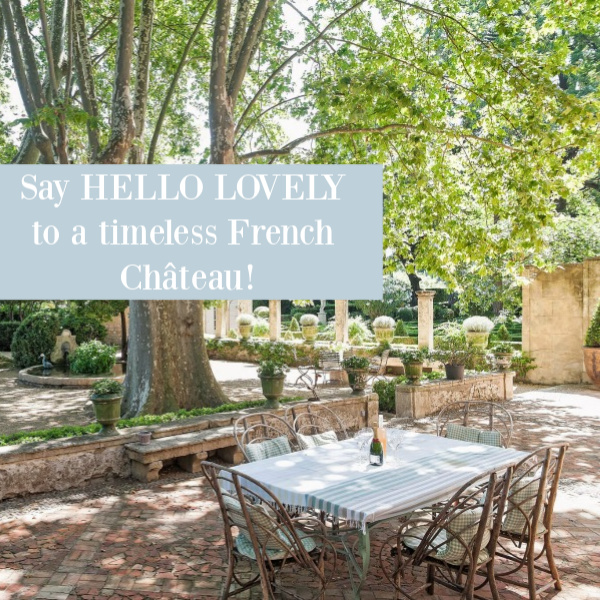 "Just past the asylum?" So interesting! When I read that word I am aware of its multiple meanings:
1.
the protection granted by a nation to someone who has left their native country as a political refugee.
"she applied for asylum and was granted refugee status"
2.
an institution offering shelter and support to people who are mentally ill.
"he'd been committed to an asylum"
And there's something relevant within both of those definitions for many of us these days. Which is why we all need more unplugged time and more rest. Rest?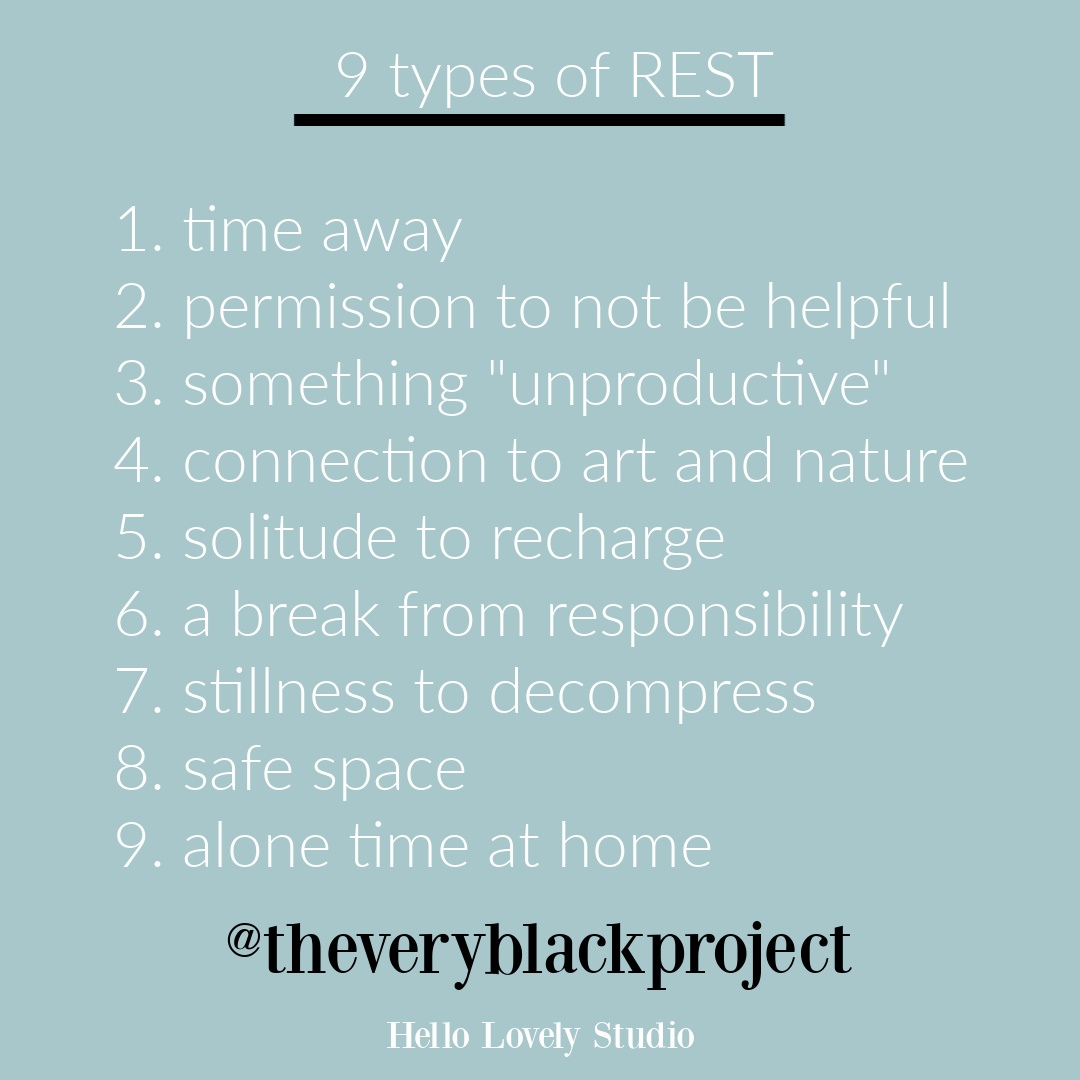 Lovely Timeless French Château Photos: Loveliness Near Château Mireille
Since the area is home to so many charming cafés, restaurants, and historic sites, you'll be treated to a setting of cobblestone streets and also authentic architecture.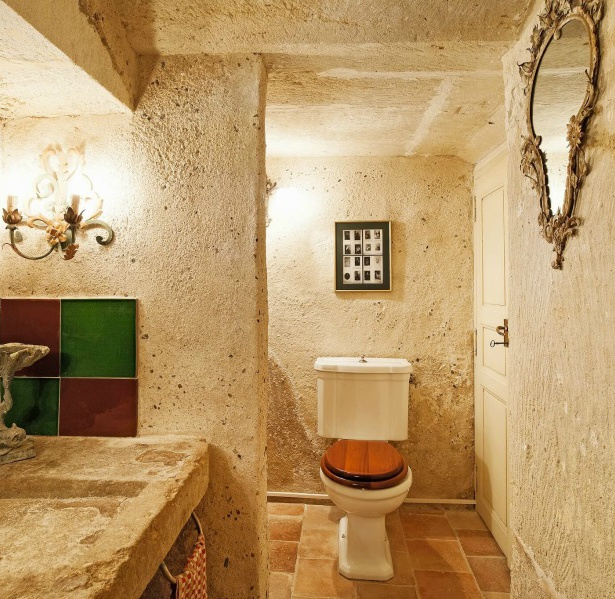 You can also sense the coolness and quietness of this bath with all the stone.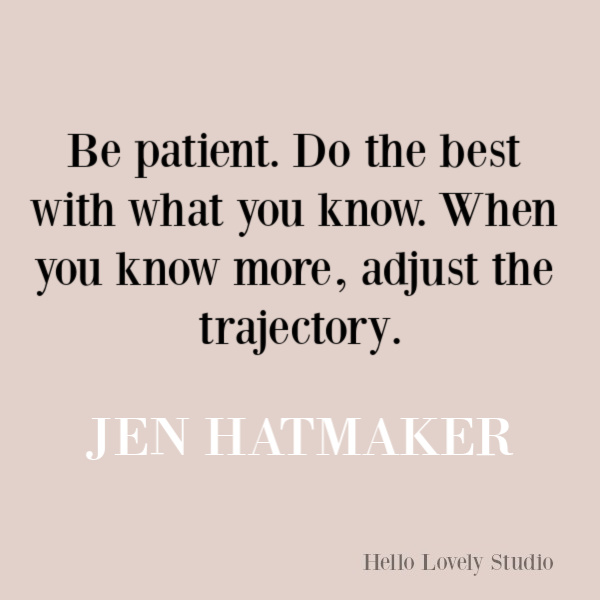 Can you practically smell the fragrance of the gardens? A stay at Château Mireille would likely include exploration of the lush landscape and mountains, now classified as the Parc Naturel Régional des Alpilles (Alpilles Region Natural Park).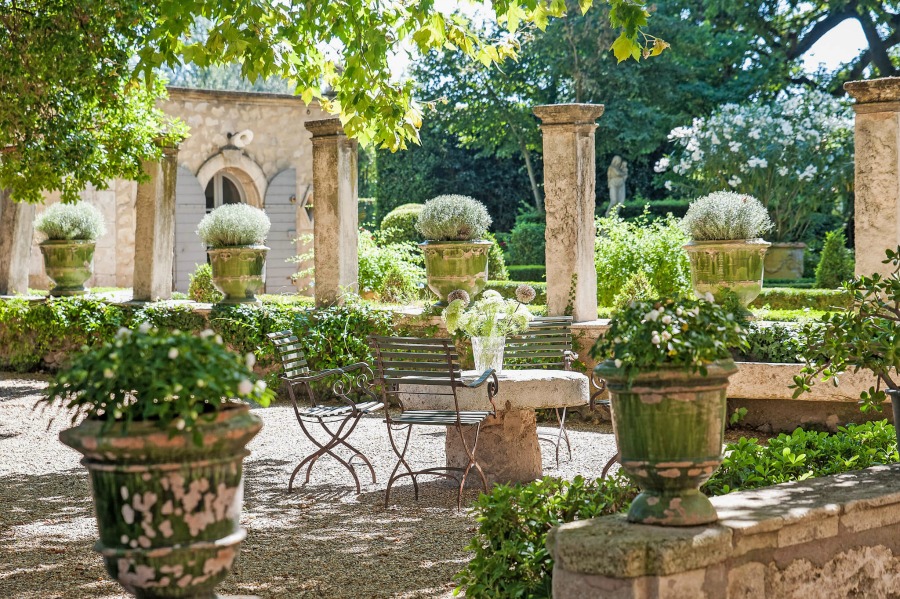 Is sipping a sublime French wine more your style than hiking?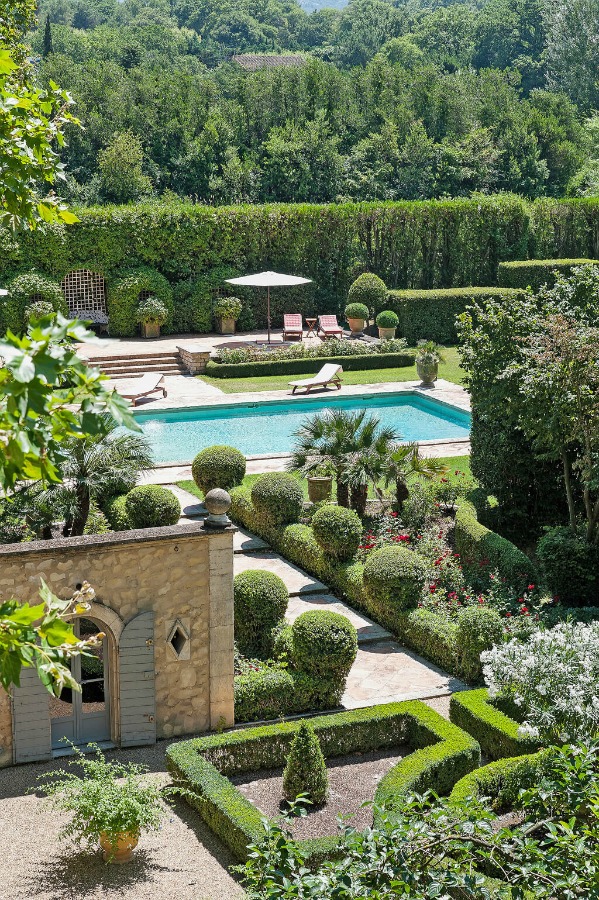 The chateau's location is perfectly located near wonderful French wine producers.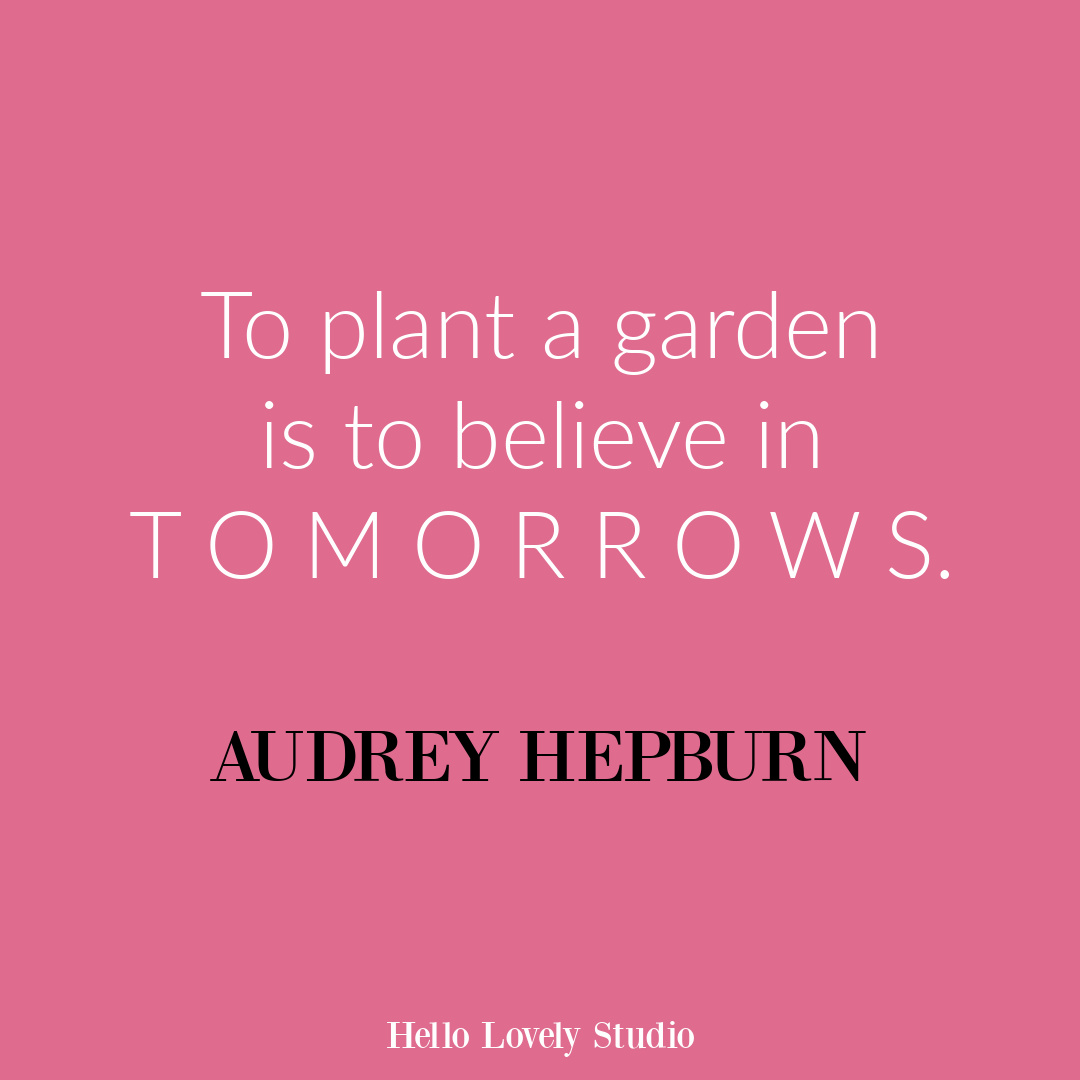 Each day over the weekend I spent time weeding, pruning, and tidying up my garden beds, and it does the soul so much good! Even though it can be tiring work that you'll repeat again soon, there is this sense that the earth appreciates the labor and will reward it.
Lovely Timeless French Château Photos: Breathtaking Gardens
Not that my gardens resemble anything like the sculptural magnificence we see here in Provence: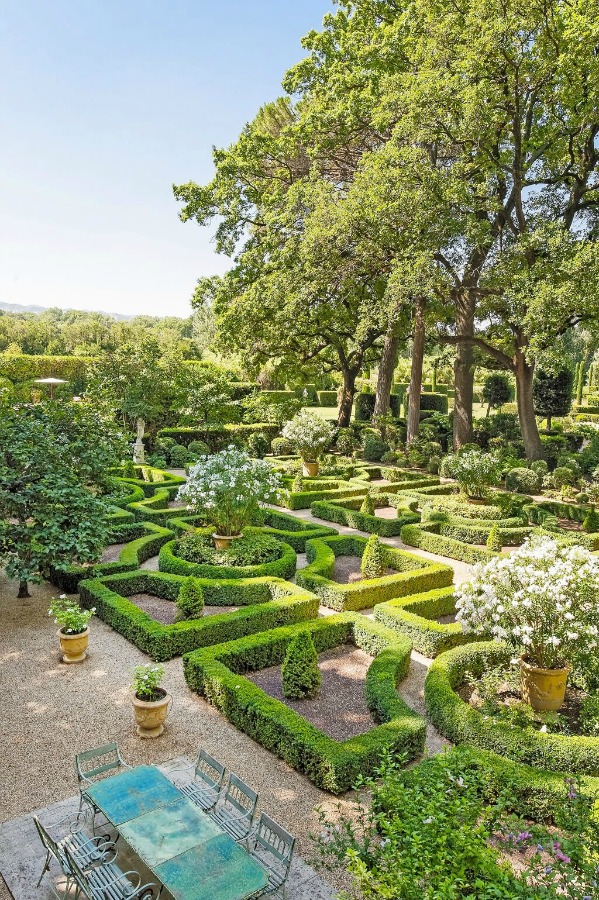 But the size and shapes of our gardens matter not. Even a container of fresh herbs fragrantly growing in your kitchen window can connect you in fresh ways with nature.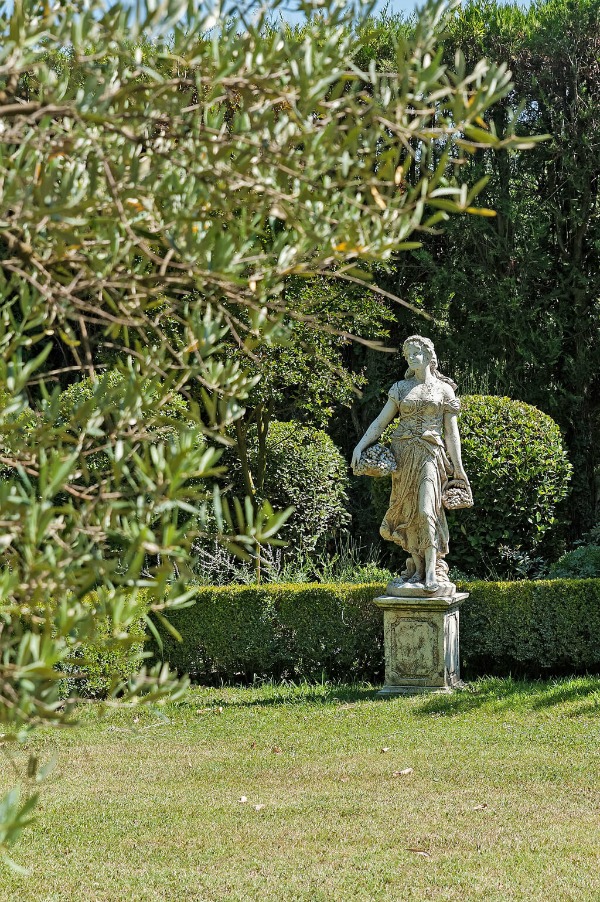 Because technology has taken over our lives in significant and even subtle ways, creating disconnect from each other and from the earth.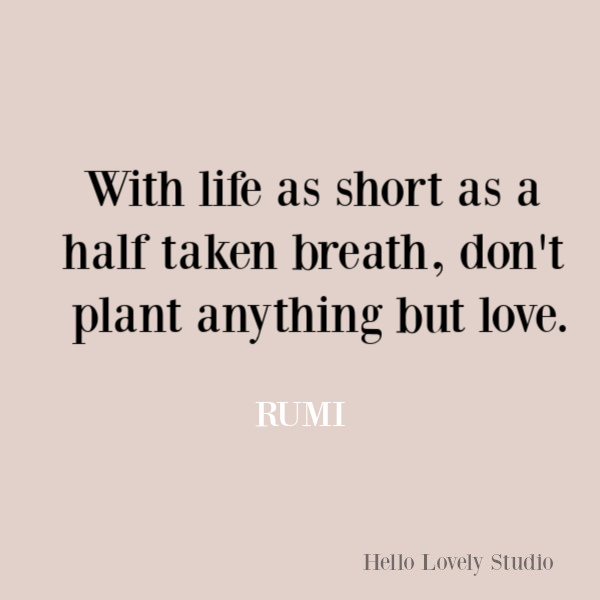 I mean, are you as confused as I am about how social media has turned the way we relate to each other absolutely upside down? When I first began using it, I thought it held such promise as a human rolodex and a connector. And it has its charms.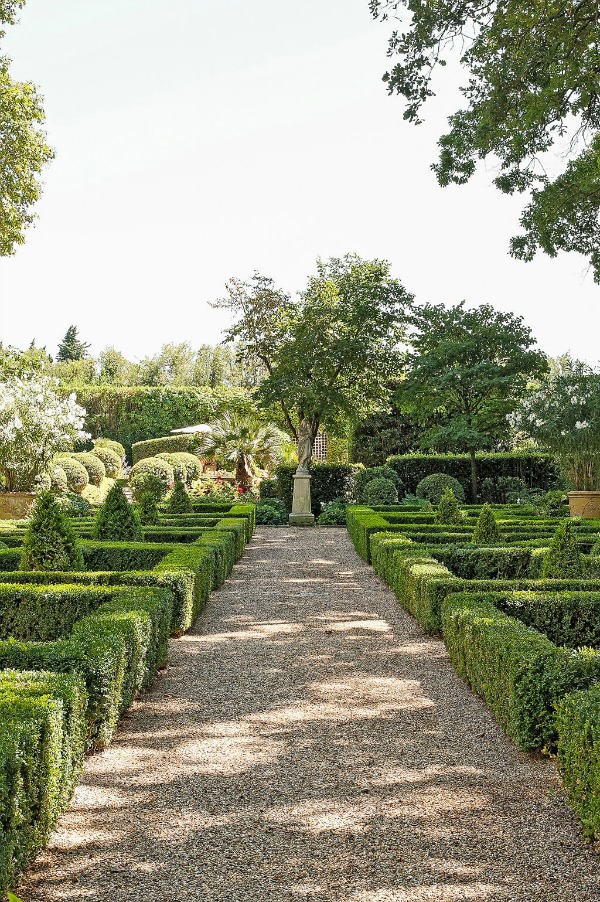 But we have not adequately evolved or even adapted emotionally, psychologically, spiritually, and otherwise to weather the storms and trouble it stirs. While there is such potential for media to provide shelter and refuge, it's as if we must first traverse its terribly obnoxious and juvenile beginnings.
Lovely Timeless French Château Photos: Ancient Statuary & Fountain
What do a bunch of photos of bucolic scenes from French gardens have to do with any of my stream of consciousness rambling?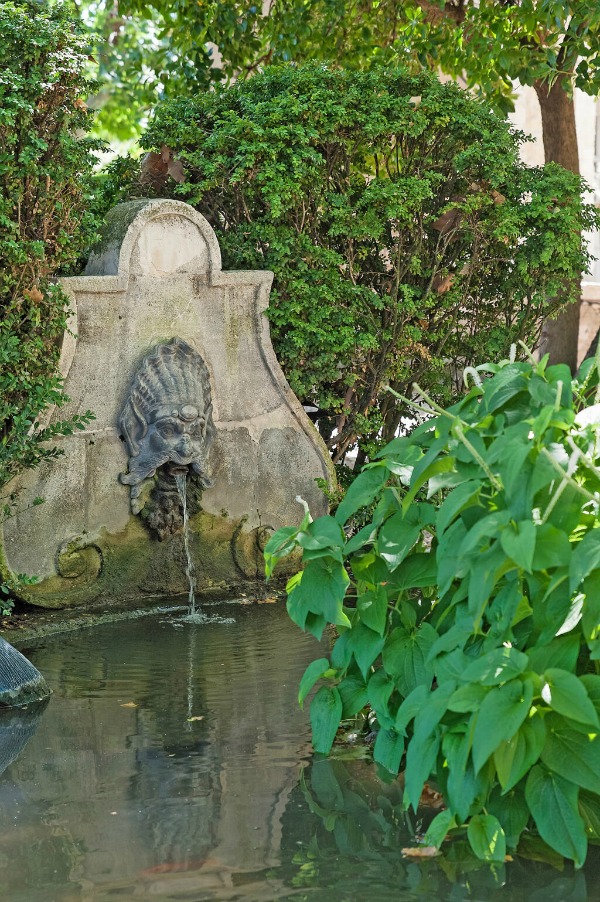 I doubt I can articulate a tidy response that would make sense to every reader. After all, I'm a lover of the questions, of the mystery, of the humility that comes from a spirit of unknowing.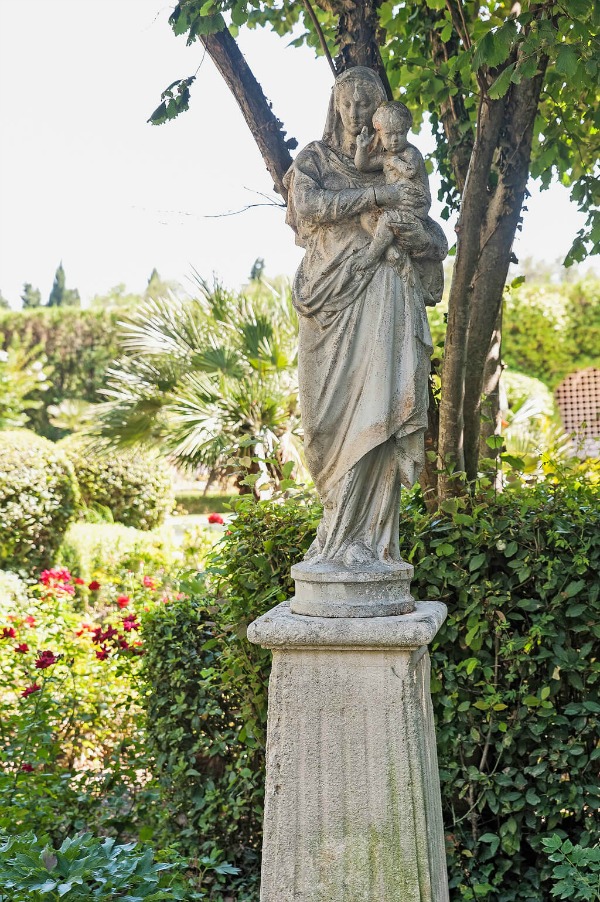 But I think the answers to the important questions will not come from staring longingly at the past or even creatively imagining a more satisfying future.
We must, each day, strive to make space for the now, for this moment's reality, just as it is coming to us, however imperfectly, however uncomfortable.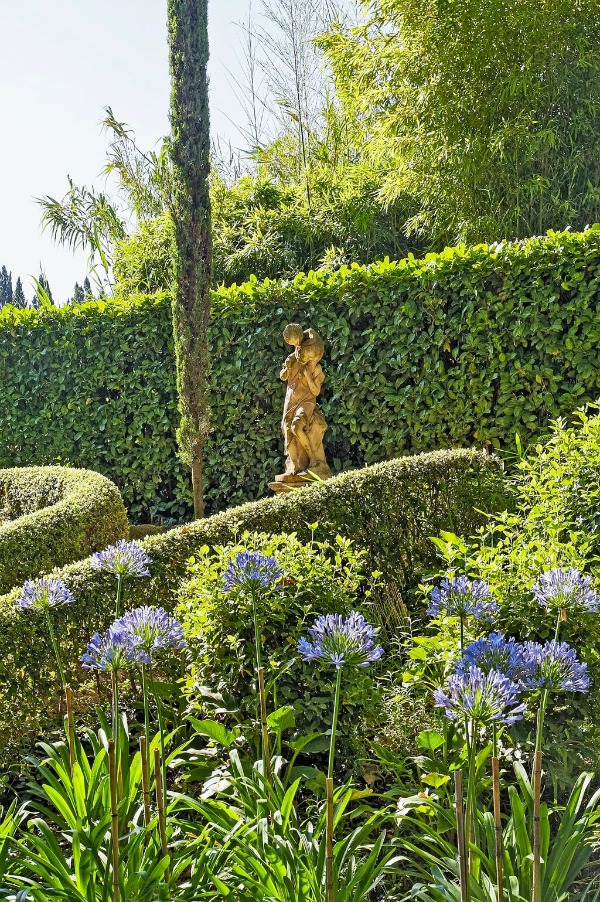 The suffering I endure with physical illness has taught me that fearing or resisting it only makes my overall experience worse. There is a flow that wants to flow from a divine source of freedom, and my resistance inhibits such flow.
Is my chat growing too deep? Do I need to return to shallower water?
Lovely Timeless French Château Photos: Pool Paradise!
Hahahaha. If we were chatting here in person, I would likely pose that question several times. I'm one who goes deep quickly and easily. As I age, more and more, I even go deep unapologetically. Why?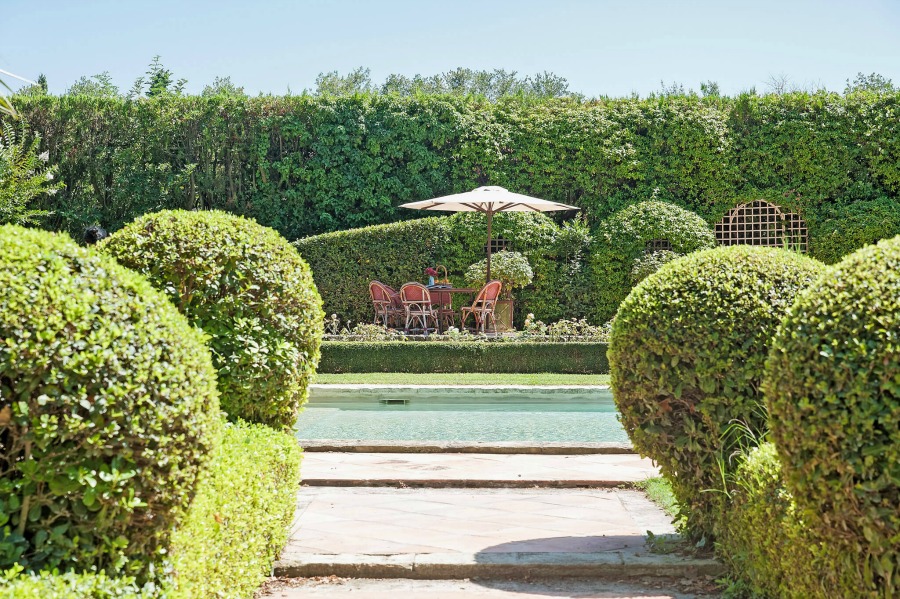 Because I'm not sure I have the kind of time to not sit in the depths. Ya know? Maybe your own aging, personal tragedy, heartbreak, betrayal, or the pandemic has taught you this too.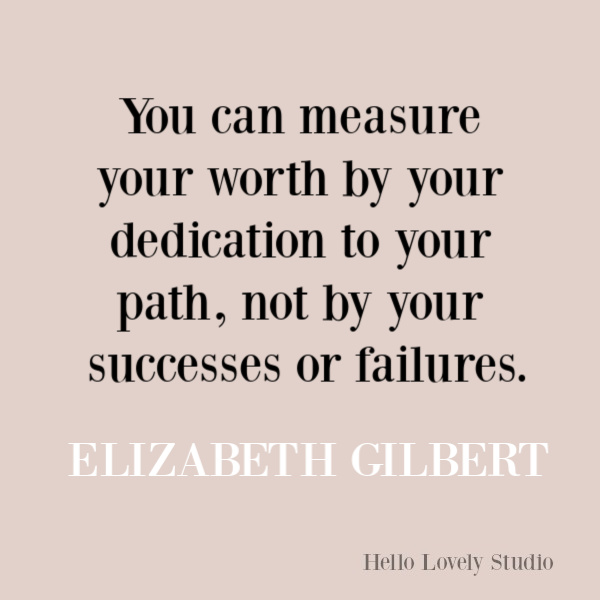 Can you even imagine what kind of people we could become if we let ourselves off the hook about past success and failure and committed to a noble path?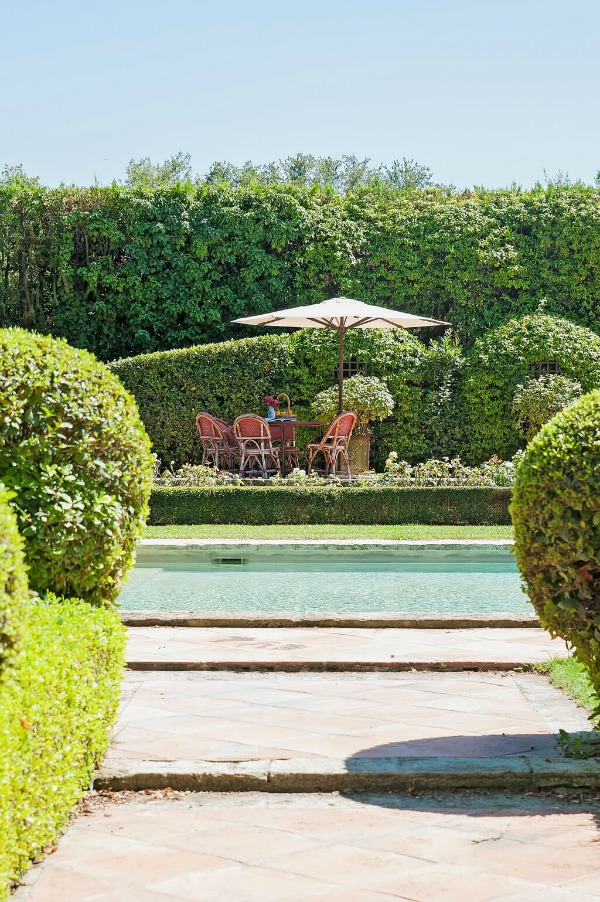 Thoughts about Healing & Wounds
For me personally, I am finding that so many of my wounds, my core issues, my thorns in the flesh…stay with me. I become triggered by something, and the wound may feel fresh and tender. I used to think this meant my wounds remained unhealed. That personal transformation might be possible for some folks (like people with better therapists or more devoted faith or with a stronger will to change), but just didn't seem possible for me.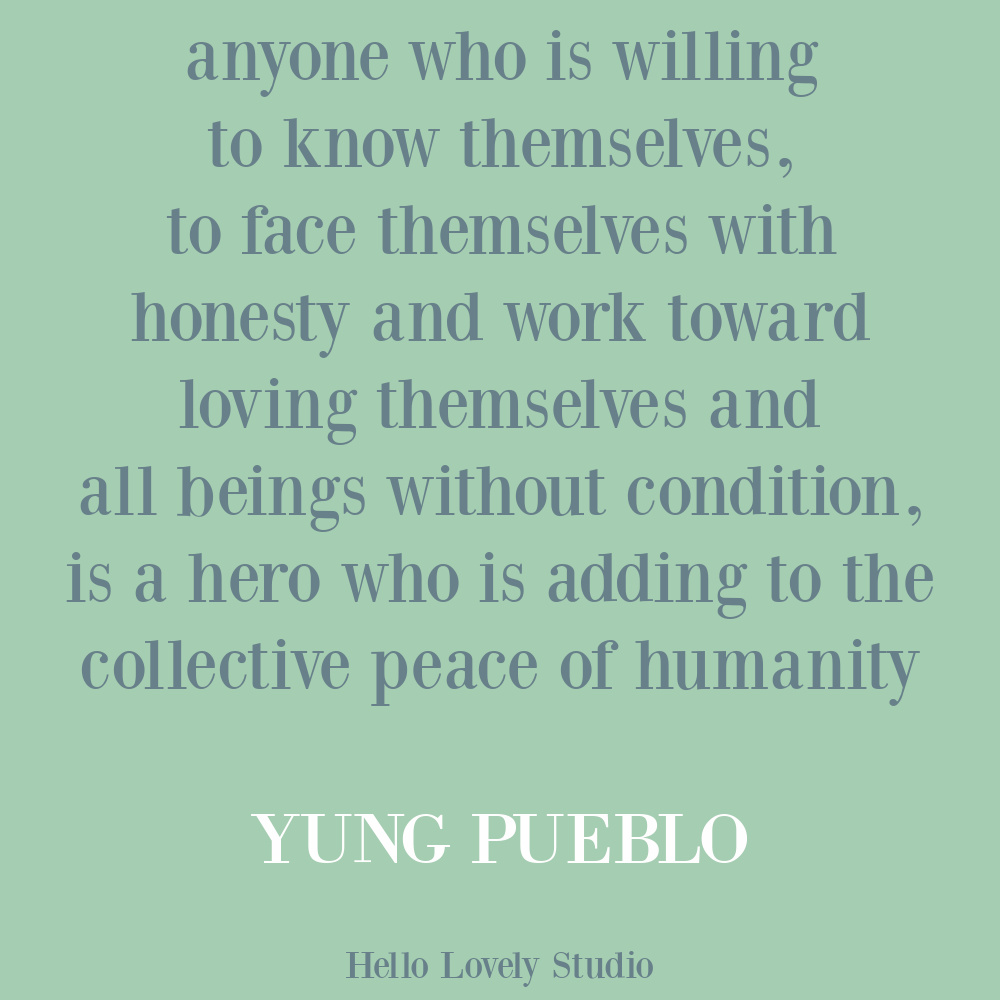 Because Christianity is my spiritual container and what I grew up with, I naturally look to Jesus' teaching all the time. And the thing is, his wounds never went away either. They remained visible. I'm not saying I understand even a fraction of the mystery within this idea of visible wounds, but it sure feels true in my own life.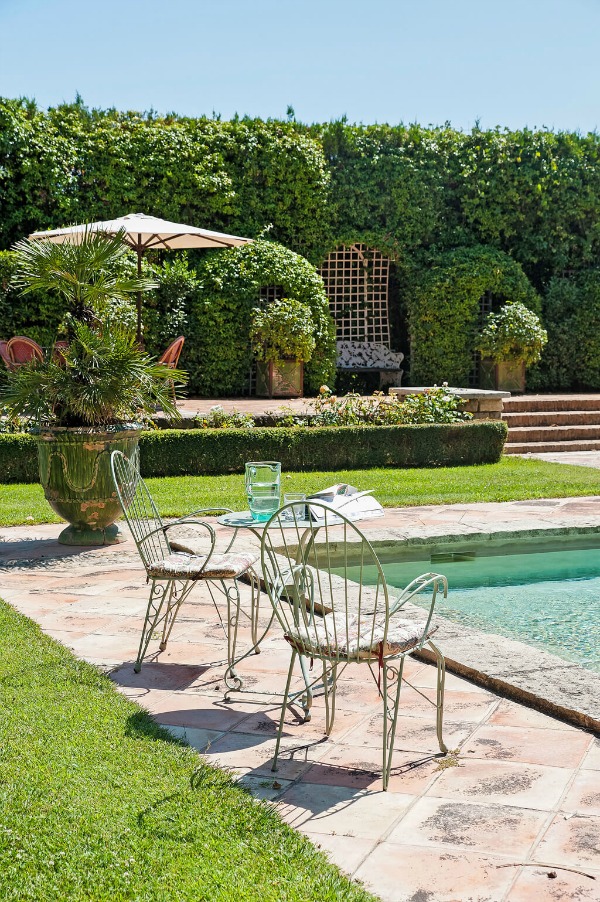 In fact, something in me feels freer and truer when I consider that there is inherent dignity in living with these wounds of mine. It matters not if my surrounding culture sees them as something I should conceal or ignore. HEALING is a richly layered journey and topic never far from my heart, and I imagine I will continue to work with its beauty and implications until I die.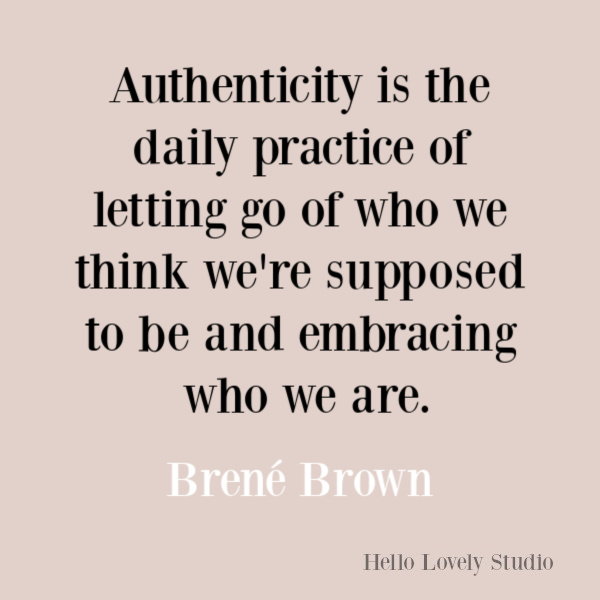 And should anyone need to hear this today, please hear it:
HEALING may not look the way you have been conditioned to think it should look.
It's better than a clean slate or a do-over or some recovered state of perfection. Rather, it is honorably hard-earned and a miracle of sorts. It may not involve a cure, a remission, or an absence of pain and suffering.
Healing involves a hidden wholeness that cannot be taken from you and is not subject to circumstances, harm, or future trauma.
One of the reasons I think I enjoy countryside beauty so much is that it mirrors a sort of inner landscape of beauty I am forever cultivating in my heart of hearts.
Lovely Timeless French Château Photos: Tranquil French Country Setting
Just beyond the charming gates? French countryside bliss with lavender fields, wineries, rolling hills, and also charming villages.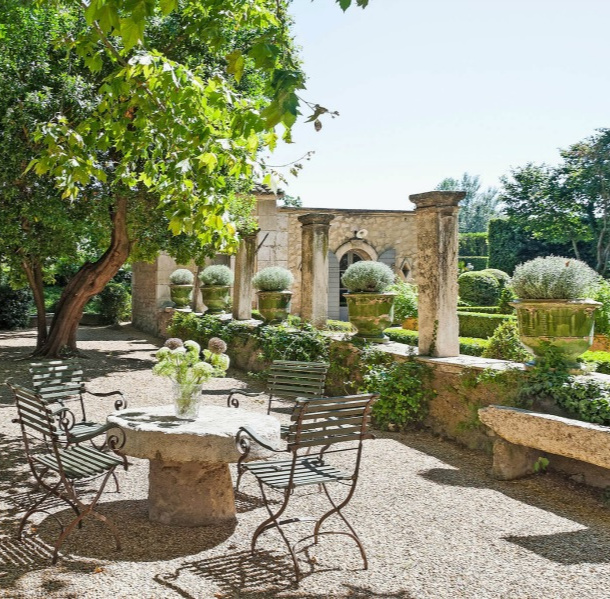 Château Mireille's unforgettable setting boasts professionally landscaped grounds, formal gardens with topiary, beautiful pool with terrace, tennis court, and charming outdoor seating too.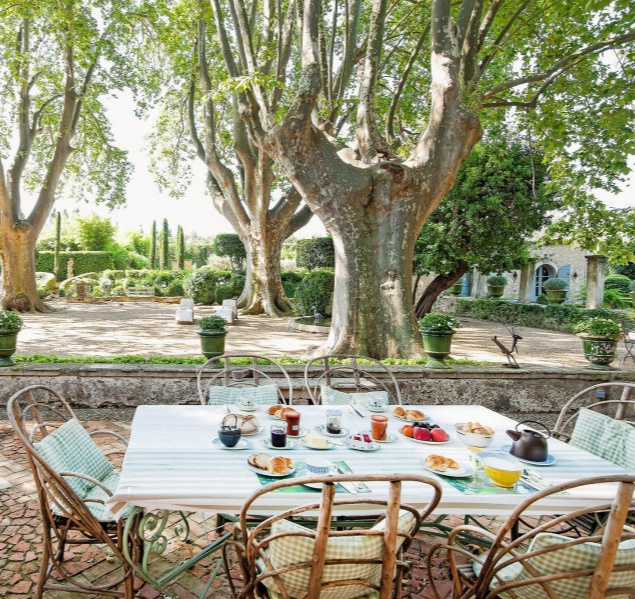 Who could resist such lovely Provençal weather?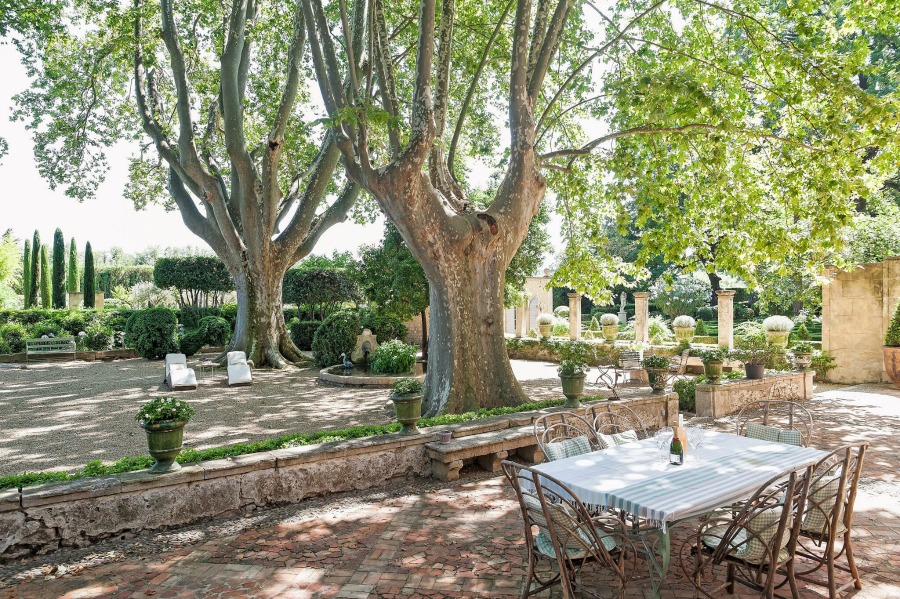 Lovely Timeless French Château Photos: Authentically French Country Dining Room
Interiors within Château Mireille are truly one of a kind with their Old World style, art, architecture, and antiques.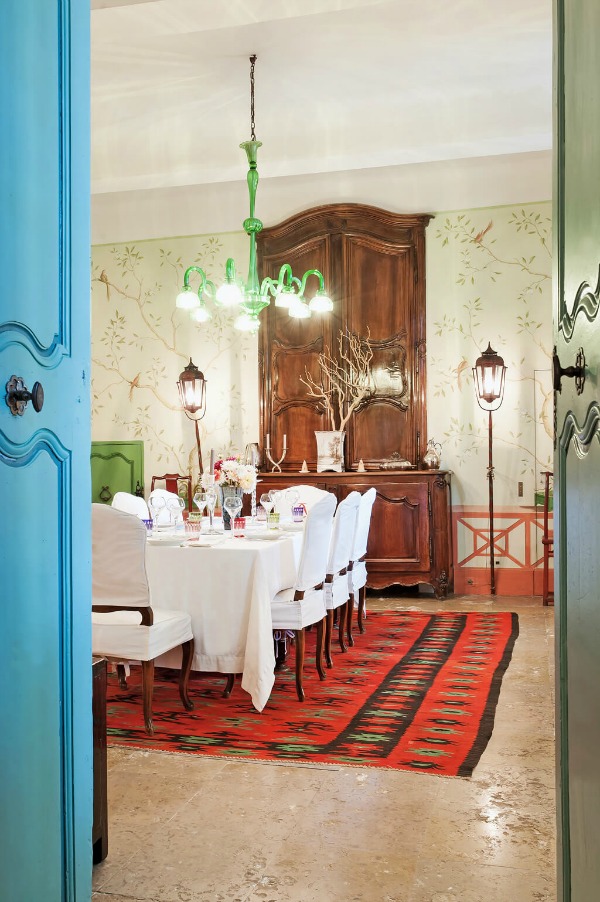 Terracotta tiles, wood beams and floors, crown molding, lofty ceilings, and hand painted murals add distinctive French style.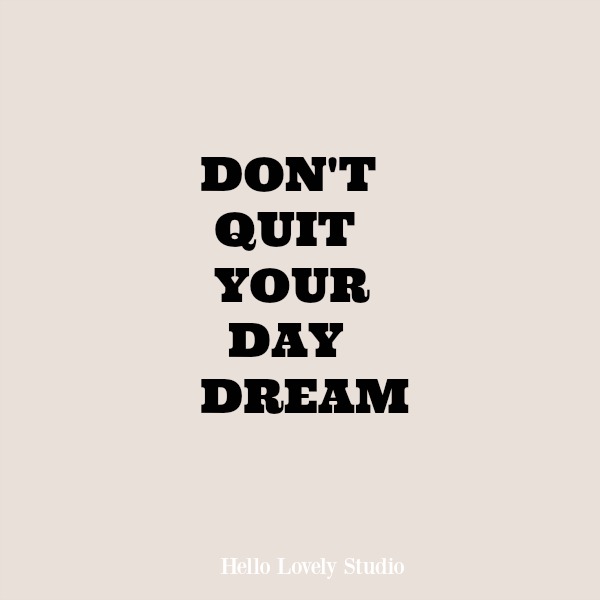 Isn't the vibrancy of the chandelier a delightful surprise?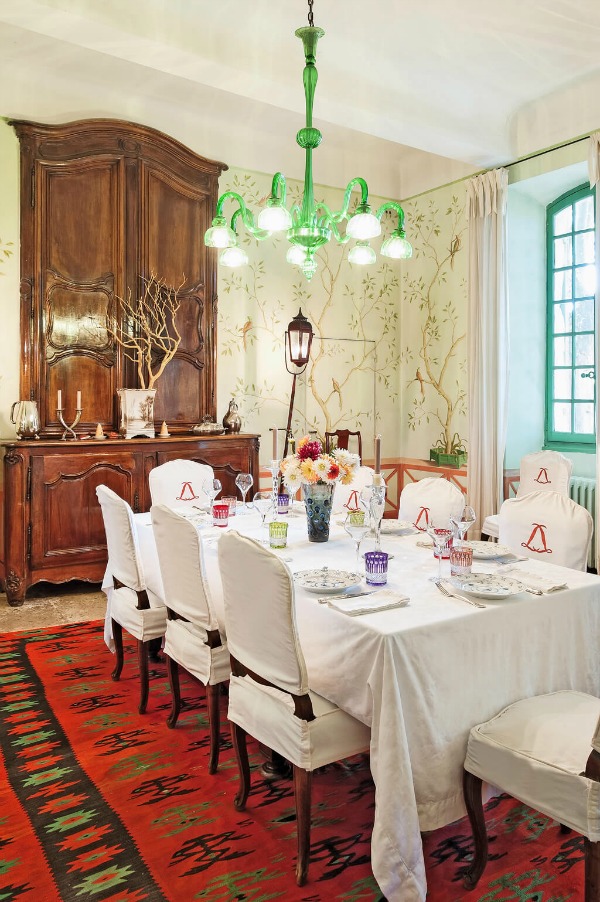 Lovely Timeless French Château Photos: Enchanting Murals
When I see the most character-rich, undecorated, lovely interiors I share often on this blog, I think about how boring my own rooms are and how they lack imagination.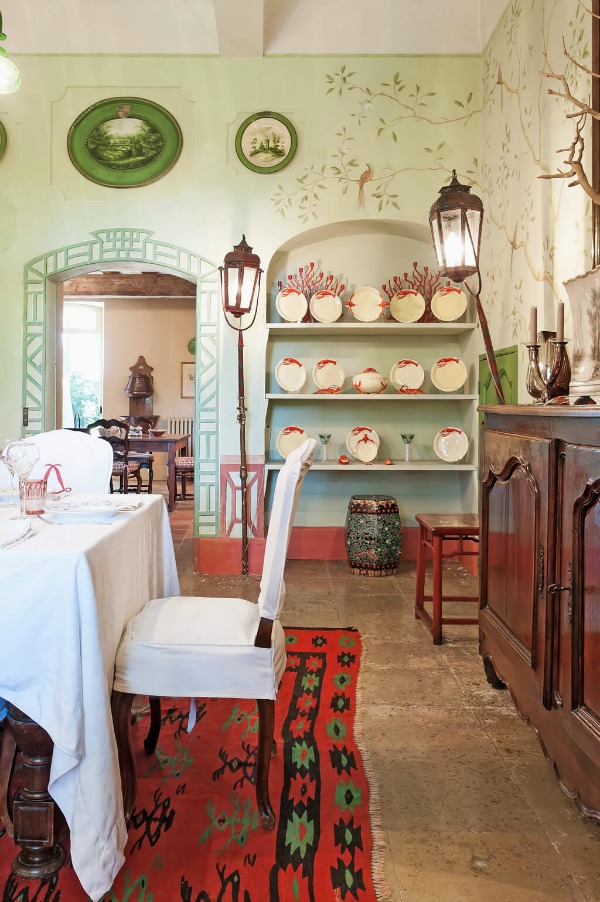 I have shared this before, but in my defense, there is a lot of color and interest and even psychedelic loveliness happening on the inside for me.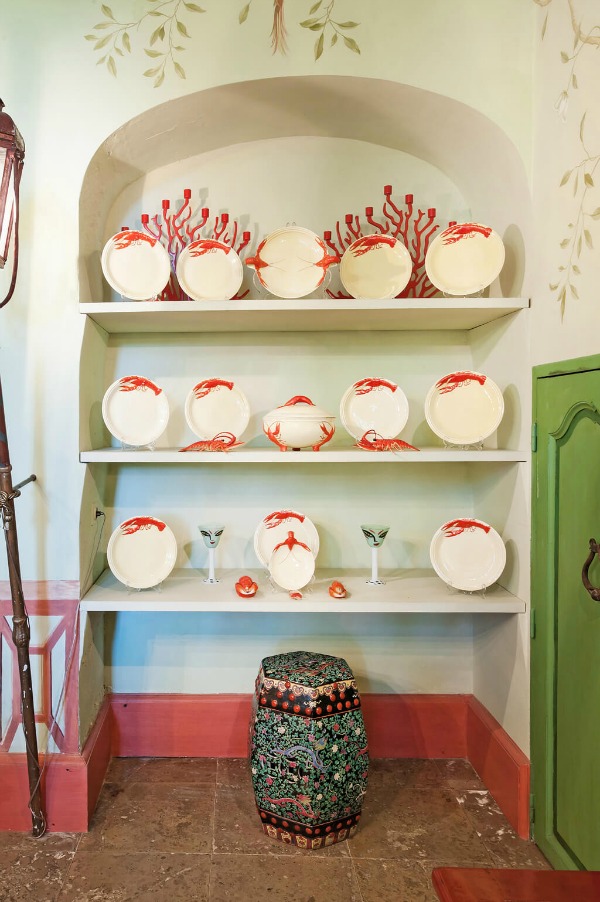 So restful interiors and quiet color palettes just feel right and even necessary for me to feel balance.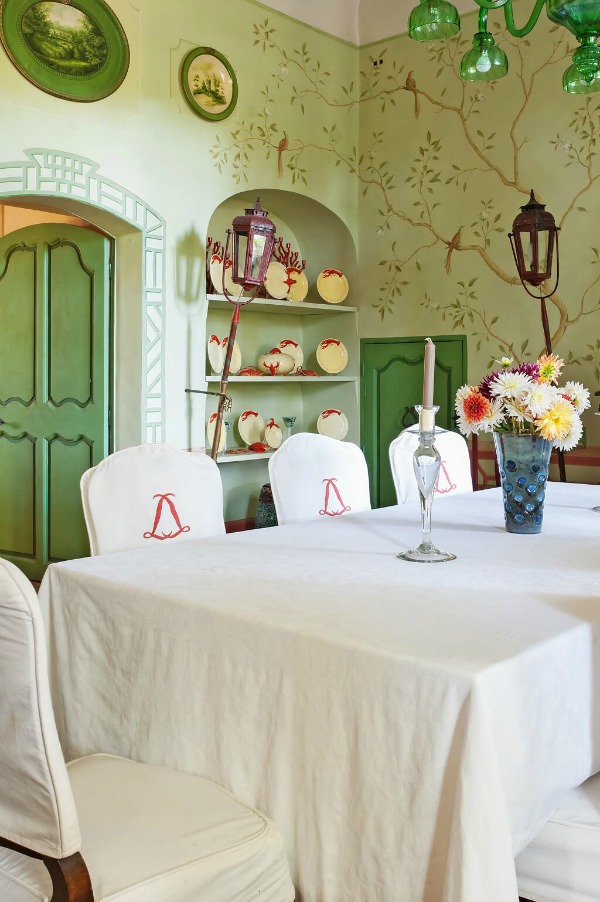 But how I enjoy interiors that celebrate mysteries I myself know nothing of!
Lovely Timeless French Château Photos: Walls With Plaster
Is anyone else fond of interior windows?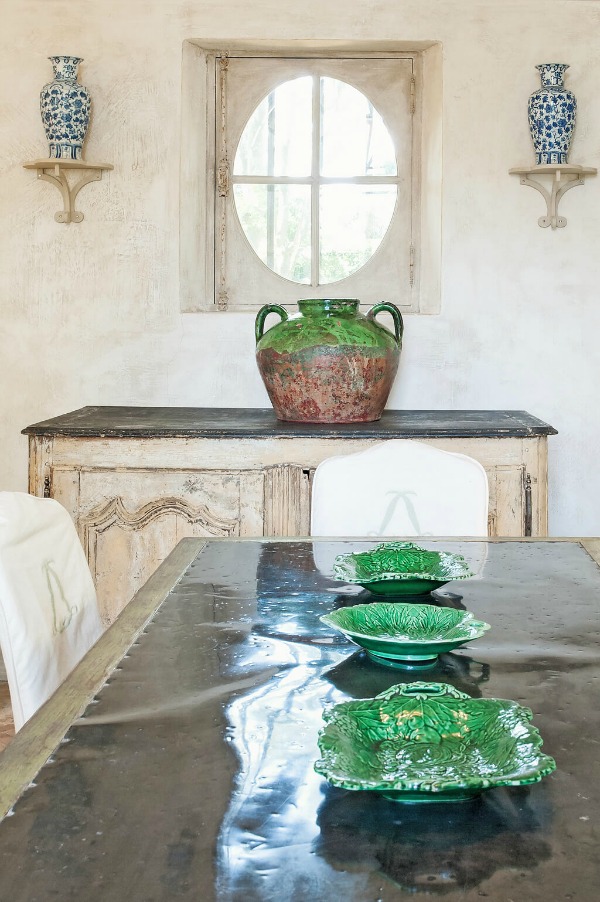 And, again, isn't the vibrant liveliness of the green in this French home pure magic?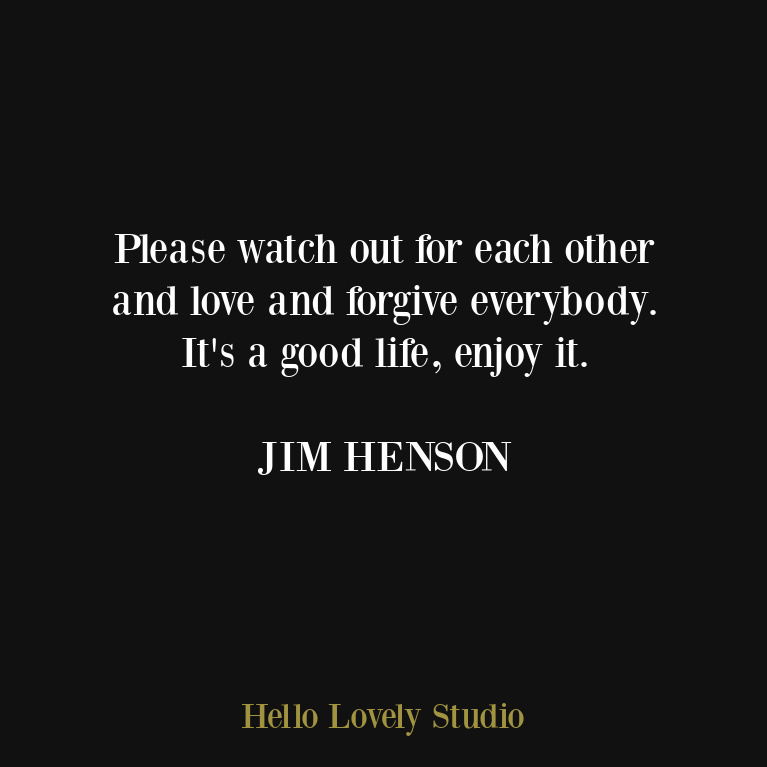 Lovely Timeless French Château Photos: French Country Kitchen
While you might expect a lavish, luxuriously elegant kitchen…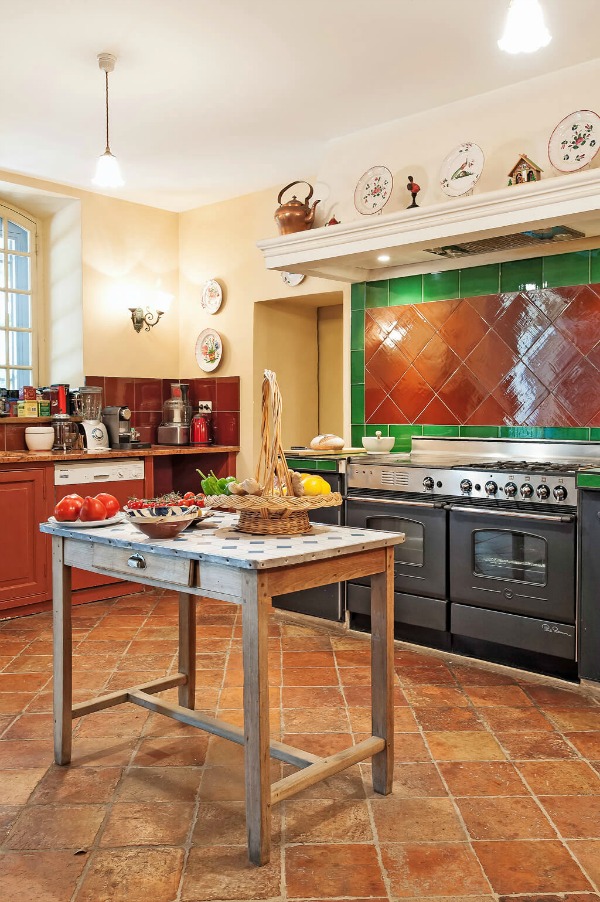 Instead, you'll find earthy understated warmth from a working kitchen that refuses to show off.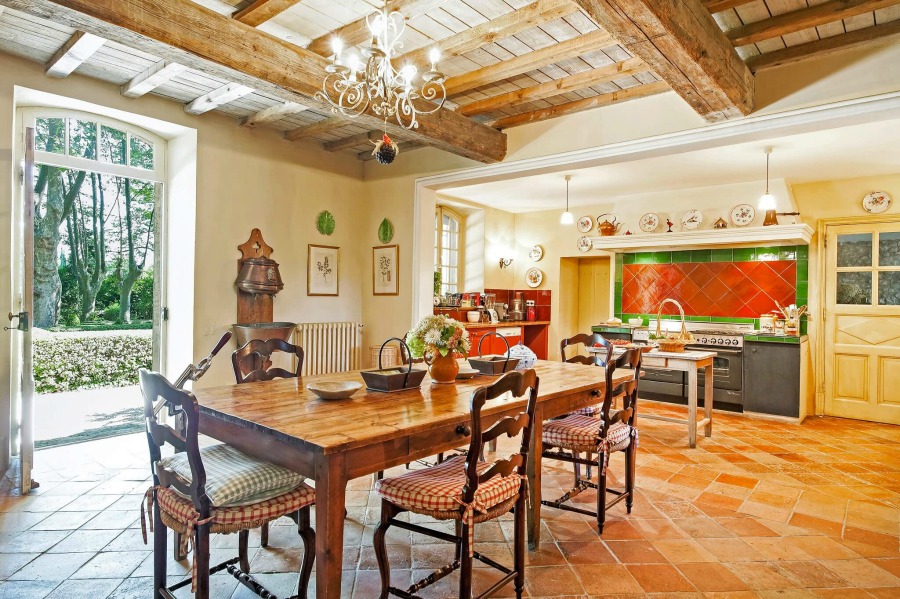 I mean, maybe there's a little showing off if you indeed look closer, but the beauty of age and materials that stand the test of time are the stars, not a rare Italian marble-topped island.
Old World Terracotta Tiles
I don't see this green and terracotta combo in many American kitchens, and I bet you won't find it in any article related to "Do THIS to your kitchen if you want your house to sell!"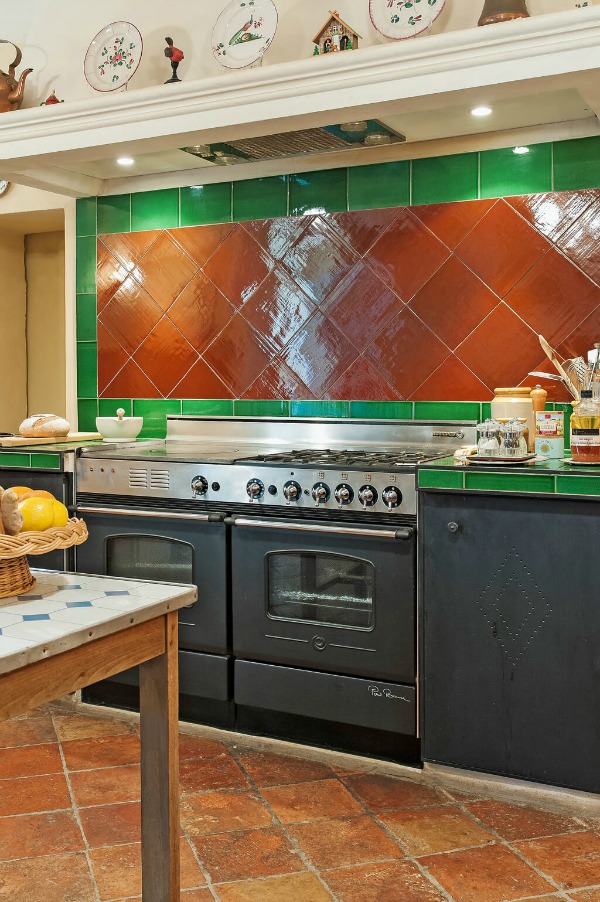 Ya know?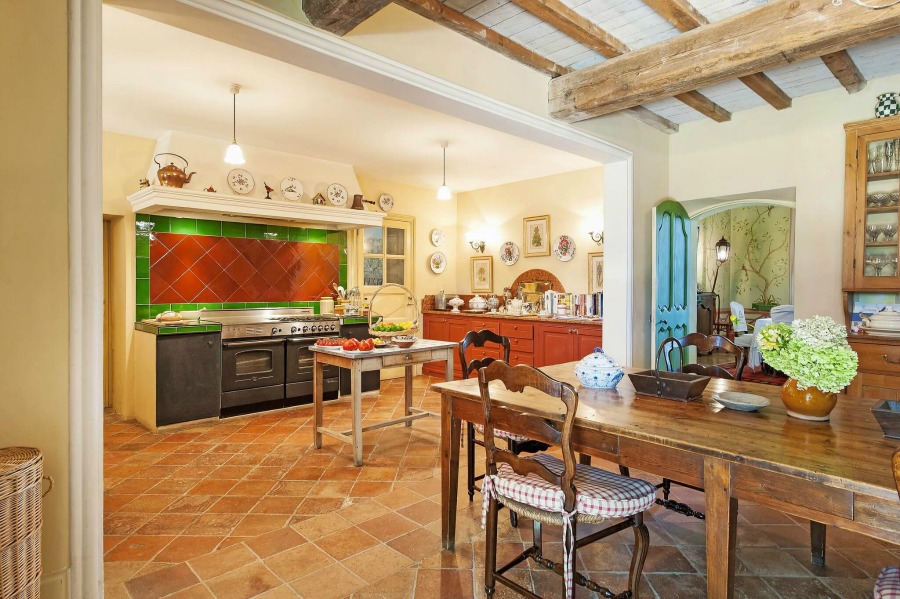 Lovely Timeless French Château Photos: Rustic Elegance
I would love to see this kitchen at night with candlelight and a fire, yes?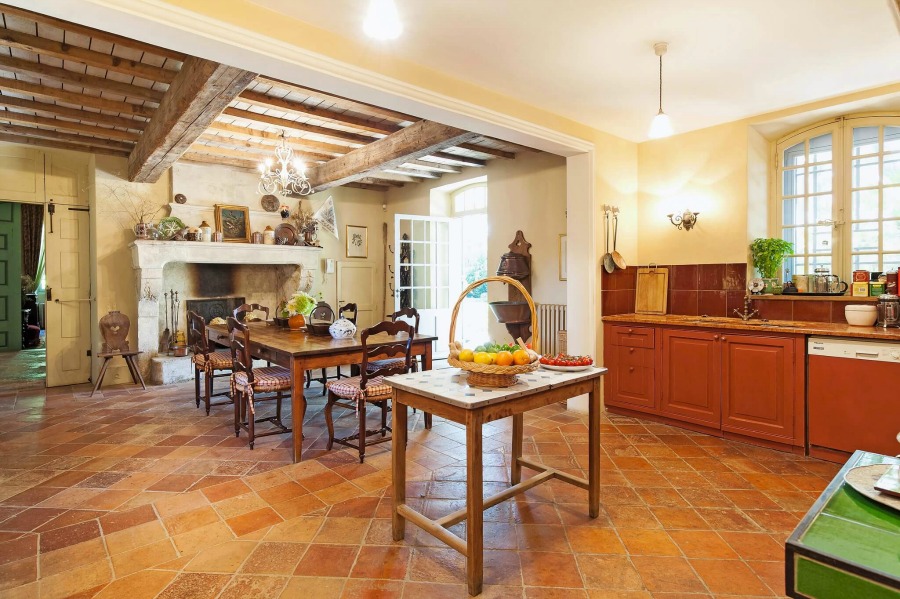 Château Mireille: French Bedrooms
A cozy nook for a bed is something else we also don't see a lot of in American homes.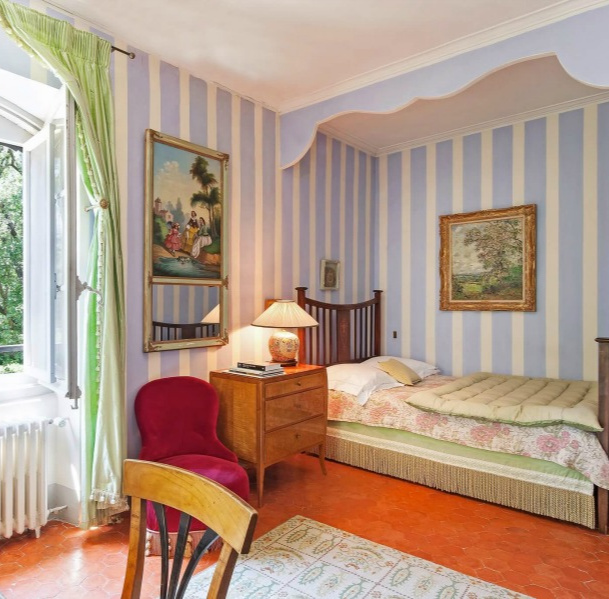 Even simple fabric treatments around the bed can be magical if Old World style is your jam.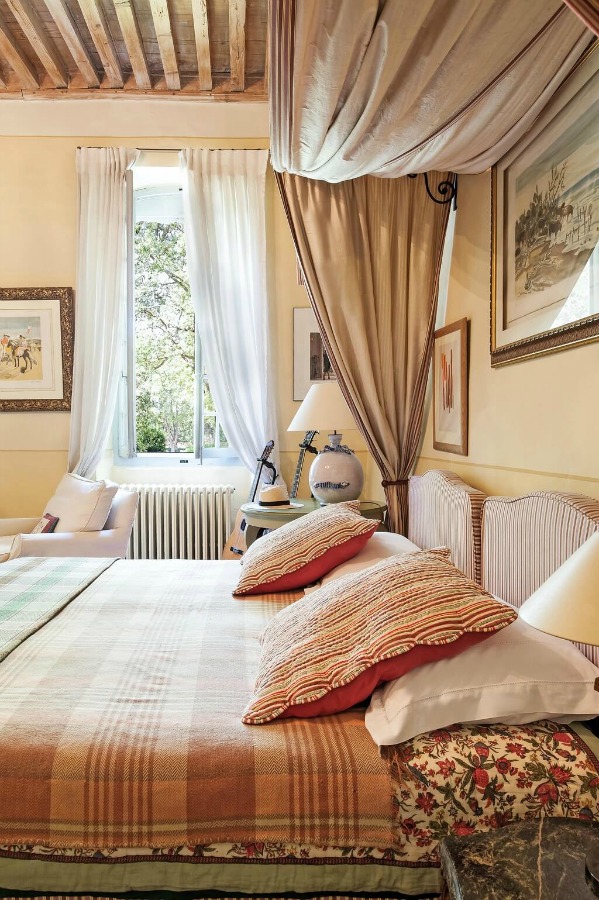 Did you see the canopy beds and bed curtains in THIS?
While I love the message in this scripture verse…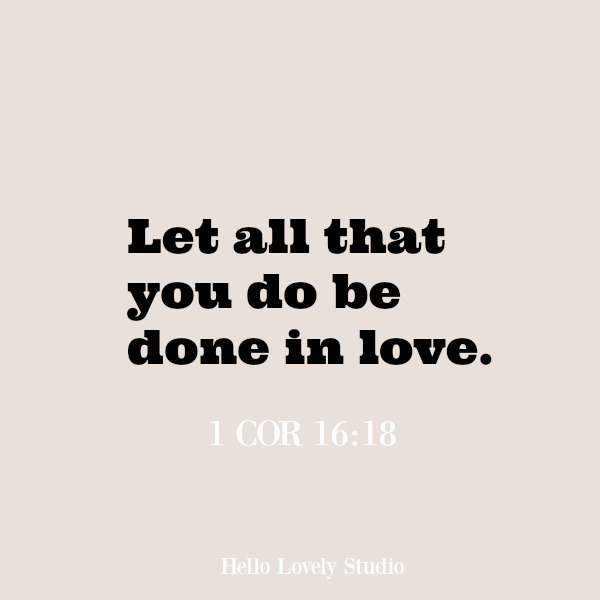 it truly is the challenge of a lifetime. ALL that I do? Everything?
The only way I know how to even come close is to start the day with spiritual practice. For me, that means meditation, contemplation, and prayer.
Truth be told, it's always the best part of the day. The stillness and silence and communion in my mornings feels safe and nurturing.
Carrying that safety and nurturance with me through the daily grind? Some days I have some success.
French Bedroom Design Inspiration: Periwinkle Stripes
If you have ever lived with periwinkle, then you know.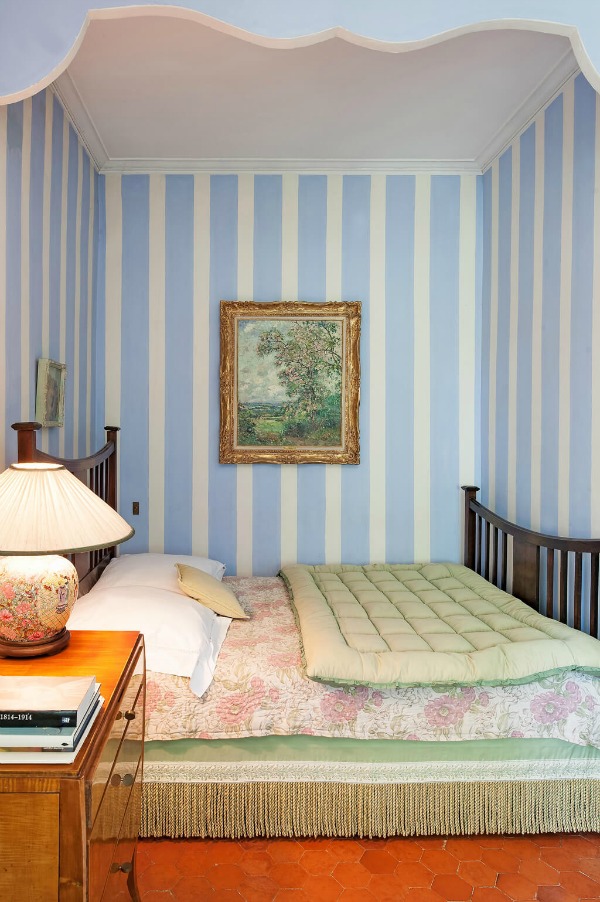 It's a very youthful, energetic sort of blue that feels like a celebration. It may not be the perfect color for a bedroom of a person who craves more calm.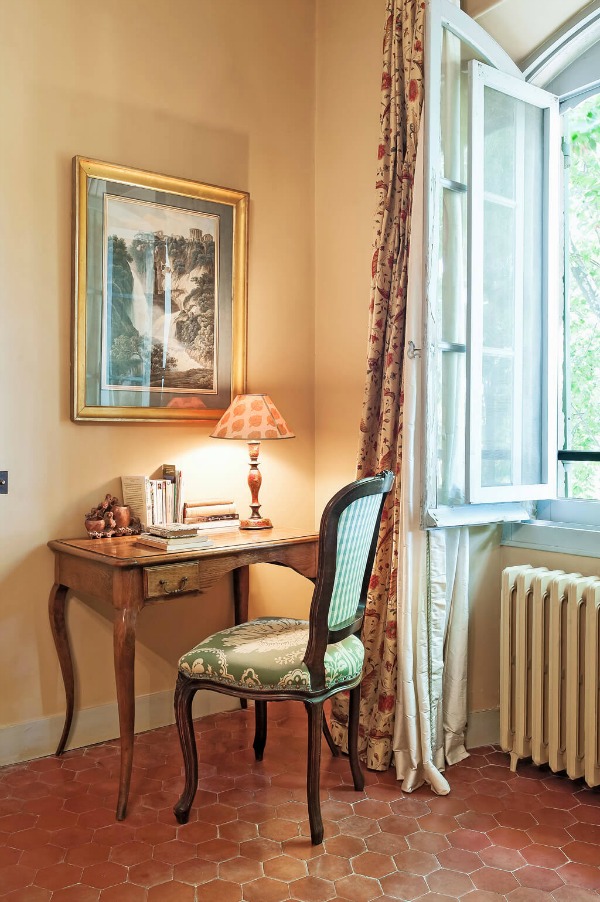 But it is a cheerful hue to awaken to…especially on dreary grey outside mornings.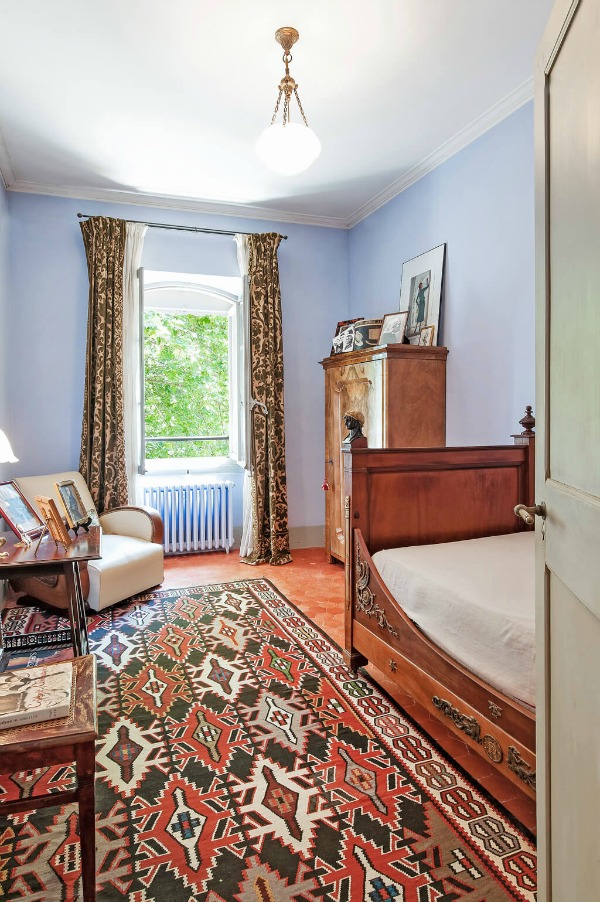 French Bedroom Design Inspiration: Authentically Rustic Yet Rich Master Suite
Waking up to sunny-hued walls is also a wonderful prospect when the warm limestone-like sunny wall color has been thoughtfully considered.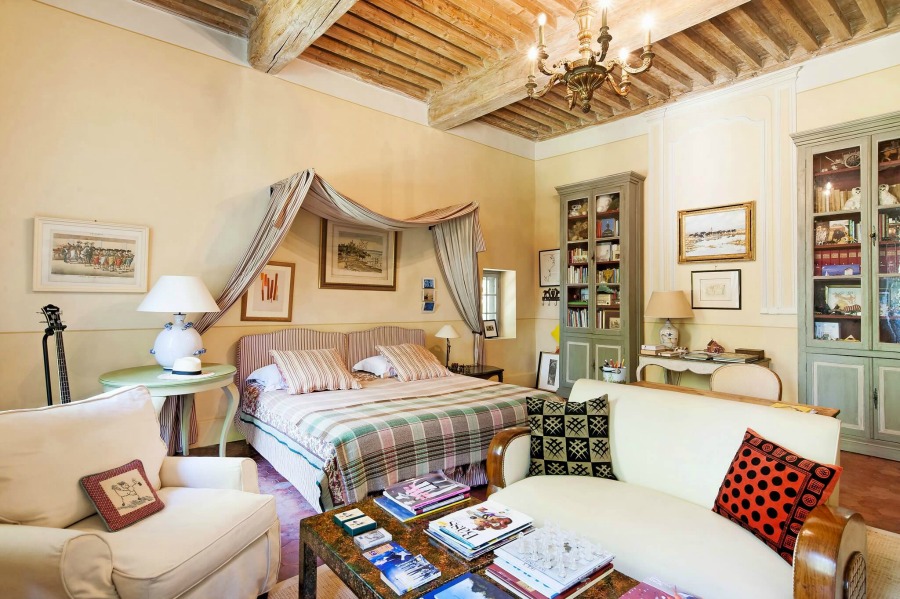 Because in my experience…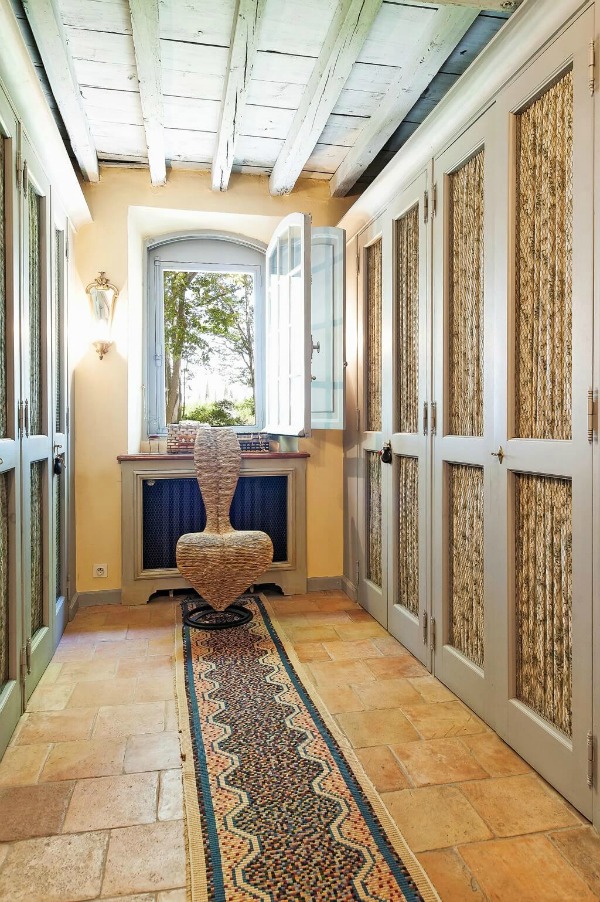 yellow can be all wrong for a bedroom.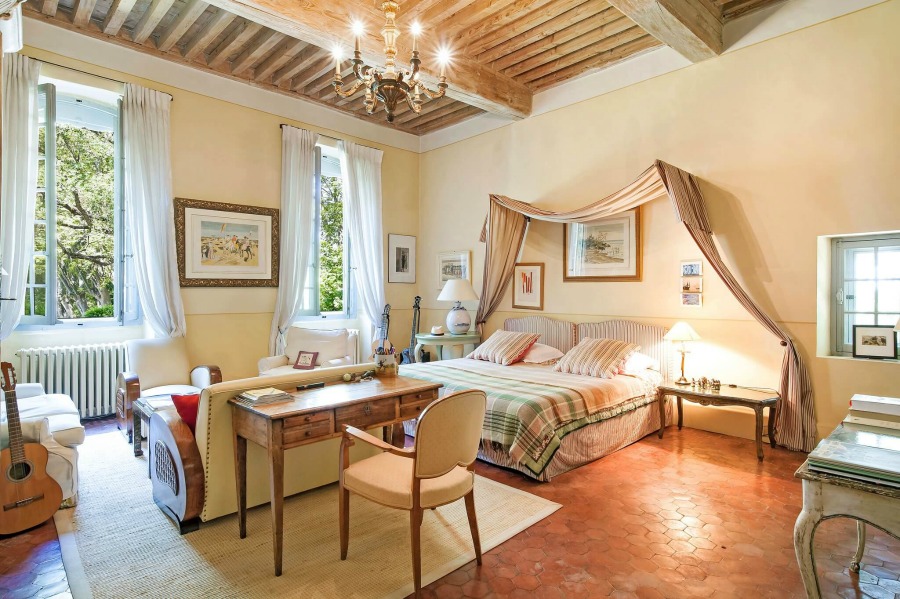 I guess that's why some experts say it's fine for a guest room when you don't want them to overstay their welcome. 🙂
Lovely Timeless French Château Photos: Classic & Traditional French Country Design Inspiration
Ever wonder about stripes and the French and why they are symbolic of a certain chic?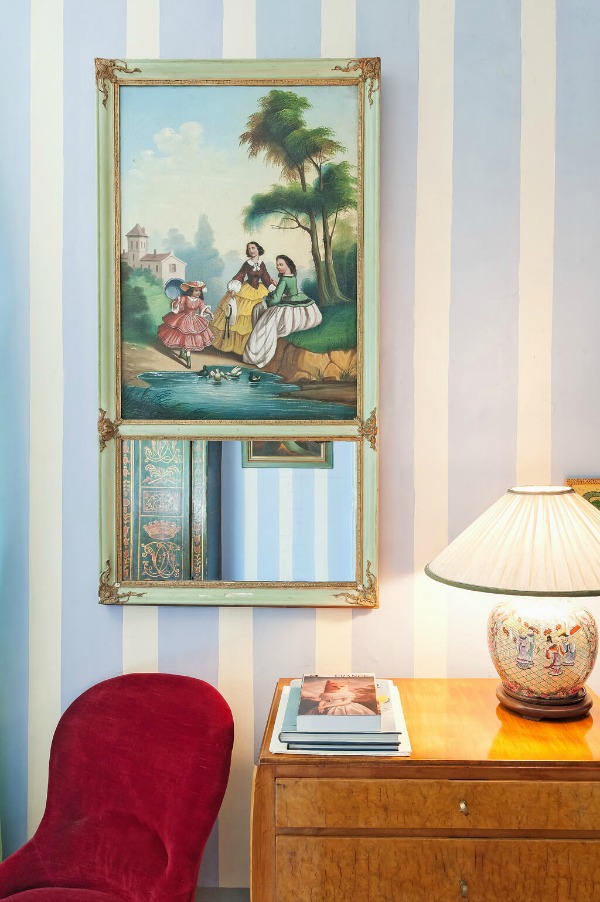 Me too.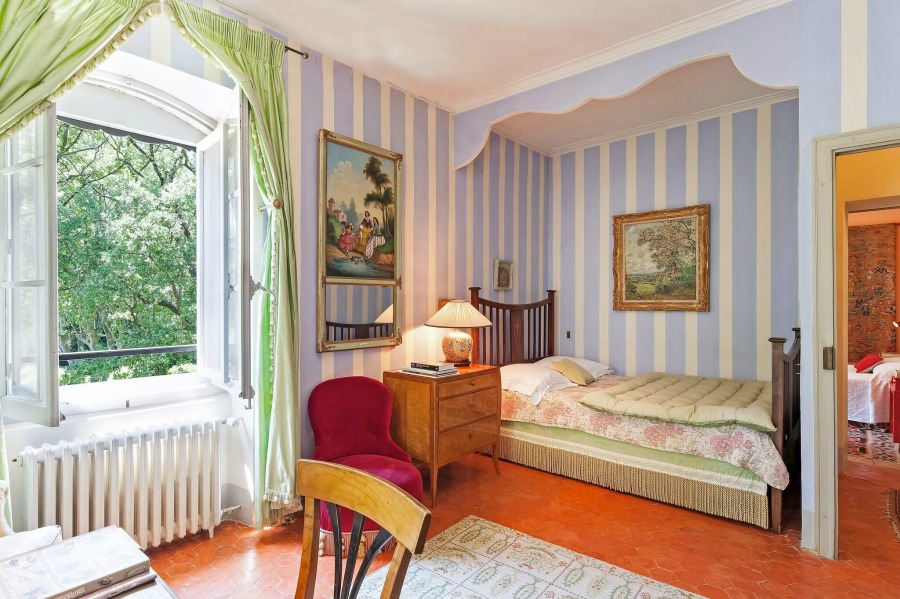 I found this: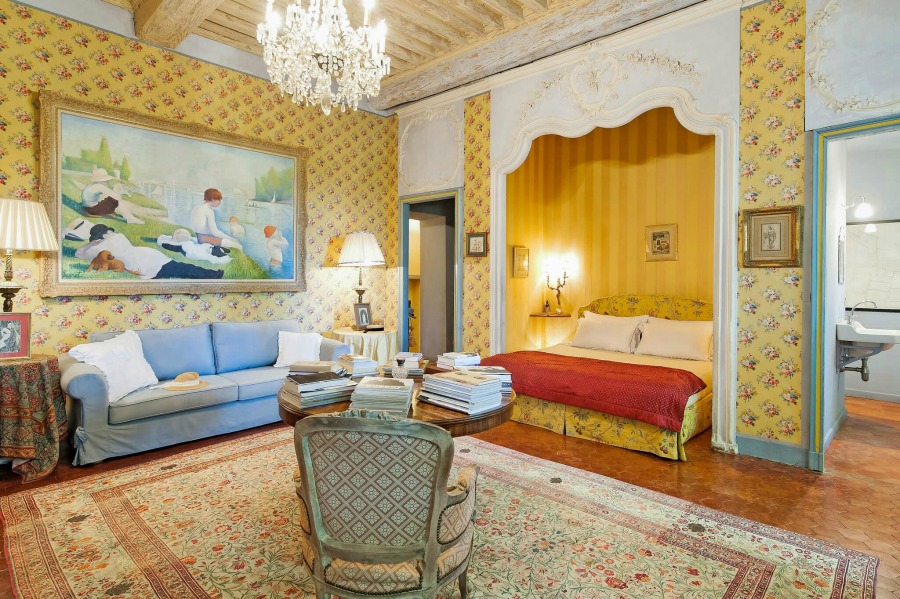 "Recorded by decree in March 1858 as the official undergarment of the French Navy, the original wool-knit naval jersey ended at the thigh with a snug, seamless, tube-like construction and slightly indented round neckline. Its signature feature was a block pattern of 21 white stripes and 20–21 blue stripes with 15 white stripes and 14–15 blue stripes on the sleeves." – BBC
Lovely Timeless French Château Photos: Original Art
Even though it's getting more popular in mainstream decorating, wallpaper is still such a subjective and controversial thing.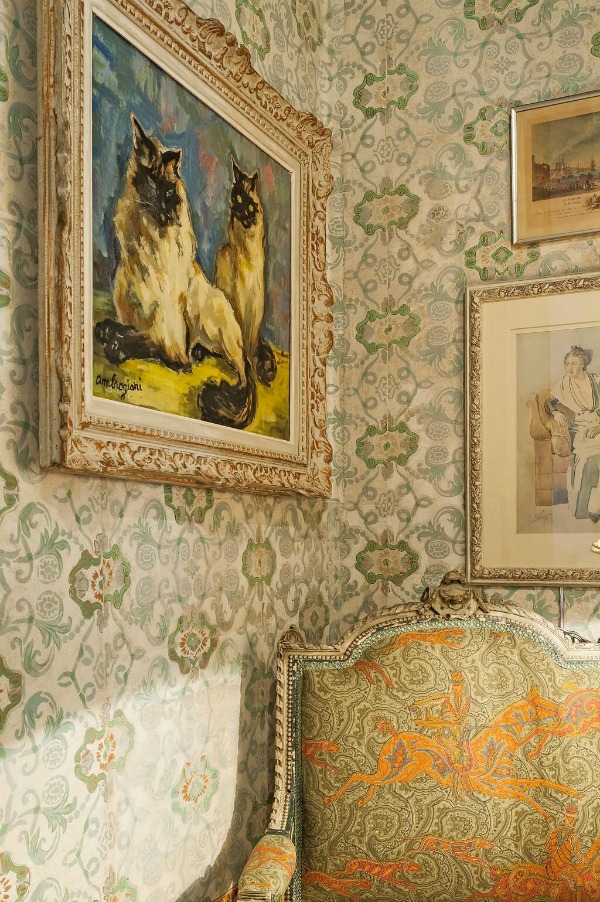 I mean, it seems rare that anyone shopping for a home (old or new) sees a wallpaper pattern and thinks "YES. I'm leaving that up forever."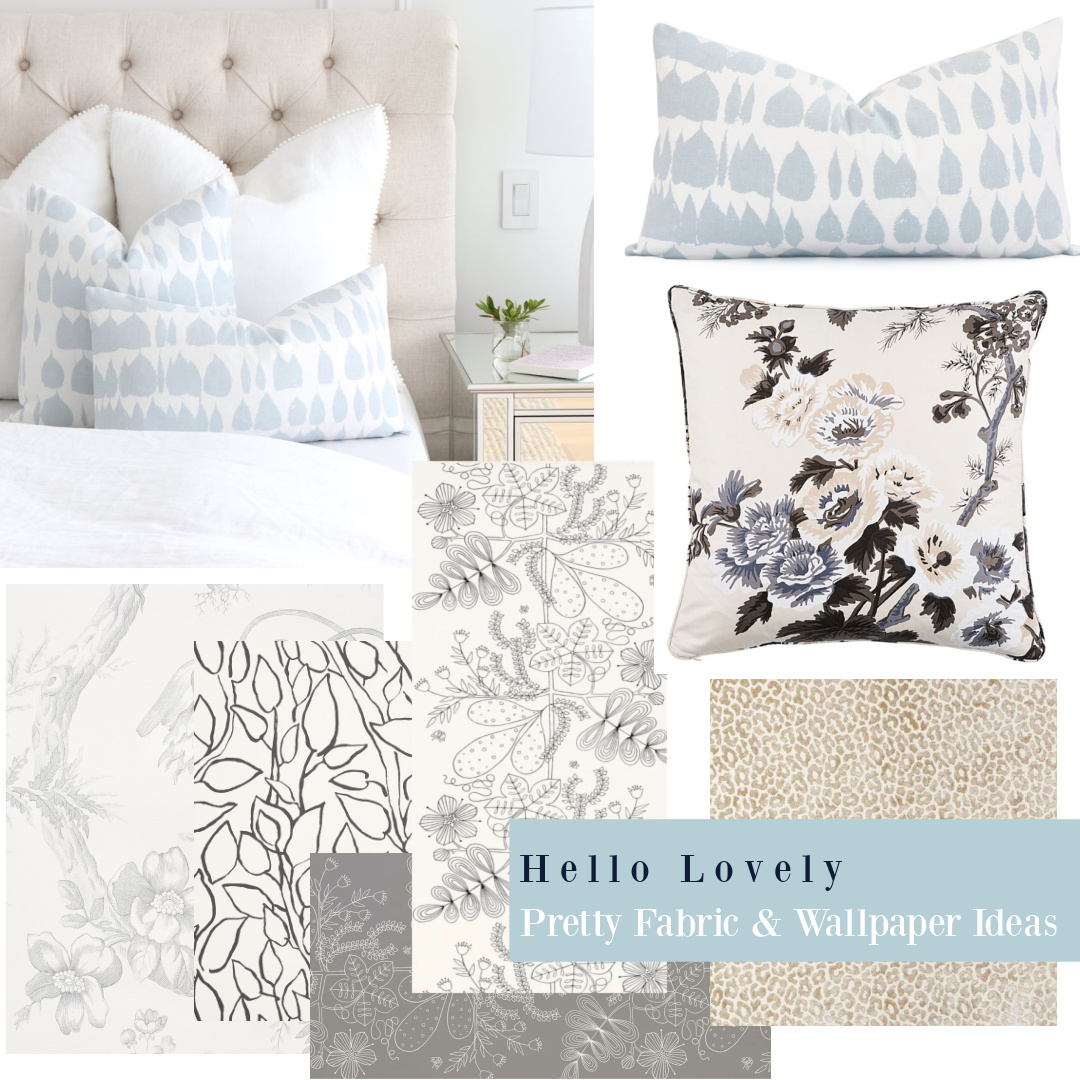 And here's the thing. Sometimes I think we are all too quick to make such judgments before living in a place. I don't think I would ever tire of the pattern above.
Lovely Timeless French Château Photos: French Country Bathrooms
Isn't it refreshing to see interiors that feel under-baked and not staged for the masses?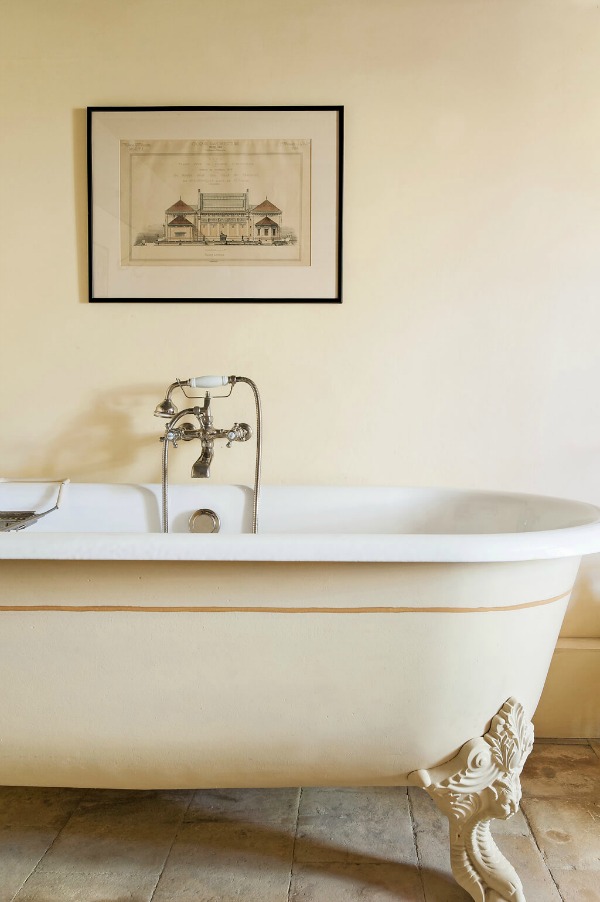 I think that's why I'm drawn to so many European country interiors.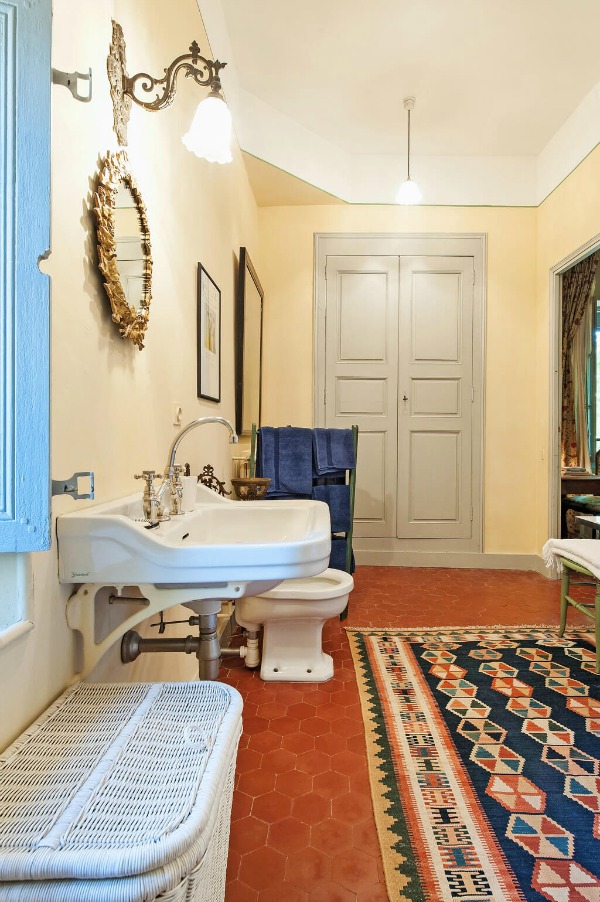 You know, those homes that have been in the family for years and evolved.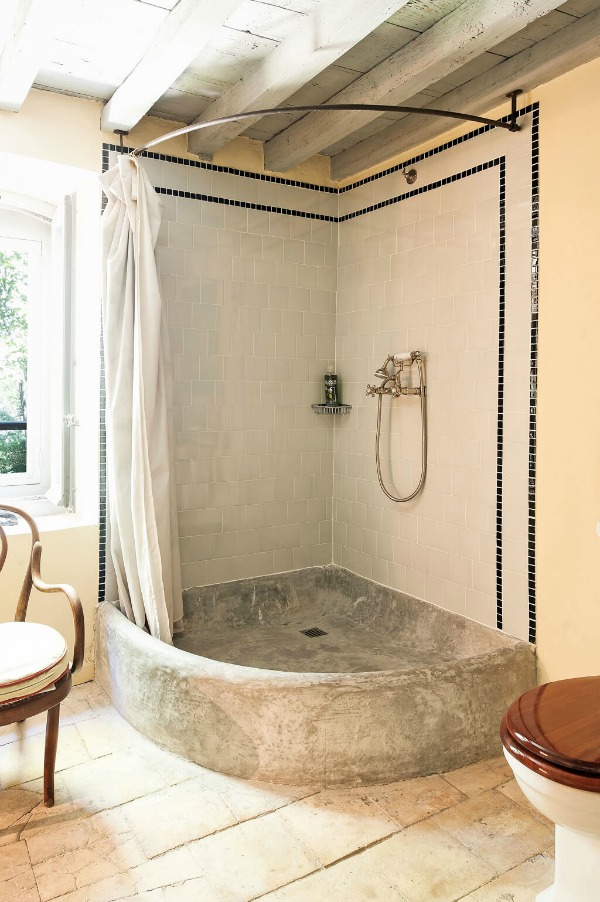 While they may take forever to build, they are built to last without thoughts of resale or current trends.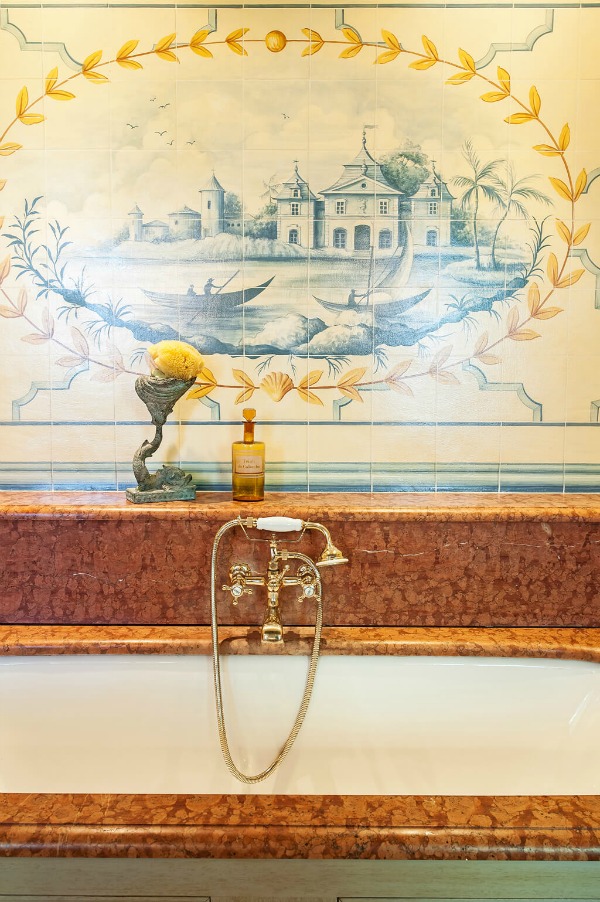 You can see once again in this bath (above) how green and terracotta are best friends in this chateau.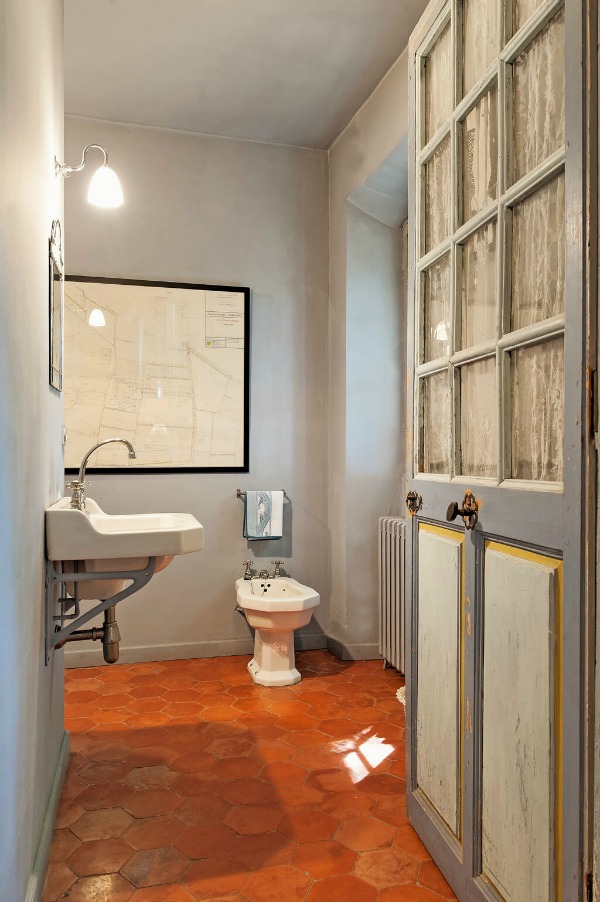 How do you feel about the French grey-blues playing off of the rich terracotta?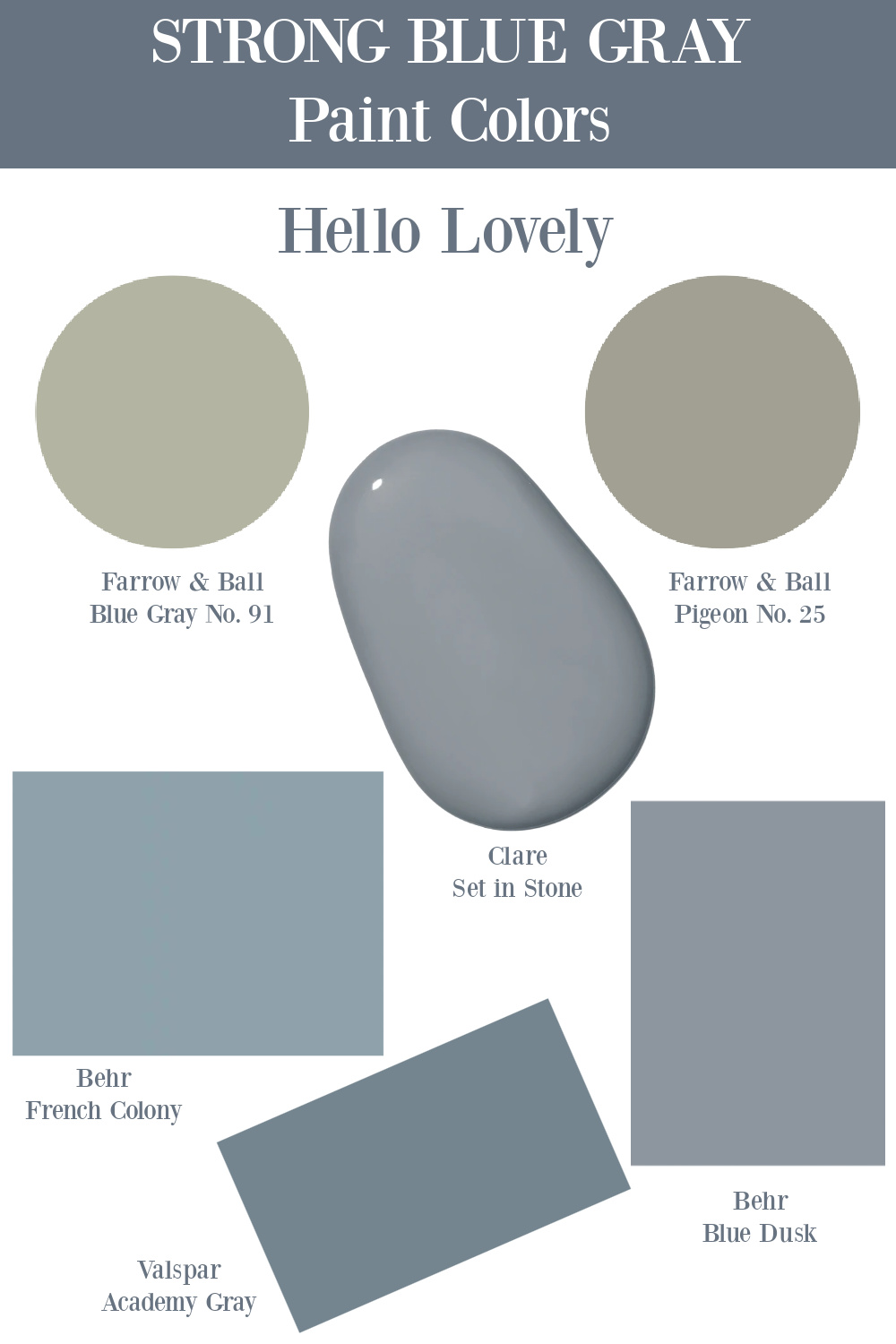 Rustic Old World French Bathroom Magic
Before I leave you, I just want to say MERCI for anyone who made it this far in the post.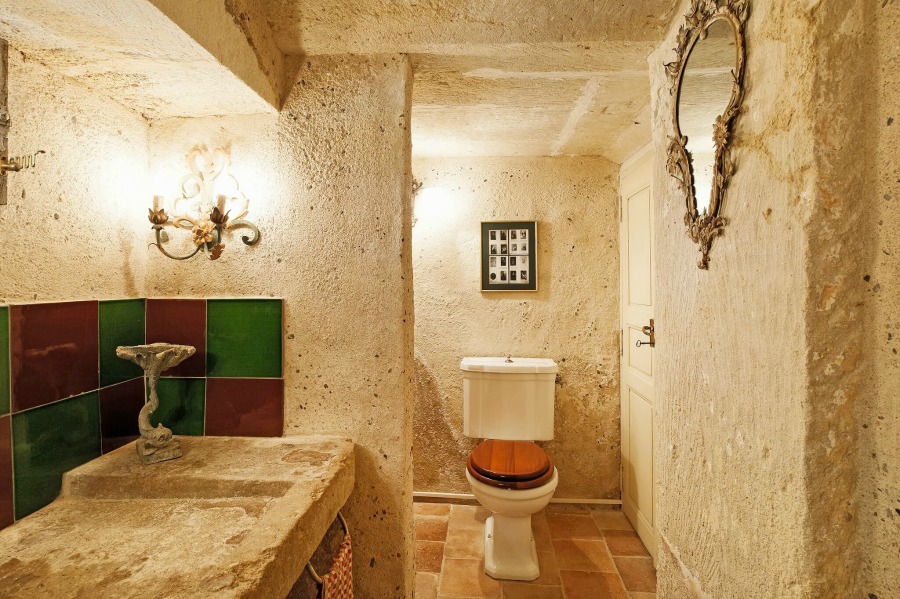 I shared a lot of reflections alongside some amazing authentic glimpses, and while it all fits together (somehow!) for me, I know it could seem too random to some.
Green on the Timeless French Château Shutters!
Thank you for reading and for extending grace here.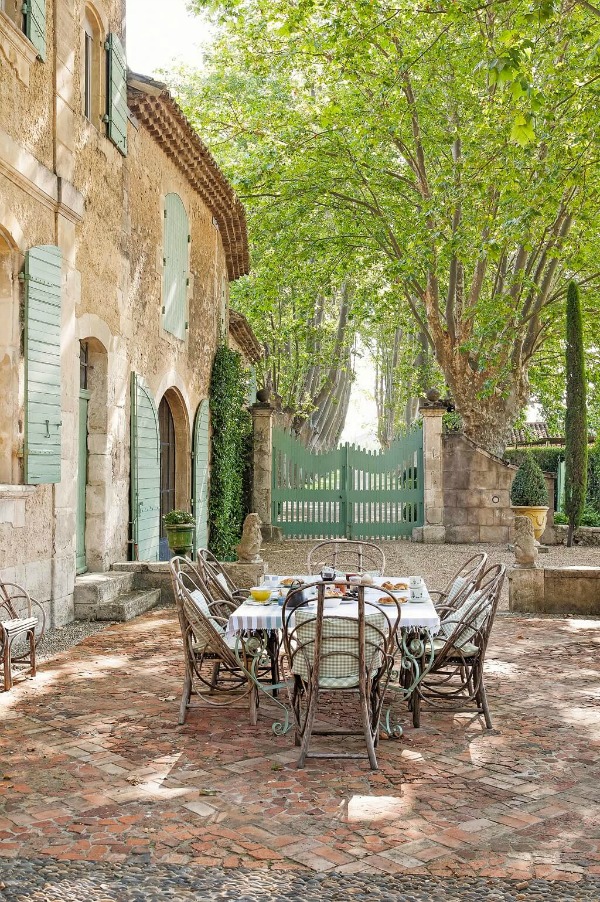 There are so many sites to visit online, and the fact that you landed here is a gift to me.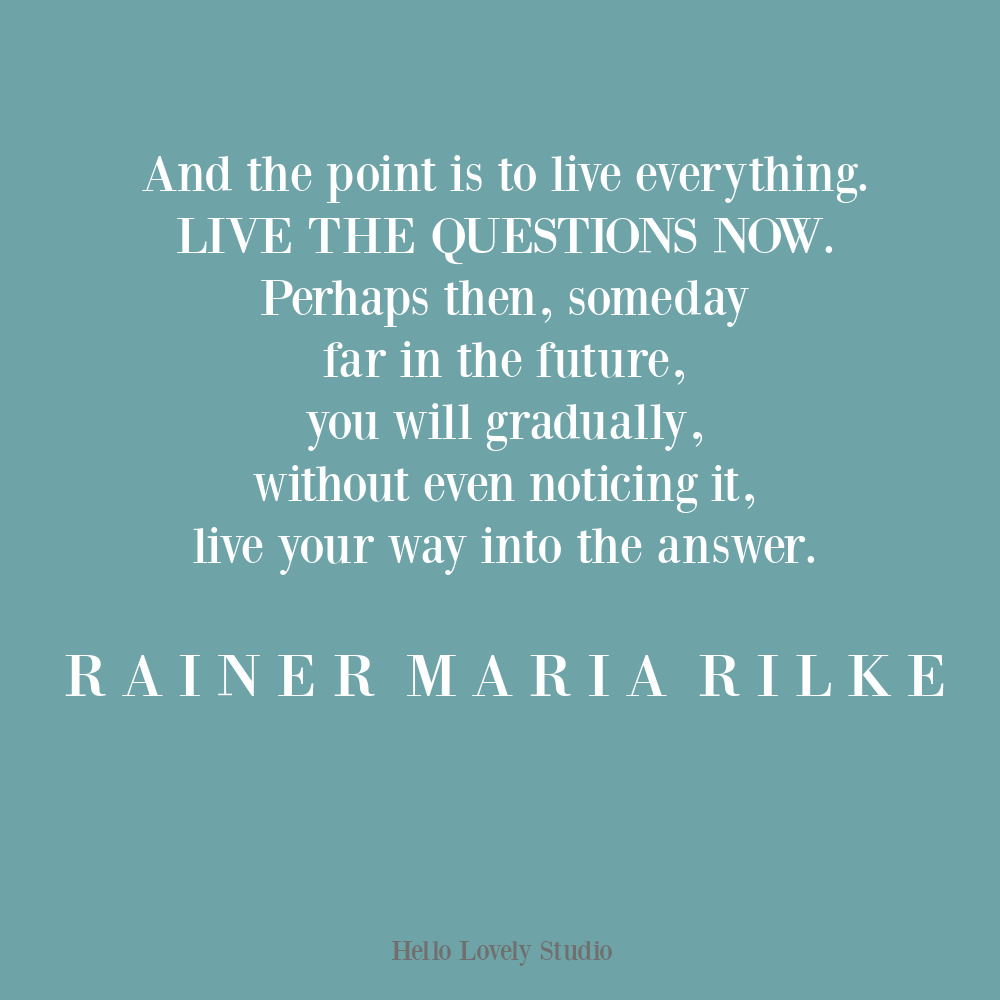 Beautiful Green Shutters in France
If you have seen Vivi et Margot owner Charlotte's French farmhouse tour of a French farmhouse near Bordeaux, you may recall she painted her rustic shutters a popular green, known in the region as:
TOLLENS Vert Olivier (satin) purchased at Castorama. See ideas for French greens HERE.
Shutters at Chateau Mireille seem to be in this green family, don't you think?

I could stare at those shutters all day!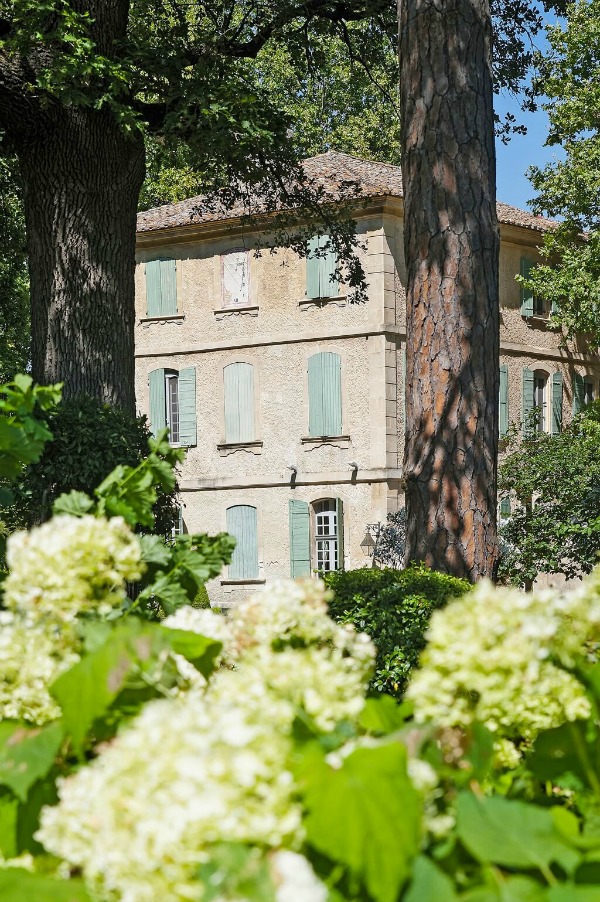 In the mood for more fantasy inspiration from Haven In? Check out a restored 19th century mansion in Avignon with unusual, exotic interior design and restoration…magic awaits!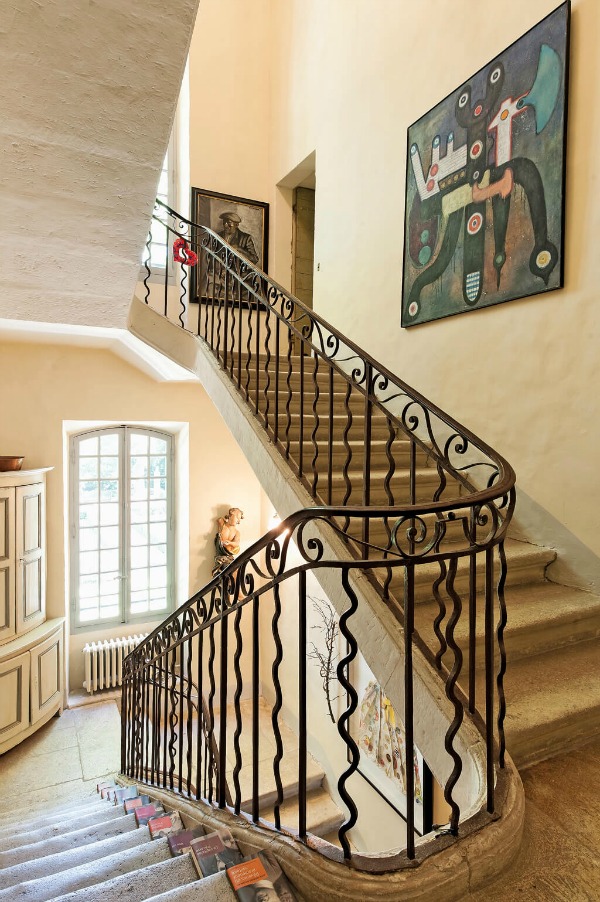 Take good care of yourselves, friends. We're living through historically strange times.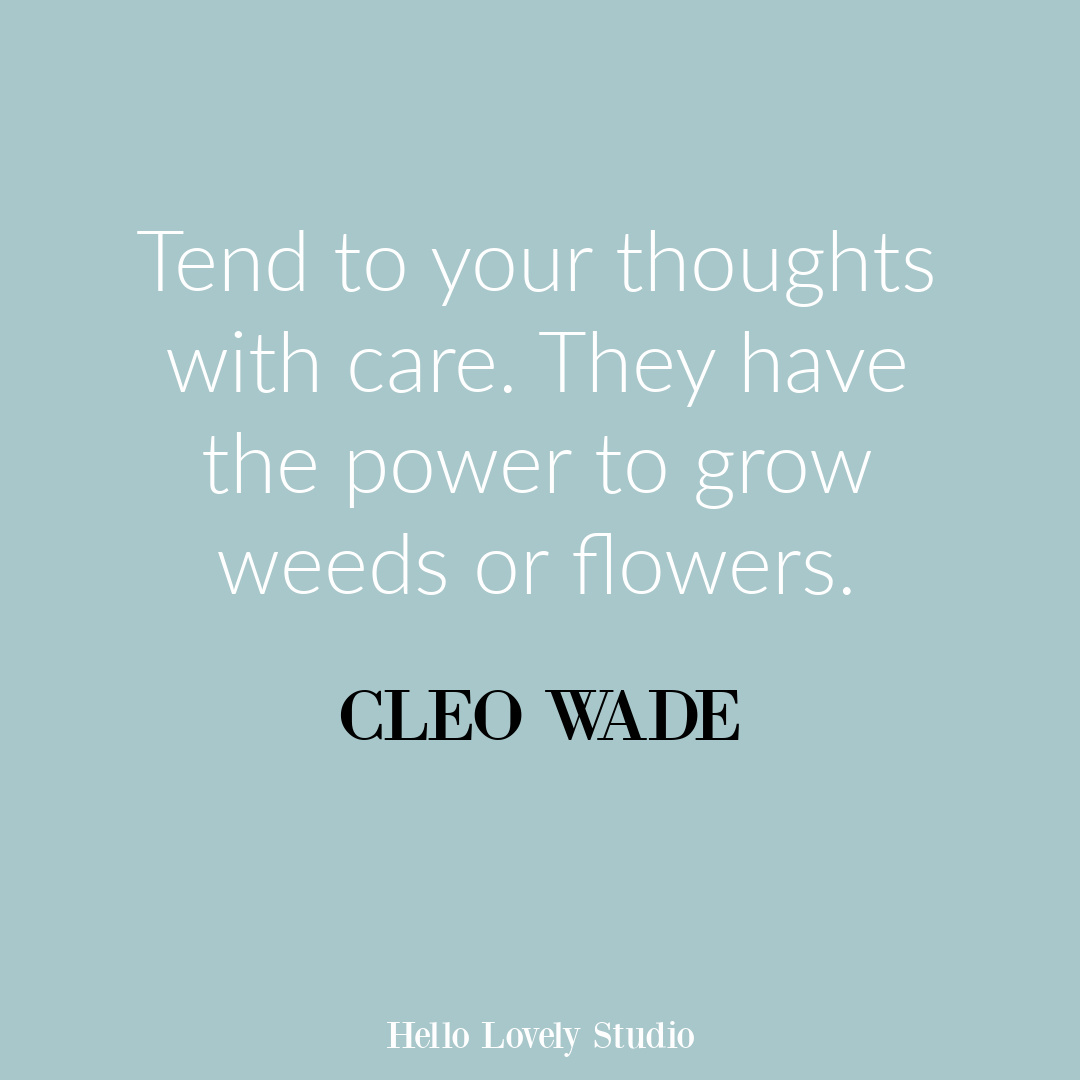 Click HERE to Pin this post for future reference!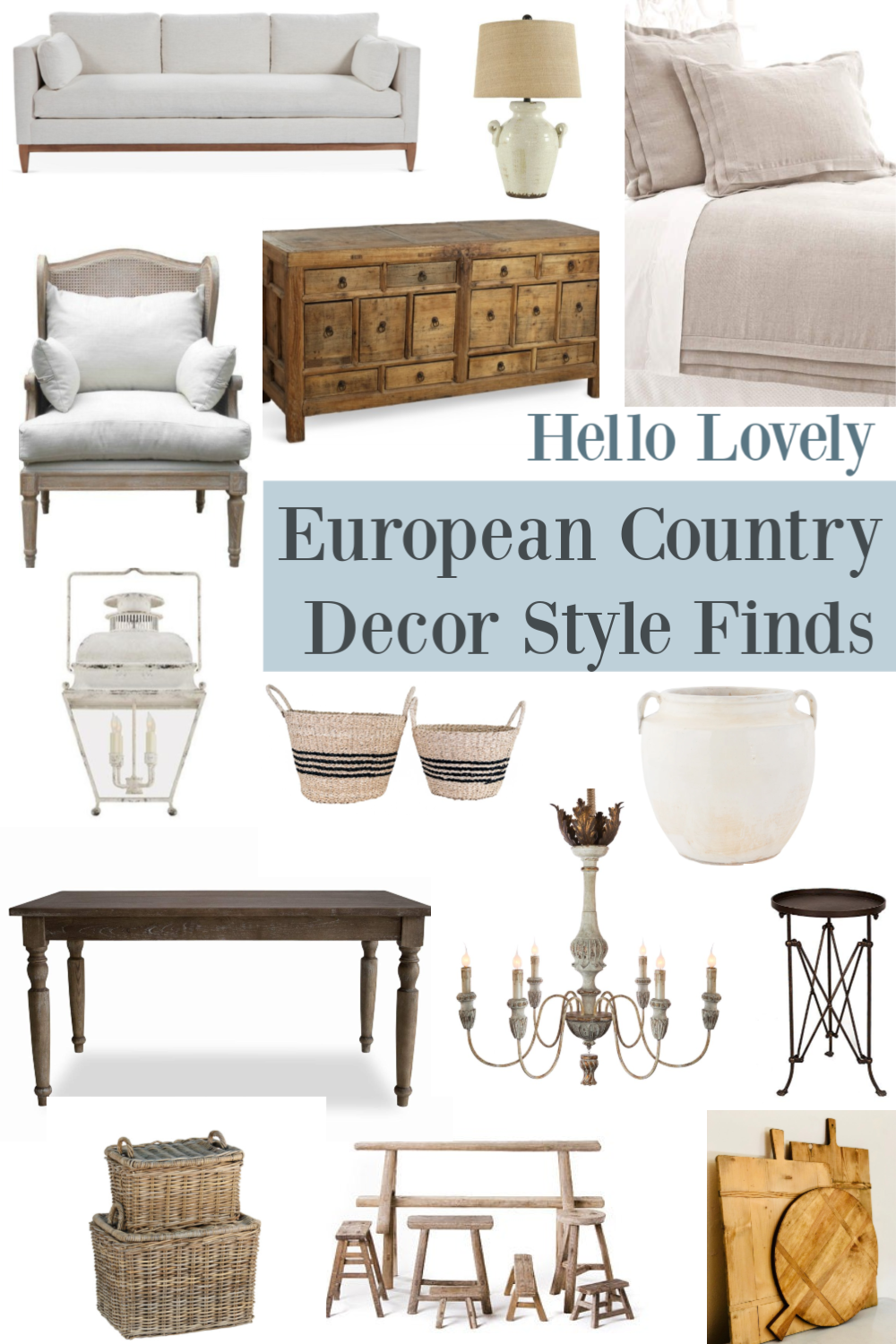 (Click on images above to go to buying info.)
I independently selected products in this post—if you buy from one of my links, I may earn a commission.
Peace to you right where you are.
-michele
Shop for items you already intended to buy on Amazon RIGHT HERE, and also find home decor here to keep decor inspiration flowing on Hello Lovely!
Hello Lovely is a participant in the Amazon Services LLC Associates Program, an affiliate advertising program designed to provide a means for sites to earn fees by linking to Amazon.com and affiliated sites.