4 Simple Decorating Ideas With White Roses: How to Savor Them revisits peaceful glimpses of how I personally enjoy these blooms at home. You'll see how a dozen fresh fragrant blooms enhance our French country inspired interiors. Then I'll show you how everlasting white roses can sweeten a space. Finally, I'll share super easy rose-related DIY ideas to inspire your own creations. Inspirational quotes about flowers will fragrant the journey, and I hope you'll PIN every single one!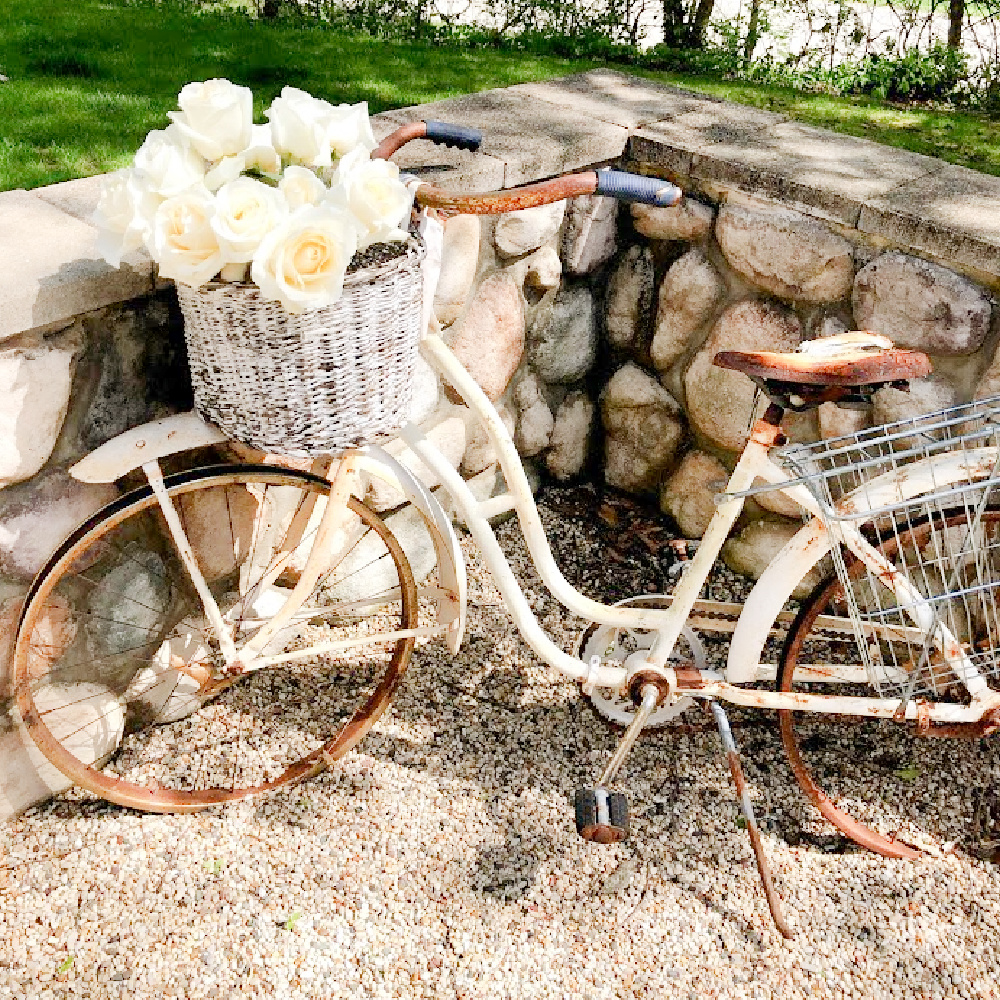 4 Simple Decorating Ideas With White Roses: How to Savor Them!
I was thrilled when last spring, Cindy Hattersley asked me to join a beautiful bouquet of inspiring bloggers with ideas for indoor plants, gardening, and florals!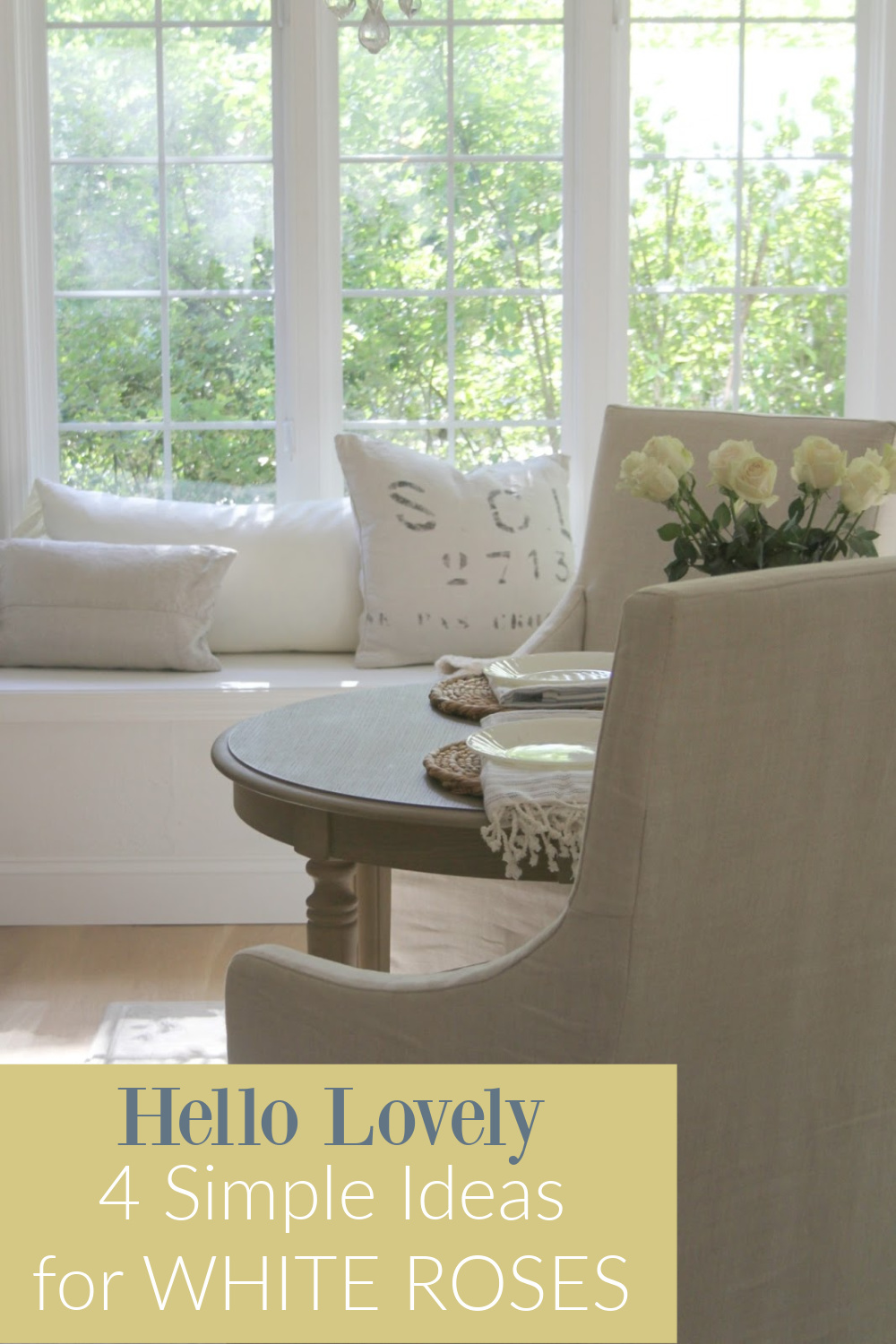 Be sure to visit the lovely blogs below for inspiration and tips!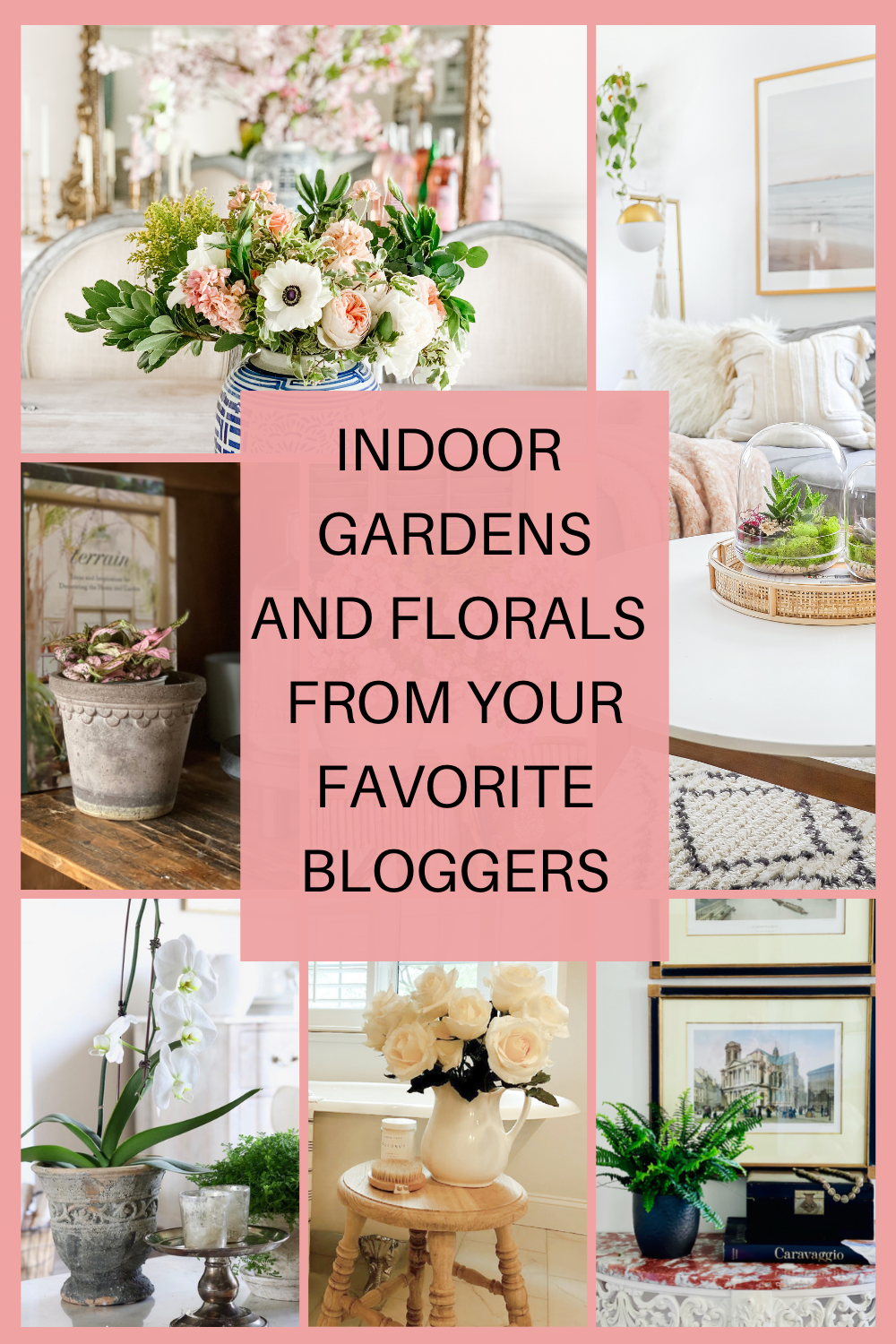 CLASSIC CASUAL HOME/CINDY HATTERSLEY DESIGN /MOST LOVELY THINGS/MAISON DE CINQ/MODERN HOUSE VIBES/SHABBYFUFU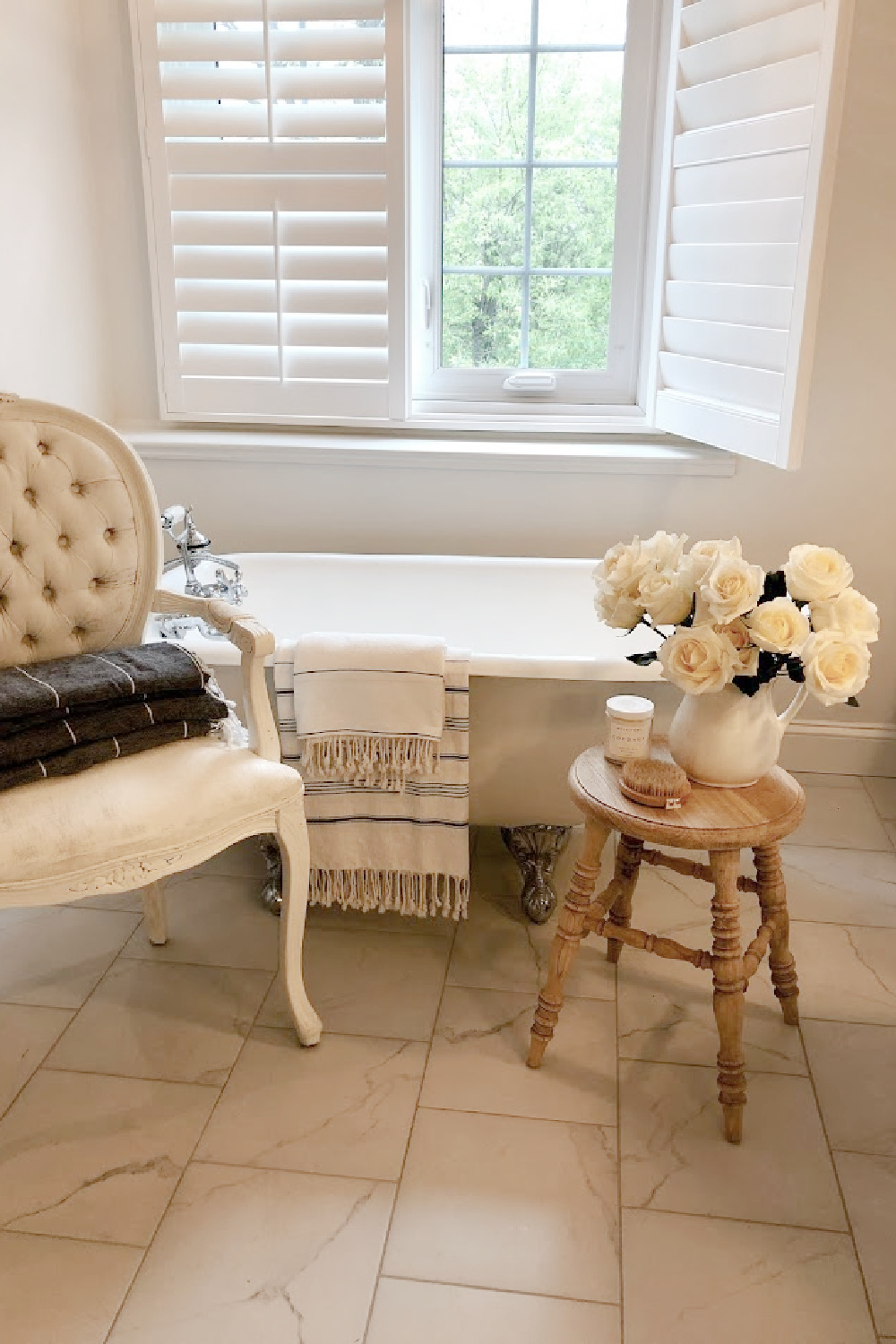 Why White Roses?
While red roses are linked to romance, white roses are traditionally associated with: purity, everlasting devotion between two people, innocence, and even deep respect.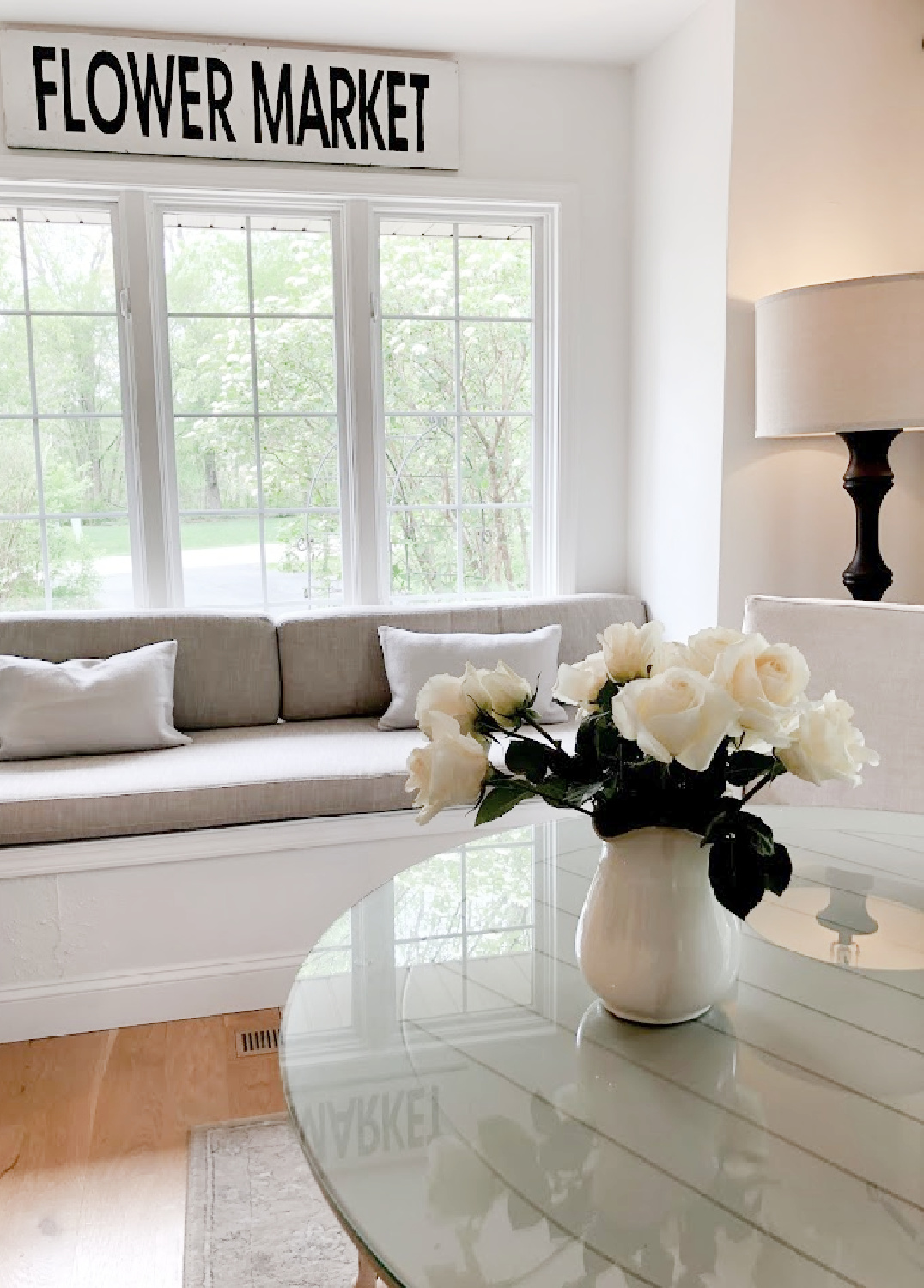 Maybe it's just me, but white roses whisper ROMANCE too.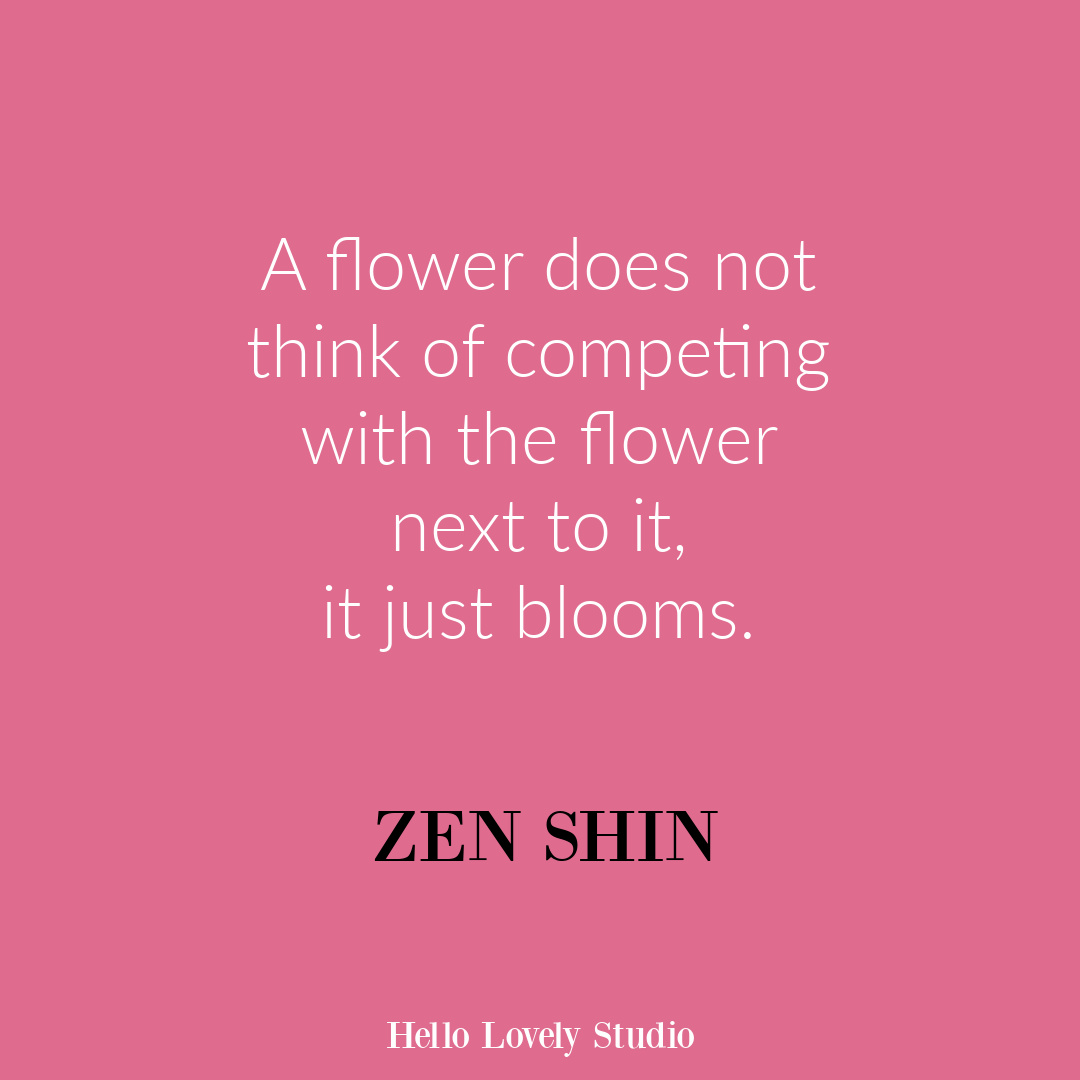 I suppose the heart simply wants what the heart wants!
As for me? Velvety, sugar-hued, pale rose petals set my mind at ease and beckon my whole being with their beauty.
1. Effortless French Inspired Floral Decorating Style
The French are so très sage about achieving an unfussy, seemingly effortless, chic look.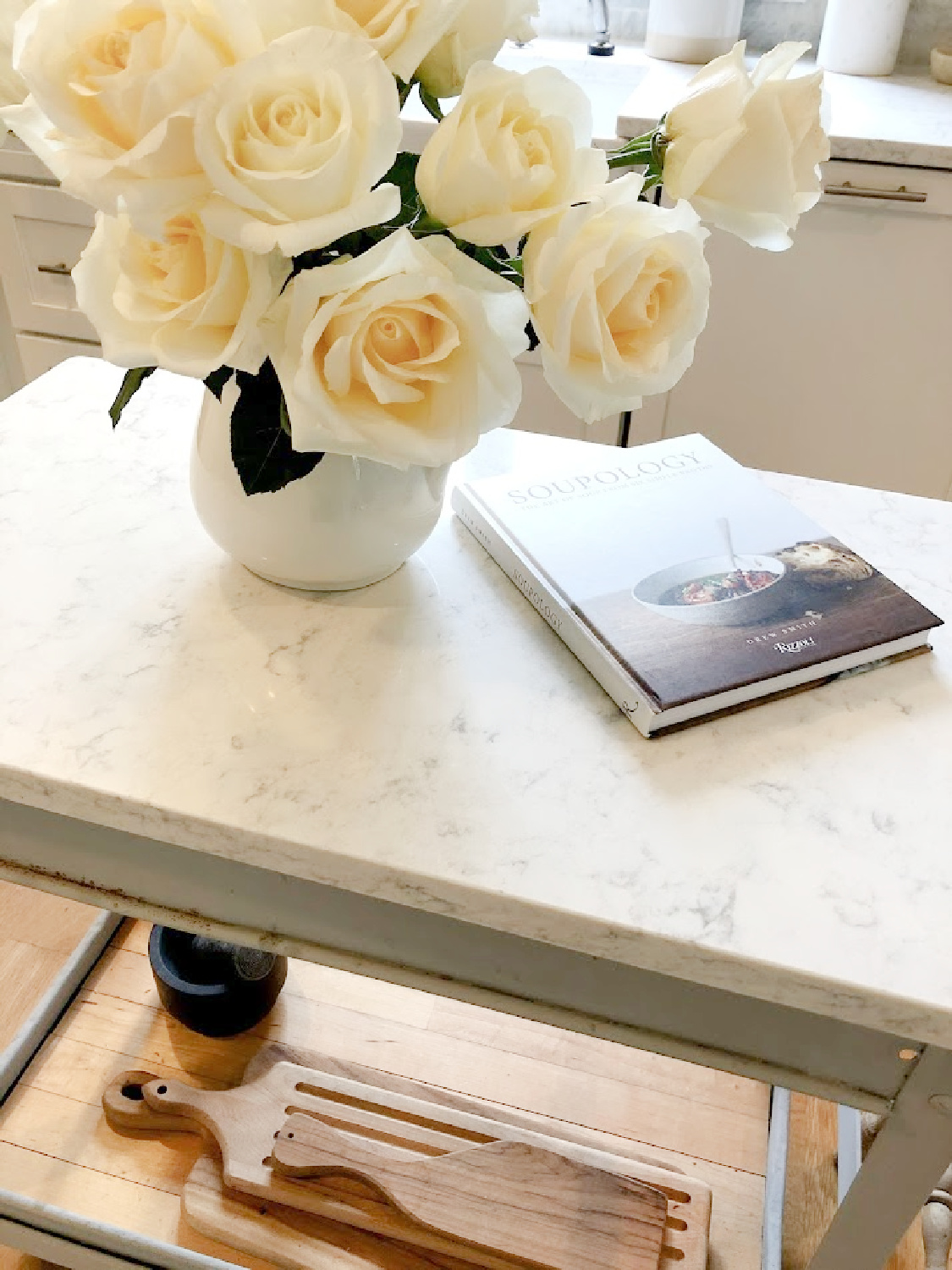 White roses even show up in my closet! (See how this DIY cloffice HERE.)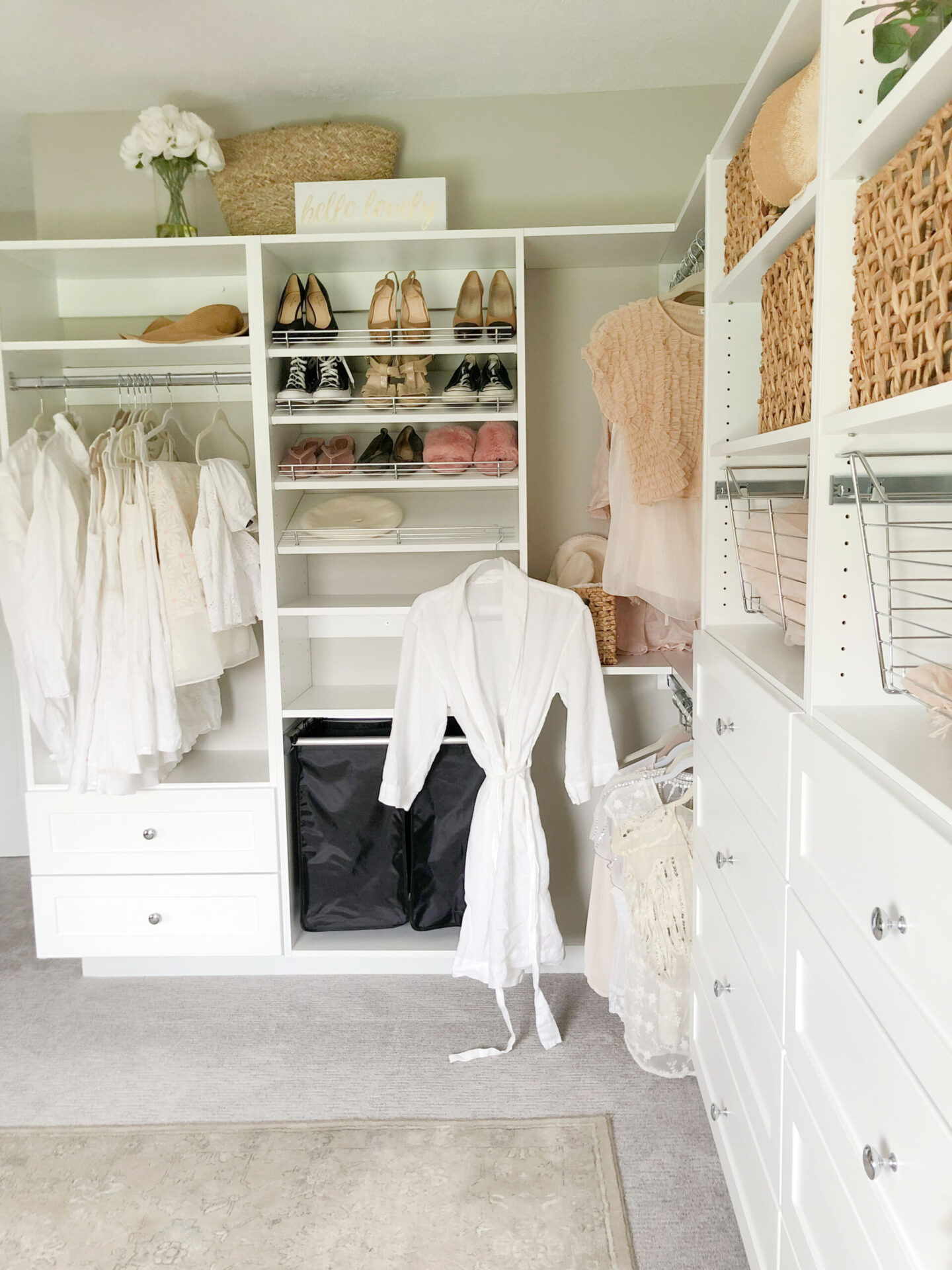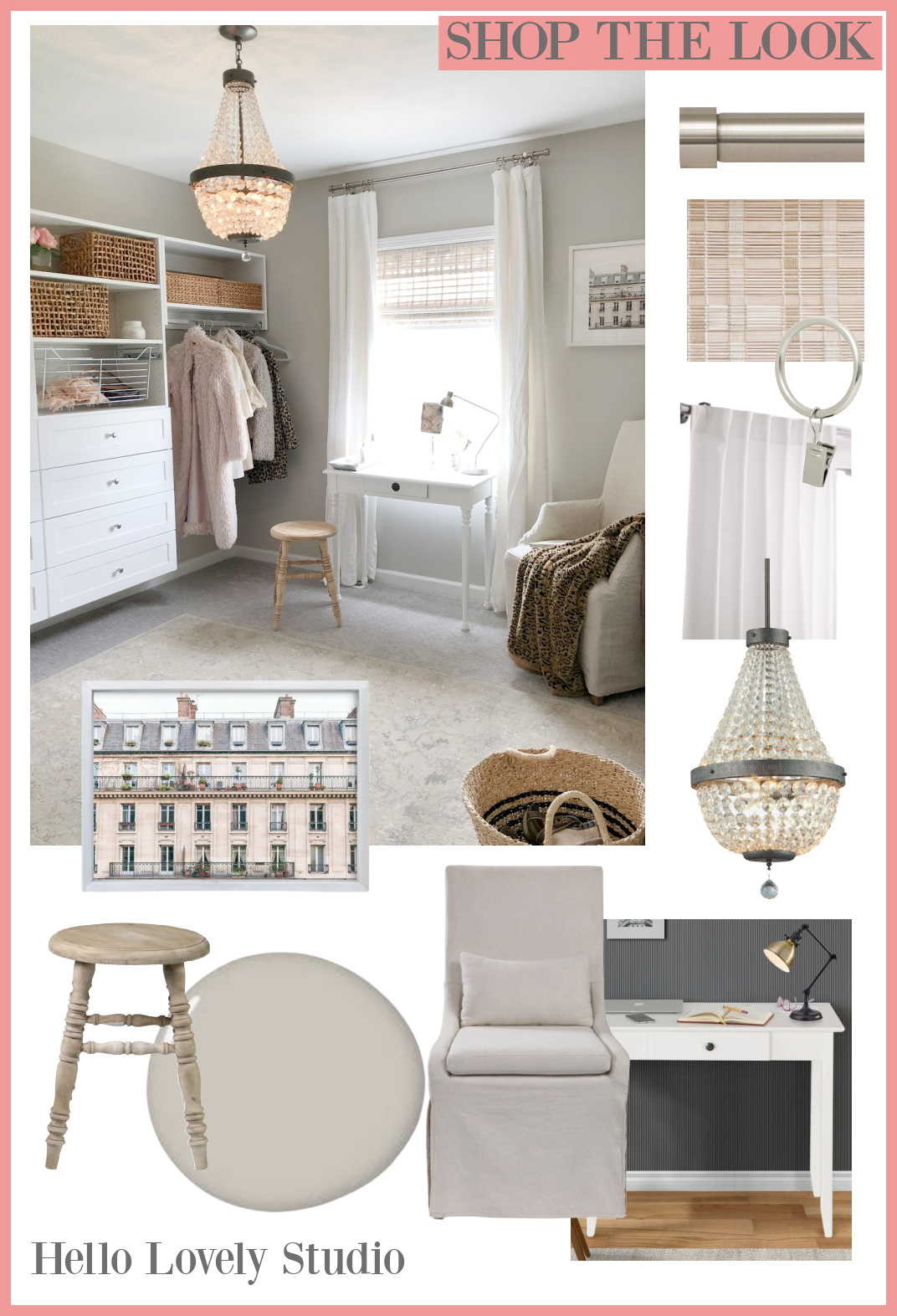 What I have learned as a student of Country French aesthetic is NEVER OVERTHINK arrangements and vignettes.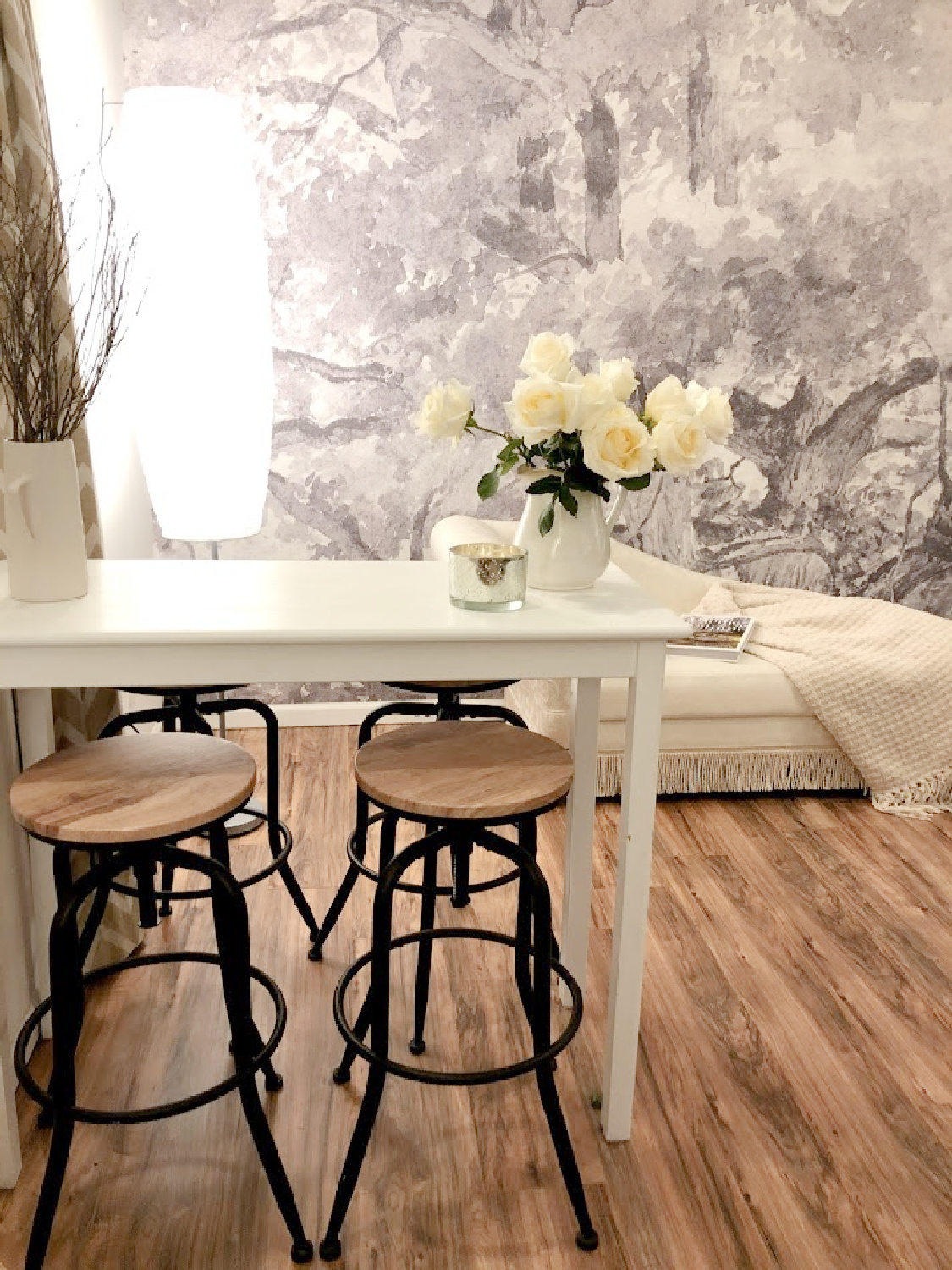 Let your heart and artful eye lead you instead.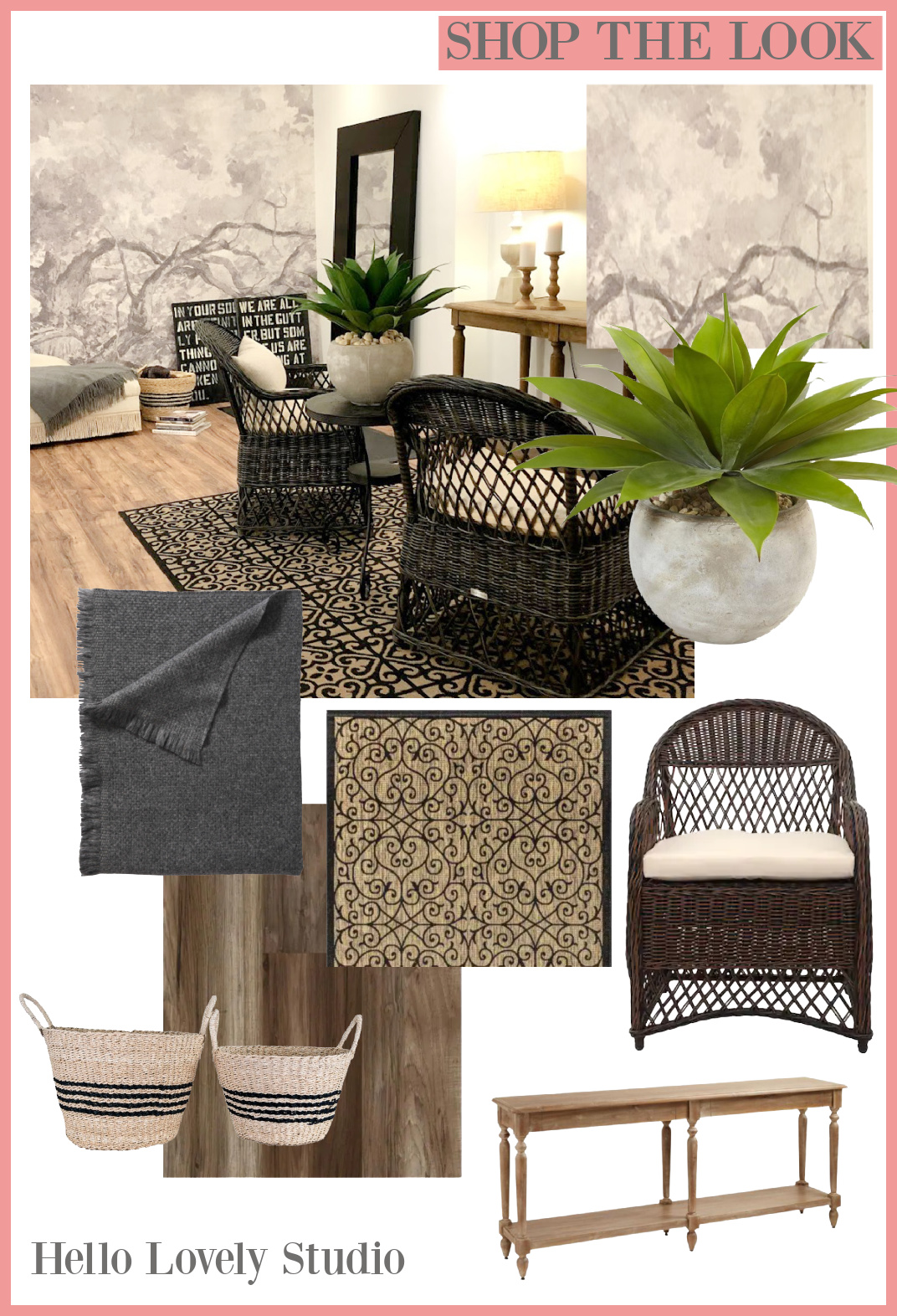 In terms of simple white roses from the garden, eucalyptus could certainly enhance the floral arrangement.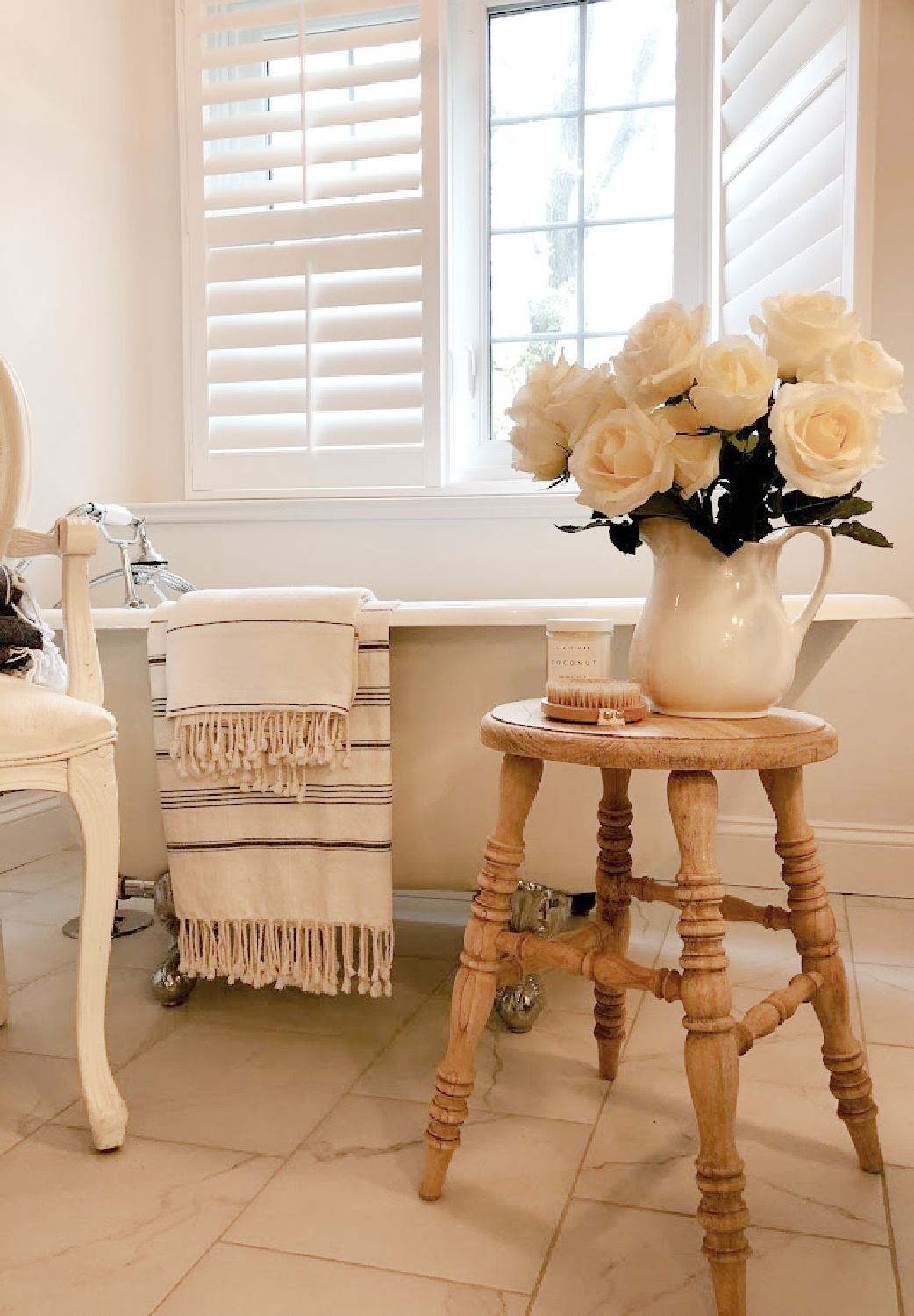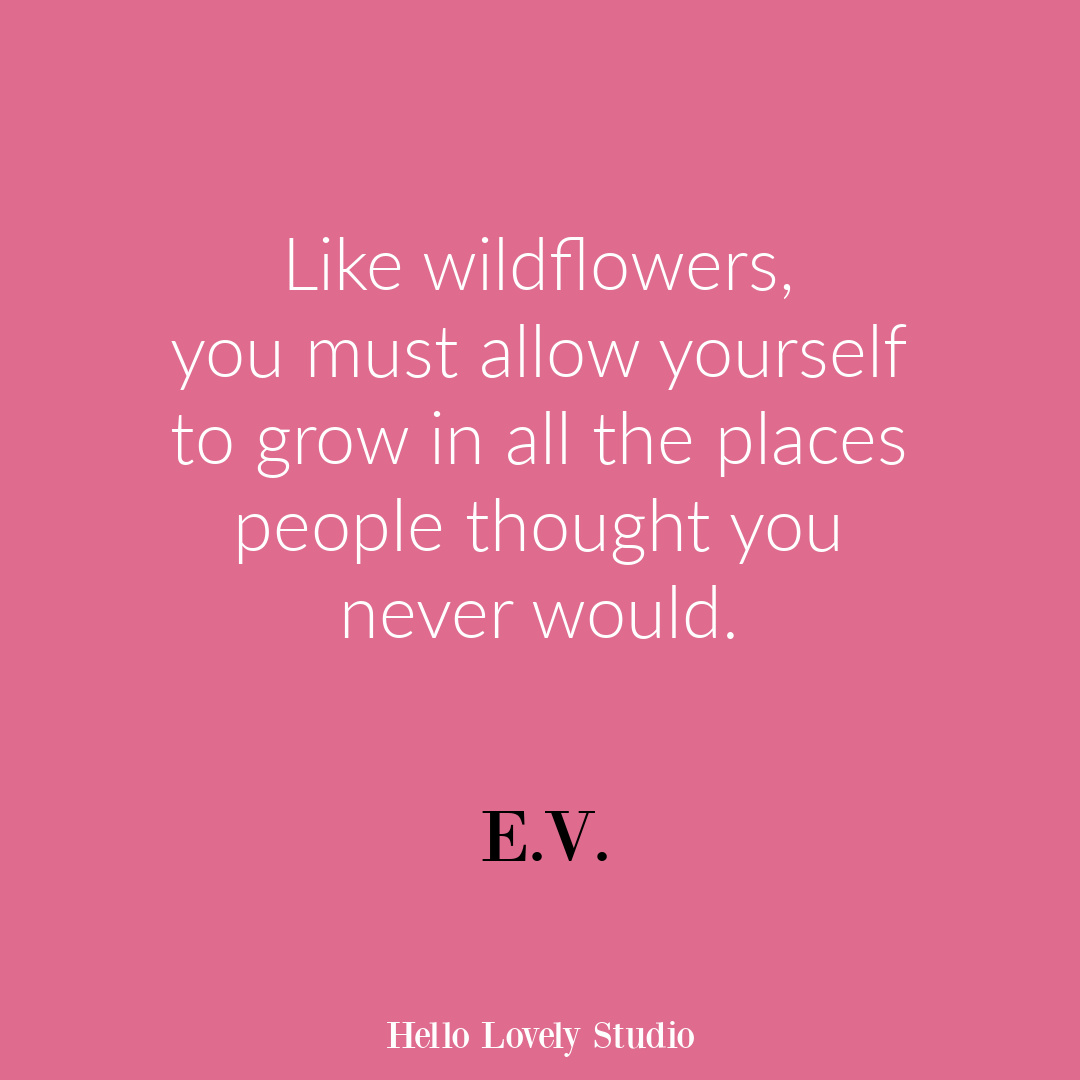 But since it is not always available in my region, and I love a pared-down look, white garden roses placed in a simple vintage ironstone pitcher will do!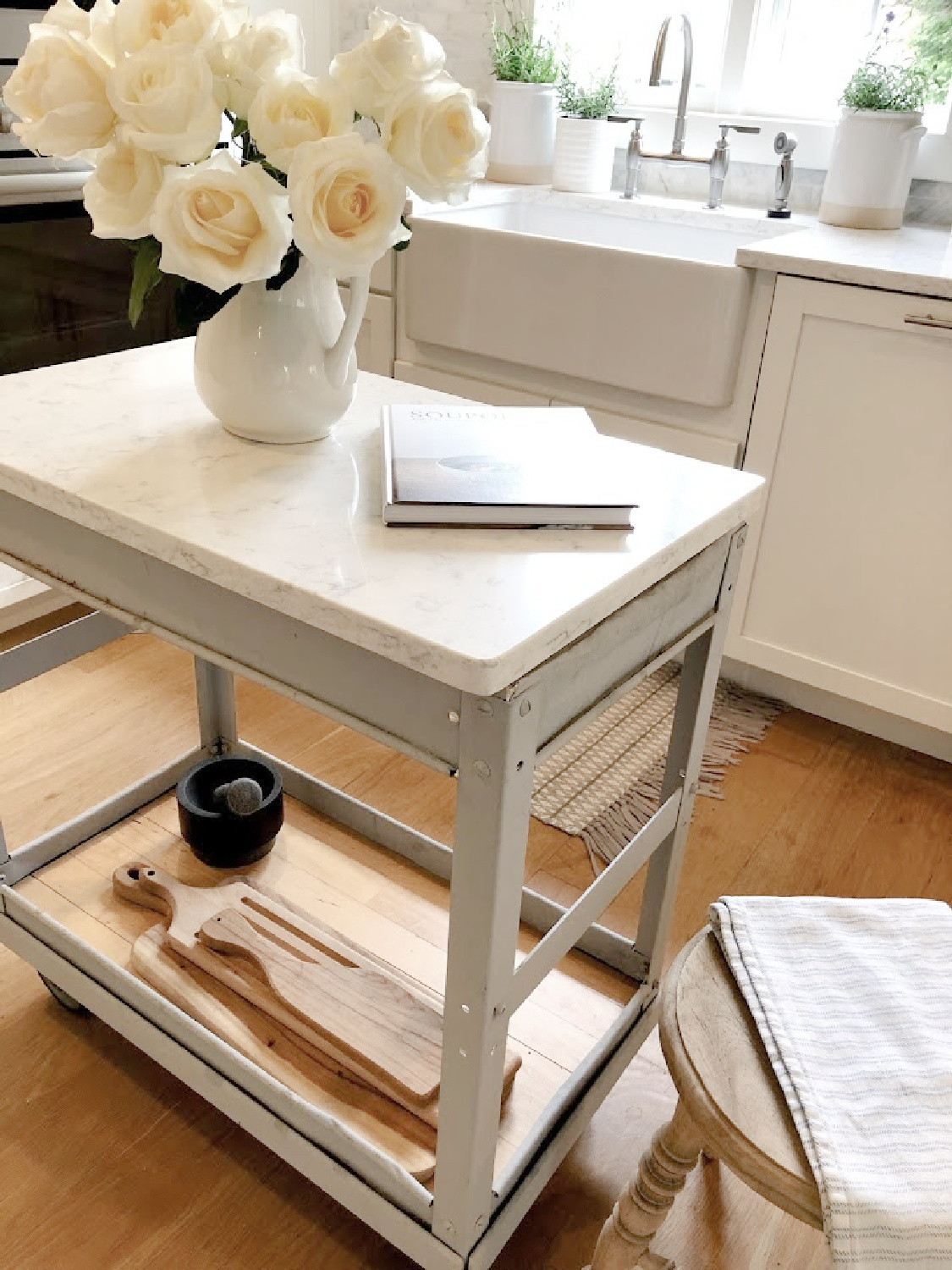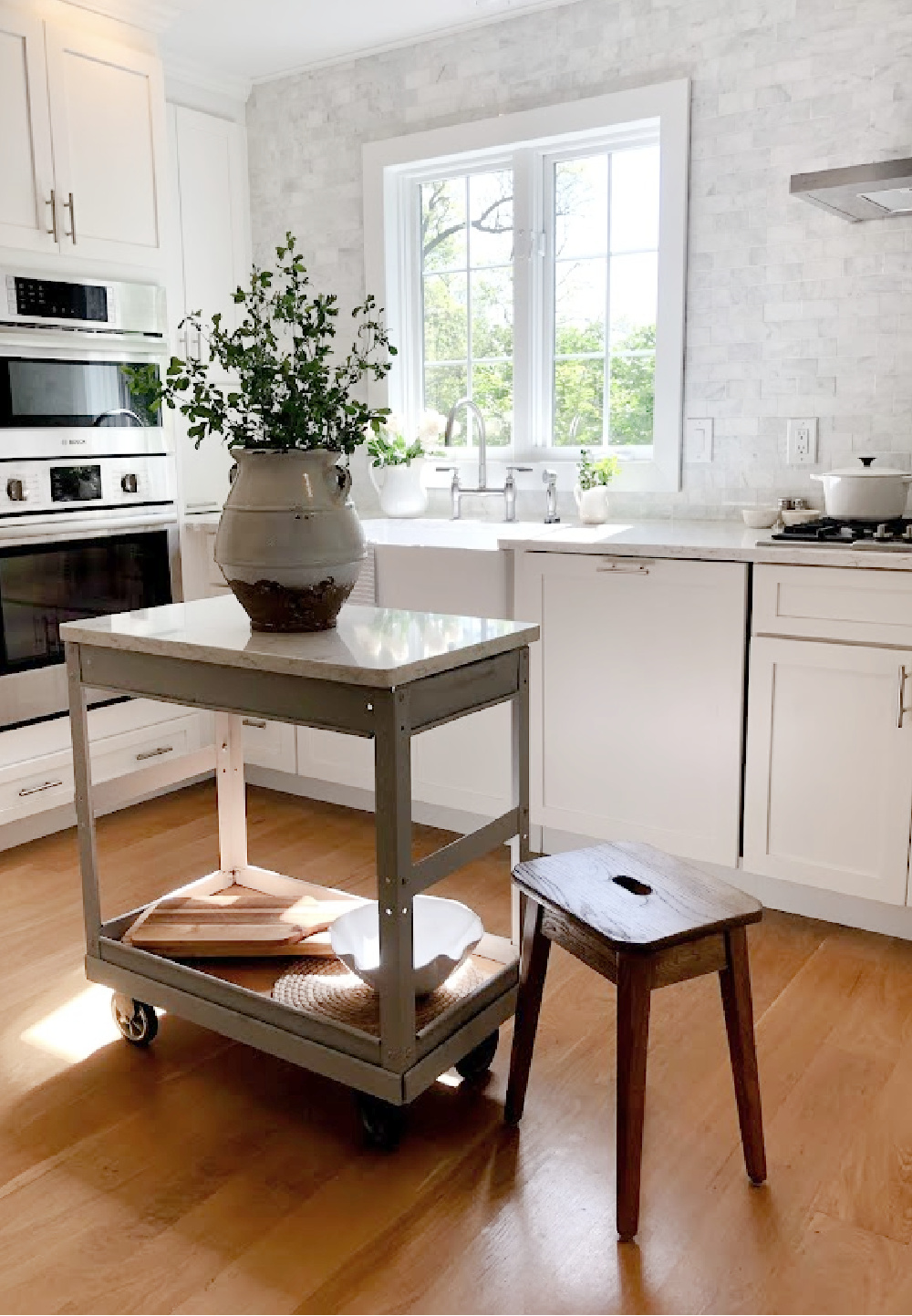 I often add sprigs of boxwood to fresh floral arrangements, but florals here rarely become more complicated than that.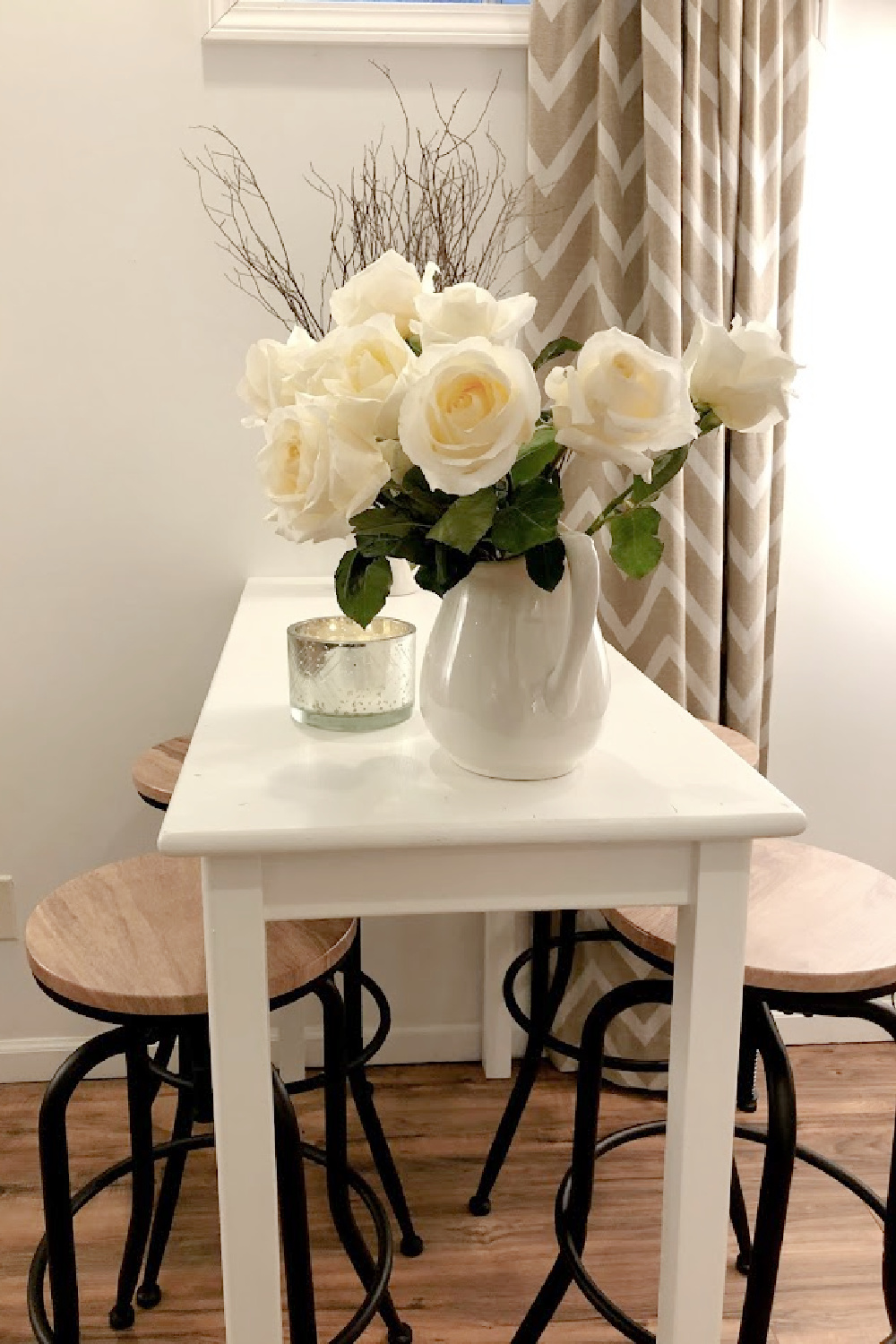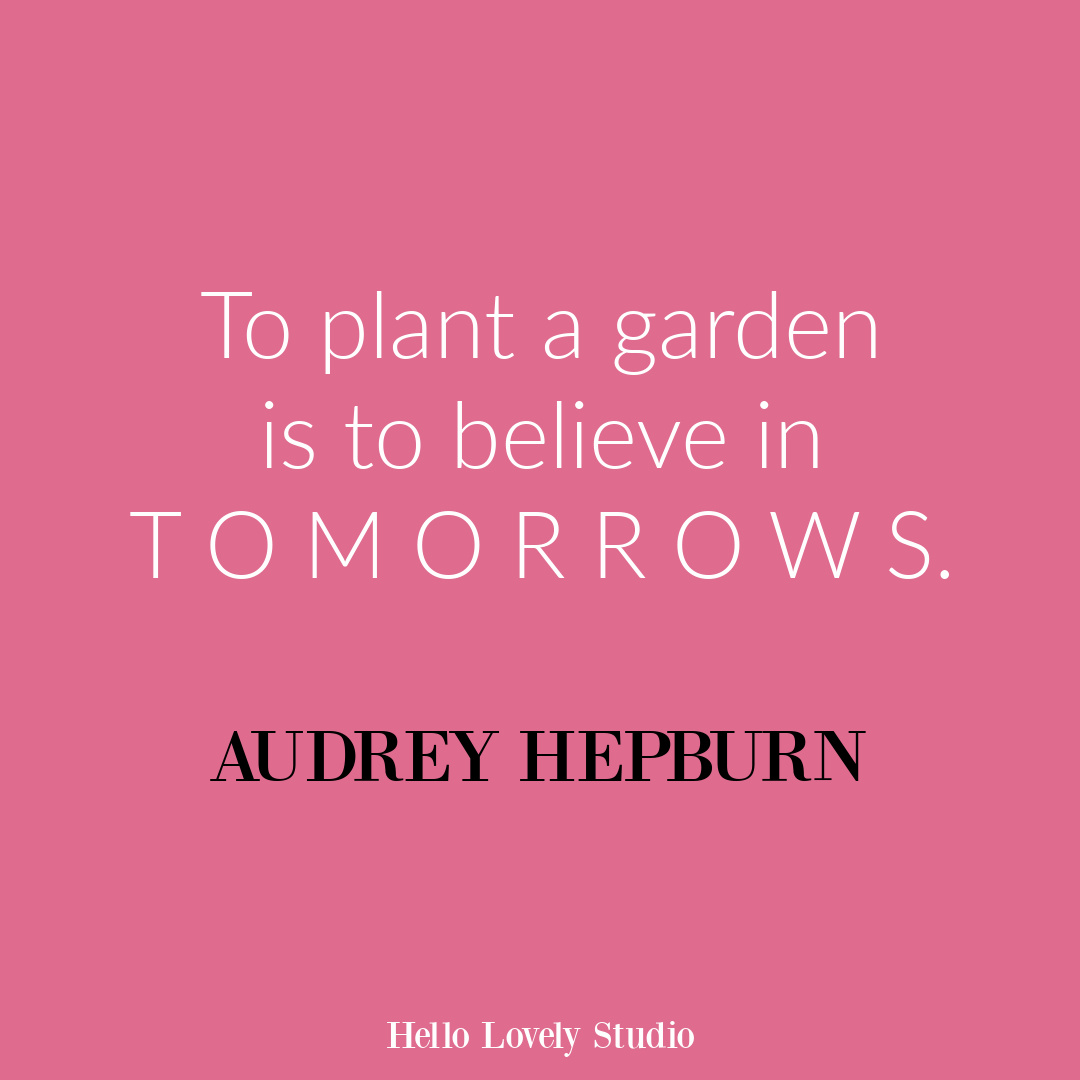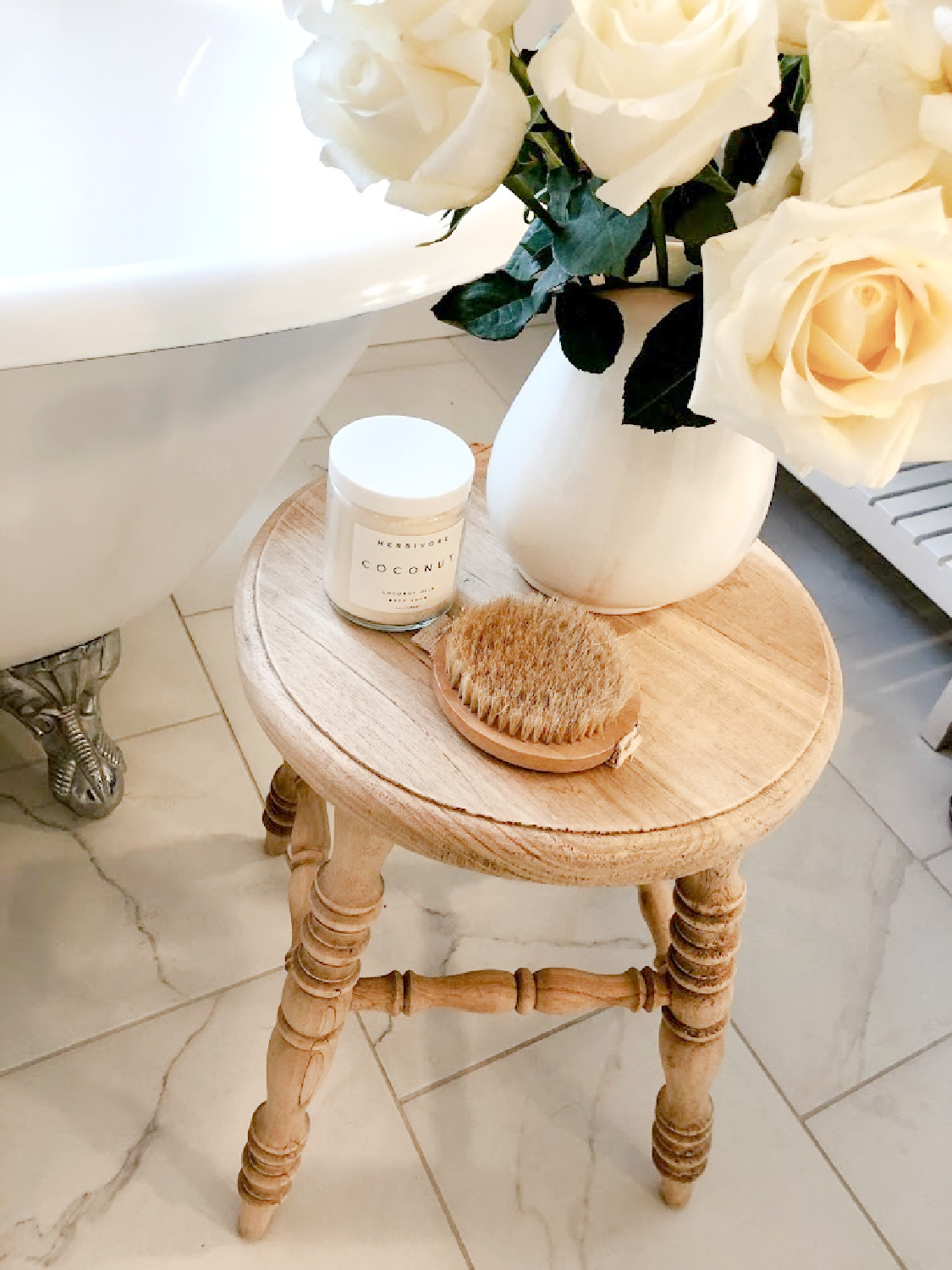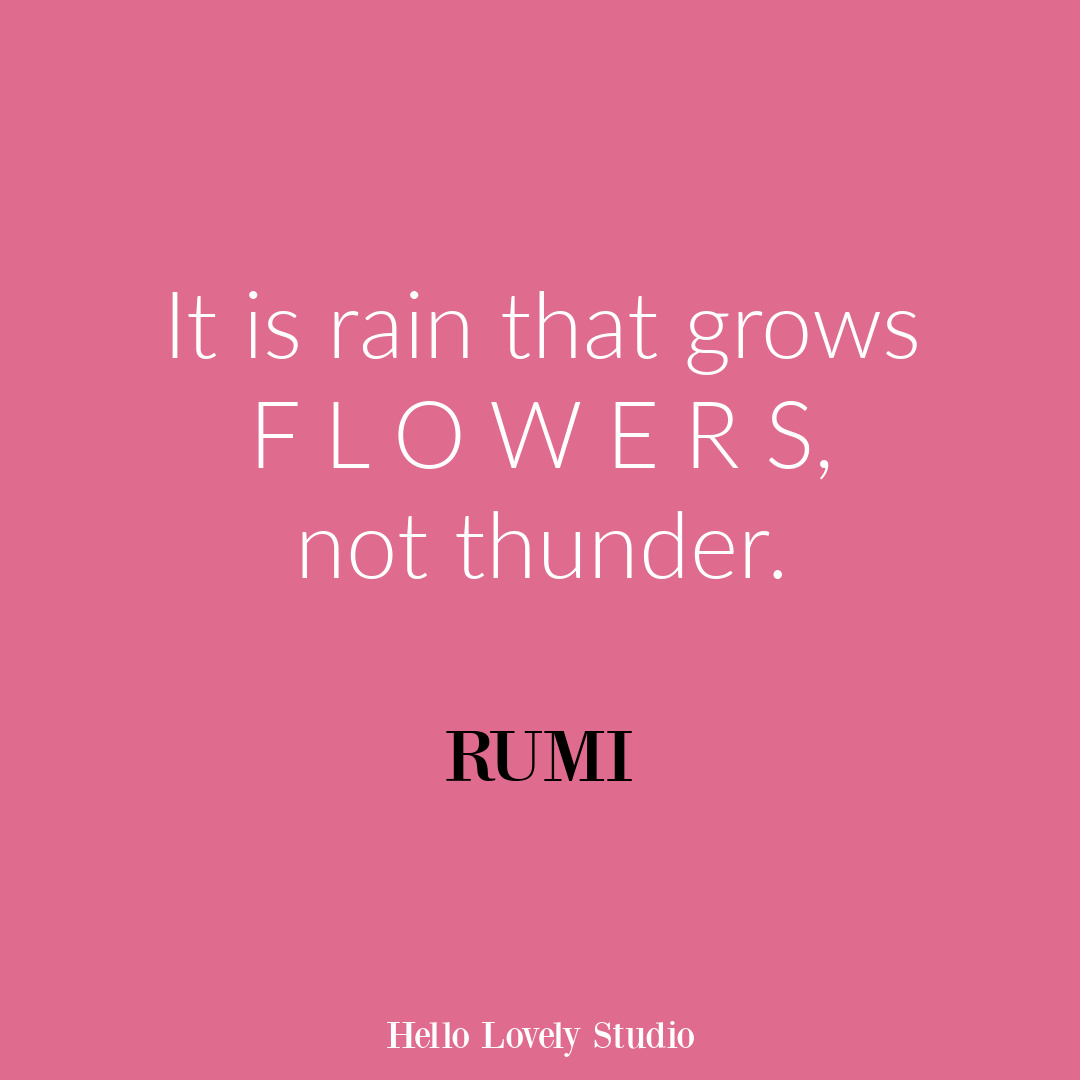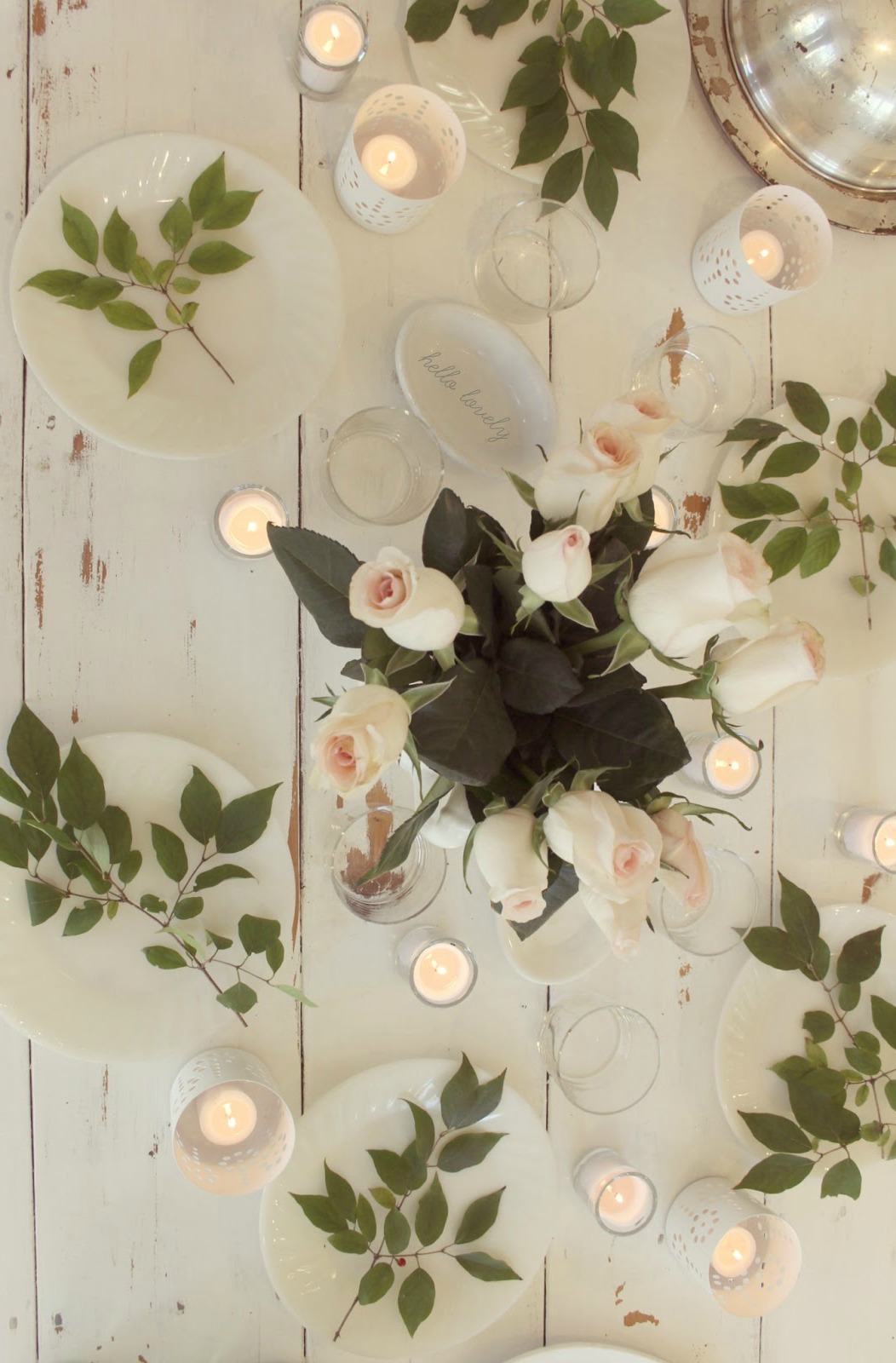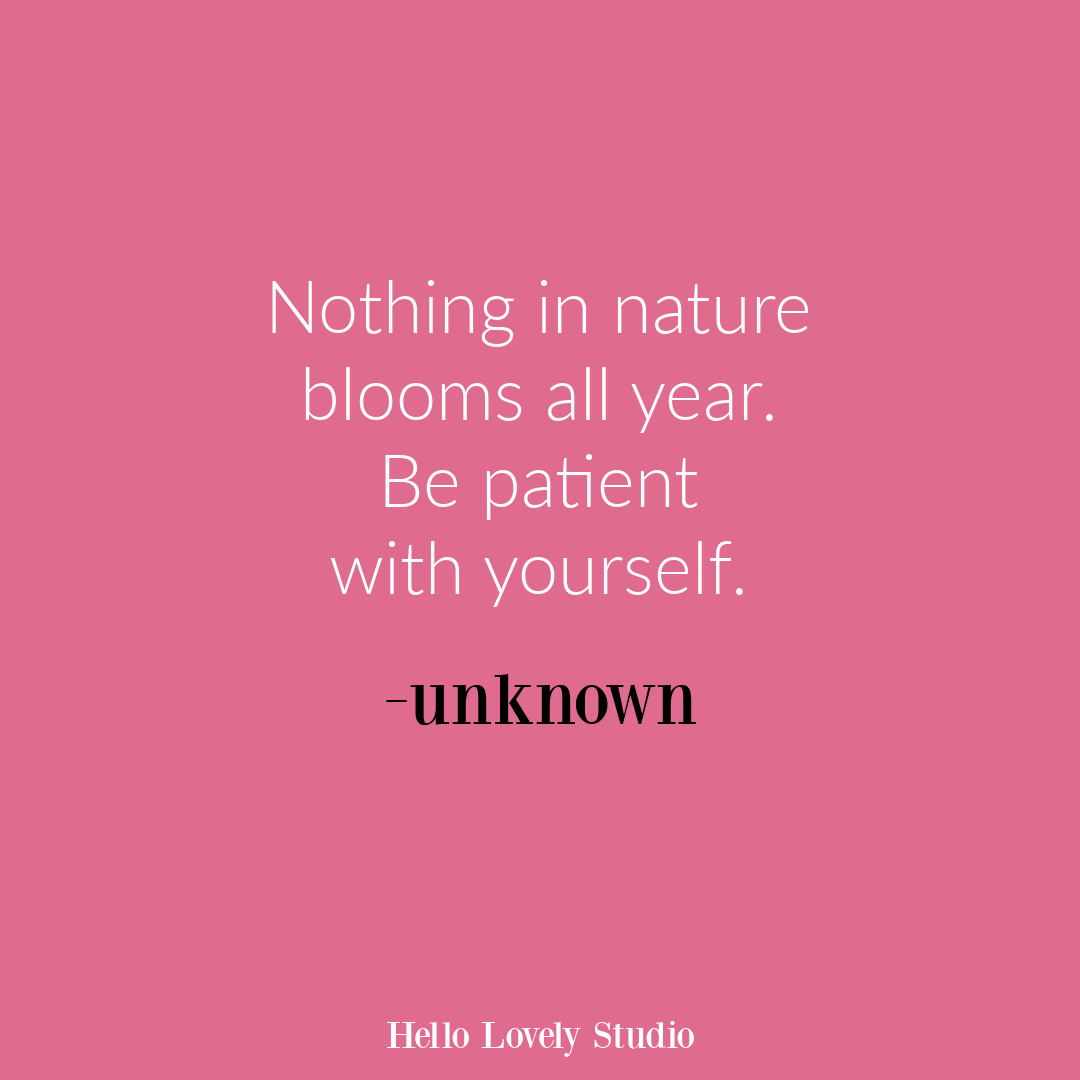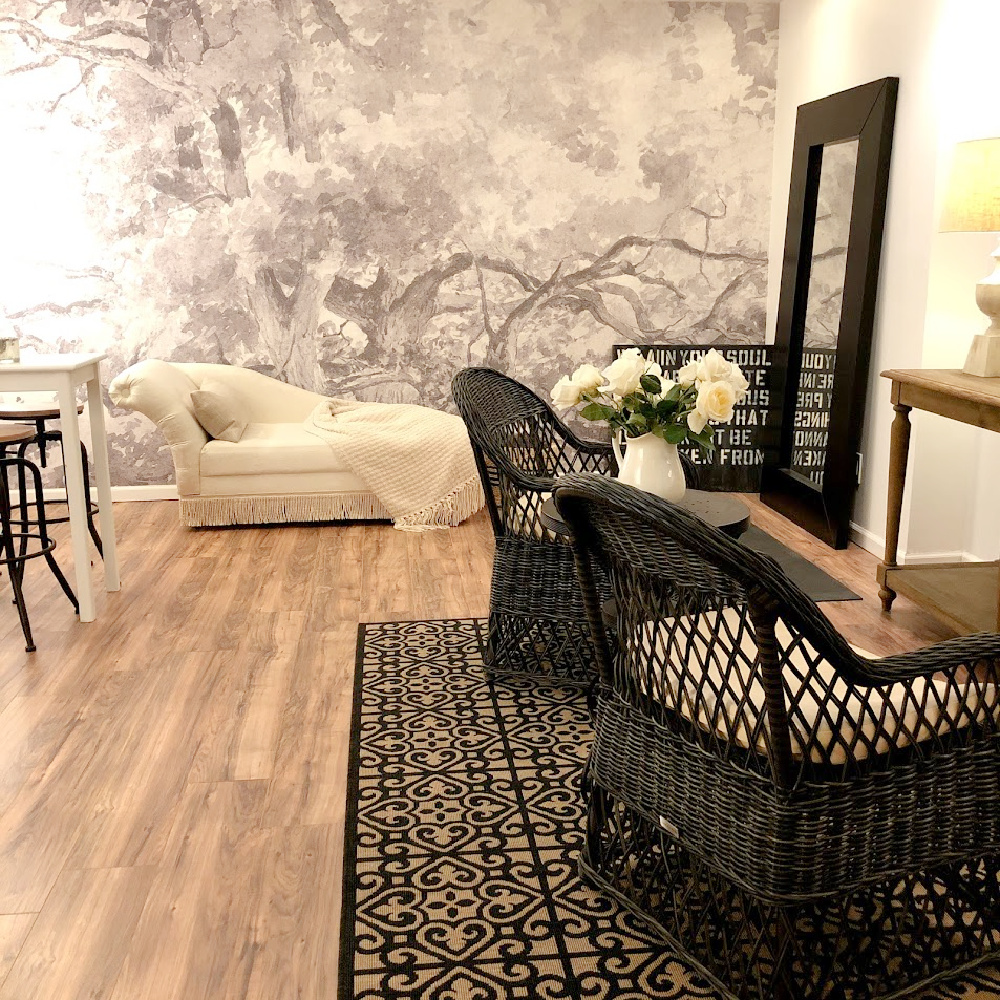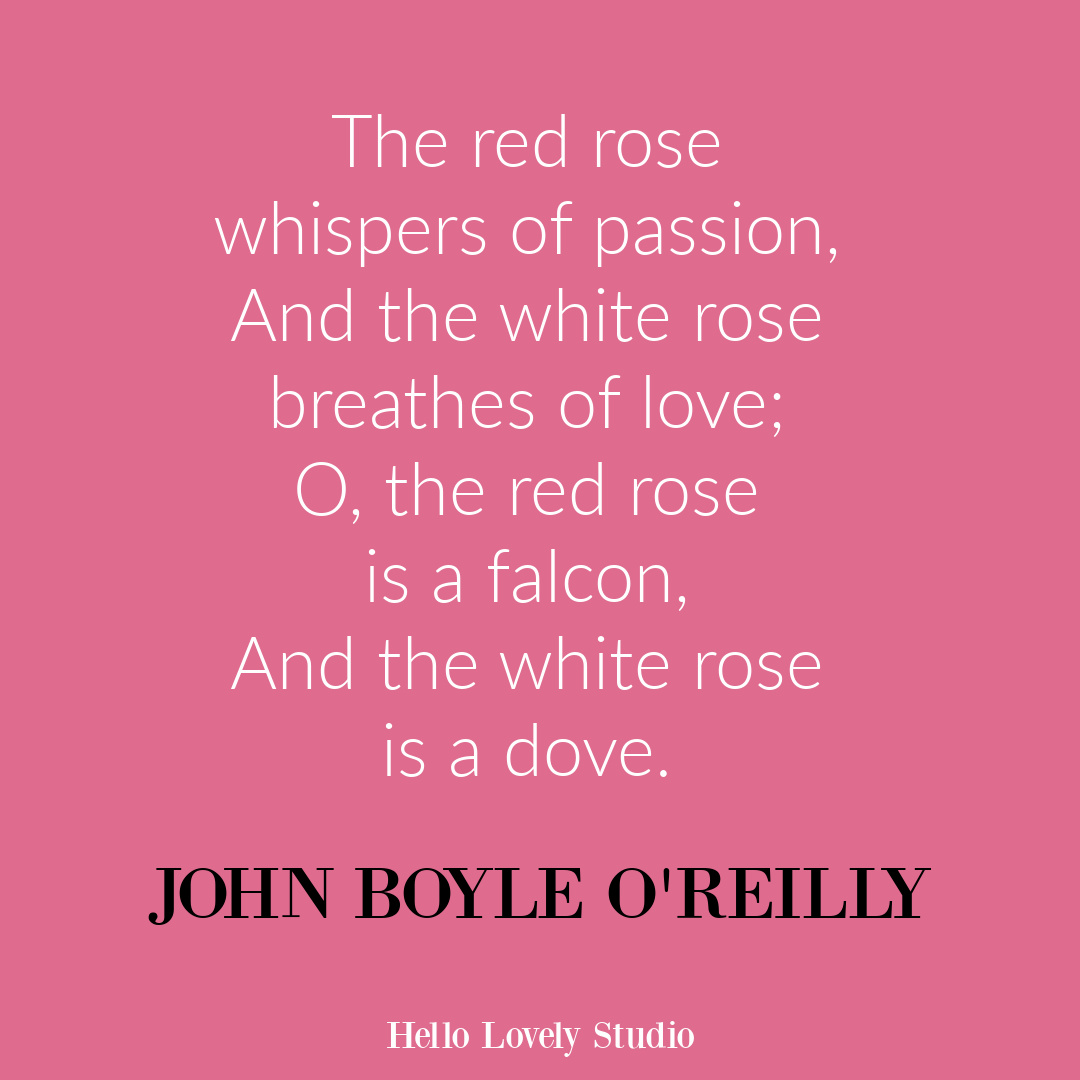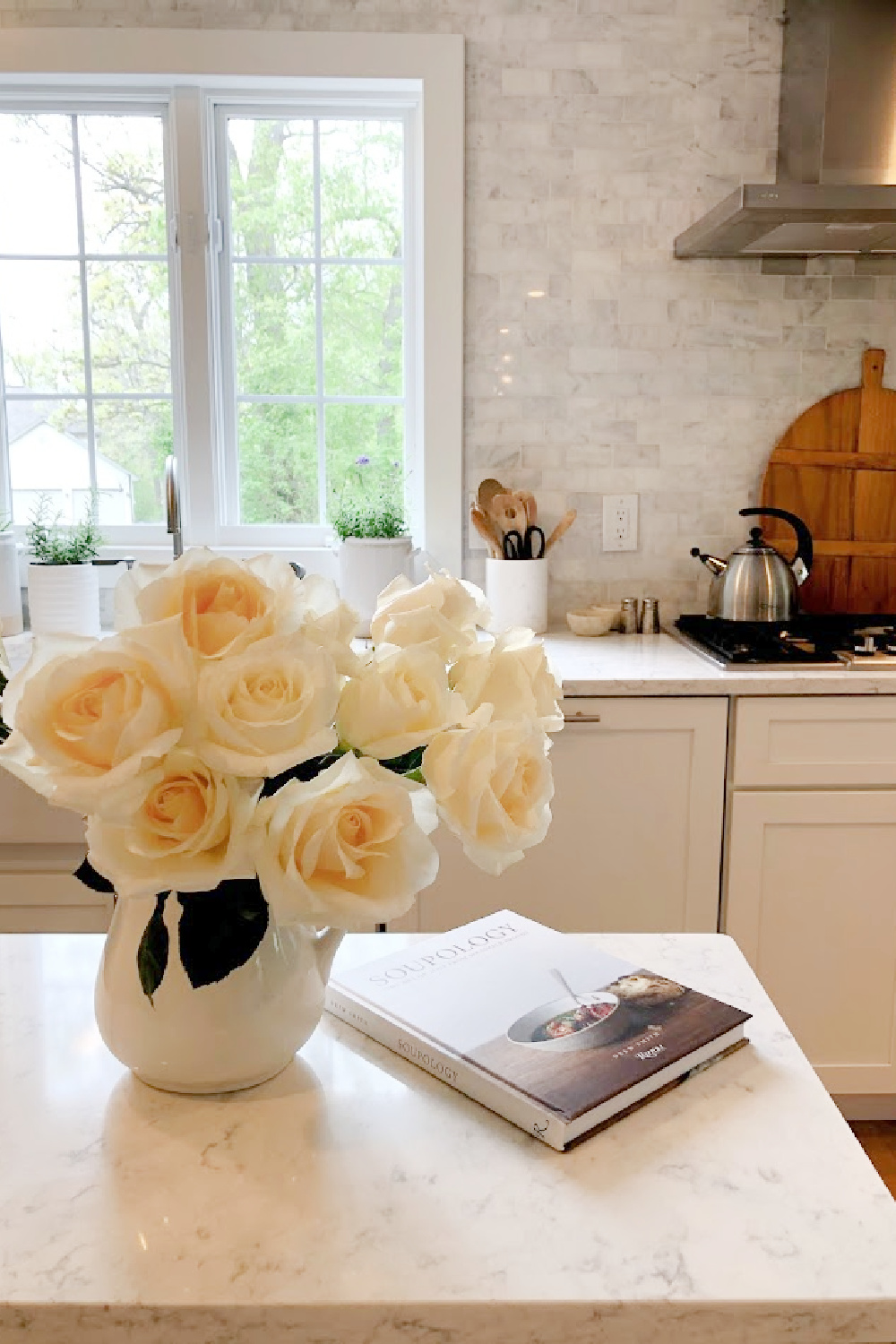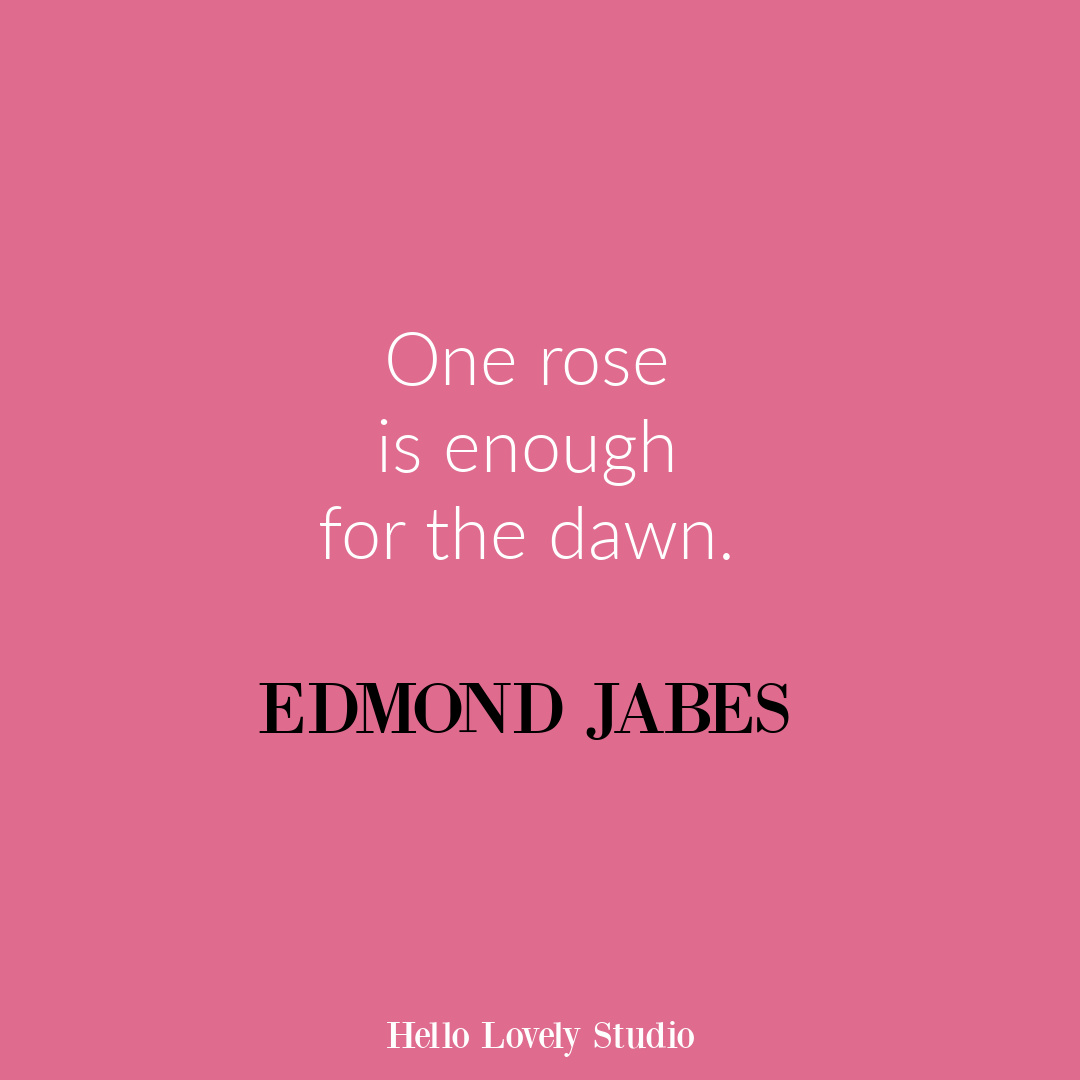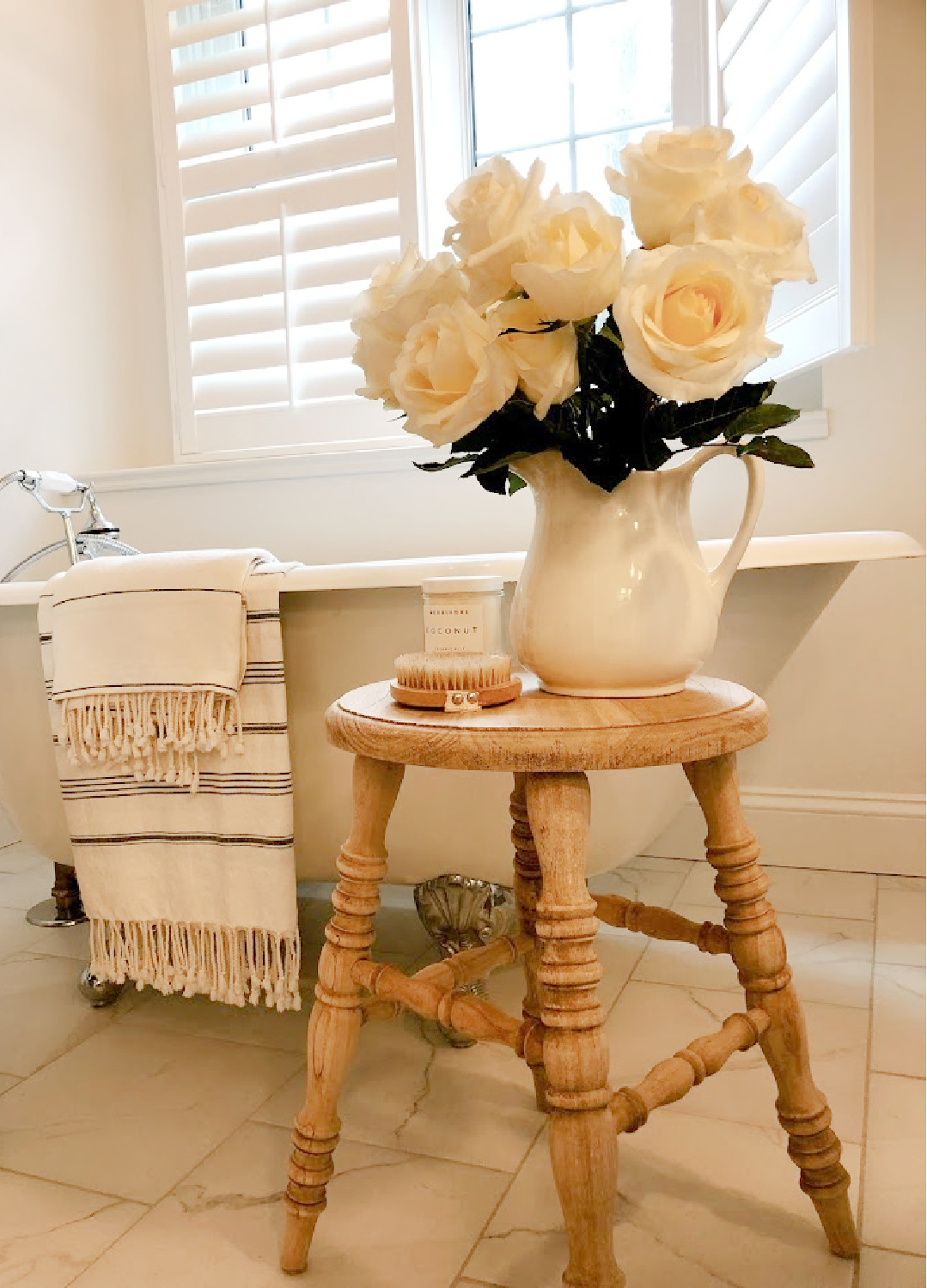 2. Hello Lovely, Everlasting White Roses
When fresh florals or white roses aren't available, there's no shame in enjoying the everlasting variety!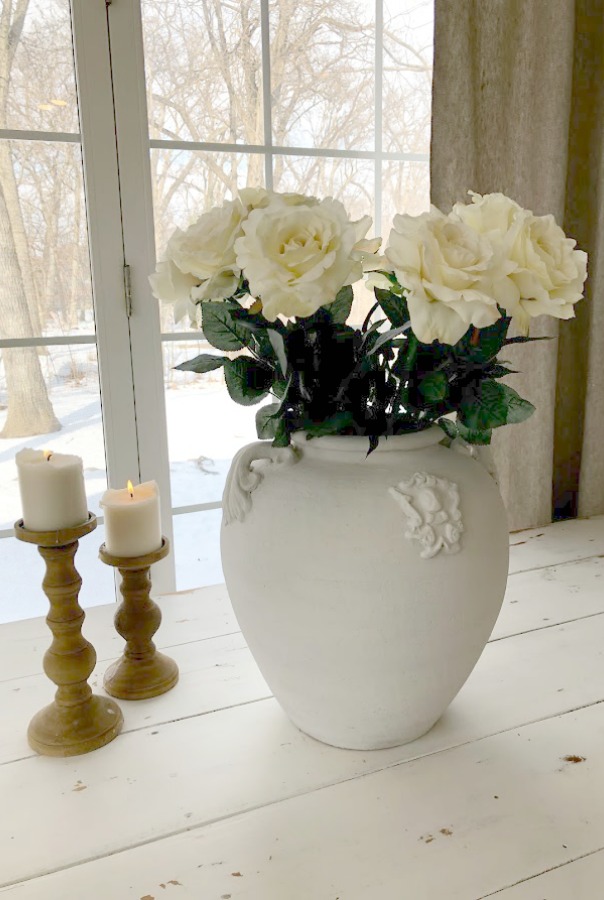 If you haven't shopped for an arrangement lately, you may be surprised by the possibilities.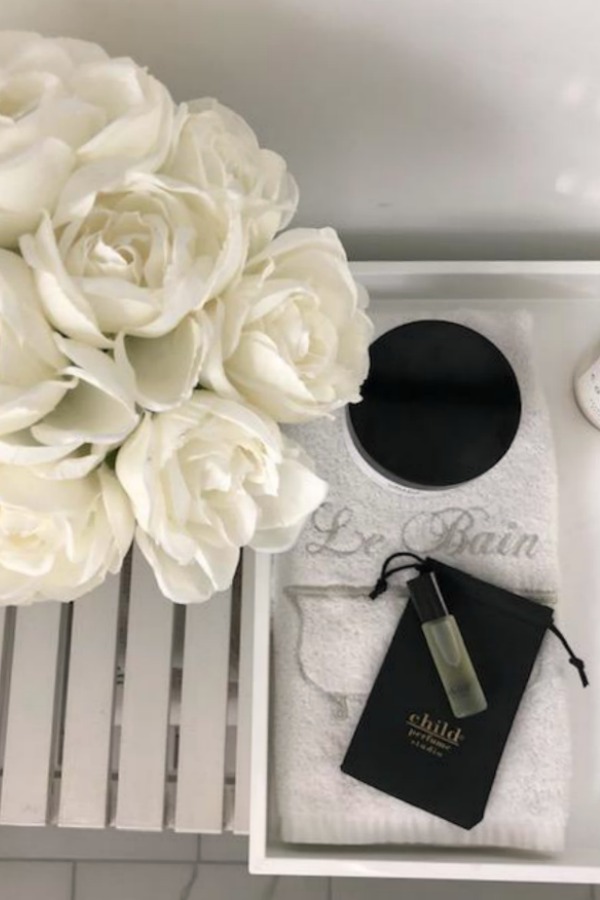 Silk, dried, and other everlasting artificial roses often look just fine in a clear glass vase or container.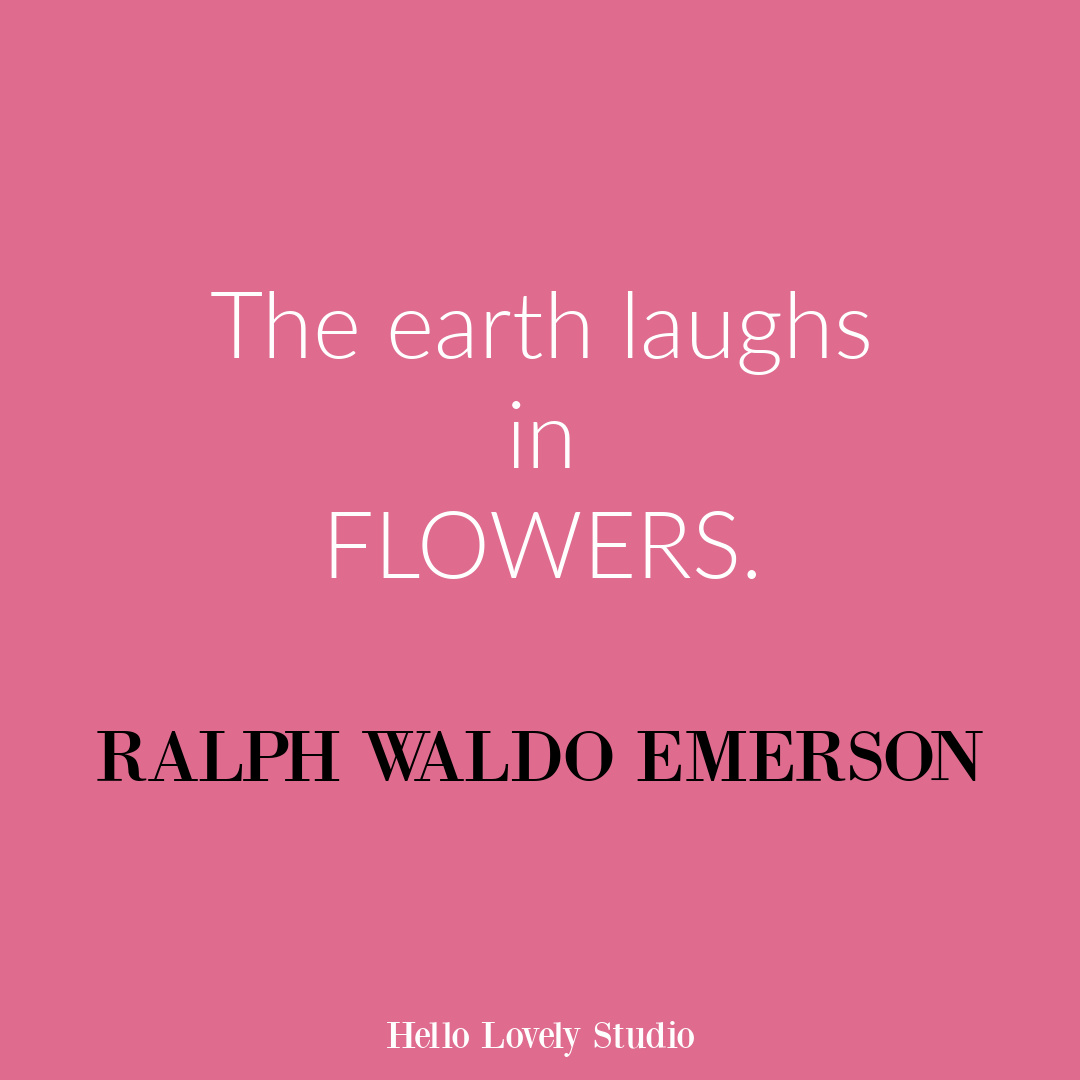 But my favorite way to display them is in aged urns or terracotta pots.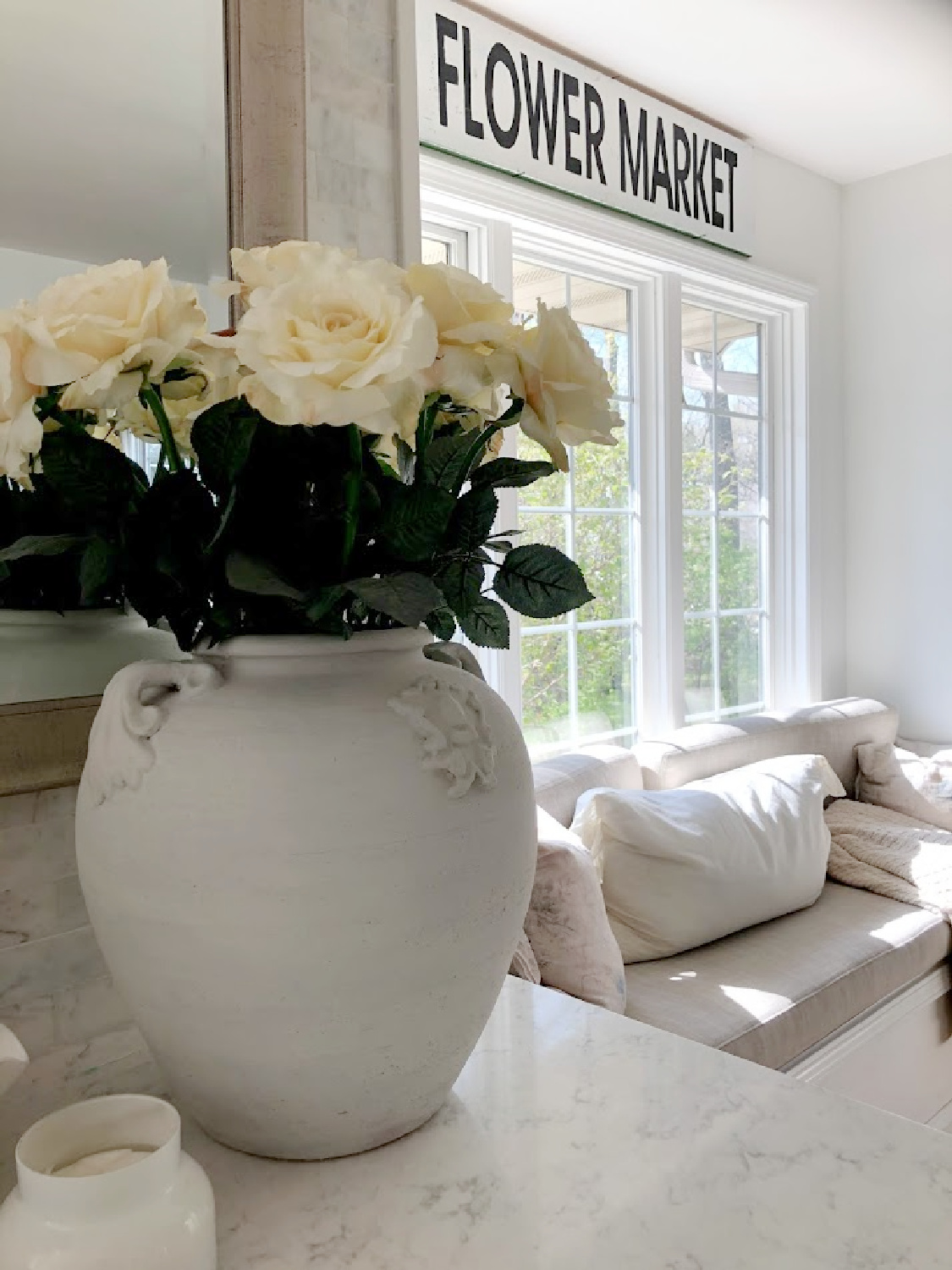 Antique pots from France can be pricey, so consider thrifting ordinary urns and painting/distressing them to your liking.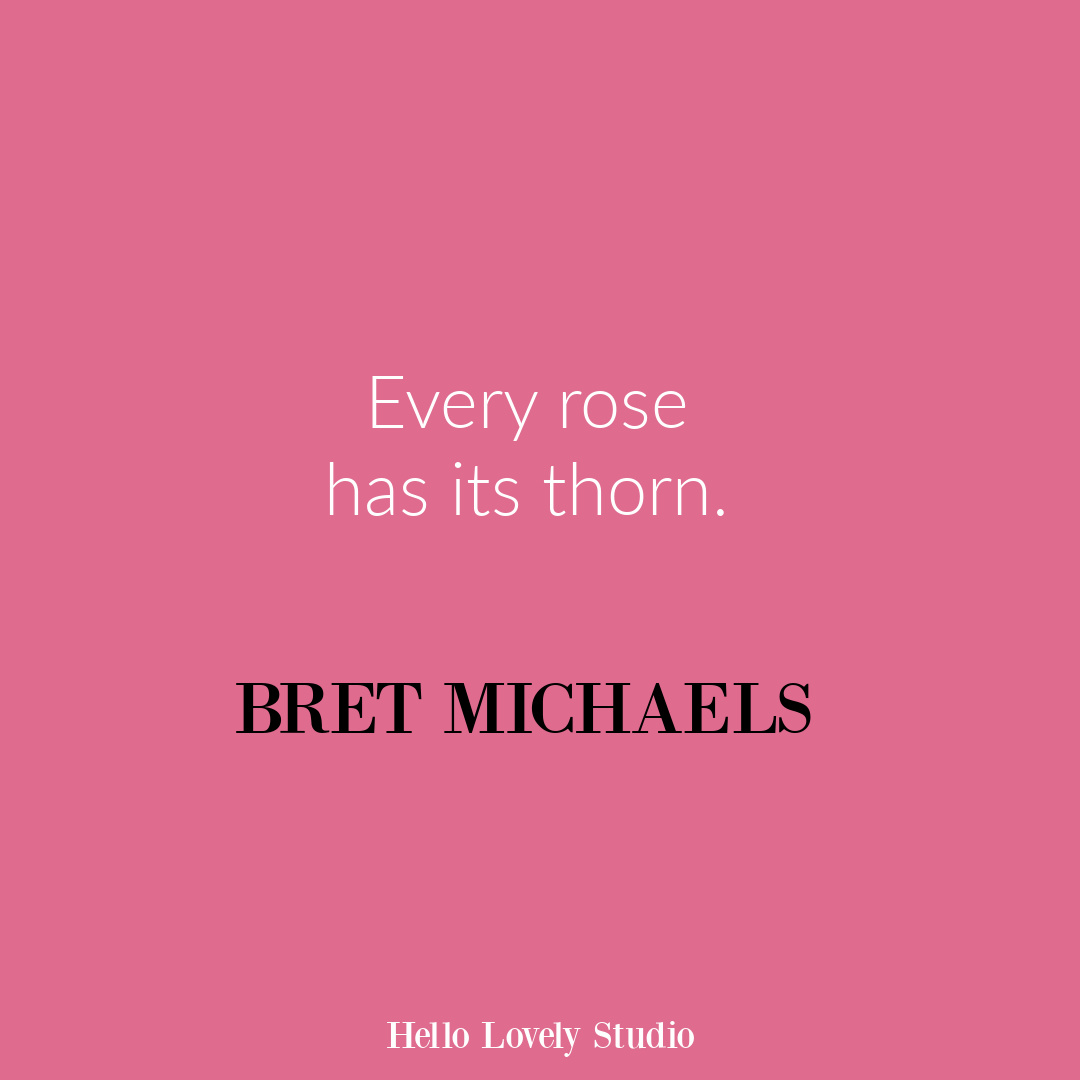 3. Super Easy DIY Plaster Roses
You'll find all sorts of ways to craft or style with these easy DIY plaster roses.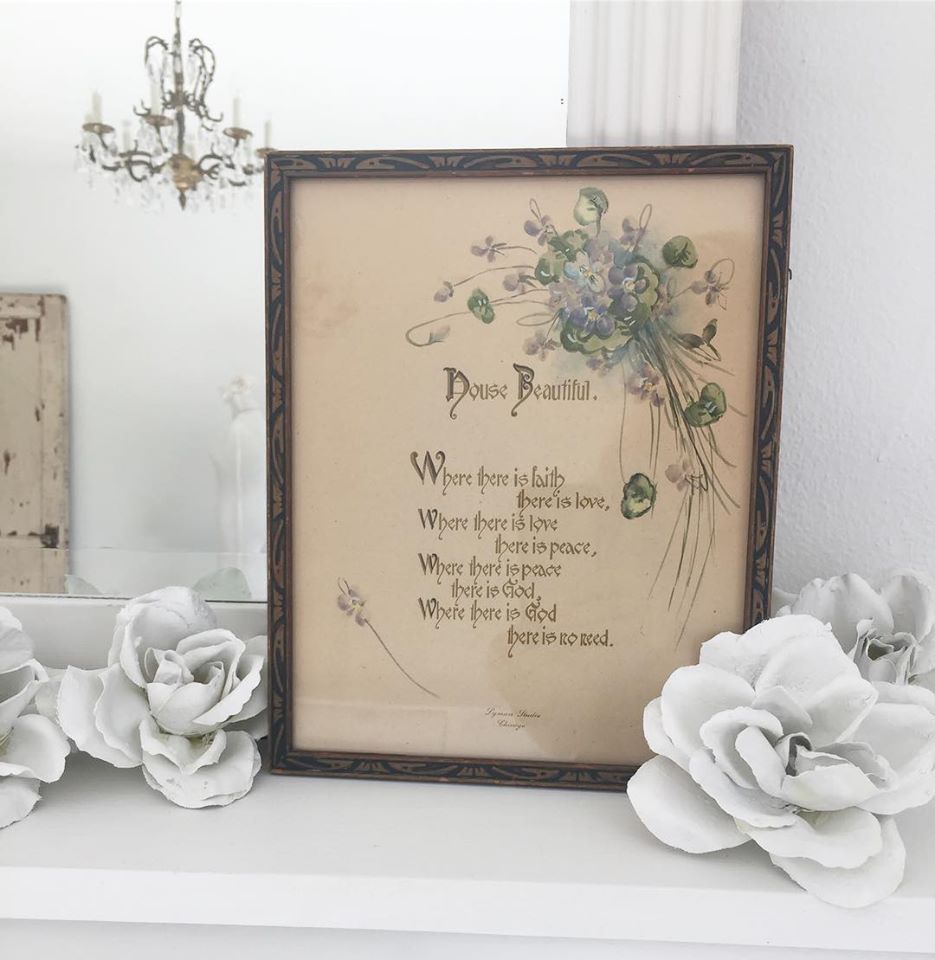 You can hot glue them to a canvas or simply decorate with them by adding a few to a shelf or a lonely tabletop. Watch youtubes for tutorials if you're not like me and going to simply wing it!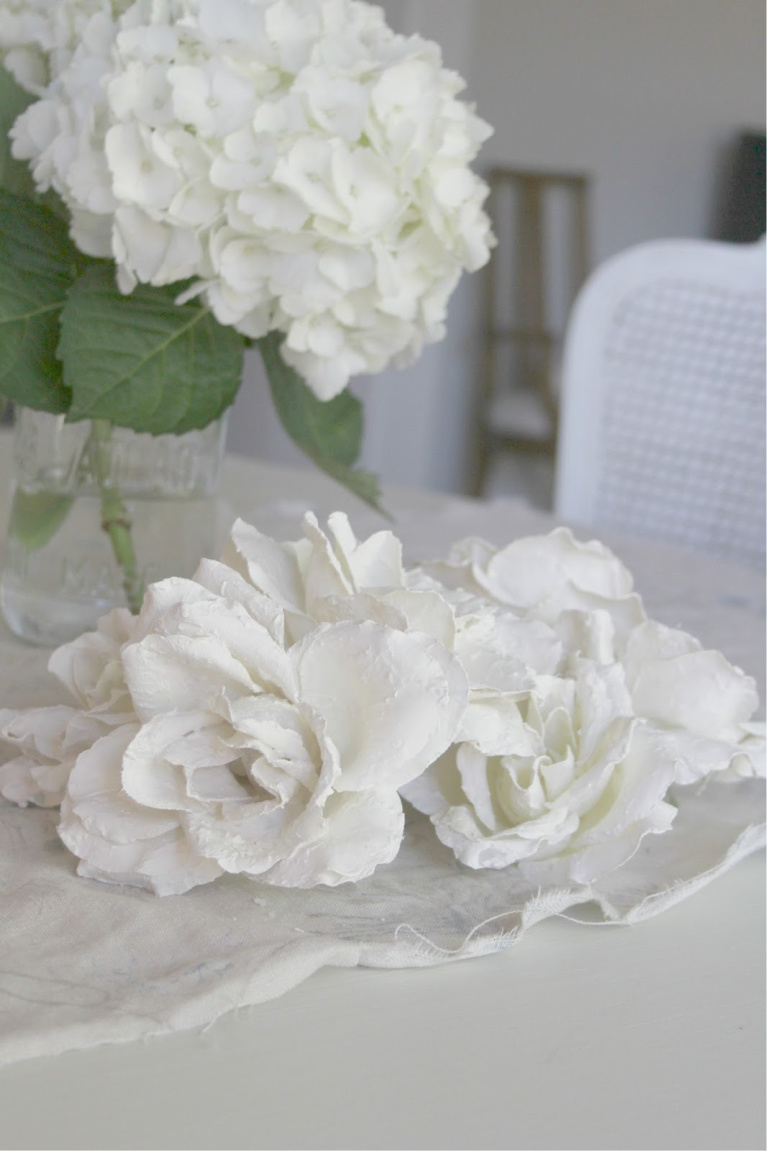 The basic idea is: buy your favorite artificial roses, remove the flowers from their stems, dip in a mixture of plaster of Paris and water, and let dry. Here's a lovely tutorial for plaster dipped flower art from the beautiful blog So Much Better With Age: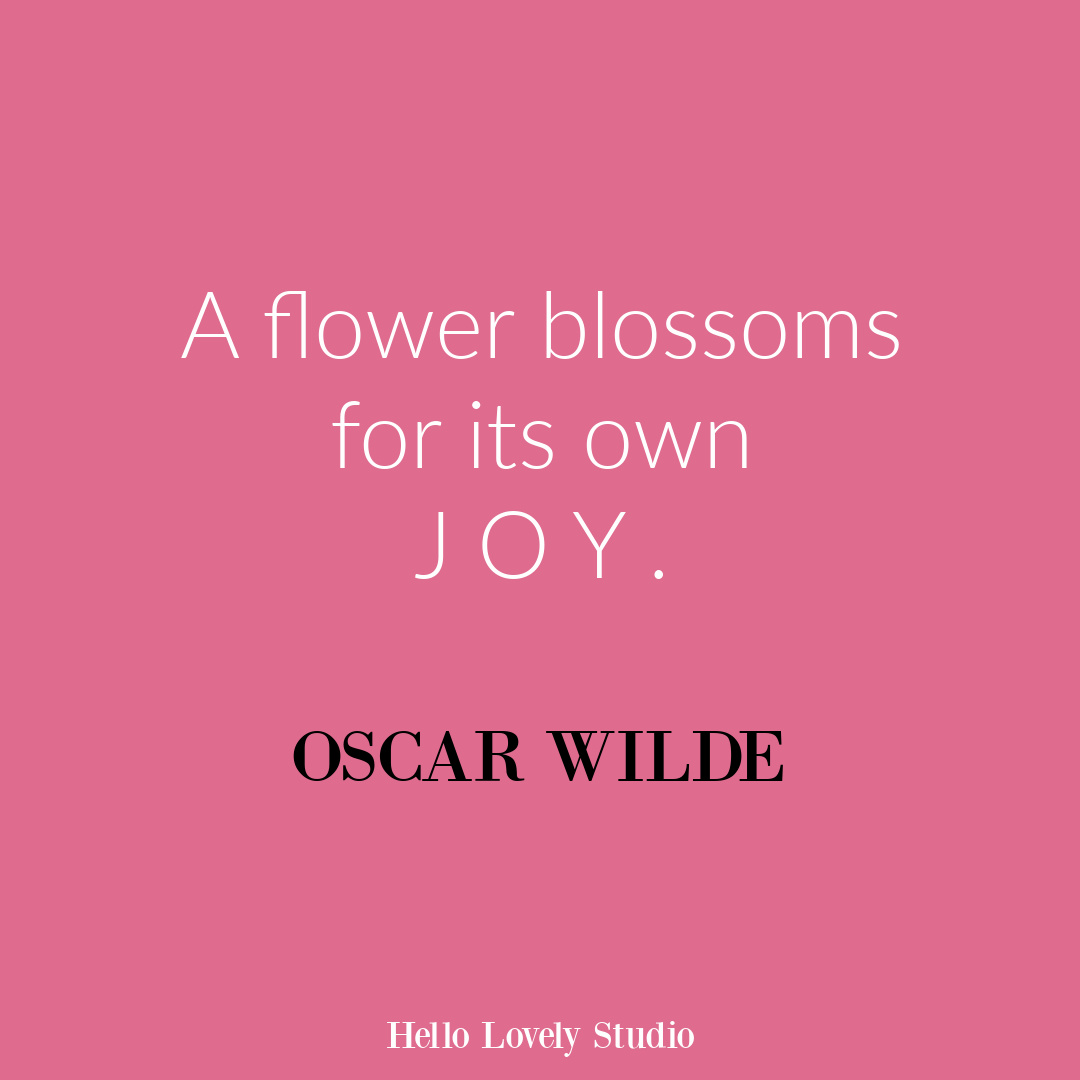 4. DIY Rose Petal Skin Polish
If you were a child of the '70s, I bet you concocted skin-smoothing scrubs and potions like I often did. Egg white masks, anyone? Here's a quick and easy gentle sugar scrub recipe. Use it to refine the texture of your skin, to buff away dead skin cells, or even to soften bathwater.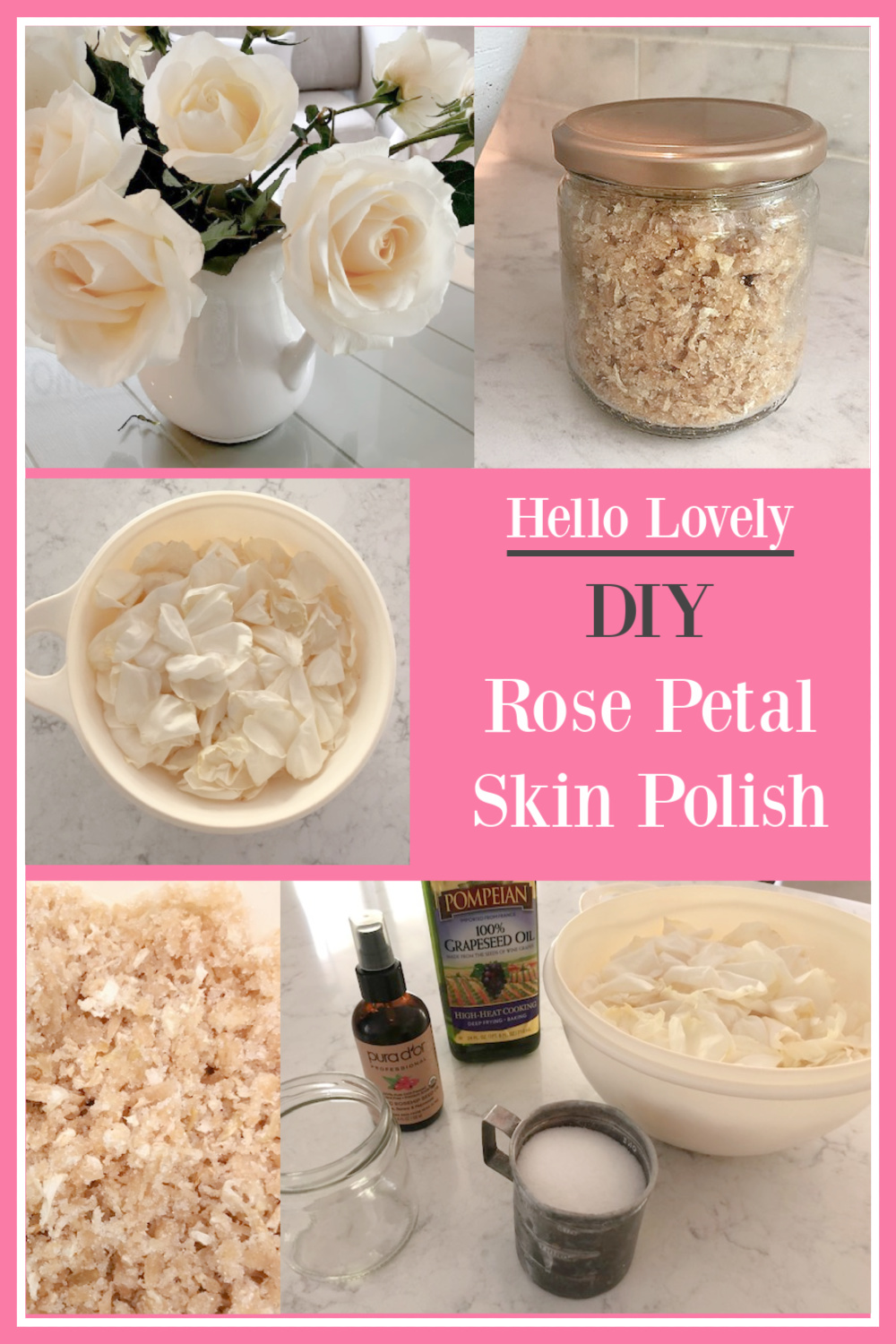 DIY Rose Petal Skin Polish instructions. 1. Remove enough rose petals from roses (organic fresh roses) so you have 1 1/2 cups of petals. 2. Grind/blend petals together with 1 cup granulated sugar. I used my Vitamix to create a fluffy mixture resembling golden brown sugar or toasted coconut. 3. Transfer mixture to a mixing bowl and stir in 1/4 cup grapeseed oil plus 15 drops organic rosehip seed oil. (I apply rosehip seed oil to my rosacea-prone face every morning and night. It is not the same product as rose oil or rosewater, and rosehip has wonderful anti-inflammatory and healing properties.) 4. Store the Skin Polish in a clean jar with lid for up to 2 weeks. Teeny wood spoons are nice with these scrubs as well!
White Roses Bring Peaceful Beauty to the Everyday
Let's face it. Nature provides the most beautiful décor to bring inside, and no matter where you place a pitcher of white roses, you create A MEDITATIVE MOMENT…a moment méditatif de beauté!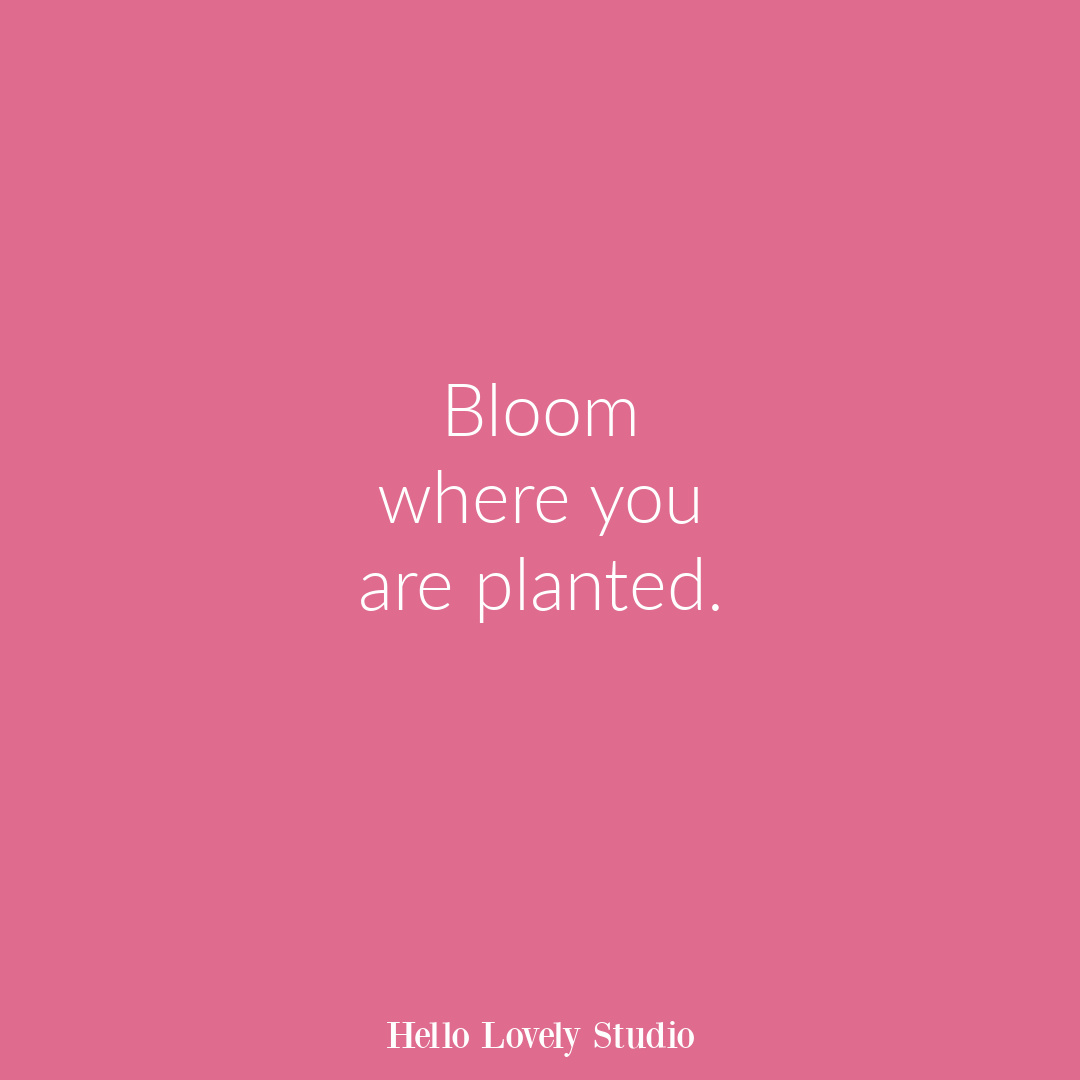 And such moments can transform the everyday, feed the soul, and nurture the psyche.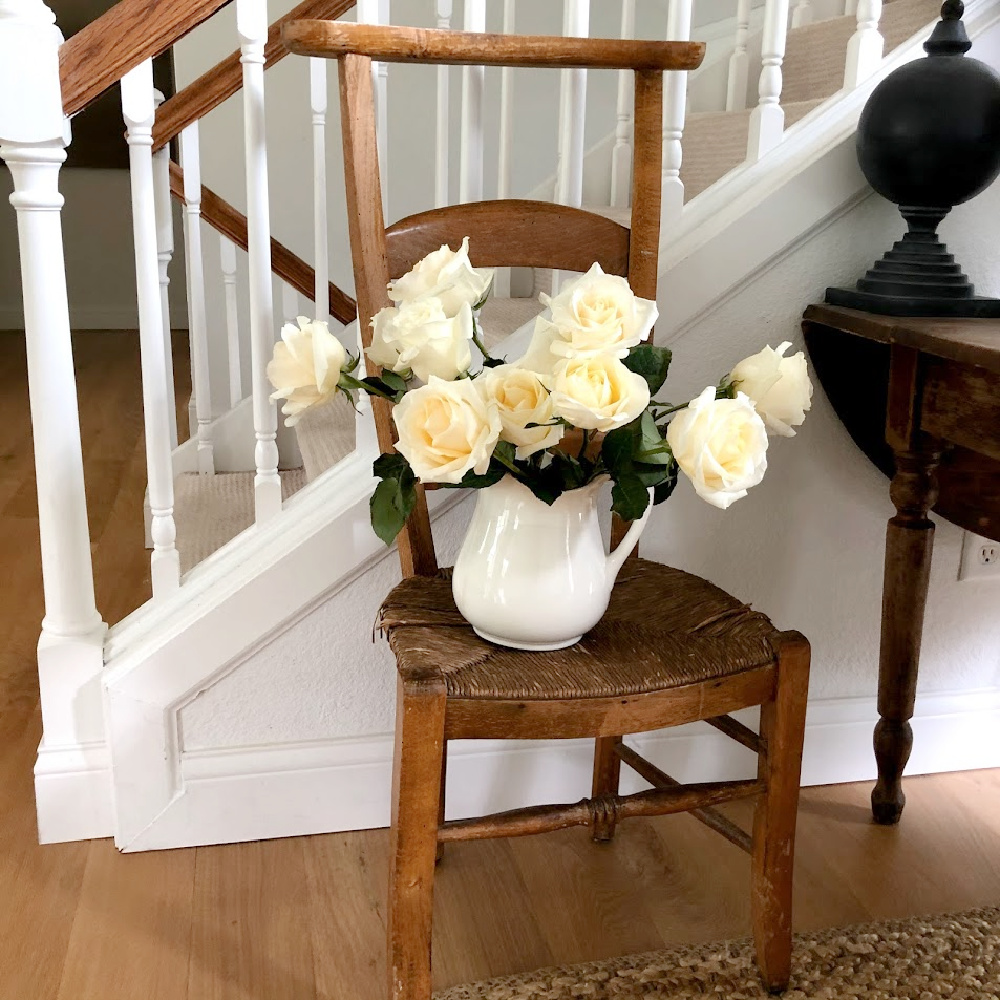 I hope these simple ideas inspire you to savor roses, flowers, and plants in fresh ways!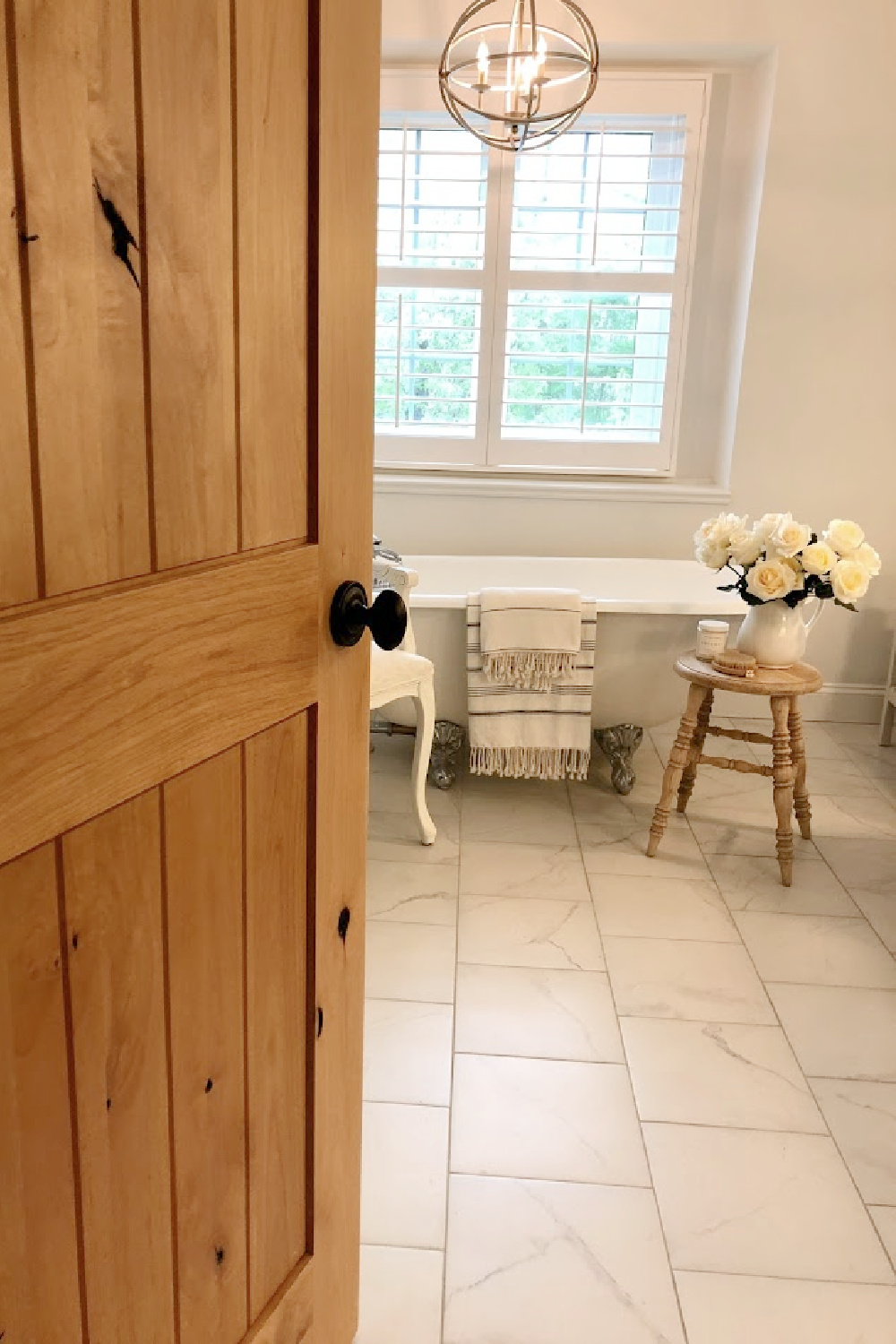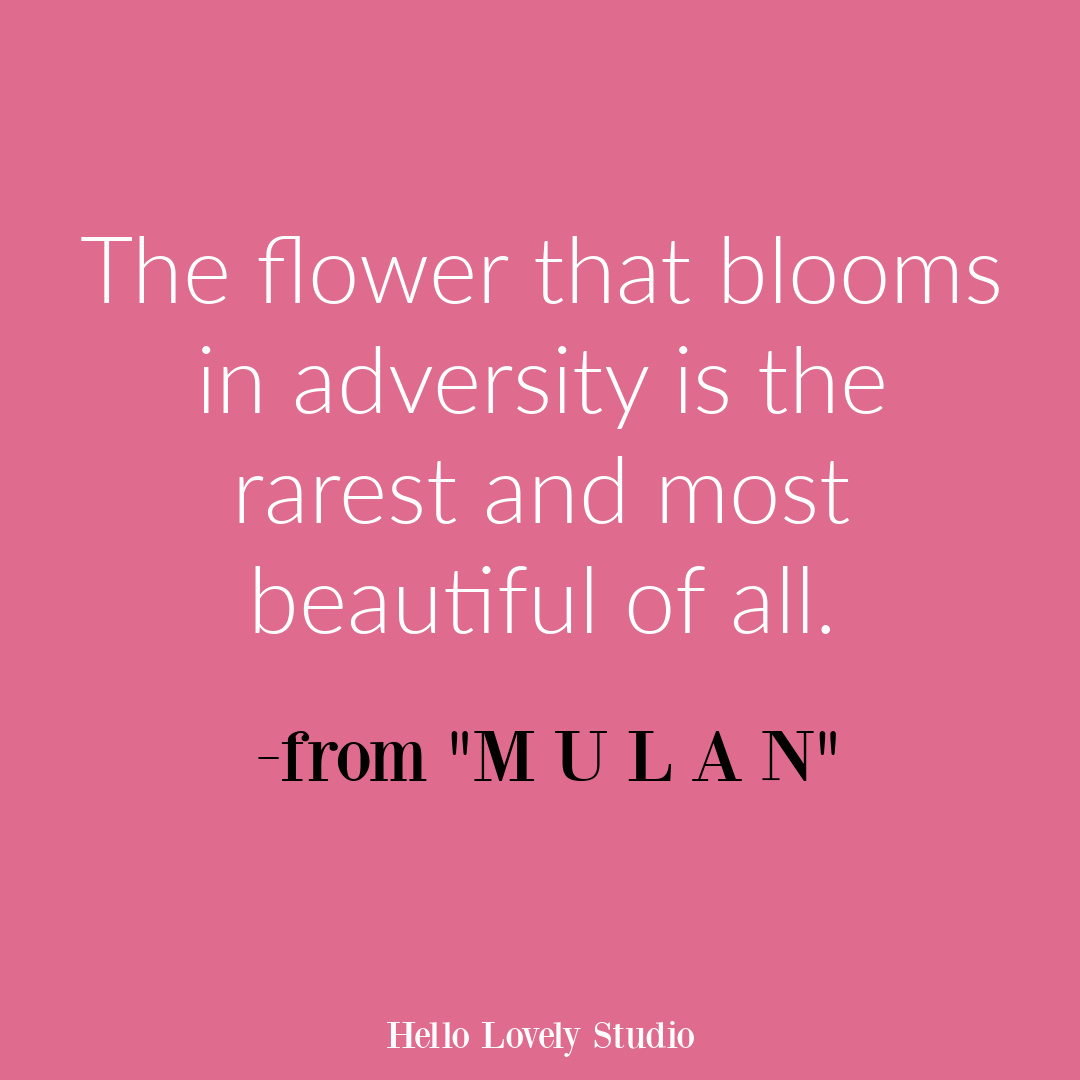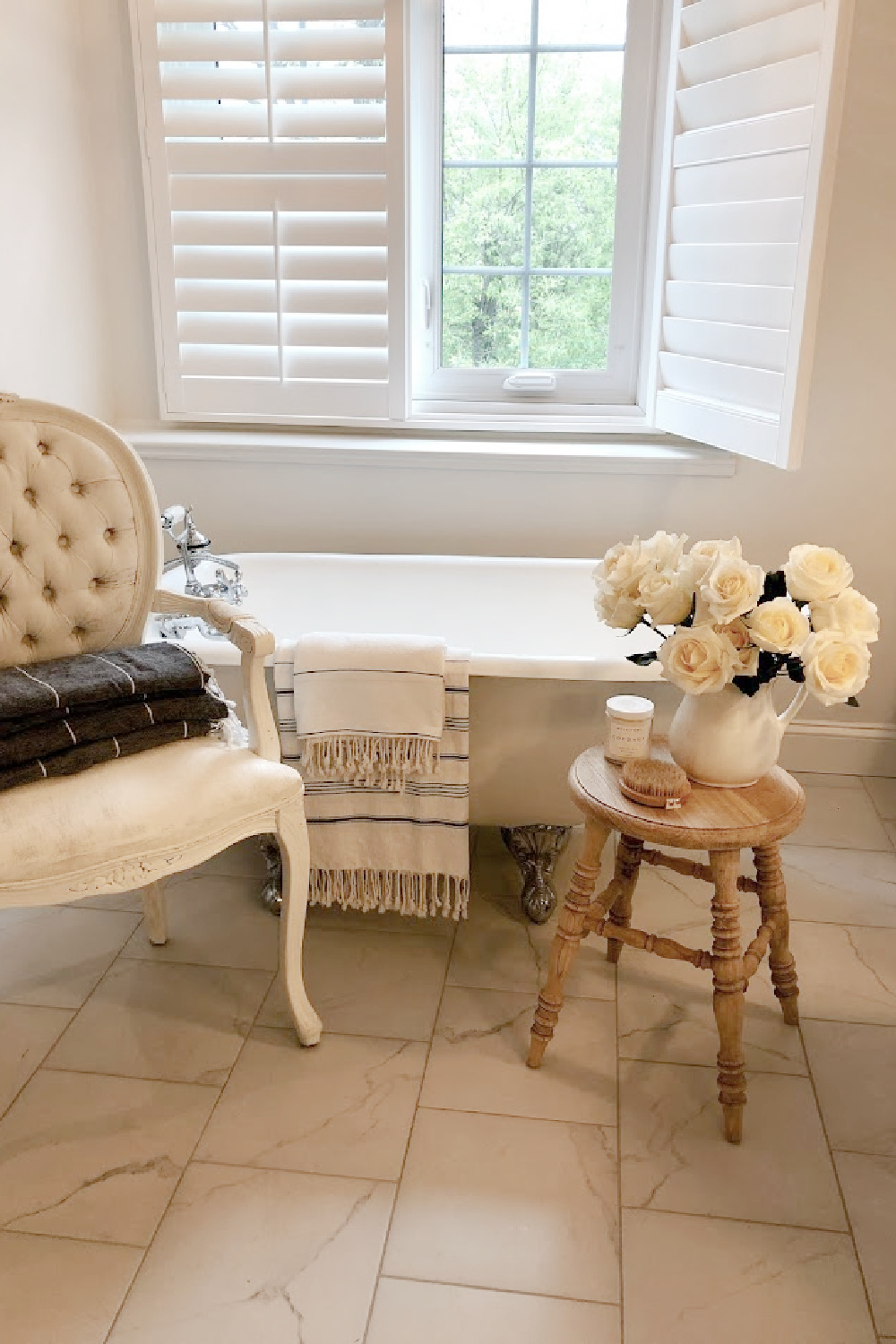 I independently selected products in this post—if you buy from one of my links, I may earn a commission.
Peace to you right where you are.
-michele
Shop for items you already intended to buy on Amazon RIGHT HERE, and also find home decor here to keep decor inspiration flowing on Hello Lovely!
Hello Lovely is a participant in the Amazon Services LLC Associates Program, an affiliate advertising program designed to provide a means for sites to earn fees by linking to Amazon.com and affiliated sites.