This new build with interior design by Jenny Martin Design is oozing with inspiration and is destined to appeal to my fellow Francophile design freaks! 15 Dreamy French Country Design Ideas to Inspire tours a Canadian home with exquisite architecture and Old World style interpreted in fresh, modern terms. I think you'll fall for the exterior charm and classic interiors decorated with a restrained palette.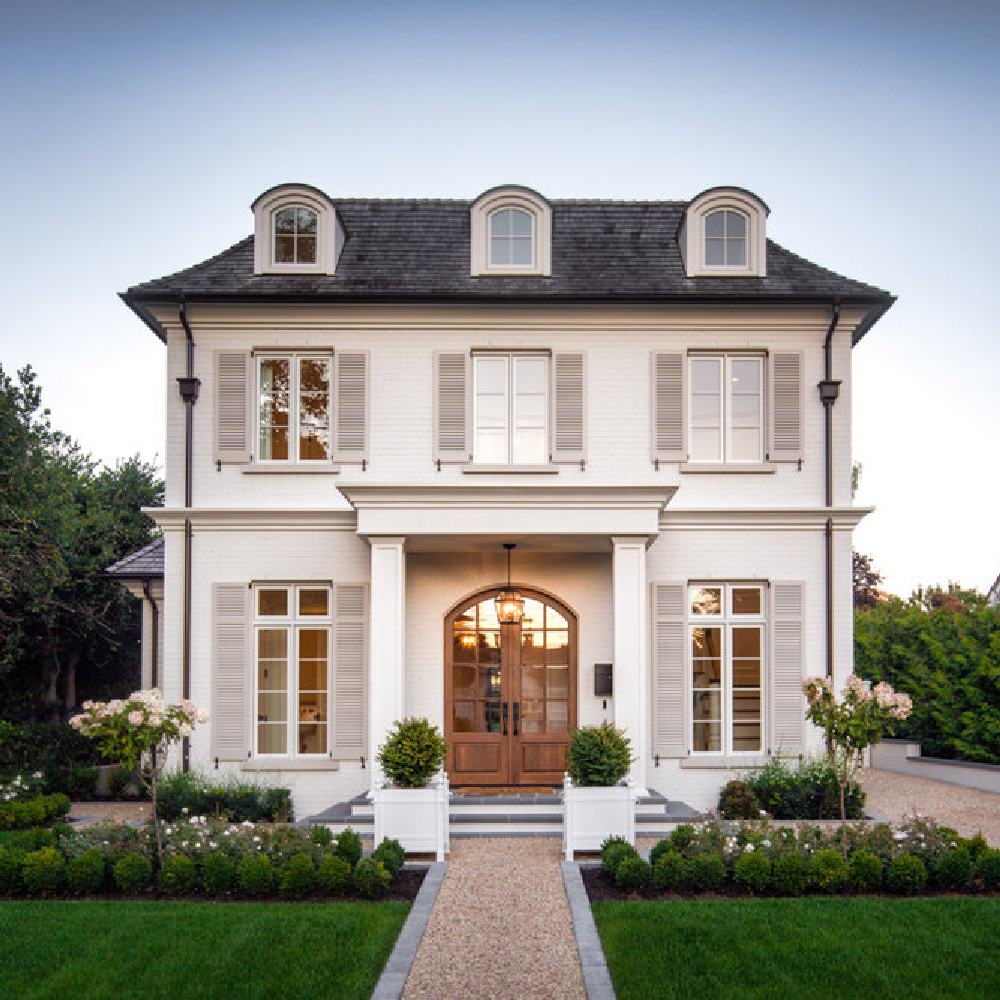 Project: Maison de Lee (in Victoria's South Oak Bay neighborhood); Builder: M. Knight Construction; Home Design: Zebra Group; Interiors: Jenny Martin Design
15 Dreamy French Country Design Ideas to Inspire
1. White Brick Exterior
Even though a lot of folks have grown tired of seeing homes of all styles getting the "modern farmhouse treatment" with white painted brick and black trim, this home wears her white brick gloriously.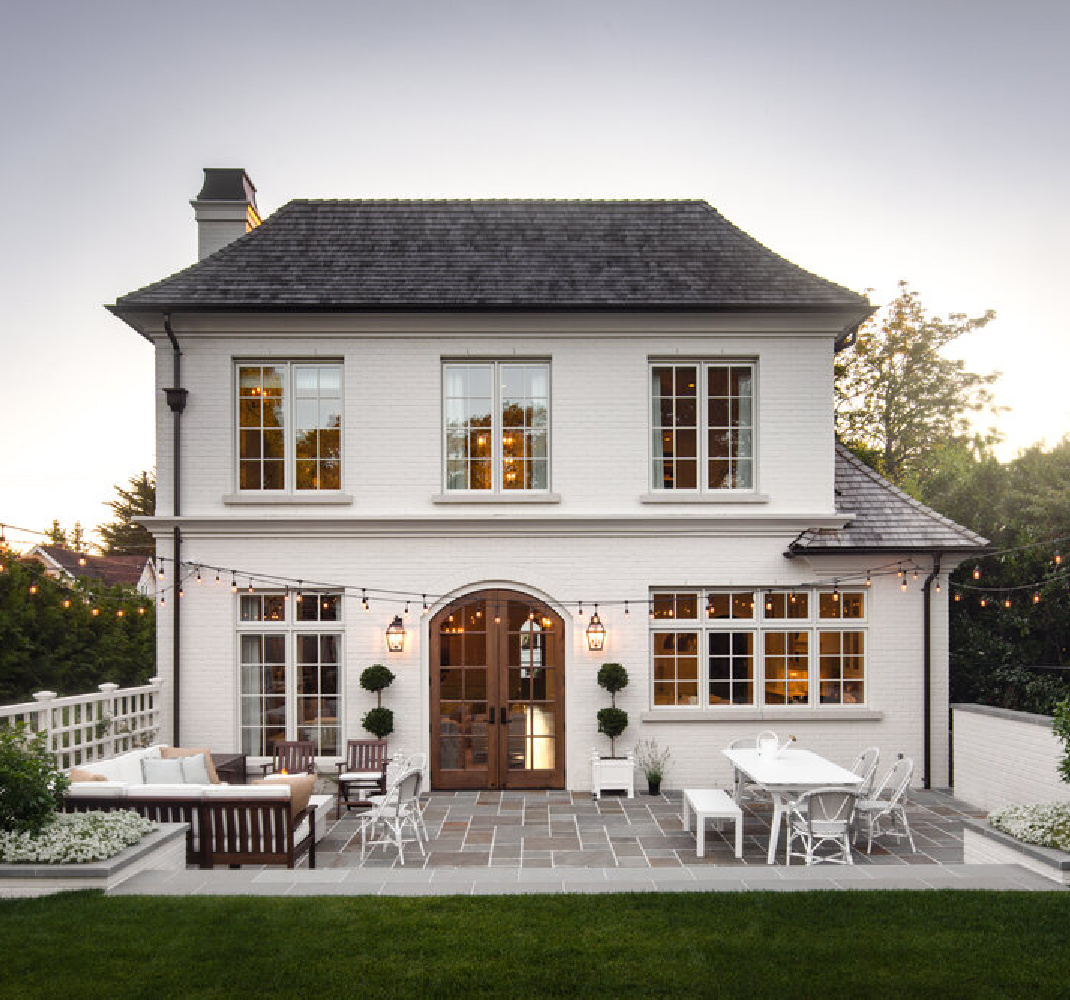 Notice how her eyebrows are on fleek…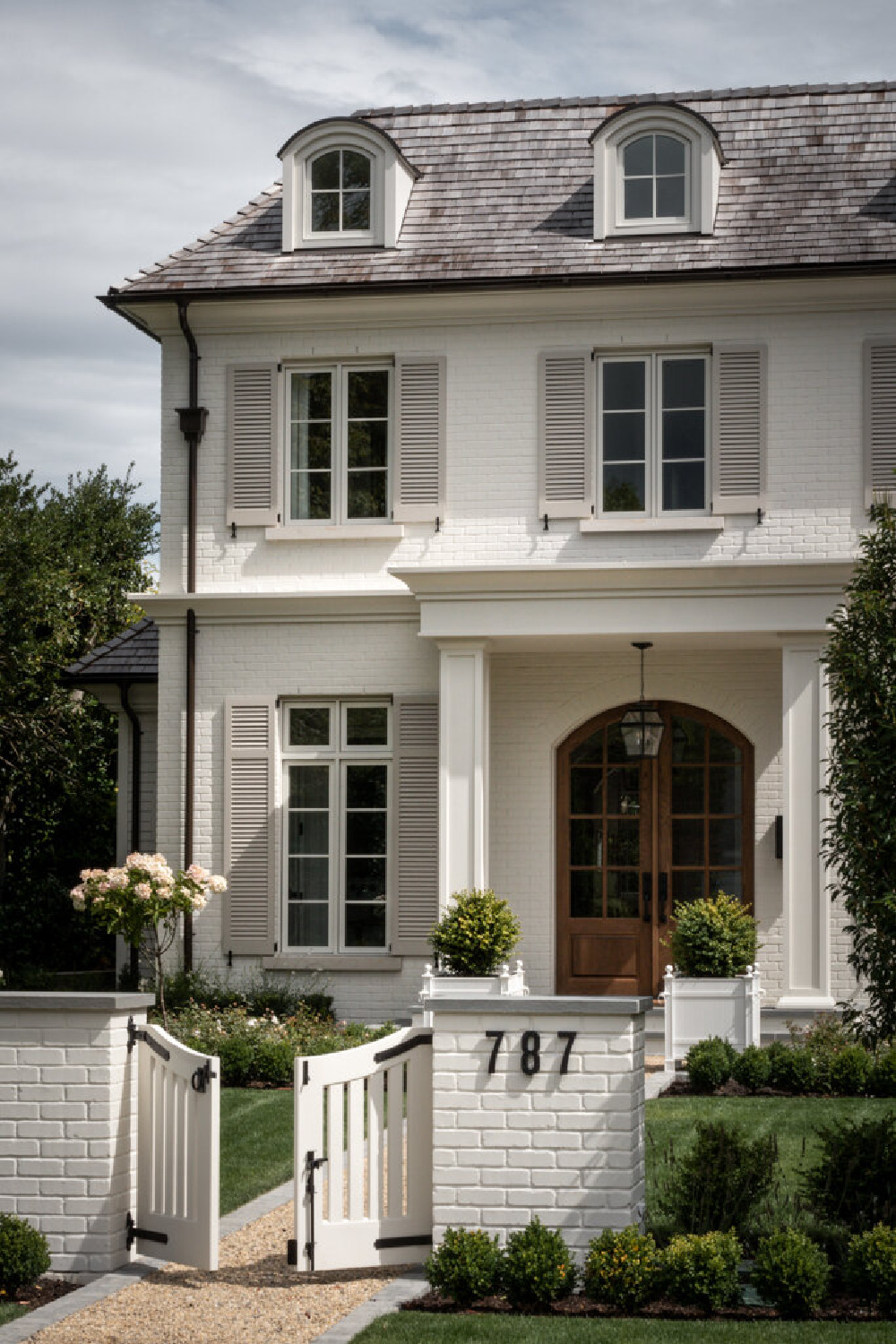 and isn't this an inviting entrance!?!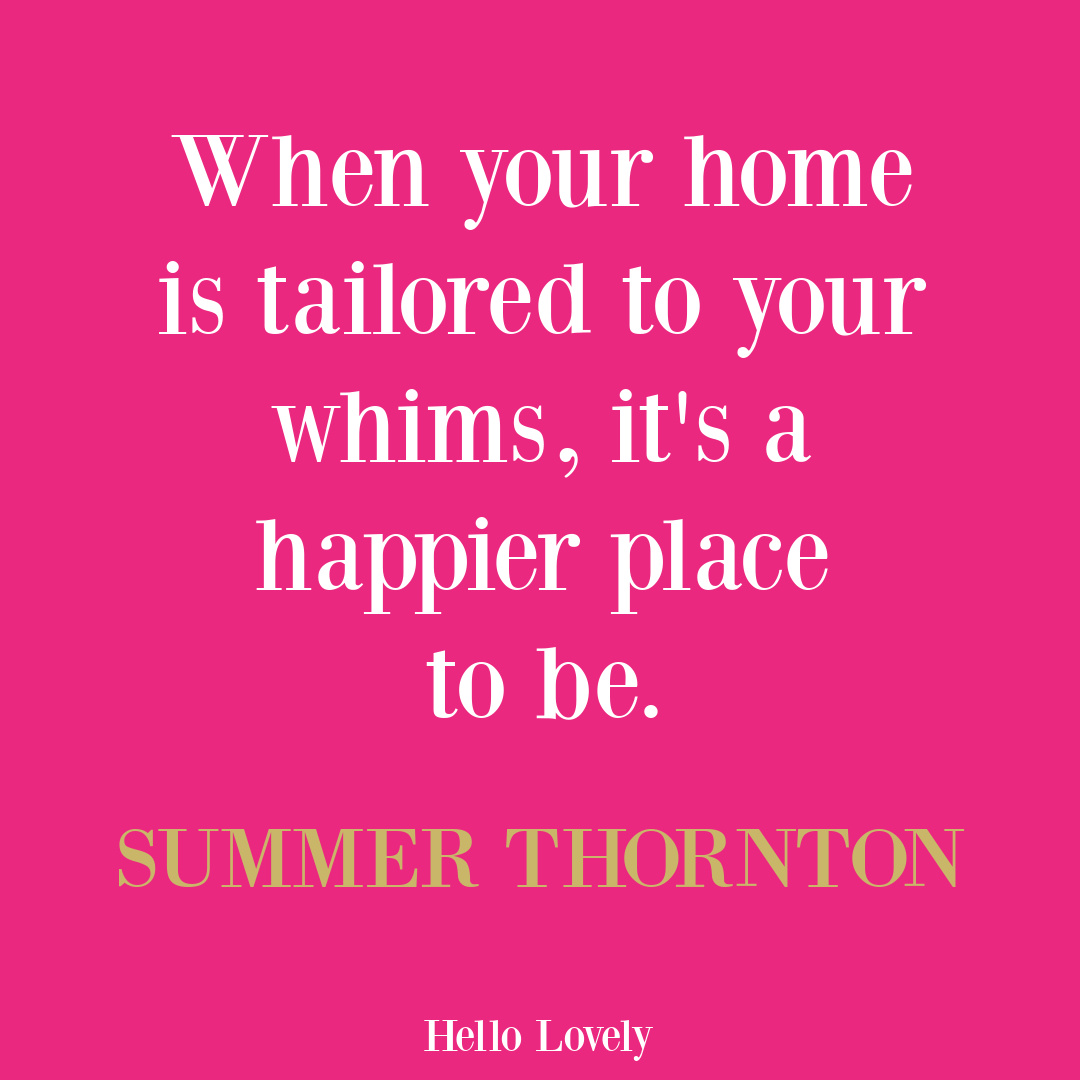 "Aiming to incorporate traditional elements with an aged vintage quality, this project integrates detailed mouldings, rustic white-oak beams and soft arches, pairing them with unlacquered brass and natural marble specifically selected to age gracefully over time. The aesthetic was elevated with a restrained palette of natural tones." – Jenny Martin
If you're wondering about paint colors inside and out…I make educated guesses in THIS.
2. Surprisingly Understated White French Country Kitchen
I could move right into this kitchen! It's elegant but not too fancy or fussy.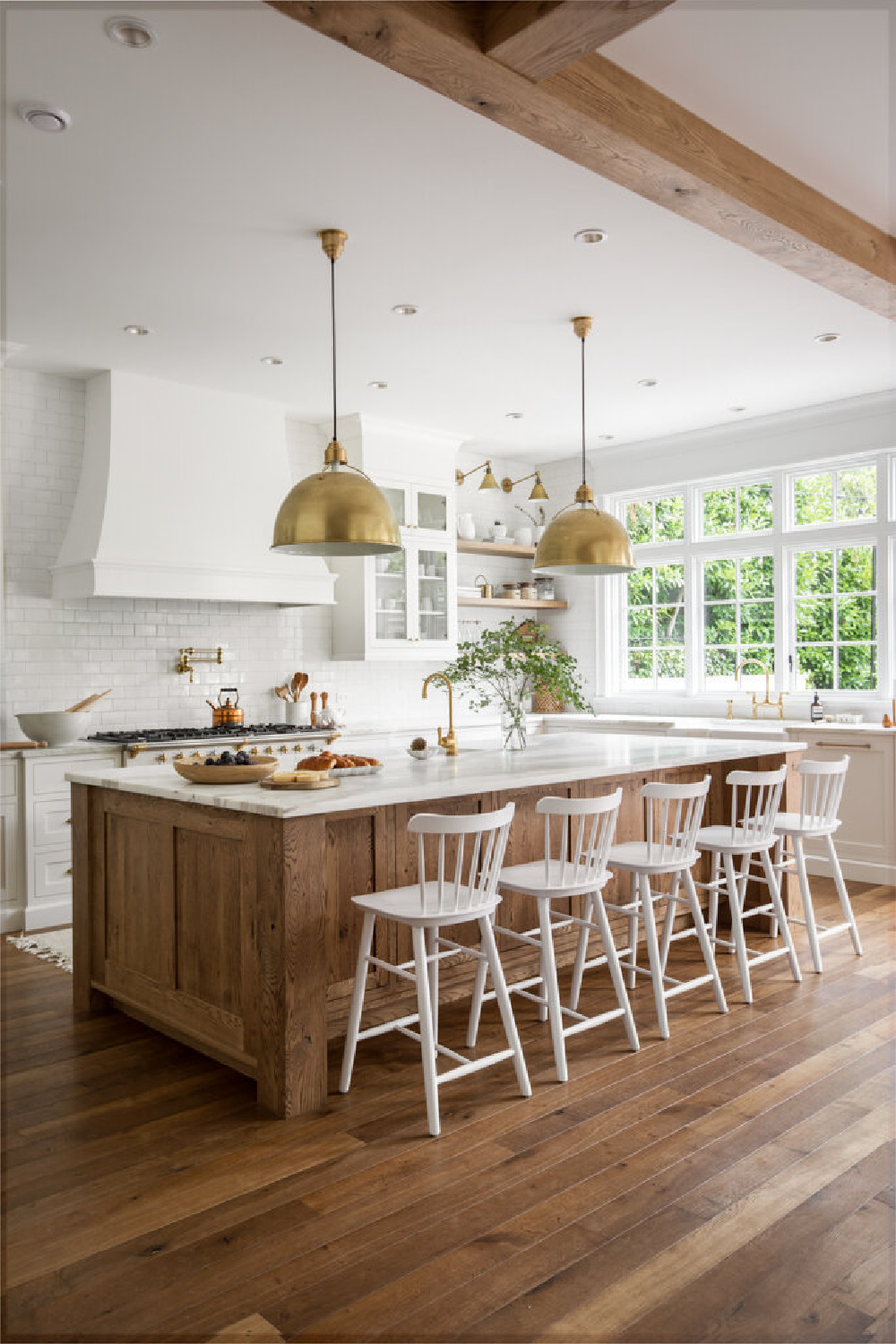 I love the warmth of the wood island, and notice how it is stained to exquisitely harmonize with the beauty of the wood flooring.
3. Deep Shelves That Are More Than Decorative
I can't decide whether to add open shelving to our kitchen. On the one hand, I like the idea of being able to change out decor seasonally. But I don't like dust accumulating on accessories, and functional things on the shelves appeal to me more.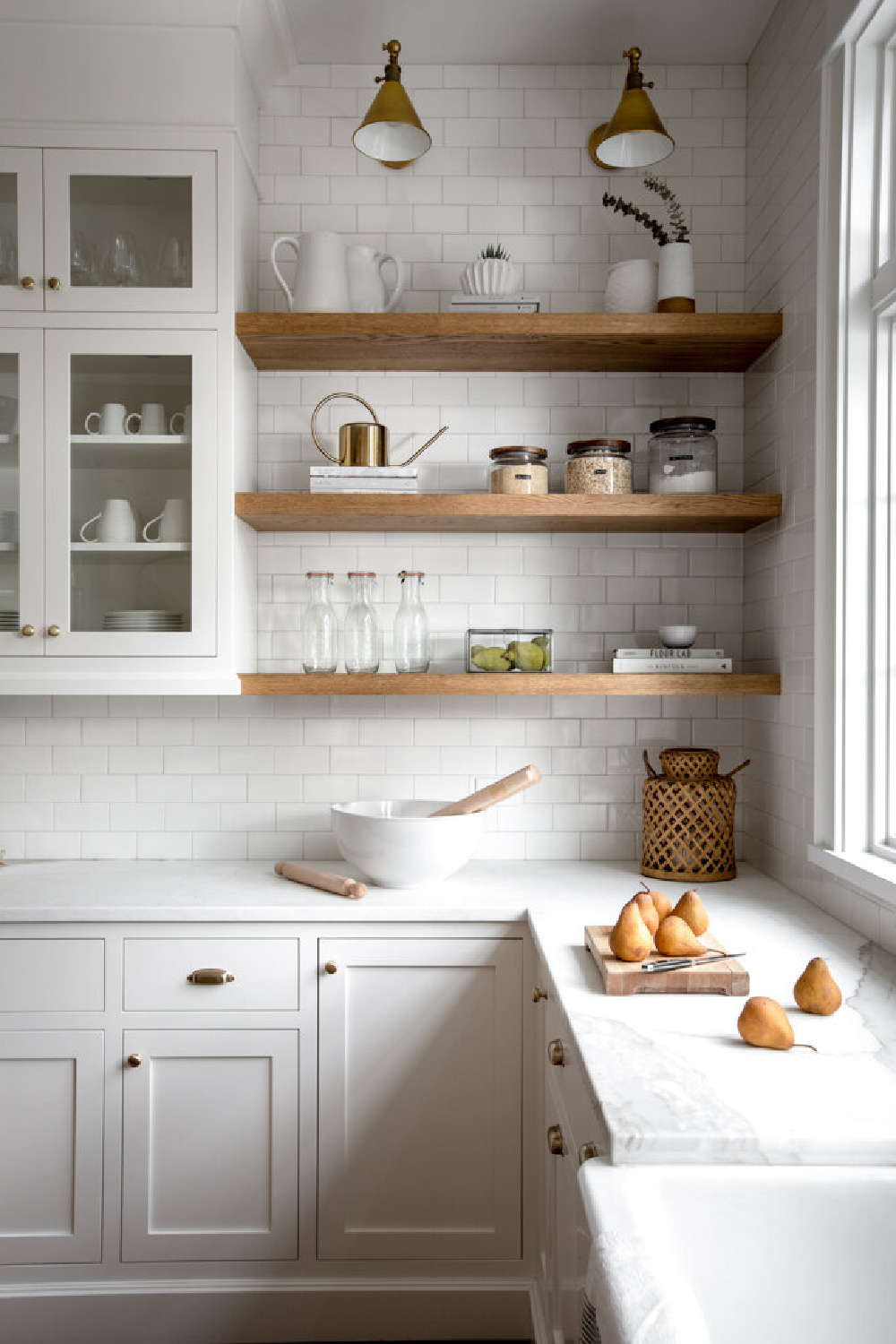 So I appreciate how these hefty shelves hold everyday items and essentials that aren't for show.
4. Thoughtful Millwork in the Kitchen
Since we're renovating (delicately and on a budget) our own kitchen at the moment, I am noticing lots of little details that may go unnoticed but pack a big punch.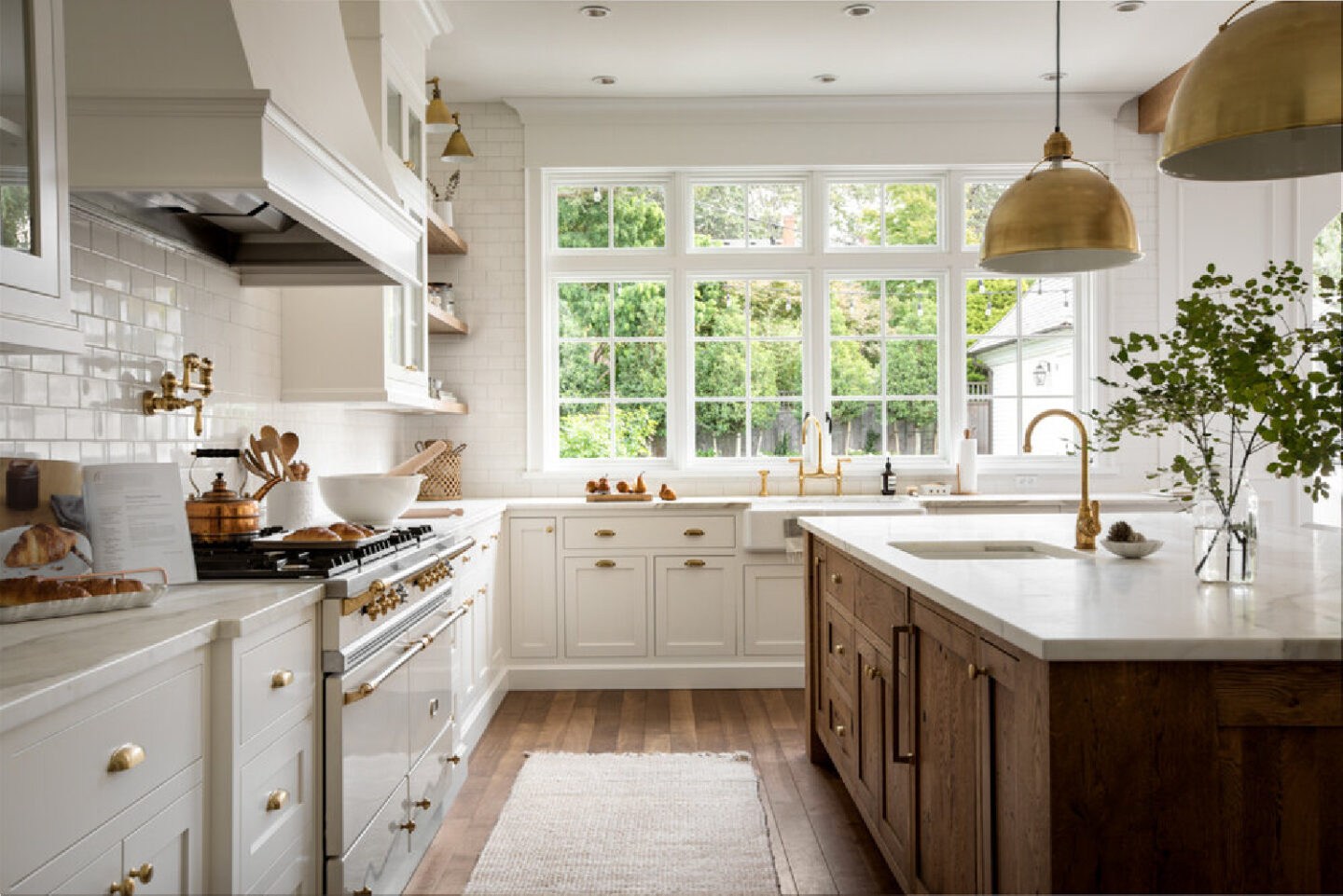 Like the fact there's base molding that makes the lower cabinets look so finished and tidy. I'm not a huge fan of seeing the toe kick.
5. Pantry or Scullery to Hide Clutter
What a dream to have an area away from the main space to house bulky items, appliances, or things at which you don't want to stare.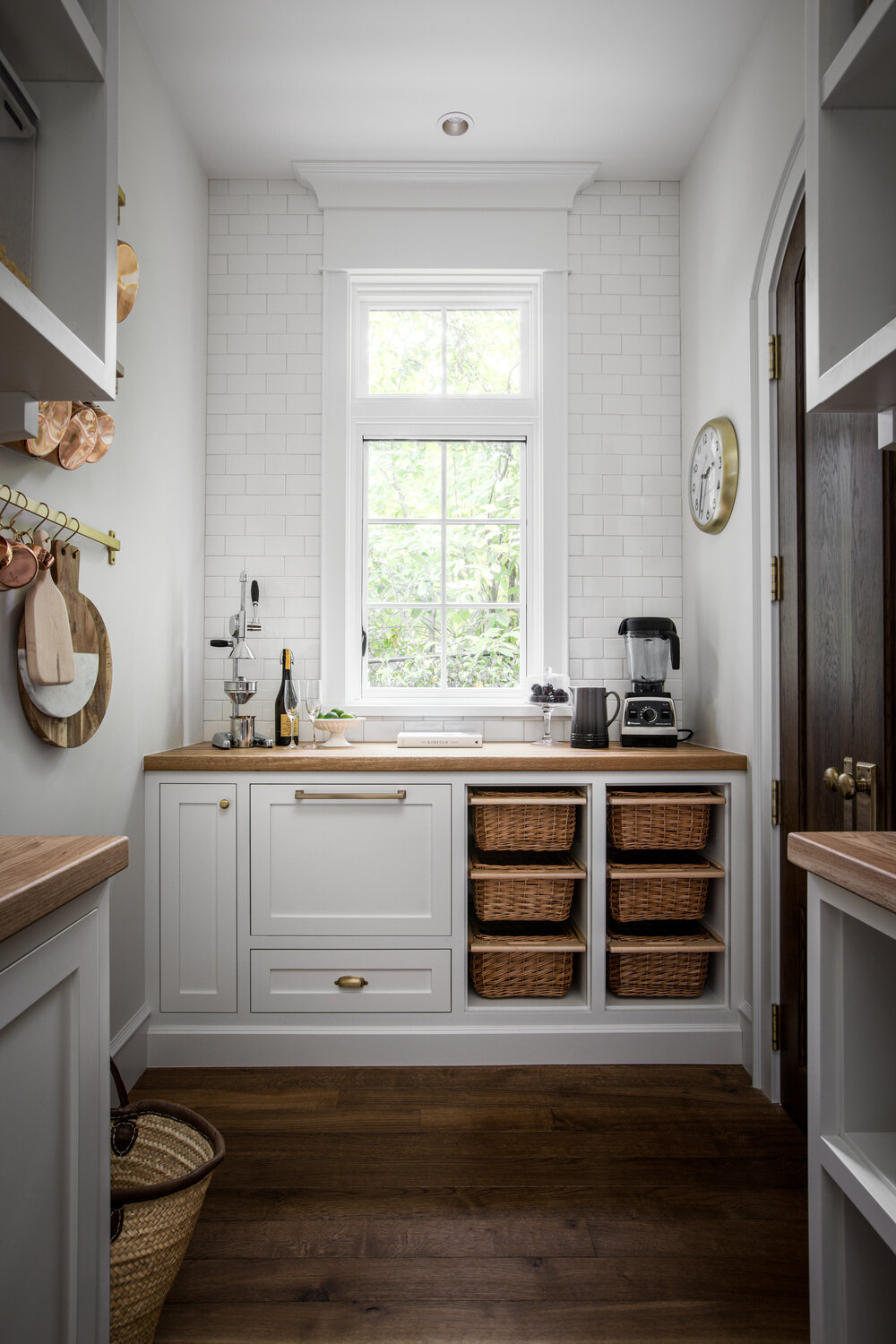 As I put together a wish list for my own kitchen re-do, I find that creating the right mood is most important to me. And the mood I want to create is a peaceful living area that I don't want to leave. Getting that light, tranquil mood involves keeping things less fussy, less busy, less cluttery, less clunky, and less utilitarian. (Wait. Am I contradicting myself? I thought I was too sensible and conservative to "decorate" a kitchen!?! Renovation does this to a person!!!)
6. Gold-toned Hardware and Fixtures in French Kitchen
Have you noticed how much Frenchy charm and warmth the gold adds throughout this kitchen?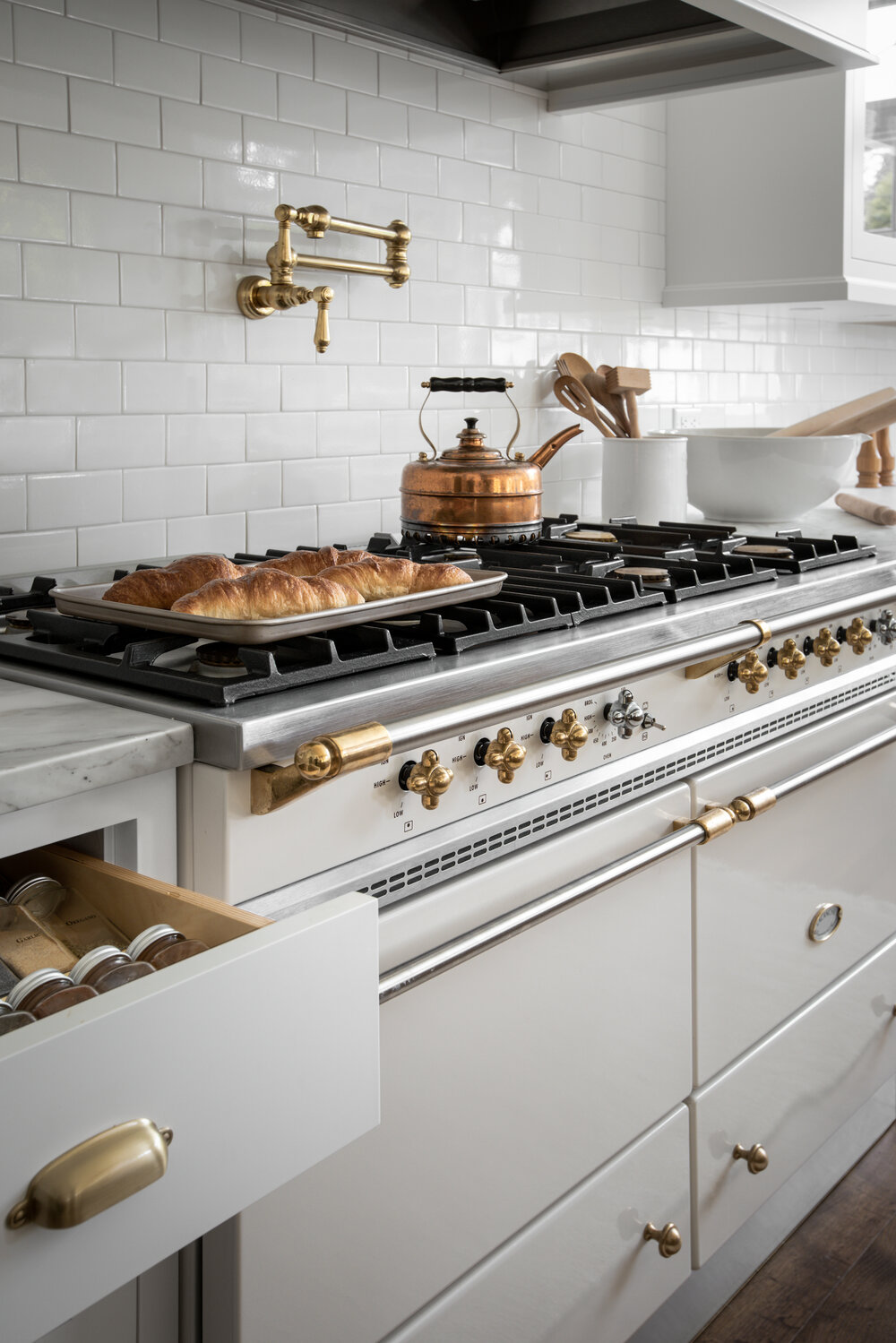 7. Traditional Custom Built-ins
What a beautiful and highly useful wall of cabinets and shelving in this breakfast area!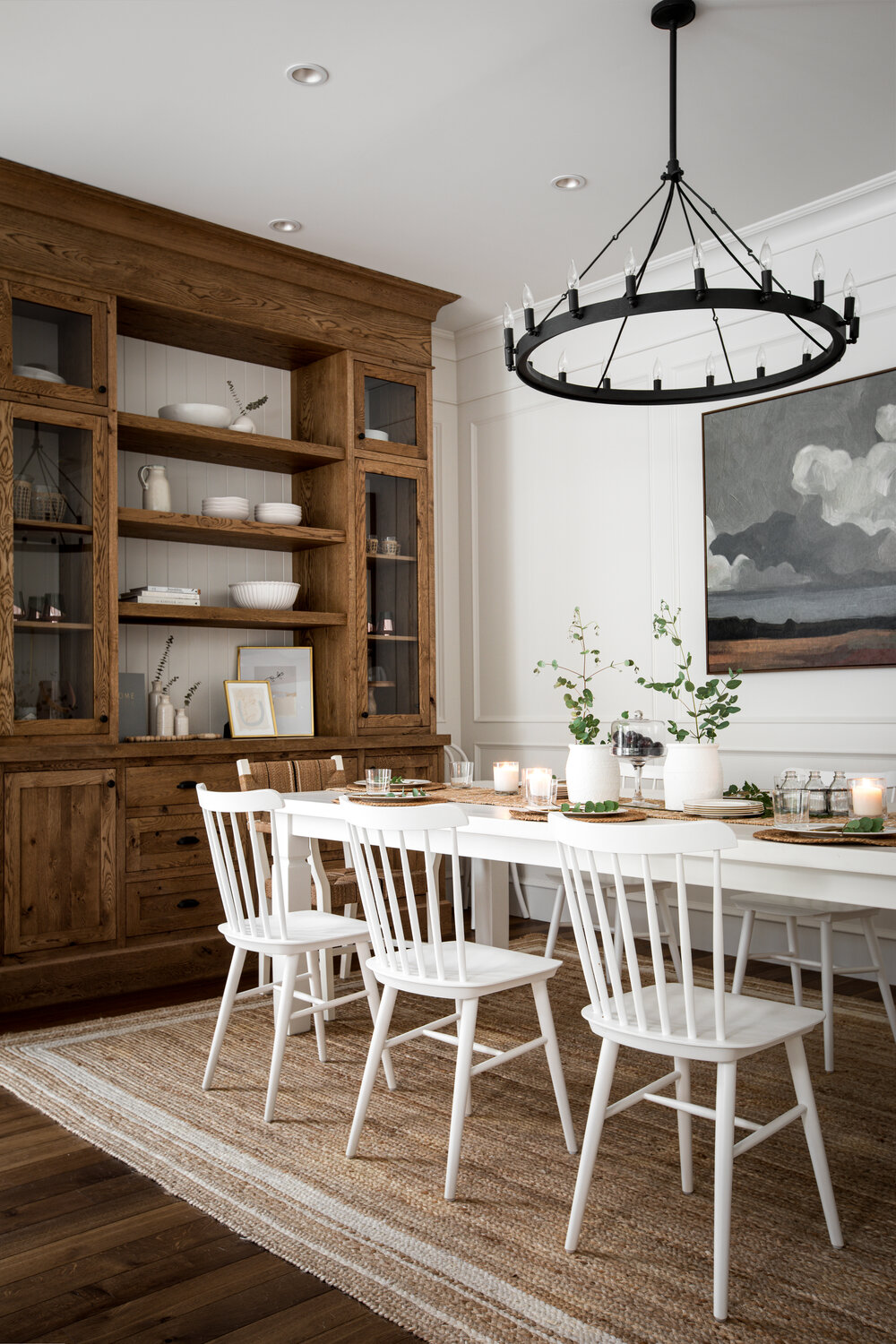 8. Skinny Arched French Doors
Oh my goodness, I'm in love with narrow sets of double doors, aren't you? It's the drama and the romance and the feeling of refinement they bring.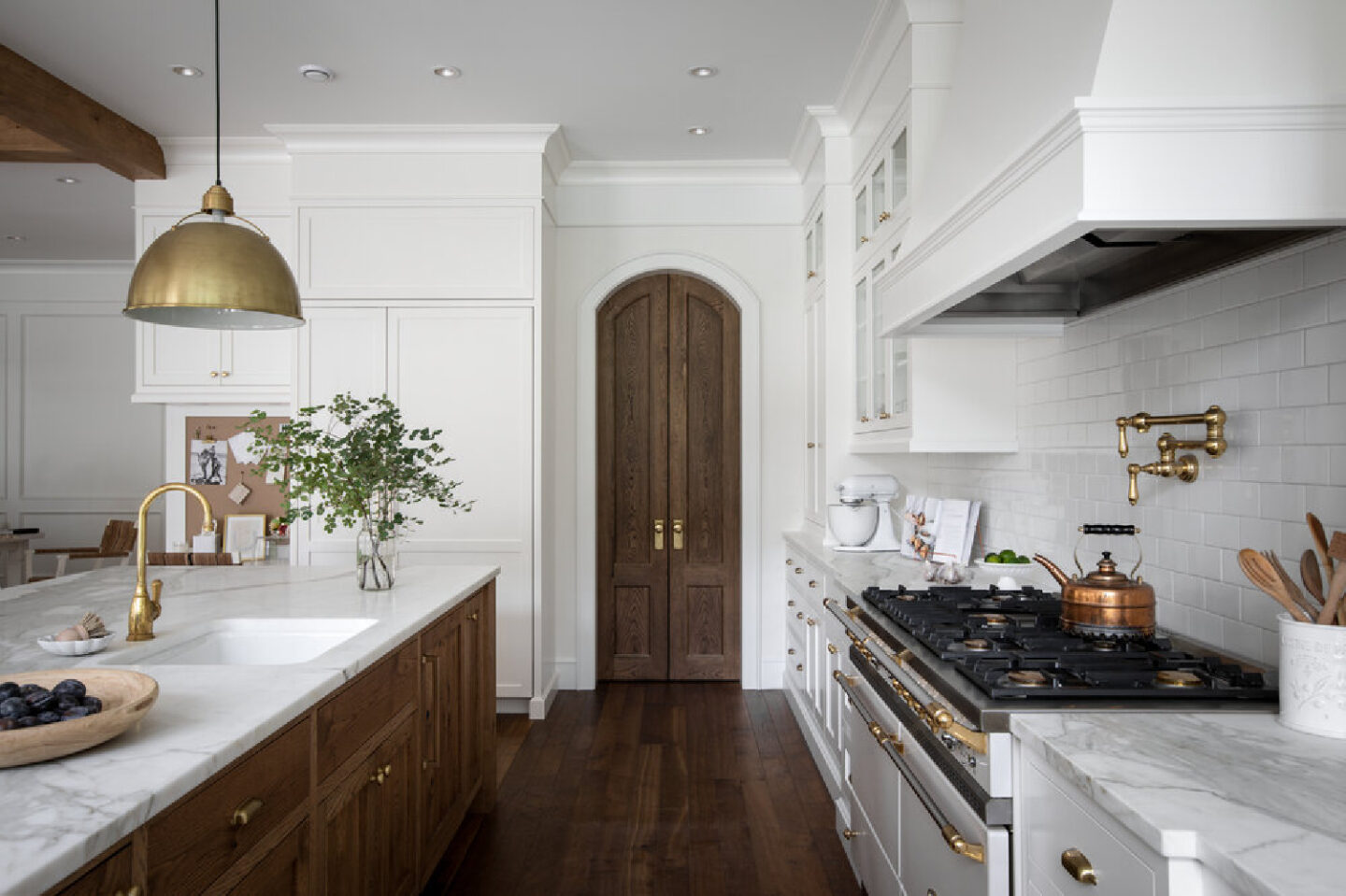 "Awarded 7 care awards, including the coveted title of Project of the Year, project Maison de Lee resulted in a stunning marriage of styles, creating a traditional home that sets the stage for stories to be written within its walls." – Jenny Martin
10. Instant Age Created With Bright White & Oak
It seems more common in the 2020s to see black and white kitchens so I'm reminded of how more traditional kitchens with warm wood tones feel older and timeless. Did you notice there is an absence of the color black?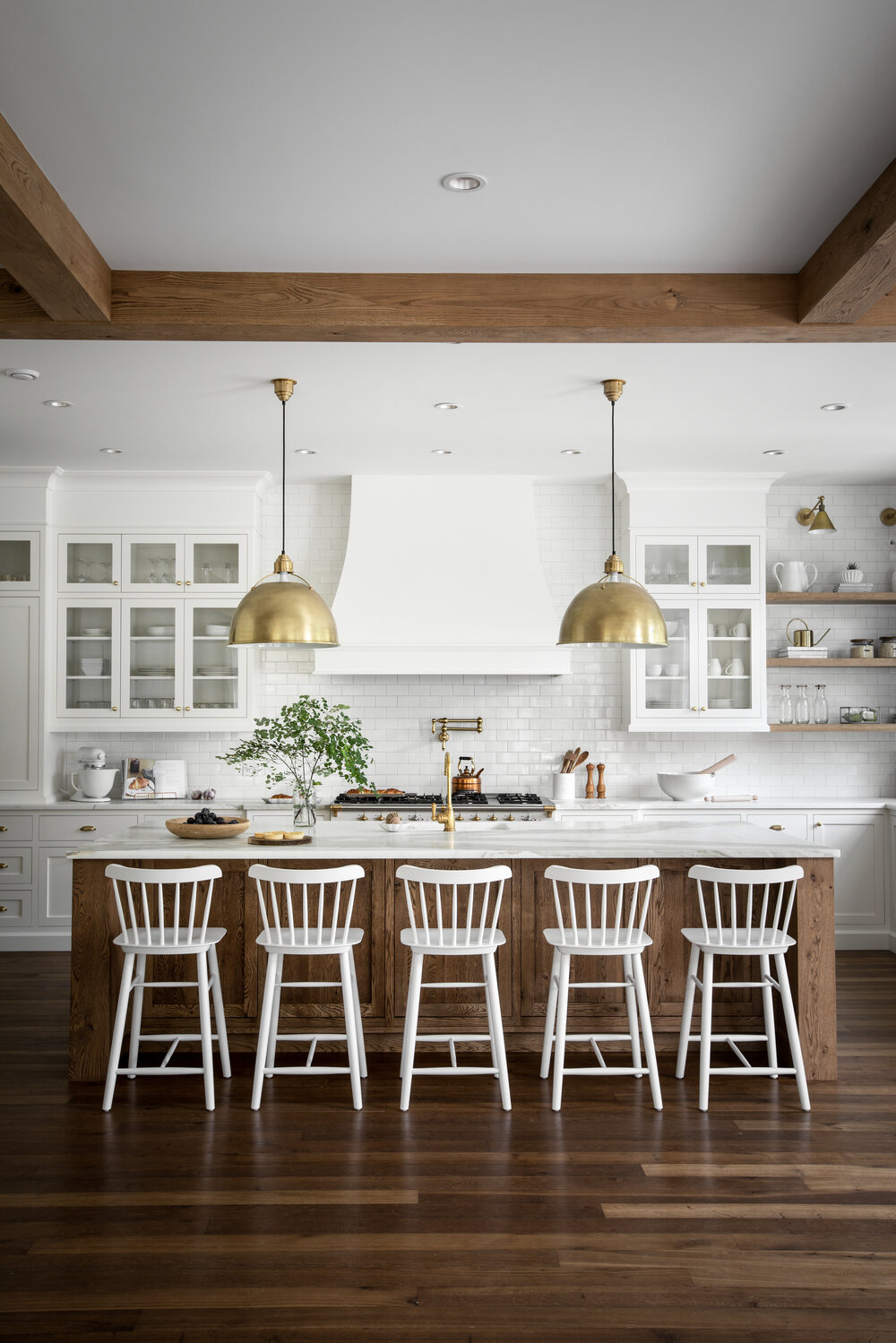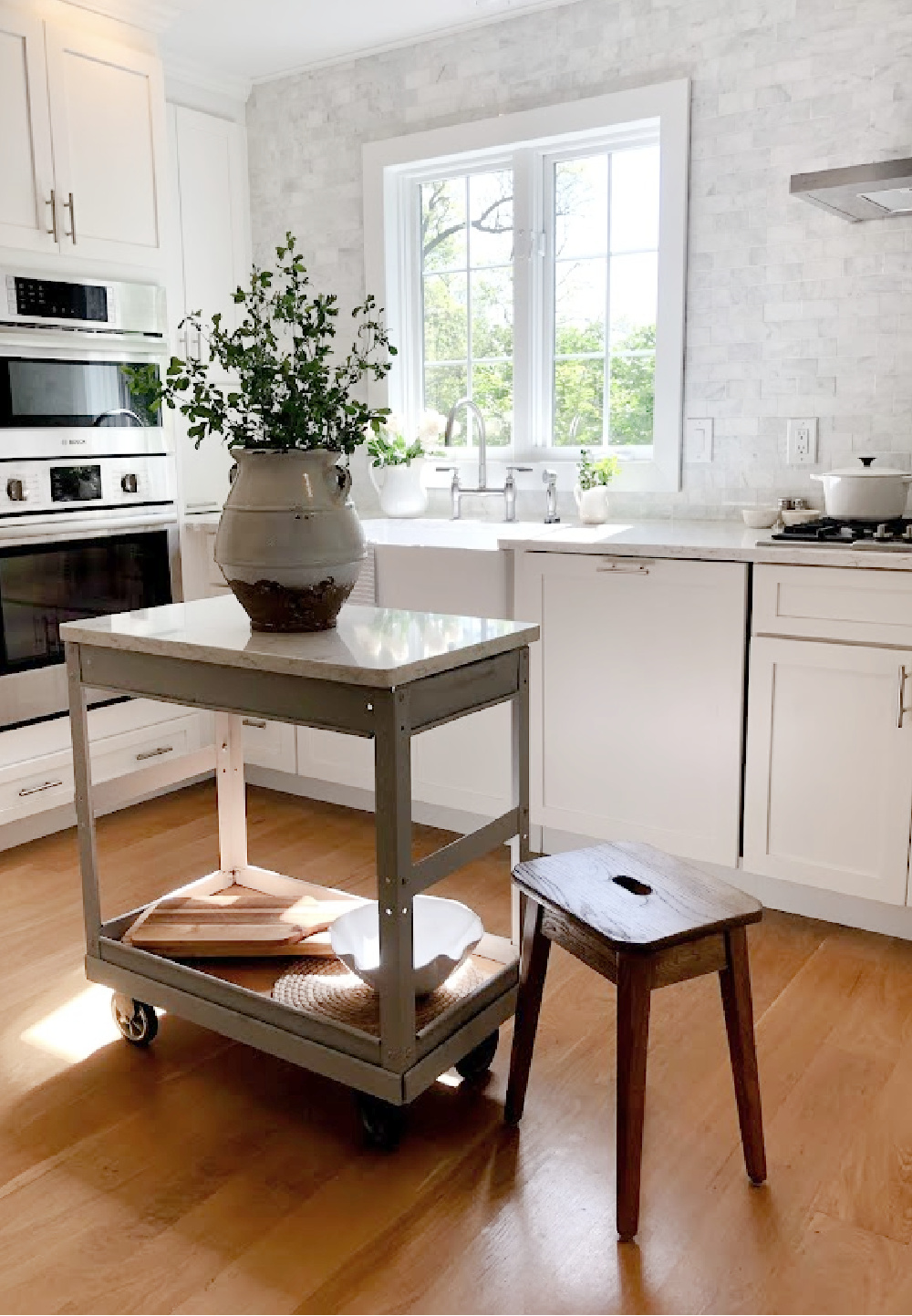 11. Airy Mudroom With Cubbies & Baskets
While we probably don't have the time or talent to build such wonderful built-ins in our mud room, I love this style of organization!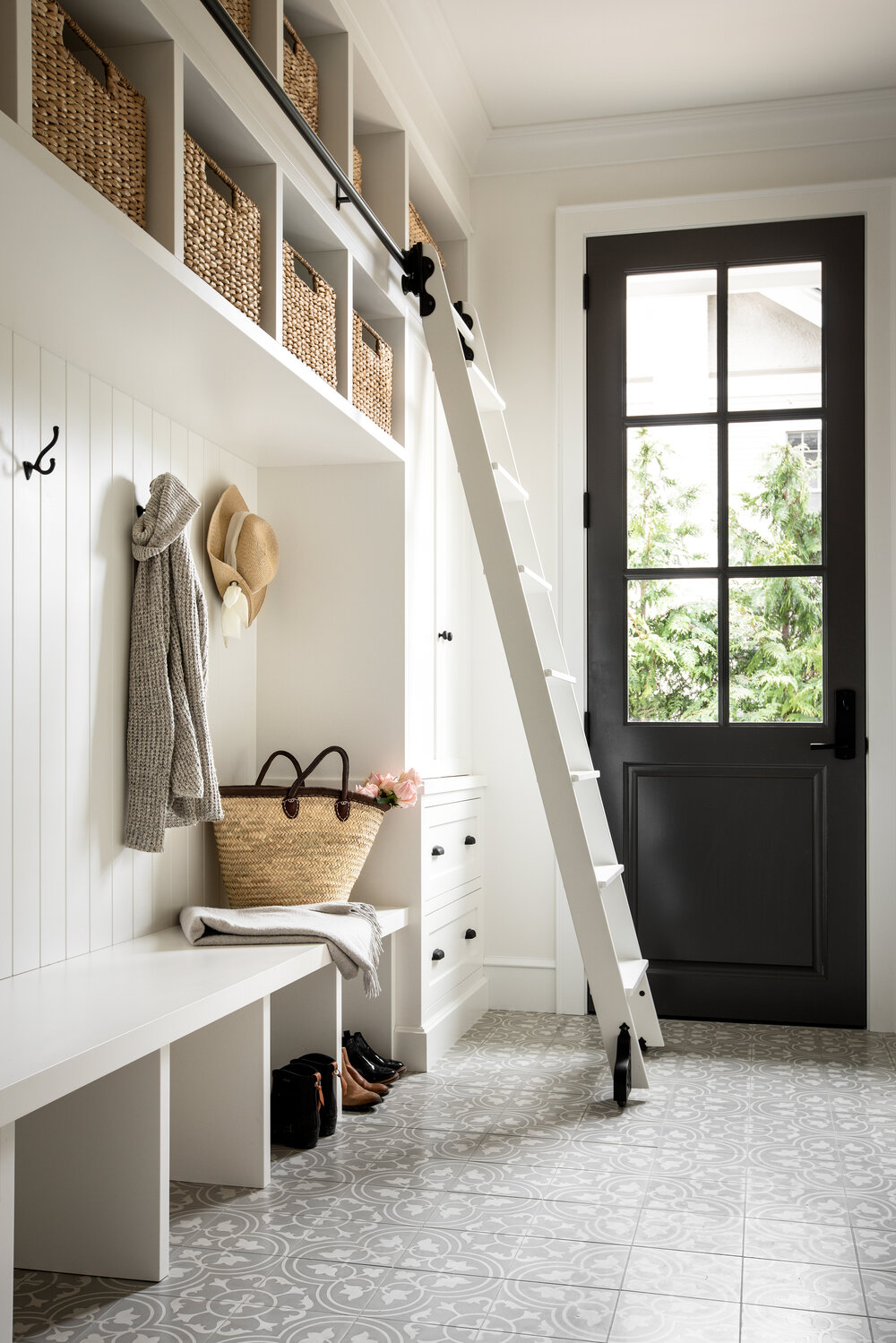 12. Beautiful Bones in a Music Room
That oval window! I love the intimacy that happens with a smaller room like this which could be used for any number of purposes. When the architecture and views are this pretty, it hardly seems to matter how the room is decorated or used!
13. Informal Entry and Stairs
What a calming sort of entry with the natural woven textures, absence of color, and understated mood with lovely finishes.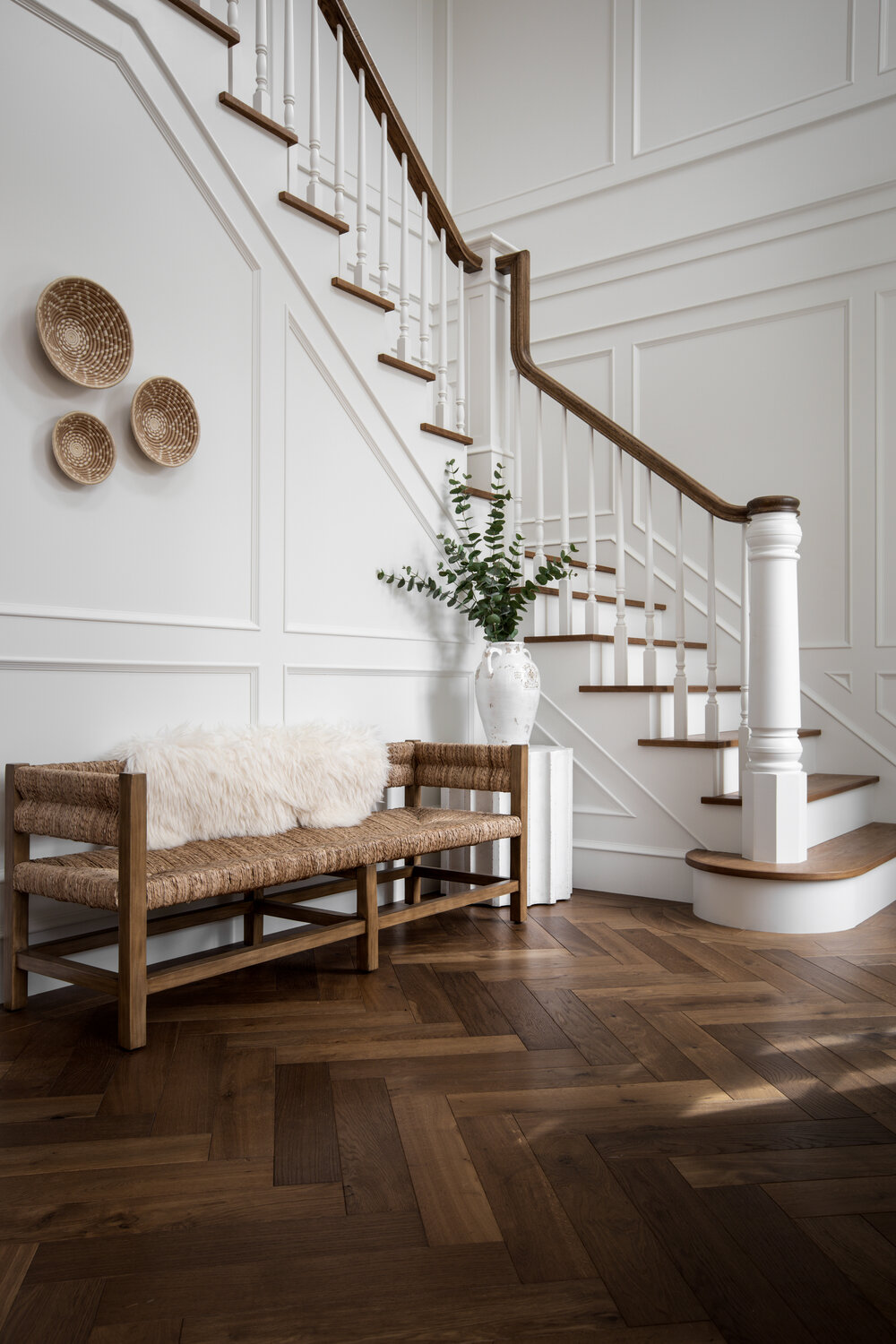 14. Luxurious Yet Not Obnoxious Custom Closet
I guess "obnoxious" is truly subjective when it comes to how glammy a closet should be. This one has amazing architecture and craftsmanship and reminds me that, yep, a closet can sell a house!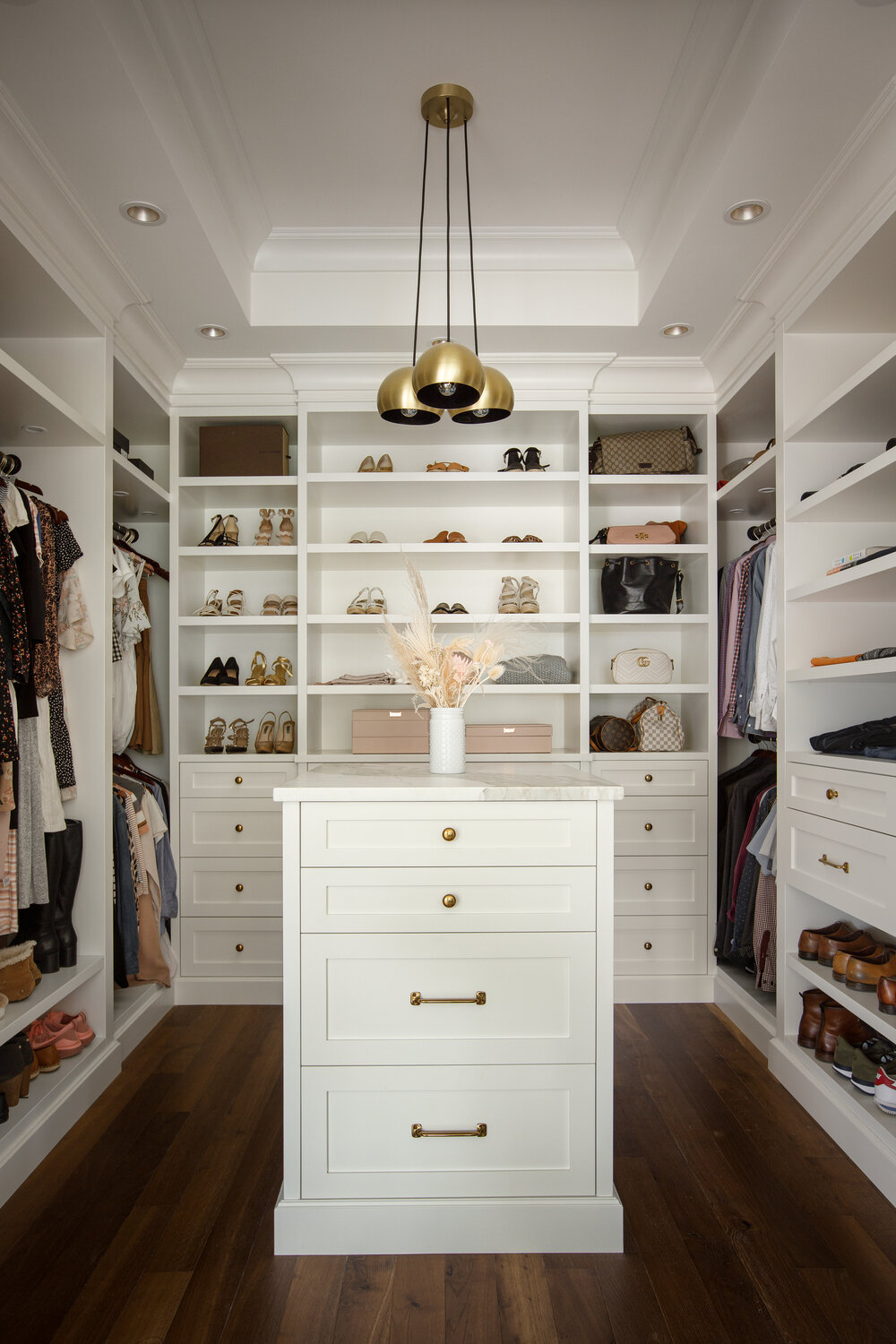 15. Timeless Bathroom Design Elements in a French Country House
I'm just crazy about tubs like the one below, and here's the thing: even if they aren't your thing, it's an easy change-out as opposed to monstrous jetted tubs on platforms surrounded by miles of tile. *ahem*
(I may or may not have a dated bathroom to renovate at home.)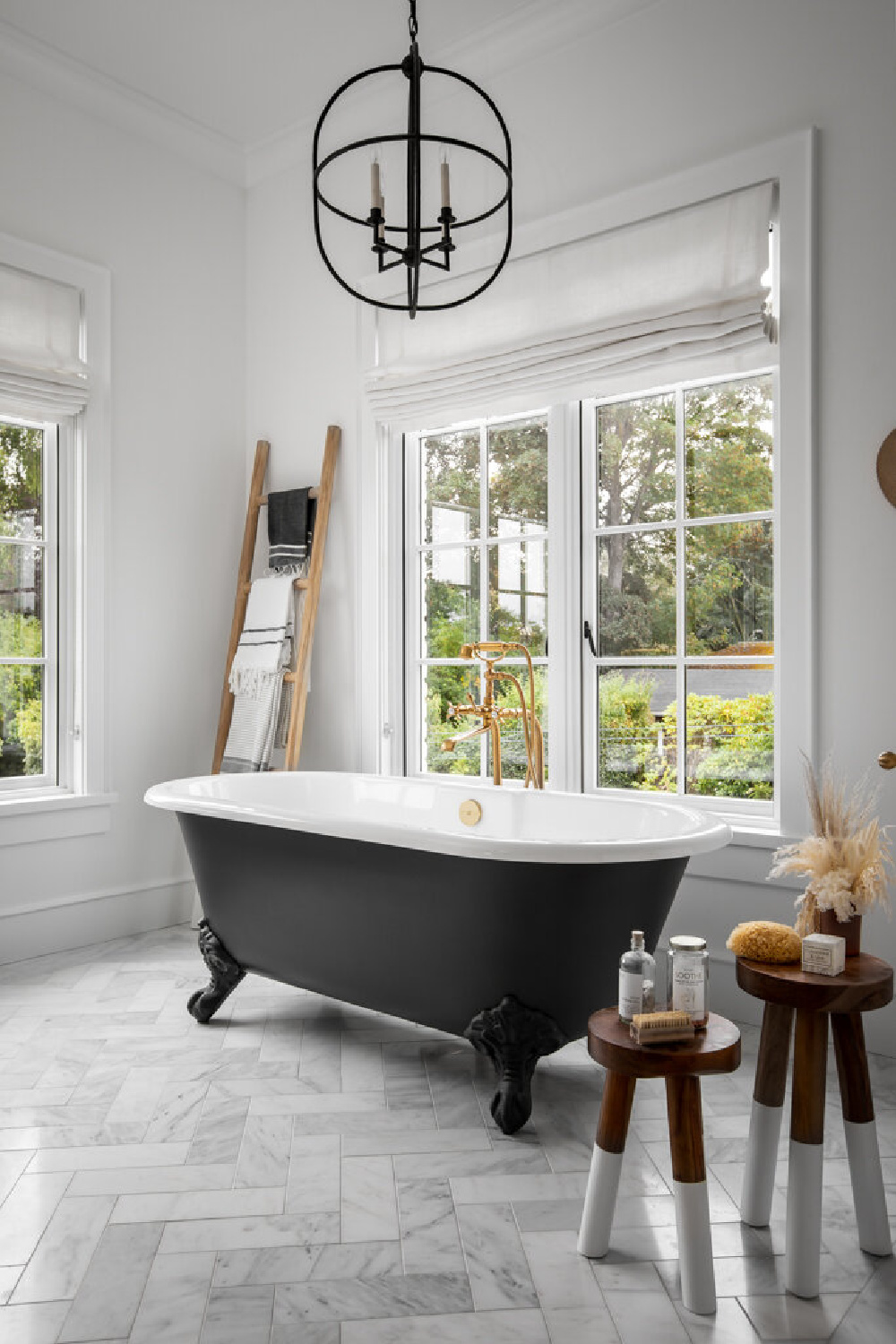 Choosing tile for a bath can be stressful since you know you'll be living with it for a long time. Make sure you choose timeless styles and patterns that won't seem silly in ten years.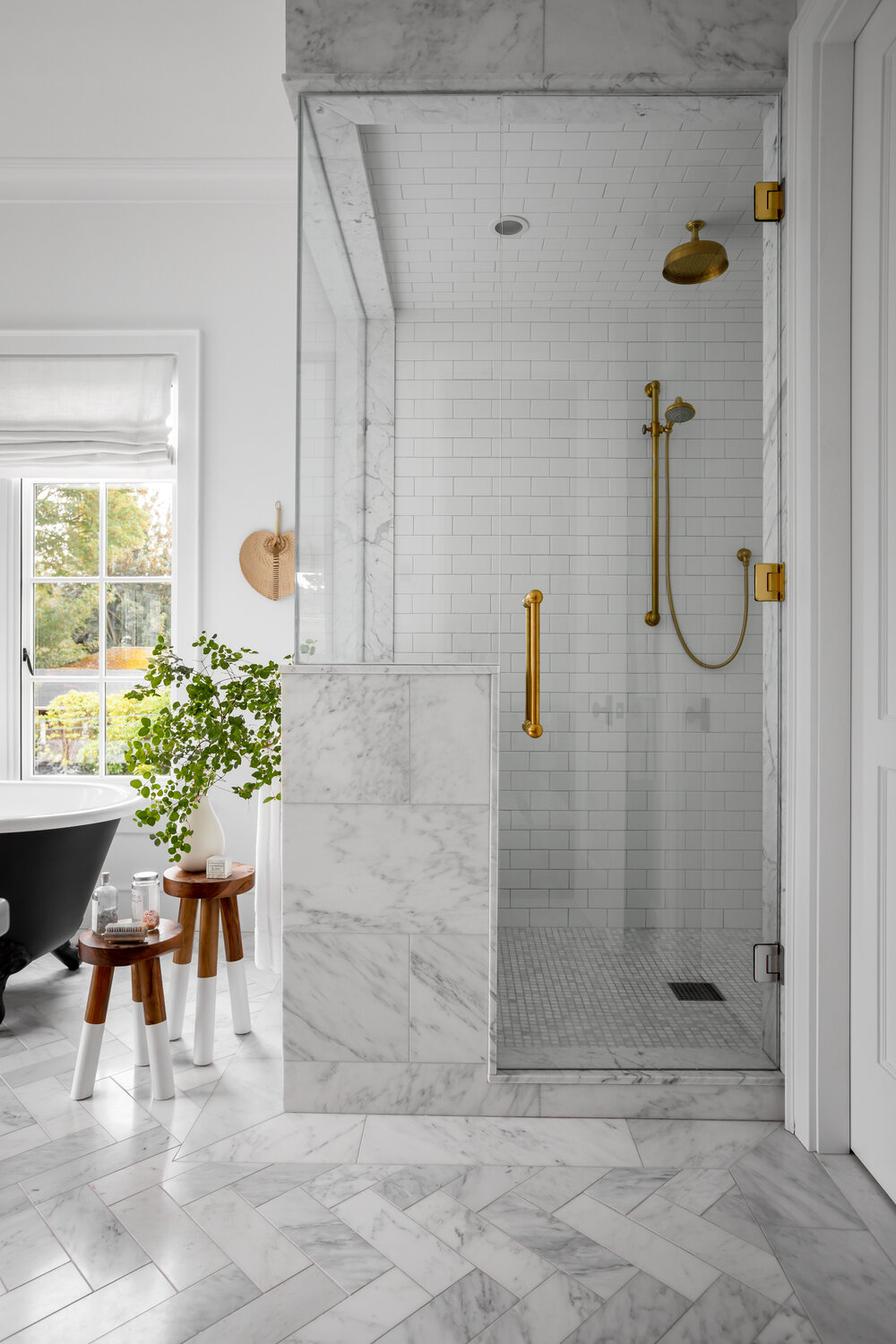 I mean, look at this beautiful marble vanity: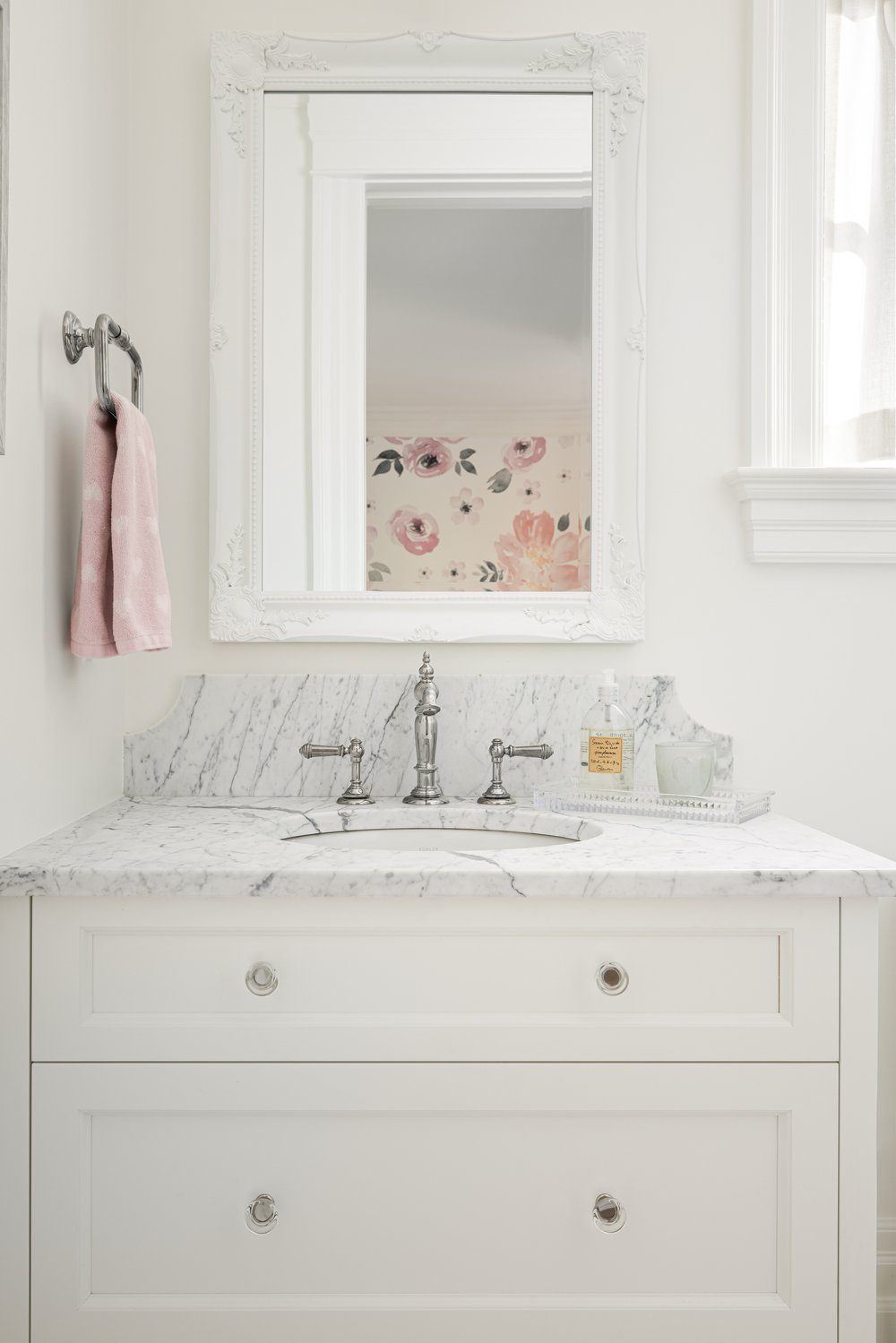 Sweet cozy Moses, I would never tire of looking at it!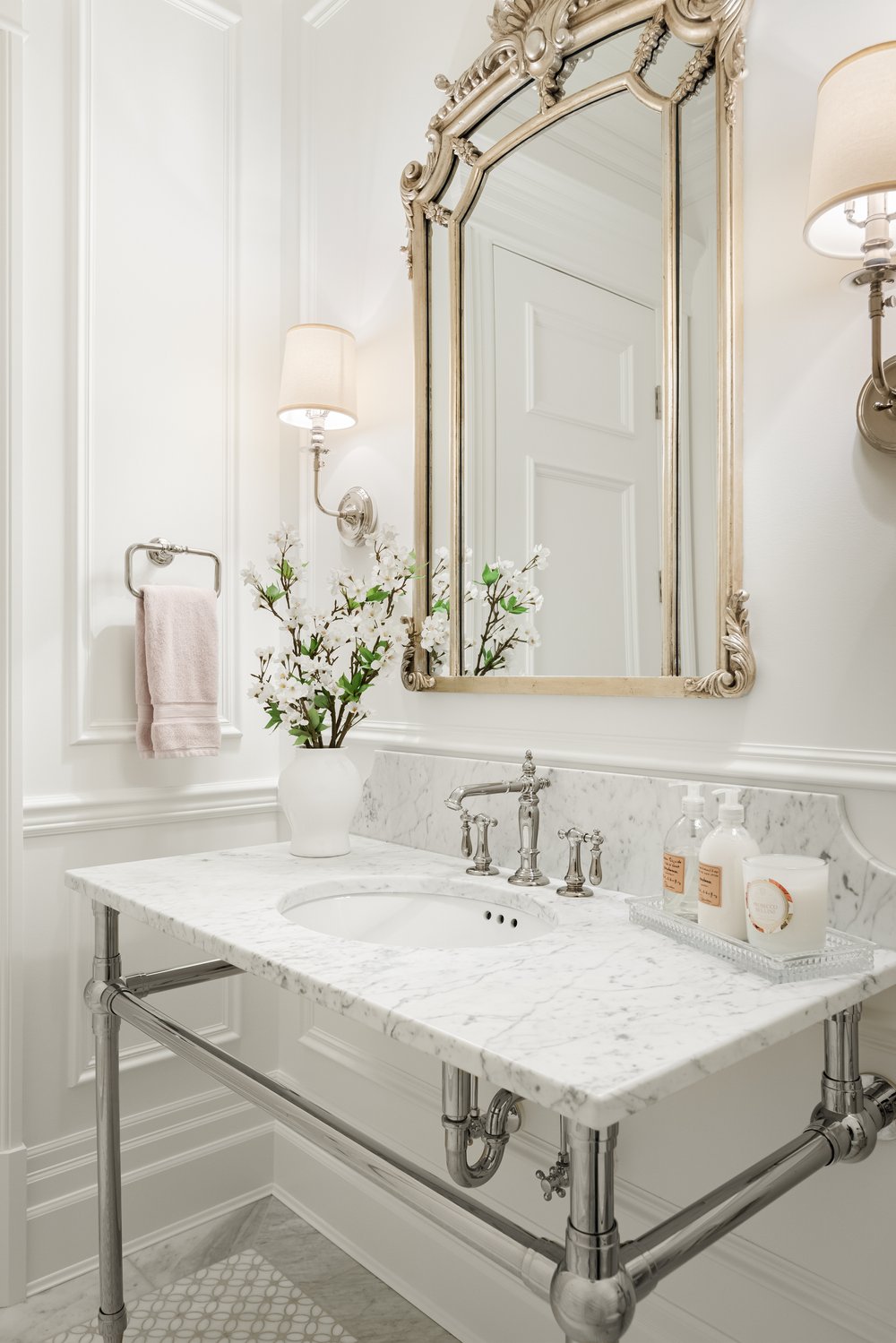 And all the yeps to this gorgeous console sink above with Frenchy mirror and sconces!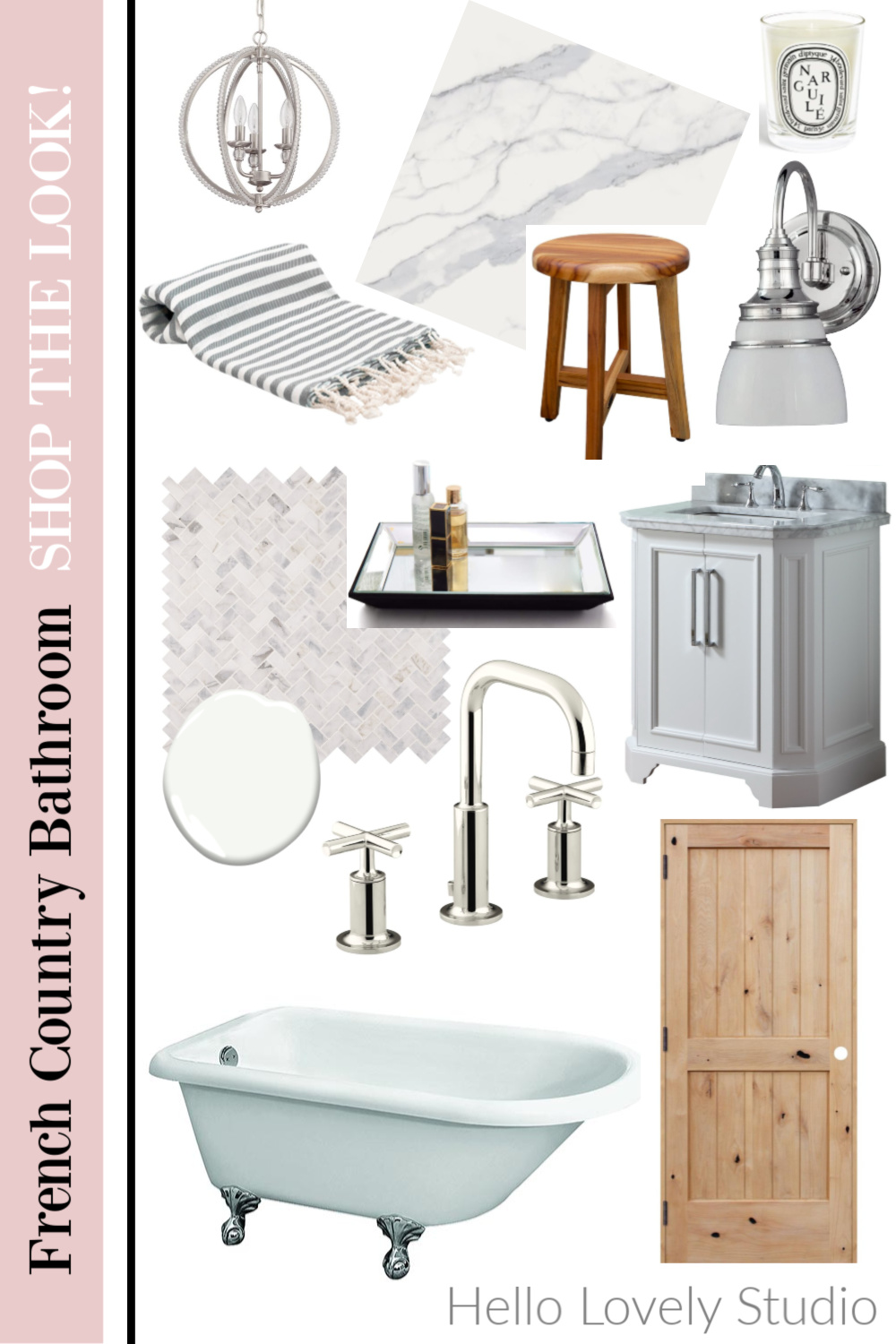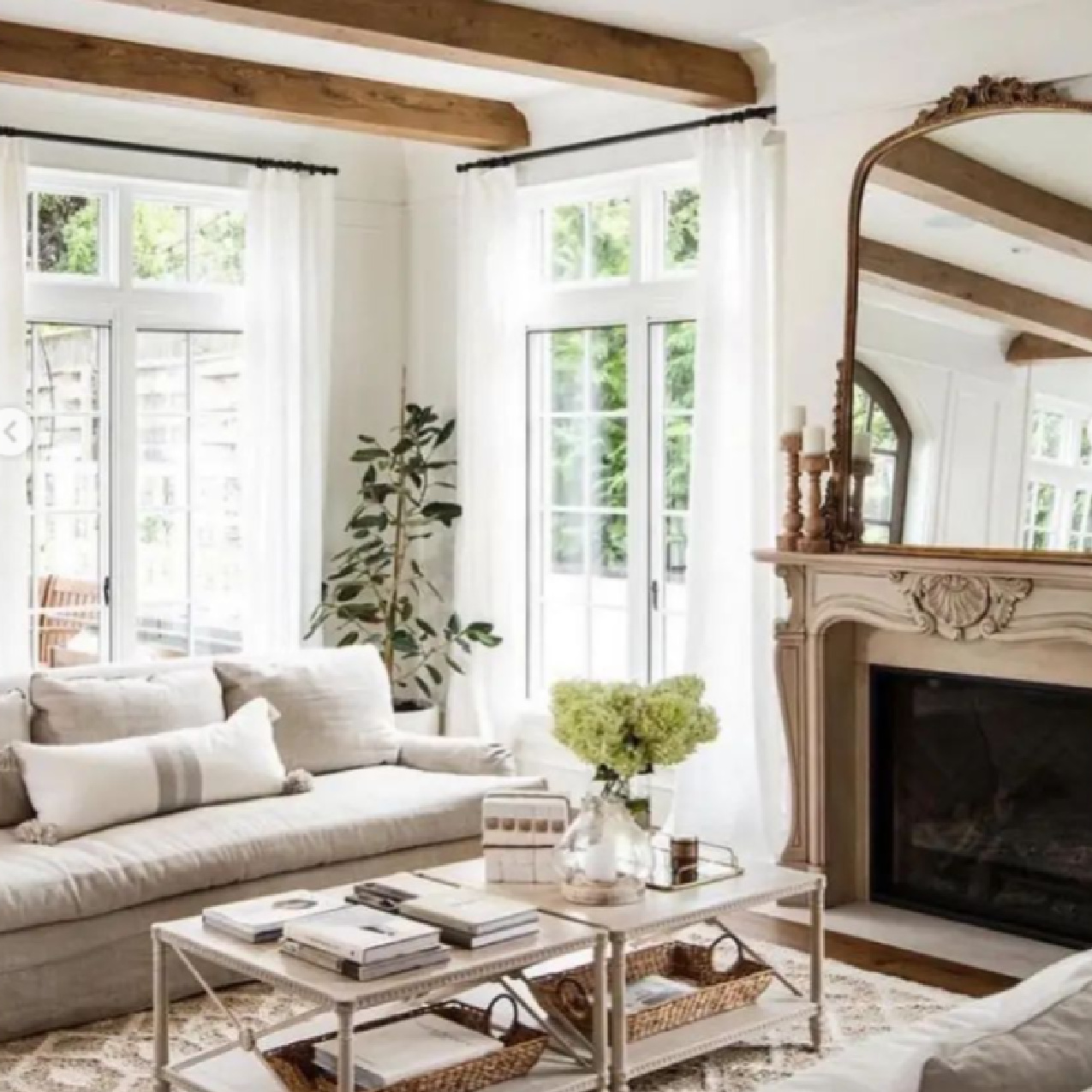 To see this home decorated for the holidays, GO HERE. Have a favorite feature from today's inspirational house tour? Let me know! I love it when you leave comments or questions or random, and believe it or not, a lot of bloggers do not share such enthusiasm.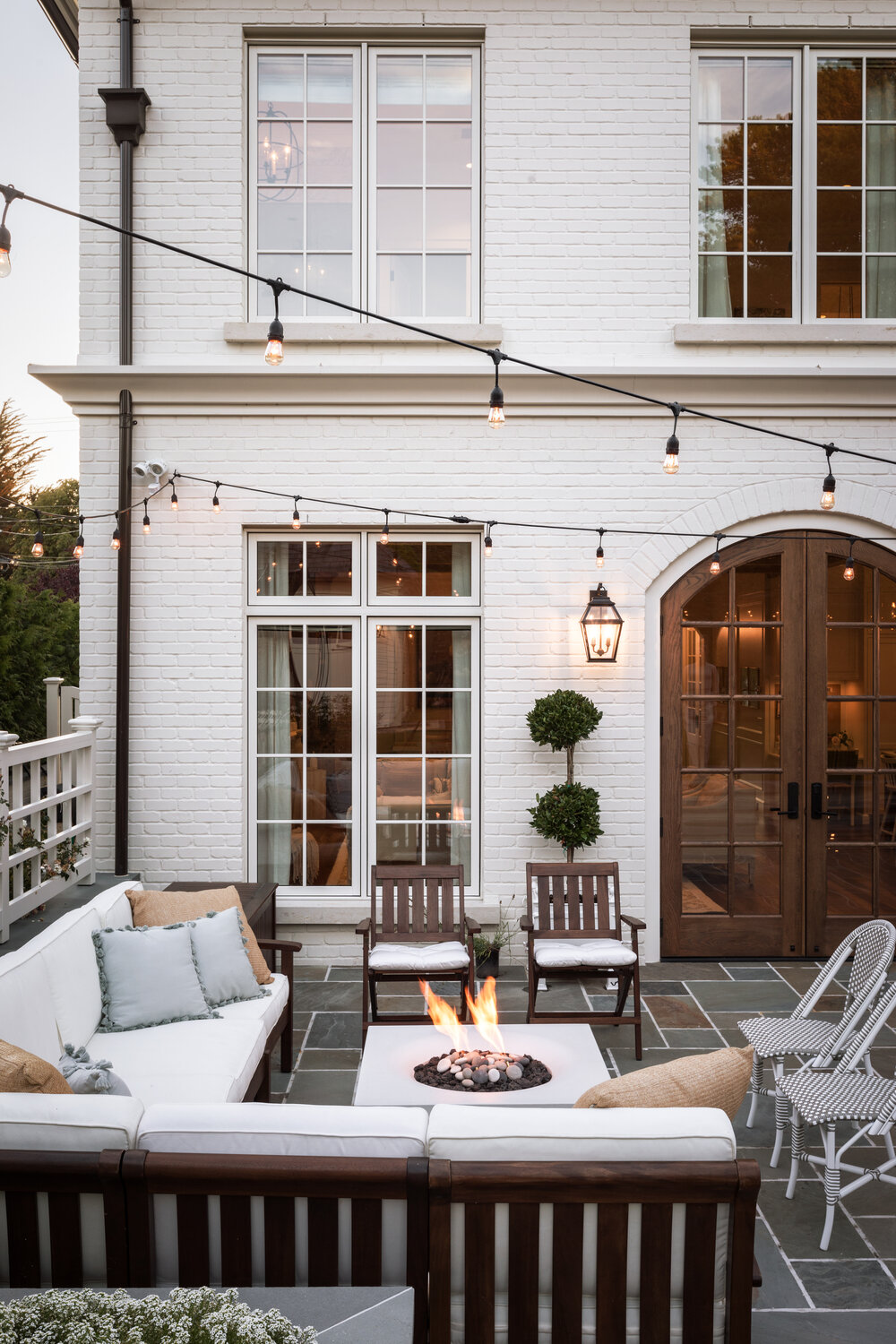 Blogging has become such big business that simple questions like "what paint color did you use on…" are a bother to many bloggers who have other concerns.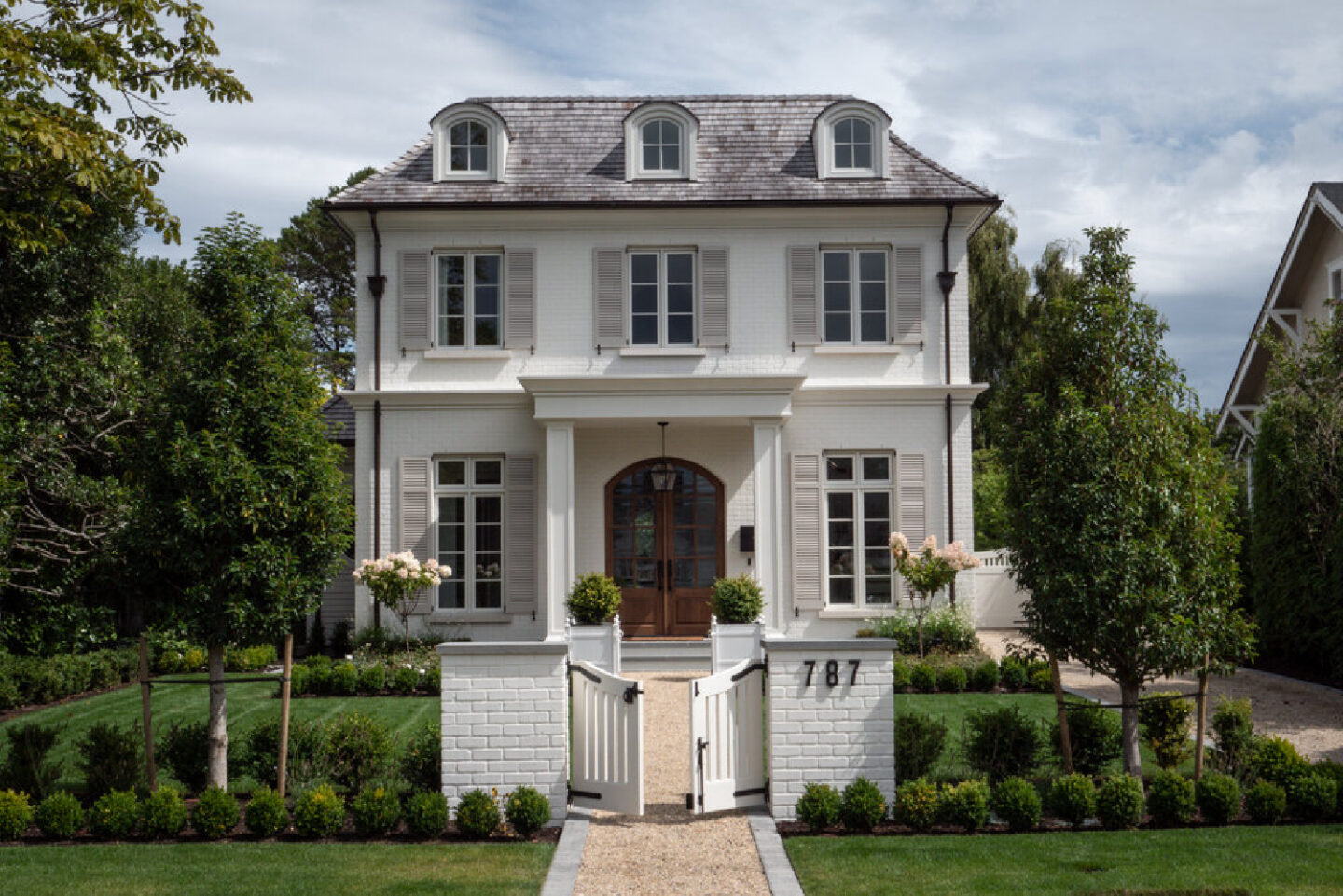 But I'm old school and love the continuing conversation percolating since January of 2010! I actually started blogging in 2008 (I deleted that other blog when Hello Lovely debuted) and am so tickled that some of you still visit daily!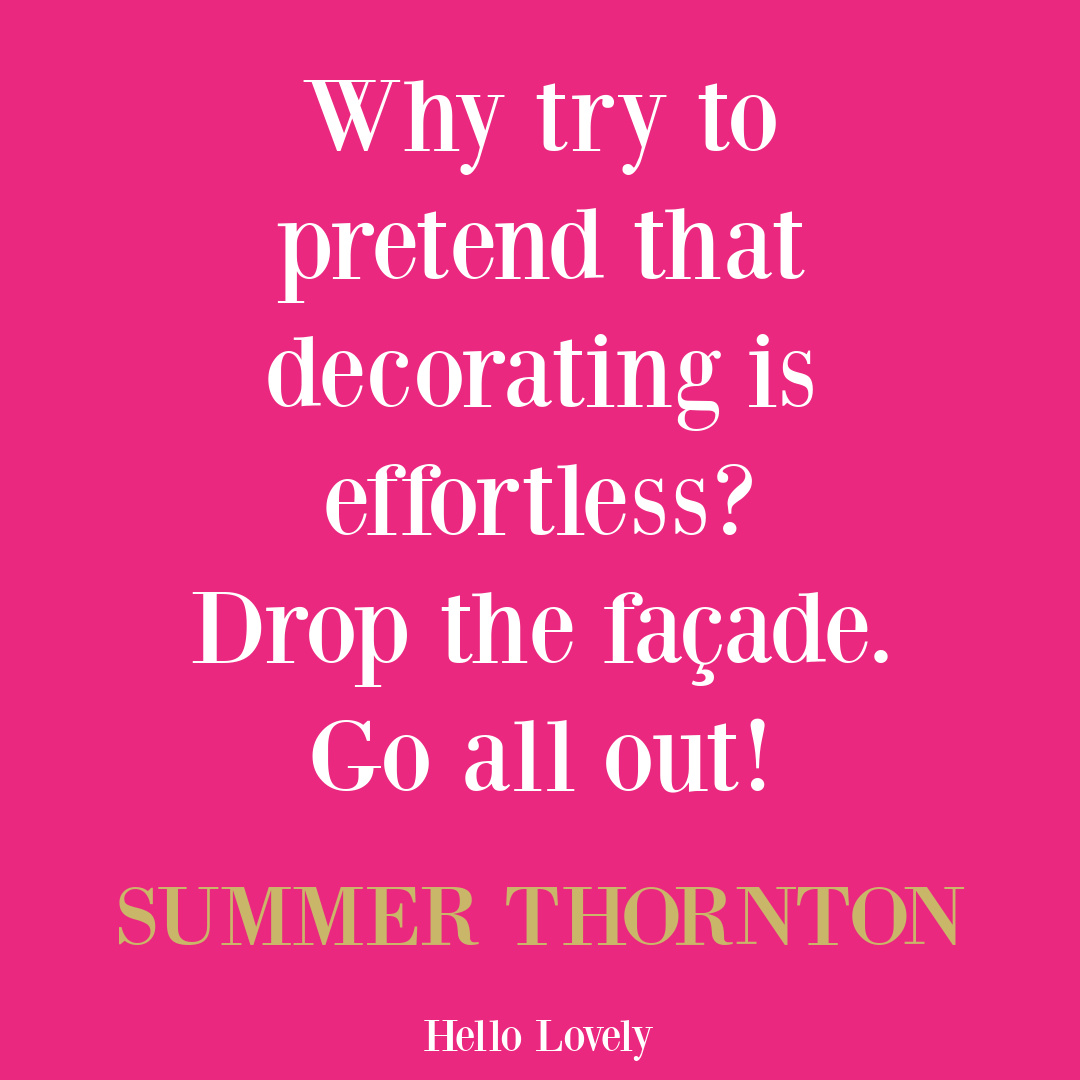 Big weekend of dusty renovation projects ahead. I will share updates one of these days, but it's more important for me to get the work done and THEN give you the full scoop!
I independently selected products in this post—if you buy from one of my links, I may earn a commission.
Peace to you right where you are.
-michele
Shop for items you already intended to buy on Amazon RIGHT HERE, and also find home decor here to keep decor inspiration flowing on Hello Lovely!
Hello Lovely is a participant in the Amazon Services LLC Associates Program, an affiliate advertising program designed to provide a means for sites to earn fees by linking to Amazon.com and affiliated sites.