Even though I am at the beginning stages of a gentle kitchen renovation in the Georgian style home into which we just moved, our prior kitchen is guiding the plans. When you create a timeless look, there's no need to re-invent as trends come and time goes. 8 Kitchen Essentials in My Simple Shaker Kitchen identifies kitchenware items upon which I still rely day in and day out. It illuminates pretty pieces which: ease daily chores, improve efficiency, and add a layer of lovely. Also, don't miss a tour of a tiny bespoke apartment with intelligent design in Kyiv.
This post contains affiliate links which I hope you will use since they won't cost you a penny extra yet may earn this blog a small commission.
Kitchen Essentials in My Simple Shaker Kitchen
Is the desire growing to tidy your home, improve its organization, and pare down a little as the promise of springtime edges near?
Each year at this time, it happens to homebodies, and since a global pandemic made accidental homebodies out of everyone, I can only imagine how home improvement will explode this spring!
Time to Joyfully Embrace Spring Cleaning?
As the light outside begins to change, it is as if we see our spaces and belongings with brand new eyes. It suddenly feels as though the time is ripe to address our interiors in fresh ways.
We are all different so your essentials may vary from mine (and if so, I'd love to hear about your picks).
Downsizing Isn't Downgrading
This topic becomes particularly significant if you happen to be downsizing as we did seven years ago. In 2015, we gutted the dated 1990s kitchen we inherited with the foreclosed fixer.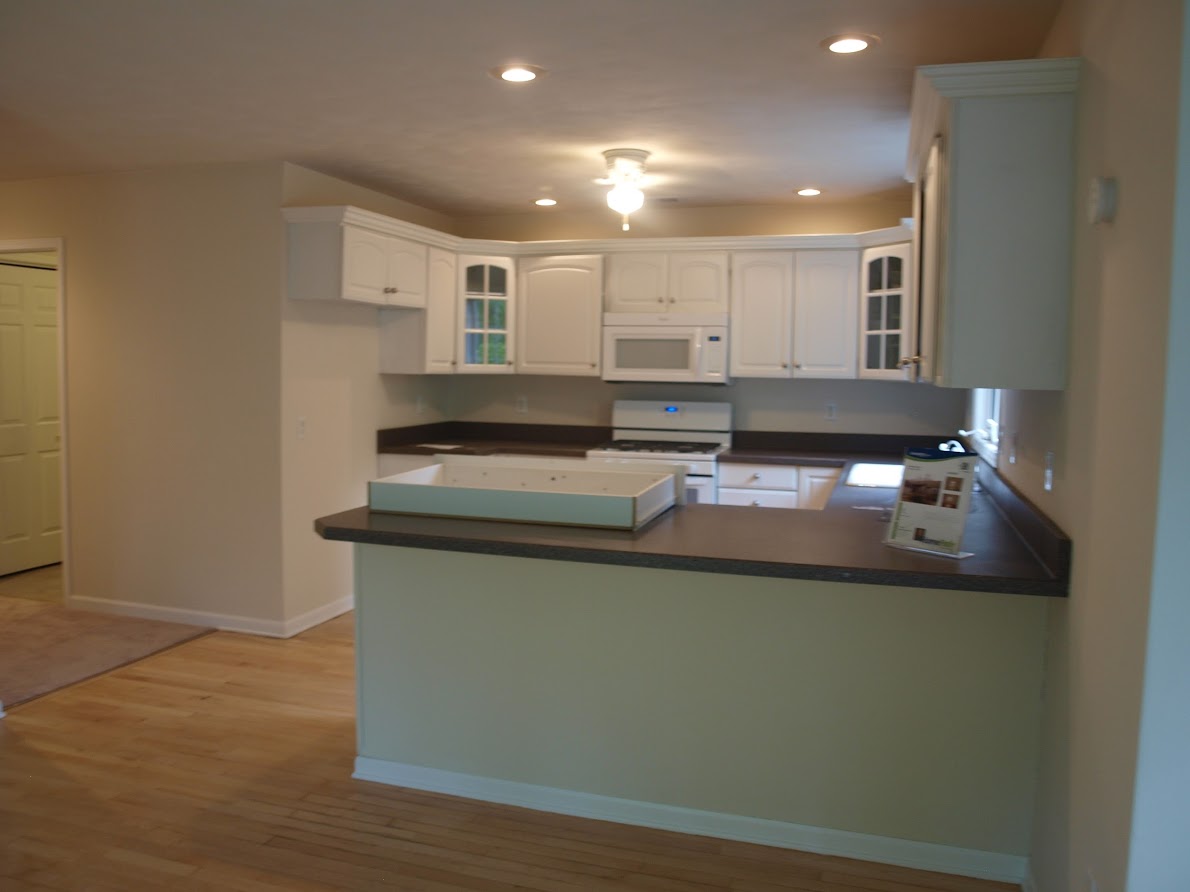 Then we addressed the dozens of design details involved with creating a new kitchen. While it can be argued one can never have enough storage in the kitchen, we had neither the budget nor space for bountiful storage.
Instead, I imagined the ease of using and storing simple essentials. For example, if ever I get the itch to make a trifle, I will have to borrow the appropriate dish for it from a friend.
Same goes for Pizelle cookies or any recipe requiring a Mandoline slicer or pressure cooker.
Pare Down to Favorites
Simplifying for me, goes hand in hand with truly wanting what I have. Excess stuff I don't use, am wishy washy about, or is a color I don't like is unnecessary.
Energy exuded from the unnecessary drains me and blocks the way to a lighter way of living and being.
While I own boxes of random stuff in the basement which I am storing (kids artwork, photos, styling props, Christmas decor, baby clothes, books), when I address them and pare down, I feel so much better!
A Less Cluttered Kitchen
Am I going to convince you to whittle down your rolling pin or spatula collection? I don't know.
Lots of folks are comforted by the clutter that creeps in. But keeping just one favorite (the rest can be offered for free on FB Marketplace or donated) may clear clutter and make room for breathing space as well as a greater lightness you never knew you needed.
1. Touches of Antiqued Silver
While I feel uneasy with too much clutter, a little is necessary for efficiency sake. And that clutter may as well be lovely!
An essential on the counter next to our farm sink is a silvery mercury glass holder (meant to hold a candle) for vegetable and pot scrubbing wood brushes.
I like the antiqued glass finish of these receptacles since it bounces the light around and provides relief from all the white while remaining understated. Another vintage-y looking touch of antiqued silver which I leave on the counter: salt and pepper shakers.
Here are the exact ones, and you'll note mine are thoroughly tarnished! They may be discontinued, but keep checking eBay and second hand sources.
2. Rustic Warm Wood
Our reclaimed elm wood stool below abstract paintings (by me) is something I rely on every single day. It provides a boost when the 5'2″ me needs one, makes a great perch for a handbag or small sack of groceries, and often holds a stack of cookbooks dragged in here. It is the perfect perch, and I love the warmth of wood in an all white kitchen!
Our stool came from RH years ago. Sarreid used to offer a very similar one as well. An antique reclaimed wood stool is always my first choice…sometimes you can score one at OKL:
If you love a raw wood, bleached, or scrubbed look with rugged texture:
They also make great perches in the bath.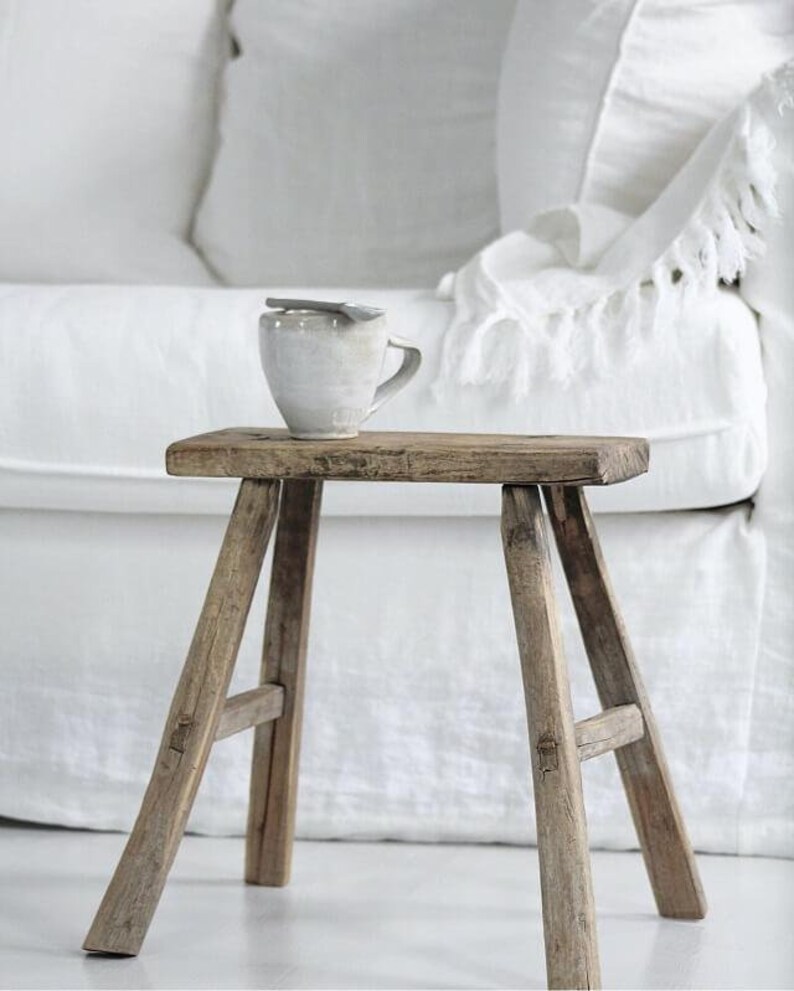 A round accent stool may do the trick too:
If you love the rustic look of wood stools in the kitchen and need one as seating at the counter, here's a good looking, greyed finish, friendly priced reclaimed wood option at Pottery Barn:
Another way to bring the warmth of natural wood into the kitchen is with a turned candleholder or two.
3. Multi-use White Ruffle Bowl
I can't give this versatile, beautiful bowl for under $30 enough praise. It is pretty enough to display on the counter and hold fruit, snacks, napkins, and more. Yet it also works as a popcorn, salad or pasta bowl (when you're not serving a crowd).
It is basically a genius-sized everything bowl with a great sculptural form.
It also makes the perfect gift! You could fill it with the lucky recipient's favorite snack!
If your kitchen needs a round board for charcuterie or a pizza paddle, these reclaimed pine options with a vintage Italian look, are beautiful:
4. Marble Bowls & Crock
Get ready for my favorite finds that hail from a surprising source!
TARGET! Yep. These gorgeous, natural stone bowls (for dips, nuts, condiments, or at-the-ready spice blends as you see here on my counter).
I love 'em so much that they were the last thing to leave this house and come live in the new house!
In fact, they are a perfect example of living with natural, organic, beautiful things that serve a function and please the eye at the same time.
Think beyond what you may be settling for as a utilitarian receptacle for wooden spoons…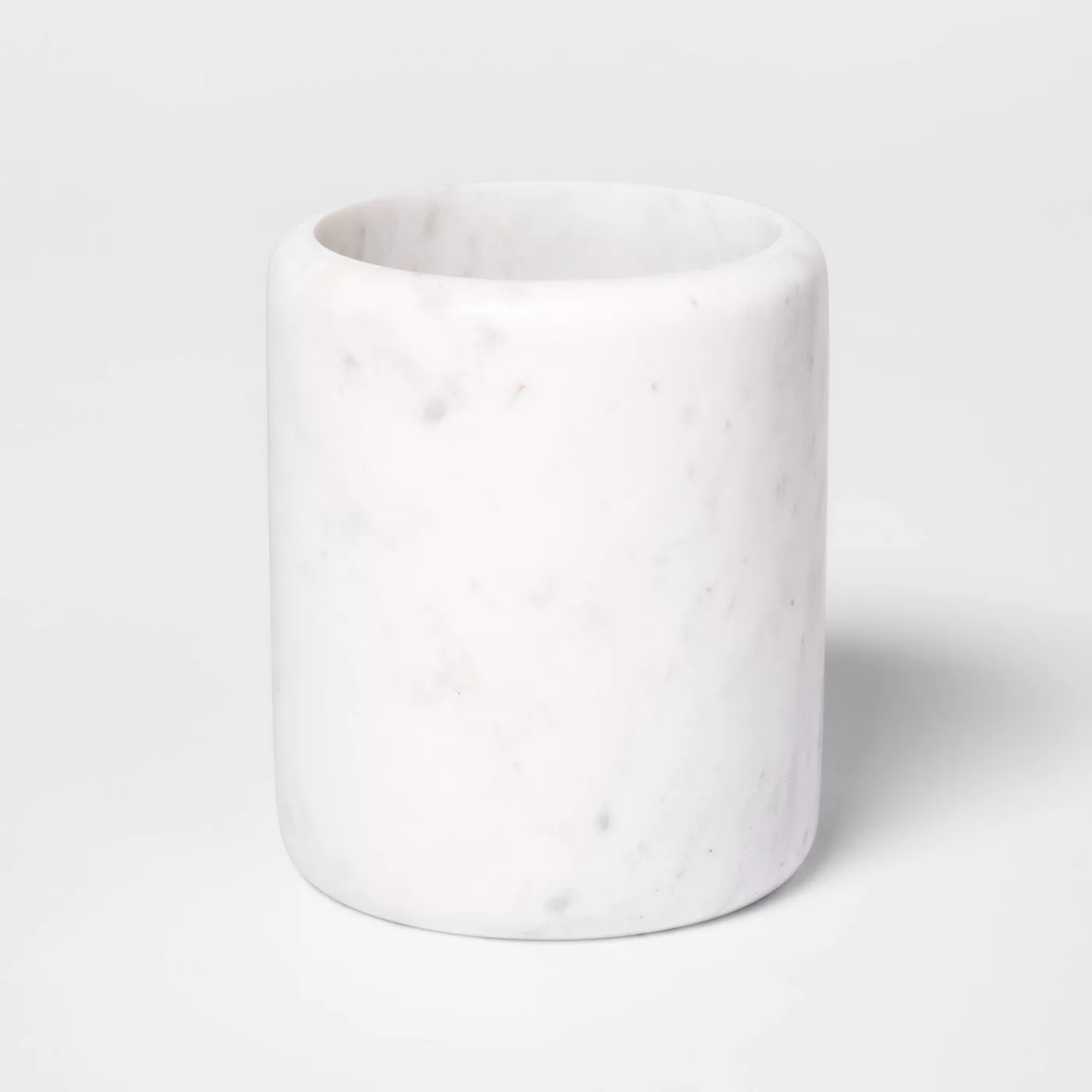 and I bet you'll never look back!
5. Vintage Mixed With New
When everything in a new kitchen feels NOW, there may be a lack of character and interest. To avoid that generic, non-custom, showroom look…just add vintage and Old World things (like an antique farm table) to the mix.
I love living with beautiful vintage dishes (like these Fireking Swirl plates) and cookware (glass mixing bowls from the 50's are a dream to use and admire in the kitchen).
Did you ever see the post where I showed you how to make my no-flour, no-knead easy healthy bread? There was a season that bread kept me alive, and I ate it toasted every day with a handful of dried cranberries, cherries, and golden raisins. While it contains fats from the nuts and seeds, they are good ones.
Did someone stay TOAST? We cannot live without this: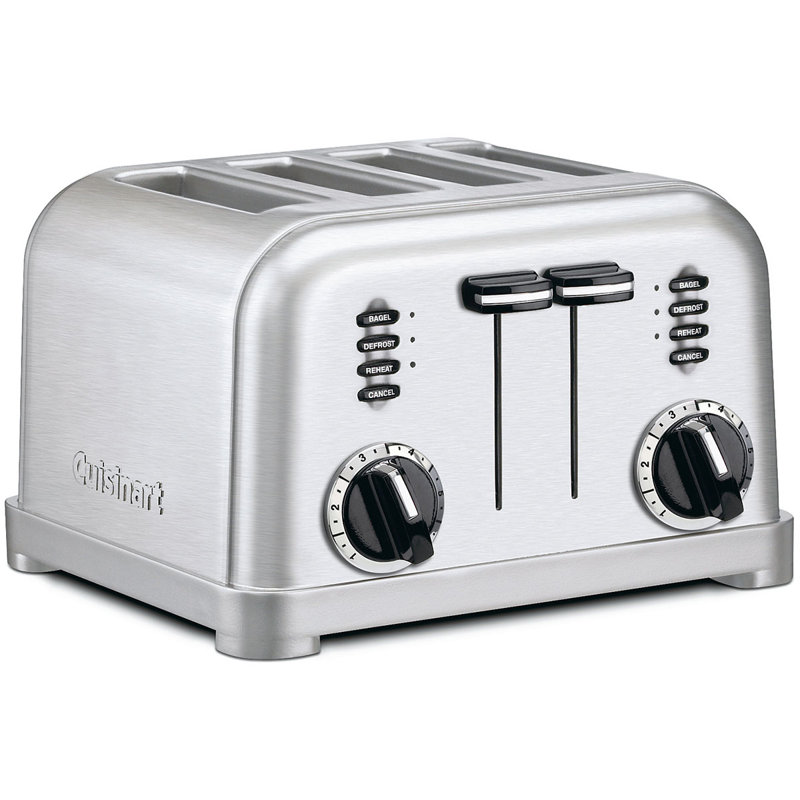 6. Heavy Cookware
I love heavy pans that do a beautiful job and last for many years. Here are my everyday ones.
7. Dishtowels With Stripes
8. Sous Chef
This is the Vitamix model I have, and you may be surprised to learn its price. I always thought it was an extravagance I could live without, but when time and/or strength is low, it's MONEY!
Also, can I get an AMEN? I grew tired of replacing cheap blenders after burning the motor out…mercy.
If you are striving to eat a healthier diet with smoothies, vegetable juicing, and protein shakes, you can reach for a blender and maybe get a fair result. Or you can invest in a Vitamix and wonder how you ever settled for less. It's a dream. I use it for everything from smoothies to grounding oats into flour.
A Word on White Quartz Countertops
I field so many questions about white quartz countertops, and after 7 years, I never fell out of love with Viatera "Minuet" quartz.
There were a few little nicks and scratches after years of heavy use, but nothing that we felt the need to have buffed out.
There was also no staining, and while the veining is busy, Minuet's light grey pattern is understated so it doesn't jump out.
I'm not even sure I would like Minuet as much if the veining were less busy because it helps the overall countertop stay forgiving.
Here's a smart teapot (below) that looks great resting on the black grates of your cooktop or range.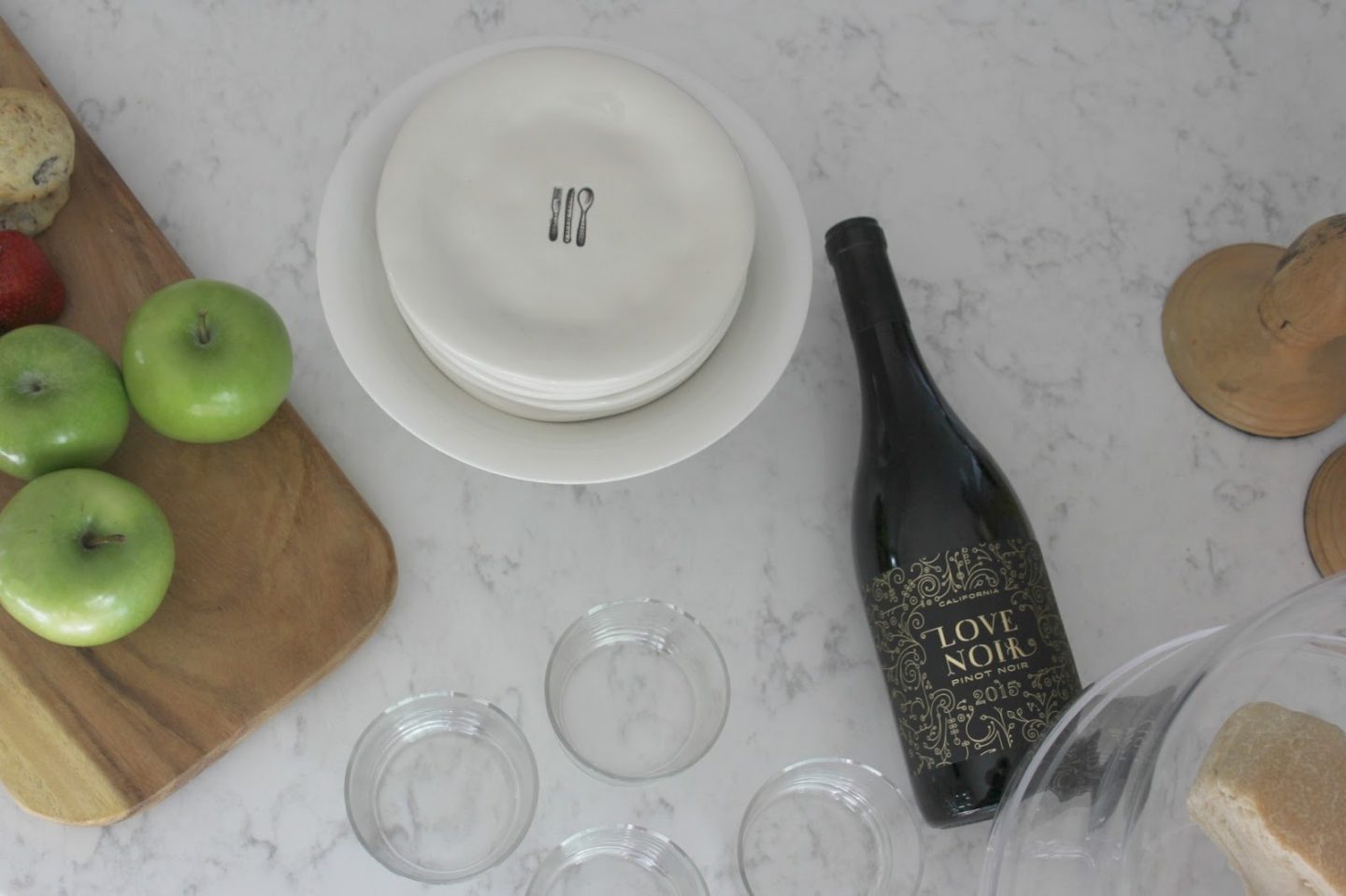 Another kitchen essential are these small tumblers which are perfect for wine, little desserts, mocktails/cocktails, and juice.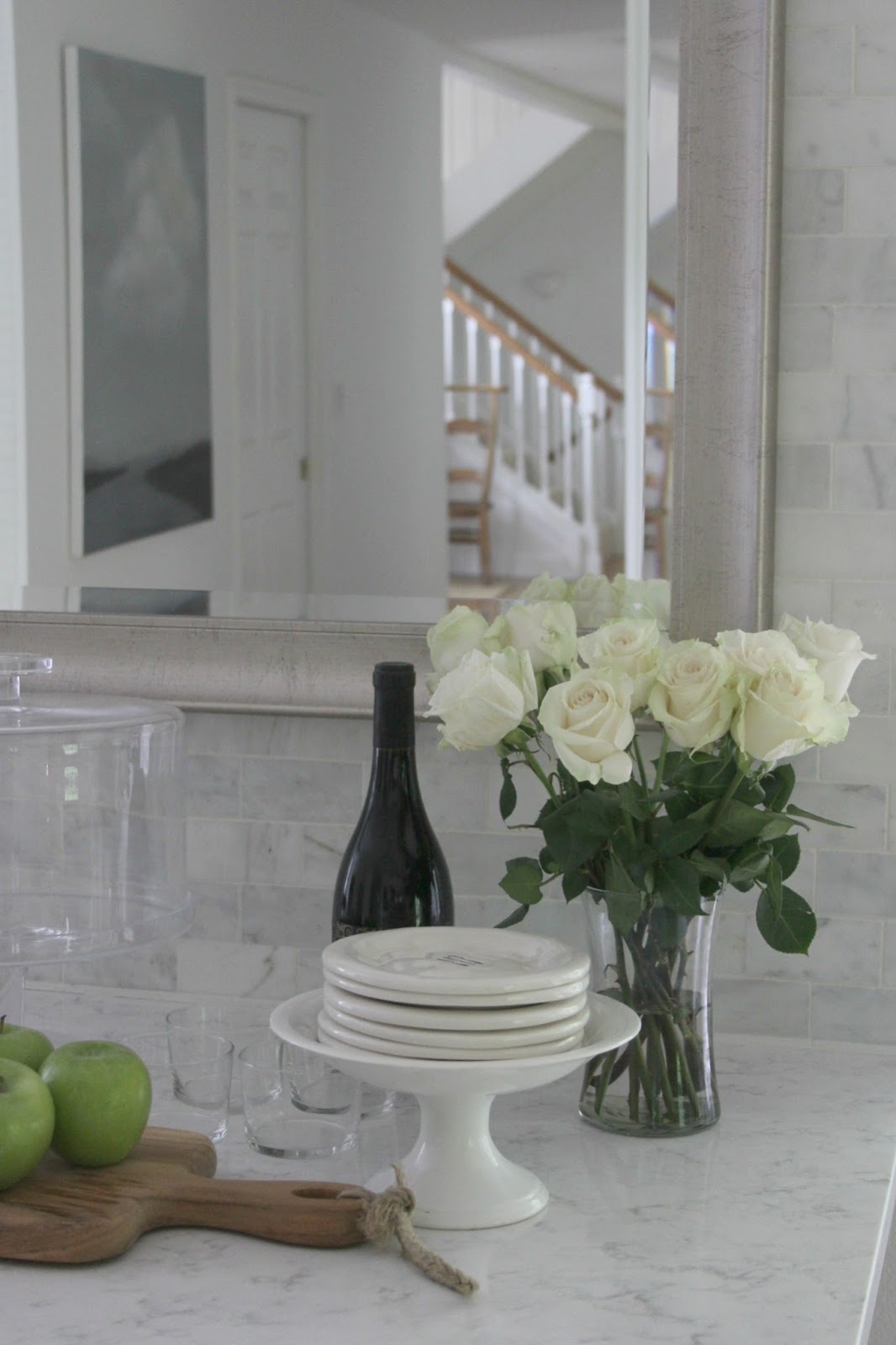 Woven placemats protect surfaces but also add a layer of texture…don't you love those double duty essentials?
Watch This Tour of a Tiny Apartment in Kyiv
Just days before the Russian invasion, this beautifully designed Ukrainian apartment tour was unveiled by an interior designer. How I hope and pray that somehow freedom will ring for these innocents.
Tour a Whimsical Home!
I mean you just know Jonathan Adler's home will be whimsical, but prepare yourself!
THANKS SO MUCH FOR READING AND VISITING ME EACH DAY. SAY HI IF YOU HAVE A MOMENT…I LOVE MEETING YOU IN THE COMMENTS. 🙂
I independently selected products in this post—if you buy from one of my links, I may earn a commission.
Peace to you right where you are.
-michele
Shop for items you already intended to buy on Amazon RIGHT HERE, and also find home decor here to keep decor inspiration flowing on Hello Lovely!
Hello Lovely is a participant in the Amazon Services LLC Associates Program, an affiliate advertising program designed to provide a means for sites to earn fees by linking to Amazon.com and affiliated sites.