We're revisiting a delightful renovated historic home in Deux-Sèvres! This renovated farmhouse remains wildly popular on Instagram and inspired the French homewares brand Vivi et Margot for Charlotte Reiss. (If you have been following Charlotte, you may know she moved to France and is working on a book!). French Farmhouse Rustic Style & Easy Breezy Interiors Now tours her family's charming home and also offers design ideas to get the look.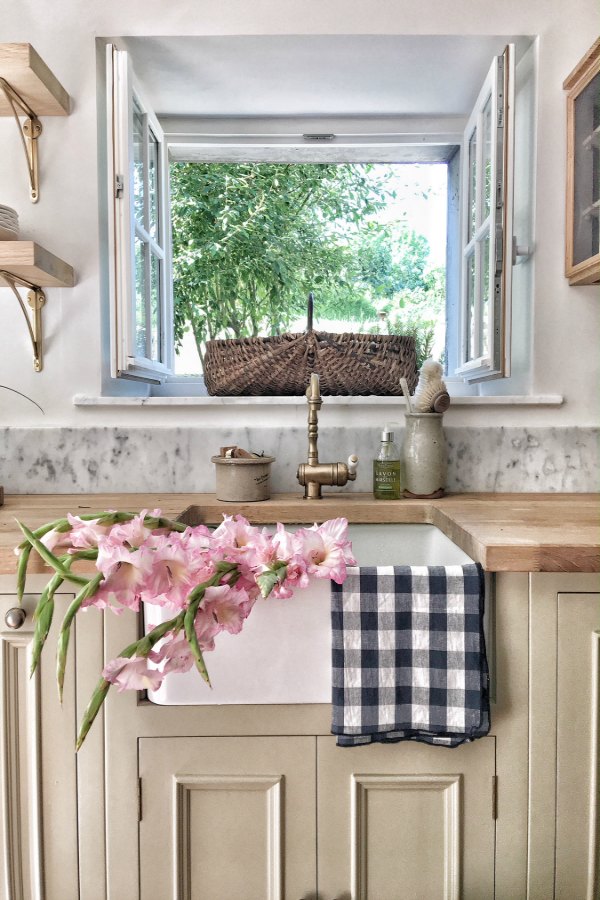 Photos: Charlotte Reiss of Vivi et Margot
French Farmhouse Rustic Style & Easy Breezy Interiors Now
You may remember our interview with creative dynamo Charlotte Reiss, who shared her journey to home ownership in France with HL a few seasons ago.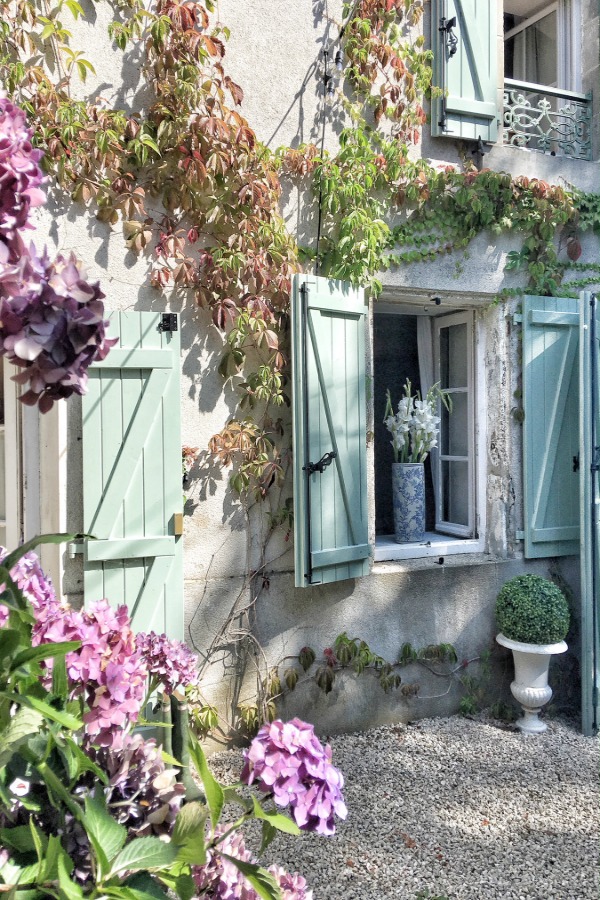 And if you've kept up with her on IG, you'll know she has made France her primary home!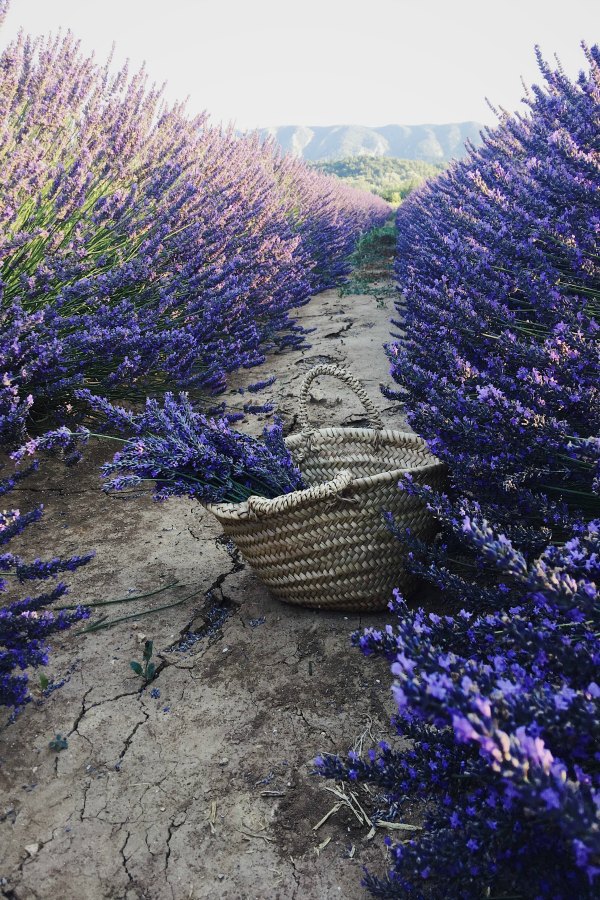 She and husband Sky fulfilled their dream to own a French farmhouse as both an escape from LA for summers and holidays and a place for their young daughters (Vivi and Margot) to enjoy the French countryside.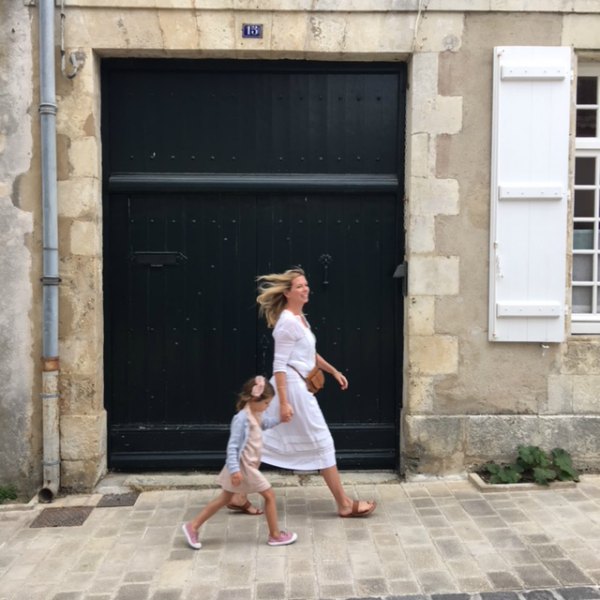 It's one thing to take on a whole house renovation (don't I know it, y'all!), but quite another to do it in a foreign country.
Here's a taste of renovation reality:
A Business Blooms
French farmhouse living eventually bloomed into a business for Charlotte, whose fans on Instagram requested the beautiful French homewares glimpsed on her feed.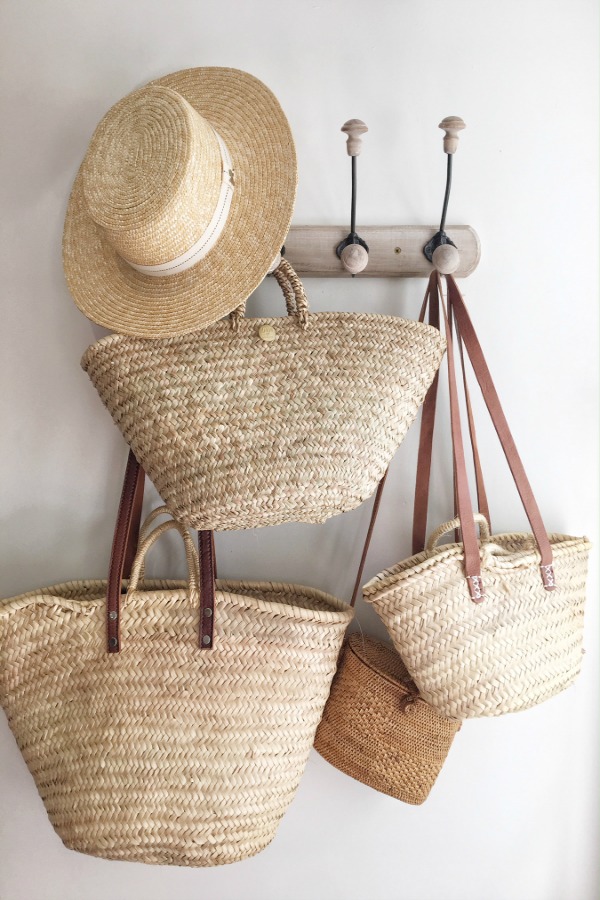 She created Vivi et Margot (named for her daughters), where you can snag iconic French market baskets (above) as well as vintage treasures.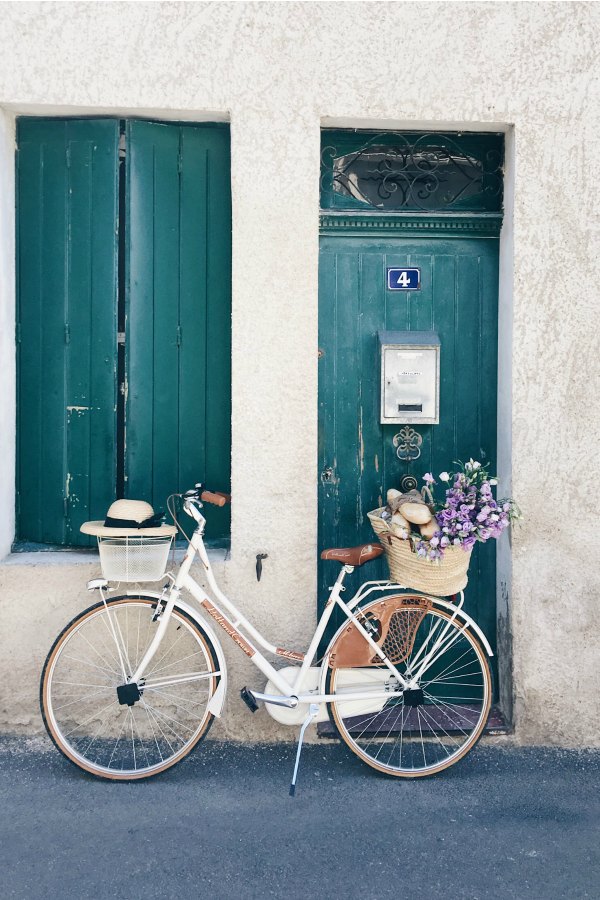 One of the things I adore about Vivi et Margot is that it isn't just another over-styled slice of social media perfection the rest of us would be hard pressed to emulate.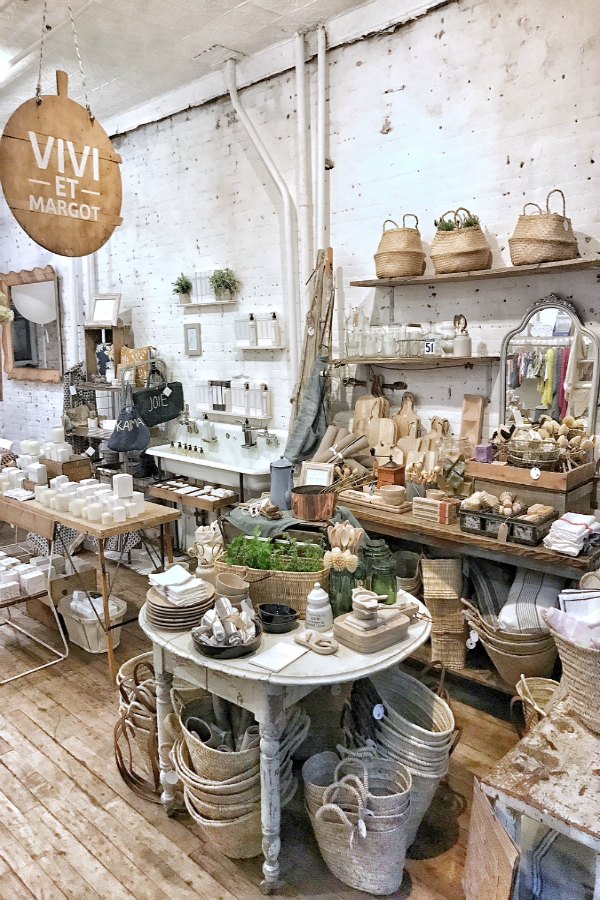 There's an authenticity and real life renovation story permeating it all.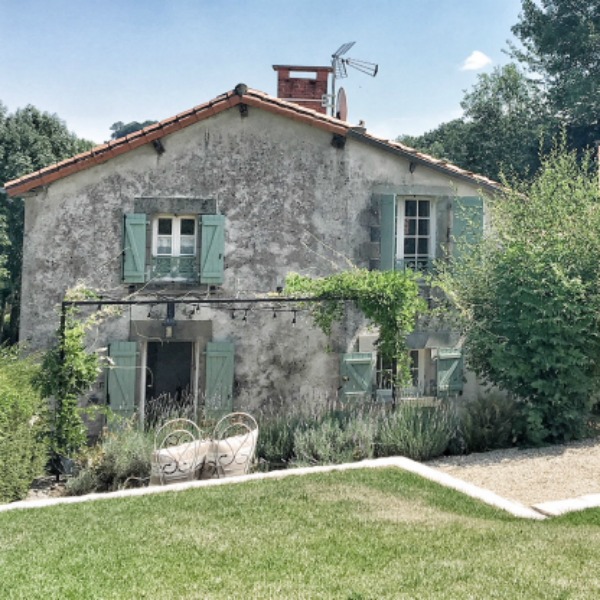 Believe it or not, Charlotte snagged this place for under $100K!
Where is this French Farmhouse by Vivi et Margot?
Let's tour Charlotte's French farmhouse in Deux-Sèvres (80 minutes from Ile de Re and 2 hours from Bordeaux)!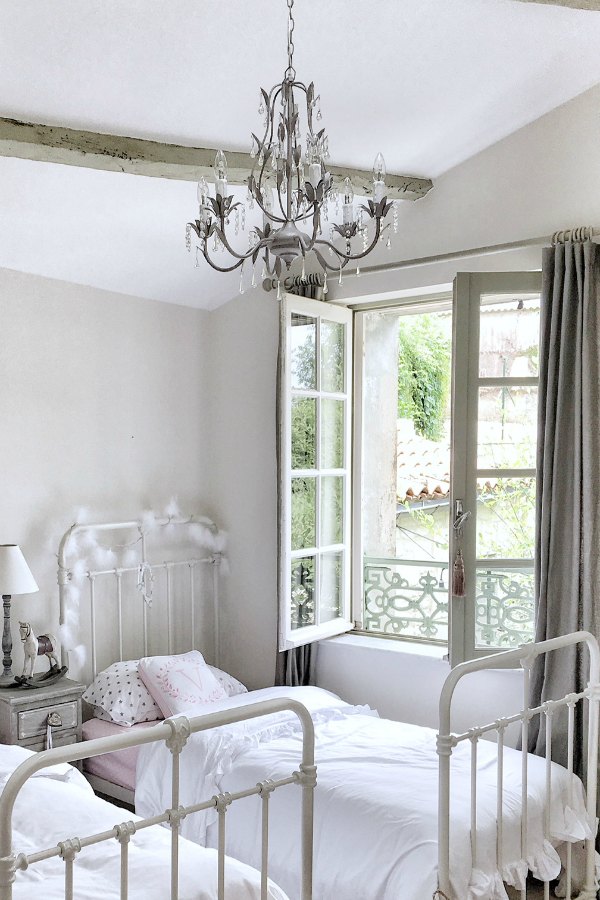 The renovated farmhouse charms with its authentic French country interiors and French decor accents, many of which are sourced at Vivi et Margot.
Psst. Don't miss the helpful Paint Color Guide and Shopping Resources at the end of this post in case you would like to score an authentically natural French country look.
Design Inspiration from a Beautiful French Farmhouse in Western France
What Design Elements Figure Into this French Farmhouse Main Bedroom?
You'll find a skylight, paint colors from Farrow & Ball, rustic beams, romantic crystal chandeilers, built-in cabinetry, and billowy Belgian flax curtains.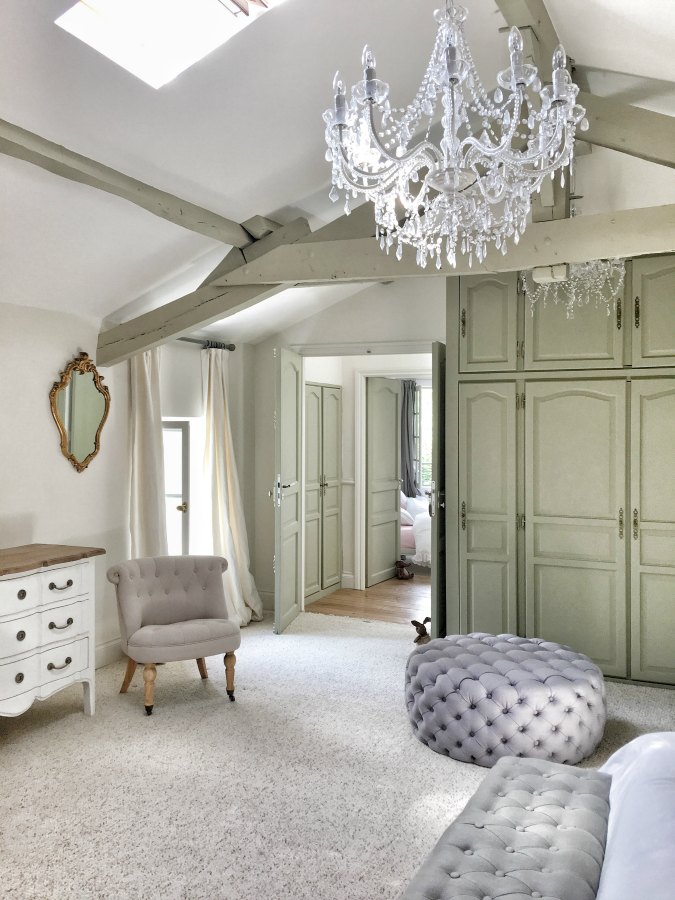 Look, mom, it's a tufted trinity!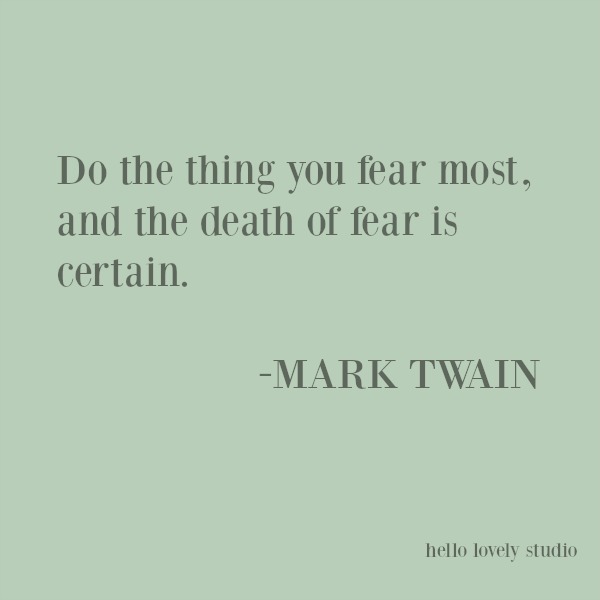 The pale French country color palette sets such a tranquil mood.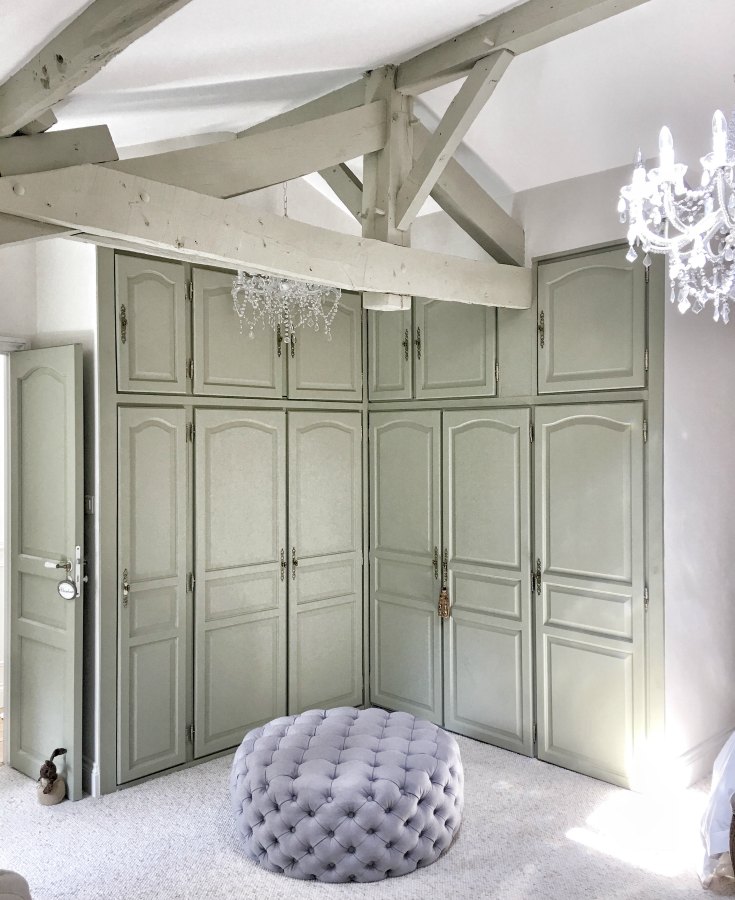 Are you surprised to see carpet in here? Because I find it so refreshing to see interior design elements that make sense for the homeowner more than for social media photos and styling. Know what I mean? As a blogger, I know firsthand how there is often a conflict of interests happening. Gleaming hardwood flooring looks inviting and glorious in styled photos, but if it doesn't make sense for the daily living needs of the blogger/influencer…
How to Mix Rustic Architectural Elements with Feminine Romance?
I feel like kind of a broken record, but color is one of the primary ways to create a cohesive mix. If the cabinetry and beams were stained and dark, the mood would shift dramatically.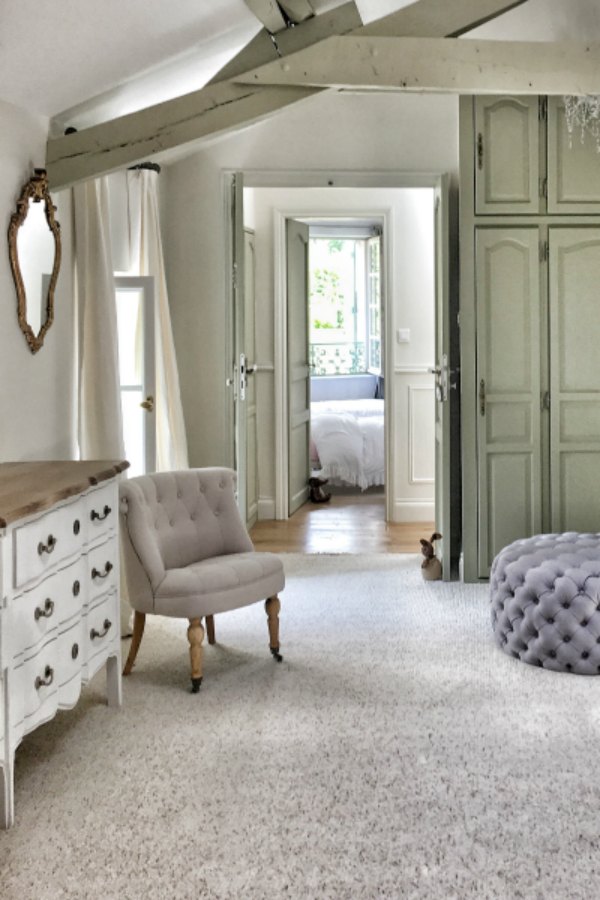 Hello, Lovely crystal chandelier!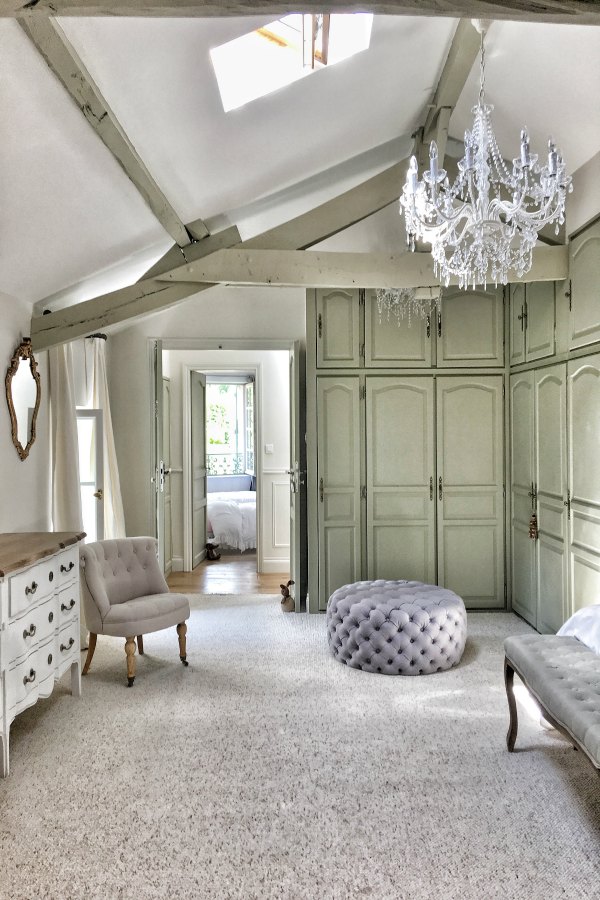 A traditional chandelier adds romance, as do the curvy Frenchy legs of dresser, bench, and chair.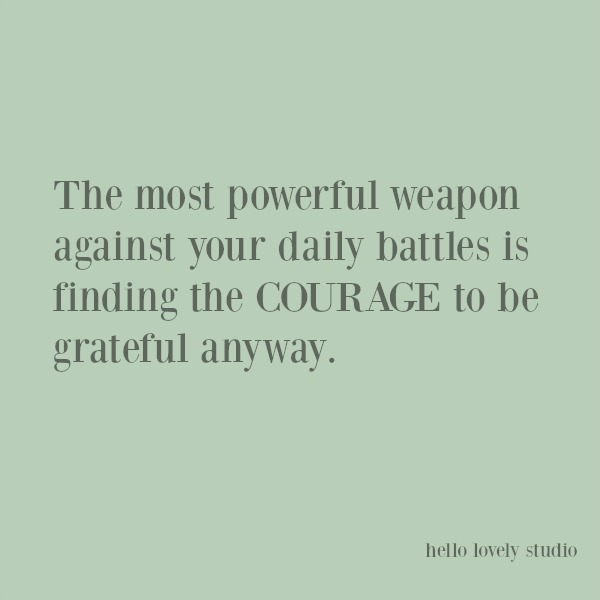 Even the wall mirror has a feminine shape and style.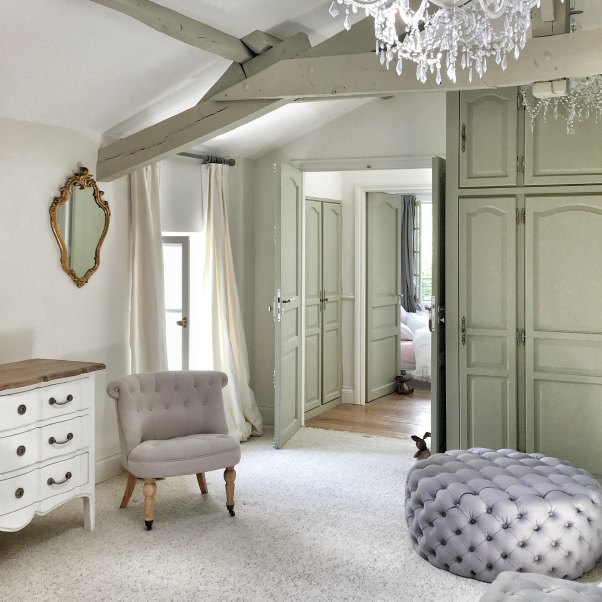 How to Design a French Farmhouse Bathroom?
A mix of old World and modern amenities is a must when you are working with such an old home with charming architecture.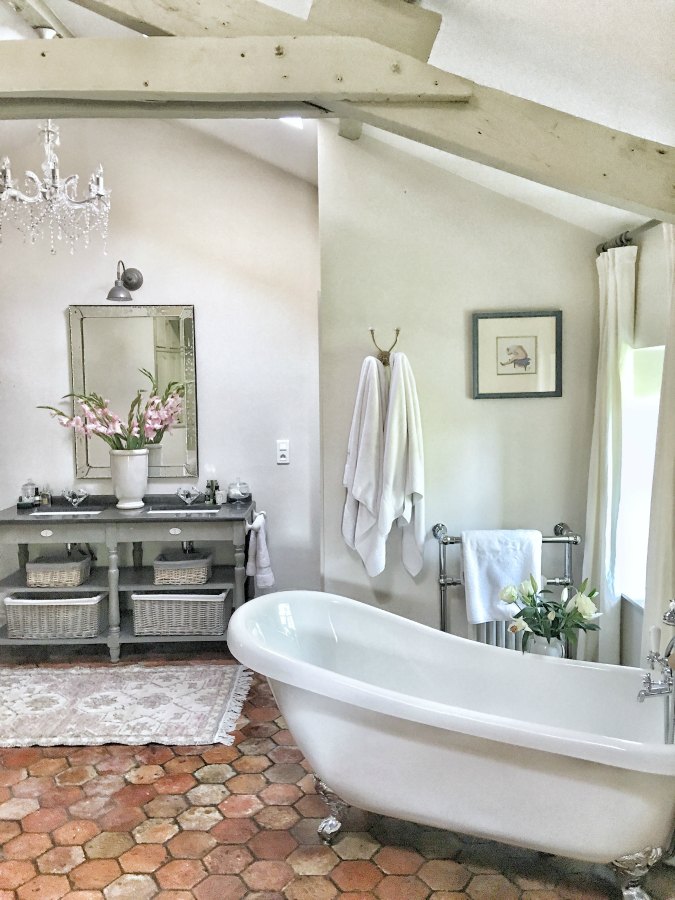 A clawfoot soaking tub need not be new to feel integrative and harmonious.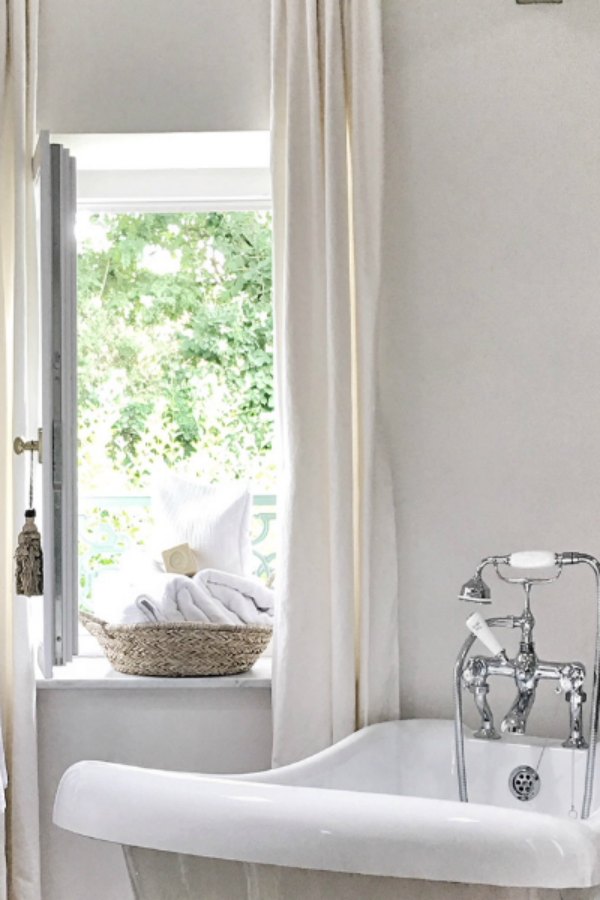 Don't you love the deep window sills of an old farmhouse? If you've got them, use them to full advantage!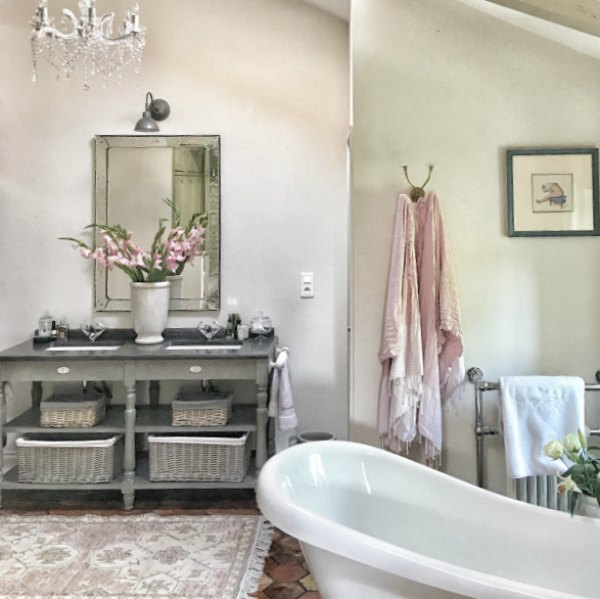 Isn't this bathroom vanity perfect as a mix of old and new? French country baskets are perfect for hiding daily essentials and plumbing.
Romantic Rustic Elegance & Softness in an Authentic French Home
The softness of textiles like the simple curtain panels and a basket of towels is something we can consider even if we find ourselves short one French farmhouse.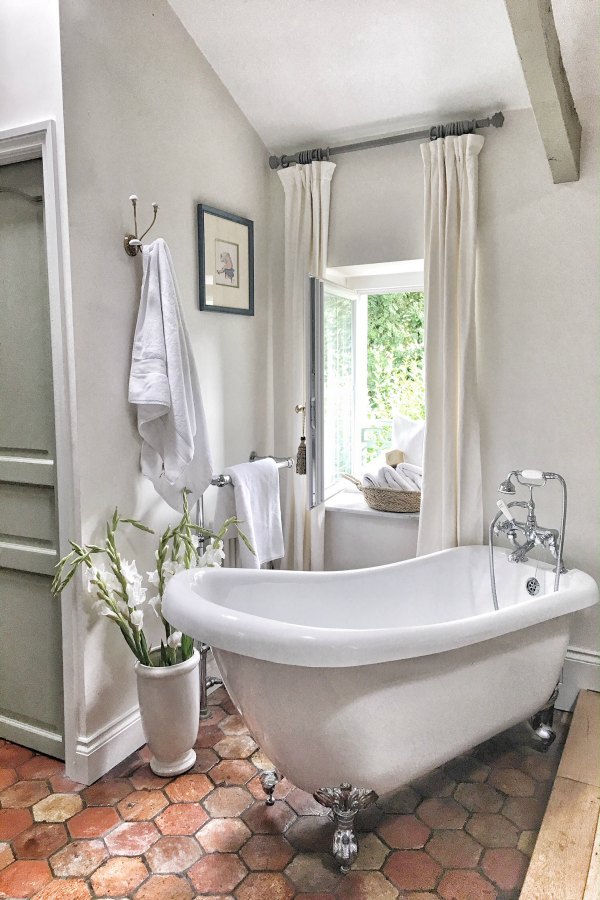 A beautiful Turkish rug layered over antique terracotta hex tiles is another beautiful layer Charlotte effortlessly chose.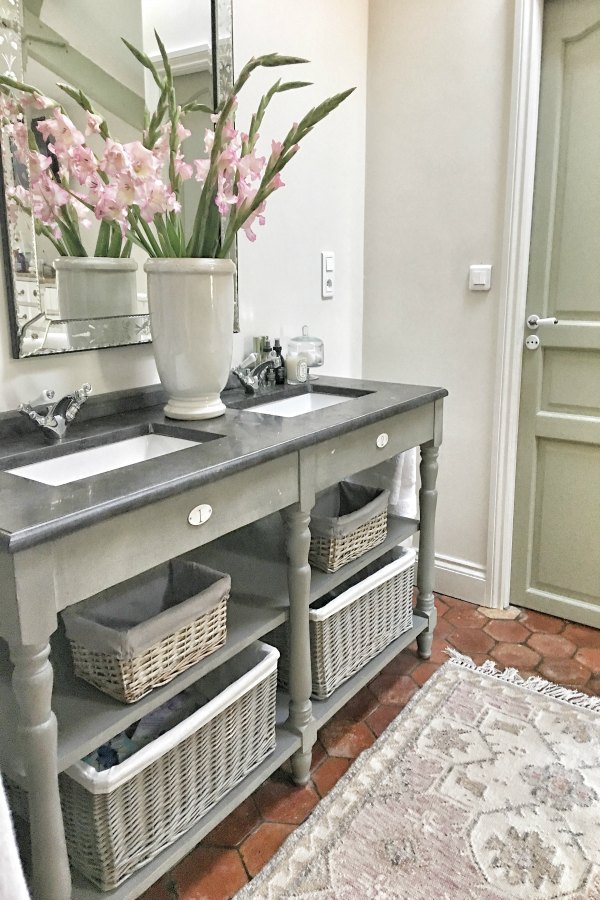 Even the softness of the fabric lined baskets is a small detail that can live large on a daily basis.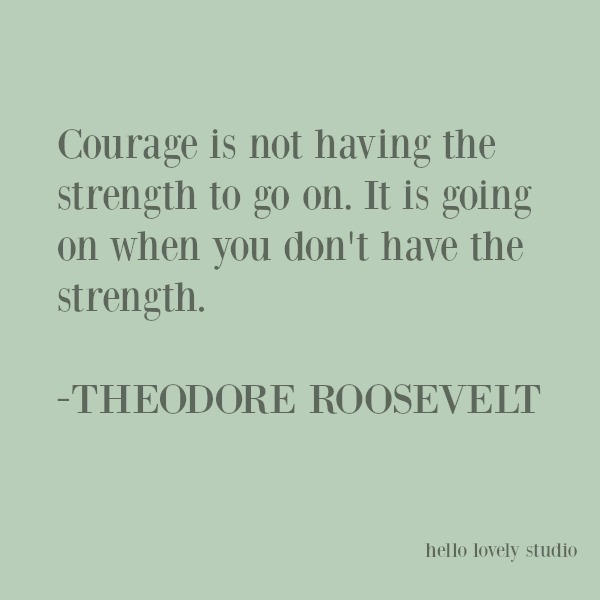 Tone on Tone in a Renovated French Farmhouse Bathroom
While there is contrast with the darker flooring and lighter wall color, the contrast is kept low everywhere else.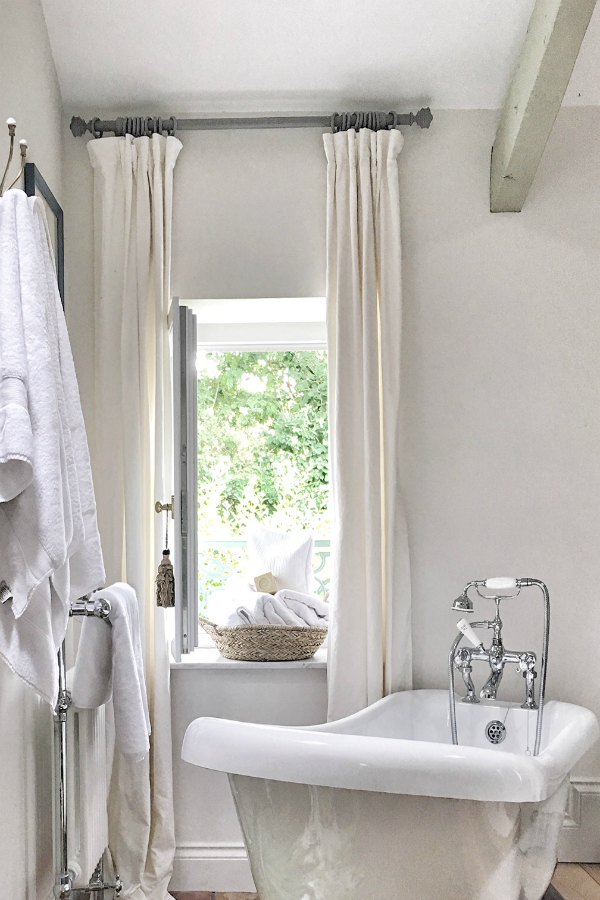 Greeny greys, greyed whites, and soft pinks are calming and lend themselves to the spacious, ethereal vibe.
How to Use Touches of Pink in a Charming French Bathroom?
Americans are often so afraid of pink accents, and if you're thinking about adding some, the bath may be an easy place for experimentation.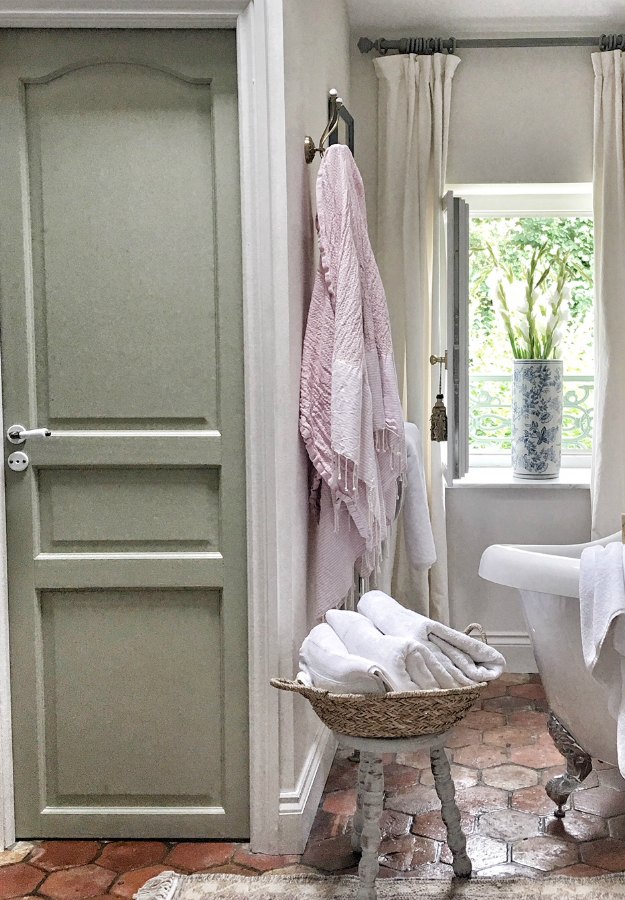 Beautiful pale pink towels or curtains may add the bit of romance you're after.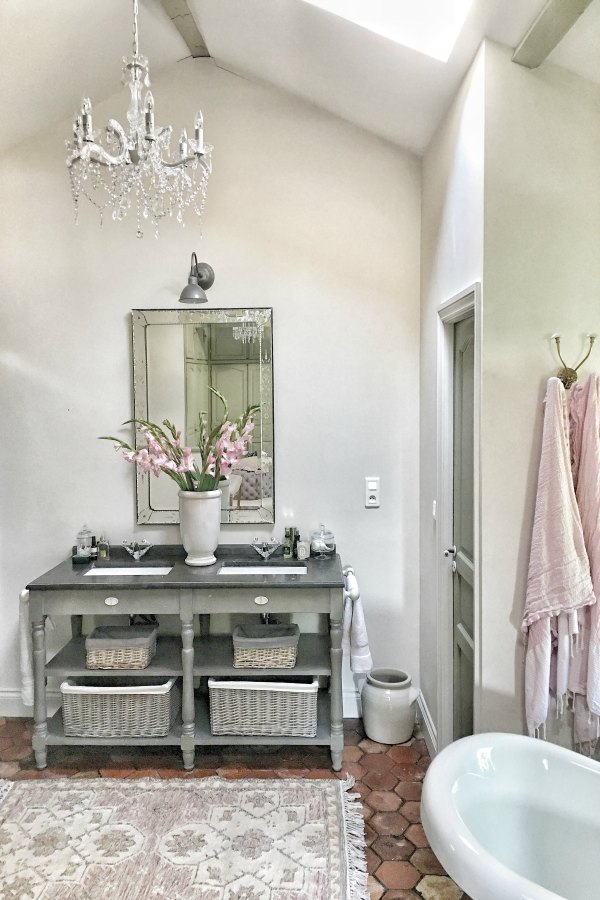 The pink of fresh flowers can also lift the mood of the space.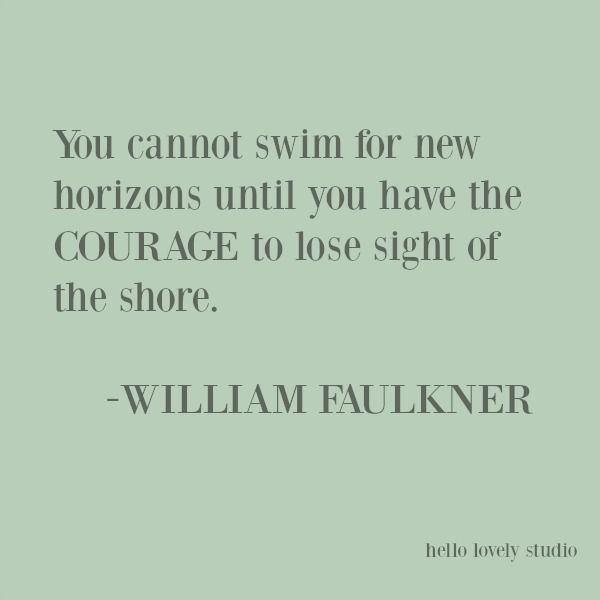 What a mood booster to be able to throw open the window shutters and usher in a country breeze!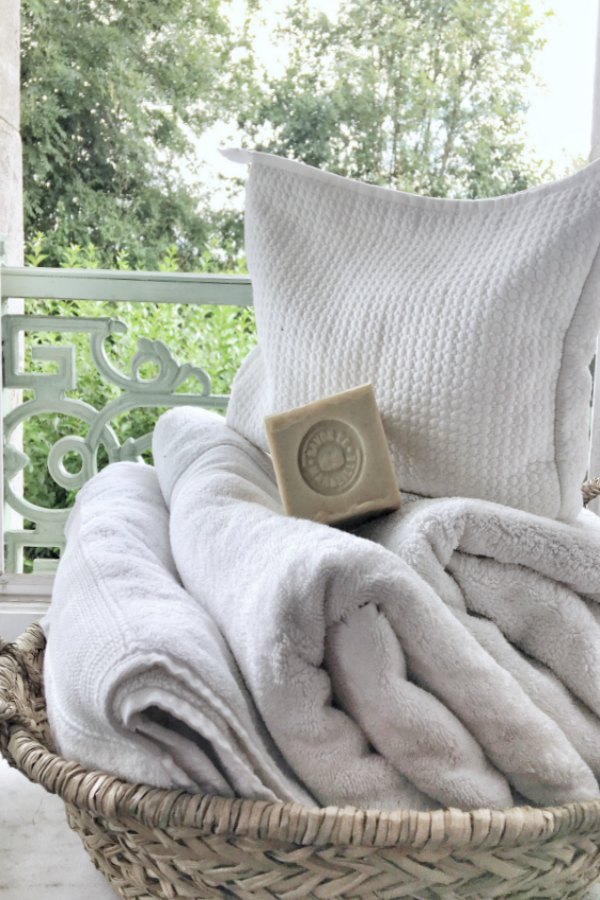 There are many more interpretations of French farmhouse style, and you can see examples HERE.
Clawfoot Tub With a View!
If you happen to be designing a bath from scratch and have some control over the placement of the bathtub…
It definitely pays to put thought into the bather's view.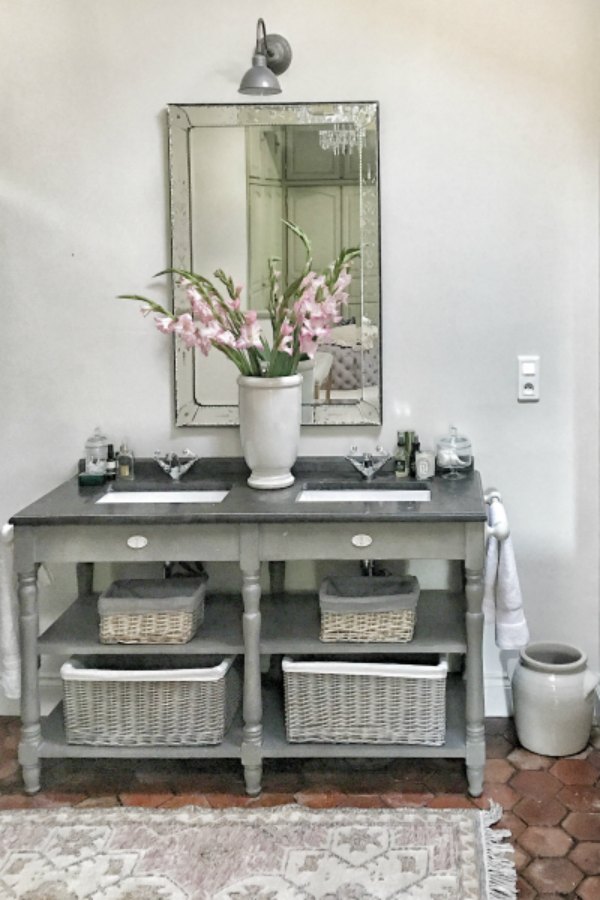 It's one of the many reasons it pays to involve an interior designer or residential home building designer in the whole process.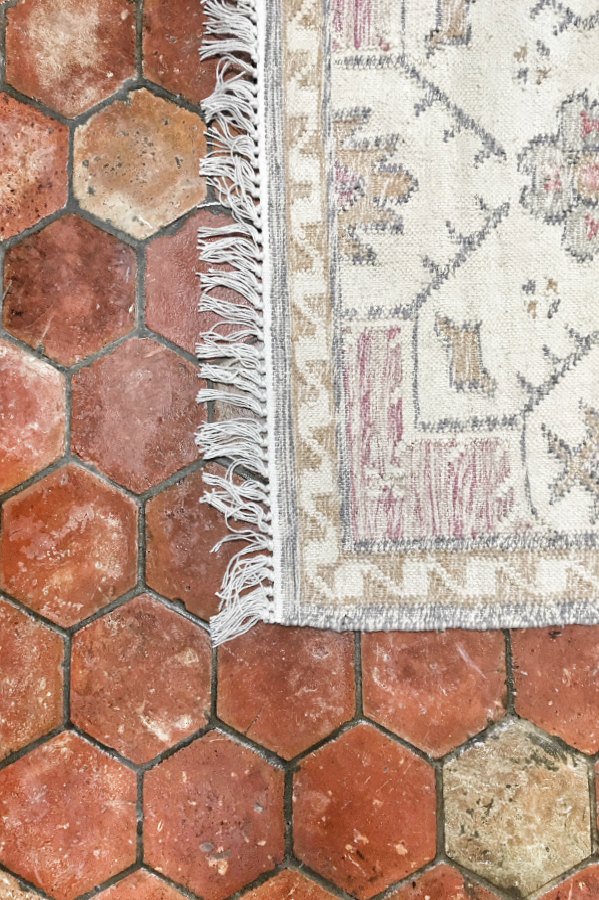 It's the little things! I am also noticing that even the choice of grout color can pack a huge punch. It would be far easier to live with this dark color than something light that shows everything.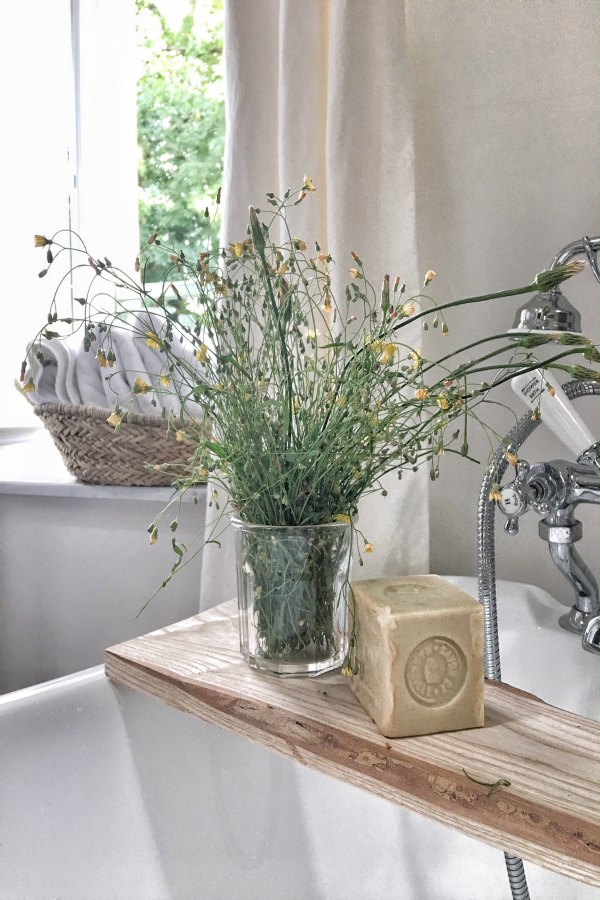 French Farmhouse Living Room Design Inspiration
Again, we see shades of muddy green-greys and putty along with matte metals and pale rugs layered over character-rich wood floors.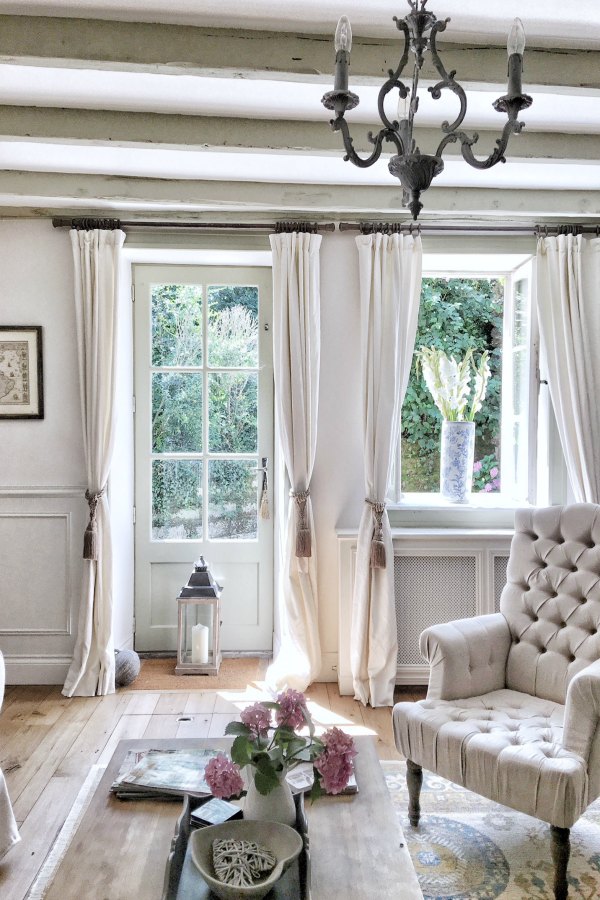 Breezy Belgian flax linen drapes are held back with tassels, and beautiful wainscot molding brings texture and interest, though it doesn't compete since it is painted in a pale tone.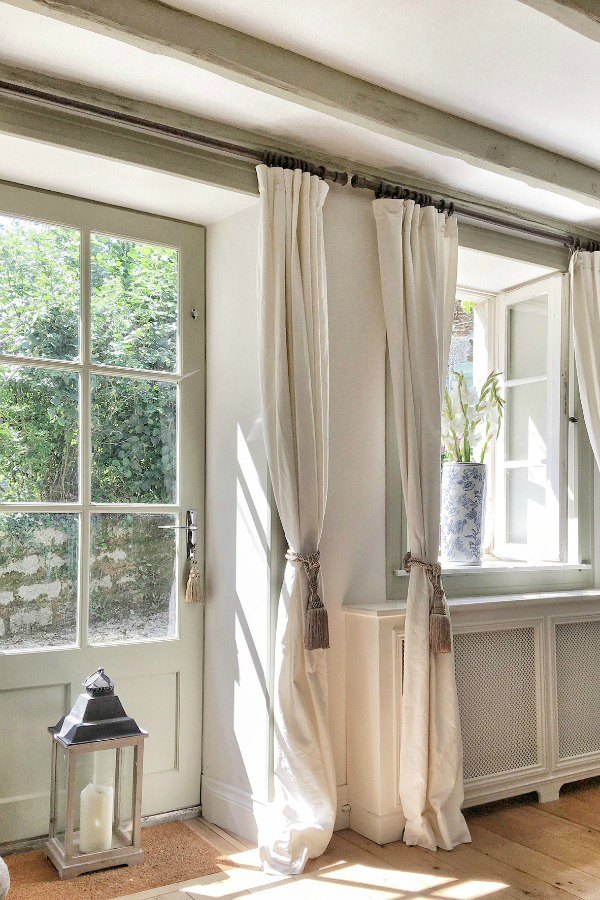 Surely the surrounding French countryside is the star!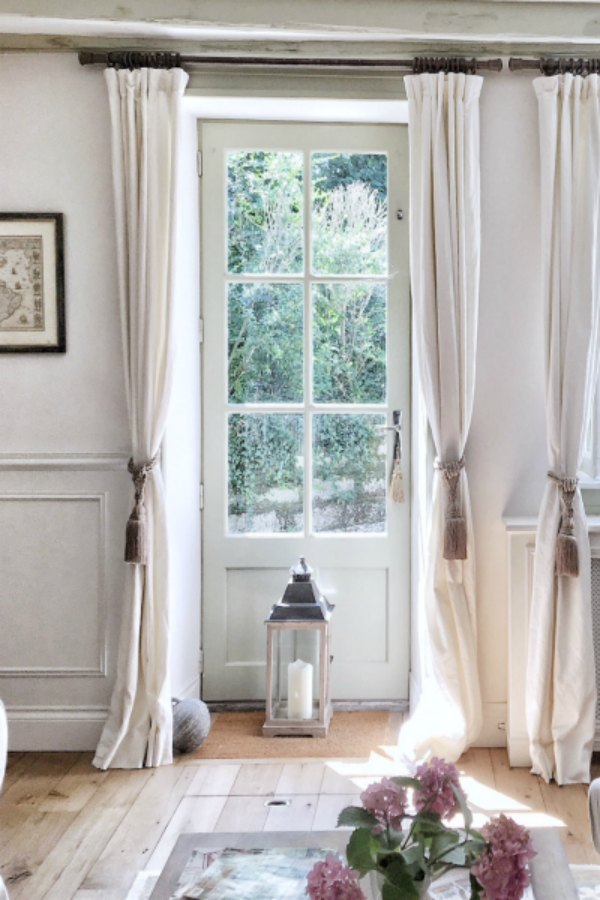 What could be more magical than an old French door leading to the French countryside?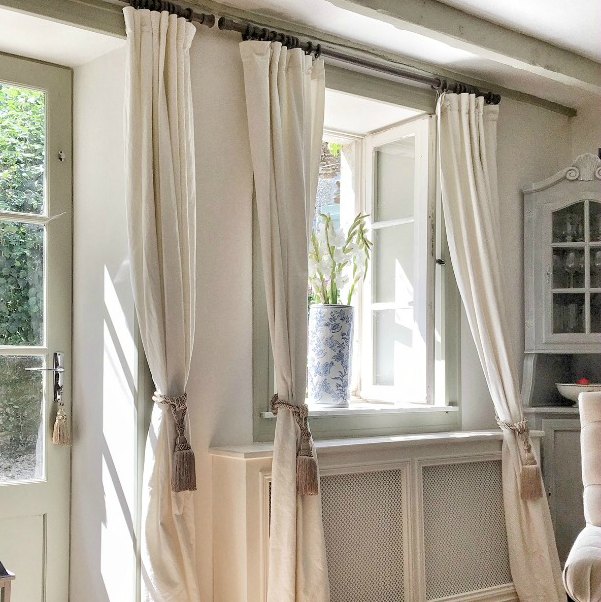 I love that Charlotte used Pottery Barn for her window treatments!
Beautiful French Farmhouse Design Inspiration – Laundry Room
Charlotte's laundry room looks to me more like a movie set than a real utility room…and in the best possible magical way!!!
Natural light, rugged beams, beautiful tiled walls, a farm sink, and modern machines topped with warm wood!
How to Design for Simplicity in a Beautiful French Farmhouse Girls Bedroom?
Charlotte also shopped unlikely sources such as Pottery Barn for her girls' bedroom.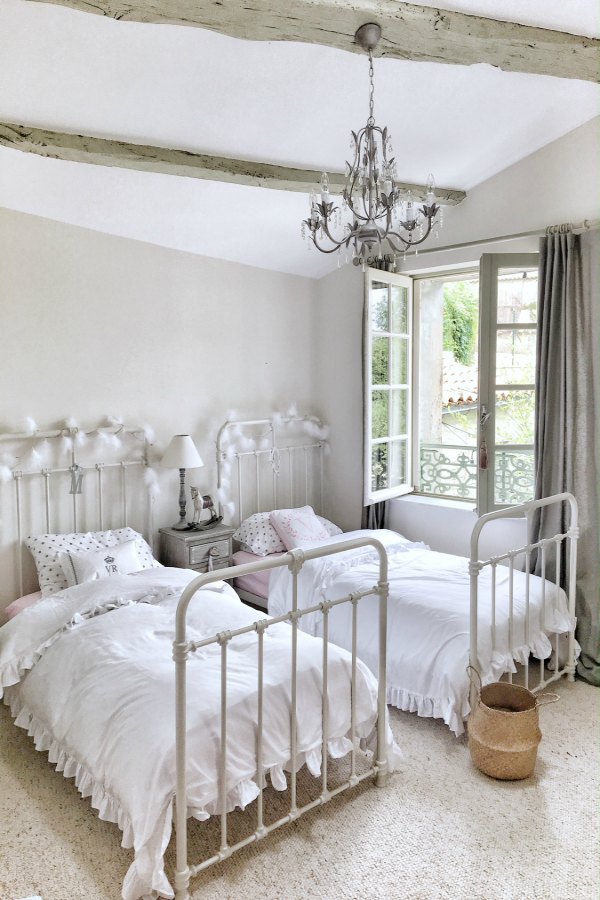 Simple vintage style panel beds, a romantic candle-style crystal chandelier, and bedding with a simple ruffle all contribute to the understated ease.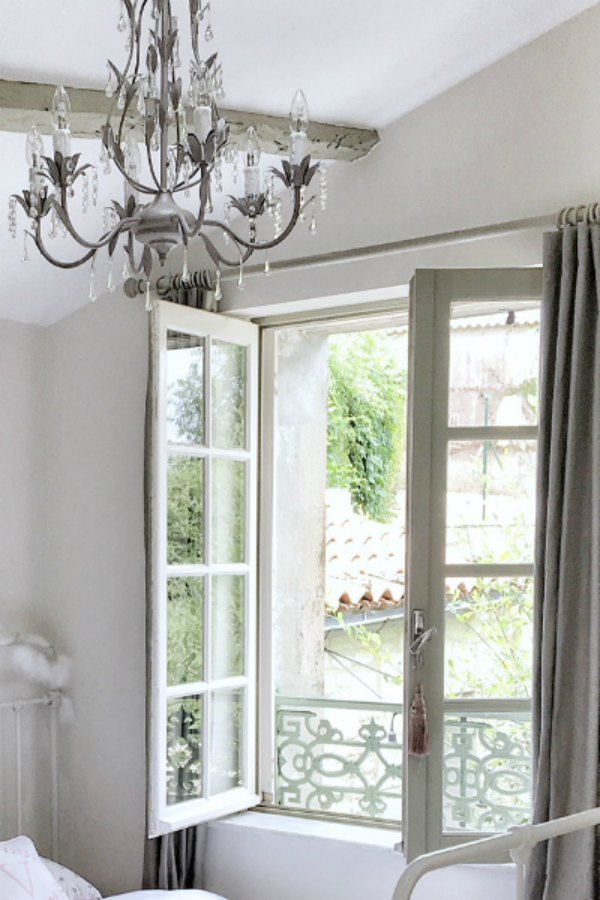 Who needs much pattern when the iron beyond the windows looks like that?
How to Inject Personality into a French Farmhouse Kids Bathroom Design?
This bath would feel less youthful and romantic without its statement pink walls!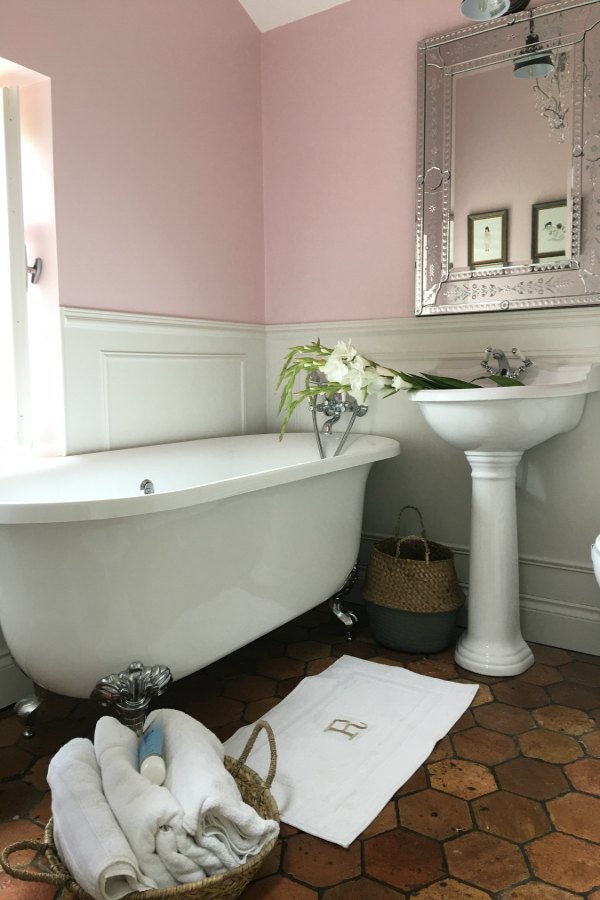 The pink adds a freshness and elegance along with the Venetian etched mirror.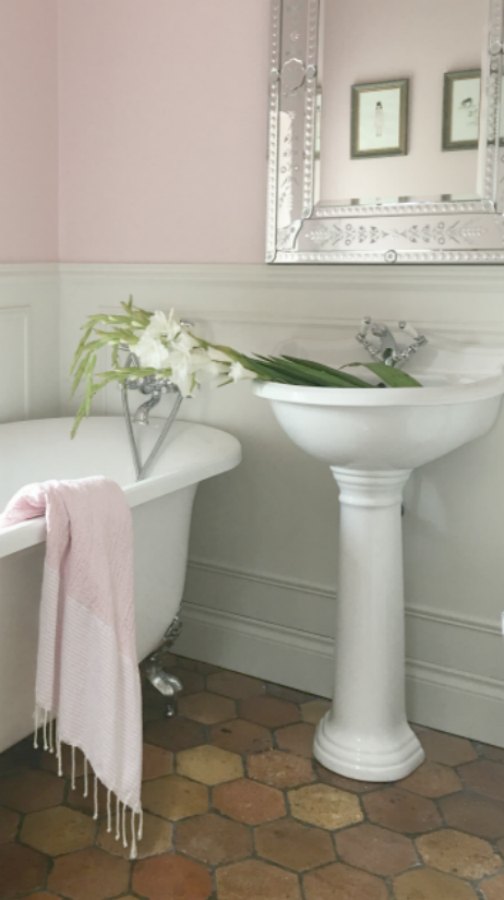 Not every bath has room for a storage-filled vanity cabinet, and here's a reminder that a pedestal can add sky high charm to a classic bath.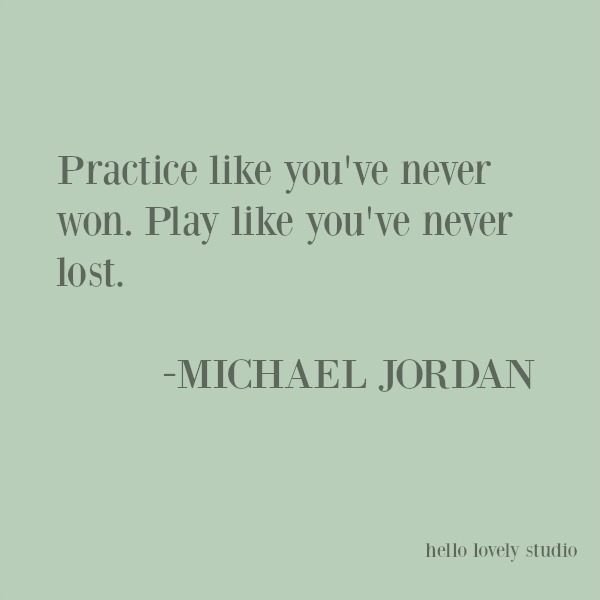 Also note the absence of wall to wall tile! European bathroom walls are often lined with wood panels or even more casual planks and beadboard.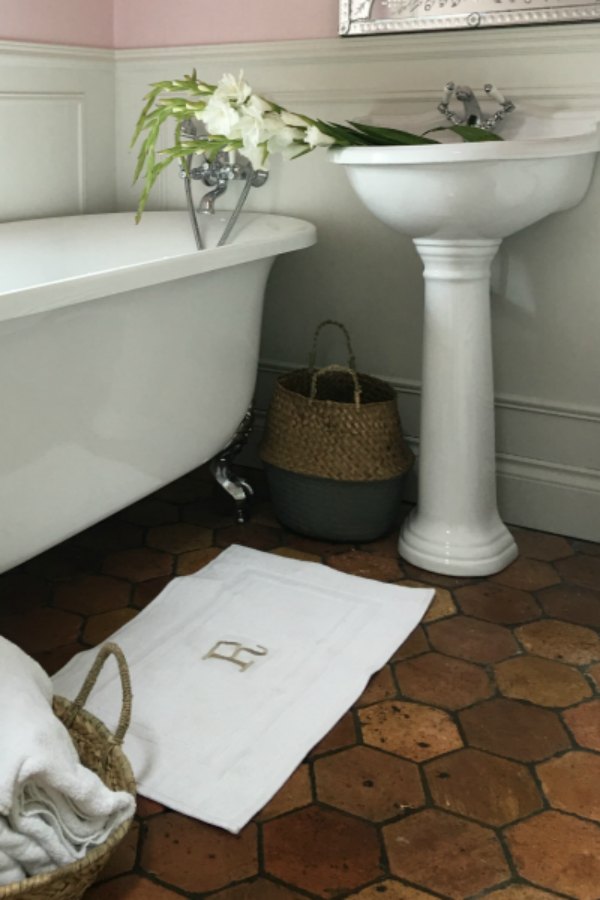 French Farmhouse Design Inspiration: Interior Paint Colors
Paint colors for interiors throughout the French farmhouse: FARROW & BALL. Make sure you see THIS WHITE PAINT POST for ideas for whites paint options.
Trim: FARROW & BALL French Gray
Interior walls: FARROW & BALL Strong White 2001
Ceilings: FARROW & BALL All White No. 2005
Pink Bathroom: FARROW & BALL Middleton Pink No. 245
Green Shutters: TOLLENS Vert Olivier at Castorama.
This is a traditional French exterior paint color very popular in France, and for French green paint color ideas, see THIS.

Get the Look! Shopping & Resource Guide
I independently selected products in this post—if you buy from one of my links, I may earn a commission.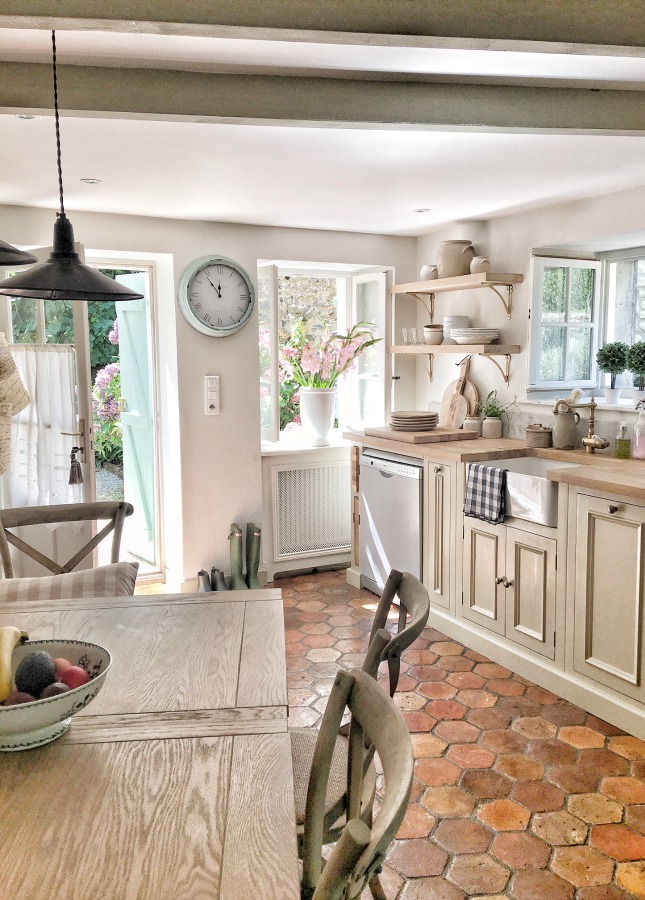 Get the Look: French Farmhouse Kitchen
See more of this kitchen tour RIGHT HERE, and stay tuned for a post devoted to getting the look of this amazing French kitchen!
Check Linens, vintage, and Artisan Light: Vivi et Margot
Kitchen design: Neptune Kitchens
Kitchen cabinet color: Neptune – Limestone
Wall paint color: FARROW & BALL Strong White 2001
Flooring: Antique reclaimed terracotta tile
Chairs: Maisons du Monde (France)
Farmhouse table: Find similar RIGHT HERE
Farmhouse wood chairs: Find similar RIGHT HERE
Faucet: Cuissimo; similar RIGHT HERE
Apron front farm sink options GO HERE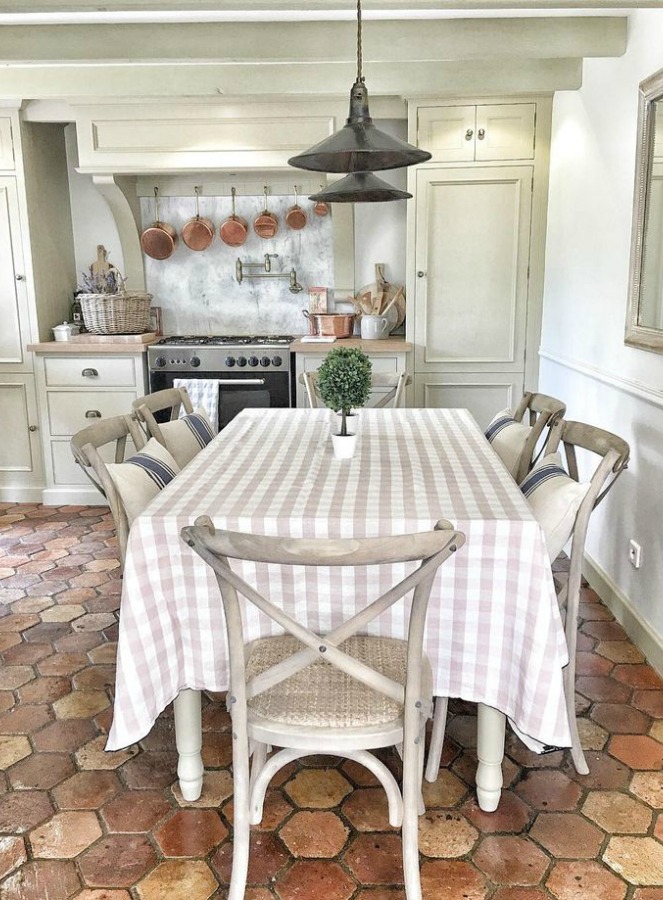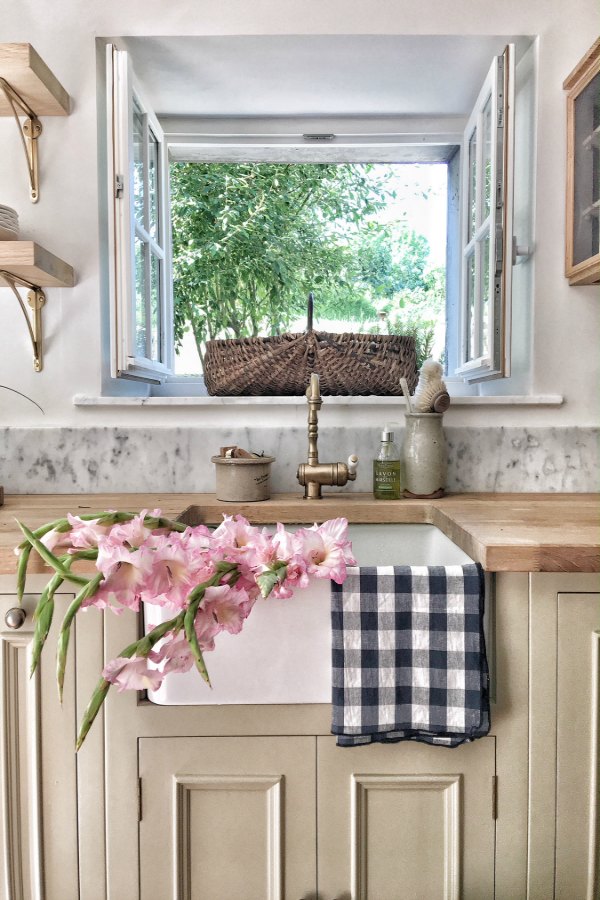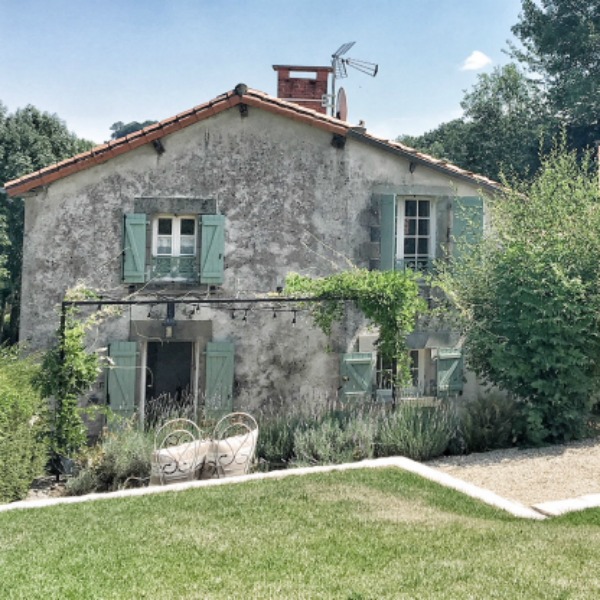 Exterior
Shutters: Custom-made locally
Patio Furniture: Maisons du Monde (France)
Similar rattan dining chairs: RIGHT HERE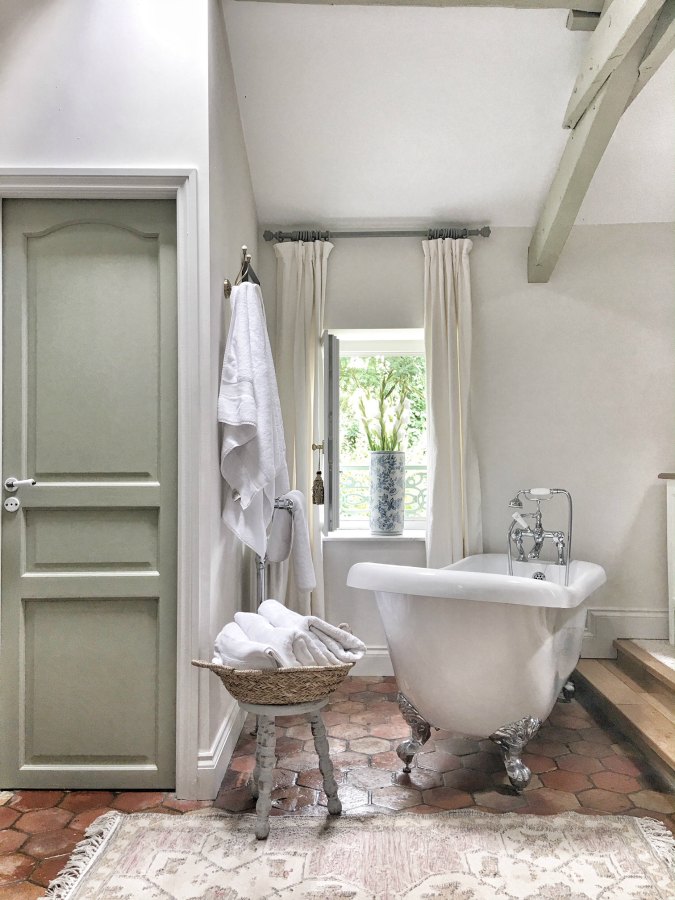 French Farmhouse Bathrooms
Towels, Soaps, Accessories: Vivi et Margot
Flooring: reclaimed antique terracotta tile
Similar terracotta-like porcelain tile: RIGHT HERE
Wall Paint Color: FARROW & BALL Strong White 2001
Trim paint color: FARROW & BALL French Gray
Clawfoot Tub: Hudson Reed…similar LOVELY TUB OPTIONS RIGHT HERE
Rug: Rejuvenation
Drapes: Beligan Flax Linen drapes Pottery Barn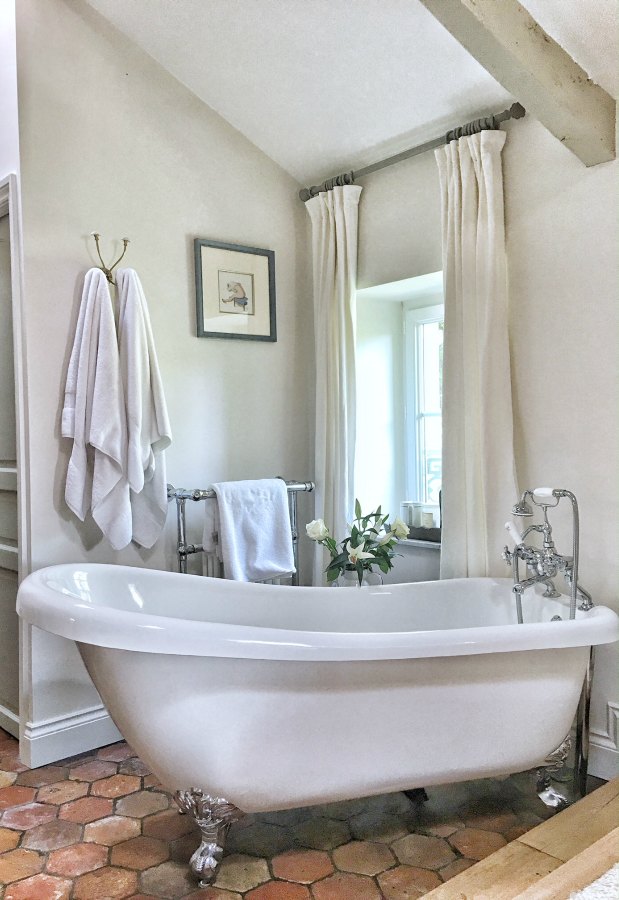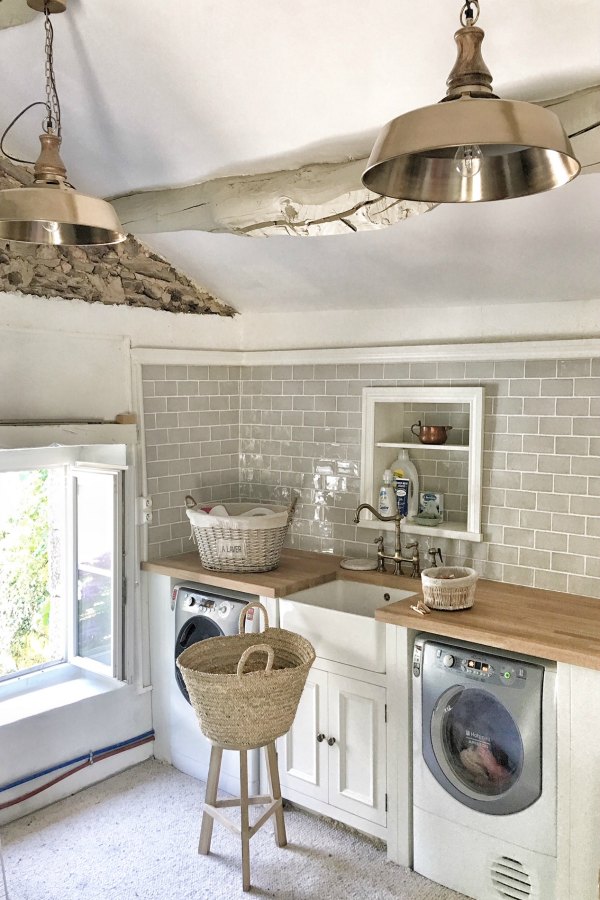 Get the Look: Laundry Room
Basket: FRENCH LAUNDRY BASKET is HERE
Butcher block countertop options: SEE THIS
Apron front farm sink options: GO HERE
Similar bridge faucet: FIND HERE
Grey subway tile options: RIGHT HERE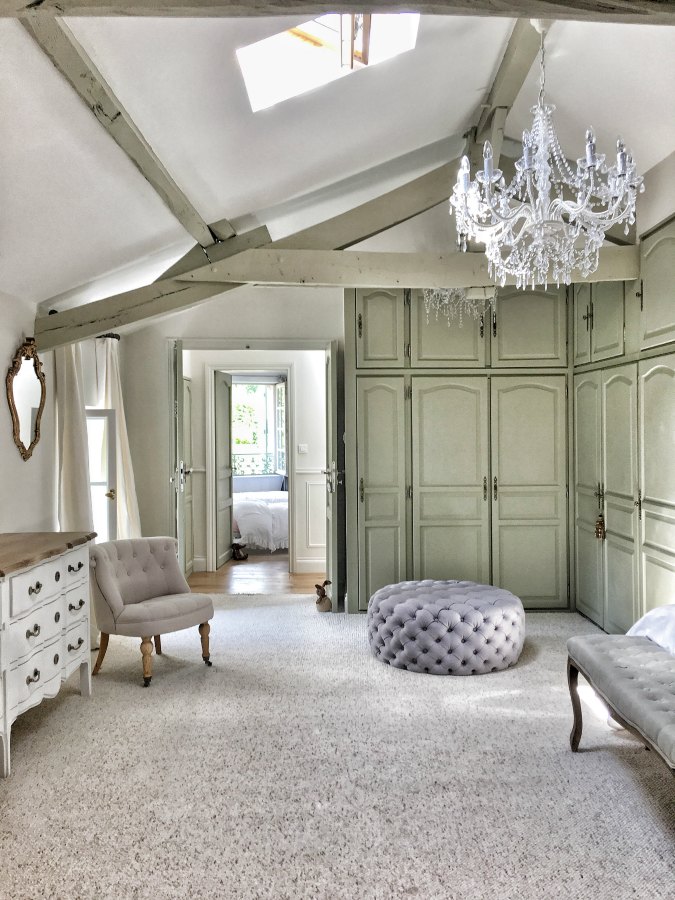 French Farmhouse Master Bedroom
Rug: Rejuvenation
Bed: Maisons du Monde
Chandelier: Maisons du Monde
Cremone Bolt on Door: Signature Hardware – FIND HERE
Skylight: Velux – Find Here
Slipper Chair: FIND HERE
Tufted French country bedroom bench OPTIONS HERE
Similar crystal chandelier: FIND HERE
Cremone Bolt on Door: FIND HERE
Similar tufted round ottoman: HERE
Wall Paint Color: FARROW & BALL Strong White 2001
Trim color: FARROW & BALL French Gray
Drapes: Beligan Flax Linen drapes – Pottery Barn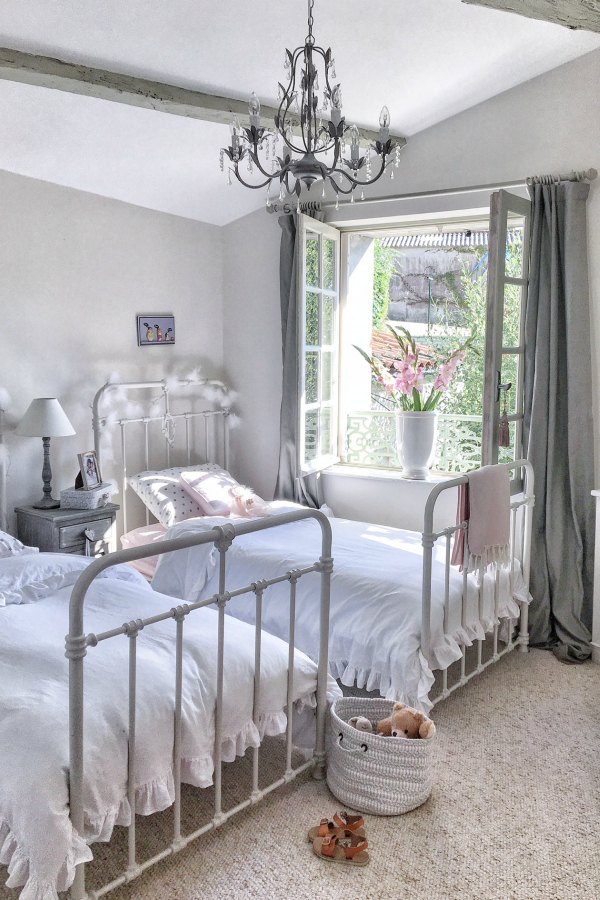 French Farmhouse Girls Bedroom
Beds and chandelier: Maisons du Monde (France)
Similar metal panel beds: RIGHT HERE
Similar chandelier: HERE
Wall paint color: FARROW & BALL Strong White
Trim paint color: FARROW & BALL French Gray
Curtains: Beligan Flax Linen drapes – Pottery Barn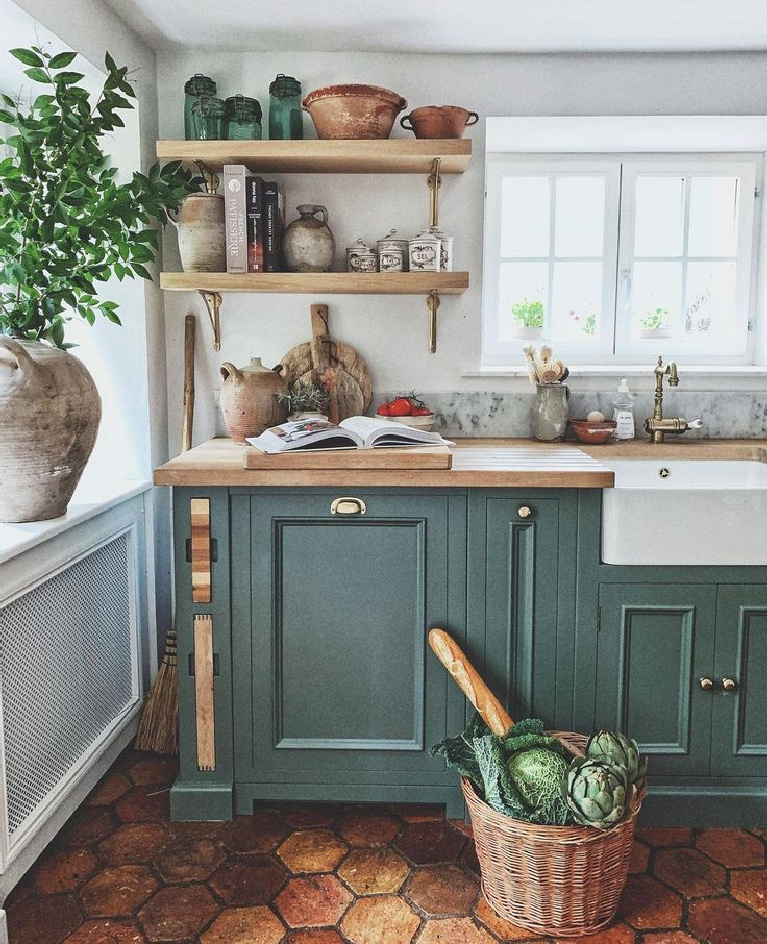 Charlotte Reiss continues to amaze and inspire her enthusiastic followers (like moi), and re-painted the house (and cabinets – see above) so you'll definitely want to visit her feed to see the latest!
Tour a Château in Provence
Enjoy more French farmhouse lovely design inspiration HERE.
I independently selected products in this post—if you buy from one of my links, I may earn a commission.
Peace to you right where you are.
-michele
Shop for items you already intended to buy on Amazon RIGHT HERE, and also find home decor here to keep decor inspiration flowing on Hello Lovely!
Hello Lovely is a participant in the Amazon Services LLC Associates Program, an affiliate advertising program designed to provide a means for sites to earn fees by linking to Amazon.com and affiliated sites.