How in the world is the internet not going to break this holiday season!?! Find out where I'll be checking out, and if rustic vintage style country and farmhouse holiday inspiration with a nostalgic ring tingles your jingles, maybe this will too. Christmas Decorating With Plaid & Snag These Inexpensive Gifts peeks inside a lovely mecca for whimsical holiday finds (Urban Farmgirl) and also provides ideas for American country Christmas accents.
I independently selected products in this post—if you buy from one of my links, I may earn a commission.
Christmas Decorating With Plaid & Snag These Black Friday Deals!
My Favorite Plaid Finds This Year
A few simply stand out! Like this cozy door mat…even though I think it should read 'cozy on down.'
The low price on this fleecy reversible Eddie Bauer throw makes it an awesome find for you or for everyone on your gift list. If you have Amazon Prime, you can get them QUICK!
I am always a happy camper when I receive socks as a gift – I tend to hang on to past their prime pairs so I welcome the opportunity to let another old pair go!
If you didn't get the memo, GREEN is totally all the rage, and here's a pretty accent chair that will look just as lovely in spring:
Don't Miss These Holiday Sales!
Serena and Lily – 25% off Everything with code ITSHERE
Pottery Barn – HUGE DISCOUNTS!
Anthropologie – 30% off
West Elm – Up to 70% off furniture, bedding, and decor + extra 25% off clearance with code EXTRA25
One Kings Lane – 25% off SITEWIDE
Nordstrom – up to 50% off Cyber Deal Favorites
Joss and Main – up to 50% off + extra 25% with code SAVE25
Wayfair – Up to 80% off including GE Appliances!
Williams Sonoma – Up to 50% off furniture, bedding, and decor + extra 20% off clearance
Shopbop – 15-30% off your order code HOLIDAY
Gifts Under $25!
I hope you love these ideas for small gifts or stocking stuffers. I think you're going to be shocked at what you can still snag for under 25 bucks, and they are all rather useful rather than knick-knacky!
I'm Also Ordering Gifts From…
While you may recognize this collection of gifts from another season, I updated all the links to make sure!
1. Plaid-ly in Love
Don't you love plaid classics that will make just as much sense next year and the next as they do now?
That's the thing about vintage style and country decor in general. Trends are hardly relevant when you're celebrating longstanding classics.
And can you believe the nostalgia something simple like a plaid thermos can trigger?
All the sudden I can smell the wet canvas of our family's pop-up camper!
2. Merry Reds
A pillow like this makes me want to instantly get crafty and cut some felt leaves to make my own JOY pillow…
Plain fringe-y ones like this are easy to find:
3. Buckets as Planters
I showed you these galvanized farmhouse buckets spied at Urban Farmgirl last season, and they are still so popular!
Here's the exterior of the original Urban Farmgirl shop. Since the pandemic, a newer warehouse is where you shop her wares since more folks can enter safely.
It's getting trickier to find these kindling buckets (outside of Urban Farmgirl!), and if you're wondering about those great big Christmas bells, call the shop (815) 985-9918 and ask about availability and shipping.
Farmhouse Plaid Wallpaper
If you love the look of a checkered wallpaper for inside a cabinet or to spruce up an old dresser or pantry, here's a possibility for a peel and stick one.
4. Cheers to Plaid!
I drink everything in a mug now, and I wonder if it is a sign of aging?
5. Jingle All the Way
6. Natural Wreaths With Pine Cones
I love the look of these wispy ones that look so real and unruly.
7. Check, Please
Do you decorate your kitchen for the holidays? I'm not sure this is a practical idea for a real, working kitchen but it would be sweet for a party.
Here's another place you could bring that peel and stick check wallpaper into play…
8. Berry Christmas to All
While I'm always one to remind us that red is optional for Christmas decor, there is something irresistible about red berries tucked into Christmas tree branches.
9. Chandy Eye Candy
Are people even hanging chandeliers these days? I am seeing so many more industrial style, metal pendants and hanging lights that it makes me wonder.
You know what that means, right? Crystal chandeliers will probably be all the rage in the coming years – there is always the pendulum effect at work.
10. Bottle Brush Trees
Don't you love 'em as place cards on a holiday table?
11. Cheerful Checks
Whether we're talkin' gift wrap, pillows, or tin buckets with greenery tucked inside, checks just add a smile to every corner.
12. Little Plaid Houses For You & Me
Plaid trees? There's something you don't always see!
Personalized gift stickers are a way to embellish ordinary wrapped gifts with very little effort.
13. Whimsical Rudolph
Not sure you can still find this sweet guy outside of Urban Farmgirl…
14. Joyful Simplicity
These vertical signs are so perfect for country porches.
As you can see, every vertical square inch in the stairways at Urban Farmgirl was decked with joy!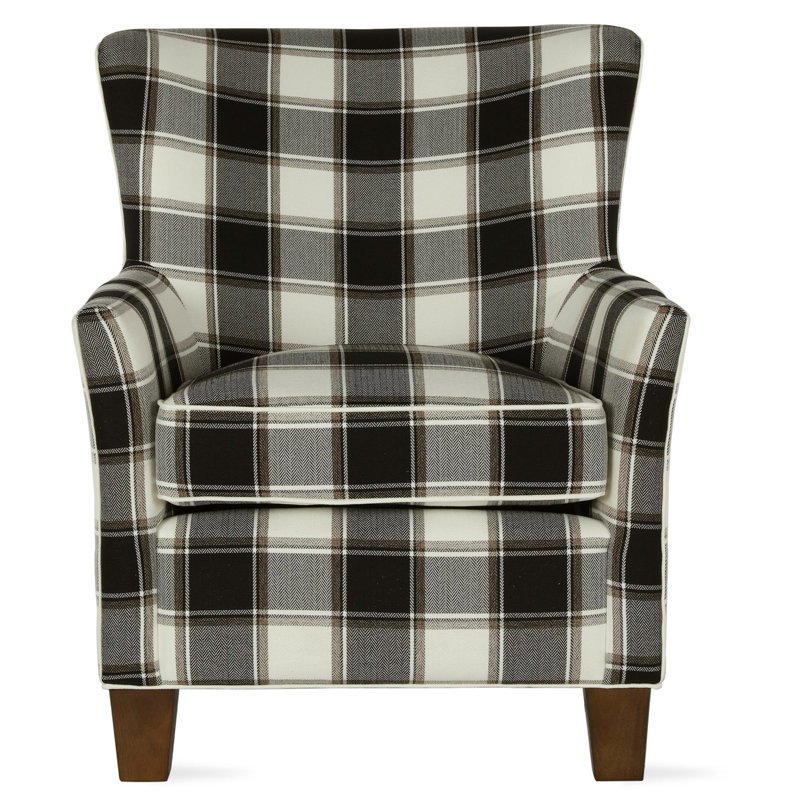 What may at first appear to be stripe wallpaper was corrugated galvanized metal:
15. HeartFELT Sentiments
I love little felted pennants, banners, and buntings.
16. Pinecones
I have buckets of them, and there's never a shortage of them in my yard if you wanna drop by and collect a few.
17. Snowflakes
Are they falling yet in your neck of the woods? It is blue skies here today, but an hour from now? Northern Illinois weather is not for the weak!
But can snowflakes be plaid too?
Indeed they can! And a checkered dining room chair seat looks perfect amid the plaid holiday heaven.
18. Check Yourself
Geometrics in textiles can be oh so cozy, and apparently "Geo" is what the cool designer kids are calling it these days.
19. Mad for Plaid
It doesn't get easier than plaid napkins (or dishtowels used as napkins) on the table to usher in festive cheer.
Psst. Your eyes may go to the vintage red pickup on the pillows, but mine go to that plaid reindeer cutie!
I keep forgetting about these windowpane plaid stockings which are just so classic and would be a snap to customize:
20. Painted Mirror
This very moment I have an old framed mirror that was used in the garden that the mower guys broke – here's an awesome solution for that frame:
21. Mini Messages On the Tree
In past years, I have also used little wooden boards like this painted with the names of family members – young kids love that personal, graphic touch.
22. Winter Green With Black
I have always been fond of the crisp black door at Urban Farmgirl yet am always hesitant to bring much black into the decor at home. How 'bout you?
23. Fresh & Faux in Window Boxes
No one has to know if your winter window box is mostly faux or mostly live evergreens. Mixing them is a great trick.
More Holiday Gifts to Get?
Mosey over here for awesome gift ideas…a few favorites include:
Wisdom From a Children's Choir
So often, it's the small child who leads us to deeper truth and helps us remember what it means to be alive on this earth with hearts willing to hope. I don't know about where you stand, but I often forget just what my part is in this symphony. Does my part have any value at all? Oh, friends. Your part is essential. Let's remind each other with encouraging deeds and words how each part brings beauty and depth to the harmony!
Lyrics to Sing Along
"Glorious" by Stephanie Mabey
[Verse 1]
There are times when you might feel aimless
You can't see the places where you belong
But you will find that there is a purpose
It's been there within you all along and when you're near it
You can almost hear it [Chorus]
It's like a symphony just keep listenin'
And pretty soon you'll start to figure out your part
Everyone plays a piece and there are melodies
In each one of us, oh, it's glorious [Verse 2]
You will know how to let it ring out as you discover who you are
Others around you will start to wake up
To the sounds that are in their hearts
It's so amazin', what we're all creatin' [Chorus]
It's like a symphony just keep listenin'
And pretty soon you'll start to figure out your part
Everyone plays a piece and there are melodies
In each one of us, oh, it's glorious
And as you feel the notes build
You will see
It's like a symphony just keep listenin'
And pretty soon you'll start to figure out your part
Everyone plays a piece and there are melodies
In each one of us, oh, it's glorious
Wishing You Sweetness
If you have a moment, I'd love for you to check out my PINTEREST BOARDS and PIN pretty things you like – I am saving Christmas decorating ideas and all things cozy!
Cozy?
Wishing you Christmas wonder, comfort as you find your part in the symphony, and
Peace to you right where you are.
-michele
Shop for items you already intended to buy on Amazon RIGHT HERE, and also find home decor here to keep decor inspiration flowing on Hello Lovely!
Hello Lovely is a participant in the Amazon Services LLC Associates Program, an affiliate advertising program designed to provide a means for sites to earn fees by linking to Amazon.com and affiliated sites.