Shortlisted for Blog Awards! & Quiet Fall Decor Now starts with a HIGH VOLUME WOOHOO! Thanks to you, Hello Lovely landed on the short list for BEST WRITTEN BLOG in the Amara Interior Blog Awards! So grateful and hope you will take a moment TO VOTE HERE. Instead of a bunch of fireworks, be soothed instead by a whisper-y love letter to designers, stylists, and poets inviting us to slow our pace. Why even bother? Since this head is ever in those autumnal clouds, I still believe a single image of beauty, viewed at precisely the right moment, has far reaching powers. An idea is sparked, a negative thought pattern shifts, endorphins are released, healing in the body or spirit begins…
…even at a minimum, we are aligning with art, architecture, and seasonal beauty. We can travel virtually when it is not safe beyond. (Above: Oh, Loi have mercy, your fall vibing is the bees knees!)
Quiet Fall Decor
But First…About That Nomination
I'm smilin' since HELLO LOVELY made Amara's Interior Blog Awards shortlist again for a category close to my heart.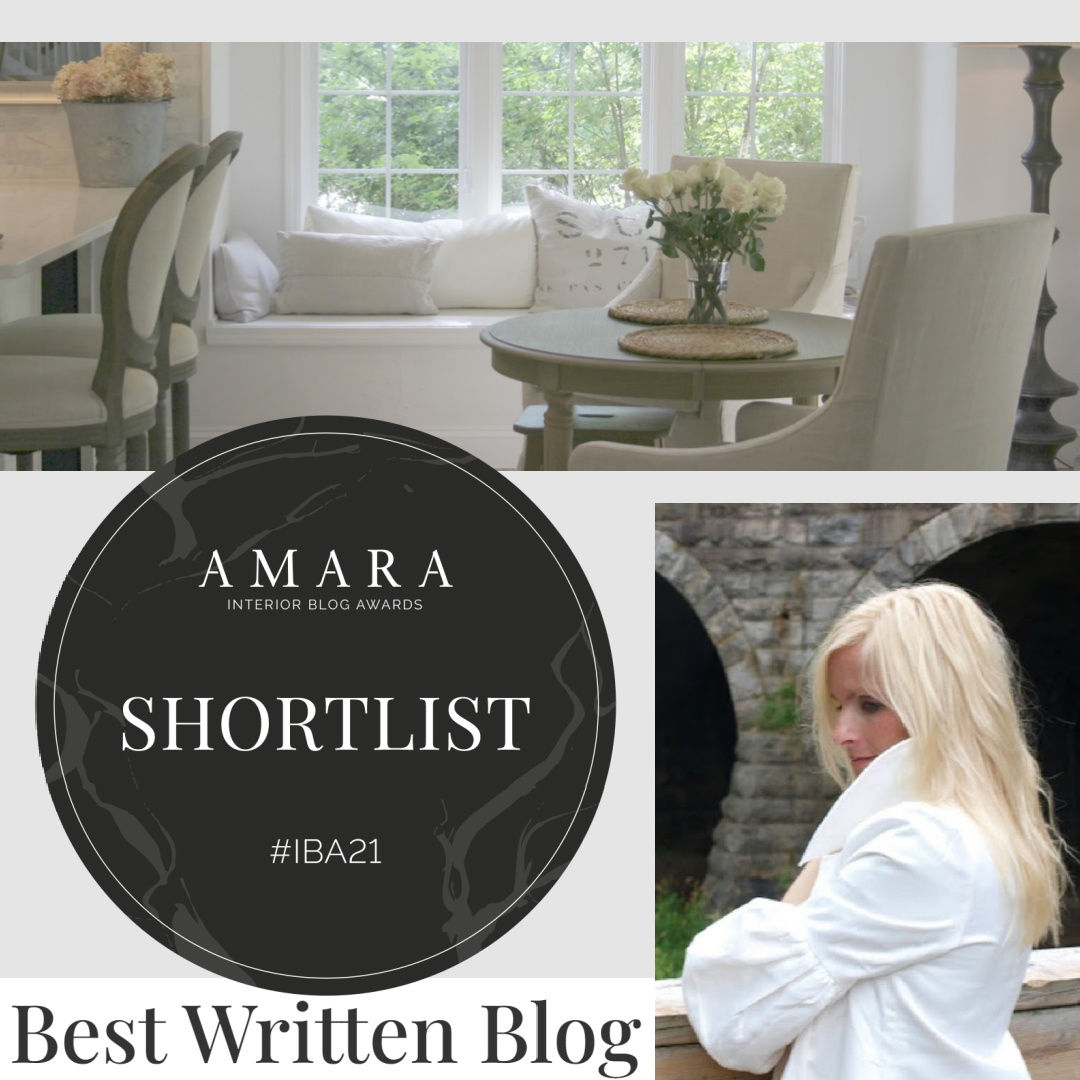 If you have a moment to cast a vote for Best Written Blog, it would be swell to get closer to a win RIGHT HERE!
The last time the blog was on the ballot (in 2018), I was recovering from GB surgery. That didn't stop me from jetting to London (3 weeks post-op!) for the beautiful awards ceremony. Another Chicagoan won that year, but it was impossible to feel like anything but royalty traipsing around that beautiful city with my beloved husband and closest friends!
Are You Decorating for Fall?
I am actually on my game this year…what has gotten into me? I mean, little fall touches in the bedrooms and candles everywhere. The porch isn't done, but this is a stellar start when you're a lazy decorator: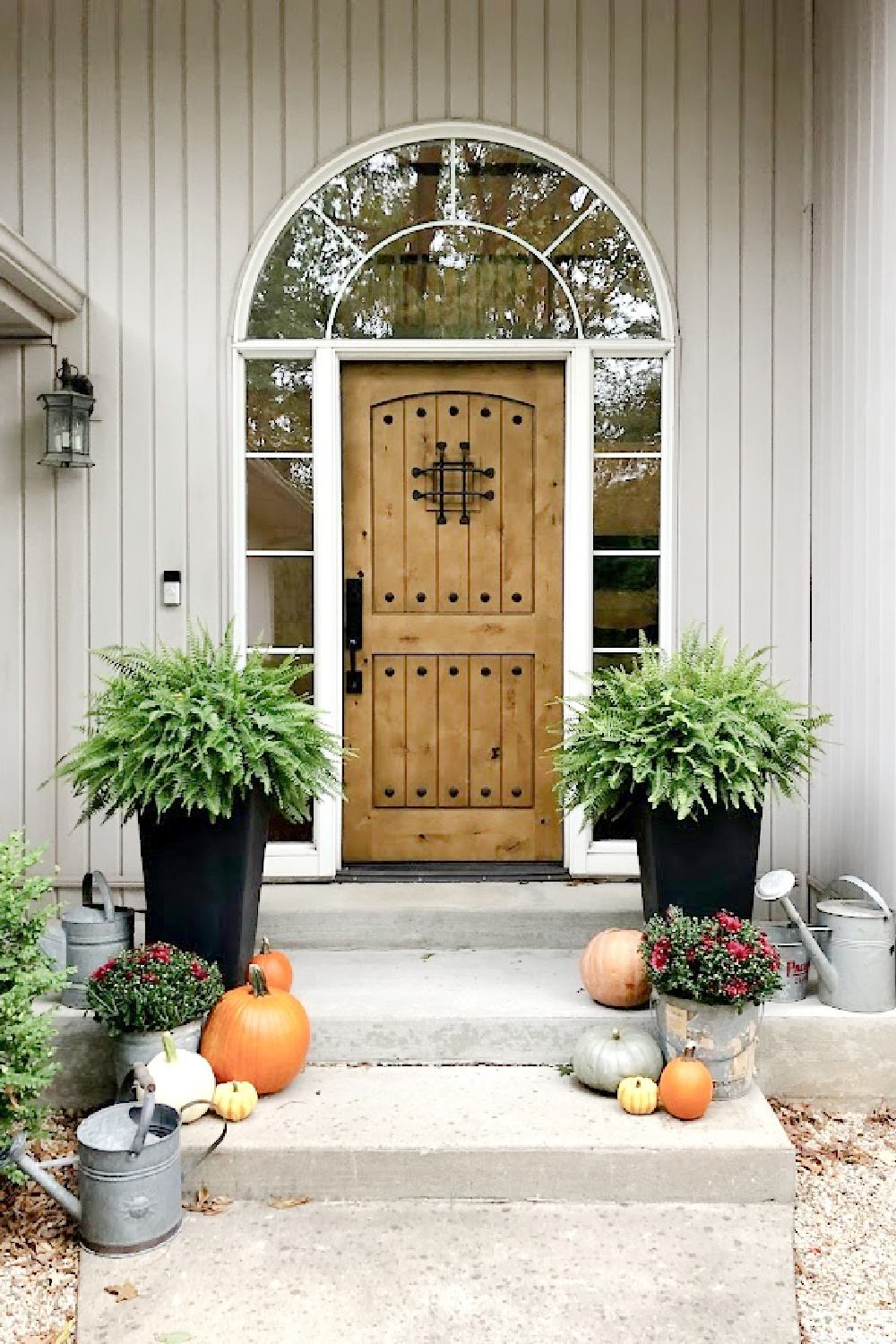 Right? Since the photo, I added more pumpkins and pinecones, and I need a new doormat.
Maybe this one:
or this?
Pretty Understated Fall Moments
Fall color is so fleeting which makes it all the more magical. Let's all make an effort to get out there this year and snap photos of cute homes with colorful leaves (if you live in a place with seasons!).
Celia's soft side of autumn (below) is a perfect example of a poetic and soulful vignette which shines rather than shows off…so inspiring.
I hope this assemblage of beauty will inspire you to seek out a new artful creator on IG or Pinterest since there is certainly always someone new to discover.
Ooooh, this looks so delish…
With so much glorious simplicity and rustic elegance, who can resist the warmth of a bonfire or the promise of a quiet day of delicious aromas wafting from the kitchen where apples and cinnamon are baking?
Quiet European Country Whites & Neutrals
You may notice these collected moments do not hail exclusively from Europe; nor do they all employ the usual suspects of pumpkins and fallen leaves.
Instead, there's a golden thread of timeless tranquility suggestive of European sensibilities running through them in this season of #cozyondown.
For example, have you been watching The French Nest's Jennifer feathering her Arizona-based nest? Oh my, lovely!
When this fairy's blue eyes spied muted stucco and spice-hued climbing vines in a French village, her whole being suddenly began to rest…
…then this Taste of France further calmed her membranes:
Fall Quiet Beauty, France & Nat King Cole
Warm Autumnal Color Palette
I could never tire of the baby boos.
And you just can't go wrong with them on a mantel:
This year I'm feelin' that dusty rose as a fall accent…
Jewel Tones & Elegant Vibrancy
How do you like your fall pumpkins anyway?
(a.) In a cake? (b.) luscious pie? (c.) savory soup*?
*Seen this new yummy book by Drew Smith, SOUPOLOGY (Rizzoli, 2020)?) You'll learn to master six broths which can be turned into 60 soups! Is it too lofty a goal to make 60 soups this autumn? (There is something terribly wrong with the food obsessed me. 🙂 Hahaha.)
Or
(d) as a receptacle for richly hued fall blooms with a sexy split pomegranate reclining naked on the side?
(It's d all day for me thanks to French Garden House!!!)
Falling for Falling Leaves
Is this your idea of beautiful falling leaves?
or does this variety below sizzle yer bacon?
Fall Baking
While our kitchen has a farm sink, crystal chandelier, and subway tile…decor inspiration from deVOL gets the mind revving and imagining an Aga or a forest-lovely rich shade for walls like this:
Is a quieter, more tender green your cup o' tea?
One of Hello Lovely's followers on FB (you should totes follow here…whimsy galore!) said she made a corn cob wreath like the one below and watched squirrels leaping to her front door to feast.
That sounds like fabulous fall entertainment!
Speaking of wildly beautiful messes…I'm always inspired by Kymberley's gorgeous work with its rustic edgy organic goodness.
Outdoor Fall Dining
In spite of so many inspiring tablescapes, I have never orchestrated an outdoor fall party…it's a romantic prospect though considering how easy Gwen Moss makes it look, oui?
Oh, fall trees, who can compete with your beauty!?!
What say ye about the green background of the quotes in this post? It's Farrow & Ball's Green Smoke (F&B samples can now be snapped up for 8 bucks!).
This color exploded on my radar the moment I glimpsed Charlotte's freshened kitchen cabinets in her French farmhouse below:
Can you EVEN get over the warmth of old reclaimed earthy pumpkin-hued weathered terracotta hex magic with the sophistication of the slightly mysterious green? See my story with glorious dark greens right HERE and sage green HERE.
If you have yet to discover French homewares at Vivi et Margot…your socks are about to be rocked, pumpkin.
Fall Decor Finds
If you follow Good Life of Design on FB, then you may have seen the happiest fall wreath on the planet gracing her front door.
Gracious host and talented interior designer, Kathy, shared her Williams-Sonoma find and encouraged us to get this look as well.
Can you even fathom how incredible this wreath looks on a yellow or lavender door!?!
I independently selected products in this post—if you buy from one of my links, I may earn a commission.
Pretty Autumn Things
HELLO LOVELY LANDED ON THE SHORTLIST FOR THE INTERIOR BLOG AWARDS! Please cast a vote RIGHT HERE as I would be over the moon to win this category!
Peace to you right where you are.
-michele
Shop for items you already intended to buy on Amazon RIGHT HERE, and also find home decor here to keep decor inspiration flowing on Hello Lovely!
Hello Lovely is a participant in the Amazon Services LLC Associates Program, an affiliate advertising program designed to provide a means for sites to earn fees by linking to Amazon.com and affiliated sites.