Our DIY master bath renovation in this Chicagoland fixer upper required a good chunk of time since (like the rest of this place) everything had to go! Hello Lovely Bathroom Renovation: Before & After is an updated post full of resources and details of how we transformed a dated 90's bathroom into a more timeless, tranquil, French inspired space.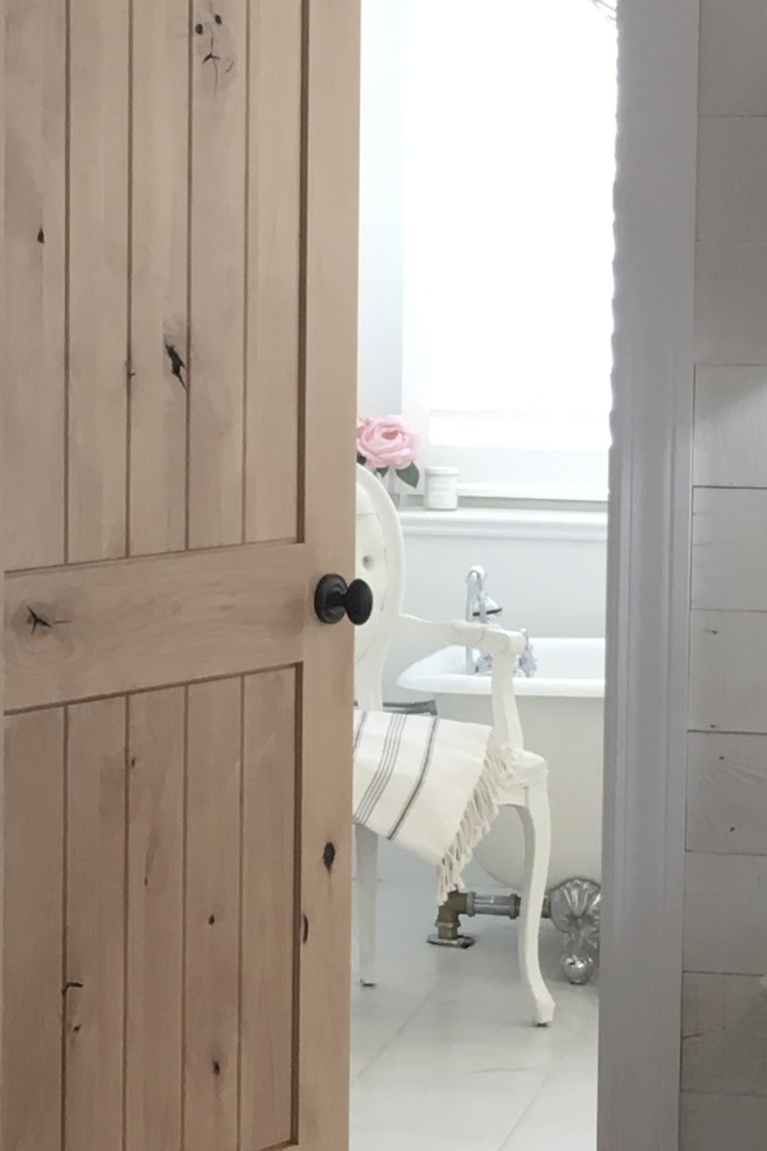 I independently selected products in this post—if you buy from one of my links, I may earn a commission.
Hello Lovely Bathroom Renovation: Before & After
And by "we" I do mean my husband, who with brains and brawn executed my imaginings by first taking this space all the way down to the studs. Now the master bath functions better and is pretty to boot.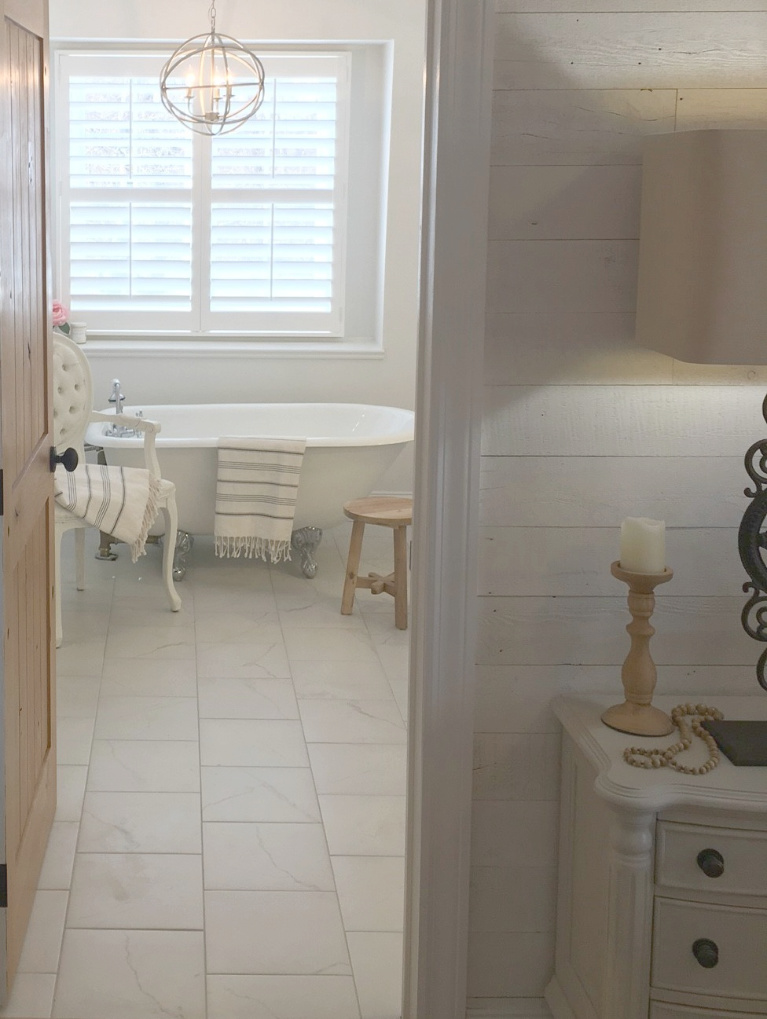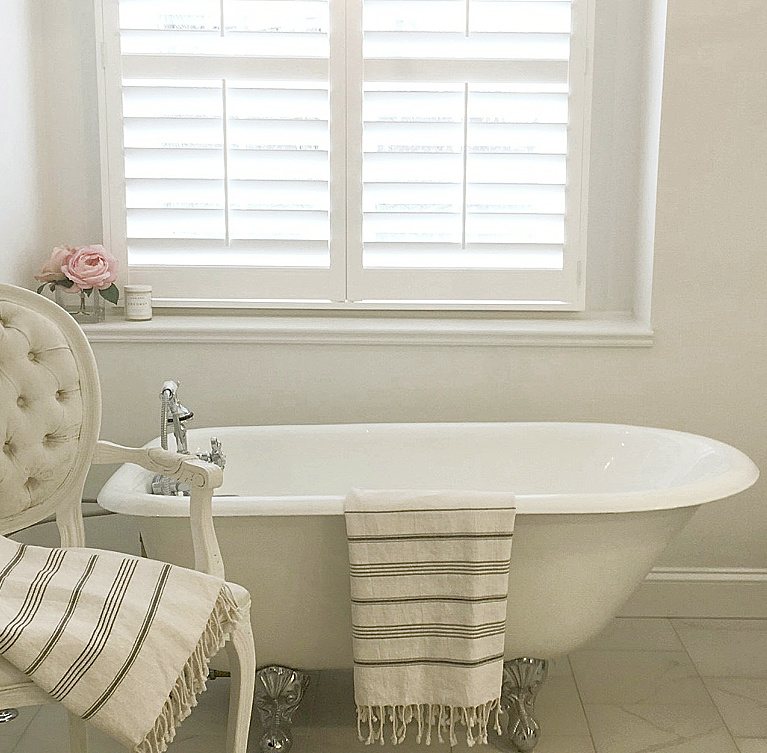 You can peek at the finished bathroom in my video here.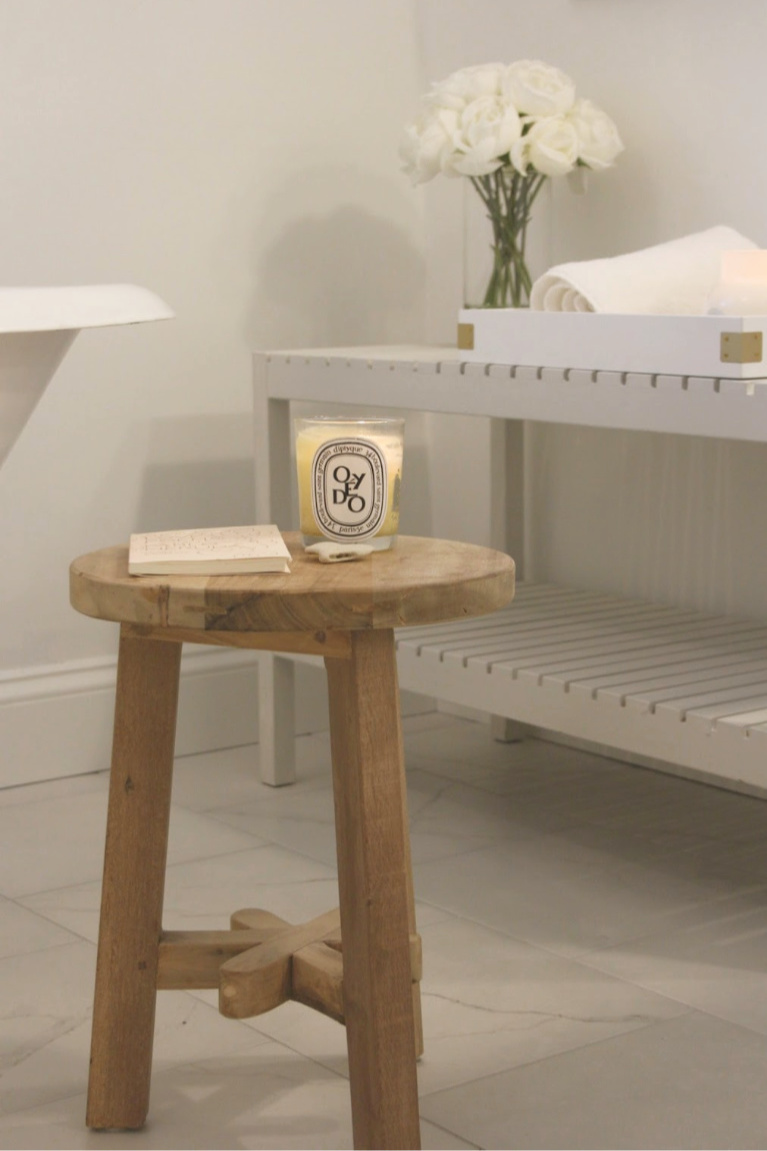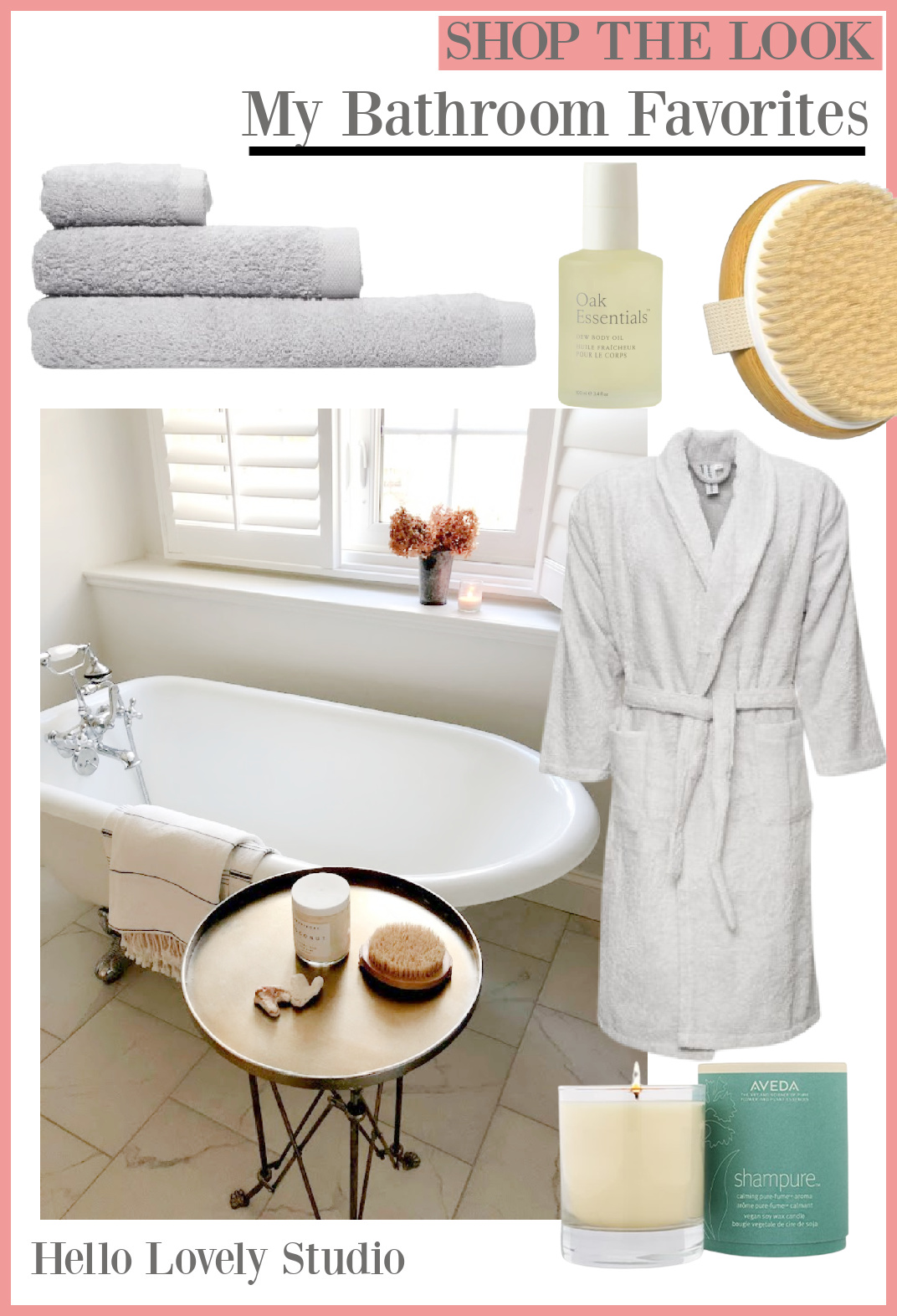 Real Life Renovation
Real life renovation requires serious delay of gratification. Serious. The only time available to renovate this place involved weeknights after work and weekends. I am so grateful for the talents and work ethic my husband brings to all his endeavors!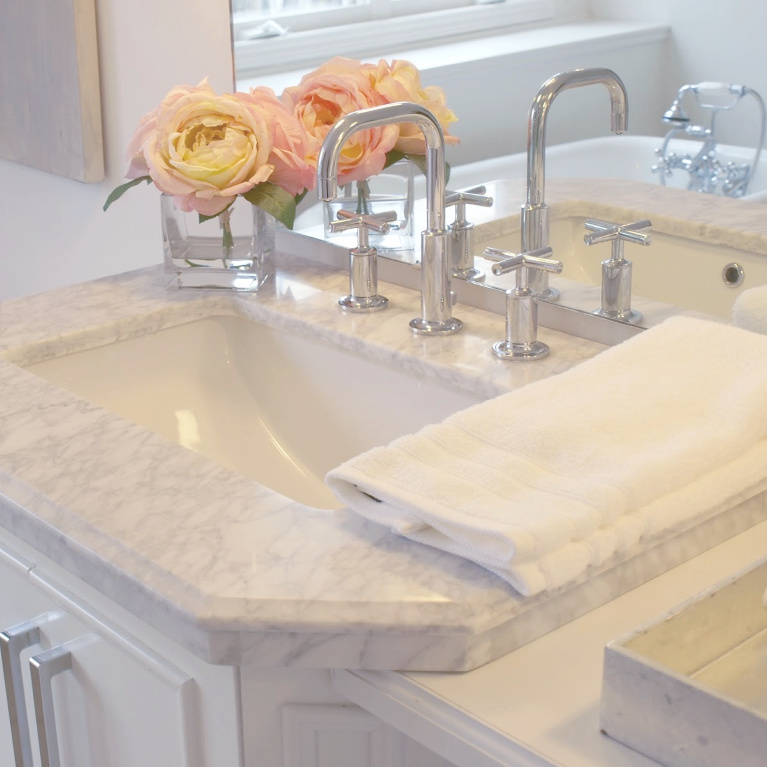 We have no Property Brothers, no cleanup crew, no private chef, no grove of money trees, and certainly no chance for perfection since we lead real lives as an attorney and a writer.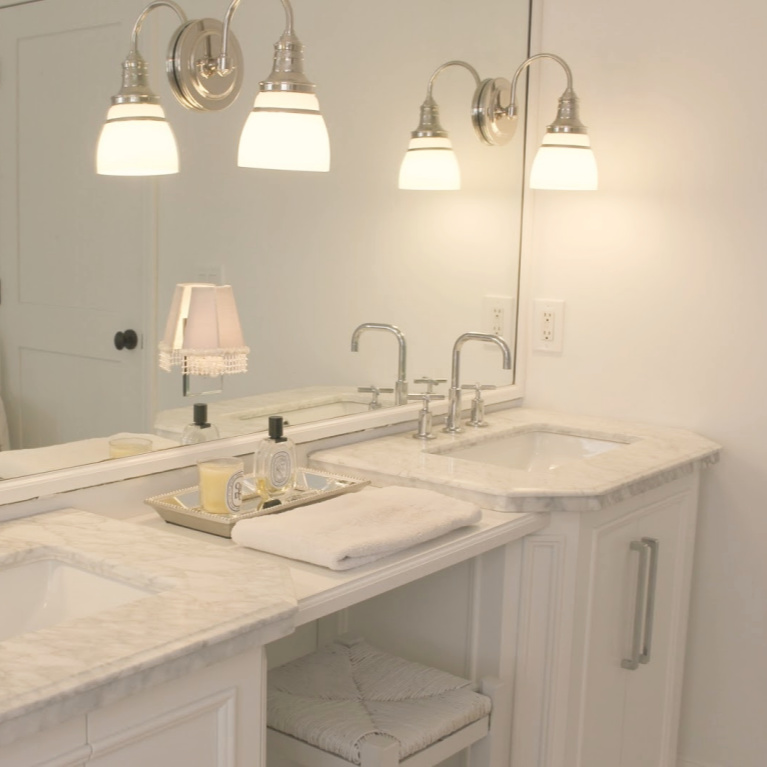 On with the master bath makeover!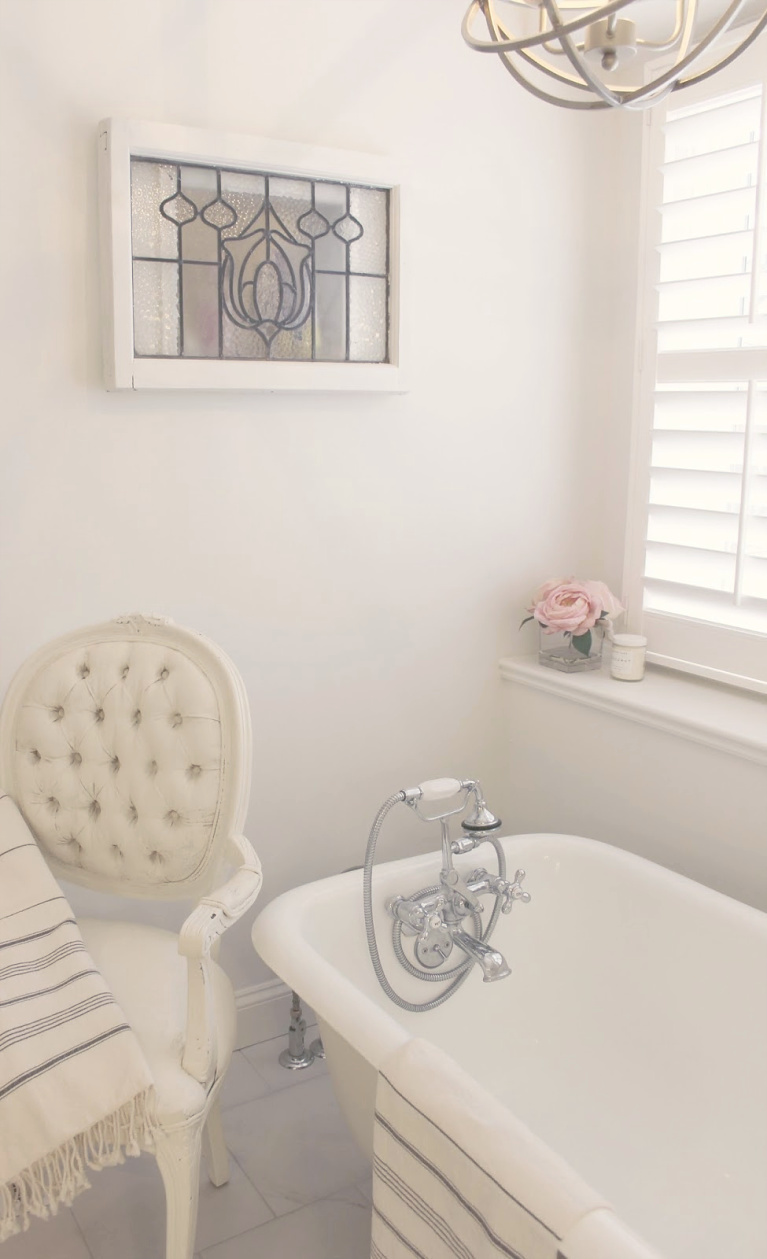 The Fixer Upper Master Bath
With typical "fixer uppers," you'll find a bunch of small disjointed rooms crying out to be opened and united for modern living.
But that isn't always the case.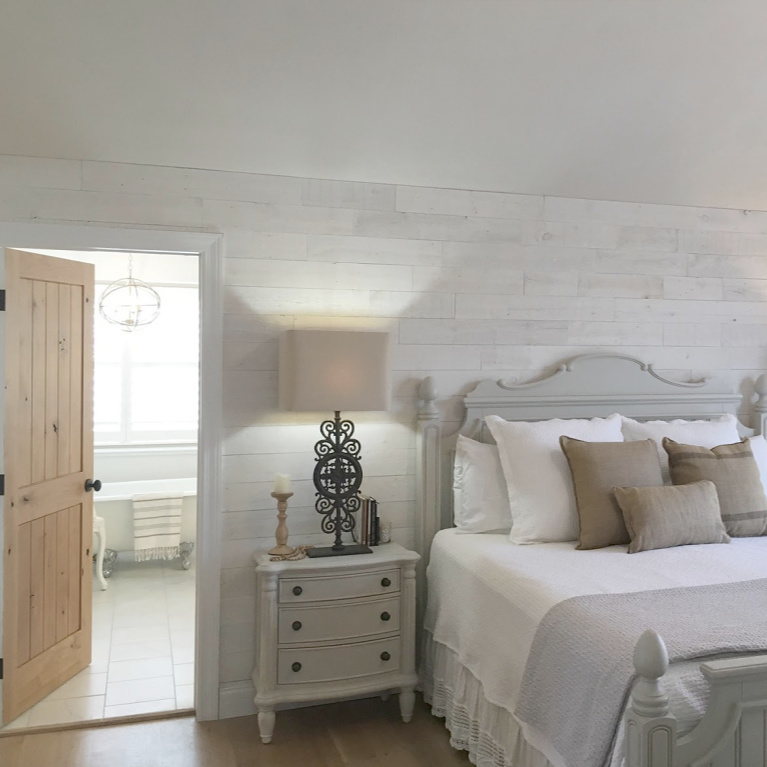 In our fixer's master bath, there was too much openness! It was a nice amount of space to work with, but the square footage was poorly utilized. We needed privacy for the toilet and shower (happy to lose the fish bowl shower!).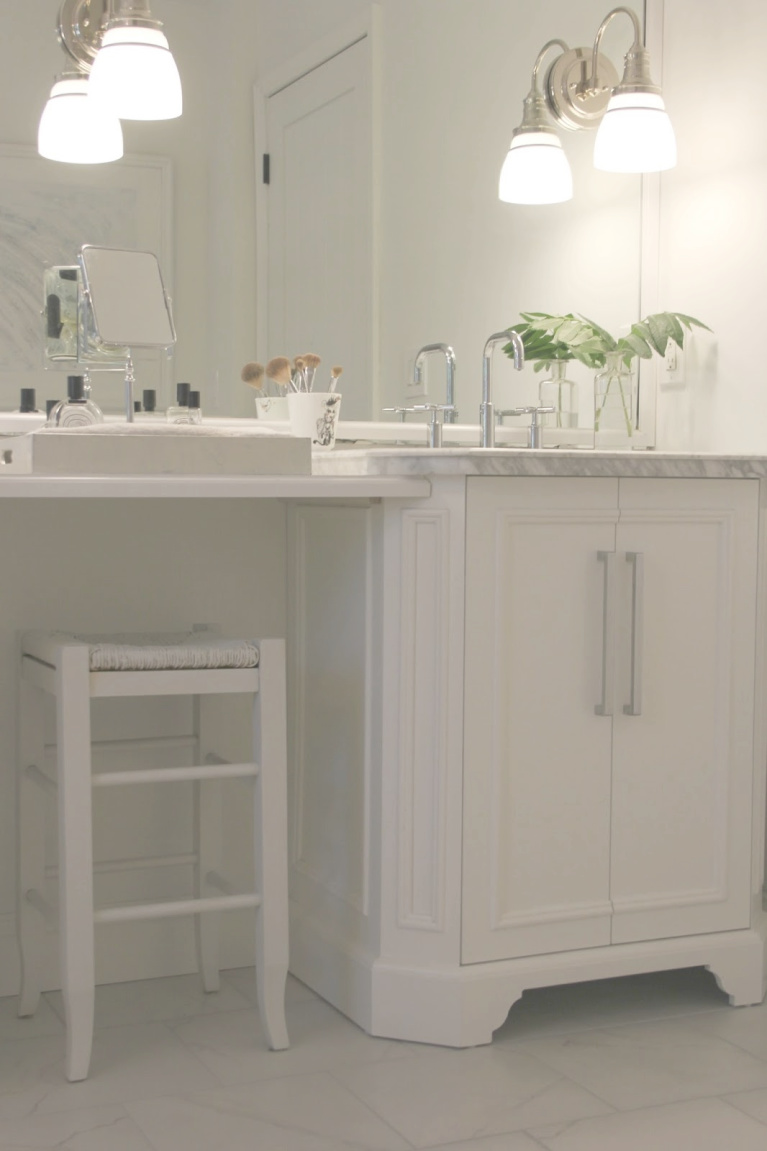 Our bath came with a bunch of existing ugly fixtures including a platform for a Jacuzzi, spray-painted faucets, and also enormous woofers and tweeters in the ceiling.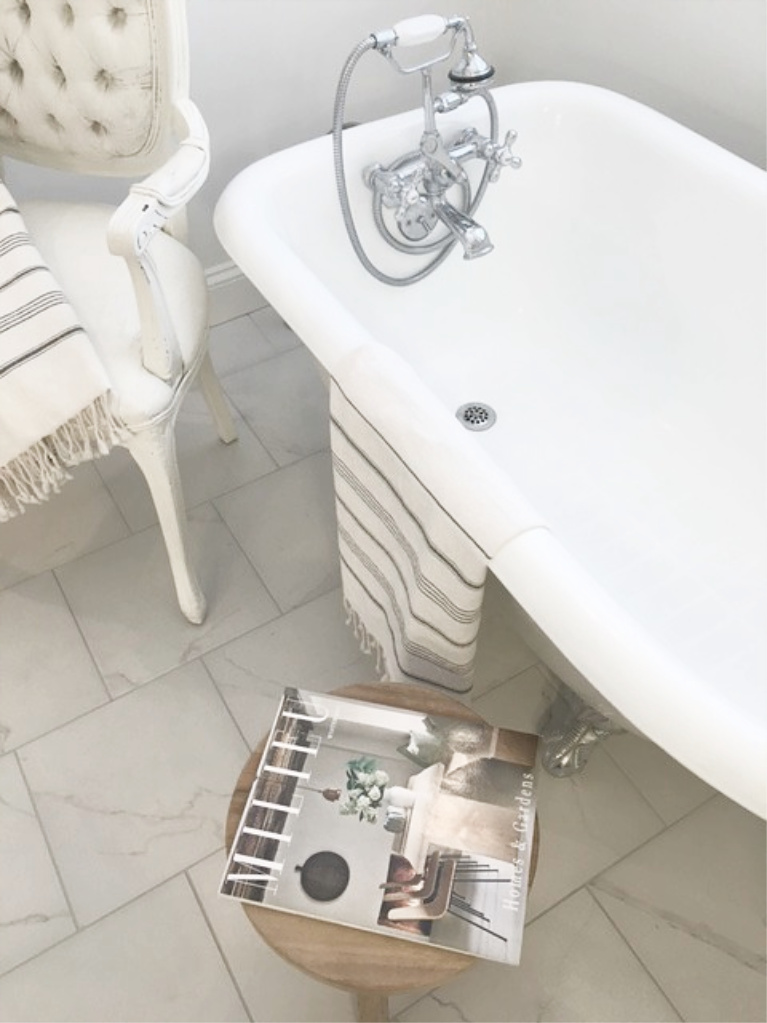 Inspiration for Bath Renovation
This inspiration blogger actually didn't have an inspiration bath in mind for the reno! I came up with the plan by living with it for a couple weeks. Then I kept the design plans flexible and loose since you never know what you'll find when walls are opened and floors are demo'd!.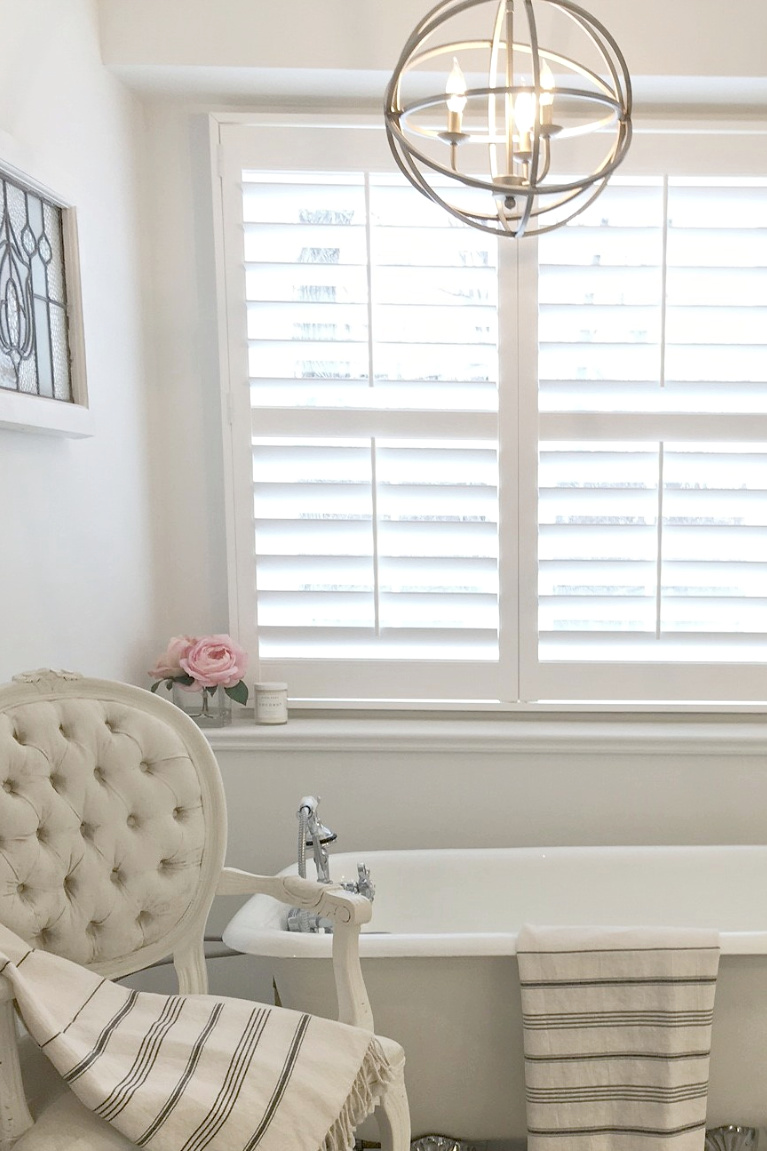 For this whole house DIY renovation, I allowed the spaces to whisper what they wanted. As much as possible, I let existing quirky design imperfections stay so we wouldn't go way over budget. Of course, we still did!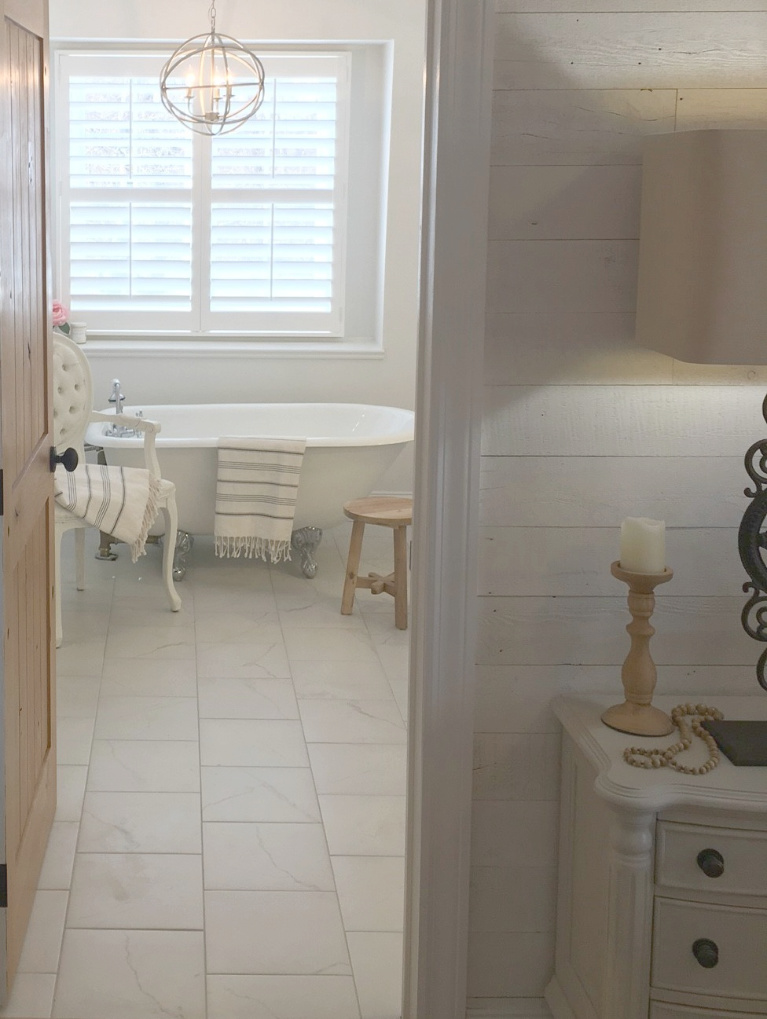 Design Elements That Had to Go
We happily eliminated:
awkward pedestal sink
used up vanity
vinyl floor covering
black toilet
brass and glass shower
jetted tub and "Jupiter-sized platform"
"Madonna cone bra" vanity lights
small linen closet next to toilet
white spray painted faucets and fixures
hollow door opening directly into the vanity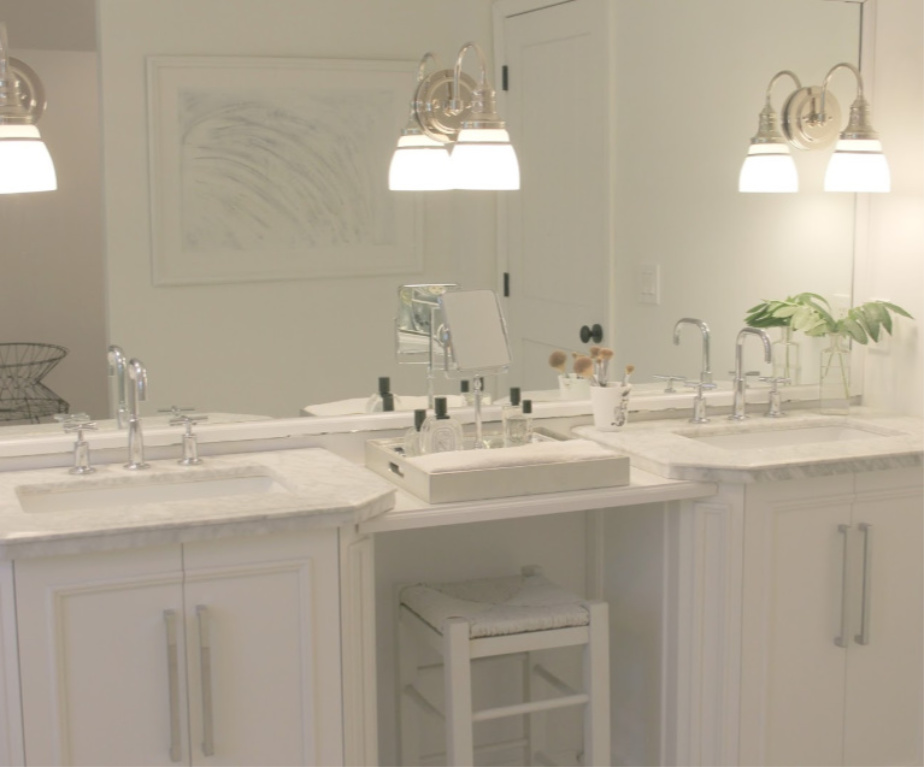 Improvements to Bath
Our improvements included:
large tiled shower with marble floor
more private toilet placement
his and her sinks/vanities
high quality fixtures & lighting
freestanding vintage clawfoot tub
smooth finished walls
tile floor
new beautiful solid door
Steps in Renovation
To begin, we demolished everything, breaking apart the ceramic tiled tub platform, tearing off all the drywall and flooring, and ripping out every fixture to begin fresh. Keep reading to see before and during photos.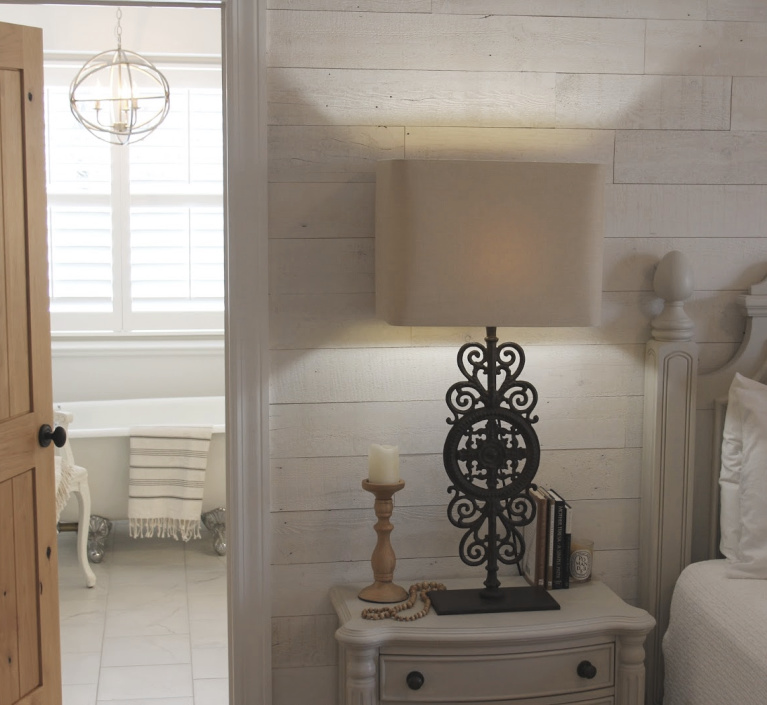 Design elements we incorporated:
Kohler Purist sink and shower fixtures
Vintage cast iron clawfoot tub
Martha Stewart sconces
Carrara marble topped readymade vanities
Herringbone marble shower floor
Calacatta-like porcelain tile for shower and flooring
Antiqued silver orb pendant
Riverwood plantation shutters
Pacific Entries knotty alder door with Helmsley hardware
Benjamin Moore "White" paint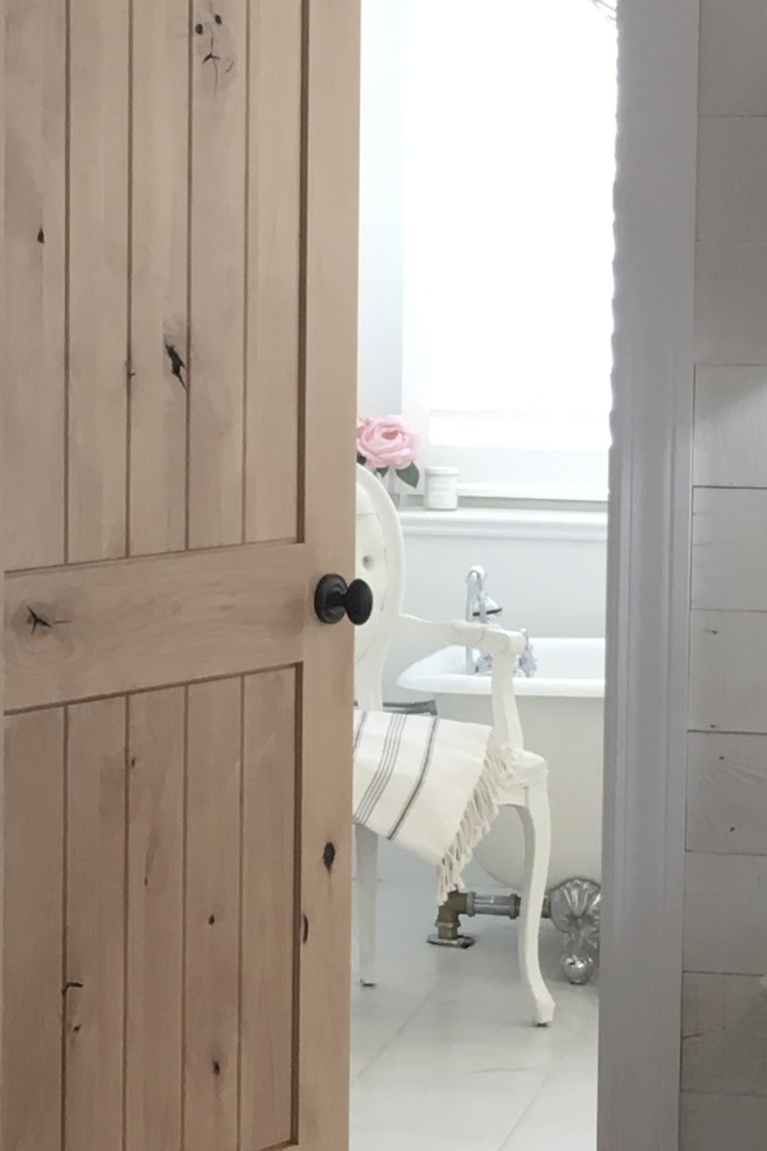 Construction Steps:
Gut the space then assess and address water damage.
Remedy all damage by installing new subfloor and walls.
Construct new wall to provide privacy to the toilet.
Move plumbing for toilet to allow space for large shower.
Plumb new shower, tub, and double sinks.
Update all electrical.
Install new ceiling.
Add baseboard and trim.
Add new door.
Tile floor and shower.
and a million other things, all of which were done by my man, the incredible human who carries out all the stuff I dream up for this place.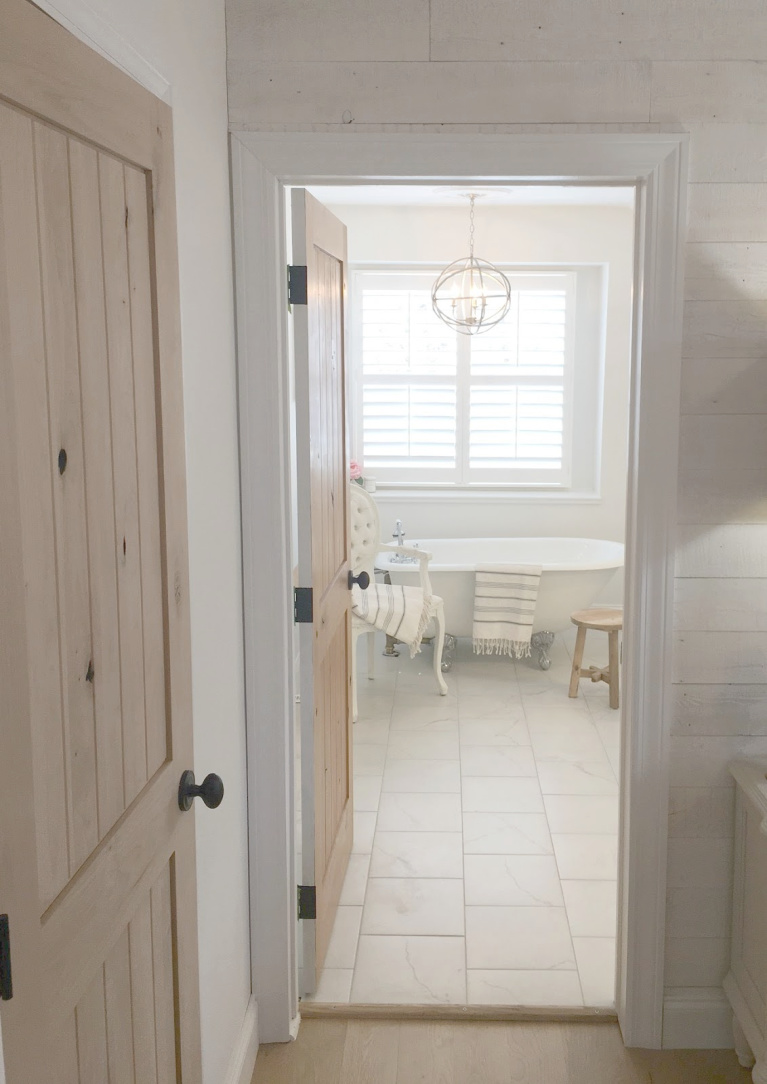 Master Bath AFTER
And now we have a spacious airy bath (airy because the excessive tub platform was replaced with a petite vintage clawfoot tub). Let me show you.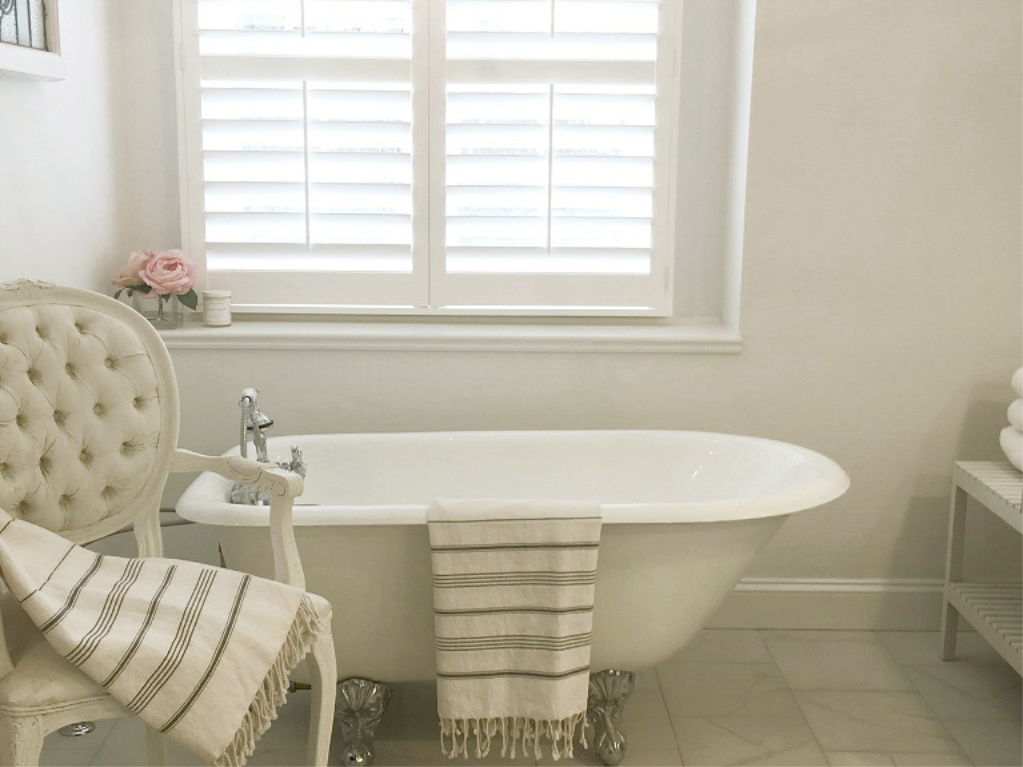 Vintage Clawfoot Tub
We found the tub on Craigslist many months before it was able to rest in its new home!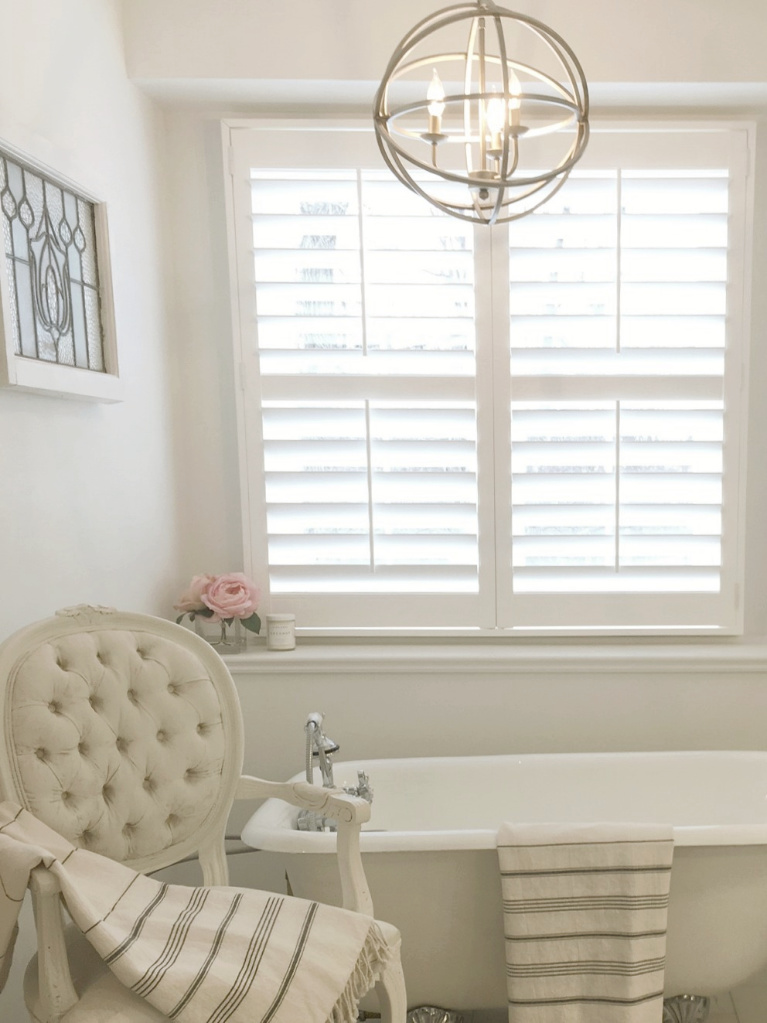 Plantation Shutters
The custom plantation shutters make all the difference in the world since we can now allow abundant natural light to stream in, while still preserving privacy.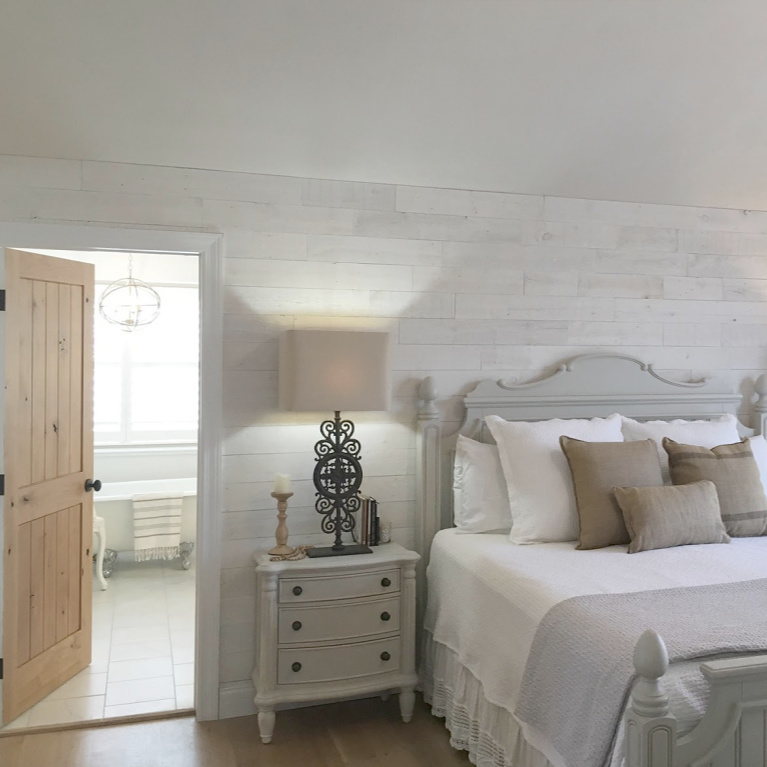 Read about the master bedroom renovation here.
Porcelain Wall & Floor Tile
The floor tile is porcelain from Lowe's called Calacatta, installed in a staggered pattern.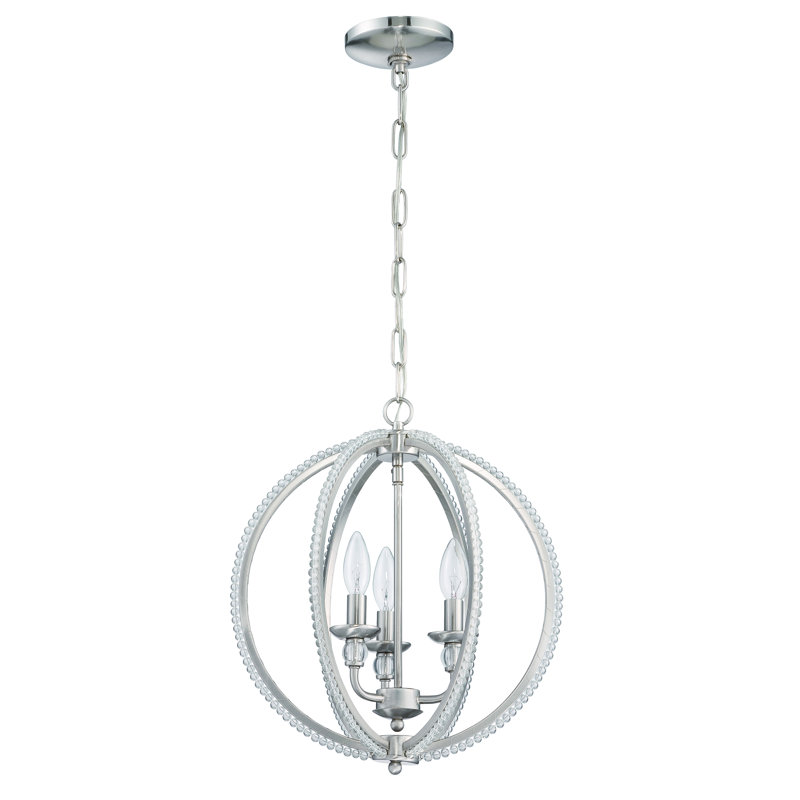 Light Fixture Over Tub
The pendant light was a gift from my mom a few years before the reno (she knew I would someday find a place for it). This light is similar.
As you can see (below), the bathroom receives wonderful Western light!
A Look at Before
Here's a markup of some problems: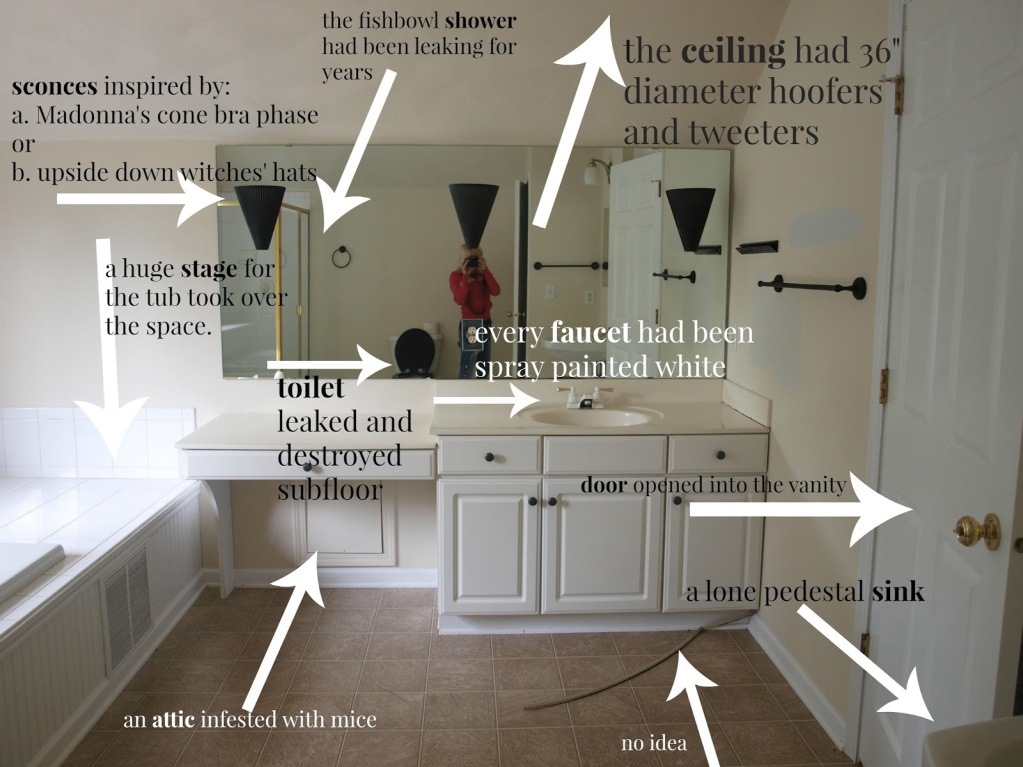 One element I liked about the 'before' was the lighting wired directly on the mirror so we kept it.
Freestanding Vanities
For ease and a budget-friendly option, I bought readymade freestanding vanity sets which included the marble top and sink. Not sure our exact vanity is still available at Lowe's, but THIS ONE is very similar with a charming shaped backsplash and beveled marble edge.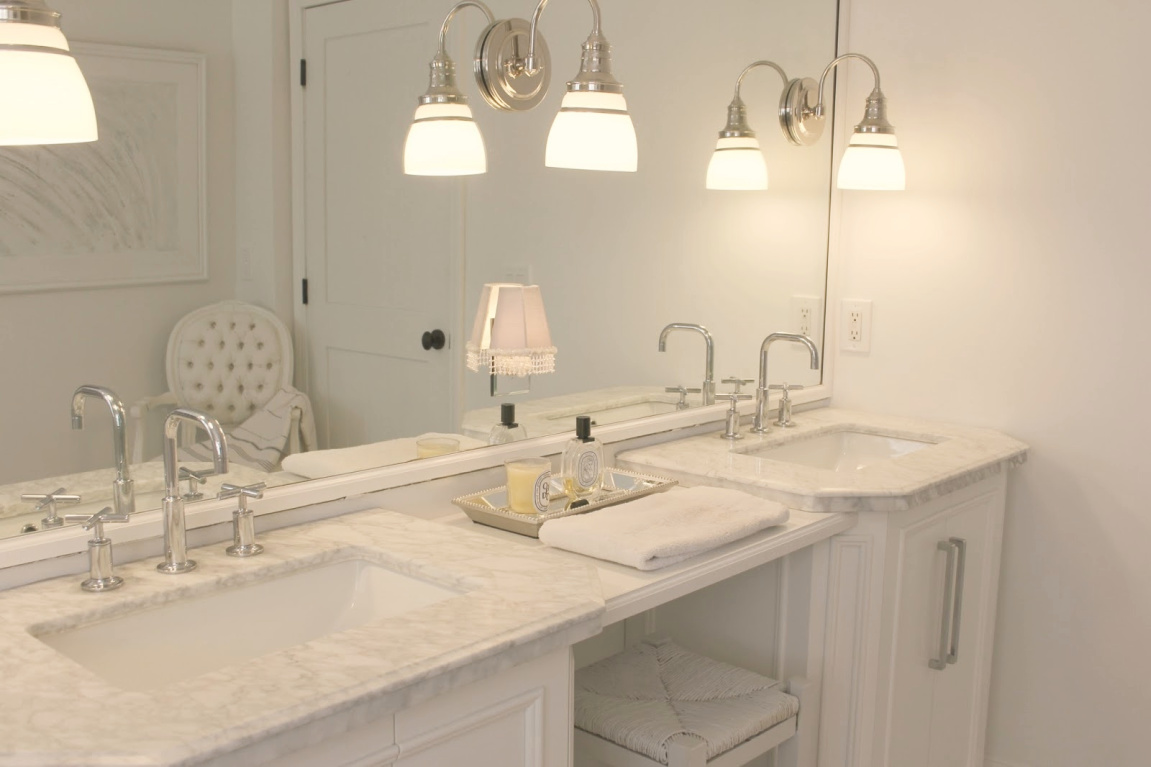 The painting reflected in mirror is an abstract I painted on wood.
What a savings when you opt to buy a "vanity set" with cabinet, sink, marble top, and backsplash!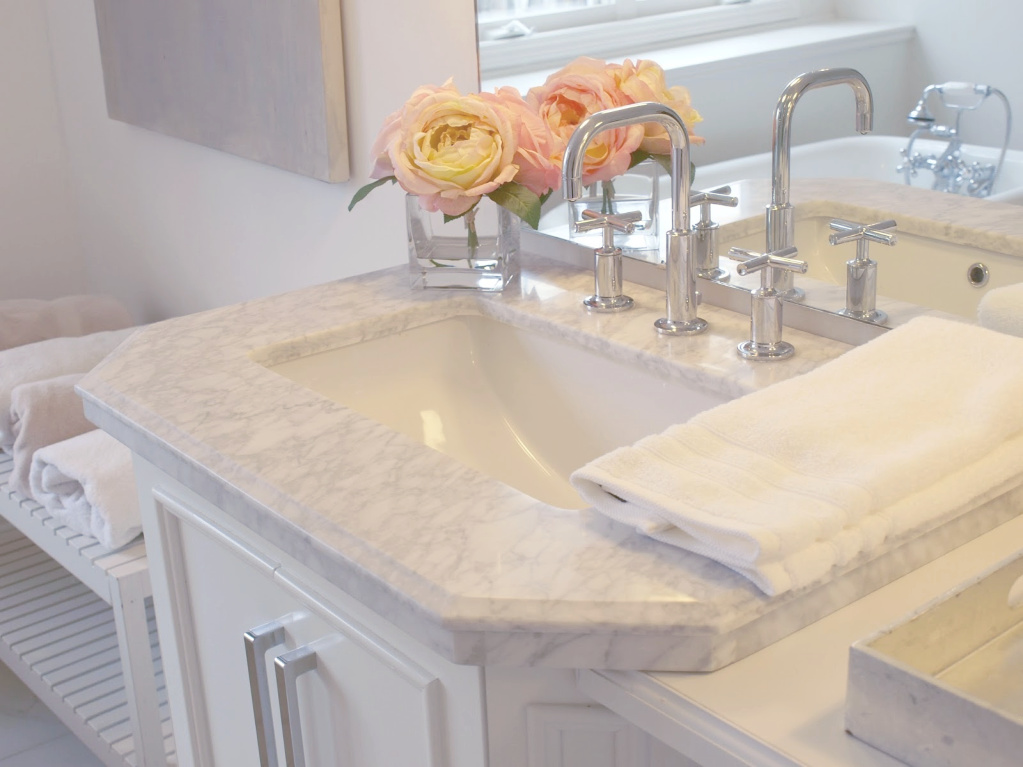 New Sink Fixtures
I have always loved Kohler's Purist line with its minimal classic design and think the cross style lever handles are fun.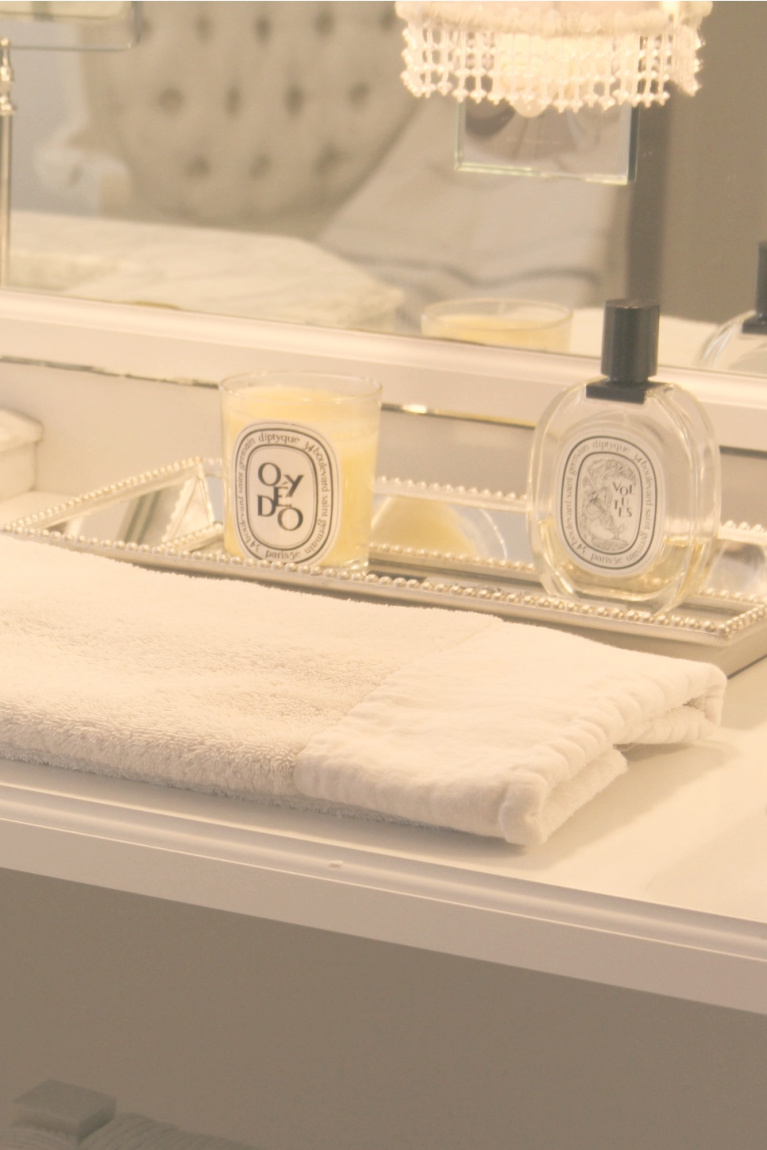 Antique Leaded Glass Window
We snagged the antique leaded glass window years ago and hung on to it for just the right project. Now in place, it allows natural light to stream into the shower without becoming a peekaboo window.On the inside of the shower, a deep niche shelf holds bath products at a sensible height for a fairy…SCORE.
You can see the antique window in the reflection (below) and my products peeking through (#reallife).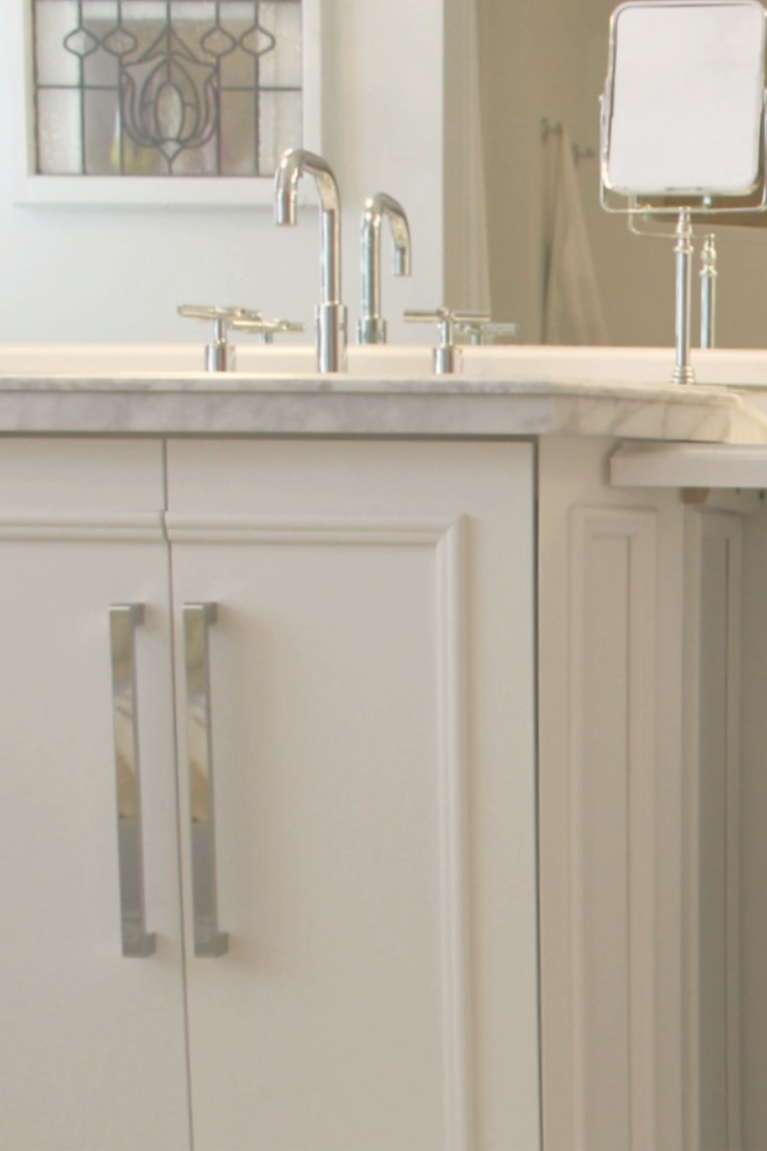 Transforming the Bathroom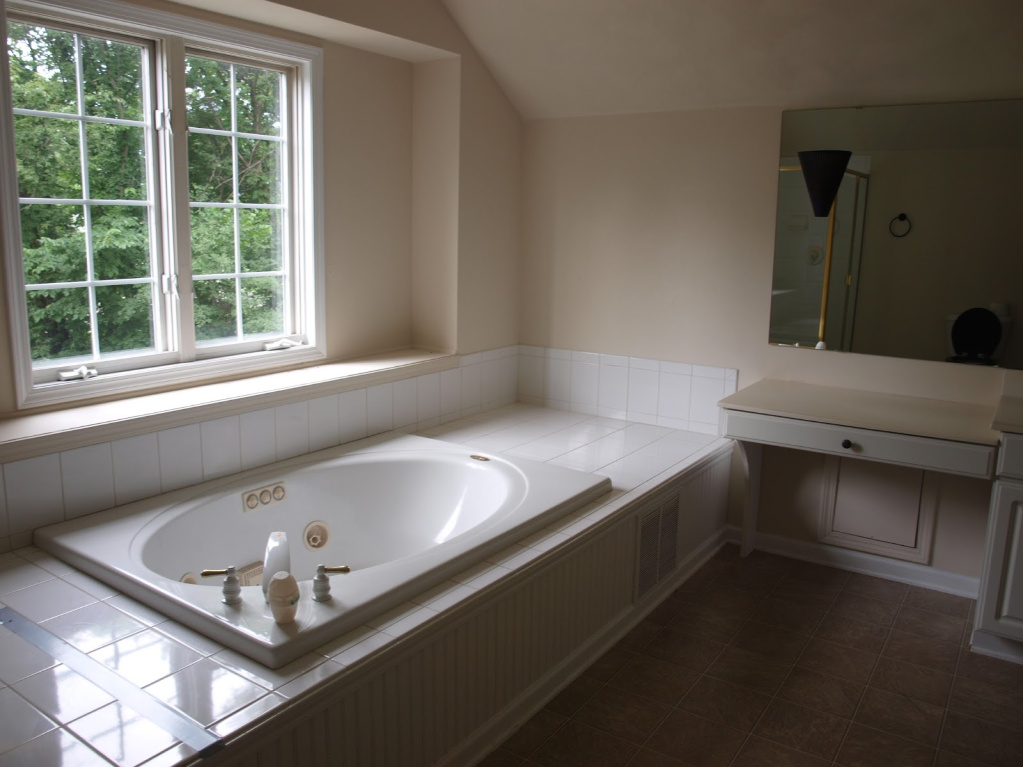 If you expand the above "before" photo, you'll see to make the cheap and worn brass fixtures look new for marketing pictures to sell this foreclosure, they were spray painted white!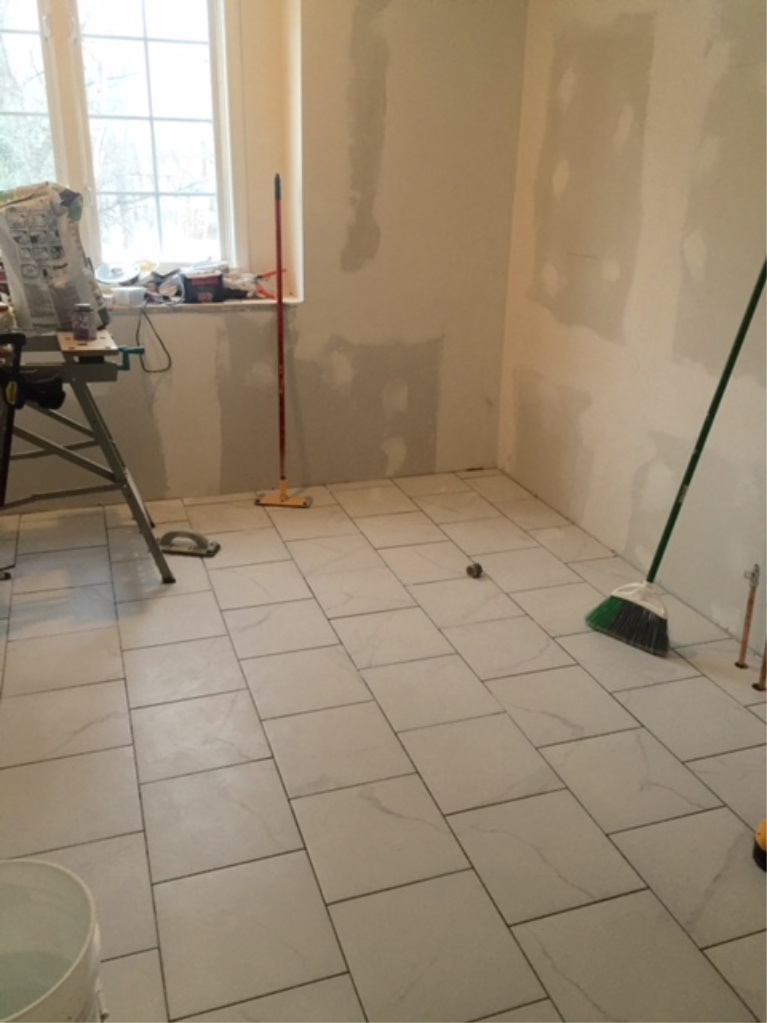 We reduced the size of the bay of this window in order to accommodate a larger shower on the left hand side.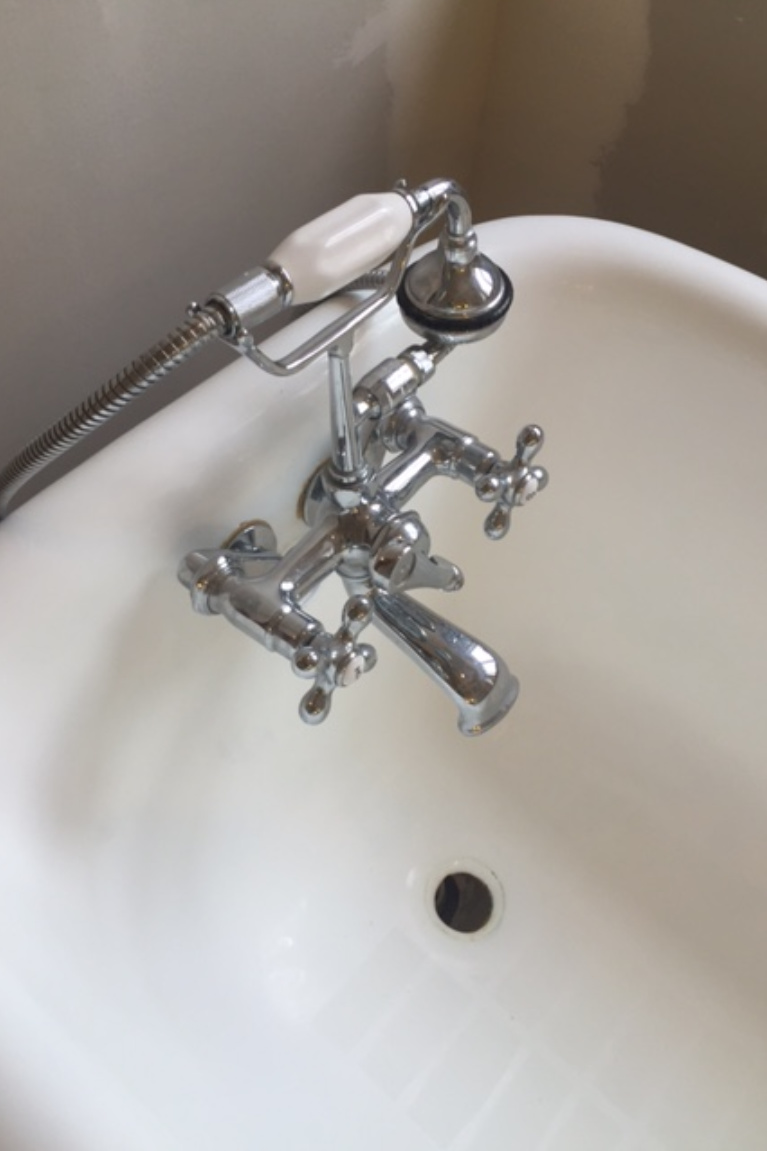 Out went the huge platform and giant Jacuzzi and in came the petite proportioned tub.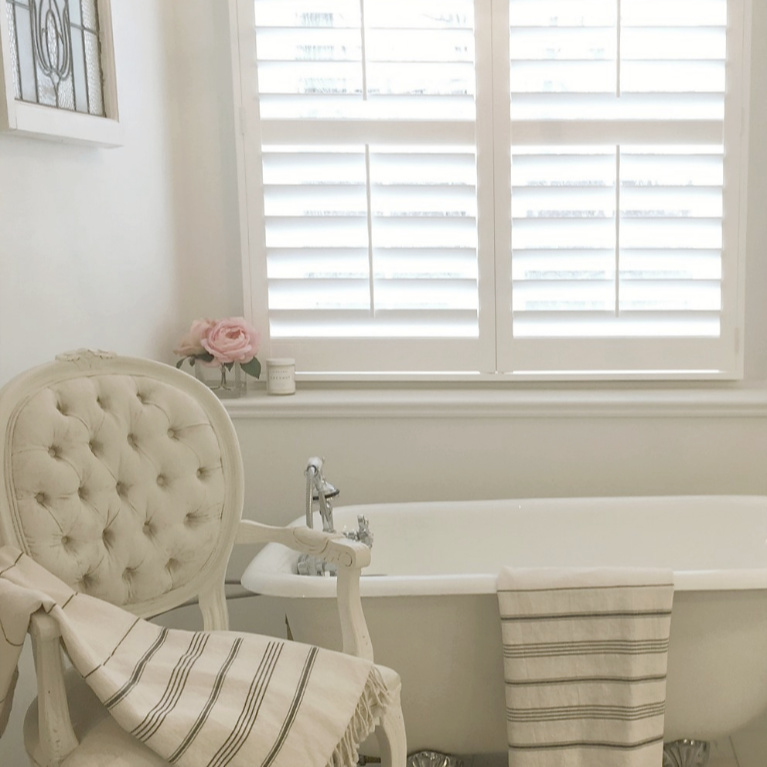 The old chair has been with me for a long time,and I always find a place for her.
The bench near the tub is an Ikea Molger wood bench I painted with Benjamin Moore's Classic Gray.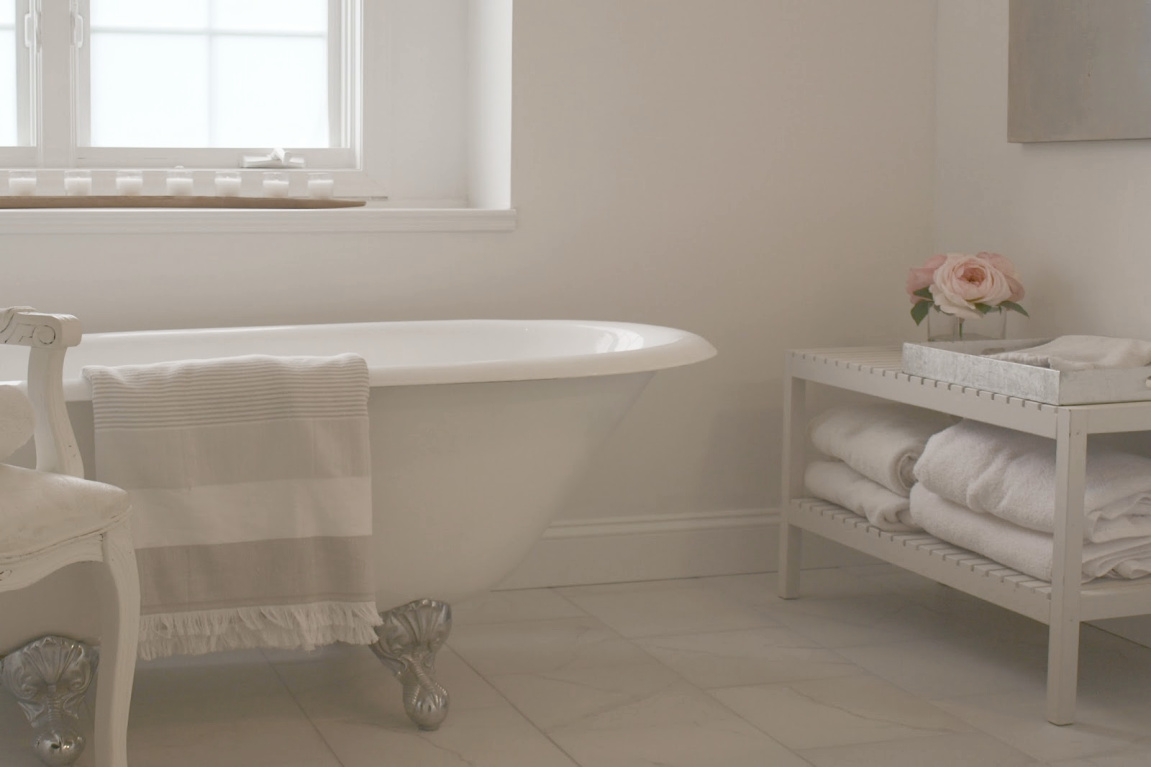 I thought I might paint the side of the tub or the feet, but once it was in place I liked it as is.
We Lost the Linen Closet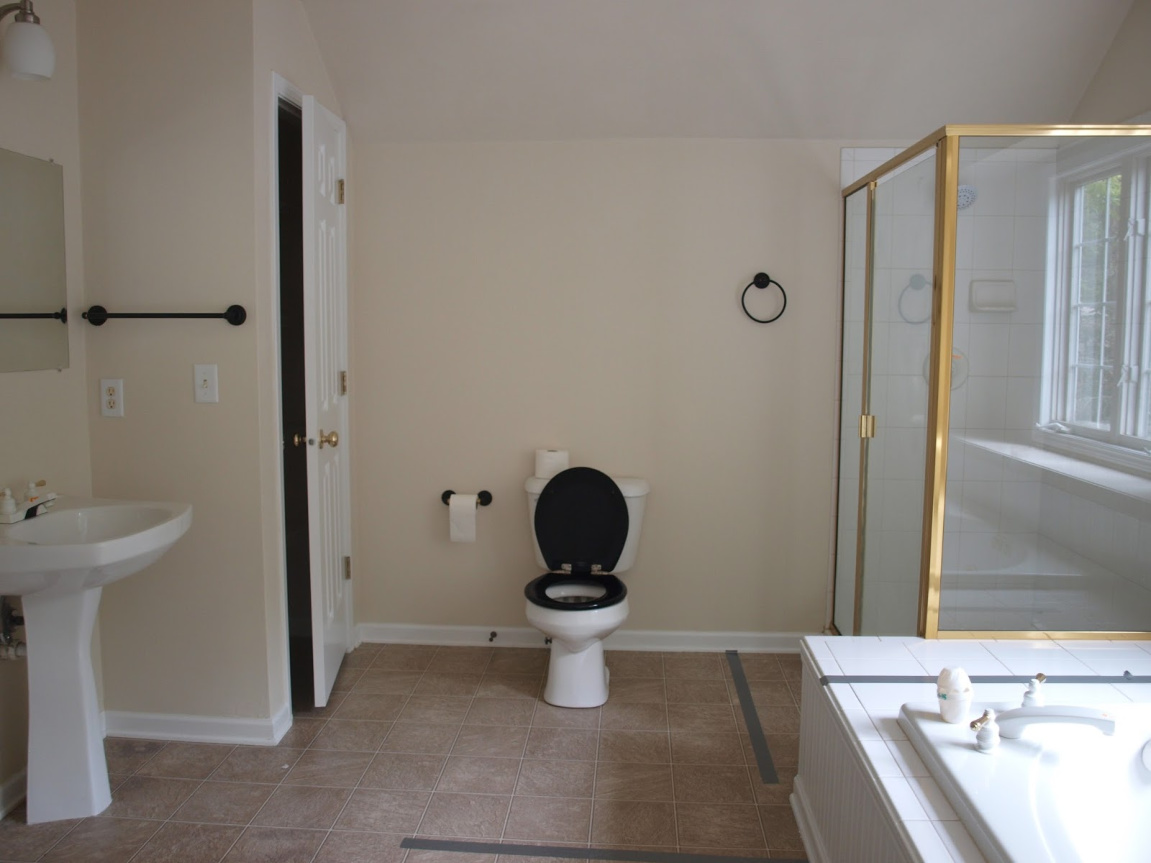 The linen closet you see above was eliminated, and I was mighty worried we would miss it. Now I store sheets in a chest in my closet, and towels are at hand on a chair where we can see them.
Shower Matters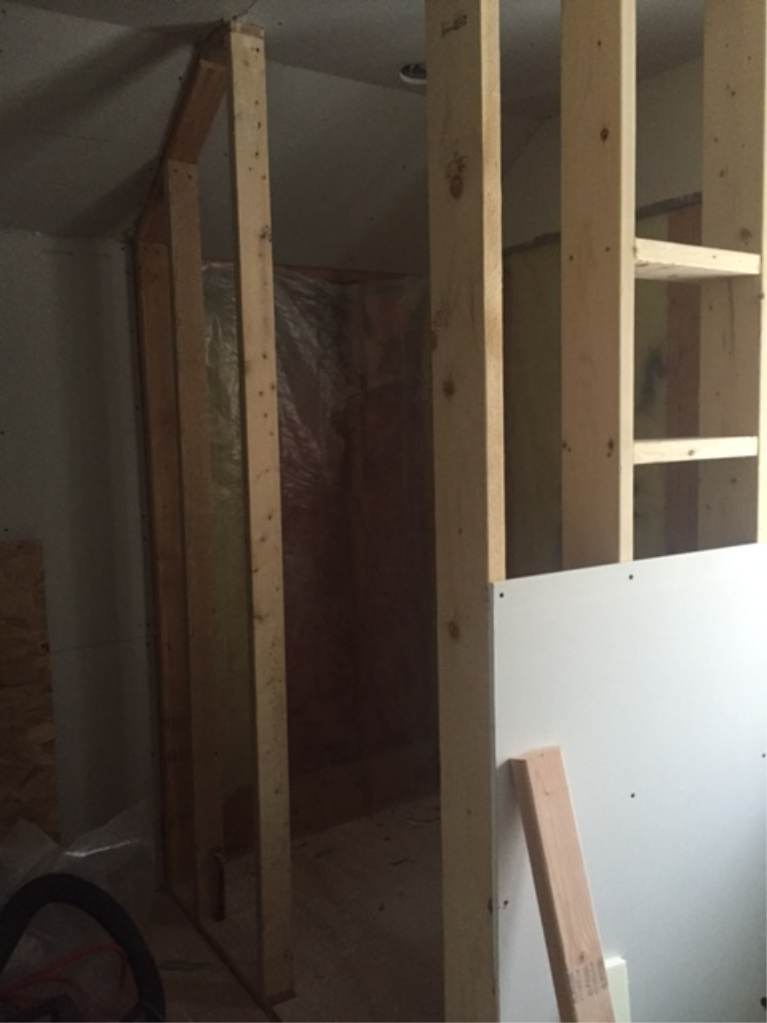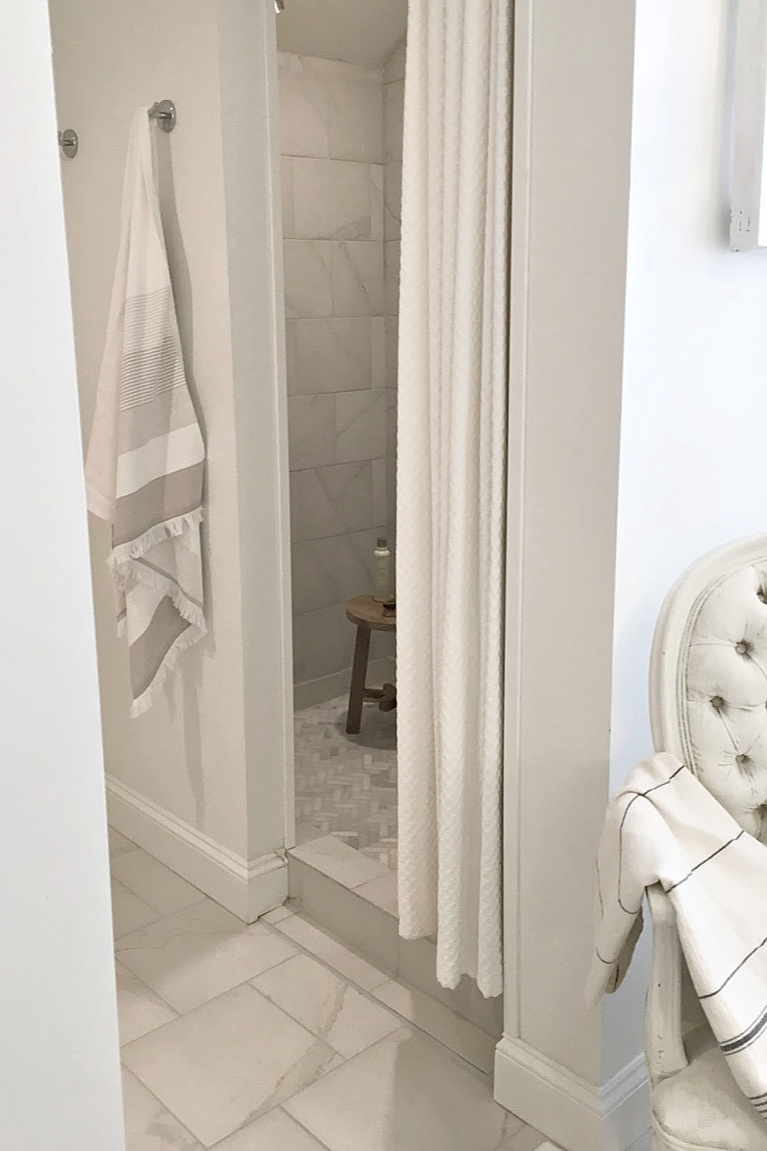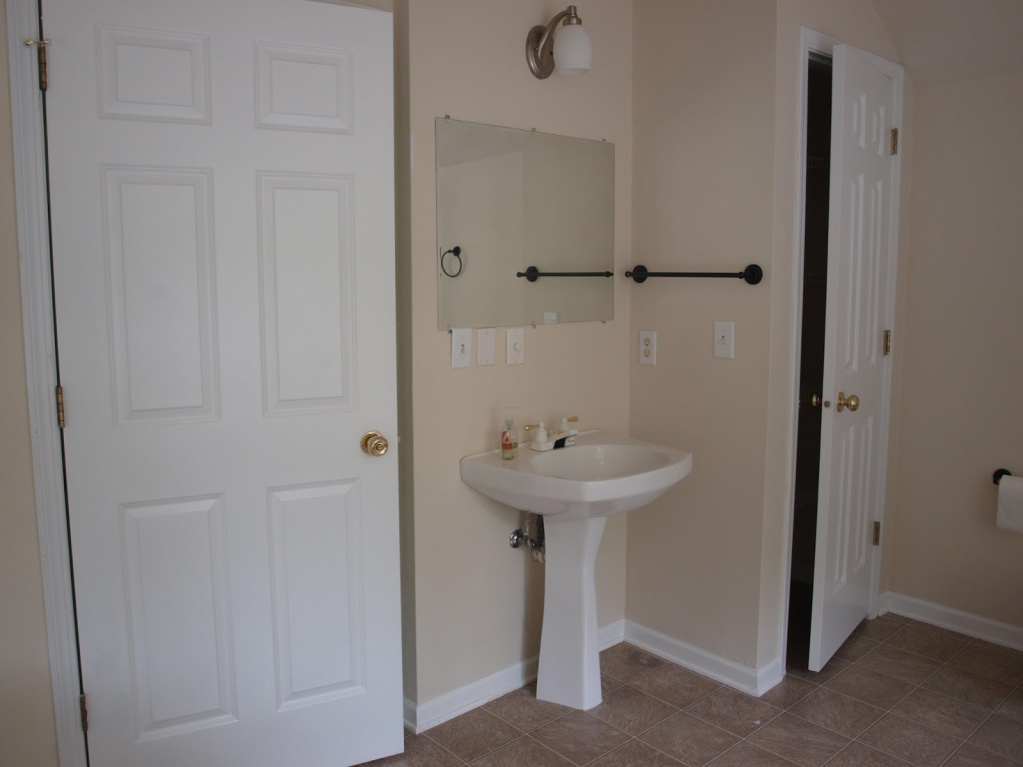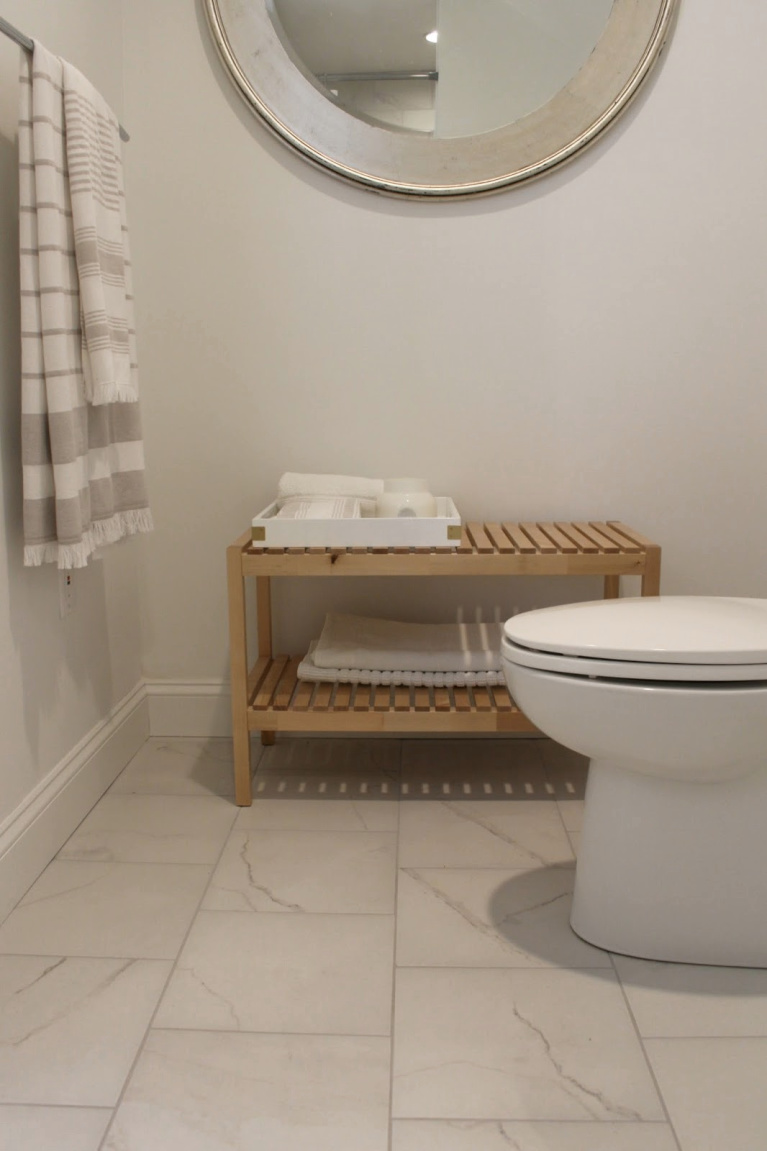 I used a second Ikea Molger bench near the toilet and left this one unpainted for some natural wood warmth.
Knotty Alder Door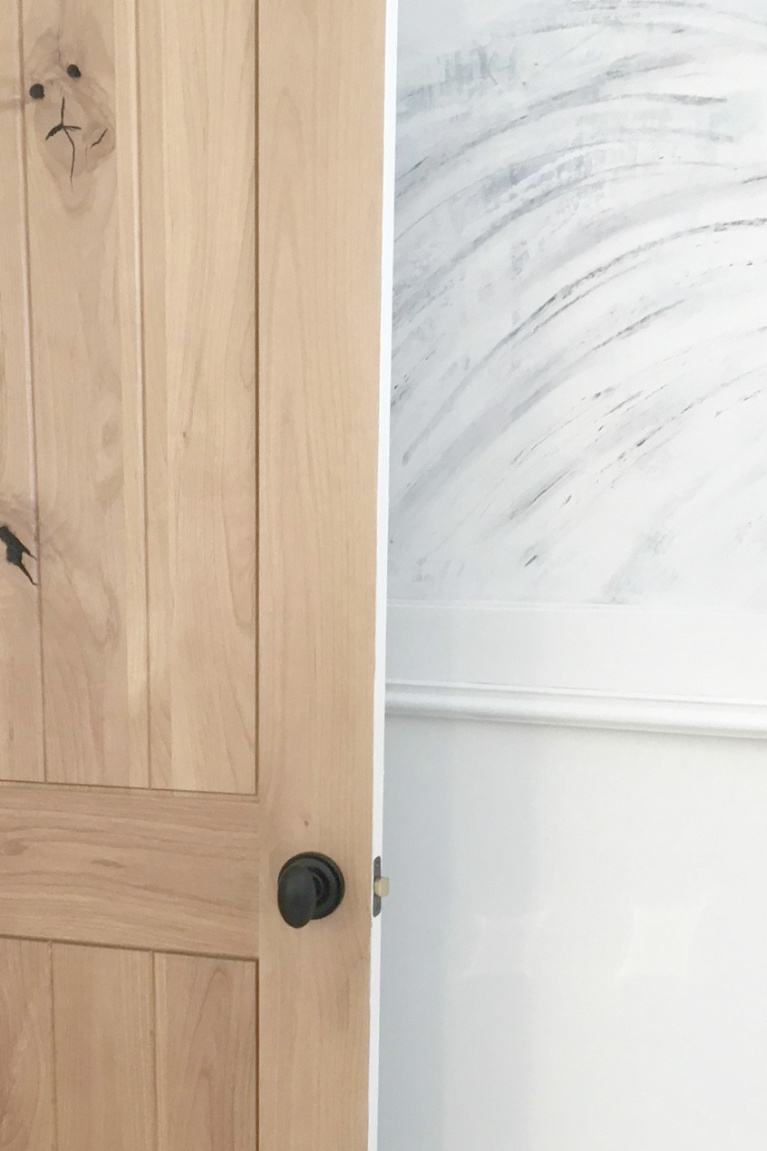 I painted the inside of the knotty alder door white…the bedroom side of the door was left natural and unstained like the rest of the wood doors in the house.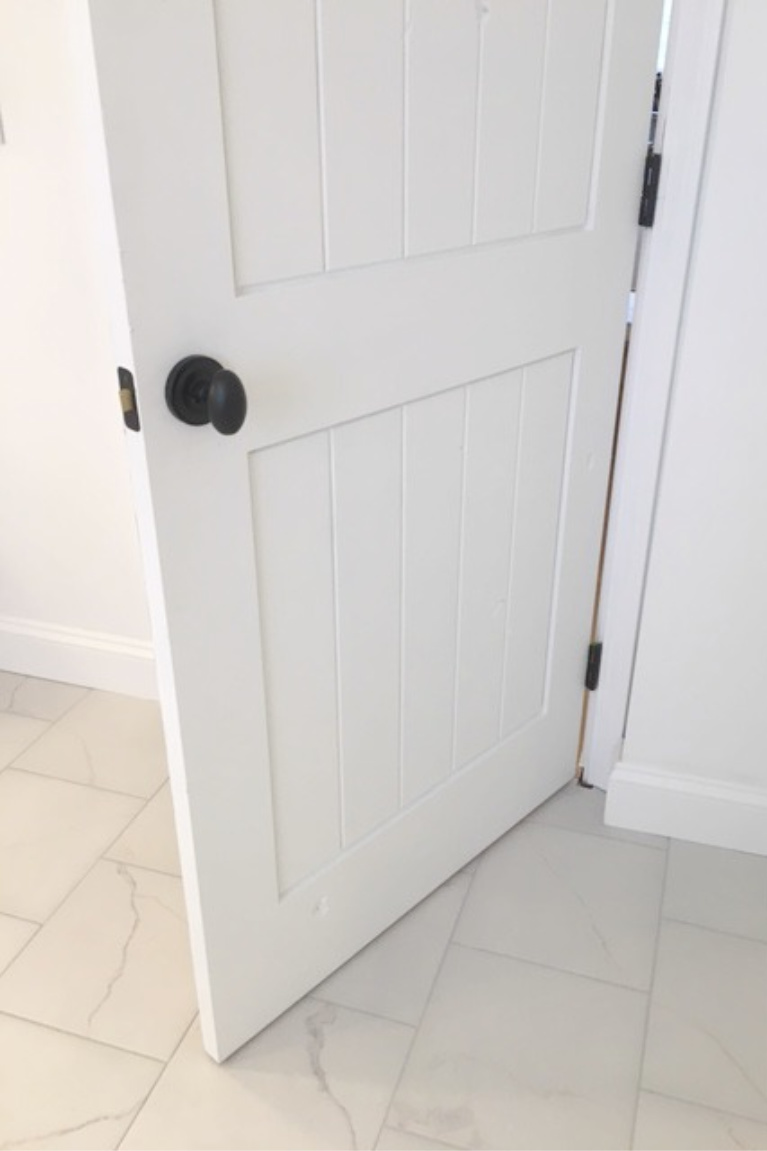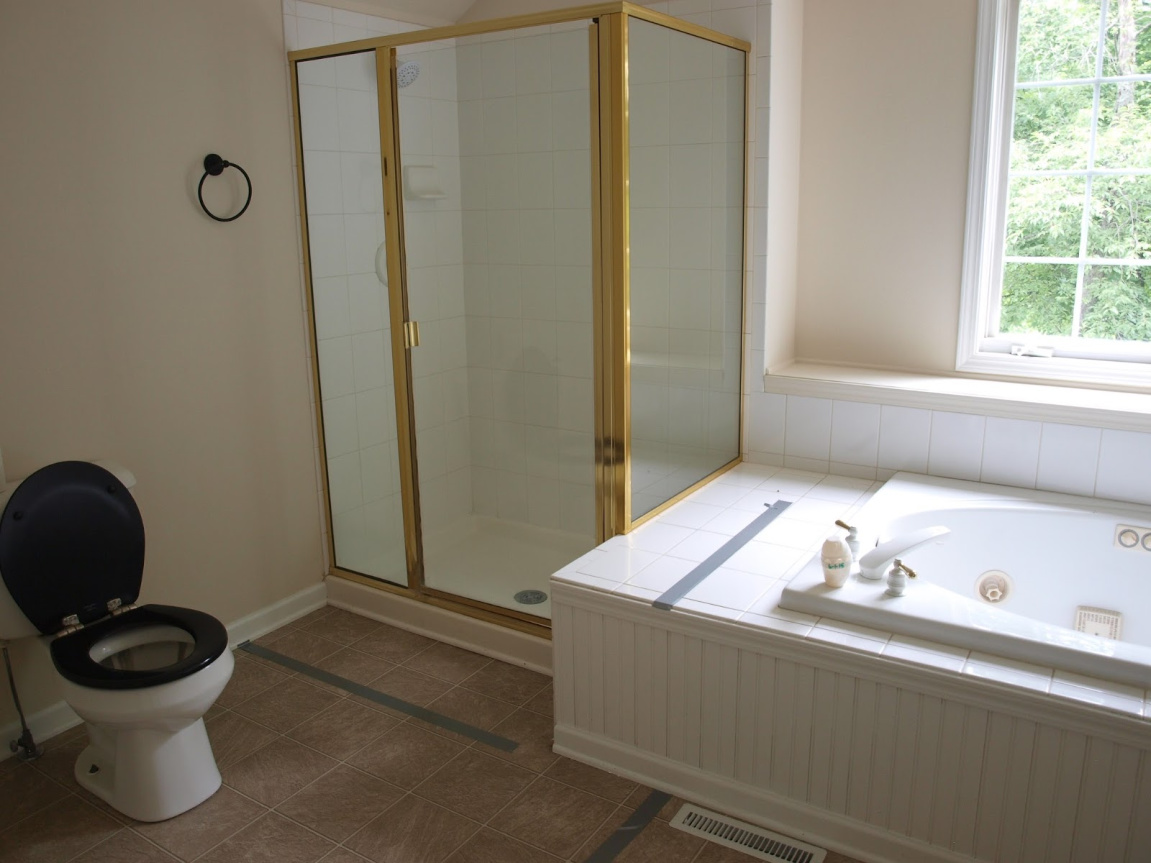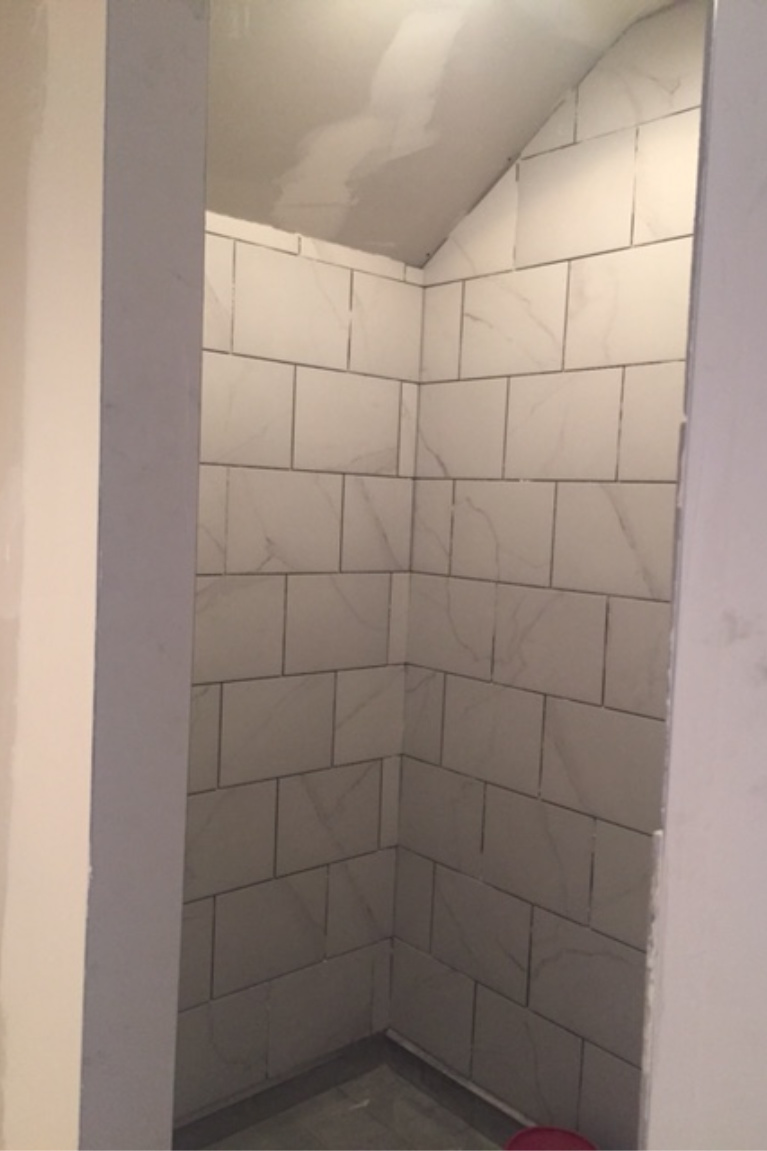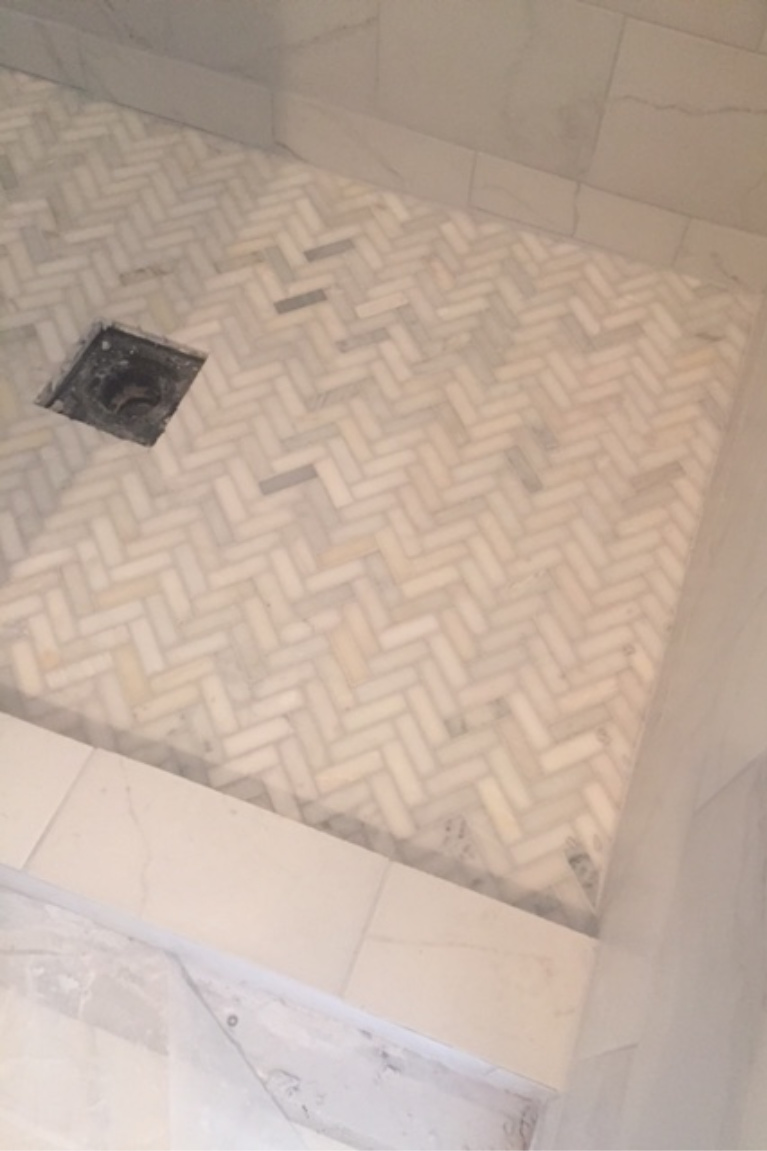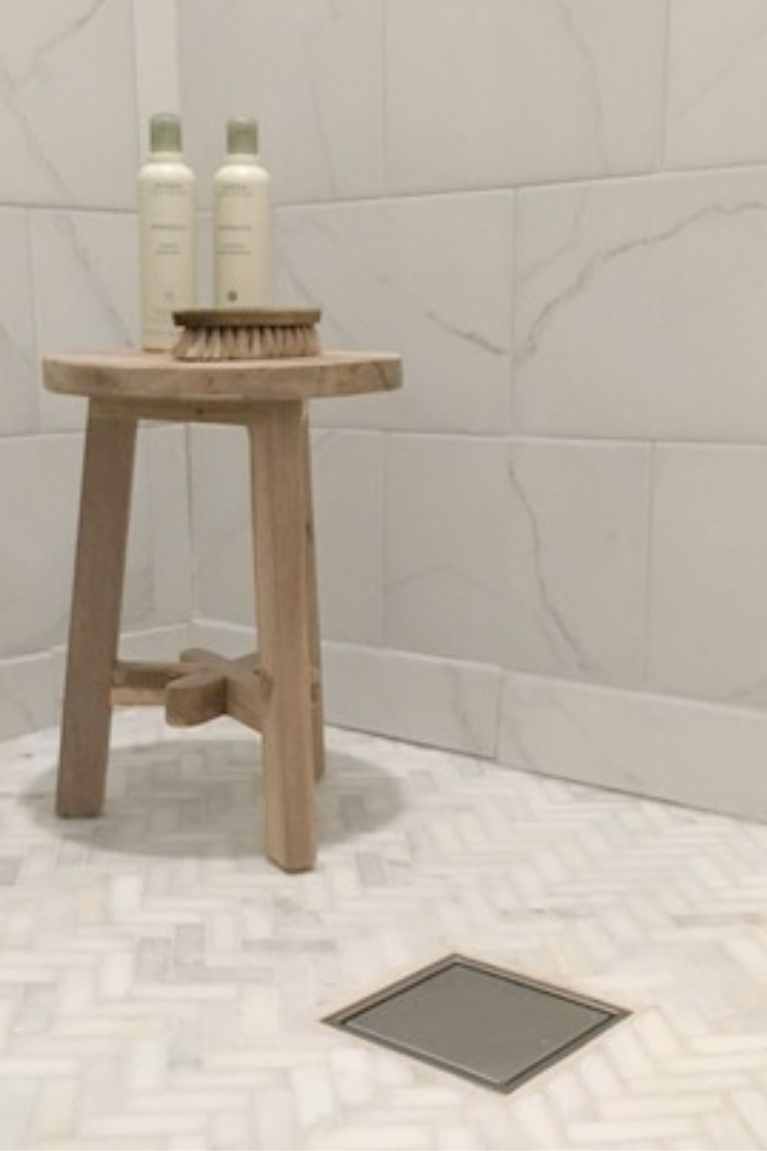 Interior Window in Shower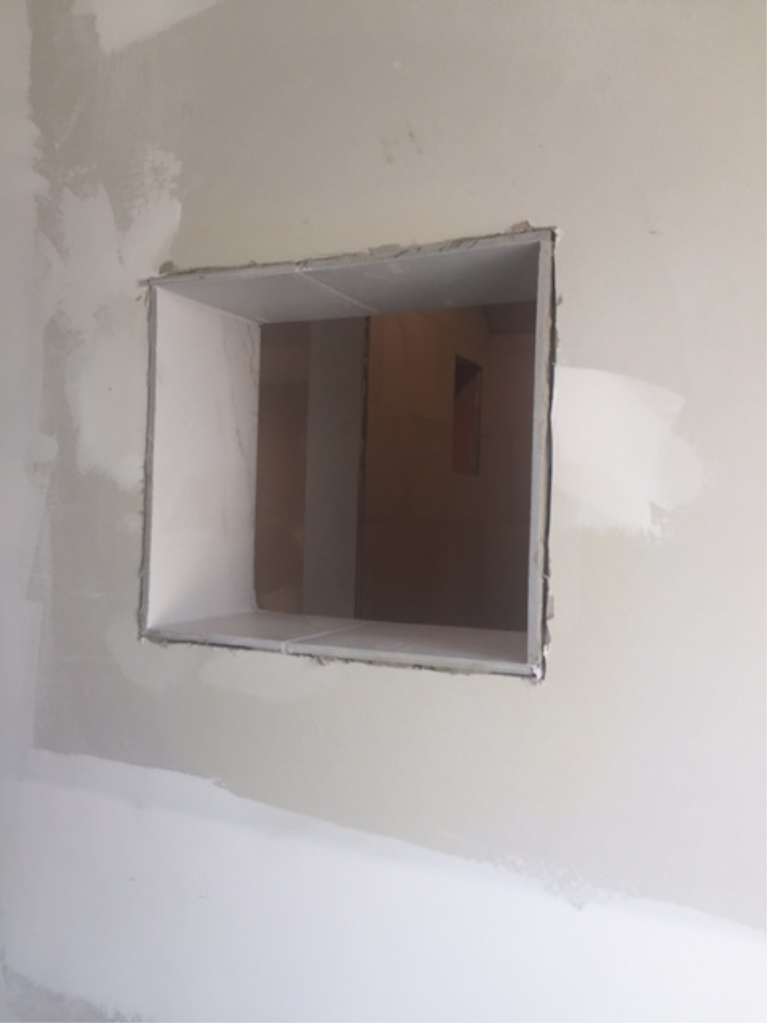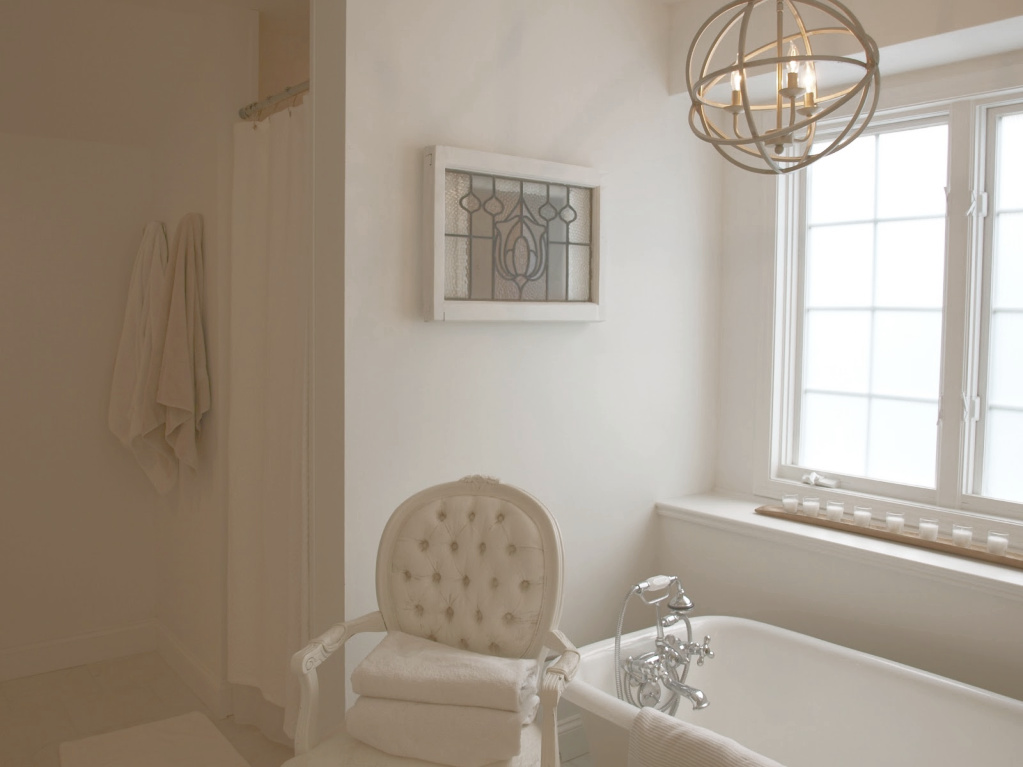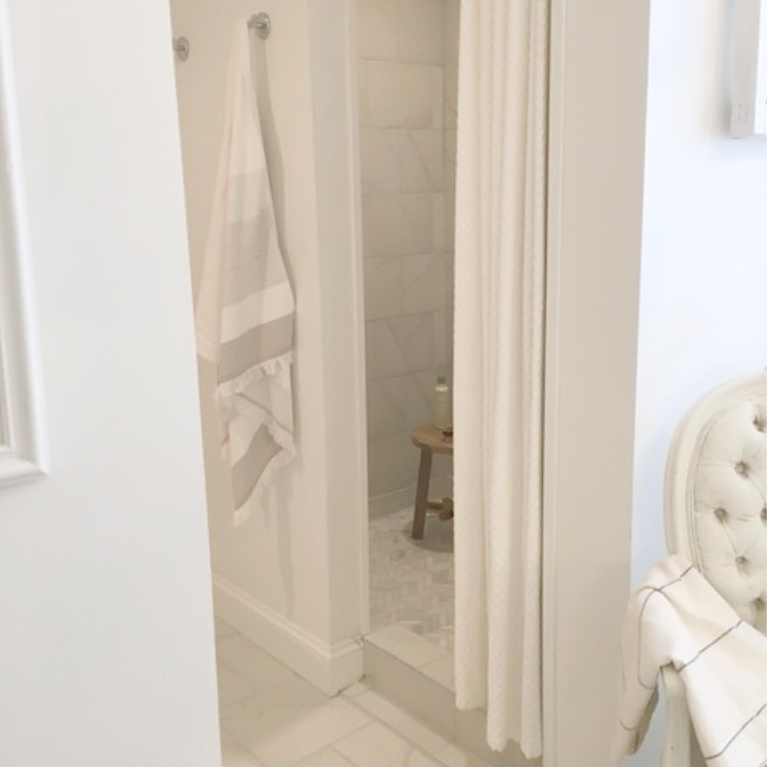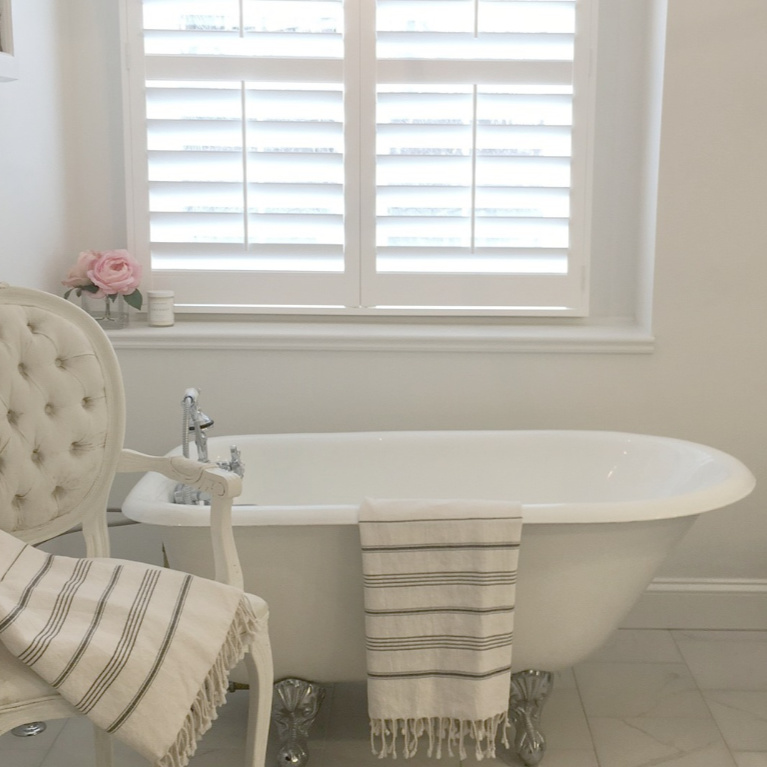 Information about our knotty alder doors HERE.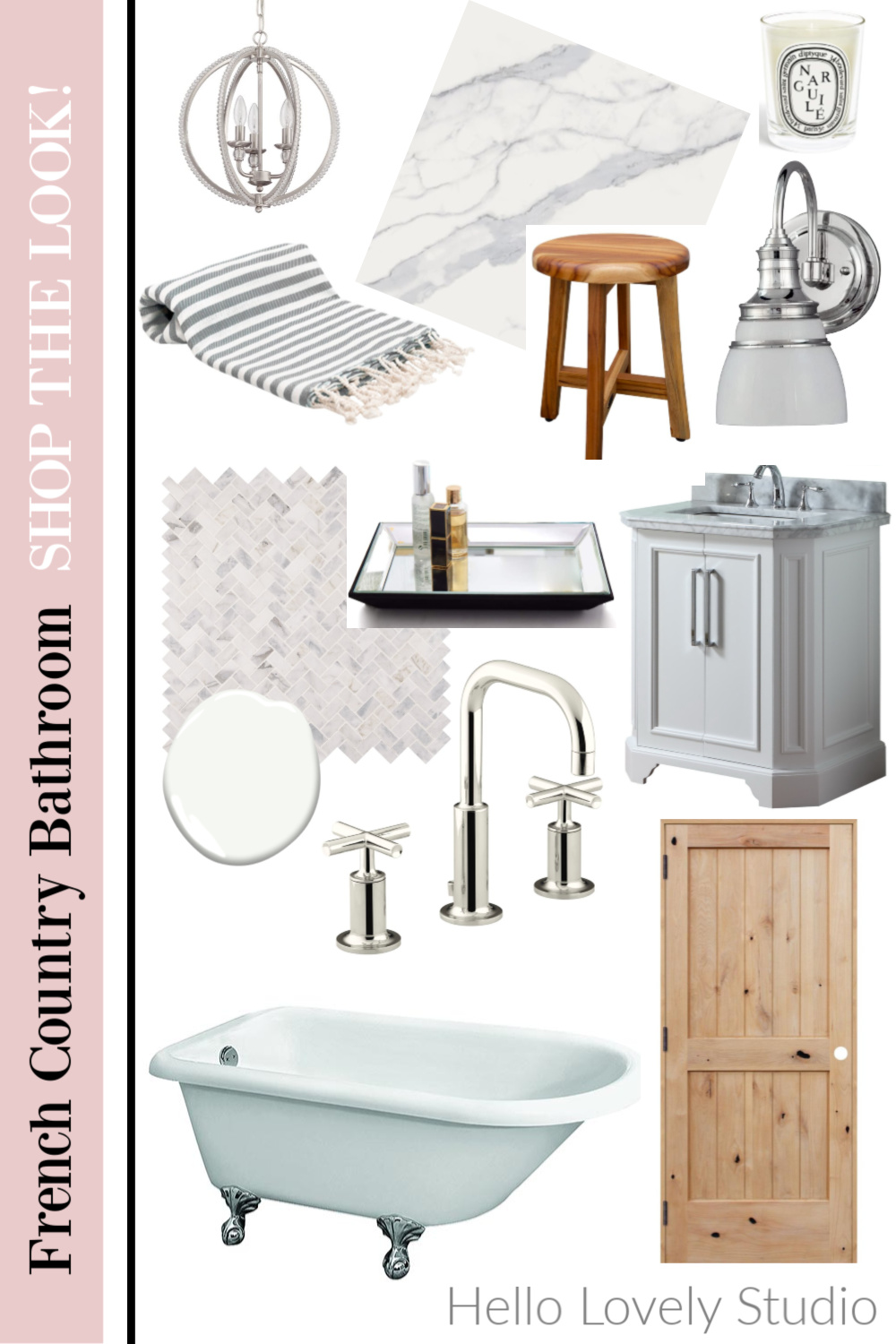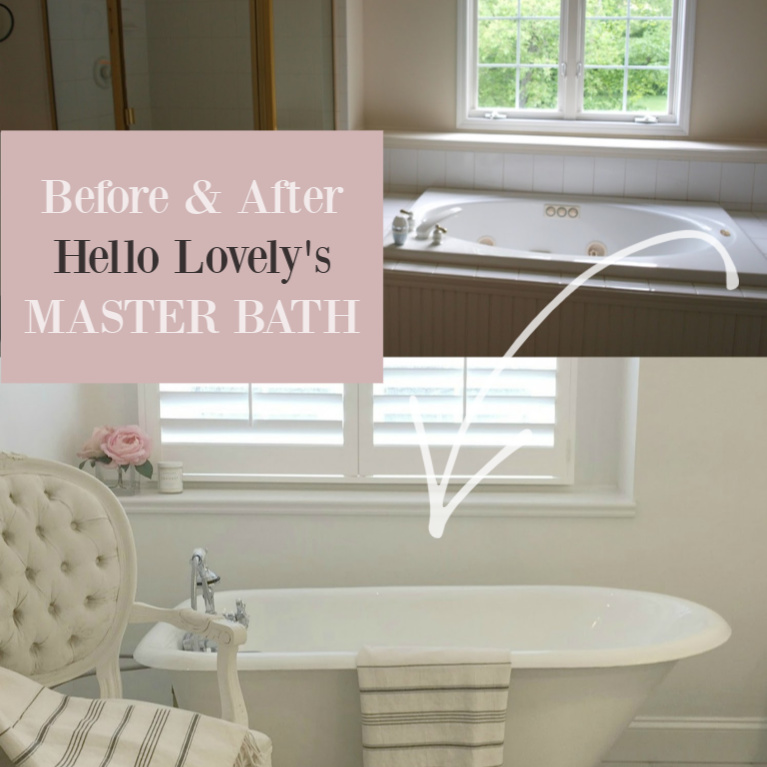 I independently selected products in this post—if you buy from one of my links, I may earn a commission.
Peace to you right where you are.
-michele
Shop for items you already intended to buy on Amazon RIGHT HERE, and also find home decor here to keep decor inspiration flowing on Hello Lovely!
Hello Lovely is a participant in the Amazon Services LLC Associates Program, an affiliate advertising program designed to provide a means for sites to earn fees by linking to Amazon.com and affiliated sites.