If you just looooove you some pears like me, I bet you agree they deserve to be in the spotlight and have their day! Learn fun facts about pears, discover recipes, and feast on pear-related decor as we revisit Yummy Autumn Pear Inspiration.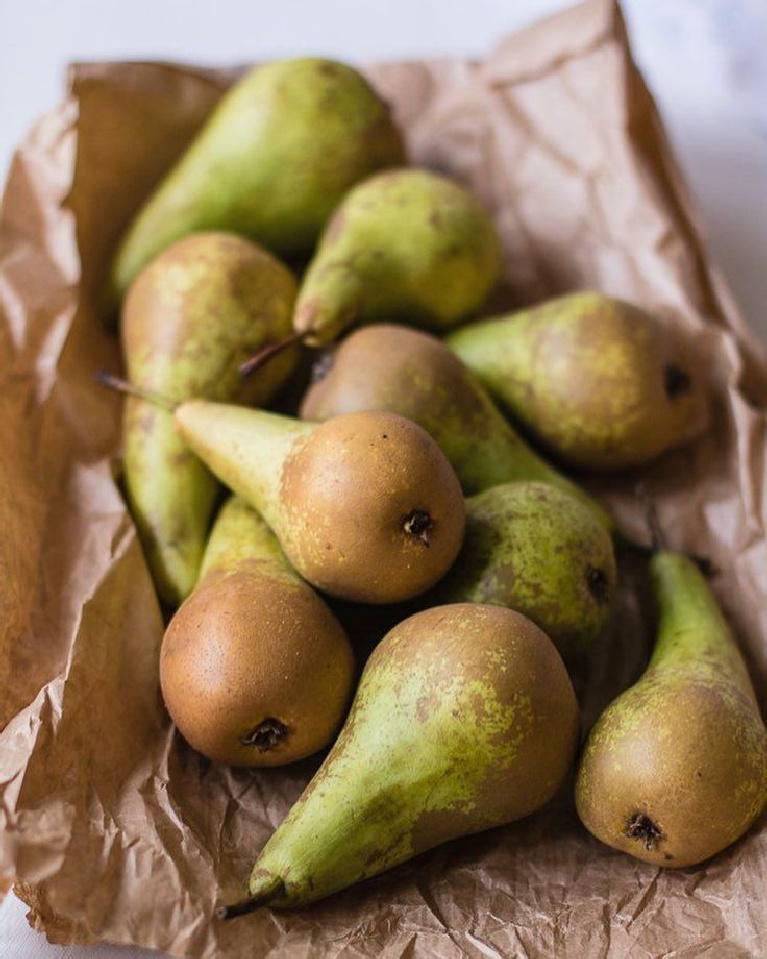 Pre-PEAR Yourself for Yummy Autumn Pear Inspiration Ahead!
Pears Elevating Interiors & the Everyday
I independently selected products in this post—if you buy from one of my links, I may earn a commission.
Delicious Ways With Fall Yum
How on earth did I ever forget about Williams-Sonoma for a couple of years there? I blame hormones and an extreme menopause. (Pear with me, now) 🙂
How many varieties of pears are there? Um, brace yourself…over 3,000.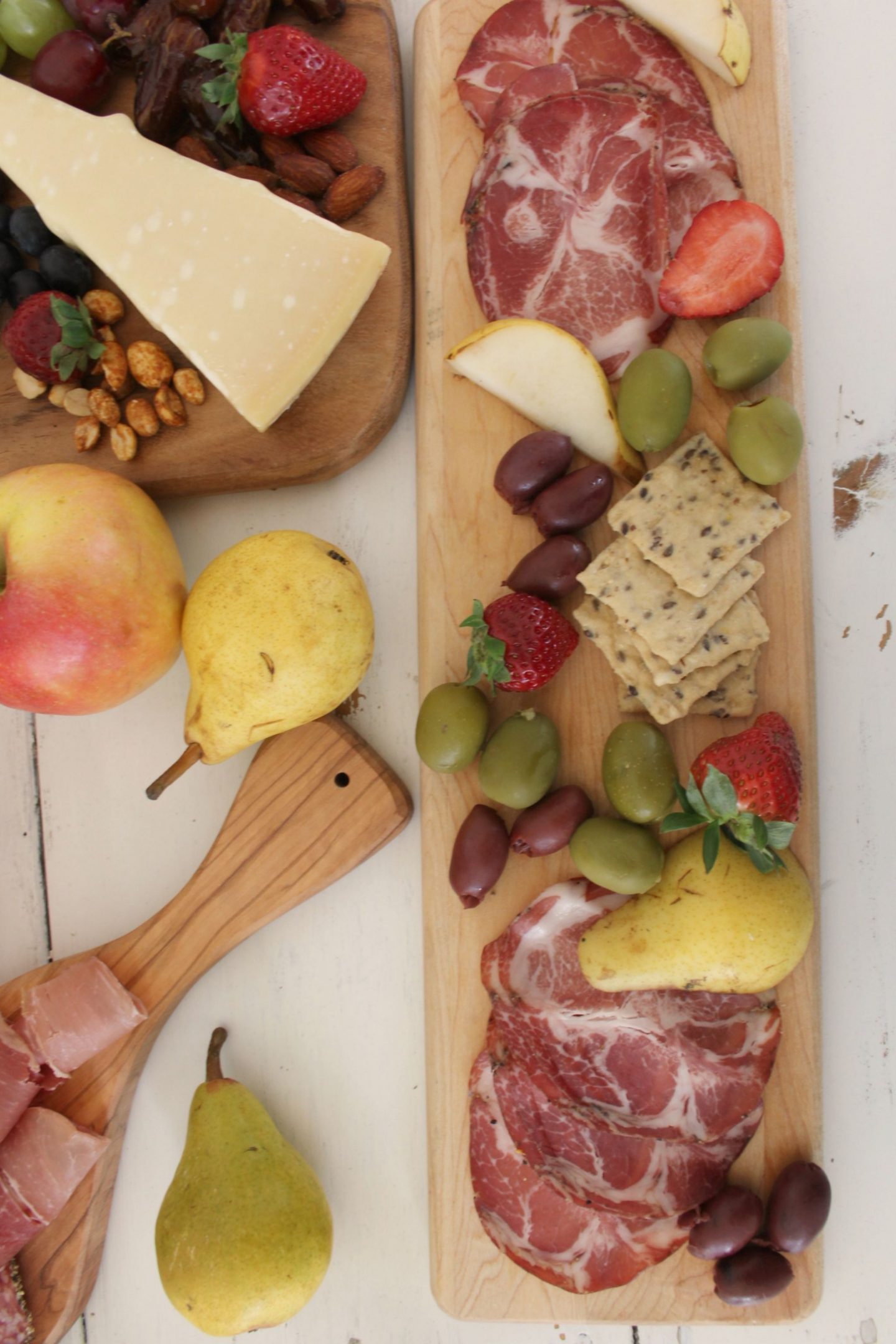 Autumn Pear Inspiration: Upside Down Cake
Oh my gosh, this is a keeper, and Lindsey Strand totally has me in the palm of her hand wanting to make this pear upside down cake!!! I love that we'll bake it right in the cast iron skillet!
Before tobacco was introduced to Europe? Pear leaves were smoked.
Menu Ideas
Thinking about dessert got me thinking 'but what the heck am I making for dinner tonight?' Since my tastebuds are craving a comforting shrimp and pasta dish…maybe you too need a quick and easy recipe that won't require slaving over a hot stove babying a fancy sauce?
BTW, no pears in this baby, but poached ones on the side could be satisfying.
If you're serious about your boscs, and you want pears for dinner or an appetizer when entertaining, here's a yummy pear pizza prospect from bygabriellaco:
Pears: Enjoy the Health Benefits
Are pears a good source of fiber? Yes, m'am. With 6 grams of dietary fiber in a pear, it's an excellent choice.
For a subtle pear flavor in a good for you pear green tea…
What is the relationship of pears to preventing osteoporosis? Pears contain Boron which helps the body retain calcium, so eating them is a great idea when you're aiming to prevent osteoporosis.
Pear Apple Crumble
I shared my recipe for pear apple crumble here, and I like to make mine in an oval casserole dish which also works for a ton of different casseroles and one-dish wonders:
Can pears really grow to be the size of a newborn baby? Yes! An atago pear grown in Japan by JA Aichi Toyoto Nashi Bukai was the heaviest on record at 6 lbs. 8 oz!
I was surprised by how good this Saigon cinnamon was!
Pear Picnic
Even though this Pear Picnic Pack o' Love is no longer available for purchase, don't let that stop you from improvising with a basket you already own and your favorite poison. (And eat extra dried salami for me since it's off my list!)
Romantic date in the park with your lover? Girlfriend gathering? Road trip rendezvous rendered extra delicieux?
What's to Pack In the Hamper?
What's in it? Assorted fresh apples and pears, apple cider, aged Monterey Jack, Salami, Sourdough Flatbread, roasted salted pistachios, and Fig Spread.
What was a nickname for a pear in the 1700's?
Butter fruit.
Anjou Pear Balsamic
Here's a delicious anjou pear balsamic from Italy (so important to read the fine print when you're buying oil and vinegar and you want the good stuff from Italy!) to liven up dishes in fall.
Go head and use it in place of regular vinegar on salads, in dressings and marinades, and as a finishing touch on roasted chicken.
Do pork chops or pork roasts sizzle yer bacon in fall? Brush this yum on pork as a glaze, or drizzle it over hard cheeses. If you're feelin saucy — try a splash on vanilla ice cream!
I love how a good balsamic wakes up an ordinary salad…need an epic bowl for the job?
Fresh or not real pears will look sweet in the bowl when not in use.
Pear Recipe in a French Cookbook
While Pinterest is packed with pear recipes, I still love rollin' old school with an old fashioned cookbook! This one by Georgeanne Brennan has our name written all over it with its rustic French style (a fabulous salad recipe with arugula, PEAR, and shaved parmesan) and ideas for casual meals.
Here is another new cookbook I own by Laura Washburn Hutton you might like for fall and winter. Just the thought of a one-pot meal brings such comfort in these weary times!
But are you still thinking pears are too ho hum? Because there are more than a few ways to enjoy them…ever spiralize your fresh produce?
Oh my goodness, spiralize yer pears, squash, potatoes…and if you're a pasta lover like me who is trying to make her diet as plant-based as possible…I mean, genius!!!!
Pear Muffins in Fall
If you are more of the 'I prefer my pears in a muffin' type, I got you.
Lovely Pear Themed Decor
Pears and Partridges
A Pear-y Calm Paint Color
I also have a crush on this very organic chic color so I'm weaving in examples of it:
Gorgeous Pear Green Paint for a Door
They buy art made by their friends and prefer pre-loved, comfy furniture or cast-offs. A rustic farm table that gets better with dents and scratches feels friendlier than a formal heirloom to them. Like other Millennials I know, they thrift for vintage accessories that make them smile rather than to be cool or score killer vignettes on IG.
Pear Goodness
Happy Autumn, Friends
What are your fall favorites? I'd love to hear from you!
I independently selected products in this post—if you buy from one of my links, I may earn a commission.
Peace to you right where you are.
-michele
Shop for items you already intended to buy on Amazon RIGHT HERE, and also find home decor here to keep decor inspiration flowing on Hello Lovely!
Hello Lovely is a participant in the Amazon Services LLC Associates Program, an affiliate advertising program designed to provide a means for sites to earn fees by linking to Amazon.com and affiliated sites.