When you prefer to make a design statement that doesn't highlight a big black electronic screen on the wall, maybe it's time to think INSIDE OF THE BOX. Wait, what? Yep. As in, a hidden-inside lift mechanism within a good looking cabinet to elevate your flat screen. How to Hide a TV: 4 Clever Options With Style spotlights smart solutions from TV Lift Cabinet to disguise everybody's favorite eyesore.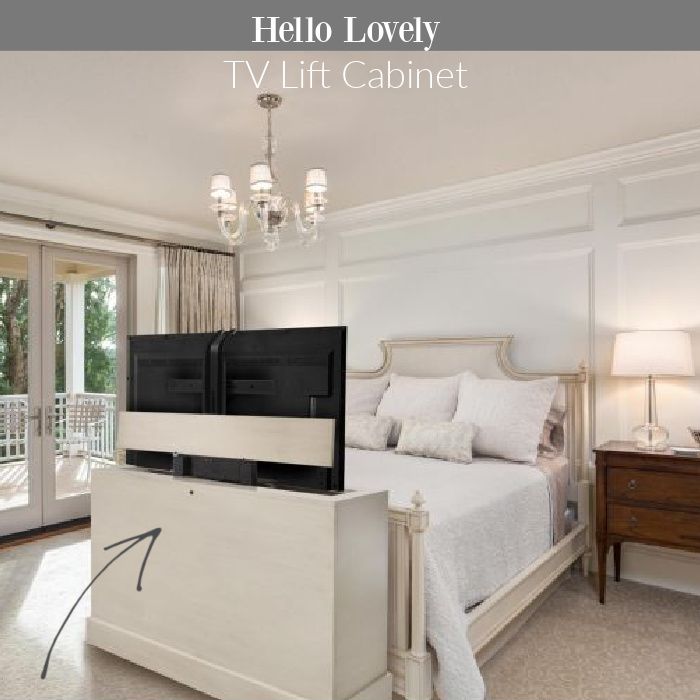 How to Hide a TV: 4 Clever Options With Style
Today's post is sponsored by TVLiftCabinet.com, and their American-made cabinets come in a range of styles to sit pretty in living rooms, bedrooms, and spaces where a pop-up telly makes sense.
1. TV Lift Cabinets
No matter what your design style, there's a cabinet to fit it. Here's a good looking classic to blend nicely in a coastal space: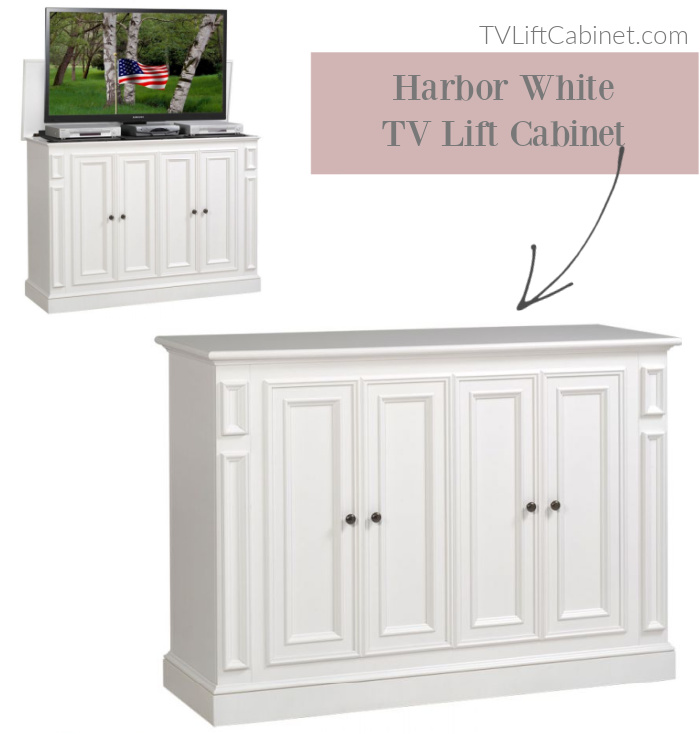 In addition to ready-made cabinets, TVLiftCabinet also offers the option of a custom piece.
2. Custom Cabinets With a TV Lift
Their patented lift mechanism can be incorporated into a variety of custom cabinetry configurations. (Even that vintage sideboard you love gathering dust in your basement is a potential home for a TV with one of their lifts!)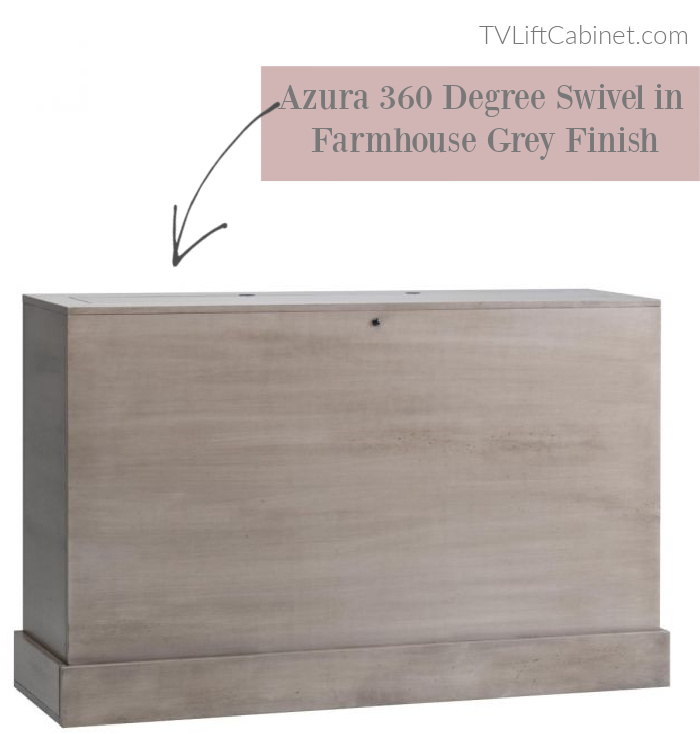 Let's face it, in 2020, plenty of folks are viewing more home entertainment than ever. In fact, in March, Americans streamed more than double the amount of television than the previous March.
Sound about right for you? Where do you like to watch TV…bedroom, family room, media room?
3. End of Bed Lift Cabinets
If it's the bedroom, this footboard/desk/TV lift with bench is a force to be reckoned with!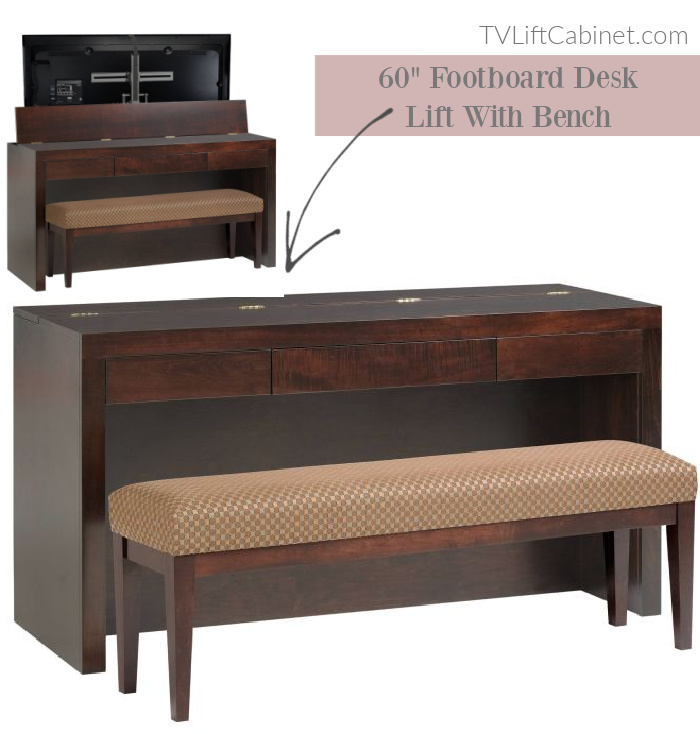 It's not just Netflix thriving during this global pause with so many home bound TV viewers. Nintendo also reported profits are up a whopping 428% over last year. Wow! If you have a gamer in the family, maybe you aren't surprised!
TVs work hard like our smart phones these days. Folks hang out with their televisions to cook, learn, decorate, do yoga, shop for real estate, and more.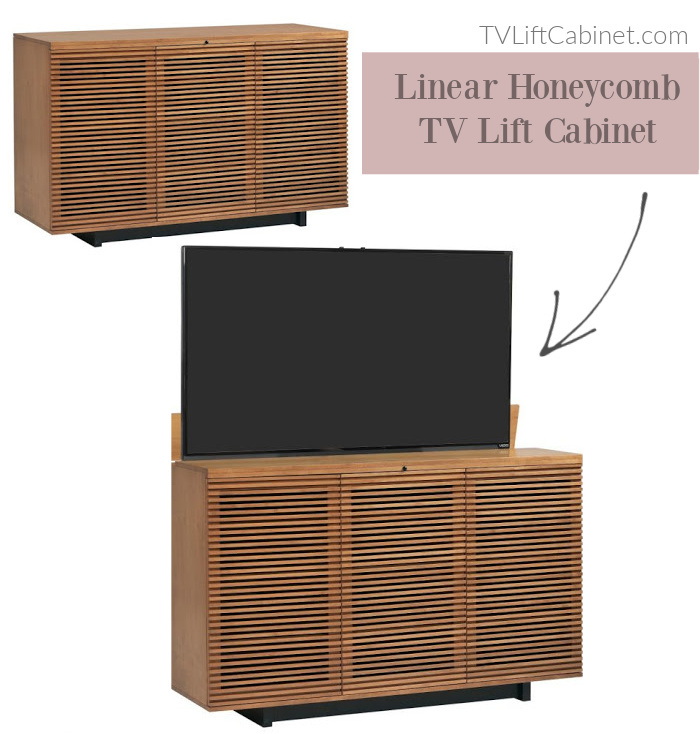 If you hadn't noticed, televisions seem to grow in size each year. (Remember the 90's when everyone and their granny had an entertainment center with a standard shelf for a fat TV?)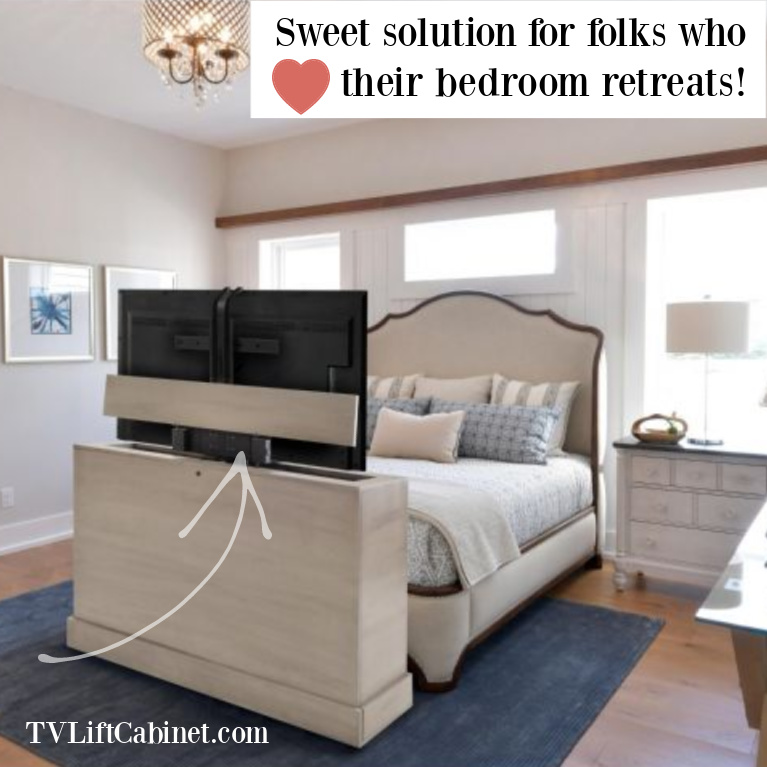 Does a TV Wreck a Room's Design?
But back to the TO SEE or NOT TO SEE interior design issue for the TV. What options exist to divert attention away from the dark monstrous screen?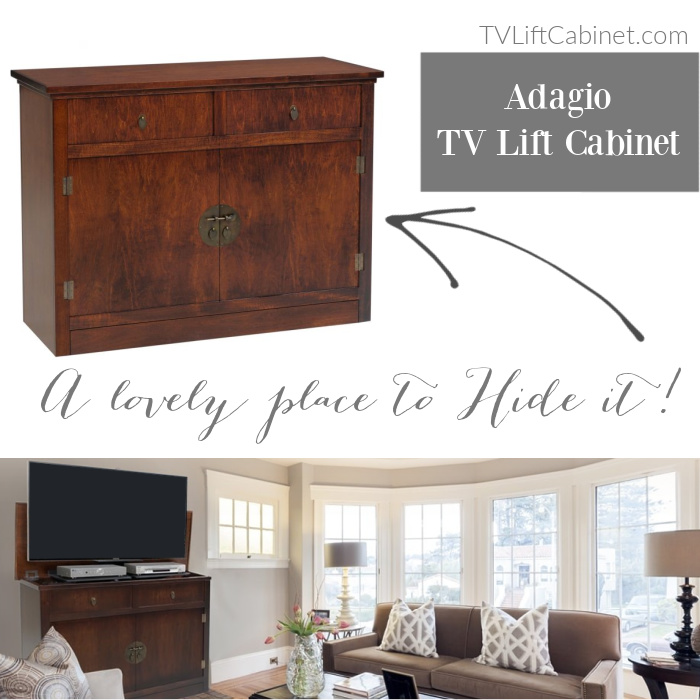 San Francisco based designer Eche Martinez has a strategy for television placement he recently shared with House Beautiful. He says, "I always try to blend them into the architecture of the house." The Adagio cabinet (above) in a traditional style living room is an example of staying consistent with existing architecture.
Interior Designers Weigh In
Designer Brady Tolbert also reminded HB how antiques may be repurposed: "Your grandma's old hutch just might be the perfect house for your TV."
My pal, Atlanta interior designer Sherry Hart, is a creative genius when it comes to television concealment. She often provides tailor-made solutions where the TV can live large as a piece of art (and not a black hole).
Earlier this year, Sherry explained to AHL how she defined a space in a client's living room while also calming down the presence of a TV. She explained, "I love a dark wall for the TV to sort of disappear on, so we added a brown grass-cloth wall." So brilliant!
See the Hidden Mechanism Inside
Curious about the inner magic happening in those TV cabinets?
Dreaming of a Footboard Lift?
My husband and I are busy renovating our son's first home at the moment, helping him balance his wish list of essentials as well as a few splurges.
He would love to splurge on an end-of-bed cabinet. With a click of the remote, the telly rises from its sleek home. Since our son loves an industrial urban vibe, if we had the budget and skill to create something like the concrete countertop below (with TV lift mechanism from TVLiftCabinet), we would be heroes!
Modern Industrial Custom Hidden TV Lift
Which is your personal favorite?
I think these petite cabinets for smaller spaces are adorable!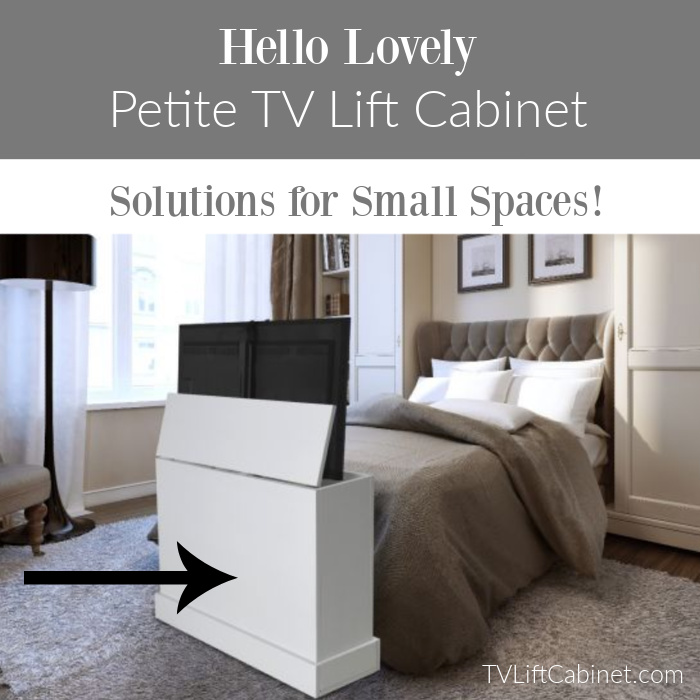 Beyond good looking cabinets, there are more alternatives for disguising a television.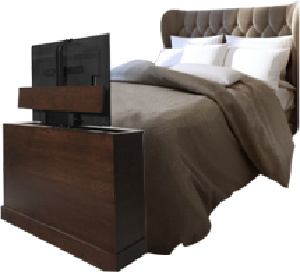 4. TV Mirrors to Conceal a TV
Ever seen a TV Mirror which appears to be a beautiful mirror yet transforms into a TV with the flip of a switch?
Perfect above a fireplace, in a family room, or anywhere a mirror makes sense, an ugly TV need not be the focal point.
These mirrors range in size from 49″ to 65″, and there's no need to buy a separate TV since the HD TV is included.
A mirror makes especially good sense for homes and rooms where the interior architecture is more formal. The understated style of a framed or frameless TV mirror eliminates the need for costly, bespoke built-ins, clunky rustic sliding barn doors, or expensive art for camouflage.
Here's the thing. At times, a big black box on the wall may not appear entirely out of place. For example, in a minimal or modern designed space where black plays a primary role in the color scheme. However, for period or traditional interiors, rooms where the color story is pale and romantic, or a design plan where antiques and art are front and center, a dark rectangle looming on the wall may read too austere.
Other Surprisingly Clever Uses for TV Lifts
Just wait until you see how this talented craftsman created something functional and beautiful from a family heirloom.
1930 Radio With Hidden Lift Bar
Mirror TVs, ready-made cabinets with a TV lift, or custom pieces fitted with a lift may be wise additions to an aesthetically pleasing and consistent design.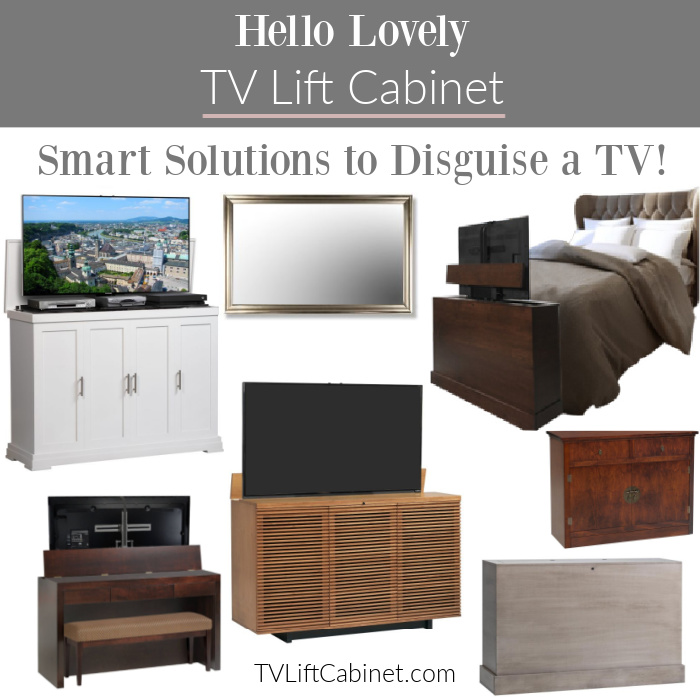 I personally had no idea there were this many options for a hidden TV cabinet for every design style under the sun!
Peace to you right where you are.
-michele
Shop for items you already intended to buy on Amazon RIGHT HERE (not just items in posts), and also find home decor here to keep decor inspiration flowing on Hello Lovely!
Hello Lovely is a participant in the Amazon Services LLC Associates Program, an affiliate advertising program designed to provide a means for sites to earn fees by linking to Amazon.com and affiliated sites.