Freak less about holidays? I'm not writing this post in the spirit of a holiday decor dynamo (gurrrrrl, that I aint!) or 'listen to me – I'm wise with a master's in counseling.' Nor am I dishing out advice as yer zenniest girlfriend around (did I just create a most craptastic new word?). Rather, the tone here is an encouraging one from an everyday mostly clueless soul muddling through the tail end of 2019 with laughter in her heart, right there with you. Onward then with How to Freak Out a Little Less About Holiday Decorating, Gifts & Entertaining.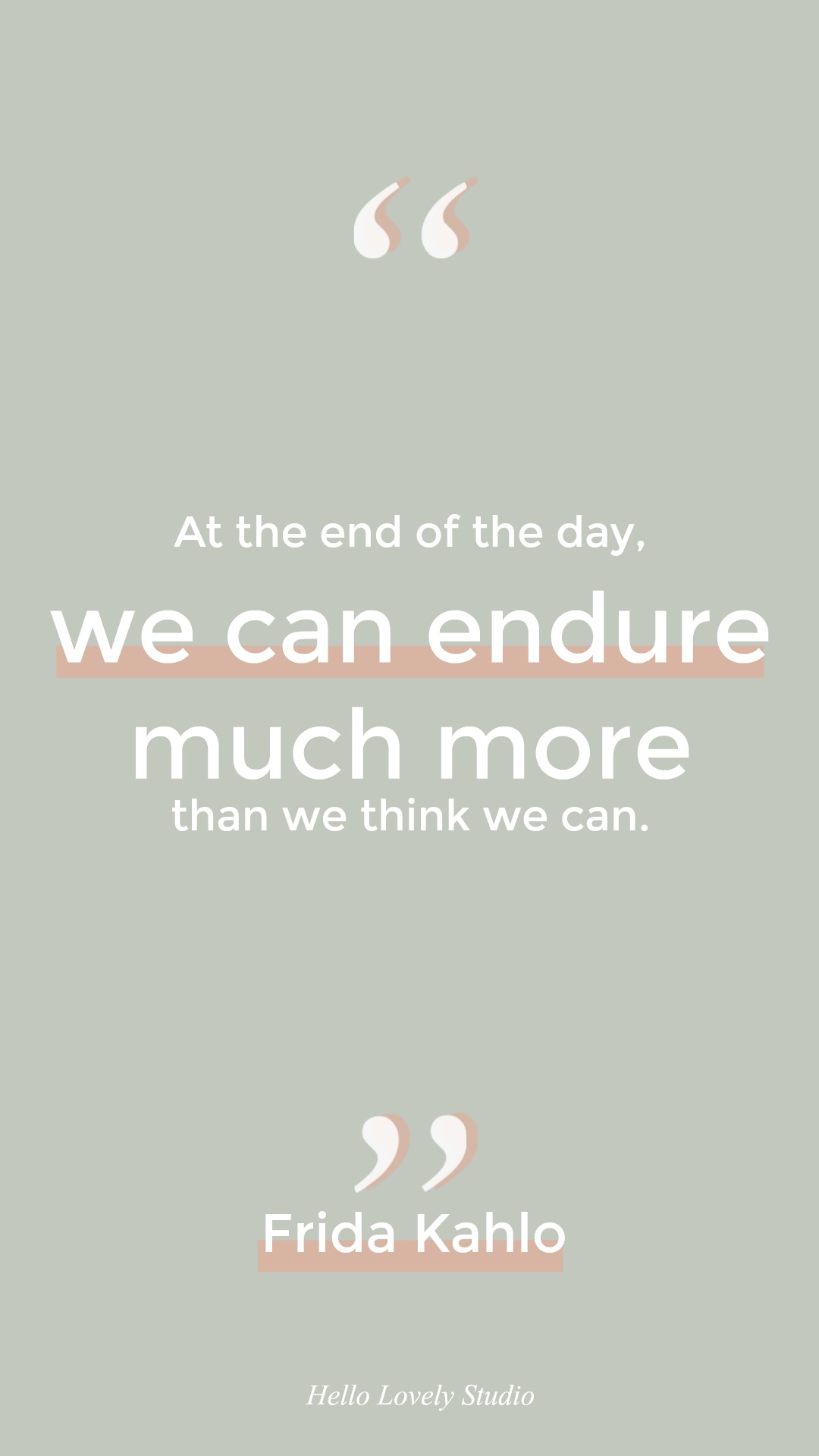 But can we survive the relatives arriving? (THIS IS A MUST WATCH!!!! Hahahahahaha)
How to Freak Out a Little Less About Holiday Decorating
1. Remember Decorating Early is Overrated
It's okay to be last minute or seat of your pants if it means you'll be calm for most of the season and then happily decorating in a surge close to the big day. Why? There may have been multiple Christmas freakouts yesterday when my energies could have been directed more intelligently toward turkey day.
And it wasn't just me. I decided to bring up ALL the Christmas decorations and pile them in the dining room when I should have been focusing on clearing and cleaning that space for Thanksgiving.
Also, the lights on the bottom half of our prelit tree failed to illumine, and my guy may have COMPLETELY LOST HIS MIND and stayed up until 2:30 a.m. trying to pull a Thomas Edison.
Don't let Christmas tree lights send you filling your prescription for emergency Xanax.
2. Don't Decorate for Anyone But You & Yours
Yesterday, in my feverish mode of: get the house decorated BEFORE Thanksgiving like a rockstar, I made all sorts of mistakes. For example, I tried to incorporate things I'm not crazy about: wee sweet decorations and embellishments with red. Red is not a favorite, and little knick knacky things of any hue can make it hard for me to breathe.
So why was I trying to make them work and freaking?
Two reasons I think. First, I had picked up little things here and there over the course of the year because they were bargain priced or appealed to me in some way, and I'm sensible. If I bought it and it says 'Christmas,' then certainly I should display it at least one year, right? Wrong. They just didn't feel right, and it began to feel like someone else's home! (Strangely enough, I can wear red accents!)
Second, I was thinking with a blogger mindset about this blog. Switching it up for interest to get new vignettes with more saturated colors seemed more creative than my predictable neutrals. But I am the same me as last season, and I'm decorating for us…not a blog.
Your decor should reflect YOU and make you feel at ease and at home. It wouldn't make sense for me to decorate heavy-handedly or boldly for the holidays. I like wearing red this time of year, and red accents on a holiday table are truly appetizing. But it simply creates too much contrast for my taste against all the white I love.
As soon as I put the red away, I felt so much relief!
The decorations that didn't make the cut which still have their tags on them will go in a gift basket for someone who appreciates the color!
3. Use Food as a Decor Element
Never underestimate the power of a festive cake (homemade or store-bought), platter of gingerbread cookies, or pretty dessert to play a starring role. We all know the power of fresh flowers on the table, but a gorgeous edible centerpiece can do the trick too.
Also, there is something so lovely and understated about decorating with oranges, apples, and pears during the holidays. I love how bosc pears look with garland on a mantel or the way a small rustic bowl of green apples on a coffee table adds life.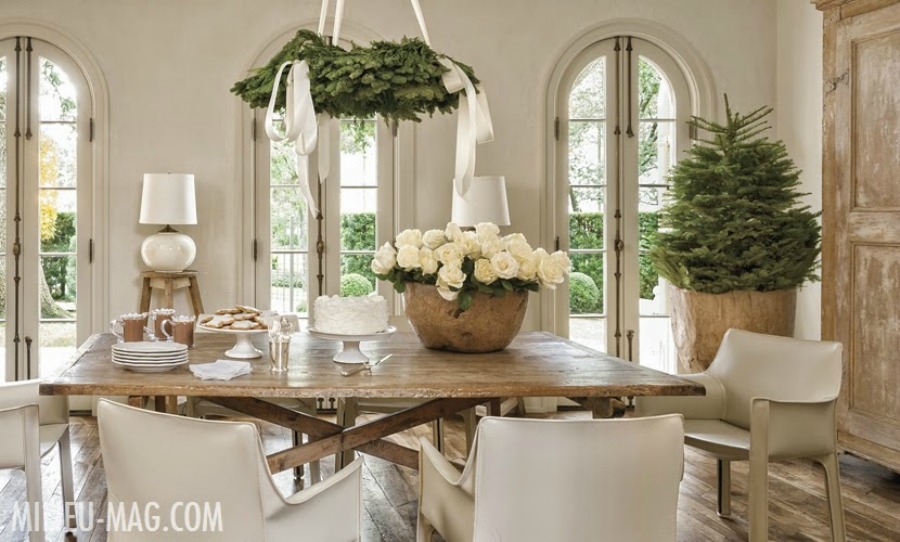 If you're not a stellar architect of gingerbread houses, consider baking or buying cookies to decorate a Christmas tree.
Their fragrance alone may win you over!
4. Wee Trees Are Beautiful
No worries if you decide NOT to bring that 10′ glorious Spruce home. A wee tree in a charming urn on a tabletop or tucked within a rustic wood box can be magical.
5. It's Okay to Decorate Just One Corner
Why do we think every single hall needs to be decked? Maybe it will ease your worry this year to choose just one area–like the fireplace if you have one–and make that mambajamba sing.
You don't even need to reinvent the wheel for that one area. Faux or fresh garland, fresh fruit (or pinecones or cookies!), and gold toned candleholders may be all you need with a few stockings for that hearth moment.
Skeptical that just a few elements are sufficient?
6. Candles & Twinkling Lights Are Everything
If holiday decorating anxiety is kicking in because you'll be hosting a gathering, keep in mind that mood lighting can be easy and your secret weapon.
A fellow blogger I know doesn't even do a thorough cleaning of her home before a holiday party since she turns the lights down, sprinkles candles everywhere, and saves the housework for after guests leave!
So if you'll be entertaining in the evening, keep in mind a lot of those little vignettes or time consuming fresh garlands will be in the dark!
Here are the votives I reach for and sprinkle around my place.
7. Pick a Theme for Gifts
It always helps me to come up with a theme for the season and choose related gifts. Even a broad category like 'food gifts' or 'personalized photo gifts' can help you simplify. Need inexpensive ideas?
1. Box // 2. Almonds // 3. Mug // 4. Cookbook // 5. Stationery // 6. Sports Bottle //7. Hand Cream Set // 8. French Soap // 9. Tiara // 10. Pet Pouch Hoodie // 11. Blocks // 12. Caramels // 13. Personalized Spreader // 14. Provence Towel // 15. Organic Candy Tins
Is this the PERFECT one size fits all GIFT for every human on your list?
8. Give Yourself a Deadline for Gift Shopping
Get it out of the way. If you're like me, you may feel insecure up until Christmas day about your gift giving! I always feel better if I finish my shopping as early as possible, wrap gifts when I am relaxed and listening to Christmas music, and don't have those lists hanging over me.
9. Exchange Handmade & Homemade Gifts
It's old school, retro, and sooooo old fashioned which means it's an idea ripe for becoming a hot trend. Who doesn't appreciate someone who took the time to make them delicious homemade marshmallows?
10. Host Without Cooking or Baking
Host that holiday gathering, but without apology…skip the cooking. Do something unexpected like cater Mexican from your favorite restaurant. You can always add little holiday flourishes (stud guacamole with pomegranate seeds).
For dessert, how about a plain cheesecake from your favorite restaurant or bakery? A few topping options on the side so everyone can enjoy their favorite, and you're a hero.
Serve just one signature drink like a margarita or holiday mocktail instead of stocking a bar.
I hope these ideas and tips help you in some way freak out a little less. But I mean. Even freakouts can be endearing and slightly festive:
Hahahahahahahaha – I love Aunt Sue, and we all know one!
Peace to you right where you are.
-michele
I independently selected products in this post—if you buy from one of my links, I may earn a commission.
Shopping for items you already intended to buy on Amazon RIGHT HERE (not just items mentioned in posts) or home decor keeps decor inspiration flowing on Hello Lovely!
Hello Lovely is a participant in the Amazon Services LLC Associates Program, an affiliate advertising program designed to provide a means for sites to earn fees by linking to Amazon.com and affiliated sites.