These colors are truly best friends when it comes to Blue & White Classic Decor Inspiration, and your heart may very well be stirred in this round up of traditional, European inspired, and contemporary style interiors! Do blue and white work magic together in a coastal style home? Obvi. And how what about a French chateau in New York? Affirmative. In a luxurious impossibly lovely Southern showhouse? Y'all know the answer.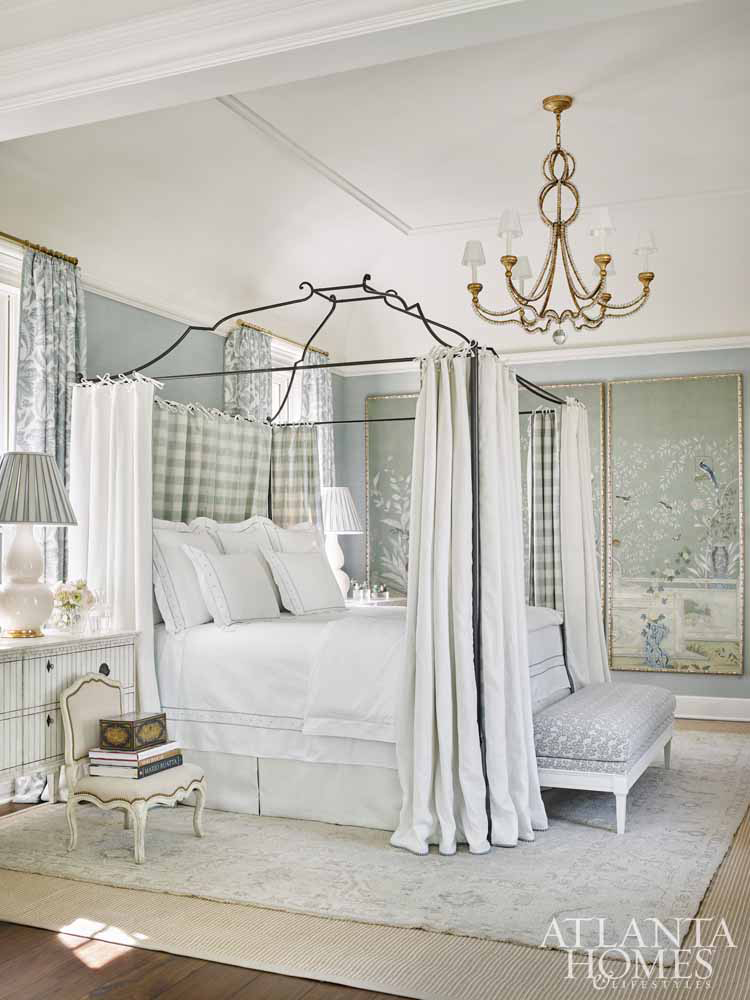 Some of the links in this post are affiliate links: you won't make extra yet this blog may earn a small commission…thanks for using them!
Psst. Thanks for all of the love after the update about my health in my last post. I feel better mentally after sharing how I'm doing.
Blue & White Classic Decor Inspiration [Get Inspired!]
Blue & White Classic Decor in a Showhouse!
Oh my heavens, this sophisticated, European inspired bedroom designed by Tristan Harstan I still daydream about two years after it was unveiled in Atlanta! The designer says the blues and neutrals in this romantic space recall "the tones of rain clouds, water, stone," and his love for Swedish and French furniture was expressed in exceptionally divine strokes of genius.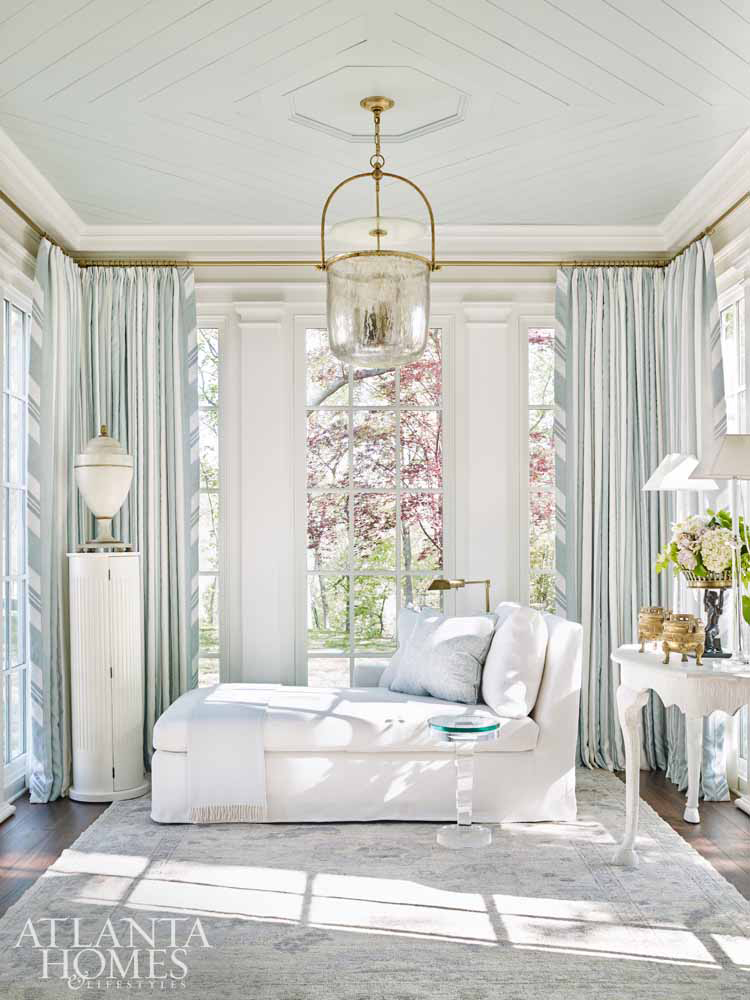 Just look at the ceiling of this beautiful blue bedroom's sitting room! Would this work in one of your spaces? Why not give it a whirl. Here's the dreamy hue the designer chose: SHERWIN WILLIAMS Rainwashed.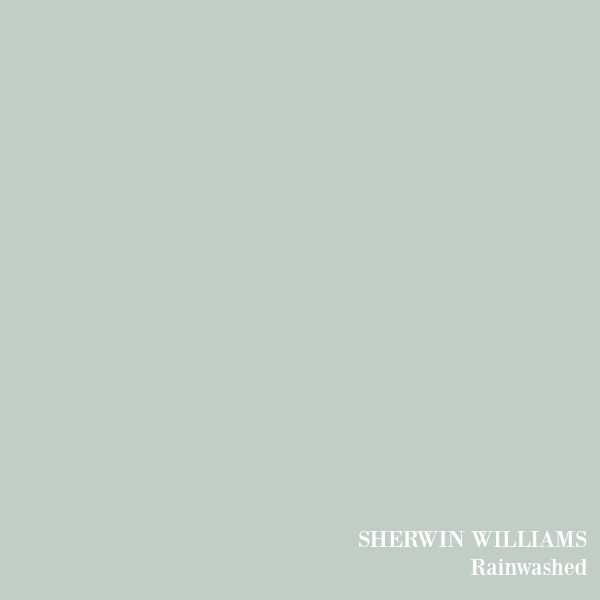 Watery Blue, French Blue & Swedish Blue
Would you ever leave this space!?! Blue and white are the happiest combination I know, and this particular watery blue sets my mind at ease and is the perfect tranquil backdrop for rest and relaxation.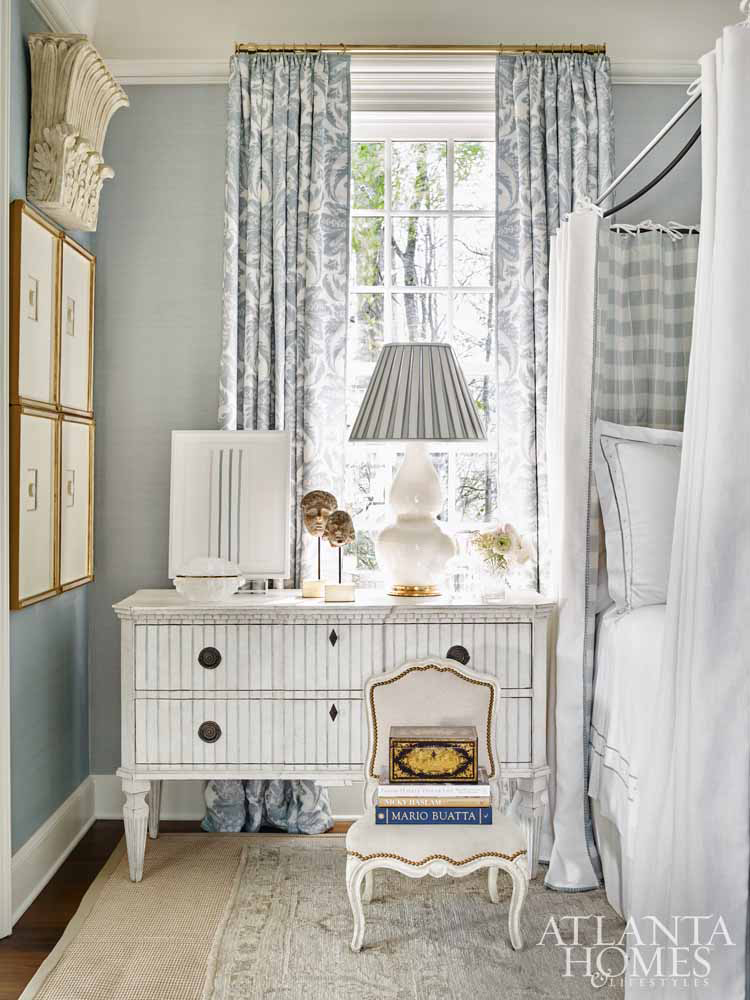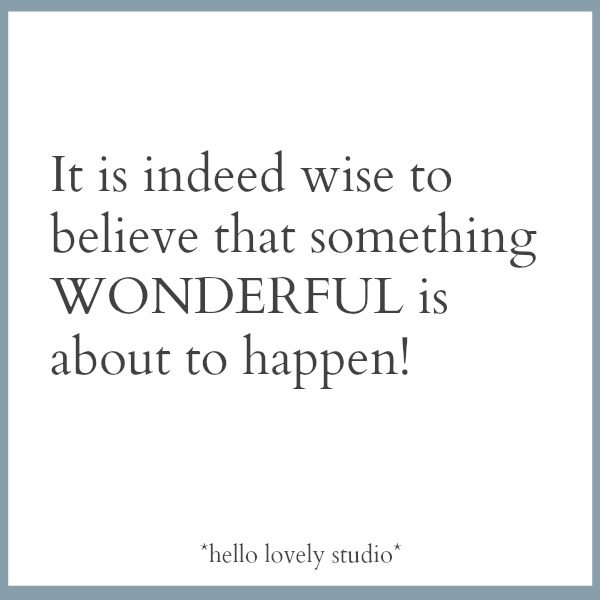 Blue & White Accents in a Breathtaking French Country Kitchen
This breathtaking French country kitchen with blue and white porcelain accents and traditional style belongs to Tina of The Enchanted Home. What a treat to have side by side apron front farm sinks!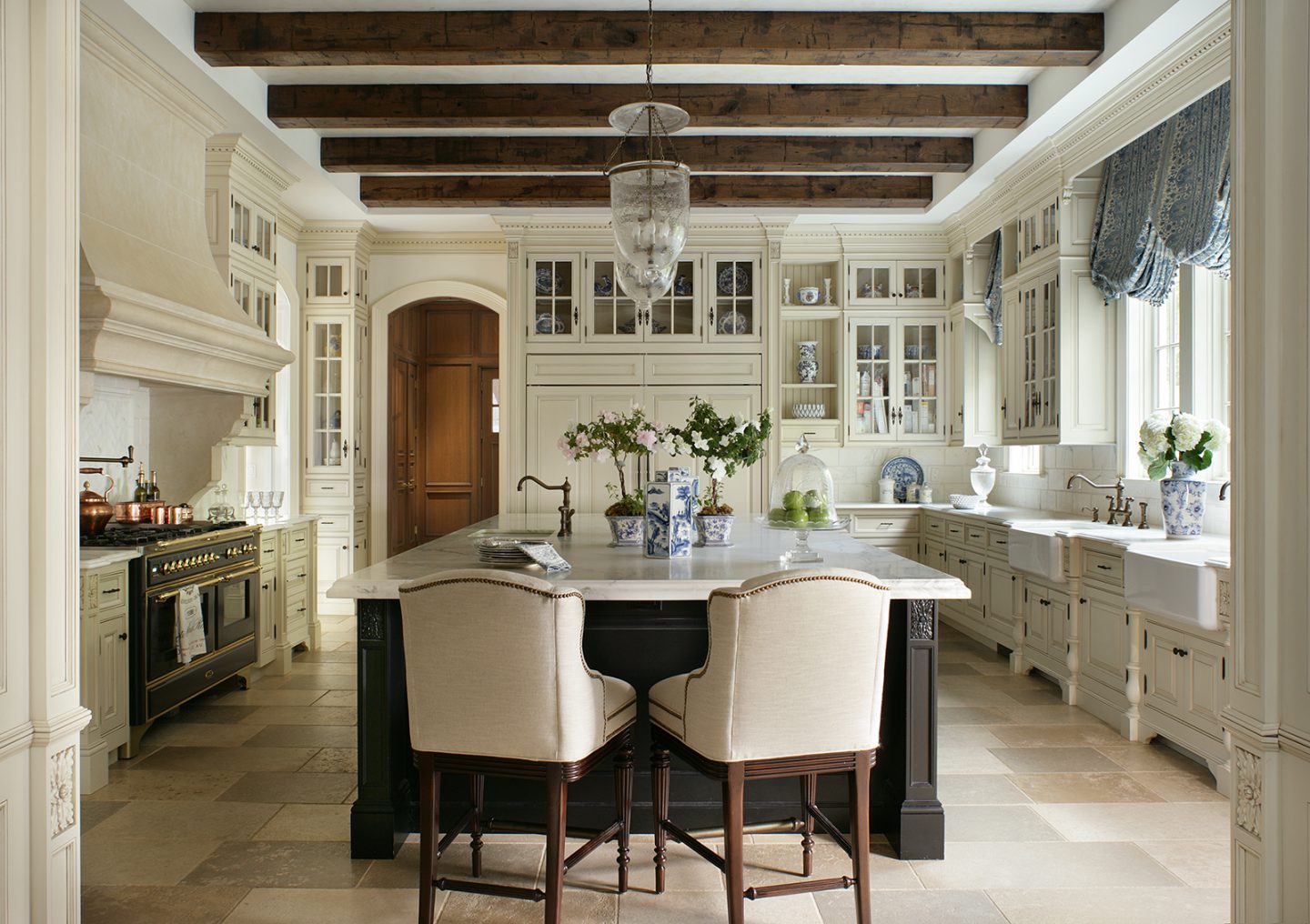 Stunning Blue & White Powder Rooms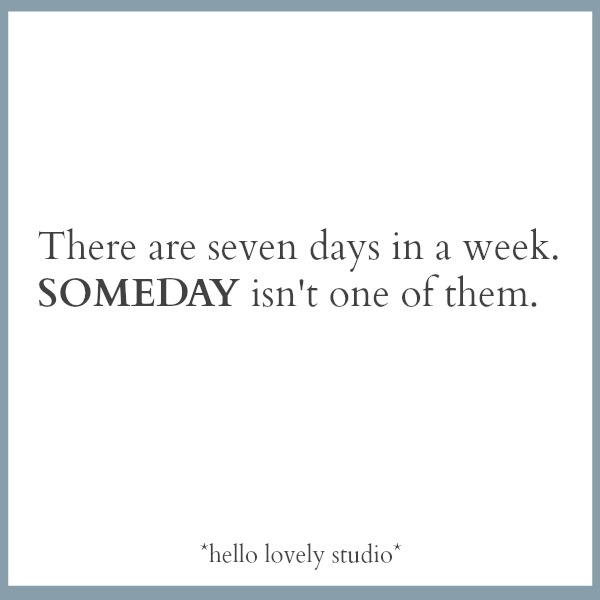 Blue & White in a French Country Bedroom
If this next bedroom speaks to you, then do mosey over to this house tour of a newly built French home in Texas!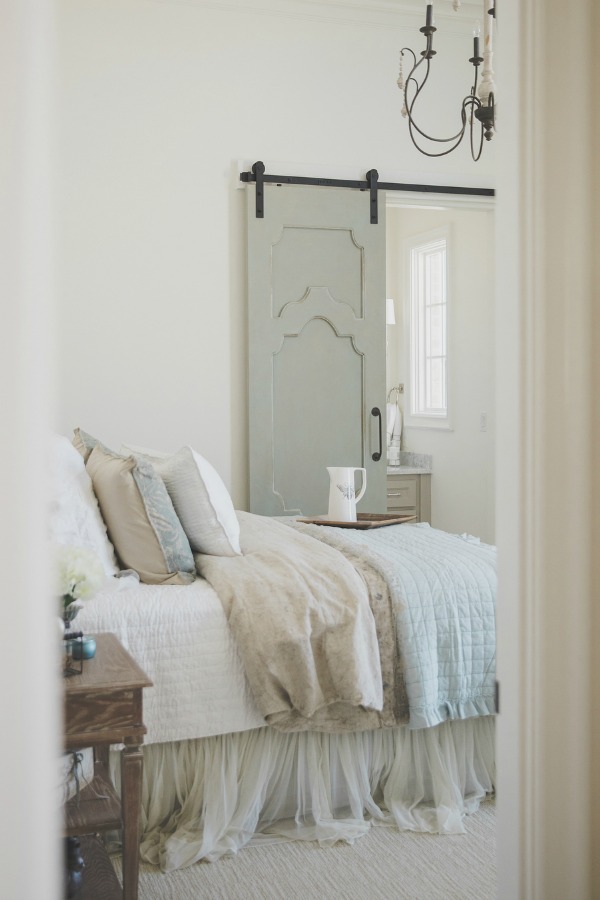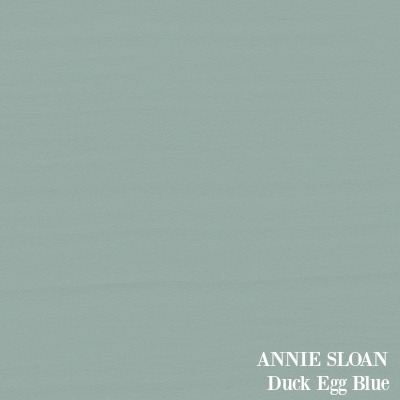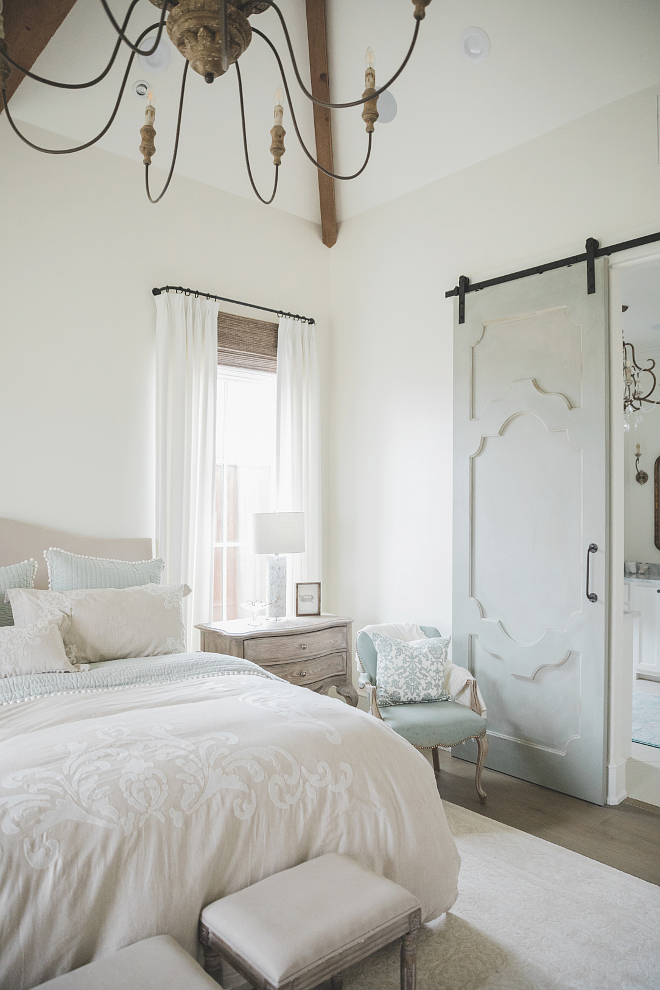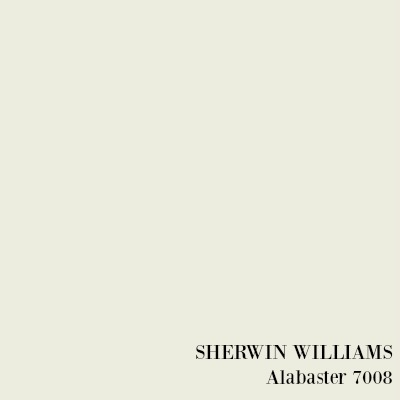 Blue-Grey & Warm White Eclectic Dining Room
Blue & White Classic Coastal
Royal Blue Banquette + Glam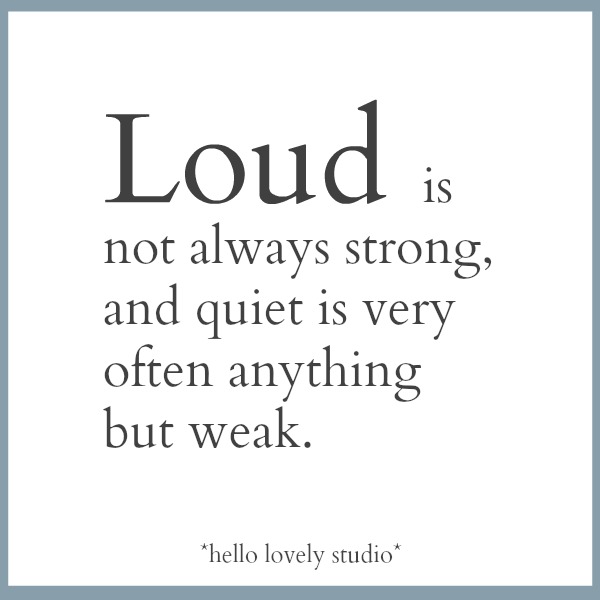 Fresh, Classic & Contemporary With Deep Blue
Blue-Grey in a Mud Room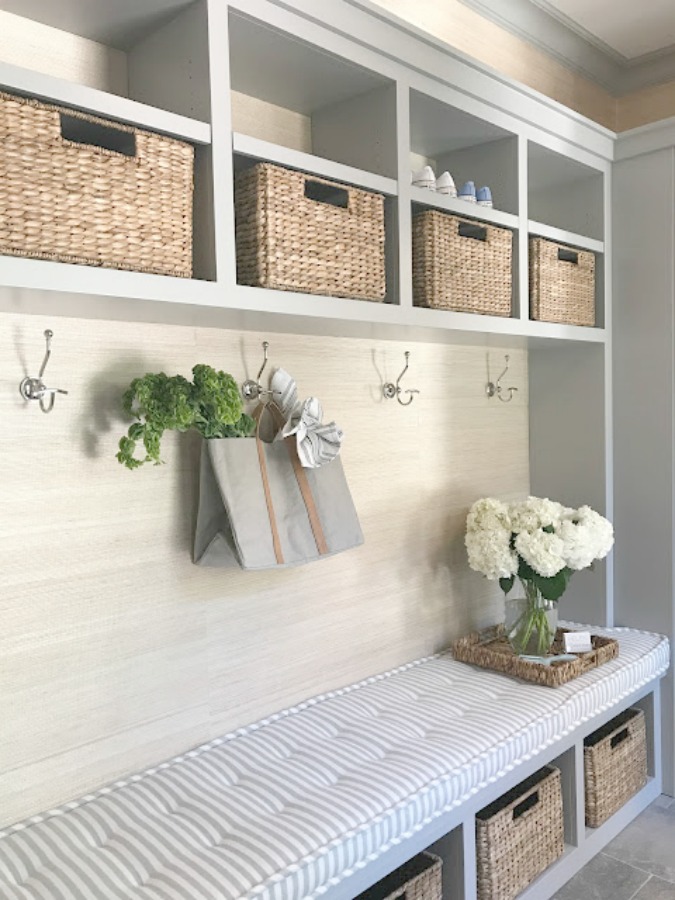 Fancy French Blue Range With White Cabinets in a Kitchen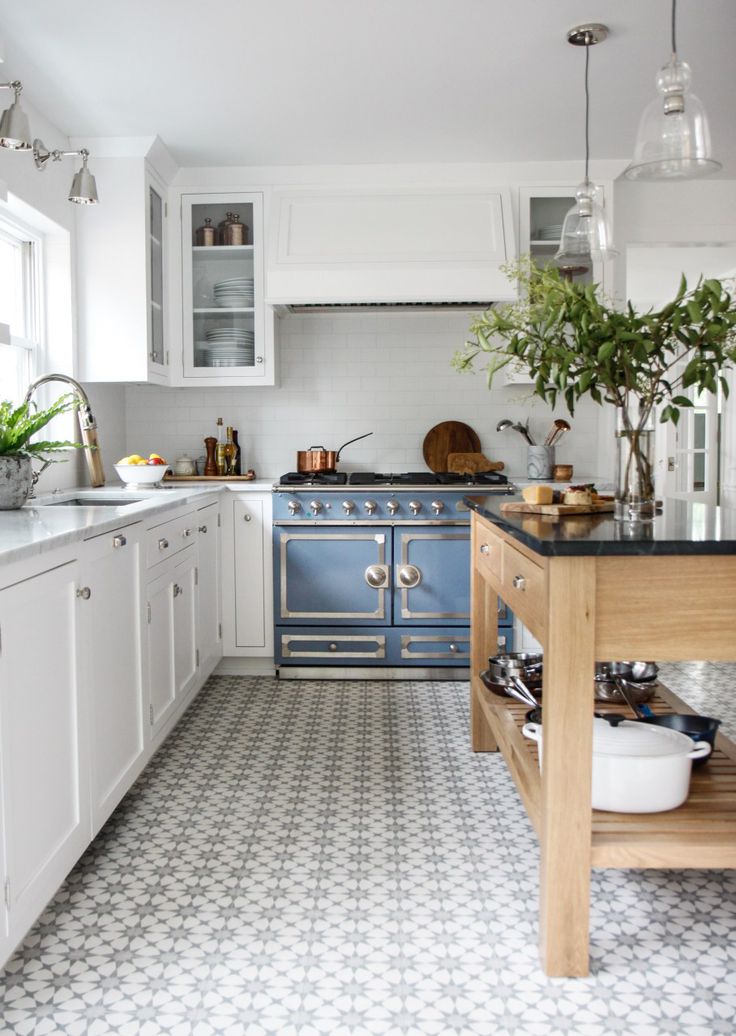 Still my favorite cement tile!!!!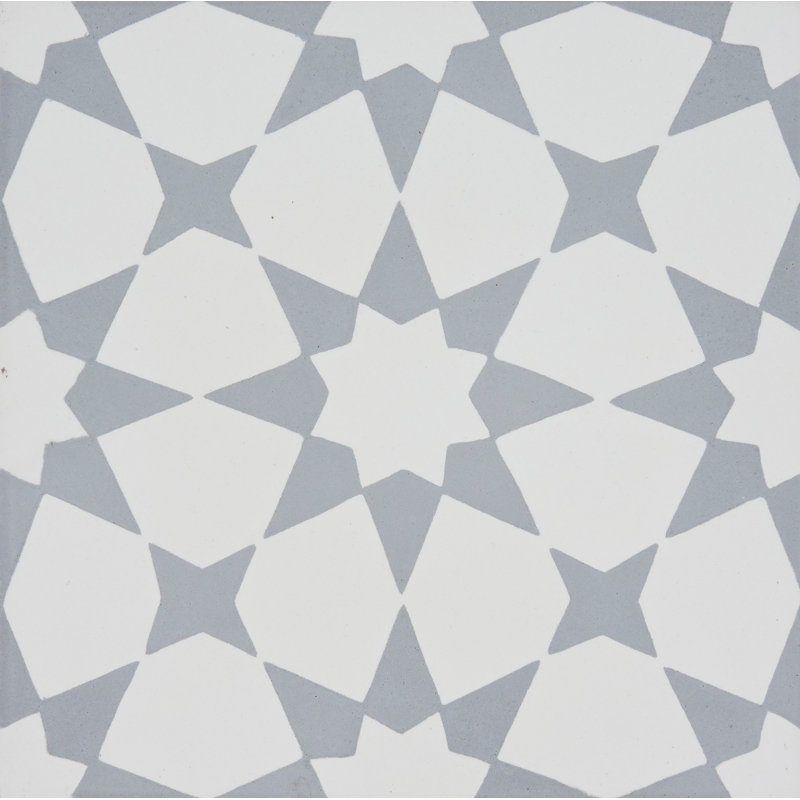 Coastal & Navy Blue Anchor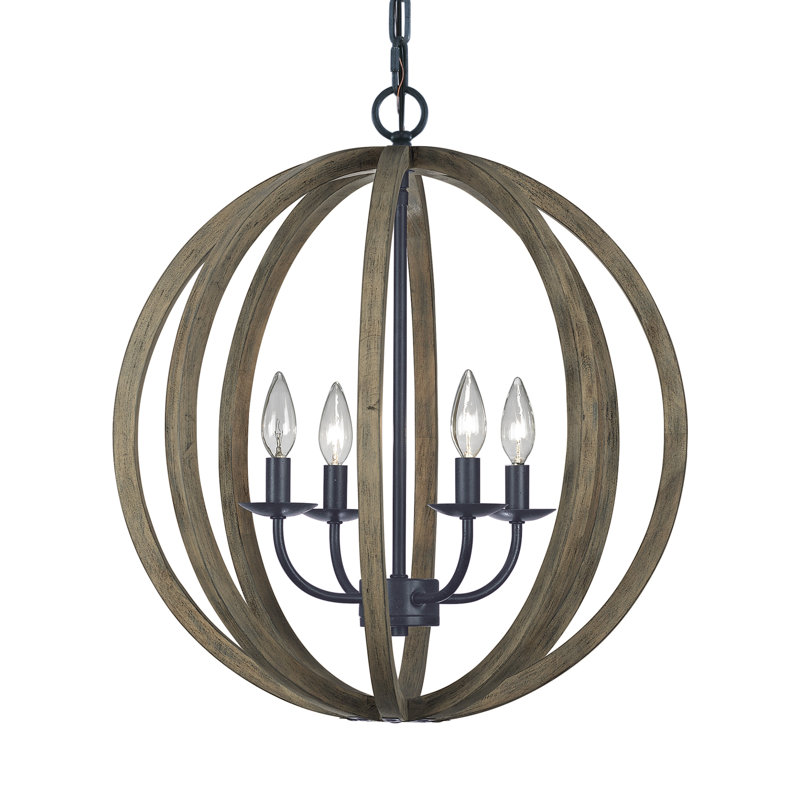 Quiet Blue Drapes With White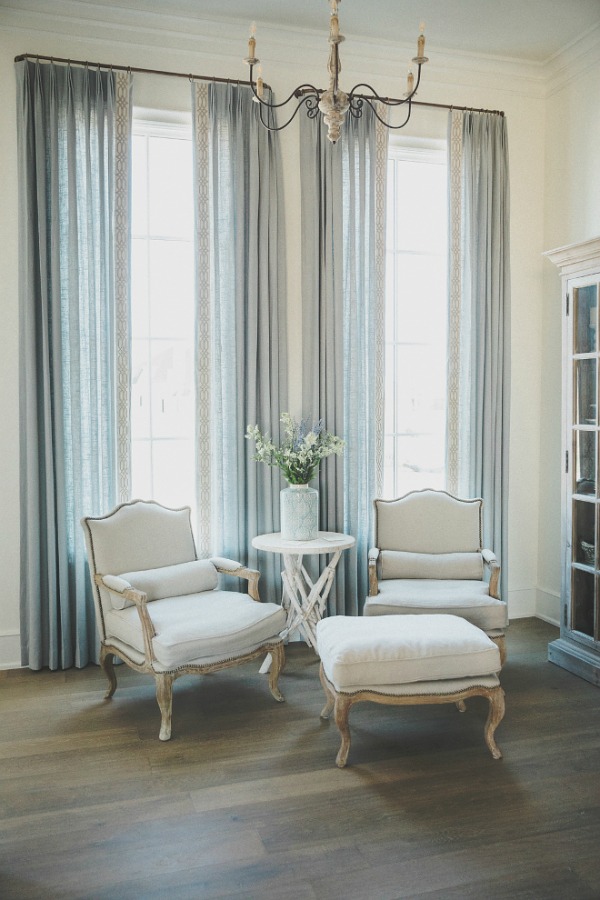 Click here to PIN this post for future reference!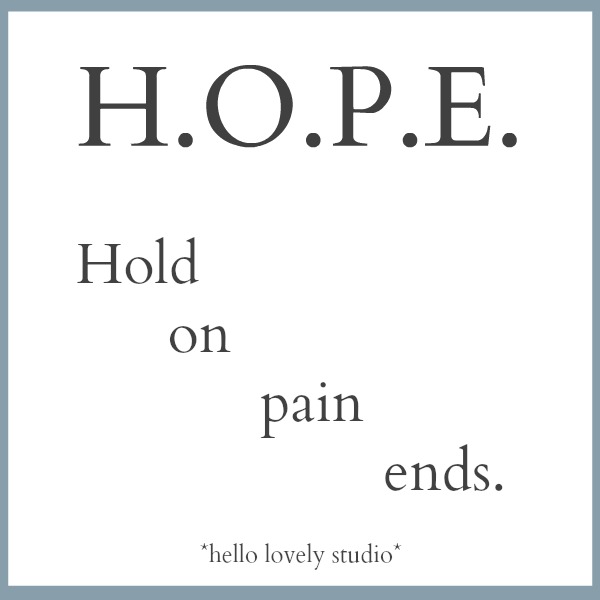 Bold Pop in Contemporary Blue Bedrooms
I'm loving the grey-blue clock in this round-up I recently featured HERE!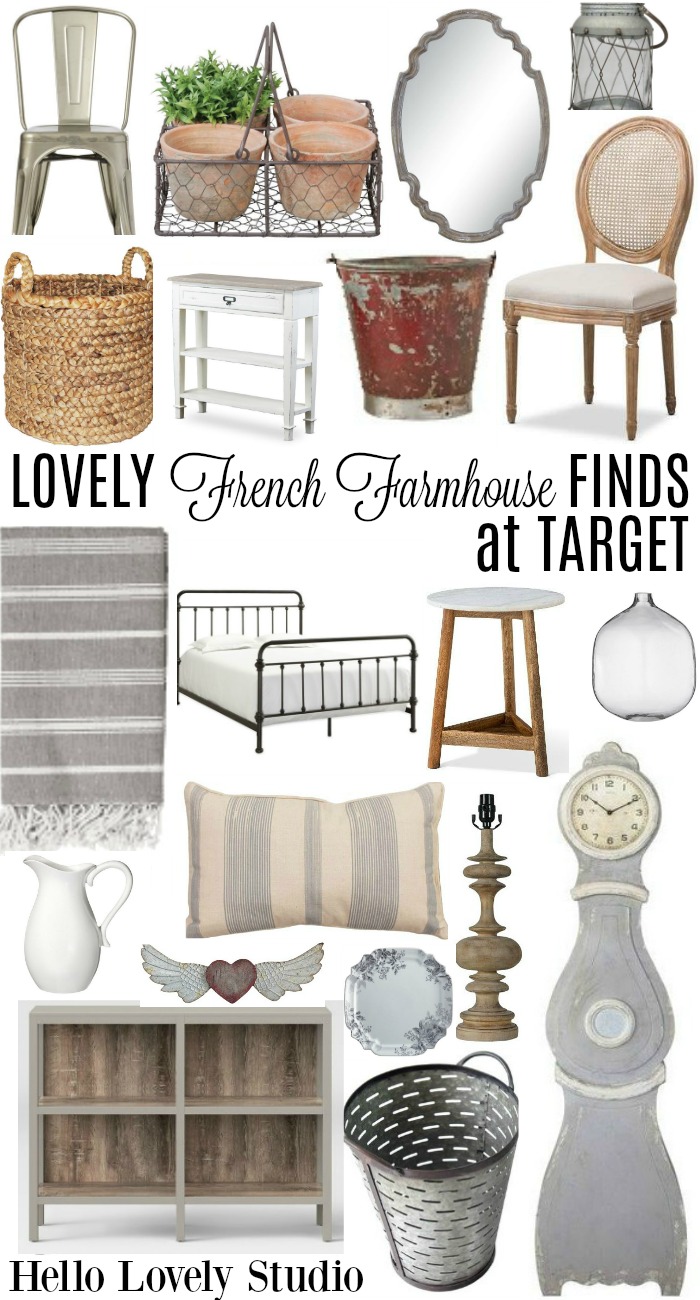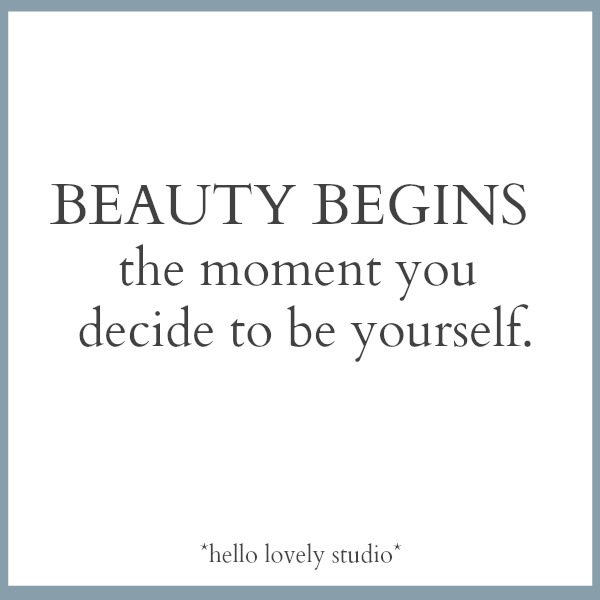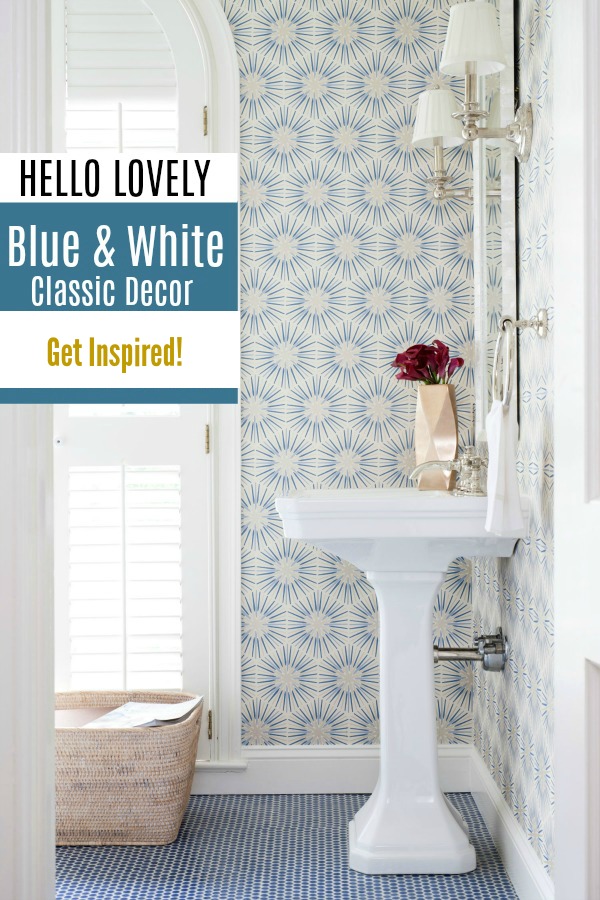 Does this color combination play a starring role in your own home?
Peace to you right where you are.
-michele
Support Hello Lovely by shopping Amazon RIGHT HERE for anything (not just products mentioned here) to keep the inspiration flowing!
I'm a participant in the Amazon Services LLC Associates Program, an affiliate advertising program designed to provide a means for me to earn fees by linking to Amazon.com and affiliated sites.
Click HERE to find cost conscious furniture and decor for your home too!