About a year ago, I had the pleasure of interviewing my favorite blogger residing in France (Taste of France), and we learned about the renovation of her vacation apartments in Carcassonne. Today, we'll tour the beautifully restored apartment she makes available for vacation rentals you didn't see last time! Home Tour: South of France 17th Century Apartment will whisk you away to France and get you dreaming about a trip to the "other South of France."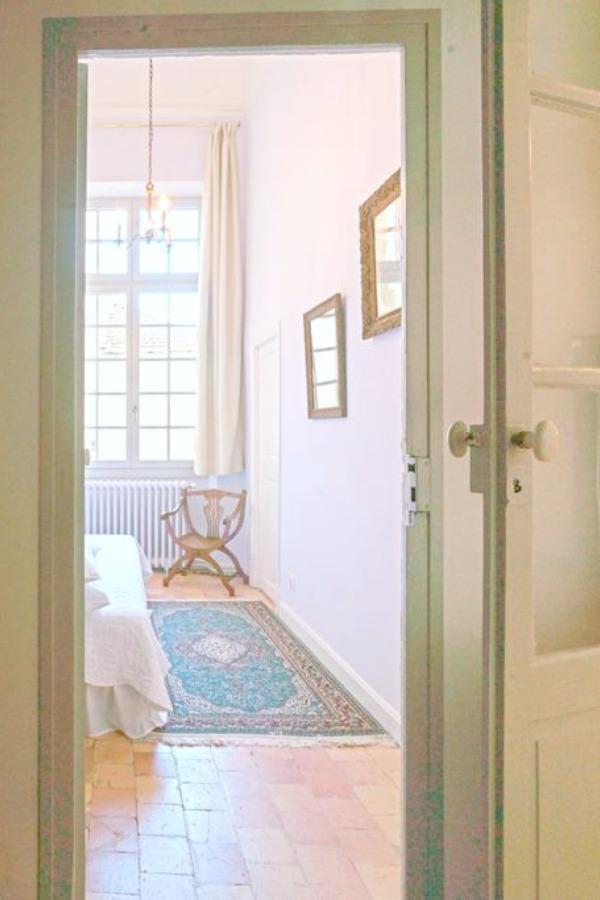 Photos/Source: unless otherwise noted, Taste of France
Home Tour: South of France 17th Century Apartment
Welcome to a luxurious 1600's French apartment rental known as
L'ancienne Tannerie in Carcassonne, France.
One of Many Reasons to Visit!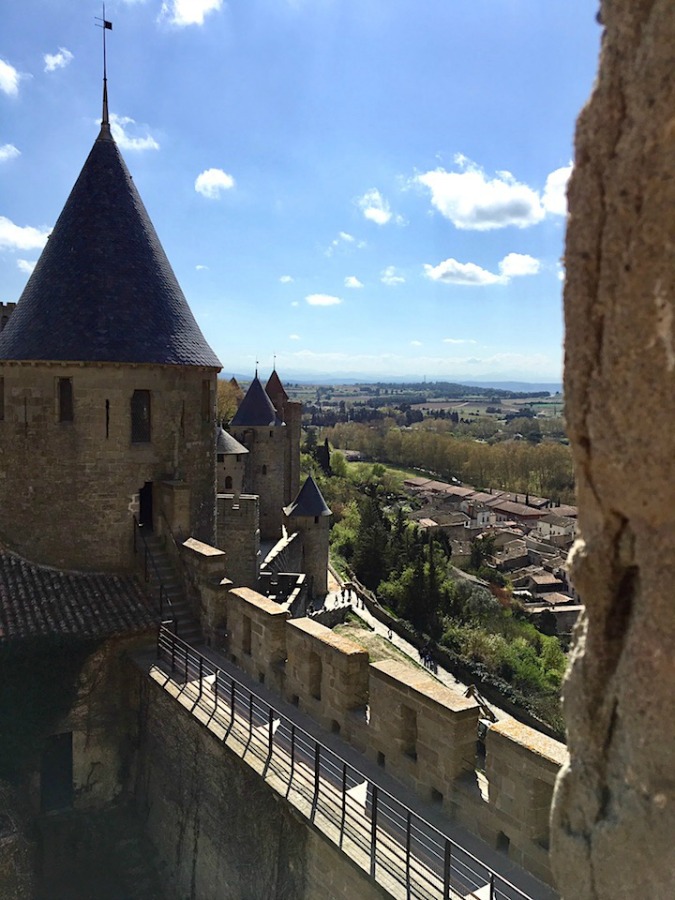 Vacation Apartment Overview
This elegant apartment with private entrance and 100 m2 of space has a huge French country kitchen, in a building from 1600. It has been thoughtfully renovated recently, following strict Bâtiments de France rules. It's a floor above street level in the heart of the Bastide Saint Louis, a block from Place Carnot and near la Cité.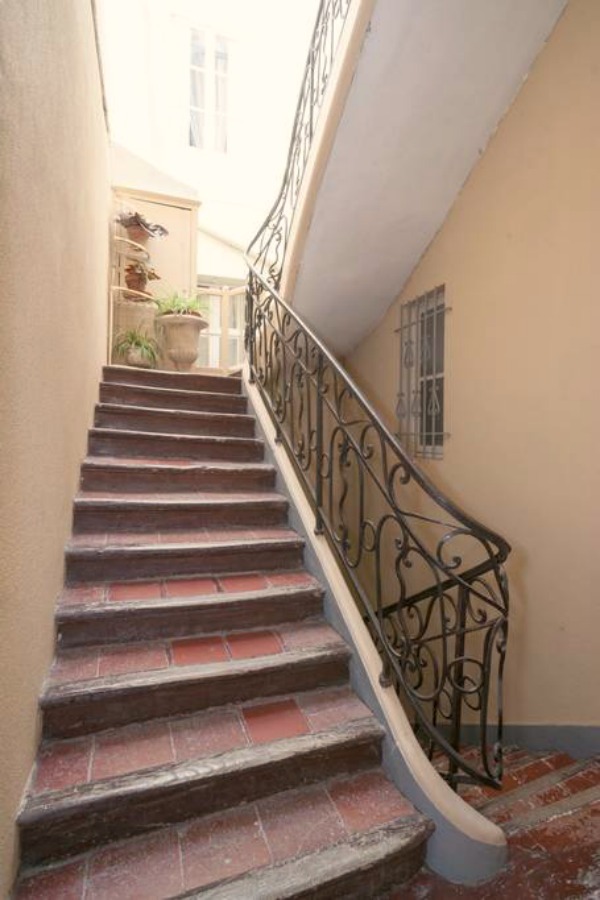 Furnished with antiques, the apartment can accommodate up to 5 people, and there is even a private sauna! The sauna is located next to a spacious, luminous bathroom with a large shower.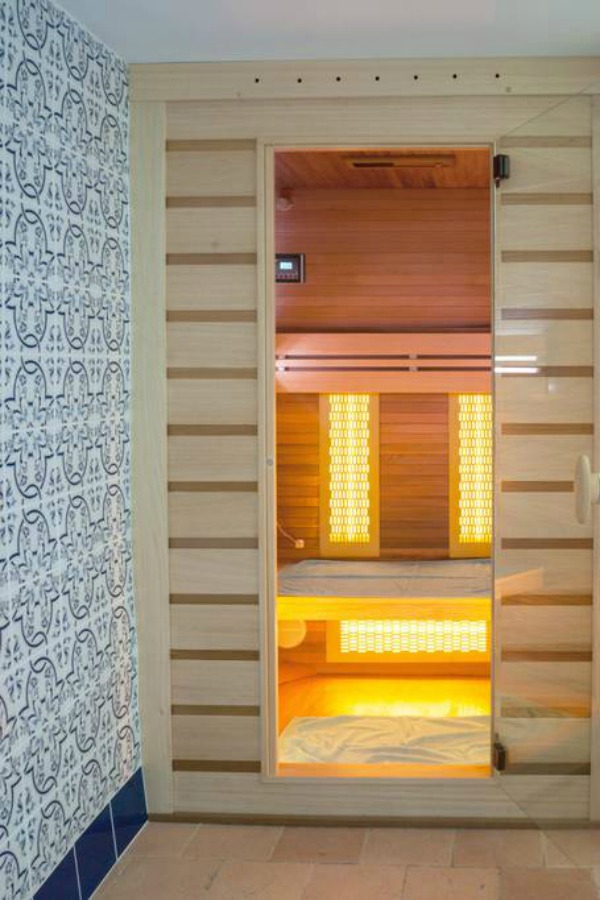 The 24 m2 fully equipped kitchen is perfect for those who love to cook. The eat-in kitchen is the ideal setting for a convivial meal or a lesson in French cooking.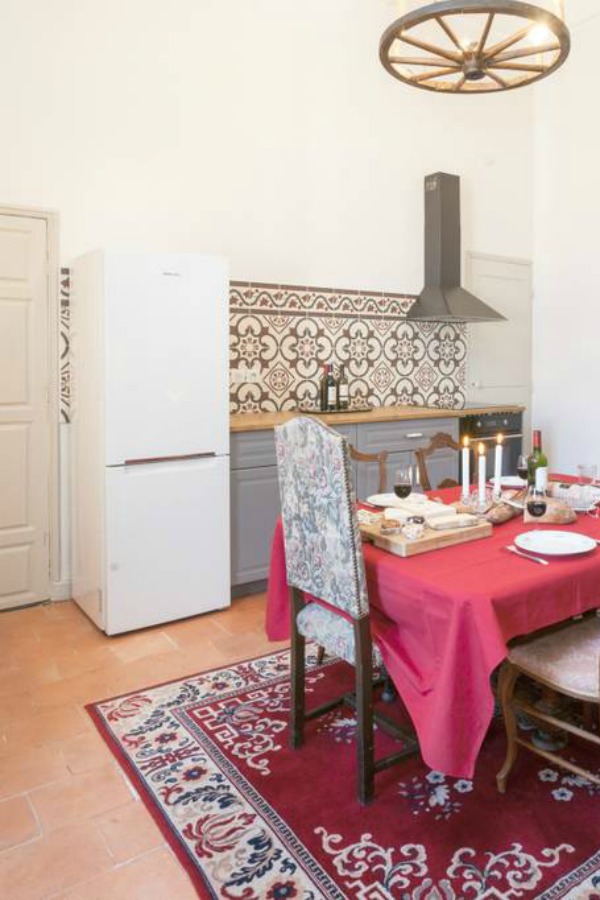 Two large marble fireplaces are topped with intricate decorations.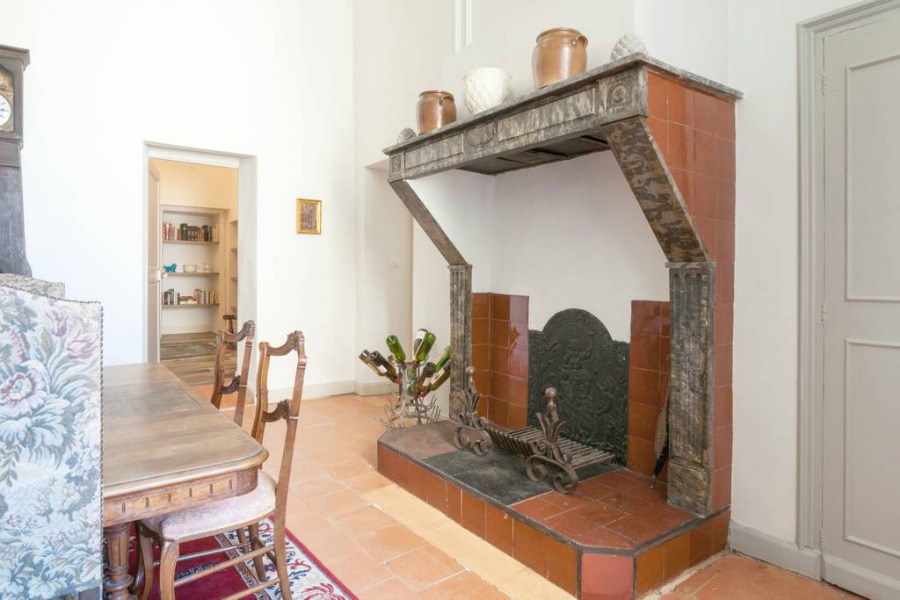 The apartment overlooks a flower-filled shared courtyard.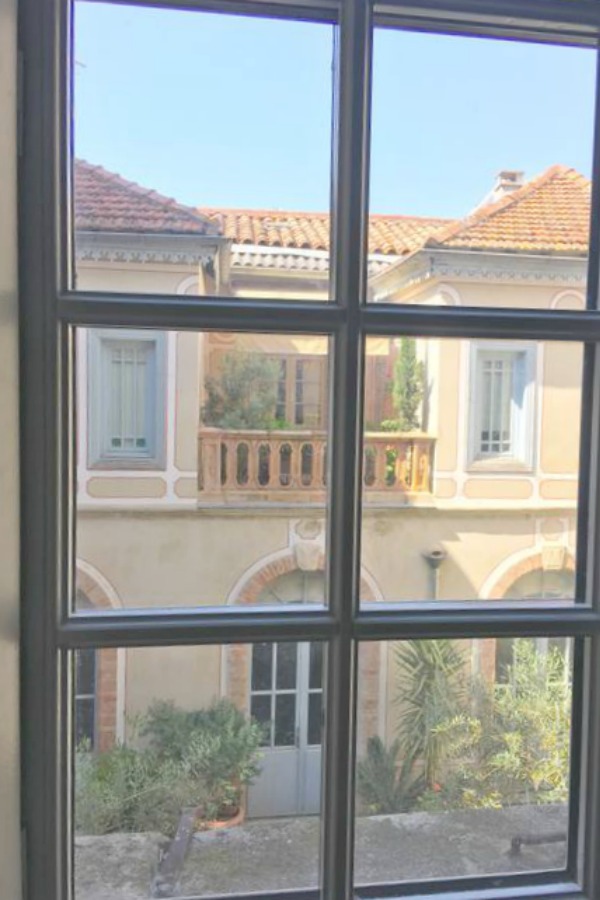 French Home Tour: Salon
Let's virtually explore a lovely holiday rental in Carcassonne with classic French decor, L'ancienne Tannerie!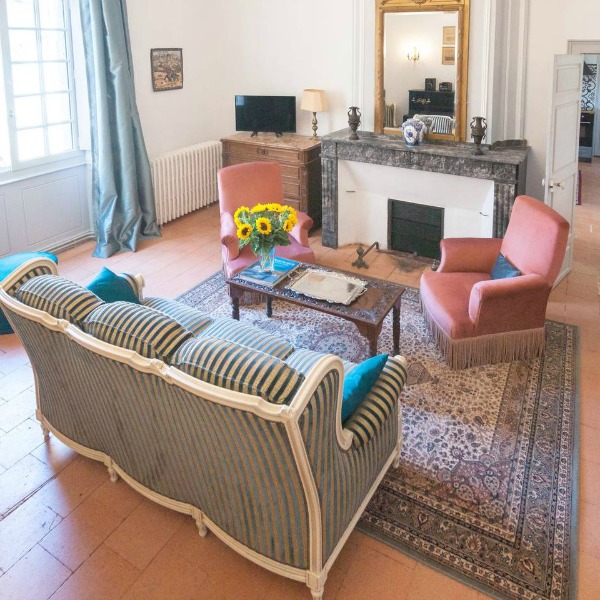 Versailles-style furnishings leave no doubt you are in France, and what a coup to discover a palatial apartment sleeping 5 with a sauna at a cost conscious price point ($146 nightly at the time of this post!).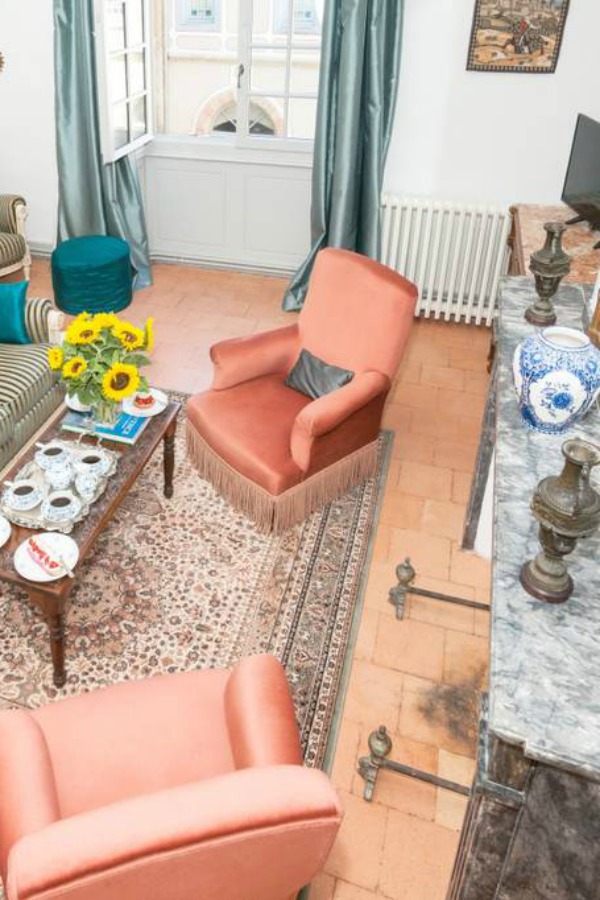 This lovely home recently received four stars in an official inspection based on its interiors and façade.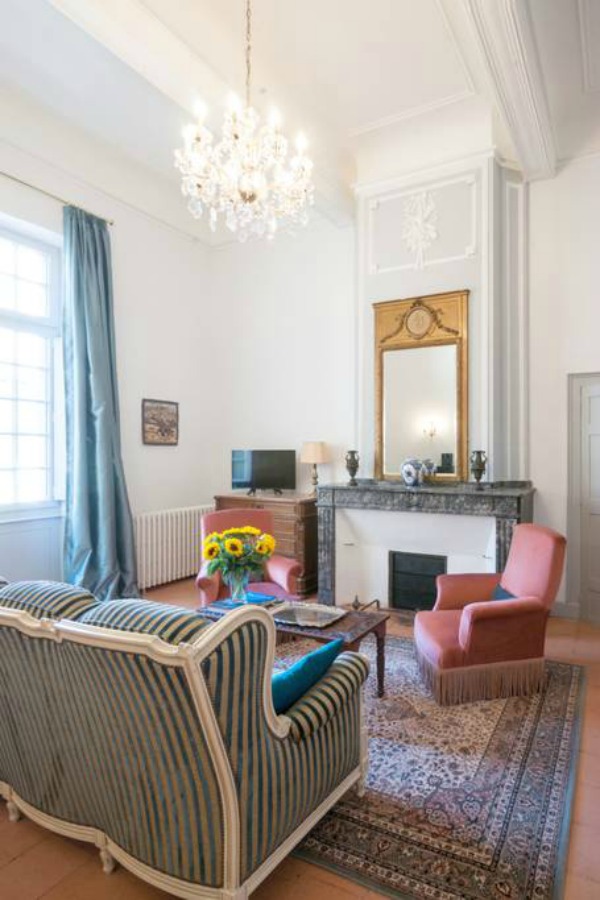 French Home Tour: French Country Kitchen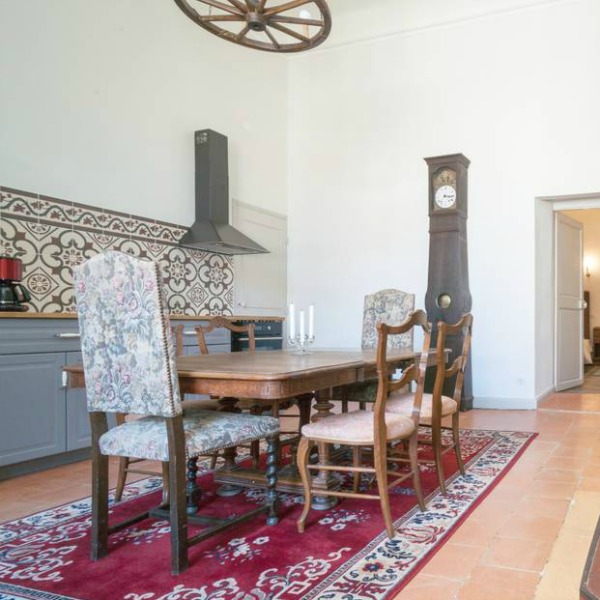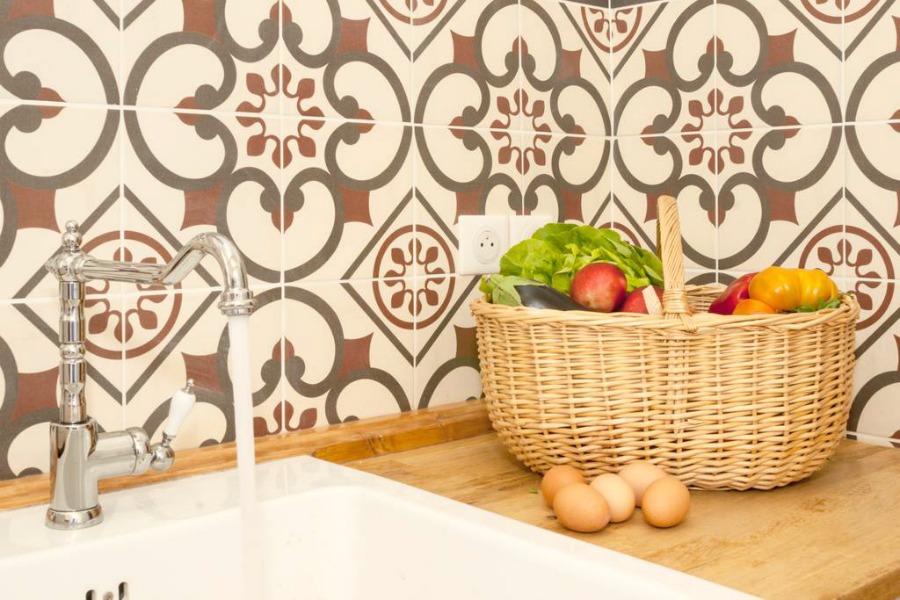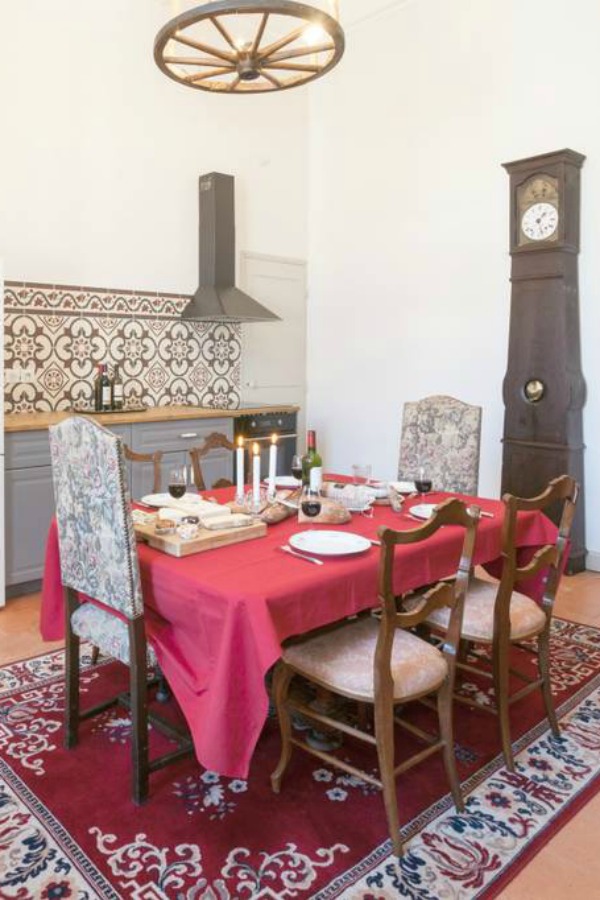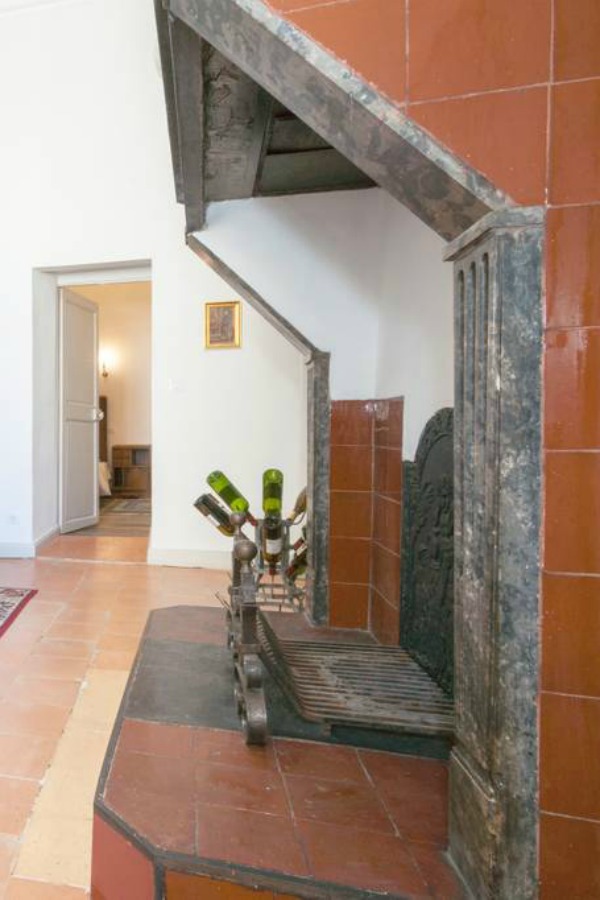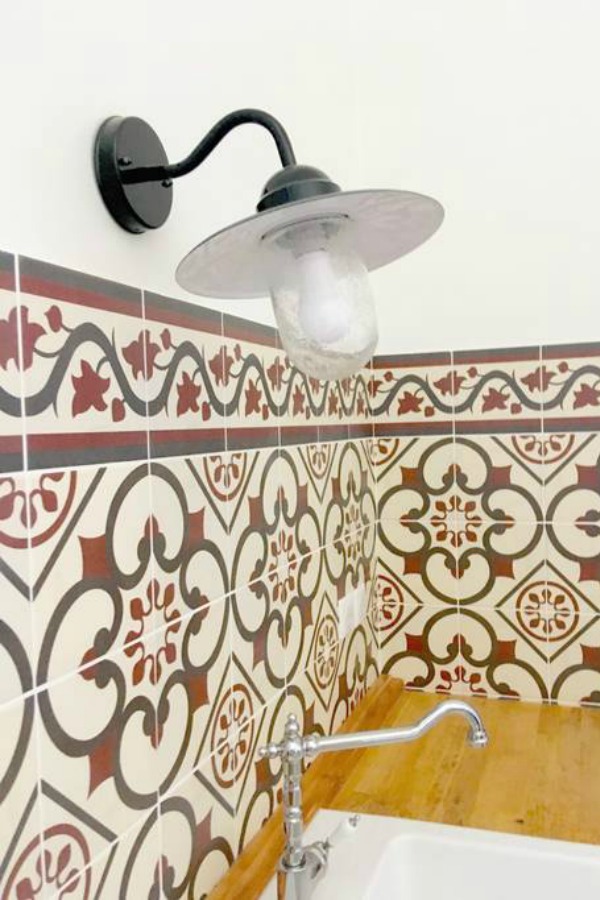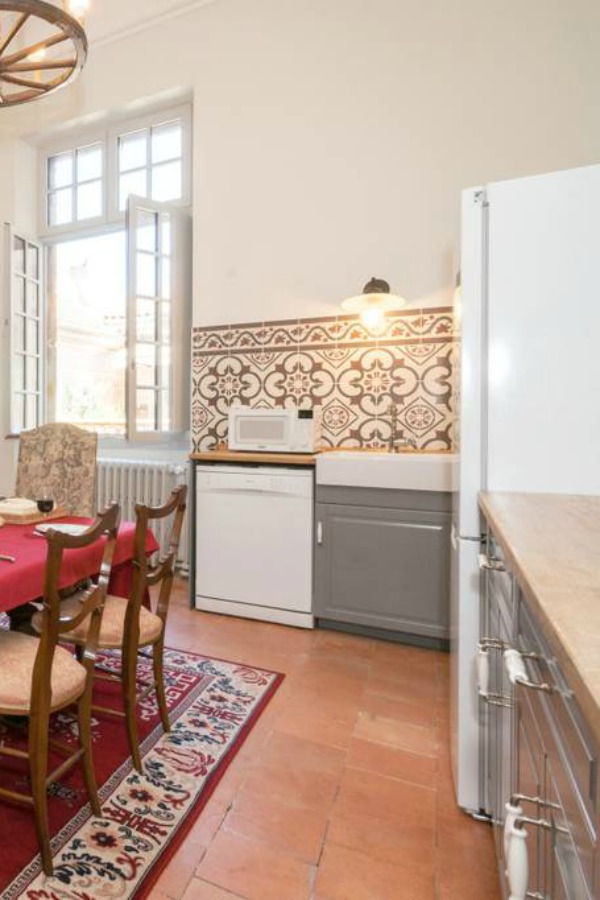 French Home Tour: Luxurious Bathroom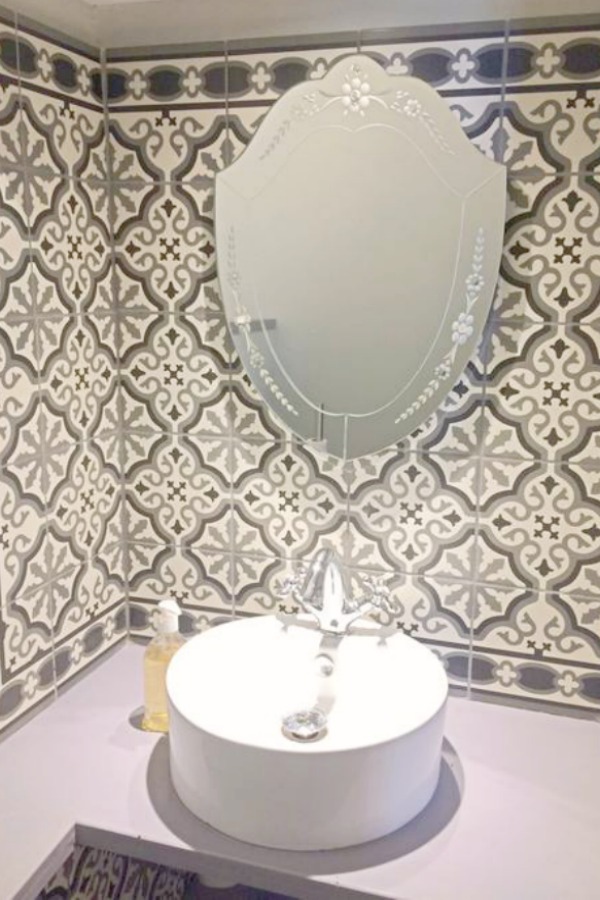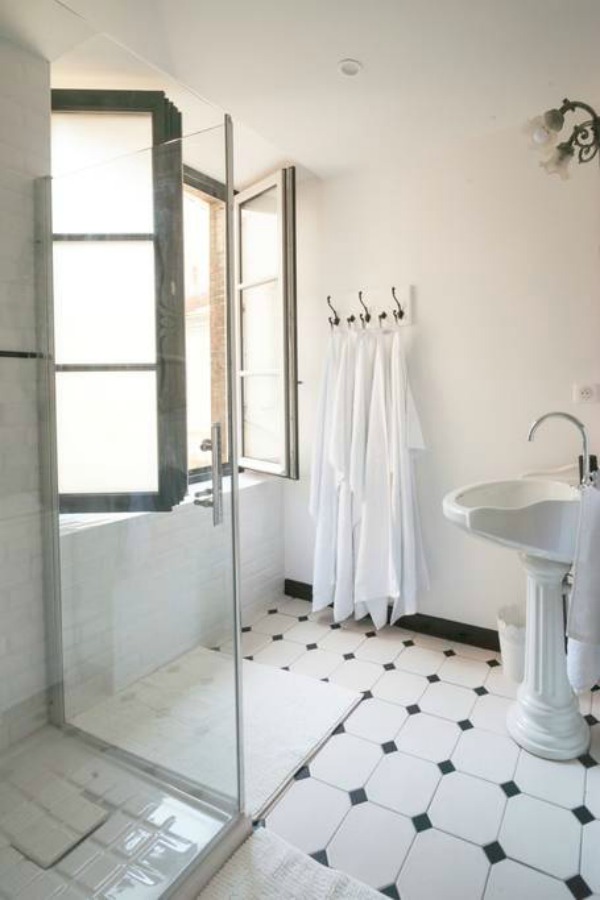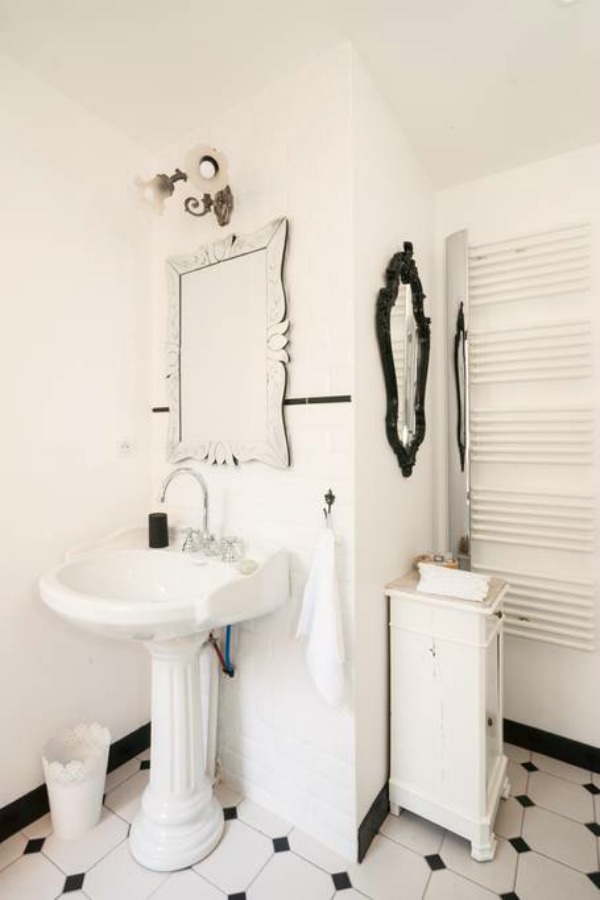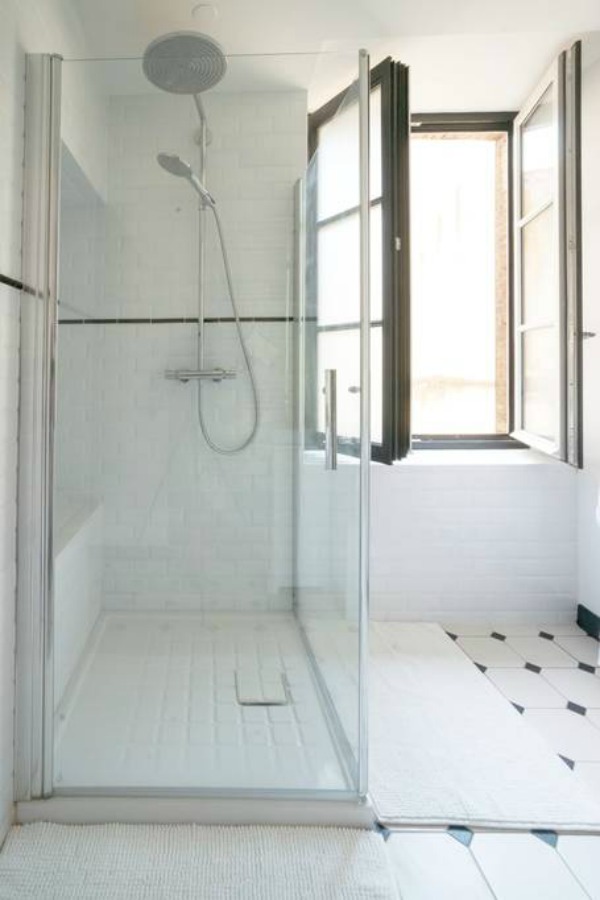 French Home Tour: Classic French Bedrooms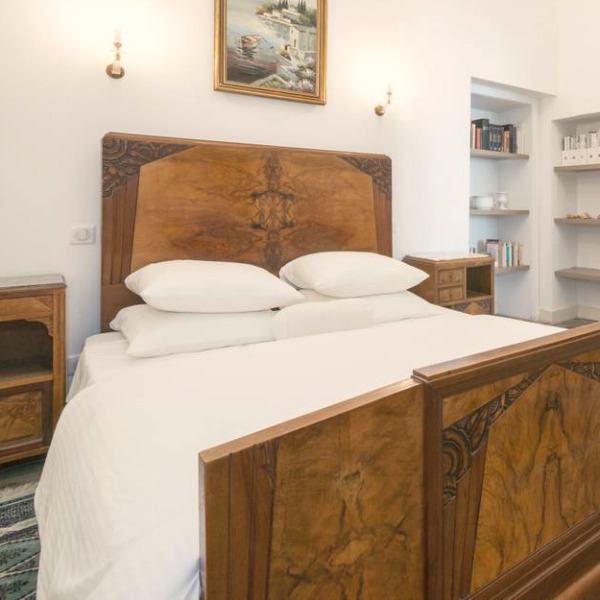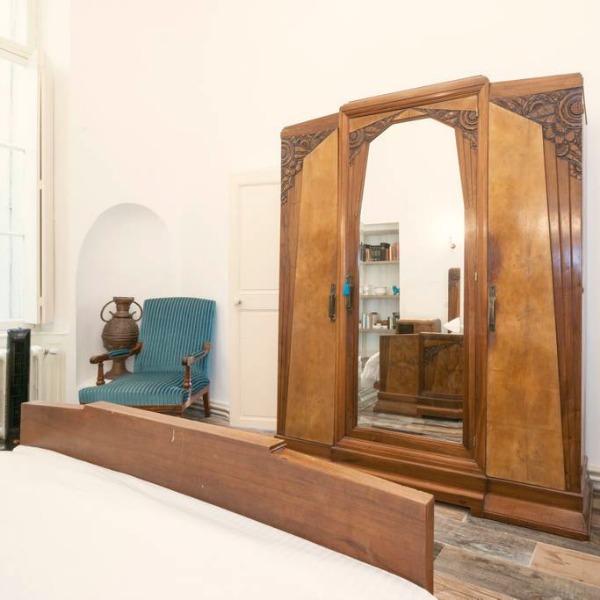 Where is this vacation rental apartment known as L'ancienne Tannerie?
In the city of Carcassonne.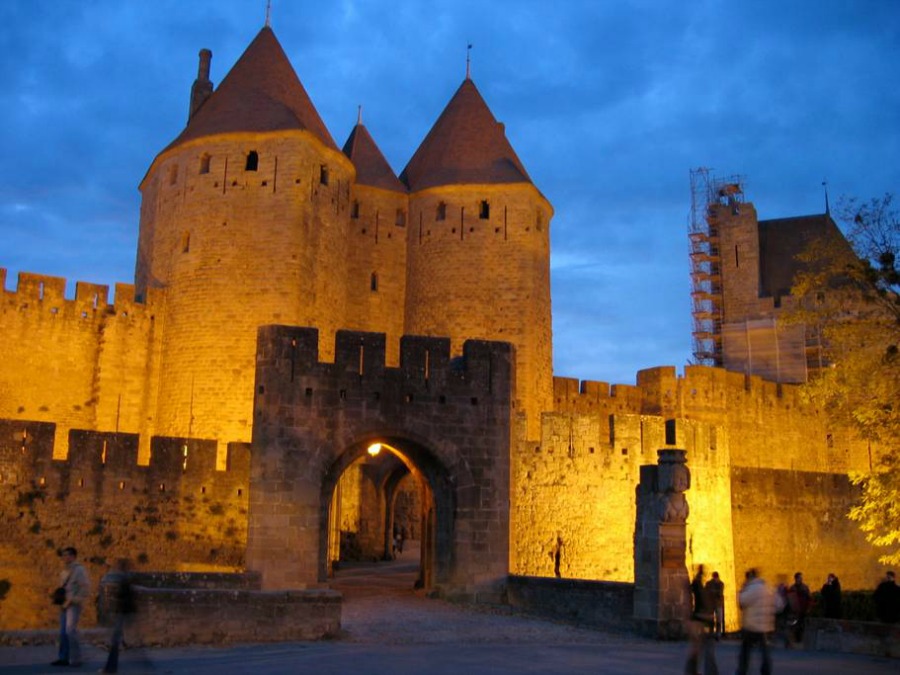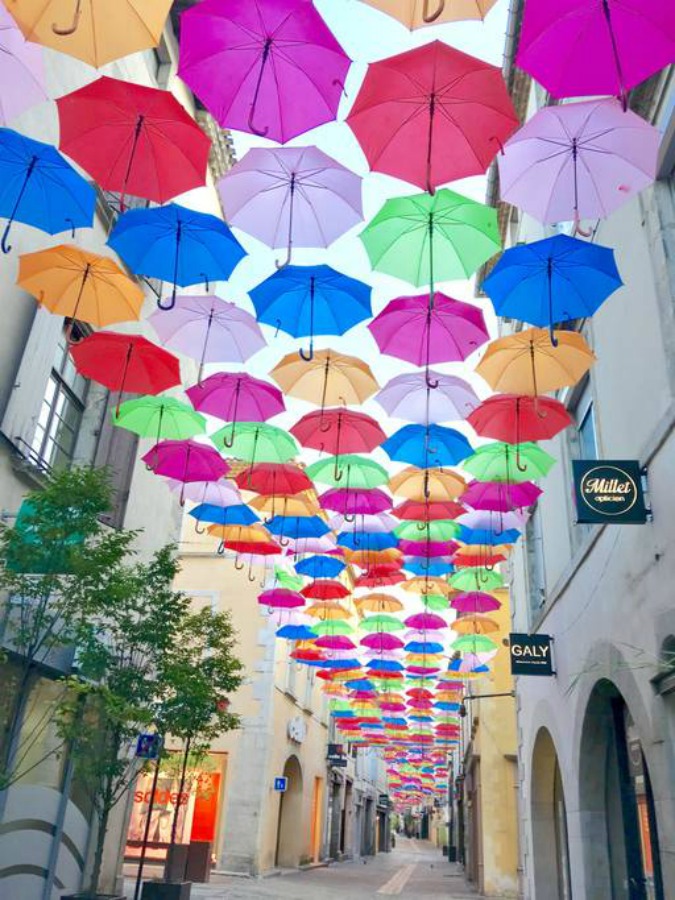 I'm ready to book my stay here…how about you? In the mean time, we can experience French living in Carcassonne through the lens of Taste of France, where we are treated to authentic glimpses and tastes of beauty and mystery.
Interview With Taste of France
HL: I adore your blog and your writing style and am always stirred by your stories and photos. Tell us about this gorgeous photo above which is bursting with color and charm!
TOF: It's a little refuge or boat house along the Canal du Midi that I pass numerous times a week. There's a fabulous view of la Cité de Carcassonne just across from it. It doesn't seem to be inhabited, at least not in the 15 years that I've known it. It's covered with vines that turn a blazing color in the fall.
I don't know who Odette might have been to have had such a cute little house named after her. However, it always makes me think of Odette de Crécy, a major character in "In Search of Lost Time," by Marcel Proust. Catherine Deneuve played her in the movie based on the book. It took me three years to read all the tomes of "In Search of Lost Time." It was like savoring a very high-quality chocolate–so rich and dense you had to take the time for it. Which is very French indeed.
HL: If we are visiting the South of France for the first time, where should we stay?
TOF: If I were traveling here for the first time, I would stay in Carcassonne, not in a village. Villages are pretty small, and the list of things to do is ticked off rather quickly. They are adorable, and worth wandering around, but many don't have any restaurants or cafés, and most have only one or two. So you'd get bored pretty quickly.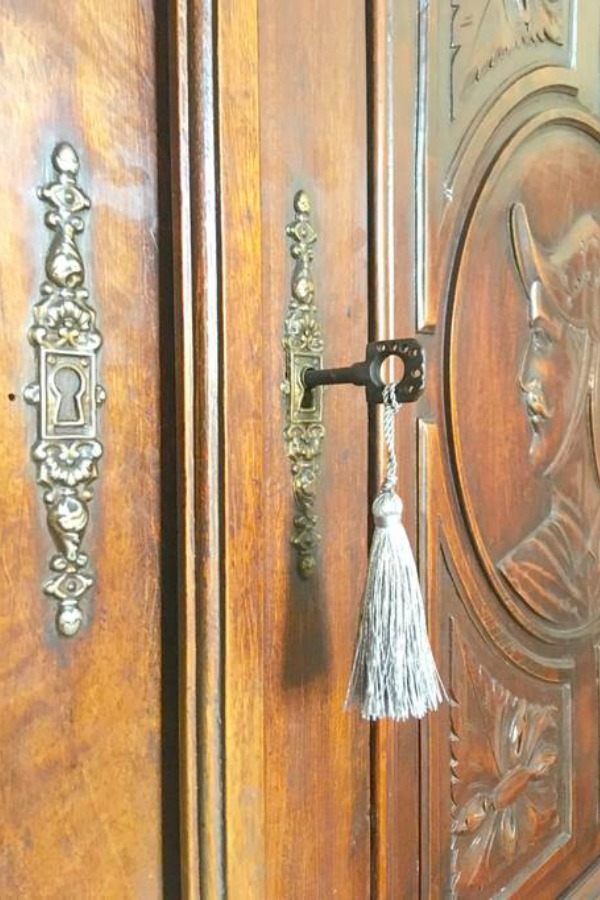 HL: How in the world did you find these beautiful apartments in Carcassonne?
TOF: We looked for over a year for apartments to turn into AirBnB rentals. We wanted something in the "new" town (which dates to 1260; the "old" town dates to 900 or so). We wanted a beautiful building; there are many places that have low ceilings or little natural light. We got not only high, high ceilings, but also original tile floors and incredible decorative moldings.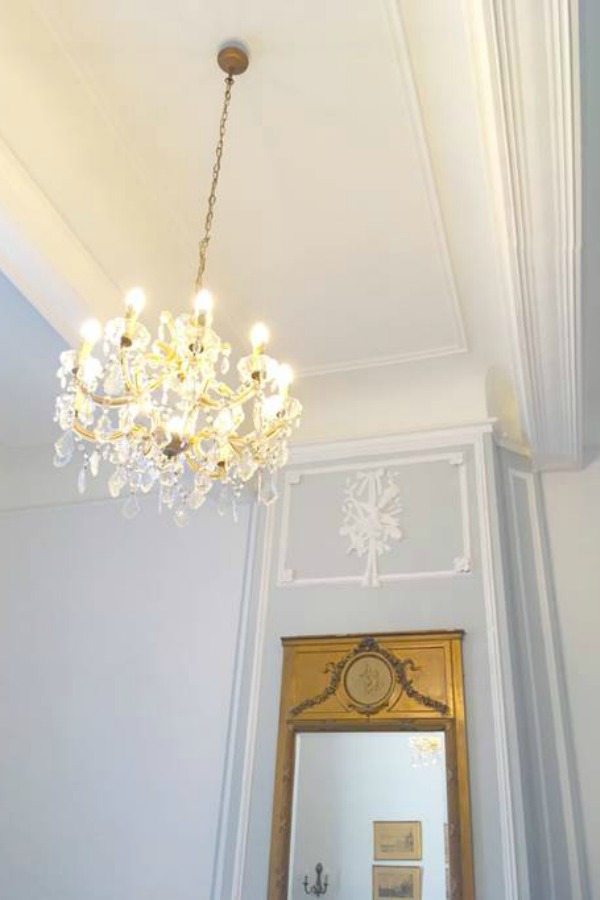 HL: How did you arrive at the decor plan?
TOF: We chose to decorate with antiques, because (1) that's what we do in our home and (2) other AirBnBs tend to be furnished with the same Ikea furniture—whether around France or around the world. We want a visitor to walk in and know that they are in France. We want them to feel like they're in a palace, but without the intrusion of staff. We want them to feel like they're staying in a home, a place that they could imagine as their own home.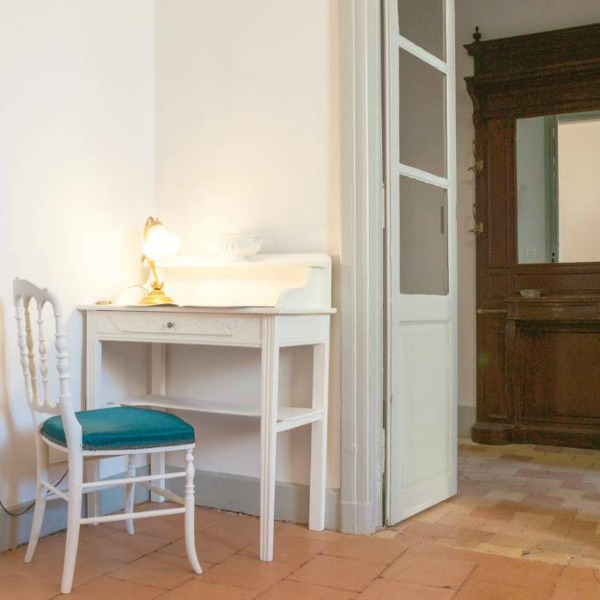 HL: Tell us about the renovation process.
TOF: The renovations took a year and were supervised by the Bâtiments de France, which are the French historical protection authorities. So we couldn't just renovate at will.
We were told where we were allowed to put bathrooms and kitchens, and even the color of the shutters. I see that not everybody follows the rules, but even our windows were custom-made to match the old ones. On the AirBnB listings, I see plenty of cheap fake-wood floors and dropped ceilings for more easily running electricity lines in buildings with solid stone walls. The city has a hard time policing the people who do renovations themselves and don't get a building permit.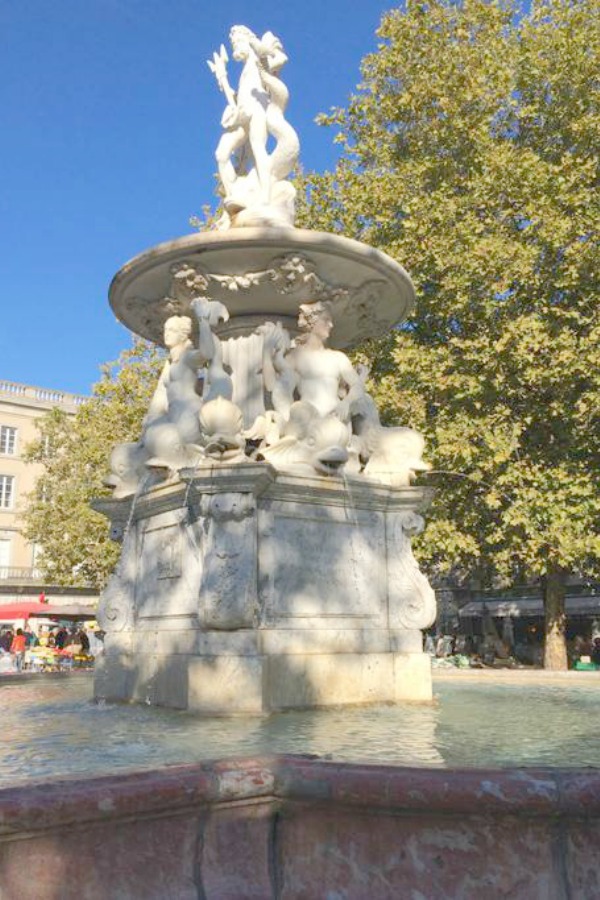 HL: What did you learn about yourself as a result of the renovation process?
TOF: What I learned during the renovation was a new respect for the French. I always have been a francophile, since I first read Madeline as a little girl. But the care, precision and craftsmanship of the local artisans astounded me. One hears so many horror stories about contractors, but these guys were such professionals, and true artists, full of passion for their work. I have seen the same kind of perfectionism in so many areas, from winemaking to cheesemaking and more. But a painter of walls gives his subjects as much care and precision as a painter of canvases. It was impressive.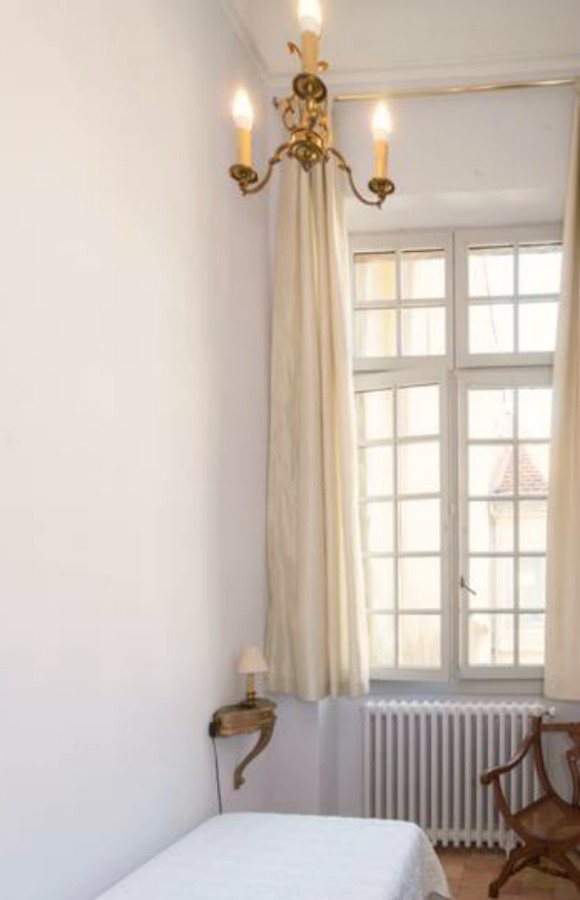 Such a treat to become more acquainted with the brilliant author of Taste of France and entertain the notion of staying at one of her properties in Carcassonne!
There are actually two renovated luxurious French apartments to consider if you are traveling to Carcassonne, and here's the other possibility. These images will give you a peek:
French Country Lovely!
Let me know if you decide to check in to this beautiful South of France apartment, and do visit Taste of France in the mean time!
I independently selected products in this post—if you buy from one of my links, I may earn a commission.
Peace to you right where you are.
-michele
Shop for items you already intended to buy on Amazon RIGHT HERE, and also find home decor here to keep decor inspiration flowing on Hello Lovely!
Hello Lovely is a participant in the Amazon Services LLC Associates Program, an affiliate advertising program designed to provide a means for sites to earn fees by linking to Amazon.com and affiliated sites.