How We Turned an Ugly Wall Into a Design Feature! tells the story of the transformation of a long, yucky expanse of a lumpy wall in our master bedroom. One of the easiest DIY home improvement projects we have ever attempted in our many years of renovating was this Stikwood White Hamptons peel and stick reclaimed wood accent wall at our fixer upper!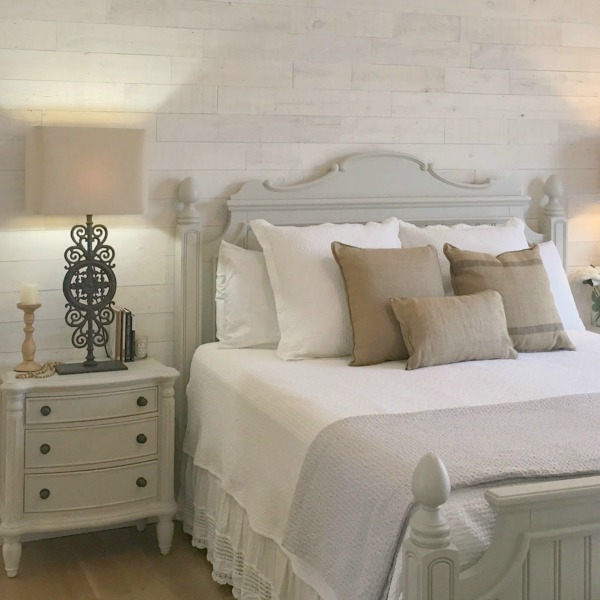 How We Turned an Ugly Wall Into a Design Feature!
DIY Stikwood White Hamptons Project
New to the blog? A little background is in order. My husband I downsized by half in 2015, trading in our "picture perfect" French country home we designed and built on acreage for a forlorn French Nordic style cottage on a woodsy lot with awful, terribly neglected interiors.
We gutted most of the rooms out of necessity, and the master bedroom was upgraded with new hardwood floors and a rustic wood accent wall with coastal style.
This post contains affiliate links which I hope you will use since they won't cost you a penny extra yet may earn this blog a small commission.
Peel and Stick Reclaimed Wood
Here's the reclaimed plank peel and stick wood that made this project quick and easy: Stikwood White Hamptons. It is not the least expensive peel and stick wood out there, but Hamptons was PERFECT for achieving a more subtle yet rustic look for this cottage-y, French Nordic style space.
From Ugly Wall to Accent Wall!
What do you mean an ugly wall?
This home's previous owners (and there were several since it was a rental) lived in wacky and maybe violent ways. When we got to work, we had to remove enormous woofers and tweeters from the ceiling, and on this wall where the bed is placed, huge marred areas remained from failed wall repairs. When your walls are textured like ours and you attempt to repair or smooth over holes and damage, GOOD LUCK, SIR.
There were moon-like craters on the walls everywhere, and those divots are just lovely on the moon.
But here on earth, I'd like my walls to look less lunar.
Before and After Photos of Bedroom With Stikwood Hamptons
Seeing is believing. Take a peek.
Photos of the Wood Accent Wall Transformation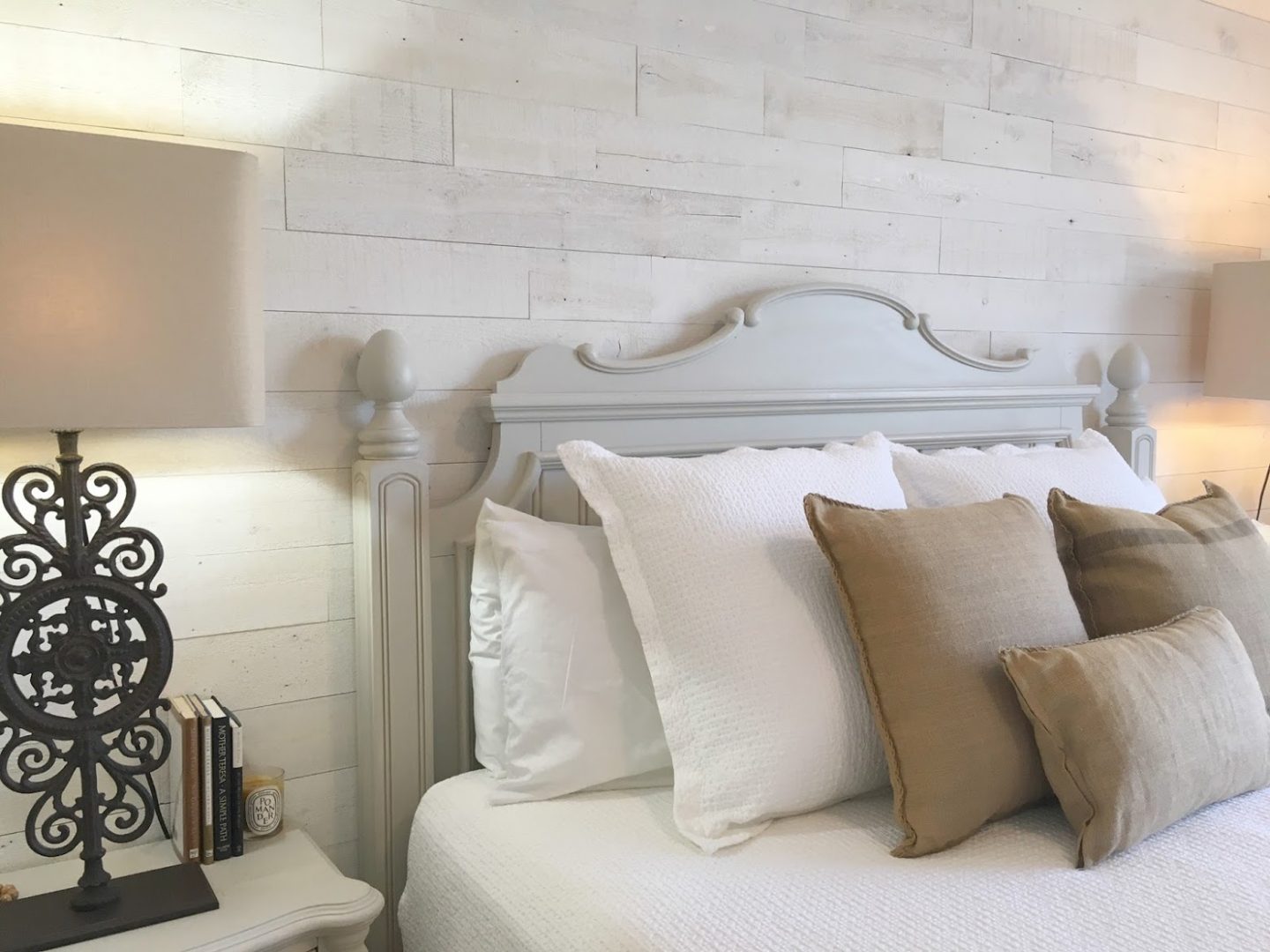 What is Stikwood?
It is Reclaimed Wood
Stikwood is peel and stick reclaimed wood planks from responsibly managed forests. These planks are made right here in the USA, are thin and lightweight, and are nearly waste-free! Lucky for us, they are also SUPER EASY TO INSTALL! Yep. Put down that hammer and nails. And NO, it's not vinyl. It's natural wood.
You'll have fun choosing from Stikwood's lovely options for wood finishes too. Here are samples I received after requesting a few favorites:
Cost for Materials
The cost is currently approximately $14 per square foot, and in addition to fabulous quality, you'll benefit from Stikwood's peel and stick innovation and installation ease (just say NO to labor intensive!). Let's face it. Time is money, and this wood accent wall only took 3 hours on a weeknight!
Here's How We Installed the Peel and Stick Wood Accent Wall
Tools Needed for the DIY Project
You won't require many tools beyond a ladder, tape measure, level, Stikwood roller, and a saw.
Once we established a rhythm of working together…
…the planks went up beautifully and quickly!
How Long Did the DIY Stikwood Shiplap Like Project Take?
One evening. Our master bedroom wall is 16 feet wide, and the accent wall's entire installation took just three hours, with the two of us working.
Yep. Our Stikwood huge accent wall came together in 3 hours, with my husband doing the cutting, and me removing the backing off thin planks, choosing plank placement, and assisting.
Watch How Stikwood Is Installed!
Stikwood Covers A Variety of Sins
Stikwood is a lifesaver if you have inherited walls with textured finishes which have seen a lot of damage. It's also helpful to have such a pain-free quick fix that doesn't involve plaster and hiring pros to cover a variety of sins.
To the right of our master bathroom door (above) were a number of light switches FOR THE BATHROOM LIGHTS! Yep. Wacky. To turn on the lights for the bathroom, you did it before entering the room above the nightstand!
Qualities I Love About This White Painted Stikwood Called Hamptons
Hamptons makes a very coastal, slightly softer side of rustic, subtle statement. While some of the other Stikwood options feel rugged and bold, Hamptons imparts a cashmere-y white sand, and understated as well as whispery mood.
A natural brown wood finish may have been lovely too; however, with all of the rustic alder doors in this room (4 of them!) and skipping an area rug, there is plenty of warm wood glowing.
Why Choose Wood Planks Over Wallpaper For an Accent Wall?
Don't Do it Because It Is or Isn't Trendy
First things first. I just saw an article in a major publication proclaiming statement and accent walls OUT in 2019. I disagree.
Maybe if you're a marketer trying to drum up interest in decor change and to sell more paint, you commission such stories to be written.
But I can't see the sense in over-generalizing by saying statement walls are totally out any more than saying rustic decor is out. Of course there are these seasons where a particular color or design feature (like 1970s macrame or whatever) is having a moment, but THERE ARE NO RULES, friends.
It Adds Texture, Interest, and Camouflage
Secondly, whereas rustic decor may be OUT for admirers of formal and fussier style, rustic decor is IN for folks who want to live with casual, textural, unfussy, wabi-sabi style in any calendar year!
Thirdly, if you love a shiplap look, don't worry yourself with how many design pros say it's over. THERE ARE NO RULES OR DESIGN POLICE POISED TO ARREST YOU.
It's quick and easy
Finally, statement walls are a smart solution when you want to draw the eye to the wall, cover a multitude of sins, add texture, add architectural interest, and to warm up a space. They are also make sense when you're left with a great big textured wall of craters like ours.
The bed wall in our master bedroom feels so much "cleaner" with the accent wall. If you have an ugly wall and are able to measure and use a saw, this quick DIY peel and stick project may make sense for you too.
Summary of our DIY Stikwood Wood Accent Wall Before & After
SUCCESS!!!
From moon craters and orange peely walls, to peel-and-stick lovely, I'm still pleased and so happy we decided to go for it.
To shop my home, go here.
More Stikwood Wood Plank Possibilities!
Take a peek at more inspiring accent walls made possible with Stikwood peel and stick wood and a day of DIY.
Are you imagining the possibilities?
Save this image to pin this post for future reference!
Thanks for reading about this easy before and after DIY that made such a huge difference!
SHOP MY HOME FOR MORE SHOPPING RESOURCES!
I independently selected products in this post—if you buy from one of my links, I may earn a commission.
Peace to you right where you are.
-michele
Shop for items you already intended to buy on Amazon RIGHT HERE, and also find home decor here to keep decor inspiration flowing on Hello Lovely!
Hello Lovely is a participant in the Amazon Services LLC Associates Program, an affiliate advertising program designed to provide a means for sites to earn fees by linking to Amazon.com and affiliated sites.