Vintage Valentine Decorations & Layer Cake is a fun collection of yum to consider for a Valentine's shindig. Whether it's a cozy love fest with friends, a party at school or with your gal-entines, a visit with the grandkids, or simply dessert with your sweetheart, let's think EASE and NOSTALGIA.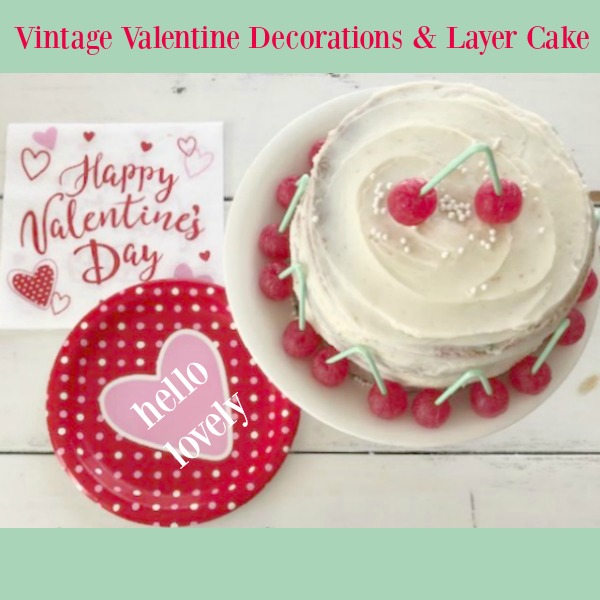 Remember when Valentine's Day rolled around when you were in grade school? Was it an epic big deal for you like it was for me? I agonized over addressing those sweet little cards to my classmates and romanticized about the cute boys forming the letters of my name with their pencils! And I labored over what to wear to school for Valentine's Day even in kindergarten…what my parents must have endured with such an overly sensitive old soul trapped in a young body!
Some housekeeping first…
BTW.
Thank you for indulging me in that Fashion Over 50 story. If you think it's easy to put yourself out there like that when you're not rocking a tan, a young body or head of hair, or a designer wardrobe, think again! It is scary to be vulnerable online!
Why do I do it? Because my readers respond to stories about my personal life more than anything else. They want to get to know the person behind the blog because so many brands and sites are deeply impersonal. So I'll keep posting pics of myself now and again not because I think I'm all that. Gurrrrrl, I am NOT. But because I'm here, a living breathing, very real blogging midlife woman in her 50's.
if you are game, I'd love to have you participate in that Fashion Over 50 series should you have a good number of images we can incorporate and the time to answer interview questions. If you subscribe to this blog, simply hit reply and let me know if you care to be considered!
This post contains affiliate links which I hope you will use since they won't cost you a penny extra yet may earn this blog a small commission.
Vintage Valentine Decorations & Layer Cake
You won't find red roses or bouquets of anything in this post…I'm talking EASE. I gathered a few little nostalgic items bought for next to nothing to keep things uncomplicated and fool-proof.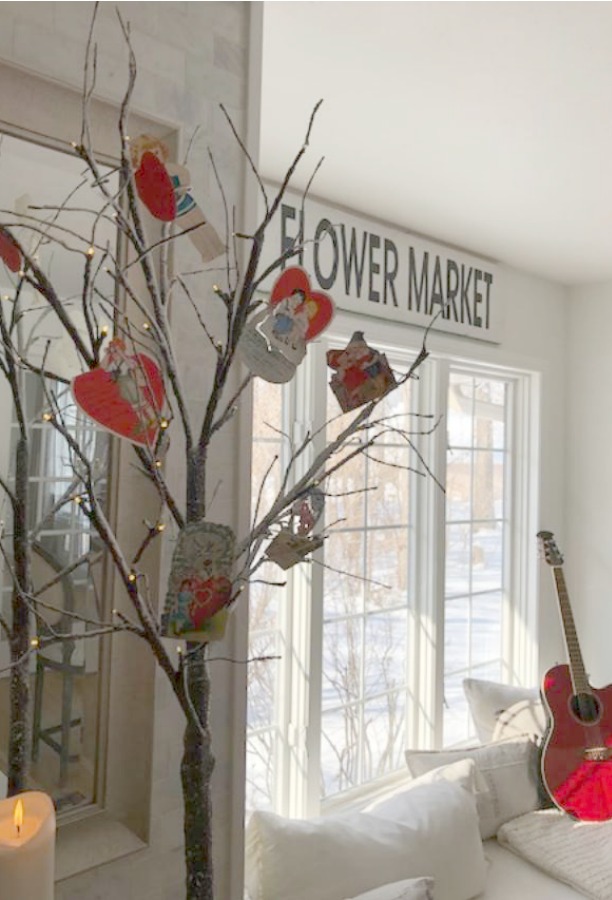 Valentine Decorations: Candlelight
It simply doesn't get simpler than glowing lovely flames day or night.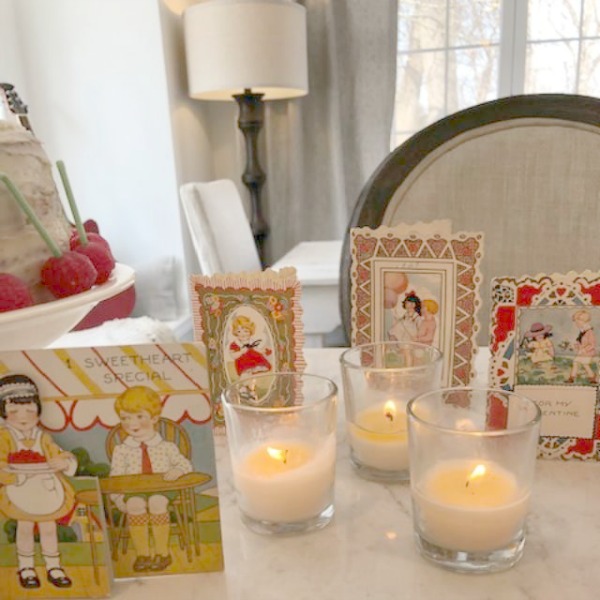 Valentine Decorations: Snowy Tree
I like to let my little twinkly wintry tree linger on the kitchen counter past Christmas, and this year, I tucked a few collected vintage valentines in its branches. Find more examples of these trees at RH right HERE. Vintage valentine cards are fun to collect and still so reasonable to afford!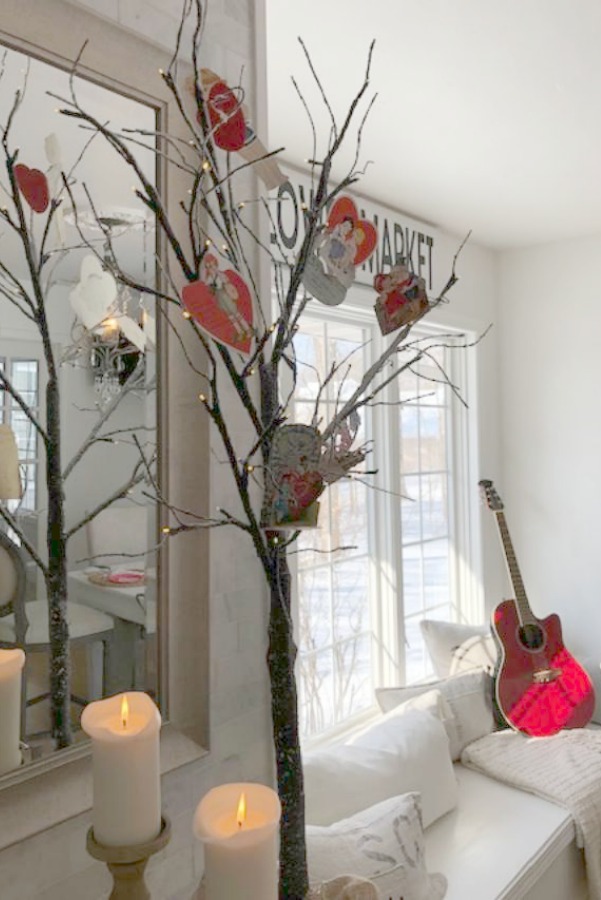 Valentine Decorations: Red Guitar
The red acoustic-electric guitar is played by our eldest son, a talented musician. I picked it out for him as a gift years ago, and what a blessing that he loved the sound and plays Spanish lullabies on it to this day.
Valentine Decorations: Plates & Napkins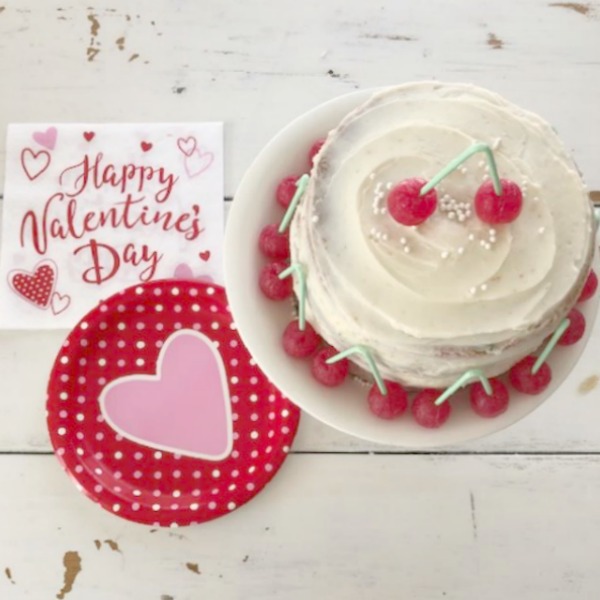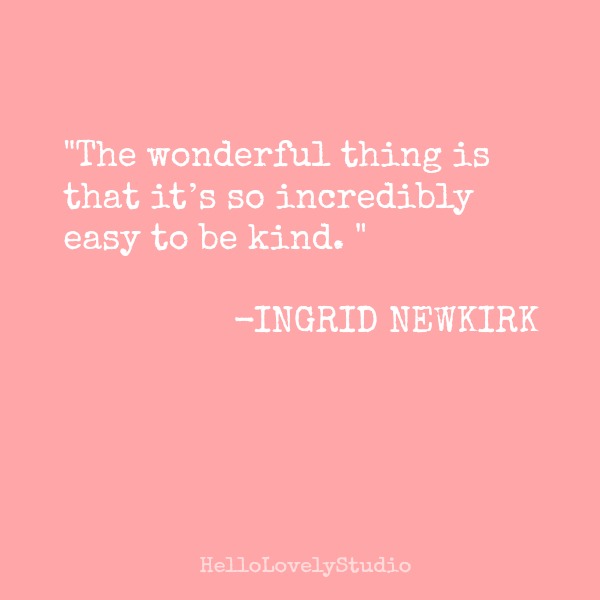 Valentine Decorations: Low Cost Lovelies
I picked up these sweet heart-shaped finds for next to nothing. The size of the cookie cutters are perfect for making little petit fours, should you be so inclined. I plan to whip up some g-free Valentine's cookies…stay tuned. I had to include the theatre box of Swedish Fish because it makes a perfect little favor and happens to be my favorite candy…every single fish was consumed during this shoot yesterday!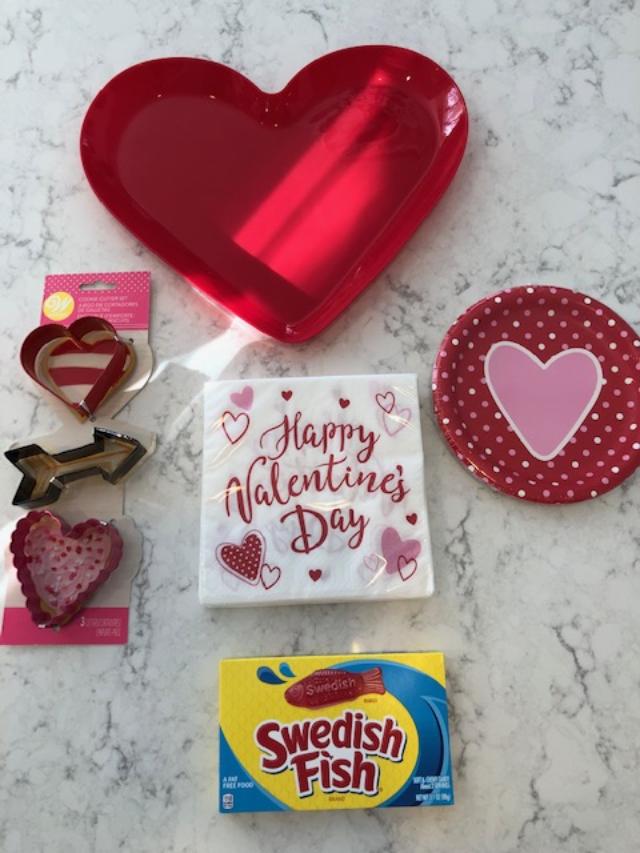 The 4-layer cake is super uncomplicated. I doctored a Funfetti cake mix, and will the recipe is HERE in a separate post because this one is getting lengthy (even for moi!). I iced it with a homemade buttercream and was going for that naked cake look but may have gone too far. I'm not sure. I'm never going for perfection because I haven't the time or desire for it! It's cake. That shouldn't entail reaching for the emergency Xanax.
Valentine Decorations: Layer Cake
Find the recipe in this story RIGHT HERE.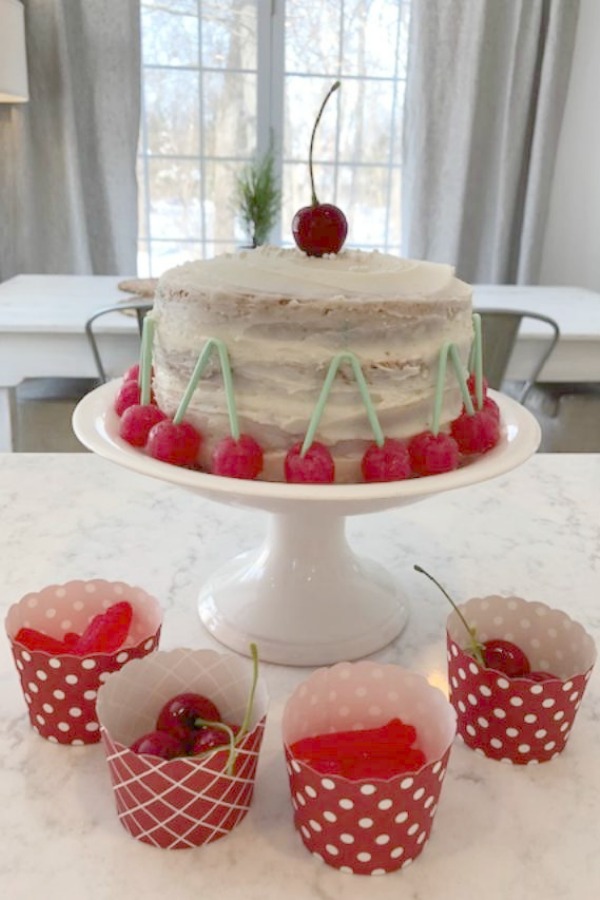 Do you love these double cherry lollipops that look so French and charming? Me too! I buy the big ol' drum of them, and what an easy way to trim an easy cake!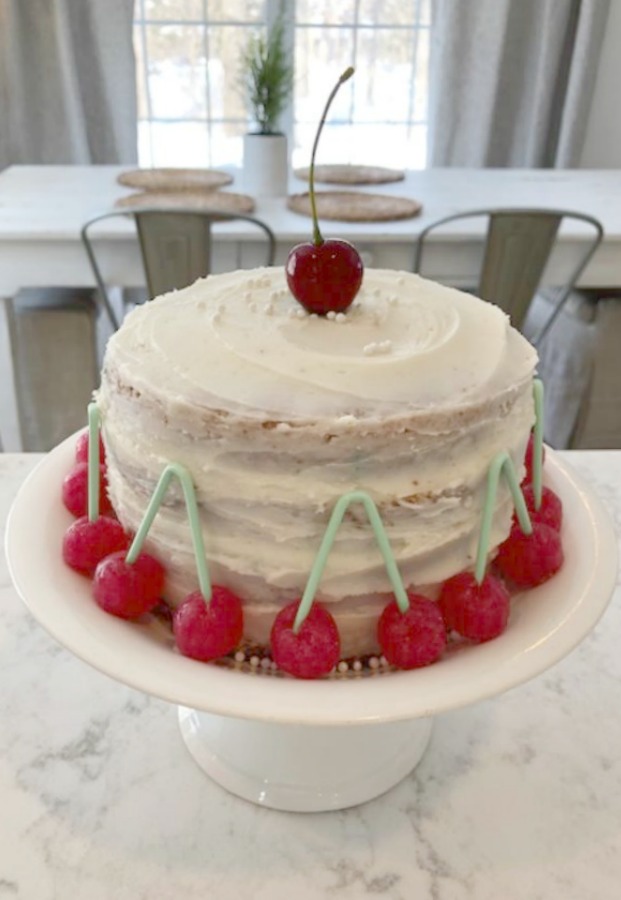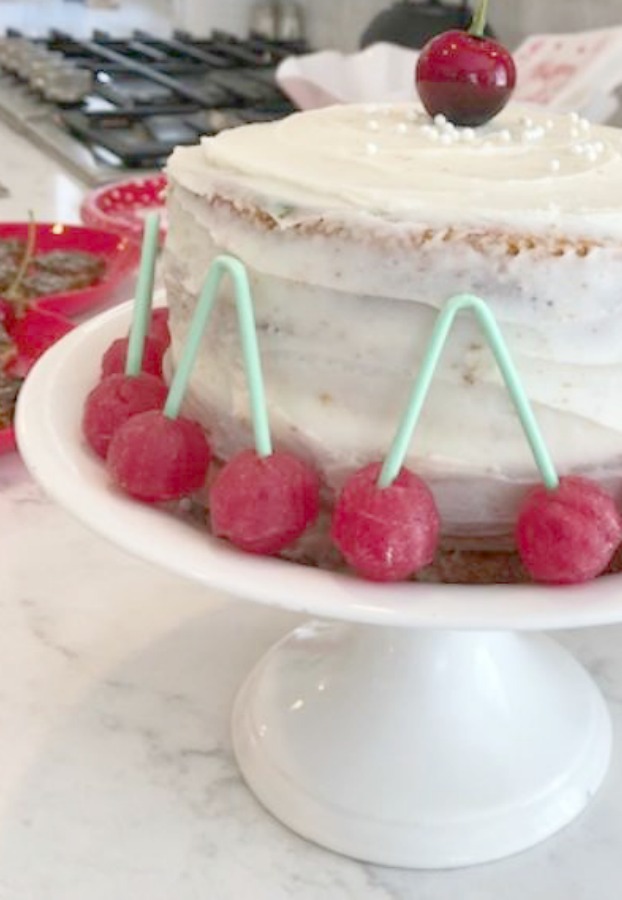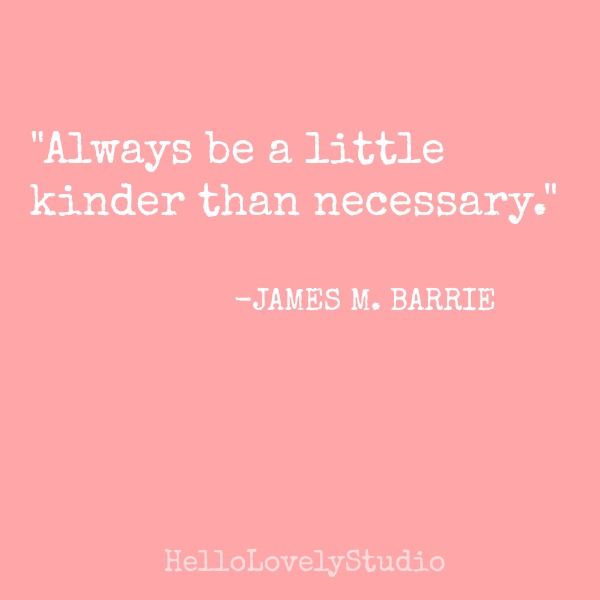 I L O V E This! Treat Yourself to a Smile, Friend!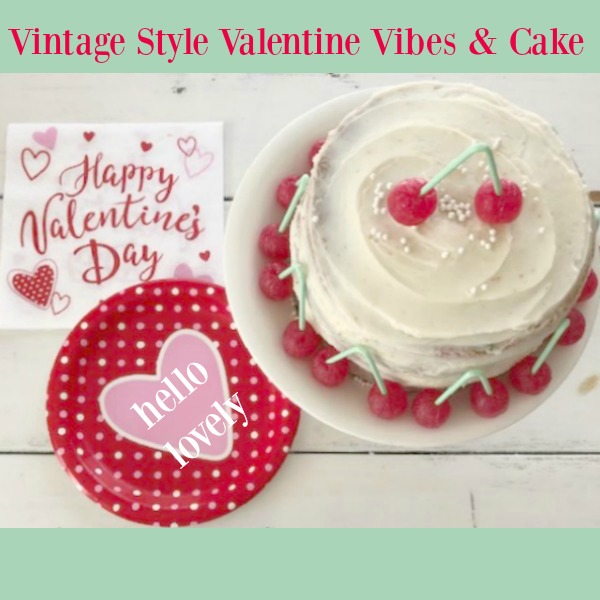 Do you have a board dedicated to recipes on Pinterest? Me too! VISIT MINE HERE AND REPIN AWAY to help a sista out!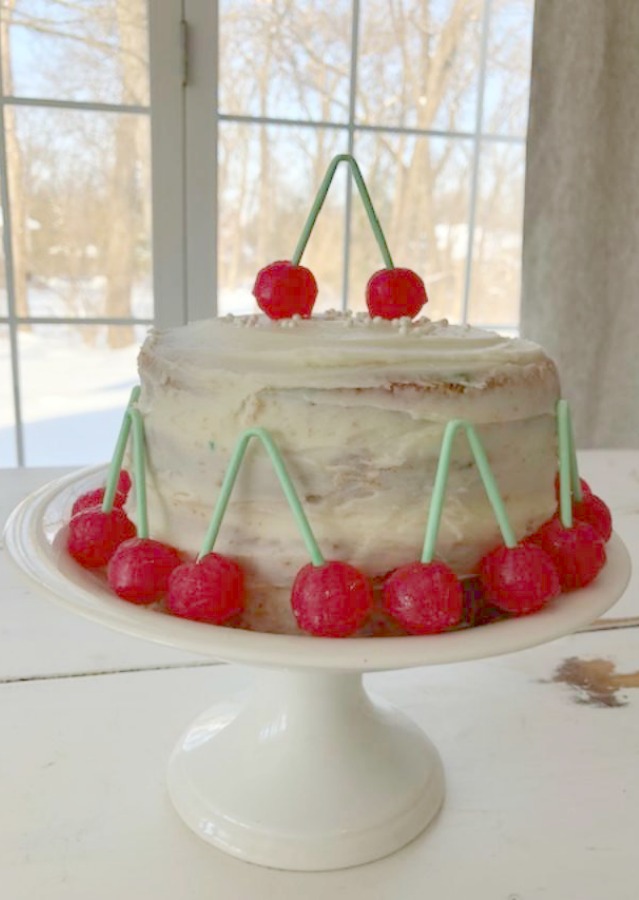 Valentine Decorations: Vintage Cards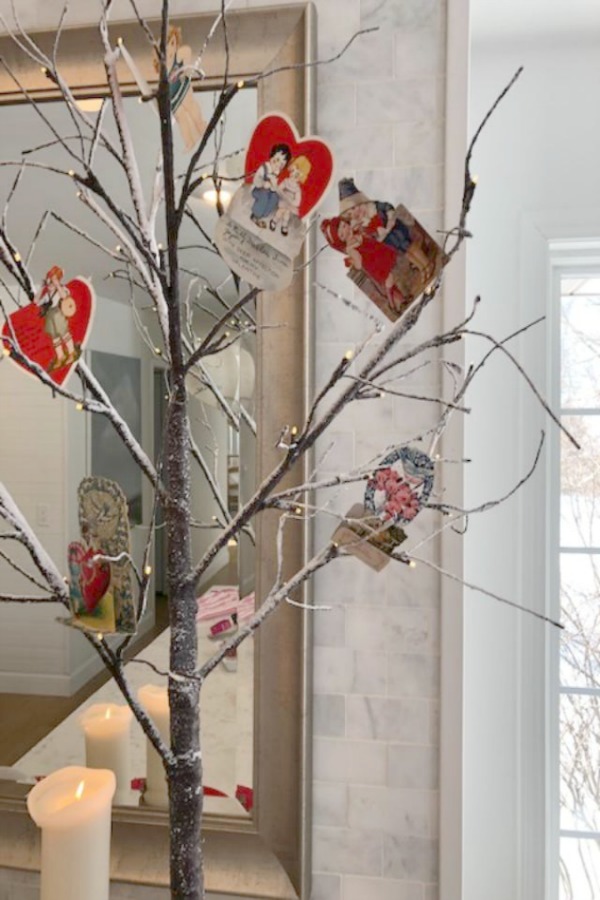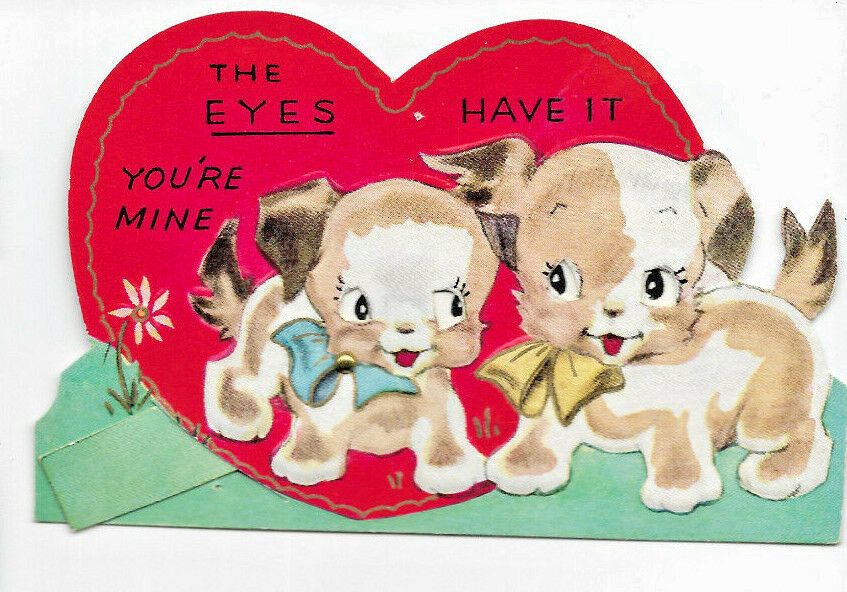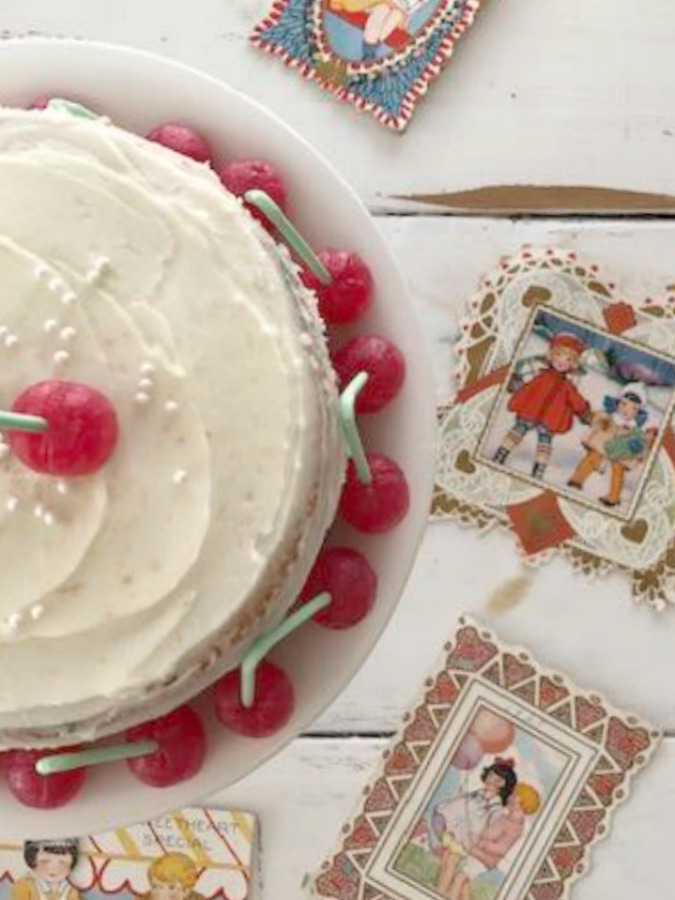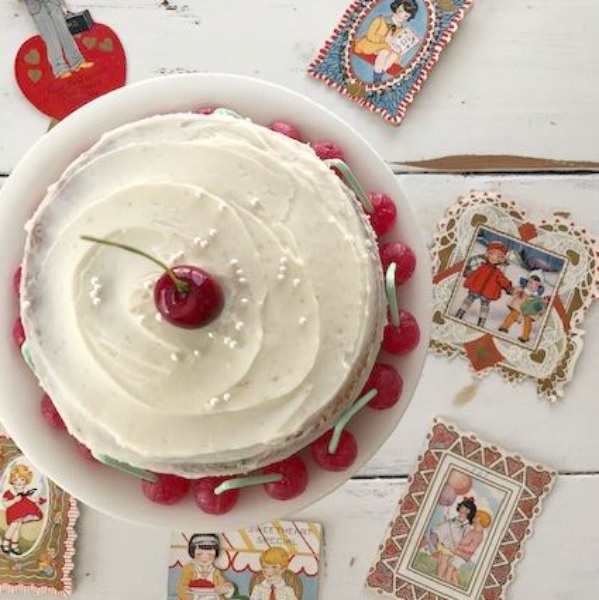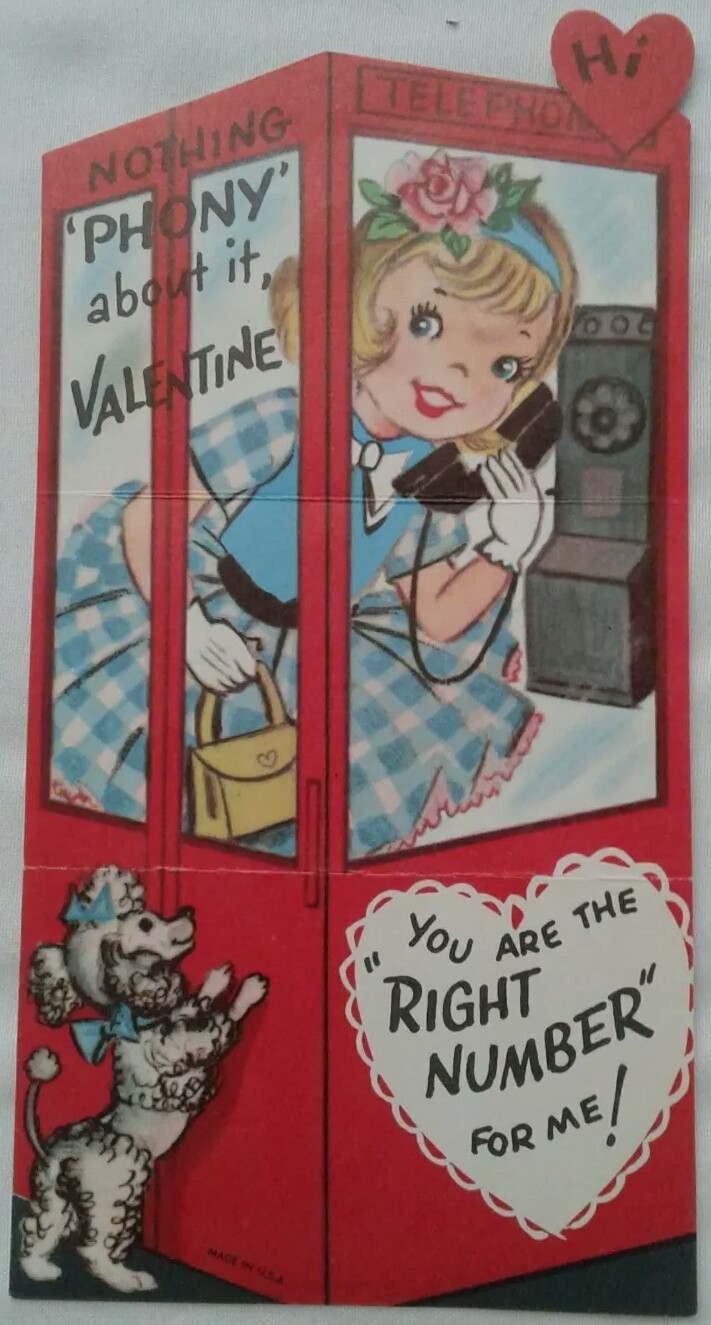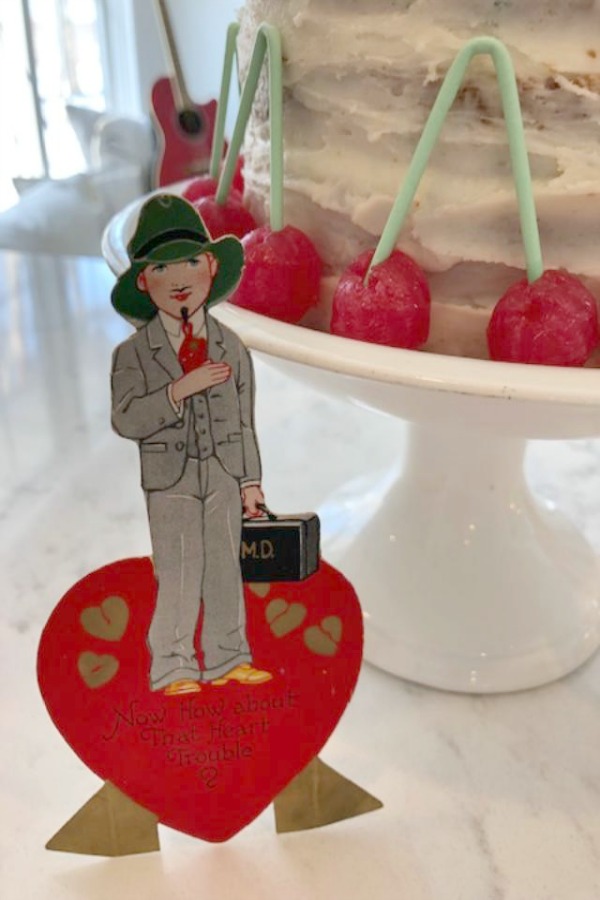 In the Kitchen…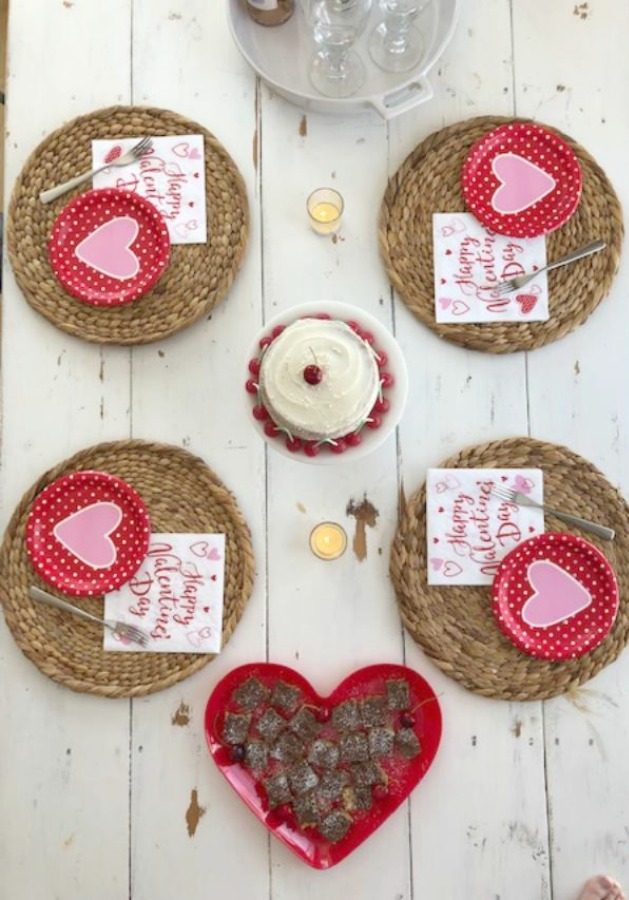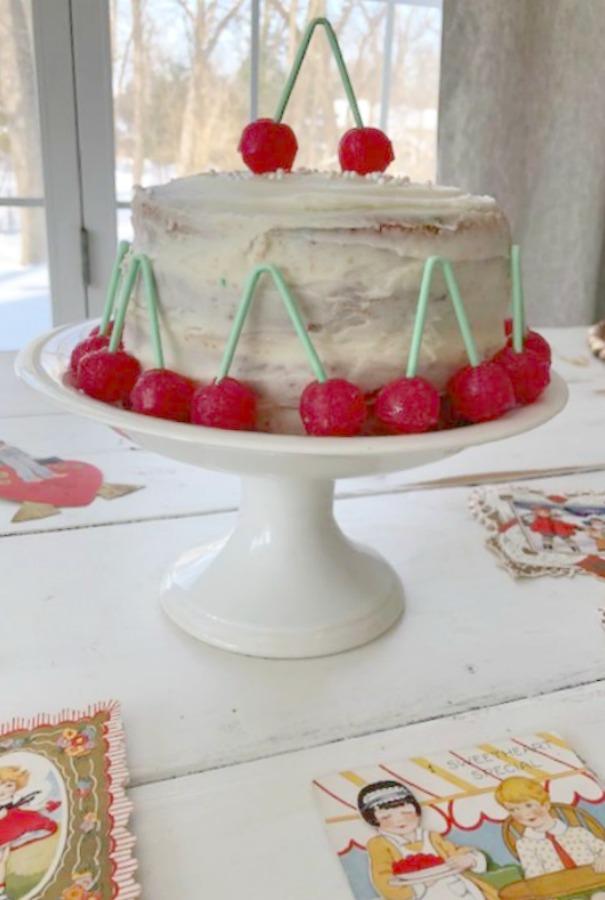 If you were here, you would have to drink my glass of bubbly and wine (if you're so inclined) in addition to yours. Alcohol is not a friend to my digestion at the moment, so more for you!
Oh, and maybe you noticed, I moved our family's farm table back into the kitchen! The round table that was in this breakfast area is now in my studio. We needed more dining space during the holidays with all the guests here.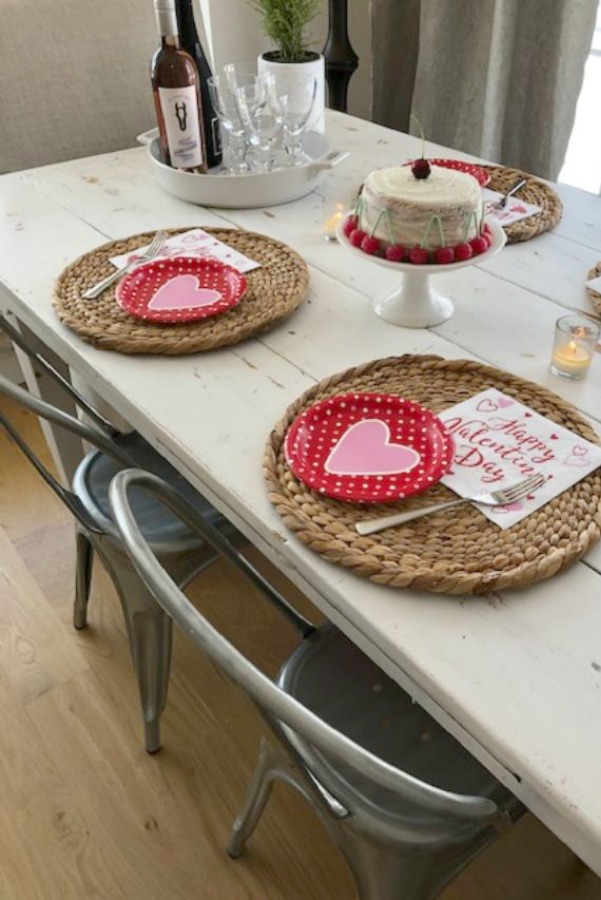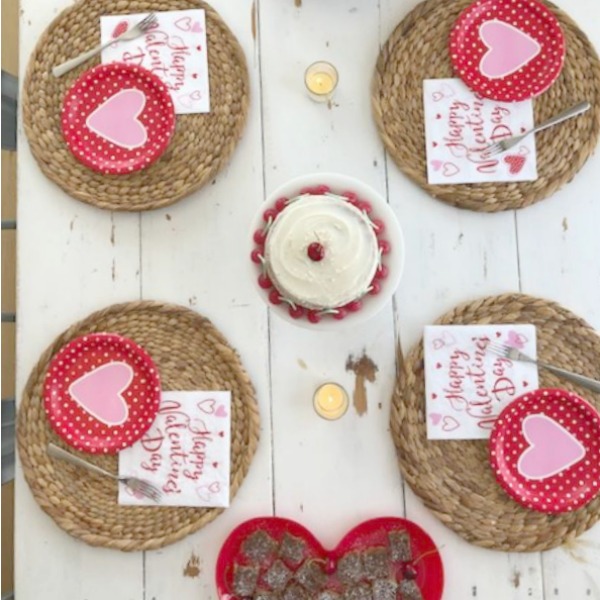 Valentine Chocolate Treats
I also whipped up a family favorite: Special K Bars…find the recipe in this story. I don't usually dust them with confectioner's sugar, but they didn't look appetizing, and all bakers know a little powdered sugar will always come to the rescue.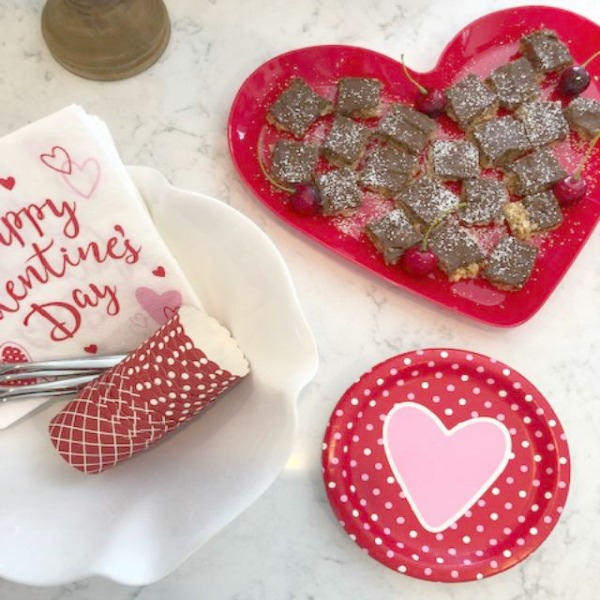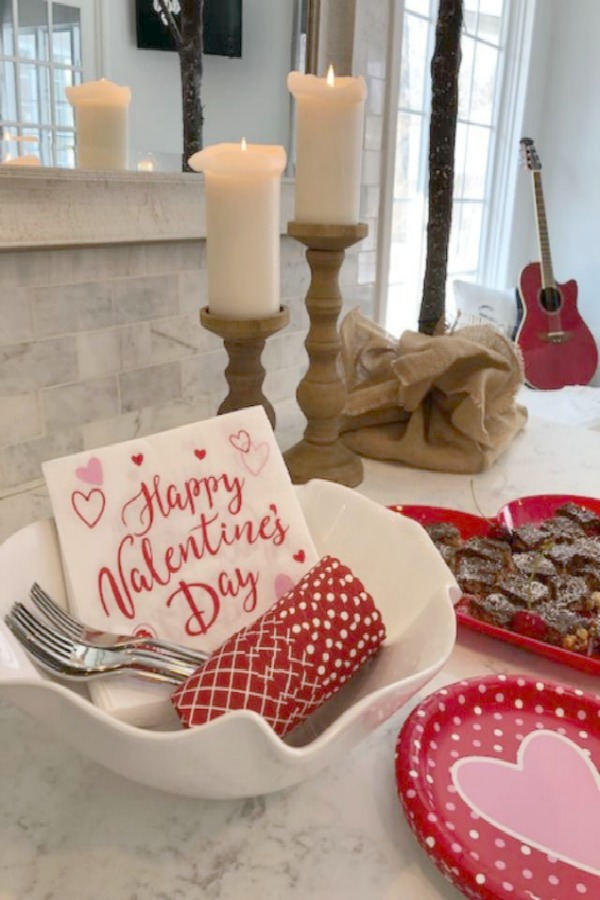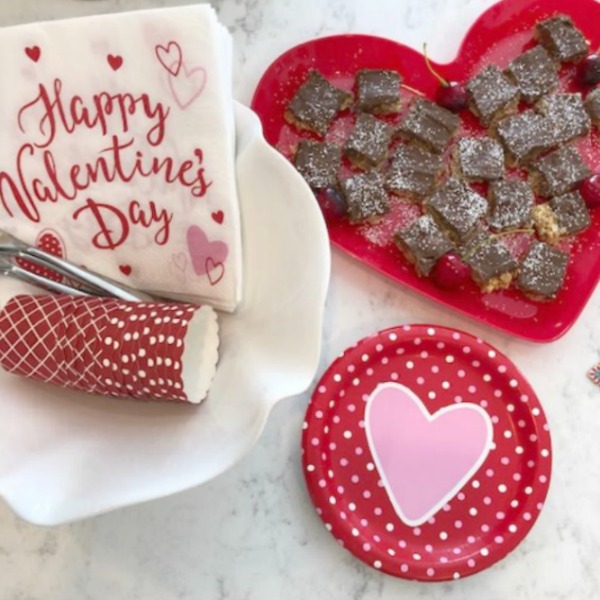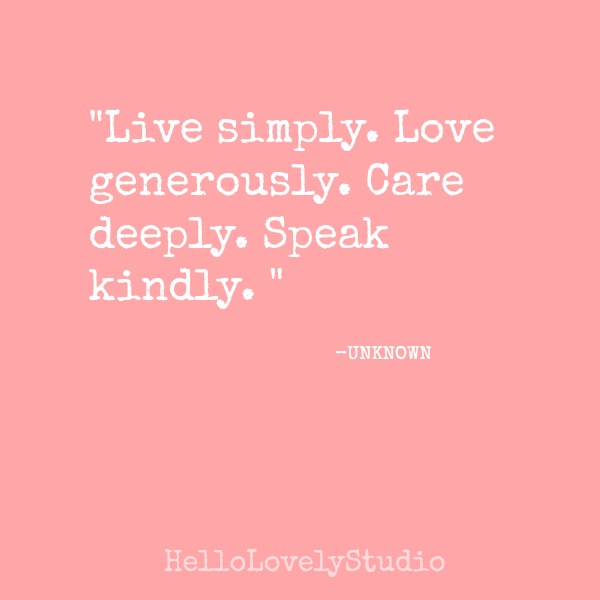 More Simple Ideas
Easier Cake Decorating. Not in the mood for baking? Use a plain store bought cake and deconstruct it if necessary and redecorate! If you can ring a cake with a bunch of double lolliopops (or oreos or strawberries), you'll be good to go.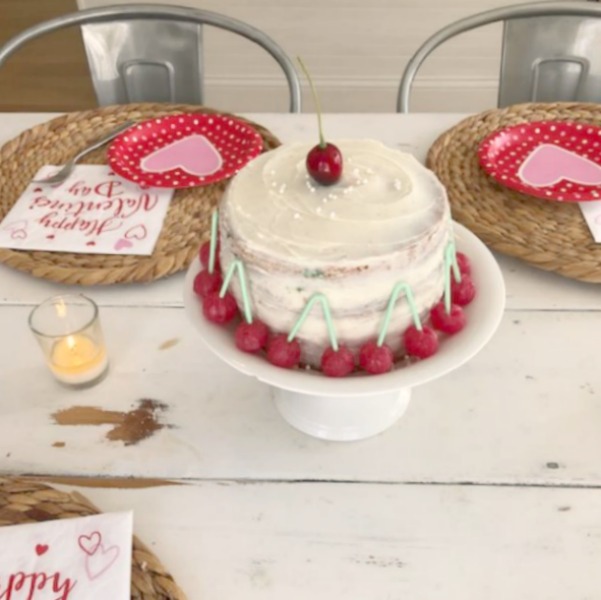 Food for the Centerpiece…Instead of a pricey centerpiece or floral display, go for an edible one!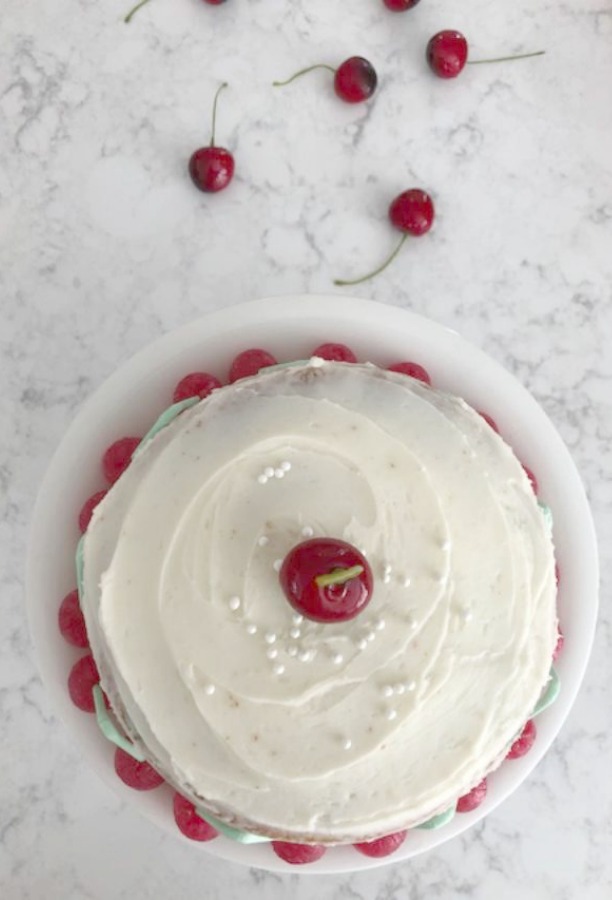 Go for a rustic "undone" look for the cake…Instead of rolling out fondant or spending an hour smoothing on a perfectly smooth iced finish, I just spread the buttercream imperfectly so there's no doubt it was made at home.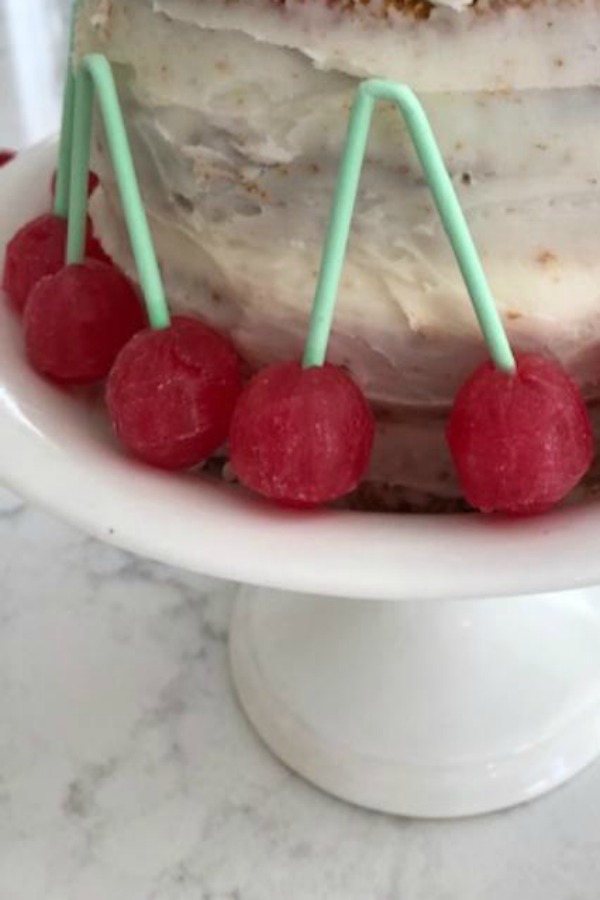 Simple Entertaining Ideas
Trays for little "stations"…my kitchen is small, and I no longer have an official drink station or coffee bar area reserved for those functions. A simple tray may be all you need for a small gathering.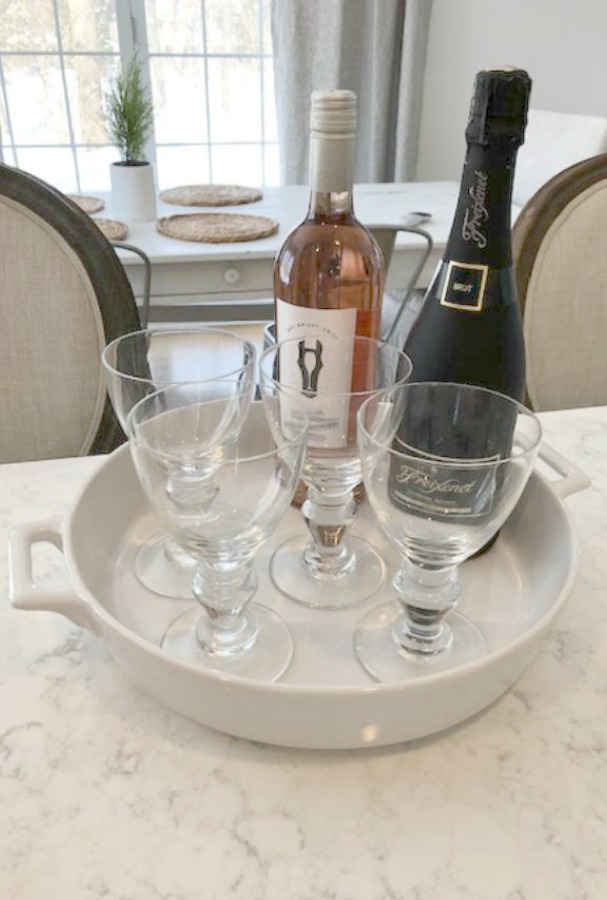 Mini baking cups can be used as treat cups too…fill them with little candies or fruit and they'll double as colorful decor as well.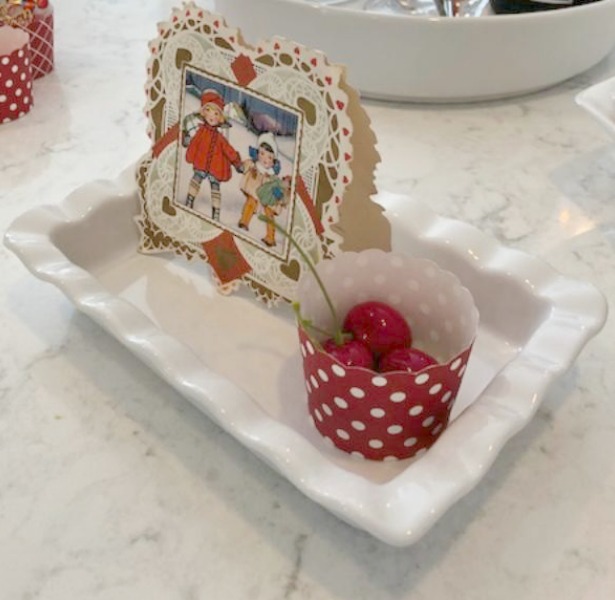 Smart & Simple Valentine Favor
Make color copies of your original vintage cards...choose your favorites, print them on card stock (or adhere them to card stock), and gift them to your besties.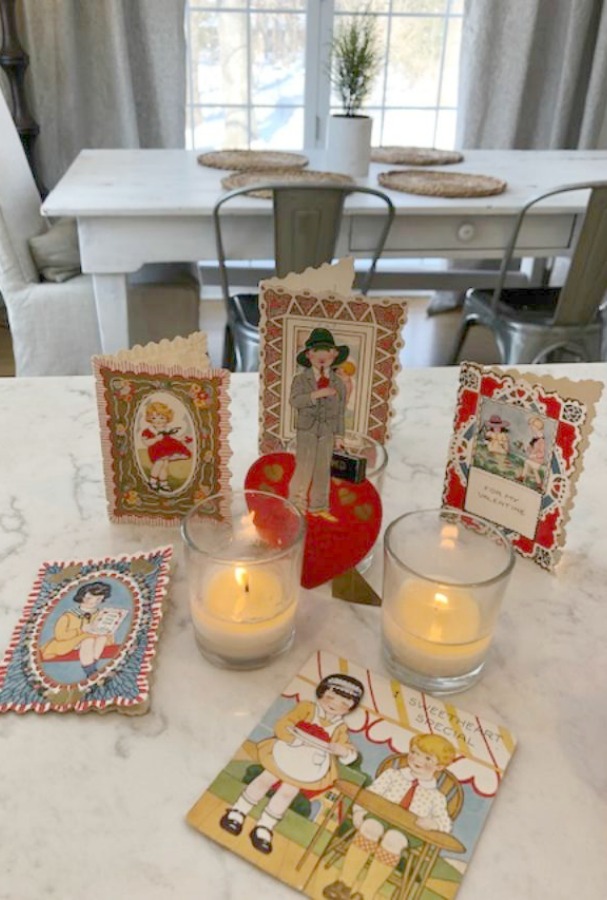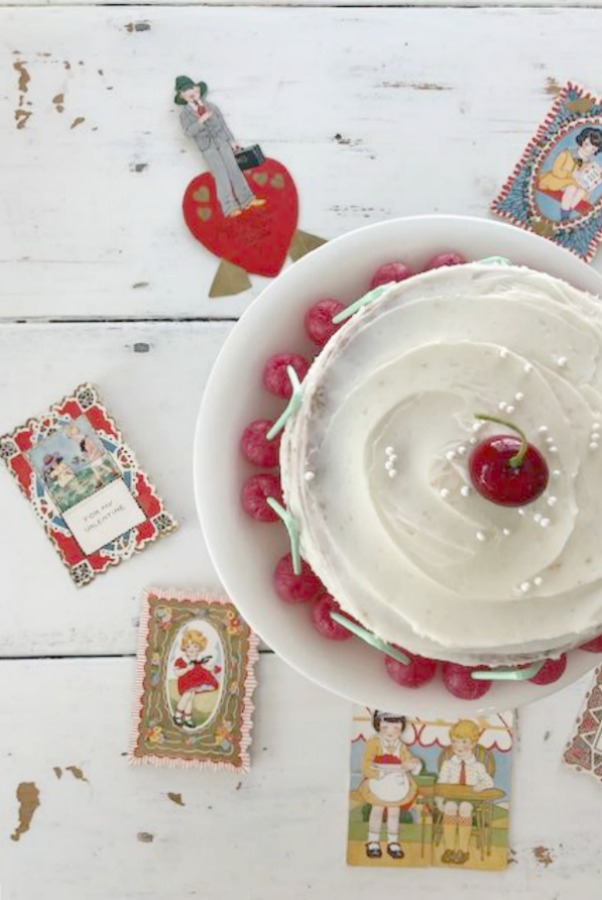 Less Fussy Entertaining
Think simpler and smaller as far as the menu…entertaining doesn't have to be daunting if you invite friends over for "cupcakes and mocktails" or "bites and bubbly" or "cheese." Wait. Like just cheese? What? Well, I'd be in attendance for cheese. But you know what I mean. Casual and laid back love fetes are easy on you and your peeps.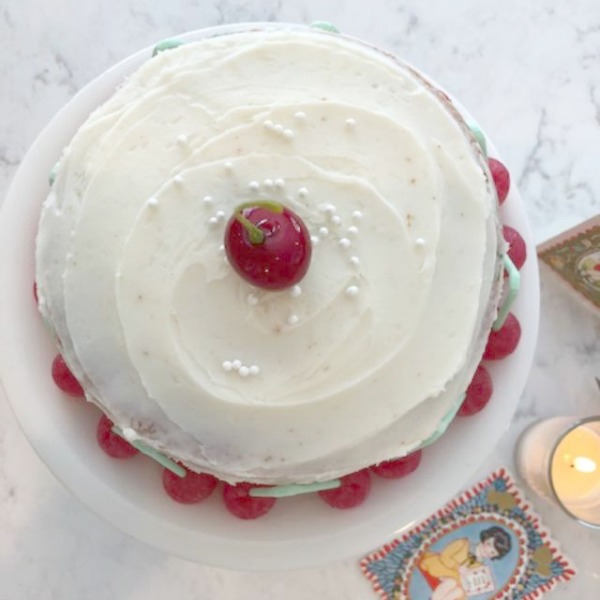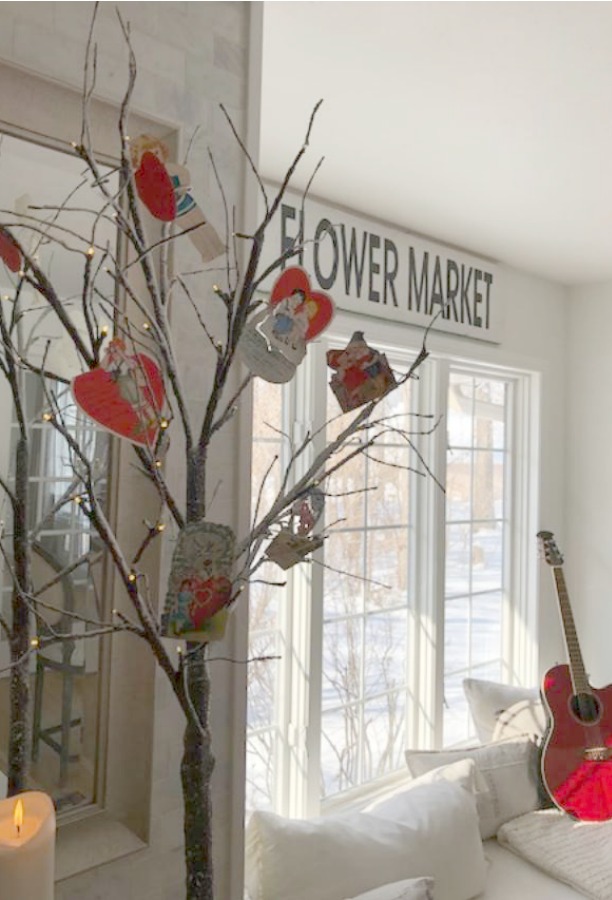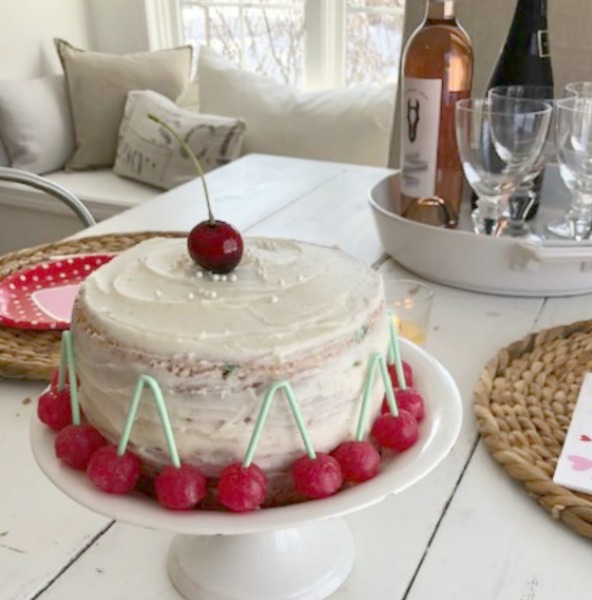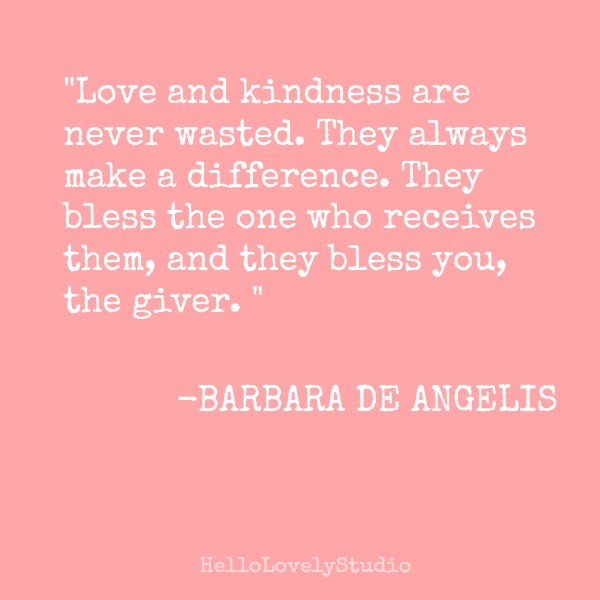 Oh, That Love Could Be As Simple as a Naked Cake!
I went googling for a quote about love I recall loving from author Lauren Slater, and I haven't found it yet. But I did find this whispery longing with ethereal, raw intimacy:
"I am asking you to enter the confusion with me, to give up the ground with me, because sometimes that frightening floaty place is really the truest of all. Kierkegaard says, 'The greatest lie of all is the feeling of firmness beneath our feet. We are most honest when we are lost.' Enter that lostness with me. Live in the place I am, where the view is murky, where the connecting bridges and orienting maps have been surgically stripped away." ― Lauren Slater, Lying: A Metaphorical Memoir
Sealing this with love and sending…
I independently selected products in this post—if you buy from one of my links, I may earn a commission.
Peace to you right where you are.
-michele
Shopping for items you already intended to buy on Amazon RIGHT HERE (not just items mentioned in posts) or home decor keeps decor inspiration flowing on Hello Lovely!
Hello Lovely is a participant in the Amazon Services LLC Associates Program, an affiliate advertising program designed to provide a means for sites to earn fees by linking to Amazon.com and affiliated sites.