While I am excited to share with you the before and after transformation of our DIY new bathroom carved from a dark, raw, unpleasant storage room in the basement at the Chicagoland fixer upper, I'm also hesitant. I mean. "Please devour images of the ugliest dungeon-like corners within my home!" said no one ever.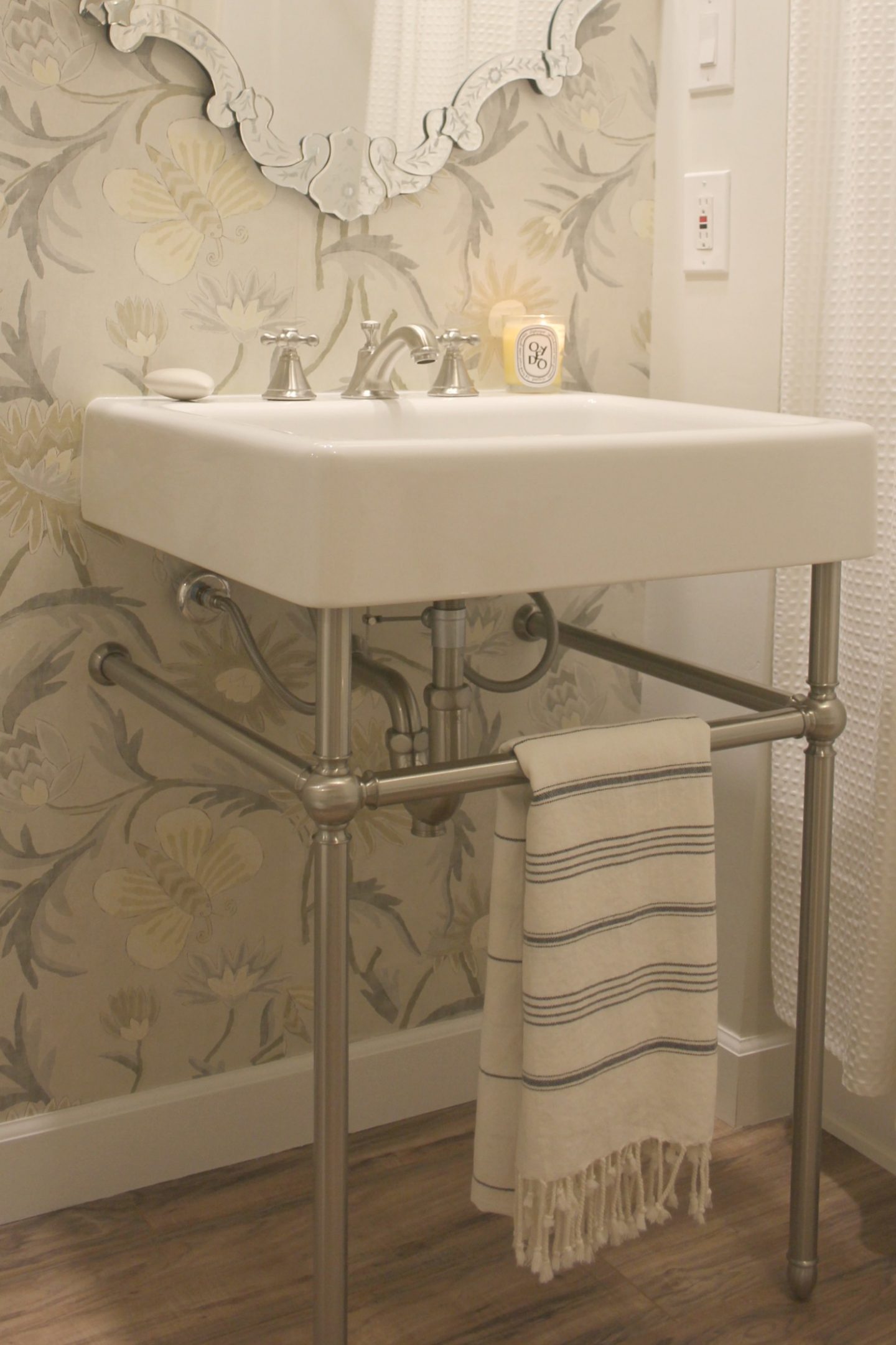 We bought this fixer (a neglected Nordic style cottage on a Northern Illinois property with mature woods) in 2015, when we swiftly began a whole house DIY renovation. Since my husband (an attorney) and I (writer and blogger) work full time, we worked weekends and evenings for more than a year gutting, rebuilding and renovating the main and 2nd floors. We have problems. And reno-virus. The only prescription? More cow bell + another reno.
So instead of enjoying a solid break, we saw an investment opportunity and relaxing getaway in Arizona and bought a second home. Many projects later, we completed a DIY whole house cosmetic makeover and enjoyed the place for two years before selling it in early 2018. We're down to one home again! Yay. But there's more work here. Boo! Yay! (Affiliate links follow and may earn me a small commission if used for purchases.)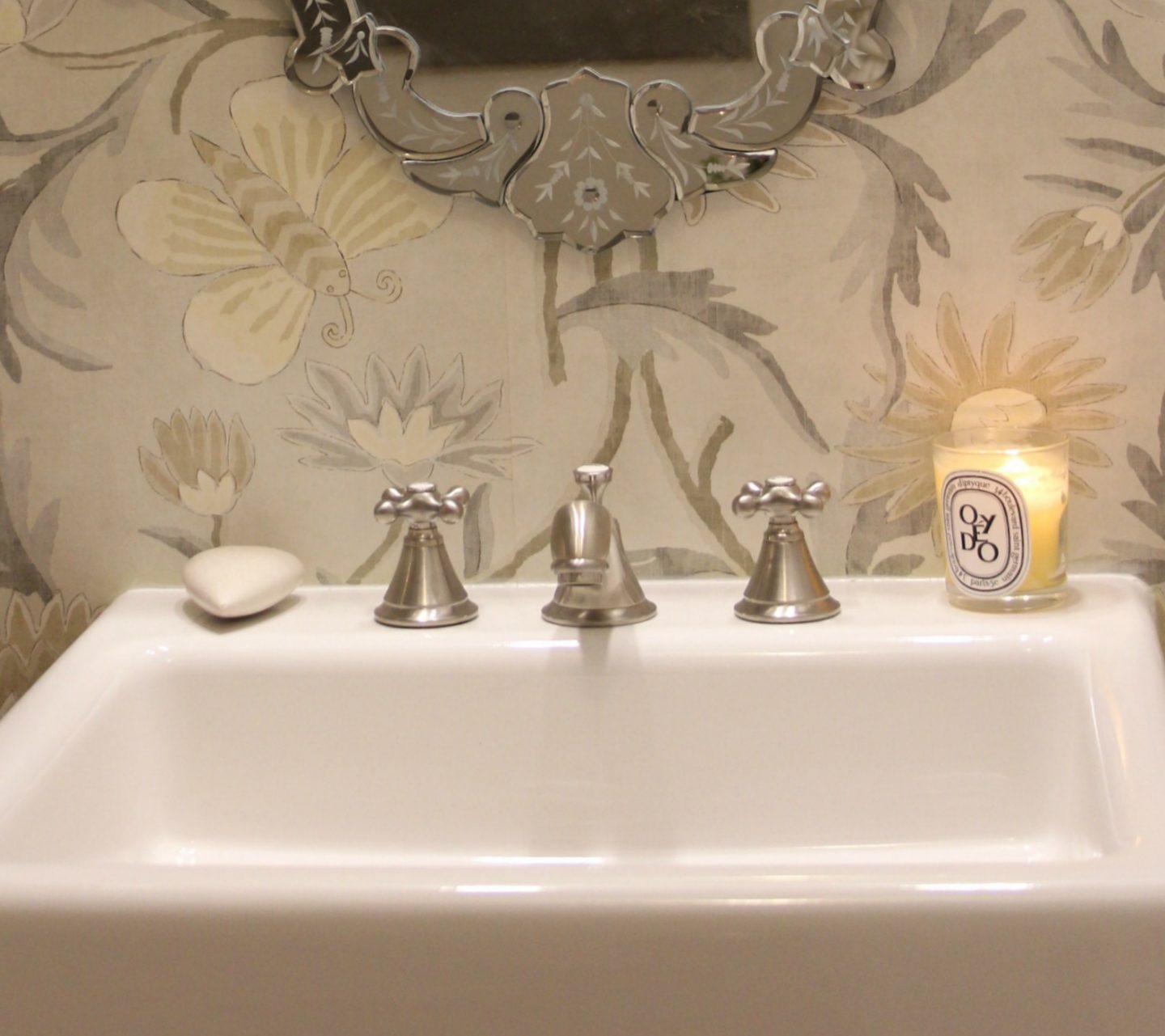 Hungry for the next project, as soon as the Arizona home sold, we turned our attention to our lower level basement. (Here's the resource guide for the materials and sources.)
About the space…It's not lovely, and it's also too easy to ignore since we don't spend time down there. The basement includes: a large media room, a spacious bedroom with huge but unfinished "walk-in closet with a checkered past," an unfinished workshop, and unfinished storage spaces. First on the agenda was stealing raw, spare, storage space to create a brand new full bathroom and executing all the work ourselves (and by ourselves, I mean, my better half since I simply assist and point).
Keeping costs manageable…We were determined to keep costs and backbreaking labor to a minimum. I'll discuss in more detail how we successfully achieved those goals in an upcoming story. A boost and boon to the budget was partnering with brands for two beautiful fixtures, and the other day I shared a little ditty about the the DXV console sink and GROHE Seabury widespread faucet with cross handles we chose for the bathroom design. They heighten the quality and spa-feel of the classically modern farmhouse style bathroom. I was also able to shop my house, and Venetian mirrors that worked in our last home but not here finally got dusted off…you can find a similar and well-priced cut glass mirror right here.
Creating a floorplan & recycling…Since we could not introduce a door to the bathroom directly from the media room without interrupting furniture placement and flow, we were forced to get creative and designed a small vestibule you enter from the existing door to the unfinished part of the basement. Then we created a door from this hallway to the unfinished workshop and storage space as well as the door to the new bathroom. We had saved all the pre-existing 6-panel interior doors we replaced when we upgraded to the knotty alder ones upstairs and were able to re-use them for the hall and bath.
A loose bathroom design plan…We held our bathroom design plans loosely as we always do with these DIY adventures–it's the only way we know how to stay on budget and meet a deadline. What this means is typically I don't choose fixtures until just before it's time to install them because then I know what dimensions and configurations will work. This may sound backwards to some of you designers who have a vision, sketch it, and then execute, but as renovators, it's how we roll. Here's an example: initially it appeared there would be plenty of space for a 30″ bathroom vanity or bathroom sink, and it's what I planned for but held loosely. When it was go-time for the sink, and I could see the relationship of the toilet, sink, and shower, I knew a 24″ size sink would function and look better even though the 30″ could technically be squeezed in. So instead of a bunch of tweaking to make a 30″ sink work, we saved ourselves time and hassle by ordering the 24″.
DIY doesn't mean change orders are easy…I don't get overly attached to a particular fixture or model when we're renovating because I know better. When you're doing the work yourself, change orders are even more painful than submitting them to a contractor you have hired because it's YOU who will do the changin' and time is money! Since we have been renovating for years with this "do not be a clinger" approach, we have learned the results are often surprisingly better because when forced to get creative with a limited amount of choices, a more custom and imaginative result often emerges.
Linen closet or pretty open shelves? Another design feature I held loose was the space in the bathroom to be used for a deep closet, built-in shelves, or even a makeup vanity with cabinetry. We did not make a decision on how we would finish this part of the bathroom until after the drywall was up. How did we decide? My husband is coping with a shoulder injury, and we opted to create a deep closet since: it would not be as labor intensive as finish work for shelves, we could purchase pre-made shelves for it, it would be more about function than decor, and we already had a salvaged closet door.
Miss Frugal hangin' loose…While I may be a designfreaky dreamer, I am also a frugal, sensible Midwestern girl when it comes to renovating smartly and without excessive emotion or clingy-ness to Pinterest dreamy bathroom trends. I am also learning it's best to allow reality to be reality and to not fear resistance. You may be somewhat surprised to learn we opted for a super simple soaking tubb and shower wall combination rather than springing for a fancy freestanding tub and chic tiled walls.
The bathtub/shower decision…This design decision was made based on function and facts: the bathroom will be used only occasionally by our visiting children, I am not crazy about grout, and it saved us a bunch of cash and ouchy shoulder time. Fiberglass tub surrounds are easy to install and clean, and after all the tiling we have done lately, we were both keen on no tile and no grout. I have noticed that even in the finest hotel bathrooms I have used, grout doesn't stay good looking for long. While fiberglass shower wall surrounds may have fallen from favor because they are inexpensive, not custom, and not IG-worthy, I'm thrilled to have them working hard in the new zen groutless bathroom!
Thibaut (Lizette) Wallpaper…I even held the wallpaper idea loosely. I love the pattern with butterflies and the color palette, but I didn't decide to use the Thibaut wallpaper until the last minute in case the space didn't need the interest. My choice to paper the sink wall only is another example of our design flexibility…it took only a couple of hours to install, and if ever I tire of it, the work removing it will be only a fraction of what would be required if every wall was wallpapered.
The walls in the bathroom and hall are painted Benjamin Moore Classic Gray, and the trim is Benjamin Moore White. Care to see the wallpaper going up? Here you go:
Lakewood Pecan flooring from Trafficmaster…On the evening we went shopping for floor tile, I got to thinking about our decision on the tub/shower combo to forego tile and grout, and that made me consider how beautiful it would be to have no tile or grouting tasks for the whole project! And then we saw this friendly-priced flooring – a German-made floating floor mimicking the look of pecan hardwood (flooring is here). I'll save the details about the flooring for another post, but you will not believe how good looking and inexpensive this flooring option is…less than $1 per square foot! No nails, no glue, no underlayment, no mortar, no grout, just a click together, hard-wearing product that isn't cold underfoot in the basement.
Zen-like Accessories… I wanted the bathroom to feel airy and spa-like, so there was no need for too many accessories, but the space is large enough that it would look stark without them. I found this teak shower bench but hated the finish so I painted it light grey, and now it's perfect upon the warm wood-toned floor next to the toilet where it sort of buffers it when you walk through the bathroom door. If you can't have the toilet in a closet or a partial wall, this is the next best thing. On the toilet is my favorite white candle – a Capri Blue volcano candle you can find here. The rustic teak stool near the tub (which got a wash of BM Revere Pewter a few years back) was shopped from my house (here's a cute one), and I always have Diptyque candles around me. The Pamuk Turkish striped towels are a luxurious touch.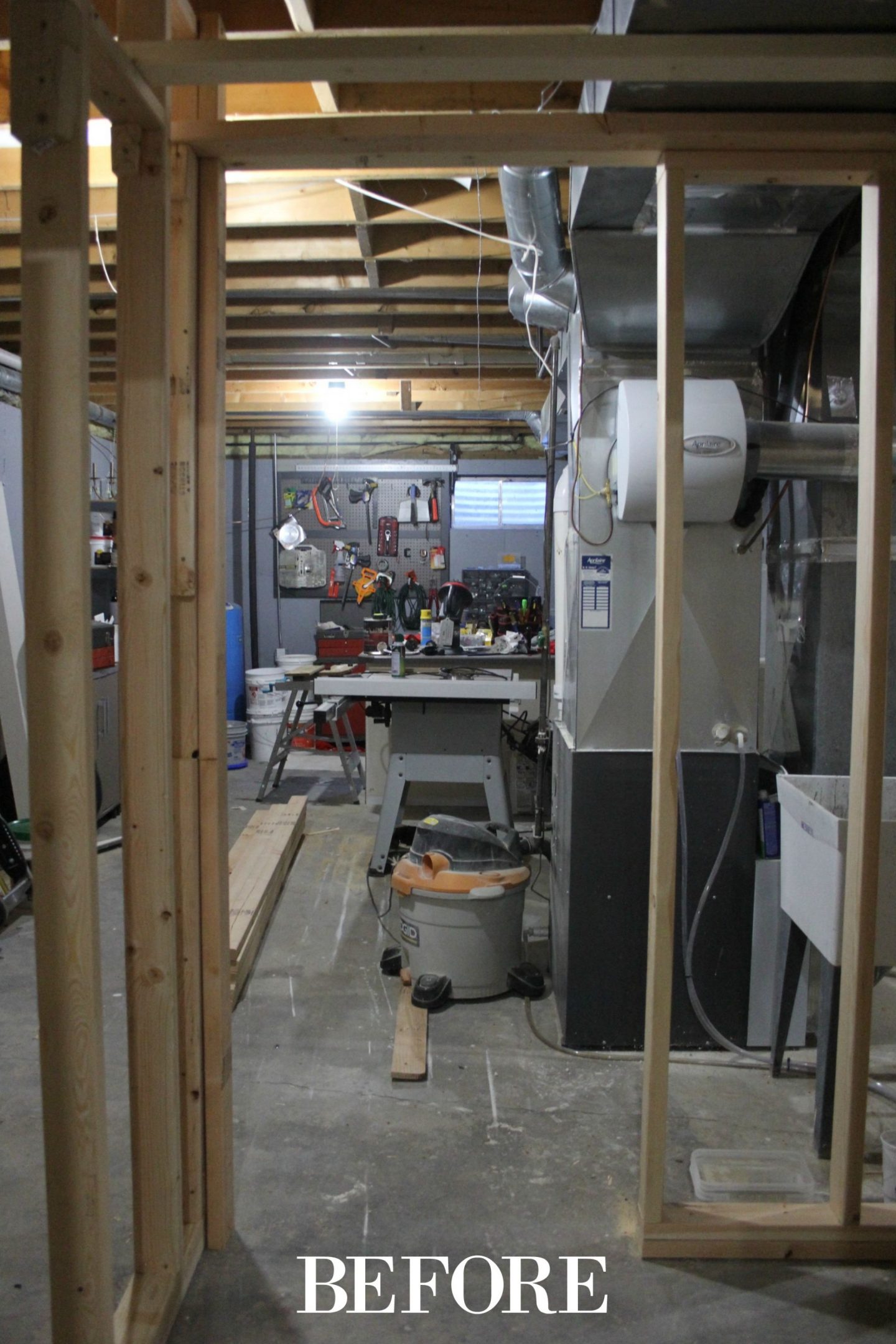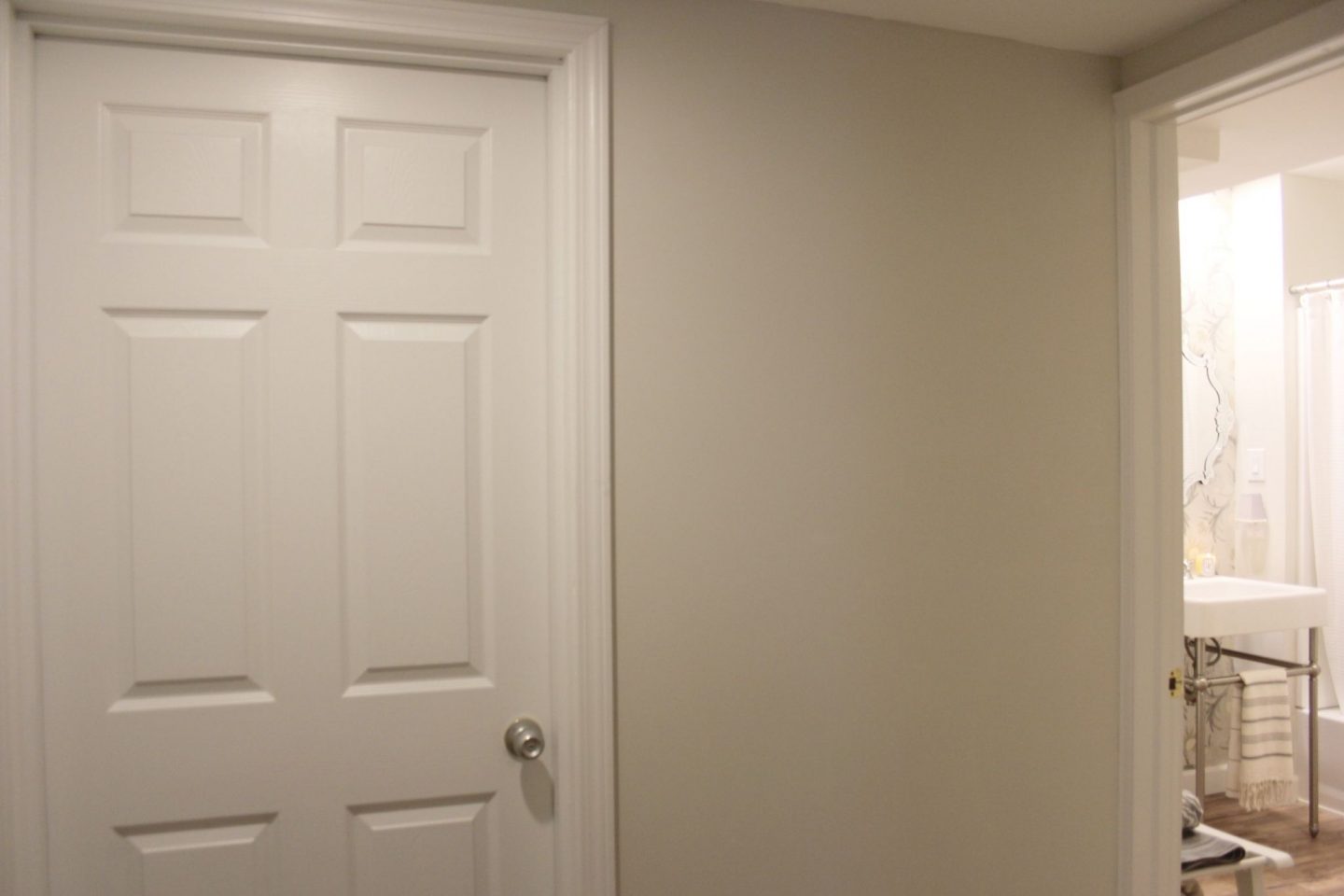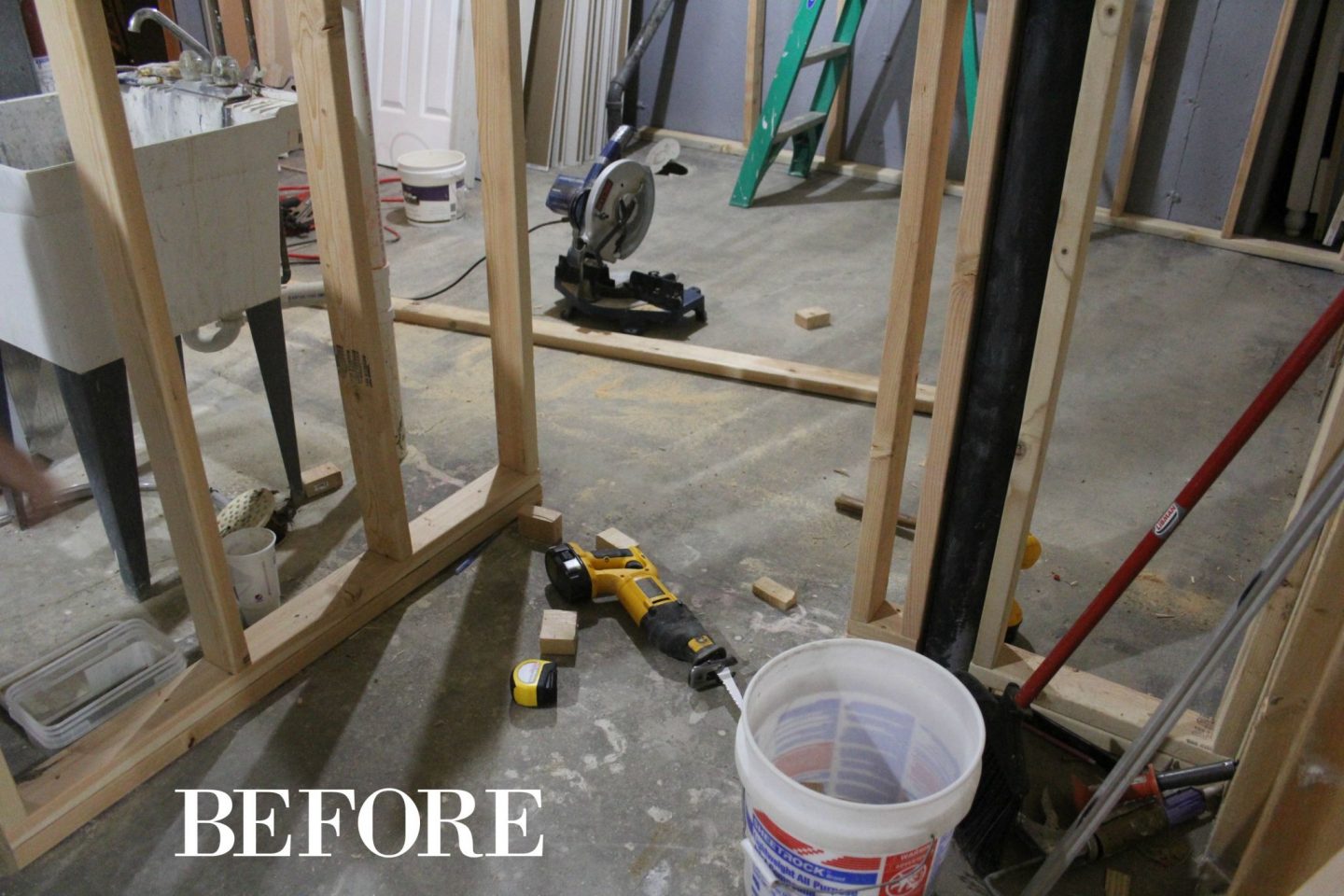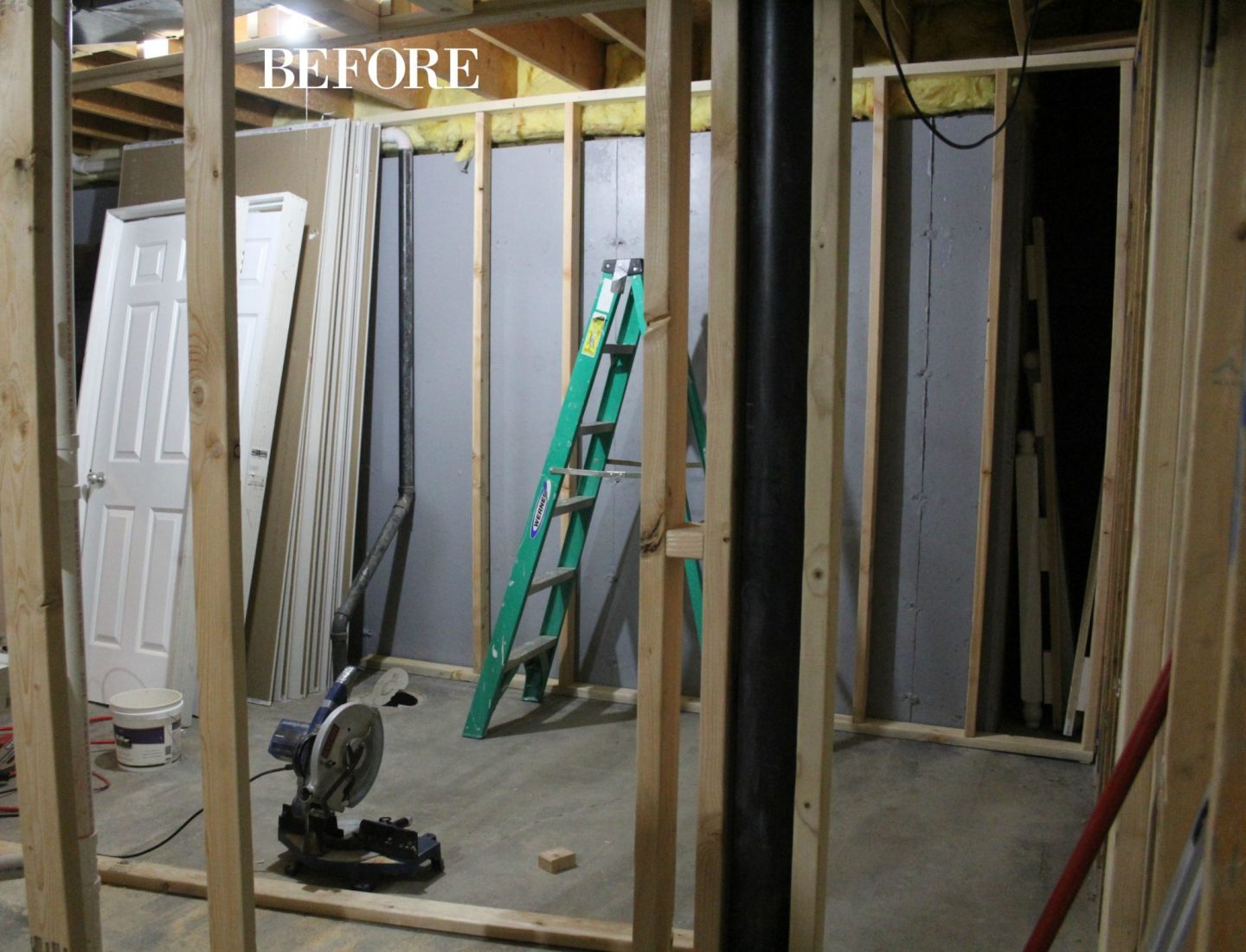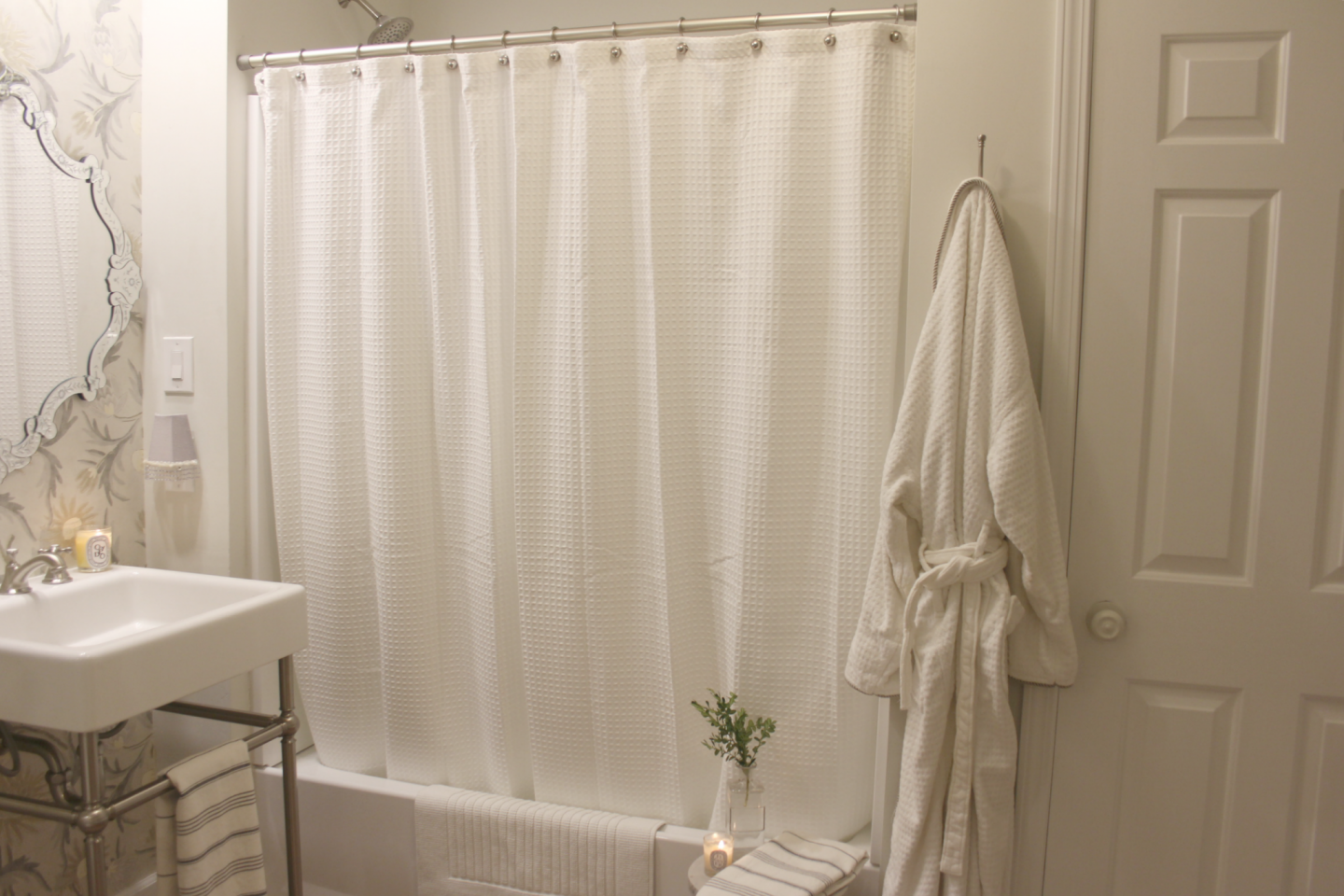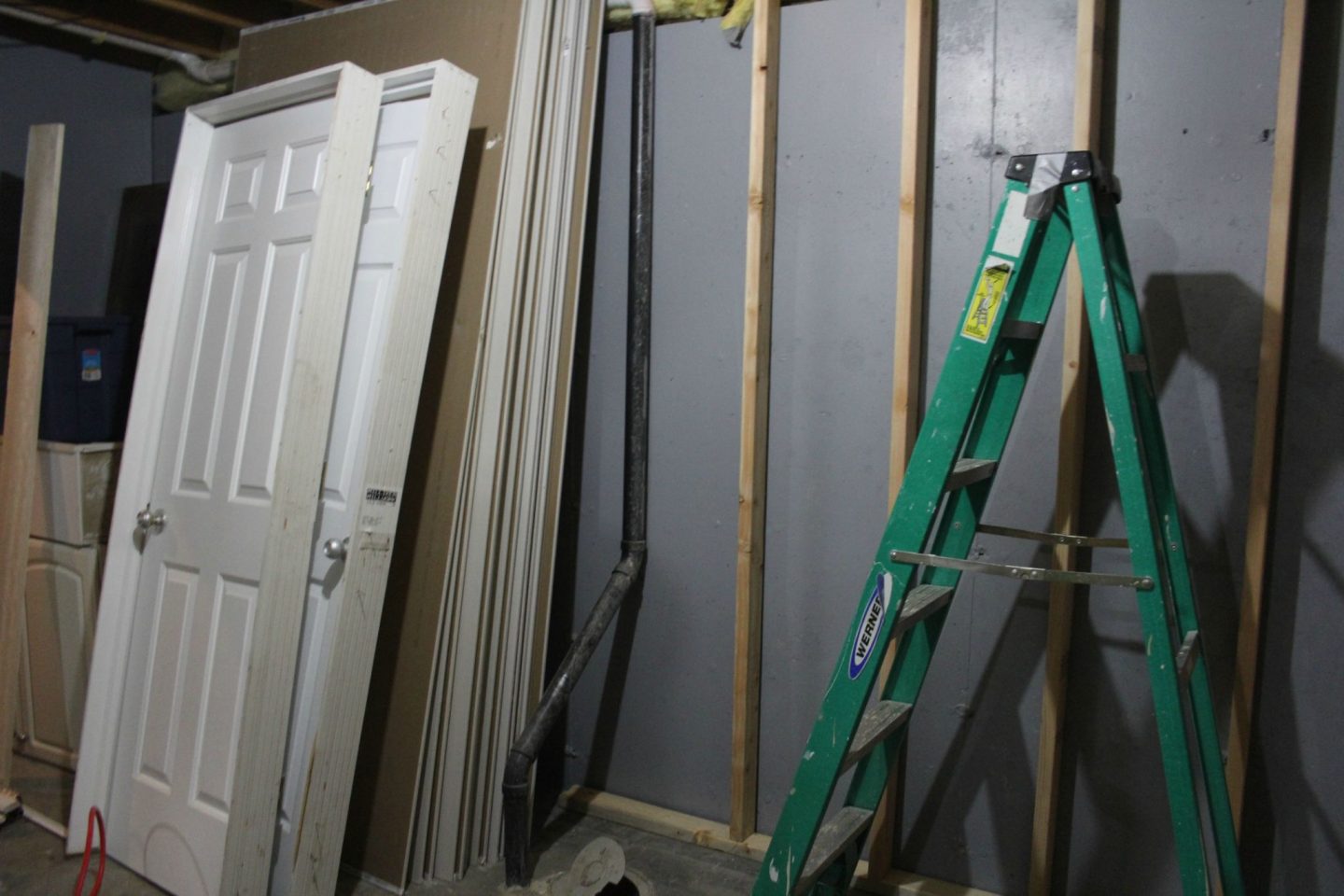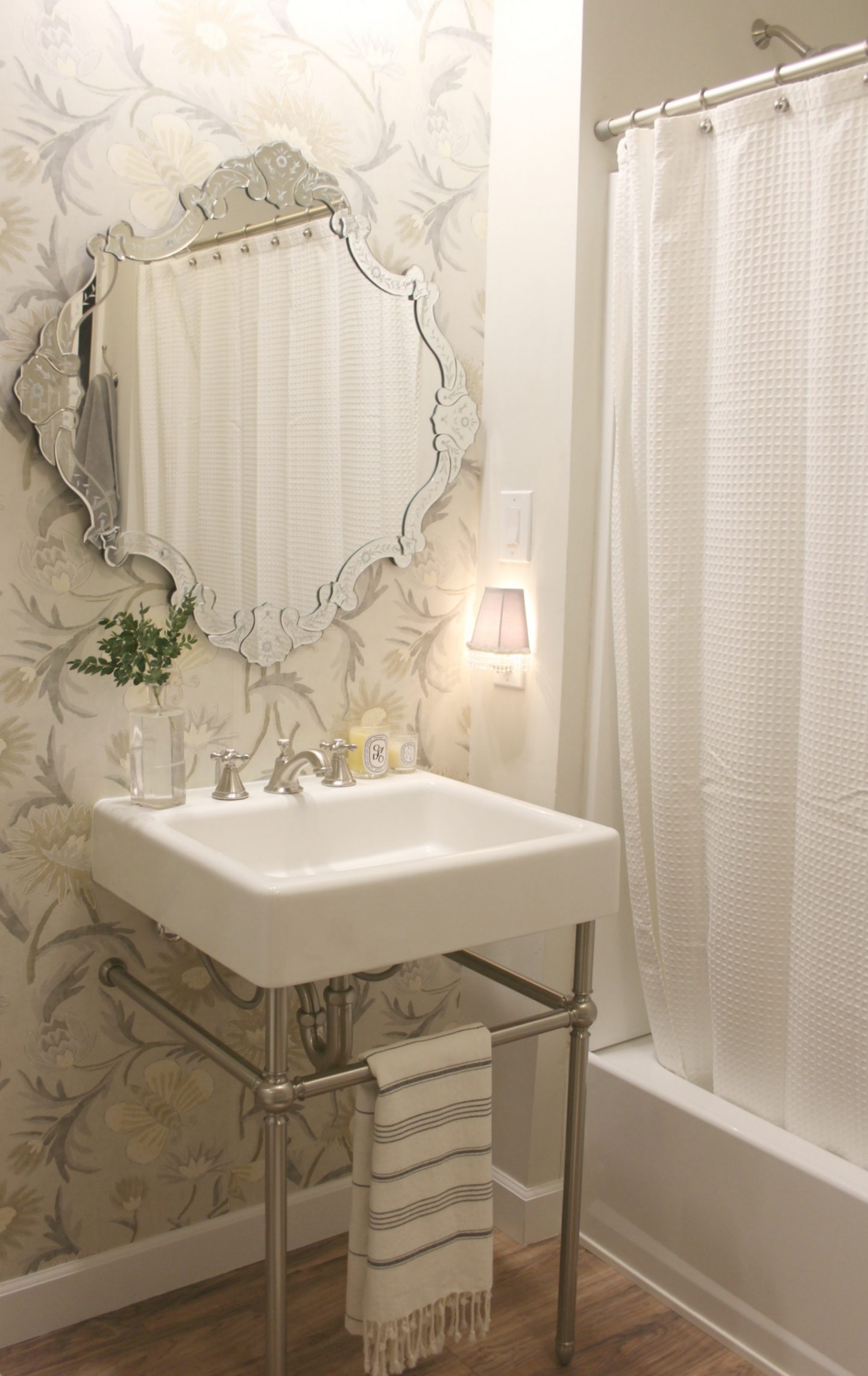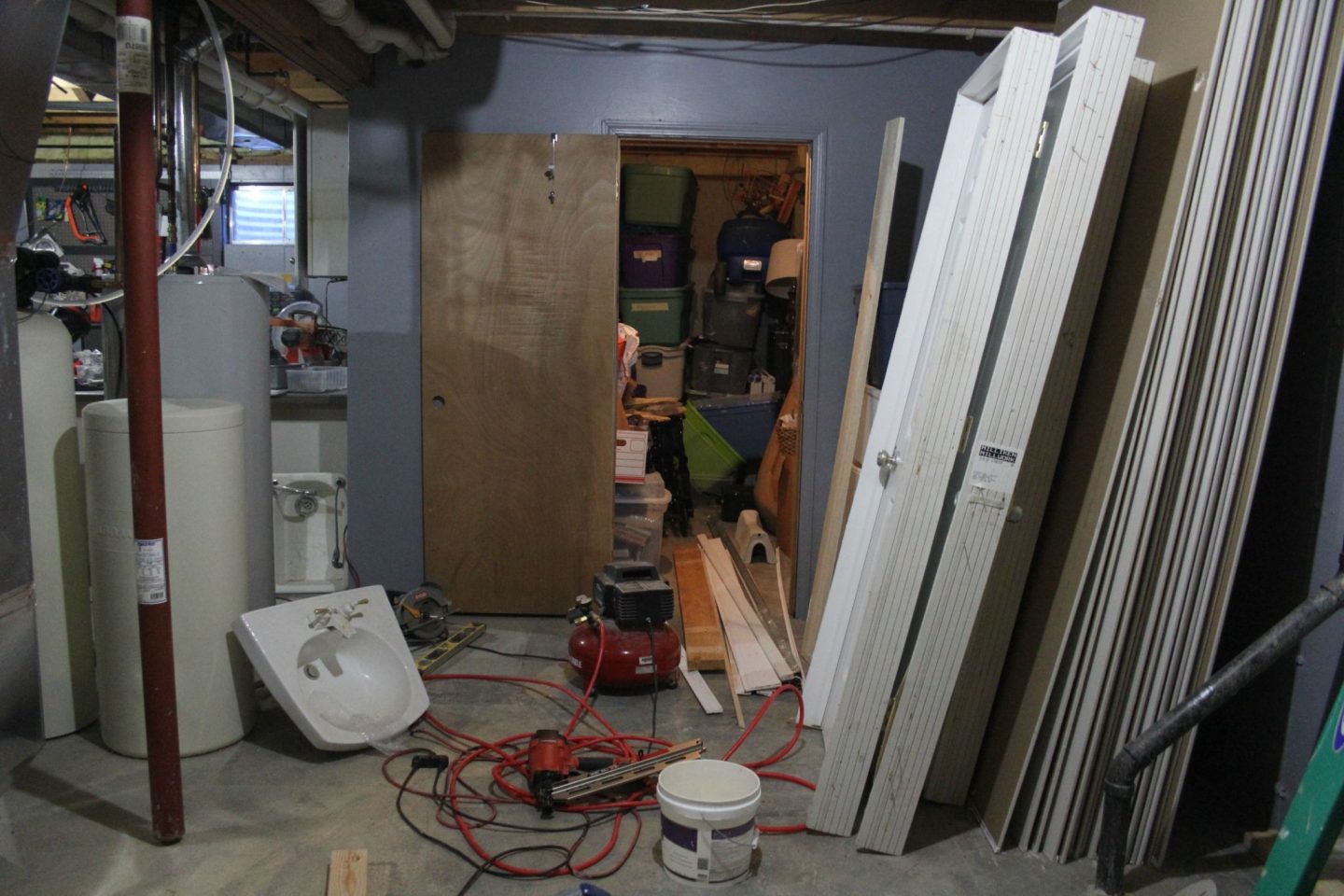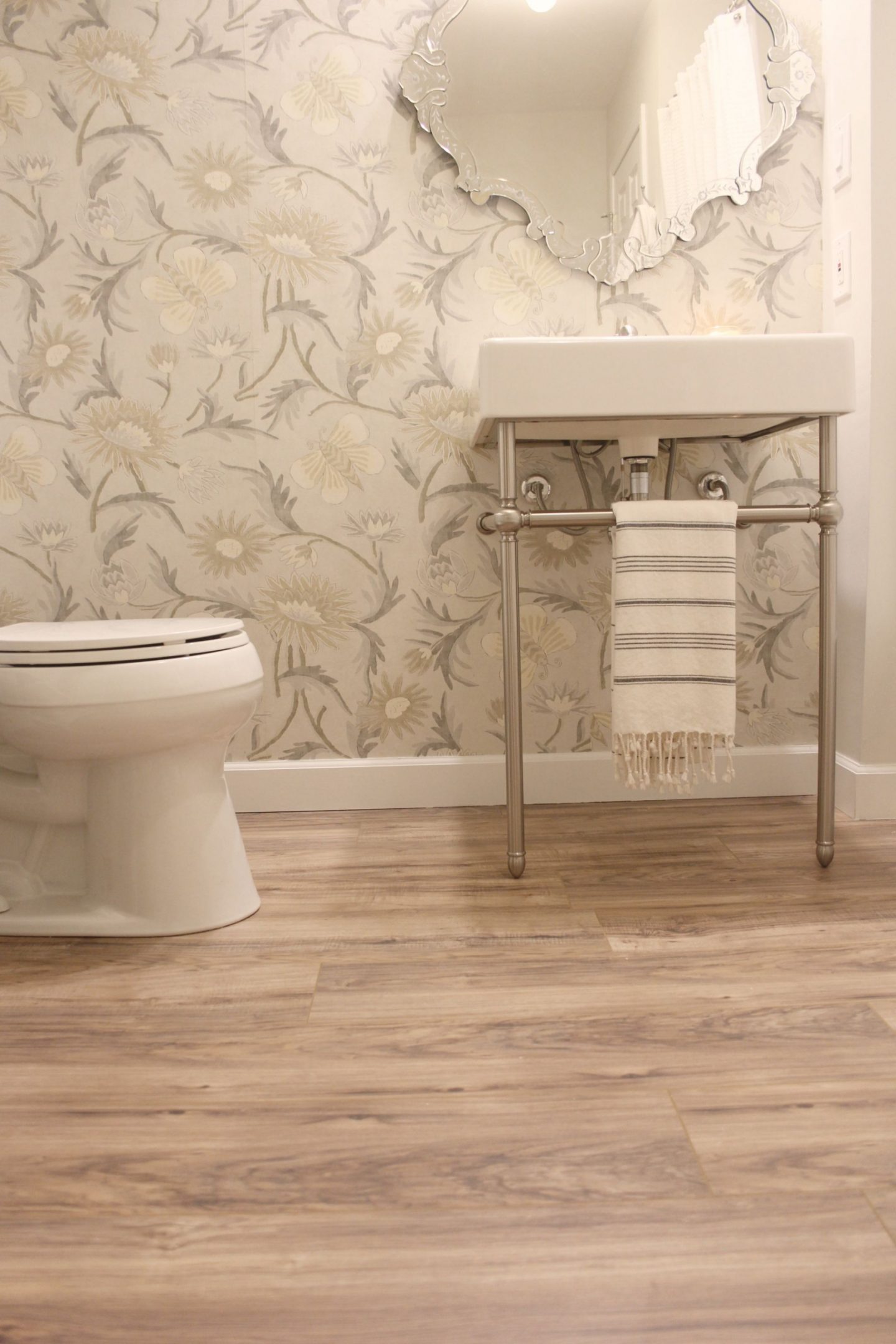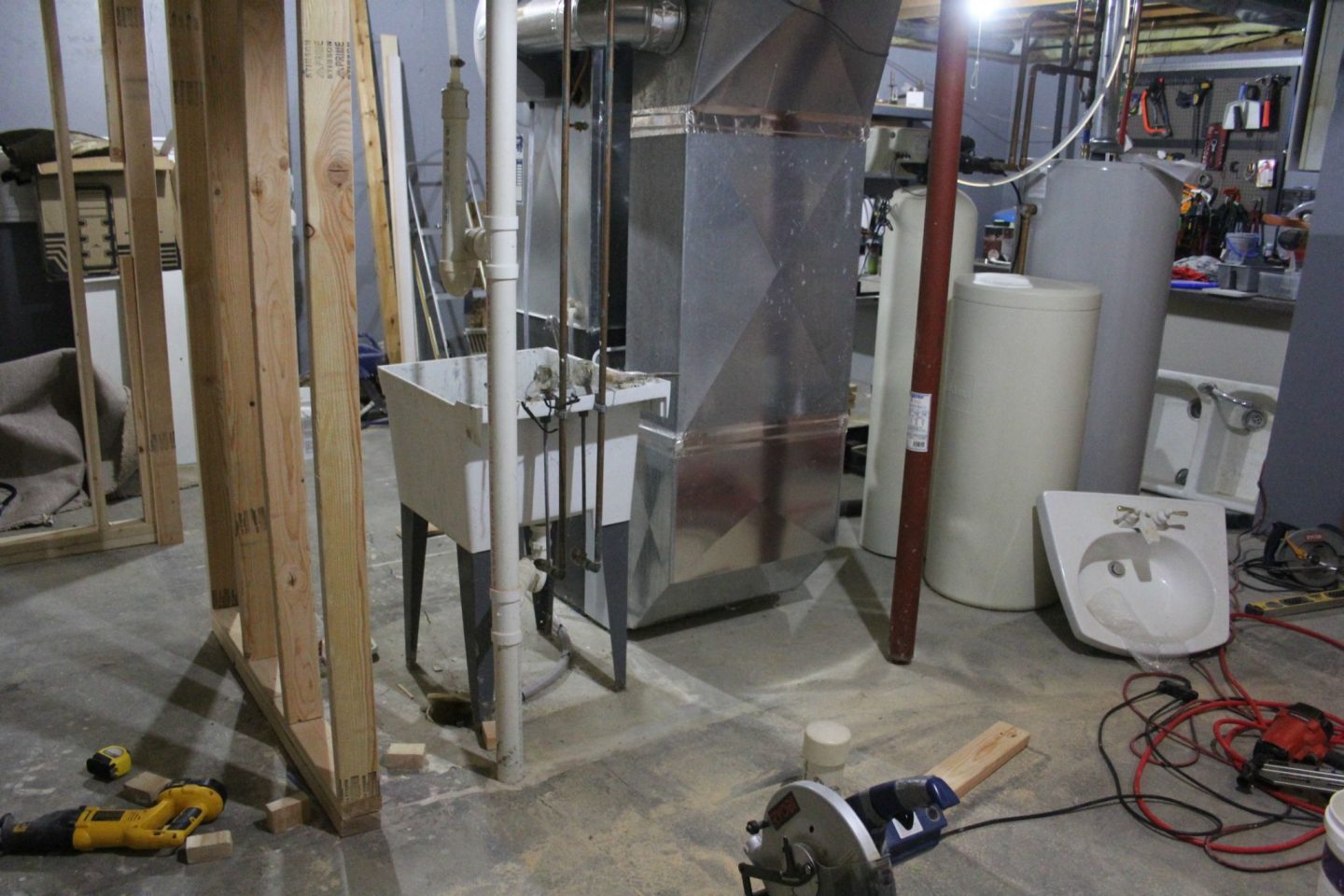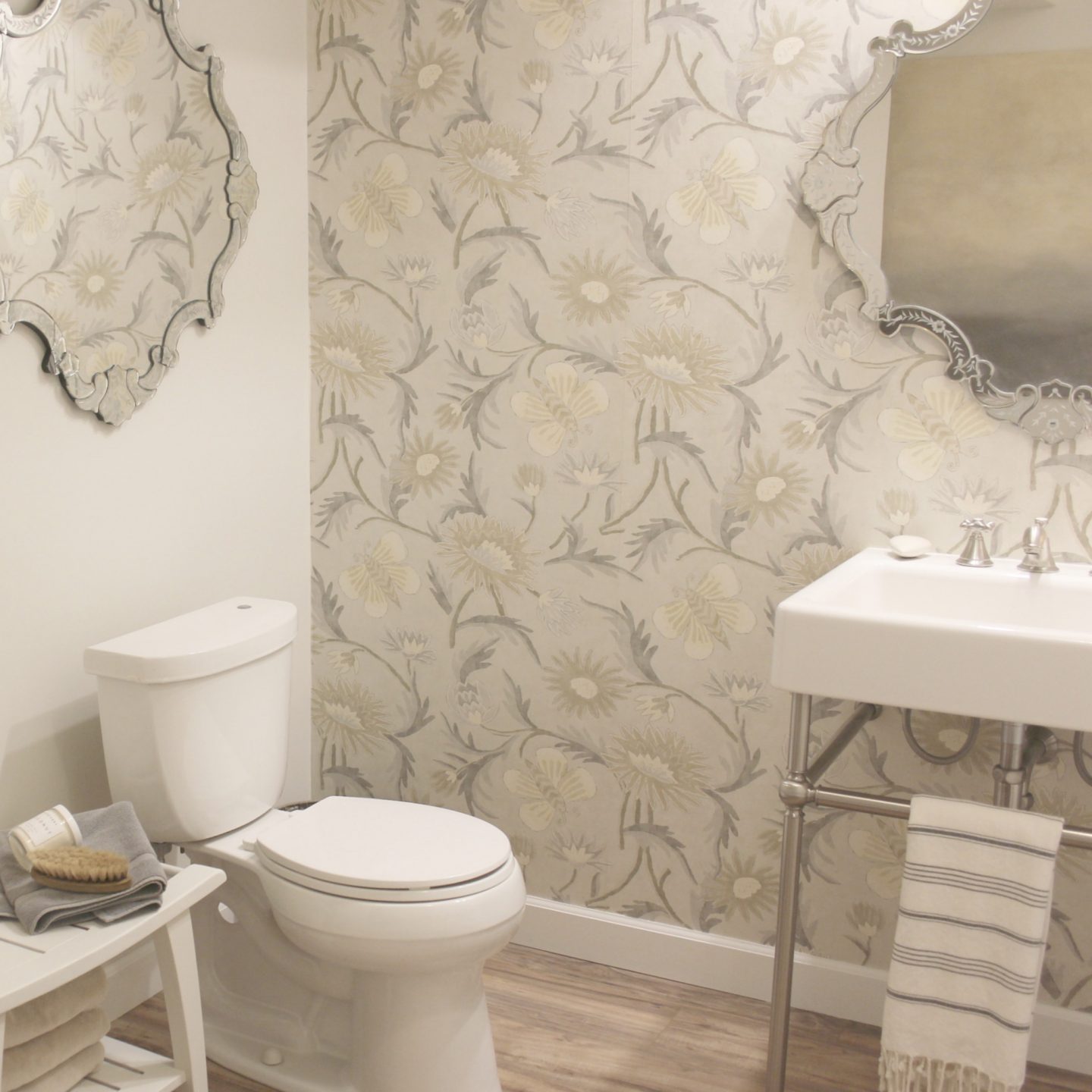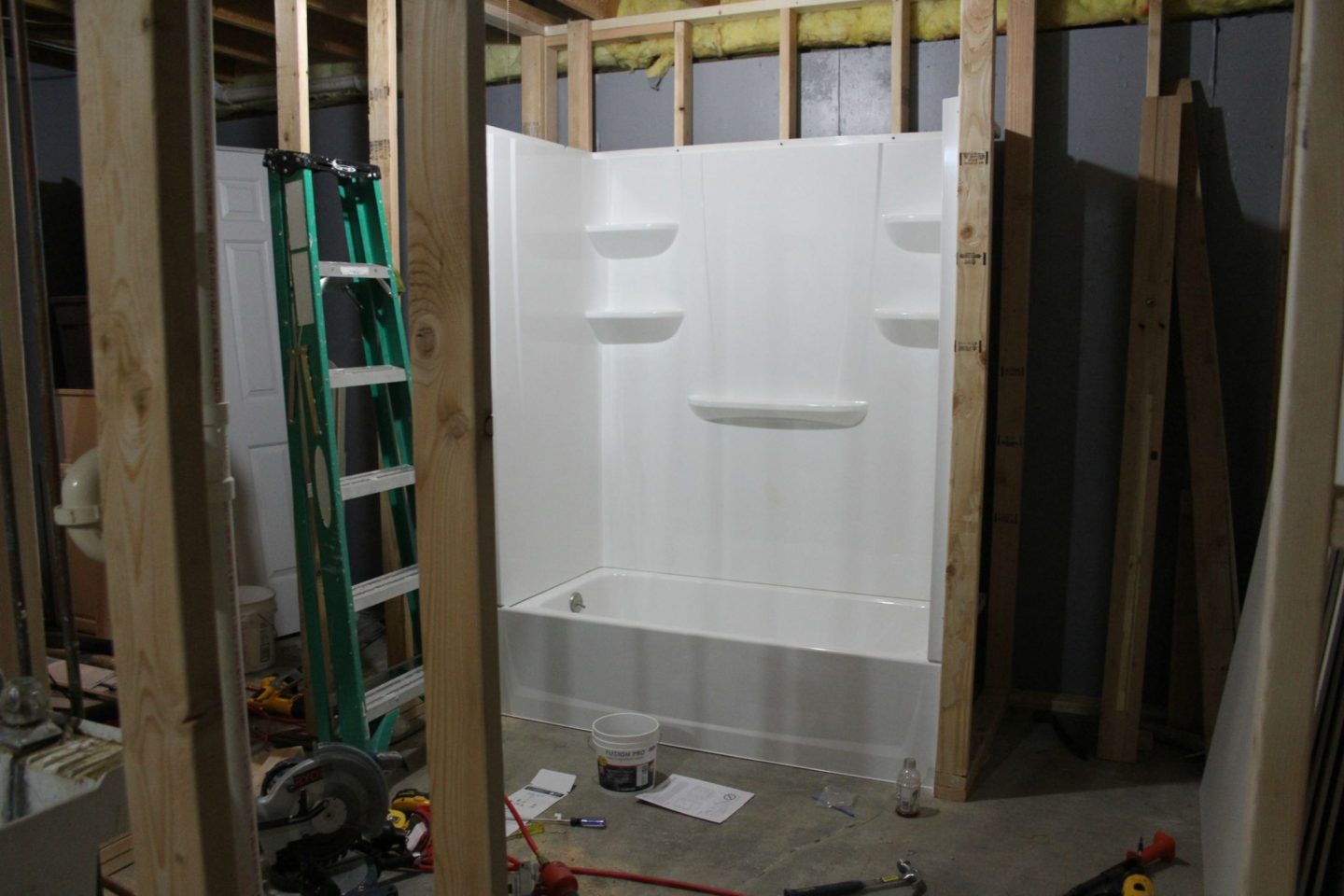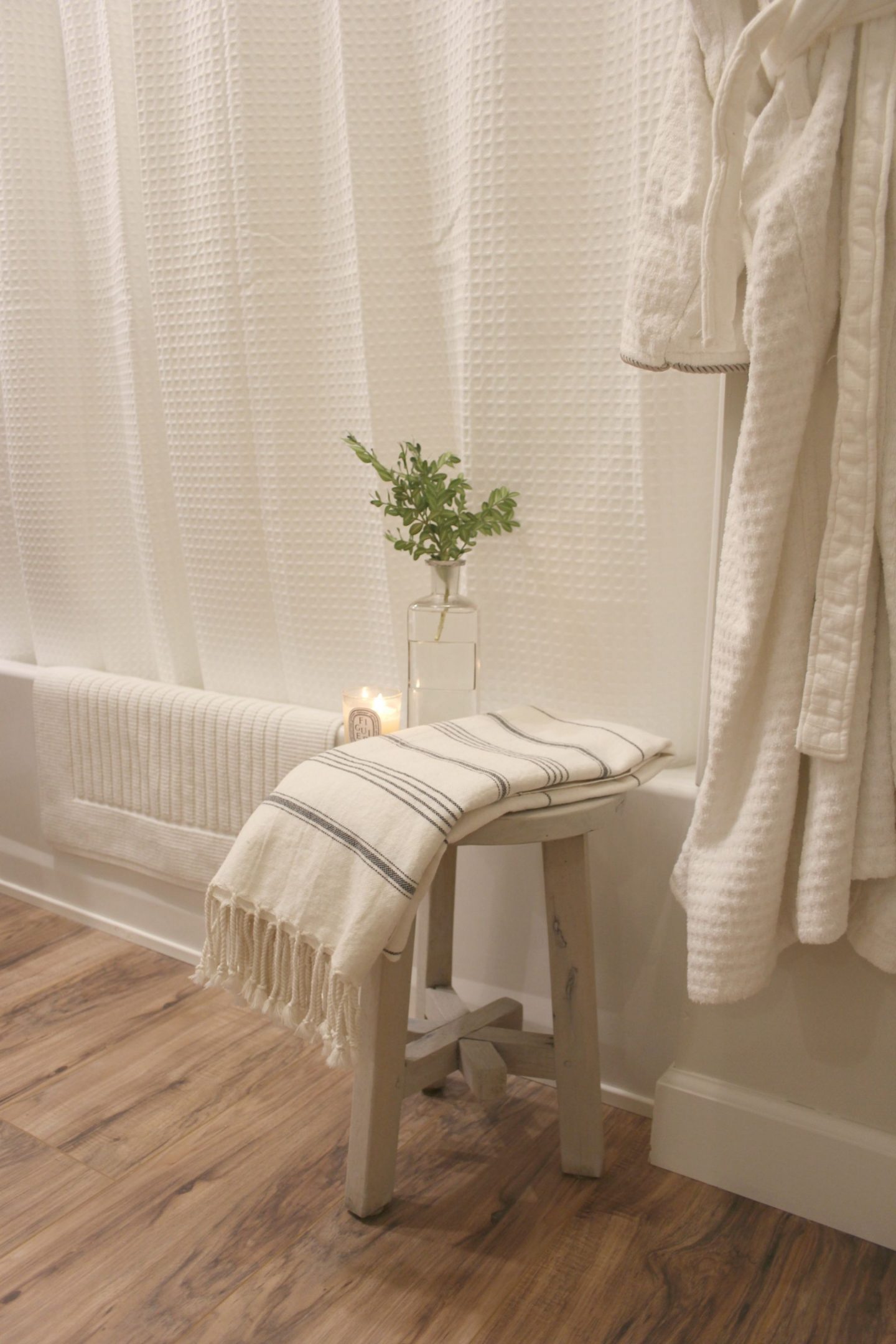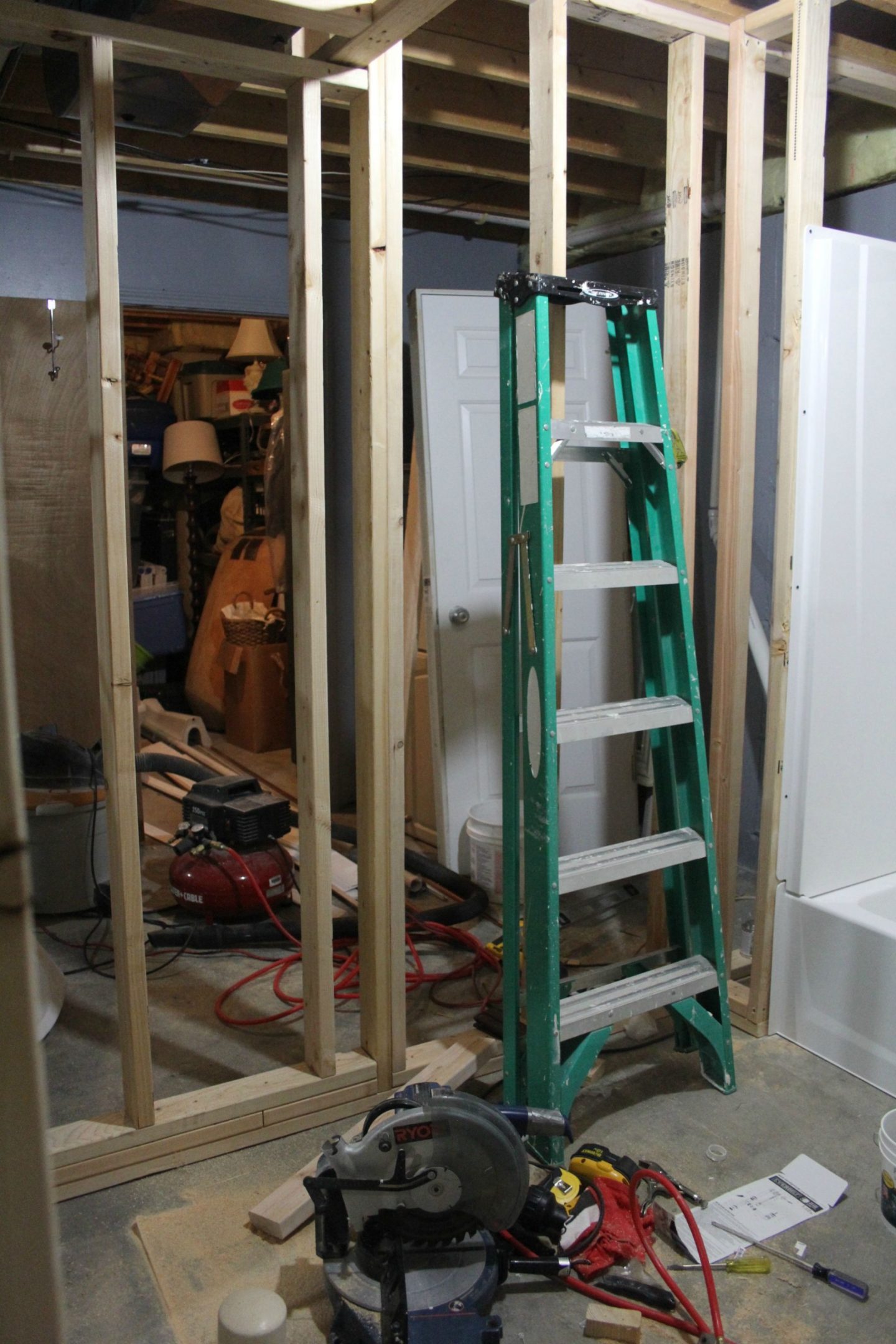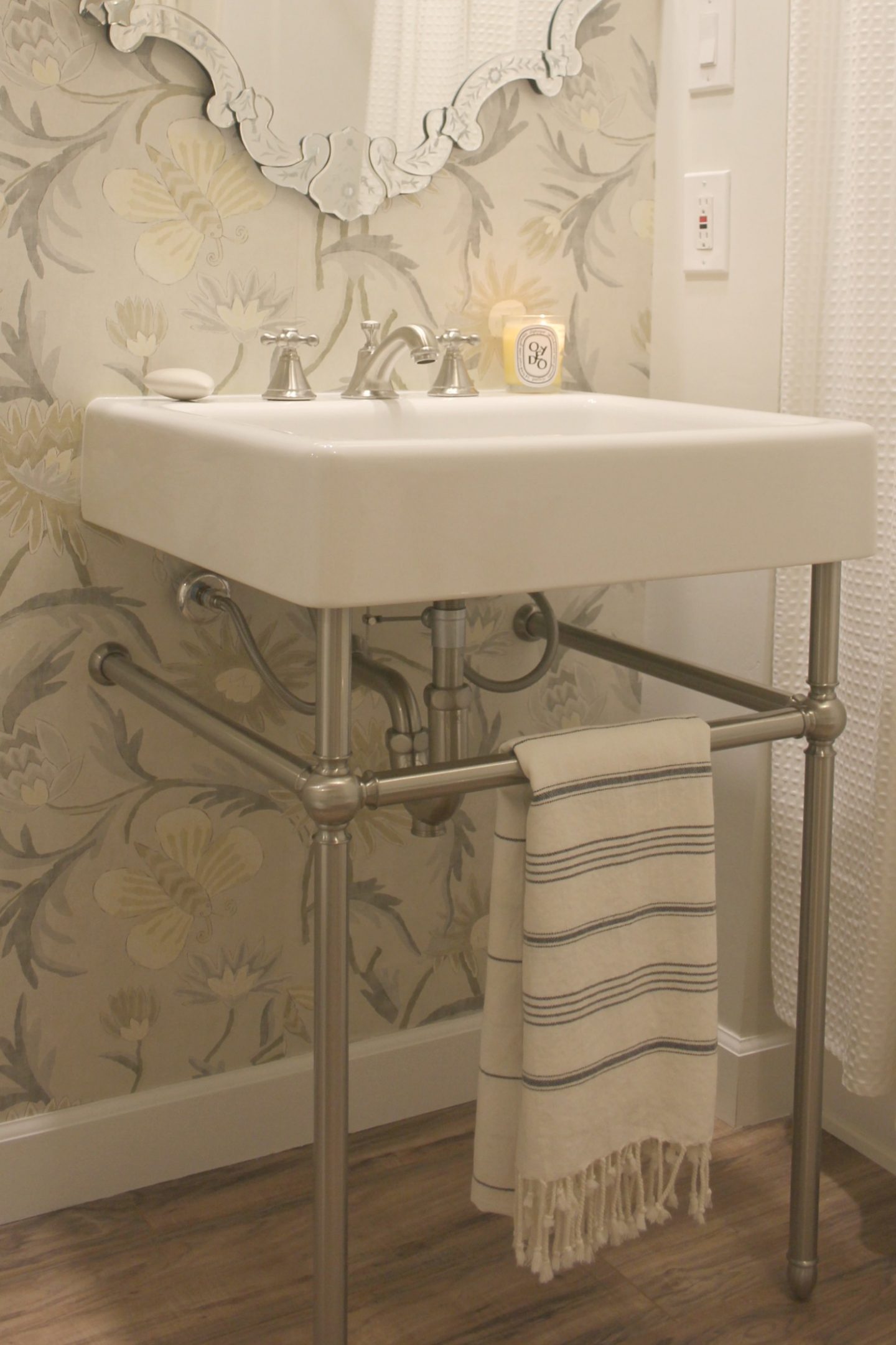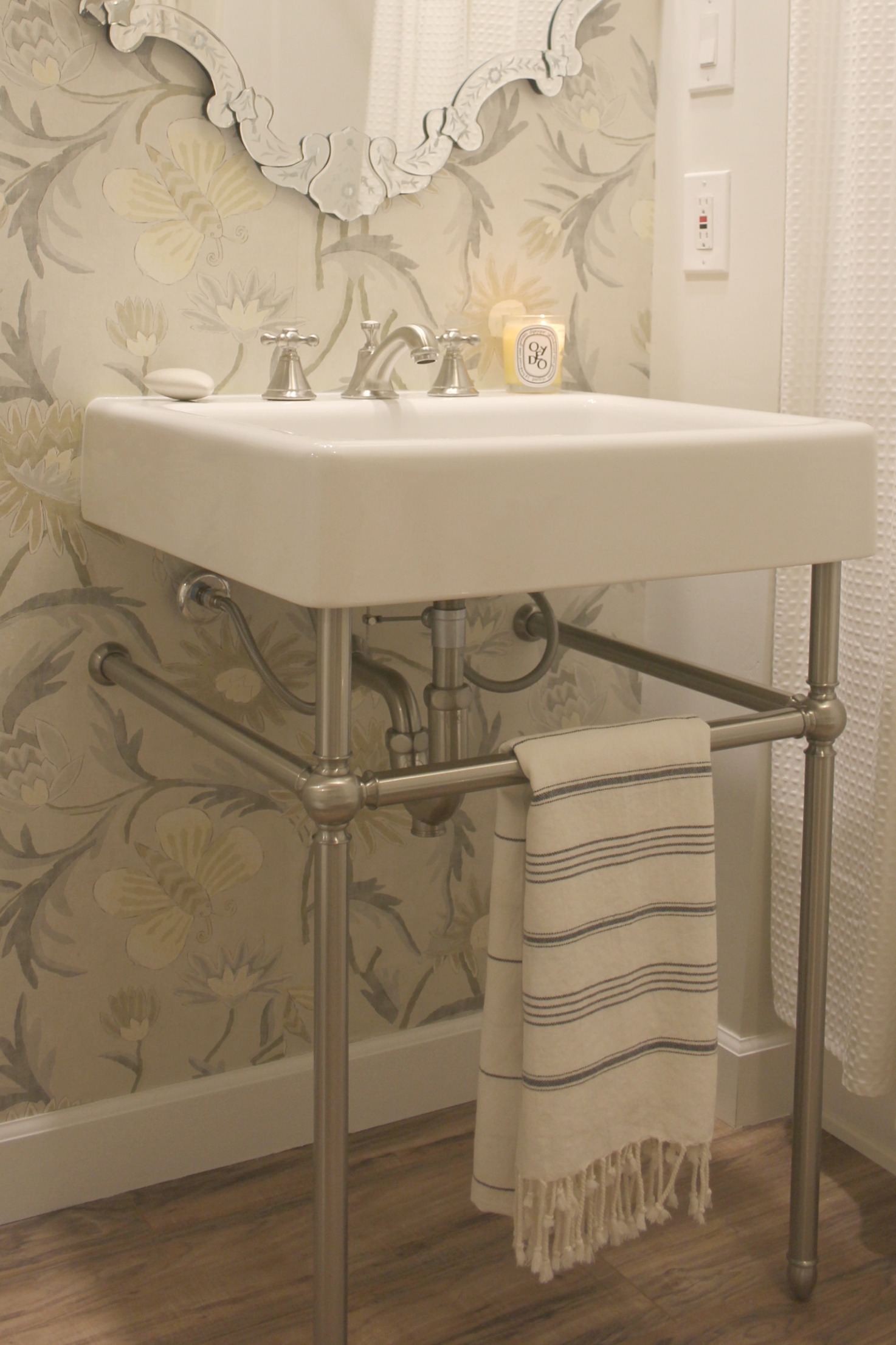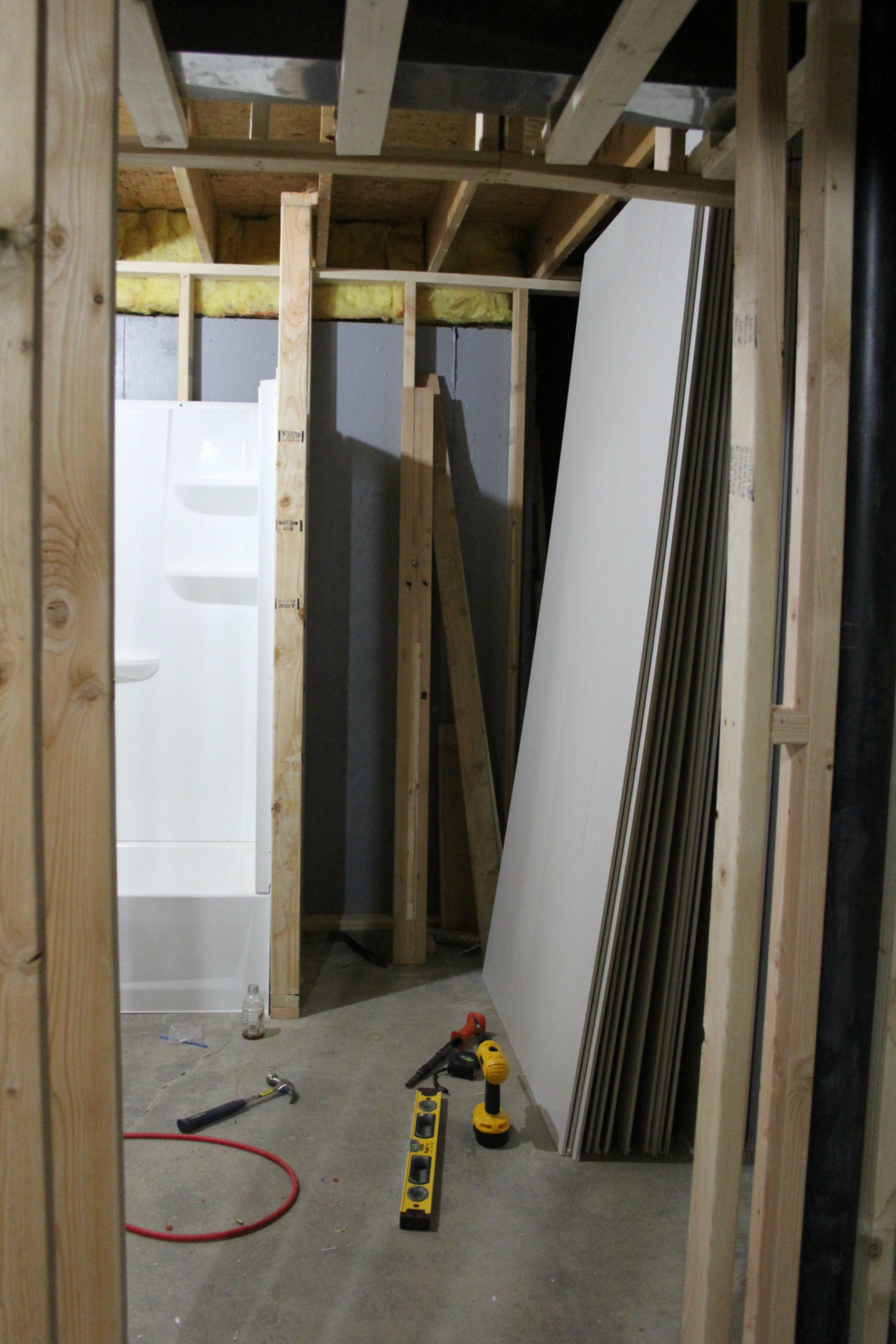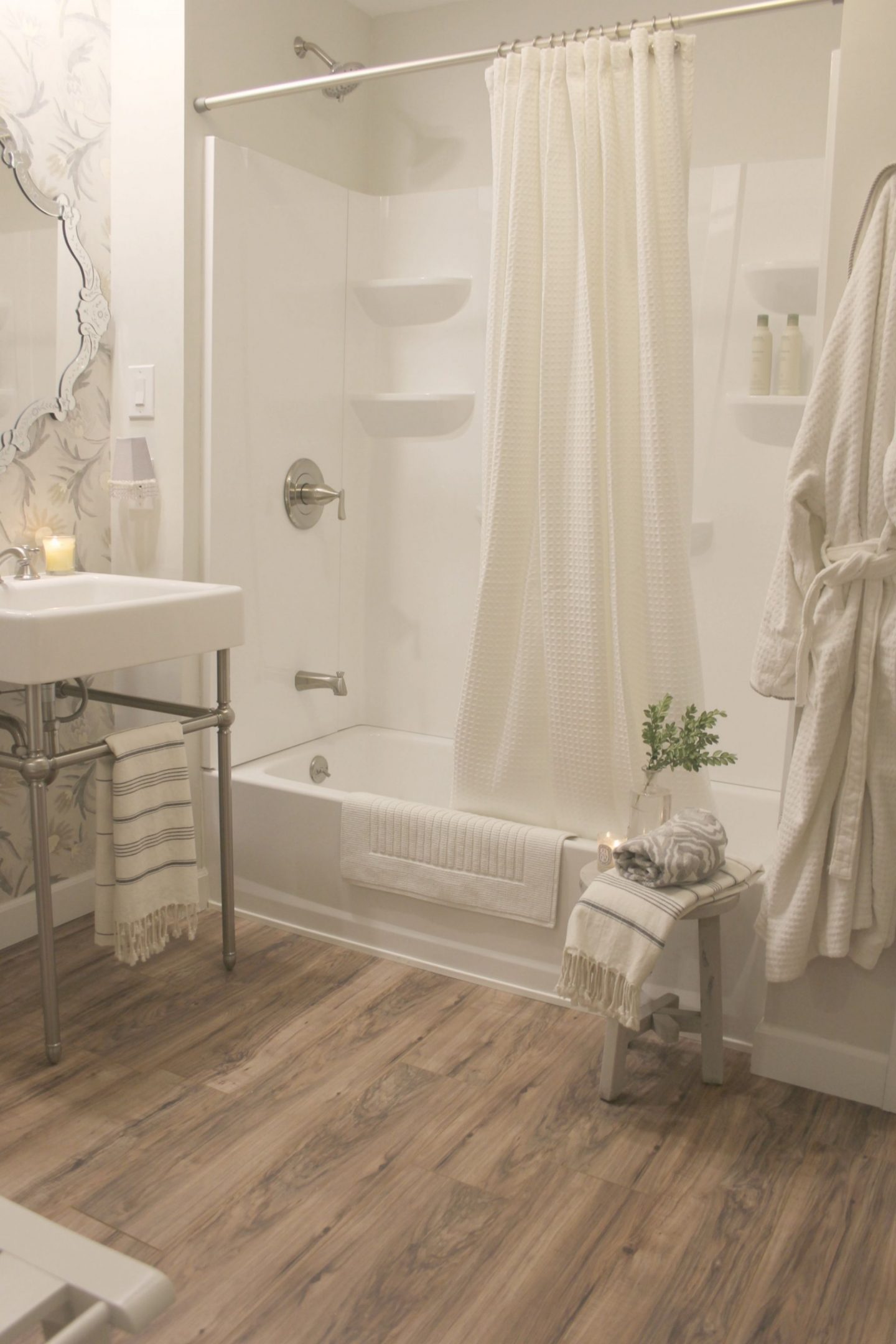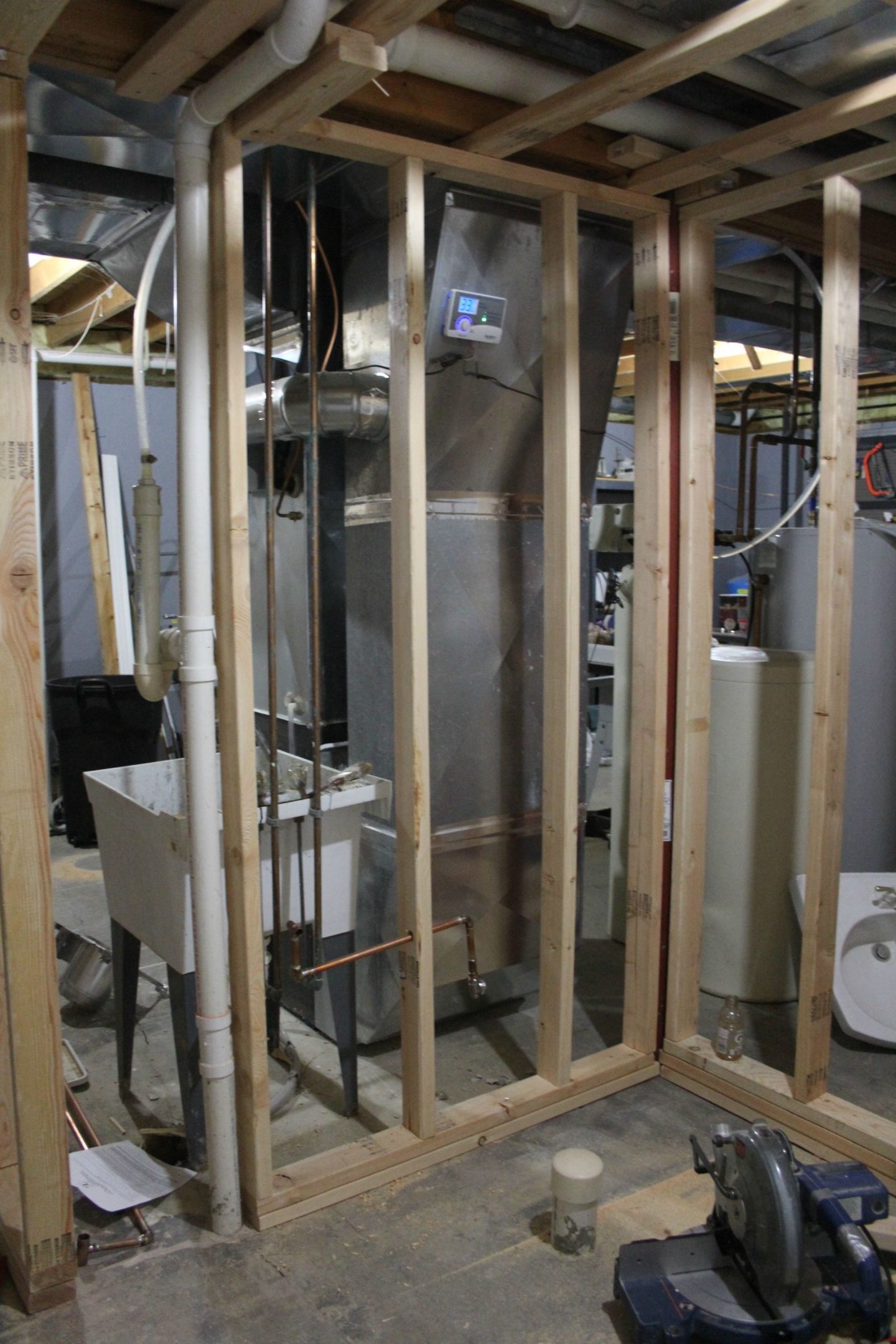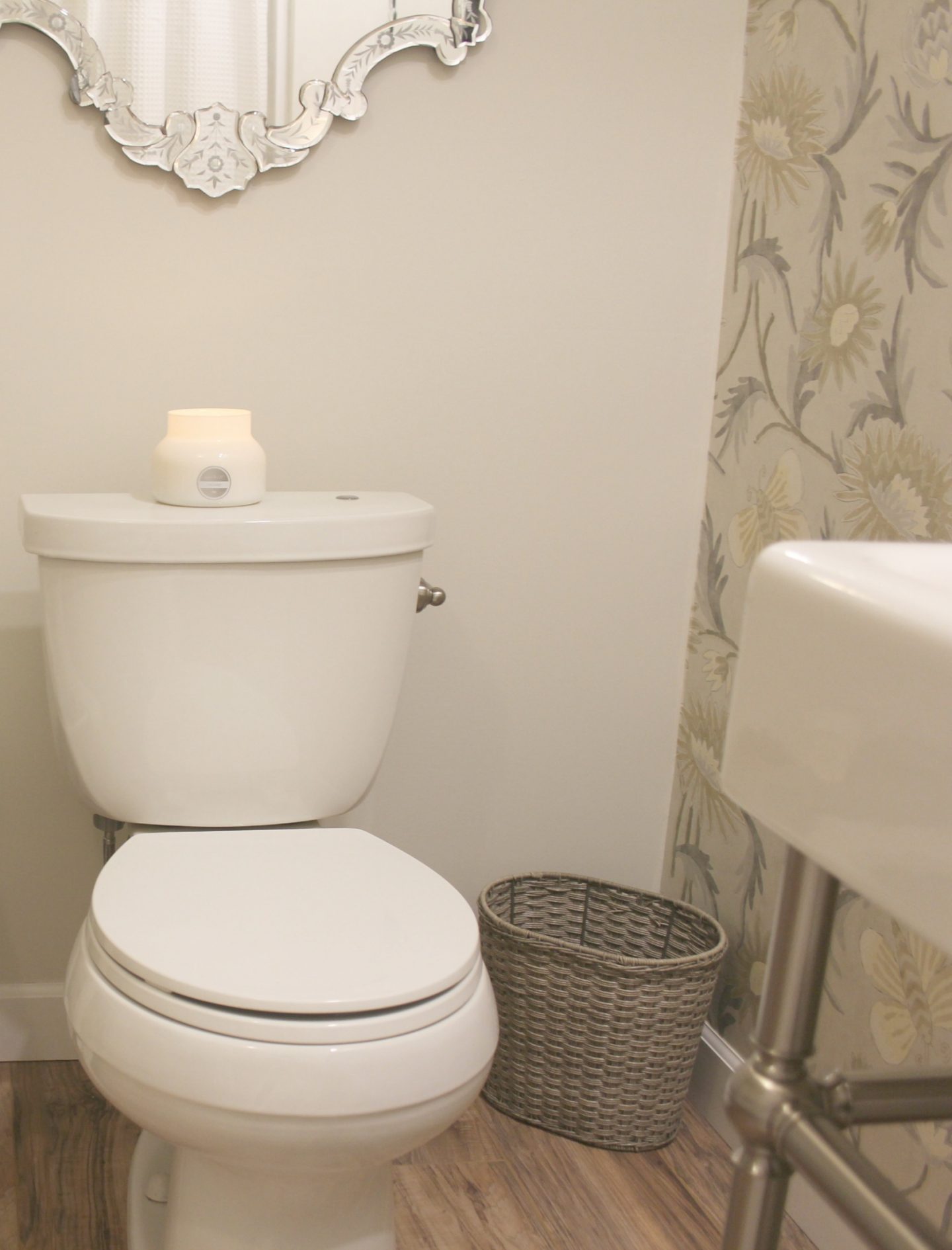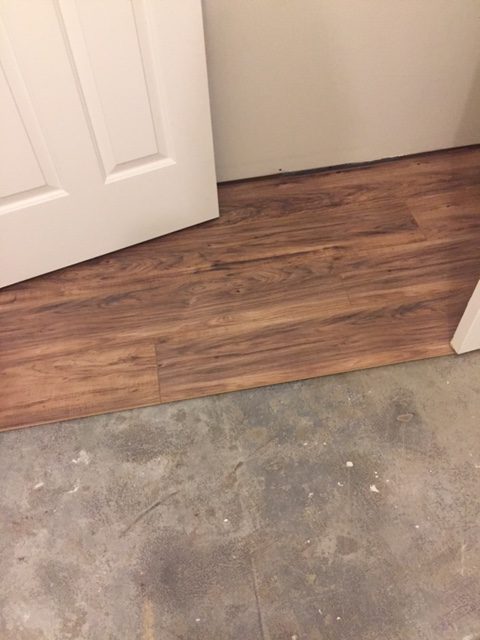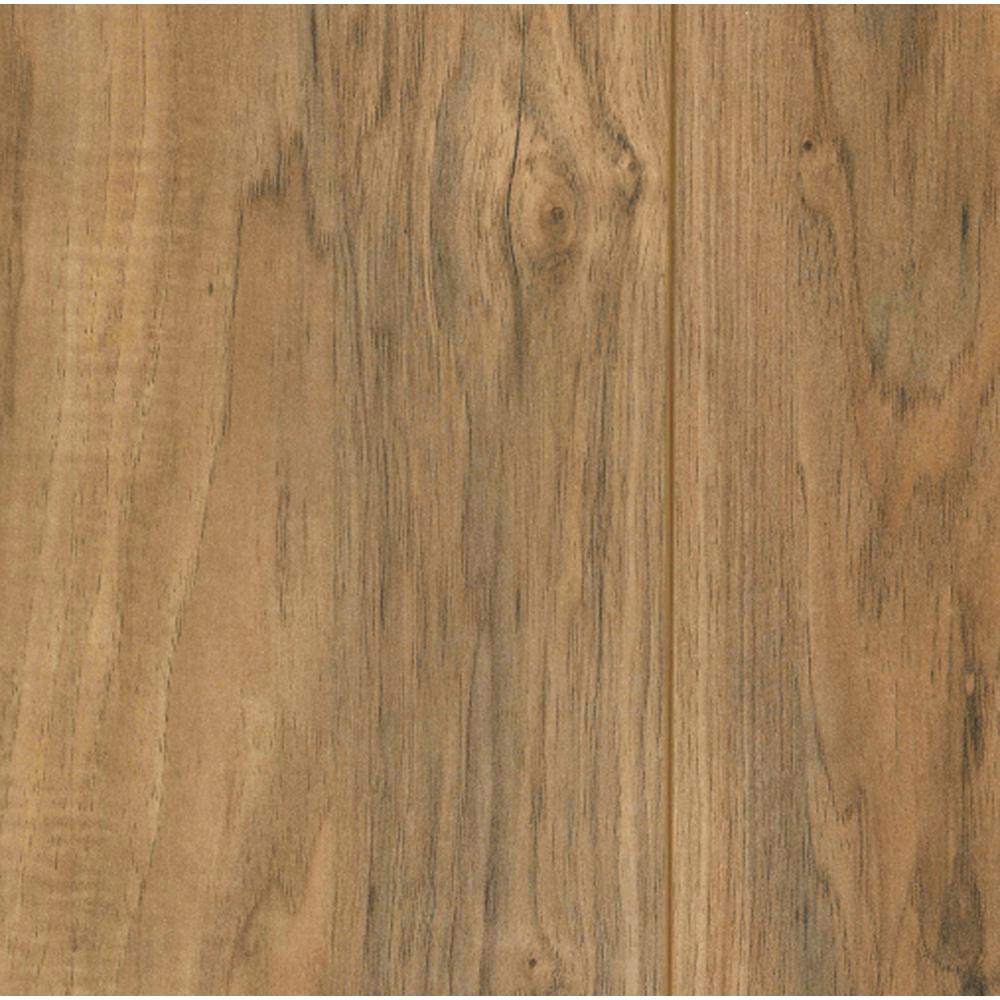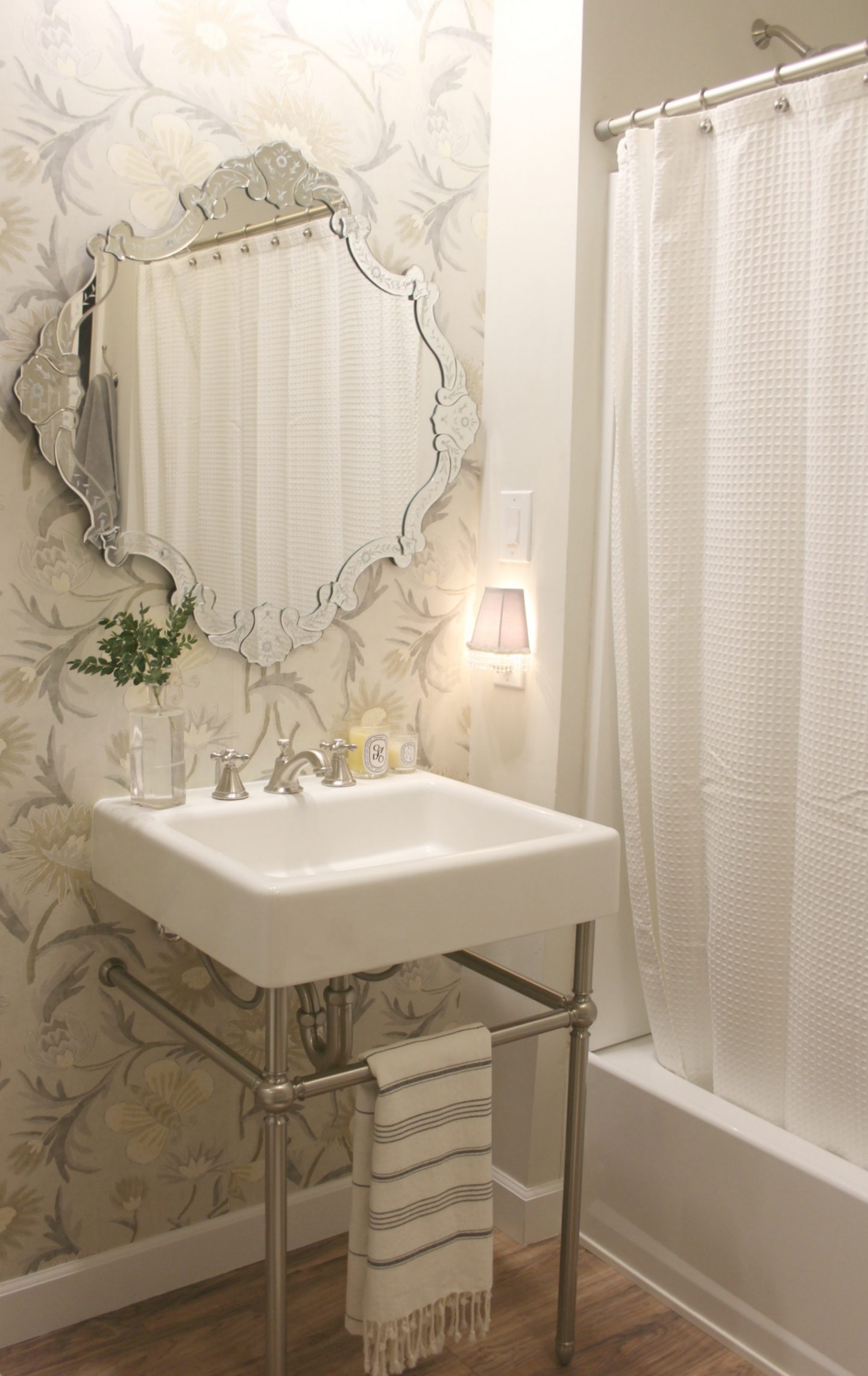 Let me know if you have any questions about the transformation of this space — I'm happy to help!
Find the resource guide with links to the fixtures right here. For more peeks around our house, visit here.
I independently selected products in this post—if you buy from one of my links, I may earn a commission.
Peace to you right where you are.
-michele
Shop for items you already intended to buy on Amazon RIGHT HERE, and also find home decor here to keep decor inspiration flowing on Hello Lovely!
Hello Lovely is a participant in the Amazon Services LLC Associates Program, an affiliate advertising program designed to provide a means for sites to earn fees by linking to Amazon.com and affiliated sites.