We're going inside this beautiful, fairly new Colonial home in the Washington D.C. area where the interiors were completely redone by Ella Scott Design. Lovers of French country decor are sure to be surprised since this Before & After: Fussy Traditional to Urban Chic redesign project was all about going modern, fairly spare, and very chic.
Wired for Transformation Stories
Humans seem wired to respond to stories of metamorphosis. They engage our conscious and subconscious shcma about butterflies, hidden potential, redemption, diamonds in the rough and overcoming obstacles or walking through fire to reach the prize. Before and afters give us permission to try on new ideas and dream of change. They motivate us, stir our imaginations, and may increase our desire and confidence to embark upon adventures or design projects of our own.
After reading the brief summary of the interior design project in the portfolio of Ella Scott Design, I was curious about how this residence appeared before the work began and checked with the designer. Bethesda, Maryland based interior designer Sandra Meyer of Ella Scott Design graciously agreed to share the images below with us since the project is a personal one–it's her own home. The kind folks at HomeVisit agreed to share the before images of the house as it was when listed for sale.
Before & After: Fussy Traditional to Urban Chic
Turns out, this was not one of those typical renovation stories where a used up fixer upper with bad, outdated interiors was begging for a makeover. This house was neither old, nor ugly. But it had a very specific, narrow, and fussy identity which might appeal to traditional or country decor fans. However, it did not reflect the modern urban chic style of its stylish new owners. (By the way, we met this owner/designer the other day in this story featuring her work and highlighting blue and white classic decor.)
Award Winning Home
This urban chic home has a showstopper of a kitchen which won a Sub Zero Wolf design award for its modern kitchen and kitchen cabinet refacing.
Before & After: Fussy Traditional to Urban Chic!
I will forewarn you lovers of French country, American country, and European country style right away, that it may upset you to see design details you admire get erased in this modern re-design! Especially if you're not a fan of modern. Maybe you'll rest easier knowing it is not an older historic home full of aged character. Rather, it is a relatively new build and had been designed with excessive mouldings, wainscot, and traditional details.
While most homeowners can fathom the idea of interior paint changes, wallpaper removal, and cosmetic updates such as light fixtures to suit their taste, Sandra Meyer's vision for her home entailed a complete re-design. This Ella Scott Design before/after transformation is educational and rich with interior design ideas and lessons. It is also intriguing since we rarely get to see the same home take on two radically different design identities.
A Bold Undertaking
Your interiors should bring you joy and be reflective of you, but getting there requires dedication and courage. This was a newer home in good structural shape with the wrong interior design for the owners. The new homeowner's preference for cool color, simple lines, and modern sophistication meant a host of architectural and design changes for the formerly pretty-yet-fussy traditional interior design.
Entry and Staircase: Before & After
The 13 year old home previously had traditional design details such as paneling and historical colors. One even might be fooled into thinking this was a much older home!
To give the entry a fresh, modern look the owner/designer favors, off white paint (BENJAMIN MOORE Moonlight White) covered yellow walls, crown moldings and paneling were eliminated, and black (BENJAMIN MOORE Black Panther) now plays a starring role. You cannot miss the whimsy and drama of the Cloud chandelier with its frosted glass orbs and (at least to my eye!) spirited joie de vivre.
Living Room: Before & After
Removing wallpaper is not for the faint of heart so my hat is off to the laborers faced with rooms like these to tackle. This European country room was maybe just right for the previous owner but not at all its new owner's cup of tea.
More subtraction of paneling and paper. Once again, more off white paint (Benjamin Moore Moonlight White) and dramatic Mid-century modern lighting (France & Son). It is hard to believe this is the same sitting room and that the design entailed no structural changes to walls!
Paint Colors
Unifying With Black and White
You get a dramatic sense of the "fussy factor" going on in the image below with multiple sets of stained French doors, interior transoms, and a ton of geometric busy-ness happening.
Today the room is soothing and understated with the formerly stained doors painted white and more paring down.
Lighting Transformations
I love the chandelier in the original design! But when the new design plan calls for urban chic…
Shazam.
Dramatic Dining Room Before & After
Prepare yourself for a huge design change in this formerly traditional dining room's color, mood and style.
Wow! The room with its Cole & Son Nuvole Storm wallpaper looks completely different!
Traditional to Urban Chic Kitchen Transformation
I would have LOVED to inherit this kitchen's "before" when we bought our fixer! If this is the "before," are we even ready for the" after!?!"
So chic and sleek, it hurts. I admire the way the white upper cabinets on the range wall disappear and give that wall the effect of having no uppers at all.
I'm a fan of these saddle-style stools Sandra Meyer used at the island for a tone on tone effect. Just as she made those upper cabinets disappear, she performs another Houdini with the island seating for a calm, minimal, sleek look.
Black and White Modern Kitchen
While walls were not removed, a dramatic doorway was created, allowing in more light and creating dramatic interest. The contrast created by painting the doors black (Benjamin Moore Black Panther) is stunning. If you admire the look of black steel doors, painting the trim is a less costly alternative.
What a huge change just ebonizing the floor makes!
Breakfast Room Before & After
Family Room Before & After
I love how Ella Scott Design modernized this beautiful room and can imagine making myself at home in that comfy lounge chair.
Master Bedroom Before & After
Urban Chic Media Room
Landing
Lavender Teen Bedroom
Black and White Bathroom
I spy some luscious bath products on the counter that match the ones on mine! I discovered Tocca's Cleopatra line at the Elysian Spa in Chicago. The scent is heavenly, and you may want to eat it.
Serene Teen Bedroom
Bathroom Before & Afters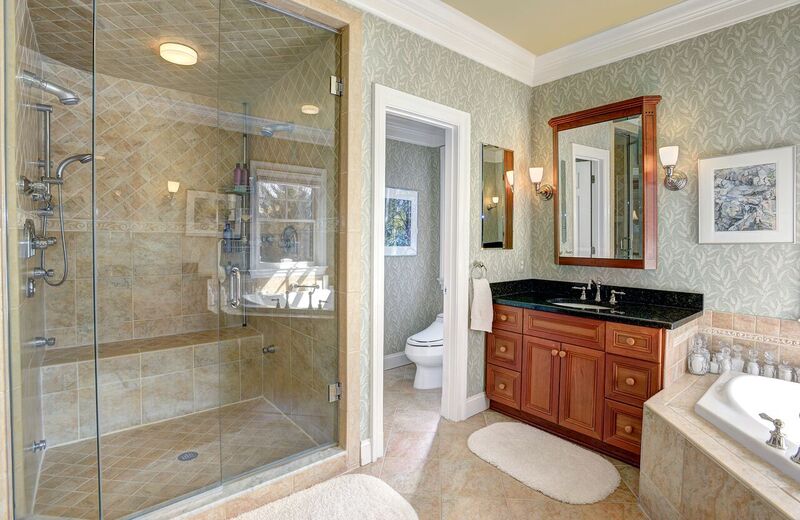 What a cheerful place for a teen to get ready for the day!
Such a unique transformation with SUBTRACTION being the driving force toward modernity.
See a previous story spotlighting Ella Scott Design HERE.
And if you missed our tour of a gorgeous timeless home, see this.
See more beautiful work from Ella Scott Design on Instagram HERE.
I independently selected products in this post—if you buy from one of my links, I may earn a commission.
Peace to you right where you are.
-michele
Shop for items you already intended to buy on Amazon RIGHT HERE, and also find home decor here to keep decor inspiration flowing on Hello Lovely!
Hello Lovely is a participant in the Amazon Services LLC Associates Program, an affiliate advertising program designed to provide a means for sites to earn fees by linking to Amazon.com and affiliated sites.