Since 2015, I have been sharing our DIY whole house renovation adventures and home improvement stories for the neglected cottage style fixer upper we purchased, and I'm so excited to reveal this classic and modern farmhouse style bathroom we created from scratch!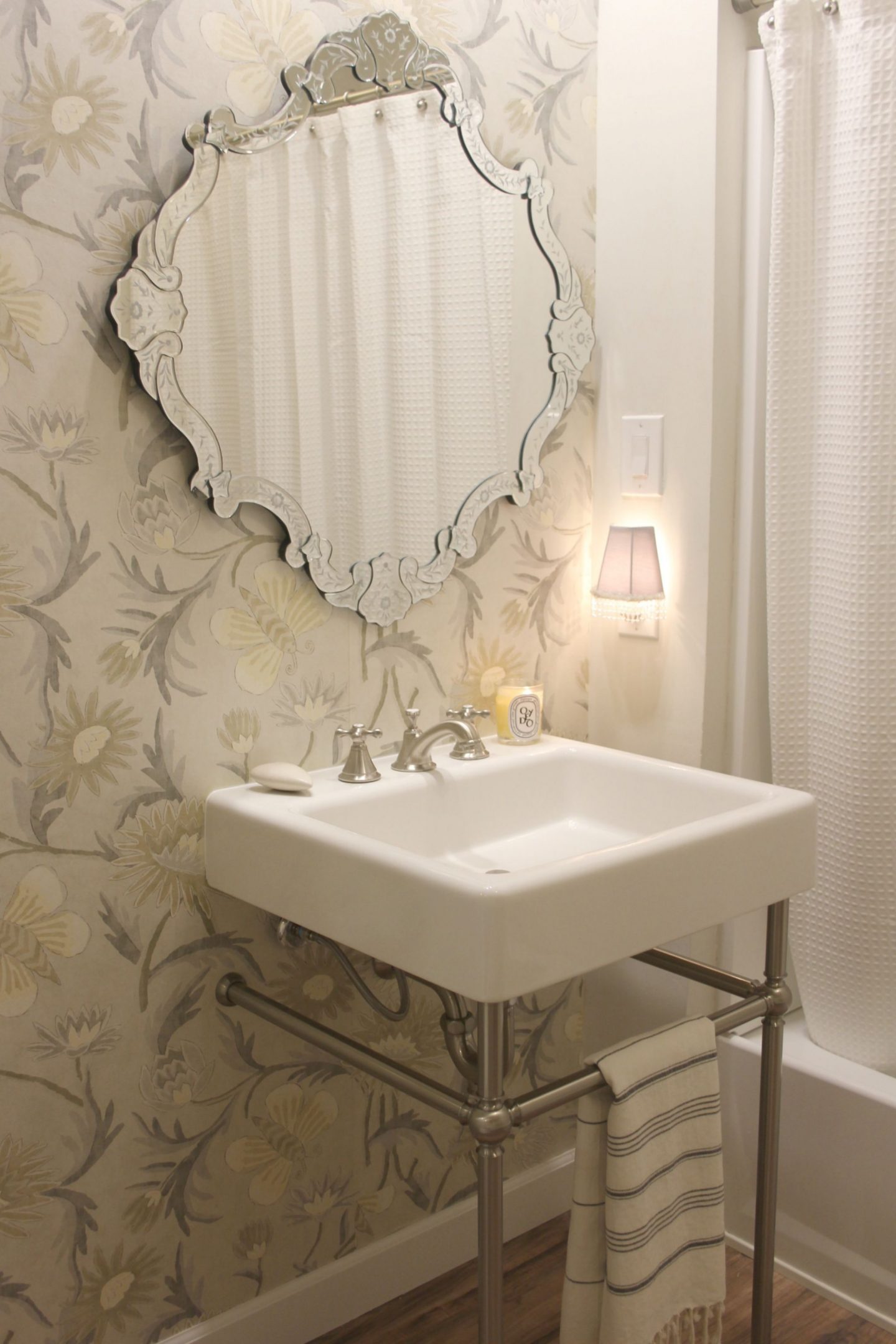 The construction of the new bathroom was a refreshing departure from so many other projects which involved demo since this was an opportunity to build a brand spanking new space in our home.
Without a doubt, the shining stars in the new classic and modern farmhouse bathroom are a luxurious and vintage-yet-sparkling-with-modern-farmhouse-style bathroom console sink from DXV's Oak Hill Collection and the classically elegant GROHE Seabury widespread bathroom faucet with cross handles. (DXV and GROHE sponsored this story and provided these gorgeous fixtures, but all opinions here are happily and strictly my own.)
What do I mean by classic + modern farmhouse bathroom design? So often we see "classic bathroom design" interpreted with white subway tile, wallpapered walls, coastal accents, beadboard, and marble mosaic tile floors. Modern farmhouse style often incorporates repurposed vintage pieces, shiplap, open shelving, and industrial accents. I am inspired by these sensibilities and attempted to balance the two with a statement wall (covered in a traditional, neutral bold print), a farm sink, and modern touches like the abstract landscape painting (stay tuned). It's not purely traditional and not purely country…it's somewhere in the lovely middle.
I will share all the juicy before and after details and resources in a forthcoming post, but I couldn't wait to cut to the chase and introduce you to my bathroom's best friends straight away! Let's start with the gorgeous 24″ console sink…
The sink is a 24″ Oak Hill Bathroom Sink With Console in Brushed Nickel from DXV. Oh, guys. It's dreamy with its super heavy fireclay sink and delicate brushed nickel legs. Designed for a widespread faucet, it is perfect for modern country style bathroom designs. You could easily add a basket underneath the sink for storage if needed, but we have abundant storage in a deep linen closet added to the space.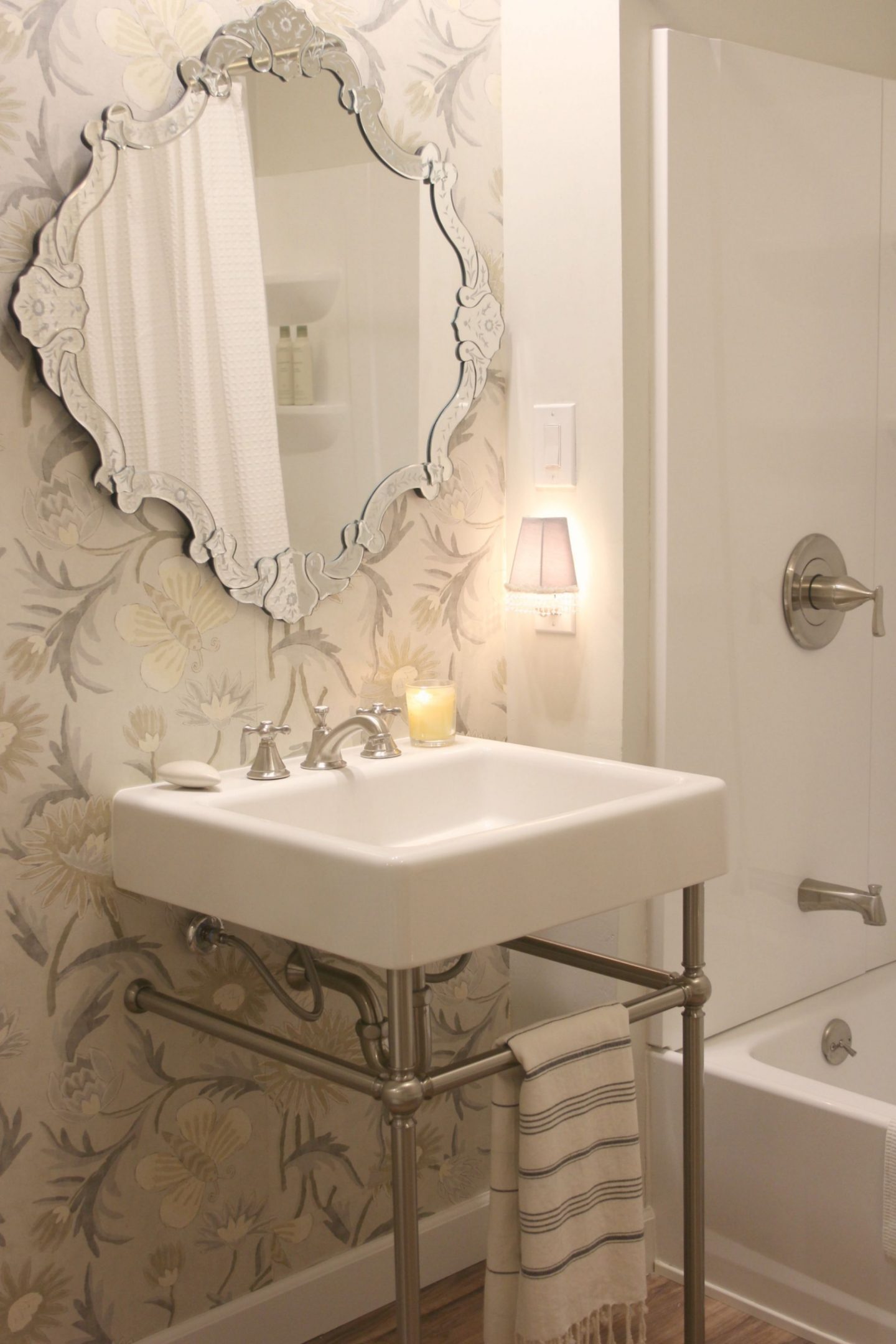 The option to add a decorative P-trap for plumbing underneath is a sweet one…no ugly plastic or pvc!
Affiliate links follow and may earn me a small commission when used for purchases.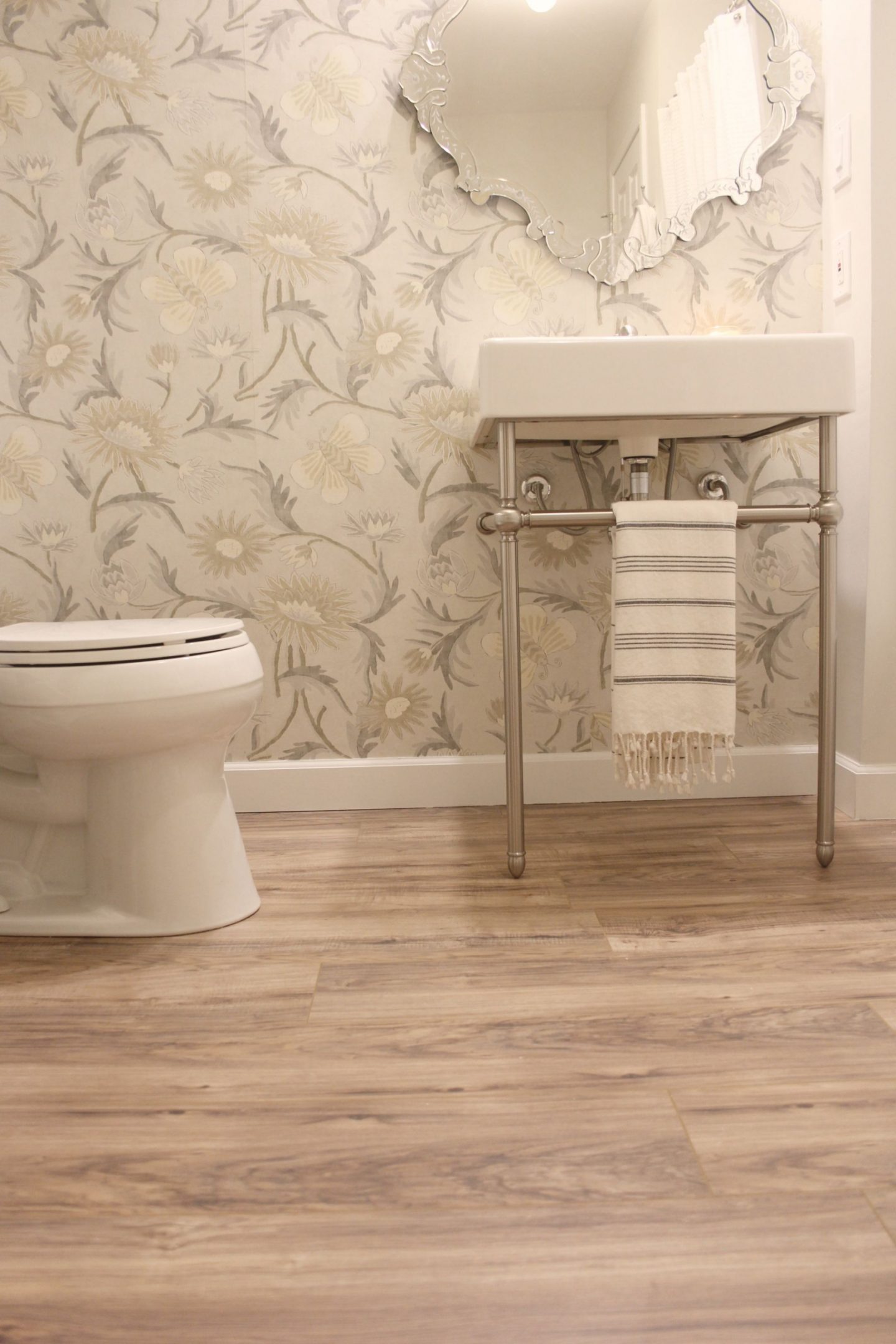 Nice gams, DXV console!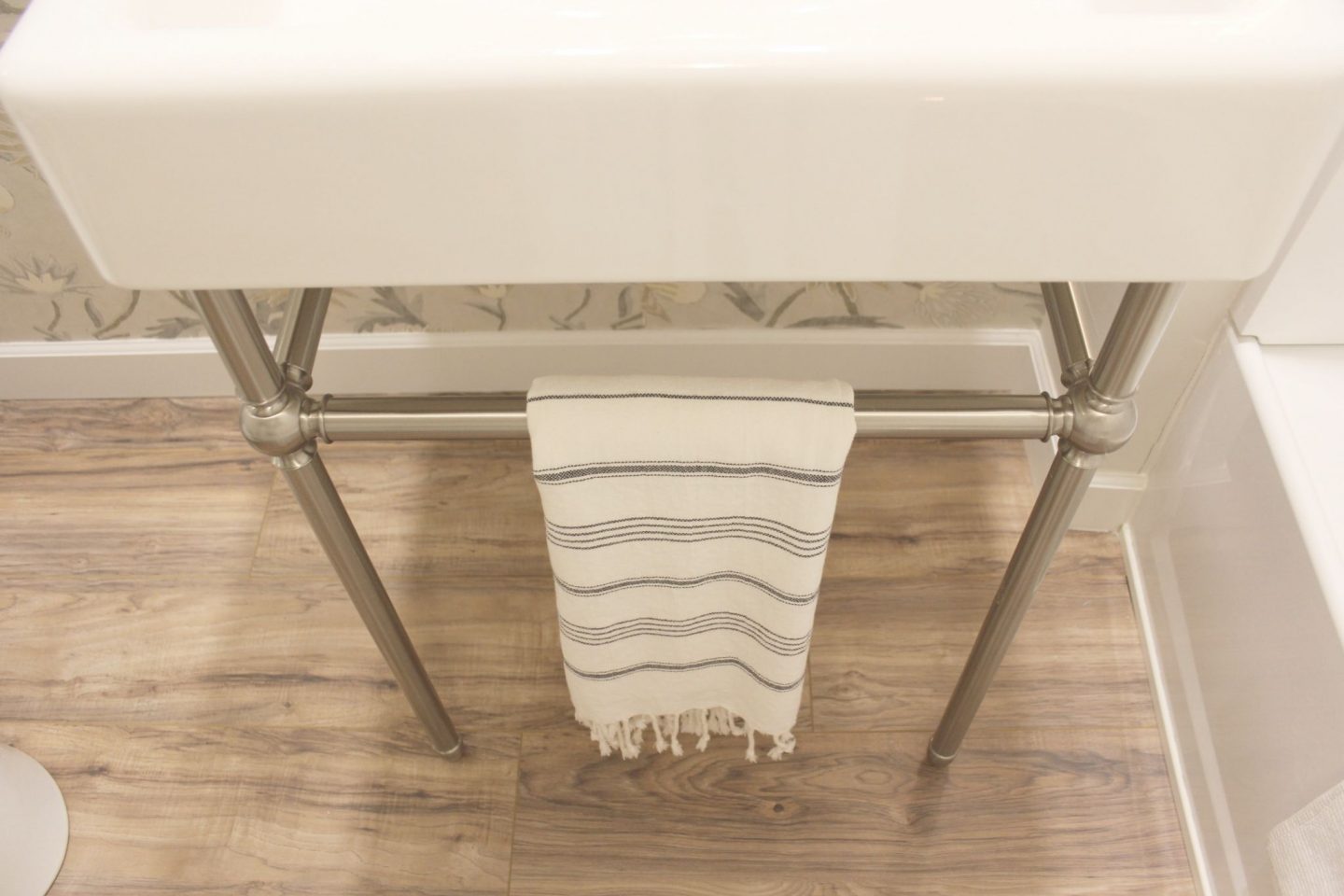 What I love about this elegant bathroom console sink? Every. Little. Thing. I chose this modern farmhouse style fireclay sink in part because I knew I would love living with it. We have a fireclay farm sink in the kitchen I am crazy about, and I'm just sold on fireclay sinks. Farm sinks are casual, friendly and durable, and this one from DXV's Oak Hill Collection also happens to be exceedingly charming and high quality. Gorgeous brushed nickel legs lend airy elegant spaciousness in the bath you just cannot achieve with heavy vanity bases or clunky, run of the mill pedestals. A farm sink in the bath with a bar on the console, perfect for draping a Turkish towel? Yes, please!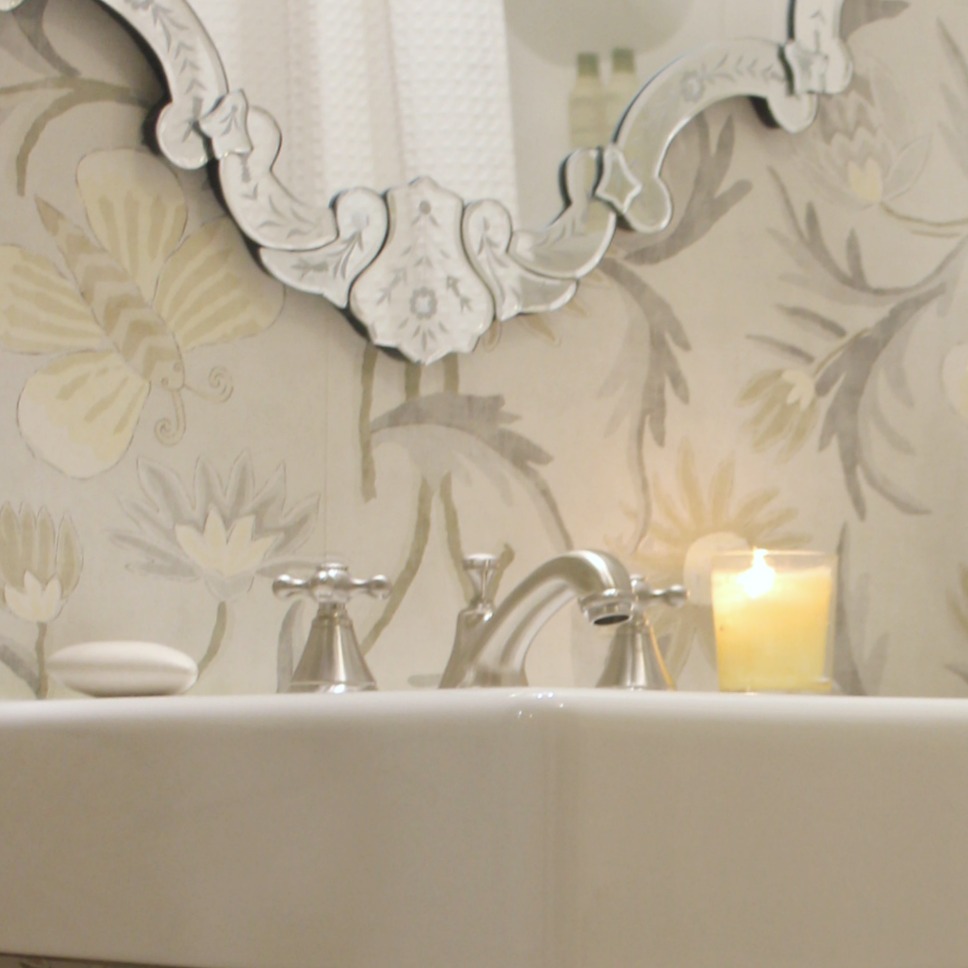 Confession: I could not locate a bottle or bar of soap to match the beauty and sophistication of my new sink…that's a heart-shaped stone!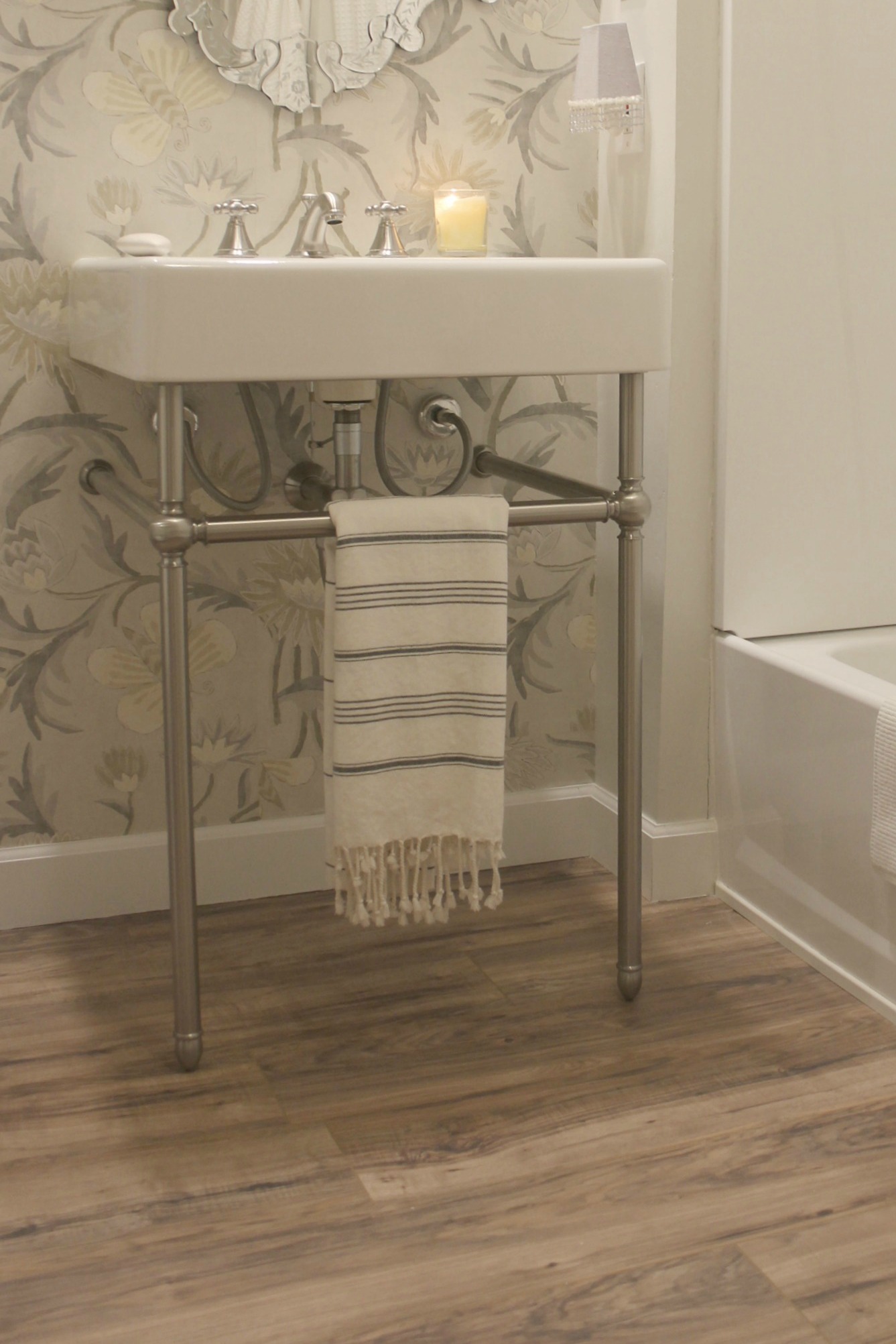 It's a little unexpected to see a console sink on warm, casual, wood-look flooring, and this combination suits our needs beautifully.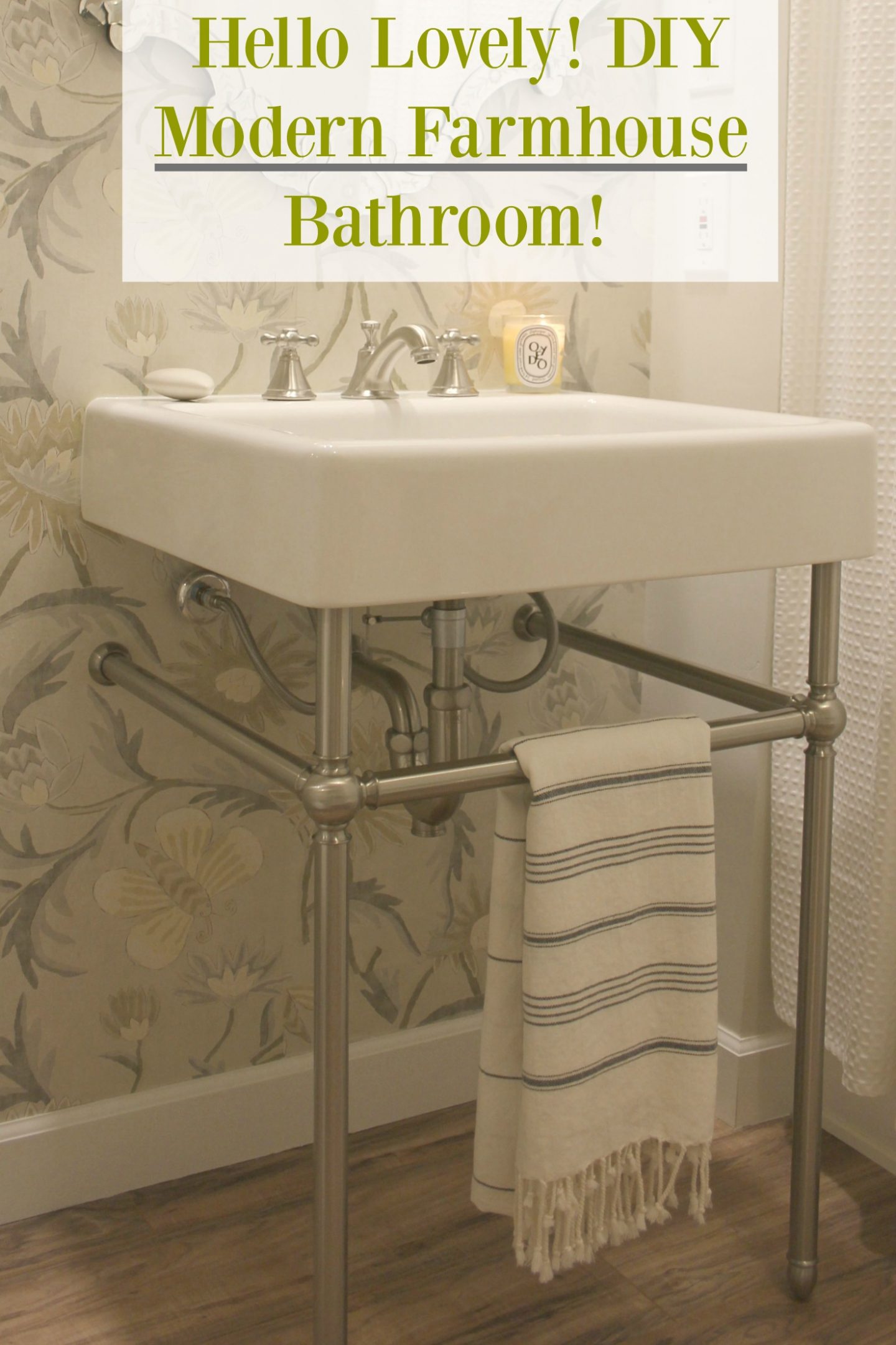 Next up…that gorgeous brushed nickel bathroom faucet!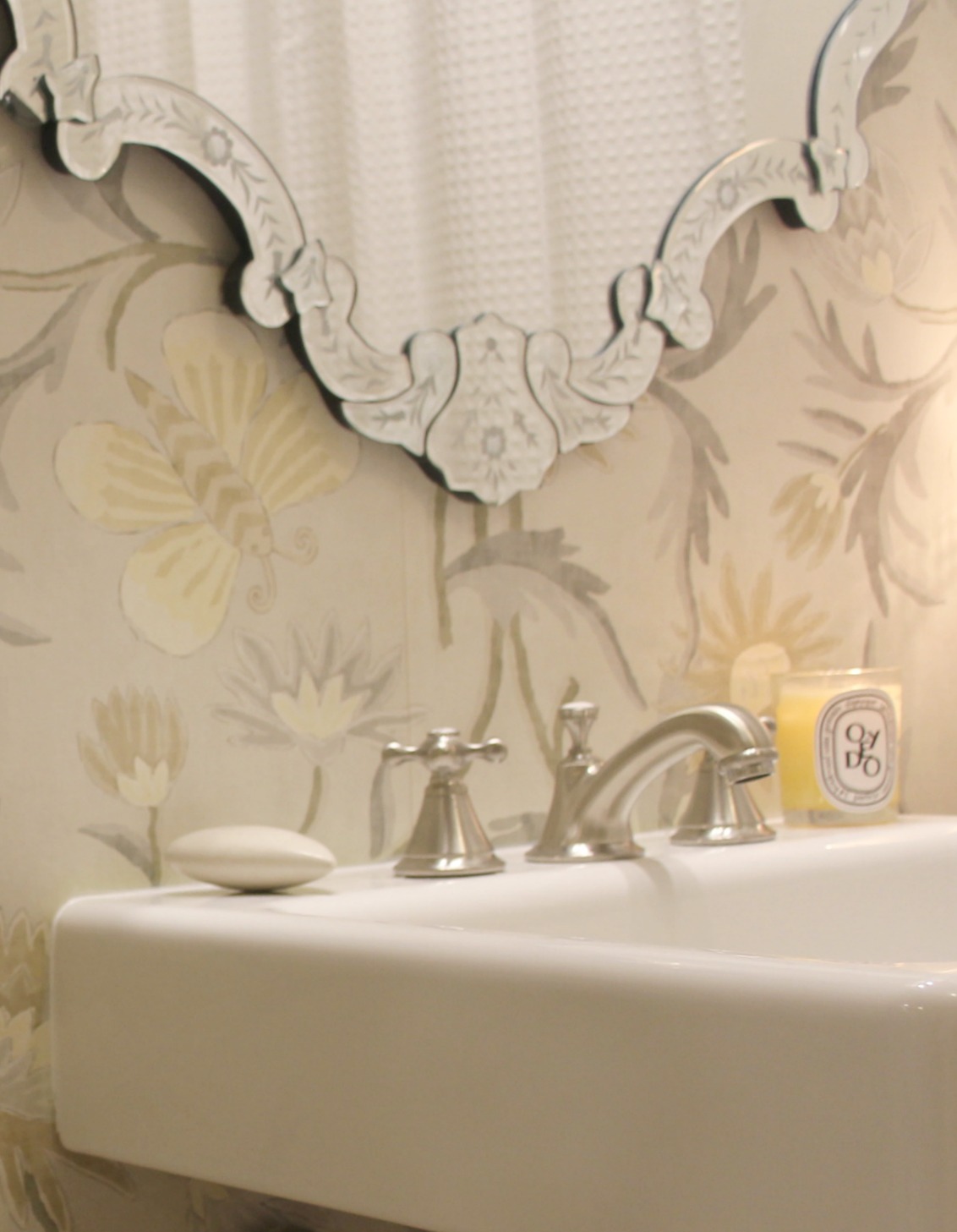 I chose GROHE's Seabury 8″ Widespread 2-Handle Bathroom Faucet in brushed nickel, and it looks perfect with the console sink.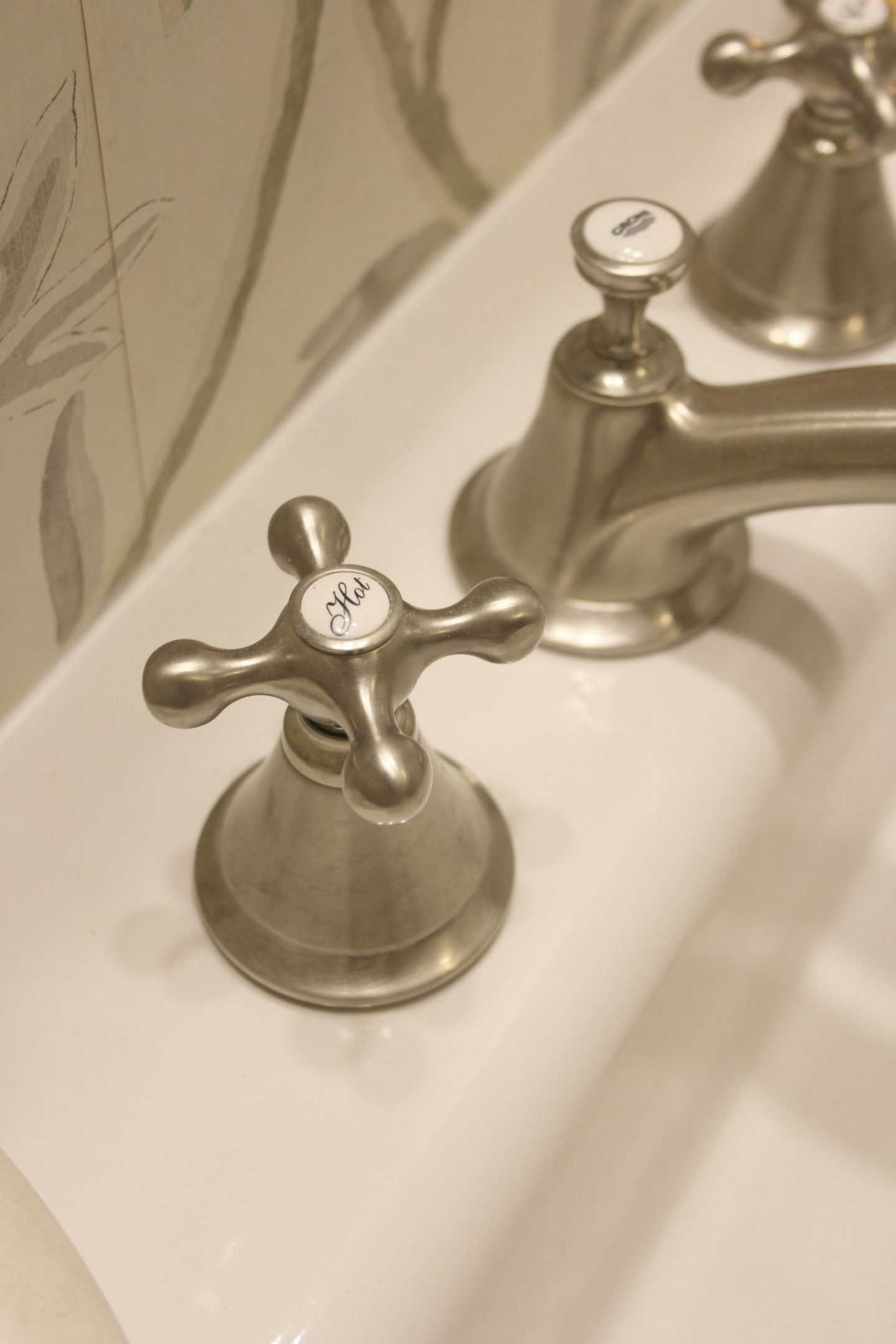 What I love about the bathroom faucet? It's yummy Von yummy. I shopped around for a bathroom faucet with a classically simple and serene design and found just that in GROHE's Seabury 8″ Widespread 2-Handle Bathroom Faucet in brushed nickel. There are two choices for handle style. Levers are one possibility, and I chose the cross handles which have a more vintage feel and remind me of classic 1920s bathrooms. Seabury is so much more than just another pretty faucet! The hand-feel and quality of this high end bathroom faucet are tops, and the velvety finish? Superb.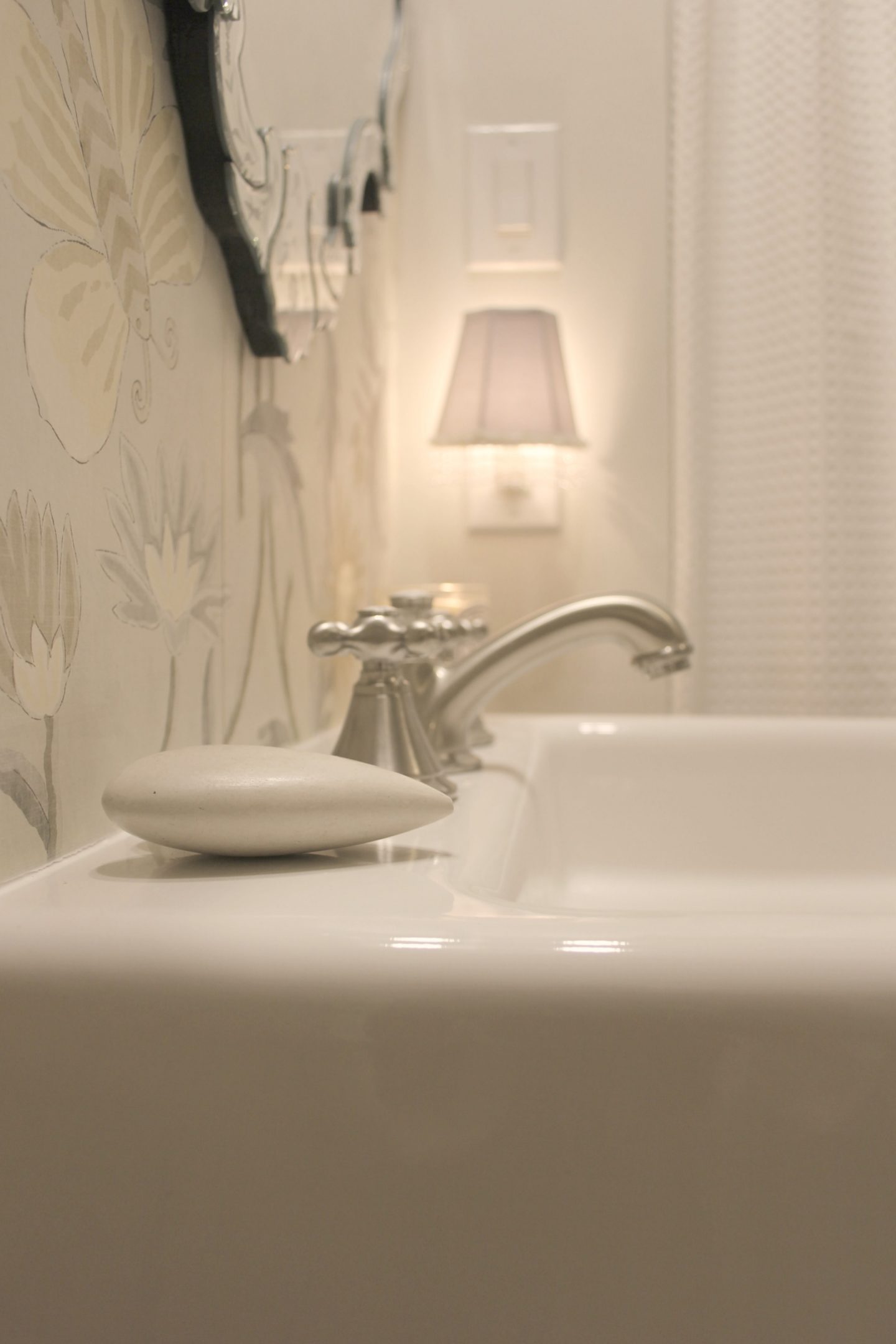 ARE WE FINDING ANY PRETTY TO PIN? I hope so!
What ingredients for modern farmhouse style are in the design mix? You'll find a blend of rusticity, elegance, and contemporary features that together don't scream strictly "country" or strictly "classic." The space is spare and neutral which feels modern, but I have added country warmth with the flooring, a painted bench, and a rustic teak stool. The console sink itself is a perfect example of this juxtaposition–it would work in a spare, modern bathroom and just as easily in a vintage-style traditional one.
Do you like my Venetian mirrors? Longtime readers of Hello Lovely may remember these hanging in the hallway of our prior home. I finally got to recycle them and shopped my house!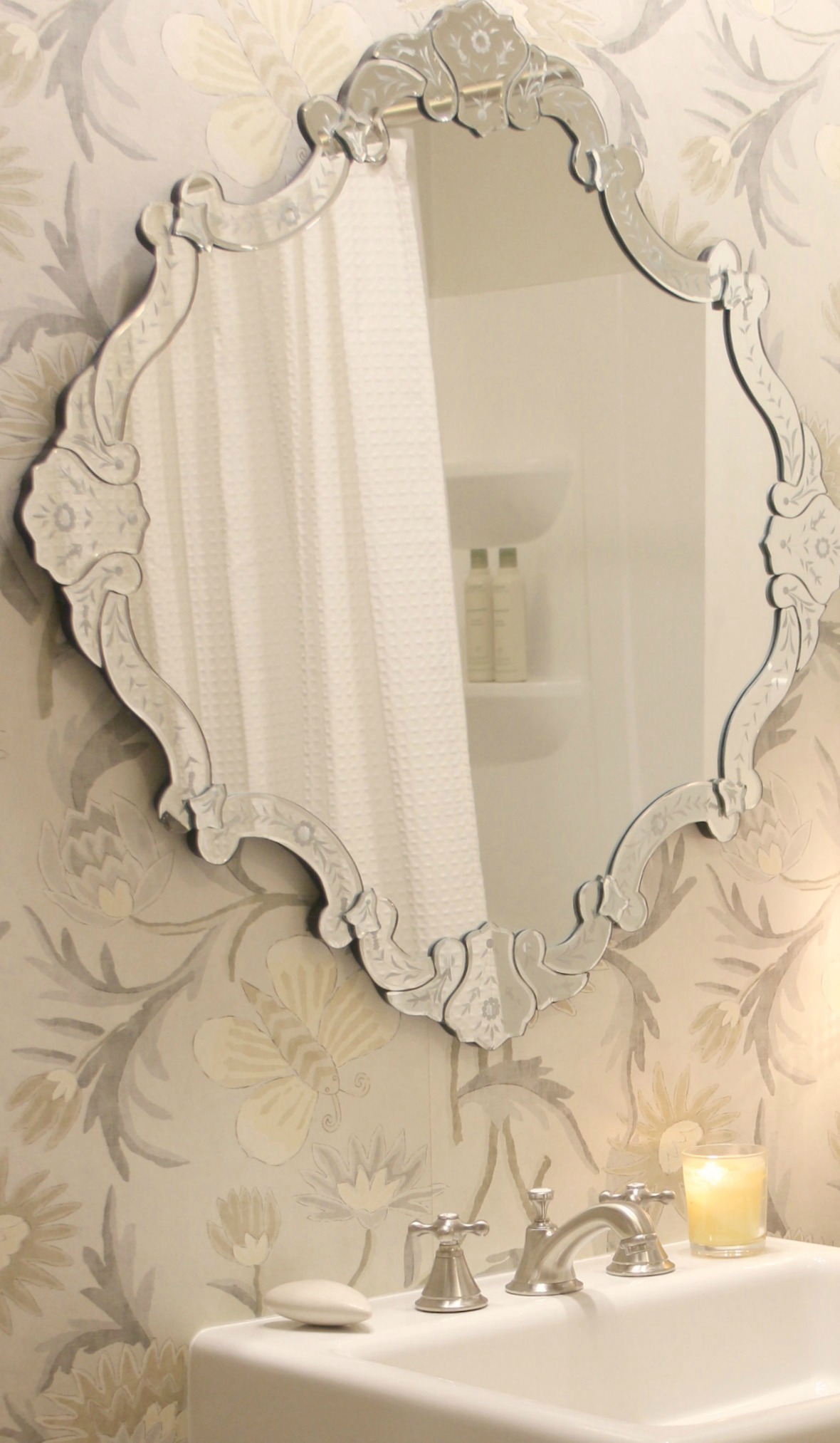 What was the plan for this DIY bathroom design? Our goal was to add a full bathroom to our home's lower level basement, do all the work ourselves, and get it done in a few weeks rather than months. We think having a bathroom on this lower level will add property value and also add function and value to "the everyday" since the basement includes: a media room, a guest bedroom, two storage rooms, and a workshop. Rough-ins existed for the bath which simplified matters, and we wanted the bathroom design to be simple, classic, and make sense with the decor style throughout the home. To save labor and time, we chose finishes that were less DIY labor-intensive. No tiling and grouting for us this time around!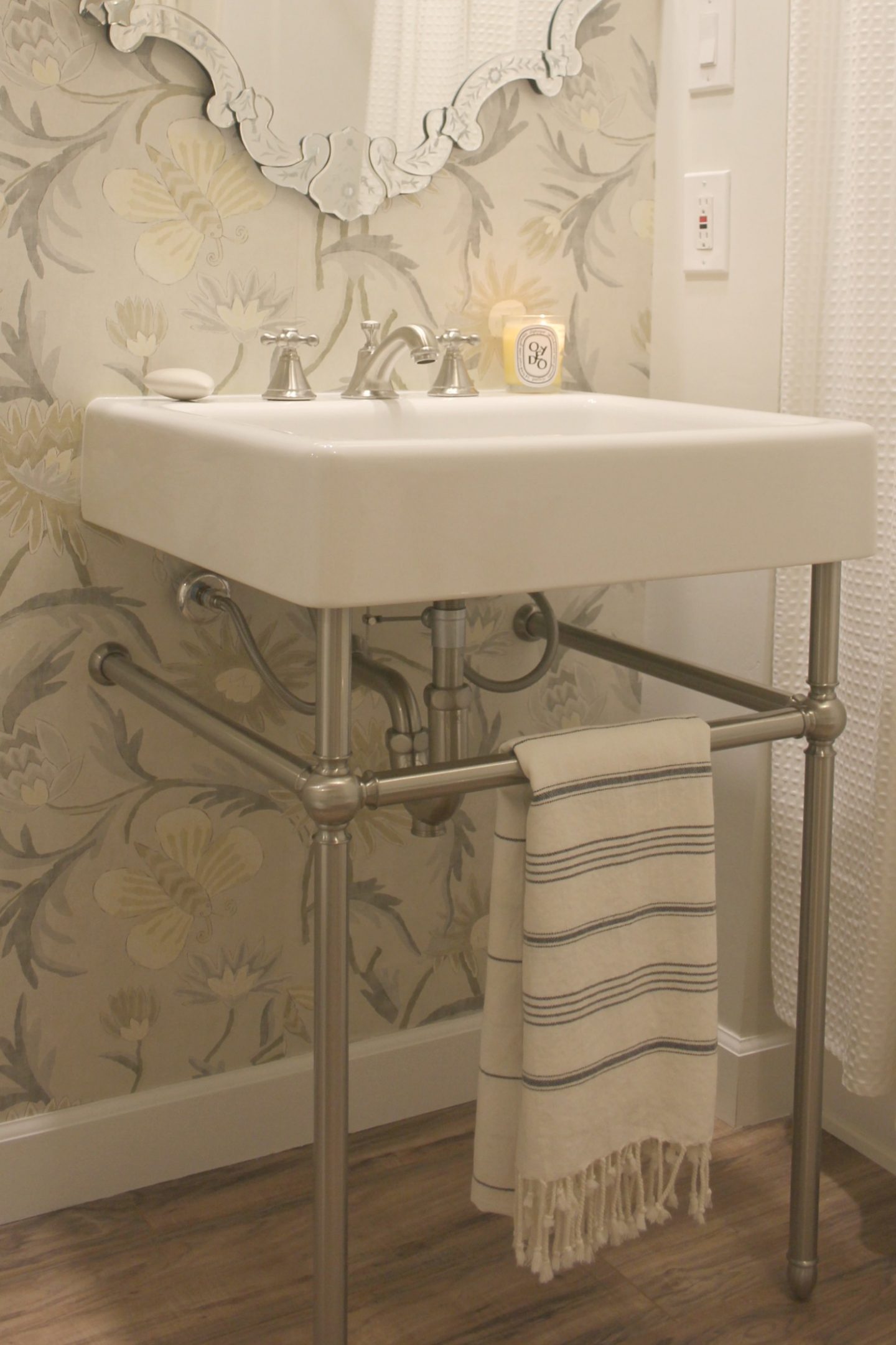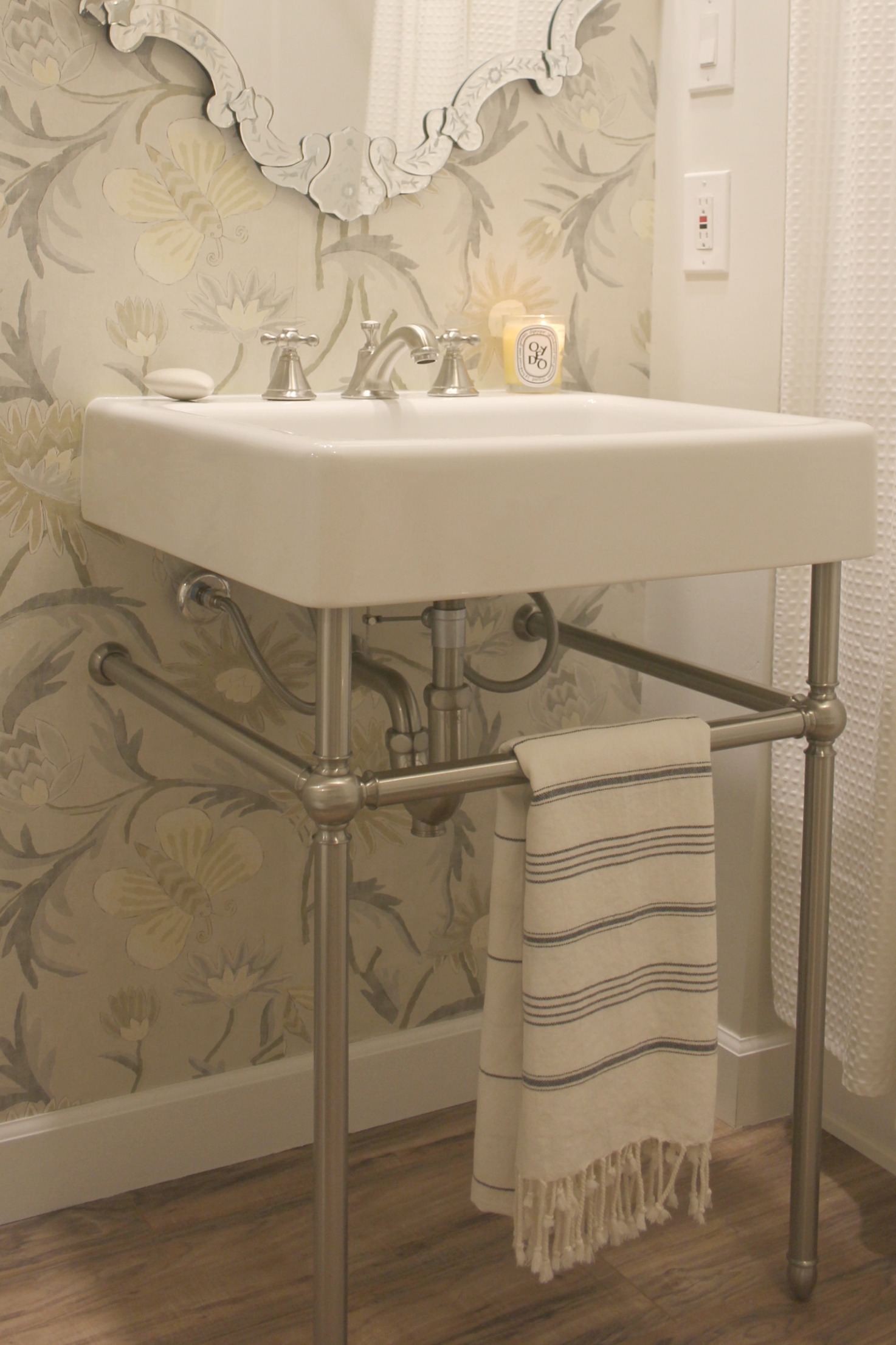 Now that you've met our new bathroom's showstoppers, here's a quick before/after peek…stay tuned for all of the before/after details and resource guide in an upcoming post.
What do you think of our DIY bathroom built from scratch!?!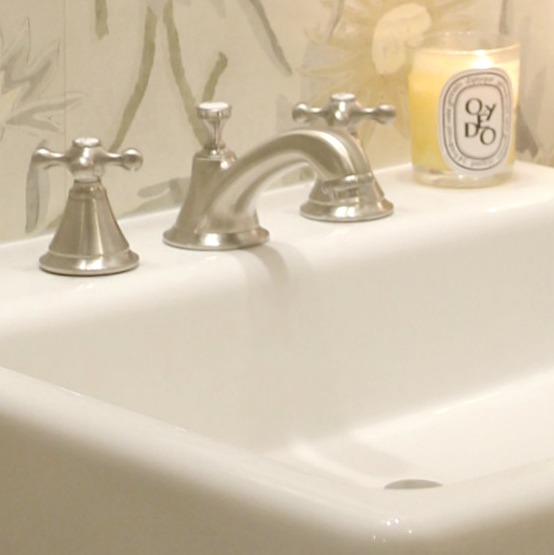 I can't thank DXV and GROHE enough for partnering with us as a sponsor on the creation of this new bathroom for the fixer upper! We had a blast with this project and are so thrilled about the value the bath adds to our home. This is our first console sink EVER, and the bathroom faucet is far superior to others we have installed. No matter how many renovations we complete, I am always awed and humbled by the transformation!
Here is the before and after story with dramatic and ugly "befores" and find a complete resource guide here!
Peace to you right where you are.
-michele
This post contains affiliate links which I hope you will use since they won't cost you a penny extra yet may earn this blog a small commission.
Support Hello Lovely by shopping Amazon RIGHT HERE for anything (not just products mentioned here) to keep the inspiration flowing!
I'm a participant in the Amazon Services LLC Associates Program, an affiliate advertising program designed to provide a means for me to earn fees by linking to Amazon.com and affiliated sites.
Click HERE to find cost conscious furniture and decor for your home too!