It is 90-something degrees, yet summer is collapsing into fall* as the ground becomes decorated with fallen leaves. The transformed leaves now provide a different beauty: a sensually delightful crunch beneath my feet on daily power walks. *there's that irresistible Oscar Wilde reference again.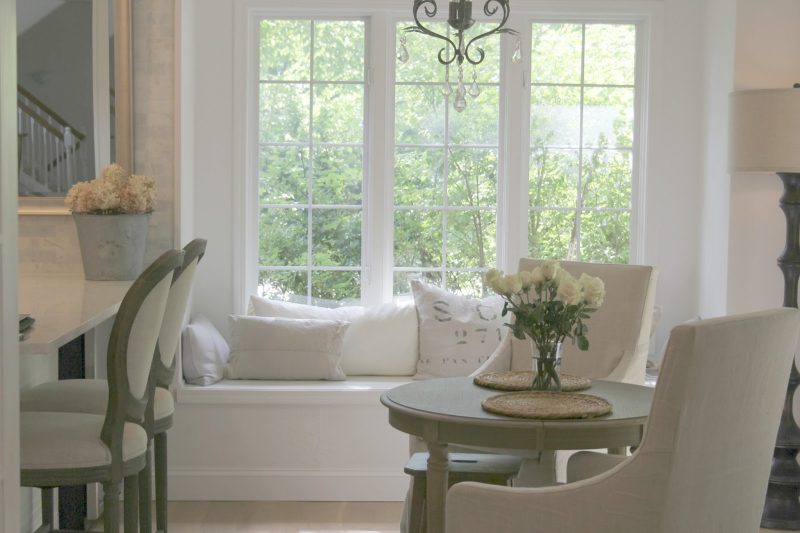 Thank you so much for your prayers, encouraging comments, and emails as a result of my sharing vulnerable territory in the post about apples. Heartache has me seeking grace…for courage, for extra reserves of strength and consolation, for guidance during a distressing season.
Affiliate links that follow will earn me a small commission should you use them to make purchases.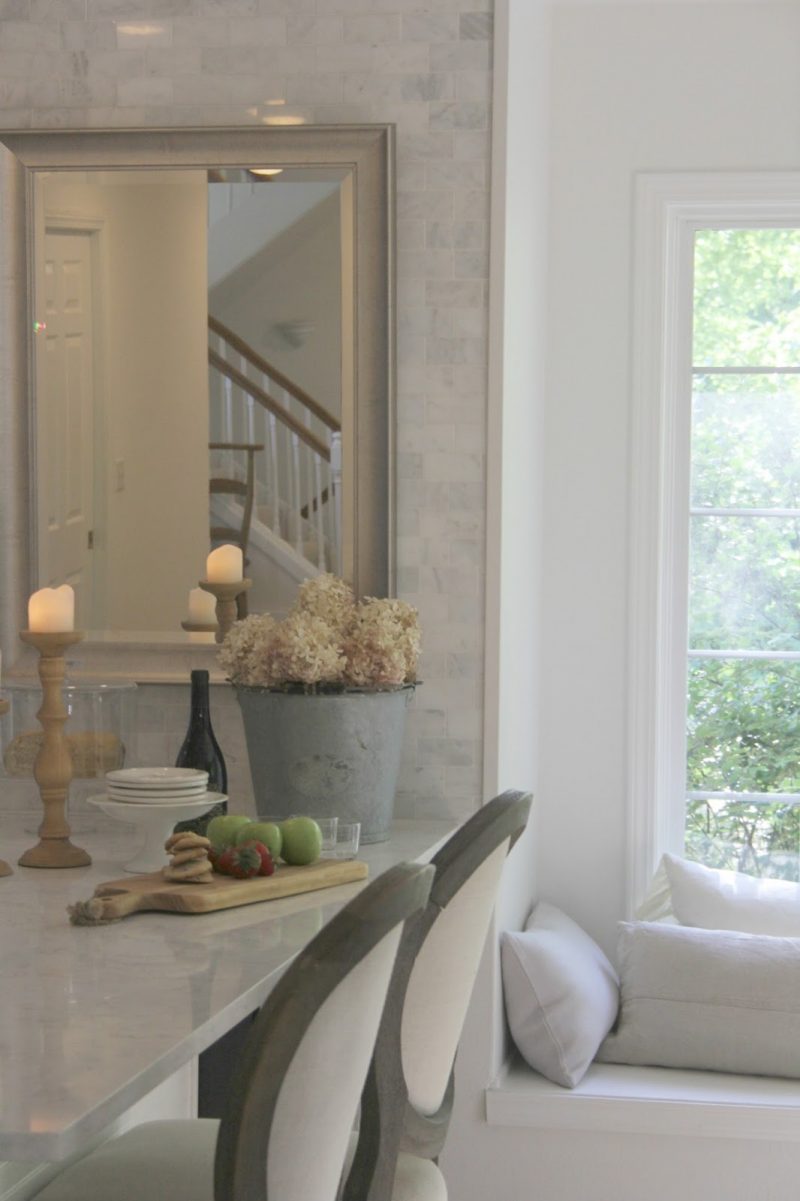 I am long overdue in sharing photos around the house, and these were snapped when the sunlight streamed in gently, as it often does in the heartland in late summer/early fall.
Our home's decor hardly transforms from season to season since I favor white and neutrals, but I enjoy accenting with warmer hues in fall and adding pillows, throws, and candles.
Here's the front door with its rugged, handsome, good looks…
and maybe this elegant velvet pumpkin moment will inspire us to create something similar for our own homes:
We have a great window seat in the kitchen where I have placed hushed-hued cushions…I see a long Belgian linen upholstered seat happening here in the future.
You may have noticed, our 7′ farmhouse harvest table left this part of the kitchen to hang out in my under-construction studio (a spare bedroom where my piano resides and where I create art). The table's scale overwhelmed the little breakfast area, and since we have a dining room a few steps away, it made sense to make the change.
In came a petite round table found at RH after no luck hunting for months for a small vintage one. This table is actually one of their kids' playroom tables! It is not standard table height, yet still works for casual dining for two. Now the dining room (which is beyond a pair of vintage French doors) gets use when we entertain. Here is a similar dining table and linen armchairs:
This still life of simple golden apples by an artist friend hangs on a wall in the laundry room (no way, mama, it is still not ready for its close-up).
As the leaves fall outside, piles of books begin to collect inside. On tables in the living room, on nightstands, in the dining room, in the kitchen sink…fine, everywhere. They make this mystical design freaky blogger happy.
It's easy peasy to bring the outdoors in since I have access to a zillion trillion branches which I display lazily and naturally.
White roses may not strike you as autumnal, but since they deliver timeless beauty all year round, they're not going away, not even for pumpkin spice toned roses (not that there's anything wrong with pumpkin spice blooms).
Do bottles of delicious Rosé on the kitchen counter count as early fall decor? Because I think the warmth and romance they add to my white kitchen is lovely. These came from Martha Stewart's Wine Co.
Here's a peek of the exterior. It's a modern style one and a half story home that is tricky to peg as strictly "cottage" or "modern farmhouse" or "contemporary" since it is accented with rustic river rock and features more traditional style windows. Its identity is evolving, just like mine.
I'll share a few more peeks of our simple, Shaker-style kitchen soon, paired with before/during shots since you can only appreciate it when you see what we did entirely ourselves without changing the footprint (a footprint that feels like a wee footprint after enjoying a huge kitchen in our prior home).
Thank you for reading with such open hearts and minds. If ever you feel like sharing your own stories or are led to share feedback, it's safe to push reply (if you receive posts in your email) and to get in touch with the very real, flawed, and changing-like-the-seasons human at the helm of Hello Lovely.
I independently selected products in this post—if you buy from one of my links, I may earn a commission.
Peace to you right where you are.
-michele
Shop for items you already intended to buy on Amazon RIGHT HERE, and also find home decor here to keep decor inspiration flowing on Hello Lovely!
Hello Lovely is a participant in the Amazon Services LLC Associates Program, an affiliate advertising program designed to provide a means for sites to earn fees by linking to Amazon.com and affiliated sites.