Is there just one perfect white exterior color out there? Nope. If you're considering painting your home white, then what you need is the perfect for YOU white exterior paint colors to sample. The right white for me and my house (hahaha – see what I did there?) is only right based on my individual preferences, exposure, and even geographic region. It could be all wrong for your criteria. So use the advice below to choose a handful of whites to sample before you decide on the winning perfect one to paint your house.
5 Perfect White Exterior Paint Colors to Consider
Choosing wall paint colors can be a challenge, but it's not a complete disaster should you have to repaint to get it right. But the outside of your home? Goodness. It's a daunting task to select the perfect white for your house exterior, and you want to nail it the first and only time!
Before you choose the perfect color, just know you'll need to sample your favorite white paint colors first. When you see multiple hues together, you'll understand why it was so important. They won't look the same. You'll note undertones or coolness or warmth. Their differences will emerge.
How to Begin WHITE PAINT Selection
You probably know already that there are a whole lotta choices for white. If you're painting over brick, then I'm mindful how much you ache to get that white right!
First, begin the process by taking time to review online photos of white house exteriors where the name of the color is provided. Start with my archives.
Second, please make sure to not fall in love with the NAME of particular color. Keep an open mind and don't judge them by their names.
Third, don't be tempted to make your decision based on a single photo.
Make Sure You Understand Undertones
Like all paint colors, whites have undertones that are not always easy to detect. Typically you'll be able to see them once the color is viewed next to a bright stark white with no undertones or with an assortment of whites. Undertones come into play with cool and warmth of the white and how the color will be perceived in natural light when the yellow of the sun warms it.
How Do You Know How Light of a White to Choose?
You're going to see LRV mentioned below, and no need to sweat it. Those letters stand for "Light Reflectance Value," and the number is the percentage of light a paint color reflects (a higher number equals more light reflected). There's no need to get worried about LRV or have a degree in color theory as long as you sample multiple whites.
How Many Whites Should You Sample First?
START WITH AT LEAST 3 WHITE PAINT COLOR SAMPLES YOU LIKE AND TRY THEM DIRECTLY ON THE HOUSE. SCRUTINIZE THE COLORS AT DIFFERENT TIMES OF DAY. MAYBE THERE WILL BE A CLEAR FRONTRUNNER. IF YOU'RE NOT SOLD, CHOOSE MORE OPTIONS UNTIL YOU ARRIVE AT THE WINNER.
Bonus Tip: Sometimes you'll feel stuck because you really like two samples and can't decide. You can definitely flip a coin. But you could also decide to mix those two colors 5050 for a completely new and unique custom color. I have had great success personally with this tip.
1. PURE WHITE 7005 by Sherwin-Williams
Pure White 7005 is lovely and soft. I have heard color experts say what makes Pure White soft is its LRV.
This is one of those bright yet not too bright, modern feeling whites that so many folks are choosing for modern farmhouse style homes.
Since the LRV is 84 for Pure White, it's not as crisp as those whites that fall within the 90-94 range. You could say it's more subdued that those super bright whites.
Pure White also has some warmth, though it's not nearly as warm as say, SW Alabaster or Benjamin Moore White Dove.
Why Sample Multiple Whites?
You can truly only call a white subdued or passive when you compare it to other whites. For example, Pure White seems pretty darn clean and bright to my eyes from these images.
That's why it is so important to view photos to get an idea of a color but always sample them in case your own setting and light interact with the color in a wholly different way.
Pure White looks calm and soft in certain photographs…
but rather stark in others!
You can see that homes painted SW Pure White in this collection prove that natural light will definitely have its way and cause the same color to be perceived quite differently.
Pure White can read clean and crisp on siding yet it can also glow with more warmth at a different time of day or in a different region of the country.
Psst. Easiest way to see if a paint color will work? Order samples with Samplize and have them delivered straight to your door.
2. Benjamin Moore SIMPLY WHITE 2143-70
Still so wildly popular, though not as commonly used as BM White Dove, Simply White is beautiful.
It is one of those highly reflective whites. With an LRV of 89.52, BM Simply White will appear clean and creamy in most situations.
But you still must sample several since there are no fail-proof whites!
The slightest hint of warmth makes this hue a favorite to use both inside and outside of the home.
So lovely!
What a fabulous tiny house shop (below) Monika Hibbs constructed and painted Simply White! The color on the door reminds me of the color I painted the shutters and trim of our own tiny house in 2020…BM Boothbay Gray.)
I love me some Monika Hibbs everything, and I also found out the following grey colors are her favorites to use:
If you are considering painting a brick exterior, you'll find plenty of encouragement and confirmation online! Look at what's possible:
Before you are completely sold on BM Simply White, consider a few more tried and true favs in the design world.
3. Benjamin Moore SWISS COFFEE OC-45
Bet you're somewhat familiar with Swiss Coffee for interiors, and it can also be stunning and the perfect white for a home's exterior.
In fact, this color is so trusted by designers that Benjamin Moore calls it "an essential white with just the right amount of warmth."
If you are wondering how you will know whether a particular white is warm enough for your particular context…
You probably know what I'm about to say. There's no shortcut to knowing. Sample it! Notice the "before" of the newly constructed warm brick home above and then the cooler white painted brick below.
With an LRV of 81.91, Swiss Coffee is creamier than other whites mentioned above.
Will it be too yellow of a white for your own house? Sampling it is the answer. It certainly doesn't seem yellowy when you see the before/after of this home.
However, you can see in the photo above how the sun is adding warmth to it. That's why exterior colors are tricky.
If you're leaning toward Swiss Coffee, this video below might help. The blogger used it for her interiors so you can get an idea of how she arrived at the perfect white for her own needs.
While I still haven't learned which white paint color was used for this stunning "barn house" (below) in Australia, a good start with samples to emulate it might be SW Simply White, BM Swiss Coffee and BM White Dove.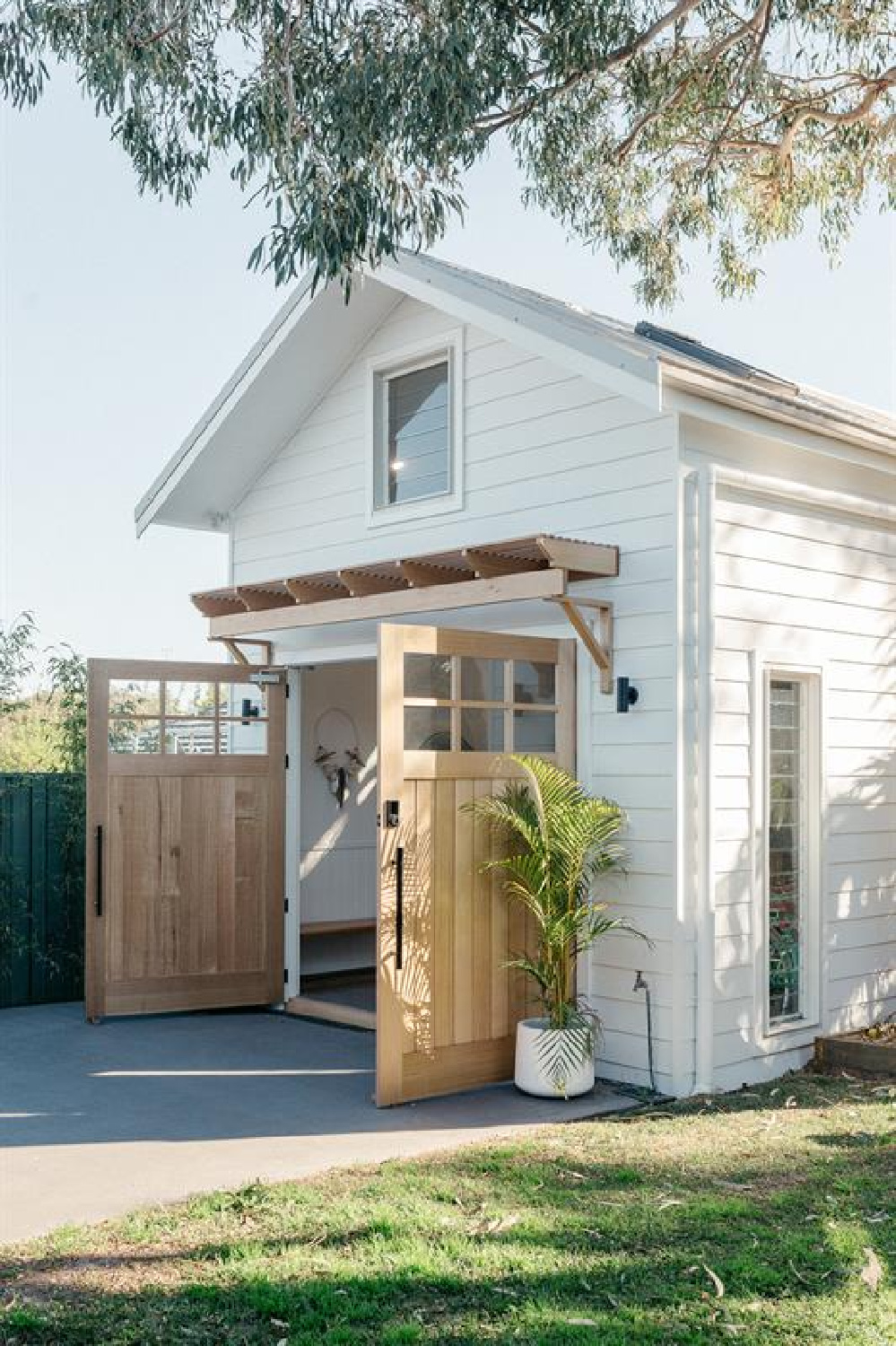 4. WHITE DOVE by Benjamin Moore OC-17
Has there ever been a more tried and true white for interiors and exteriors in the history of paint? Doubt it.
Benjamin Moore claims White Dove is clean and classic with unerring style. Unerring? Wow. Now there's an endorsement.
Designers say they love it because when used for interiors, it has a soft quality that doesn't seem to change with the changing light of the day.
I appreciate how the homeowner sampling paints for the perfect white for a new build (above) snapped a photo for reference.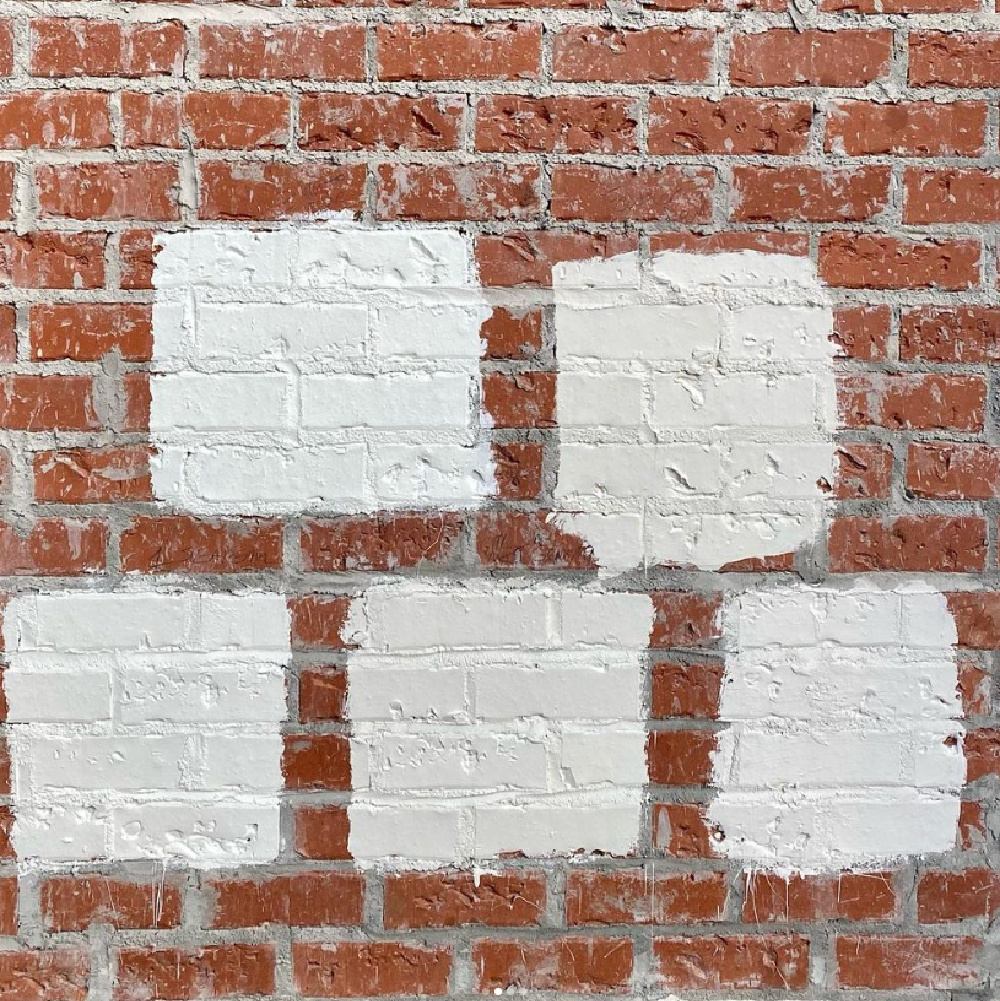 She chose Shoji White over White Dove, and you suddenly get a sense of how it helps to give you a place to start! Also note the different undertones coming forward in the white paint colors sampled on the brick.
Back to White Dove's beauty for historical properties and classic charm…It truly is something special.
If ever I get the itch to paint my own red brick home, White Dove is the first paint color sample for which I would reach.
Here it is on a lovely carriage house:
It is a bonus when homeowners snap a photo when the sun is setting or at twilight.
When you see a white with snow, you also get a reference:
So do keep in mind if you choose a white, the painters are done painting at dusk, and you wonder how on earth it could look the way it does…wait until the light is on it the following day.
5. Sherwin-Williams SNOWBOUND 7004
It looks like a light grey when you view the swatch against a bright white screen, yes?
LRV for Snowbound is 83, and isn't soft and billowy?
You don't have to be afraid of greyed-whites, and they are especially perfect for exteriors since you're going to get sunlight warming the color.
In fact, the perfect white for you may not have "white" in the name. Check out Balboa Mist to see what I mean!
While I'm not sure of the paint color for the trim below, there's a chance it is SW Colonnade Gray since that is the color Sherwin-Williams recommends as a coordinating hue with Snowbound.
Notice how Snowbound works with the roof color above (kind of a pencil lead color) and an entirely different colored roof below (kind of a pencil eraser color!):
By the way, if you are painting your home white, choosing trim colors is going to be so much easier!
Do visit my board with white exterior inspiration! Find bright white paint color options for exteriors in THIS. Hang out a little longer if you have a moment and explore more paint colors HERE.
I independently selected products in this post—if you buy from one of my links, I may earn a commission.
Peace to you right where you are.
-michele
Thanks for shopping RIGHT HERE to keep decor inspiration flowing on Hello Lovely!
Hello Lovely is a participant in the Amazon Services LLC Associates Program, an affiliate advertising program designed to provide a means for sites to earn fees by linking to Amazon.com and affiliated sites.