The thing about timeless design is it feels fresh and relevant in any era. Timeless takes time! And the thing about fantasy tours is we can view them with a sense of curiosity, wonder, and enjoyment rather than as a student collecting shopping resources. When the location of the fantasy is as dreamy as Richard Shapiro's high style timeless beach house? Oh, goodness. This fantasy tour appeared on the pages of AD (April 2011), and it's unforgettable!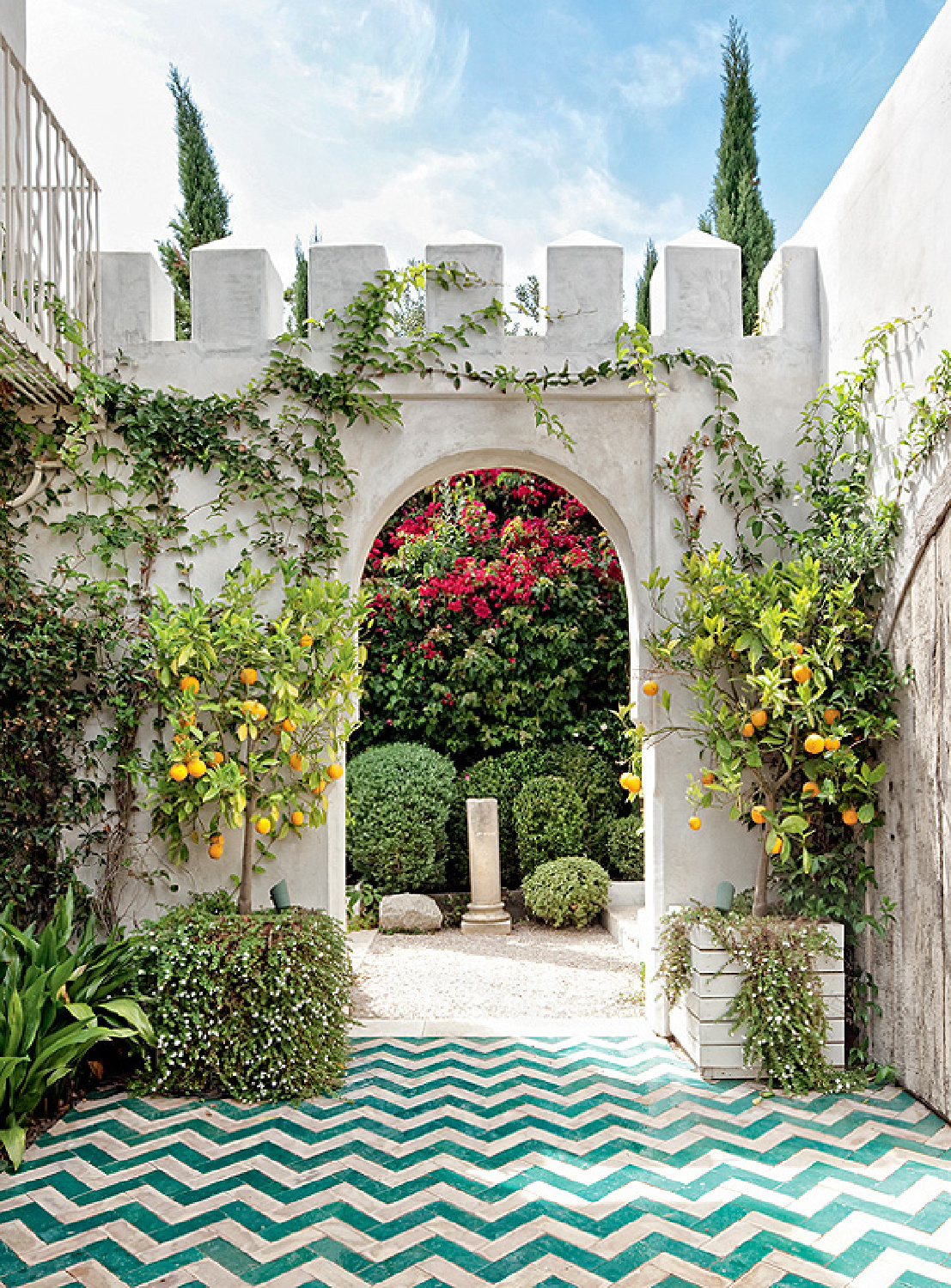 Timeless Beach House With Old World Style
Richard Shapiro, antiques dealer and head of Studiolo home furnishings designed this Malibu beach house with architect Douglas Burdge. Shapiro built a remarkable career spanning decades with a unique aesthetic approach. You'll notice the mix of timelessly elegant design elements, Old World charm, and a deep reverence for art, light, history and antiques.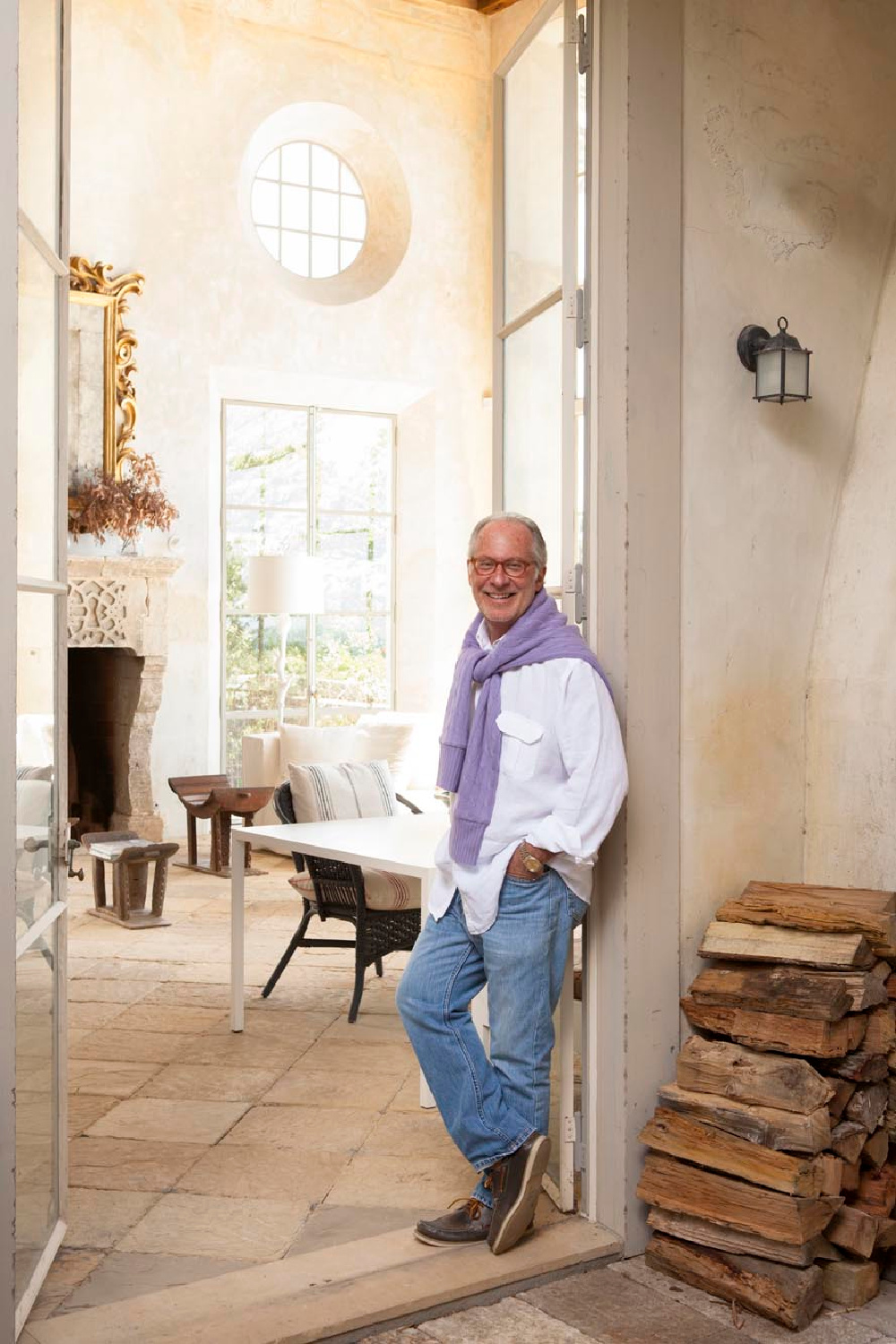 Shapiro's interior design philosophy is rooted in the creative process of creating spaces that exude warmth, depth, and soul. He is renowned for an ability to blend diverse styles and periods in a harmonious manner, resulting in livable luxury.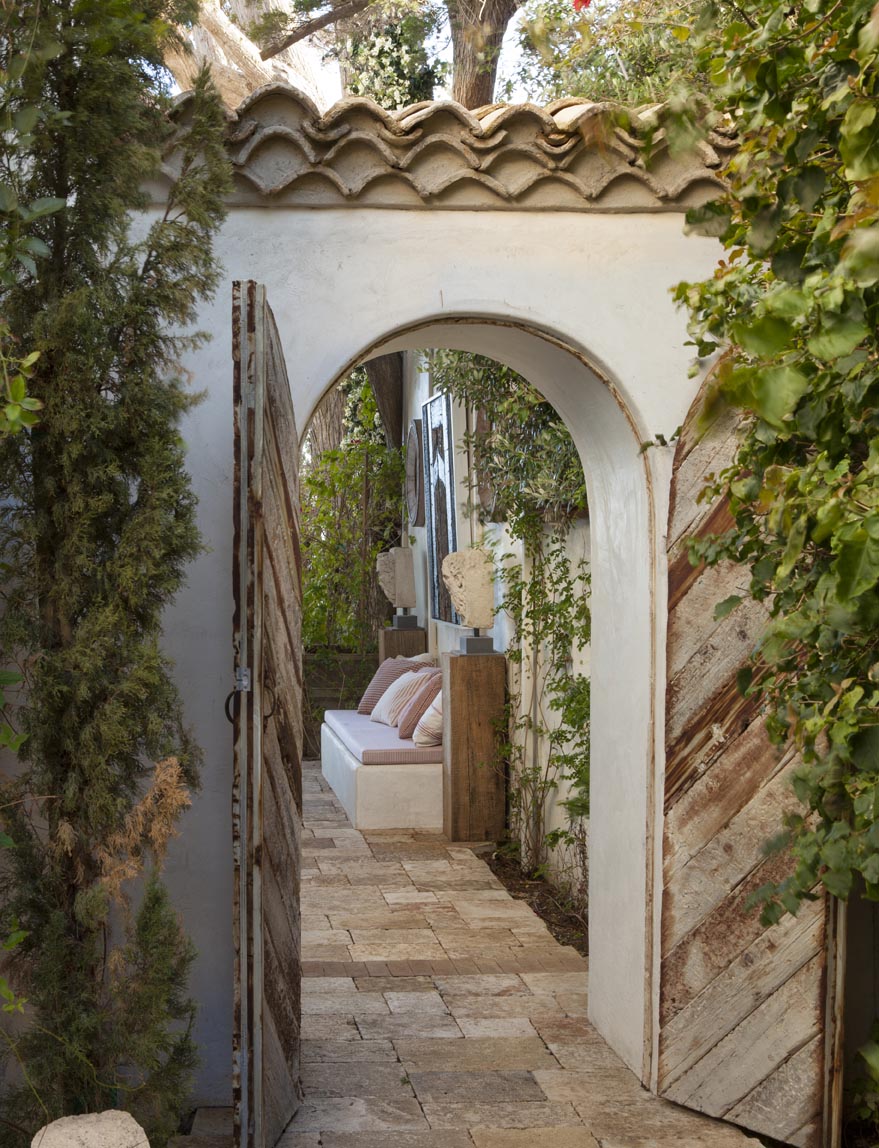 His interiors are frequently a rich mix of textures, luxurious fabrics, and exquisite details, showcasing meticulous attention to detail and craftsmanship.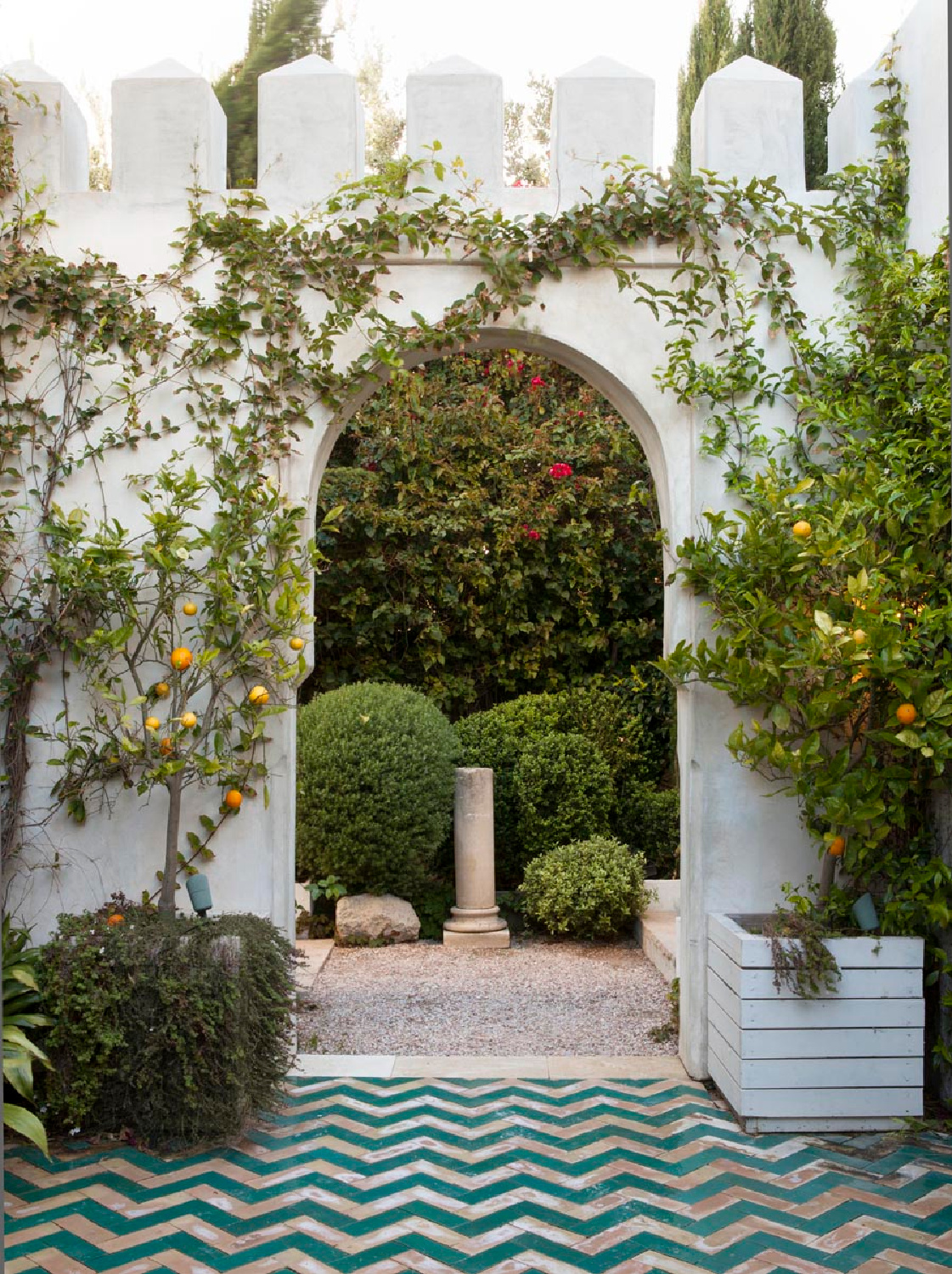 Shapiro's architectural projects often preserve historical elements while they incorporate modern amenities seamlessly. To strike such a balance between past and present requires someone who also understands the art of storytelling.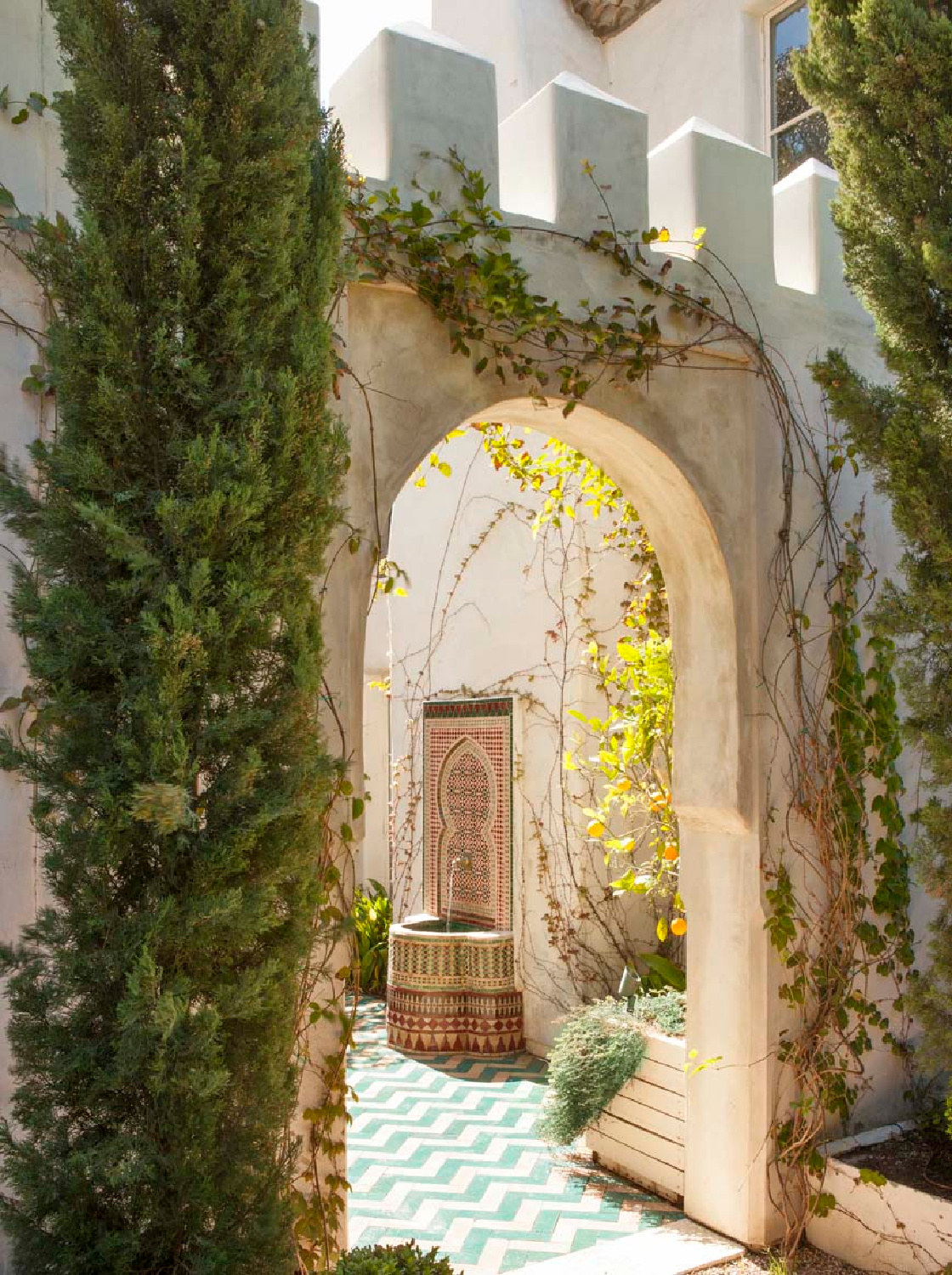 Magnificent Entrance to this Timeless Home
His own home here certainly tells a story! The front door (below) is framed by a French 18th-century stone surround, and aren't the climbing vines fairytale-like?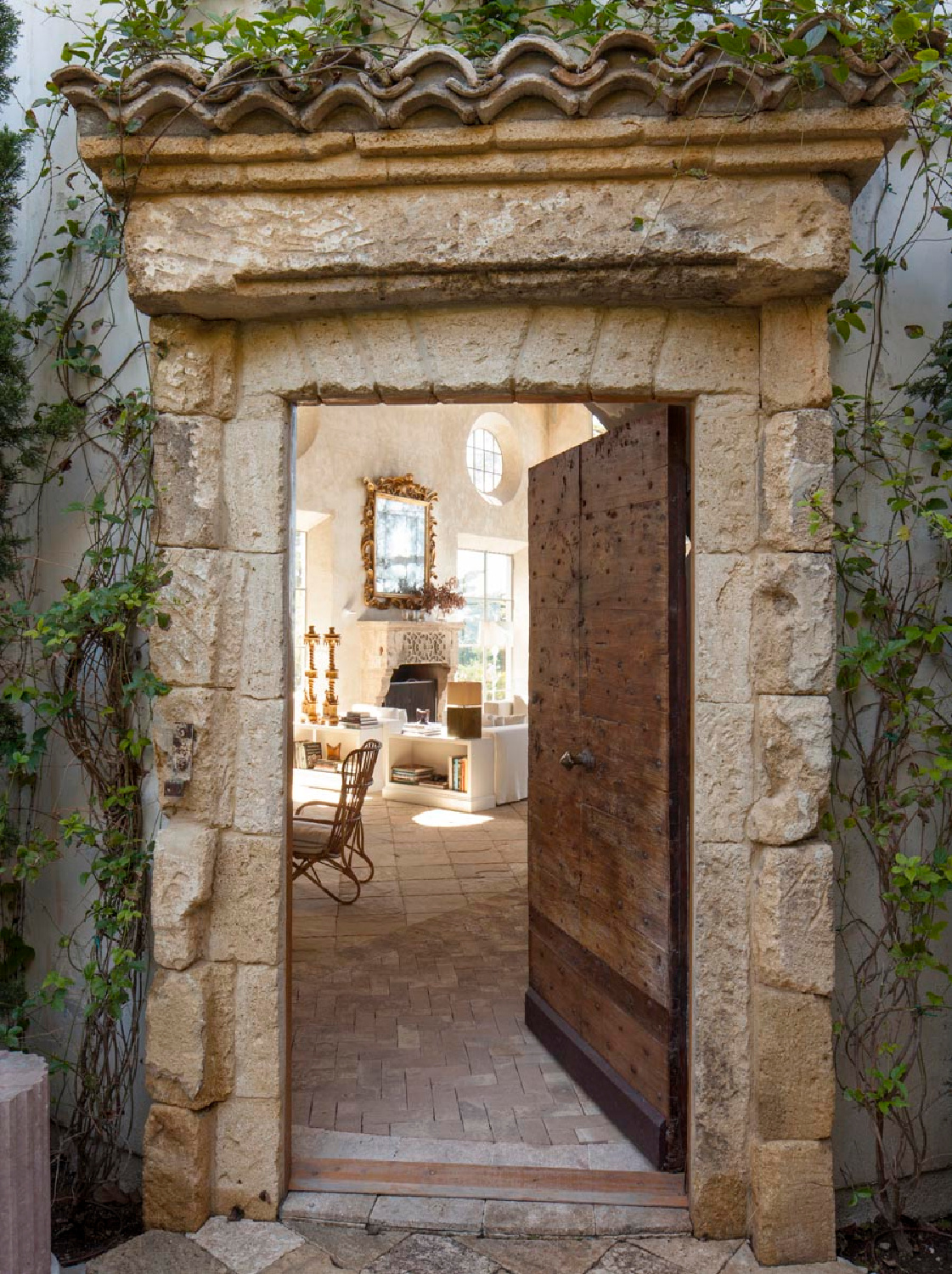 As a designer of furniture, Shapiro created a line of exceptional pieces inspired by an admiration for antiques. The collection is marked by its timeless appeal, elegant finishes, and fine craftsmanship.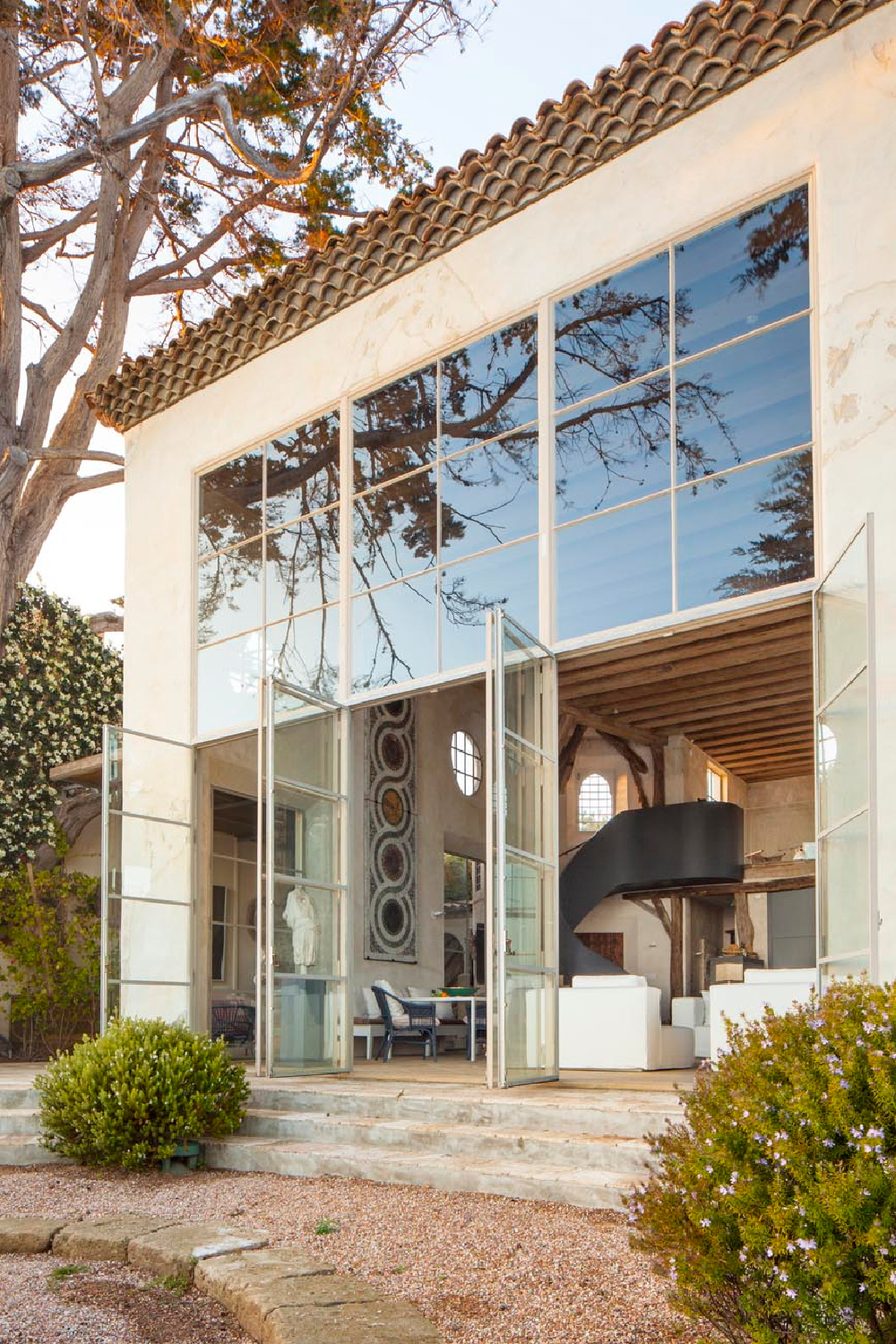 Patina Perfect Timeless Living Room
Each thoughtfully designed piece ushers comfort, beauty, and a sense of history into a home's interiors.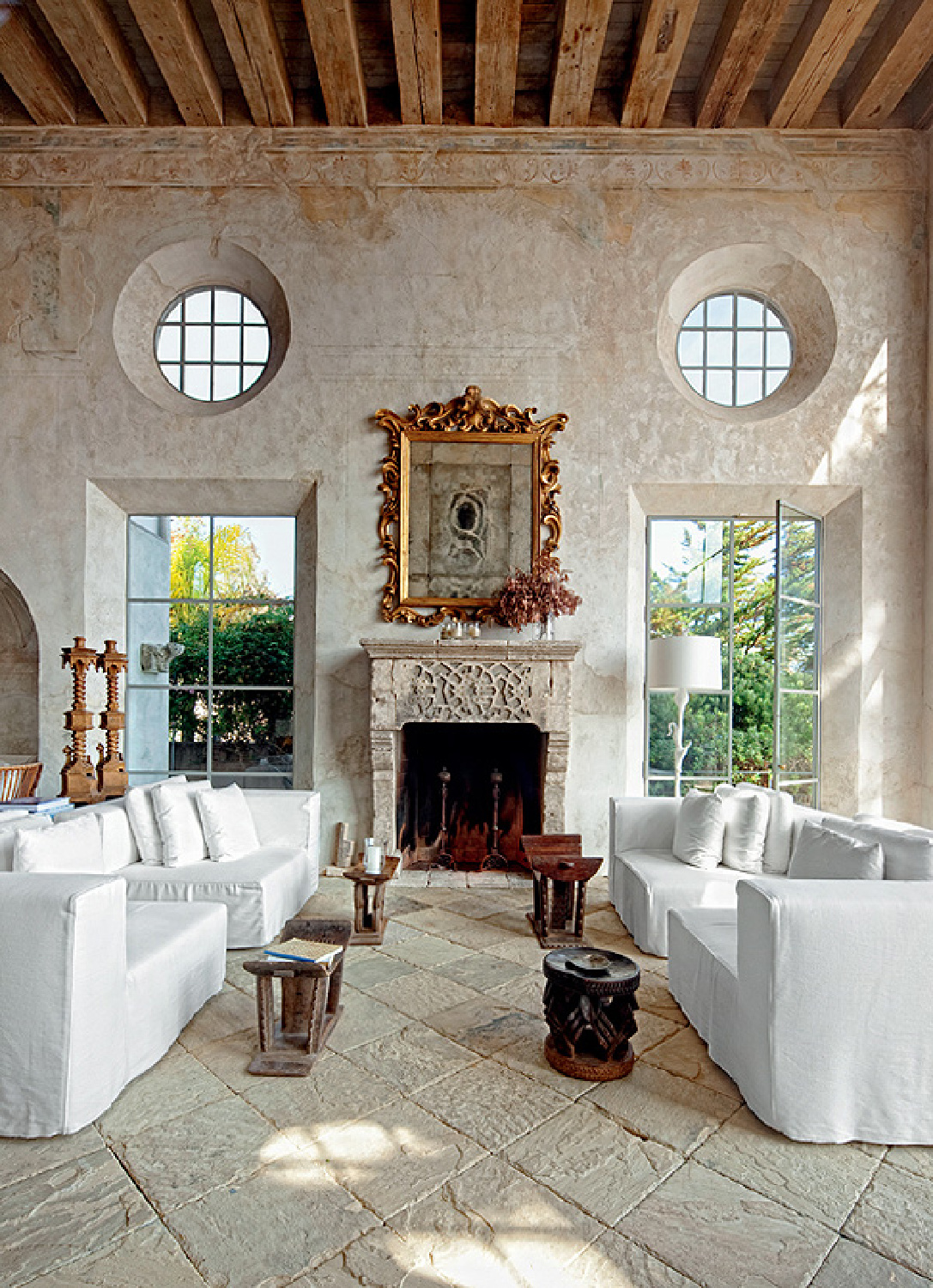 Curated carefully, the space is spare and pale, yet feels anything but cold.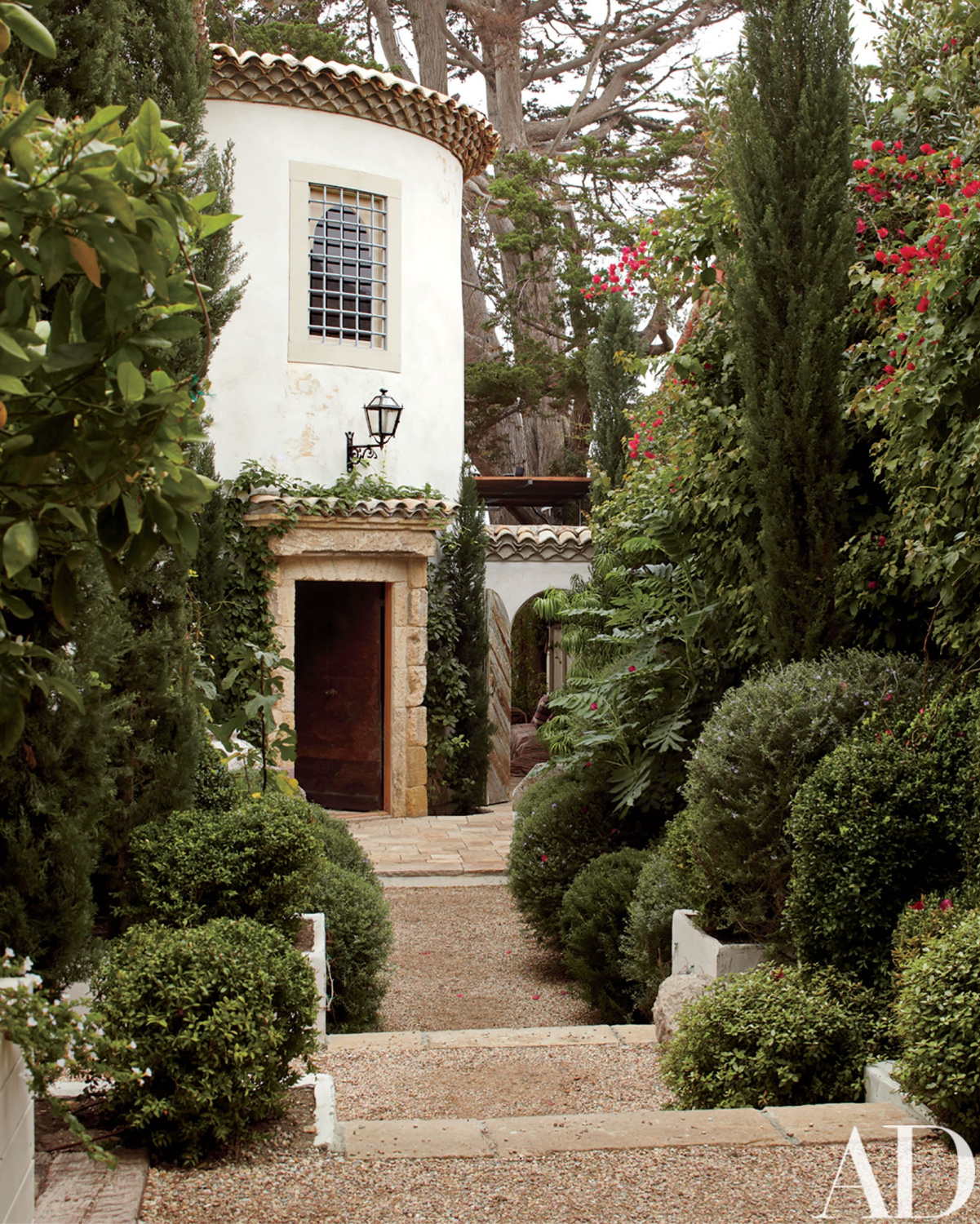 Shapiro is also recognized for his extensive art collection, which spans various periods and styles. These structures certainly qualify as art pieces too.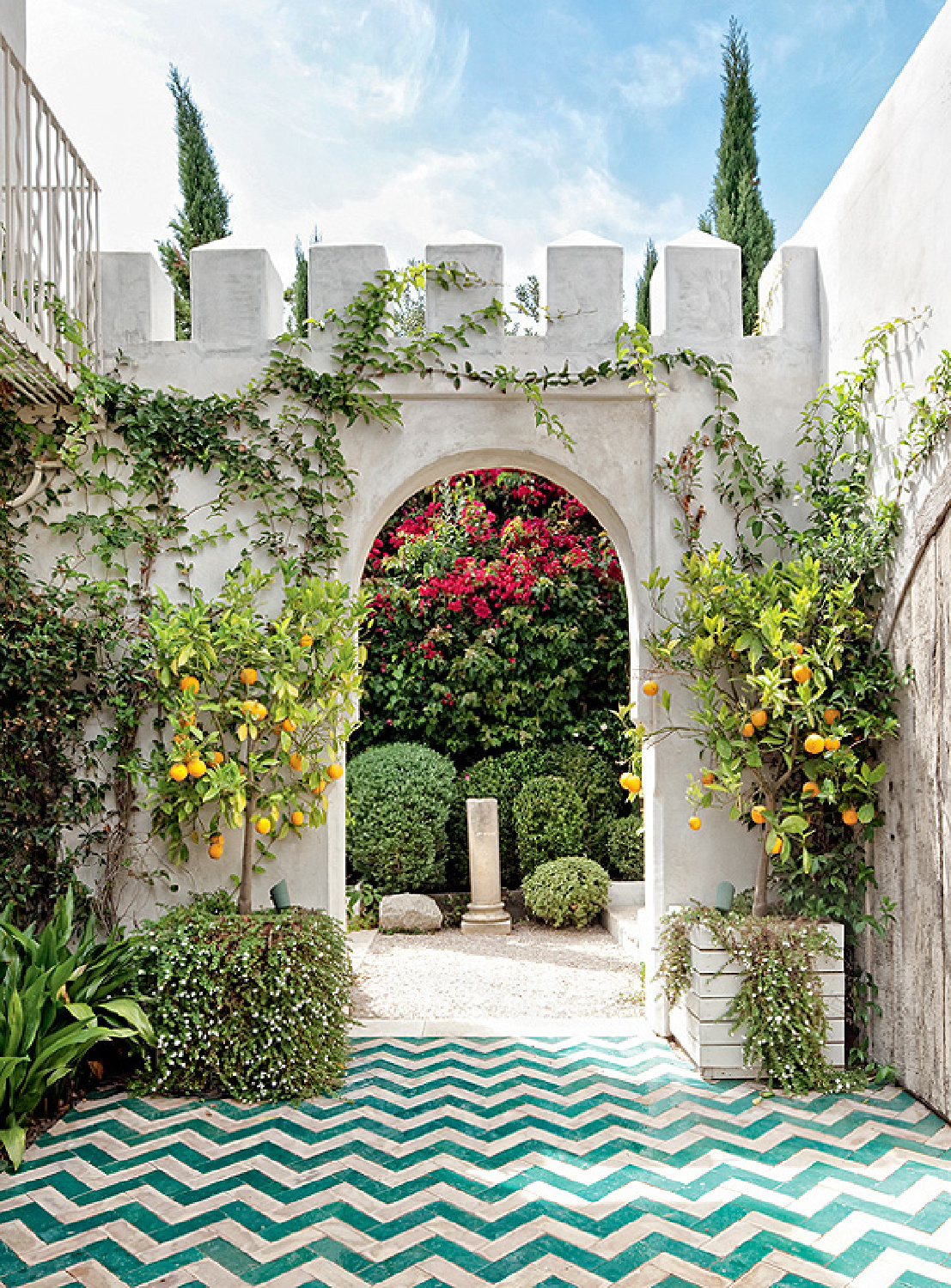 That appreciation for art, antiquity, and story inspires the designs, elevating each project with a timeless sense of artistry, sensuality, and sophistication.
Sculptural Staircase With Steel Balustrade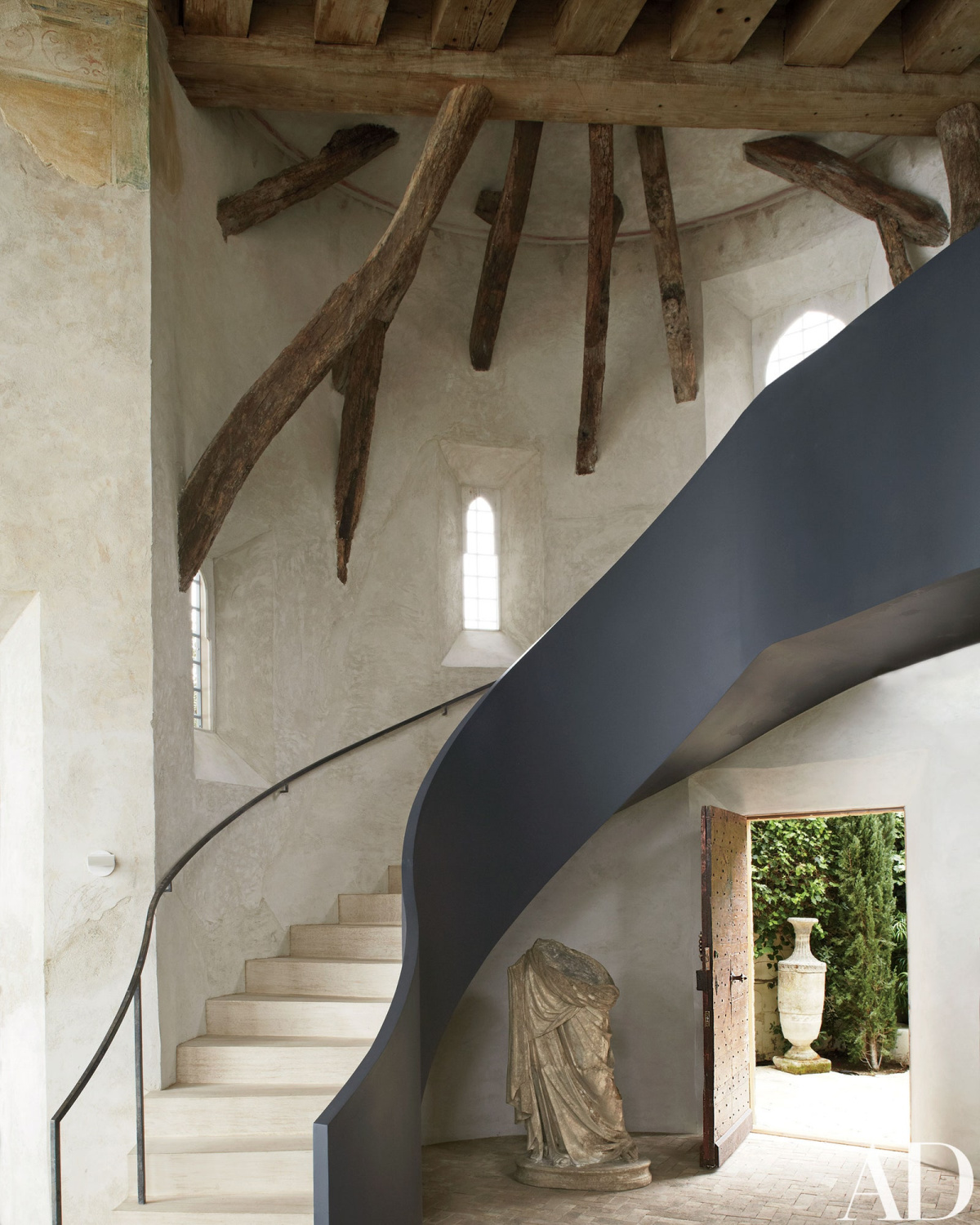 A sculptural staircase with steel balustrade winds up to the master bedroom and bath. At its base? 19th-century replica of an ancient Greek statue.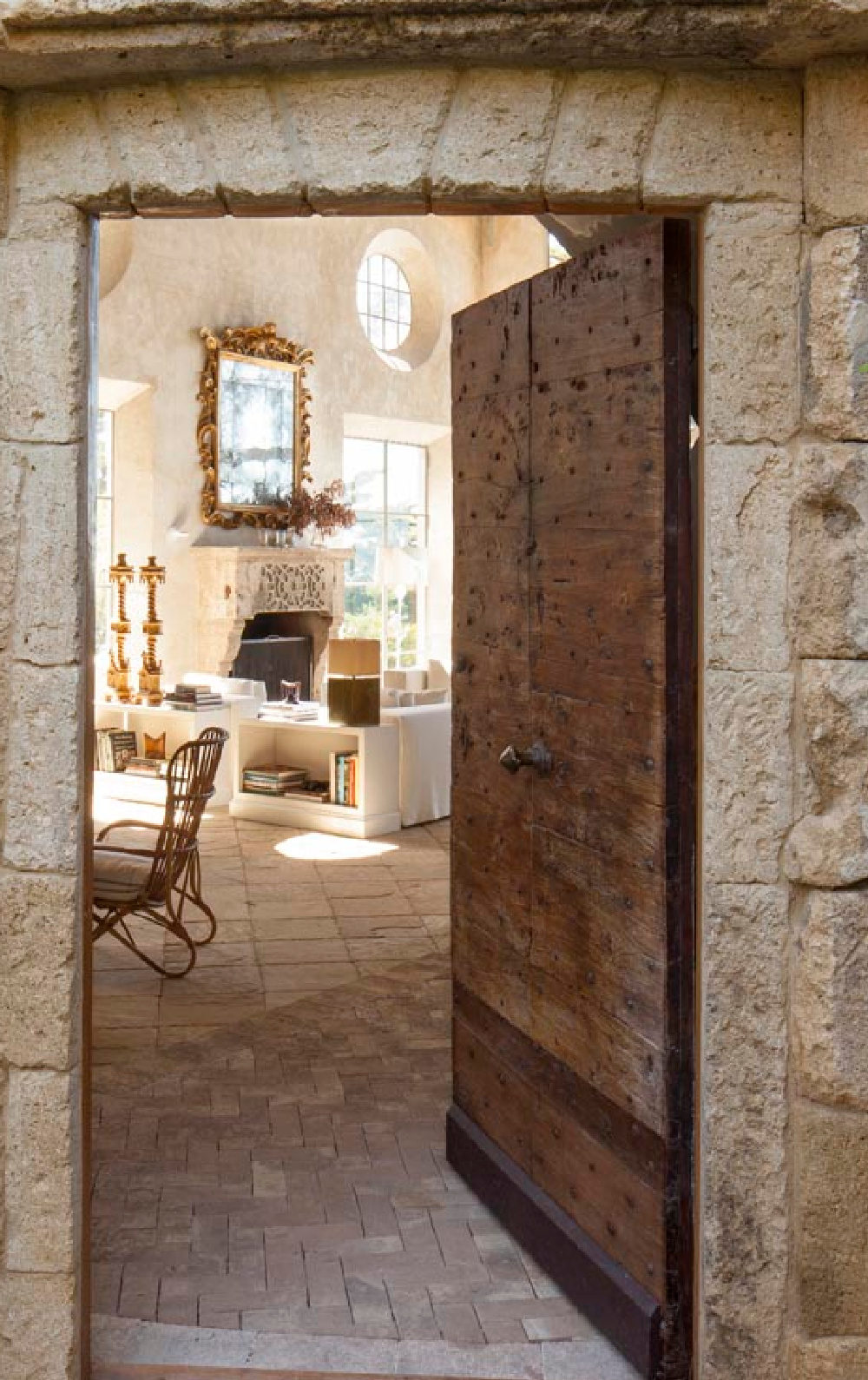 Oh, that door! It's a nail-studded 17th-century walnut door from Italy. Think about the places and people this door has served!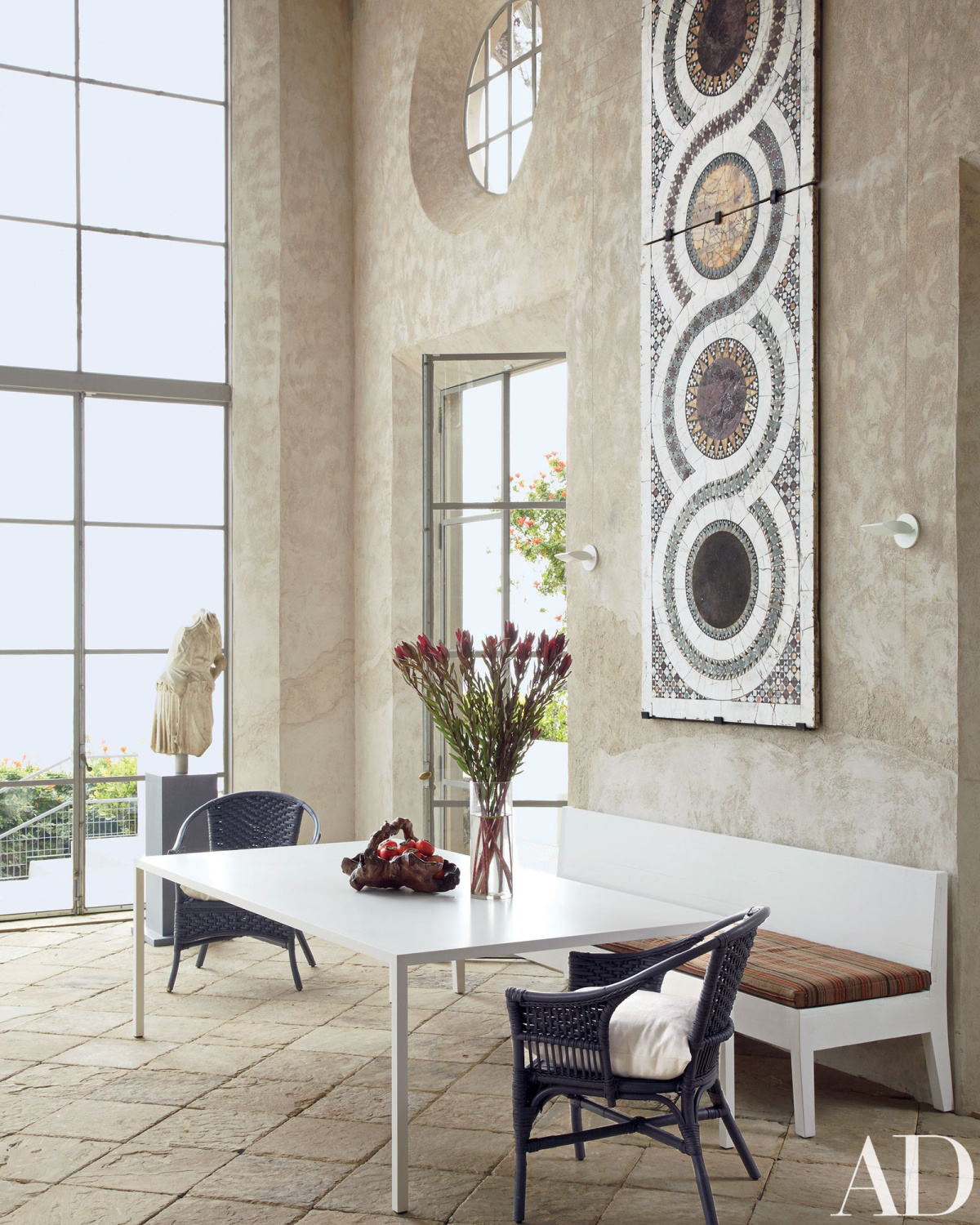 Are you getting a sense of the bespoke nature and thoughtful curation throughout this home? For example, the panels on the wall in the dining area were not picked up at Homegoods. 🙂 They are 18th-century inlaid Cosmatesque panels from Phoenician Stone.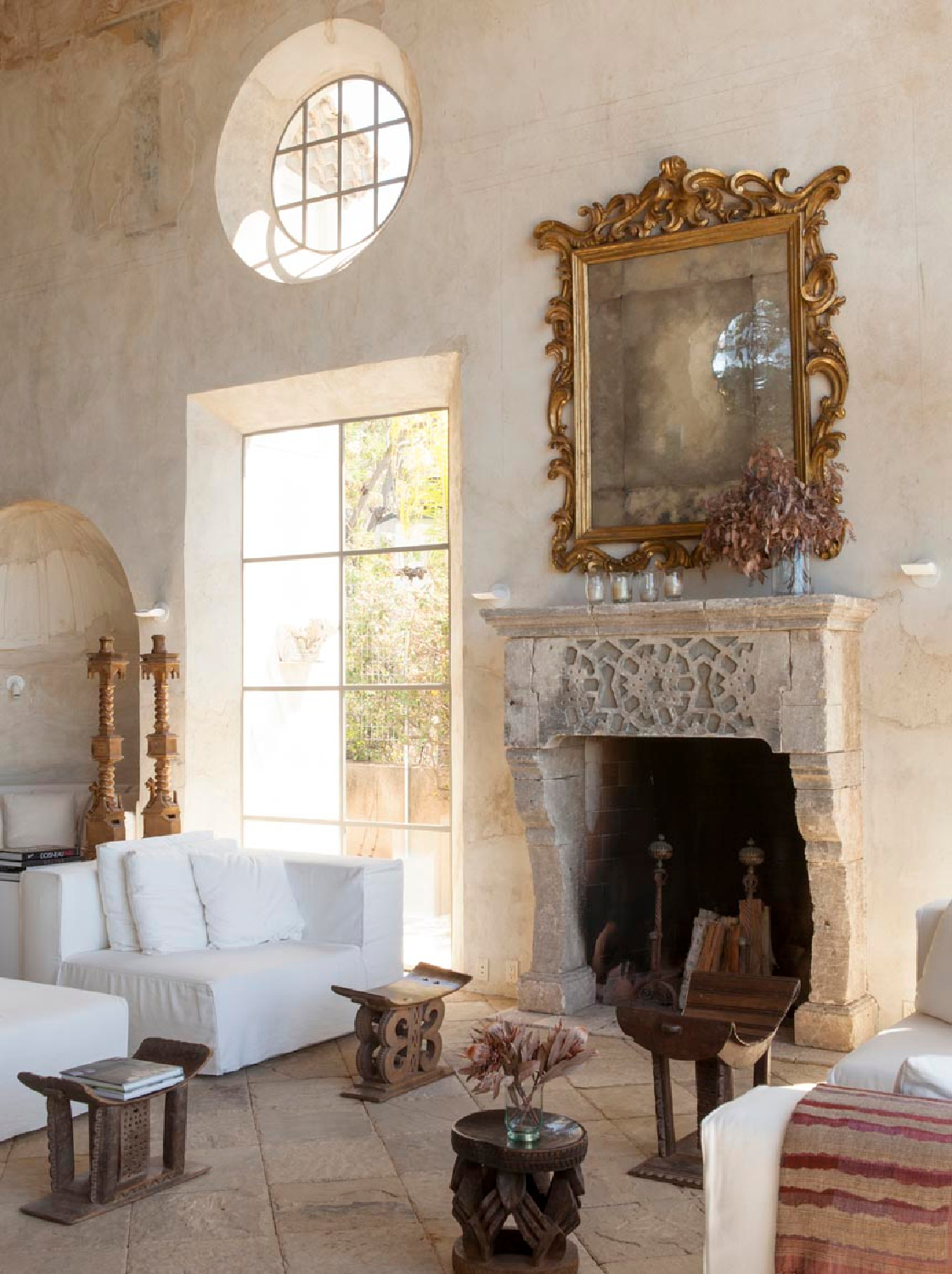 Walls in the living room walls appear to be ancient after being sheathed in frescoed plaster.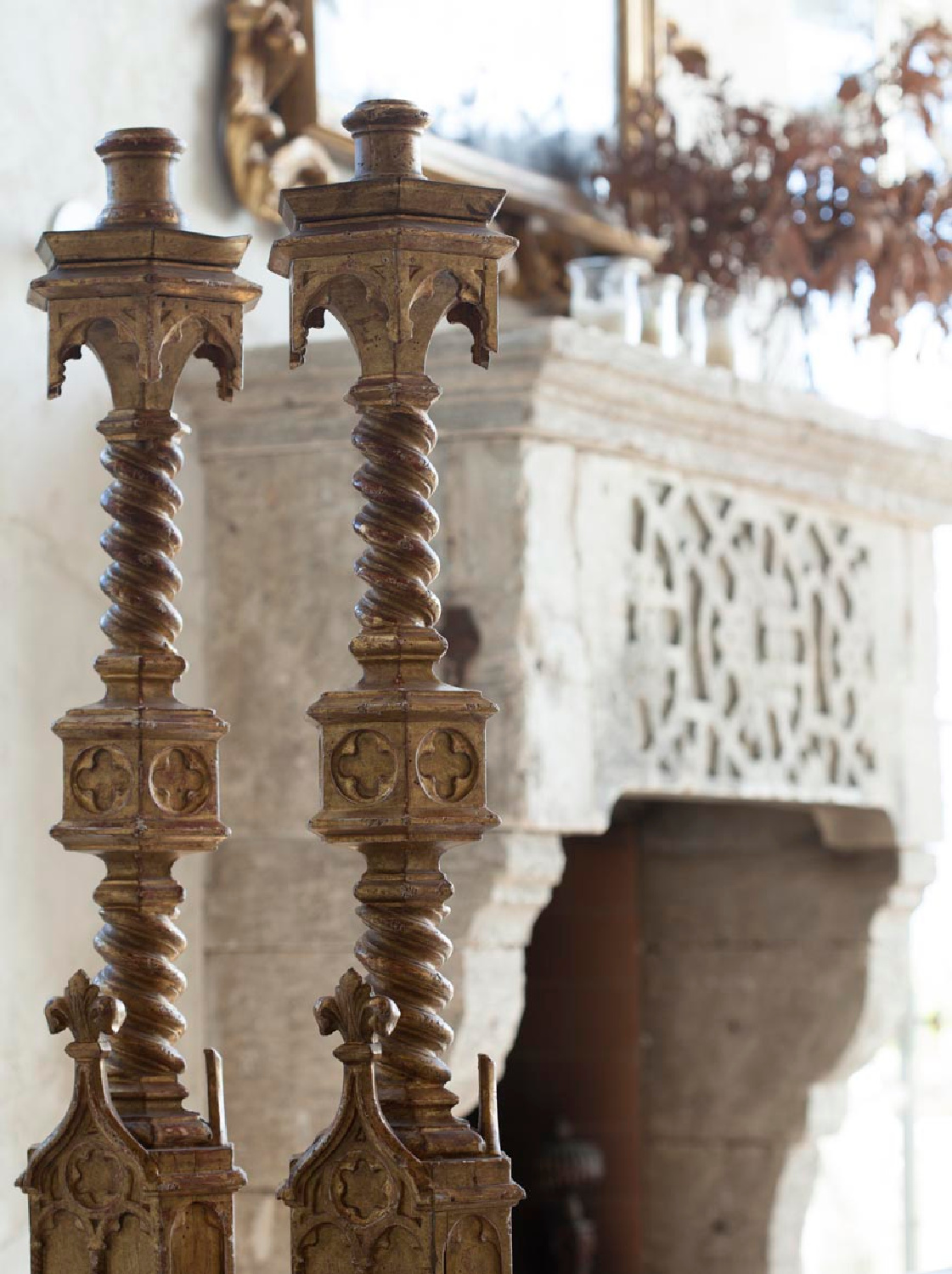 The gilt-wood mirror above the fireplace is from Italy and dates to the 1600s.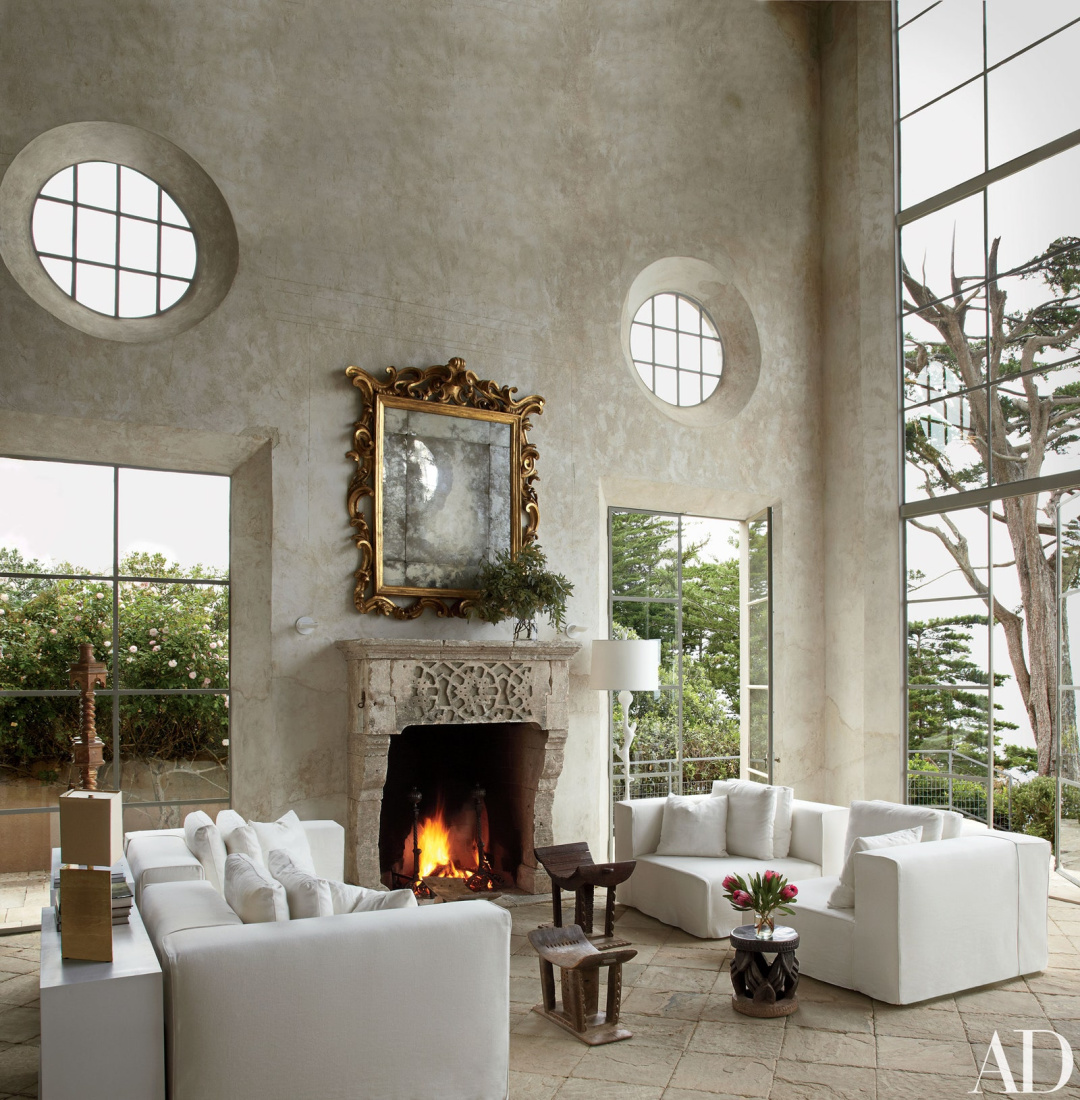 Awe-Inspiring Black Kitchen
The strikingly un-kitchenlike black kitchen is open to the living spaces and includes an island made of basalt.
The volcanic stone on counters is continued on the backsplash, and the cabinets are black lacquer. A vintage glass waterfall table by Pace is paired with a linen-covered sofa custom fitted to the alcove.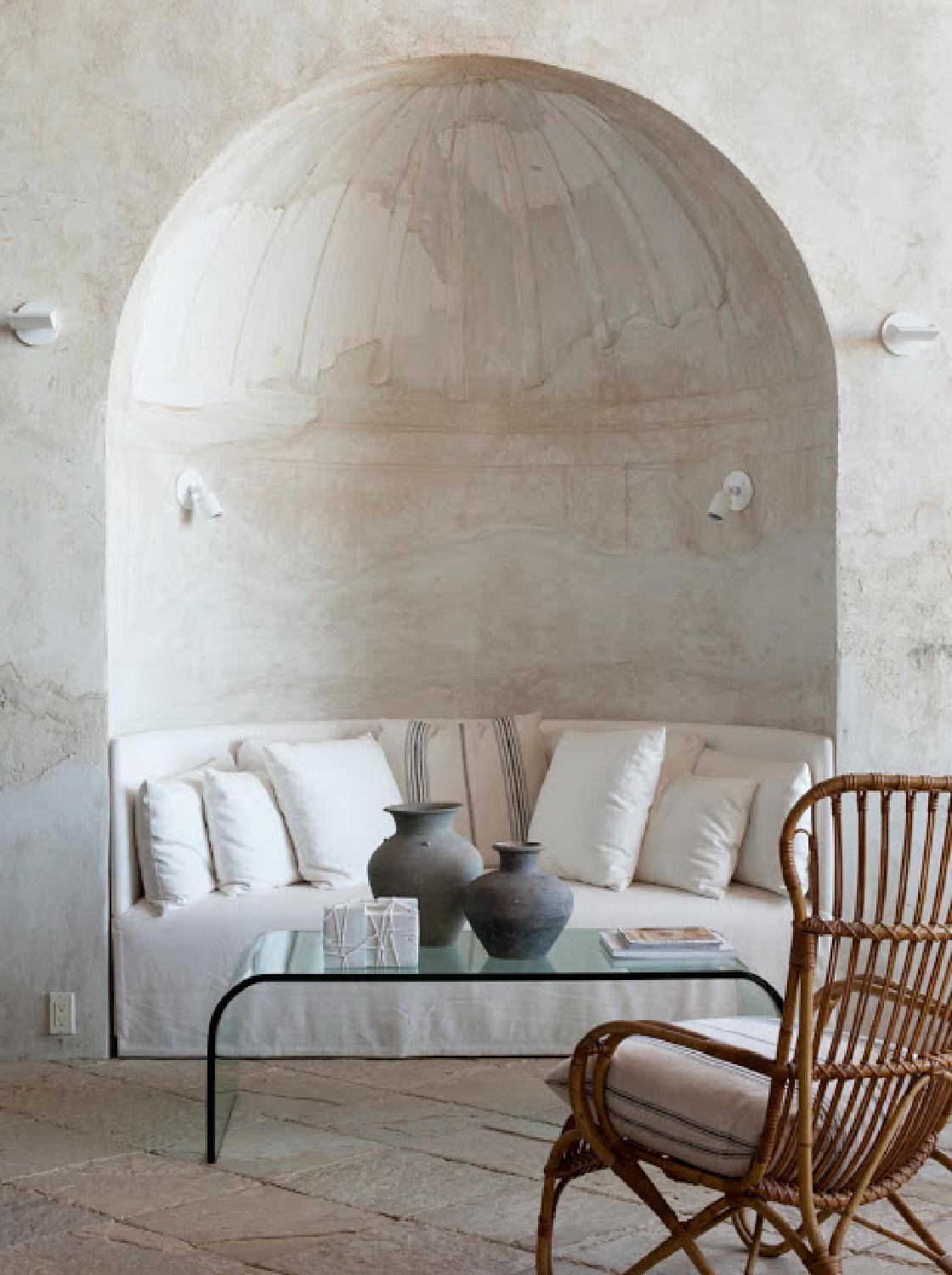 And what an alcove it is!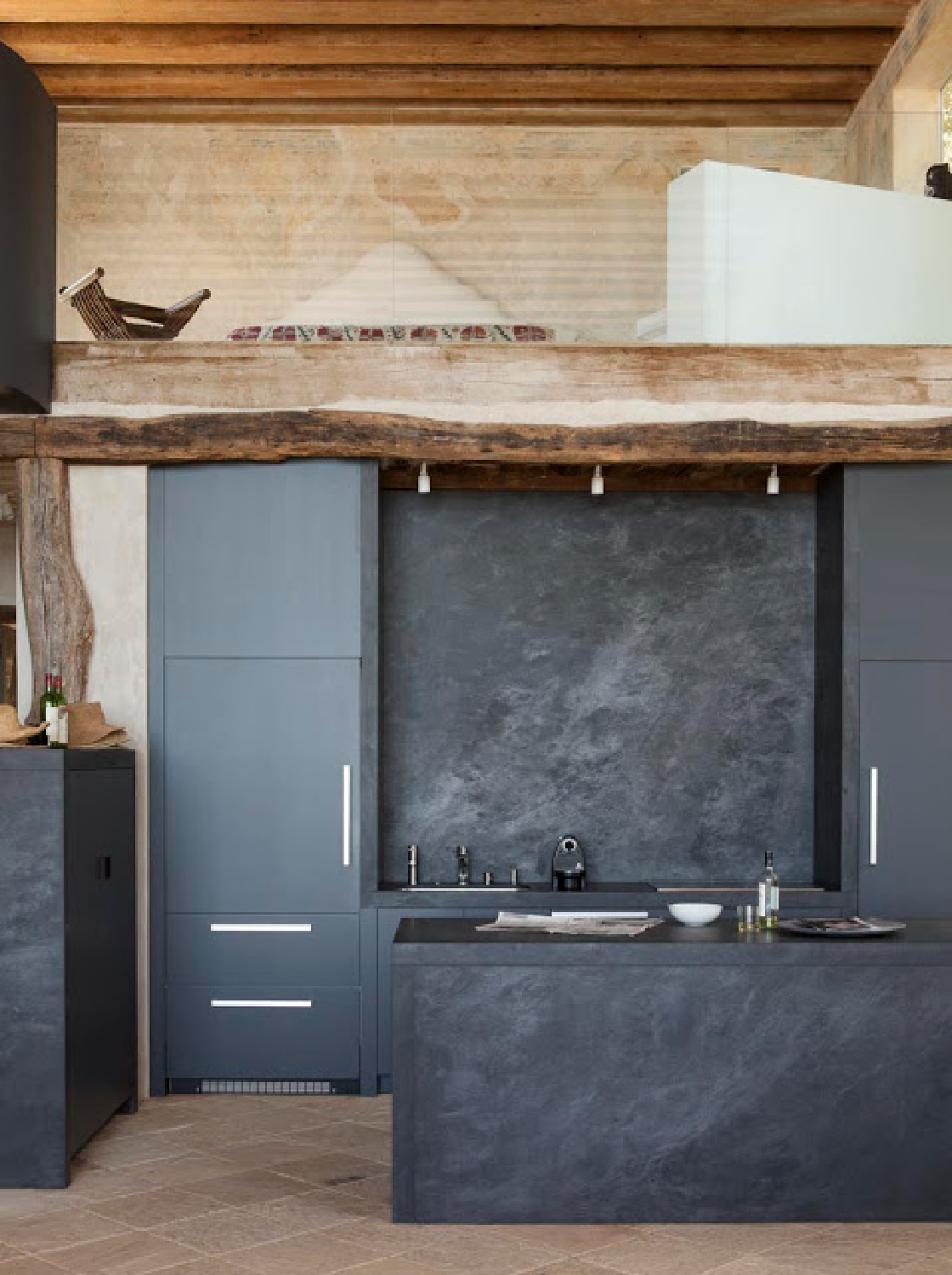 Can you even imagine the task of designing a timeless yet modern functioning kitchen for an open concept in a home this magnificent?
Atmospheric Library Design Details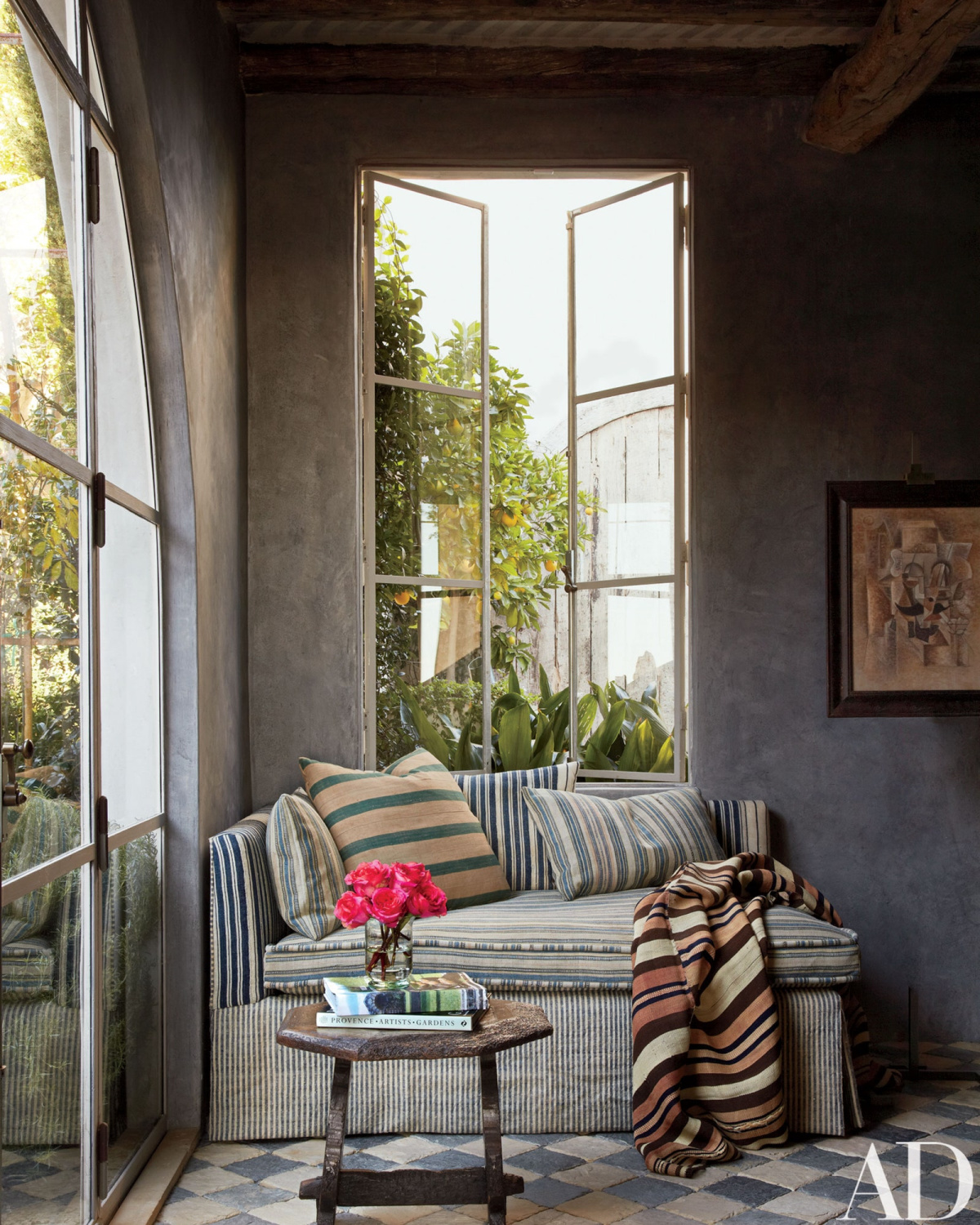 In the library, a daybed is upholstered provocatively in a mix of striped fabrics. Look at how all of those fabrics vary on the piece, pillows, and throw!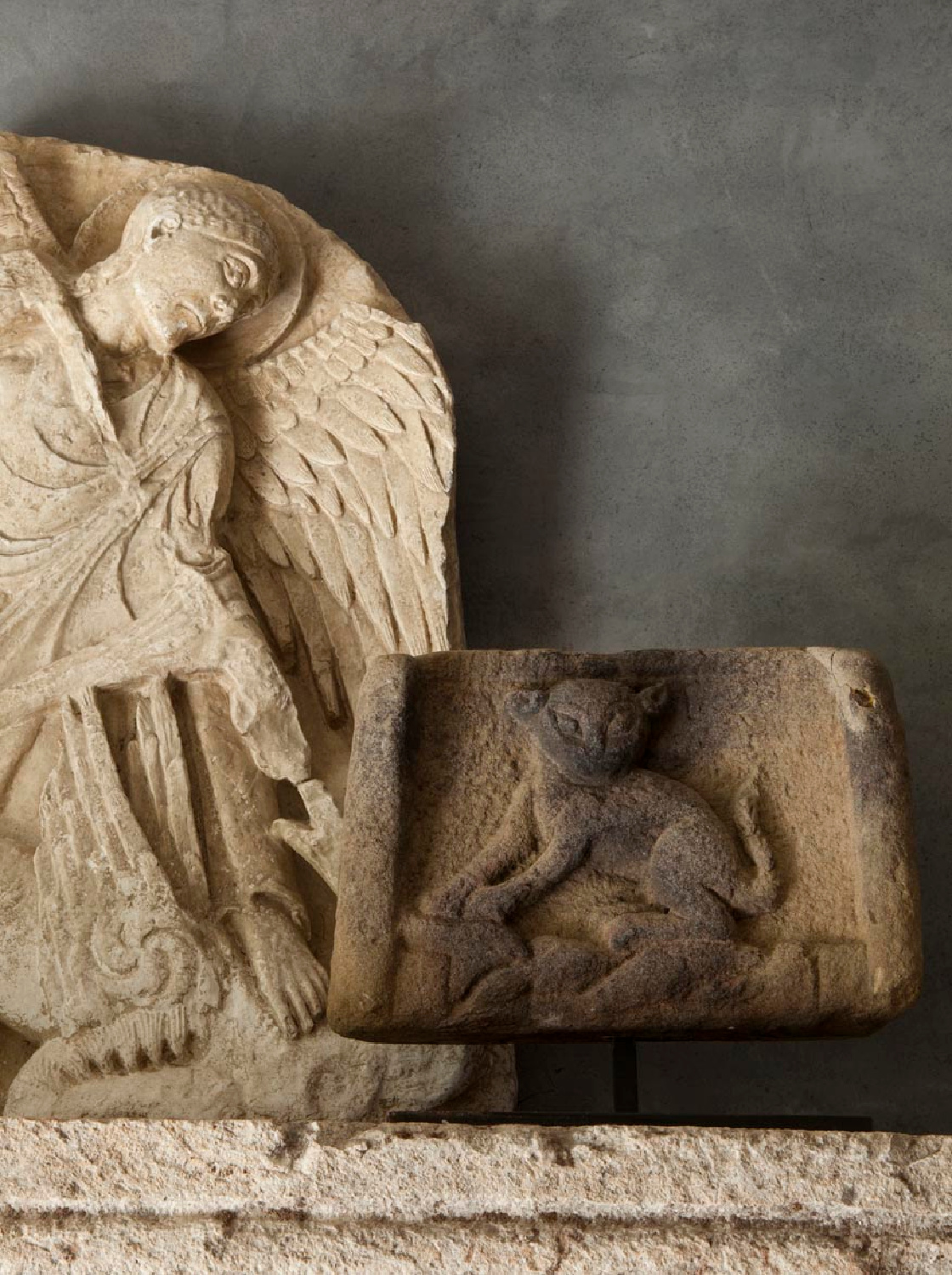 So much warmth, coziness, and atmosphere in the library with its shelves of what appear to be art and design related books.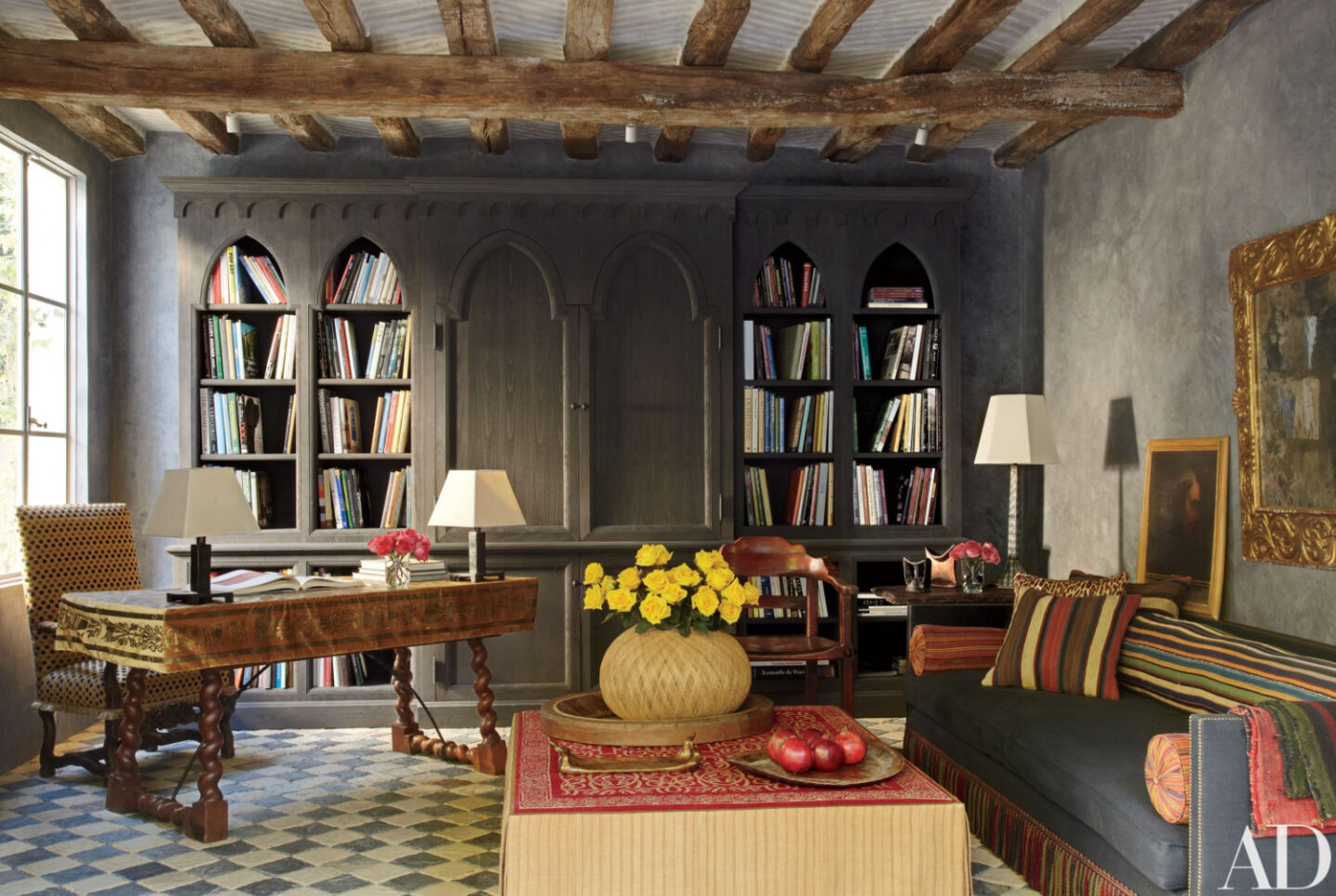 How can it feel so calm with all of the various patterns (look at the checkered floor!) from floor to ceiling?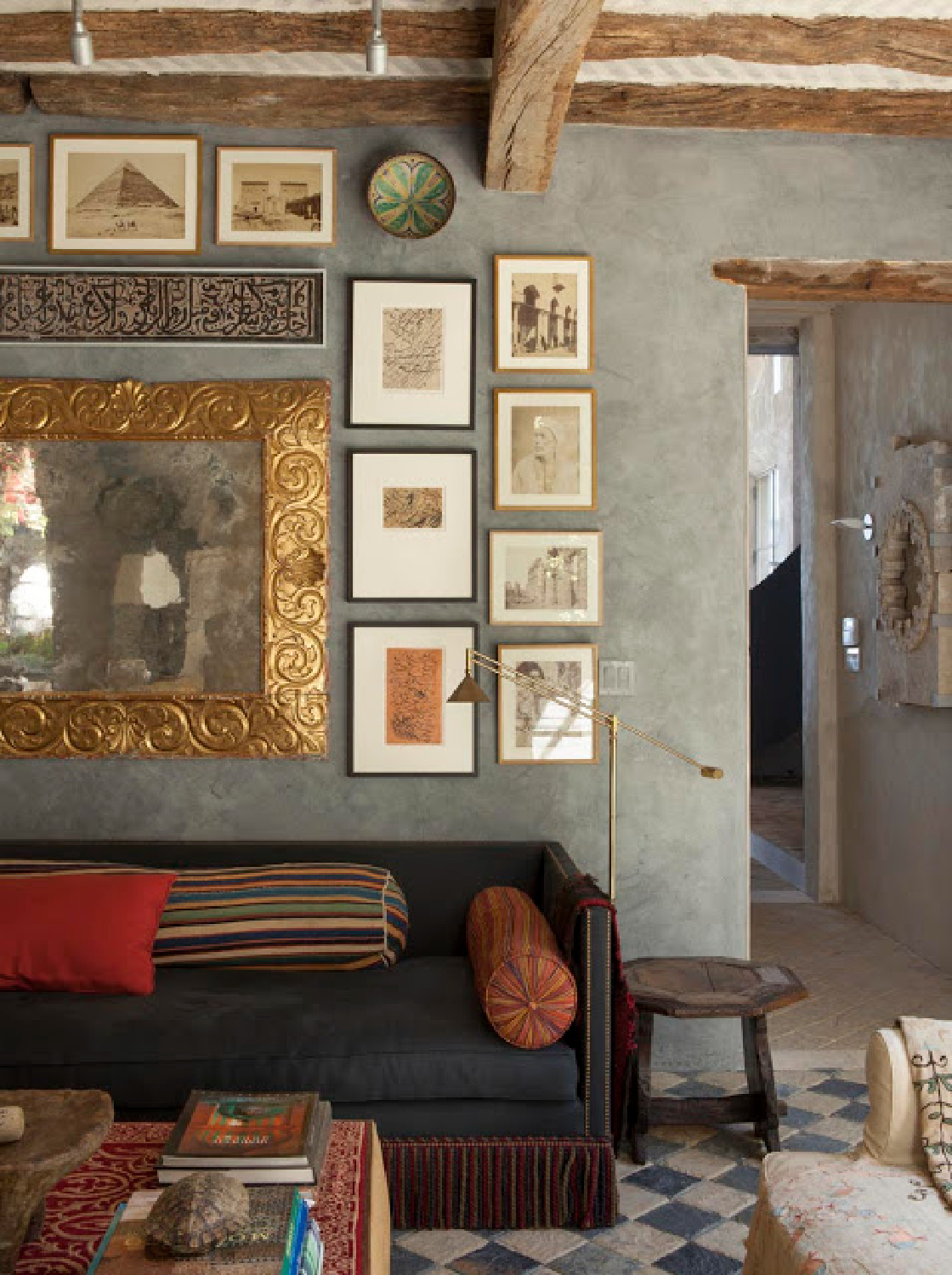 It's a great room to study to answer that question! There's a balance – note the color of the built-ins and the sofa. The same color is repeated in the checks on the floor. And there are no jolting moments of contrast. Even with the rugged materials there's a gentleness.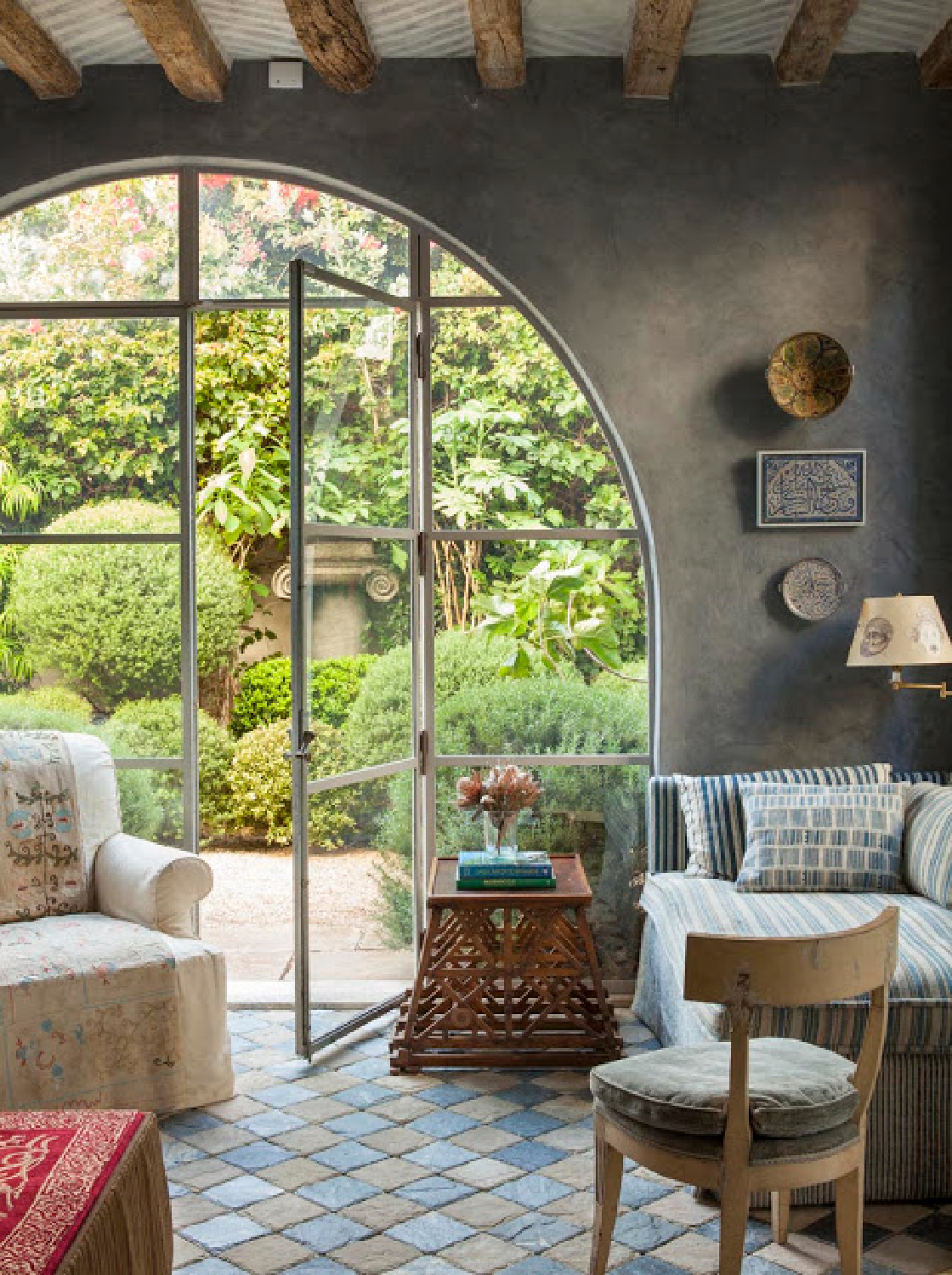 And plenty of gentle sea breezes steps away!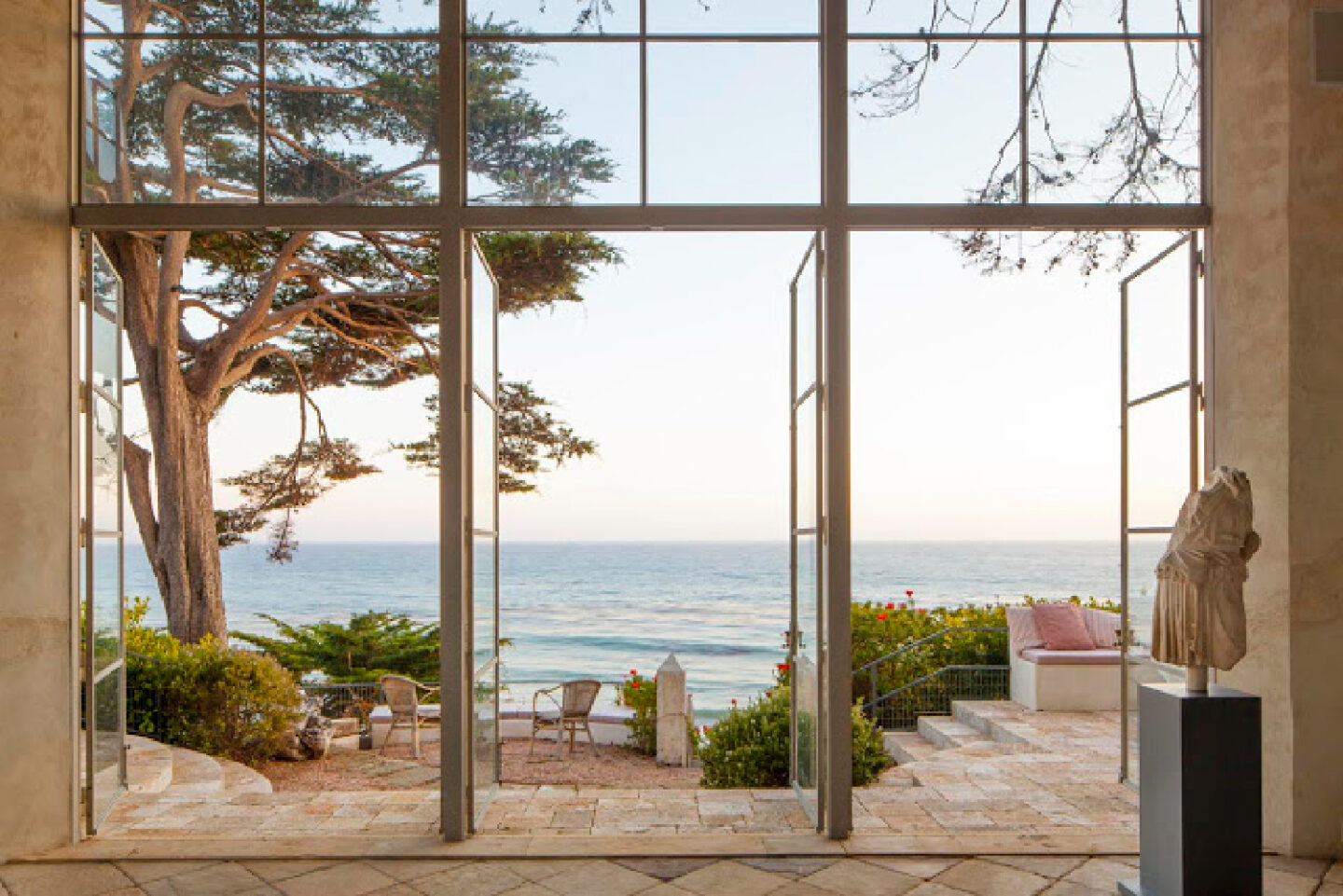 I could get used to this view the ancient torso on the pedestal enjoys all day! Steel windows by Pierre Quinton open to the glory of the Pacific.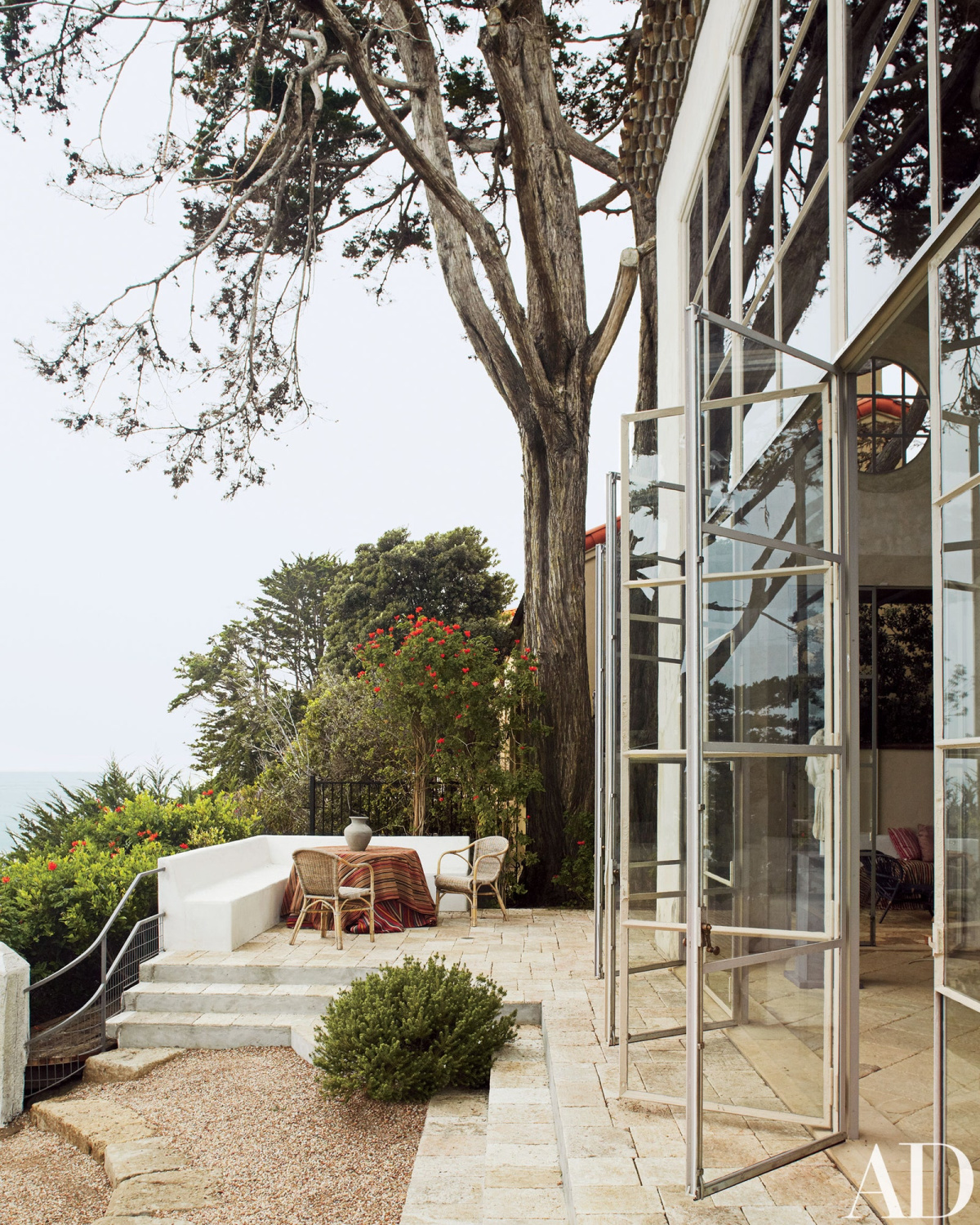 Timeless Elegance Outdoors Too
More timeless details outdoors where beautiful stone steps descend to the shore.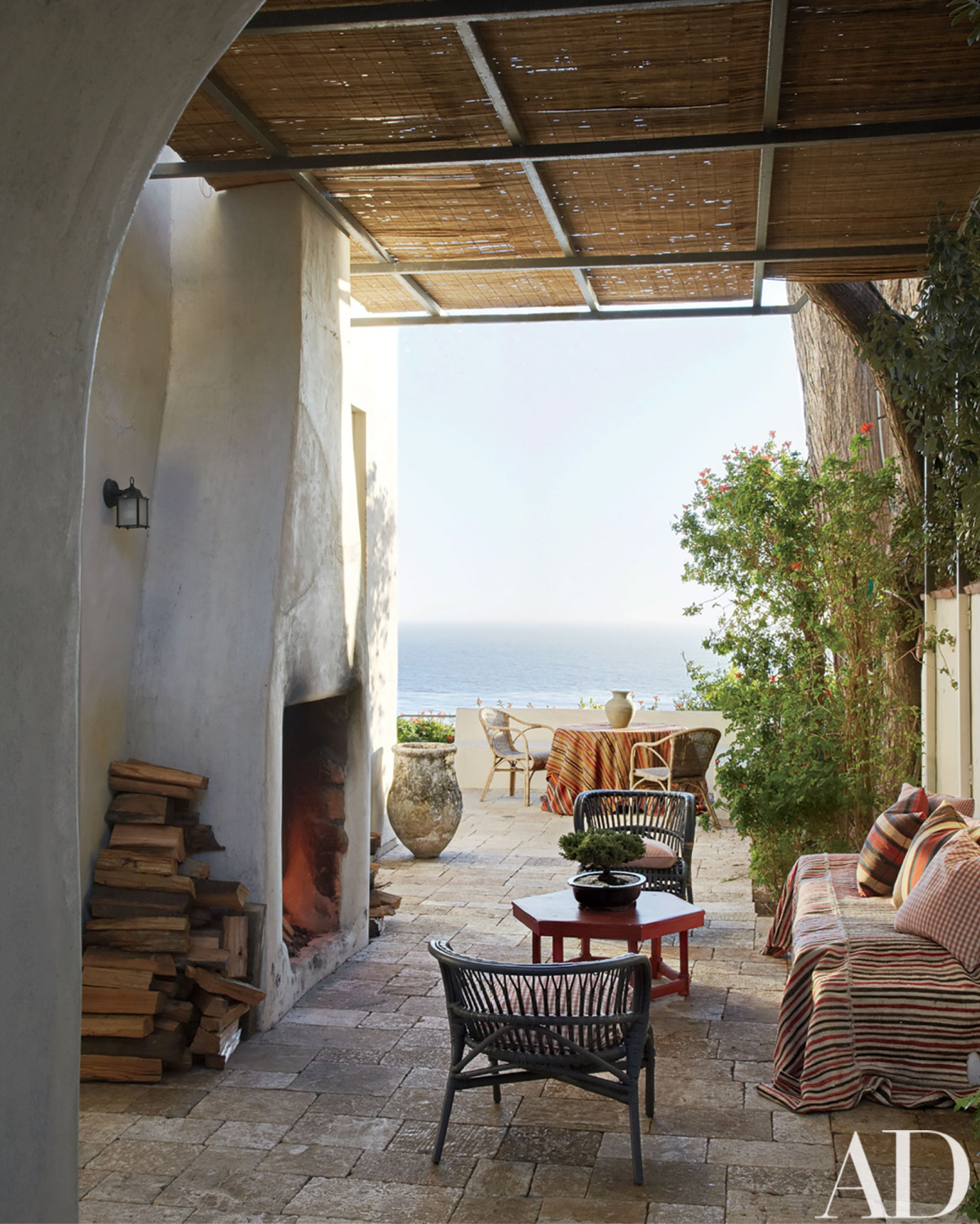 More cozily mismatched beachy stripes outside as well!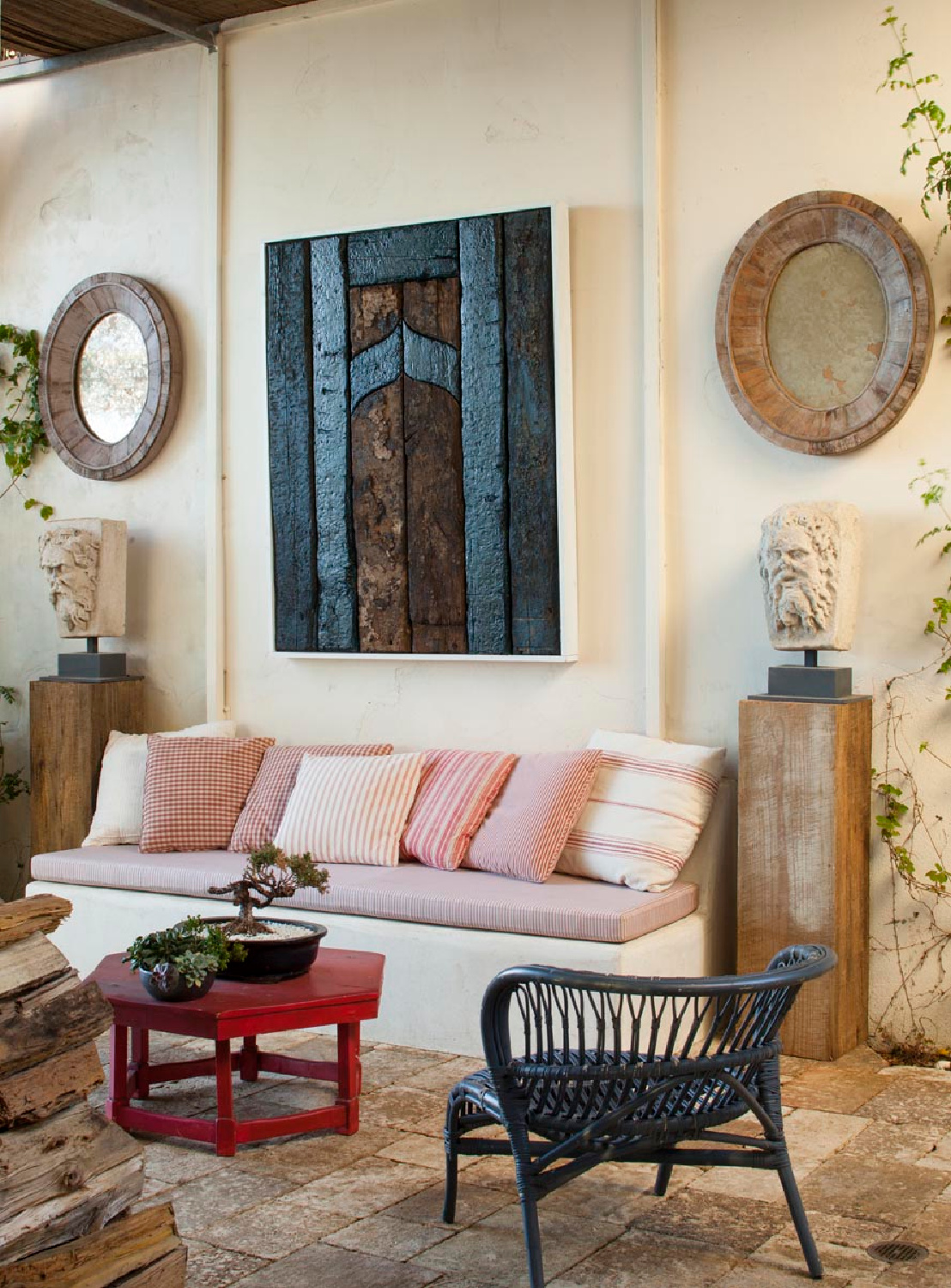 What a way to enjoy your treasures both indoors and outdoors!
Luxurious Bedroom & Bathroom With Views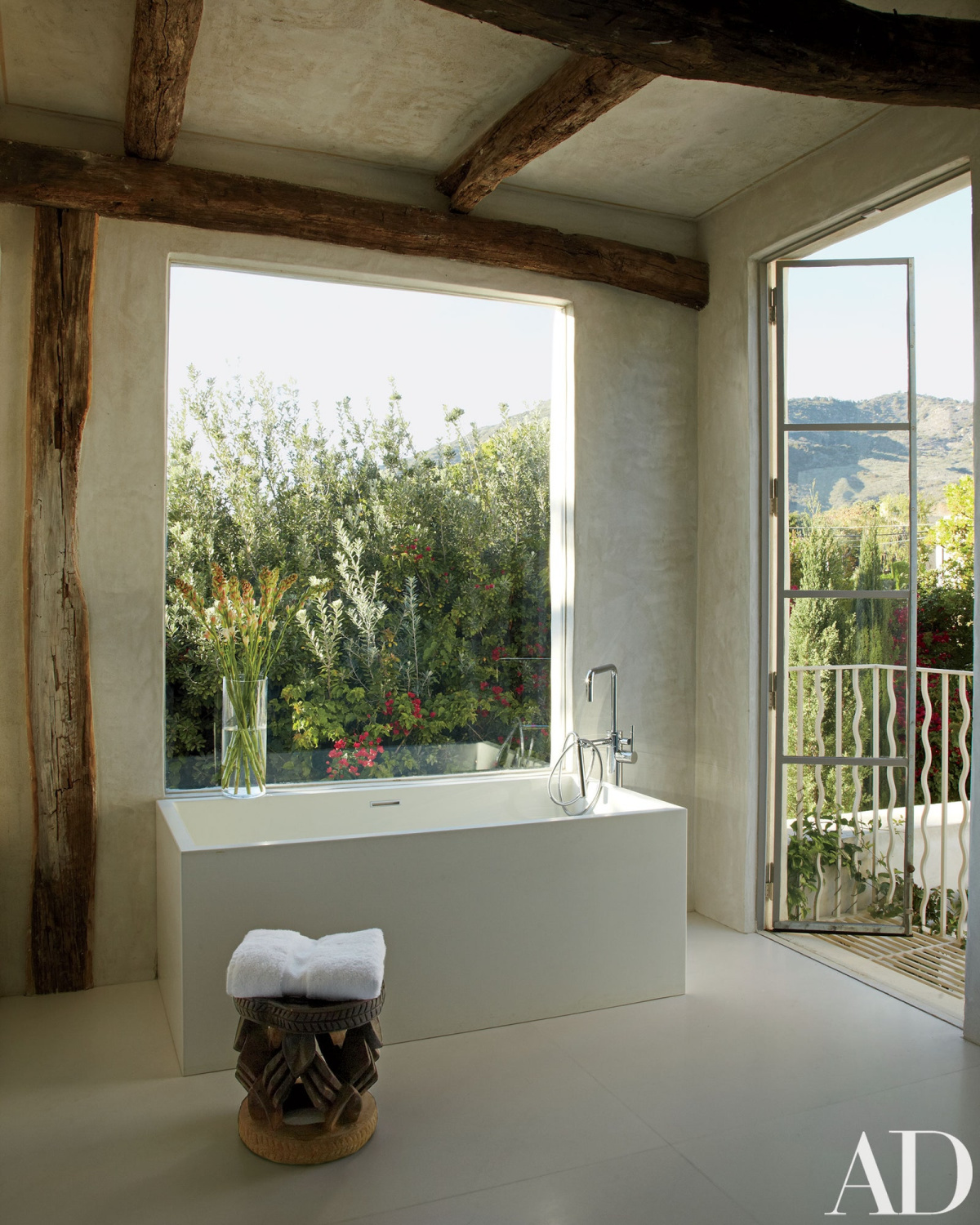 This is the point in the fantasy tour when we decide to weep over our own bath's inferiority!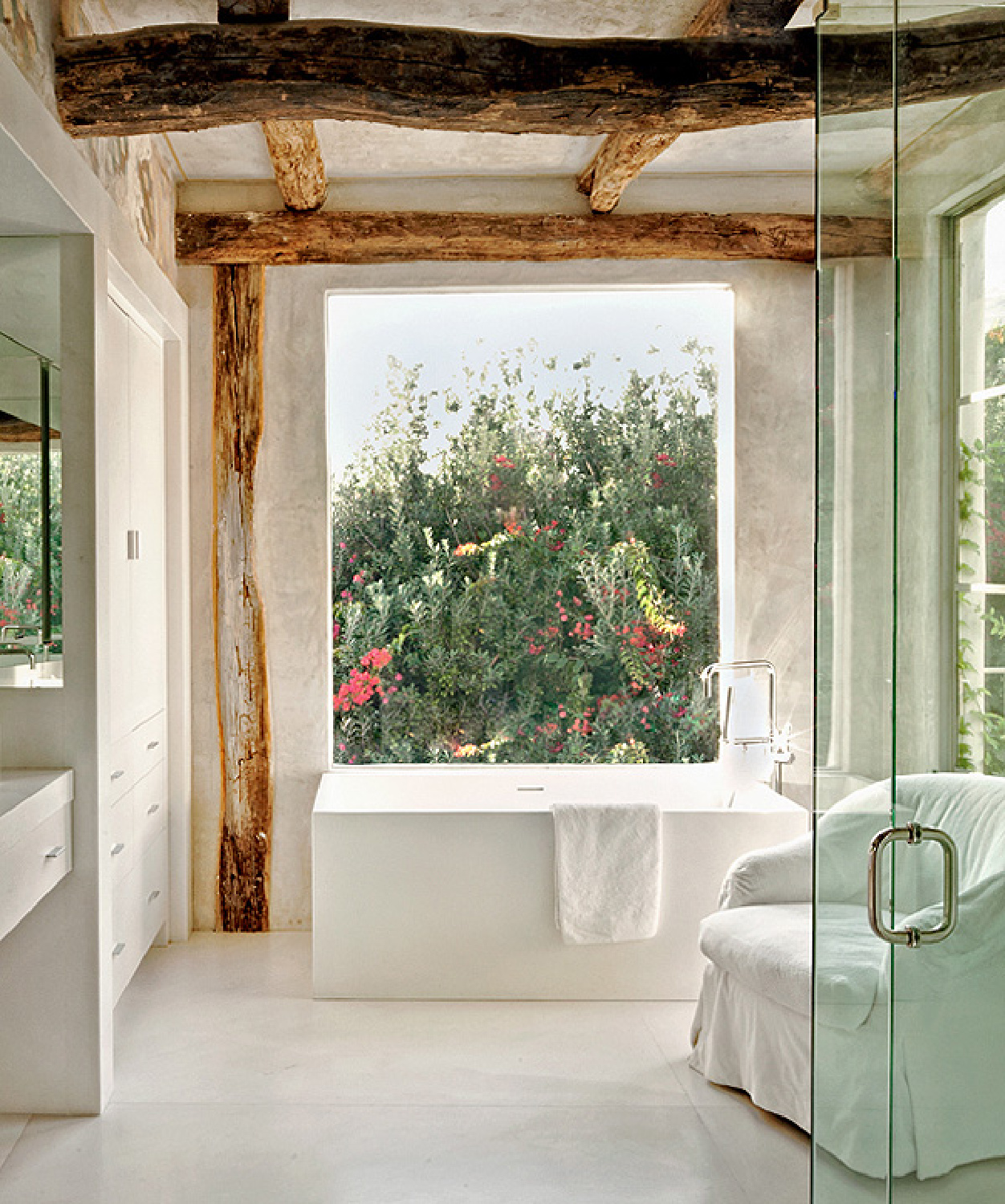 The bath is utterly serene and harmonious with the rest of the house and its mix of modern with ancient.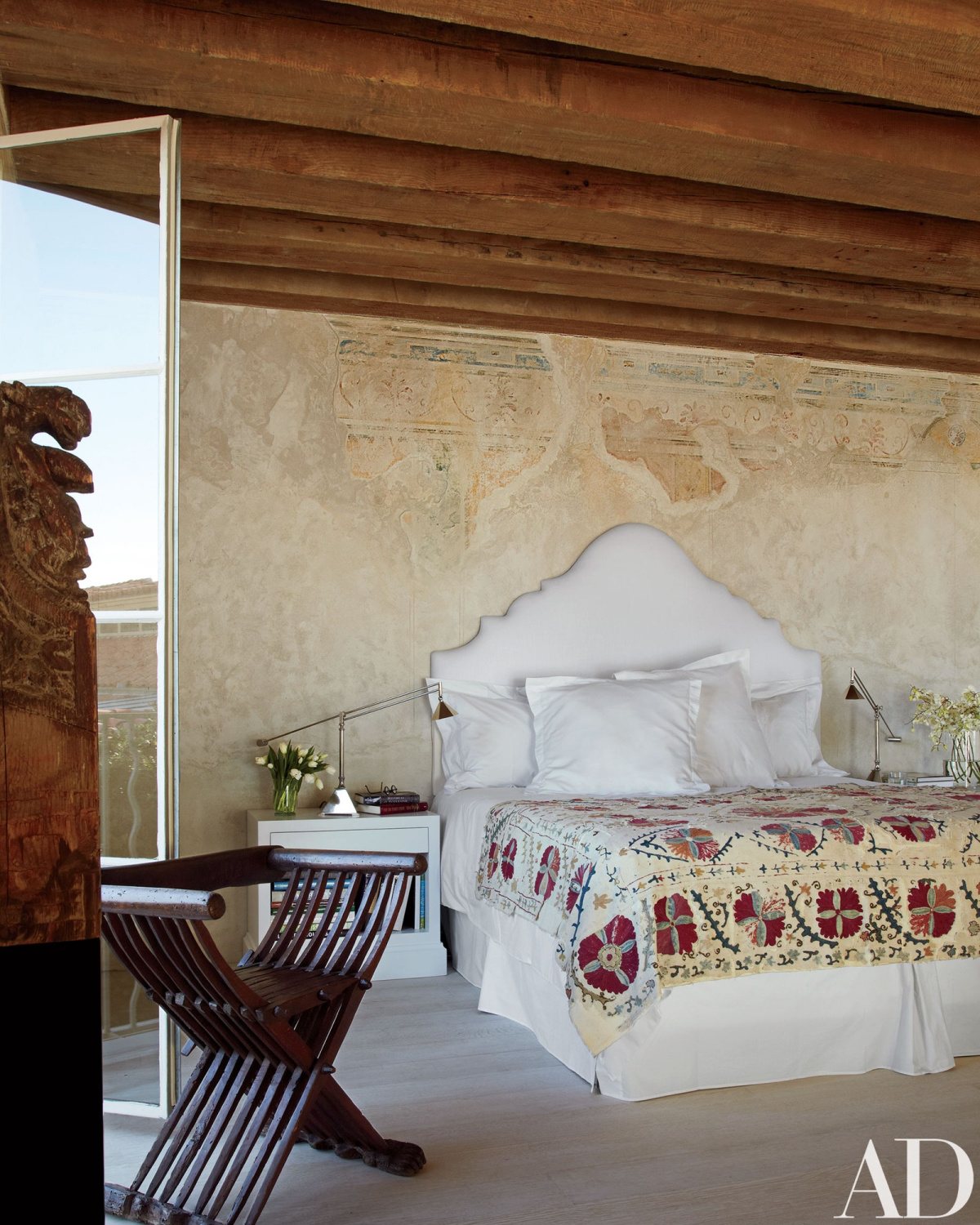 On the bed? A 19th-century Uzbek suzani. A 17th-century Italian Savonarola chair stands alongside an antique Burgundian roof corbel…WOW WOW WOW!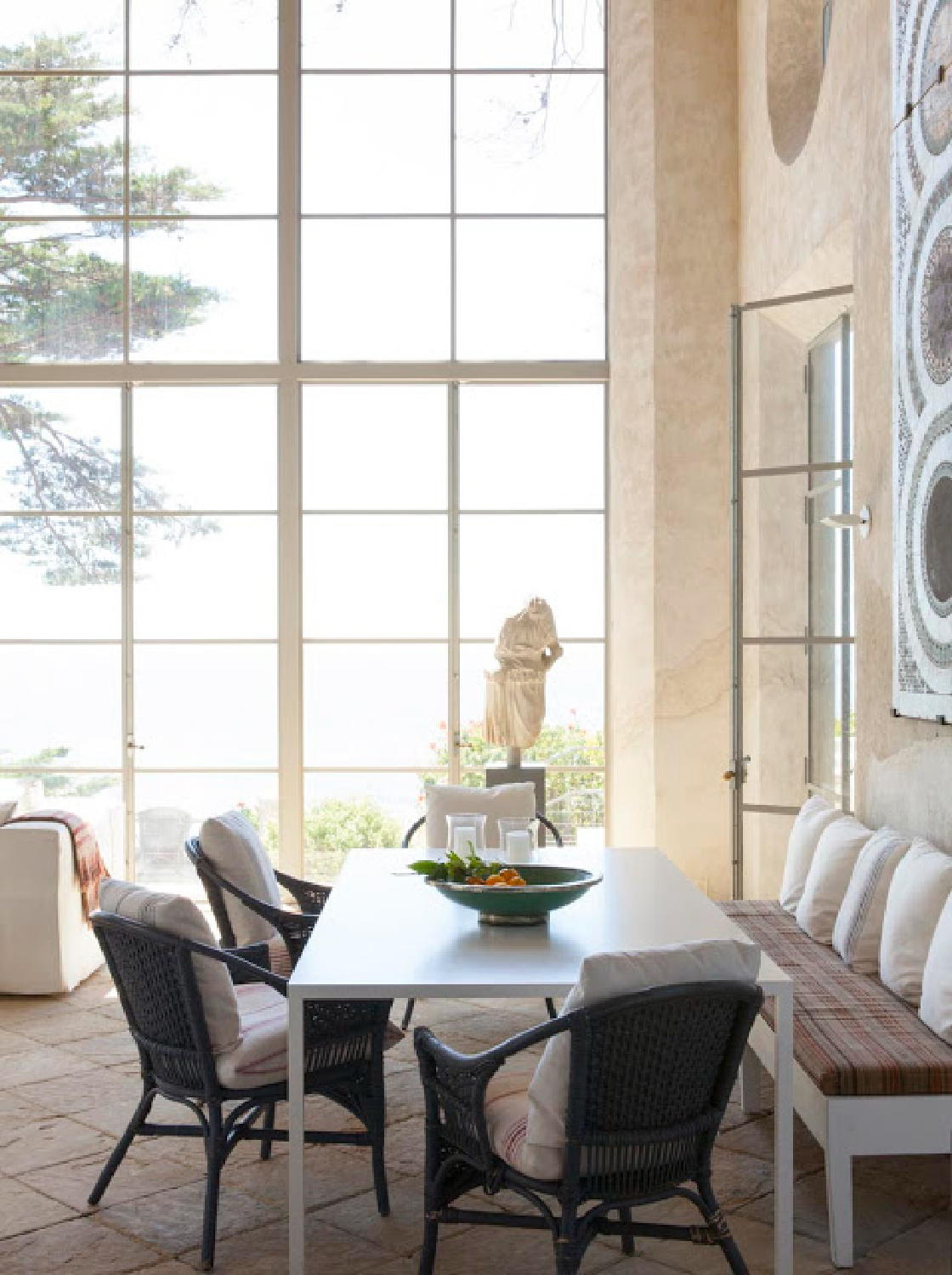 I hope this fantasy tour fueled your passion for design and ignited your imagination. Even without paint colors, ideas for color stories, furniture arrangement, antiques, and art collecting can be absorbed to help you create unique moments in your own spaces.
Another Richard Shapiro Fantasy Tour
Find another fantasy tour HERE. And I hope you'll have time to tour Richard's magical Los Angeles home and gardens below. You won't believe how much beauty, interest, history, and art occupy its one acre!
Peace to you right where you are.
-michele
I independently selected products in this post—if you buy from one of my links, I may earn a commission.
Shop for items you already intended to buy on Amazon RIGHT HERE, and also find home decor here to keep decor inspiration flowing on Hello Lovely!
Hello Lovely is a participant in the Amazon Services LLC Associates Program, an affiliate advertising program designed to provide a means for sites to earn fees by linking to Amazon.com and affiliated sites.