Pretty Blue Shabby Chic Inspiration from Rachel Ashwell revisits a romantic, tattered, vintage, timeworn design inspiration journey traveled here for a dozen years. (We explored shabby pinks HERE). If you admire Rachel Ashwell's unfussy vintage style, romantic wonder, chippy-peely beautiful flea market chic, and feminine English country with a California twist goodness, you'll be drawn to sweet moments below. It was way back in 1989 when Shabby Chic officially sparked our love for faded teals, aqua, chambray, and pale sky on pillows, bedding, wallpaper and more. If blue is your favorite color, ooh la la, you're in the right place too.
Beautiful Blue Shabby Chic Imagined by Rachel Ashwell
Have a Pinterest board reserved for the prettiest shabby chic decor inspiration? Pin away today from here or create one today with these moments. I'd love for you to click here to visit my own shabby chic board and re-pin away!
Oh that Pipi vanity chair! I can't stop staring!
English Country Cottage Magic
The "blue" may be a pale grey door to a cottage blossoming with pink roses clinging to its cozy beauty, but isn't it just so Rachel Ashwell?
Reminds me of all of the gorgeous art from Laurence Amelie offered at Rachel's shops over the years:
Pretty Blue Bedroom Inspiration
If it has been awhile since you have caught up with Shabby Chic and its multiple brands, you should visit them HERE.
The timeless florals and sumptuous bedding options are collected the world over for good reason. They will never fall from favor!
And imagine the ease of decorating a room from scratch when you start with a fabric print this lovely and the color story blossoms from its beauty.
I know the hearts of vintage style lovers are already racing about now at the sight of these bedroom pieces so imperfectly perfect.
It is a testament to Rachel Ashwell's timeless aesthetic that the pieces she began collecting back in the 1980s for herself and clients still look fresh and relevant and luxuriously livable today.
It's that sensibility that I adore because it honors the earth, and there's a deep humility embedded in the philosophy and practice of shabby chic design.
And it's never one note! Notice the simplicity and minimal wonder of this bedroom with its pale blue "painted paneling."
Does it get any more fresh, pure, and lovely when only the necessary is included?
What if Floral Prints Aren't Your Thing?
Working with floral patterns can be a challenge when you want the look to have longevity. Let's face it. Many of tire of little fussy prints and pattern. But when the floral is designed thoughtfully, when the colors are chosen mindfully and carefully, well then…you are bound to find the one that speaks your language and for which you will gladly build a room around!
Rachel's California Infused English Country
What seems to distinguish official shabby chic design elements from what others loosely term "shabby and chic" is a rootedness to the English countryside.
There's a rich history from which Rachel draws from her heritage. Antiques and objects in the home are meant to be used and loved and not to fill space.
Cool, California breezy vibes lighten up the look with liberal doses of white and beachy influences.
Bringing the outside in with fresh flowers, arranged simply and casually?
Such a common denominator for the two harmonious styles.
Unfussy, Effortless Livable Lovely Interiors
My favorite aspect of shabby chic homes is their relaxed approach to decorating and lifestyle.
Modern life is fussy and complicated enough. Home should feel like a precious sanctuary where you are free to BE.
And in her books, television series, and messaging in social media, Rachel models this relaxed approach to daily living.
How refreshing is it to see the consistency and everlasting charm of the ideas she put into practice for her own purposes back in the 1980s?
While so many other brands and celebrities continue to reinvent themselves every year or season, we can count on a steady, timeless, comforting beauty from a brand that celebrates age and patina.
Honoring the Flea Market
It is clear that this designer still has a passion for hunting down vintage treasures, and I often think of her advice when I am shopping at the market.
She has always emphasized getting there early!
And while it's tempting to look at all of the treasures displayed at eye level, Rachel told me (yes, I have interviewed her a few times!) to glance down or in another direction.
You never know what you will spy!
My own love for collecting ballet slippers and pointe shoes goes back to my childhood, but I have learned so much about styling from watching Rachel casually set a mood.
Inspiring Linen Fabric With Quiet Blue
Inspired by the vintage fabric she finds at the market, she creates new patterns for us! Here's one of my favorites:
Ahhhh, the quiet grandeur in that pattern!
It's an investment for sure, but I'm not sure any other furniture company has come up with a comparable product to top this one! You know what they say about buying the best sofa you can find: buy once, cry once.
A Love for White Decor!
Even if you're not a flowery type of person, there's so much to gain from studying these looks with liberal white and neutral color stories.
And don't get me started on the romantic chandeliers Rachel has always used in her designs so exquisitely!
Modern farmhouse is wonderful as a style, but farmhouse farmhouse (or what we all just used to call country decorating) will always belong.
Rachel loves the work of Norwegian artist Jorunn Mullen, and the modern slightly edgy pieces work so well with more old fashioned furniture and decor.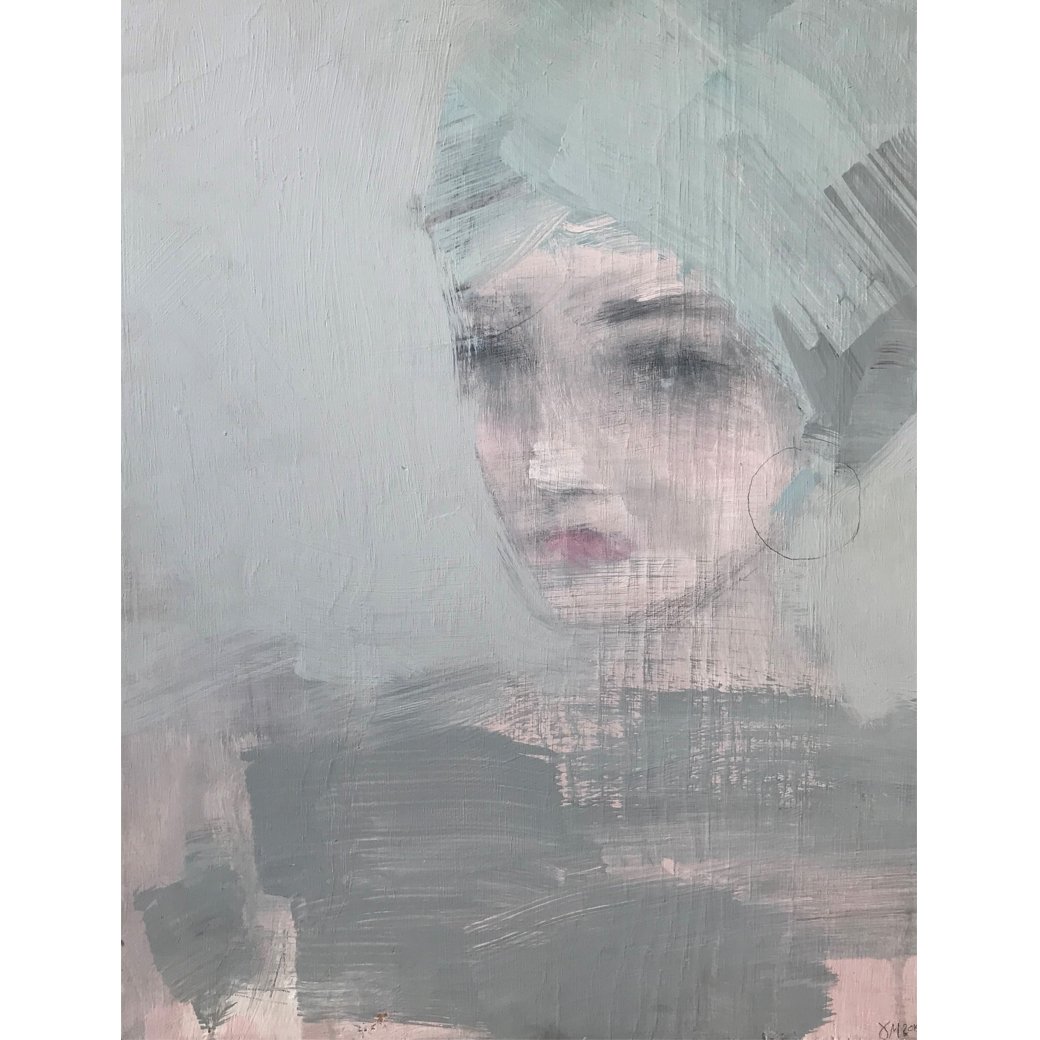 The colors in these works are often quiet, muddied, and pastel.
There's also a lightness about them in that they aren't taking themselves overly serious.
Faith Behind the Scenes
Rachel is known for her faith, and symbols of it show up in pieces she collects and displays in her shops and homes.
If you haven't peeked inside books by Rachel lately, go find them and discover them anew!
These are uncertain, confusing, revolutionary times we are living through, and taking a meditative moment to absorb beauty is not a small thing.
I personally plan to enjoy this summer as if it's 1992…or some year pre-smart phone and pre-me-using-the-internet and pre-technological cray cray surge.
Peek Inside One of Rachel's Stunning Books:
I independently selected products in this post—if you buy from one of my links, I may earn a commission.
Peace to you right where you are.
-michele
Shop for items you already intended to buy on Amazon RIGHT HERE, and also find home decor here to keep decor inspiration flowing on Hello Lovely!
Hello Lovely is a participant in the Amazon Services LLC Associates Program, an affiliate advertising program designed to provide a means for sites to earn fees by linking to Amazon.com and affiliated sites.