We'll explore this widely used bright white paint color and demystify its versatility since it seems to work for many homeowners. BM Chantilly Lace is a bright white, with a light reflectance value (LRV) of 90.04. That's significant reflectance when I think about how the white I lived with for years in our former home had an LRV of 83.56 (that was BM OC-151). You may be familiar with Benjamin Moore White Dove as the most common white designers reach for, and OC-65 is much cooler. Below, you'll discover inspiring photos of this Benjamin Moore white hue used for trim, window frames and in kitchens, bathrooms, living rooms, porches, dining rooms and exteriors.
Photos of Fetherston's home: Joe Schmelzer and Alex Reid/One King's Lane
Photos of

BM Chantilly Lace 2121-70

(also known as OC-65)
What is Chantilly Lace Like & How Can You Sample This Benjamin Moore White
Here's a classic go-to white designers use again and again. Benjamin Moore says it elicits images of fresh cotton and pure silk.
The easiest way to see if Chantilly Lace works in your own space? Try a sample from Samplize.
If you prefer to get actual paint pot samples, here is my best advice for sampling a handful of whites:
How Does OC-65 Look in Living Rooms?
Here it is in a home in West Hollywood's gorgeous Sunset Park neighborhood. You can see why such a silky all white backdrop was chosen for elegant yet livable luxe interiors created for a young family.
Even though there's a relaxed, California cozy elegance, the crispness of the white adds modernity and edge.
Is This Paint's LRV Important to Know?
Without totally geeking out on the science, it can help to understand light reflectance value when you're comparing whites since it is challenging to distinguish them.
Chantilly Lace's high LRV of 90.04 means a ton of light will be reflected back.
It's not just about making an aesthetic statement or creating a clean bright mood, the right white can actually make it easier to see things and create more safety. For example, as we age, vision can be impaired so light becomes a tool for efficiency and daily living!
How Does Chantilly Lace Look on Trim and Doors?
A lot of people message me about coordinating colors when using whites. For example, they'll write, "I like this white for my cabinets, so which color for my walls and trim?"
I'm personally a fan of continuing the same white. For example, in our former home, we painted the walls and ceilings with OC-151 in a flat finish and the trim with semigloss.
A lot of folks like satin or even eggshell for trim too.
What Colors Match & Are Similar to BM OC-65?
You could peek at BM Oxford White (CC-30), BM Raindance (CC-680), BM White (OC-151), and BM Blue Note (2129-30) which may feel harmonious Chantilly Lace. What Benjamin Moore colors are similar to Decorator's White? BM Horizon OC-53, BM Seapearl OC-19, and BM Edgecomb Gray HC-173.
Reminders About Choosing the Right White for You
BTW. Forget trends that say cool bright gallery whites are out and warm ones are in. And it's not true that you can't make things cozy with cool colors.
We're all different creatures, and homes have different lighting qualities, it's better to simply sample and see for yourself how it feels and works with your belongings.
Also, living with white walls and trim doesn't mean you stop entertaining or treat your interiors like a museum; life and mud happen. You'll simply SEE the stains of life sooner rather than later.
How does Chantilly Lace Look in a Kitchen?
I hear echoes of "white kitchens are totally out" or "only do a warm white or putty on cabinets for resale."
But white kitchens are timeless. Period. Did modern farmhouse Shaker style kitchen cabinets completely dominate in recent years?
Yes, they most certainly did. But there's a method to that mad popularity, and much of it is rooted in simplicity and timelessness.
Neutrals and whites for the furniture in a room mean it becomes easier in future years to accent with varied colors and even styles as you and your home evolve.
And in terms of resale, while a future owner who loves natural wood finishes can't easily strip white kitchen cabinets, they can be painted a color.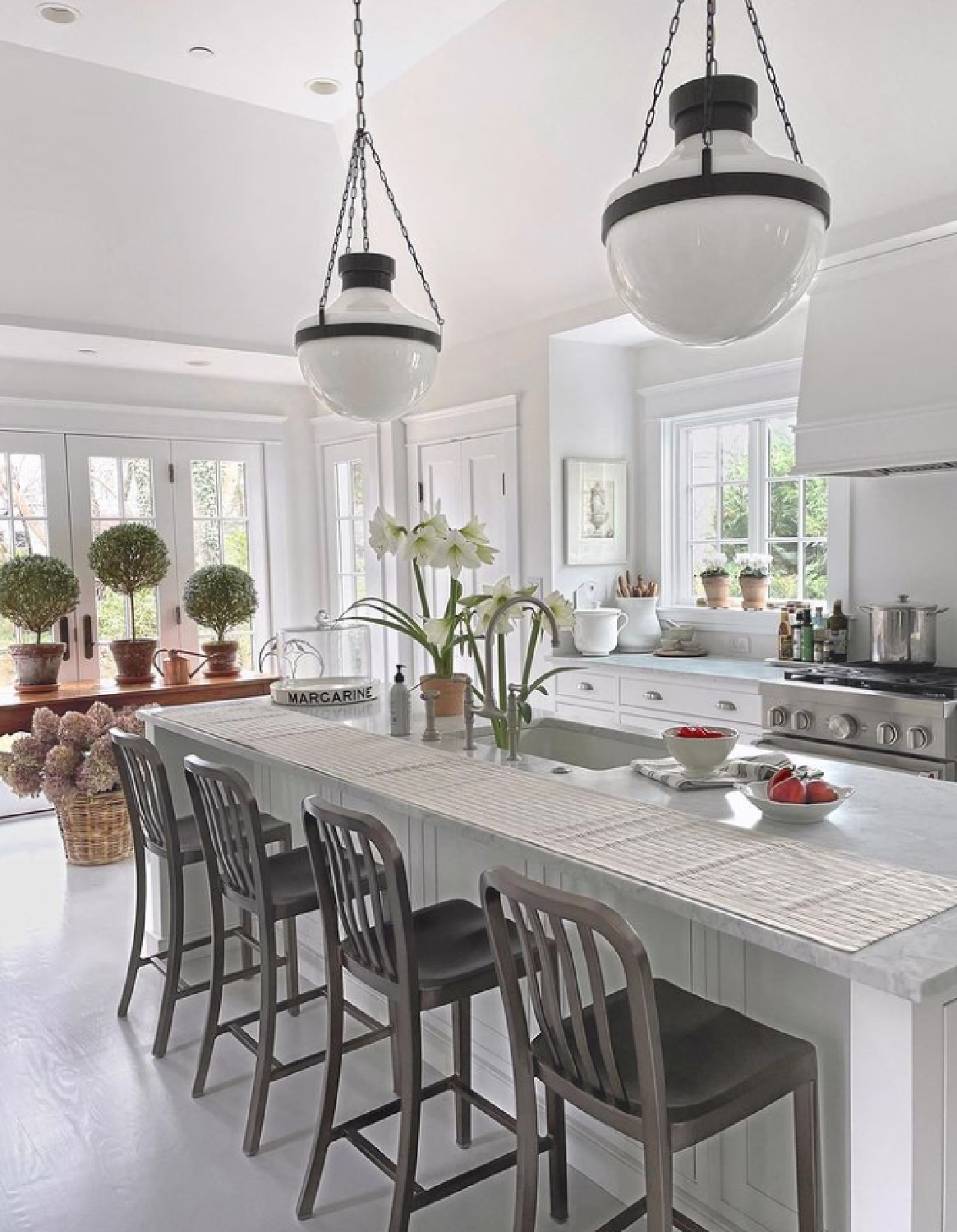 For example, a warm woodsy brown color could cover the white.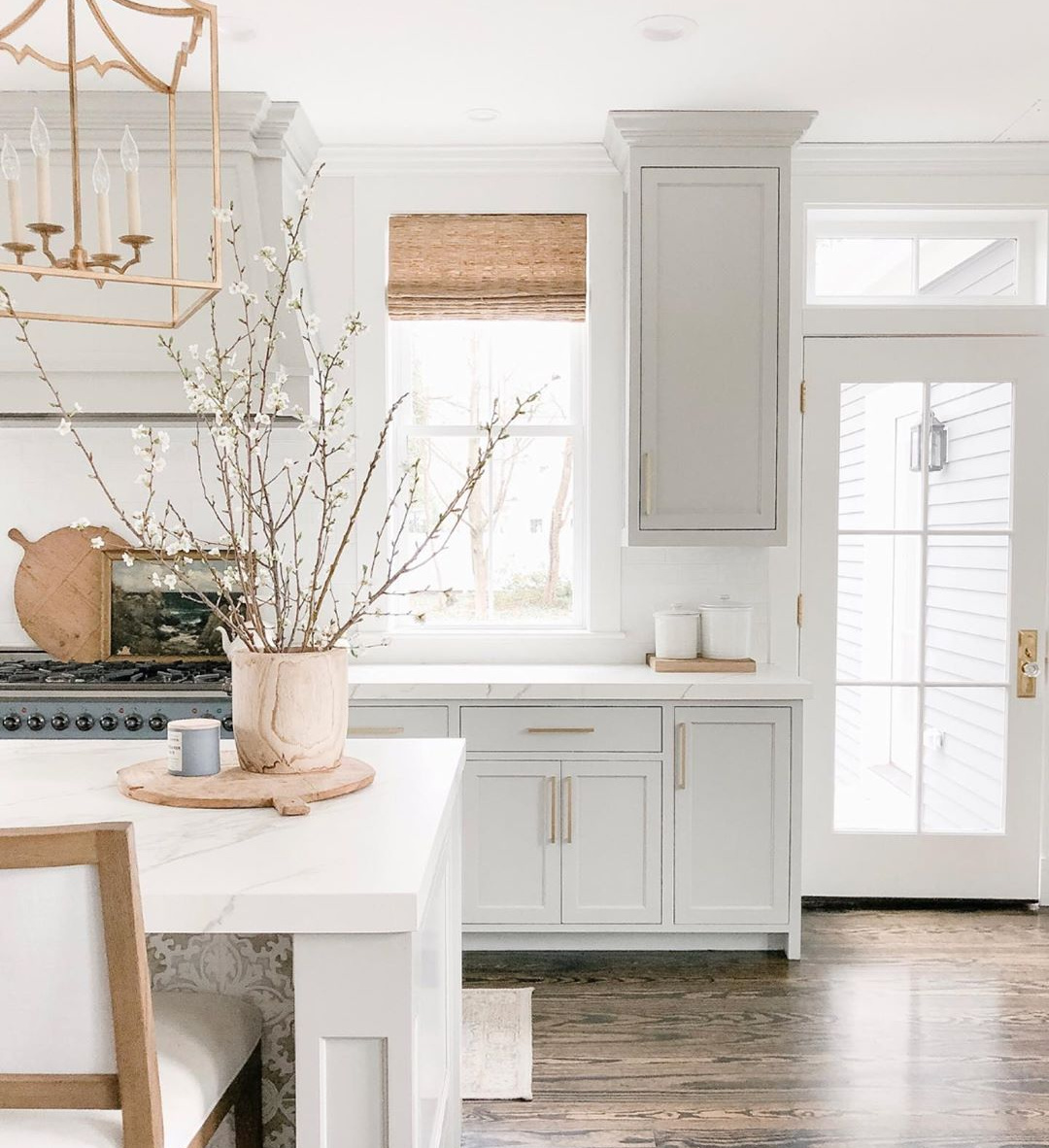 And white is easier to cover than other paint colors!
Bedrooms & Baths Painted Chantilly Lace
The only reason I'm not painting our current bed and bath Chantilly Lace is that I have used so much white for other elements that I want some relief. I love how it looks with wood tones:
With brick, brass, and marble:
And with edgy pops of black:
I find seeing photos of this shade in different style interiors with varied textures and lighting conditions yields so much information! Here it is in a modern farmhouse bath with rustic elements:
And in minimal modern artsy environments, it feels gallery-like.
So do think about the objects, art, and furnishings with which you'll pair this white.
Consider the balance and layering of warmth with cool tones, and how you can create depth, interest, and personality (especially if the room lacks architectural interest).
Snag a sample of Chantilly Lace! This blog is always exploring the best white paint colors and beyond so do dig into my archives for even more helpful info!
More White & Neutral Finds in the Spirit of Chantilly Lace
Erin Fetherston's Living Room Evolved!
See the living room with its new look ("modern organic") here:
If bold color is more your jam, don't miss THIS!!!
Peace to you right where you are.
-michele
Shop for items you already intended to buy on Amazon RIGHT HERE, and also find home decor here to keep decor inspiration flowing on Hello Lovely!
Hello Lovely is a participant in the Amazon Services LLC Associates Program, an affiliate advertising program designed to provide a means for sites to earn fees by linking to Amazon.com and affiliated sites.