Easy to Live With European Country Neutrals shares a few peeks around the house in early December as well as inspiration rooms to guide our efforts.
I am struggling with a migraine this week so progress has been slow, but each day I have primed more trim in our bedroom. Because it was so dark, it requires four coats of primer before the actual painting begins! I have been painting like this, one room at a time, for months, and what a different mood emerges as neutrals replace all of the brown.
Easy to Live With European Country Neutrals
As you can see, I have not changed the Sherwin-Williams Repose Gray paint color in the dining room, entry, living room and powder bath. If you're looking for a soft, European in feel neutral grey to offer contrast with bright white trim, consider this grey.
Neutralizing the red oak hardwoods also brought a more European country identity to our Georgian style home. They had a dark cherry stain, and it all felt very formal.
What a process it is to refinish wood flooring yourself! It was important to us to get it right so it was one of our first projects here after buying the home. We had not yet moved into the home which helped since the mess is considerable.
The paint color in the kitchen (Sherwin-Williams Eider White) is a wonderful neutral backdrop with white trim, and it plays nice with Calacatta gold marble tile on the backsplash.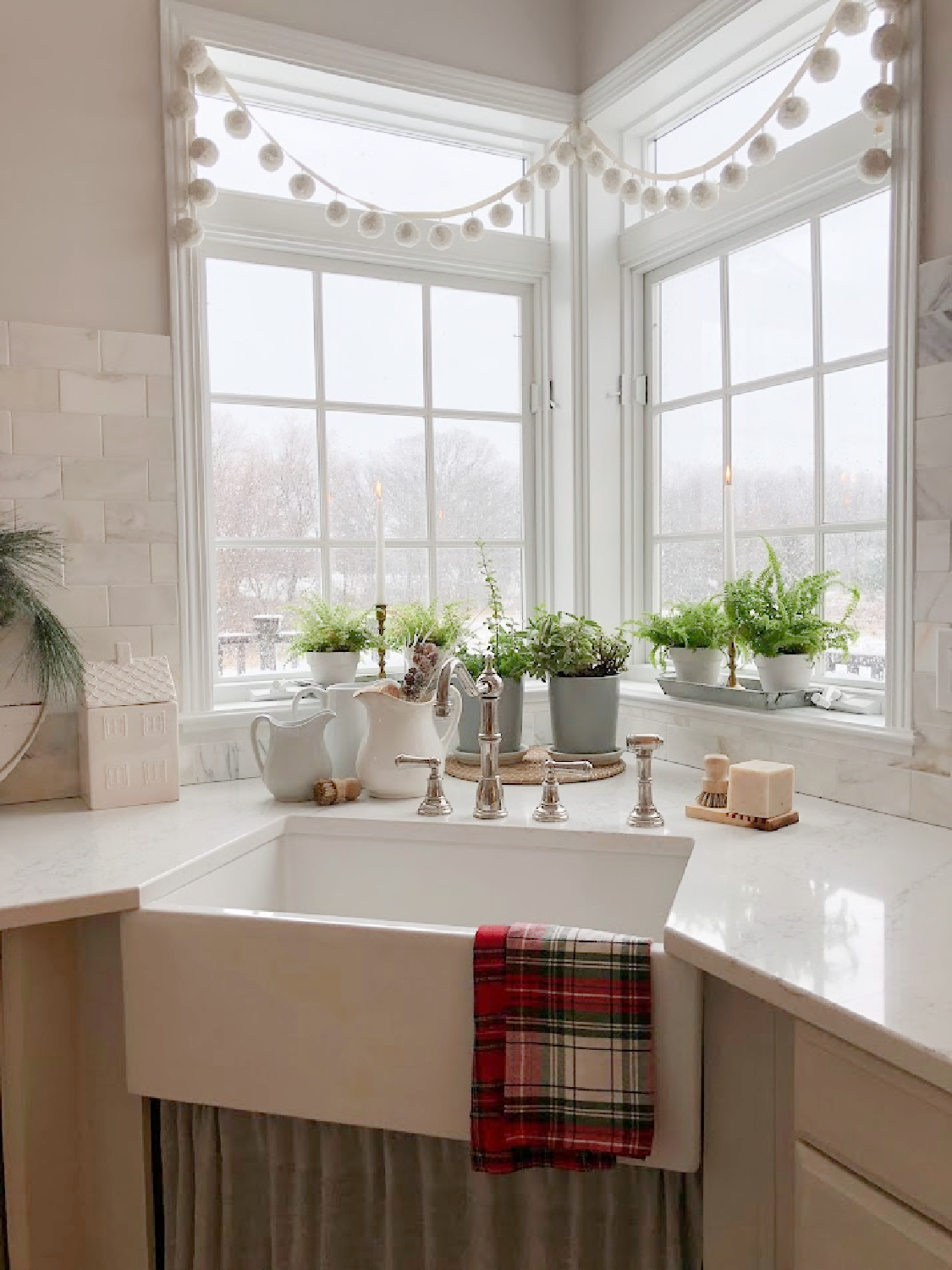 Neutrals are so wonderful to live with around the holidays since you can choose to decorate with any color at all. I can't tolerate red accents year-round, but I find the color appetizing enough for a few weeks in winter.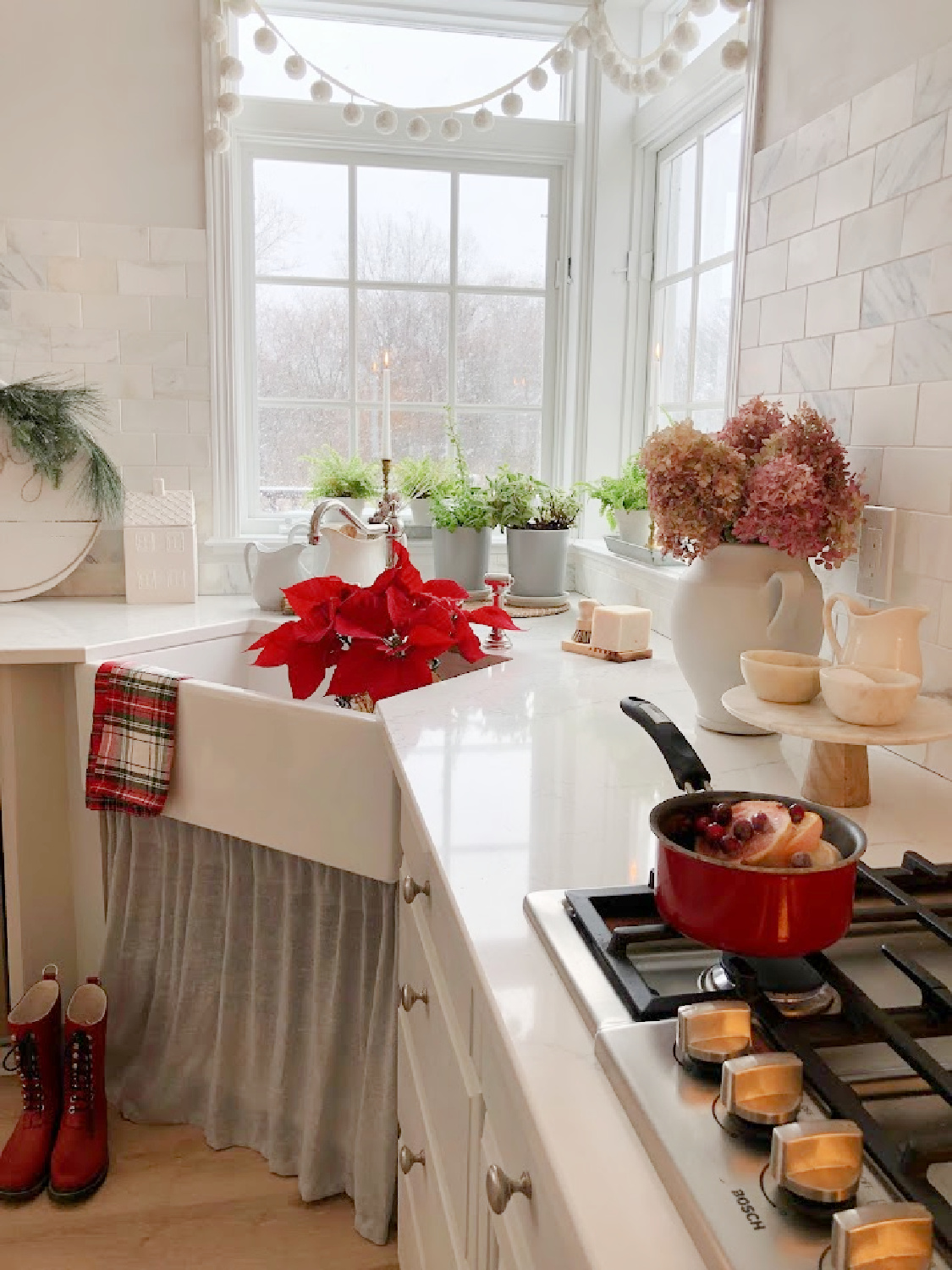 One tip worth sharing about kitchen design is that when you want a white kitchen, it doesn't mean you MUST opt for white cabinets. There are plenty of pretty grey, light blue, putty, and sage color options that are neutral enough so you won't tire of them. The contrast with white countertops is pleasing and you won't have to worry about a particular white looking dingy or not quite right.
Soft greys and cool whites are a common thread throughout our home and this easy to live with neutral combination doesn't at all feel trendy to us.
Even though greys get a bad wrap since everyone is still often advised to paint walls gray before selling a house, they can be a timeless choice.
I thought it was likely that I would need more rooms to be white, but with all the sunlight warming the grey, I have surprised myself.
Sometimes the colors within a particular pattern will help guide your paint color choices, and there are actually a handful of grey gradations in our tree wallpaper mural that I have repeated.
The darkest grey in the pattern in a charcoal which I repeated on sconces in the dining room, on the front doors, and on the stair's hand rail.
Find me here at the piano most mornings (this was yesterday when the snow fell!). Did someone say SNOW?
I highly recommend lit candles in the windows for early morning. My little ferns are hanging on, but I wonder if I'll need to move them as it gets chillier outside.
Even itty bitty candles glowing in the windows can create a serene mood to lift spirits in winter.
Off topic, but a little pet sitting in the last week found me trying to win over these two:
They are definitely the soul of our son's nearby home, but I am still not sure we are ready for a pet since we stay busy helping with our kids' four rescues!
Timeless Inspiration from Pamela Pierce
Let's peek at rooms with European country style that just seem to strike the right balance. Here are interiors with neutral tones and livable luxury that would be dreamy to enjoy.
As you admire these spaces, notice the mix of whites, greys, and light wood tones.
Learning about the combinations to which your eye is drawn will help you make decisions in your own projects.
Nordic Inspired Neutrals
Here is a great example from Tracie of My Petite Maison which demonstrates how varying textures can create interest and character when the look is tone on tone.
The billowy sheer fabric at window, the distressed paint on the table and antiques…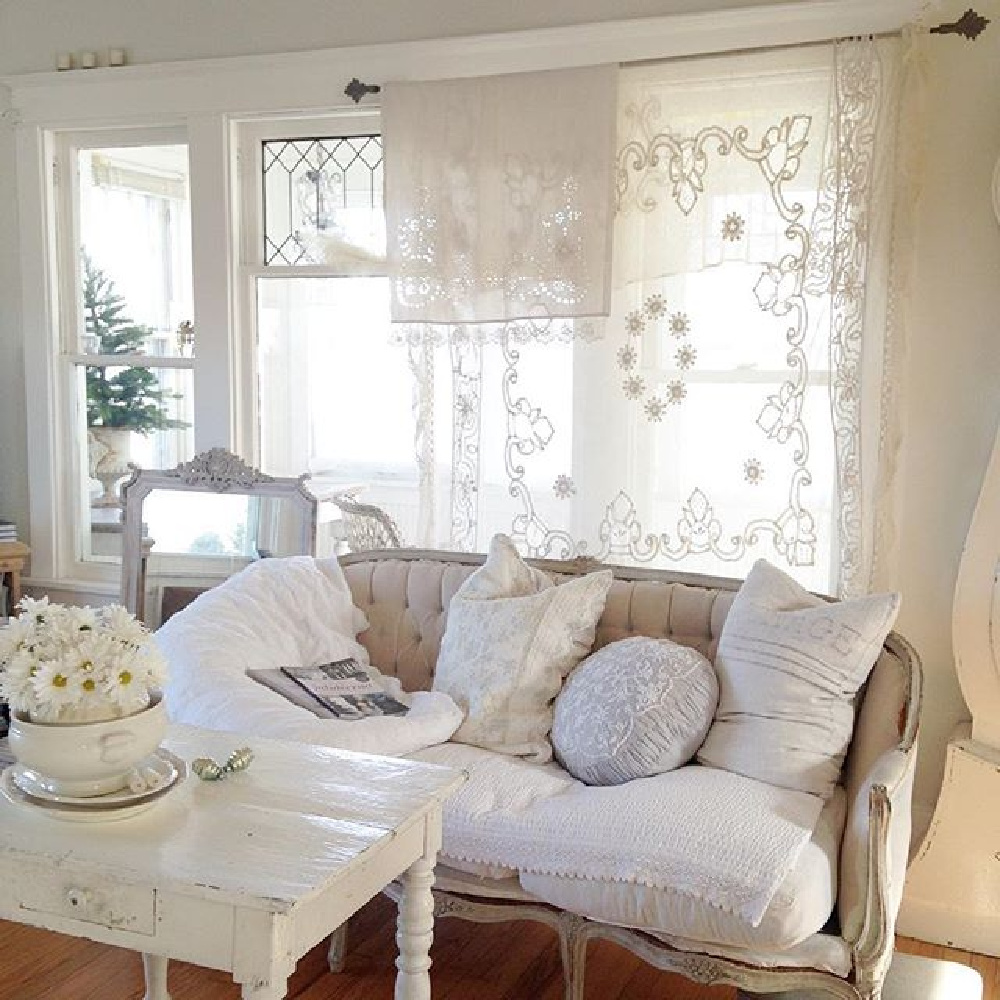 Need ideas for a white sofa? SEE THIS.
doesn't it all mix to create a look that seems highly livable?
Country French Rustic Whites
White paint can erase busy-ness and distracting details like nothing else. It is a powerful tool for bringing forward what you wish to bring forward and recessing the rest.
LIVABLE NEUTRALS TIP: Cool whites with pale wood tones offer a subtle, understated allure.
Memorable French Farmhouse Inspired Kitchen
EUROPEAN COUNTRY TIP: Mixmatch your whites. Creamy white with gallery white and pale grey can be gorgeously livable.
Scrubbed Natural Wood & White
Notice what exists outside naturally to better understand your emotional response to color combinations with white. For example, the wood shelves with white below bring to mind snowy trees or branches against the winter greyed-white sky.
White French Farmhouse Romance
Brit Jones adeptly used a soft and sweet yet not too precious, duck egg blue with creamy white (Sherwin-Williams Alabaster).
Whispery Cottage Style Whites
White can be used boldly, but I like it best when it whispers. Our reclaimed wood planked wall in our former bedroom is a lovely example with a surprising amount of variation. (The variation may be difficult to glimpse from photos.)
LIVABLE NEUTRALS TIP: All white bedding is popular for good reason. It lends itself to seasonal accents.
French Country Fresh Elegance With White Walls
There's a fresh, modernity and graciousness to white. It is quite happy to not be the center of attention; to allow surrounding elements to be amplified.
Rustic French Whites & Shiplap
White can surely be expansive. Just imagine this shiplap (which appears to be original) in its "natural" brown. White paint creates fresh landscape of potential.
Romantic Bedroom With Sumptuous Finishes
Critics of white say it is boring or too cold. To counter any chill, think about touchable textiles. In the bedroom below, the tufted velvet (well, I'm imagining it is velvet and can't be sure) seems even more beautiful and important because of the white wall.
White on White Kitchen
Sometimes white with white and a little more white is just the look you want despite cautioning from experts, trends, or resale data. I'm here to remind you it is YOUR space, and the whole point of design is creating a mood you want to live within.
Tone on Tone Country White Bedroom
Neutral colors and white in particular have a gentle quality that isn't jarring. I have yet to visit a red or purple room that feels gentle. Need your room to offer lively energy or be suggestive of power or strength? White may not do it for you.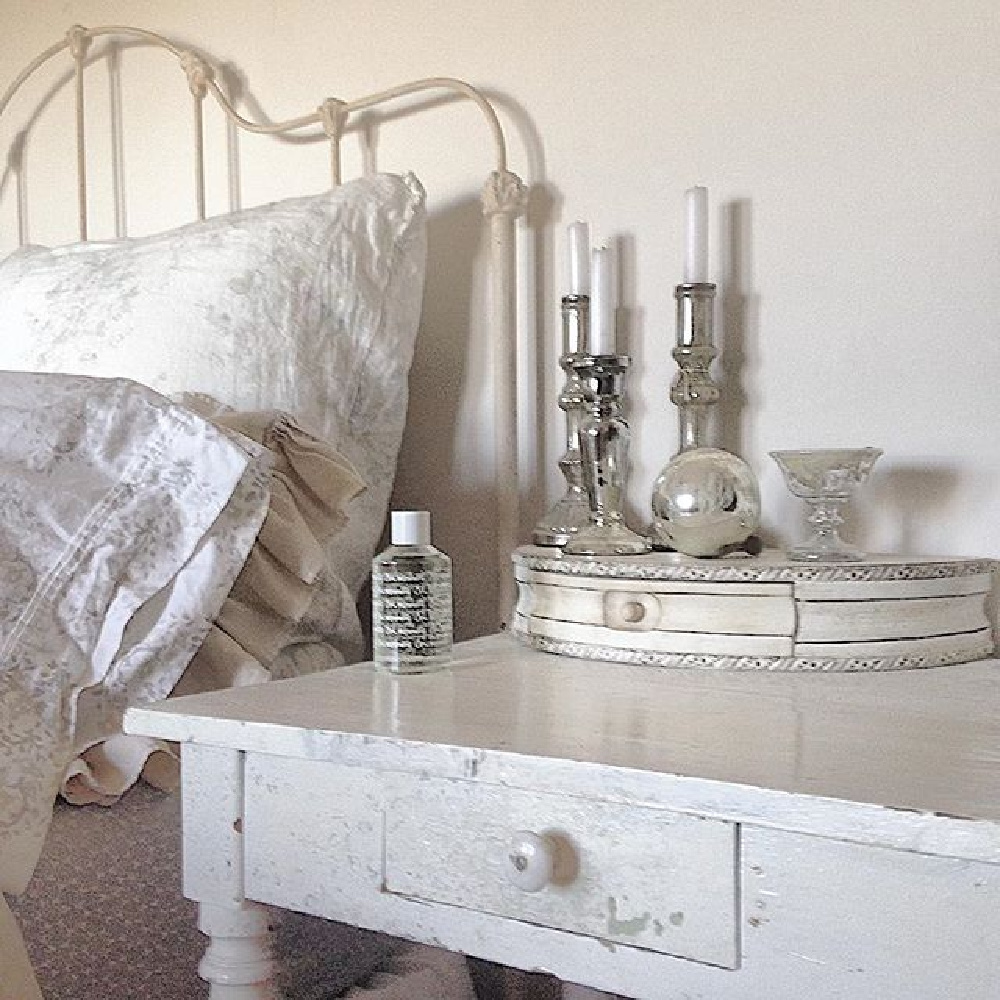 Shades of White in a Dining Room
Because white is so agreeable, it is frequently called safe. I think modern times are uncertain and tricky enough…safety is hardly something to avoid in the 2020s.
Laid Back Livable Lovely
If you love white, you can use it in unfussy, effortless, comforting, lovely ways that will not remind anyone of a museum, morgue, hospital room, or padded cell. (Can you tell I have heard complaints over the years about white from folks who over-generalize?)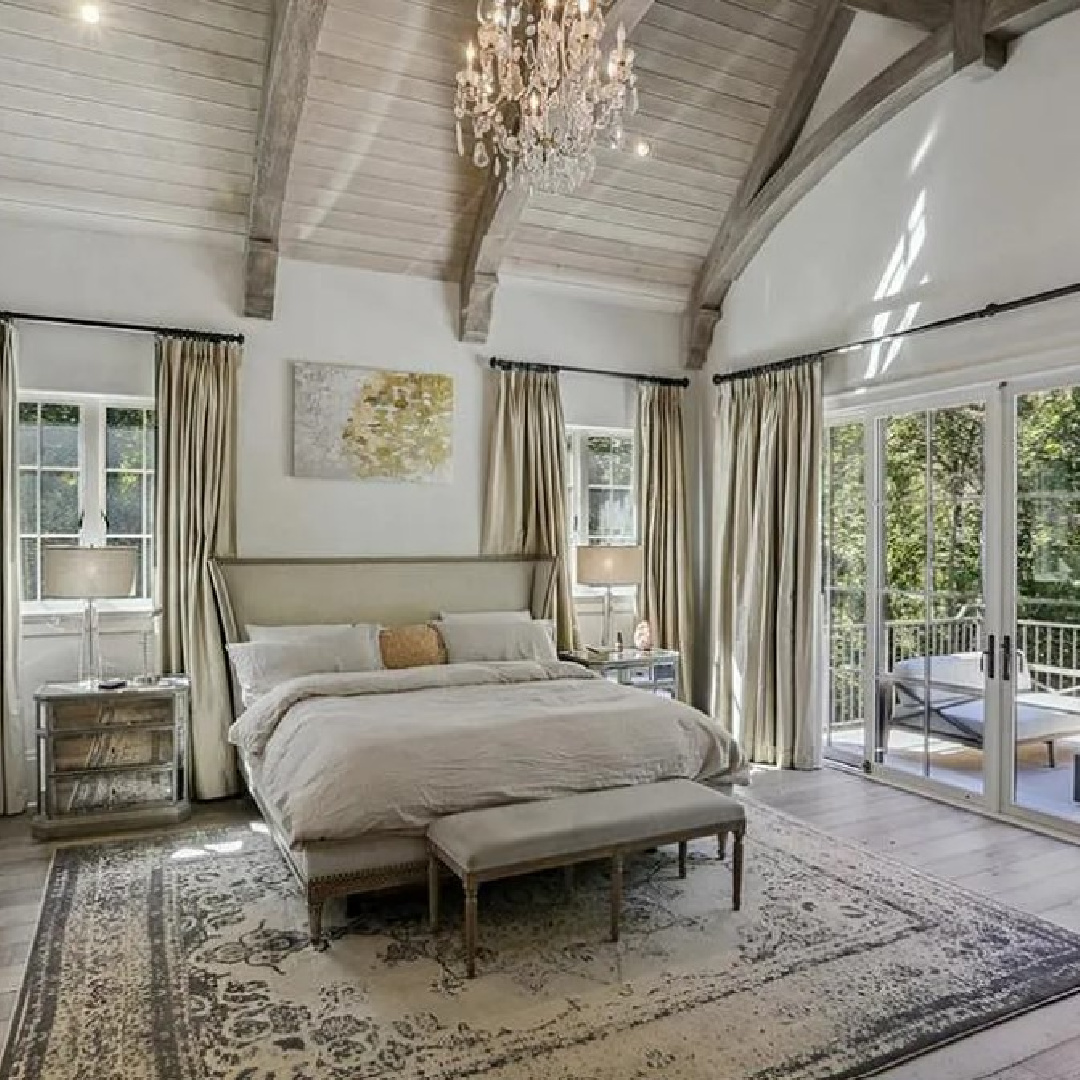 LIVING WITH WHITE TIP: Wood trim need not be painted white when you're keeping it calm…try a light putty or grey.
Nordic Style + Antiques
People who live where darkness prevails have a profound understanding of color, mood, and well-being so we can trust them.
White Rustic Country French Cottage Style
Interior designer Jennifer of The French Nest Co. honors white in her own home, and her interiors spring to life in winter with fresh greenery.
White Paired With Painted Country Floors
Yellow and white check hardwood floors in Storybook Cottage (Leiper's Fork, TN) charmed us on a vacation here.
Bold though they be, the white furnishings kept everything feeling calm and even chic.
Serene and Ethereal Interiors
If it is a billowy tranquility you're after, white can be your best friend to achieve a serene look.
White sometimes likes to play a starring role…
Belgian Linen and White
Well they're a match made in heaven if you ask me.
Rustic White Christmas
Making spirits bright with white is a modern approach to country style
Our Former Unfussy European Inspired Breakfast Nook
Here, I painted a round dining table with Behr's Garden Wall, a very Belgian-influenced stone shade.
THE BEAUTY OF LIVABLE WHITES: It's so easy to change things up for the season or when you're bored. This is our former breakfast nook with different looks.
Inspiration From a White Coastal Cabin
This pale and interesting shabby chic "coastal cabin" as the owner calls it is such a charming example of a no-fuss vacation getaway and easy to love country style.
Such effortless charm, and you get the feeling you could emulate the look without buying anything expensive.
Low contrast keeps everything feeling light and buoyant.
To get the look of this cabin, restraint is the name of the game.
Simplicity, Calm, and Timeless Elegance
Antiques that aren't fussy work such magic with white.
And fussy vintage pieces can be calmed with white paint.
Even brand new spaces can feel timeless when white is done right.
Because white is magical like that!
We don't give white enough credit for how it plays nice with both silver and gold tones.
I independently selected products in this post—if you buy from one of my links, I may earn a commission.
White Cottage Style Decor Finds
I independently selected products in this post—if you buy from one of my links, I may earn a commission.
Peace to you right where you are.
-michele
Shop for items you already intended to buy on Amazon RIGHT HERE, and also find home decor here to keep decor inspiration flowing on Hello Lovely!
Hello Lovely is a participant in the Amazon Services LLC Associates Program, an affiliate advertising program designed to provide a means for sites to earn fees by linking to Amazon.com and affiliated sites.